Traveling with kite gear is a pain in the whatsit; but with a badass kiteboard bag, it's a teensy bit more bearable.
We've all been that person at the check-in counter slipping a sneaky foot under the weighing scales in a desperate attempt to get cleared for your weight restrictions, blindly swearing to the person running the check-in counter that "it's golf equipment".
*Sigh*…
Guys, I wish I could take away the utter frustration that comes with traveling with 50+ pounds of kitesurfing gear- but I'm not the Dalai Lama or Jesus, so that suffering is all yours, big guy. Maybe meditate on it?
However, I can point you in the direction of a few awesome kiteboard bags and kite travel gear that'll shave a few precious pounds of your total weight and keep your equipment perfectly protected while you travel from A to B.
But before we get into the meat and veg, here's what you need to consider when picking a kite bag for travel:
Disclosure: extremenomads.life is a participant in the Amazon Services LLC Associates Program, an affiliate advertising program designed to provide a means for sites to earn advertising fees by advertising and linking to Amazon.com. This page may also contain affiliate links to products or services from other entities.
What to look for in your kiteboard bag and kite bag for travel
Numero uno, dudes and dudettes, is you want to invest in something that's durable.
It's all well and good to snag yourself a discount deal on a no-name piece of kit, but if it falls apart on you after one or two trips, was it really even worth it?
Next, you OBVIOUSLY want to make sure that whatever travel kite bag you choose is lightweight, because your pounds are way better saved for extra gear than wasted on heavy packaging. NEXT!
Manoeuvrability:
This is a point that often gets overlooked by magpies like me when shopping online. We be like- "Oooh, shiny thing!"- and boom; totally forgot to check if the thing even had wheels. Or straps. Oh FFS, did I seriously just buy what appears to be an actual coffin? None of that BS here, my friend.
And last but not least, affordability is also important.
Of course, you and I both know that it's worth splurging at least a LITTLE when it comes to your kite gear- but it's always nice not to have to, yenno, take out a mortgage to pay for shit.
And anyway, we've already spent wa-heeeey enough on our flights and baggage fees; let's keep the kitesurf bag costs to a minimum, shall we?
With all that in mind… here's our selection of 5 seriously awesome and pretty much bombproof kitesurf travel bags to consider for your adventures:
Pssst: while you're reading the next section, bear in mind that these bags also make GREAT practical gifts for kitesurfers — handy to remember at Christmas or birthday time 🙂
Our selection of awesome kiteboard bags for travel
Best with wheels: Mystic golf bag with wheels (pro)
The Mystic golf bag that I have has been in action for a good 5 years and it's still going strong (Jim's one is about to turn 12 years old! See them both on the pic below), so when I saw their 2018 Mystic golf bag pro had come out featuring the same old Mystic quality but some fancy shmancy new colors and features, I was aaaaall about it.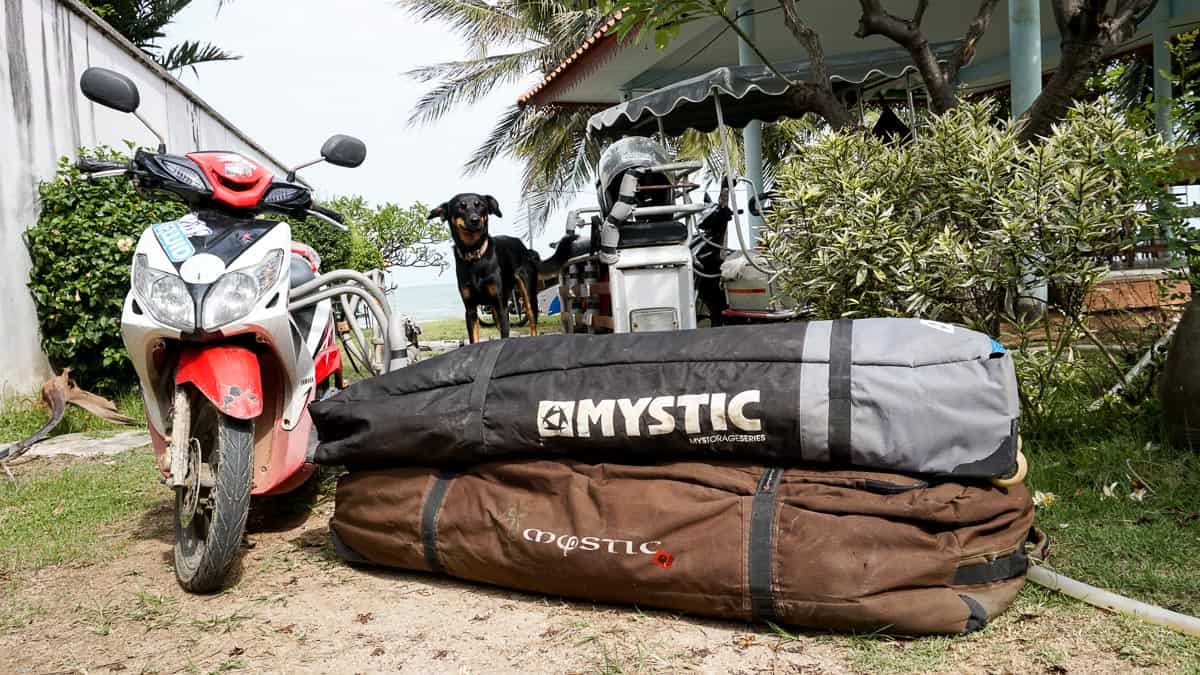 At 150 X 45 X 40 cm, this soft shell golf bag is big enough to fit your entire quiver of kites (let's say 3), 1-2 boards, a wetsuit… and you could even have room leftover.
It's made of super durable 600D polyester and is coated with PVC for dirt/weather/waterproofing (which also makes it mercifully easy to clean). As well as having an extra thick padded bottom, the entire bottom half of the bag is reinforced with high density PVC walls, too, which serve as extra protection for whatever boards you've packed inside.
This Mystic golf bag is fitted with a shoulder strap as well as wheels for easy manoeuvring through airports, and empty it weighs slightly over 10lbs. I also adore the fact that there's extra tightening straps across the body of the bag, meaning you can really make sure everything is super secure before sending it through check-in.
Aaaaand, as if that wasn't already enough to rock your kite travel socks:
The Mystic golf bag also comes with 2 vacuum bags (and a hand pump), which are ideal for packing your kite into instead of their normal bags- which tend to add unnecessary bulk and weight. Sweet!
The final tiny detail that I came across using this bag is that the pulleys attached to the zipper are freakin' indestructible! I mean, I'm a serial overpacker and often the pulleys will just snap right off when I'm trying (and failing) to close my bag. But the Mystic golf bag's zipper pulleys are made of this super strong leathery material which has been double (maybe triple?!) stitched. Thanks Mystic!
We love:
Extra durable PVC reinforcements
Has wheels
Easy to carry/wheel around
Ventilated
Big enough to fit 3 kites + 2 boards + accessories
Easy to clean
Comes with 2 free vacuum bags and hand pump
Meh:
Not the lightest weight bag on the list (the reinforcements add extra pounds)
Won't be big enough to fit longer surfboards
Now, if you tuned in when we talked about those free vacuum bags above, but you aren't in the market for the whole golf bag that they come with, the tried and true Dakine compression bag is probably just what you need.
Dakine has been in the outdoor gear game longer than most, and all of their kit screams quality. This compression bag is no different (even though the bargain price tag might trick you into thinking otherwise).
Made of super lightweight nylon fabric and featuring 4 compression straps, this bag is big enough to fit not one, not two, but easily three kites inside- yup, even your truck-of-a-17-meter. Can you imagine how much space (not to mention weight) you'd save if you removed every one of your standard kite bags from your travel luggage?
Using any compression bag means everything is kept neat and tidy inside your golf bag, or- if you're not traveling with a golf bag- that your package of kites stay compact and streamlined throughout the whole journey.
But the thing I especially love about this compression bag? There's a handy high visibility light gray area on the bag of the bag where you can write your kite sizes with permanent marker. Perfect.
We love:
Seriously lightweight
Easy to clean nylon fabric
Reliable, trusted brand
Great value
Appeals to the uber-organized, OCD side of the brain.
Meh:
It's a bit of a one-trick pony. Great for keeping your kite package small, but doesn't offer the multifunctionality of other kiteboard bags on this list.
Doesn't offer any protection (something to consider if you're thinking of traveling with this bag on its own)
Check out recent customer reviews and current price of the Dakine compression bag on Amazon.
This super sized golf bag is ideal for those of you who like to travel with bigger directional boards. At 165 X 52 X 25, it's got the extra length needed to accommodate much larger boards but still maintains a pretty streamlined profile.
The other really cool thing to note about the Liquid Force GO LF bag is that it weighs less than five pounds. That's under half the weight of the Mystic bag above! It also features heavy duty urethane rubber wheels, a side handle, and another handle at the top for easy rolling when you're on the move.
We love:
Longer length can accommodate bigger boards
Super lightweight
Heavy duty wheels and handles for easy maneuvering
Meh:
Not so heavily reinforced (hence the super light weight)
When you're a die-hard surfboard rider, finding a kiteboard travel bag to accommodate your board (or perhaps boards- plural) can be tricky business. On one hand, you want something that's long enough to fit them in comfortably and padded enough to be protective, but you also want it to be relatively lightweight and still have room for your kites, harness, and so on.
Not asking too much there are ya surfboard riders?!
Well, if this Pro Limit travel bag isn't the answer to your kite travel prayers, I don't know WHAT is.
This bag holds 2-3 directional boards in its specially designed main chamber (there's a different section for your kites), which features built-in padded separators to keep each one of your boards totally protected in transit. Both the nose and tail of the bag are reinforced with 600D polyester, and the sidewall padding boasts an extra 12mm thickness.
The designers of the bag decided not to put wheels on the bag in order to save weight, which is a bit of a double edged sword in that it makes it a shade trickier to move it around- but by no means is it the be all end all of an otherwise highly functional kite travel bag.
We love:
Optimal lightweight design
Specifically made to store multiple directional boards (padded separators)
Extra padding on nose and tail
Thick padding on side walls
Handy carry straps
Meh:
For those of you who might be able to borrow or rent kites at your destination and therefore only want to travel with your board, the Slingshot wake/kite board bag should definitely be on your radar.
At 145 cm long and with its flexible soft outer material, it's roomy enough to fit your kiteboard (or as the name suggests, your wakeboard) with the bindings on, as well as extras like a towel and wetsuit.
While shoulder strap board bags are a dime a dozen on the market these days, this particular kiteboard bag from Slingshot sets itself apart in a couple of key ways:
For one, it's fitted with multiple outside and inside pockets, which makes storing your extra accessories a ton more organized. It's extra padded (which a lot of slim board bags miss out on) so your gear will stay snug and safe whilst in transit.
But my favorite feature of the Slingshot board bag? It's got hidden backpack straps, which you can either choose to tuck away if you prefer the shoulder strap or pull out if it's easier to carry on your back and therefore freeing up your hands.
Now, granted this bag is a bit pricier than your run-of-the-mill board bags, but we reckon its extra features combined with its cool Slingshot-esque aesthetics more than make up for it.
We love:
Perfect size to fit board with bindings (and no need to detach them first)
Extra pockets for organization
Extra padding and protection
Backpack straps and shoulder strap for easy carrying
Meh:
No wheels
Pricier than other board bags on the market
Wrapping it up
Well, there you have it! 5 pretty slick kiteboard bags for travel that serve 5 very different needs. In a list like this, there really is not picking the 'best' kite travel bag, since it'd really be like comparing apples and oranges.
Either way, hopefully this has given you some idea of the options that are out there when it comes to picking a travel buddy for your next kite adventure. As always, if you have any questions rattling around in your noggin, drop us a comment down there and we'll do our best to advise you further.
Meanwhile, why not fuel your kite travel inspiration by checking out our shortlist of the best kiteboarding locations in Asia, where you'll find warm tropical weather year-round and conditions spanning waves to butter flat lagoons- and beyond.
Looking for somewhere specific? Why not browse through our kiteboarding archives where you'll find:
---
Still got a question about kiteboard bags for travel? Stick it in a comment down there and we'll get back to you ASAP.