Asia's kitesurfing game is strong
It often passes under the radar of the international kiting community, but in reality:
Asia has some of the best kitesurfing spots in the world.
It's the home of big name kite brands like Duotone, Core, and Carved.
It's the stomping ground of international kite competitions like the Kiteboard Tour Asia and the IKA's Kitefoil Gold Cup and TT:R Slalom circuits.
It's the winter getaway of choice for tons of European kitesurfers who come to make the most of the tropical temperatures and reliable wind.
But:
Things are changing- fast.
The Asian kiteboarding community is growing at an insane rate, and new places are opening up all the time.
Old favourites like Mui Ne still have a solid kite community- but after close to a decade of heavy kite tourism, a lot of kite travellers are now turning to new, less-crowded locations.
These changes call for an updated list of Asia's best kitesurfing destinations for 2019.
Need to gear up before your trip? Check out our latest reviews!
So get ready to pack your bags for Asia, guys; these are the spots that we think will grow in the next few years:
Our selection of epic spots for kitesurfing in Asia
Kitesurfing in Pak Nam Pran, Thailand
There's a lot of misconception about kitesurfing in Thailand, and it's often disregarded as an unreliable light wind spot.
In reality, there are a handful of fantastic places for kitesurfing in Thailand that, together, work across most months of the year- and Pak Nam Pran sits at the top of our list.
You'll find the Hua Hin kitesurfing scene just 25 km away, and- in fairness- it is much better known than little old Pak Nam.
But that's what we love about it:
Pak Nam Pran is a super chilled little fishing town surrounded by nature. It's got a handful of great hiking and mountain biking trails, as well as its own 2.0 cable park- and then there's the kiting:
With two distinct wind seasons, kitesurfing in Pak Nam Pran comes with a mix of conditions depending on the time of year. From February to June you can expect 10-20 knots of stable side-on thermal wind and relatively calm waters, and from November to January you'll get the gustier monsoon winds (usually measuring in from 15-25 knots).
The main kite beach is spacious, sandy, and free from obstacles- making it one of the best places to learn kitesurfing in this neck of the woods.
It just so happens that Pak Nam Pran is also home to multiple times Asian kiteboarding champion, 'Yo' Narapichit Pudla- so if you're looking for kitesurfing lessons in Pak Nam Pran you can't do better than to book with him.
OOOH, you guys! We've recently published an ENTIRE guide on kitesurfing in Pak Nam Pran and the surrounding Pranburi area.
And you can always find more about travel tips and other adventure sports in our in-depth Pak Nam Pran adventure guide, as well as some accommodation ideas in our review of the top 10 hotels in Pranburi for every budget.
Kitesurfing in Phan Rang, Vietnam
Until very recently, if you were talking about kitesurfing in Vietnam you were almost certainly talking about Mui Ne. But the times they are a'changing, dear friends! Severe beach erosion has caused a big chunk of Mui Ne's main kitesurfing strip to shrink in size, meaning there's less space (and more people) than ever.
Those with their ear to the ground have quietly been packing up their kite bags and slipping away in favour of Vietnam's newly established kitesurfing spot in Phan Rang.
Situated less than 3 hours north of Mui Ne, Phan Rang's kiteboarding season runs from November-April during which time you can expect 20+ knots almost every day. With a butter flat lagoon protected by an outer reef, the spot at the My Hoa Lagoon is ideal for free riders, wake style kiters, and beginners.
It's easily one of the best winter kitesurfing destinations for those back in the west who are looking to escape the cold and catch some wind.
Check out the best hotels in Phan Rang on HotelsCombined.com, or book yourself at our favourite kite resort Sorrento Beach Club (this place is insanely popular even though it's still in its first year, so make sure to book well in advance!).
Find more info about travel and sports in our in-depth Phan Rang adventure guide, or if you're looking for more details on Phan Rang's kitesurfing spots, season, and conditions, visit our complete guide to kiteboarding in Phan Rang.
Kitesurfing in Mannar, Sri Lanka
When it comes to kitesurfing in Sri Lanka, Kalpitiya has long ruled the roost thanks to its super strong wind and legendary flat water lagoon. That said, Kalpitiya Lagoon is often quite gusty- not to mention crowded- which is what sparked a few adventurous kiters to hit the road and explore some of Sri Lanka's further flung waters.
Mannar sits in the far north of Sri Lanka, just 16 km away from Indian waters. This is where you'll find Adam's Bridge, the stunning limestone shoal that's thought to have once connected Sri Lanka with mainland India.
A far cry from kitesurfing in Kalpitiya and Vella Island, Mannar has crystal clear waters, stable wind, flat lagoons, and panoramic views of the outlying islands.
Touted by locals as the "most stable wind in Sri Lanka", Mannar dishes out some of the best kitesurfing in Asia- hands down. As of very recently, one Kalpitiya kitesurfing school has become the first to established a space right on the island- the first of many, one can only imagine.
Check in at our friends Leo and Dil's resort Vayu for a sweet room right on the spot!
Kitesurfing in Jeju Island, South Korea
Located off the southern coast, Jeju Island is one of South Korea's best places to kitesurf. With its own airport conveniently located in the center of the island, it's possible to kite on both the east and west coasts- depending on the wind direction (though if it's wave riding you're into, the southern beaches should definitely be on your radar).
Hyeopjae and Sinyang are the main kitesurfing beaches on Jeju Island, both of which are fairly spacious and safe to ride at. Wintertime gets a little bit chilly, so you're going to need a wetsuit, but the spring season- and the summer typhoon season- is much warmer.
Head over to HotelsCombined to find suitable hotels in Hyeopjae, or in Sinyang.
Kitesurfing in Penghu Island, Taiwan
Penghu is strong wind territory- and when we say strong we mean mega strong. The high season brings in excess of 40 knots on a regular basis- sometimes even pushing the 50 knot threshold.
The island sits between mainland China and Taiwan- the sort of location that creates a permanent wind tunnel- which is what causes the wind in Penghu to be so strong. The season (which is extremely reliable, by the way) runs from September/October until May- which conveniently is the opposite of the tourist season.
Check out Lewis Cratherne's first time in Penghu
All things considered, it's no surprise the women's WOO world record holder, Karen Hou, is from here!
In fact, if you're going to book yourself a room on the island, why not go to Karen's Kitesurfing B&B on Longmen Beach, you know you'll be in good hands.
Psst: read more about Taiwan's awesome adventure activities in our local's guide!
Kitesurfing in Hainan, China
When you're dreaming of a gorgeous sandy kitesurfing beach on a tropical island, China probably doesn't spring to mind all that easily- when in fact, that's exactly what you'll find on Hainan Island.
It sits just off the southern coast of the mainland, and- best of all- it's got wind… lots of wind.
There's a handful of kiteable spots around the island, but the best one of all is in a little fishing town called Bo'ao on the east coast. The best wind comes from February to June (it peaks between March-May) when you can expect 80% of days to have 15+ knots of perfect side-on wind, along with gentle swell from the sea.
The beach is massive, and absolutely spotless. The town is tiny, filled with amazing local restaurants, and surrounded by palm trees- quite a contrast to the mega cities and gigantic skyscrapers that China is known for.
Find the best hotels in Bo'ao right now!
If you need some info on getting a vpn (virtual private network to access banned sites – facebook, twitter and youtube to name a few), check out this vpn in China guide for some advice.
Pssst: wanna know more about Hainan and China's kiteboarding potential? Head over to our complete guide to kitesurfing in China.
Kitesurfing in Siargao, Philippines
Read now: Essential Siargao Kitesurfing Guide: Must-Knows About the Island
Siargao is one of the Philippine's southeastern islands, and though its kitesurfing community is far less developed than, say, the Boracay kitesurfing scene, Siargao is absolutely bursting with adventure potential.
Let me start by saying:
If you're looking for all-night island parties and pub crawls, you're in the wrong place.
There's not a lot more in Siargao than a handful of laid-back resorts, local restaurants, and a couple low key hang-outs. The rest is all nature, wildlife, and white sand beaches.
Sounds awful, right?
Wind in Siargao comes in between 12-20 knots cross-on during the 'amahan' season, which runs from November to March. Siargao is most famous for its surf, but kiters have their pick between flat water lagoons and sand-bottom wave spots (it's often talked about as one of the best wave kitesurfing spots in SE Asia).
Now, here's the truth of the matter:
If you're planning to head to Siargao with just your twin tip and inflatable kite- and you're hoping to score non-stop riding action- you may very well end up disappointed. Siargao's wind is far from being as omnipresent as it is in the other spots on our list; but we've still chosen to include it for a couple of reasons:
First, it's a dead dreamy spot for kite foiling- a discipline which is picking up in Asia in a big, big way lately. For foil riders, Siargao offers close to 6 or 7 days a week of ideal foiling conditions (think the 7-12 knot range) during both seasons.
And second, you've got surfing, longboarding, wakeboarding, SUP, and kitesurfing on the menu here. In fact, a brand new 2.0 cable wake park just opened in Siargao in the summer of 2018. Basically, if you're the kinda person who's into multiple watersports, Siargao is an epic place to be.
Cloud 9 got some really cool hotels close to the spot, like the Beach House Cloud 9 Siargao, or the Siargao Island Villas.
Kitesurfing in Lombok, Indonesia
Lombok Island is kinda like Bali's rough and ready younger sister; less developed, more wild, annnnd, wait for it…. WAY more windy! Or, er… windier, as they say.
Lombok enjoys a seriously saucy summer wind season, which begins in May and runs through September. The very best kitesurfing conditions hit Lombok's shores between June and August- with local's touting that August's wind reliably blows 20+ knots virtually every single day.
Kaliantan is the main spot for kitesurfing in Lombok, where you'll find a bloody gorgeous flat water lagoon protected by an outer reef. And the COLOUR of that water- ooooh baby….
The flat area inside the lagoon is ideal for free riders and freestylers, while outside on the reef you'll be able to score clean sets of waves at medium-high tide.
Despite the fact that Lombok is one of the few destinations in Asia boasting such a reliable summer wind season, the spot at Kaliantan remains blissfully uncrowded, even during the peak high season.
For this reason alone, we reckon Lombok's kitesurfing scene is set to grow in a big way over the coming years- not to mention the fact that there are squillions of other epic outdoor activities on the island (think paragliding, hiking, MTB, diving, paddline, wakeboarding, and of course, insanely good surfing).
Check out this awesome hotel close to Kaliantan beach!
If you're keen to know more about Lombok's adrenaline and adventure offerings, bop on over to our complete adventure guide to Lombok.
Kitesurfing in Boracay, Philippines
Kitesurfing in the Philippines has pretty much always equalled Boracay.
That is, until years of unsustainable tourism practices caused the pollution problem to get so bad that Boracay's waters became toxic and the island got shut down.
But it's back, baby!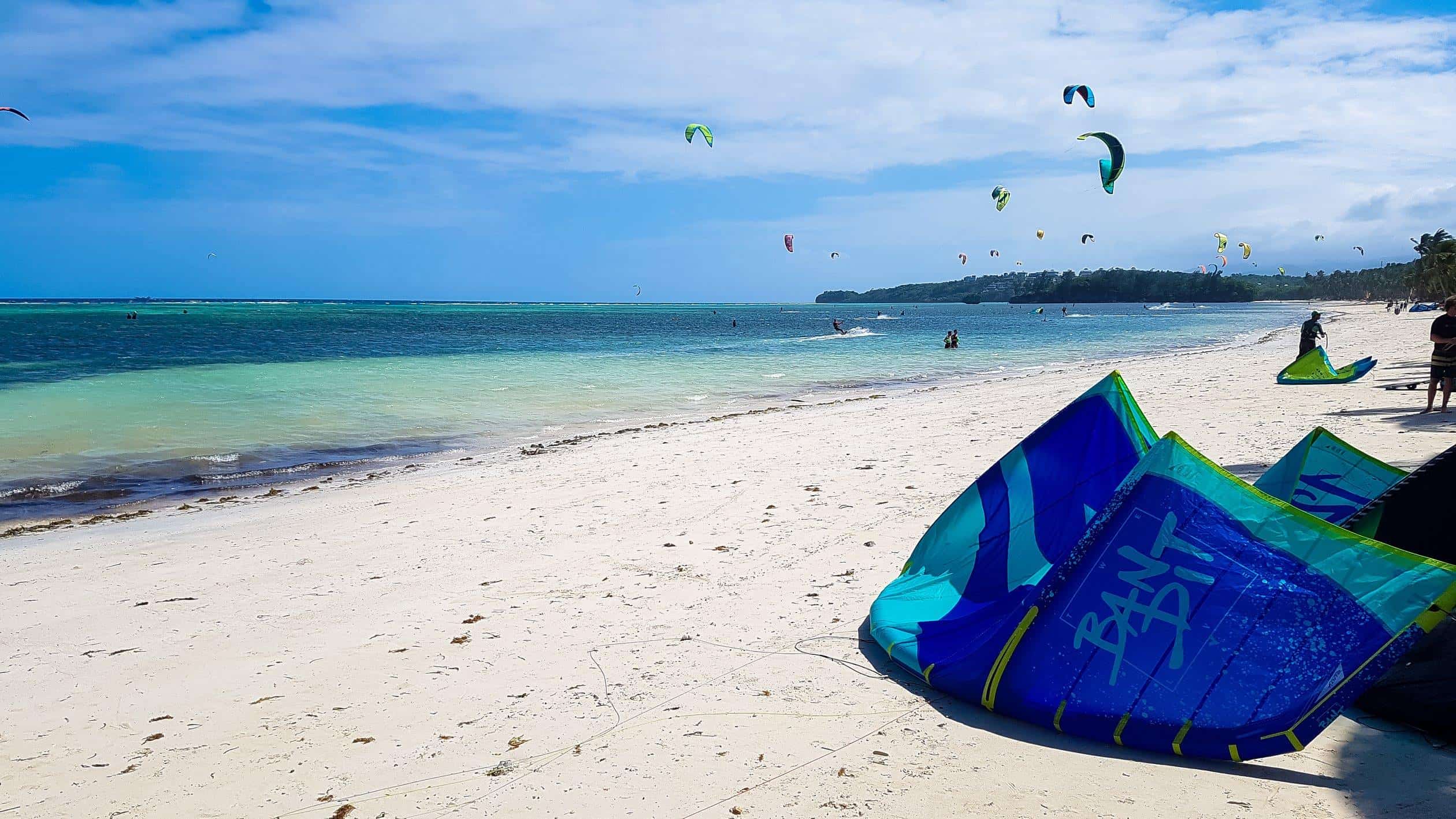 After a 6 month temporary closure, Boracay Island is once again open to visitors- and it's well on its way to redeeming its long-held spot on the list of Asia's best kiteboarding locations.
Boracay's wind season matches that of most Southeast Asian countries, with its peak amahan season running from November until the end of April. During this time, the wind typically blows 15-25 knots (occasionally crossing the 30 knot threshold) with cross on/onshore orientation. December-March are the absolute best months, with super reliable wind on a near daily basis.
You can also kite at Boracay's White Beach in the summer habagat season, but the southerly winds that blow during this time are a lot less reliable than that of the amahan season- so be wise to that when booking your trips!
Bulabog Beach is the main kiteboarding hub during the amahan season, where you'll find 1500 meters of squeaky white sand and a shallow flat water lagoon. There's just shy of half a kilometer between the beach and the protective outer reef- where you can score some sweet little kickers if you're keen for some popping and wave riding action.
Now, the lagoon at Bulabog Beach used to have a bad rap for being outrageously crowded- think 100+ kites (many of which were beginners) swinging around inside the lagoon.
Well, this year things are looking a fair size different:
Seems like the negative press that Boracay endured over the past year has taken its toll. Locals report that the lagoon has never been so empty- meaning the best of the best Boracay kitesurfing conditions are there for the taking.
Add that to the dreamy scenery, super chilled island vibes, strong local kite community, and dangerously delicious nightlife- and you'll see Boracay is once again 100% deserving of a spot on the list of Asia's best kitesurfing locations.
Get the best prices on Boracay's hotels with HotelsCombined.com. For a cool place right on Bulabog Beach, check out Ralph's place.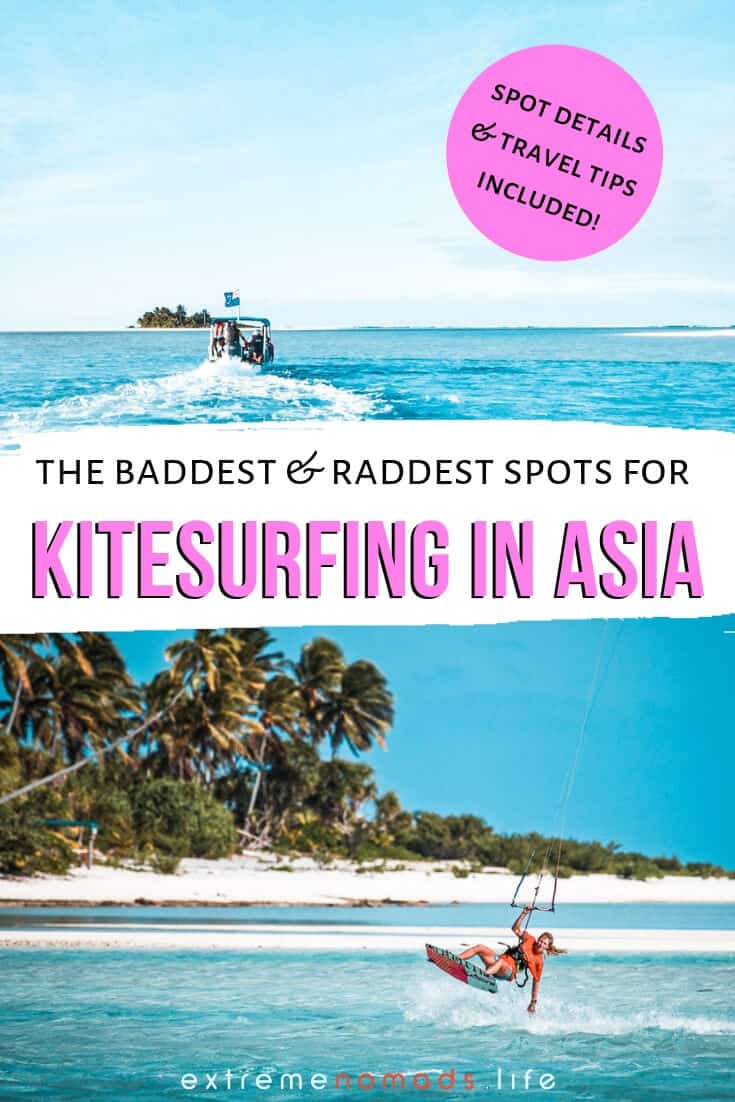 Have a question about kitesurfing in Asia? Leave it in the comments section below, or join our exclusive facebook group and ask the community!
Cover picture: Alexandru Baranescu – KTA