Your complete guide to exploring Briançon Serre Chevalier Vallée, France
Otherworldly landscapes. Wildlife. Friendly, welcoming people. More melted cheese than you could ever possibly dream of.

That's just a few of the reasons that Briançon Serre Chevalier, a little valley in France's Hautes Alpes, won our hearts completely.

Authentic, traditional, and a welcome breath of fresh air from the overcrowded ski resorts elsewhere in the Alps, Serre Chevalier is a gateway to the wilderness of the Écrins National Park and the notorious off-piste slopes of La Meije.

It's an outdoor lover's paradise with an array of sports for all seasons, though the true stars are the insane skiing/snowboarding conditions in winter and world-class rock climbing in summer.
Up until now, the valley has mostly been a destination for families; but it's set to start welcoming members of the digital nomad community with the French Alps' first coworking/coliving space having opened its doors in Briançon in January 2020.

Benefitting from a giant investment in a new ski lift system and super efficient public transport network, Serre Chevalier is pretty much everything you could wish a holiday destination to be on a practical level — but that's not why we love it.

It's the special, undefinable energy of the valley that truly drew us in.

We wholeheartedly believe that the Briançon Serre Chevalier resort is one of Europe's most underrated outdoor sports destinations, and we see enormous potential for this place over the coming years.

Here's a comprehensive look at what to consider for your own trip:
Must-know Briançon Serre Chevalier info
Why visit
Incredible scenery is just the start.

Serre Chevalier is somewhat lesser-visited than other mega-popular ski resorts in France; like Chamonix, for example, which has a really different vibe. As such, the Serre Chevalier resort is clean, unpolluted, and maintains a relaxed atmosphere even when the season is in full swing.

The valley is made up of a few authentic villages — not the posey ski resort kind that you might associate with destinations of similar ilk. No matter where you find yourself, you're never far removed from the everyday life of the valley's residents.

Serre Chevalier is home to a UNESCO heritage site, known today as the old town of Briançon. The town comes with a vibrant — albeit wartorn — history and the well-preserved remnants of ancient forts, battlements, and citadels add a layer of culture that you won't find in many other ski resorts.

Speaking of skiing, the Briançon Serre Chevalier resort boasts 540km of ski/snowboarding trails in total (~250 km of which are alpine slopes and the remainder cross country). A few years ago, the local authorities put up a massive investment in a new chair lift system which means the slopes and towns are extremely well-connected and all the lift facilities are top-notch.

As for the slopes themselves, you'll find perfect conditions for literally all riding styles and levels (we visited as a VERY imbalanced couple in terms of our snowboarding experience and had a great time — more on that in a minute).

Significantly, the valley is heavily planted with native larch trees which don't lose their needles in the winter (and therefore don't distribute acid on the forest floor) leaving the snow in pristine condition on/off-piste. Larch forests also differ to pine forests in that the latter are usually too dense to ski through, and so limit off-piste riding.

The region is family-friendly, with little in the way of crazy après antics and instead loads of activities, facilities, and fun things to do for all ages (more on that coming up!).

But it's not just families who can (and should) visit Serre Chevalier:

As we barely touched on above, the valley is now home to the first coworking/coliving space in the French Alps — making it a truly phenomenal destination for digital nomads with a passion for snowboarding vs skiing.

We see huge untapped potential in Briançon Serre Chevalier for this kind of traveller.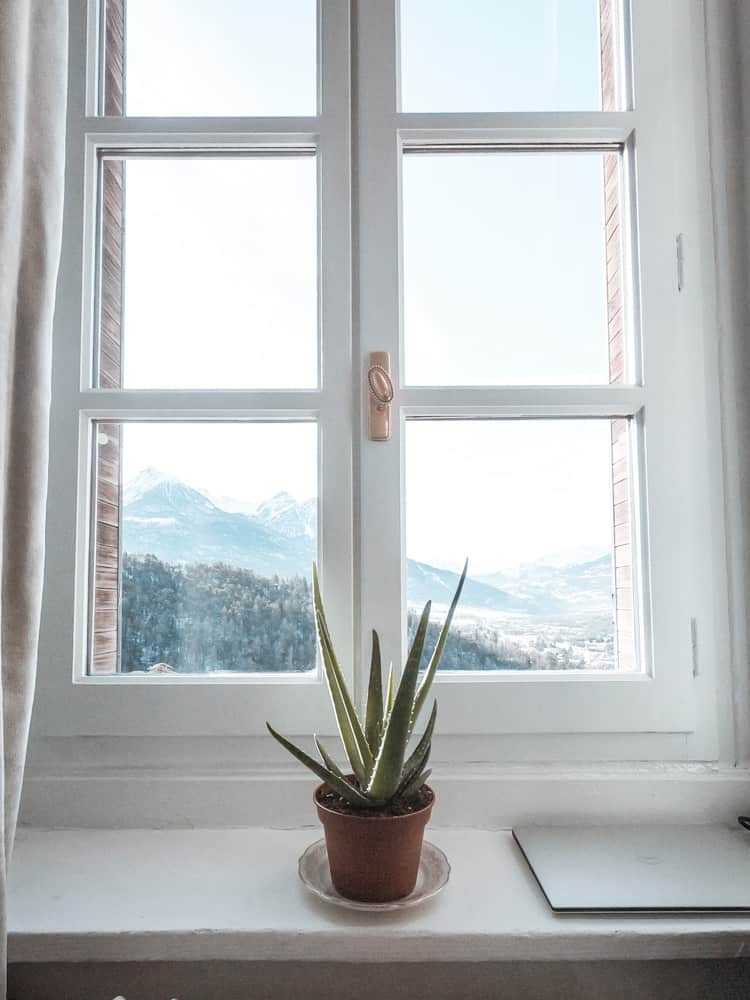 Location
Serre Chevalier is located in the Hautes Alpes region of Southeast France, just 15 minutes away from the Italian border. The valley sits 115km from Grenoble via the D1091 (<2.5 hours by road), 227km from Lyon (3.5 hours by road), and 126km from the Italian city of Turin (<2.5 hours by road).
When to visit
Briançon Serre Chevalier Vallée embodies a different character depending on the season; you can pay a visit at any time of the year and experience something quite special.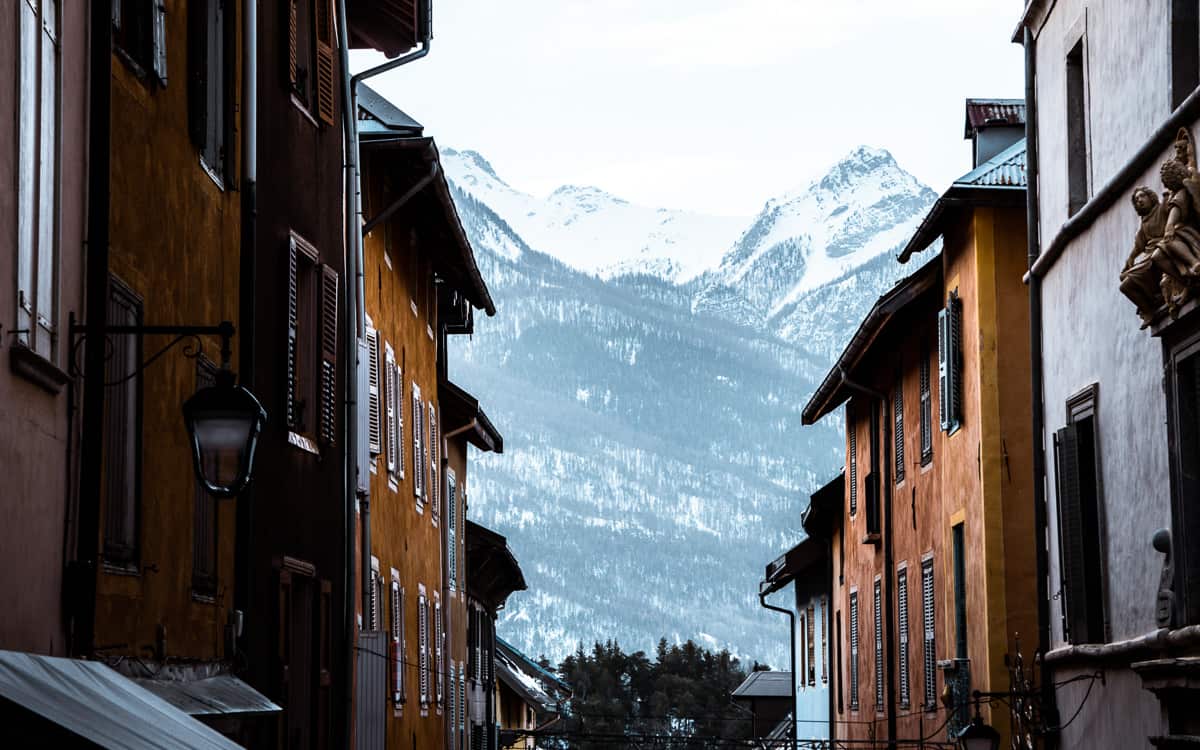 Winter and summer are the peak tourism periods, and each has its own draws depending on the activities you're interested in.

To avoid the crowds, be aware of when France, Belgium, Italy, and Switzerland have their school/public holidays. We visited in January and were delighted to have the slopes nearly to ourselves, but were told that in February you can easily wait half an hour for the chair lift. Yeah, you read that right.

Spring and autumn are off-season for Serre Chevalier, but still offer amazing conditions for outdoor sports and activities. The scenery also changes dramatically during these months, with spring bringing the thawing of the snowy mountains and autumn seeing the valley's iconic larch trees turn auburn.

Comparatively few tourists come at these times of the year, which makes them a good choice for those of you who want to avoid the crowds or score cheap deals on accommodation.
Ski hire in Briançon Serre Chevalier Vallée
As so many of you are likely to be reading this with a skiing trip in mind, we thought it'd be useful to include a quick rundown of the ski hire options in Briançon Serre Chevalier. Basically, each of the villages in the valley has its own selection of ski hire shops, where you can rent (or buy) skis, boots, bindings, snowboards, jackets, pants — the works.
Rates are pretty standardised between the shops, but as a point of reference:
I rented a snowboard with bindings, boots, a helmet, and a locker in a ski hire shop in Briancon for 6 days and paid ~€150.
There's also a giant Decathlon in Briancon which has really good deals — Jim scored an awesome pair of snowboarding goggles in there on sale for €15.
Local tip: Briancon market is held every Wednesday and Saturday, and you'll often find vendors there with piles of second-hand clothing, knick-knacks, and…. ski gear! It's a bit of a chancing game, but you can get really lucky and score a ski jacket for a couple of euro.
Serre Chevalier weather
Let's start with the winning piece of information here:

Briançon Serre Chevalier gets THREE HUNDRED DAYS OF SUNSHINE PER YEAR. Yes, I had to shout that because I'm from a country where we get 300 days of rain per year so this is kind of a big deal.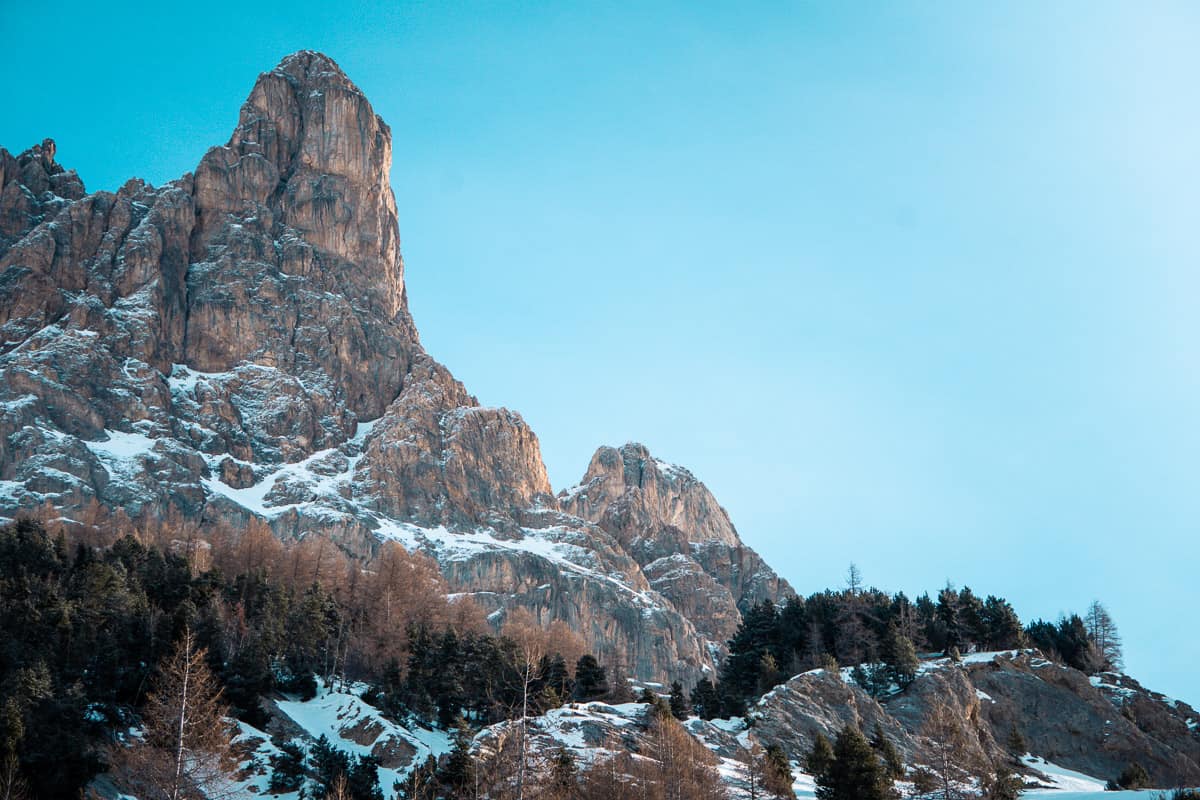 And yet even with all the rays, the valley's summer misses out on the stifling heat of France's cities and instead typically lingers at a comfortable 25 degrees C.

Winter, while enduring an average temperature of -3 degrees C, doesn't feel so unpleasant with its frequent sunshine and generally dry climate. That said, if you're not used to the low humidity of the mountains, you might find Serre Chevalier's weather to be VERY dry (bring a good quality moisturiser.

Let's leave the Serre Chevalier weather — and the rest of the logistics — there for now and move on to some of the coolest things to do in Serre Chevalier, France:
Things to do in Briançon Serre Chevalier Vallée during the winter
Skiing
Skiing is arguably Serre Chevalier's biggest draw, with an enormous network of slopes and XC trails (in case you forgot: ~540km of trails in total including 250 alpine slopes and the remainder cross country. YASSSS!). Throughout the resort, you'll find a solid mix of pistes ranging from green to black, as well as a ton of potential off-piste.

Ski passes can be purchased online or at the resort according to how long you'll be there, with day passes, 6-day, 2-week, and season-long being the most popular. You can also score good deals with the Holiski pass (also, keep an ear to the ground for bad weather discounts and cheaper deals according to the days of the week).

Our tip: Head in January for empty slopes; February gets mega crowded. Fancy switching it up for a day and taking your skis somewhere other than the slopes? We found some epic looking skiing activities from our mates at Adrenaline Hunter:

Or click here to see the full list of skiing activities available in Serre Chevalier on Adrenaline Hunter.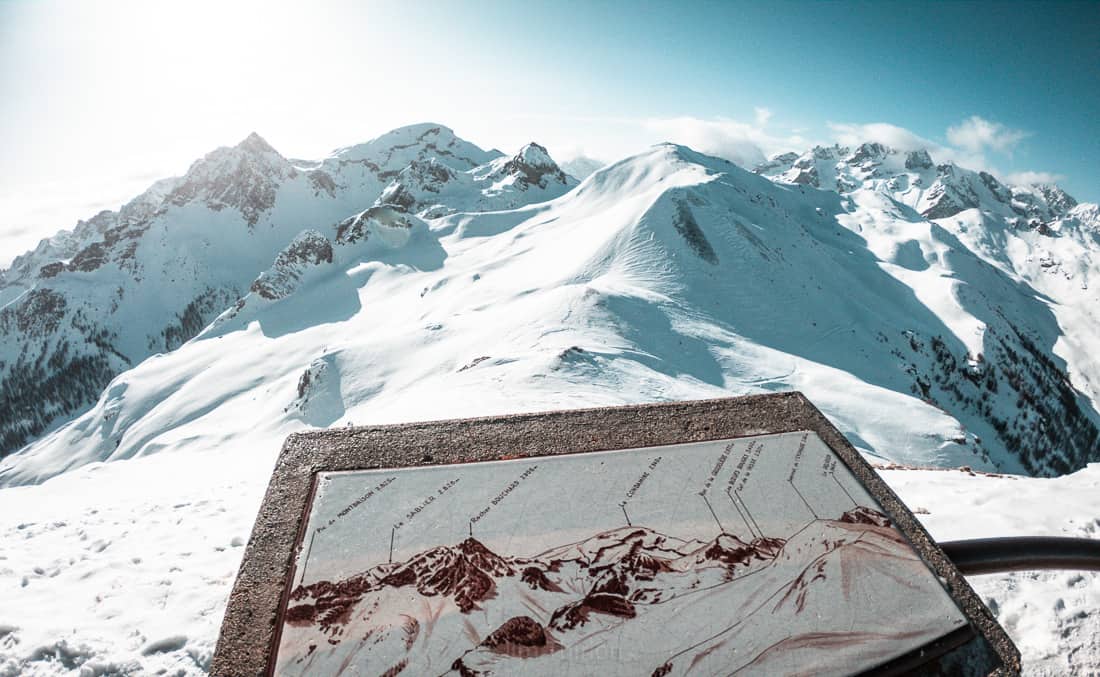 Snowboarding
We visited Serre Chevalier specifically for the snowboarding offerings, Jim as an experienced snowboarder looking for off-piste powder runs and myself to learn the sport for the first time.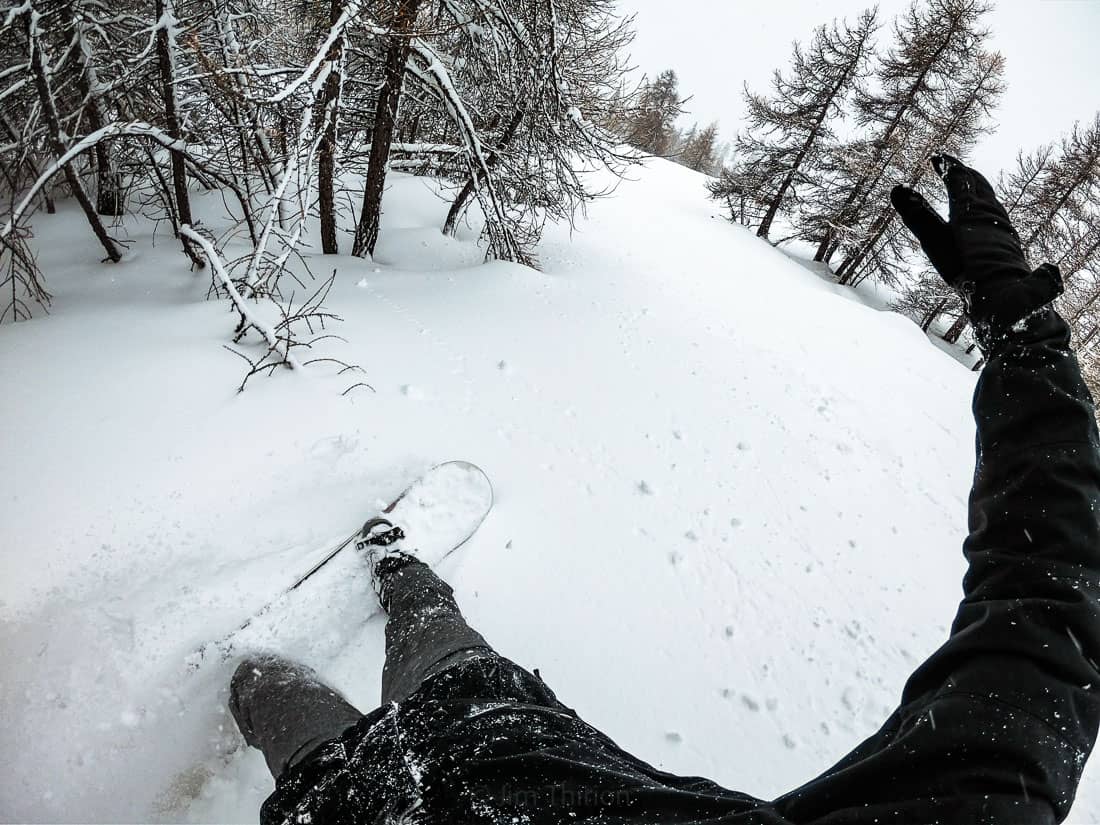 The awesome thing about Serre Chevalier is that you can do both within a stone's throw of each other — and the conditions are awesome for each.

Advanced riders can hit the snowparks, nail some virgin off-piste slopes, or take on the challenging red and black pistes. Meanwhile, beginners have a decent selection of green and blue slopes to learn and progress on. I especially appreciated the extra-wide slopes in the Briancon part of the resort, which made the perfect training ground for my first turns.

Check out the epic backcountry snowboarding excursions for groups of advanced riders and off-piste experiences for solo snowboarders looking to experience the best of Serre Chevalier's powder.

Our tip: If you're a beginner considering getting an instructor, do it. I spent a 3-hour session with an instructor from ESF which made the world of difference. My instructor's name was Max and I highly recommend asking for him at the ESF centre in Briancon if you're looking for a snowboarding teacher during your stay.
Snowkiting the Col du Lautaret
Col du Lautaret, one of the best snowkiting locations in Europe, sits right on the northerly end of the Serre Chevalier Vallée. Now, if you've never tried snowkiting before, you might be thinking it sounds a little niche/extreme/overly ambitious for a first-timer. BUT YOU'D BE OH SO WRONG.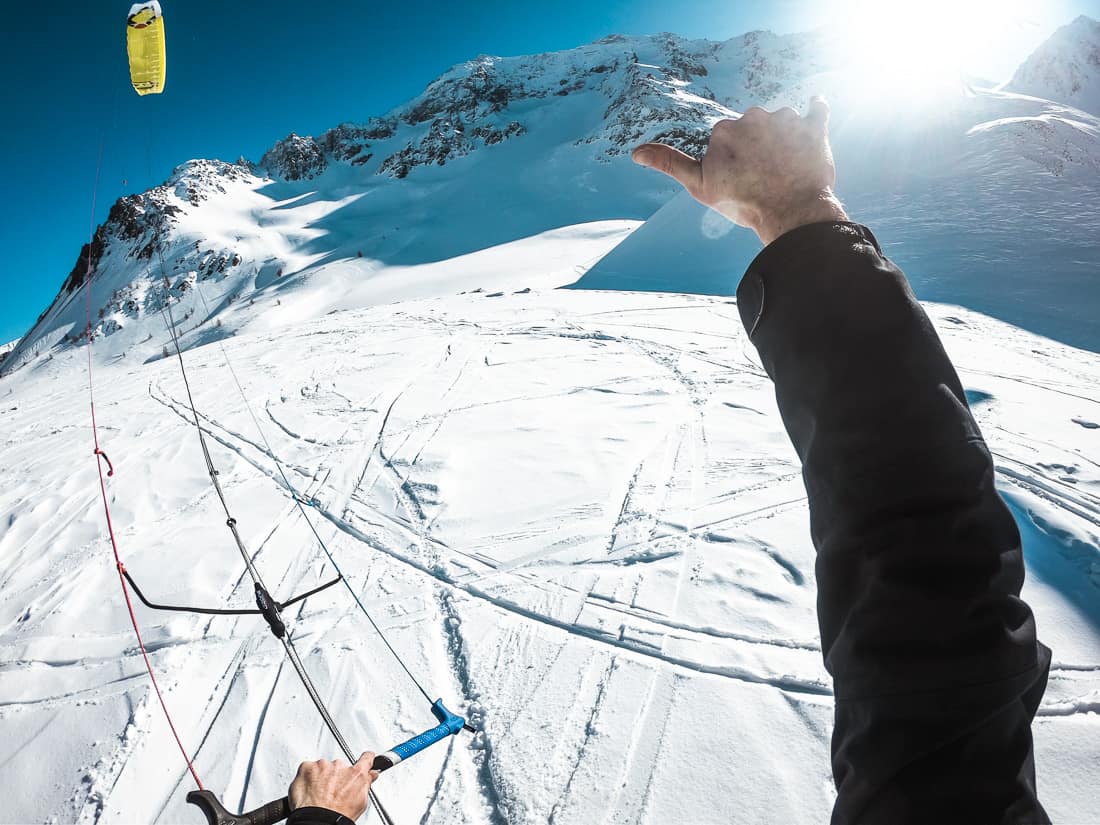 Snowkiting is insanely fun and not too tricky to pick up at all — especially if you have prior experience with kitesurfing, snowboarding, or skiing (the sport can be practised either with skis or a snowboard. Skis are easier to learn on, or so we're told by local snowkite expert Rémi — more on him in a minute).

Col du Lautaret is nothing short of a perfect spot when it comes to learning/progressing since the pass is made up of a mix of terrain — flat-ish spots with gentle slopes for beginners and steep powdery faces for more advanced riders to fly.

Rémi, the manager of Kite Legende school, (first setup in 2006), runs a phenomenal operation during the winter months. He welcomes both customers of the school and solo riders to kite on the designated area behind Lautaret Lodge & Spa, the primo hotel to stay right on the spot.

Head there between November-March to score the right conditions.

Pssst: we've got TONS more to say about the awesome snowkiting scene in Col du Lautaret — let us know in the comments below if you'd like to hear more. Enough interest and we may just dedicate a whole blog post to it!

Our tip: Stay at the Lautaret Lodge & Spa and you'll wake up LITERALLY looking out over the spot. Not only is the view out of this world, but you'll be able to maximise your kiting time by being able to see the moment the wind picks up. They've also got a sauna, steam room, and indoor pool on the property. Check their rates and availability.
Paragliding
Certainly one of Serre Chevalier's most extreme activities, paragliders are making the most of the local conditions all year round — weather provided.

There were dozens of mad-hatters flinging themselves off the mountaintops when we visited in January, for example (even Jim had a crack at a tandem ride!). But we were told by the local club that March brings the best flying conditions.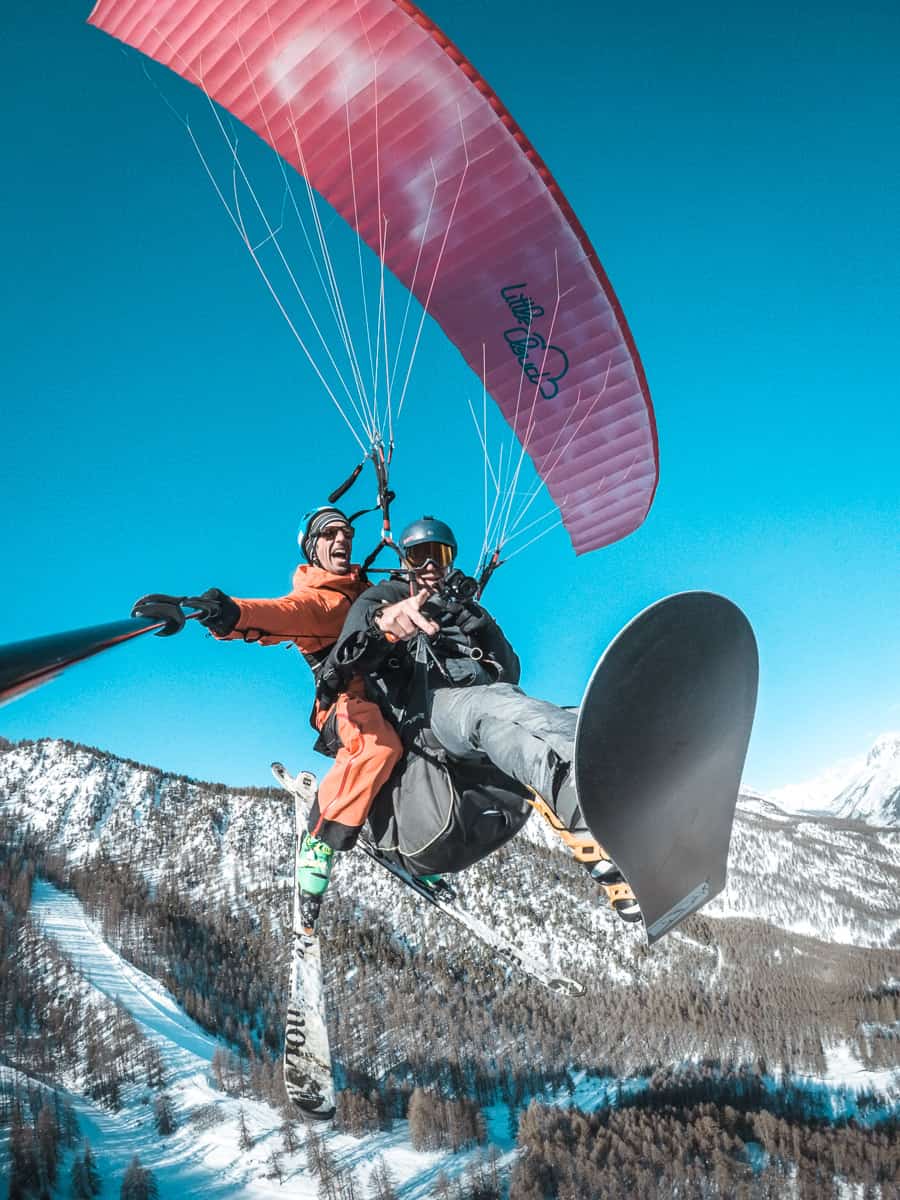 Local schools offer both paragliding instruction and tandem flights over the amazing scenery of the Hautes Alpes. Different variations are available, including spine-tingling speed flying experiences and the Serre Chevalier signature flight which involves taking off with your skis or snowboard!

Without a doubt, a once in a lifetime experience.

Our tip: Get in touch with the paragliding school at the start of your trip, that way they'll be able to notify you when the perfect conditions arrive for your flight. Jim had a great experience with Antoine from Axesse Parapente, and we'd definitely recommend him as a pilot.
Snowshoeing
When you're tuckered out from shredding the slopes, snowshoeing is an awesome, low impact sport to get you outdoors enjoying Serre Chevalier's landscape.

Definitely not the first activity that we would have picked for ourselves, but after one morning with local mountain guide Rachel Bourg from Rando Zen, we're converts.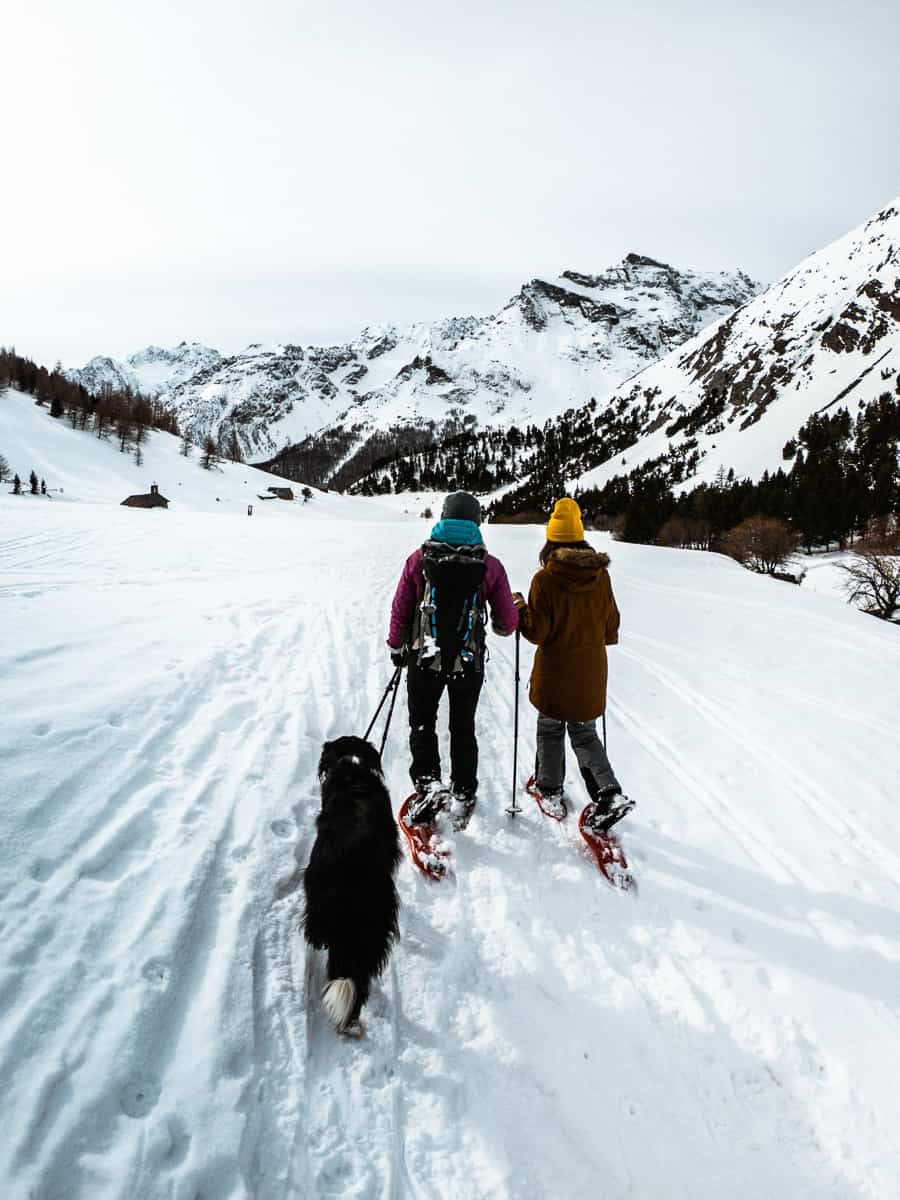 Rachel brought us snowshoeing in some truly unbelievable landscapes, showed us wild ibex in their natural habitat, and invited us for a transformative meditation session in the mountains outside Le Monêtier-les-Bains.

Our tip: If you're on a tight budget, rent snowshoes from any one of the village ski hire shops for ~€6/pair/day. If you have a little extra to spend, a guided excursion with Rachel is so worth it.
Fat biking
During Serre Chevalier's snow-free months, mountain biking is one of the most popular outdoor activities (we'll talk about that in the next section); but when the landscape turns white for the winter, fat biking is the way forward.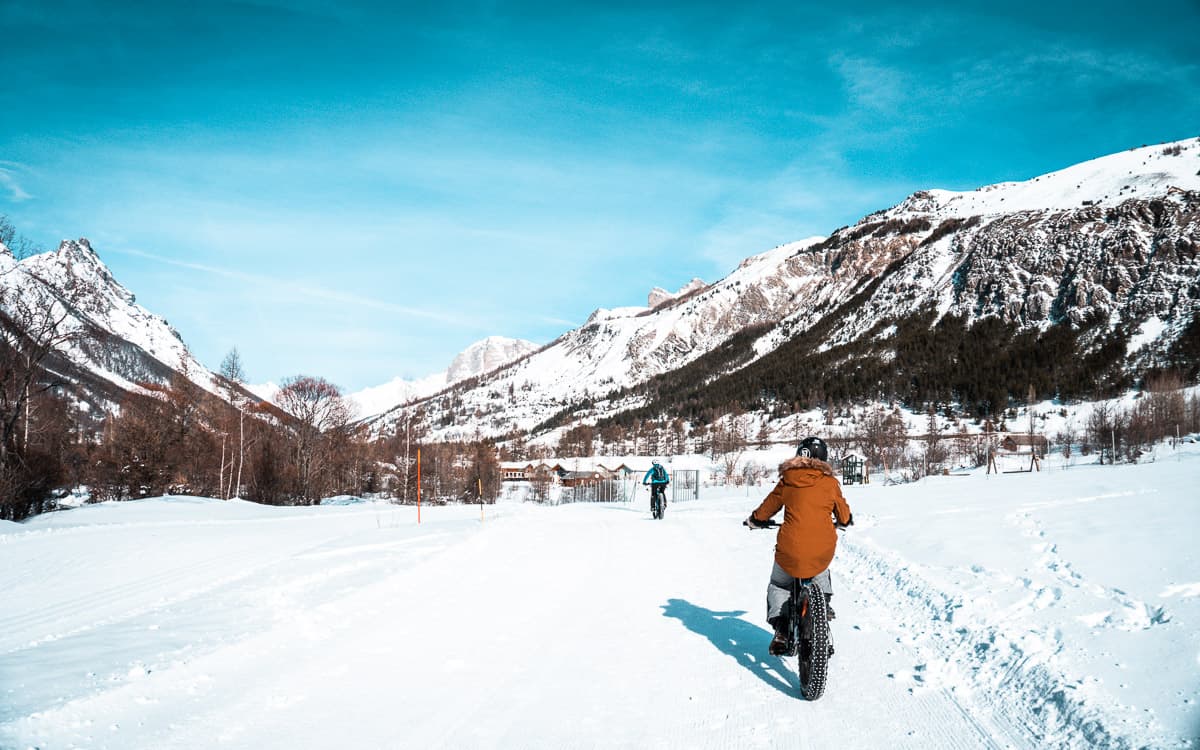 For the uninitiated, fat bikes are snow-proof mountain bikes with — you guessed it — big fat wheels that keep their traction on the slippery ground no matter the weather. They're also electronically assisted, meaning for every joule you create through peddling, the bike's electronic system matches it.

Long distance + steep ascents = not a bother.

We spent a fantastic morning fat biking with Véronique from the Bureau des Guides et Accompagnateurs de Serre Chevalier. We rode through the national park and LOVED it (yes, even me who is quite possibly the world's most nervous cyclist. No matter how deep the snow, slushy the road, or icy the terrain, I couldn't topple that damn bike). Highly recommend!

Our tip: even if you're not a huge cycling fan, try fat biking. It's easy, fun, and a really good excuse to explore some of Serre Chevalier's harder-to-reach areas.
Rock & ice climbing
Serre Chevalier is home to some of Europe's best rock climbing conditions for every level, but wintertime means ice — lots of ice — so beginners won't have much chance of getting out there.

However, experienced rock climbers will have a ball on Serre Che's southerly-facing mountains and ice climbing on the frozen faces near Briancon.

Our tip: If you're new to climbing, there are beginner ice climbing courses available within day-trip distance of Serre Chevalier.
Additional winter activities: bobsledding, mountain karting, scoot, dog sledding
For fear of this list becoming so long it'd rival a George R. R. Martin novel, we'll just say this:

There are TONS more snow-based things to do in Serre Chevalier for all ages, levels, and sporting abilities, from the classic winter-y activities like dog sledding and tobogganing to the slightly more unusual experiences like ice karting and scooting (it's like, a trike thing with a tiny seat that slides down the mountain. I guess it's a France thing? Is it? Somebody please enlighten me).

But when it comes to summer in Serre Chevalier…
Adventurous things to do in Serre Chevalier during the summer
Hiking
When it comes to hiking in Serre Chevalier, the valley is diverse in both its terrain and the difficulty of its hikes. Take your pick between mega long distance treks through the national park or easy-going rambles on the hills just above the villages. Whichever way you choose to play it, the scenery is outstanding — which is most of what it's all about, no?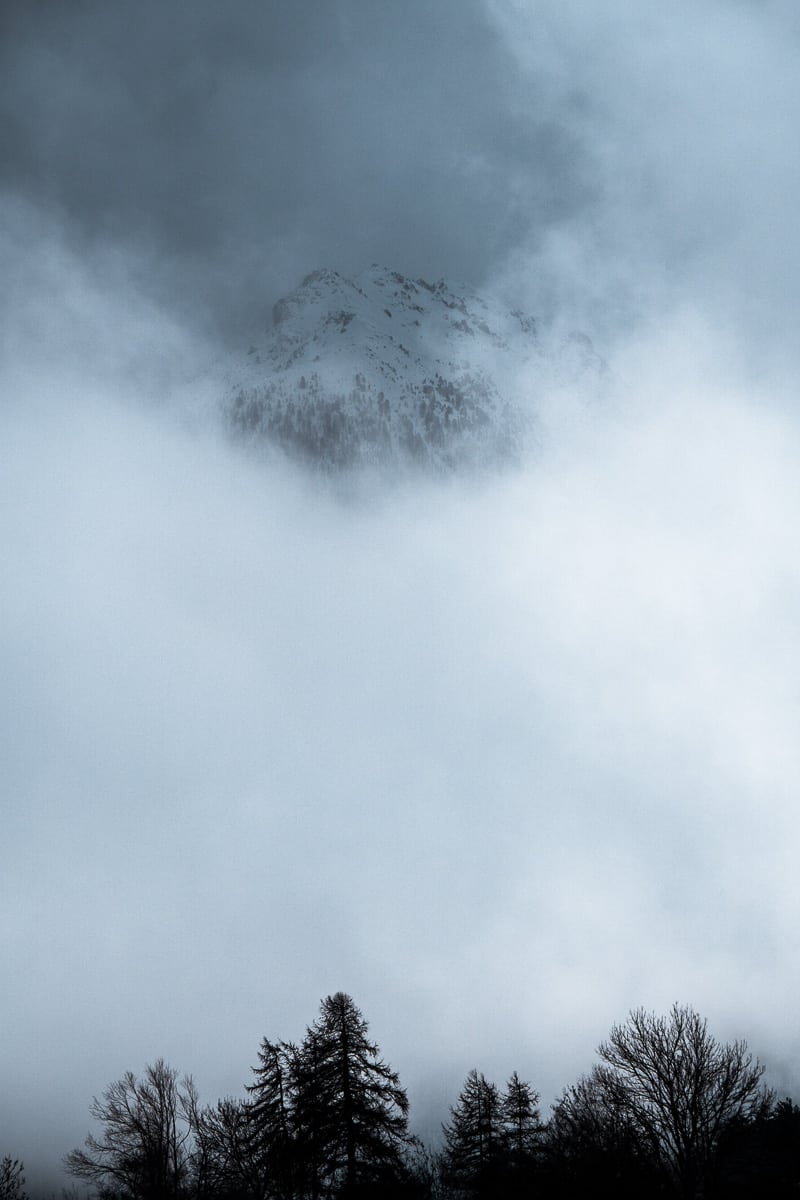 Noteworthy hikes can be reached from each of the main villages:

There's La Croix de Toulouse, for example, which sits just above Briancon and reaches 1996m altitude; Le Grand Aréa in La Salle Les Alpes which is a challenging 700m ascent and takes 4.5 hours; or the absolutely stunning Grand Lac hike above Le Montier-les-Bains which reaches a whopping altitude of 2440m.

Our tip: if you're looking to tackle a long-distance hike, check out the tours offered by local company Terres de Trek. We came across their flyer by chance and loved the look of their excursions — particularly the tour of the national park.
Rock climbing
After chatting with the local community, we can safely conclude public opinion is that Serre Chevalier has some of the best, most diverse climbs in Europe. In Briancon alone, there are more than 80 documented climbs!
Via Ferrata
The mountains around Serre Chevalier are strewn with via ferrata routes (which, in case you don't know, are basically steel cables, wooden walkways, ropes, and ladders which allow you to climb/hike/scramble along steep faces).

There are currently 5 maintained routes throughout the valley, 4 of which (La Croix de Toulouse in Briancon, L'Aiguillette du Lauzet in Le Monetiers-les-Bains, Le Rocher du Bez in Villeneuve, and Le Rocher Blanc in Chentemerle) are free to use. The fifth, La Schappe in Briancon, costs €3 and has equipment available to rent onsite for a further €8. You can also choose to descend on a zipline (for free).

Our tip: If you've got the equipment (read: harness, helmet) and know-how, you can take on these routes without a guide. But if you're totally new to the sport, we definitely recommend getting in touch with one of the local operators and having them show you the ropes. Errr, literally.
Canyoning
The hybrid sport that combines climbing, rappelling, cliff diving, and more is BIG SH*T in Serre Chevalier — and no wonder. The landscape is perfect. There are a couple of professional tour operators doing their thing in the area, like this epic canyoning experience in Ecrins National Park .
Mountain biking
Fun fact: the Tour de France runs right through Serre Chevalier! With that in mind, it's no big surprise that this neck of the woods is so ideal for mountain biking.

The valley is home to 9 XC trails, 9 enduro routes, and 9 downhill tracks, the latter of which can be accessed via the resort's ski lifts (can we get a heeeell yeah for not having to hike up the mountain first?!). There's also a selection of beginner-friendly discovery areas where new MTBers can get used to some bumps, banked turns, beams, and narrow passages.

Bike Park Serre Chevalier opens for the season at the end of June each year. They have a competition-level BMX track (they've hosted the European BMX Games and the French BMX Trophy), pump tracks, and tons of other well-maintained trails.

Our tip: When you're ready to take your riding to the next level, there are some truly epic enduro trips that you can go on just outside of Serre Chevalier
Watersports
You might not expect somewhere so far removed from the coast to have a hefty potential for water-based activities, but with lakes and rivers scattered throughout Serre Chevalier Valley, there's rafting, kayaking, canoeing, hydrospeed, SUPing, and angling all there for the taking throughout the summer months.

Try whitewater rafting down the Guisane River; a thrilling afternoon of hydrospeeding in the rapids; or sign up for a river kayaking course in Briancon.
Paragliding & speed riding
Since we touched on this in the winter section, we won't dive into too much extra detail here. All we'll say is that Serre Chevalier's air-based adventure sports really come into their own in the spring and summertime — with March onwards typically bringing the best flying conditions.

Snow typically stays on the ground until April or May, which means until then you'll likely be taking off with a pair of skis or a snowboard on your feet; but if the summer thaw has struck already, you'll be running off the top off a grassy mountain instead.
Wellness & leisure (all seasons)
Serre Chevalier's self-care game is strong. Thermal baths, yoga classes, meditation retreats, and massage are all in abundance; as are family-friendly leisure activities like escape rooms, karting, bowling, and yurt glamping.

Our tip: Visit the Serre Chevalier Tourism Office when you get to town and pick up some of the flyers in reception. They'll tell you exactly what's on offer during your stay.
How to be a responsible outdoor traveller in Serre Chevalier
During our stay in Serre Chevalier, we had the chance to sit in on a sustainable travel workshop hosted by Cloud Citadel Co-living. It was eye-opening to hear the advice of so many nomadic travellers about how we can (and should) tread a little lighter wherever and whenever we travel.

With that in mind, we have a few nuggets wisdom we'd love for you to keep in mind when adventuring outdoors in Serre Chevalier:

First and foremost, leave no trace. Whether you're picnicking on the ski slopes or hiking in the national park, please ensure that you leave the place as you found it. Take your rubbish with you and recycle it where possible. Bonus points if see rubbish that isn't yours and dispose of it properly.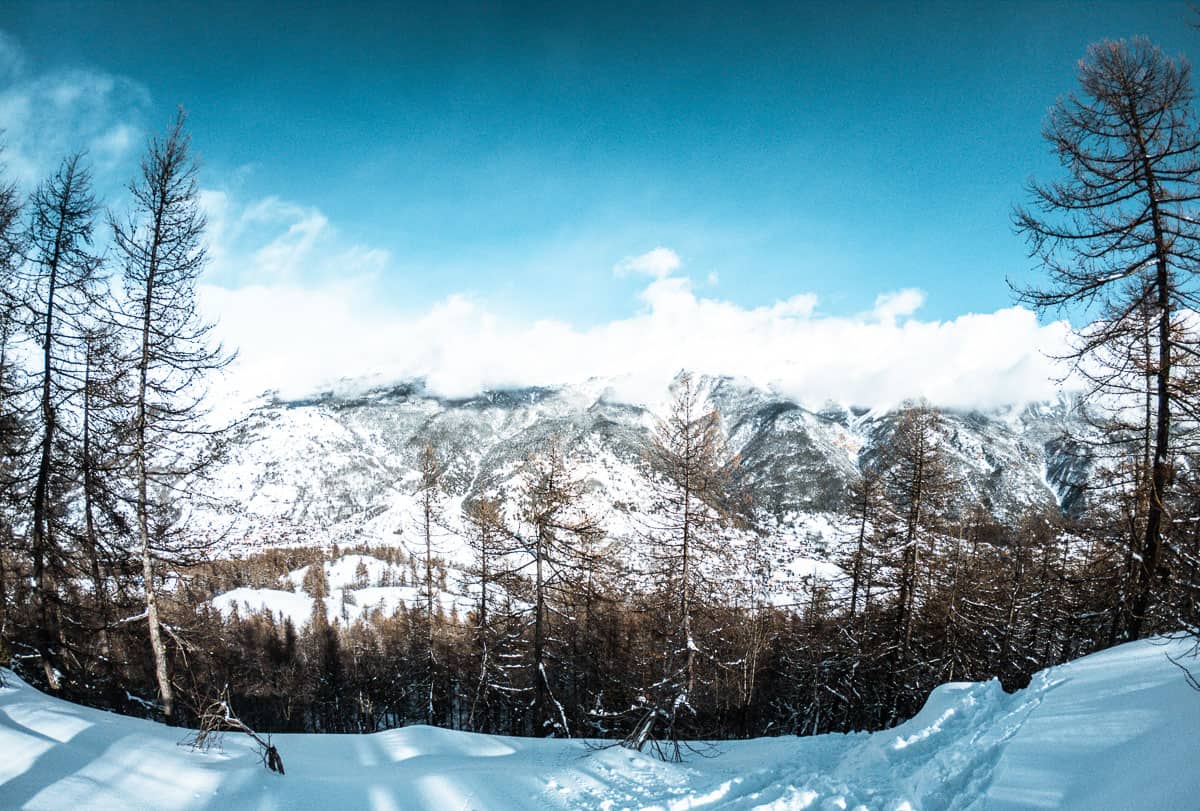 Stay on the path, especially when hiking in the summertime in remote areas.
Use your judgement here guys; off-piste skiing doesn't have the same impact as, say, trekking on solid ground in the warmer months (snow protects the ground and eventually melts; but over time, the effect of many feet traipsing on solid ground can damage the fragile ecosystem and endanger native flora and fauna).
This is a great explanation of why staying on the trail is so important, created by the California State Parks.

Don't interfere with wildlife. It's no coincidence that the wildlife in Serre Chevalier is in abundance; the animals are keenly protected by state laws and activist groups. Keep your distance from wild animals, don't feed them, and if you've got a fluffy woofer with you, always keep it on the lead when there's wildlife in the area.

If you're unsure about how to explore a certain area in a sustainable way, go with a guide. It doesn't make you any less adventurous to turn to the experts and ask advice. Hiring guides wasn't something Jim and I typically did a lot since we like to fly solo in most cases, but when we went snowshoeing with a guide, we were so delighted to have someone with her knowledge, expertise, and level of craic on the trails with us.
Après-ski, bars, and restaurants in Serre Chevalier
Let's be clear about one thing:

Serre Chevalier isn't a wild après-ski kinda place. If you're looking for all-night ragers to close out your day on the slopes, you'd better look elsewhere.

What it does have, though, is a selection of authentic local restaurants, farmer's markets, a handful of low-key bars, and cutesy shops to satisfy the souvenir seeker and tourist-tat hater in one. Also, the chalets on the slopes selling vin chaud are LIFE.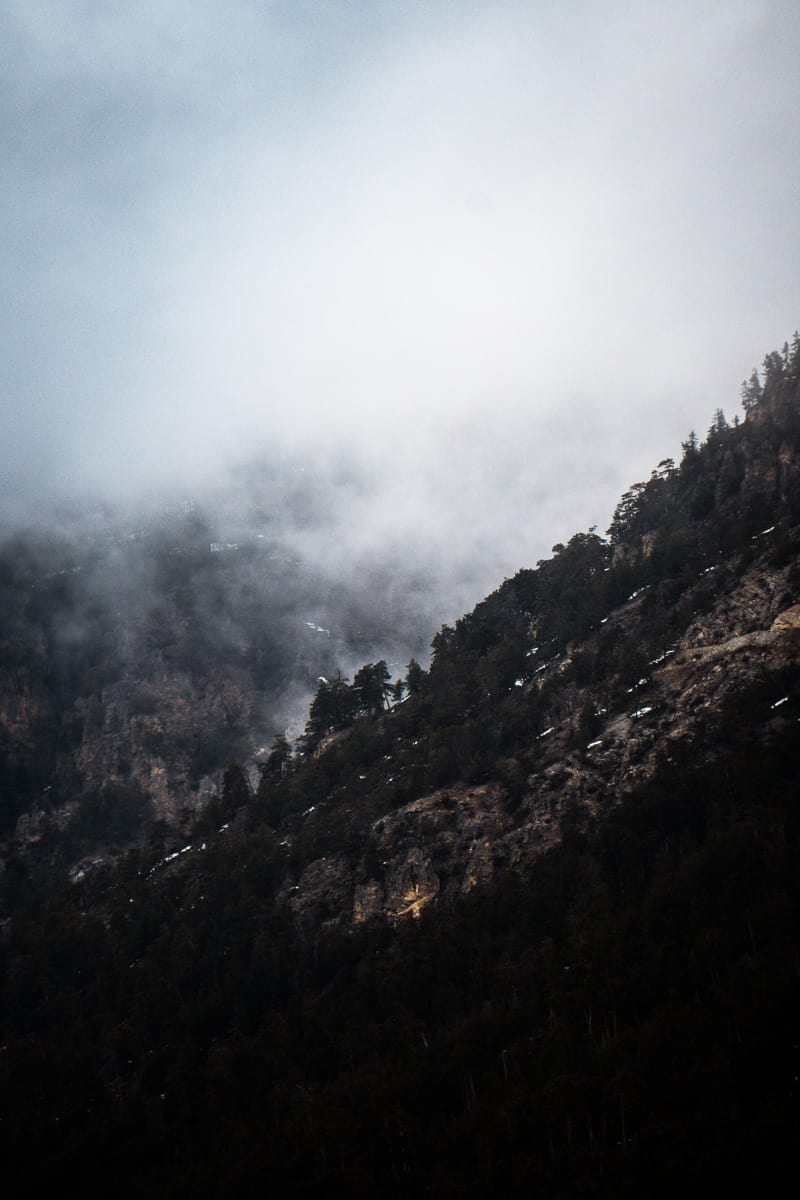 If you love melted cheese, the place is bound to win your heart. Raclette and fondue are the specialities of the region and are typically eaten alongside a hefty portion of charcuterie, quality bread, spuds and/or veggies.

FYI: we were curious how I'd get on here as a vegetarian since meat is such a staple in French mountain cuisine, but I had absolutely no issues whatsoever. Highlights included a veggie fondue served with grilled mushrooms and roasted potatoes and a caramelised onion and mushroom galette from a restaurant in Le Monêtier-les-Bains — oh my god I can't even.
Accommodation & where to stay in Serre Chevalier
There are four main villages in Serre Chevalier: Briançon, La Salle-les-Alpes (which also includes Bez and Villeneuve), Saint-Chaffrey (which covers Chantemerle and Villard Laté) and Le Monêtier-les-Bains.

Throughout the valley's villages, there are countless amazing wooden chalets available to rent as well as holiday homes, guesthouses, and all-inclusive hotels and resorts.

We stayed at Cloud Citadel Coliving in Briançon, which is our top recommendation for any digital nomads considering spending some time in Serre Chevalier. They offer private rooms, access to a communal kitchen, and full coworking facilities all within the walls of a 200-year-old renovated building in Briançon's old town.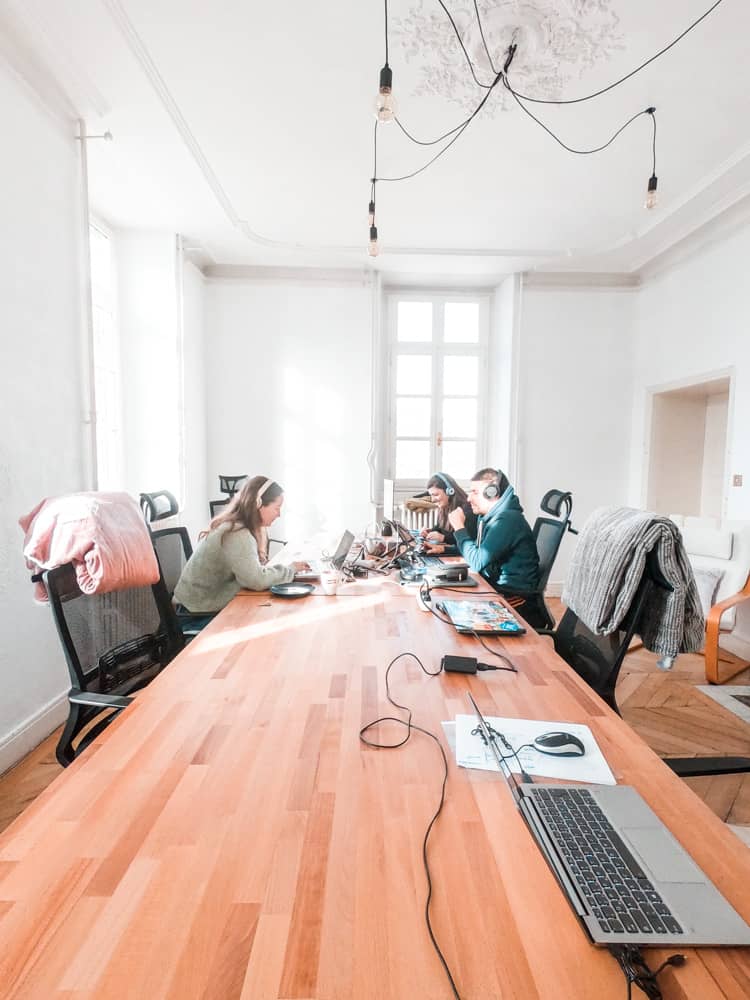 Briançon also has its own set of ski slopes, which are easily accessed via gondola from the town centre.

If you're a family with young kids, you may want to consider staying closer to the commercial centre in Villeneuve or Chantemerle. This is where you'll find the largest selection of tourist facilities, as well as direct access to a network of ski slopes.

Le Monêtier-les-Bains is the quietest of Serre Chevalier's four villages. It's home to the iconic thermal baths, which are well worth a visit. The architecture of the old town is gorgeous, though it has to be said that the restaurant and bar options are limited (but really, really good). Stay here if you want an intimate setting and the chance to appreciate the local culture away from the crowds.
Transport
Getting around Serre Chevalier
The four villages of Serre Chevalier Valley are interconnected by road and by a network of ski lifts. This is a huge advantage, as it means you're free to stay in whichever village suits your tastes whilst being able to access all the others via the ski slopes, public transport, or your own vehicle.

The Serre Chevalier region recently put up a massive investment in a new network of ski lifts. As result, the ~250km of alpine trails are efficiently connected — and you don't have to travel by road to access the different areas. Just take the nearest lift up and boom, the mountains are yours to explore.

The villages are also extremely well-connected via public transport, with buses going every 20 minutes and each fare costing a matter of a few euro.
Getting there
Getting to Serre Chevalier isn't difficult, but due to its slightly out-of-the-way location, it receives significantly fewer visitors than some of the other resorts closer to cities like Grenoble and Lyon (which is only a good thing for you, honestly).

Serre Chevalier's closest cities/airports are Grenoble, Lyon, and Turin.

There are trains and public buses that run between all of these destinations, and it's worth noting that Briancon has its own train station (see full listings of its services on the SNCF website). You can even take a direct train all the way to Paris!

Pssst: full responsible guide on getting to Serre Chevalier coming soon! Stay tuned.

When planning your trip to Serre Chevalier, we encourage you where possible to consider travelling by train or bus where possible so as to reduce your carbon footprint.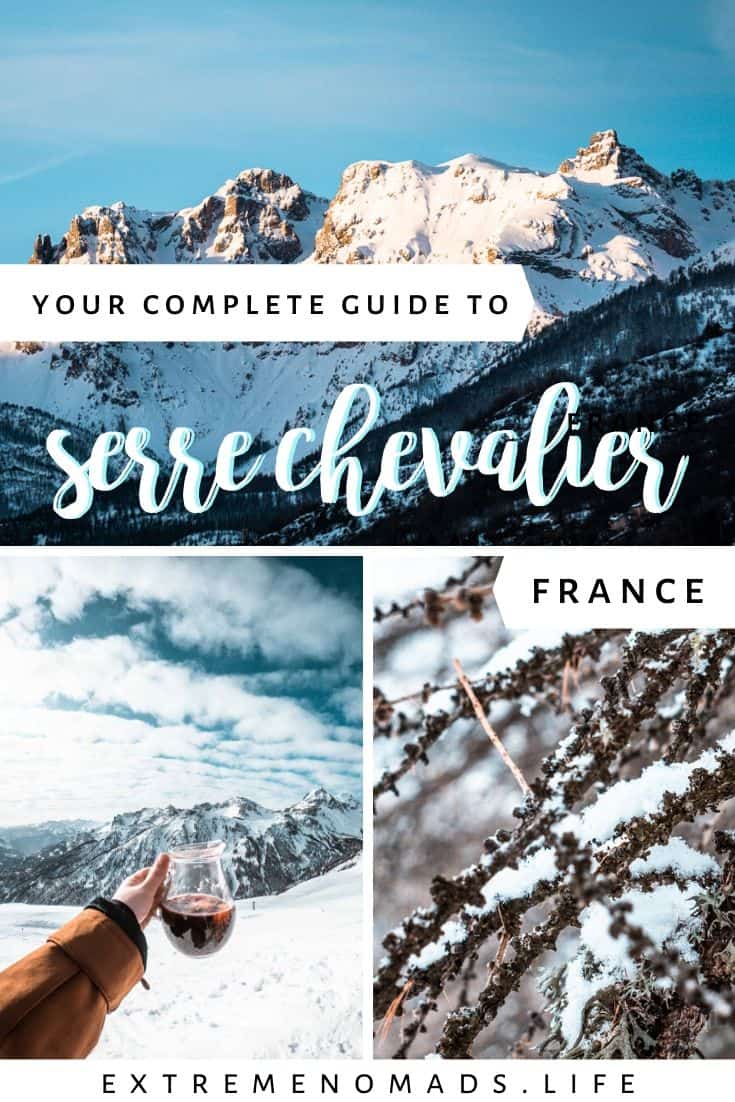 Have a question about visiting Serre Chevalier, France? Drop us a comment down there or hit us up in our FREE Facebook group — where we answer all questions.

Liked this article? Check out our other adventurous travel guides to France.