More Than an Outer Layer
Winter is a vagabond that circles the globe. Taking pit stops at every corner, settling in before beginning to move toward its next location. With the winter season comes wet weather (wet conditions) and the absence of warm air.
Suddenly, everything outdoors becomes much more hostile. Hiking, mountain climbing, camping, and much more. Sports that had laid dormant through the summer season also awaken. Skiing and snowboarding are firmly placed at the top of the list.
You can do it all, but you can't do it alone. Not without a good insulated jacket. One that is designed to trap heat and fight off the elements. From light rain to other cold weather patterns.
The right gear makes any time, the perfect time to head out.
Synthetic Jackets: The Only Solution
An insulated jacket with synthetic insulation such as the Arc'teryx Atom LT Insulated Snowboarding Hoodie. Built to last with an outer layer that is fit for days-long mountain excursions or deep dives into the woods.
Perhaps you want to take a snowmobile through the backcountry? On the run from the oncoming storm and through the flakes and icy winds that surround this landscape.
Take the Black Diamond First Light Stretch Hooded Jacket. It's got a long name but an even longer list of features that make it one of the best synthetic insulated jackets of 2023.
It's a cold world. You need a jacket that can roll with the punches, like the synthetic insulated jackets! Lucky you, because we've got the best synthetic insulated jackets listed down below.
Best Overall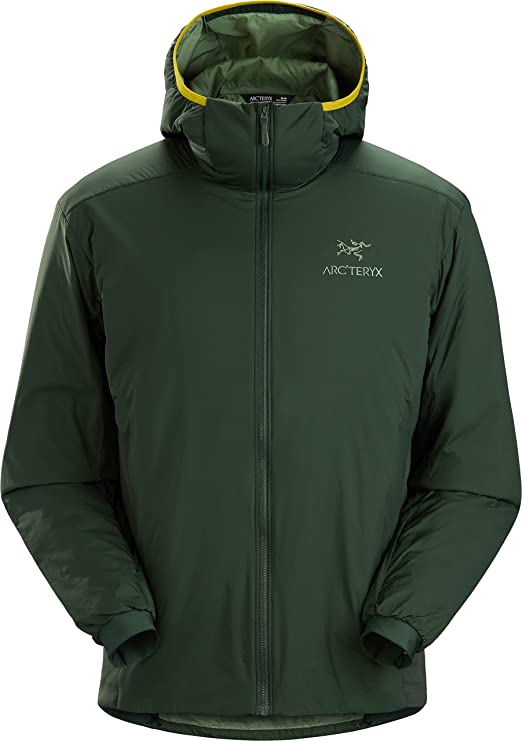 Arc'teryx Atom LT
Insulation-Type: 60g synthetic fibers
Used For: Multi-Sport
Freedom of Movement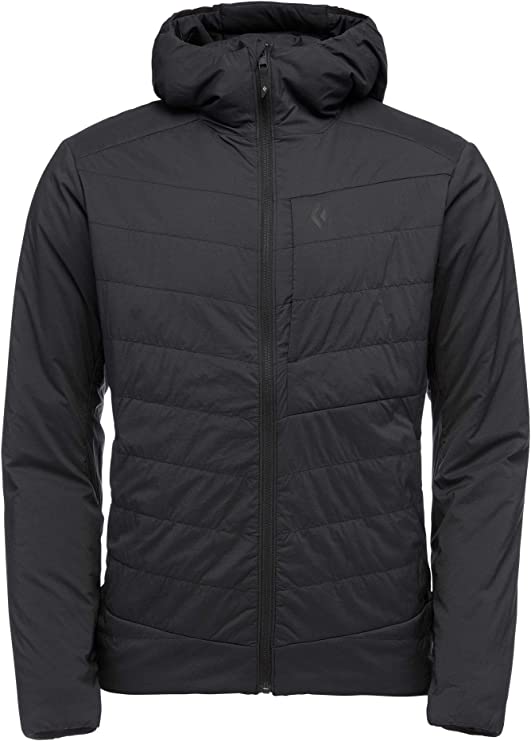 Black Diamond
Insulation Type: Silver insulation
Used For: Backcountry excursions
Warmest Fit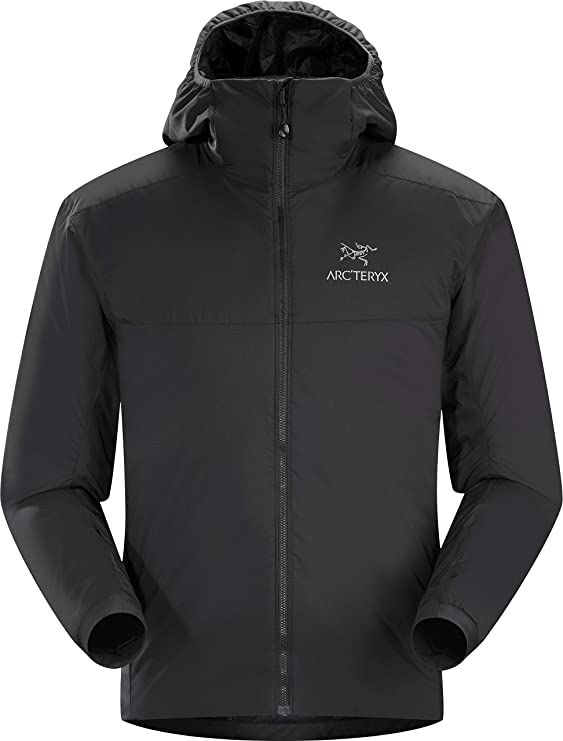 Arc'teryx Atom AR
Insulation-Type: Synthetic fibers
Used For: Multi-Sport
Best Lightweight Jacket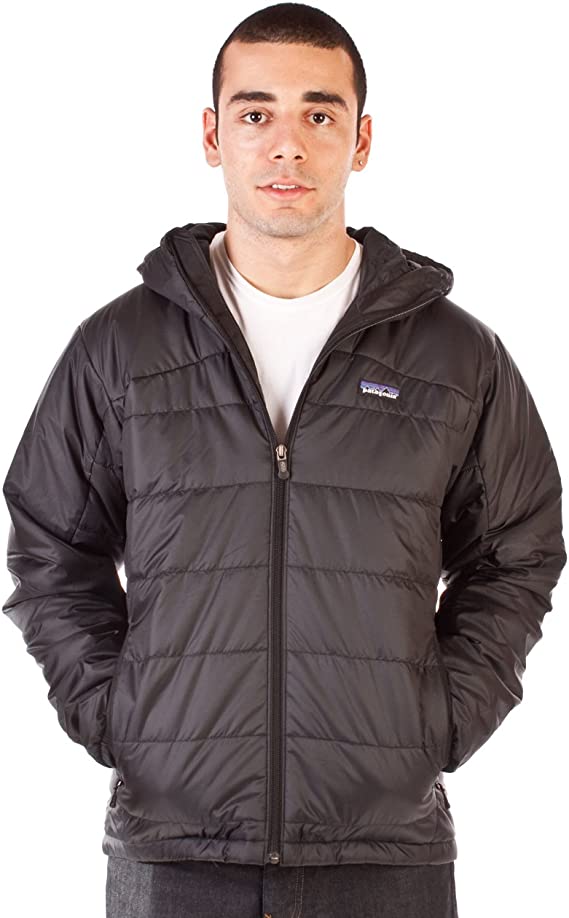 Patagonia Micro
Insulation-Type: 65g  polyester fibers
Used For: Multi-Sport
Best Affordable Jacket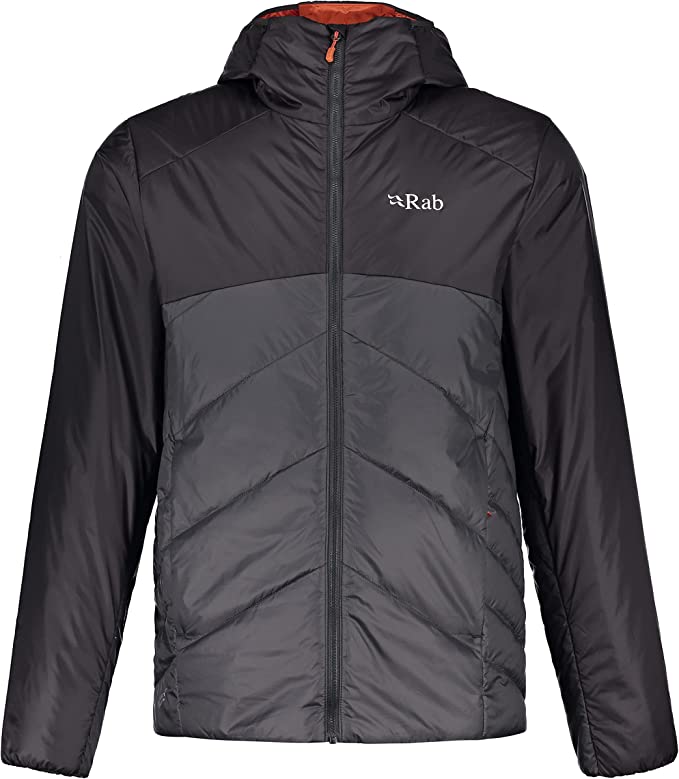 Rab Xenon 2.0
Insulation-Type: Silver
Used For: Hiking, Climbing, Skiing
Best for Women's Overall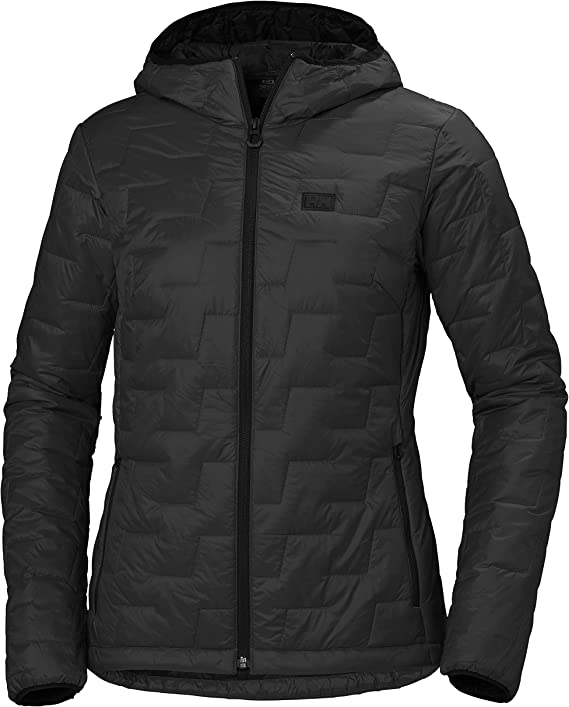 Helly Hansen Jacket
Insulation-Type: 70% Polypropylene
Used For: Backcountry excursions
Lightest Weighing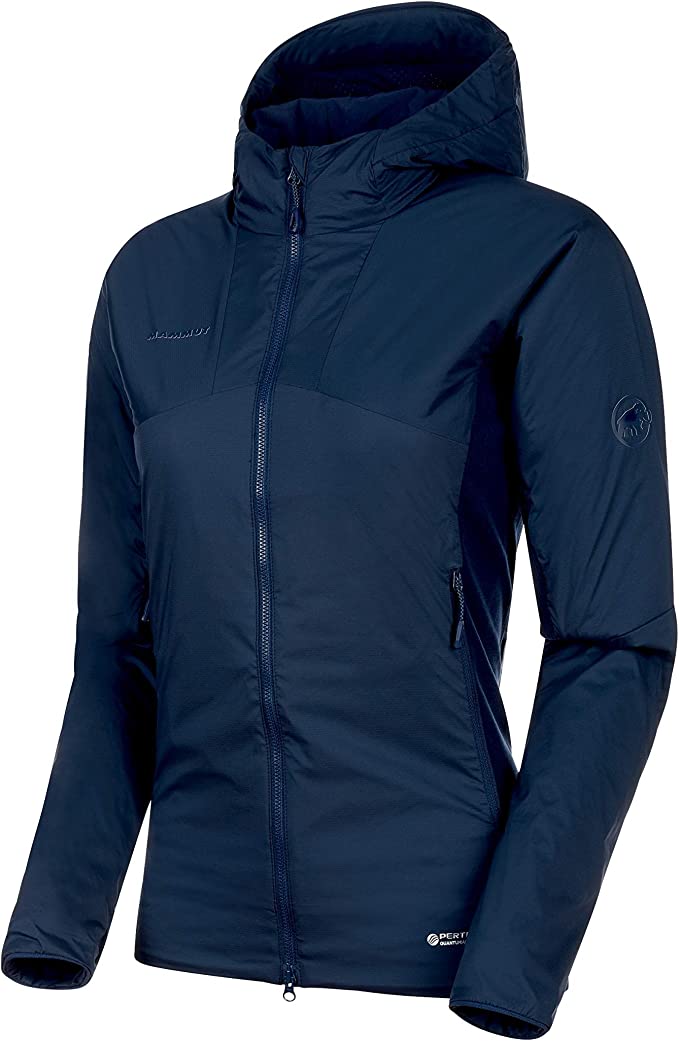 Mammut Rime Jacket
Insulation-Type: Stretch insulation
Used For: Multi-Sport
Loaded With Features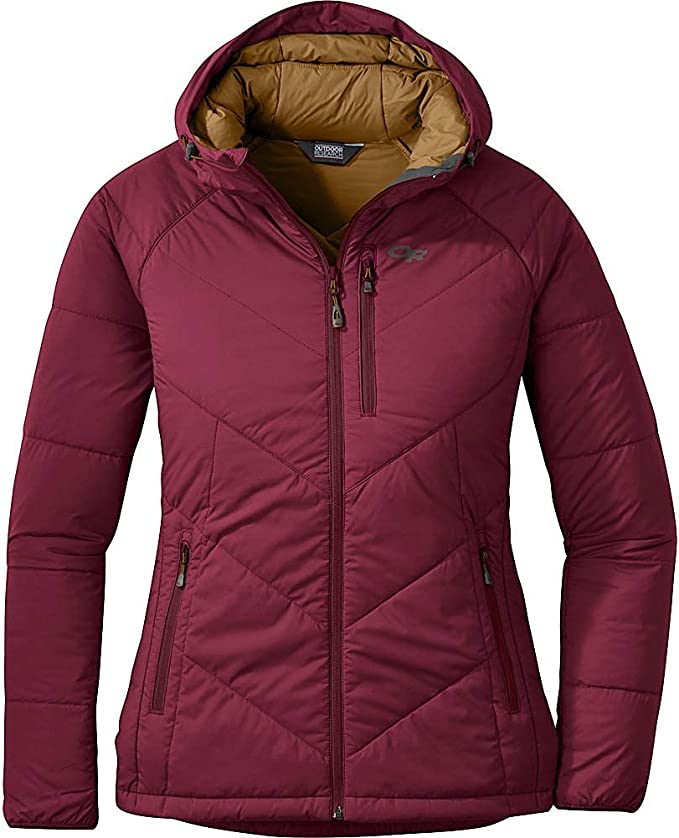 Outdoor Research
Insulation Type:

 

100% polyester
Used For:

 

Backcountry excursions
Best Mountain-Ready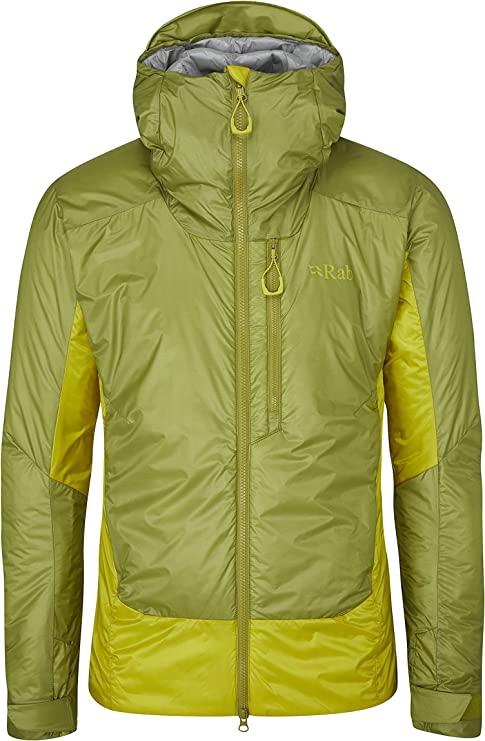 RAB Generator Alpine
Insulation-Type:

 

Gold Cross Core
Used For: Climbing, winter excursions
Functional Logo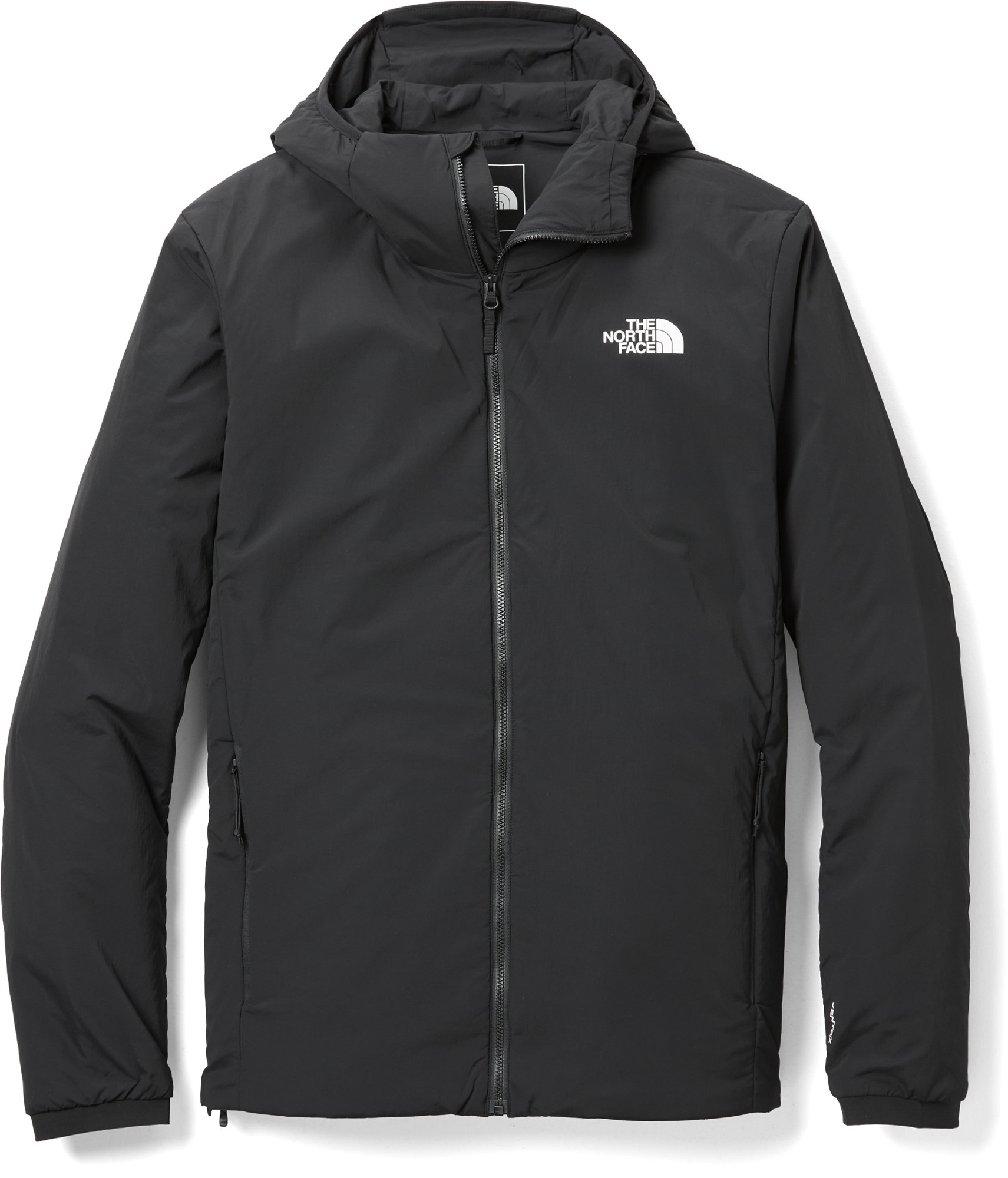 THE NORTH FACE
Insulation-Type:

Ventrix polyester

Used For:

 

Hiking
Best Puffy Jacket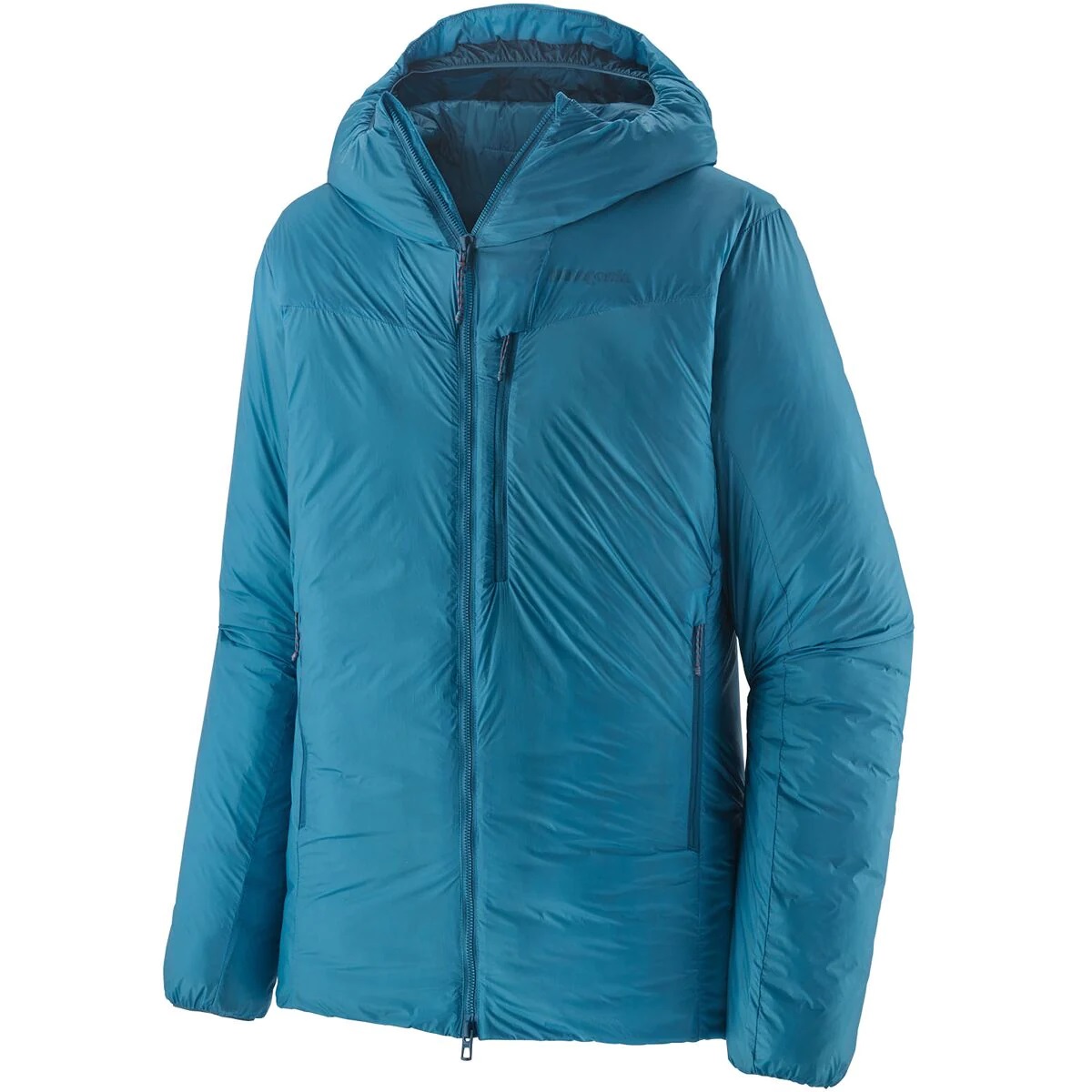 Patagonia DAS Light
Closure Type: Pull on
Used For: Casual/Athleisure
Best For Heavy-Duty Trails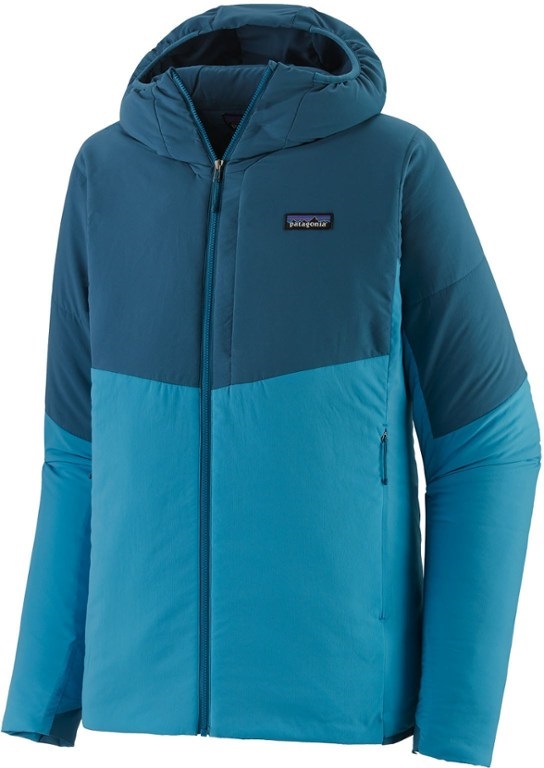 Patagonia Nano-Air
Insulation Type

: Synthetic
Used For: Multisport
Best Synthetic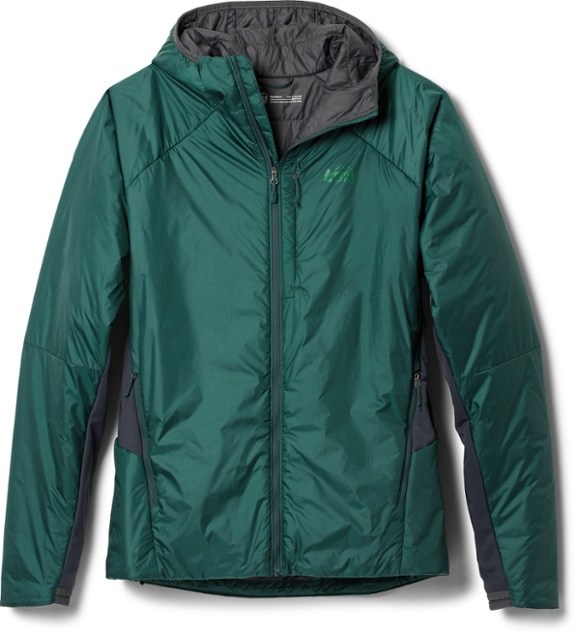 REI Co-op Flash
Insulation Type

: Synthetic
Used For: Hiking
Best Insulated Jacket: Our Top Picks
Within our top ten list of the best synthetic insulated jackets, you'll get insulated jackets that are illusions. They will surprise you. For example, the Patagonia Micro Puff Hoodie, which despite its bulky appearance, is actually a pretty lightweight insulated jacket.
Do you like hiking through the woods or mountains? I sure do. Especially in the colder months of the year. If this is the case, then the Patagonia Micro Puff hoody might be the pick of the bunch for us.
You may believe that any warm jacket will brave the elements. Handle the terrain and stick its nose up at the turbulent winter weather. I question your judgment. Other jackets don't have the warmth-to-weight ratio nor the shell fabric that our lightweight insulated jackets do.
The worst time to find out you brought the wrong gear is when you are getting beaten down by nature itself. Consider any of the following, they are all quality options.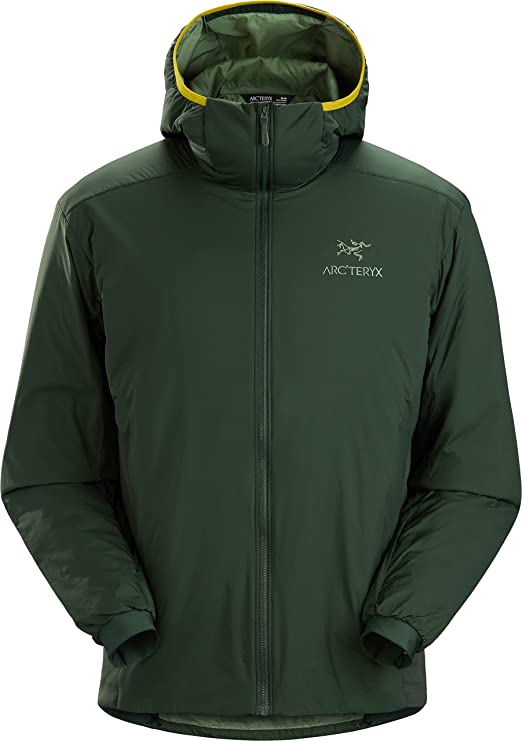 At the top of the rankings lies the versatile champion. Every aspect of the Atom LT hoody has been made with precision and care. Tailor-made for those that don't fit into any box and want to experience it all.
There is a reason that despite the vast array of excellent synthetic jackets that Arc'teryx has on offer, the Atom reigns supreme. That reason is to make no compromises when selecting the fabrics and materials used to construct these synthetic jackets.
In both versions of the Atom (men and women), the same material and the same build quality are incorporated.
Coreloft Compact and fabric with 20 faces
For insulation, Coreloft Compact 60 insulation is used. This is a lightweight material that has longevity to it. You won't have to worry about its performance plateau dipping over time.
For the face fabric, Tyono™ 20 face fabric is used. This face fabric is extra resistant to abrasions. You know those nicks and tears that accumulate as you walk through dense woods and up rough mountain trails. You don't notice how the cuts got there, but they often appear.
Well, thanks to the Tyono™ 20 face fabric, this sneaky wear and tear is a thing of the past. It's also got a durable water repellent coating for letting that water slide off and not sink in.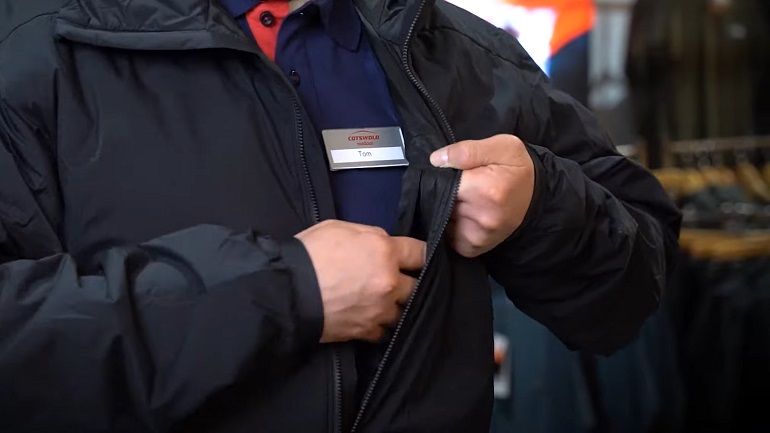 Within its structure, Dope Permeair™ 20 liner runs through and regulates your body's temperature. For eco-friendly adventurers, you need not worry. The dye process for this liner uses much fewer resources than more traditional dye processes.
Not only is the Atom LT hoody made for protecting you from the elements, but it was also made with the environment in mind.
A great jacket for fantastic adventures.
Features
Fabric: Made from 94% polyester/6% elastane.
Insulation-Type: 60g Coreloft Compact synthetic fibers
Weight: 13.2 ounces
Used For: Multi-Sport
Hood: Yes
Pros
A majority of the fabric used in the Atom LT hoody is polyester. Polyester is very quick to dry. Essential for outdoor traveling.
Very durable and resistant to tears thanks to the Tyono™ 20 face fabric used in its construction.
A highly breathable liner that regulates temperature.
Cons
The length of the jacket could be longer, but by no means is it a serious problem. Just personal preference.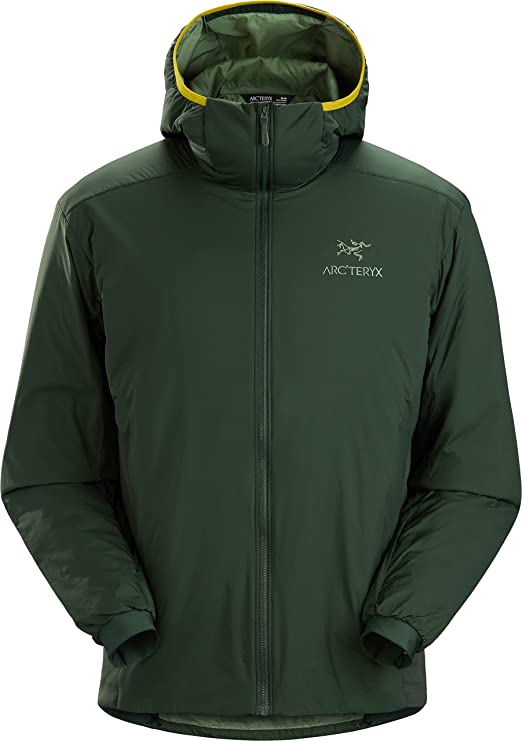 Arc'teryx Atom LT Insulated Hoodie
The price of "Arc'teryx Atom Hoodie" varies, so check the latest price at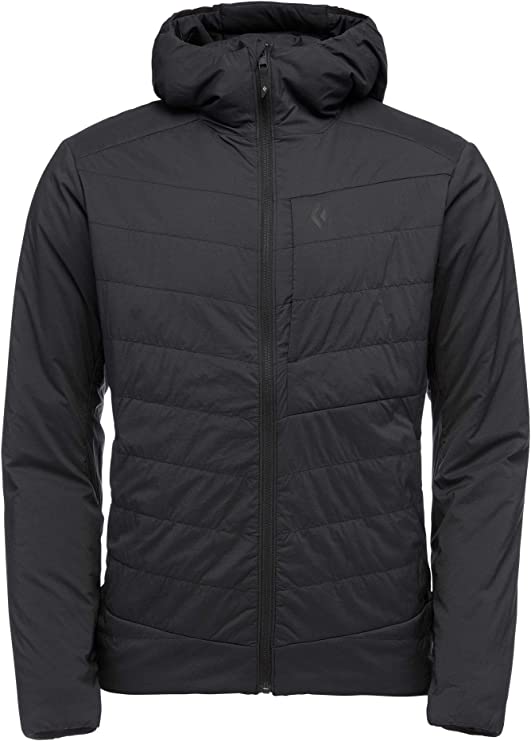 Black Diamond has been making jackets with synthetic insulation for quite a while. Running the gamut with different features and design specifications. All of that tinkering and tailoring has resulted in their most breathable jacket. The First Light Hoody.
Everything from the insulation to the structure of the sleeves has been designed to enhance your mobility. The folks at Black Light want you to successfully complete those perilous trails and wandering alpine walks.
And they want you to do it without restriction.
Silver Actives and Gussets
As you work up a sweat your body will naturally cool off. This effect is compound when out in the wilderness or some snow-caked mountain but this doesn't mean that you have to bow down to the chill.
Silver Active insulation works to keep you nice and toasty even when your body and the environment are doing their best to cool you to the bone. Silver Active, it's breathable insulation that is made with softshell fabric so that flexibility and water resistance were primary features.
Under your arms, gussets were added so that your arms can have a full range of motion when needed. This tiny feature quickly grows in importance the more you find yourself either mountain climbing or scaling any structure.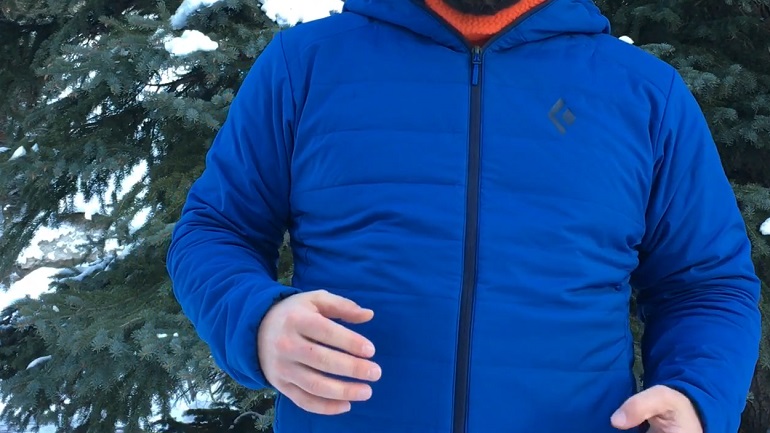 No longer is there a downward pull along your biceps. A feeling so fluid you would think that you are sleeveless.
For a tighter fit at the jacket's end (the very bottom area that extends all around), the hem has been adjusted and so has the hood. The exterior is made from more than 90% nylon.
All of that durability and range of motion are packed into one jacket with synthetic insulation. Considering the quality, this one comes at a reasonable price.
Features:
Fabric: Schoeller softshell fabric
Insulation-Type: Primaloft Silver Active insulation
Weight: 1lb 0.7 ounces (Hefty!)
Used For: Backcountry excursions
Hood: Yes
Pros:
Has a great overall style and aesthetic. Fit for everyday wear.
Gussets located under the arm provide the wearer with freedom of movement.
Adjustable hood that doubles as a helmet-compatible hood.
Cons:
Weighs more than other synthetic insulation jackets on this list.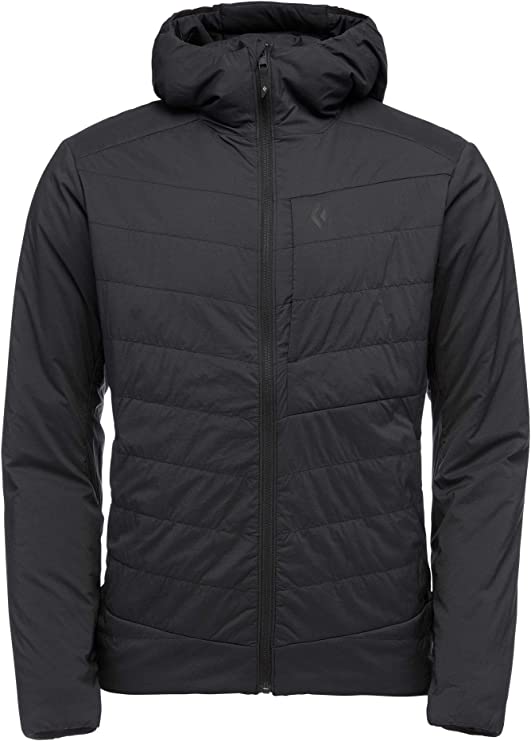 Black Diamond Hoody
The price of "Black Diamond Hoody" varies, so check the latest price at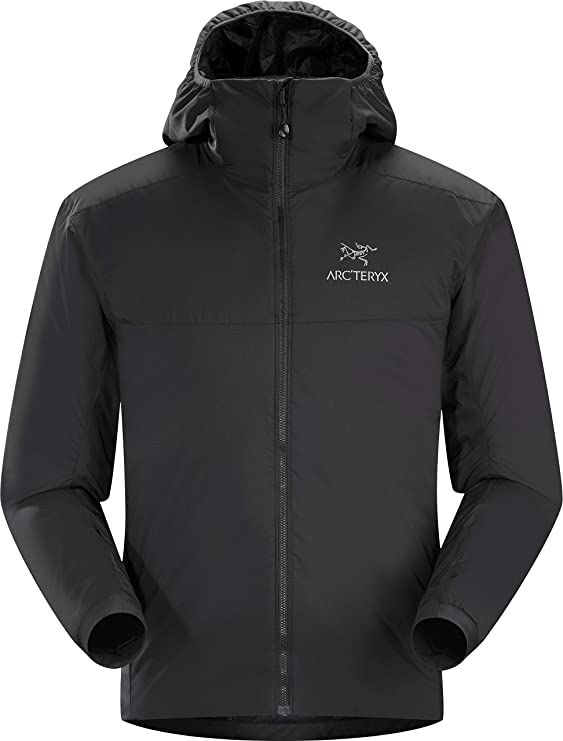 It's the return of Arc'teryx and the Atom brand. What Burton is to all-around snowboards and bindings, Arc'teryx is to jackets with synthetic insulation. That experience definitely shines through with this offering.
The Atom AR is an extremely warm jacket that doesn't let a single lick of chills run down your spine. It is surprising how well this jacket does at keeping you warm. Freshly sealed and leaving the weather outside of your nylon bubble.
Hate the cold? Get the Atom AR!
At the slightest breeze, I tremble, shake, and chatter. Over the years I have found my own workarounds to the frigid temperatures. Keeping active and sustaining constant movement is both tiresome and impossible to maintain for prolonged periods of time.
Was I doomed to suffer under Jack Frost's merciless breath?
Yes.
That is until the Atom AR came around. The Coreloft fibers (synthetic insulation) of this jacket work wonders and it can't be understated how crazy effective they are at keeping the cold at bay.
Keep in mind that this is much heavier and thicker than our other Arc'teryx pick. However, anyone that thought you could pack in thick 120g/m2 Coreloft insulation into a jacket without some downsides would be greatly mistaken.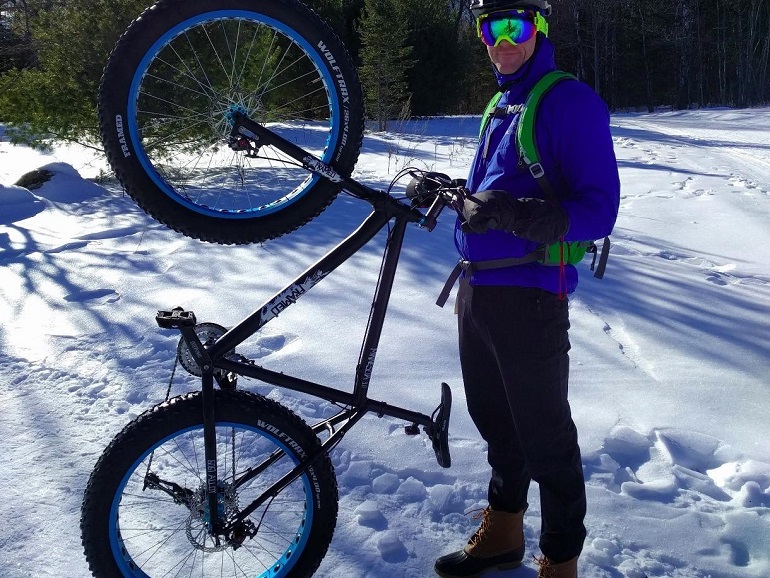 Personally, I don't think this bump in weight is that severe for the benefits it brings. It's good to go for everyday winter use. Let alone as a bottom layer for snowboarding or other winter sports.
To top it all off, the combination of a chin guard with full frontal zip and a wind flap covers your face up quite well. It's good near full upper body protection.
I'm serious when I say that the winter slayer has arrived.
Features:
Fabric: Nylon
Insulation-Type: Synthetic Coreloft fibers
Weight: 1lb 0.6 ounces
Used For: Multi-Sport
Hood: Yes
Pros:
Versatile design for everyday use and winter sports outings.
Synthetic insulated layers in the middle for a boost in weather resistance.
DWR coating lets that water slip right off.
Cons:
A thick jacket that weighs as well. You may have trouble with freedom of movement.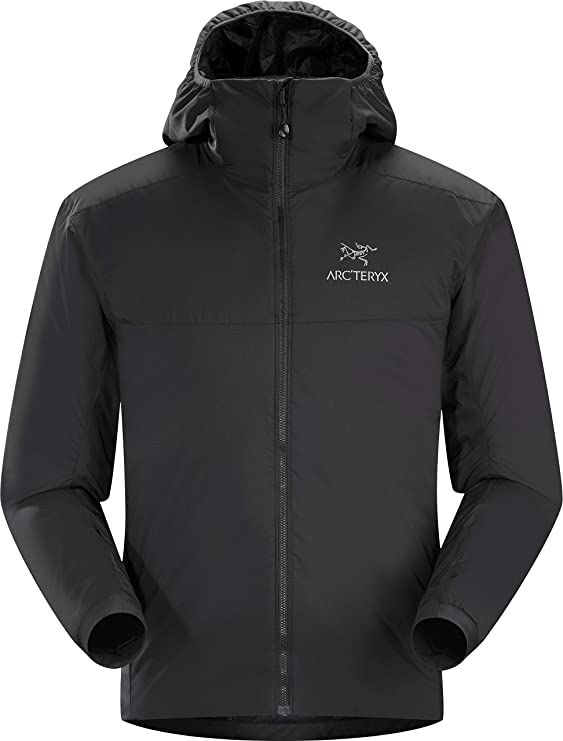 Arc'teryx Atom AR Hoody
The price of "Arc'teryx Atom Hoody" varies, so check the latest price at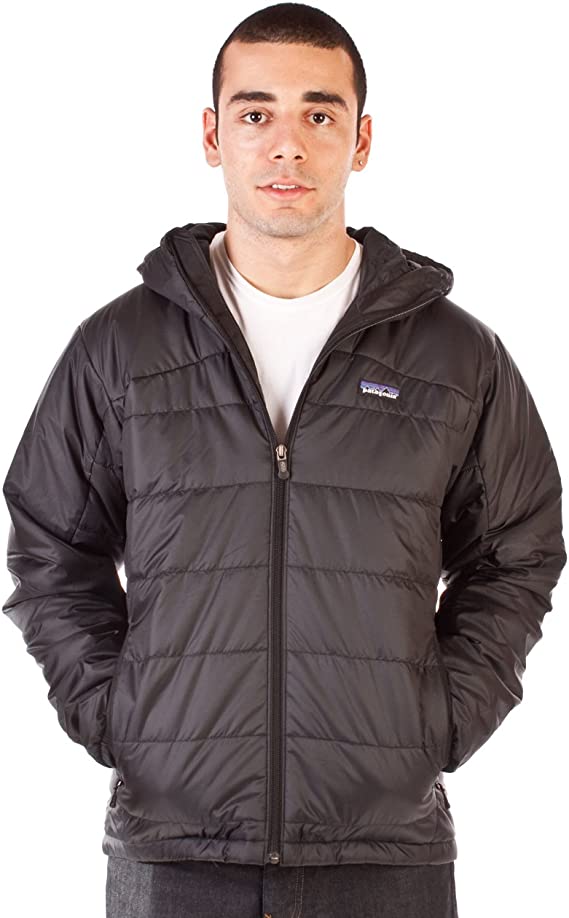 This is by far one of the best men's insulated jackets on this list. It's got an amazing array of design choices and stellar build quality. The Patagonia micro puff hoody does not lose its effectiveness even after it has grown damp due to continued exposure.
The Patagonia micro-puff has the best warmth-to-weight ratio and even weighs less than some competing down jackets. This is massive because a down jacket is supposed to be lighter and warmer than a synthetic jacket.
How does the Patagonia micro puff achieve such an impressive performance? Read on to find out.No CompromisesThe Micro Puff is able to keep on insulating even if it is damp due to moisture or weather conditions. Becoming one of the few synthetic jackets whose performance (rather than material) is literally weather resistant.
It is able to achieve this because of the PlumaFill fibers that are lightweight and yet water resistant. Many people prefer down insulation because it is warmer than synthetic insulation. The problem is that a down jacket becomes useless when wet.
The best outdoor option for folks that would love to bring a reliable down jacket into the wild with them, is the Micro Puff.
Award WinnerSuch is the quality of the Micro Puff that it even won the Gear of The Year award from the renowned Outside magazine. No doubt that its Pertex® Quantum outer shell played a huge part in the Micro Puff winning such esteemed honors.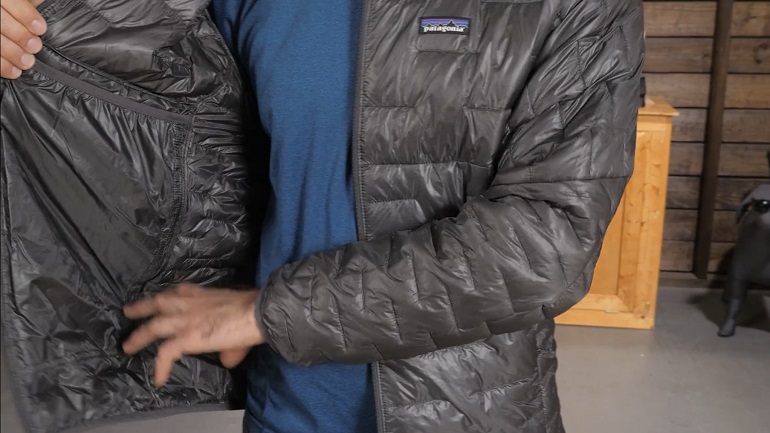 This shell has been coated with durable water repellent. This coating lets you brush off water and snow without having it seep in through the seams.
Like magic, these once harmful and day-ruining elements slip away and off your body. Precisely where they belong. One last note: The hood is best worn under your helmet. For the best snowboarding helmets read our complete guide.
Features:
Fabric: 10-denier nylon ripstop Pertex Quantum
Insulation-Type: 65g PlumaFill polyester fibers
Weight: 9.3 ounces
Used For: Multi-Sport
Hood: Yes
Pros:
Water-resistant insulation performance.
One of the lowest-weighing synthetic jackets.
Quantum shell fabric that is treated with a durable water-repellent.
Cons:
The Micro Puff has got a rough look, resembling crinkled black plastic.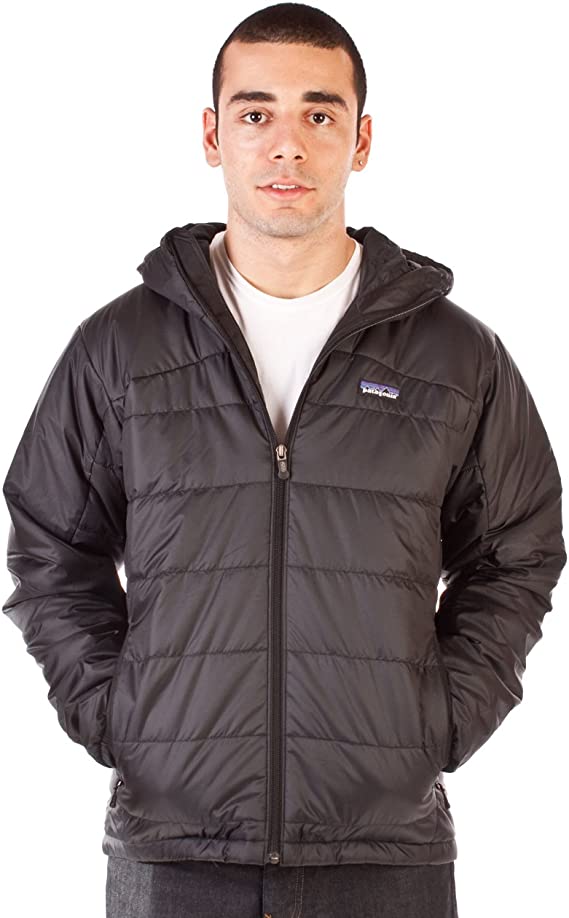 Patagonia Micro Puff Hoodie
The price of "Patagonia Hoodie" varies, so check the latest price at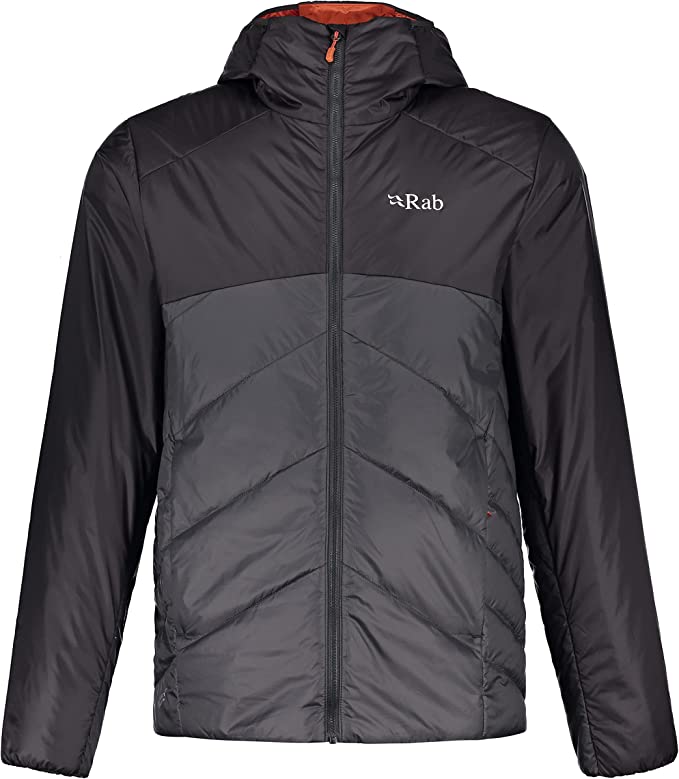 Hurry up and click that link because as of the time of me writing this, the Rab xenon 2.0 is on sale. This sale makes it the most affordable jacket on the list and with the number of features that it has you'd be crazy not to get it.
Not to mention that aesthetic-wise, it's got a great design. This is something that is often not mentioned but synthetic jackets should focus more on having an everyday-wearable kind of look.
The Rab xenon 2.0 has such a look.
Pertex Quantum
The outer fabric is constructed from recycled 30-denier Pertex Quantum. This enigmatically named fabric is lightweight and easy to haul around. It has also been coated with a durable water repellent that is fluorocarbon-free.
What is fluorocarbon and why does it matter that the coating of the Rab xenon 2.0 has none of it? Well, fluorocarbons are chain polymers that are used for waterproofing materials. The issue is that they are inflexible.
You don't want an inflexible piece of clothing. Definitely not when you are working your way up a mountain or down it for that matter.
By removing the fluorocarbons from the DWR coating, the folks making the Rab xenon 2.0 were able to further improve the water blocking agents without sacrificing mobility.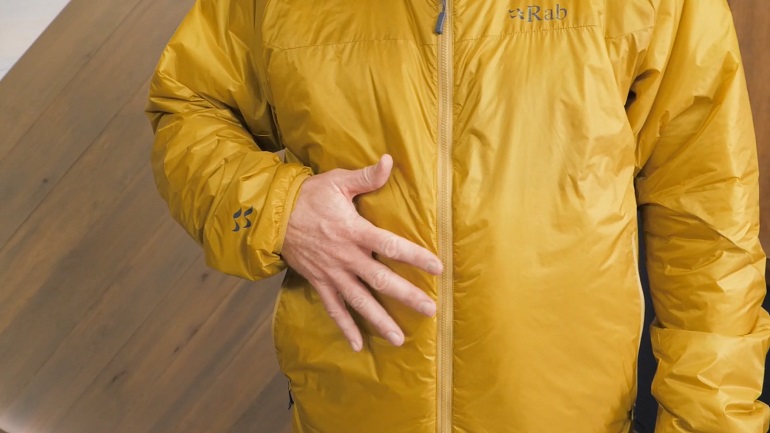 The Rest
All of your other staples of insulated jacket design can be found here. You've got two zippered hand pockets that you can use for storage and for warming up those grubby paws.
An internal zipped pocket that acts as an integrated sack is also present. Which I love. The more pockets the better. Where else am I going to put all my snacks?
Features:
Fabric: 30-denier Pertex Quantum nylon
Insulation-Type: 60 g PrimaLoft Silver postconsumer recycled synthetic fibers
Weight: 13.6 ounces
Used For: Hiking, Climbing, Skiing
Hood: Yes
Pros:
Fluorocarbon-free water repellent coating for mobile waterproofing.
Lining made from 20-denier recycled Atmos.
The hem can be adjusted for increased airflow or for shutting out the cold.
Cons:
This item has been discontinued and so you may have great difficulties in locating it unless you purchase it soon.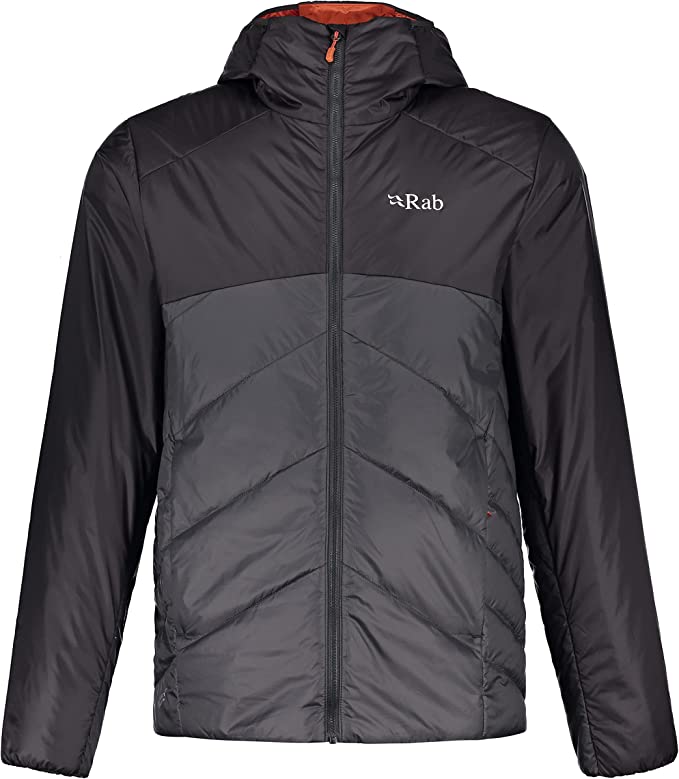 Rab Xenon 2.0 Insulated Jacket
The price of "Rab Xenon 2.0 Jacket" varies, so check the latest price at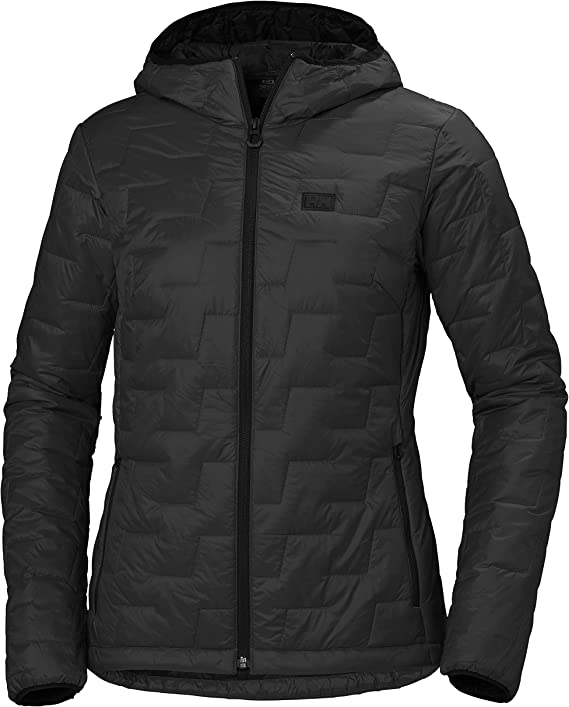 The LifaLoft is the best women's ski-insulated jacket that we could find. As is customary with women's clothing, a tighter more trim fit can be found here. However, this doesn't mean that there are shortcomings with the amount of protection or comfort that this jacket provides.
On the contrary, the LiraLoft excels in its waterproofing capabilities. This is thanks to a very well-built outer layer and the same high-quality materials being used on the inside for the lining.
It's refreshing to see a women's product that doesn't forgo utility for looks.
Polyamide 100
The shell and the lining are both made from 100% polyamide. Polyamide is a fabric that is stiff yet incredibly resilient. The reason why the LiraLoft has multiple color options is that Polyamide is a fabric that retains color well and can be easily dyed.
Perhaps the best qualities of Polyamide are its water-resistant and quick-drying properties. This fabric is so effective at dealing with water that it is often used in swimwear.
If it's that good in a pool then it's got to be impenetrable on a mountain.
I've gone through phases in which hiking in the rain or as a storm approaches was common. I look back now and if I had a male equivalent of this jacket then those times would have been even more enjoyable.
The LiraLoft Hooded Stretch Insulated jacket is a must-buy for any ladies that often find themselves caught out by the rain.
Also for those that choose to embrace the windy hikes through creepy forests. I both love and hate those kinds of hikes.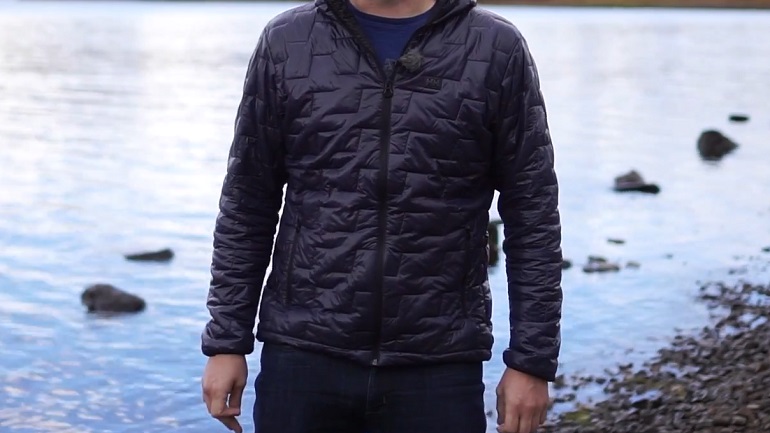 Features:
Fabric: 100% Polyamide
Insulation-Type: 70% Polypropylene, 30% Polyester
Weight: 11.68 ounces
Used For: Backcountry excursions
Hood: Yes
Pros:
A 100% polyamide shell, absolutely no skimping on quality here.
The inner lining is also made from 100% polyamide. Just encase water works its way inside, the quick-drying polyamide will make short work of it.
The jacket is very effective and can be worn alone.
Cons:
Could do with more storage space. It's not that big of a loss but other jackets on this list do provide much better storage.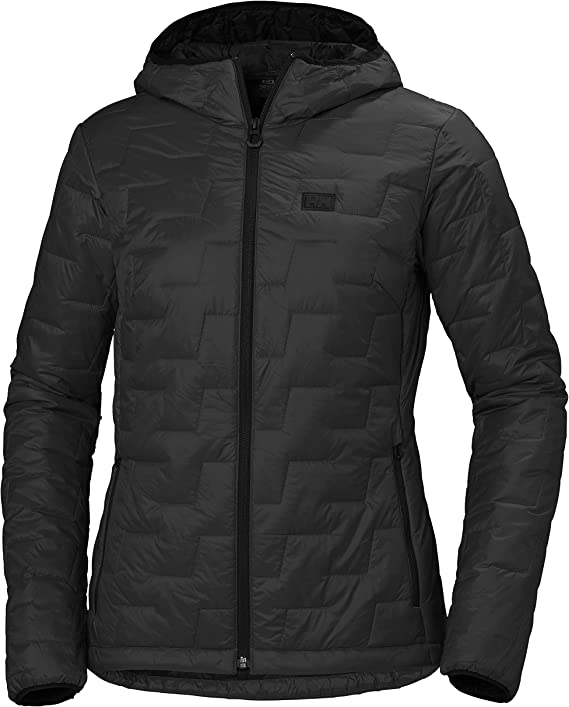 Helly Hansen Jacket
The price of "Helly Hansen Jacket" varies, so check the latest price at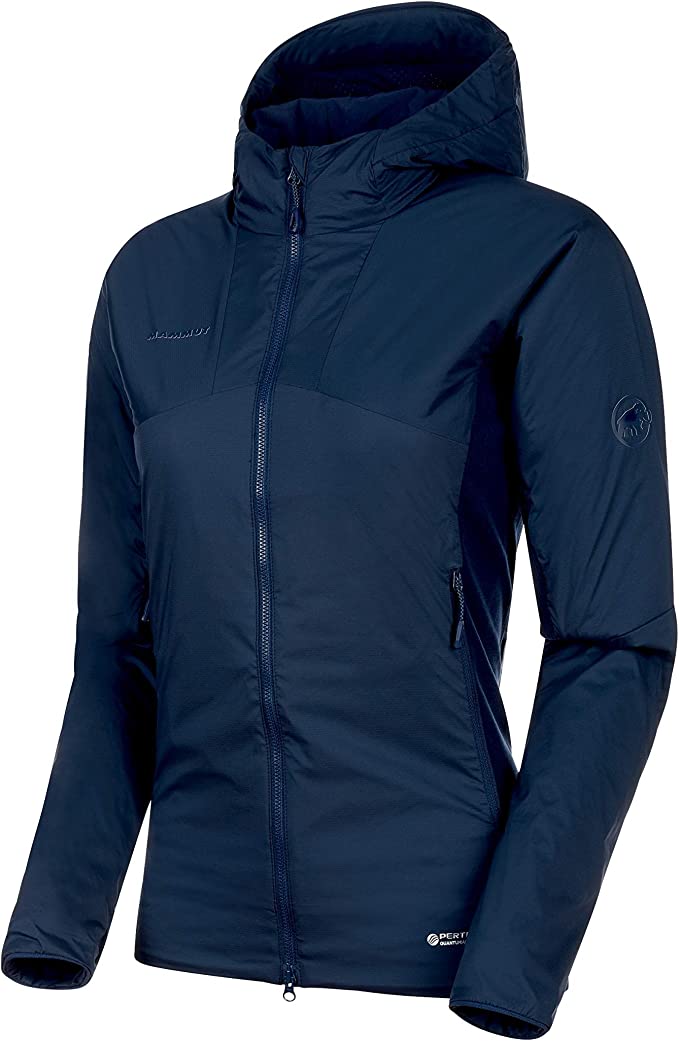 There is so much to say about the Rime Light so I guess I'll start with my two favorite features. The first is that this jacket can be folded up into the left front pocket. Forget carry-on bags because the Rime Light is capable of being condensed into a purse-sized accessory.
It's also got two pockets that are compatible with climbing harnesses and backpacks. Mammut fully expects you to take the Rime Light on a mountain climbing adventure. They built it to slot right in.
Elastic, Breathable, For Life
I've already spoken at length about Pertex Quantum fabric but just encase you skimmed over the Rab xenon 2.0 (you shouldn't, it's really good). Pertex Quantum fabric is low in weight but high in resistance to water.
This fabric is used for the outer layer of the Rime Light.
The Rime Light is stuffed with 40 g/m2 OTI Stretch insulation. Made to keep you warm while letting you do as you wish. After all, isn't comfort more about moving as we please and less about temperature?
Elastic inserts made from stretch fleece have been jammed into the sides of this jacket. In the area right under the arms. Why do you ask? To improve breathability and airflow into an area that has high moisture output.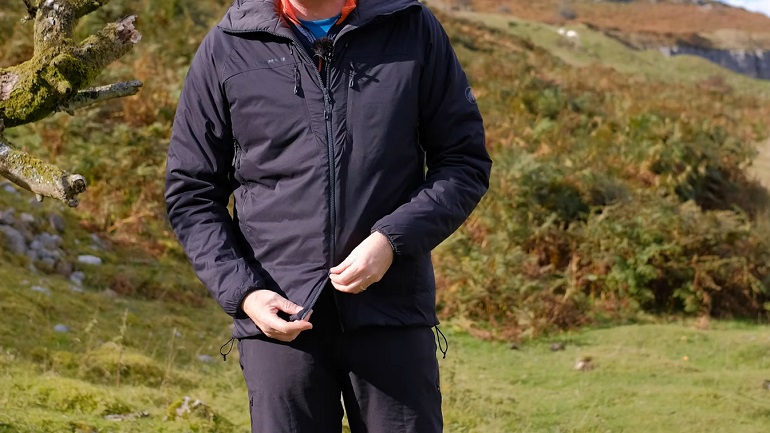 Big fancy words. All it means is that if your underarms sweat then don't worry because a breathable material has been placed over them to alleviate this issue.
Finally, let me end this by talking about the jacket's great stylish design. It looks good and feels just as great. It's not too bulky and so it can be used as a mid-layer or a shell jacket.
Ahh, the magic of having options.
Features:
Fabric: Pertex Quantum Air material
Insulation-Type: 40 g/m2 OTI Stretch insulation
Weight: 9.28 ounces
Used For: Multi-Sport
Hood: Yes
Pros:
This jacket is the lowest weighing out of all the other options presented to you on this list.
Great stretch in both insulation and the face fabric.
It's got two zipper pockets that are both backpack compatible and climbing harness compatible.
Cons:
Very breathable but more layers are required to keep you warm in colder temperatures.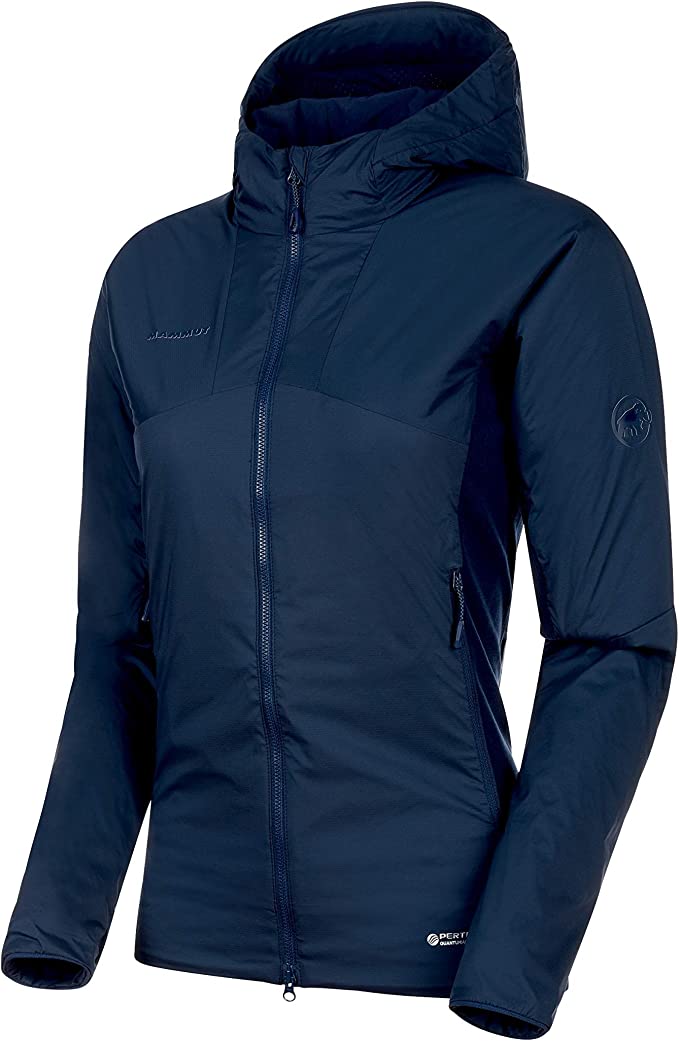 Mammut Rime Jacket
The price of "Mammut Rime Jacket" varies, so check the latest price at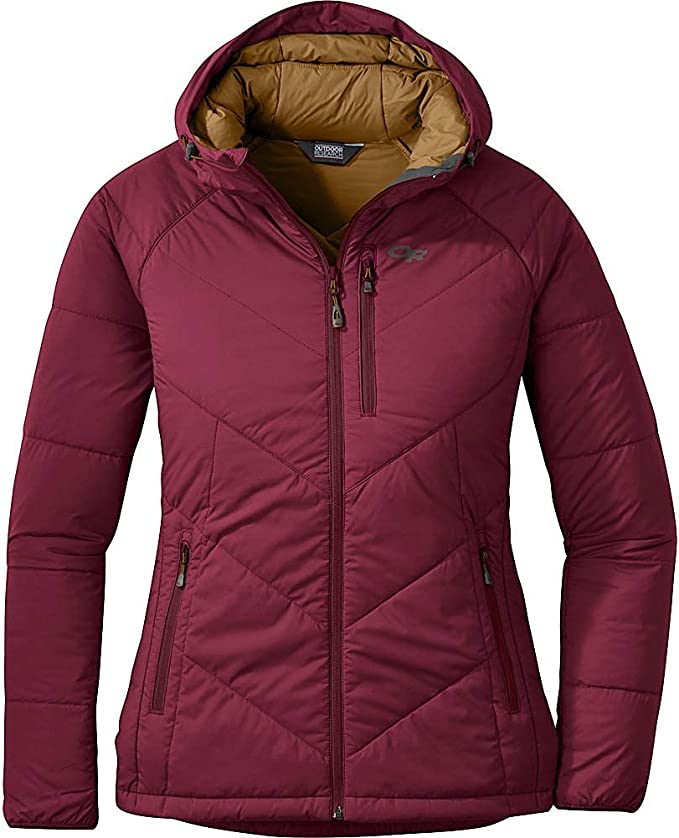 Working through the cold is a very deceiving activity. You'll feel warm and comfortable the more you keep trekking but eventually, you must come to a stop. We all do. It is in this brief moment of reprieve that reality sets in.
You are cold. And depending on the wet conditions and how much we sweated, we may be colder than when we first set out. It is for these moments that the Outdoor Research Refuge hoodie was made.
Engineered for combat
The Vertical X insulation of this jacket is breathable insulation that manages your inner core temperature on your ski touring adventures. This active insulation is the stand-out feature of the Refuge hoodie but there are much smaller, targeted features in its design. You should also need to know regarding best men's ski jackets while you going for an adventures.
A carabiner loop is actually built into this breathable jacket. If you don't know, a carabiner loop is used for rope-intense activities. These activities include climbing and caving.
The carabiner loop helps set up fall arrest systems that would stop you from plummeting to your death should you ever slip. You hang your hoses and cords from it, meaning that the two zippered hand pockets can be used for storing other useful things.
Like a snack! Don't judge me… I get hungry out there.
Warranty and Use
The limited lifetime warranty of the jacket has you covered, should this ski touring synthetic jacket ever suffer too grave of an injury. Best used as a mid-layer under thicker down jackets.
With a chest pocket that comes with a zipper and low profile binding cuffs, this jacket stuffs itself full of useful little features.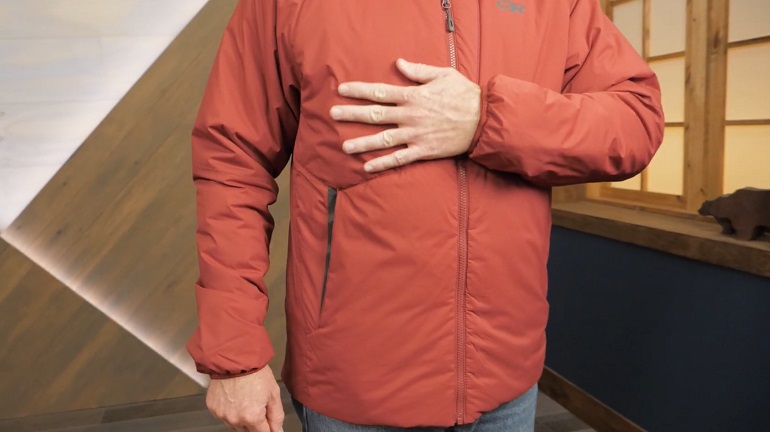 This is why it weighs more than even the warmest synthetic jacket. You can't have all of that great functionality without paying the design cost somewhere.
Features:
Fabric: 100% Polyester 20D x 30D Ripstop with Mechanical Stretch
Insulation-Type: 100% polyester insulation 60 g/m2
Weight: 1.25 lbs
Used For: Backcountry excursions
Hood: Yes
Pros:
Great and versatile center back length of 30.75 inches.
Hand pockets that double as a stuff sack thanks to their spacious design.
Hip-length for non-restrictive mobility.
Cons:
The heaviest jacket on the list by far but this is because it has everything you need to dominate the cold weather.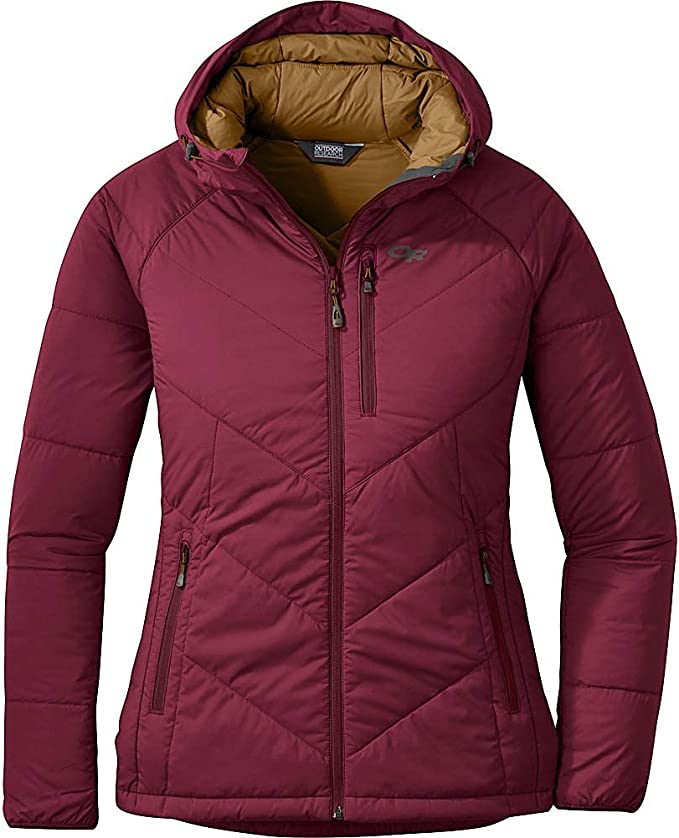 Outdoor Research Jacket
The price of "Outdoor Research Jacket" varies, so check the latest price at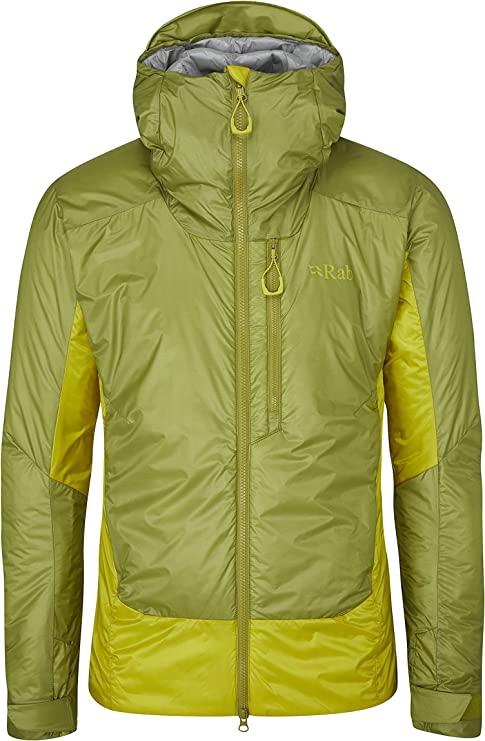 With the Generator Alpine, you've got a heavily insulated jacket that was made to bat away even the strongest winds. This is essential if you are big into mountaineering.
No matter the time of year, any experienced mountain goer will know that the higher you get the more ferocious those winds become. You can't underestimate the elements and this synthetic insulated jacket has got an excellent warmth-to-weight ratio.
Making every ounce count.
High Doses of Synthetic Insulation
Two different applications of synthetic insulation materials have been inserted throughout the body of the Generator Alpine.
Maximum warmth is guaranteed but it comes at a cost. The weight of this warmest jacket does climb in ounces.
RAB did try to combat this weight issue. They used PrimaLoft® Gold Insulation which is infused with Aerogel. Aerogel is a low-density material that is 95% air. Great insulation that doesn't bog down this jacket.
To safeguard this ultra-light material, Pertex® Quantum Pro Diamond Fuse fabric was used to form the outer layer.
Now, don't get intimidated by that overly-complex name. this fabric has a snag-resistant surface thanks to its diamond-shaped filaments that interconnect without leaving any space in between.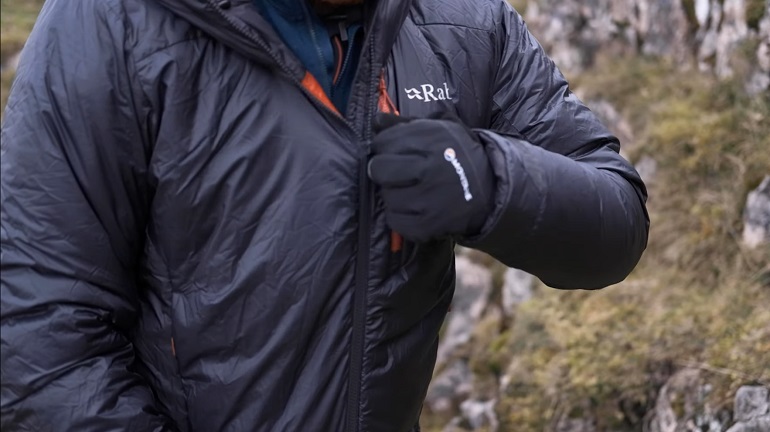 Why it matters
What you have here is one of the best synthetic insulated jackets around for mountaineering. Mountain terrain can be rough and coarse.
Having a jacket with excellent insulation that won't tear easily is the only kind of jacket that you should have in mind when mountain climbing.
When insulation tears it becomes compromised. The effectiveness of this material plummets and you are left to suffer the elements. Thanks to the Diamond Fuse fabric, you can fall, tumble, and get back up without any trouble.
As an avid tumbler myself, this is the jacket for me.
Features:
Fabric: Combination of 2x 20D Pertex Quantum Pro fabrics
Insulation-Type: Primaloft Gold Insulation with Cross Core
Weight: 19 ounces
Used For: Climbing, winter excursions
Hood: Yes
Pros:
Adjustable helmet compatible hood with a hard peak.
Elasticized cuffs make room for even the biggest gloves that you can find.
Internal stuff pocket for storing those massive wrist guard snowboarding gloves.
Cons:
Mid-level on the weight scale. Not the heaviest among the down and synthetic jackets but there are lighter weight options.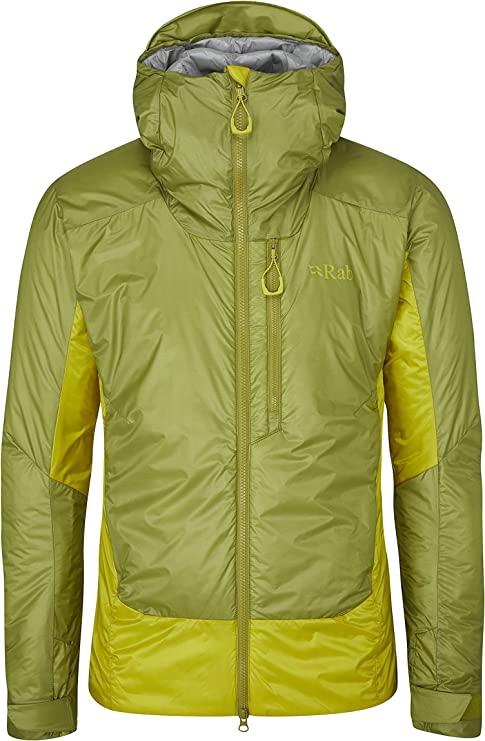 RAB Generator Alpine Jacket
The price of "RAB Generator Jacket" varies, so check the latest price at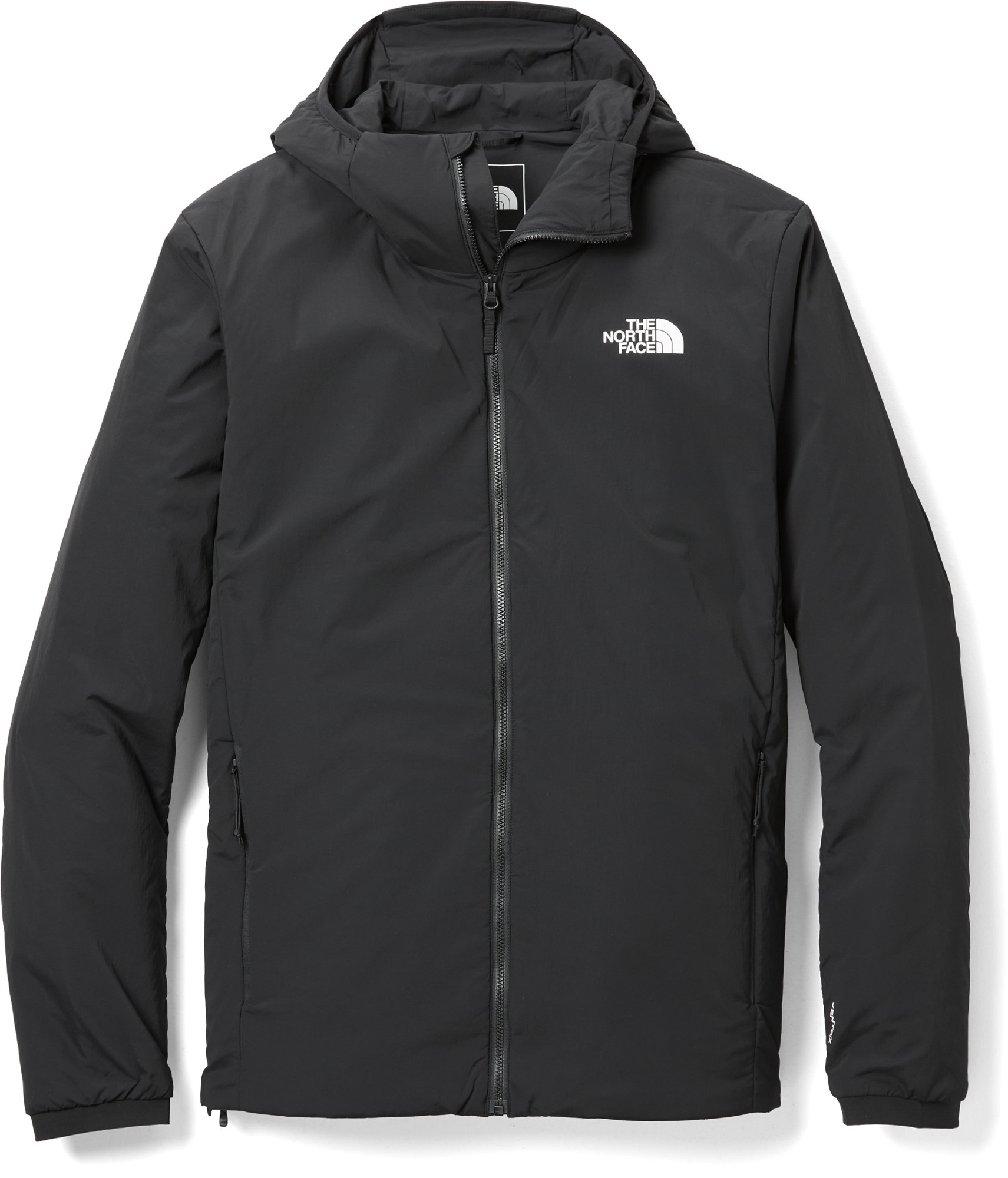 We end this list of best synthetic insulated jackets with a North Face offering. The Ventrix hoodie is named as such due to the Ventrix active insulation that runs through its structure.
This active insulation is made from a stretch polyester that works with your body to actively trap the heat. Thirty-five percent of this material is recycled polyester.
Post-consumer recycled polyester, which means that at one point this material was in someone else's synthetic jacket before being discarded and then reused.
Stretchy full-zip
The mid layer of the Ventrix can be fully zipped up and it stretches to fit your body. Excellent for activities that see you moving your body constantly such as hiking.
Nothing is more annoying than feeling as if you are constrained by the clothes you are wearing. You know that sensation as you reach for something up high and the seams of your upper sleeves tighten and push back?
This synthetic jacket has got a mid-layer to prevent this from happening.
Breath Out
The back panel has been perforated (fancy word for "openings") to allow ventilation throughout the jacket. With a combination of polyester and these vents on the back, even if you were to get wet, you'd be dry in a matter of minutes.
This is perfect for hiking in intense and windy weather. For those days when a light rain has broken out but strong winds aggrandize its effect.
I am a sucker for small features that are uncommon in other synthetic insulated jackets. The Ventrix has a North Face logo on the left part of your chest and another one on your back-right shoulder. But these are not just for show.
Both logos act as heat transfers, avoiding any uncomfortable body temperatures for the wearer.
Features:
Fabric: 62 g 89% nylon/11% recycled elastane
Insulation-Type: 60 g Ventrix polyester (35% recycled)
Weight: 13.4 ounces
Used For: Hiking
Hood: Yes
Pros:
Made with a sustainable manufacturing process (contains recycled materials).
The logo on this synthetic insulated jacket acts as a heat transfer.
Concealed hand pockets that are zippered and an adjustable hood.
Cons:
Not the best for dealing with moisture. Soaks up even the lightest amounts rather easily. Although, this only goes as deep as the outer shell fabric.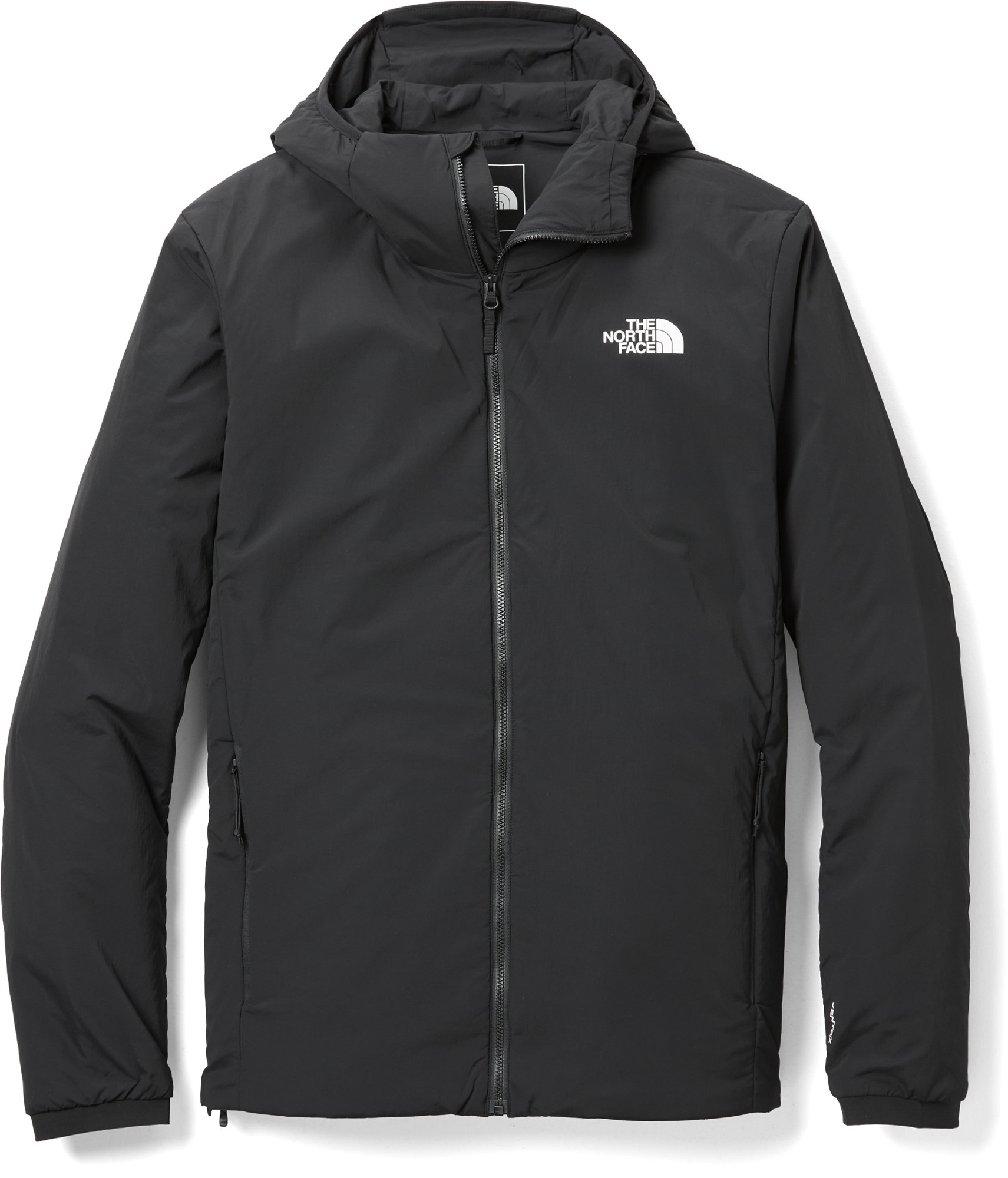 THE NORTH FACE Ventrix Hoodie
The price of "THE NORTH FACE Hoodie" varies, so check the latest price at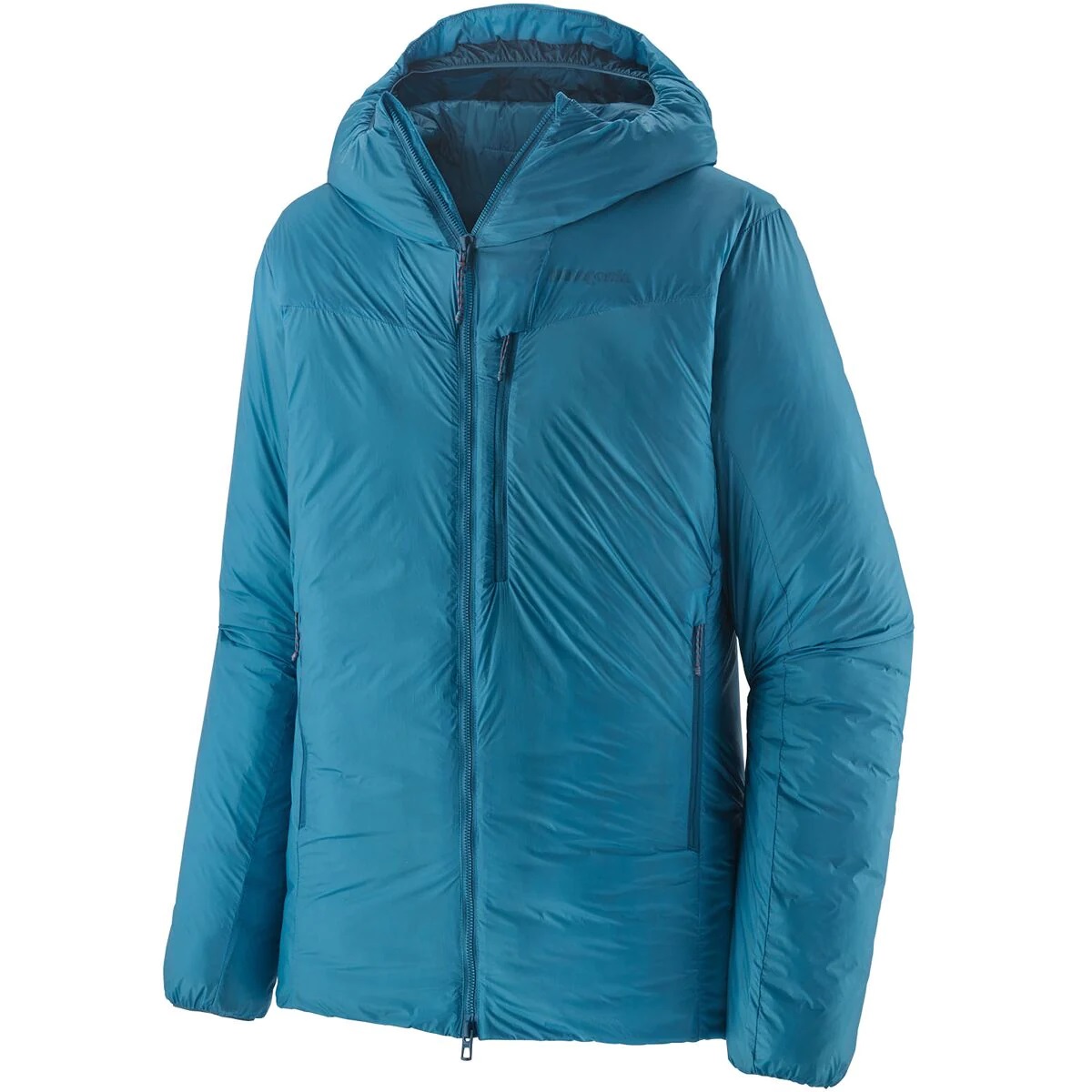 Puffy, runs large and is topped off with a lightweight hoodie. The Patagonia DAS parka has got heavy-duty written all over it. Nylon ripstop. It's in the name! The DAS hoody has a nylon ripstop exterior. Suffice it to say that its abrasion resistance is top marks.
From within, warm air is held in a vice grip. PlumaFill insulation is magnanimously spread throughout the hoody's frame. My issue with puffy jackets is transporting them. Even when wearing them, their lofty design always restricts my movements.
The DAS hoody does suffer from these same ailments. However, it doesn't feel as clunky. The waist is trimmed. Slimming down significantly. Especially when compared to the upper torso sections. The puffy warmth was kept and alterations were only made in the areas that needed it the most.
This same slim fit was also applied to the jacket's cuffs. All the entrances closed off combined wonderfully with the weather-resistant nylon. Besides water being unable to penetrate the surface, harsh winds would also be dispersed.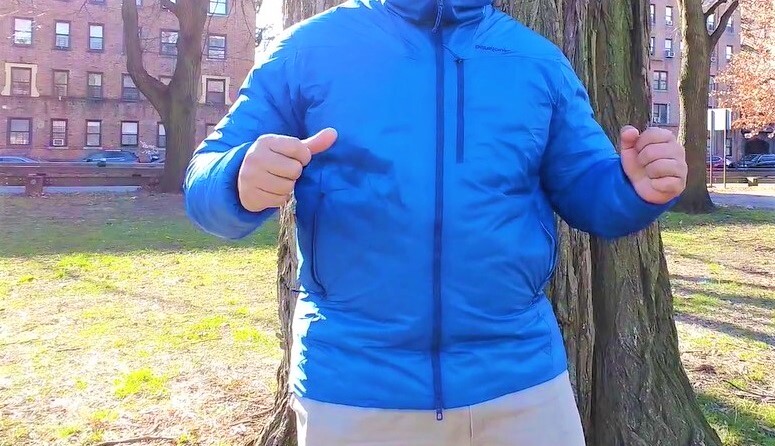 My experience with the DAS light hoody was a positive one. I made great use of the hand warmer pockets. In fact, I grew so accustomed to them that it was a harsh wake-up call whenever I would wear other synthetic jackets. Other synthetic jackets without the same pockets.
God my fingers are cold!
Features
Fabric: Nylon ripstop
Insulation-Type: PlumaFill insulation
Weight: 11.03 ounces
Used For: Backpacking and casual hiking
Hood: Yes
Pros
Best pockets in town. With the Patagonia DAS parka, you get a zippered chest pocket and handwarmer pockets.
Make use of the helmet-compatible hood and wind flap that'll guard your face against harsh blows.
Despite its heavily insulated makeup, the hoodie is lightweight and compact.
Cons
The size runs large. Be sure to take this into account when making your selection.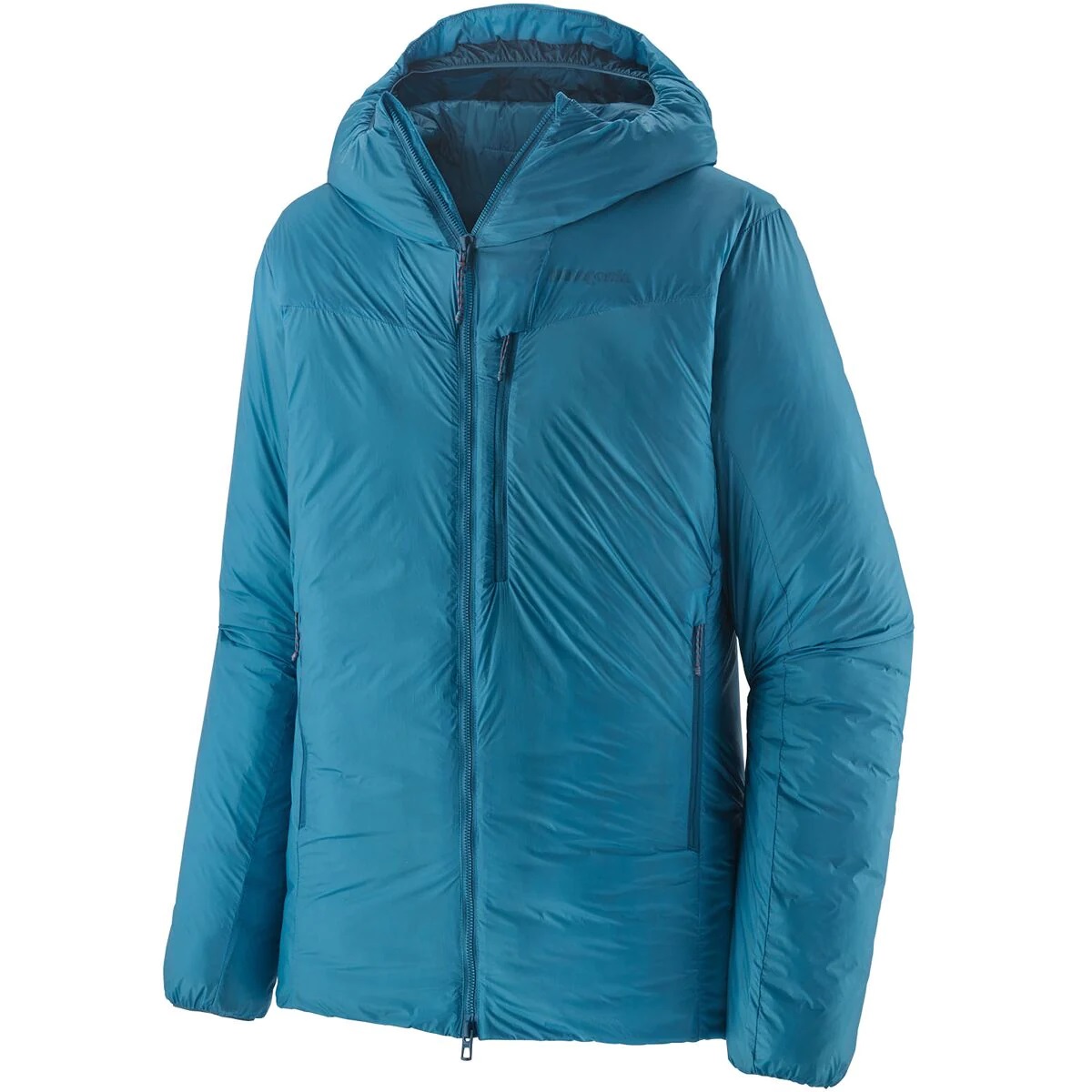 Patagonia DAS Light Hoody
The price of "Patagonia DAS Light Hoody" varies, so check the latest price at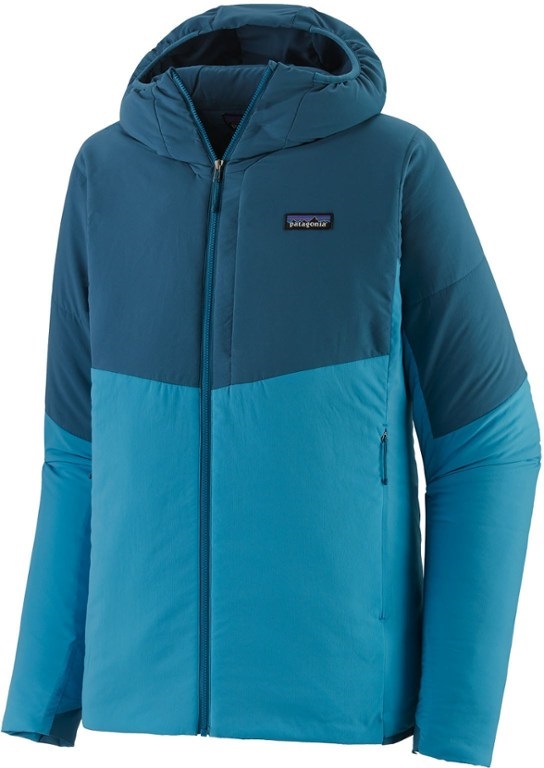 Patagonia yet again. I should make a list comprised of only Patagonia gear. Hint, hint editor. Joking aside, the Patagonia nano puff is my mountaineering choice. When embarking on a long arduous journey, I need a real jacket. A puffed-up form-fitting maestro. The Patagonia Nano-air hoody is just that.
With an extra ounce of insulation packed into its frame, the Nano-air is warm. Warmer than other synthetic insulated jackets. The strange thing is… that despite its fluff and pounce, the Nano-air is flexible. As I stated before, insulated jackets are bulky. That's why this jacket intrigues me. It goes against the grain.
How do I put it? Yes, upon first glance you'll notice this jacket's chub. However, it isn't until you wear it that you realize what I mean. The Nano-air doesn't restrict your movements. Let's not get ahead of ourselves, it's not as free-flowing as tights.
But you will notice a significant difference when compared to other puff balls.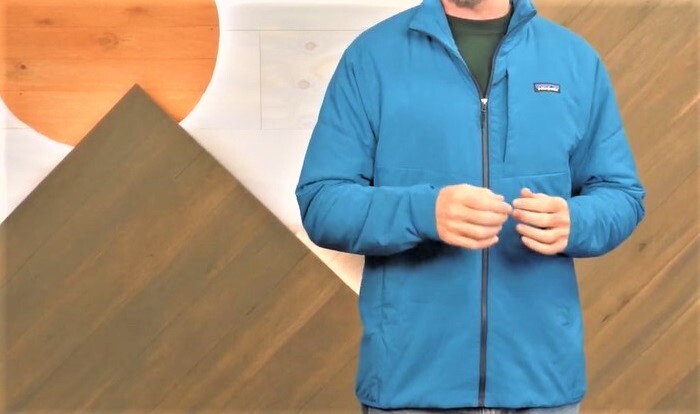 The best that insulated jackets have to offer. A true syncretism. Articulated sections are plopped down in the areas most needed. Further improving your range of motion. And what a range it is!
Again, is it the most flexible jacket around? Of course not. However, is the Nano-Air the warmest synthetic jacket with great mobility? Absolutely! If you plan on taking any hikes in not-so-pleasant weather, let the Nano-air watch your back.
Features
Fabric: Polyester
Insulation-Type: FullRange polyester
Weight: 12.02 ounces
Used For: Mountaineering and hiking
Hood: Yes
Pros
Packed with warm and flexible insulation. Keep warm without being slowed down.
Articulated sections provide you with a full range of movement.
Fantastic skin feel thanks to the microtexture design of the jacket.
Cons
The only size available was double extra large. More like a blanket than a jacket of that size.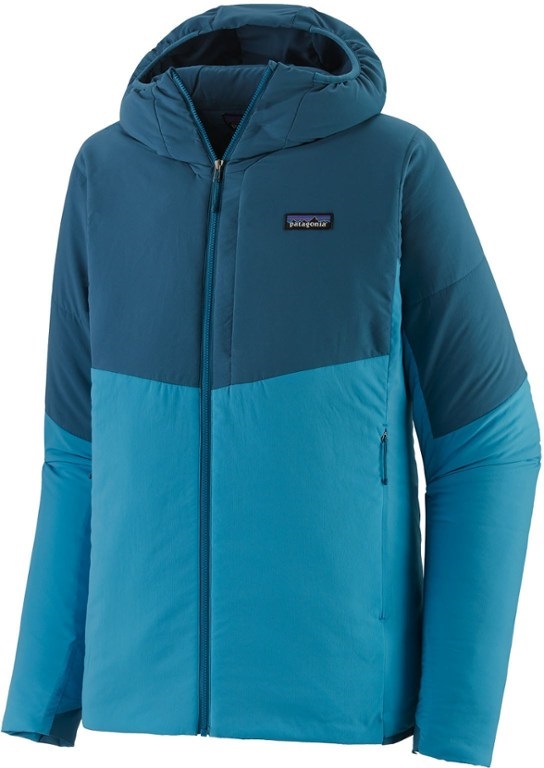 Patagonia Nano-Air Hoody
The price of "Patagonia Nano-Air Hoody" varies, so check the latest price at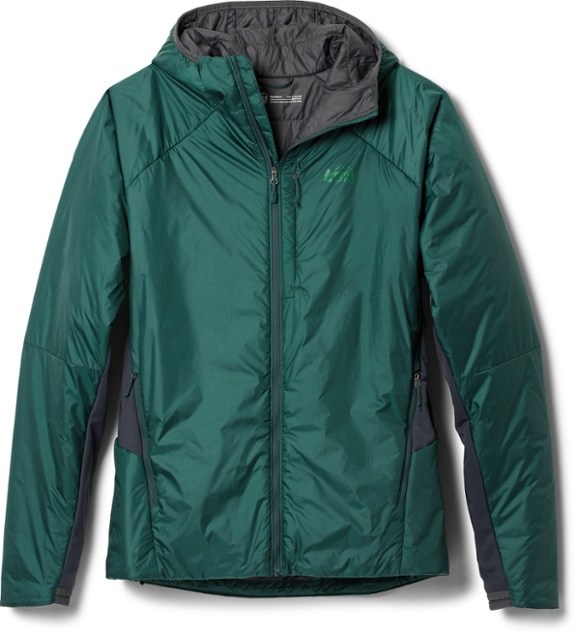 The Flash. An insulated hybrid hoodie with a premium build. And that's premium with a capital P. For its outer shell, the Flash has a Ripstop nylon covering.
I've spoken of this dream material before. Lauded its durability and abrasion resistance. Drooled over its weather protection.
All that good stuff is still present here. In addition to that, PrimaLoft eco insulation runs the channels. Different amounts segmented into their respective areas. This targeted design ensures that a majority of padding goes to the sections that will benefit from it the most.
By now, you should have realized the quality on offer here. Surprisingly, build quality is not why I chose this jacket. The best thing the Flash can offer you is its compressability. No longer. No longer will you have to struggle to pack your fluffy insulated wonder into your bag.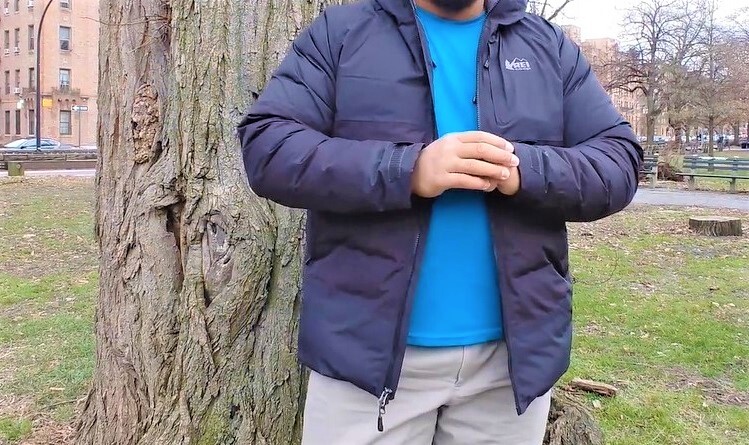 The Flash is specially designed to fold into itself. Enjoy all of the warmth and protection of an insulated jacket, without having to deal with the clutter and weight. Best of all, it even has a DWR coating applied to its exterior.
Features:
Fabric: Ripstop nylon shell fabric
Insulation-Type: PrimaLoft Silver Eco synthetic insulation
Weight: Lightweight jacket
Used For: Hiking and everyday wear
Hood: Yes
Pros:
Stuff it anywhere. Thanks to its highly compressible design, you won't have any issues bringing this wear along.
Warmer than its competitors. All thanks to the ShadowBaffle construction which increases durability and the effectiveness of the insulation.
DWR treatment prevents stains and negates the effects of light rain.
Cons:
Moving around with it creates a lot of noise.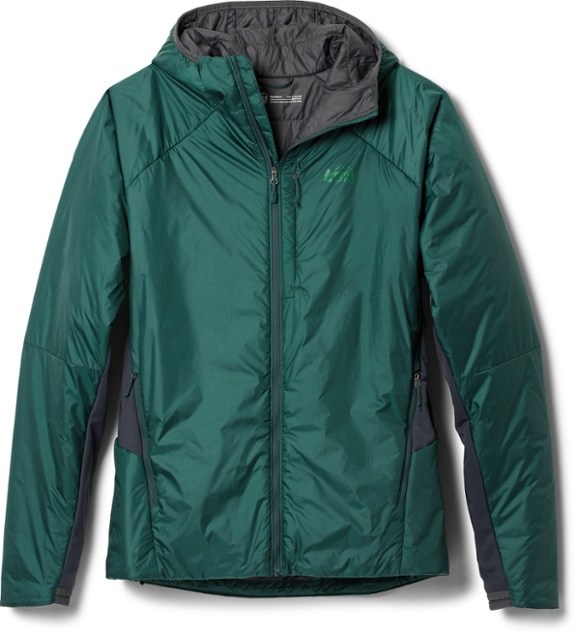 REI Co-op Flash Insulated Hybrid Hoodie
The price of "REI Co-op Flash Insulated Hybrid Hoodie" varies, so check the latest price at
Buying Guide: What You Need To Know for a Smart Purchase
Consult our guide below to make an informed purchase. We've broken down the top qualities and features that all of the best-insulated jackets possess. Run through it to understand what it all means and why the jackets above are the best of the best.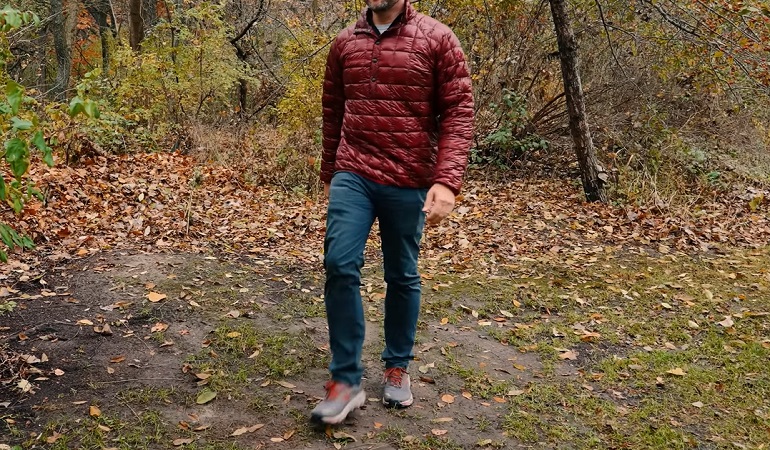 Water Resistance
This is where all the money is made. You want a jacket that has great water resistance period. This is not the feature that you should be short selling because this makes or breaks your outing.
A down jacket will absorb all that water and moisture, rendering them useless. Worse yet, they become a liability. Imagine having to dump your jacket at the foot of the mountain because it couldn't hold up. How much worse would you feel?
All synthetics repel moisture, and each jacket will vary in how much water is being repelled. You can't go wrong with a nice and secure DWR finish.
Breathability
What determines the breathability of a jacket with insulation? The fill material used and the lining/outer shell fabric. The more insulation that is packed in, the warmer you will be, but this will downgrade the breathability of your jacket.
If you care more about having a fresh feeling than combating the cold, then get a jacket with a piece of stretch fabric for the outer layer. It'll kick moisture in the butt and keep you fresh. Make sure that there isn't too much insulation in the jacket as well.
The North Face Ventrix hoodie has got good breathability.
Durability
Any tears to your jacket and the insulation have just been compromised. Depending on how deep that tear is of course. Anything made with nylon is sure to last if nylon is used for the outer fabric.
Stretch fabric will give your jacket some leeway when pulled, so seek out something like the Helly Hansen LifaLoft Hooded Stretch Insulator Jacket or the Black Diamond First Light Stretch hoodie.
Keep in mind that synthetic materials break down over time. In a few years, your jacket may not keep you as warm as it once did. However, you've got plenty of time before this happens.
Warmth
This is very easy to figure out. The more insulation your jacket has, the better it'll be at keeping you warm. Do down jackets keep you warmer than synthetic ones? Yes, but any exposure to the elements (water or moisture) and those bad boys are down for the count.
If you want something that is reliable and will keep you warm, then get one of the jackets listed above. The warmest on the list is the Arc'teryx Atom AR. I highly recommend it for freezing temperatures.
Comfort
Comfort is all up to the user. If the cold makes you extremely uncomfortable, then you need a jacket with a ton of insulation. If your own sweat and moisture make you feel gross, then get something with great ventilation like the Black Diamond First Light Stretch Hoody.
Ultimately, make sure that it fits well and then worry about insulation and ventilation. Nothing annoys me more than wearing a jacket that is too big or too small. Too big, and I can't move around as I want. Too small, and I don't feel protected at all.
Hoods or No Hood
Always hood. Try and get a jacket with a hood. You're searching for a jacket with insulation which means that you are going to be heading out to some pretty cold and wet areas.
You'll need a hood, and even if you don't, it's better to have something and not need it than to need something and not have it.
Packability
Jackets like the Rime Light can't be beaten when it comes to packability. It can be condensed into a bag! That is awesome and it's not the only jacket with this feature.
If you don't want something that can do this then just get the Patagonia Micro Puff it's been condensed greatly, but the overall quality is still top of the line.
FAQs
What Is Synthetic Insulation?
Synthetic insulation. Industry buzzword or an actual innovation? Let me assure you, synthetic insulation is very real. Synthetic insulation is the alternative to down. Made from polyester, usually. This material aims to keep you warm by trapping warm air more effectively.
Trapping warm air, how? Its internal structure is tendril-like. This tendril-like structure apes the build of the insulation you'd find in a down jacket. In short, it's effective. However, synthetic insulation's effectiveness decreases over time.
Its shelf life is usually three to four years long. Short huh? Perhaps, but within those four years, you'll be able to count on it to keep you warm in even the harshest conditions.
What Is the Best Insulation for Jackets?
The best insulation for keeping warm is down. The issue is that down, when damp, becomes borderline useless. This is why personally the best insulation for any jacket is synthetic insulation.
Synthetic insulation is versatile and extremely resilient. It'll keep doing its job even when damp.
Do Insulated Jackets Keep You Warm?
Of course! This is their primary function and why they are called "insulated" jackets in the first place. Some insulated jackets are better at keeping you warm than others but overall you'll find that they can all handle your everyday chills with no problems at all.
If you care about staying warm above all else then the Arc'teryx Atom AR is a must-buy. It's even better than down jackets at keeping you nice and toasty.
How Should Your Insulated Jacket Fit?
While some synthetic jackets will be more mobile than others purely based on design alone, there are a few rules of thumb.
Lift your arms up above your head, if the hem (the bottom part) lifts up more than an inch, then the jacket is too small for you. While lifting your arms up, the sleeves shouldn't move a couple of inches past your wrist. If this does happen, then once again the jacket is too small for you.
My Final Thoughts
Personally, I rate insulated jackets much higher than sports-specific jackets. This is because insulated jackets can be used for so many different purposes and even for everyday use. You won't go wrong with any of the options above.
They have all got a fantastic assortment of features that won't leave you caught out by the weather. But if you are looking to focus on snowboarding or other similar winter sports then I definitely recommend getting a snowboard jacket.
Want something that won't break the bank? Get the Rab Xenon 2.0, it's on sale for Christ's sake!
Prefer something lightweight that you can take with you anywhere? Then you need the Rime Light. Not only is it affordable but it can be folded into a small package. A loose fit is ideal for additional layering and is the reason why snowboarders wear baggy clothes.
Look no further. What you need to brave the snow-covered wilds and spearhead your next adventure into the freezing lands is within this list.