Up at the peak of the mountain, your board's nose lifts. Letting out a mighty roar as you begin to etch your name into the white powdered ocean below. Darting through trees and flipping through uneven snow, it's perilous, and it's your element.
Before long, you reach the foot of the mountain. It always ends too soon. You bend down to catch your breath, caught in the rush. Suddenly, something pulls you out of the zone just as quickly as you got into it.
Your hands are freezing red. Aching and throbbing, the snow bath you just gave them only intensified the sensations. Leather palms, zippered pockets, snowboarding mittens, that's what you needed.
Forgotten no more
Our hands don't get the recognition that they deserve. It's through their dexterity and mobility that we are able to get anything done at all. We protect our heads with snowboard helmets and adorn our bodies with the proper snowboarding gear, but our unsung heroes go unnoticed.
Not anymore!
Down below, you'll find the gloves and one surprise mitten that you need to breathe some warmth into your cold hands. From the warmest gloves to the most functional, whatever the severity of the cold conditions, you'll be able to beat them back.
Adjustable Closure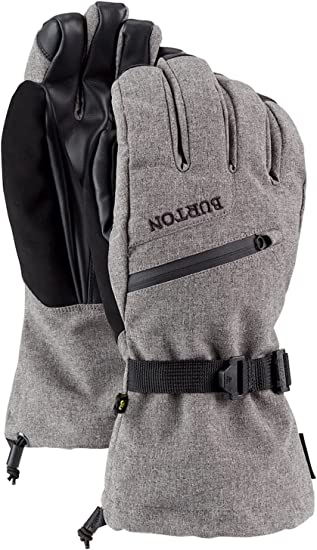 Burton GORE-TEX Gloves
Matrial:Blend
Size: Small
Waterproof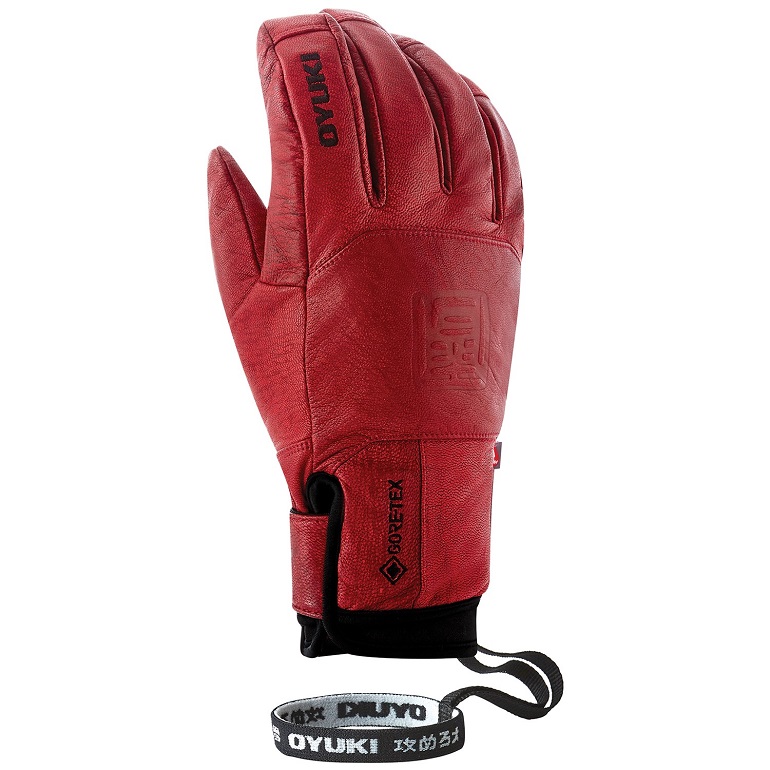 Oyuki Sencho GORE-TEX Gloves
Matrial:Goatskin, GORE-TEX
Size:Medium
Machine Washable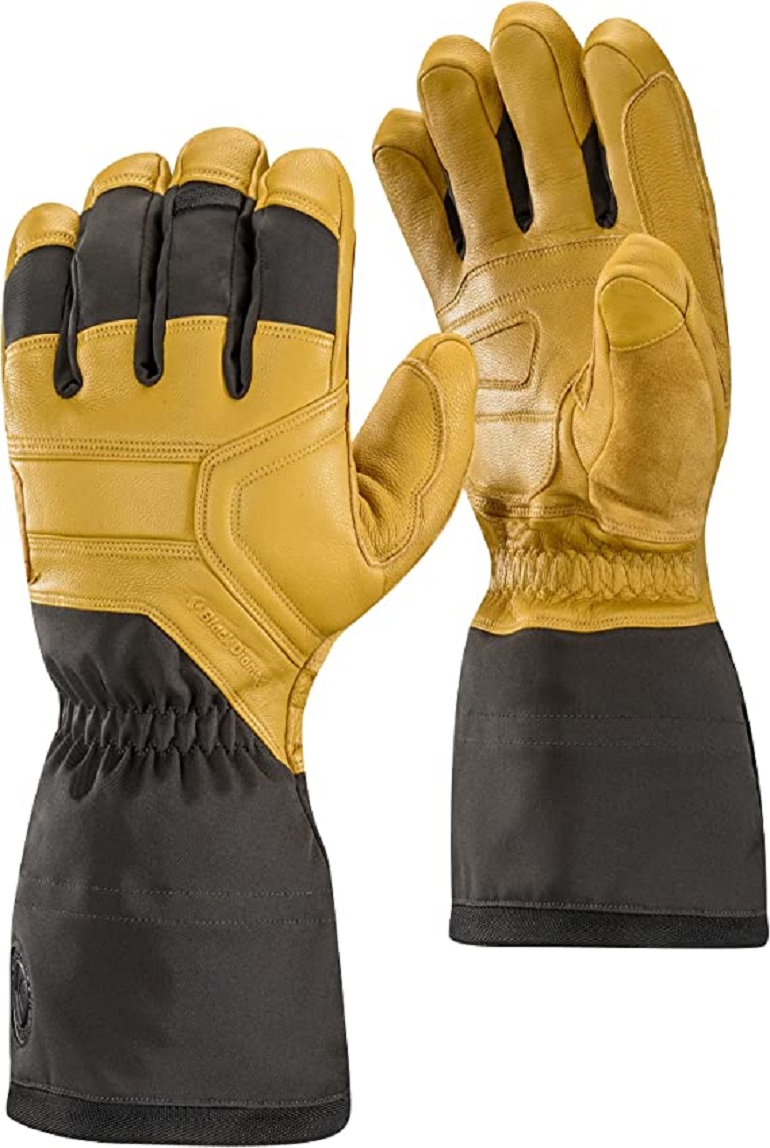 Black Diamond Guide Gloves
Matrial:Synthetic
Size:X-Small
Most Comfortable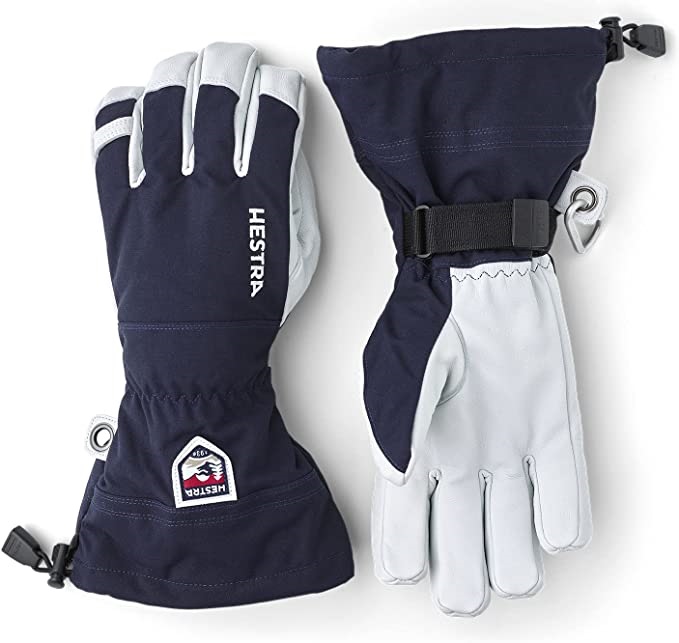 Hestra Army Leather Heli Glove
Matrial:Polyester
Size:Medium
Drawstring Closure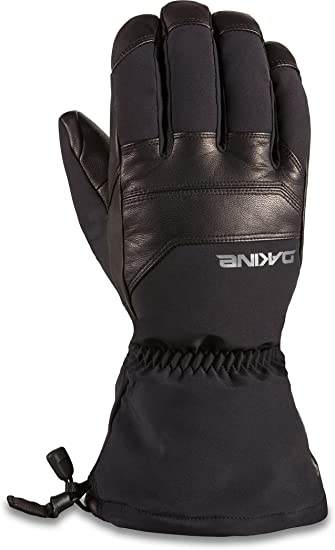 Dakine Excursion Gore-Tex Gloves
Matrial:Goat Leather,Polyster
Size:All sizes Available
Most Durable
Flylow Leather Snowboarding Gloves
Matrial:Leather
Size:Medium
Best Quality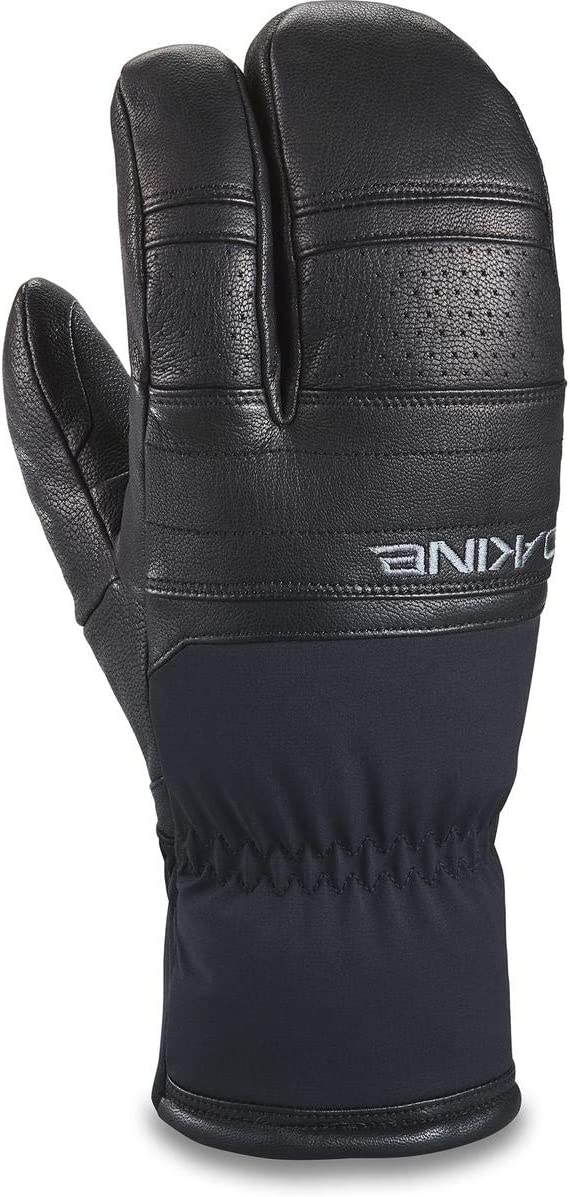 Dakine Baron Gore-Tex 
Matrial:Polyester, Nylon, Leather
Size:Small
The Lucky 7: The Best Snowboarding Gloves for You
The best gloves are loaded with features and made with materials that handle the most common and persistent issues that any snowboarder will encounter in their life.
From a goat leather palm for durability where you need it most, to a simple wrist leash to ensure that you don't misplace your gloves. There is a lot more to a glove than just acting as a glorified hand warmer.
Do the gloves on our list excel at this? Of course, it's their best feature, but when out on the slopes, it isn't enough. You need those little extras that have a big impact throughout your day. The kind of features that you don't notice unless they aren't there at all.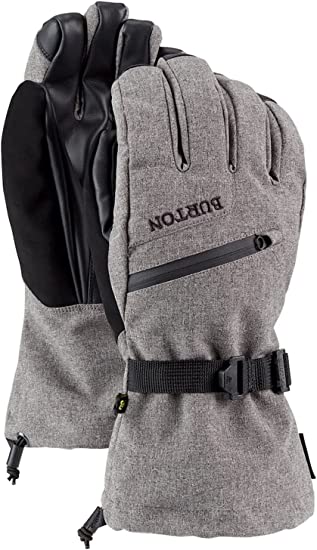 The number one snowboarding gloves with wrist guards on this list have got a killer price and a wonderful list of materials used in their construction. Burton has outdone themselves with these Gore-tex gloves.
Stay dry through your ride
For the shell material, Burton has gone with a DryRide fabric that has 2 layers. A wise choice considering how breathable and yet waterproof each individual layer is. Even if they were to absorb some water, this fabric is also quick to dry.
Talk about a shell that can handle it all.
The membrane of this pair of gloves is constructed from Gore-tex. That means that these snowboard gloves are 100% windproof. The magic of Gore-tex isn't just in the amount of protection it offers your body but also in how lightweight the material is.
This is especially important because even the best ski gloves can suffer from bloat when stuffed with this amount of features.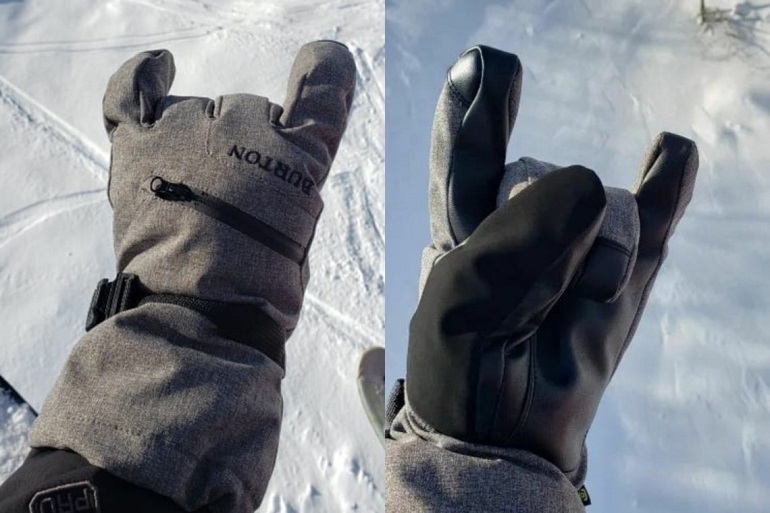 The result
What we end up with are snowboard gloves that can take whatever the clouds bring their way while not weighing down your hands. Heavy-duty protection but with a limber overall feeling.
Features
Shell Materials: DRYRIDE 2‑Layer Fabric
Membrane: Gore-tex membrane
Insulation: Thermacore Eco Insulation
Palm: Screen Grab Toughgrip
Fit: Ergonomic Pre-Curved Fit
Warranty: Limited lifetime
Pros
Long-length warranty that comes with most Burton products.
The pre-curved fit fits the natural contours of your hand.
High-quality materials are used for every part of this glove.
Cons
The over-the-cuff style isn't favored by all.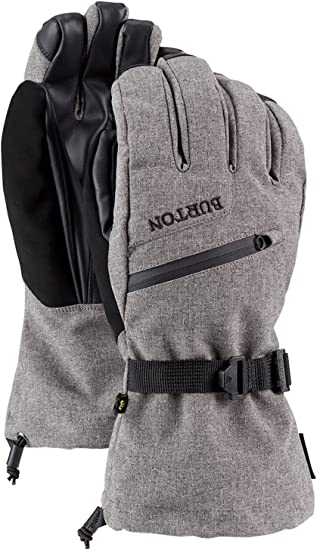 Burton GORE-TEX Gloves
The price of "Burton GORE-TEX Gloves" varies, so check the latest price at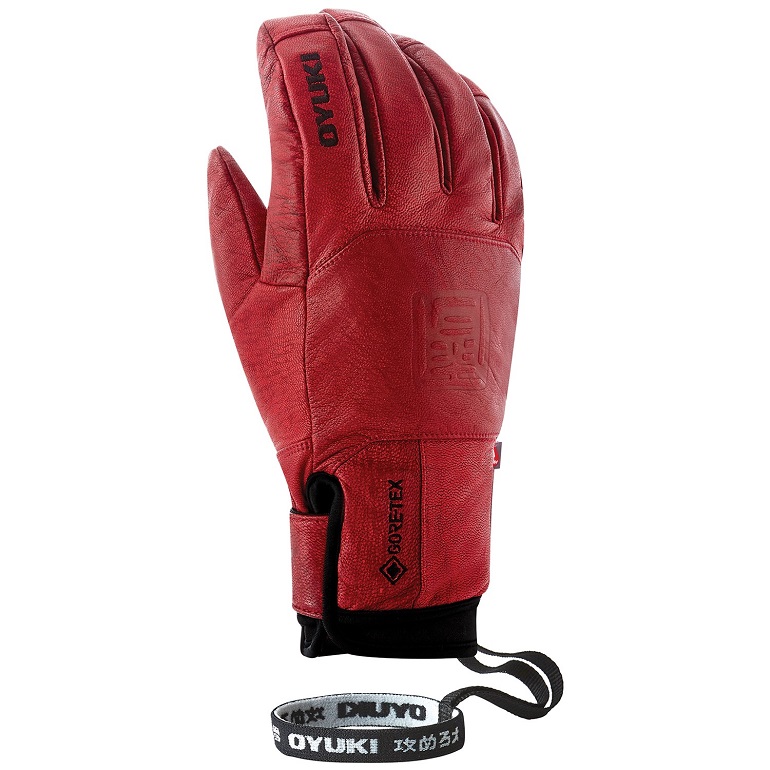 The Oyuki Sencho climbed up these rankings, and it did so because I was set back by the detail and precision that came with its structure. These are some very well-designed gloves. The shell is made from premium goat skin leather. Durable but also water resistant.
From within, a Gore-tex membrane breath through the rest of the glove. Pushing out any water that attempts to slip in and circulating the warm air from within that'll cause your hands to get clammy.
The goatskin leather from before also drapes over the palm. Should you dig your hands into the snow, you'll pull them out dry guaranteed. But by far, the most important feature and its most well-thought-out is the insulation.
Let me break it down for you.
The top and palm
The insulation of the Senchos is broken up into two departments. One area covers the back side of your hand, and the other focuses on your palms.
Naturally, your palms are the warmest parts of your hand, and this is why they have 133 grams of PrimaLoft Gold insulation. Your backhand, being exposed to the elements more, requires more protection. This area has 200 grams of PrimaLoft Gold insulation.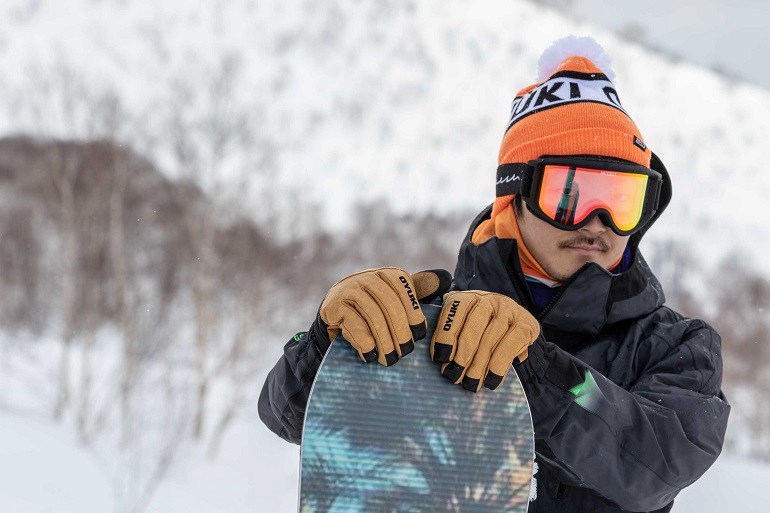 This is the shining feature of the Senchos. All the other gloves on this list have one uniform amount of insulation spread throughout the entire hand. This means that some parts of your hand will always be too cold or too hot.
But for once, there exists a pair of gloves that understands basic human anatomy. Oyuki knocked it out of the park with this one.
Features
Shell Materials: Premium Water Resistant Goatskin Leather
Membrane: GORE-TEX Waterproof Breathable Insert
Insulation: 200 g/m² PrimaLoft Gold insulation for the backhand
Palm: Premium Water Resistant Goatskin Leather
Warranty: One Year
Pros
The palm and backhand have different levels of insulation.
Gore-tex insert for the membrane.
A double-layer cuff that can be adjusted.
Cons
Only one year of warranty.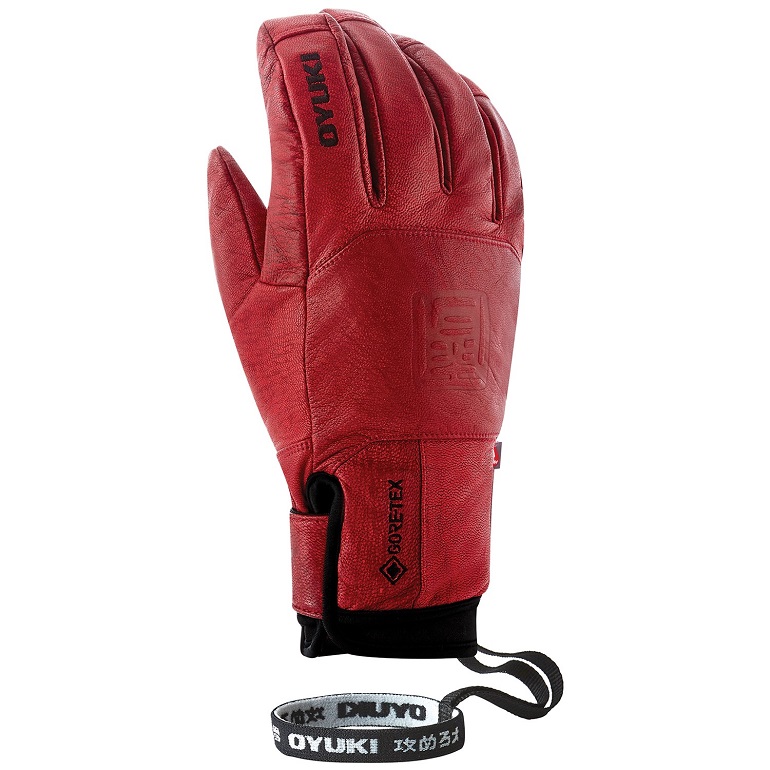 Oyuki Sencho GORE-TEX Gloves
The price of "Oyuki Sencho GORE-TEX Gloves" varies, so check the latest price at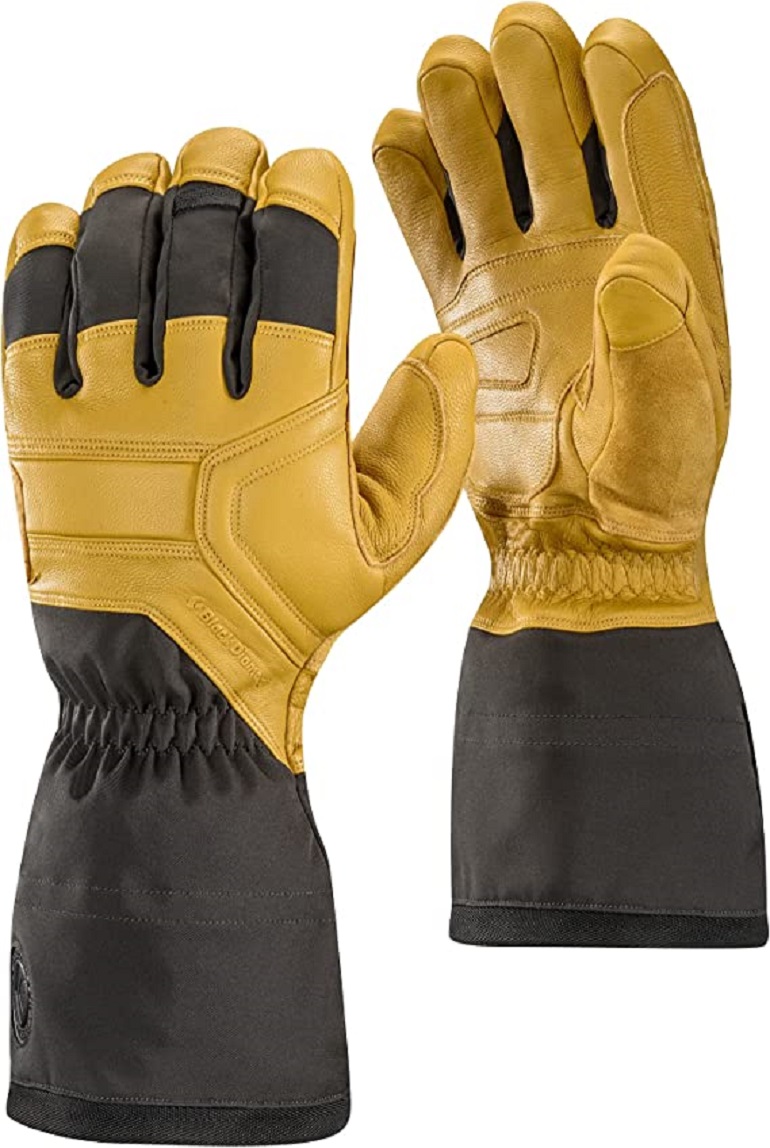 The outermost shell of these synthetic gloves is made from the good old-fashioned stuff, nylon. Nylon is not only durable but also lightweight. It's water resistant and just the kind of catch-all that you would want on the outside of your best gloves.
Beneath the nylon layer lies a membrane fully constructed from Gore-tex. Nylon and Gore-tex? We are going to need to add a few more points to the durability and breathability rankings of this gore-tex glove.
All-In
The Black Diamond Guide gloves have a PrimaLoft insulation that uses microfibers to trap your body heat in. This type of insulation even has some level of water repellency to it. This is important because most insulation will be useless when damp or wet.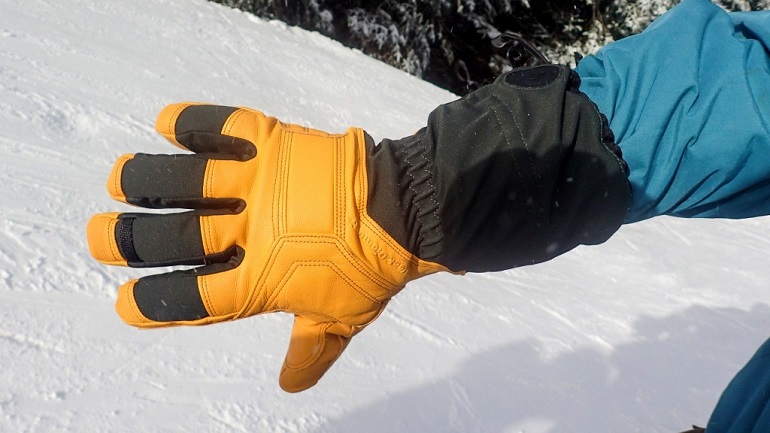 The insulation in the Black Diamond Gloves keeps on fighting long past the count.
It's a great glove because despite all of this protection, you still get great dexterity. And thanks to its removable liners, this mobility can be enhanced by removing the layers that you don't like.
It's a warm glove, regardless.
Features
Shell Materials: Nylon
Membrane: GORE-TEX + Gore Warm
Insulation: 170g PrimaLoft Gold Removable Liner
Palm: Suede Leather Palm Patch
Warranty: Limited lifetime
Pros
Nylon is used for the shell material. Durable and waterproof.
Removable lining lets you adjust the amount of insulation that you want.
Boiled wool is used for lining.
Cons
This product was exposed to minor amounts of Chromium.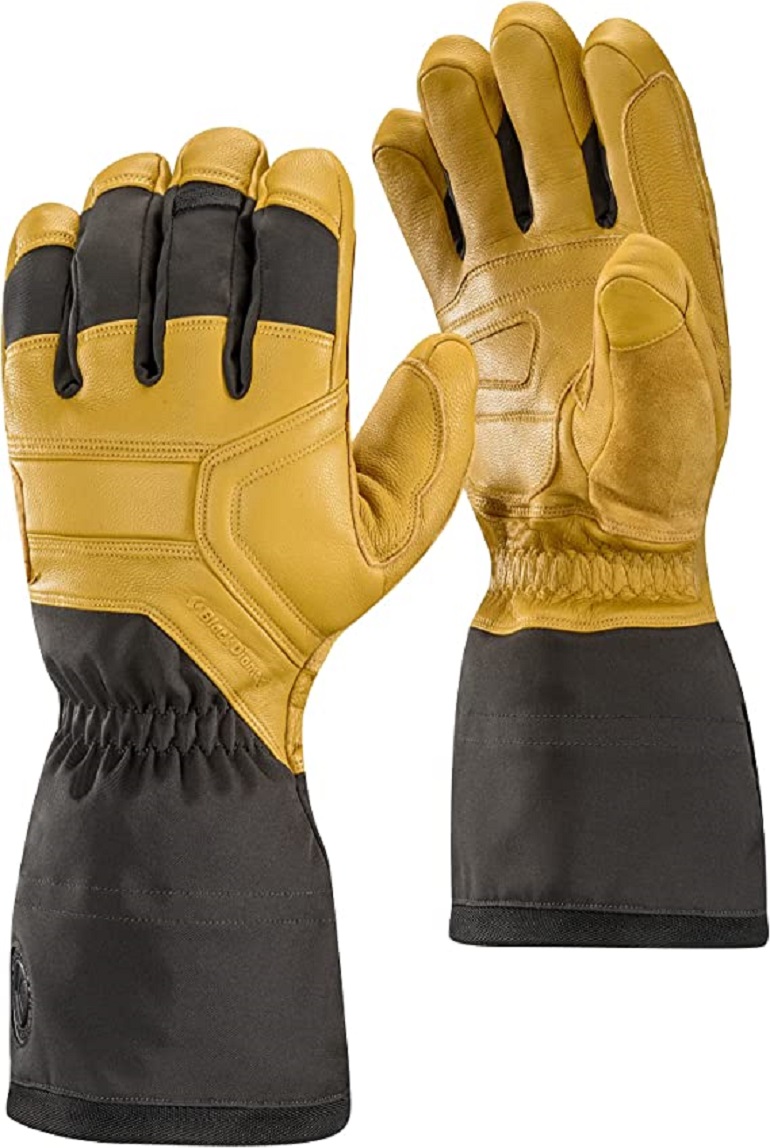 Black Diamond Guide Gloves
The price of " Black Diamond Guide Gloves" varies, so check the latest price at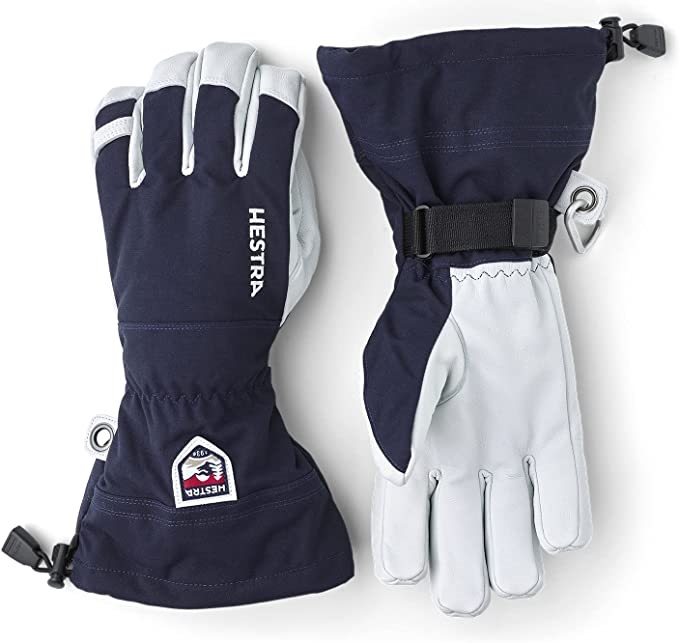 This Hestra offering is one of the best-looking gloves on this list. They've got a beautiful silver and black blend that is made out of a polyamide fabric and army goat leather.
A smooth and sleek exterior that won't look out of place no matter what you are wearing.
But where the Hestra Helis truly shines is in the number of features and add-ons that decorate its design.
Mountain of little things
The fit of the Helis curls into a natural grip shape. Conforming to the default shape of your hand, boosting grip and dexterity. A velcro strap secures the glove around your wrist. Allowing you to easily fasten and remove when needed.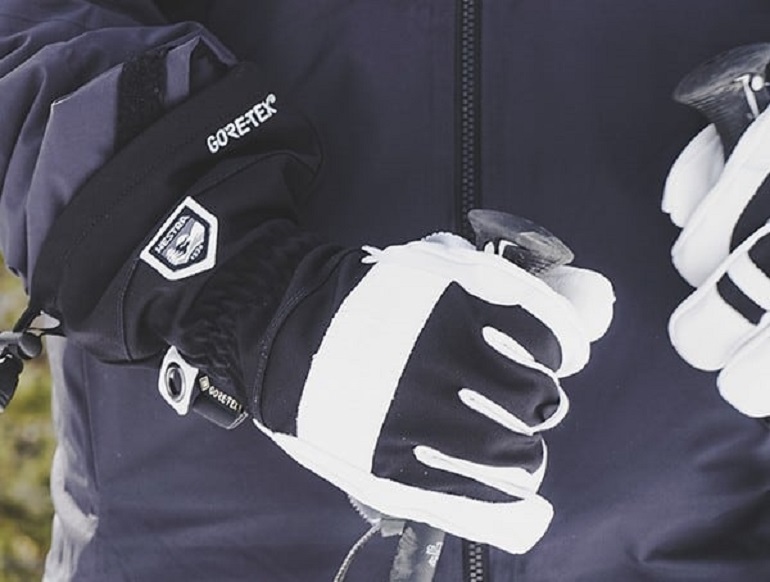 Not enough security? Well, then it's got an elastic wrist cuff that can be tightened with the pull of a cinch. If they ever get too hot, then just remove the inner lining and slot it back in when your fingers get cold again.
Everything about the Hestra Helis is well-thought-out and implemented. It's an expensive glove but worth every penny.
Features
Shell Materials: 3-layer polyamide fabric
Membrane: Bemberg
Insulation: G-Loft
Palm: Impregnated goat leather
Fit: Curved fit
Pros
Fantastic grip thanks to goatskin leather construction.
Eyelet on pinky finger lets you hang the glove off your pants with the finger pointed upwards.
Available in the mitten and three-finger form.
Cons
The liner doesn't deal with moisture as well as other options but is still serviceable.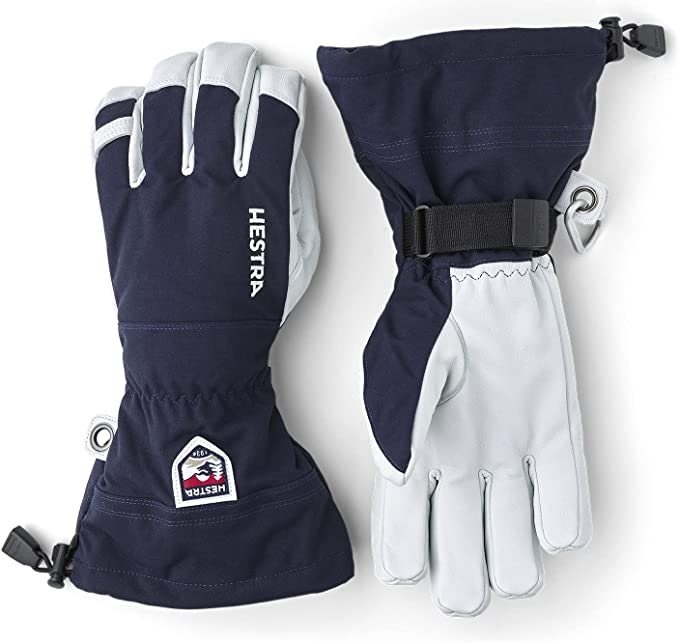 Hestra Army Leather Heli Glove
The price of "Hestra Army Leather Heli Glove" varies, so check the latest price at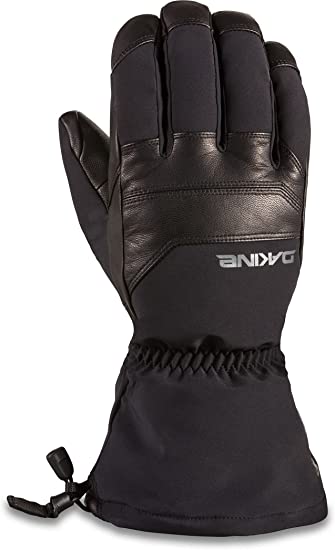 You probably read the words Gore-tex in the name of these snowboard gloves and thought that breathability would be its best feature.
Now, these Dakine Excursions can count on the wind resistance and lightweight feel of Gore-tex, but there is more to them still. While we do have a breathable set of gloves here, it's what is on the inside that counts.
Wool, PrimaLoft, and everything nice
The lining of the Excursions is made from 360g wool. It goes without saying that wool is great for warming your cold fingers up. Wool also reacts to your body. It's a breathable material in its own right. Like nature's very own Gore-tex.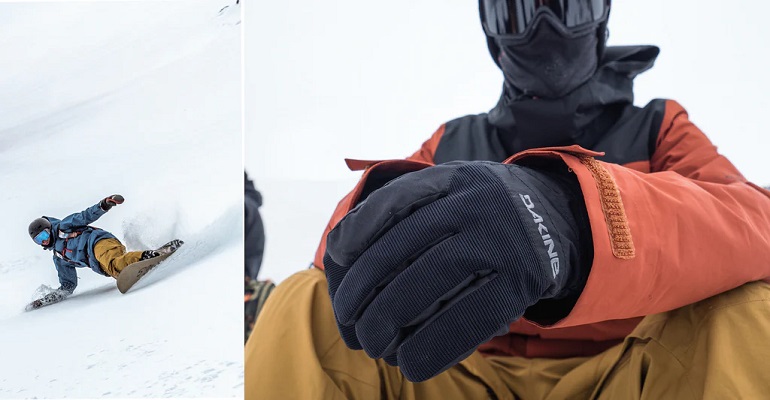 Not all of the lining has been constructed out of wool. A vast majority of it is (around 64%), but polyester and nylon were also included (20% and 16% respectively). That means you get the quick drying properties of polyester and the durability of nylon married into one glove.
When the core of your warming gloves is made from such an all-star lineup of materials, you get a cold weather slayer that keeps your fingers warm but doesn't smother them.
Features
Shell Materials: 4-Way Stretch Soft Shell With Goat Leather
Membrane: Gore-tex membrane
Insulation: PrimaLoft Gold insulation
Palm: 100% Goat Leather with DWR Finish
Fit: Cuff Closure
Warranty: Two years
Pros
Quality lining made from wool, polyester, and nylon.
55% of insulation is made from post-consumer recycled materials.
Gore-tex keeps you dry.
Cons
Higher priced than other options but justifiable.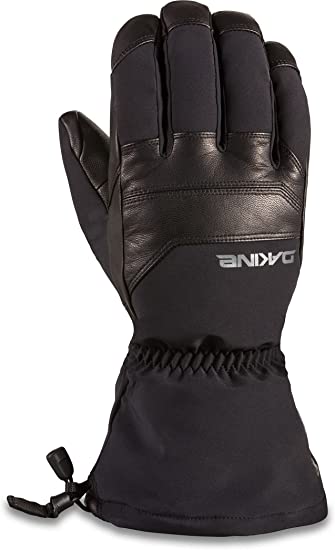 Dakine Excursion Gore-Tex Gloves
The price of "Dakine Excursion Gore-Tex Gloves" varies, so check the latest price at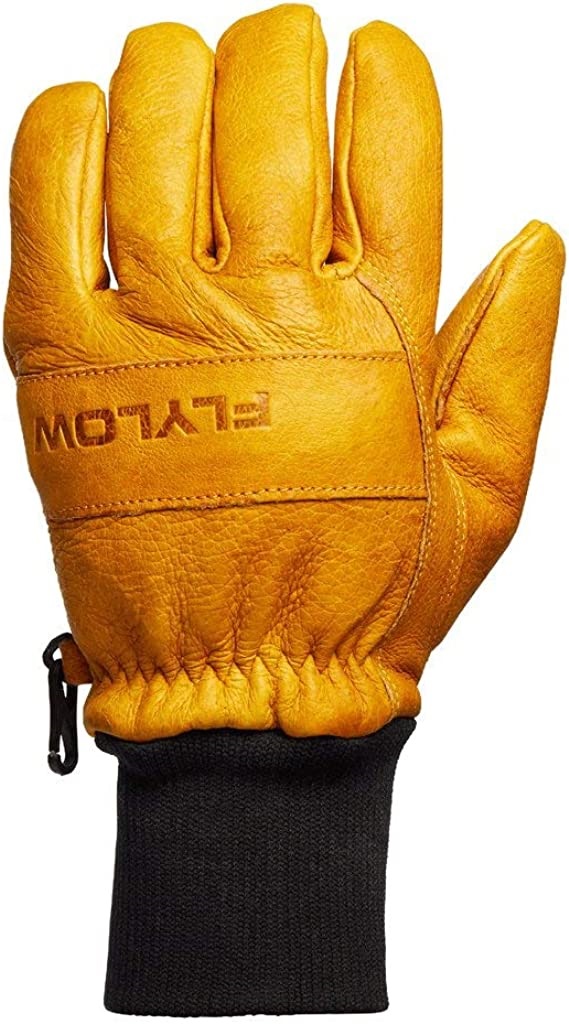 You can buy the Follow Leather snowboard gloves today, and they'll still be intact in a couple of years. They are that good, and it's obvious why. When your entire structure is made from leather, pigskin leather that has been coated with DWR, you are going to last.
Heavy duty
The cold weather isn't a worry with these. For insulation, we have got Spaceloft synthetic insulation that keeps working even when damp. You heard me right. Even when the insulation should be on its death kneel, it continues to chug along and get the job done.
The Follow Leathers were made to slip in under your waterproof insulated jacket cuff, which is a design feature that won't please all. Some find it more comfortable to have their jacket cuff feed into their glove, not devour it.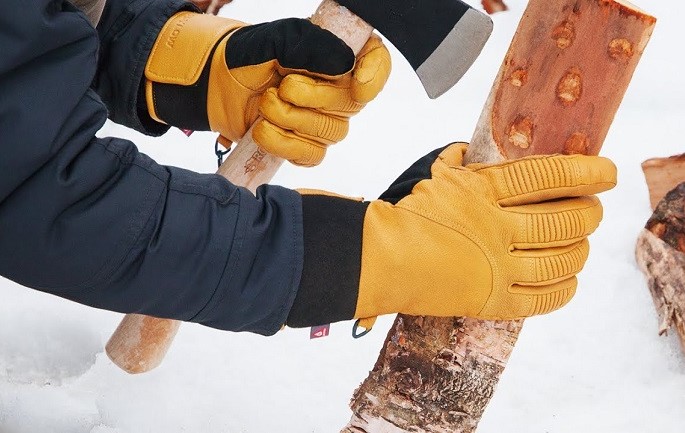 Either way, water is not getting in there, and moisture is getting taken out thanks to the Spaceloft insulation. Should your sleeves ever leave your gloves exposed, an elastic wrist cinch will tighten and secure the goods around your wrist.
They've got a simple design and build but can easily get the job done and last for a while as well.
Features
Shell Materials: Pigskin Leather
Insulation: Spaceloft Synthetic
Palm: Pigskin Leather
Fit: Under-cuff jacket fit
Pros
All leather exterior makes for high durability.
The synthetic insulation keeps working even when damp.
Simple design and construction but long-lasting performance.
Cons
Not the best-looking gloves around.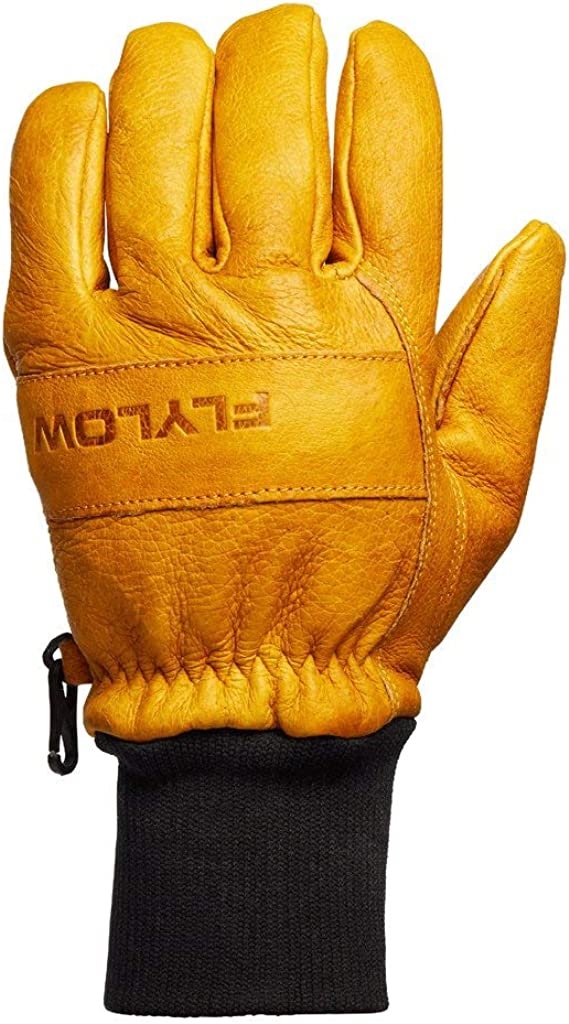 Flylow Leather Snowboarding Gloves
The price of "Flylow Leather Snowboarding Gloves" varies, so check the latest price at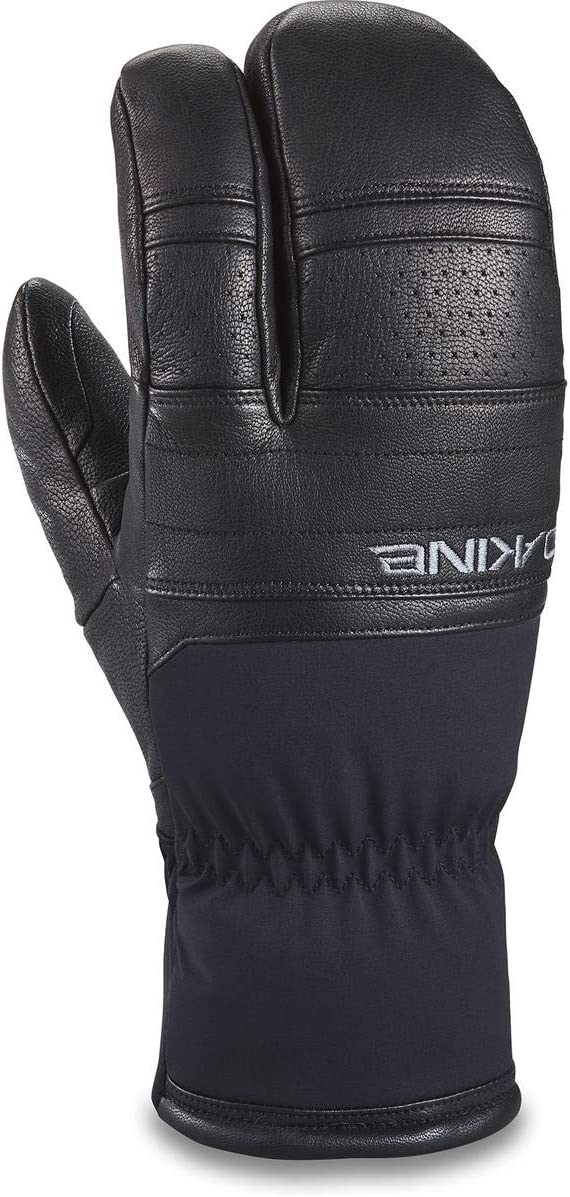 Mittens is a common name for a cute cat. Mittens are also what the Dakine Baron Gore-Tex is. But they aren't just any mittens, the Baron Gore-texs were so good we had to include them on this list, and here is why.
Refined leather and fleece made of wool
The inner lining made of a wool fleece blend packs all the comfort and warmth that you have come to expect from the material and mixes it with the water-slaying abilities of polyester.
It's got a shell material made from leather, and a DWR coating applied on top of it for maximum protection against the elements. Throw in some nylon insulation for some added durability, and you've got the finished product.
It's easy to stay warm when you have mittens on but to have the decent waterproofing qualities of the Dakine Barons, you've got to have a first-rate mentality. Never enough.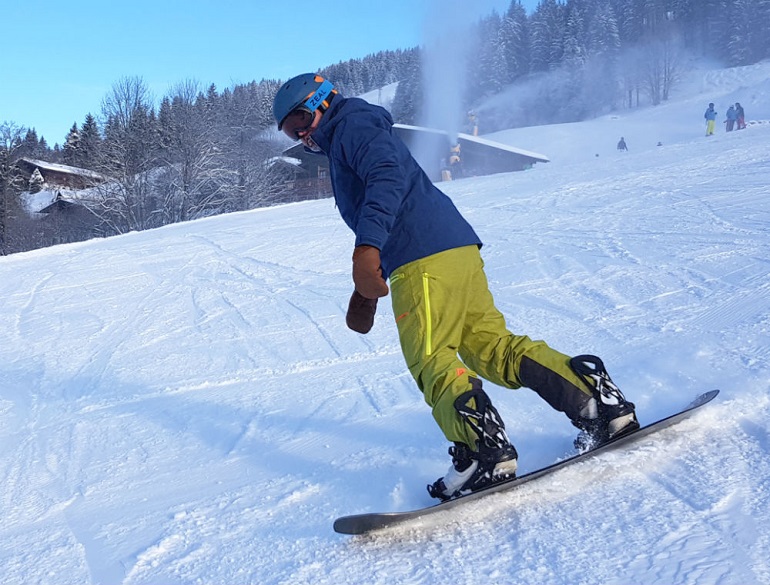 That's what was at the forefront of the minds over at Dakine when the Baron gore-tex was first birthed.
Mittens aren't known for giving your hands the full range of motion that is sometimes required when snowboarding. Don't worry, they come with a wrist leash. Should you take them off, you won't lose them.
Features
Shell Materials: Goat Leather with DWR Finish
Membrane: Gore-tex
Insulation: PrimaLoft Gold insulation
Palm: 100% Goat Leather with DWR Finish
Fit: Cuff closure
Warranty: Two years
Pros
Highest warmth rating that gloves and mittens can achieve.
A great blend of goatskin leather and Gore-tex.
The wool fleece liner is both soft and durable.
Cons
The burly design may prove cumbersome for some riders.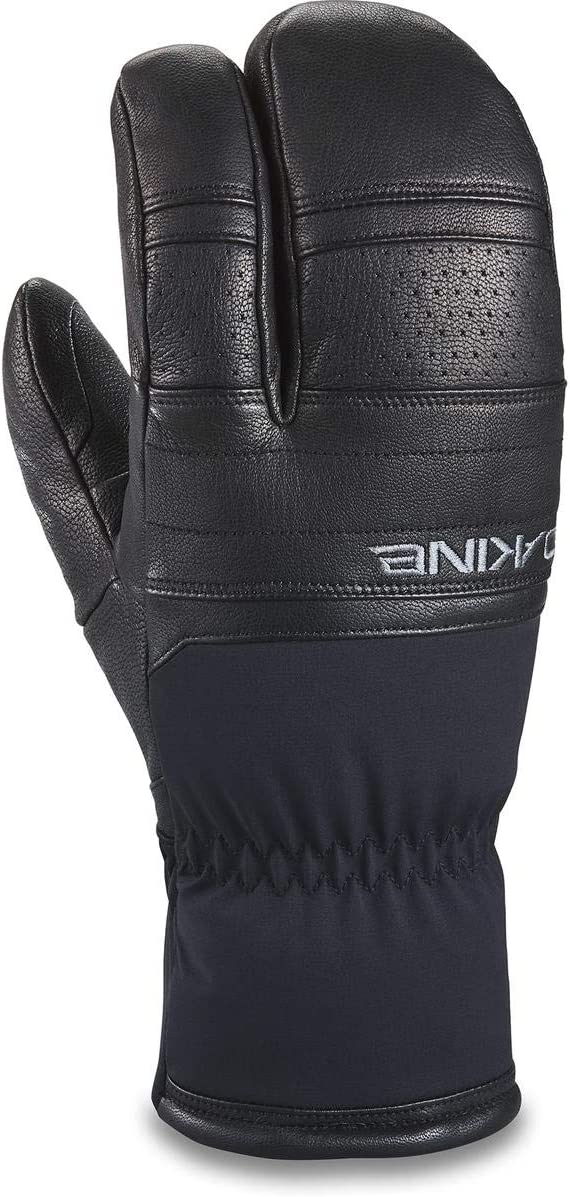 Dakine Baron Gore-Tex 
The price of "Dakine Baron Gore-Tex " varies, so check the latest price at
The Qualities Your Best Snowboarding Gloves Need
In this age of corporate buzzwords and misleading advertisements, who is to know what is actually quality and what is nothing more than PR nonsense?
Fortunately, there are a few features and traits that a pair of gloves should have and excel at if they are to be considered the best. Below we have outlined such features. Explaining their importance, what materials will get you the highest performance, and even some suggestions.
Check out this article to learn Best Wrist Guards for Snowboarding.
Warm Gloves: You Want Toasty Fingers Not Frozen
No doubt that the gloves and mittens you choose will have some degree of insulation to help your poor, cold fingers. So then, how do we differentiate between the best snowboard gloves?
The amount of insulation, as well as the type of insulation (the type affects the quality), will be the key deciding factors in what makes a pair of ski gloves warm enough or not.
For example, Burton GORE-TEX Gloves come with Thermacore insulation. This kind of high-quality synthetic insulation will keep your hands warm while providing an excellent warmth-to-weight ratio.
But what if your hands get too warm and they begin to sweat? Gross!
But don't worry because the best snowboard gloves and ski gloves come with a removable liner. Both the aforementioned Burton GORE-TEX Gloves and the Black Diamond Guide Gloves have such a nifty feature for you to count on.
Keep in mind that the more breathable snowboard gloves will not give you that extra warmth that ski gloves packed with insulation can deliver.
How Water Resistant Are Your Gloves?
The warmest gloves in the world won't be able to do much if they are soaking wet. This is why you'll want a pair of ski gloves with a high waterproof rating. Waterproof gloves are made from materials that are quick to dry.
What's more, is that the best snowboard gloves will have an outer shell material that repels water. Leather gloves like the Flylow Ridge Gloves have an outer shell that is made from pigskin leather that has been triple-baked. The water doesn't sink in, it slips off.
The best glove on our list, the Burton GORE-TEX Gloves, has a DryRide fabric that is not only water resistant but also quick to dry.
The last thing to keep an eye out for is the cuff style of your waterproof gloves. Make sure that the cuffs are either long enough to connect with your sleeves or can be tightened so that nothing slips in.
In short, you'll want a shell that wet snow slides off of and inner materials that are quick to dry should the worst happen.
How Do You Know They'll Last?
Leather gloves. If you want a durable glove, then the more leather the better. Gloves with a leather palm are sure to go the distance. Palms are an area to focus on because when you fall or when you're handling anything, your palms do most of the work.
The Hestra Army Leather Heli Glove is made from goat leather, and you can't get much more durable than that. Of course, the durability of a ski glove goes up with each layer of fabric that is added to its structure.
Fortunately for us, the Hestra Army Leather Heli Glove comes with three layers of polyamide fabric. The part of these army goat leather gloves that can count on 3-layer polyamide is the backhand area.
The two areas that are most likely to tear first are the palms and the backhand. Getting yourself a pair of snowboard gloves that reinforce these key areas is your best bet.
And if your gloves of choice have a goatskin leather shell, then you've got yourself a winning bet.
What Are They Made Of?
We've touched on this in our other sections, so allow me to give you a quick run-through. We know that your outer shell material should be either goat leather or an equivalent material.
Not just for durability but also to have some level of reliable water resistance. When it comes to warmth, the thicker the insulation, the better. However, while keeping your hands warm is optimal, you won't have the most dexterous glove.
A small price to pay to keep the chill away.
If you want breathable gloves, then you can't go wrong with a gore-tex membrane. Like the Dakine Excursion Gore-Tex Gloves.
What Is the Right Fit?
You don't want your gloves to be too tight or feel as if they are resisting the natural motions of your hands. Such as when you close your fist or stretch your fingers out. A great way to check if you have the right size for your gloves is to stretch your fingers out.
On the inside, between your fingers and the tips of your gloves, there should be a quarter inch of material/space left.
Don't overdo it with the spacing! A quarter of an inch is not a whole lot, and you don't want to get gloves that are too big because they are extremely cumbersome. Strapping onto your board is bad enough as it is when your fingers are frozen.
Imagine how much more difficult it'll be with gloves that are too big for you.
My Final Thoughts
Whether you want something to stay warm or give your hands some breathing room, what we've got on offer is sure to satisfy you. Don't head out thinking that you'll weather the storm alone.
Perhaps the rest of your body can but your fingers are much more sensitive and why bother purposely making your experience a bad one? You don't win any prizes for not properly taking care of your body.
A pair of Oyuki Sencho GORE-TEX Gloves or Dakine Excursion Gore-Tex Gloves are a reward alone. Don't you think you deserve the best?