Overview
Wondering what is ski touring? Ski touring is literally camping… but on skis! And minus pitching a tent… unless you're looking to build a mini-igloo in the Alps. Then, by all means, go ahead!
But seriously, ski touring is basically backcountry skiing that is done off-piste and only on touring skis and without any other form of transportation such as a ski lift. Moreover, another important factor about ski touring is how the skier wears or fastens their touring skis.
Normally skiers bind their whole ski boot down to the skis, but for such backcountry skiing, the heels of the skier aren't actually attached to the ski plank. The skier is allowed more movement and mobility with heels free during ski touring. This includes very steep and perfectly flat terrain as well.
However, if backcountry skiing is demanding in any sense, it is because it requires a lot of stamina and a good sense of navigation.
Who Were the First Ski Tourers?
John Thompson was one of the first people who decided on the jolly idea of exploring the snowy wildernesses on touring skis.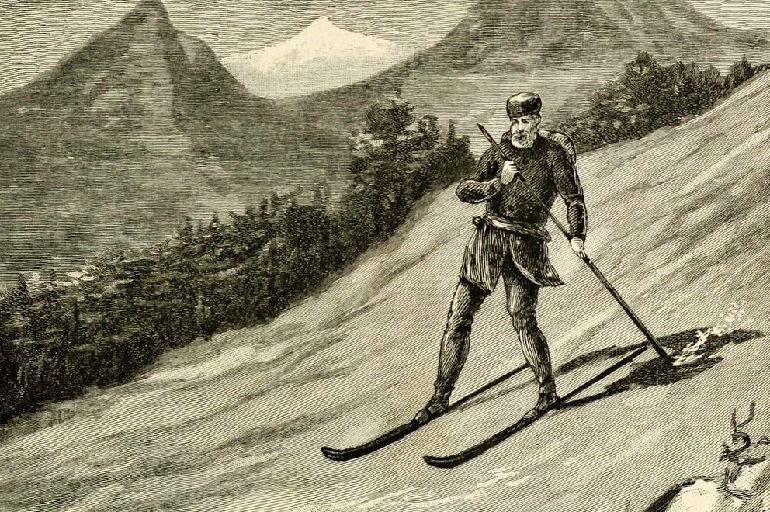 However, it wasn't for the joy and excitement of ski mountaineering that he took up backcountry skiing; instead, it was for his job. John began delivering people's letters to remote California areas on his skis in 1855.
The 90 miles of cross-country skiing that Thomspon traversed twice a month on backcountry skis would usually take him 3 whole days to complete. Not to mention he did also carry around 100 pounds of a mail bag on his shoulders.
In 1880 on the other side of the world in Europe, Cecil Slingsby, on a touring ski, was the first to cross the Keiser Pass in Norway, measuring 5,090 ft in altitude. Eventually, more and more caught on to the trend and, in the same plight of achieving their first feat, made history as the first ski mountaineers.
What Is the Attraction of Ski Touring?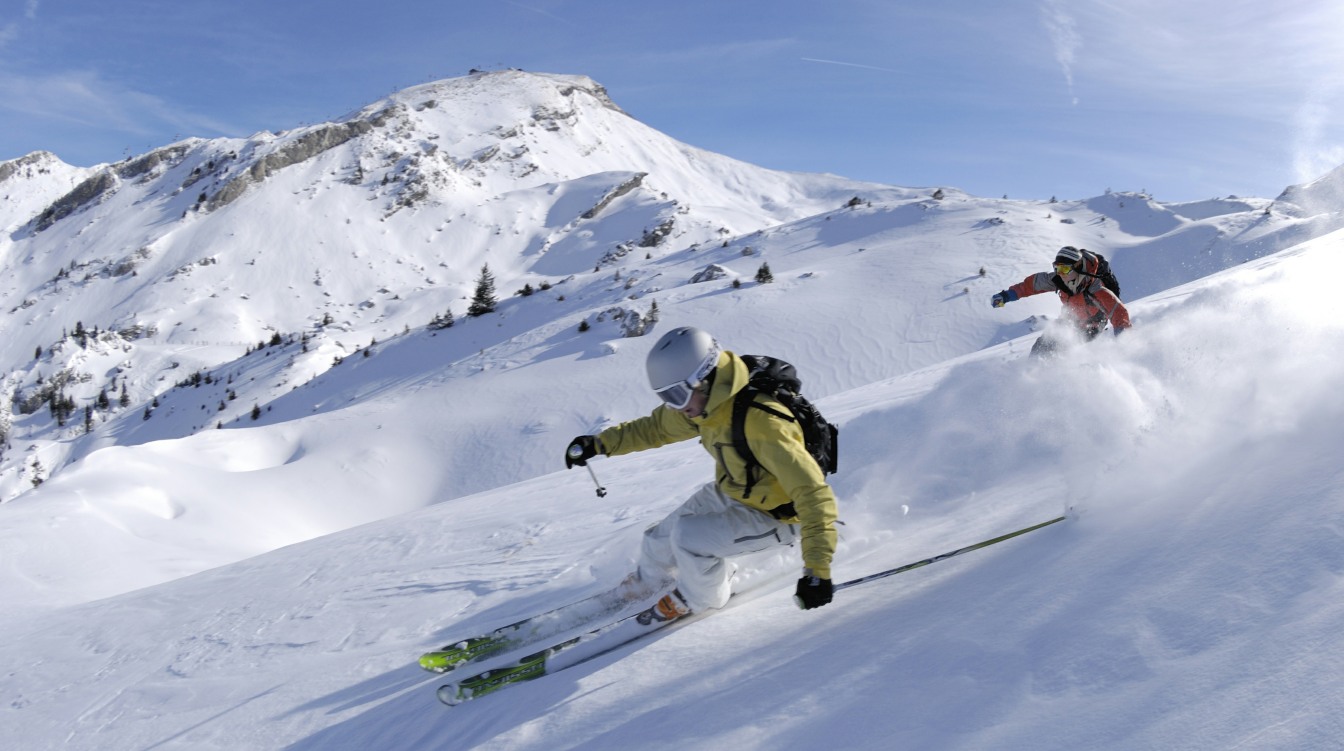 Ski touring, more commonly referred to as alpine touring or alpine skiing, quickly became a hit amongst those searching for something new and more challenging.
The fact that it is also free of cost to go alpine touring in the back woods was also another advantage for those looking to dodge the fees of ski resorts.
Another very popular reason for alpine touring popularity is how you can explore trails and terrains previously never seen or known of. Of course, the possibility of that is slim, but it's still always there. Other skiers love the struggle and challenges of ski mountaineering, so they eagerly take it up without a second thought.
However, people with stressful routines find it especially useful for their mental health and rejuvenation to go cross-country skiing on their own.
It is very different than paying a visit to a ski resort as with that you need to not only interact with different types of people but also is hardly a source of peace and quiet when you look at the costs and fees.
Where Can You Go on a Ski Tour?
There is no shortage of breathtaking backcountry terrain in different parts of the world, but which of them is truly worth your time… let's find out!
Norway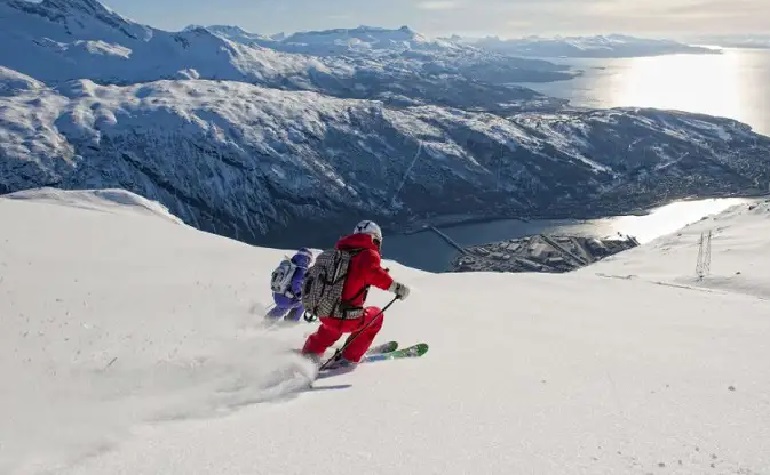 Norwegian explorers were the ones who initially established the practice of ski touring, but it was the consequent stamina and sportsmanship of their ski athletes who made history.
The Norwegian landscape is rich with cross-country skiing terrain and untouched nature that is completely separate from their Alpine touring ski resort variety.
Sunnmøre Alps specifically offer deep snow and higher altitudes than the rest of the country, with stunning sceneries and deep fjords.
European Alps
Europe in itself has some of the world's most famous and vast ski touring deep snow areas. But if we're being picky and specific about the best possible place you could ever invest your time in… Zermatt in Switzerland is a winner!
Not only is the scenery of Matterhorn mountain a perfect backdrop for when you're skiing downhill or uphill, but there are also different types of speedy ascents suiting various ski levels. More importantly, most downhill skiing areas are between big glaciers.
Canada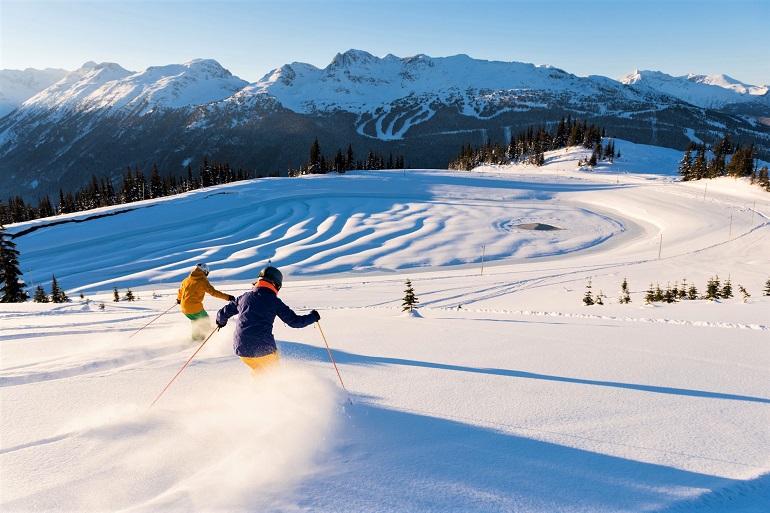 Most of the best places to go to in Canada when you're avoiding groomed trails are in British Columbia. Some of the most challenging and diverse places to ski uphill in are also in Yukon, around Duffy Lakes, and around the ski area boundaries of Whistler and Blackcomb.
The advantage of downhill skiing in Canada's open terrain is that you find vast diversity, such as trees, glaciers, and both steep and flat paths. So, no matter what your ski level is, you are bound to find a challenge and brush up your skills over there.
United States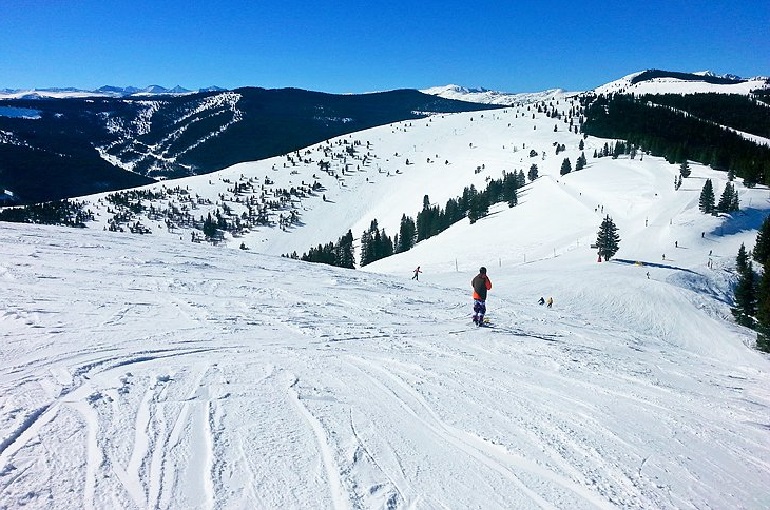 There is no need to travel to far-off regions to use your freeride skis in America. The best thing about this place is that the amount of snow they get each year means you can grab your alpine touring equipment and go wherever there is snow.
Jackson Hole is a classic example of a valley where you need to grab your ski boot and touring ski for and set off to make some amazing memories.
On the other hand, Berthoud and Loveland Passes are both mountain passes with excellent elevations that receive plenty of untouched powder every winter season to ski in.
New Zealand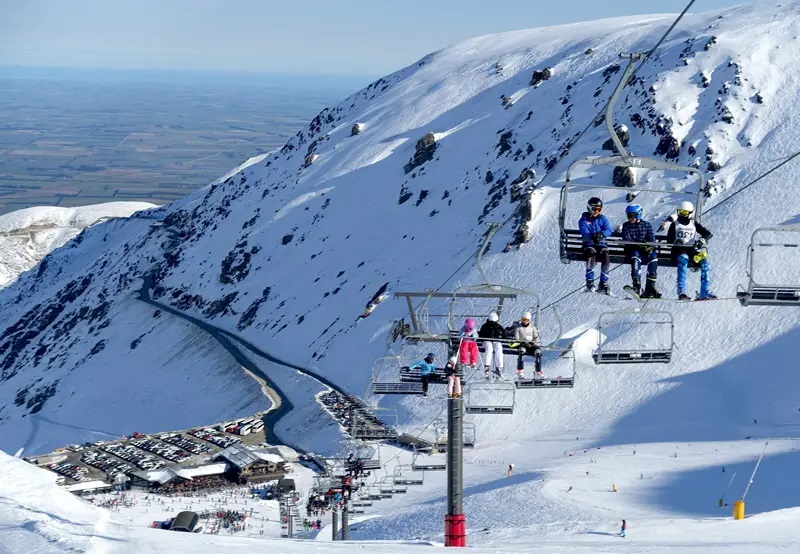 Some may see that the New Zealand terrain is not as vast as the other options in this list, but that is simply not true.
Yea, it ain't America, but there is no shortage of varying terrains. The Garvie Mountains, for instance, is located in the remote areas of Queenstown, and there are different lakes, elevations, and strong winds to provide a challenge or two for the determined.
However, you would probably need some climbing skins to access the deep snow parts.
Fox Peak and Eyre Mountain are other classic examples of gorgeous scenery and varying terrain, perfect for a getaway excursion away from everything. Remember that some New Zealand mountainous ski terrains require climbing skins, special ski bindings, and avalanche safety equipment to stay protected.
Equipment for Ski Touring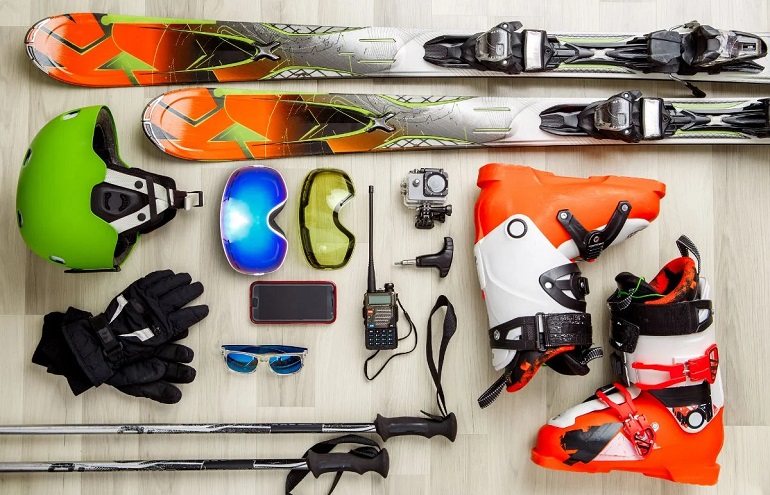 To get the finest skiing experience in the backcountry, it is imperative you pay attention to special equipment, as it could save your life and make or break your adventure.
Styles of Equipment
As skiers, your gear differs pertaining to the kind of polar expeditions you're setting off on.
In the case of alpine skiing, you are advised to get a removable binding insert that attaches to your skis to allow free heel access during tricky ascent. In that way, you can switch back and forth between uphill and downhill-oriented models.
Nordic skiing is different in the sense that you don't need to switch like with alpine skis. Instead, with this style of skiing, your heels are always free and unattached to aid in covering rolling terrain quickly and effortlessly.

Moreover, you also should pay attention to which skiing you're going for when picking out your skis and accompanying equipment. For backcountry nordic skiing, your setup and boots style is a bit heavier and heftier than normal nordic skiing equipment.
Alpine touring skis are made to withstand very steep off-piste slopes, so they feature a different style of alpine touring binding.

But for the most part, they are similar to nordic skiing equipment and have a free heel. The difference is you can switch between your free heel and bound heel without manually changing the mode.
Ascending Aids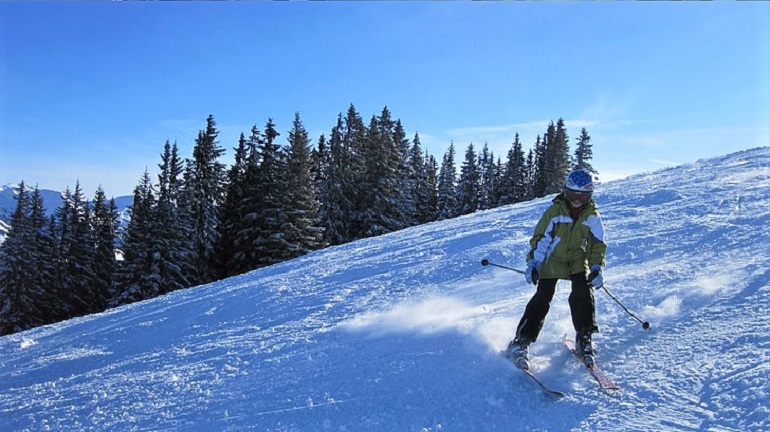 You'd think skiing downhill is the easiest of all types because you simply have to glide forward and let gravity do its thing. But it's not that black and white. Weather conditions, among other skiing variables, all play an important role.
For rolling terrain, fish scale friction aids are used and applied to the center bottom of the skis. An alternative to these would be sticky ski wax inserted in the center pocket. The next stronger and more reliable option is climbing skins that are guaranteed to work where wax and friction aids fail.
Ski crampons are also another choice where there is plenty of ice on the trails, and the downhill sloping is too steep for climbing skins to work.
What Are the Characteristics of a Touring Ski?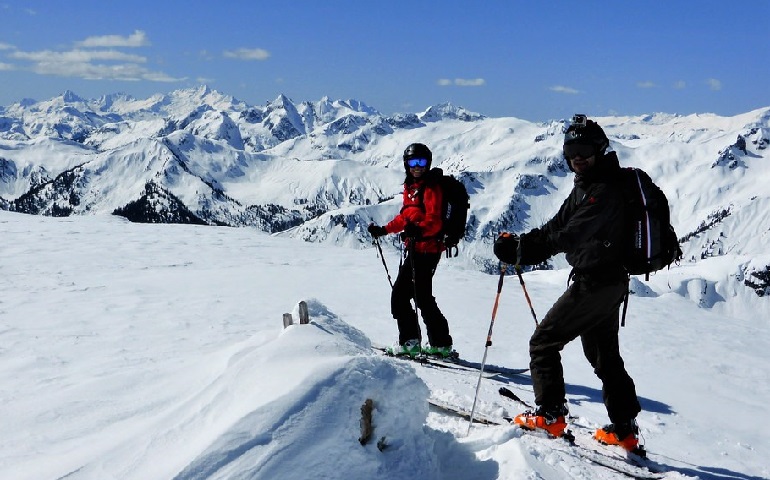 You're probably thinking that only expertly trained skiers can tell the difference right off the bat between touring skis and other ones. Well, not really…you can, too, as long as you focus on the key aspects, which are:
Skis for touring are generally lighter in weight and broader in width than other types of shorter skis.
They come with special bindings that give room for multiple possibilities; however, these bindings don't sync with all touring skis
Each touring ski is different in its own special way, so skiers can't actually wear all their different skiing boots with them
Skis for skiing downhill in the backcountry terrains aren't suitable to be ridden for long tours.
Conclusion
You can't truly experience the beauty and art of the sport of skiing without at least once trying out ski touring.
With all the necessary information outlined above, you need to take this step; you're all set! Go for it.