Getting That Perfect Fit
I don't get tired of seeing fresh pow, the mountains covered with blankets of snow. Like a cold man heaping on extra layers in search of warmth. Most all-mountain riders would agree with me.
However, nothing can tear apart your experience more than not having the right snowboard gear, with the proper fit. The truth is, that it doesn't matter where you are or what you are doing, you need to be comfortable to fully enjoy it.
Especially when it comes to areas that see the most action, your feet. If your snowboard boots fit comfortably then everything else is manageable. But, if your snowboard boots aren't the right size, then it won't take long before your feet are covered in bloody blisters and bruises.
This goes beyond snowboard boot sizing. There's a lot more to how well a pair of snowboard boots fit than just length. Let's break it down together.
How Are Snowboard Boots Sized?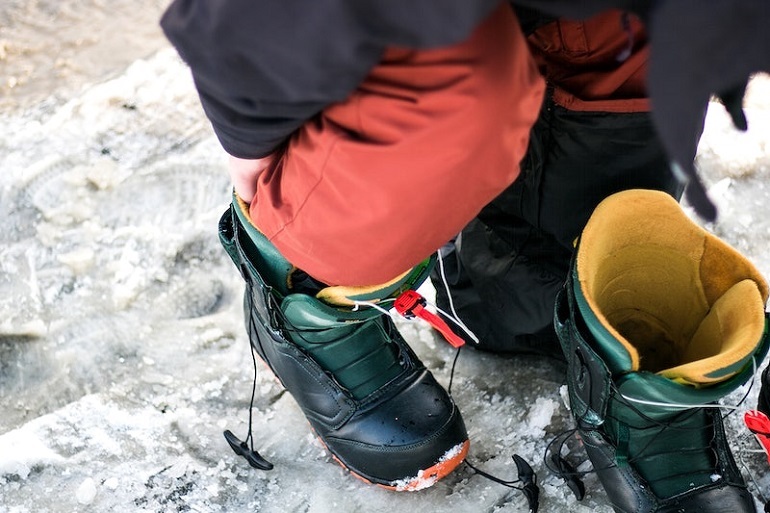 Have you ever tried on different pairs of shoes that are the same size but from different brands? If you have, then you've probably noticed how the same shoe size can feel different from one brand to the next.
Guess what?
Snowboard boot sizes work in the same way. If you want to pick out the right snowboard boot size, then you have to know how they are sized, to begin with.
Snowboard boot sizing is done so using the Mondopoint measuring system. This system gives you the size of a snowboard boot in centimeters.
If you want to know the mondo size of your foot, simply place your foot on a flat surface and use a measuring tape to measure from your heel to your longest toe. Get the measurement in centimeters, and ta-daa! Mondo size acquired.
How Does the Right Snowboard Boot Size Feel?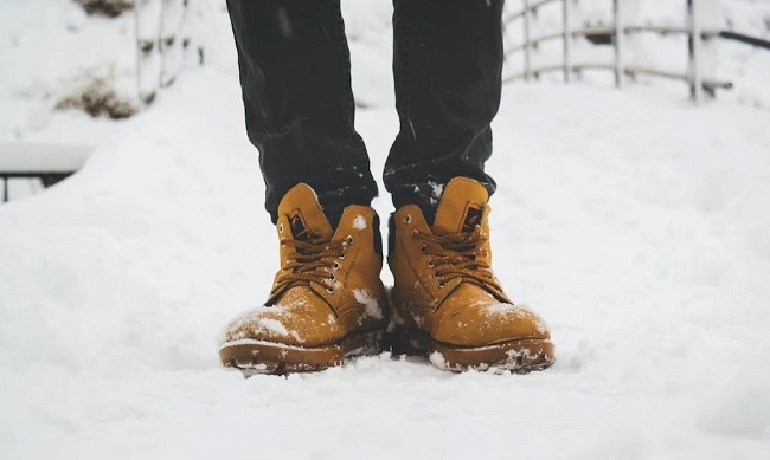 Okay, so you've got your foot size in Mondopoint, but what now? Should you get the exact mondo size for your snowboard boots? How do you know that you've gotten the right size?
Something to keep in mind is how mondo sizing works. Let's say you have a snowboard boot with a mondo size of twenty-three centimeters. What this means is that those snowboard boots were designed to fit feet that are twenty-three centimeters long.
However, as I mentioned in the previous section, different boots from different brands will feel different from one another, even if they are all the "same" size.
When you first get snowboard boots, they should feel snug, maybe even a little tight. Your toes should barely touch the front of your boots. As for your heels, the heel lift and the forward lean of your boots means that you should expect a tight feeling in this area.
Eventually, you'll break them in, and you'll get that perfect fit.
Snowboard Boot Width and Size Chart
Getting the width and the right size snowboard boots can be a mess, especially if it's your first time. Don't worry, for the visual learners out there, we've got nifty charts that'll clearly showcase the recommended width and size of your snowboard boots depending on your actual shoe size.
Here Is the Snowboard Boot Size Chart: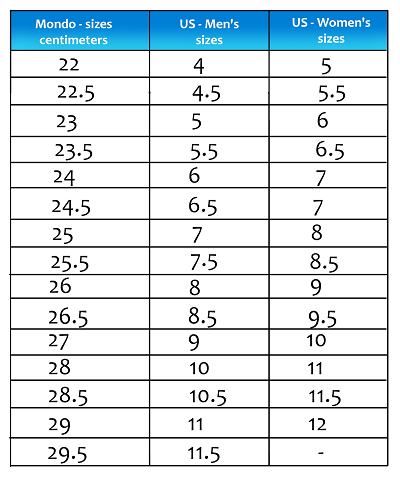 And Here's the Width Chart: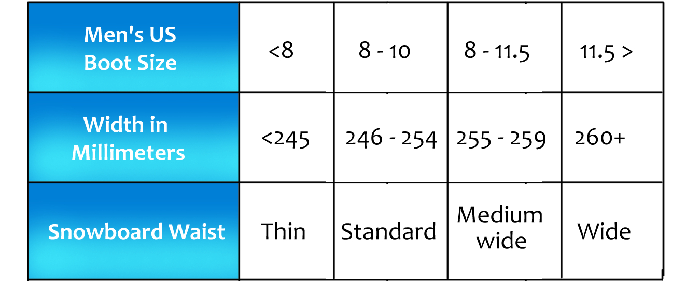 Consider the Following for the Best Snowboard Boot
You probably think that you are ready to get going and pick out your new snowboard boots. But do you even know the effect that snowboard boot lacing systems can have on a boot? What about pressure points and flex ratings?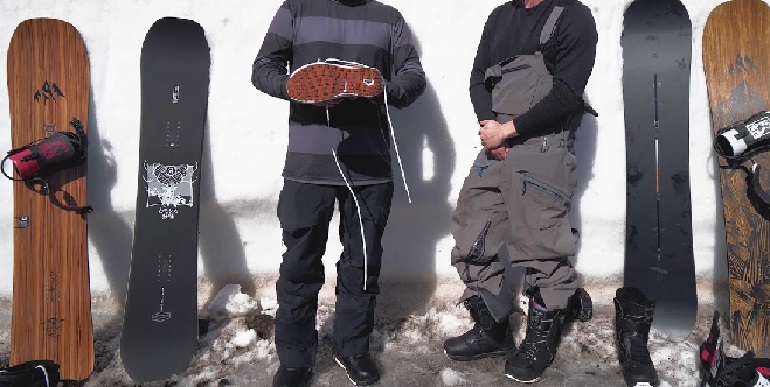 Buying boots is serious business, sort of. There's more to consider than you might think. Lucky for you that the following section is all about snowboard boot features and how they play into the feel and sizing of a pair of boots.
The snowboard shops can wait. Now's the time to get your homework done so that you don't end up with the wrong gear.
Your Foot Size and Type
Let's start off with the most important thing. The actual size of your foot. In a previous section up above, I showed you how to properly measure your foot. It's a simple process that I won't be going over again.
But, there is one thing that I've neglected to talk about thus far. And that is the width of your foot. Some of us have slender feet, while others have wide feet. How does this affect boot fit?
Well, remember how earlier I mentioned that having a snug fit for your new pair of boots is recommended?
Well, snug should not equate to painful. If you have wide feet or if you need snowboard wider boots in general, you'll know because the sides of your feet will start to hurt after a few runs. There are plenty of boots of the same size that have different levels of width to them.
Remember, if the more you ride, the more painful your boots get, then it's time to get a wider fit.
Your Snowboard Riding Style
How you ride is just as important as the length of your feet. This is because different snowboarding styles will require boots with different flex levels. As you will read later on, flex ratings do affect how tight your boots feel.
Freestyle riders need a softer flex. A softer boot allows them to have more leeway when it comes to landing and pulling off those insane tricks we see all over the internet. However, boots of any kind let us pull off some painful falls, you can also find those on the internet.
Fortunately for me, not my falls!
If you want increased edge power, then you are going to want tighter boots. This is because tighter boots are more responsive, and thus, they increase your power transfer when carving.
All-mountain riders will want a flex score in the middle of the two extremes. This is because these kinds of riders favor versatility over all else. They want to dominate every part of the terrain parks.
Remember, the flex rating of your boot affects how tight it feels.
How Do You Like Your Lacing System?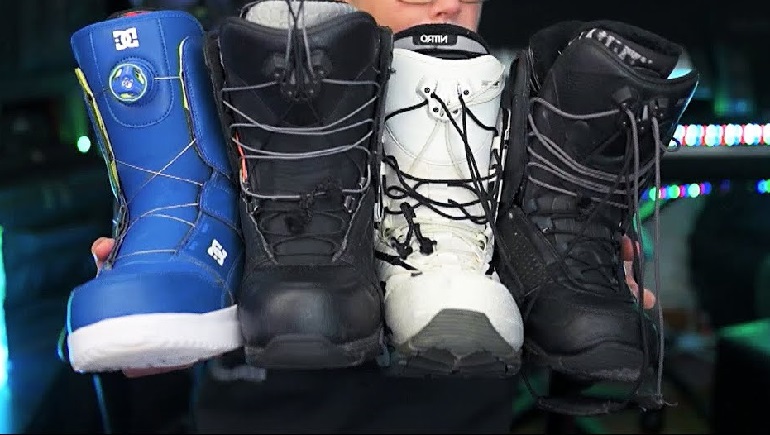 You'd think that all lacing systems were created equal but you'd be wrong. In fact, your lacing system affects how comfortable and secure you feel in your boots. Important to say the least.
In all, there are three different lacing systems, but I'll only be going over two right now because I've reserved a section of this post for the boa lacing system. First up in our breakdown are the traditional lacing systems.
Traditional Laces
Traditional laces are the old reliable of the shoe world. They have been around for so long because they are simple and they get the job done. When it comes to variations and different styles of securing your boot onto your foot, this system also shines.
You can easily tweak how tight you want your fit to be. Loosening it as you desire, although, this can be a bit difficult if you are wearing gloves. Despite this minor setback, you can always count on traditional laces to work.
They won't break nor are they complicated to fiddle around with. Often, a simple system is the best system to use.
Speed Laces
Speed laces or as they are more often called, quick-pull laces, are a style of lacing system that favors speed over all else. Earlier I mentioned how annoying it can be to adjust your laces when you've got snowboard gloves on, speed laces are the answer to this problem.
All you've got to do is tug on a couple of strings and you are good to go. When it comes to lace variation, the boot with this style of lacing has a set of laces for the upper and lower parts of your boot.
Allowing you to get the right fit for either section of your foot. These are definitely the style of lacing system that you want if you struggle with traditional laces or just want to hit the ground running right away.
Lining Preference
A liner is the part of your inner boot. The one you come into contact with. For getting a great custom fit, you need to get a pair of boots with a heat moldable liner. The good thing is that several boots, most boots, come with this style of lining.
A moldable liner will change shape according to the areas of your foot that expel the most heat. Providing proper support to the parts of your foot that need it most. Liners provide cushion and stability to the rider.
While regular padded lining is great, heat moldable lining is the best thing that you can get for your comfort and support.
The Boot Flex
The flex of your boot determines how soft your boot feels. I discussed this earlier in the section on your riding style. If you like to perform tricks or you are a novice snowboarder, then you are going to want a soft flex score.
Softer boots aren't as responsive as harder ones, and this allows both freestylers and novices more room for error when riding. Experts and advanced riders need responsive gear, and so a harder flex is certainly required for the best performance.
Remember, the higher the flex score of your boot, the tighter it will feel.
Boa Lacing, Needed or Not?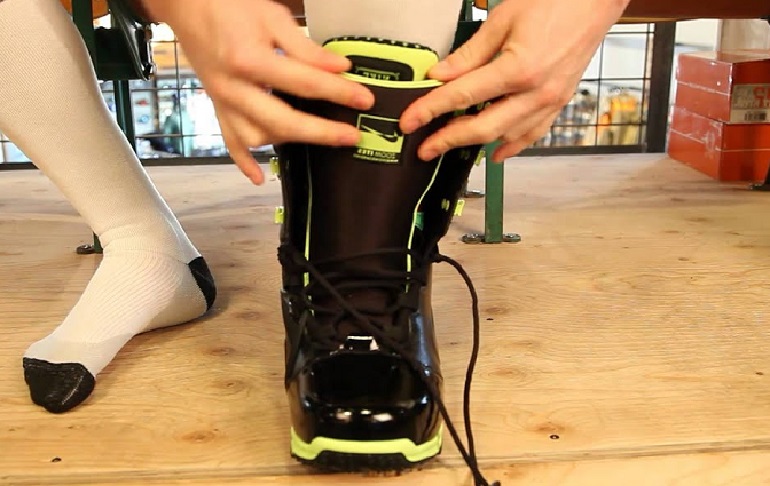 As promised, here is the section specially reserved for boa-lacing systems. What exactly are boa-lacing systems? Boa lacing is a type of lacing that has two steel cables running through the snowboard boot.
All you need to tighten or loosen the grip of your laces are a few clicks of a dial. This allows for quick and fast tuning of your boot's hold on the fly. It's a great system but keep in mind that it will cost a lot more than boots with traditional lacing systems.
Is boa lacing necessary? No, but it certainly feels great being able to slip in and out of your boots in record time. It's not necessary, but it is worth the price.
Do Snowboard Boots Run Big?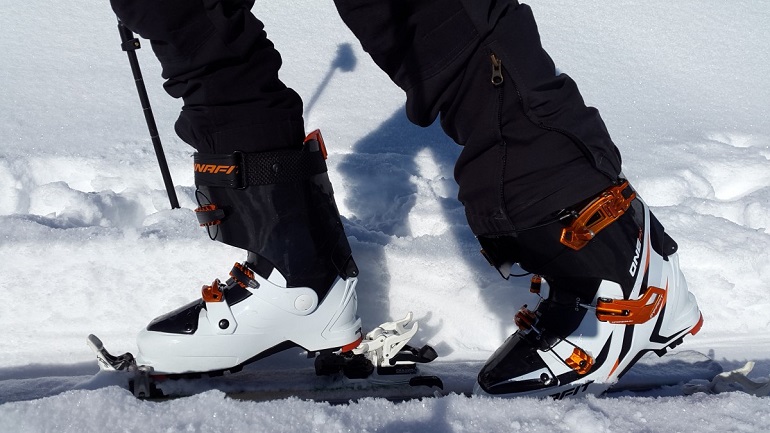 I wouldn't say that snowboard boots run big. Most riders choose a snowboard boot sizing that is either a half or a full size bigger than their street shoes. In fact, between picking a pair of snowboard boots that run big and a pair that runs small. It's better to get the pair that runs small.
This is because as you snowboard, your boot liner will compress and pack in. Leaving you with a bit more wiggle room. Just keep in mind that certain parts of your foot should feel different levels of tightness.
For example, your heel should feel tighter than your toes. This is a trend that extends throughout the entirety of your foot. The areas in the back should feel tighter than the ones in the front.
Think of it as a progressive flex running within your snowboard boot.
Should You Size Up or Down When Choosing Snowboard Boots?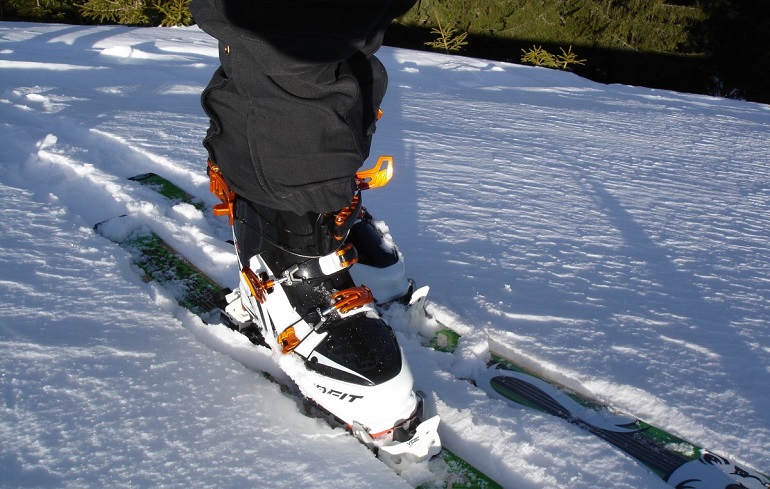 This depends entirely on the brand of snowboard boots that you get. You have to be sure that when you try on a snowboard boot, you get a snug feeling with a tiny gap between your toes and the front of the boot liner.
The most you should ever deviate from your exact mondo size is either half a size up or down from your current shoe size. Whether you go a half size up or down depends on which one gives you the snug fit that I mentioned earlier.
When it comes to the right size snowboard boots, you'll find it somewhere within that range. Although, as I have mentioned before, there are some skiers that'll go a full size higher than their street shoe size. The key is to get that snug fit.
My Final Thoughts
Buying snowboard boots should be a fun experience. In fact, every time you head into the snowboard shop, (or my personal favorite, shopping online), you should be excited.
If the prospect of picking out the right size snowboard boots typically leaves you shaking, just remember everything that we've discussed today. Getting that secure fit with your new boots should not be a hassle.
Be sure to remember how different factors, such as flex ratings and lacing systems, affect the feel of your snowboard boot size. Your other best snowboarding gear, for example, snowboard socks, will also have some effect on your boot's feel.
It's important to get this right. You already have to deal with the cold, so the least you could do is wear comfortable snowboarding gear.