How's the surf in Asia?
It's the home of hordes of famous rippers, the host of a zillion world-class surf comps, and the stomping ground of the biggest and baddest names in surf.
No doubt about it:
Asia's got some of the best places to surf in the world.
From north to south and east to west, the culture, lifestyle, and surf conditions vary massively- which is part of what makes Asia's surf offerings so alluring.
The Billabong-clad, sun-kissed version of surf culture that we've come to know (and, let's face it, unashamedly love) is at its strongest in Southeast Asia.
The chilled way of life, cheap cost of living, and tropical weather attracts all the salty souls looking to score some time on the legendary Balinese breaks or the lesser known surf beaches in South Thailand.
Meanwhile:
East Asia presents a total change of pace. With small, but rapidly growing surf communities and culture as diverse as it comes, riding the waves in East Asia is a balls-to-the-walls adventure unlike any other.
Did you know you can surf at the DMZ? Yup. Keep reading to hear that crazy story…
As for South Asia:
The surf scene is awash with contradictions.
On one hand you've got towns that are developing at an insane rate due to surf tourism, and on the other hand you've got potentially some of the best surfing beaches in Asia that go virtually unheard of.
Go figure.
Check out our other Surf related articles!
This article will walk you through all of the best countries to surf in Asia.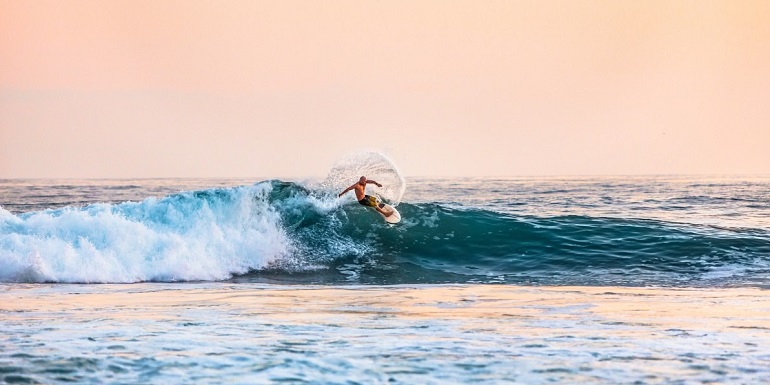 The goal is to give you a solid overview of where to surf in Asia on a country by country basis.
For quick scanning, we've thrown down some bullet points with key info about the best season, wave size, level suitability, the best surfing locations, and 'surf scene score' which refers to how developed/integrated the surf culture is in each country.
Without further ado, let's rip right into an ultimate list of the best surf spots in Asia.
---
Surfing in the Philippines
Best time to surf in the Philippines: September-February
Wave size: 0.5-3.5 meters
Suitable for: all levels
Surf scene score: 4/5
Best spots for surfing in the Philippines: Siargao
The Philippines has some of the best surf in Asia, no question.
But the cream of the crop?
It has to be Siargao with its famous barreling wave, Cloud 9.
Like the name suggests, it can be pretty heavenly to ride- but since it often measures in well over 3 meters, it's safe to say this is only a barrel for the ballsy among us.
For the rest of us mere mortals, Siargao and its surrounding islands have a bunch of easy rollers and gentle waves that are ideal for learning to surf on (Rock Island has baby barrels which are perfect for beginner surfers).
Add that to the affordable cost of living and chilled out island vibes and it's no wonder surfing in Siargao has come to be a crowd favourite (we love this spot not just for its awesome surf, but also for its friggin' delicious smorgasbord of other activities- from kitesurfing to hiking).
But a lot of people have voiced concerns:
Some travelers are starting to question the future of Siargao as it continues to become more and more popular with tourists- in no small part, because of its sister Boracay's temporary closure.
But still:
The Philippines is an island nation, which means tons of surfable coastline all over the country.
Some of the other best places to surf in the Philippines are Sorsogon, Daet Camsur, Bagasbas, Pagudpud, and Calicoan Island- to name just a few.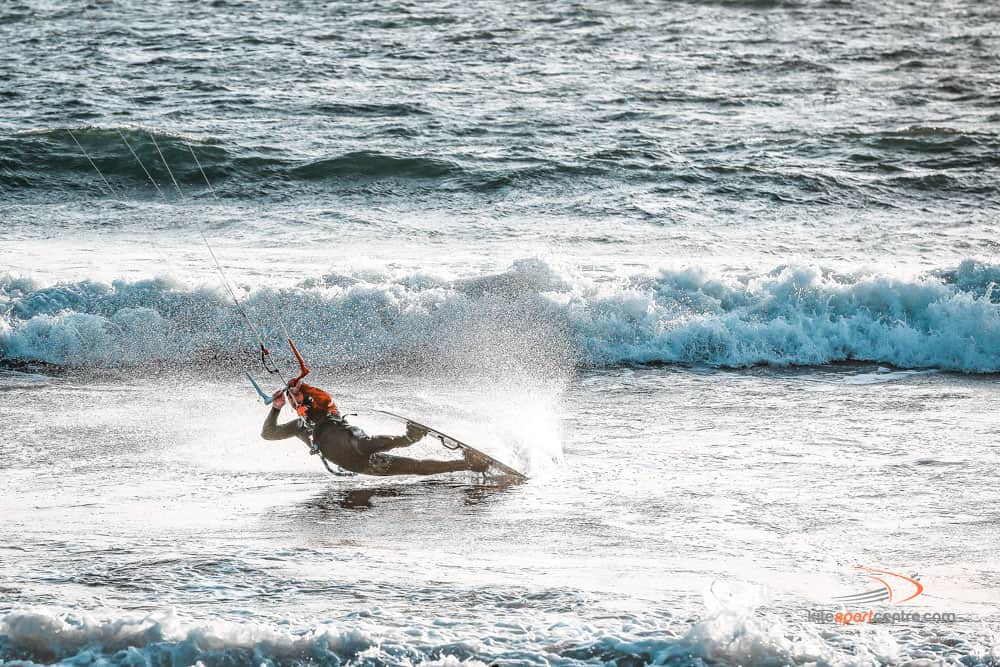 Zambales is one of the more popular spots for surfing in the Philippines, as well as being the closest surf spot to Manila. Zambales is one of the best beginner surf spots in the country and it's also a perfect place to go hiking and camping too (make sure to check out the pine forest around the campsite nearby).
Last but not least:
Our recommendations wouldn't be complete without a run-down of the truly stunning Palawan.
When the southwest monsoon peaks, the western coast of Palawan is heaven for surfers. You can find some sweet little barrels breaking over the sandbar at Duli Beach and long, lazy lefts at Nacpan. The airport point is one of the best places to surf in Palawan, but since the barrels break over a reef it's definitely not one for beginners.
Surfing in Indonesia
Best time to surf in Indonesia: May-September
Wave size: 1-5 meters
Suitable for: all levels
Surf scene score: 5/5
Best spots for surfing in Indonesia: Bali, Mentawai, Lombok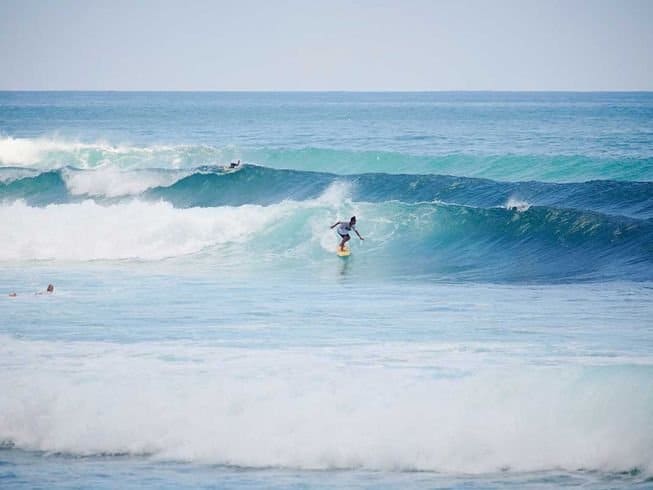 Keeping in line with our last lovely archipelago:
Indonesia is a country made up of over 17,000 islands. Since many of those islands receive perfect swell almost throughout the entire year, it means Indonesia has some of the most consistent surf in the world.
At the heart of it all is Bali, an island where surf culture is so deeply ingrained in the society that it's hard to think of one without the other. From the big-ass waves in Uluwatu to the popular line up at Kuta, you can't throw a stone in Bali without hitting a dude with a surfboard.
The island is rife with dreamy surf spots, and thanks to the abundance of surf camps (which we reviewed in detail in our Bali surf camps guide) there's a break for surfers of every level.
Though our own favourite place to surf in bali is definitely Medewi, the likes of Canggu, Kuta, Seminyak, Uluwatu and Padang Padang are all worth checking out too (though be warned, the latter is only suitable for confident surfers).
Psst: if you're keen to get inspired for your own Bali surf trip, head over to our adventure-fuelled 10 day Bali itinerary and find out exactly where we recommend hitting on your surf trip!
Aside from Bali, some of the other best places to surf in Indonesia are Lombok, Java's Grajagan Bay, Sumba Island (God's Left is a legendary wave), Sumatra, and the remote Mentawai Islands.
Surfing in Mentawai is something special- but not for the faint of heart. This chain of nearly 70 islands is big wave territory. If you're up to the challenge though, you'll be rewarded with near empty lineups and barrels big enough for a Boeing.
With those pristine conditions, we reckon Mentawai might be one of the very best surf spots in Indonesia. Check out the few ho
tels available on site.
For a detailed look at the best surfing in Bali and the top Bali surf spots, see our sports & outdoors guide to Bali.
Surfing in Thailand
Best time to surf in Thailand: April-October
Wave size: 0.5-3.0 meters
Suitable for: all levels
Surf scene score: 3/5
Best spots for surfing in Thailand: Phuket, Koh Lanta, Koh Phayam
The question "is there surf in Thailand?" comes up pretty often, and weirdly enough, a lot of people shrug it off and assume it's not worth a cheap boogie board.
The reality of Thailand's surf scene has yet to be discovered by the world at large.
Those who know where to look know that there are plenty of places to surf in Thailand (as I'm writing this, the live reading for one of our favourite spots down the southwest coast is showing a 2.4 meter swell!).
In a way, the fact that surf tourism has yet to hit Thailand in a big way is actually a good thing; it means there are miles and miles of untouched coastline with empty waves.
Here's the deal with surfing in Thailand:
During the northwest monsoon, the exposed coasts on the south and west side of the country receive sizable swell, peaking around September/October.
Phuket is the main hub, with well over a dozen wave washed beaches facing out over the Andaman Sea. Kata, Band Tao, and Pansea Beach are among the most popular with Surin, Kalim, and Kalaman offering emptier lineups still.
The surf on Koh Lanta, Phuket's neighbouring island, is also decent. Klong Dao Beach is the spot to head for in this neck of the woods.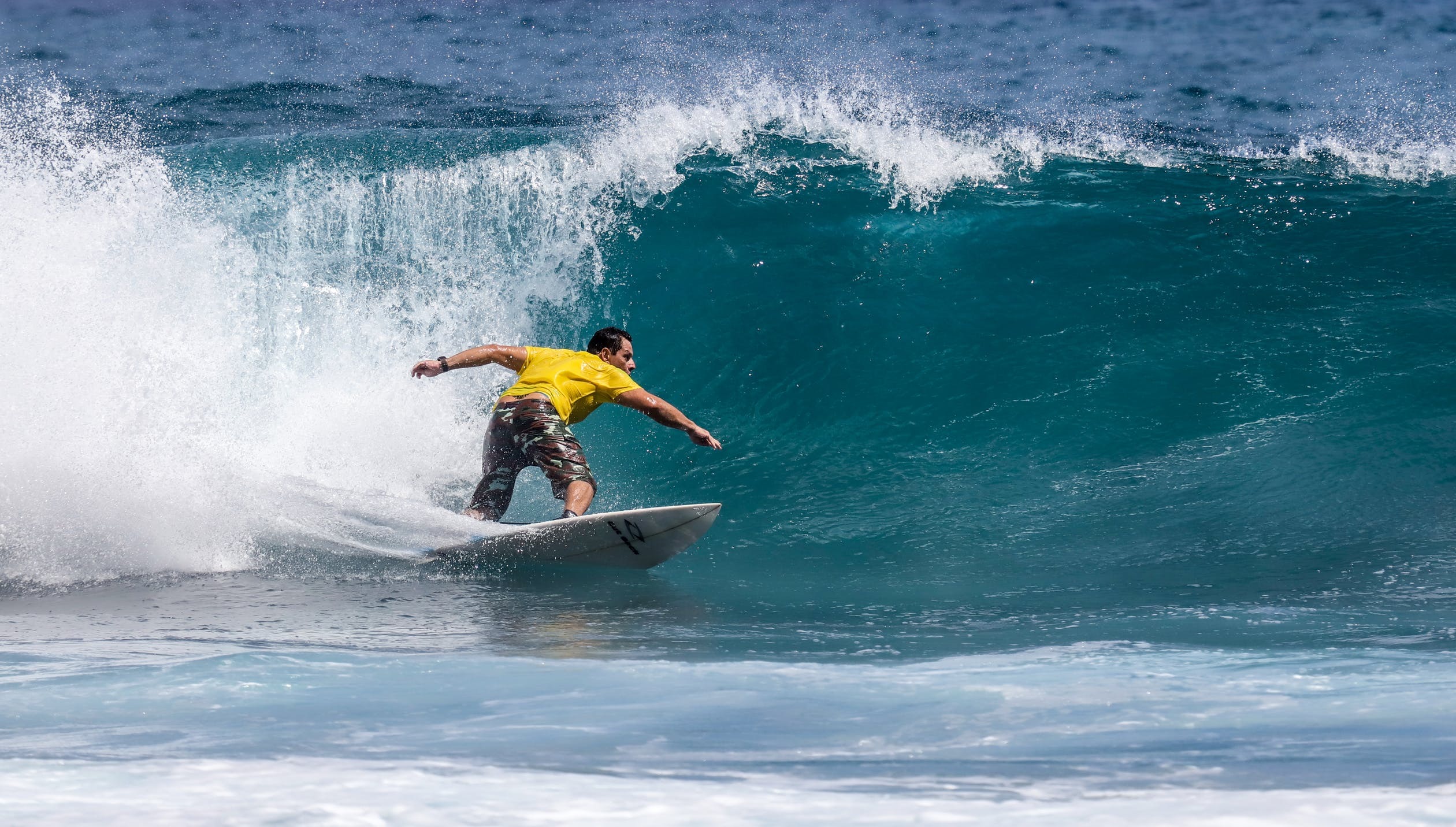 A little further north:
Koh Phayam has a collection of beautiful, rugged, sand bottom beach breaks which pump out 2-2.5 meter waves when the monsoon is on. The surf here happens on 3 km long Ao Yai beach, where you'll also find a couple of raggae bars, this cool surf and yoga retreat, and even some budget, surf shack style bungalows right on the beach like Coconut Beach Resort.
Occasionally you can surf on Koh Phangan and Koh Samui, but the waves are smaller and less consistent.
Khao Lak is one of the better-known surf spots on the mainland and gets rideable surf on 60% of days at best, while further north Rayong can get a solid 1-1.5 meters of swell- and seeing as it's the closest surf spot to Bangkok, it's worth noting for a lot of city dwellers.
Like this post? Then you might also dig our write-up of the best surf movies on Netflix right now.
Surfing in Vietnam
Best time to surf in Vietnam: October-April, and during the summer monsoon
Wave size: 0.5-2.5
Suitable for: beginner, intermediate
Surf scene score: 2.5/5
Best spots for surfing in Vietnam: Da Nang, Phan Rang, Nha Trang, Mui Ne, Vung Tau
The surf scene in Vietnam is small but thriving- and with that ridiculously long coastline exposed to the weather fronts from the South China Sea, it's no surprise that surfing in Vietnam is taking off.
As for where you'll find the best surf in Vietnam:
From Da Nang in the north to Vung Tau in the south, there are waves to be found at regular(ish) intervals along the coast. In between you've got known watersports hubs like Nha Trang, Phan Rang, and Mui Ne, all of which have their own cult-like surf crew.
Nha Trang is one of Vietnam's better-known surf spots. Head 23 km outside of the limits of the notorious party town and you'll reach Bai Dai Beach, which is where the surfing goes down. There's also a decent choice of hotels on the spot.
Just an hour down the coast, you'll hit the surf in Phan Rang
The region is surrounded by reef for more than 50 km and with countless capes and point breaks, there are dozens of surfable spots out there for the taking. That said, you'll want to hook up with some local surfers for location tips because discovering the spots on your own can be a bit of a challenge.
Further south still you'll reach Mui Ne, a spot known best for its kitesurfing and windsurfing- but head for the likes of Little Buddha or Suoi Nuoc Beach and you'll find yourself some clean little waves. You might even score yourself a little barrel or two!
We've actually lived in Mui Ne for a while, and loved the tight kite and surf community, the good choice of local and foreign restaurants, and the busy but laid back nightlife. Go to Joe's Cafe for great live music, Dragon Beach for house and club vibes, or good ol' Irish Mooneys Bar for the pool table, friendly owner and if the stock is good, Guiness and craft beer.
You also have plenty of hotels and guesthouses to choose from: higher end Mia Resort has some of the best breakfasts in town, while Backpacker Village is a popular choice of the younger crowd.
If you're looking to learn the ins and outs of the surf in this country, head over to our detailed guide about 20+ amazing surf spots in Vietnam.
Surfing in Cambodia
Best time to surf in Cambodia: July-October during the monsoon
Wave size: <1 meter
Suitable for: beginners
Surf scene score: 1/5
Where to find the best surfing in Cambodia: Bamboo Island
Cambodia isn't the first place you'd think about bringing a surfboard to, and considering the direction of exposure of its coastline, it should come as no surprise to hear that surfable waves in Cambodia are rare.
But if you're itching for some board time there are a small handful of spots that are known to get some small waves.
The best spot for surfing in Cambodia is Bamboo Island, situated less than half an hour off the coast of Sihanoukville. As of quite recently, there weren't any proper facilities in the way of board rentals or clubs so it's always been necessary to bring your own kit.
Back on the mainland, Otres Beach and Ochheuteal Beach occasional get some small waves- but it's not consistent enough to plan a trip around.
Expect to sit on the beach drinking a couple of cold Angkors while you wait.
Surfing in Malaysia
Best time to surf in Malaysia: late October-March
Wave size: 0.5-2 meters
Suitable for: all levels
Surf scene score: 3.5/5
Where to find the best surfing in Malaysia: Cherating, Tioman Island
It's often overshadowed by its wave battered neighbours in Indo, but in truth:
Surfing in Malaysia is alive and kicking.
The east coast is where you'll find the best surf in Malaysia, with the most popular spot being Cherating- a place known not just for its awesome waves, but also as breeding grounds for leatherbacks and other sea turtles (there's a sanctuary near Chendor Beach that's well worth visiting).
Since the surf scene is pretty developed in Cherating, it's easy as pie to rent boards and score lessons with local instructors.
North of Cherating, there are a handful of "secret" surf spots that are well worth the effort of getting to- but you'll have to flirt with the right locals if you want to find out where they are.
As for the other best spots for surfing in Malaysia:
Check out Terengganu, Pahang, Kijal, and the beautiful, exotic Tioman Island.
We're also big fans of surfing on Malaysia's southerly coast around Johor (extra brownie points for the fact that Johor has the closest surf spots to Singapore, meaning plenty of wave-craving Singaporeans hop over the border for a weekend surf sesh).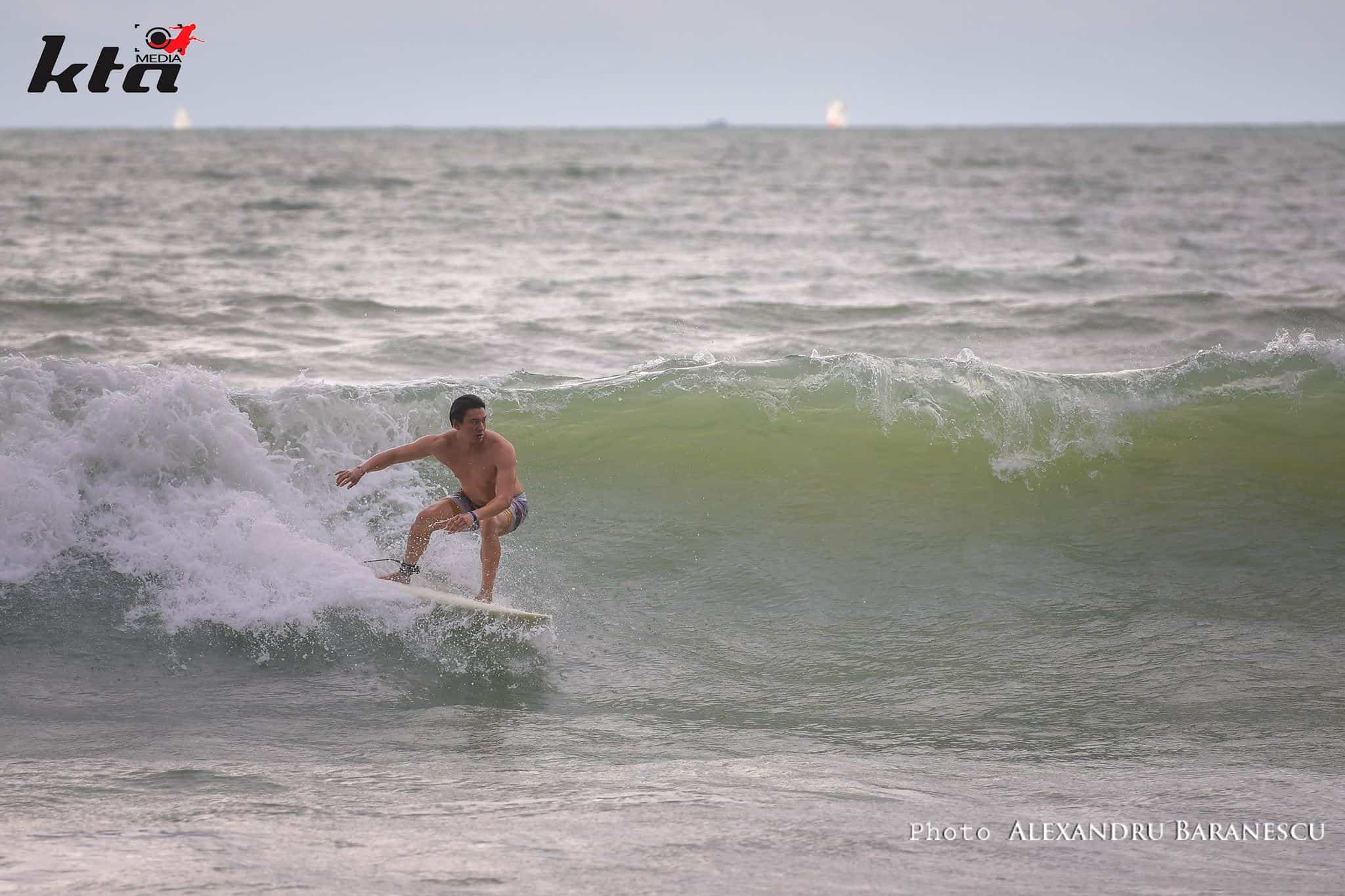 Now:
From July to March the swell dies down in a big, big way, but there are still a couple of surf spots in Malaysia that work during the off-season.
Sabah is one to watch, as is Langkawi (but be warned, the waves are usually pretty small and inconsistent).
If you're heading for some surfing in Malaysia during the summer season and you find yourself disappointed by the waves, you've always got the artificial surf pool at Sunway Lagoon as a plan B.
Surfing in Myanmar
Best time to surf in Myanmar: June/July
Wave size: 0.5-1.8 meters
Suitable for: beginners, intermediate
Surf scene score: 1.5/5
Where to find the best surfing in Myanmar: Cheduba Island, Ngwe Saung
Surfing in Myanmar has started to take off over the past couple of years.
With its exposure to the Andaman Sea and swell from both Antarctica and the Indian Ocean, it's no big surprise that some of the more adventurous locals have begun to embrace the board life.
The surf in Myanmar is generally quite small, but the biggest and best waves hit the sandy shores of Ngwe Saung on the southwest coast and Cheduba Island (also known as Manaung Island) slightly to the north.
Ngwe Saung was the host of Myanmar's first ever kitesurfing event (run by the Kiteboard Tour Asia) back in 2015, and no surprise this was the place they chose to hold the festivities: Ngwe Saung's moderate winds, gentle swell, and crystal clear waters make it an ideal place for kitesurfing, surfing, and scuba diving.
Plus:
Ngwe Saung sits on a 9 km stretch of pristine sandy coastline lined with shaggy palms. *sigh* It's a dreamland.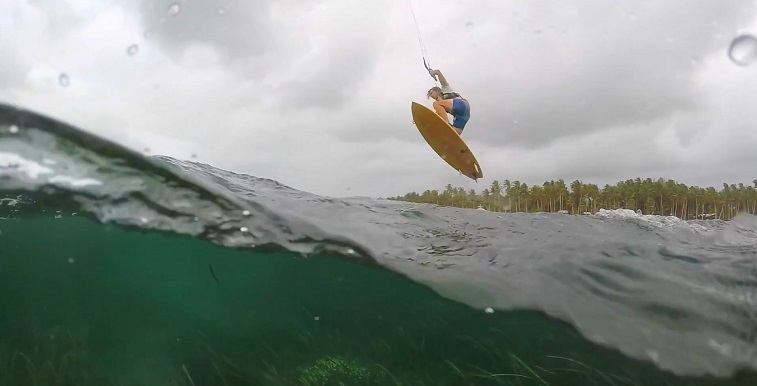 But there's another surf spot in Myanmar that's starting get people talking:
The Sittang River runs across south central Myanmar for 420 kilometers and is the home of one of the world's rare tidal bores.
In case you didn't know:
A tidal bore is a wave that rushes in off the sea and flows against the direction of the river's current. Measuring in well over 2 meters at times, the Sittang tidal bore is one of the top 3 in the world.
Word on the street is that the bore was first surfed in 2017 by Jerome Cordoba, Antony Colas, and Patrick Audoy, who described riding the wave up the river as "magical".
"The wave is almost infinite, it goes up the river against the current and we fall because we are tired." (Check out the video here.)
Other noteworthy places for surfing in Myanmar are the Baronga Islands off the coast of Sittwe, the river mouth at Lanthaya, the sand bottom beach break at Gottaung Beach, the Elephant Head in Ngapali (there's also a bunch of other awesome things to do in Ngapali), and Chaungtha (with its best waves measuring in at 1.8 meters and it being a 5 hour drive from Naypyidaw, it's one to watch).
Surfing in Brunei
Best time to surf in Brunei: October-March
Wave size: 0.5-1.5 meters
Suitable for: beginners, intermediate
Surf scene score: 1/5
Where to find the best surfing in Brunei: Tanjung, Berakas
Sharing most of its border with Malaysia's Sarawak state, Brunei's small coastline faces out over the South China Sea.
The coast of Brunei gets hit by some small, though surfable swell- the best of which comes during the northeast monsoon.
In fact:
Brunei held its first ever Surf Fest in early 2017 to great success, which just goes to show that even though it's still in its infancy, surfing in Brunei is becoming more and more popular.
Tanjung Batu is among the best places to go surfing in Brunei, with its easy right handers that break across the sandbar. There's also another spot at the river mouth just west of the beach.
Apart from Tanjung, you can also surf at the manmade headlands at Pantai Tungku and Berakas Reserve Beach which is right next to the Berakas Forest Park- a popular spot for hiking, trail running, biking, and camping.
Surfing in Sri Lanka
Best time to surf in Sri Lanka: November-March, May-September
Wave size: 0.5-2.5
Suitable for: all levels
Surf scene score: 4/5
Where to find the best surfing in Sri Lanka: Weligama, Arugam Bay
The wandering watersports community are no stranger to Sri Lanka, with crowds of wind-seeking kitesurfers heading to hit up the lagoons in Kalpitiya all through the summer season.
But that's not even half of what this crazy little country has in store for adventurous water sports lovers:
Sri Lanka has its hat in the ring as one of the best countries to surf in Asia.
Here's what you need to know:
The southern portion of the island that gets the biggest swell, with the best Sri Lanka surf spots being Weligama in the south and Arugam Bay in the east.
Arugam Bay is everything a bona fide surf town should be: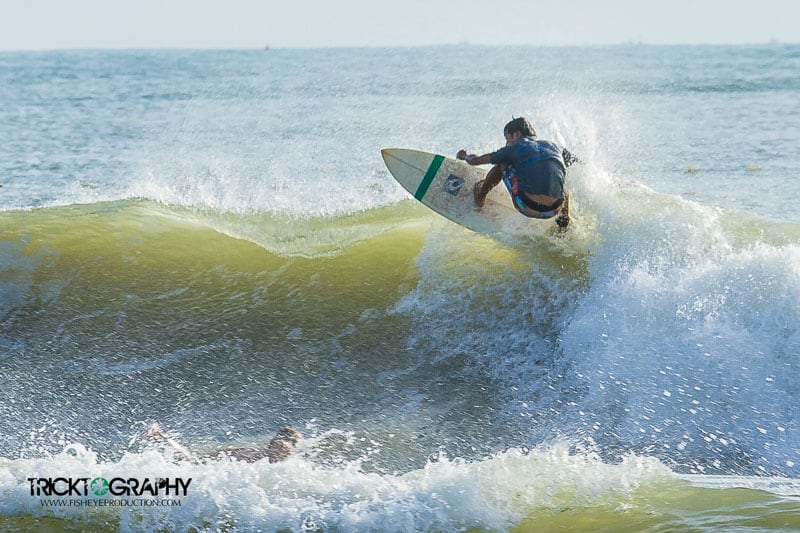 Chilled vibes, slow pace of life, and a surfboard strapped to the side of every other motorbike driving down the beach road (that is until the police banned surfboard racks).
The best time to surf Sri Lanka's east coast is between May and October, at which point the surf community heads to the south and southwestern spots.
Apart from Weligama and Arugam Bay, some of the other top Sri Lanka surf spots are Hikkaduwa, Unawatuna, and Mirissa. There's also Dewata and Hiriketiya, both of which are among Sri Lanka's best places to surf for beginners since they're never too crowded and the beaches are well protected. The beautiful city of Galle can also get pretty good waves. Galle is actually a world heritage site, and the largest remaining city in Asia fortified by European colonialists (in this case the Dutch).
Surfing in China
Best time to surf in China: October-March and before or after the summer typhoons
Wave size: 0.5-3 meters
Suitable for: all levels
Surf scene score: 2/5
Where to find the best surfing in China: Hainan Island
Surfing in China? Na.
(That's most people's reaction whenever it comes up in conversation.)
And when we tell them it's one of the best exotic surf spots in East Asia? They usually balk!
But in reality, there is some seriously awesome surf on China's most southerly (tropical!) island, Hainan.
Hainan is easily reached from airports in Asia as well as mainland China (a grand excuse to combine your surf trip with a visit to one of the mainland's attractions. Forbidden City? Shanghai Disneyland? Or maybe a weekend out and about in Hong Kong?!)
Hainan Island itself is littered with beaches, headlands, and regular points. And since most of the coastline is unchartered territory for surfers, there's tons of potential out there on those empty breaks.
The south and southeast coasts are the best places for surfing in Hainan.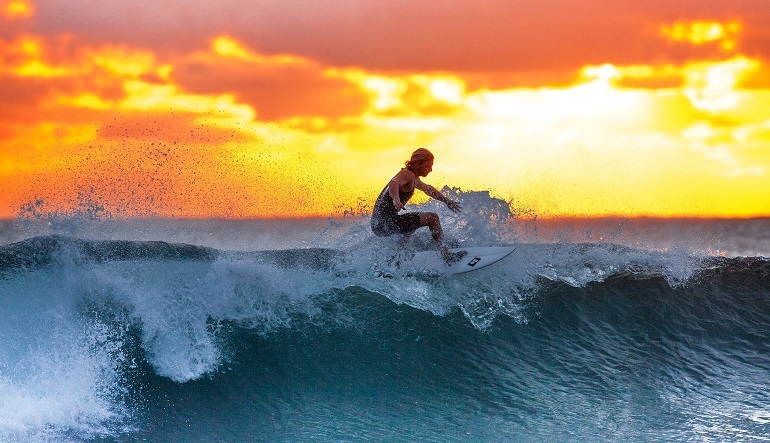 As for the best spots?
Ri Yue Bay tops the list. No big shock, considering it's a regular stop-off for international surf comps like the O'Neill's Surfing Open, the ISA World Longboarding Championships, and the Jeep International Surfing Open.
Here's a tidbit for you:
The locals in Ri Yue Bay are super proud of the fact that they have a point break with one of the best lefts in China.
Along the 2 km stretch of sandy beach there are easily half a dozen surfable waves- the biggest of which is a barrel nicknamed "Ghost Hotel".
…how creepy.
Speaking of hotels, there's a couple of surf specific resorts both with very, long names of course: Ri Yue Bay Surfer's Stop Hostel, or you can go for the Forest Inn Ri Yue Bay Surf Branch.
Moving along swiftly:
Apart from Ri Yue Bay, you'll also be able to score some waves at Lingshui, Yalong Bay, Da Dong Hai, and Houhai- the latter of which is a favourite of ours for its quirky mishmash of traditional Chinese fishing culture and newage surf style.
Pssst: did you know China is also an insanely awesome kitesurfing destination? Read up all about it in our complete guide to kitesurfing in China.
Surfing in South Korea
Best time to surf in South Korea: September-November
Wave size: 0.5-2 meters
Suitable for: beginner, intermediate
Surf scene score: 2.5/5
Where to find the best surfing in South Korea: Jukdo, 38th Beach
In fairness, surfing in South Korea isn't exactly the epitome of sunkissed, coconut oiled version of the sport that we not-so-secretly adore.
But:
If you can brave the cold of the winter, you'll be rewarded with a surfing experience that's an adventure unlike anywhere else in the world.
The east coast of South Korea receives some of the best swell in the country, and most interestingly, it's emerged that one of the best places to surf is Gangwando's 38th Beach- a hop, skip, and jump away from the DMZ.
Whaaaaat.
Yup, c'est vrai. One of the most politically tense places on planet earth- location of a massive military base and an hour away from the friggin' border of North and South Korea- has awesome surf.
The sport was pioneered here by members of the local fishing community who used to have to apply for government permission before they could take their boards out on the water.
Although surfing is now officially allowed (and pretty decent numbers of foreign and local surfers ride there), the military is still known to move people along if they think the swell is "too big".
As for the season:
The biggest swell hits the east coast during the winter months when it's bitingly cold.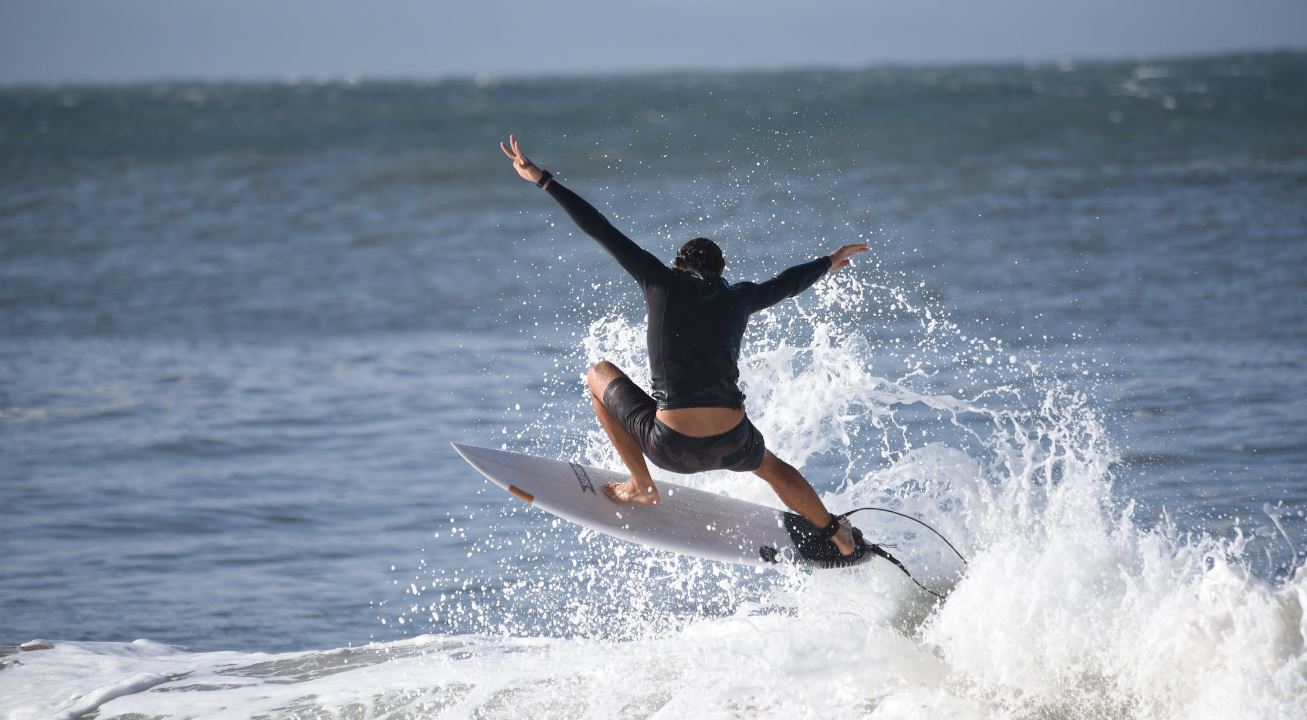 At least you can warm up sippin' on sweet coffee and soju after your sesh.
Apart from 38th Beach, you can also surf at Yangyang's Jukdo Beach, Busan, and the southerly Jeju Island, whose Pacific coast gets an easy 1-1.5 meter swell during the summer monsoon and is much, much warmer than the blustery east coast in winter.
Don't go packing your board bag too quick though; in the words of Hugh MacDonald, ex Jeju surf junky and author of surfinghandbook.com, "the waves [are] notoriously hard to predict".
Oh well, 6mm wetsuit and DMZ it is then.
Surfing in Taiwan
Best time to surf in Taiwan: November-March and July-October
Wave size: 1-4 meters
Suitable for: all levels
Surf scene score: 3.5/5
Where to find the best surfing in Taiwan: Taitung County
Taiwan's coast stands in fairly stark contrast to the neon lights and tightly packed alleyways that we've come to associate with its cities.
Out on the coast it's all dramatic cliffs and ocean swell, baby.
The offshore winds and regular gorges along the southern and eastern coasts work to channel sand around the river mouths, while the beach breaks, point breaks, and reefs create barreling waves pretty much year round.
Plus, Taiwan sits right in the middle of Typhoon Alley.
Which, if you're wondering:
Is where the most intense tropical cyclones in the world tend to hit.
Typhoons can bring insane swell to the Taiwanese coast, particularly between July and October. But it's the winter northeast monsoon that brings the most consistent waves.
Although Taiwan's surf scene is still quite young, it's growing fast.
Local surf clubs advertising day trips from Taipei remind us that you can surf just an hour outside of the city. Meanwhile, international surf competitions like the Taiwan International Surfing Invitation and the World Longboard Championships have set up comp stops along the coast.
You can see the best of surfing in Taiwan at Eight Immortals Cave, Wushibi, Yiwan, Chenggong Township, Duli, Dong River, Jinzun Bay, Xingchang and Jiqi on the Hualien coast.
But Taitung County is the epicenter of it all.
With its fast waves and clear water, Taitung's surf spots are starting to get noticed by pro riders from the US and Oz. And since this is where a lot of the big competitions are held, it's showing up on the radar more and more.
Taitung is home to some of the best surf spots in Taiwan, such as Donghe and Changbin whose sloping seabeds and surrounding continental shelf create consistent waves throughout the winter months.
"Winter?" I hear you say, "Please no more snow covered surf beaches!".
Rest assured, Taiwan's winter temperatures average 16-20 degrees Celsius, so it's really not too vicious at all. Plus, Taiwan's balmy summer surf season is pretty awesome too, which is when it all kicks off on the southern coast.
As well as surfing, Taiwan's amazing kitesurfing, hiking, cycling, climbing, and rafting conditions mean that we're more than kinda crazy about this place (check out our local's guide to adventure activities in Taiwan for more!).
Surfing in Japan
Best time to surf in Japan: August-October
Wave size: 0.5-3 meters
Suitable for: all levels
Surf scene score: 3.5/5
Where to find the best surfing in Japan: Chiba, Kagoshima, Okinawa
With a long, Pacific facing coastline and close to 7,000 islands, Japan's surfing potential is endless (not to mention the insanely good food, state of the art cities, and dangerously drinkable awamori rice liquor!). The only real downside is it's waaaaay expensive compared to most other countries in Asia.
But back to the bright side:
You can surf pretty much everywhere along the eastern coast (although a number of Japan's best surf spots are disappearing due to coastal development).
You can literally surf just outside of Tokyo. Chiba is a 40-minute ride away and has a dozen known surf spots easy.
Beach breaks and point breaks are the bread and butter for Japan's surfers, but you'll find some of the best conditions at the river mouths. Shikoku is a name we hear a lot, but these days all eyes are on Shidashita Beach which is where the 2020 Olympics will be held (and surfing is *finally* on the menu!).
Okinawa is another crowd favourite- and for good reason.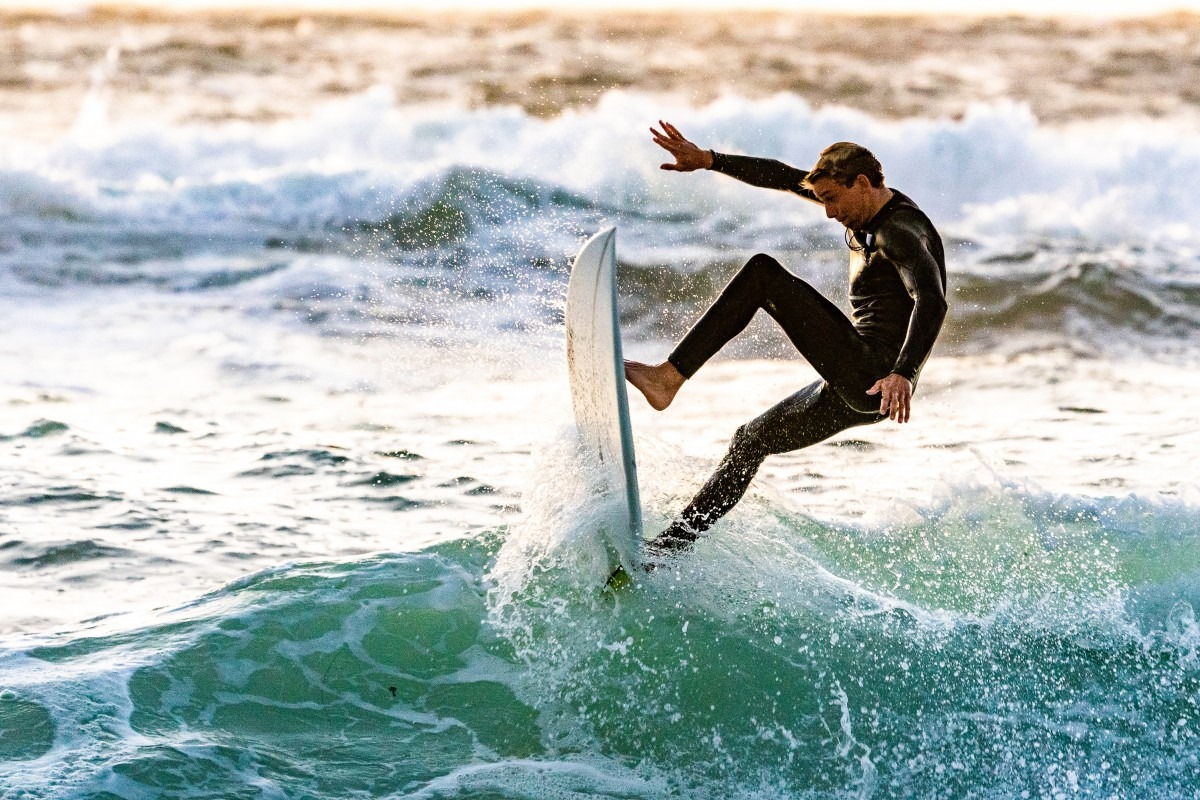 This southerly chain of islands enjoys tropical weather and sits bang in the middle of Typhoon Alley, which means you can surf in boardshorts and bikinis pretty much year round. White Beach is a must-do for beginner surfers while experienced riders can head out to the more challenging reef breaks.
You can experience more awesome surfing in Japan at Tohoku's Veedol Beach, Kansai, Kagoshima, Kochi, and Miyazaki.
Surfing in India
Best time to surf in India: May-September
Wave size: 2-4.5 meters during high season, 1-1.5 rest of the year
Suitable for: all levels
Surf scene score: 2/5
Where to find the best surfing in India: West coast
Surfing in India is equal parts awesome and unbearable.
Why?
Well, let's start with unbearable:
Because surfing in India has yet to take root in a mainstream way, the roads that lead to many a surf spot are terrible (or non existent) and fewer spots still are known to the public- let alone mapped.
But:
They are there in plentiful amounts, and when you find them they are f'ing brilliant.
India's coastline is more than 7,500 km long, and with 200 surfable river mouth and countless open beach breaks, it's a wonder the sport isn't more popular here.
On top of that:
India's coast is exposed to the Arabian Sea, the Bay of Bengal, the Indian Ocean, and Antarctica, and since there's no land mass in between, it receives perfect, uninterrupted swell.
You can surf on parts of the west, east, and south coast of India pretty much year round.
From Dwaraka in the far northwest to Kovalam in the south, the west coast usually gets the biggest swell- particularly before and after the monsoon.
Here's something that might come as a surprise.
You can surf in Goa (the end of May through June is the best time to do so). Good news for all you surfing digital nomads out there, as Goa is pegged to become Asia's next hot digital nomad destination, and thanks to an already flourishing tourism industry, you have plenty of hotels and guesthouses to choose from.
Meanwhile, Kerala and Varkala are the places to go to score some hollow breaks.
Tamil Nadu is one of the premiere surf spots in India's southeast. From Tuticorin to Rameshwaram, there are countless points and beach breaks dotting the coast, while Odisha is the main region for surfing in India's northeast.
Awash in the Bay of Bengal, you have the dreamlike Andaman Islands, an archipelago that's made even more idyllic by the fact that it's more or less escaped mass surf tourism. At the moment, the beautiful barrels and perfect corduroy lines that wash up on the Andaman shores are only surfed by a select few.
When you've eventually exhausted your time surfing in India (which would take you, what, 3 lifetimes?) you're a straight shot over to the Maldives (*drool*).
Stick around salty dawgs; our Pacific Islands surf article is coming soon!
---
Share this article with your friends!