Low Risk, High Reward
You've worked hard all winter, and now is the time to splurge. A brand new shiny kayak for the summer. That was me long ago. Do you want to know what I ran up against? Insanely high prices.
Kayak prices so high that they made me ask myself, "What did I do? What did I do in this world to deserve a kayak price this high?" I wanted a kayak with comfortable seating and other great convenience features. A kayak like the Perception Rambler.
I wanted something that I could go fast in, like the Intex Challenger. Sadly, I didn't know about such options back then. Don't make the same mistake I made. Get one of the great affordable kayaks listed below.
Cheap kayaks are a dime a dozen, but cheap kayaks this good are an absolute anomaly.
Best Budget Kayak

Perception Joyride 10
Weight: 50 Pounds
Material: Polyethylene
Best Performance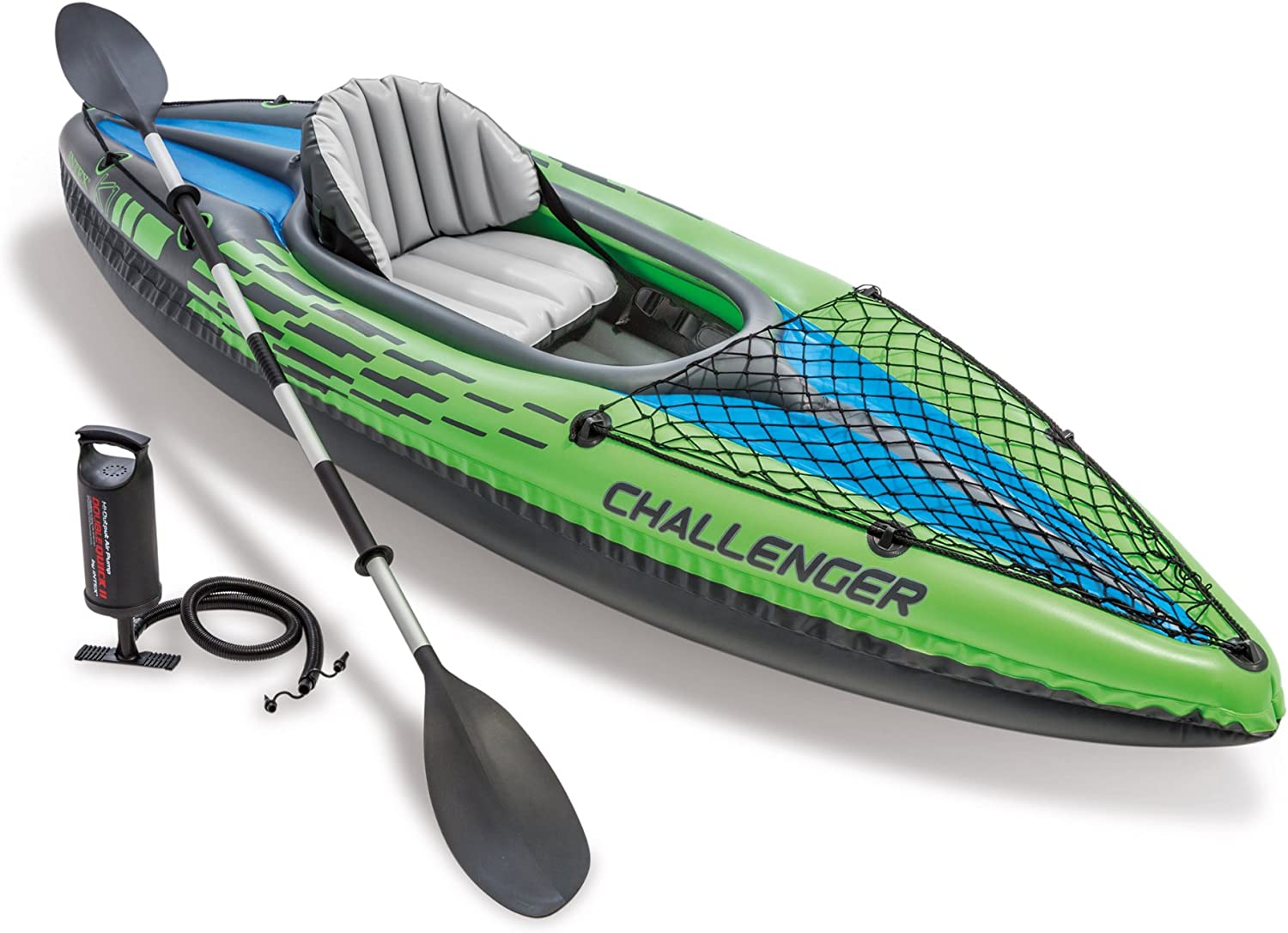 Intex Challenger
Weight: 25 Pounds
Material: vinyl
Best Comfort Option

Perception Rambler 13.5
Weight: 78 Pounds
Material: Polyethylene
Best Maneuverability

Sun Dolphin Aruba
Weight: 40 Pounds
Material: Plastic
Best Lightweight Kayak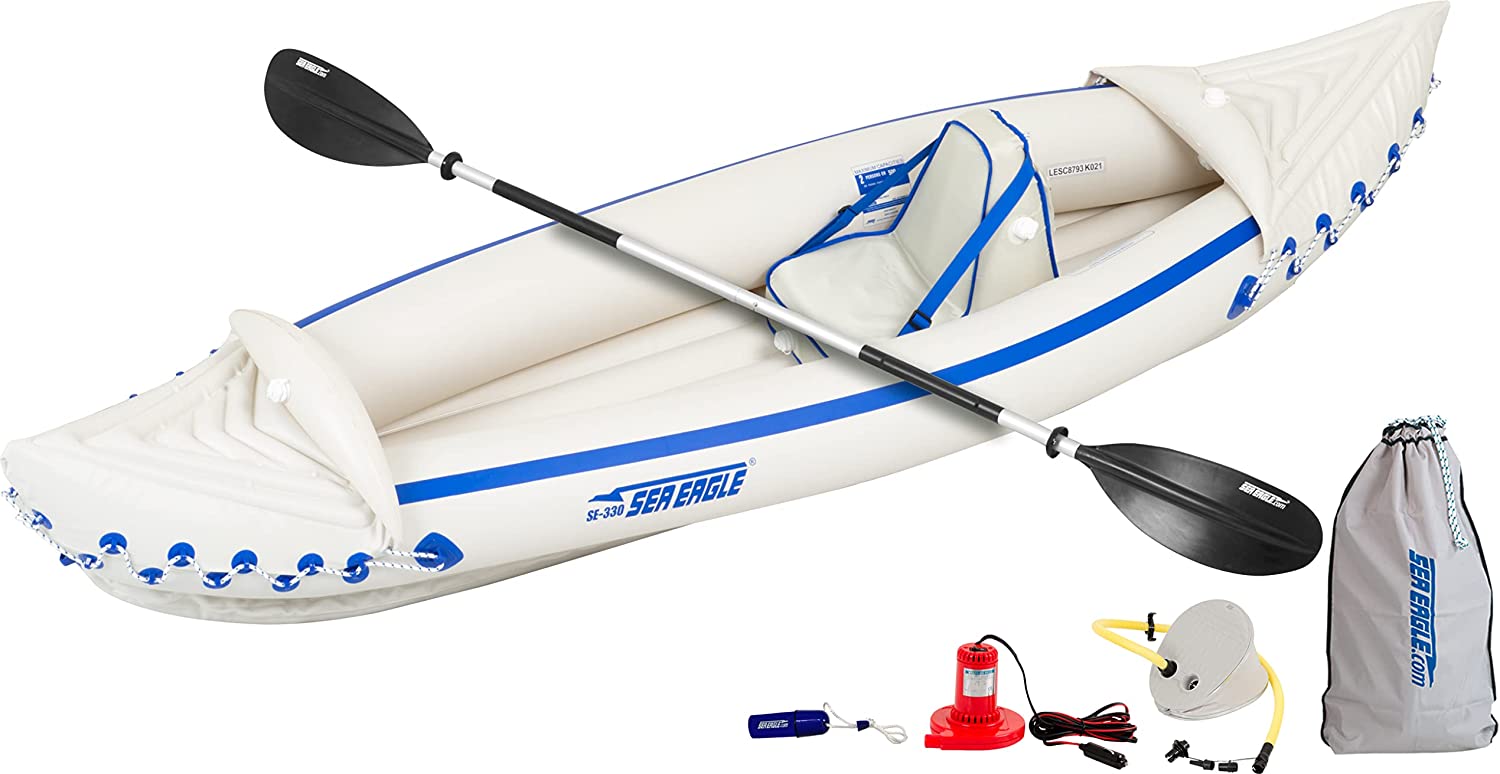 Sea Eagle SE330
Weight: 26.46 Pounds
Material: Polykrylar
Best Maneuverability

Pelican Maxim 100X
Weight: 36 Pounds
Material: Plastic
Best Budget Kayak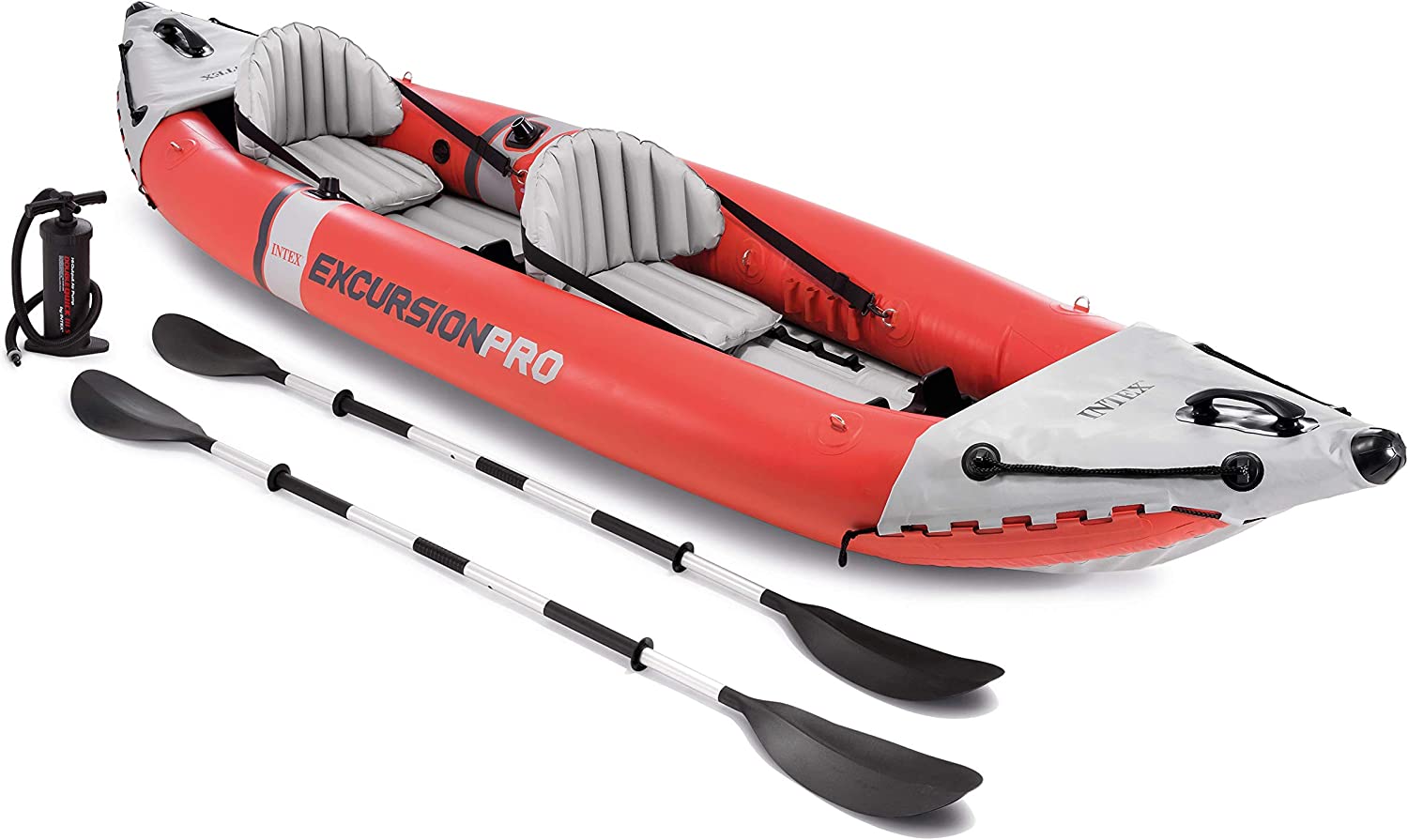 Intex Excursion Pro
Weight: 46.73 Pounds
Material: Polypropylene
Best Inflatable Kayak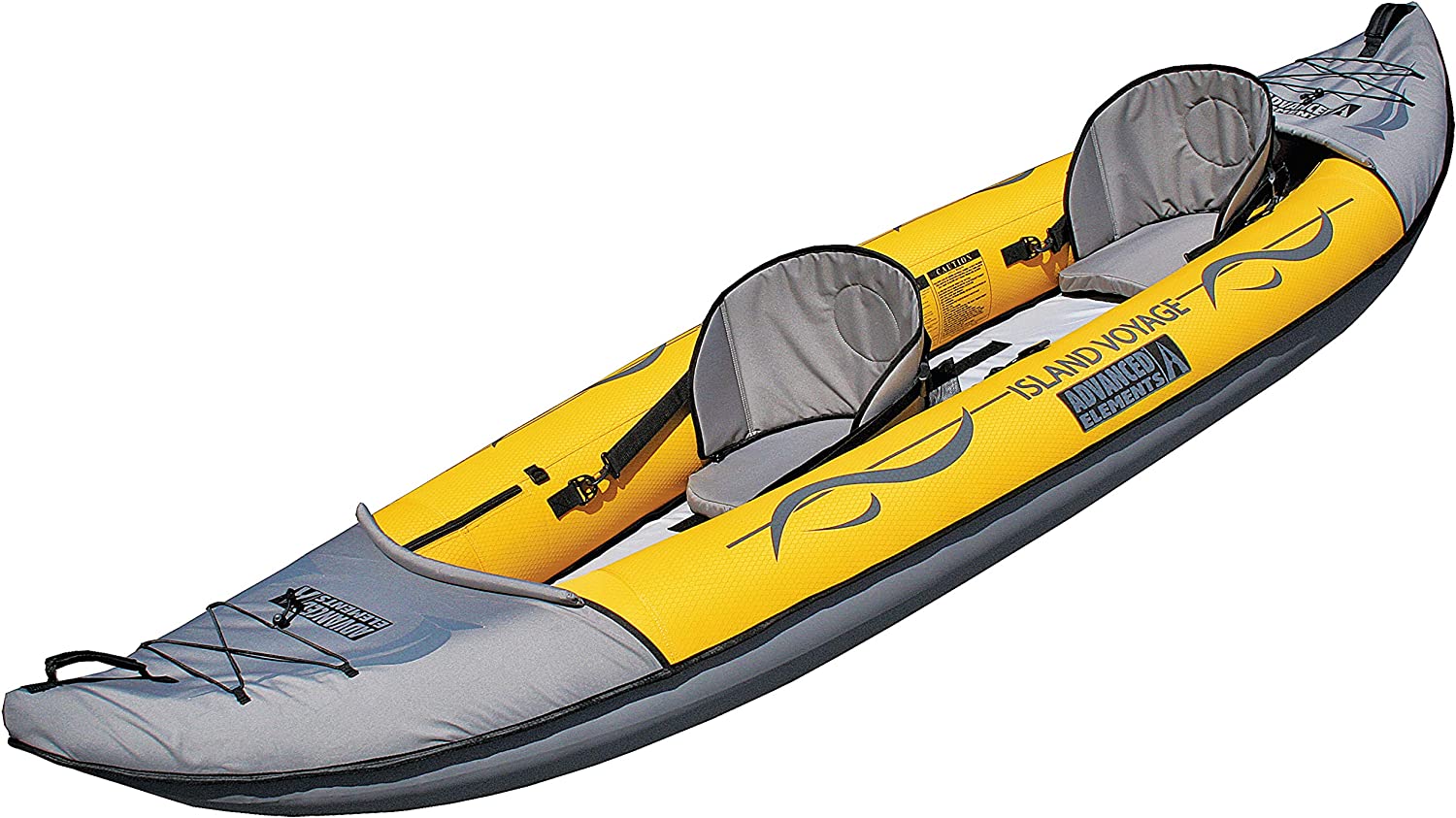 Island Voyage 2
Weight: 31.5 Pounds
Material: Polypropylene
Best Recreational Kayak
Perception Tribe 9.5
Weight: 46 Pounds
Material: Polyethylene
Best Of The Rest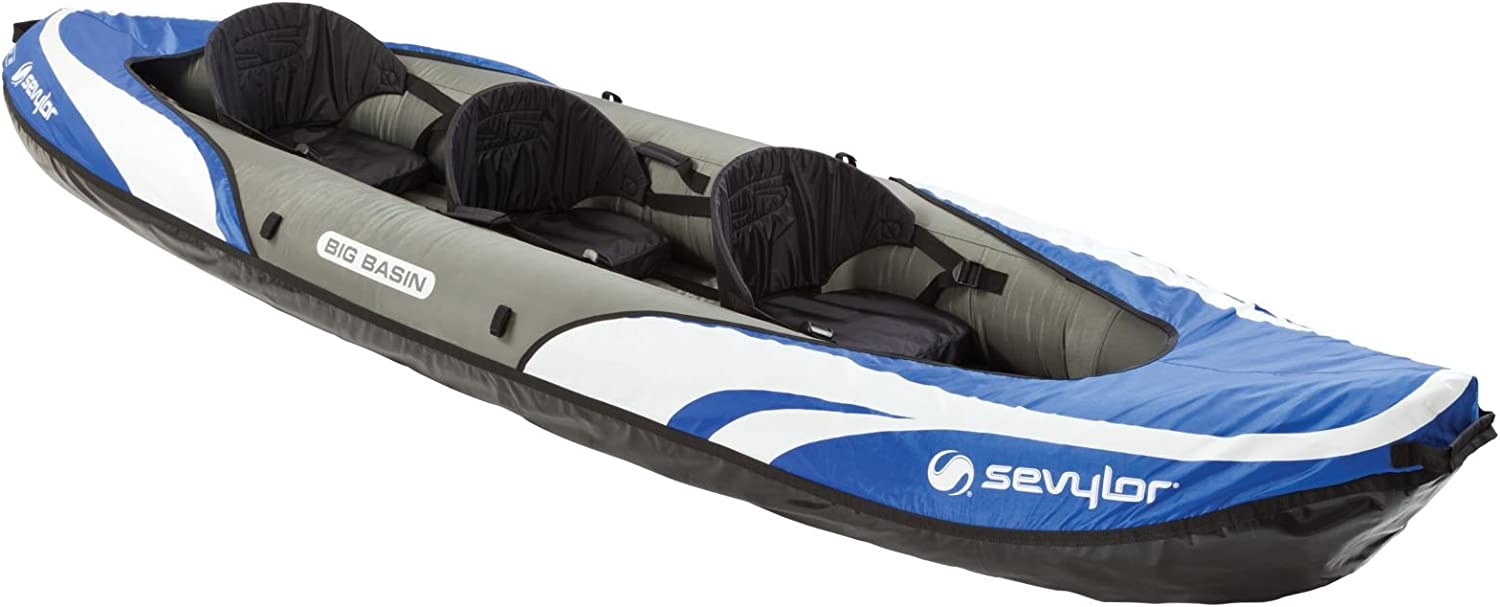 Sevylor Big Basin
Weight: 44.31 Pounds
Material: Polyvinyl Chloride
10 Best Budget Kayaks
Many of the kayaks listed below come from either Perception or Intex. That's no mistake, these kayak brands are top-notch and should be used as a barometer for the other kayaks on the list.
Whether you want something with great stability or a kayak large enough to accommodate your tall frame, you'll find a solid pickup below.

Do you know how annoying it is to wiggle into a sit-inside kayak? You've got to position the kayak near the dock and then shimmy like an earthworm until your legs are fully inside of it. It's humiliating and unavoidable.
Thanks to its open cockpit design, the Perception Joyride stops us from ever having to do the "worm" ever again. It's stable too. Making it even easier to get into and out of the kayak without fear of you slipping or the kayak flipping over.
This is what makes it a great option for adults and kids alike. Once you are firmly seated, be sure to take full advantage of the adjustable footrests.
There are several of them, one for each size of paddler. A running theme with the Joyride is its ability to accommodate paddlers of all ages and sizes.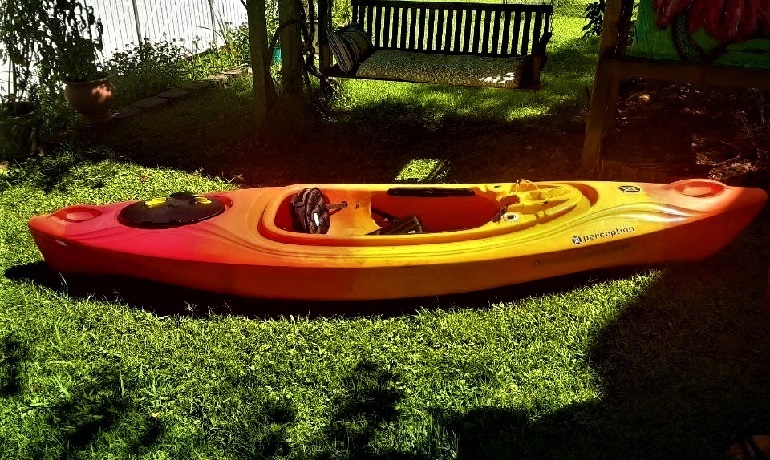 It even comes with a secure storage hatch. This hatch lets you keep your most precious items dry. It also acts as a buoyancy booster, thanks to its bulkhead wall design.
The Joyride is the definitive family option.
Features
Weight: Thirty-nine pounds
Length: Ten feet kayak
Comfort: Ventilated padded seat
Build Materials: Polyethylene
Best Feature: Adjustable foot braces
Pros
A great kayak for kids. It's a stable kayak that is easy to enter and exit.
Has multiple adjustable footrests for paddlers of all sizes to become accustomed to.
Comes with a storage hatch that doubles as a buoyancy booster thanks to its bulkhead walls.
Cons
This budget kayak does not come with paddles, a bit of a letdown.

Perception Joyride 10
The price of "Perception Joyride 10 " varies, so check the latest price at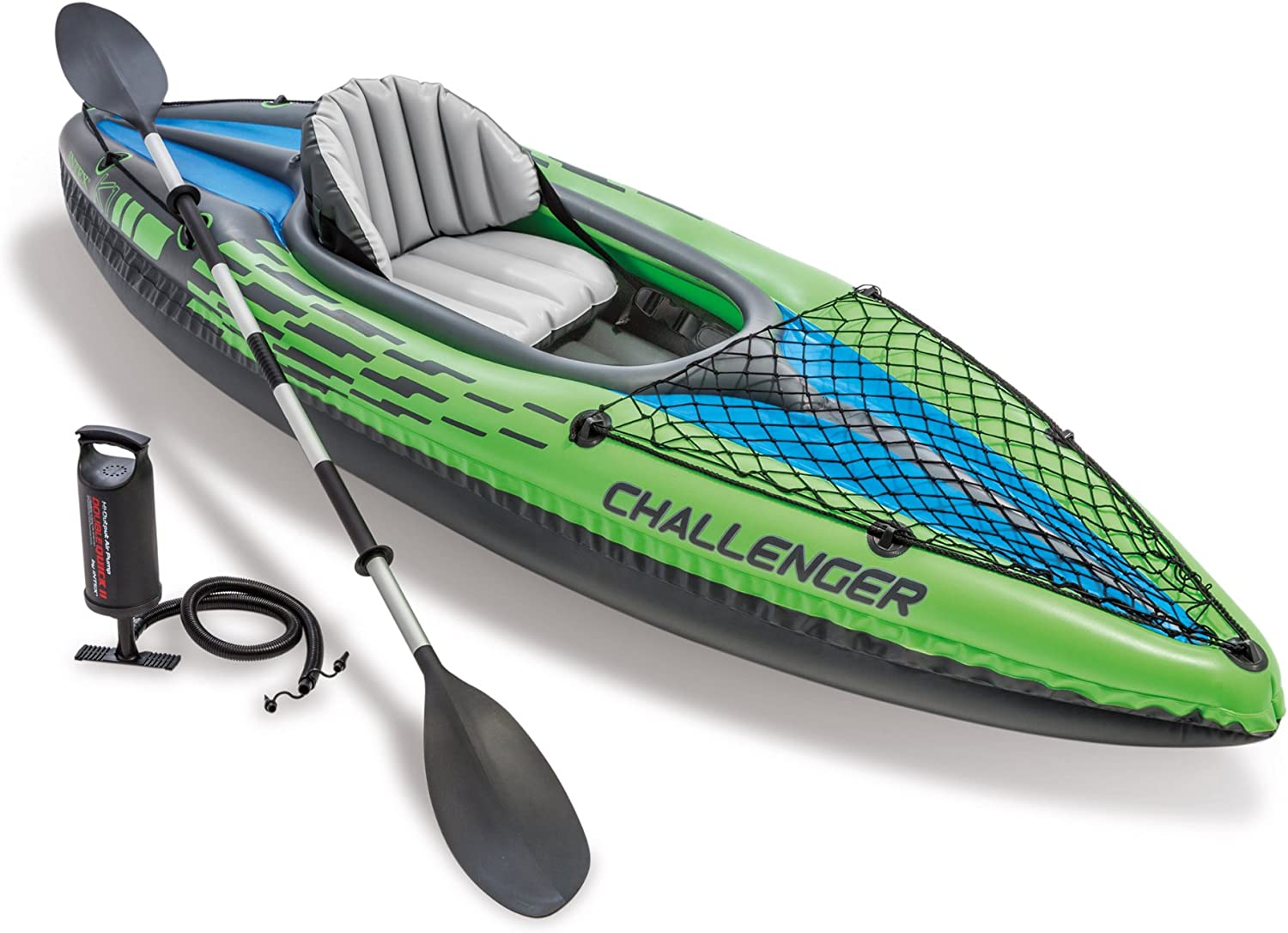 The Intex Challenger looks mean and has a fierce performance to match. As far as looks go, this was my favorite kayak of the bunch. Its sharp nose makes it look as if it means business. This is coupled well with the tapered end.
I also greatly enjoyed the placement of the seat. Lifted just enough to make the Challenger feel like more of a sports car and less of a kayak. An inflatable kayak at that. Its size is minuscule. The smallest kayak on the list, as to be expected for a performance-focused kayak.
It also weighs a shockingly low amount, twenty-five pounds. Though I will note that it felt a bit heavier than this. Perhaps that can be attributed to its rugged vinyl construction. While it does make the Challenger durable, some dexterity is lost.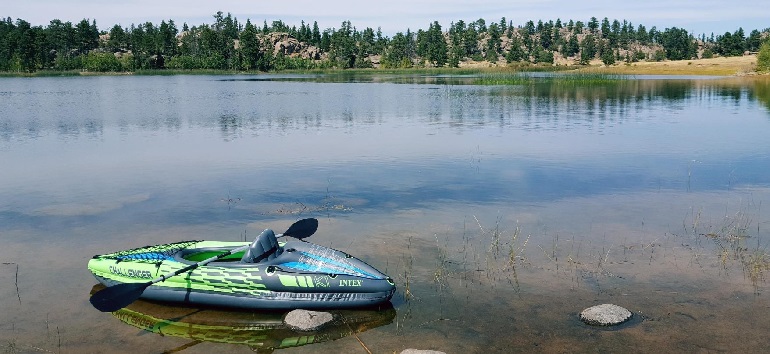 This affordable kayak does come with a skeg for better tracking, but it isn't molded in. You can remove it for even more of a speed boost, should you desire. Finally, if you need a place to store your bag, I suggest the stern's net area. It's both secure and easy to access.
Features
Weight: Twenty-five pounds
Length: Nine feet
Comfort: Adjustable padded seat
Build Materials: Rugged vinyl construction
Best Feature: Removable skeg
Pros
Several parts of this kayak can be removed at your leisure, including the seat and skeg.
Comes with a cargo net that secures your items but keeps them within arms reach.
You get one paddle, a high-output pump, and a carry bag with the purchase.
Cons
Great design that takes a few minutes to fully inflate. Longer than most.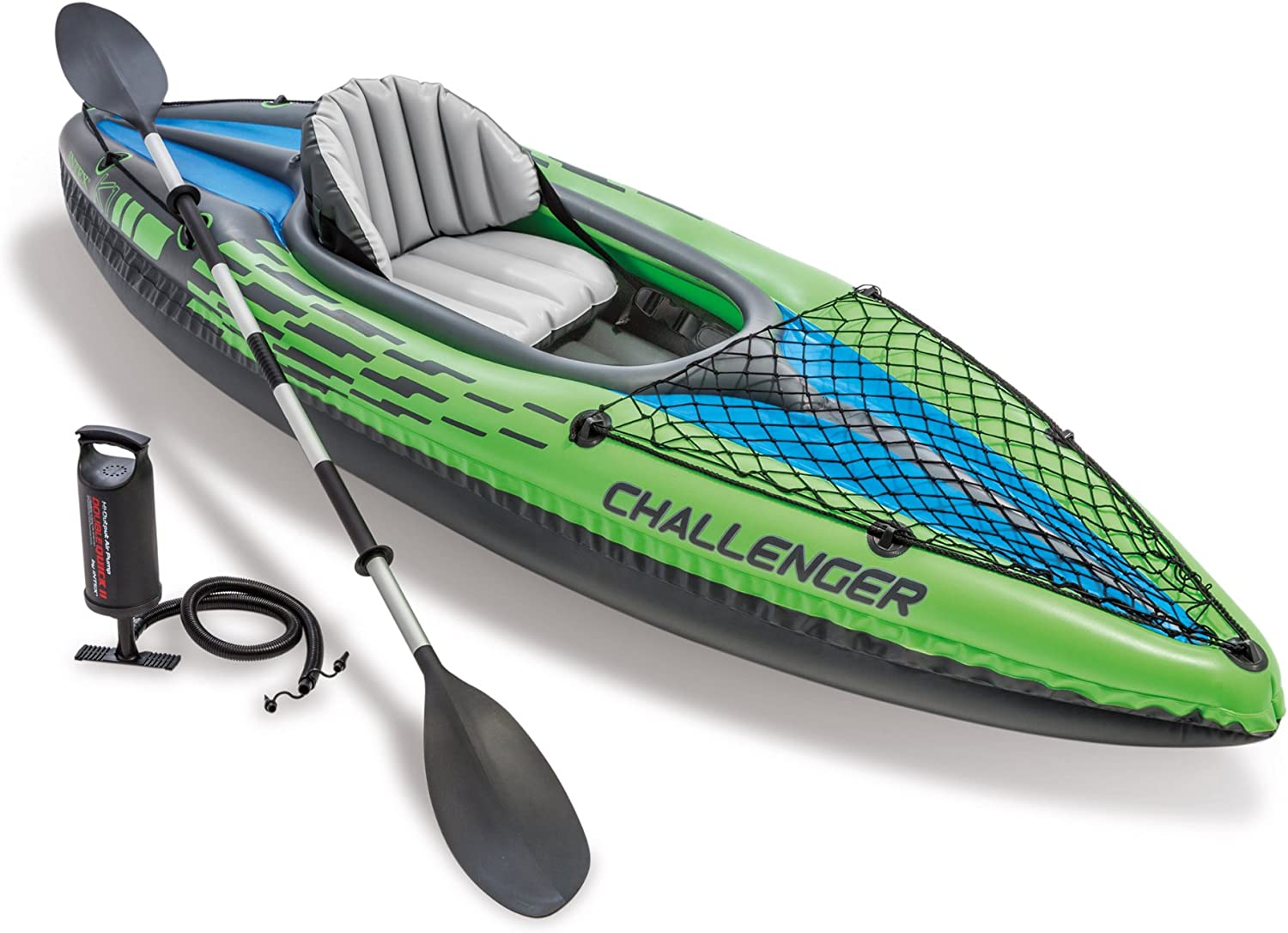 Intex Challenger
The price of "Intex Challenger " varies, so check the latest price at

If you spend most of your days on your kayak sleeping your troubles away, then the Rambler is your perfect napping buddy. It's got a very spacious cockpit that can easily fit paddlers of all sizes. No longer will tall paddlers curse their egregiously long limbs.
Within the cockpit itself is a molded-in seat. This seat is heavily padded on all sides, including its bottom. My favorite thing about it was its width. This is an ultra-wide seat that you are working with here. I'm glad that every inch of this affordable kayak was put to good use.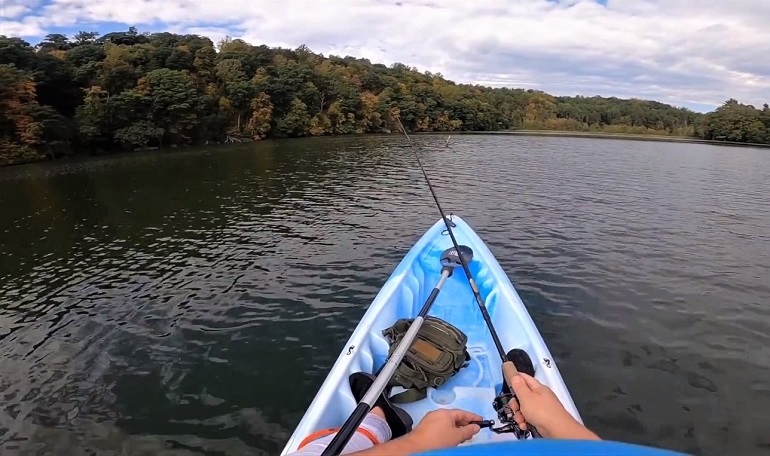 Often, it feels as if solo or tandem kayaks stretch themselves out for nothing more than a vanity stat. Not the Rambler. To go with its length, the Rambler also has an immense weight capacity. It can sustain more than five hundred pounds.
As for tears or cracks, no need to worry about them. The Rambler was molded from one piece of solid polyethylene. Meaning that no parts will suddenly break off. It'll take a lot to get this beast to crack.
Features
Weight: Seventy-eight pounds
Length: Thirteen feet and six inches
Comfort: Spacious cockpit
Build Materials: Polyethylene
Best Feature: High-weight capacity
Pros
The Perception Rambler has a high weight capacity of more than five hundred pounds.
Has a spacious cockpit with a wide molded-in seat. Great for a leisure ride.
Molded from one piece of material, makes for a durable build.
Cons
Weighs more than most budget kayaks, annoying to transport.

Perception Rambler 13.5
The price of "Perception Rambler 13.5 " varies, so check the latest price at

The Sun Dolphin Aruba is the best in class when it comes to its handling. I love it when the design and build of a kayak completely contradict its performance. At ten feet long and weighing as much as forty pounds, you'd think Aruba was a solid performer but nothing more.
However, thanks in part to its sleek design, it ends up being incredibly easy to control. Sometimes it's not just about how little you weigh but where that weight is concentrated. For Aruba, most of the weight has been placed on its two edges. This is why it's so easy to turn.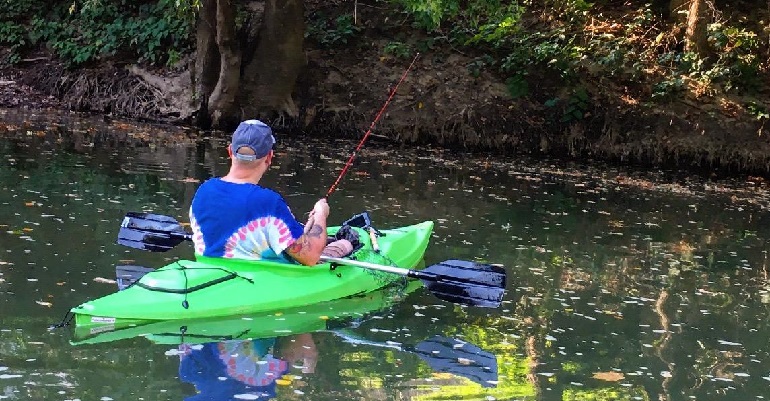 All you need to do is shift your weight or paddle to either side. The rest of the kayak will follow. This is only made easier due to the cockpit. The Aruba has a closed cockpit design which serves you well enough when trying to avoid the water as much as possible.
A storage space for your belongings can also be found on board. And in case you sustain any damages on your journey, take advantage of this kayak's limited lifetime warranty.
Features
Weight: Forty pounds
Length: Ten feet
Comfort: Padded seat
Build Materials: Plastic
Best Feature: Storage compartment
Pros
The Sun Dolphin Aruba comes with a limited lifetime warranty. A clear sign of its longevity.
This ten-foot kayak is easy to maneuver thanks to its low weight and small length.
Closed-off cockpit for a secure and stable paddling experience, fit with a rear storage compartment.
Cons
Not much in the way of extra features. A solid kayak but nothing else.

Sun Dolphin Aruba
The price of "Sun Dolphin Aruba " varies, so check the latest price at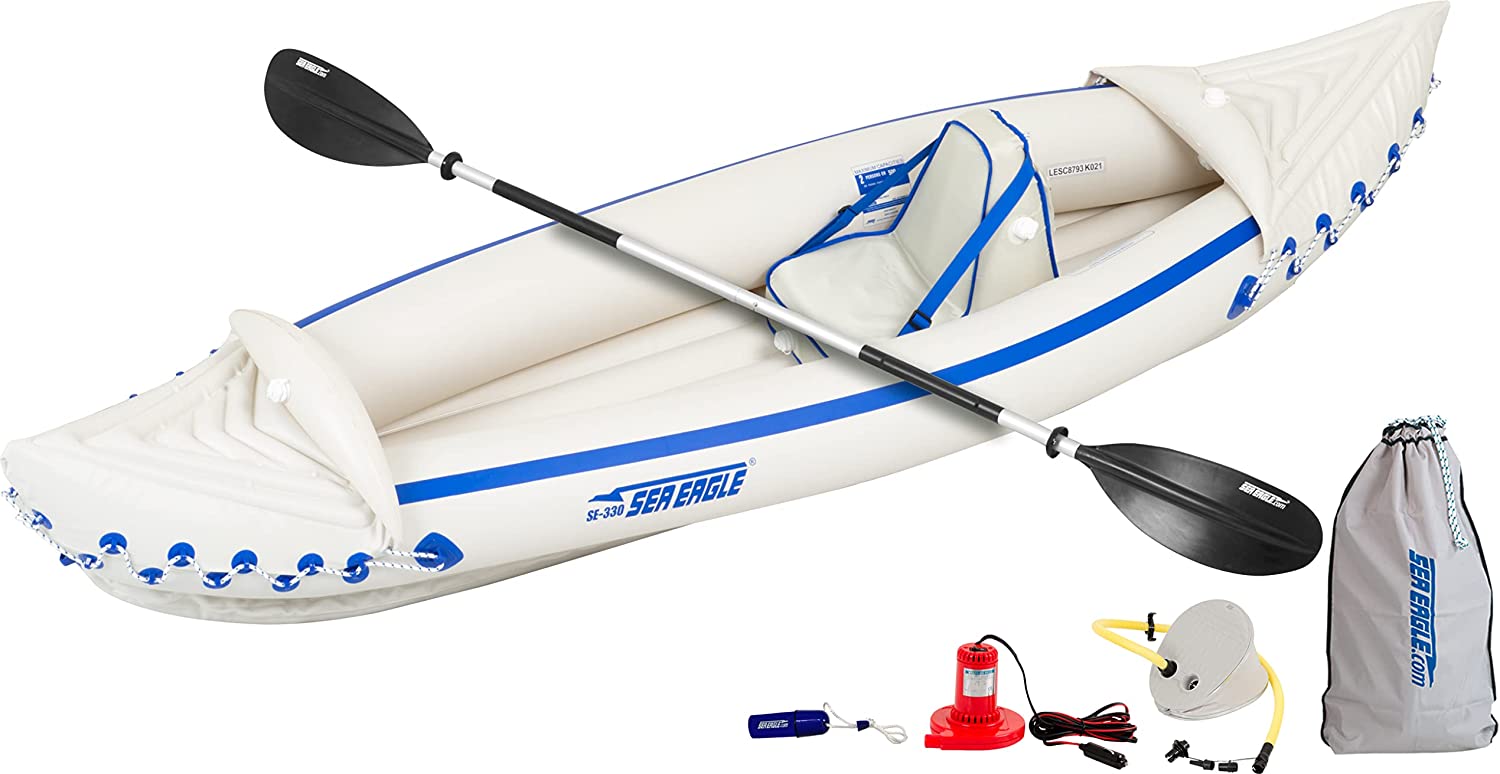 Lightweight kayaks are severely underrated. Everyone wants big and burly kayaks that weigh one hundred pounds and can take a point-blank hit from a log. But in my opinion, the speed and control that a lightweight kayak offers are too good to pass up.
That's why I rate the Sea Eagle SE330 so highly. This felt more like a surfboard in all the best ways. With control and dexterity, and a narrow design, the SE330 has it all. Most impressive was its five I-beam floors. You get world-class stability without any extra baggage.
Remember, your affordable kayak may be great and all, but you still have to get it to the lake. And then, after your day of fun, you've got to get it back home. Of course, a blow up kayak can offer the best of both worlds but even then, only in a minor way.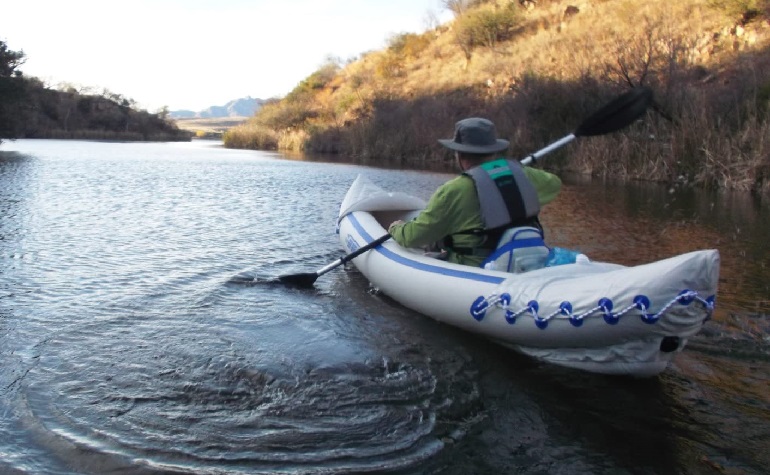 The SE330 is the gold standard. It even comes with a deluxe inflatable seat. With high back support and a rear pocket for extra storage. It's loaded with great features, stable, and immensely easy to transport, even when fully inflated.
A top-quality choice.
Features
Weight: Twenty-six pounds
Length: Eleven feet and two inches
Comfort: Deluxe inflatable seat
Build Materials: Polykrylar
Best Feature: I-beam Construction
Pros
Comes with a fantastic seat that offers great back support and has a rear pocket for extra storage.
Has two molded-in skegs for great tracking and optimized course correction.
Faster paddling and ride quality are provided by the five I-beam construction floor.
Cons
I couldn't find any issues. It's a great inflatable kayak.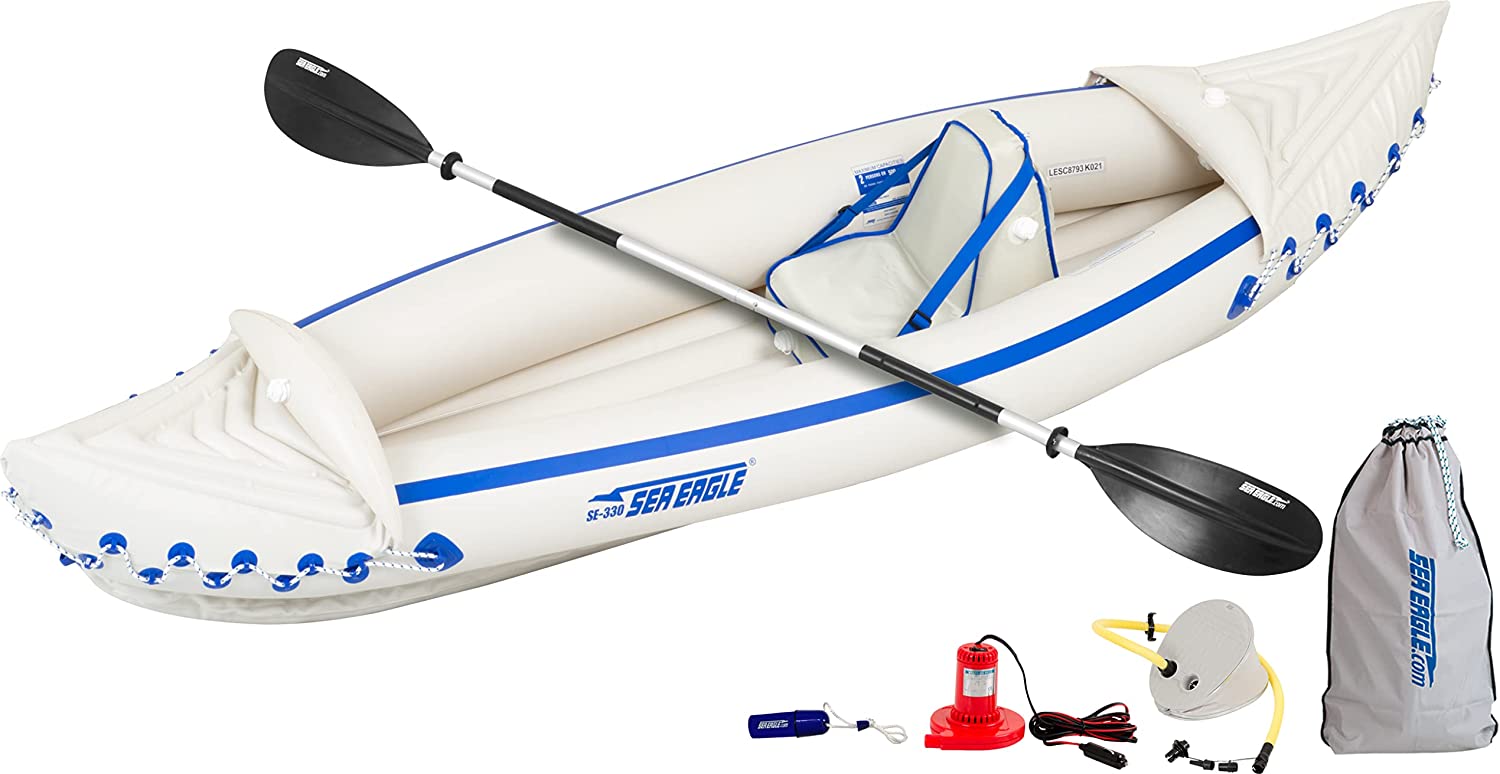 Sea Eagle SE330 Single
The price of "Sea Eagle SE330 Single " varies, so check the latest price at

It's easy to take it… easy with the Pelican Maxim. Thanks in great part to its Ergoform seating system. It's the main feature of this kayak and one that sets the standard for all comfort contenders in the future. The Ergoform system consists of several parts.
They include the seat bottom, which is heavily cushioned. The back support frame is designed to provide you with the lumbar support that prolonged seating requires. Also thrown in are the padded rests on the floor of the kayak.
You'd think then, that with this great set-up, that comfort would be the best quality of the Maxim. However, where the Maxim truly excels is in its maneuverability. The Maxim is a lightweight kayak that is short in length. Two key traits that instantly boost rider control.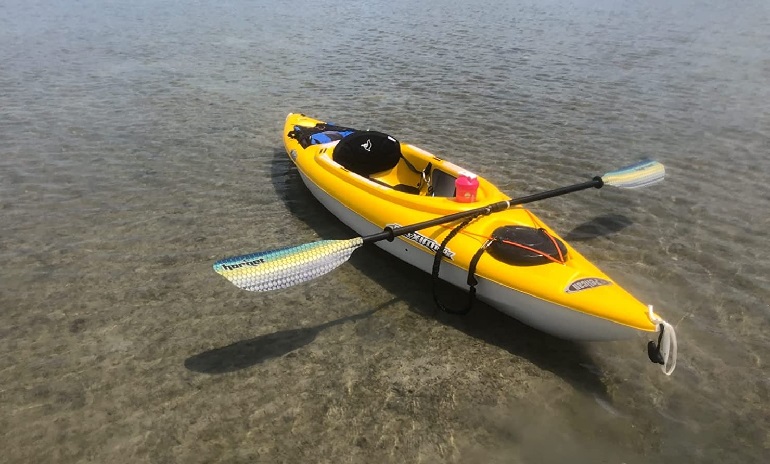 This is only further boosted by the V-Chine hull design of the kayak. Specially made for tight turns and other angled maneuvers. This is a special kind of hull that takes the best aspects from both displacement and planning hulls.
Features
Weight: Thirty-six pounds
Length: Ten feet long
Comfort: ERGOFORM padded backrest
Build Materials: Plastic
Best Feature: ERGOFORM Seating System
Pros
The Ergoform seating system provides you with the best back support on the list.
This is a great lightweight kayak that manages to be highly durable thanks to its high-density polyethylene build.
Its maneuverability is further enhanced by its V-chine hull design. Allows for tighter turns.
Cons
The weight capacity of this kayak is lower than all the other budget kayaks listed.

Pelican Maxim 100X
The price of "Pelican Maxim 100X " varies, so check the latest price at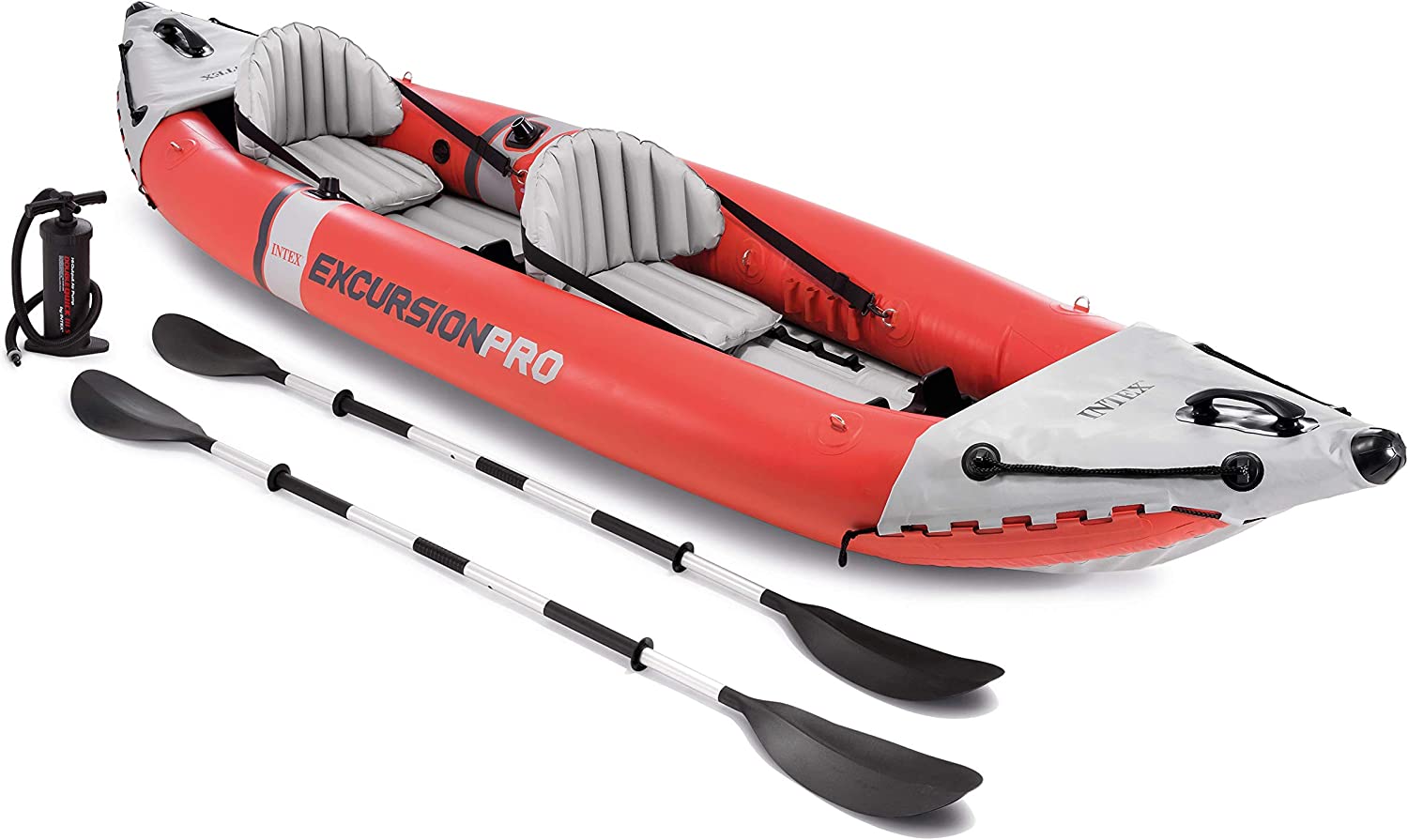 Every time I encounter the best budget kayak, I am blown away by how much they can offer and at such a low price. The Intex excursion pro is yet another in a long line of world beaters at an astonishingly low price. Sized relatively well at twelve and a half feet and with a manageable weight of forty-six pounds.
But with this kayak, it isn't only about the quality of said kayak but what comes with it. Included with the Excursion Pro kayak are two removable skegs, two adjustable bucket seats, and several d-rings. This is the cheapest kayak on the list, yet also the one that offers the most.
Even the build quality of the Excursion pro kayak can keep up with the best of them. Constructed using three layers of PVC and other durable materials. There is no way that this kayak breaks down on you after a year or two of heavy usage.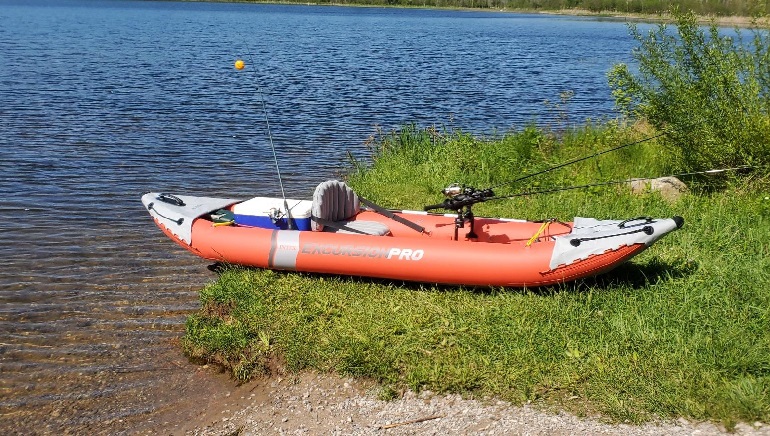 Its main comfort feature is the padded footrests that line the inside walls of the kayak.
Features
Weight: Forty-six pounds
Length: Twelve feet and seven inches
Comfort: Padded footrests
Build Materials: Polypropylene
Best Feature: Great low price
Pros
Has an insanely durable three-ply construction of PVC and other durable materials.
Comes with several add-ons, including two removable skegs and two adjustable bucket seats.
Has stainless steel D-rings throughout its build.
Cons
Best used for slow-moving rivers and calm waters.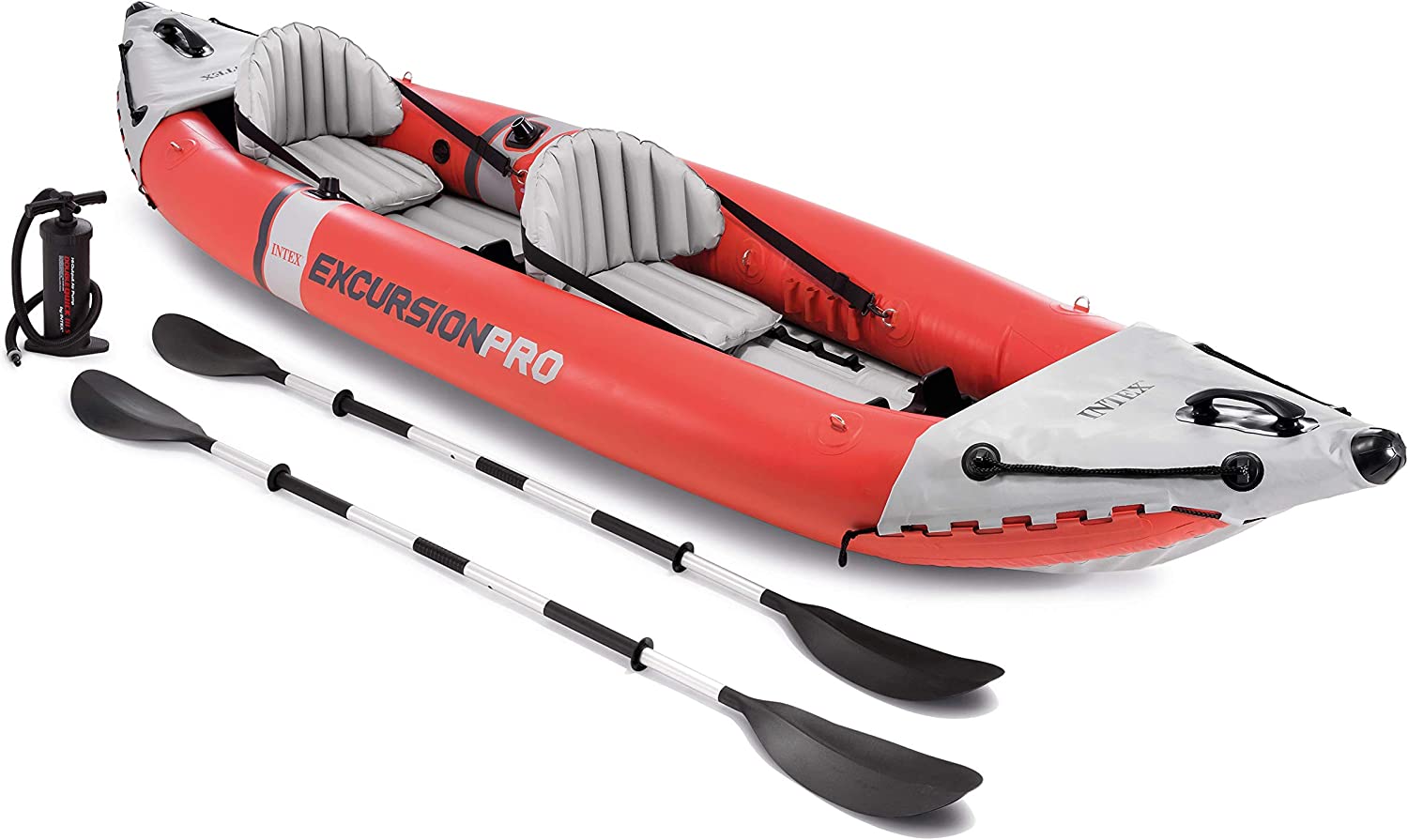 Intex Excursion Pro Kayak
The price of "Intex Excursion Pro Kayak " varies, so check the latest price at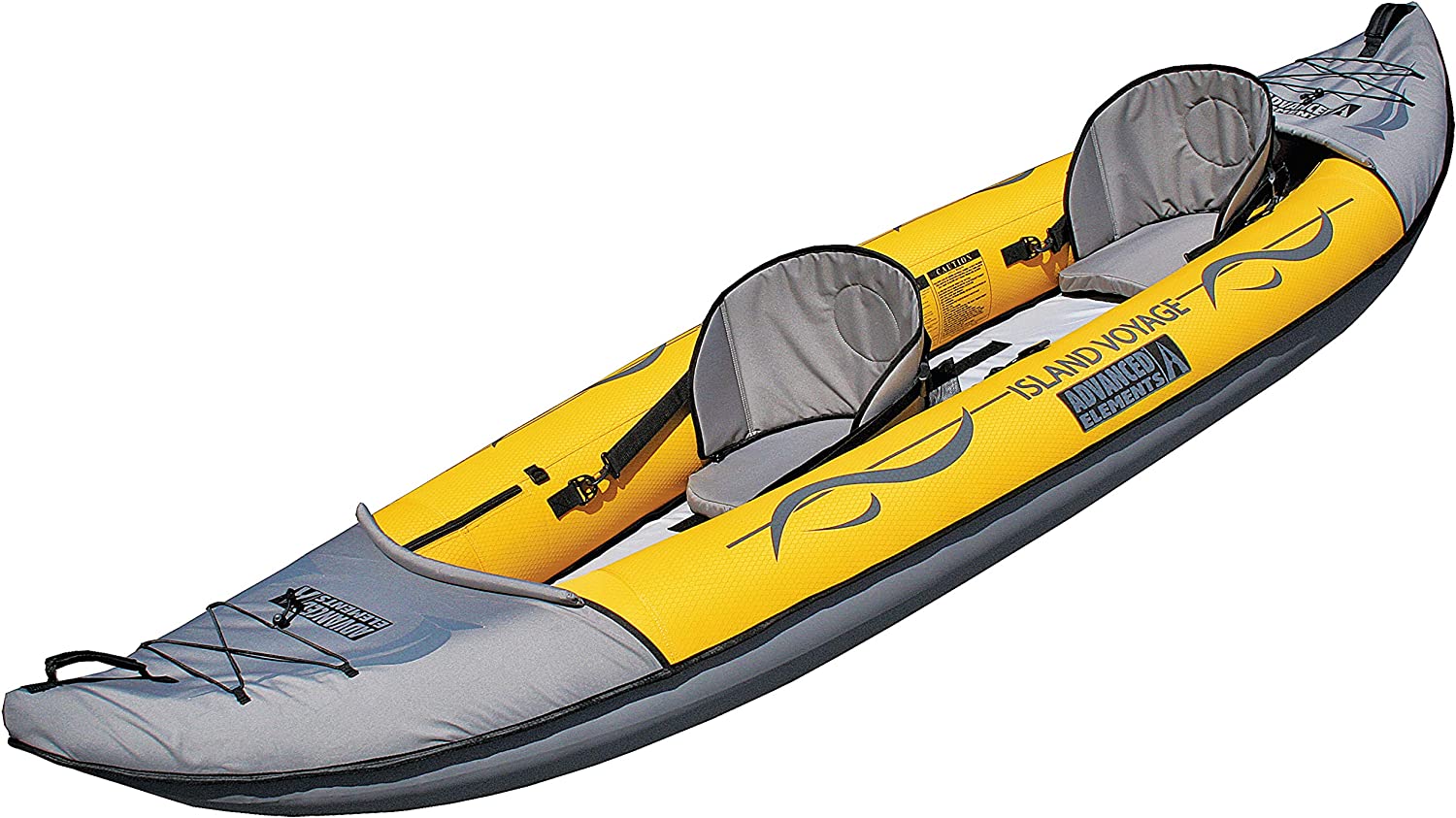 Inflatable kayaks have been improving year after year since they first debuted. Bringing along with them several build and design innovations that give any hard shell kayak a run for its money. The Voyage 2 is just the latest in the line of all-stars sweeping this kayak type.
It comes with a six hundred denier polyester cover. An insanely thick and heavy-duty cover that will not be damaged by whatever you encounter by paddling. Sharp rocks or not, when you've got this kind of build, it all becomes inconsequential.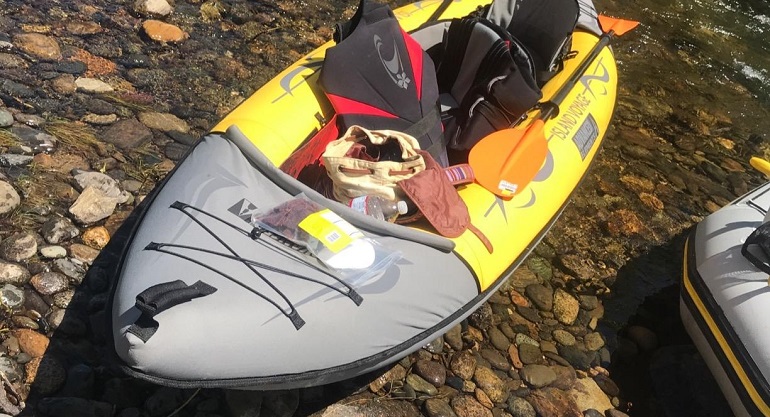 Furthermore, along either side of this kayak are high-volume side tubes. When fully inflated, these side tubes greatly enhance the stability of the kayak. Even in rough waters, such is their size.
Best of all, can you believe that everything I just mentioned doesn't push this kayak's weight further than thirty-one pounds? Now that is some serious engineering excellence. Throw in some high-back support seats, and it can't get better than this.
Features
Weight: Thirty-one pounds
Length: Eleven feet and two inches
Comfort: High-support seating
Build Materials: 600 D polyester cover
Best Feature: Three air chambers
Pros
Has three air chambers that will keep you afloat in the event of a puncture or tear.
Surprisingly low weight despite its durable design and great length.
Comes with high-volume side tubes that further increase the stability of this affordable kayak.
Cons
Not a fast or performance-oriented kayak.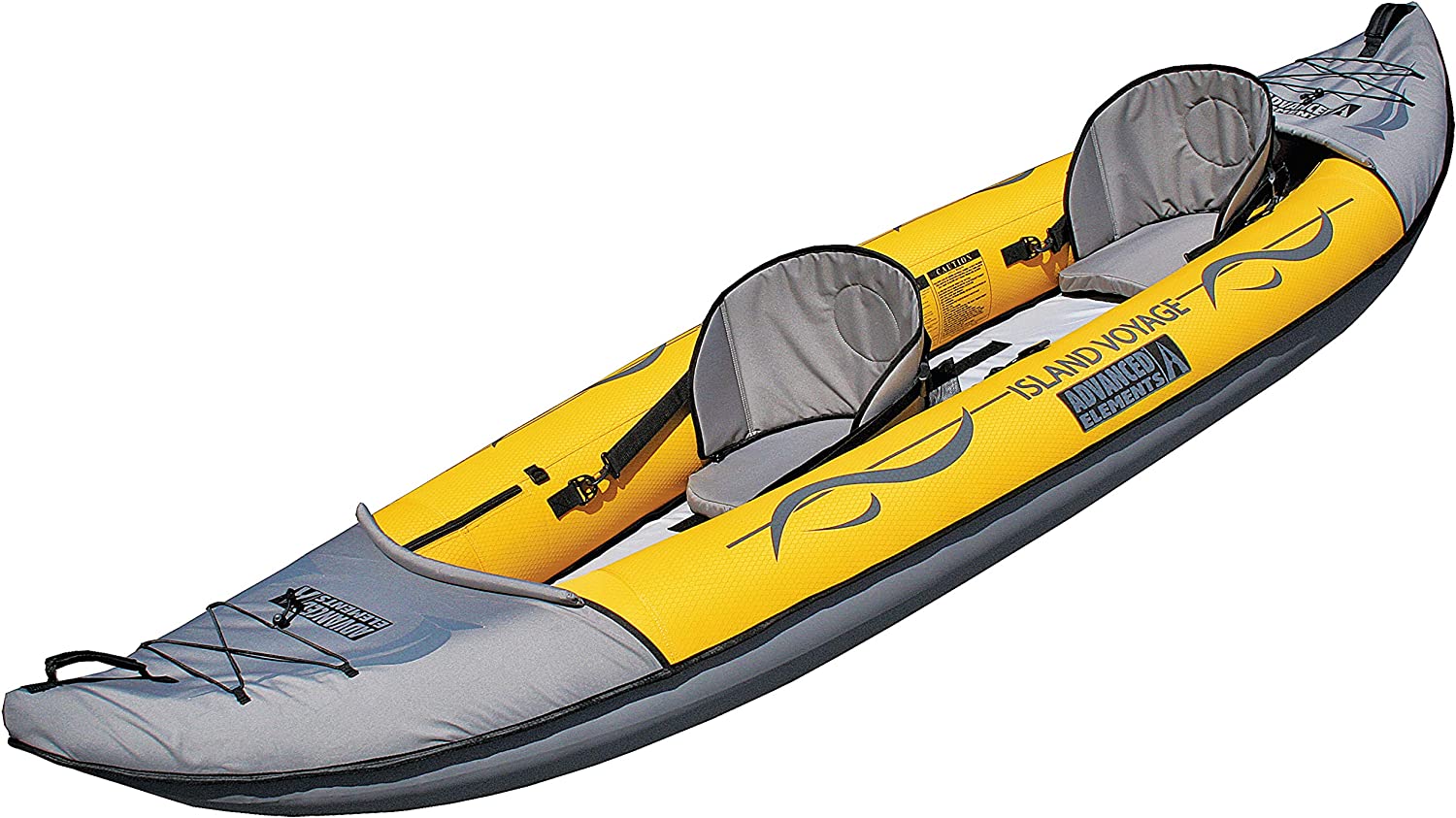 Advanced Elements Island Voyage 2
The price of "Advanced Elements Island Voyage 2" varies, so check the latest price at
A great recreational kayak shouldn't be built for speed. However, it also shouldn't sacrifice all of its mobility for stability. It's a fine balance that has to be acquired. The Perception Tribe has found such a balance.
This kayak comes with several features to help you relax and enjoy the sun. Measuring in at only nine and a half feet long, the Tribe has great maneuverability. Granted, it's not the best on the list but good enough to surprise anyone that didn't expect much from a recreational kayak.
You won't have any trouble lugging this kayak around because it only weighs forty-six pounds. While this may seem like a little, I have to admit that I was caught off guard by it. Most budget kayaks that are nine feet usually weigh a bit less.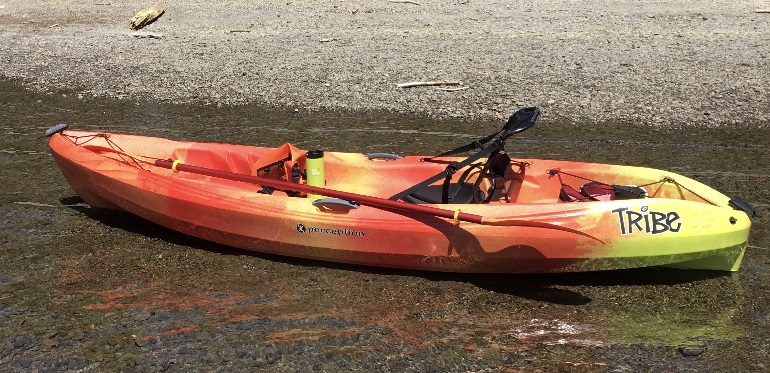 Perhaps this kayak's weight saw a massive spike due to the two storage areas onboard. There is one located in the front and the other at the rear. These tankwell storage compartments offer more than enough space for your most cumbersome gear.
Features
Weight: Forty-six pounds
Length: Nine feet and five inches
Comfort: Framed seat back
Build Materials: Polyethylene
Best Feature: Front and rear storage
Pros
Located at the front and rear of this kayak are tankwell storage compartments.
Has molded knee and thigh areas that provide you with additional comfort.
The adjustable framed seat back also has a padded seat pan.
Cons
A great versatile kayak but does not come with any additional gear.
Perception Tribe 9.5
The price of "Perception Tribe 9.5 " varies, so check the latest price at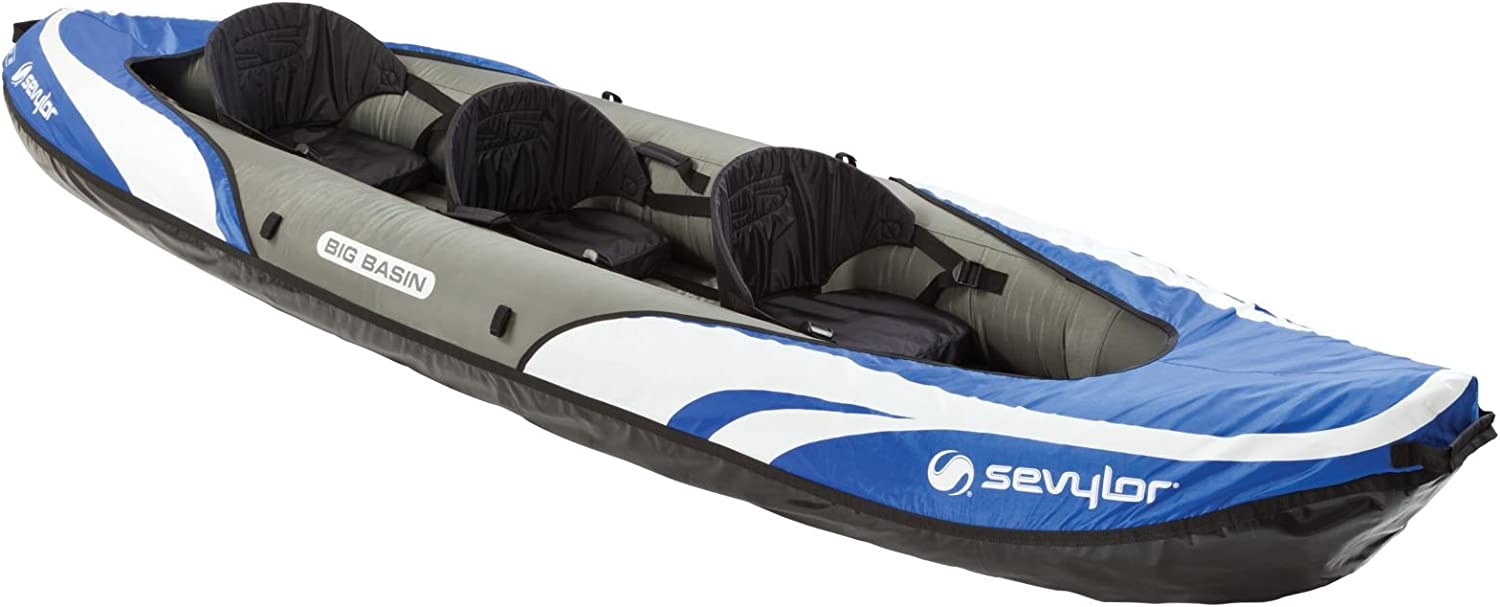 The Big Basin is big. Yeah, it's in the name, and it's true. This inflatable kayak can fit more people on it than even the Ocean Kayak Malibu Two. In truth, it's not a solo or tandem kayak but rather a three-seater.
The Big Basin also has the massive weight capacity needed to handle three fully grown adults and their gear. Something that often annoys me is when a tandem kayak has got the length and space to accommodate several paddlers, but not the weight capacity. It feels like false advertising.
That's not the case here. Furthermore, the three padded seats included are also adjustable. Now every single member of your party can benefit from the comfort provided. The Big Basin also doesn't lack when it comes to durability.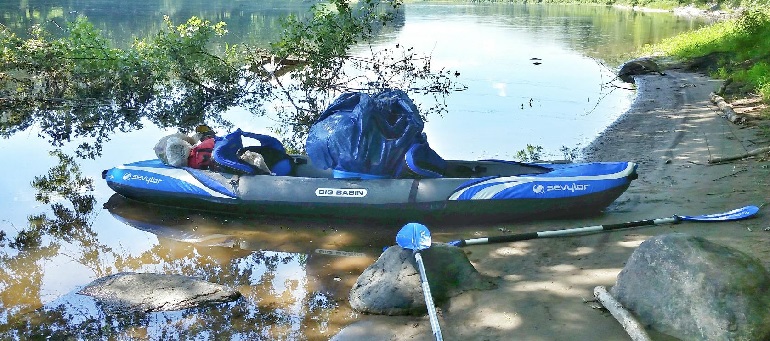 Made from tough PVC that is resistant to weathering, not even the seasons themselves can stop this behemoth. The floor and entire bottom of the kayak are made from tarpaulin. A sturdy material that is puncture-resistant.
This is an especially important feature seeing as most punctures occur in this area.
Features
Weight: Forty-four pounds
Length: Twelve feet and three inches
Comfort: Adjustable padded seat
Build Materials: Polyvinyl chloride
Best Feature: PVC construction
Pros
This kayak's weight capacity is the highest on the list. Capable of handling three paddlers at once.
Comes with pre-installed spray covers that handle any rogue splashes sent your way.
Has a tarpaulin bottom that is highly resistant to punctures of any kind.
Cons
Could have benefited from more storage compartments.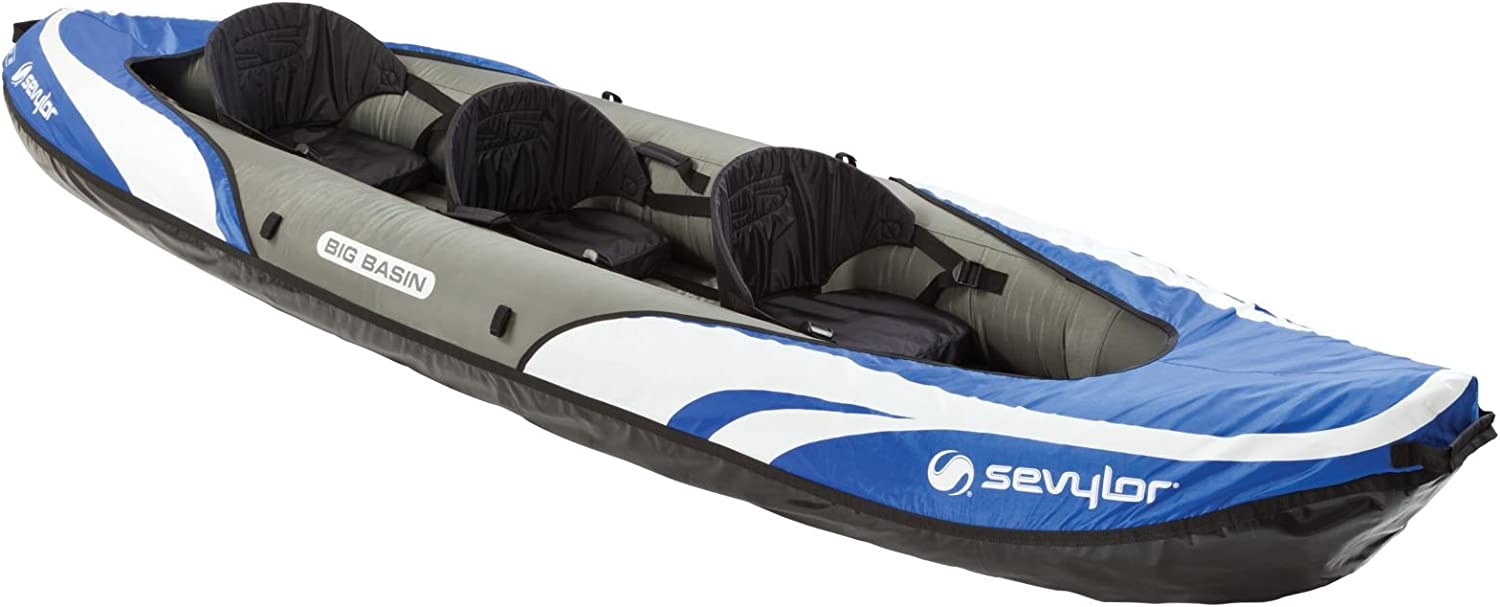 Sevylor Big Basin 3-Person Kayak
The price of "Sevylor Big Basin 3-Person Kayak" varies, so check the latest price at
Choosing The Best Budget Kayak For You
The budget kayaks listed above are inexpensive and efficient. They've got the build to help you perform at your highest level, without slaughtering your bank account. They are merciful lords.
However, not all budget kayaks are alike. They can vary widely in shape, performance, speed, stability, and much more. To find out which cheap kayak is best for you. You've got to consider your needs and then use the information provided below to find the best match.
Certain budget kayaks may have enough space for you and your friends to hitch a ride, but they'll assuredly be as slow as molasses. Weigh the pros and cons, only then can you make the right choice for you.
Inflatable Kayak Build Materials
Purchasing an affordable kayak doesn't mean that you should settle for a subpar kayak. Solo or tandem, a cheap kayak can still have great build quality. But the best way to ensure this is by checking the materials used to make it.
Certain materials, such as polyethylene, are fantastic for keeping the cost of a kayak down but still ensuring its longevity. This is because polyethylene is a material that has high impact resistance. Specially made to tank repeated hits without sustaining any damage to its structure.
Another massive benefit of polyethylene is its corrosion resistance. Corrosion, much like weathering, is a slow and methodical killer. It causes tiny cracks to appear. These tiny cracks get filled with air, and the next thing you know, one impact leads to a complete breakdown.
You'll also most likely come across polyvinyl chloride. This material is another multi-faceted design star. Its main benefit is its resistance to weathering. Weathering occurs over time and naturally. It's inevitable… or is it? PVC is the number one material that is resistant to weathering.
Fishing kayaks like the Perception Joyride 10 and the Perception Rambler have got solid builds that won't break on you or break your wallet.
Affordable Kayak Hull Design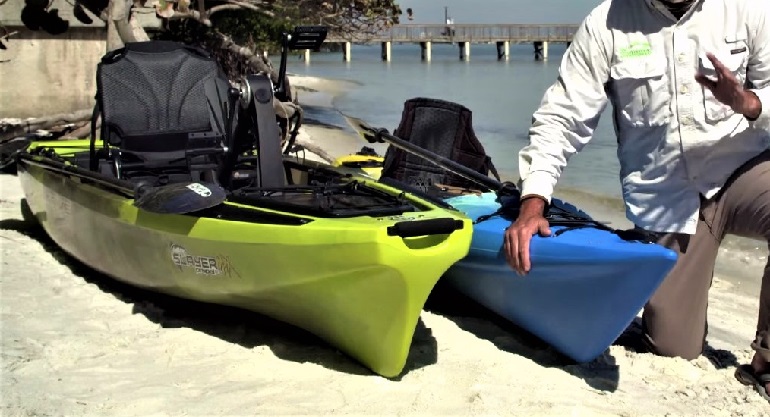 Before I jump into this category, allow me to explain what a hull even is. A kayak hull is the shape of the kayak. Its overall body shape is important for several reasons.
The design of your kayak's hull plays a big part in its stability and overall performance. In fact, the hull of a kayak determines what kind of kayak it is. Recreational kayaks and performance-focused tandem kayaks can have completely different shapes and designs.
There are two types of hulls that an inexpensive kayak can have. Displacement hulls and planing hulls. While more specific and intricate hull designs do exist, they aren't as common as these hull types. Besides, all other hull types are just variants of the two that I've already mentioned.
Planing Hulls
Planing hulls can be easily identified due to their simple design. They are flat from one edge to the other. The reason why they are so flat is to create as large of a footprint in the water as possible. With a higher surface area comes greater stability.
This is because it takes a lot more force to be able to rock the entire foundation. Cheap kayaks with this hull type specialize in stability, not speed.
While inflatable kayaks with a planing hull do accelerate quickly, they can't reach the high speeds of a displacement hull kayak.
Displacement Hulls
As the name would suggest, displacement hulls are all about displacing as much water in front of you as possible. The more water that they can displace, the faster you can go. Why is that?
This is because you come up against far less resistance. The Intex Challenger is faster than the other inflatable kayaks because of its displacement-style shape. A displacement hull is rounded from edge to edge, resembling an arch.
Budget Kayaks and Size
There are good inexpensive kayaks that are also tandem kayaks. Size is a double edge sword when it comes to any kayak, not just cheap sit-on-top kayaks. If your inexpensive kayak is small, then you will have an easy time maneuvering it.
Tight turns and fast angle changes are all within your grasp. Not to mention that the amount of effort required to pull off such maneuvers is significantly lessened. However, you can kiss a large amount of storage space for your fishing gear goodbye.
Especially if you plan on bringing either your pet or a loved one along for the ride. Longer kayaks are a similar story, although in reverse. A tandem kayak will have plenty of space for you to bring a carry bag, fishing rod holders, or whatever else you may desire.
Not to mention that bringing along a companion becomes a lot more feasible. Taller paddlers, of which I am not, will revel in the amount of legroom afforded to them. When it comes to weight capacity, storage space, and length overall, you can't go wrong with the Sevylor Big Basin.
It's a great inflatable tandem kayak that has a far more spacious cockpit than most kayaks, and I'm not just talking about cheap inflatable kayaks.
Skeg and Rudder System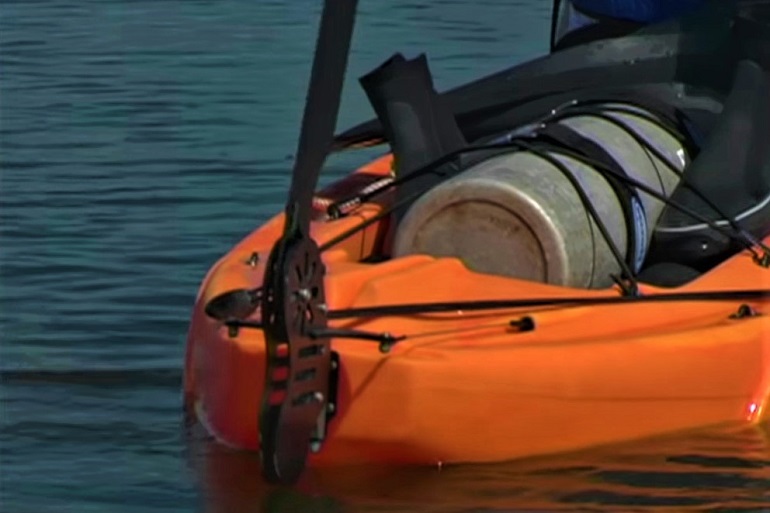 Even the best inexpensive kayak will have to choose between having a skeg or rudder system as its main focus for helping you pilot the vessel. Beginner kayaks tend not to lean into either design. As a result of this, I'll only be telling you what each system is and what they are used for.
It should be noted that both parts are used to help your kayak track straight and turn.
Skeg
A skeg is a retractable blade that you can drop out of a slot. The purpose of the skeg is to help keep the kayak moving straight. It improves your vessel's tracking and comes in handy when paddling through choppy waters.
But that is not all, a skeg is a multi-faceted tool. Not only does a skeg improve your kayak's tracking but it also protects other parts of your kayak. Namely, the rudder and propeller. It is able to accomplish this due to its location.
The skeg is located near the stern but in front of the two aforementioned parts. From this position, it can better swat and push away any debris and obstructions. The way you release and retract it is by using a slider that is located near you in the cockpit.
Rudder
The rudder of a kayak is a blade that can not be retracted, unlike the skeg. This piece is also located on your kayak's stern. However, it is pushed further back than your skeg.
A rudder can pivot, capable of moving from one side to the next. This is something that a skeg can not do. The great thing about a rudder is that it is a completely hands-free tool.
The way you operate it, moving it either left or right, is by using pedals located within the cockpit. Easy and efficient.
Sit-on-top Vs Sit-inside Kayaks
The names pretty much give away what separates these two types of kayaks. The kayaking world is all about specifics. Even something as small and simple as whether you sit on top of a kayak or on its inside will have a lasting effect.
Besides performance and comfort-related matters, which I will get to in a moment, what best separates these two kayak types is a matter of safety. Here's the deal, sit-on-top kayaks are safer in the event of a flip.
That is to say, if your kayak were to flip over, all you need to do is flip it right side up and climb aboard. Accomplishing both tasks is easier than with sit-inside kayaks. This is due to the open cockpit design of sit-on-top kayaks. They don't fill up with water, and you can climb aboard them much easier.
As far as comfort goes, if you want to minimize the amount of water that splashes onto you, then a sit-inside kayak is your best bet. Sit-inside kayaks keep you drier than sit-on-top kayaks. They are also much warmer thanks to the closed cockpit design of their hull.
When it comes to performance, either option will do just fine. This issue is one of safety and comfort more so than performance. A great sit-inside kayak would be the Pelican Maxim. Its sit-on-top kayak equivalent would be the Sea Eagle SE330.
FAQs
Are Cheap Kayaks Any Good?
Absolutely, but you've got to make an informed purchase. If by good you mean an affordable kayak that receives top marks across all categories, then the Perception Joyride 10 and the Sun Dolphin Aruba would be great picks for you.
There are also inflatable kayaks, such as the Sevylor Big Basin, that can handle up to three paddlers at once!
How Do I Find Kayaks on Sale or the Best Deals on Kayaks?
Well, the best way of finding a great cheap kayak is by using the links that we've posted above. Each kayak is certified quality. Made with great materials and with proper construction. Capable of providing you with the speed and stability that any top paddlers need.
However, you could go at it alone. Scanning online store after online store for a cheap kayak. Yeah, that sounds a lot more time-consuming and tedious.
What Is Included in the Price of a Budget Kayak?
Budget kayaks can come with all sorts of extras. The Perception Joyride 10 comes with hatched-lid storage space, a zone deluxe seating system, and even a selfie slot for your phone.
Other touring kayaks usually come with a repair kit, a storage hatch, and even a set of paddles. Adjustable footrests and the like are not unheard of. In short, plenty of kayaks come with additional fishing accessories and comfort features.
What Is the Cheapest Fishing Kayak?
The cheapest fishing kayak would be the Intex Excursion Pro. This kayak comes with two high-quality paddles, a removable skeg, and a durable PVC build. What I loved most about this deal was the manual pump that was also included with the purchase.
Annoyingly enough, even the best affordable kayaks can sometimes come without a pump. Fortunately, the Intex Excursion Pro Kayak is not one of them.
My Final Thoughts
The best affordable kayak for you is the one that fits your specific needs, without costing an arm and a leg. Consider where it is that you will be kayaking. Your skill level and location will play as much of a part in what you need as anything else.
For ample storage space and storage compartments, get the Sevylor Big Basin. For a solid kayak that can do it all and pull its own weight, our number one choice, the Perception Joyride 10 is available for a reasonable price. If you're a large fella, you can also take a look at the best kayak for big guys available on the market.
One last thing to keep in mind is that a kayak's performance is entirely dependent on its hull design.