You really can't go wrong with recreational kayaks. They're cheap, versatile, and tons of fun. Personally, I think versatility is probably their biggest benefit. With a recreational kayak, you're not limited to one particular area – such as a river, lake, or ocean.
Although there are some limitations, a recreational kayak could potentially tackle all of these areas without any issues. This gives you the freedom to paddle pretty much any body of water in your local area.
When choosing the best recreational kayaks, you have tons of options. So many, in fact, that it can feel a little overwhelming.
So how do you know where to find the best recreational kayaks? What specific features do you need?
Don't worry – you're about to find out the answers to all of these questions in our comprehensive guide to buying the best recreational kayaks.
So strap in, relax, and read on!
Best Electronic Upgrades

Wilderness System
MATERIAL:

 

POLYETHYLENE
ITEM WEIGHT: 49 POUNDS
Solid Budget Option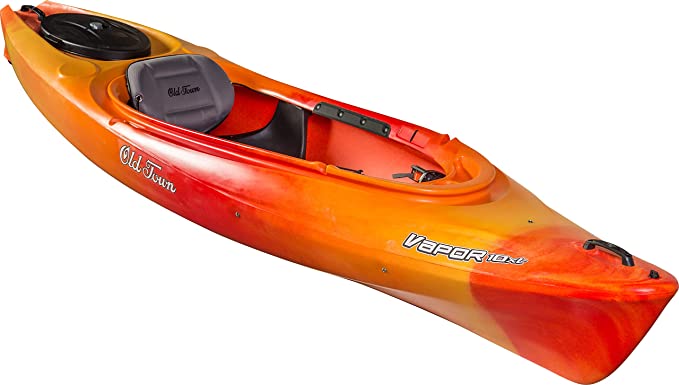 Old Town Vapor 10
MATERIAL:
POLYETHYLENE
ITEM WEIGHT: 4

8.26

 POUNDS
Best inflatable option

Chelan 120
MATERIAL: Duratex
ITEM WEIGHT: 28 POUNDS
Best Kayak for Fishing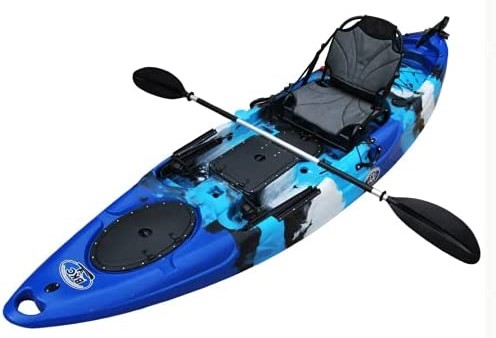 BKC RA220
MATERIAL:

 

POLYETHYLENE
ITEM WEIGHT: 68 POUNDS
Great for Heavier Kayakers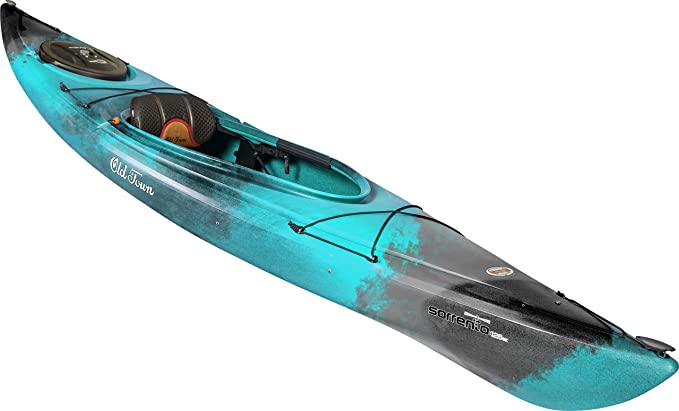 Old Town Sorrento
MATERIAL:

 

POLYETHYLENE
ITEM WEIGHT: 36 POUNDS
Best Sit-On-Top Kayak

Aruba 12 ss
MATERIAL: plastic
ITEM WEIGHT: 47 POUNDS
Most Versatile

Sound 10.5
MATERIAL:

 

POLYETHYLENE
ITEM WEIGHT: 46 POUNDS
Best Hands-Free Fishing

Outlaw 11.5
MATERIAL:

 

POLYETHYLENE
ITEM WEIGHT:

 

77 POUNDS
Great Value

Sevylor Coleman Colorado™
MATERIAL:

 

POLYVINYL CHLORIDE
ITEM WEIGHT:

 

37 POUNDS
Best Recreational Kayak
Before we get into specific recommendations for the best recreational kayaks, let's take a second to remind ourselves why these types of kayaks are so attractive.
In case you're not aware, recreational kayaks are the cheapest variants on the market. These versatile boats give you the opportunity to try everything. But there's one more thing you should know about recreational kayaks:
They're tons of fun!
Now that you know why recreational kayaks are so attractive, it's time to go over our specific recommendations for your next purchase.
Here are nine of the best recreational kayaks on the market today:

The Pungo from Wilderness Systems is one of the best recreational kayaks you'll find on the market today.
Right off the bat, one of the things I really like about this boat is the fact that it was built in Greenville, South Carolina.
There's just something reliable about a kayak that was made in the USA, and I like supporting ethical, local brands like Wilderness Systems.
But what about the kayak itself?
As I expected from a recreational kayak, this bad boy is made from polyethylene. Nothing fancy, but it gets the job done.
Make no mistake:
You can get up to some impressive speeds with the Wilderness Systems Pungo 120. The hull is super lightweight and agile, but on the other hand, I never felt unstable.
If you're like me and you're dealing with back issues, you'll appreciate the ergonomic seat. I personally loved the fully adjustable nature of the seat and its ultra-comfortable vents.
Even better, you can modify your adjustable foot braces for a completely personalized paddling experience.
One of Pungo's most interesting features is its dashboard, which lets you upgrade your kayak with all kinds of gadgets. Add a lithium battery, and you can paddle with a built-in GPS device, electronic kayak fishing tools, or just charge your phone on the go.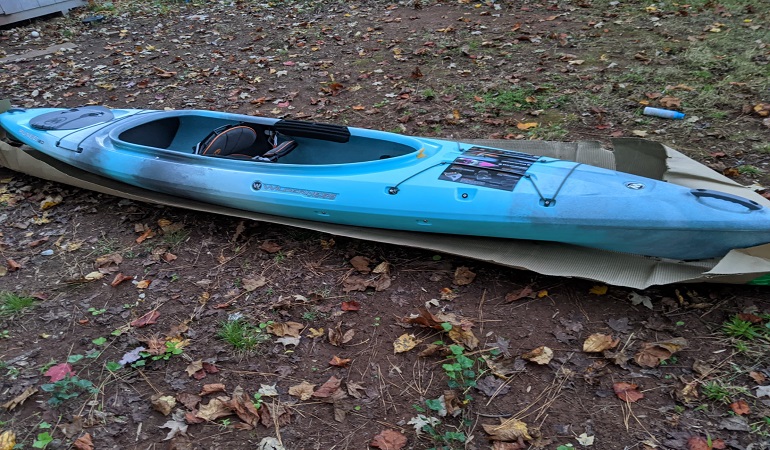 The dashboard features a dry box, giving you the confidence to bring your electronics without worrying about getting them wet.
Overall, I think the Pungo is a solid option with plenty of customization options and a slick performance on the water.
Best Features
Performance hull for high speeds
Dashboard lets you upgrade your kayak with electronics
Adjustable seat for excellent comfort
Pros
Bring your GPS device, iPad, or phone while paddling
Don't let back issues stop you from kayaking
Impressive speeds make for a thrilling ride
Cons
You sit quite low in the water, so you might get wet in rough water

Wilderness Systems Pungo
The Price of "Wilderness Systems Pungo" varies, so check the latest price at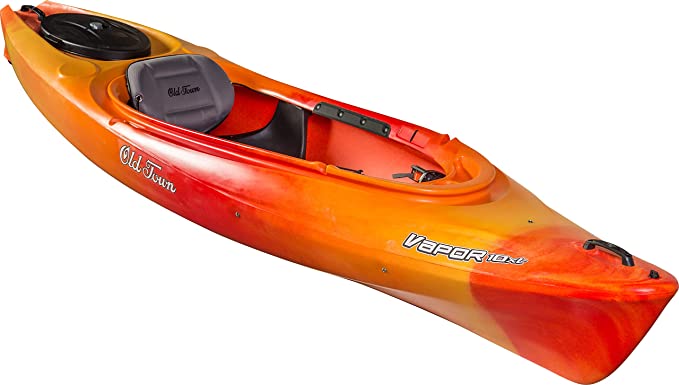 The Old Town Vapor 10 is one of the most popular recreational kayaks out there.
Everyone who has tried one of these babies seems to love it, and it's not hard to figure out why when you take a closer look at the features on offer.
One thing you'll notice right away is that the kayak is super roomy. Even if you're on the larger side, you probably won't feel too cramped when you sit inside.
This is important for a recreational kayak, as you want to make sure your time on the water is as relaxing and fun as possible.
Again, the polyethylene material is exactly what I expected, and it helps bring the price down to affordable levels.
While color isn't the most important thing when shopping for the best recreational kayaks, Old Town gives you two attractive options: A bright orange colorway and a cooler turquoise option.
To make that roomy cockpit even more comfortable, Old Town adds an adjustable Comfort Flex seat.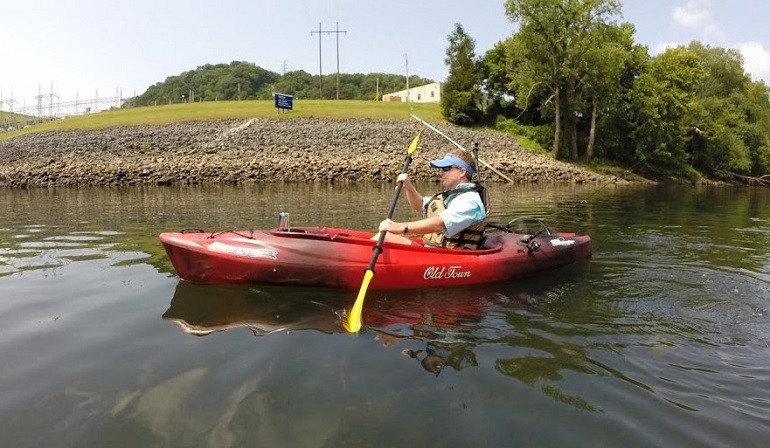 And with thigh pads and built-in carry hands, the Vapor 10 makes kayaking as easy as possible – especially for newcomers to the sport.
It's those little, thoughtful features that really set this kayak apart – like the cup holder that lets you sip your morning coffee while watching the sunrise on the water.
Best Features
Roomy cockpit
Comfortable seat
Built-in carry handles
Pros
Great option for kayakers of all shapes and sizes
Excellent comfort with Comfort Seat and thigh pads
Easy transport
Cons
Drain plug is situated in a strange location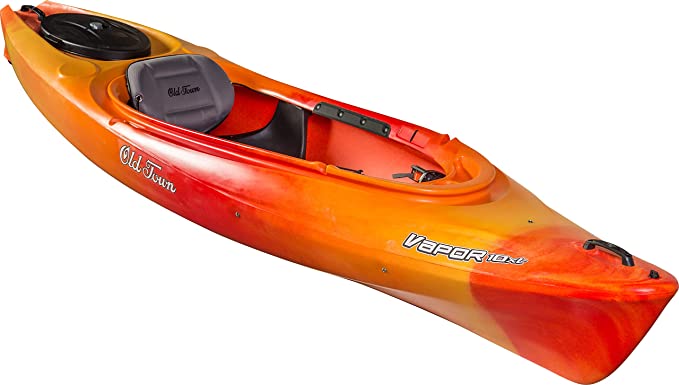 Old Town Vapor 10
The Price of "Old Town Vapor 10" varies, so check the latest price at

If you're searching for an inflatable kayak that you can easily stow away in the back of your car, look no further than the Chelan 120.
With Duratex tube construction and a hard-bottom floor, this bad boy can stand up to years of punishment without any issues. It might not be as durable as a normal recreational kayak, but it won't let casual paddlers down.
One thing that really caught my eye was just how different this kayak looks compared to other blow up kayaks.
While others are often bulky and awkward, the Chelan 120 is streamlined and attractive. In fact, onlookers might mistake this for a normal kayak from a distance – I know I did!
A 2-year limited warranty gives you even more protection, and drop-stitching near the bottom adds additional durability.
You even get a repair kit, which allows you to easily fix minor issues along the way.
Other than the fact that this kayak is inflatable, you can expect many of the same features from the other options on this list.
Carry handles, adjustable seats… you name it. If a normal kayak has it, the Chelan has it too.
I was especially drawn to its system of MOLLE plates, which allows you to upgrade your kayak with cup holders, pockets, and much more.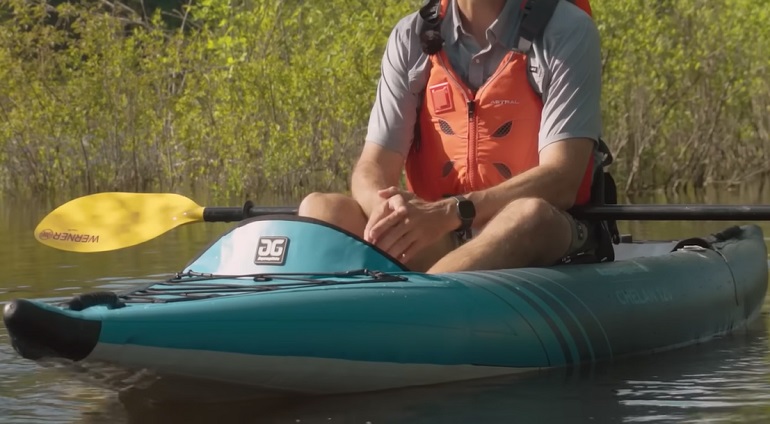 If that wasn't enough, the Chelan 120 also has a universal accessory mount that lets you set up your camera, rod, or anything else you want to bring along on your aquatic adventure.
But here's the most impressive thing of all:
When fully deflated, the Chelan 120 weighs only 28 pounds. It's so light that you can hike for hours to a pristine, isolated lake and enjoy the water.
Best features
Inflatable
Durable
Customizable
Pros
Only 28 pounds when fully deflated – take it anywhere!
2-year warranty for added purchasing confidence
MOLLE plates and universal accessory mount for lots of possibilities
Cons
A little on the expensive side

Chelan 120
The Price of "Chelan 120" varies, so check the latest price at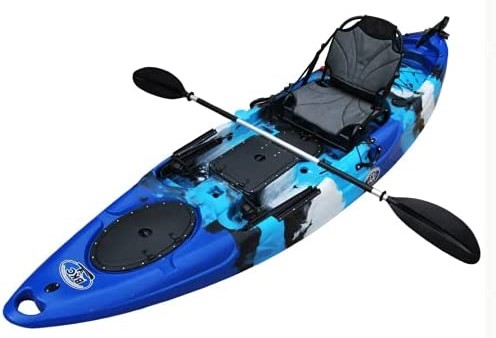 All recreational kayaks are built for casual paddling… But this kayak goes one step further with its super laid back, sit-on-top design.
Ideal for fishing, the BKC has a waterproof storage compartment to stow your catches.
Foot rudder control makes this kayak even more maneuverable. One thing you'll notice right off the bat is that this kayak is pretty wide and flat, giving you enough stability to stand up with your fishing rod if you want.
It can also support up to 550 pounds, which is great if you're bringing back a seriously giant fish!
One thing I really appreciate is the aluminum frame seat. It's just a little extra touch of quality that helps set this kayak apart.
Serious fishing fanatics take note:
The dual flush-mount rod holsters let you run multiple lines simultaneously. The best part? You can easily keep your lines away from your paddles to prevent tangled messes.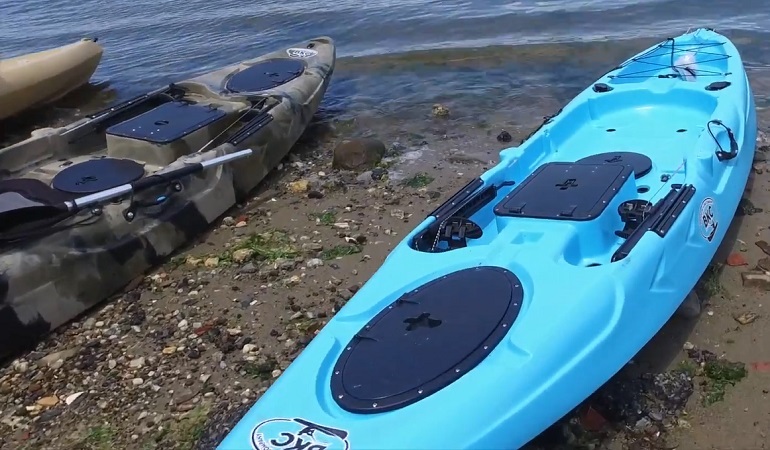 Even though this doesn't provide as much stowage as touring kayaks, it provides enough storage for multi-day trips if you're feeling brave.
All in all, the BKC is a solid choice for fishers or anyone else who appreciates a sit-on-top design.
Best Features
550 lbs weight capacity
Dry storage compartment
Dual fish mount holders
Pros
Enough space for standing up while fishing
Provides great maneuverability
Cons
Unlike other touring kayaks, not enough stowage is available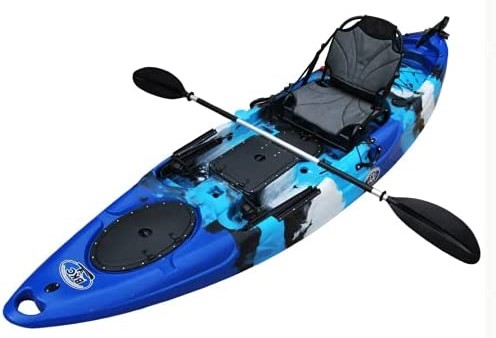 BKC RA220 Sit On Top Angler Kayak
The Price of "BKC RA220 Sit On Top Angler Kayak" varies, so check the latest price at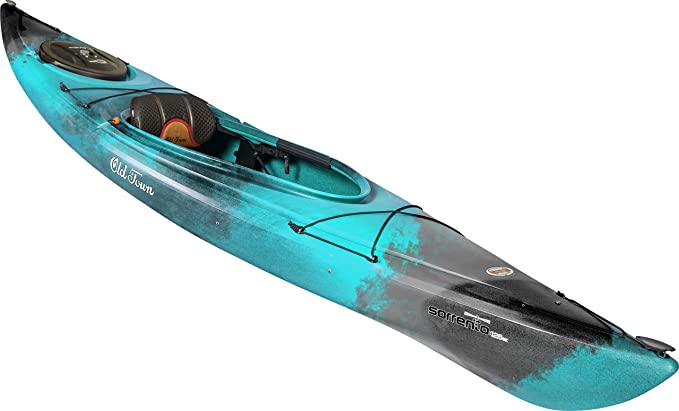 The Sorrento is our second Old Town kayak, and it's a little longer and thinner compared to the Vapor 10.
For this reason, I feel like the Sorrento is better suited to oceans and coastlines compared to the Vapor 10.
That being said, it's still a recreational kayak and not an ocean kayak – which means you're sacrificing true ocean performance for a cheaper price and greater versatility.
Just like the Vapor 10, you can expect a very roomy and comfortable cockpit.
The one thing that really caught my eye was the rear storage compartment. While it might not provide as much as touring kayaks, this compartment definitely gives you the freedom for an all-day adventure with food supplies, and anything else you want to bring along.
This is also a solid choice if you're a little on the heavier side, as its maximum capacity is an impressive 350 pounds.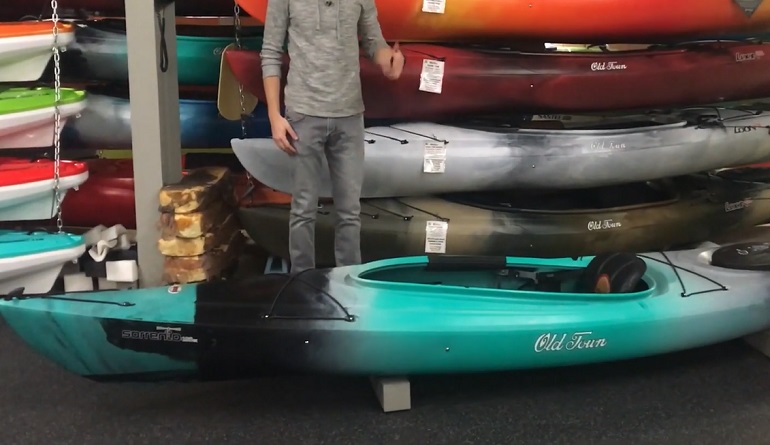 A drop-down skeg really helps with maneuverability, and the Active Comfort System 2.0 seat makes for a truly comfortable ride.
Overall, this is a decent choice if you're planning on taking long day trips and you need a little extra storage.
Best Features
Ample storage
350-pound weight capacity
Drop-down skeg
Pros
Storage compartments and bungee cords let you pack enough for long trips
Comfortable seat for relaxing paddling
Drop-down skeg gives you serious maneuverability
Cons
More geared toward oceans than rivers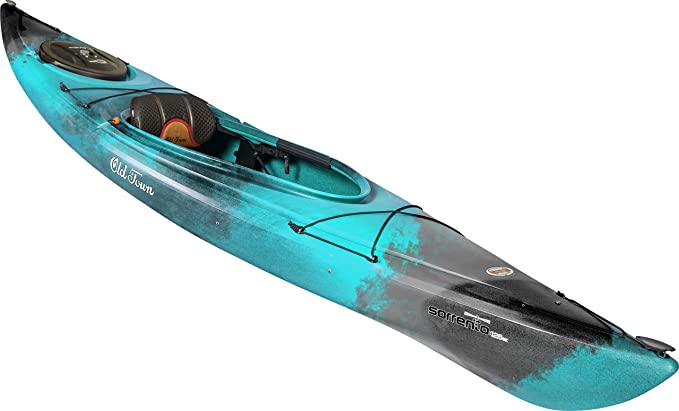 Old Town Sorrento
The Price of "Old Town Sorrento" varies, so check the latest price at

The Sun Dolphin Aruba has a 12-foot design that gives you solid stability. A sit-on-top design makes for very casual and fun paddling, whether you're out for an hour or for the whole day.
High-density polyethylene boosts durability, while retractable, built-in carry handles make transport a breeze.
Its 12-foot design means that you're going to need a pick-up truck & roof rack to get this bad boy to the water. Of course, it would also work just fine if you have an oceanfront property.
The best feature in my opinion is the covered console that fits most phones. This lets you bring your device along for the ride without worrying about losing it or getting it wet. Your iPhone can be a solid GPS tool on the water, so this is definitely a feature worth considering.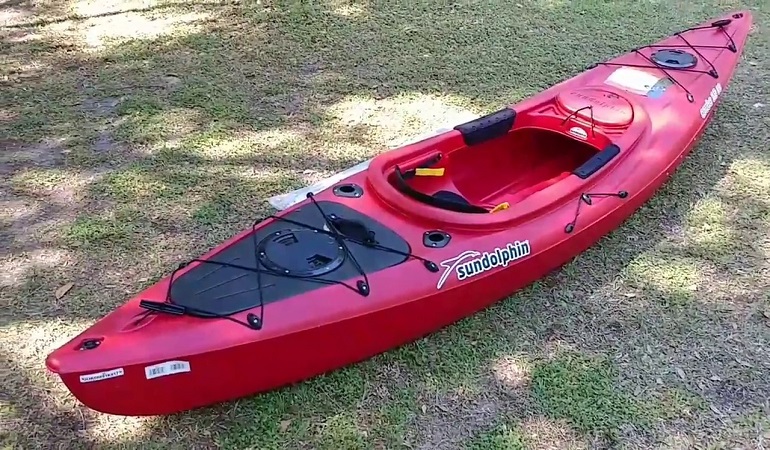 Overall, you're looking at a solid, affordable kayak that is surprisingly lightweight when you take its length into consideration.
Best Features
Lightweight, 12-foot design
Covered console for your devices
Affordable
Pros
Bring your phone along for the ride without worrying
Built-in carry handles make transport easy
Tracks well even with no skag
Cons

Aruba 12 ss
The Price of "Aruba 12 ss" varies, so check the latest price at

Right away, the Sound 10.5 caught my eye because it's made in the USA. This is basically a sit-in kayak for fishing with plenty of additional features.
That said, it can easily be used as a recreational kayak even if you have no plans to go fishing.
Surprisingly comfortable additions include an ergonomic seat, an adjustable backrest, and quick-adjust footrests.
But the star of the show here is the molded-in fishing rod holders, which make fishing and paddling a total breeze.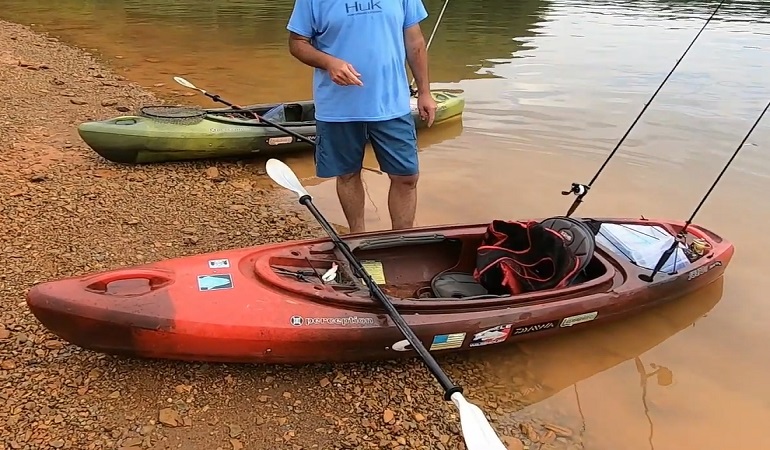 Exceptional value makes this a serious contender if you're looking for recreational kayaks. Clever storage compartments also make the Sound 10.5 a solid choice for long day trips.
Whether you're having fun with the family or you're fishing alone, you should definitely consider this recreational kayak.
Best Features
Rod holsters
Ergonomic seat
Great value
Pros
Geared towards fishing but versatile enough for any adventure
Plenty of features designed for comfort
Affordable enough for most budget-conscious buyers
Cons
Probably only good for calm waters

Sound 10.5
The Price of "Sound 10.5" varies, so check the latest price at

We know:
There are plenty of fishing recreational kayaks on this list already.
But there's one more to consider:
The Outlaw 11.5.
This is probably the best hands-free recreational kayak I've ever seen.
Honestly, you could set up your kayak, paddle out into a river, and catch plenty of fish without really doing anything.
This is thanks to its two double-barrel rod holders and clever storage options.
Additional features include gear storage trays that hold all of your fishing gear reliably.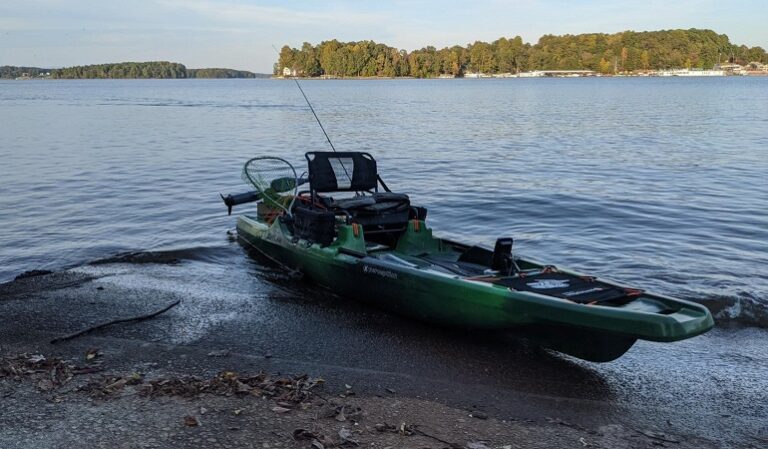 The best part is that the Outlaw keeps you comfortable throughout your fishing trip. Self-draining scupper holes ensure that water never builds up around your feet, and the chair gives you plenty of customization options.
Best Features
Great Storage options
Double-barrel rod holders
425 lbs weight capacity
Pros
Super comfy for casual fishing
Kayak seat is adjustable
Cons
It might be hard to paddle for some riders

Outlaw 11.5
The Price of "Outlaw 11.5" varies, so check the latest price at

The Sevylor Coleman Colorado is unique in many different ways.
First of all, it's an 2-person inflatable kayak – giving you the ability to fish at your favorite hole without lugging a giant plastic recreational kayak around.
Secondly, it's really more of a canoe than a kayak when you consider its shape – and the fact that it can carry two people.
But above all else, I need to stress that this is an extremely affordable kayak.
With a price of just under $400, you're looking at an amazingly accessible investment.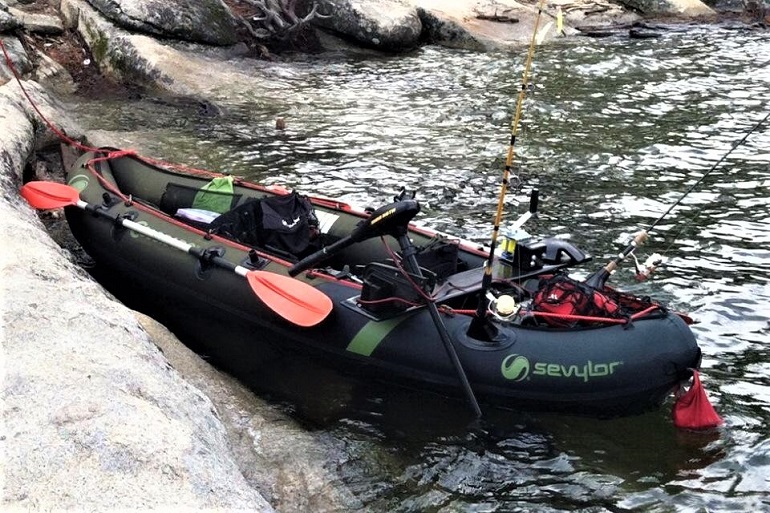 Even though it's inflatable, the Coleman tandem kayak boasts enough durability to shrug off small punctures and last for several years.
Best Features
Affordable
Inflatable
Durable
Pros
Insanely good value makes this a must-have for budget-conscious individuals
Two-person design lets you bring along a friend
Durable enough to stay inflated even when punctured slightly
Cons
Not exactly built for performance

Sevylor Coleman Colorado™
The Price of "Sevylor Coleman Colorado™" varies, so check the latest price at
What to Look for in the Best Recreational Kayak
Now that you've seen our list of recreational kayaks, it's time to consider what you should be looking for:
Type For the most part, recreational kayaks are all the same type: They lack spray skirts, they're made from cheaper materials, and they're very versatile. That said, there are a few subcategories to consider: Inflatable kayaks and sit-on-top kayaks. Inflatable recreational kayaks are great if you don't have a roof rack or you're not sure how you're going to get your kayak to the water.
Capacity Always consider capacity when choosing recreational kayaks. Many of you are probably considering kayaking to lose weight – and that's great. But choosing a recreational kayak that will support your weight is critical. Fortunately, all companies let you know the weight capacity of each product.
Material Recreational kayaks are cheaper than other variants, and that means one thing: You're almost certainly going to get a polyethylene material when you choose your recreational kayak. The only real exception is an inflatable recreational kayak, which can be made from a variety of materials.
When to Get a Fishing Kayak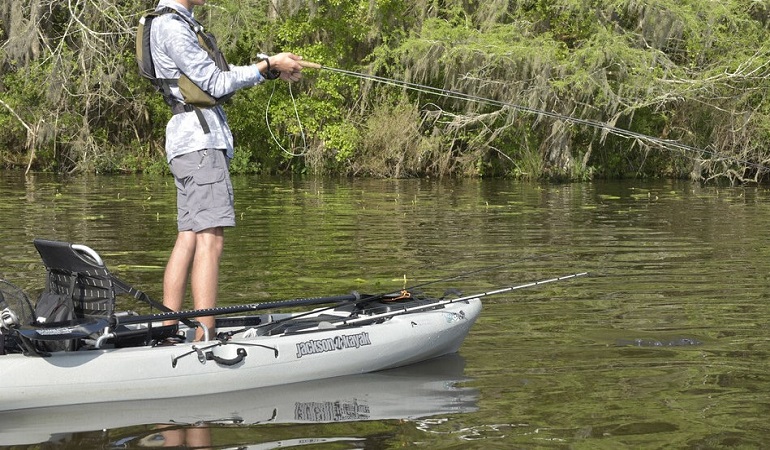 If you're going to use your recreational kayak solely for fishing, definitely consider a fishing recreational kayak. If you're a beginner, you can also look at fishing kayaks under 500 until you feel ready to invest in the sport. There are also pedal-drive fishing kayaks available to make your journey even easier.
You can still fish off the side of a normal recreational kayak without any issues. Moreover, you can enhance your water adventures with twice the thrill and excitement by investing in the best-motorized kayaks available.
Should You Consider an Inflatable Kayak?
If you're not quite sure how you're going to get your recreational kayak to the water, consider an inflatable option. These are becoming really popular, and many of my friends have purchased them recently.
The benefit is simple: You can pack your kayak away in the trunk of your car – even if you're working with a very small sedan or hatchback.
FAQs
What Kayak Is Best for Recreational Use?
Casual paddlers should grab a recreational kayak. If you really want to keep things laid back, choose sit-on-top kayaks.
What Is the Difference Between a Recreational Kayak and a Sea Kayak?
Sea kayaks are built from more expensive materials, such as fiberglass. They're also narrower and often longer.
Sea kayaks provide better protection against the waves with spray skirt functionality.
Finally, sea kayaks give you tons of storage, allowing you to paddle for days – camping out on islands without returning home.
What Is the Difference Between Structures of Fishing Kayaks and Recreational Kayaks?
Fishing kayaks are often wider and more stable, allowing you to stand up with your rod. Recreational kayaks also lack many fishing-specific features like rod holders.
But at the end of the day, there's really not a huge difference.
Final Thoughts
Unlike sea kayaks and whitewater kayaks, they're not designed for one specific function. Instead, they're designed to be versatile enough to handle pretty much anything you can throw at them. That said, recreational kayaks are probably best suited for calm lakes.
Stay prepared on the water with kayak bilge pumps—essential for removing standing water, ensuring a smooth paddle, and handling emergencies effectively.
If you're planning on kayaking oceans exclusively, you might want to choose an ocean kayak instead. The same logic applies to river kayaks.
But if you're not quite sure what you want to do with your kayak, you should definitely consider recreational kayaks.
Honestly, I think the best recreational kayaks are tailor-made for people who don't take life too seriously – the people who just want to get out on the water and have an enjoyable, relaxing day – perhaps with family or friends.
So there you have it:
Nine incredible kayaks to choose from. Grab one of these recreational kayaks, and you really can't go wrong.
Although buying recreational kayaks can feel like a major investment, it really pays off in the long run. You'll find yourself paddling day after day, and remember:
Recreational kayaks are much cheaper than other options.
So what are you waiting for?
Choose one of these recreational kayaks today and start your paddling adventure!