When I kayak alone, I want the best of both worlds. I want something nimble and quick but with the stability and storage space to bring a bit of extra cargo along with me.
This causes a problem because the shorter and slimmer a kayak, the more mobility it has, but this is at the cost of its storage space and stability. Is it too much to be able to tackle surf AND go camping? It might be, but there are a few great ten-foot kayaks out there that can do both.
Of course, even the best 10-foot kayaks aren't ever going to have the ample storage space of a touring kayak or other longer kayaks, but you can still get quite a bit stashed away in the better ones.
Where I think the shorter 10-foot kayak really excels is as a maneuverable kayak. They are stable, easy to paddle, and perfect as a one-person kayak.
If you're looking for a recreational kayak that can be used for kayak fishing, some casual paddling on your local lake, or even a little whitewater, then I recommend 10-foot kayaks as a place to start.
Top Pick

Wilderness System
Material: Polyethylene
Item Weight: 47 Pounds
For Solo Anglers

Lifetime Tamarack
Material: plastic
Item Weight: 57.5 Pounds
Great Tandem Option

Sevylor Coleman
Material: Polyvinyl Chloride
Item Weight: 37 Pounds
Affordable Pick

Perception Sound 10.5
Material: Polyethylene
Item Weight: 46 Pounds
Premium Choice

Eddyline Sky 10
Material: Carbonlite composite
Item Weight: 32 Pounds
For Casual Paddlers

Perception Joyride 10.0
Material: Polyethylene
Item Weight: 41 Pounds
Eye-Catching Design

Pelican Maxim 100X
Material: plastic
Item Weight: 36 Pounds
For Calm Waters

Perception Pescador Pro 10
Material: Polyethylene
Item Weight: 57 Pounds
Best of the Rest

Emotion Kayaks Guster
Material: Polyethylene
Item Weight: 48 Pounds
Cruising Through 9 of The Best 10-Foot Kayaks
The lighter kayak is versatile and makes transportation a breeze. Beginners and experienced kayakers alike can find a 10-foot kayak for them.
Whether you're looking for a fishing kayak or just the best recreational kayak for slow-moving rivers, I have included something in this list for everyone. I have chosen a selection of both sit-on-top kayaks and sit-inside kayaks.
I know that opinion is split between sit-in vs. sit-on kayaks, but have a read, and you may be convinced either way. Whatever your budget and need, I have something in this buying guide for you.

For me, this is the Swiss army knife of solo 10-foot kayaks. It is the kind of design that can do it all. The kayak's hull can withstand bumps and scrapes, has all the features you'll need to comfortably take it wherever you like, and has enough storage space to journey out on multi-day excursions.
Wilderness Systems have made a sit-inside kayak for the intermediate and up paddler, although a beginner wouldn't have too much of a hard time getting to grips. This 10-foot has a slim hull and remarkably low weight for a hard shell.
The lack of extra width will make it a little less stable on the water, but nothing too tricky for anyone with a bit of experience. The pointed bow and stern will greatly improve the kayak tracking ability and cut through the surf and chop with ease.
The cockpit is spacious and has everything you need right by your seated position. Wilderness Systems have provided a comfortable Phase 3 Air Flow seat that offers excellent lower back support, the padded seat is also fully adjustable.
This pairs with adjustable foot braces and thigh and knee padding to ensure a super comfortable ride for all heights.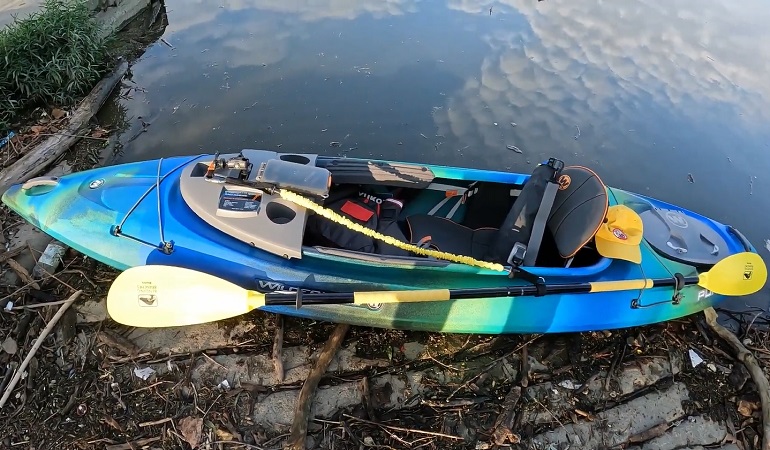 The hull design is everything in a 10-foot kayak, and the Wilderness Systems Pungo nails it. An upgraded dashboard has space and clips for all the accessory mounting you may want. Under the cockpit are dry gear storage and a space for a lithium battery.
Behind the seat sits another storage hatch and bungee rigging. This makes the Wilderness Systems recreational kayak perfect for kayak fishing, or you can slap on a skirt and race through rivers with the other best whitewater kayaks.
Stats
Length – 10′ 6″
Width – 30″
Weight – 47 lbs
Capacity – 300 lbs
Construction – Polyethylene

Wilderness Systems Pungo 105
The Price of "Wilderness Systems Pungo 105" varies, so check the latest price at

If you're in the market for a 10-foot kayak with some fishing-specific features, this one-person kayak might be the one for you. The flat hull design leaves a lot of space to move around, and the heavy construction provides a lot of stability throughout.
When I go kayak fishing, I want some serious stability throughout the hull. The kayak's ability to support me in the water when I'm landing a monster is imperative.
The flat hull design on the Tamarack Pro delivers excellent stability across the solo kayak. The deep hull channels will improve your tracking ability whilst paddling.
The 10-foot kayak comes with some fantastic fishing features that I really love. The hull has two flush fishing rod holders, one adjustable rod holder, a paddle holder when you need to have your hands free, and, my favorite, a fish ruler down the side of the fishing kayak's hull.
Two accessory mounts also run by the seat for things like a fish finder or mug clip. All the accessories you could want!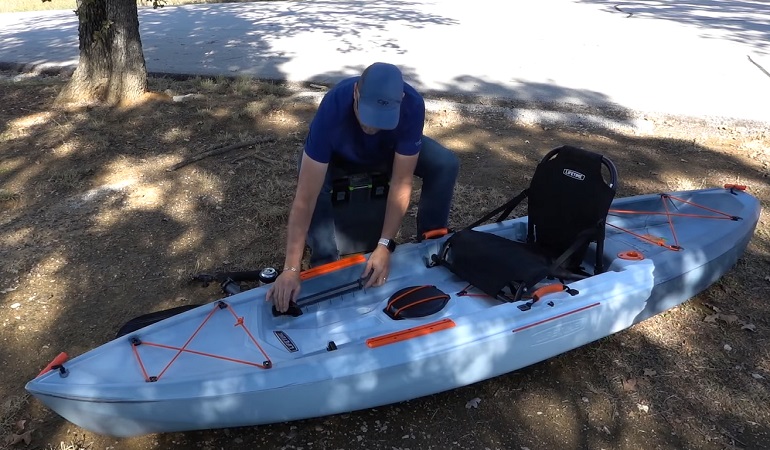 There is plenty of space to keep your fishing tackle under your seat, and for everything else, there is a dry storage space in the center of the hull. Rear and forward bungee rigging are also available for cooler boxes or other equipment.
Stats
Length – 10′ 2″
Width – 31″
Weight – 57 lbs
Capacity – 300 lbs
Construction – UV-Protected High-Density Polyethylene

Lifetime Tamarack Pro 103
The Price of "Lifetime Tamarack Pro 103" varies, so check the latest price at

I haven't come across many 10-foot tandems, they are usually a much longer kayak. The kayak's weight capacity is affected by the kayak length and width, so anything as small as a 10-foot may struggle to hold two passengers.
Due to the inflatable nature of the Sevylor Coleman Colorado, it is able to comfortably support a higher weight capacity.
This is primarily a blow-up fishing kayak, it has integrated fishing rod holders, paddle clips, and mesh tackle and lure pockets by the seats. It doesn't have space for much else, especially with two paddlers tucking into the sit-inside kayak, but for short days out without a lot of cargo, I think you will find it more than capable.
Size is an issue with this tandem kayak. There are a lot longer fishing kayaks out there that come with the interior length to fit two paddlers. You will notice how much less storage space this has in comparison to a longer tandem vessel.
This small size has its benefits. It is exceptionally light for a tandem kayak and packs down to a remarkable 2'x3′ size. You won't have any issue getting this to hard-to-reach spots.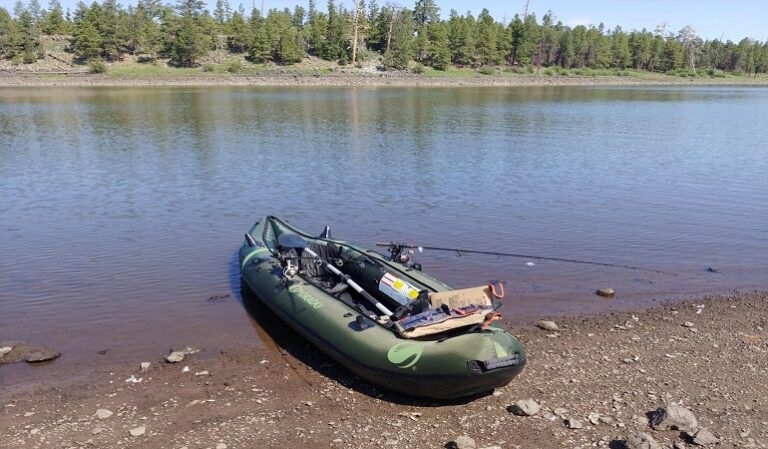 Tandem kayaks, when they're only 10-foot, need to be inflatable kayaks, it's the only way they will have the weight capacity. You can ride this solo also and enjoy the extra space and ability to take a lot of cargo. I think it has some nice fishing accessories and will be great for short trips.
Stats
Length – 10′ 2″
Width – 31″
Weight – 57 lbs
Capacity – 300 lbs
Construction – UV-Protected High-Density Polyethylene

Sevylor Coleman Colorado
The Price of "Sevylor Coleman Colorado" varies, so check the latest price at

I have reviewed this recreational sit-inside kayak previously in my best sit-in buying guide. I am returning to it for good reason. You could do a lot worse than choosing Perception 10-foot kayaks.
They are an affordable kayak that is perfect for newbies and advanced paddlers alike, offering excellent stability and a hull design that will keep you in a straight line.
For me, price is an important consideration when buying my next recreational kayak. I don't want to overspend when I can get a great kayak for less. The Sound is ideal for the part-time user that just wants to get out here and there throughout the year. It won't break the bank but will still provide a reliable and comfortable day out.
Money is saved by cutting back on small features such as the addition of storage hatches and a passenger-side dashboard. There is an open well behind the padded seat, which is equipped with bungee straps and a mounting system in front for an optional dash.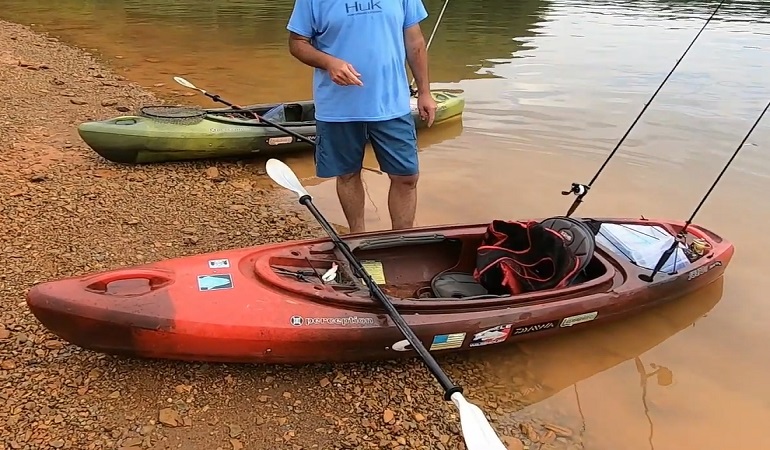 There are inbuilt rod holders for the avid anglers out there. The lack of sealed storage isn't a problem if you have your camping gear in a kayak dry bag, you can just secure it in the rear.
Recreational paddlers will feel the benefits of the tracking ability from the tri-keel hull, this design creates a stable kayak that will be just as comfortable in running water as flat water.
Stats
Length – 10′ 5″
Width – 29.5″
Weight – 46 lbs
Capacity – 335 lbs
Construction – Polyethylene

Perception Sound 10.5
The Price of "Perception Sound 10.5" varies, so check the latest price at

Here is a 10-foot kayak that is only just 10 feet. It is small in every sense of the word and has the performance to match. This one is a head-turner for me and lets the people around you know that you know what you're doing in your sit-in kayak.
The great color scheme and streamlined profile make this stand out amongst other recreational kayaks. It may not be the most affordable, but it is worth the price.
The pointed bow and stern with the remarkably narrow rounded hulls combine to create a 10-foot kayak with better maneuverability and superior tracking performance. Straight-line speed and rapid turns will come naturally to the Sky 10. Coming in at only 32 lbs, this is a craft you can really dominate in the water.
Despite the recreational kayaks' small size, it still has two storage hatches. The front and rear storage hatch is also paired with bungee tie-downs for any extras you may need.
It is worth considering the carrying capacity of this 10-foot kayak before you load it up, due to its small size and light kayak weight, it has a low maximum weight capacity.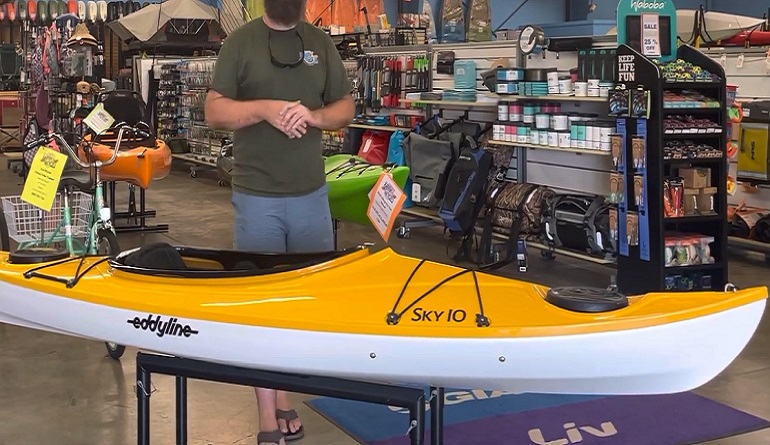 The two-layer composite kayak fabrication makes it very abrasion resistant. As you pull it into shore or across sand and rocks, it should be able to stay hole free and reliable.
Stats
Length – 10′
Width – 26″
Weight – 32 lbs
Capacity – 250 lbs
Construction – Carbonlite Composite ABS/acrylic

Eddyline Sky 10
The Price of "Eddyline Sky 10" varies, so check the latest price at

Another Perception 10-foot kayak has made it into the buying guide today, this time, we have the Perception Joyride. We looked at this previously in our best-budget kayak article.
These affordable kayaks bring the pleasure of the open water to a wider audience, creating an accessible and fun way to get around and get into the sport. They don't boast all the bells and whistles of the more expensive craft of the same length, but for a beginner kayak or for the casual paddler, they're perfect.
A padded and vented seat will hold you good and snug. Adjustable foot braces also pair with the adjustable seat to ensure a perfect fit for all paddlers. The recreational kayak length should easily fit most riders in unless you're particularly tall, not something I can relate to, sadly.
Joyride by name and joyride by nature. The easy-to-paddle boat has a cockpit laid out directly in front of the seat. It features patent-pending clips for your camera, which is ideal for selfies or shooting footage.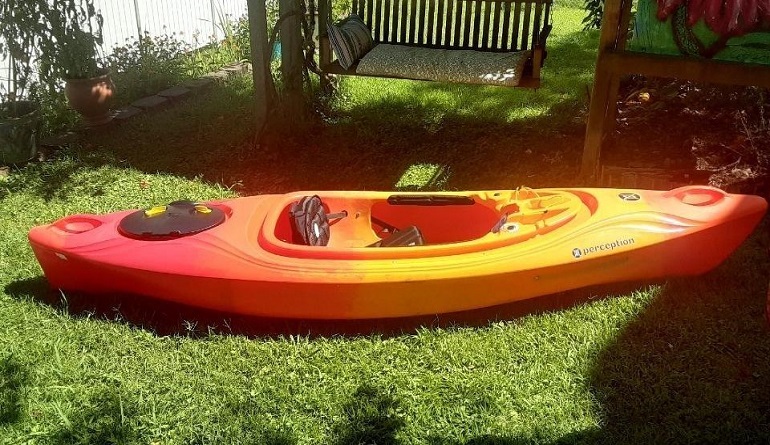 It also has a few mounts for other extras. There are better fishing kayaks on this list, but if you wanted to use the Joyride for this purpose, it will rise to the challenge.
There is a distinct lack of bungee strap-downs on the deck of the craft, but a single rear dry hatch is available. It is well within reach and is of a pretty decent size. I wouldn't go expecting to fit a few days' worth of gear in there, but for a day out with drinks and food, it is ideal.
Stats
Length – 10′
Width – 29.5″
Weight – 50 lbs
Capacity – 275 lbs
Construction – Polyethylene

Perception Joyride 10.0
The Price of "Perception Joyride 10.0" varies, so check the latest price at

Pelican has over fifty years of experience in the kayak market, so you can rest assured that this 10-foot kayak will provide only the best in technology and buoyancy know-how. Stability, speed, and comfort all combine to make this a kayak worth looking at.
The sleek yellow frame is not just an eye-catching design. It pairs with the shallow V-Chine hull to offer superior performance and responsiveness. It is ideal for beginner and intermediate performance as the extra surface area also assists in balance and maneuverability on the water. You could even hit the surf in this bad boy.
A low kayak weight keeps this 10-foot easy to transport, but it does sacrifice its maximum weight capacity. Compared to some of the other 10-foot kayaks we have seen on the list so far, this one will struggle with heavy loads.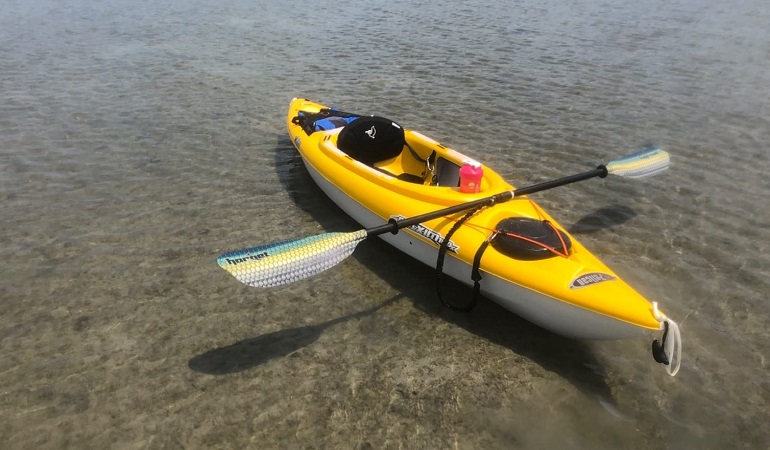 Despite its relatively low weight capacity, I think it still has a significant amount of storage. It features a sealed container on the front of the craft and then a well at the back covered with bungee mesh. Both are easily accessed and will keep everything you need for a good day out within arms reach.
Stats
Length – 10′
Width – 28″
Weight – 36 lbs
Capacity – 275 lbs
Construction – High Molecular Density Polyethylene

Pelican Maxim 100X
The Price of "Pelican Maxim 100X" varies, so check the latest price at

Open-topped, wide, and stable are all noticeable characteristics of this 10-foot kayak from Perception. It is built for fishing with plenty of room for accessories and the rider positioning to see out across the water and to the next big fishing spot.
What separates this from a lot of the other fishing kayaks out there is the elevated seat. The lawn chair-style seat is able to sit lower in the fishing kayak hull for paddling or able to be lifted higher for optimum casting and vision.
Rails adorn the sides of the 10-foot kayak allowing the connection of all sorts of fishing accessories. Fish finders, rod holders, and camera mounts can all be clipped on with ease. A center dashboard also facilitates a cup holder and dry store for your electronics.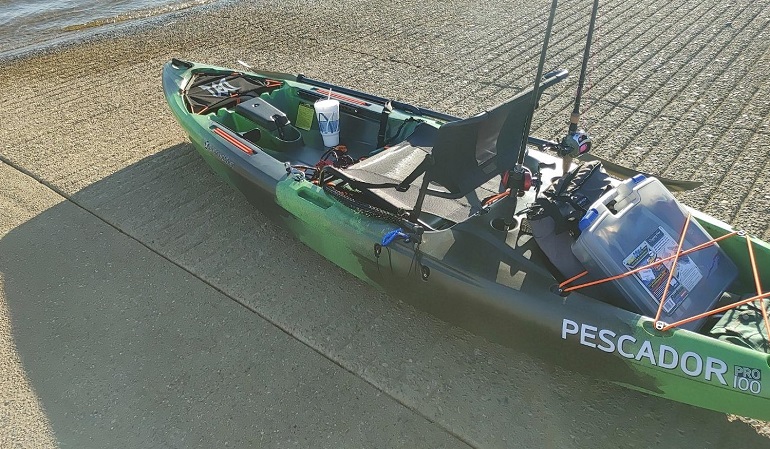 This kayak is much more suited to calm waters of lakes and slow-moving rivers. The nature of an elevated kayak lifts the center of gravity higher than a sit-inside giving less balance and stability in choppy or rough water.
A replaceable pair of skid plates sit on the front and rear of the boat. I always worry about holing my craft as I pull it in and out of the water. Having a little extra protection on the base would put my mind at ease, there aren't many ways to avoid that extra little bit of scratch, you can't always dock on the sand.
Stats
Length – 10′
Width – 32″
Weight – 57 lbs
Capacity – 325 lbs
Construction – Polyethylene

Perception Pescador Pro 10
The Price of "Perception Pescador Pro 10" varies, so check the latest price at

This 10-foot kayak won't win any awards for innovation or design, but for a cheap kayak, it will serve you well.
I think it is a little on the heavy side, and it doesn't have the highest weight capacity in the world, but the well-built hull and simple but effective shape will keep it cutting through the water, and pitching turns very nicely.
For children, new paddlers, or casual kayakers, the open and wide cockpit will make getting in and out of the 10-foot kayaks hull relatively simple. The wide design will assist in stability on the water too, keeping you stable as you move around and find a comfortable position.
The materials used guarantee a long life, this is further backed up by the five-year guarantee that comes along with the 10-foot kayak. Heavy-duty footrests and a thick high-performance hull are made to withstand a lot of punishment. When you buy this boat, you can be sure you'll be riding it for a long time.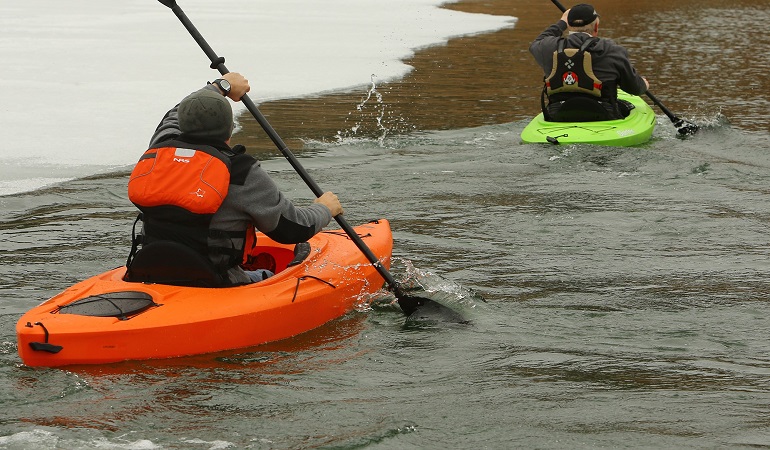 A sharp keel and flat hull keep this 10-foot kayak's tracking ability straight and true. It is best suited to slow-moving rivers and lakes and could be used in a gentle open ocean. It wouldn't be too happy in whitewater or surf. It would be perfect if you have kids, there are more on this list.
Stats
Length – 10′
Width – 30″
Weight – 48 lbs
Capacity – 275 lbs
Construction – Polyethylene

Emotion Kayaks Guster
The Price of "Emotion Kayaks Guster" varies, so check the latest price at
A Quick Buyers Guide
If you start your shopping with all the knowledge of a seasoned pro, you'll save yourself both time and money. Here are a few little tips and tricks to make buying the best 10-foot kayaks a breeze.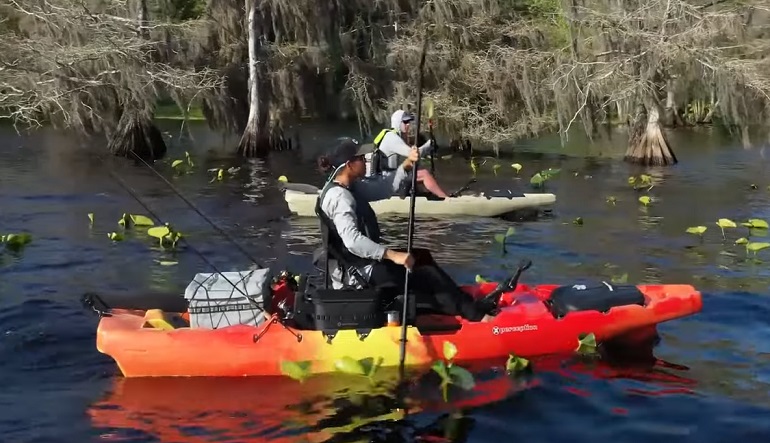 Intended Use
Knowing what you're going to be using your 10-foot kayak for before you buy will save you from ending up with something you don't really enjoy.
Fishing Kayaks
If you're looking for a kayak for fishing, you'll want something with plenty of space for accessories, plenty of storage, and some good stability. The most common option is a kayak with an elevated seat. They offer a superior viewing platform and the ability to move around much easier.
Recreational Kayak
Slimmer and more narrow than the previous type, these are made for ease of paddling and long trips out. They are suited to beginners and advanced alike and are the jack-of-all-trades of the kayak world. They will do it all and should be appropriate for most paddlers.
Specialist Kayaks
If you want to start racing, surfing, or whitewater kayaking, then you will need a specialist kayak. They have very specifically designed hulls and keels.
Hull Design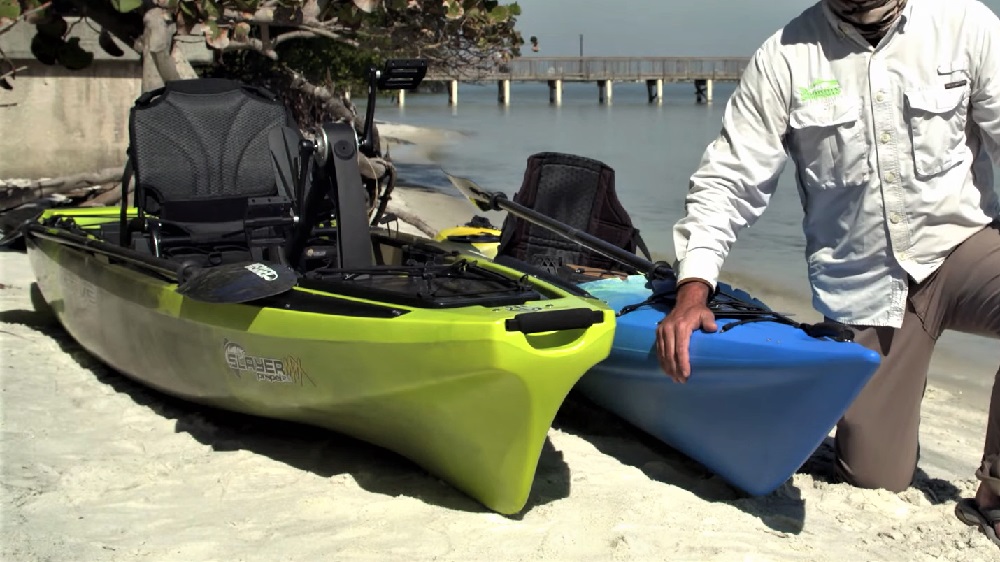 The hull design will help with tracking, balance, and maneuverability. Flat-bottomed hulls will provide the best stability, but they won't help with speed and tracking. Look for a happy balance between sharp keels and flat bottoms. Multi-Chine designs often give the best of both worlds.
For something that can keep abreast of chop and rough waters, look for a hull with more rocker, it will keep you riding the crests.
Performance
The performance you expect depends on the kind of rider you are. If you want high balance and buoyancy, a wider and flatter kayak will be perfect.
For the rider who needs speed and hard turns, a thin and lightweight craft will be the one for you. If you need something you can use hands-free, why not check out pedal kayaks?
Weight Capacity
If you need something with a high weight capacity, then I suggest you take a look at inflatable kayaks. What they lack in speed and movement, they make up for in carry capacity. Always be aware of your maximum load, you don't want to be sinking under a heavy boat.
Kayak Weight
Kayaks vary vastly in their weight. The issue with heavier craft, despite being more stable, is their difficulty to transport. There are kayak roof racks for car that can help you load, but they can become an issue. Moreover, it's a great idea to learn how to transport a kayak on a truck to make your life easier!
Storage Space
This is something I think is down to the kind of day you want on the water. I don't usually need more than a bit of room for my electronics and some food and drink, but if you're looking to go out for a few days, maybe consider getting a ten-foot kayak with a bit extra.
Portability
I think this is a commonly overlooked issue. It's all well and good getting a kayak with every optional extra and the space to fit your whole family and your dog, but if you can't get it to the water, what's the point?
Inflatable kayaks are incredibly transportable, and they come in all shapes and sizes. If not, then make sure it fits on your roof rack.
Frequently Asked Questions
If I answer these now, you can save yourself the hassle of trawling the web for them later.
How Stable is A 10-Foot Kayak?
This depends on a few factors, such as width and hull shape. A flat bottom hull with a wide beam will keep you stable even in choppy water. The narrower the craft the less stability.
How Wide is A 10-Foot Kayak?
In general, they range from between 27″ and 32″. Of course, there are outliers on both sides, but these are usually specialist boats.
Can You Fit A 10-Foot Kayak in A Minivan?
When you put the seats down in your minivan, do you have ten feet of space? That should answer your question.
If I May Stick My Oar In
10-foot kayaks are the perfect beginner kayak and the ideal expert kayak too. Their size makes them incredibly transportable and just the right size for a solo rider to really have the control, speed, and versatility to enjoy a huge range of different waters. They also make great kayaks for big guys.
I love my 10-foot, it is suitable for everywhere I take it and can do me for a quick day out on the ocean or a few days camping and fishing. Try one out for yourself and see what you think.