Everything on the internet these days is either a photo or a video! Am I right?
No one reads blogs, or anything longer than an Instagram caption these days, so why waste your time writing out long paragraphs describing your skiing experience when you can just… show the people what they want?
It's about time you got yourself a killer action camera to finally make an audience for your ski tricks, cruises, and experiences.
But if you feel like you're walking around blindly in the dark when it comes to choosing your best action camera, then let me guide you on which models are currently taking the market by storm and what features you need to pay attention to before buying.
Best Overall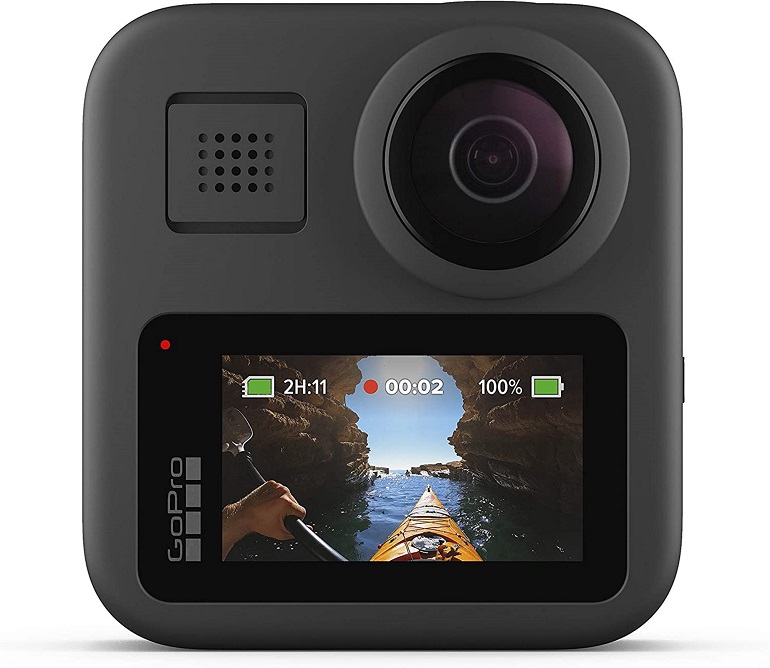 GoPro MAX
resolution: 5.6K high resolution
screen size: 2 inches
Runner Up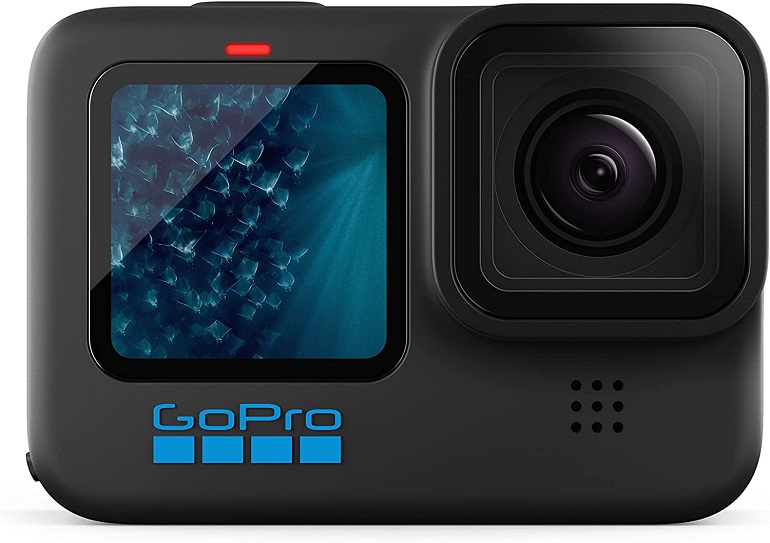 GoPro Hero 11
resolution: 5.3K high resolution
screen size: 1.9 inches
Rougn 'n Tough Use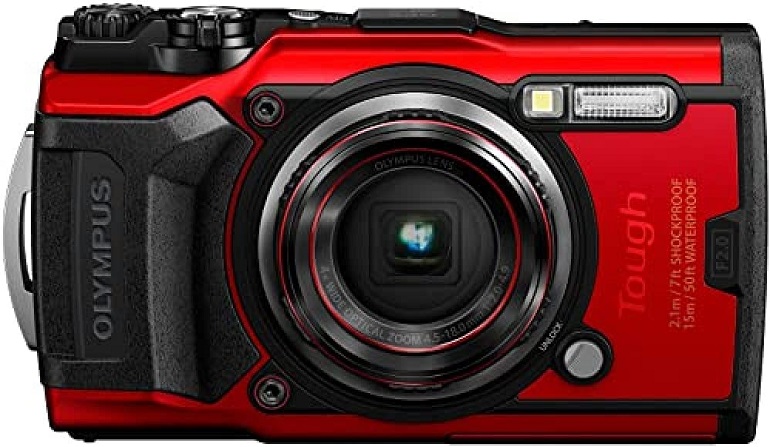 Olympus Tough TG-6
resolution: 4K high resolution
screen size: 3 inches
Bugdet Option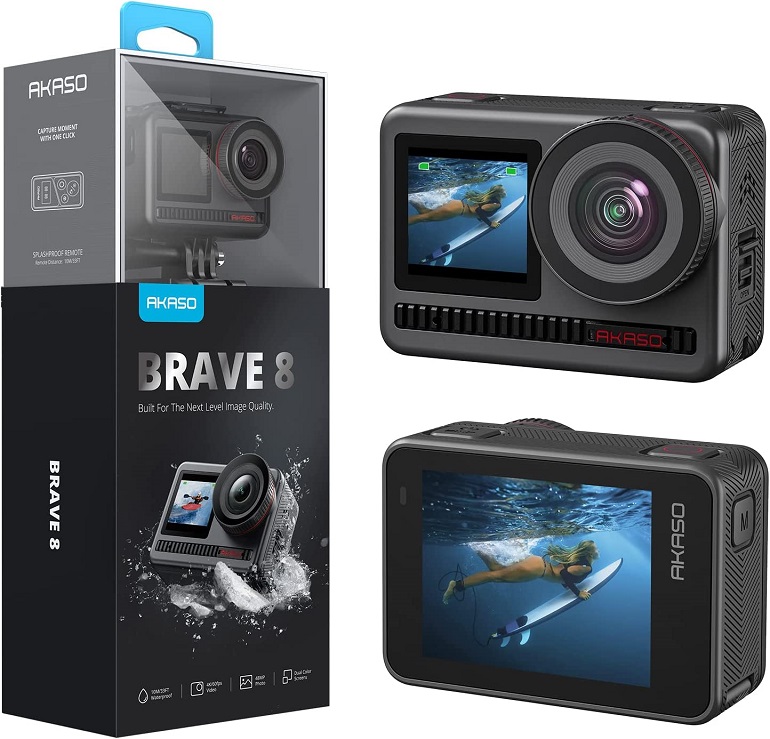 AKASO Brave 8 4K60FPS
resolution: 4K high resolution
screen size: 3 inches
Creative Freedom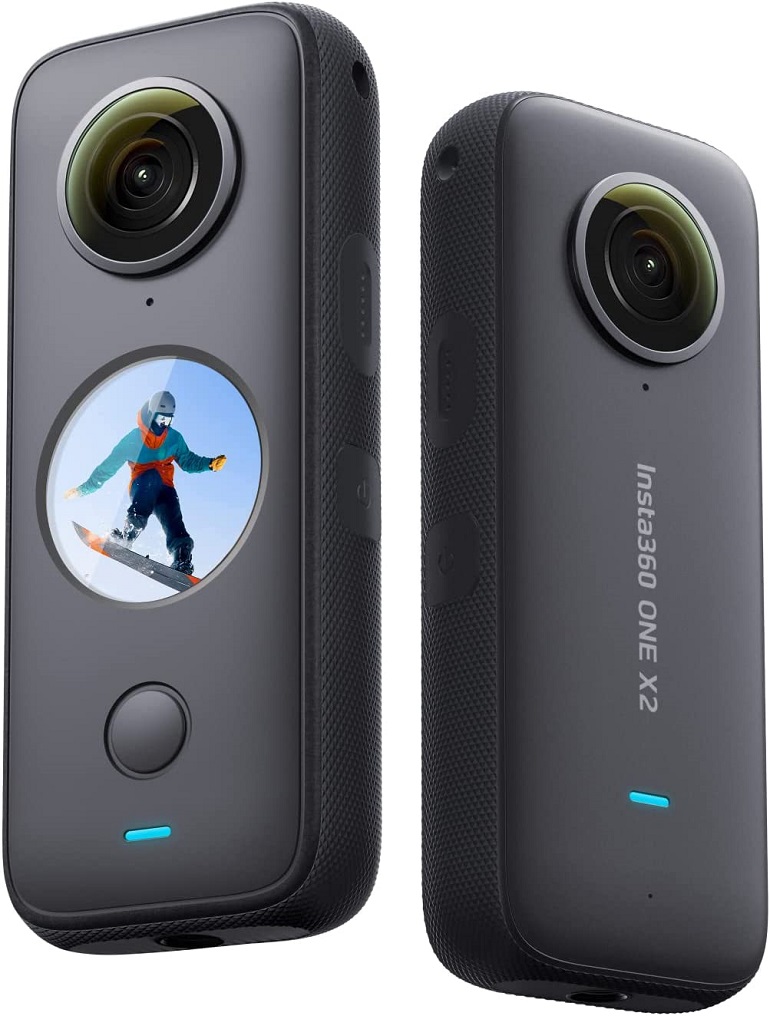 Insta360 ONE X2
resolution: 5.7K high resolution
screen size: 3 inches
Classic Choice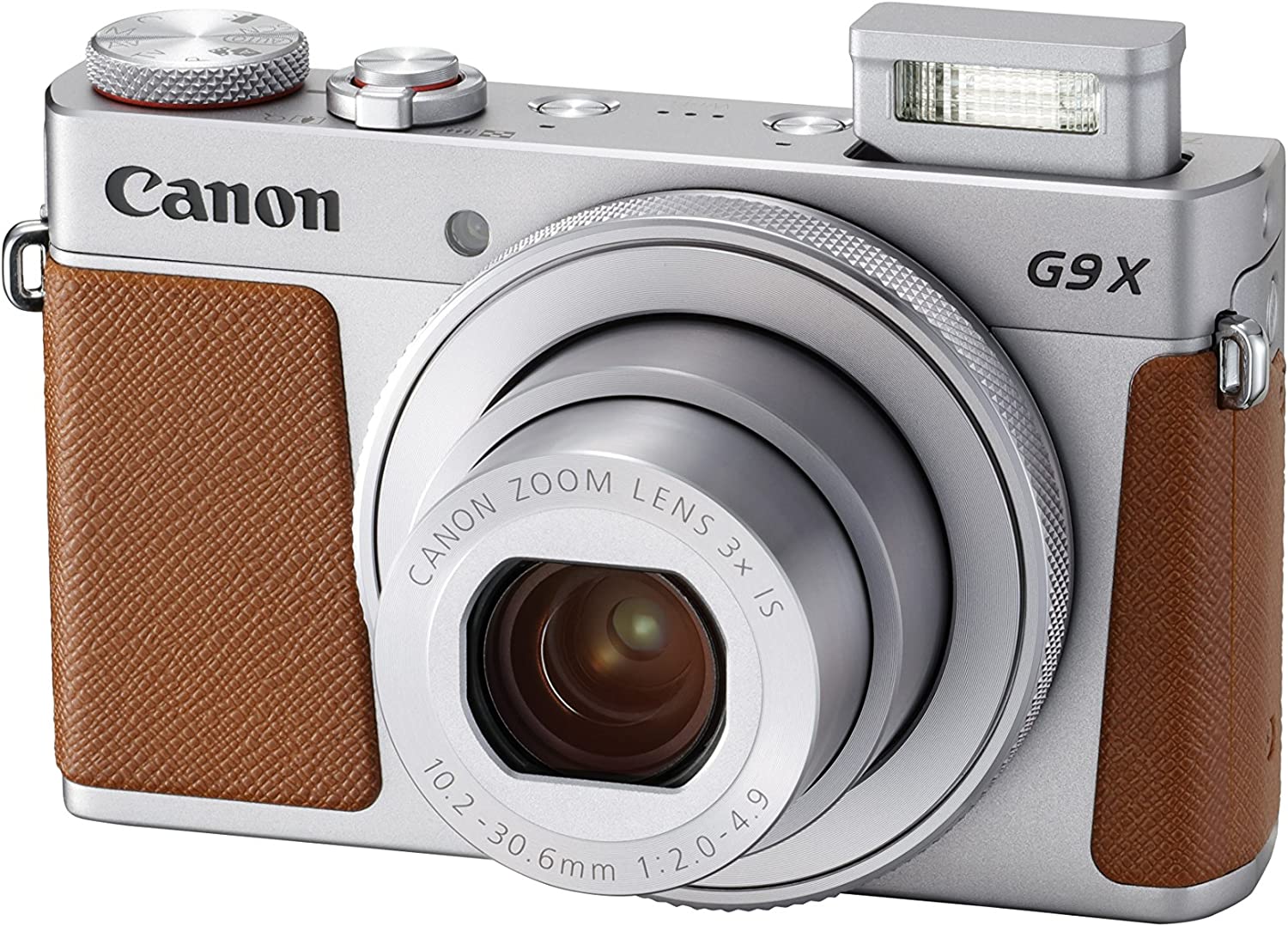 CANON POWERSHOT G9 X
resolution: 4K high resolution
screen size: 3 inches
Compact Design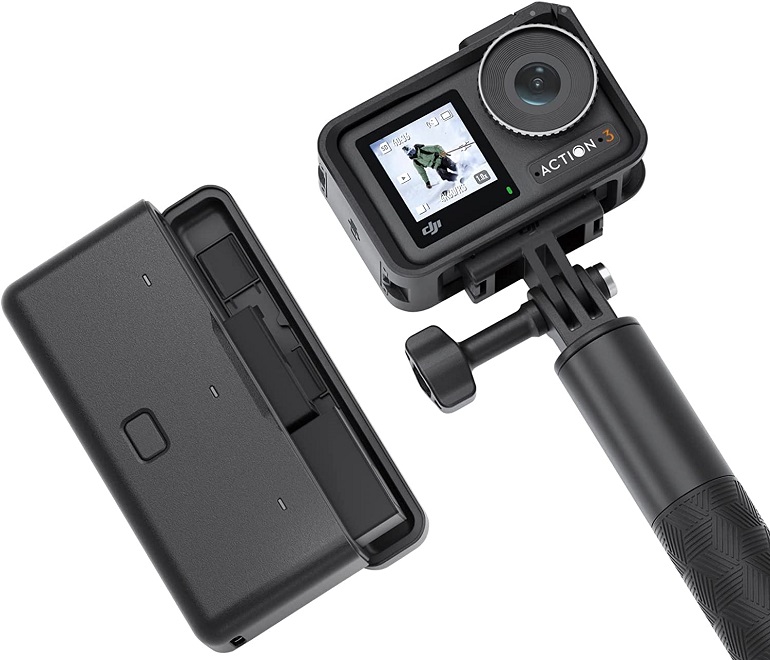 DJI Osmo Action 3
resolution: 4K high resolution
screen size: 2.25 inches
Lightweight & Affordable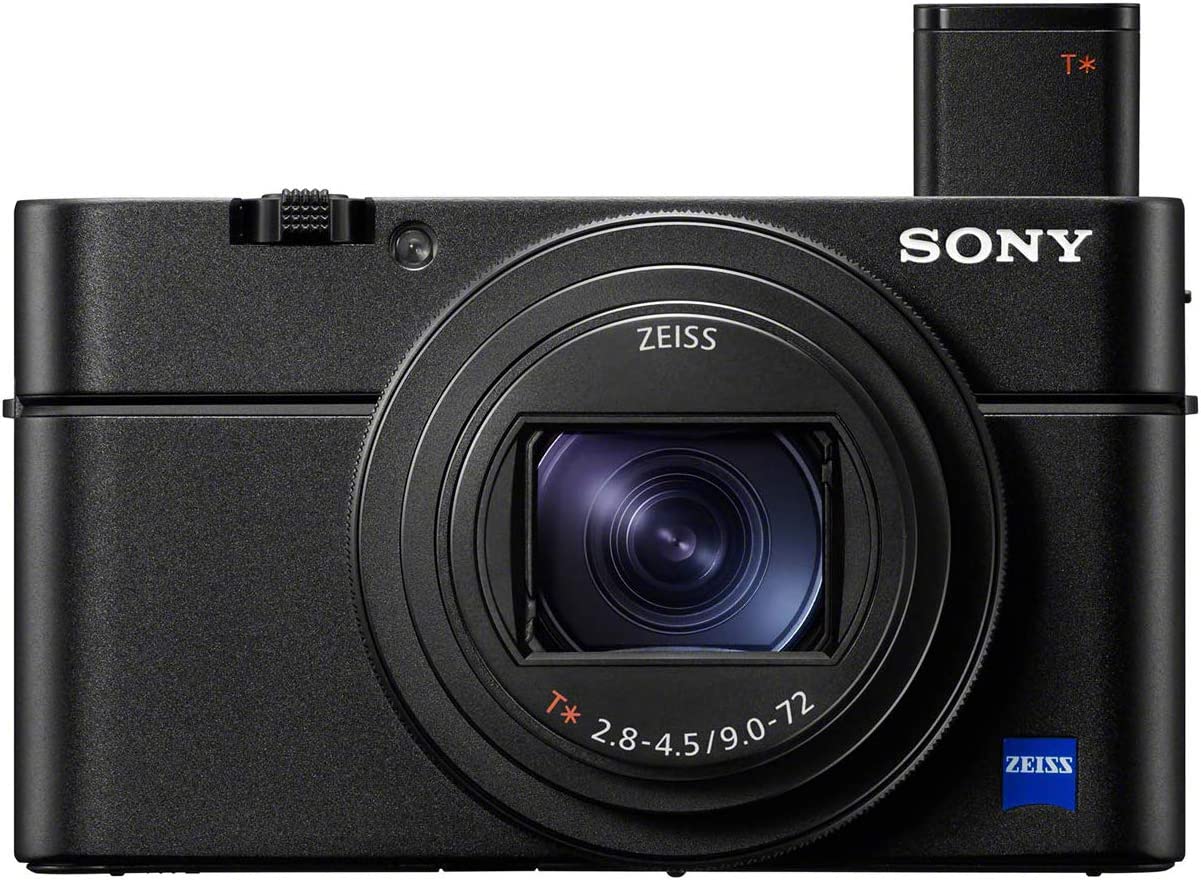 SONY RX100 VII
resolution: 4K high resolution
screen size: 3 inches
Best Camera for Skiing
Purchasing a camera has its own benefits over using a smartphone, including greater image quality, more creative options, and control over camera settings.
Purchasing a camera opens up new creative avenues for those who enjoy taking images with their phones while skiing, and it is definitely worth the additional expense.
Let's check out my well-curated list of the best cameras for skiing in 2023.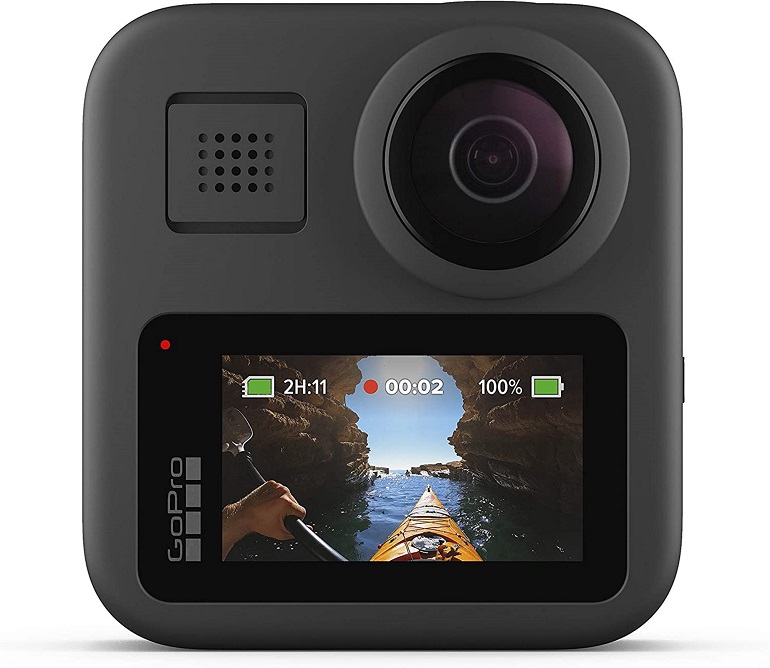 Oh, the novels I could write on the great camera, GoPro Max! Not just this camera but GoPro in itself is my favorite brand to date, with all of its best cameras breaking the market. It has been in business for the last decade and so, and with each great camera, they release, the specifications and features keep improving and enhancing.
The waterproof 360 GoPro Max is nothing less of an all-around perfect camera for skiing. Regardless of what setting and shoot mode I have in mind, this skiing camera is bound to show up and do its best work. The 360-degree shooting capability is specifically what makes this action cam my top recommended selection in the market.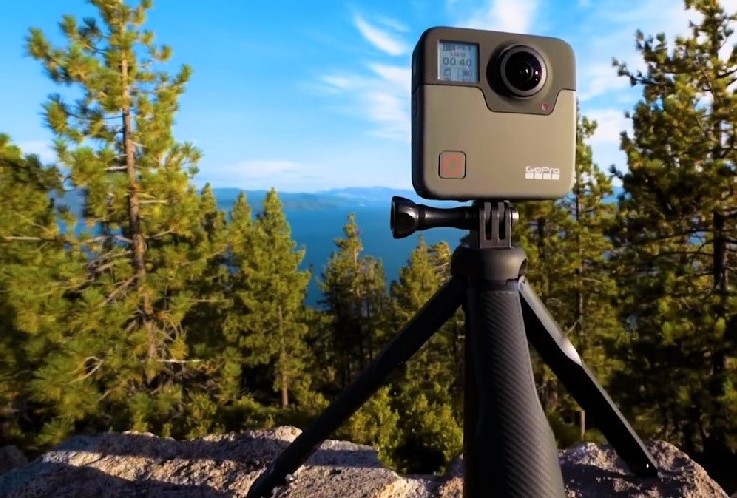 Where a lot of other cameras lack and fall behind in quality, focus, and practicality, the GoPro Max can easily be switched to 'Hero' mode and back as it can switch between the 360 option and regular photos.
Another winning feature of this camera is the 6 microphones that are positioned equally apart on the camera's body.
The abundance of microphones at all different angles ensures that the sound quality is top-notch, and if, due to any unforeseen reason, one microphone is blocked or couldn't record certain audio, then it's guaranteed the rest of them will.
I also love the versatility of this model, as it can work as a helmet camera, a chest-mounted camera, or even a handheld one if you're feeling like it. The choices are endless, and the end result is still always… spectacular!
My Favourite Features
Complete HD quality live stream feature (perfect for vloggers)
Slow motion feature with HD resolution
Dual camera system for 360-degree photos and videos footage capture
HyperSmooth image stabilization
5.6K high resolution video recording + 30 fps frame rate
Downsides
Expensive and unsuitable for budgeted customers
Big and bulky camera body (as compared to GoPro Hero models)
Raw 360-degree footage requires a lot of editing to look professional
Few shooting modes to choose from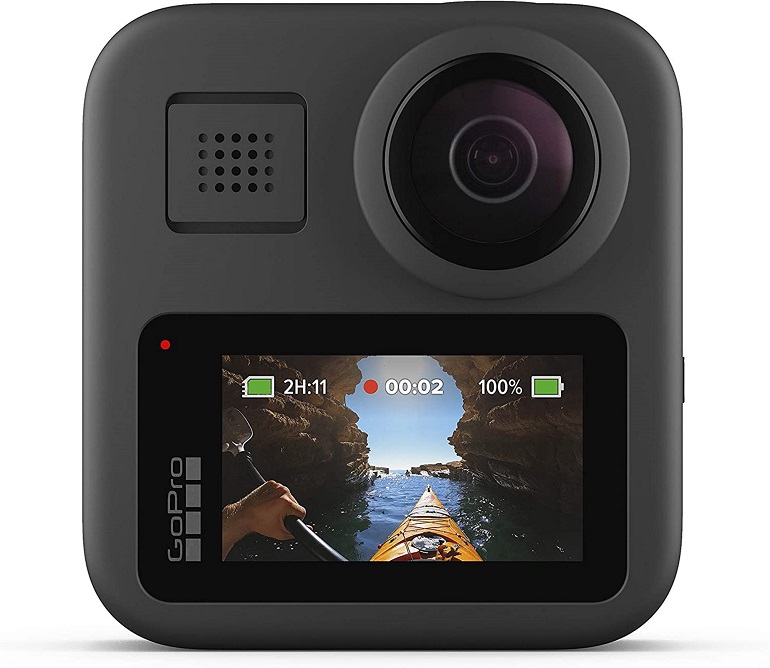 GoPro MAX
The price of "GoPro MAX" varies, so check the latest price at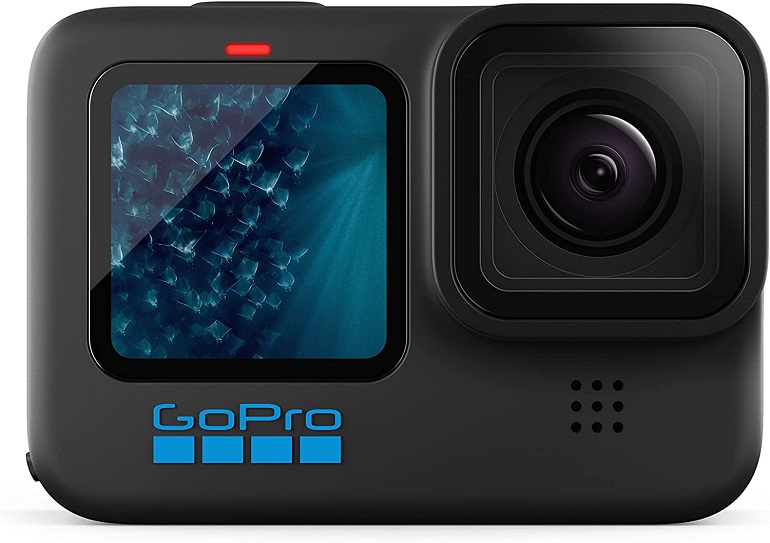 Known as one of the best cameras that GoPro has released, it all comes down to a matter of personal preference for me. I personally prefer the Max over the GoPro Hero just because of how well it sits with me. But enough about me and more about Hero 11.
It follows the signature GoPro style of all of their action cameras. With a little compact body, it fits into the pocket of any jacket or overall with utmost ease. There are two LCD screens on the camera, even though it's pretty small. One LCD screen at the back is a touchscreen and is fairly useful.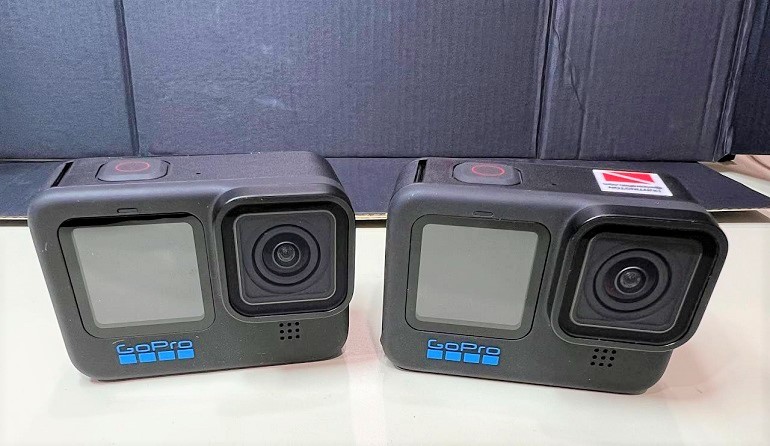 However, the front screen, which is mainly for selfies and recording yourself and seeing how you look, is not that great. The touch sensitivity is low on that one, so you'll probably need to tap around on it a bit till you achieve what you want.
Its waterproof nature is yet another plus point, but since it is only for 10m, some have commented that the feature is practically useless. But let me ask you something. Are you going skiing… or swimming? When it comes to the melting ice and moisture of ski environments, the waterproof nature of this camera is just right.
With a 27-megapixel resolution and an improved internal sensor, the GoPro Hero captures the liveliest, clearest, and most captivating shots. Not just that, but the wide-angle lens on this model also ensures you bring in a sizable amount of background and scenery to set the mood of all your shots.
My Favourite Features
HyperSmooth image stabilization generates clear focus and high-quality footage
Waterproof for up to 10m submersions in water with added waterproof housing
Long-lasting battery life
5.3k video recording capability
Downsides
Performs poorly in low light conditions
Fairly expensive option
The audio recording generated from the internal mic isn't clear
The camera's front screen isn't immediately responsive to the first touch
A GoPro membership is required to access additional features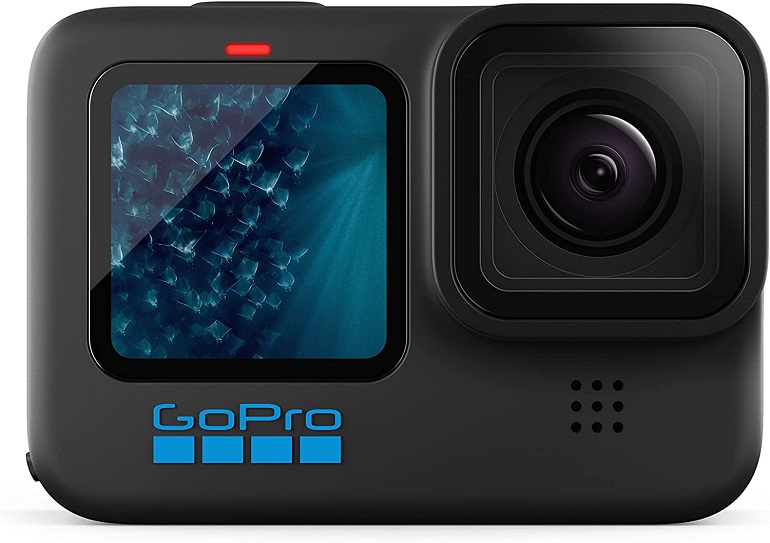 GoPro Hero 11
The price of "GoPro Hero 11" varies, so check the latest price at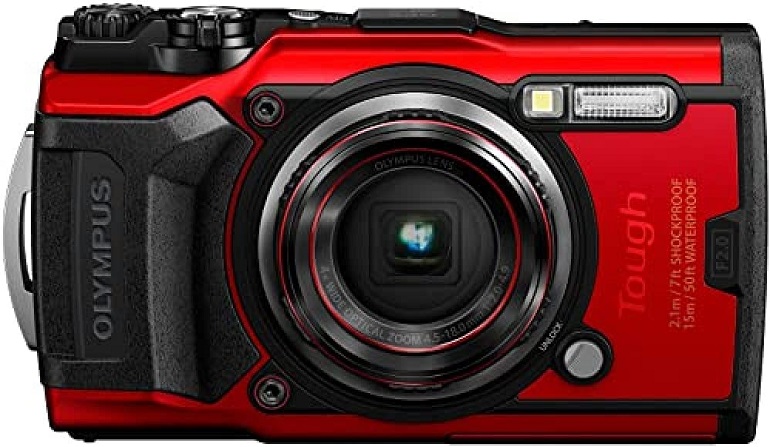 Built for the mountains, the Tough TG 6 is a camera that can take a lot of pressure and still show up for you in more ways than one. That's more than I can say about my friends (joking).
But basically, this camera is known as a powerhouse thanks to its freezeproof (up to -10 degrees), waterproof (up to 15m), and shockproof (up to 2.1m) body that is perfect for capturing both photos and videos.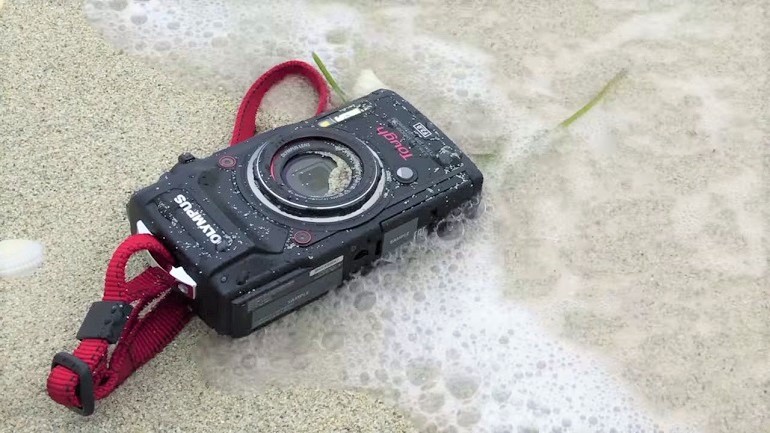 However, it has been noted by many skiers who have previously used this camera that the mere 12-megapixel resolution is not adequate to generate high res photos. Other than that, the 4x optical zoom feature it has is also a game changer for many. I think I have to explain this… so you can actually get the picture (camera pun).
Optical zoom features are different than digital zoom as the former is modeled on curved glass panels at the forefront of the sensor. When you hit zoom, the glass shifts and refocuses.
This kind of zoom feature ensures that you don't get pixelization, graininess, or any out-of-focus objects in your picture (which is a frequent thing that happens with zoomed-in pictures).
So even if you have to shoot a zoomed video, the optical zoom characteristic allows you to enjoy full 4K video recording quality without sacrificing any detail. Last but not least, you can hook up a bunch of accessories to this camera to get the most out of it.
My Favourite Features
Completely waterproof (up to 50 ft) with a shockproof body
4x optical zoom feature available for focused shots from far-off angles
4K Video shooting quality
Incredible macro shooting options
RAW file production
Downsides
12 MP resolution may not be enough for different settings and shooting styles
Wi-fi connectivity application buzzes in notifications too frequently (can get annoying)
No manual controls to fully optimize the camera according to your liking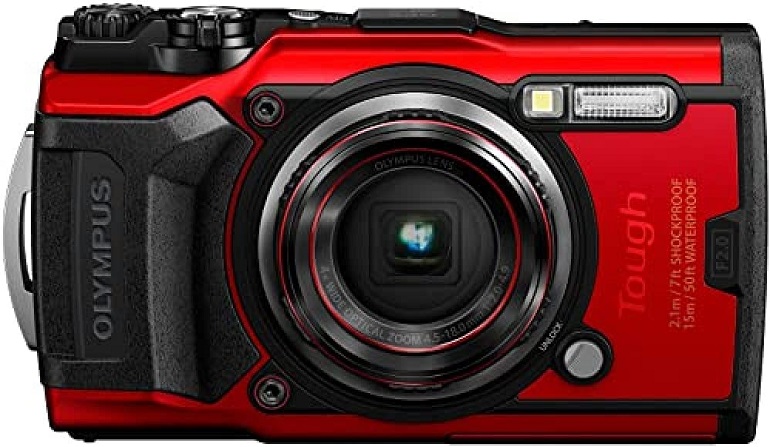 Olympus Tough TG-6
The price of "Olympus Tough TG-6" varies, so check the latest price at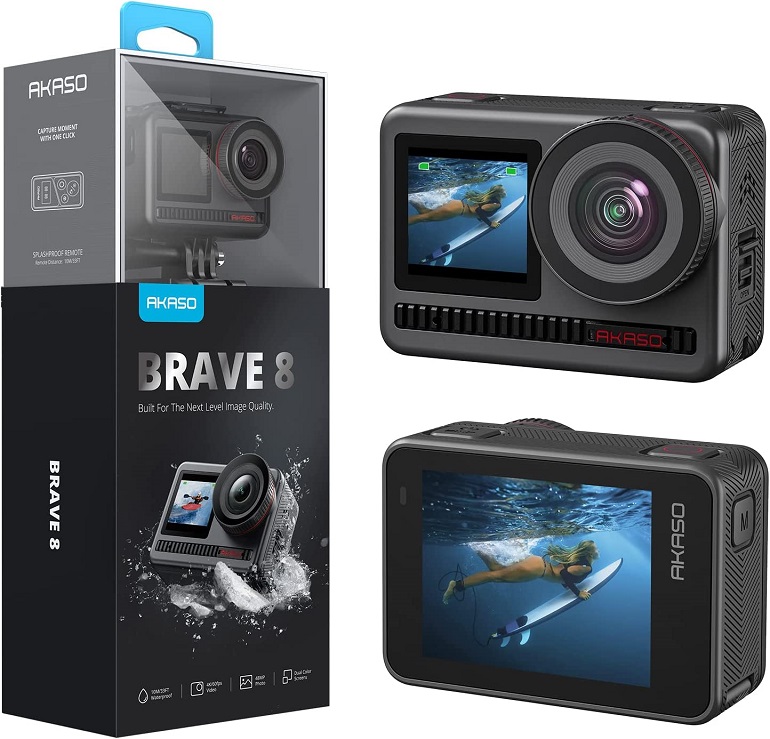 Although not a famous brand that every other outdoor sports person is in cahoots with… the AKASO company operates from a low profile mode. But, the line of products they produce is always of top-notch quality with specifications that come really close to almost knocking GoPro products off their shelves. Yea, I ain't messing with y'all!
Although the Brave 8 shoots in 4k video (5.3k video is the real hit in the markets as of now), all its end result footage is integrated with an efficient image stabilization software that is practically immune to all the bumps, trots, jigs, and trips of the sport.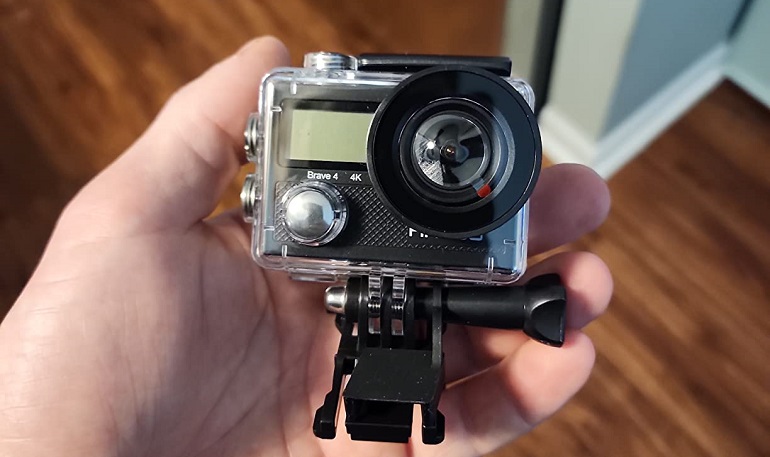 In fact, once the final footage is processed, there's barely a noticeable difference between it and the GoPro Hero 11 footage.
You also have different effects and features like the time-lapse mode and the option to choose different frame ratios for the varying pictures you want to shoot. And another specification of the Brave 8 that will always win against the GoPros is the 48-megapixel resolution, perfect for pushing out the highest quality images.
This isn't to say I am trash-talking the GoPro cameras, don't get me wrong! But it's still a pretty amazing brand that is the sole competitor of the world-famous GoPro household name.
To top that off, I could purchase this camera for a fraction of the price that I invested into the Hero 11, so that's definitely saying something. If you're on a budget and looking for a model that's bound to give you an amazing turnout and still not sacrifice any features or specifications… this is your guy!
My Favourite Features
48 MP resolution, captures the best final-quality shots
Strong waterproof body
4K video shooting with a 60 fps frame rate
Excellent image stabilization
Downsides
AKASO mobile app is buggy and not optimized smoothly (causes disruptions)
Glitchy performance
Camera isn't optimized to run with all smartphone operating systems
Almost as expensive as GoPro cameras but offers half of their features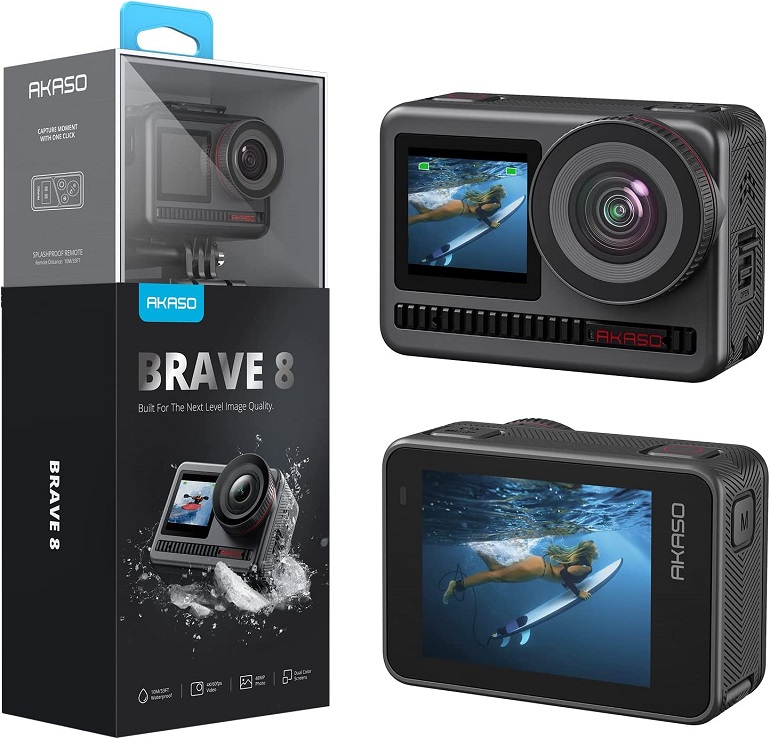 AKASO Brave 8 4K60FPS
The price of "AKASO Brave 8 4K60FPS" varies, so check the latest price at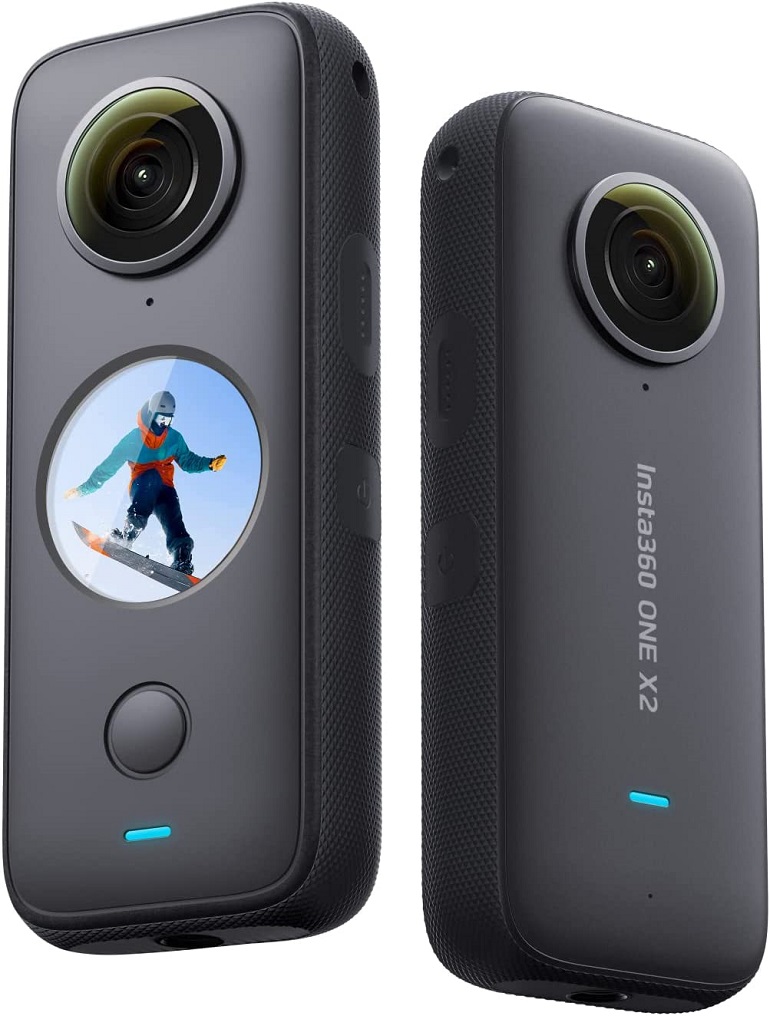 There is a separate and entirely different fanbase for the concept of 360-degree footage. I mean, there are action cam fans, and waterproof cam fans… but the hype about the 360-degree footage fandom is just fantastic!
Although the GoPro Max took up the first spot on this list because of its awesome footage result with the 360 shoot feature. However, Insta360 is a close competitor to the GoPro max due to the similarities between the two.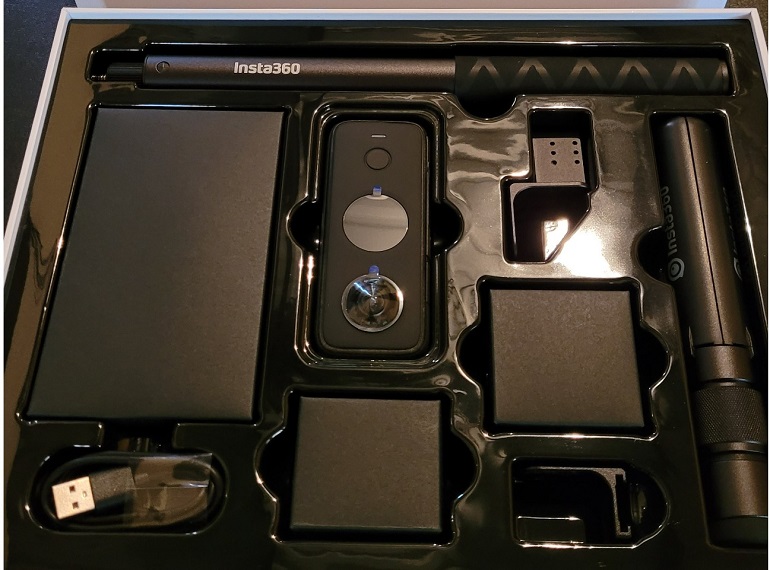 For instance, if the GoPro max can shoot 5K video with an option to also shoot 144p super basic footage, then the ONE X2 can do the same. In a similar manner, both cameras have a time-lapse option during 360 shooting mode, and the user can switch through a variety of frame rates to suit their liking.
However, when discussing the difference between these two cameras, it is easy to spot that the GoPro Max pays much attention to detail and color balance, and contrast. Needless to say, the videos produced on the GoPro are prone to being vibrant, and every little hue is accentuated in its right light.
But then again, avid Insta360 users have mentioned that with a little bit of editing and touch-ups here and there, the ONE X2 can also provide the same end result. No one has time for that, though!
My Favourite Features
FlowState image stabilization system
Voice control feature for hands-free accessibility
Waterproof till up to 33 feet
5.7K shooting quality
Invisible selfie stick feature
Downsides
After prolonged periods of use, the camera tends to freeze and glitch
Small unpractical touchscreen
Moderate battery life
Only optimizable with recently released smartphones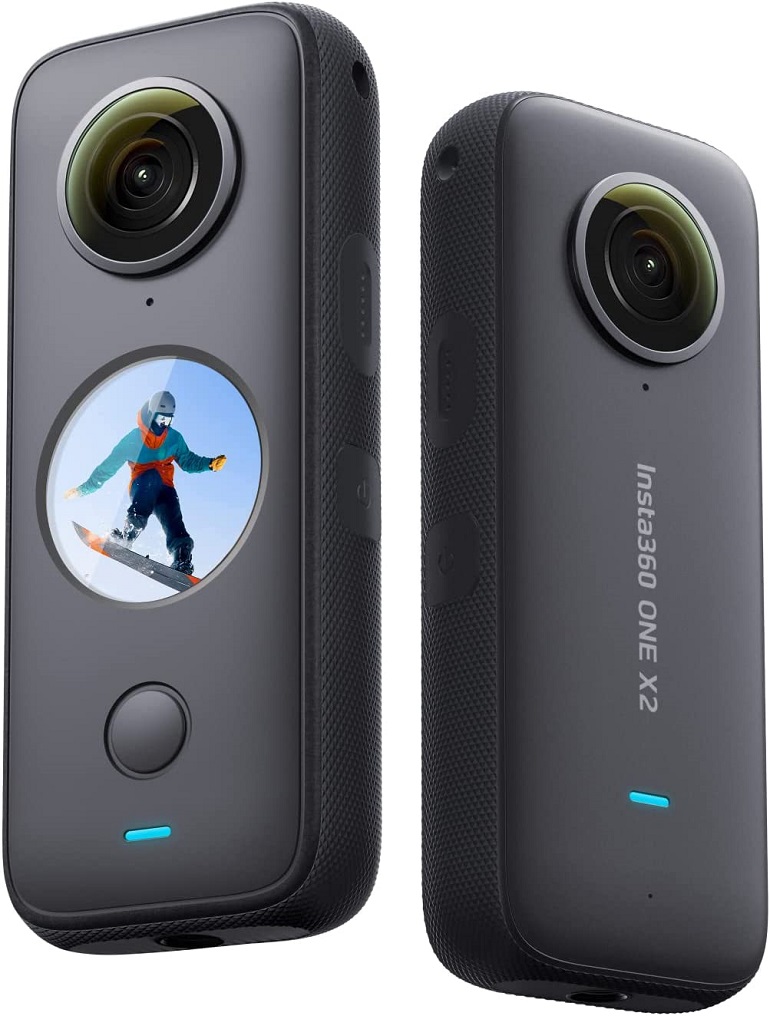 Insta360 ONE X2
The price of "Insta360 ONE X2" varies, so check the latest price at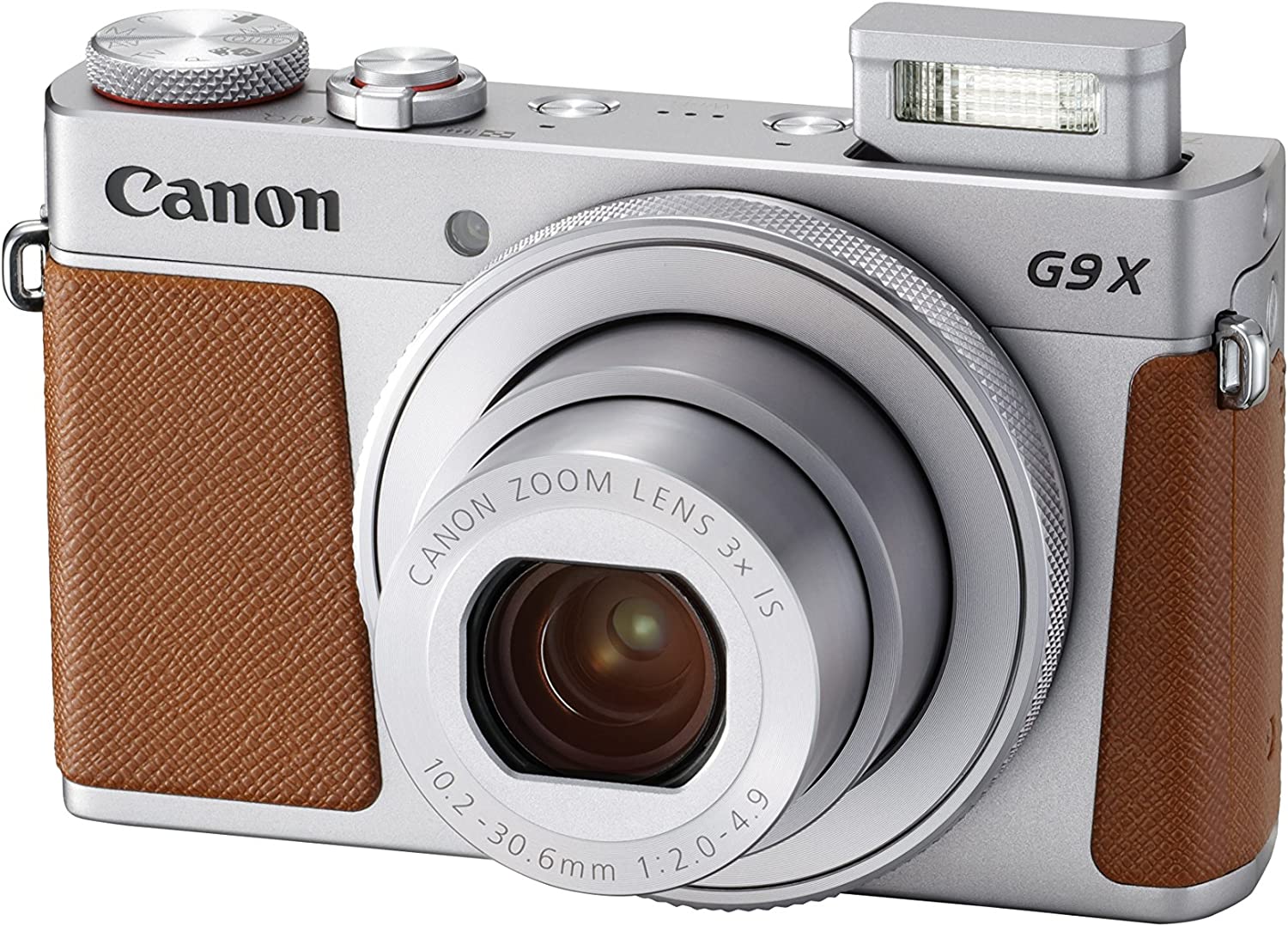 One of the most affordable cameras for skiing, Canon has long been in the market, so it makes perfect sense that its products are tailored to provide the finest and most user-friendly experience.
Although it only packs 20.1 megapixels of resolution, the CMOS sensor pitches in and fills in where the pixels may be lacking in light, contrast, detail, and vibrancy.
Moreover, for a camera this lightweight, compact, and easy on the budget it sure does pull its weight. The additional specs impressed me long before I actually set my hands on the shutter button.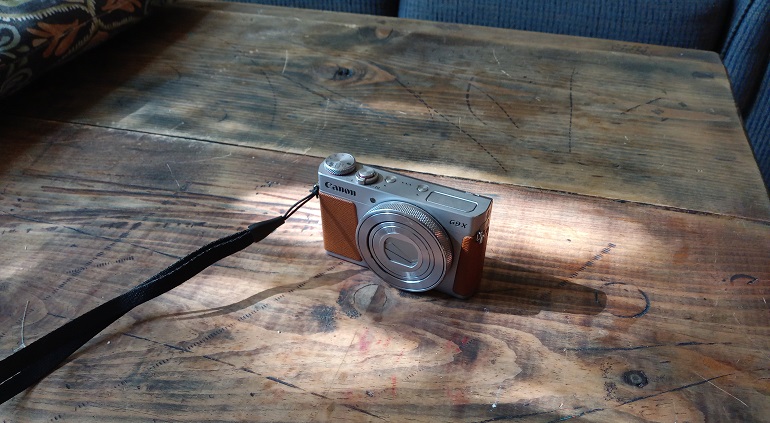 Features like the crystal clear LCD screen, the adjustable ISO settings going up to a value of 12,800, and the Digic 7 images processor, which is the best for churning out those shots, fit to be framed on your mantelpiece.
Aside from the crisp delivery of shots, there is an aperture going up to f/2 maximum and a 28 – 84 mm focal length that is equivalent to a 35 mm camera. So if you ask me, the Powershot G9 is one of the simple, budget-friendly, compact, and highly efficient cameras for skiing that you don't need to do much to get the best out of it.
My Favourite Features
1-inch image sensor + touch LCD screen
Artistic filters built into the camera
Compact body with 8.1 fps image capturing quality
Inbuilt ND filter
Downsides
Expensive
Zoom distance is very short
No high-quality video shooting option
With a zoomed lens, the aperture gets very narrow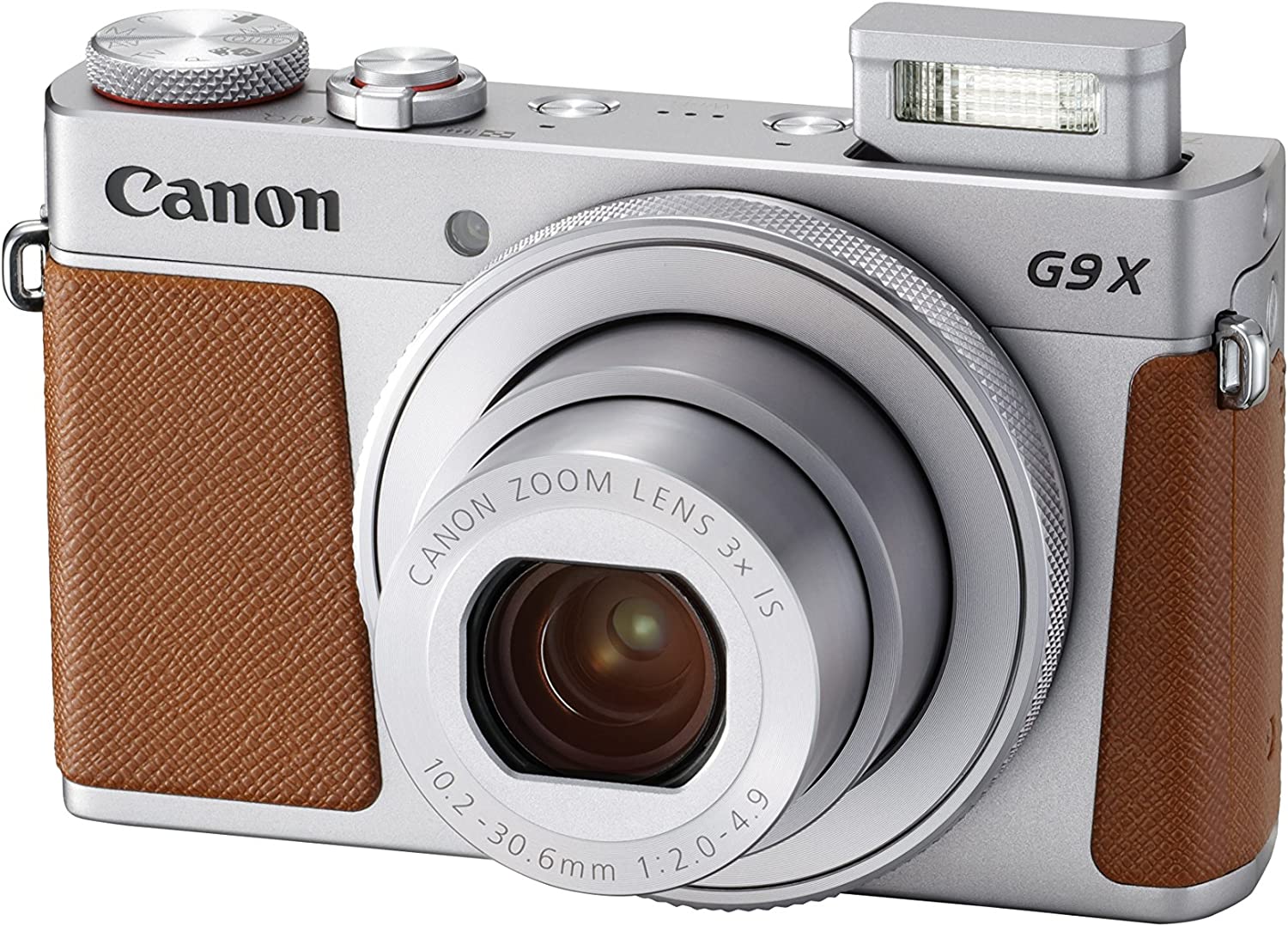 CANON POWERSHOT G9 X MARK II
The price of "CANON POWERSHOT G9 X MARK II" varies, so check the latest price at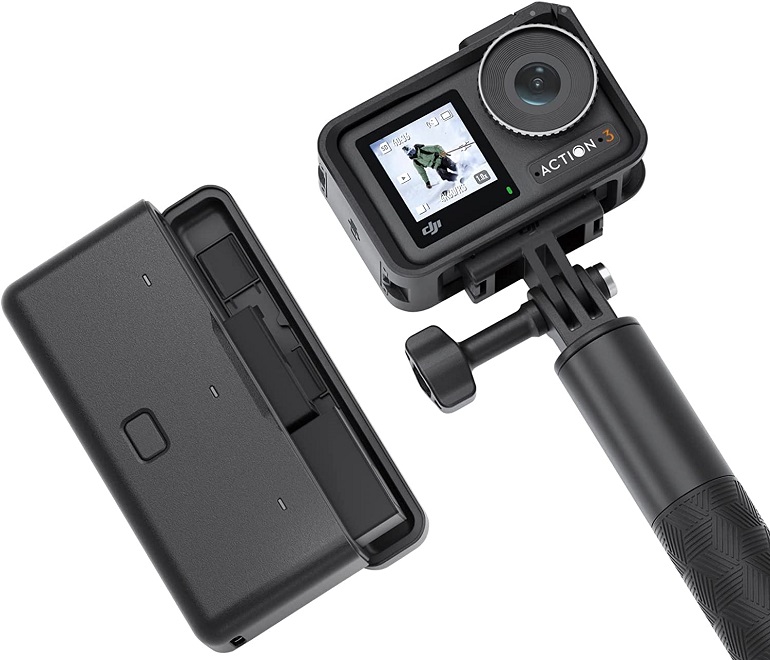 As someone who's been through a variety of models and also named as the best camera for skiing, the DJI Osmo doesn't disappoint… as much as the others. Yes, it has its downsides, just like every other camera, but where its strongholds are; it performs very well within them.
The Osmo company has a knack for pushing out some of the best cameras for skiing with new tech every now and again, so it's always fun to see what they've got new.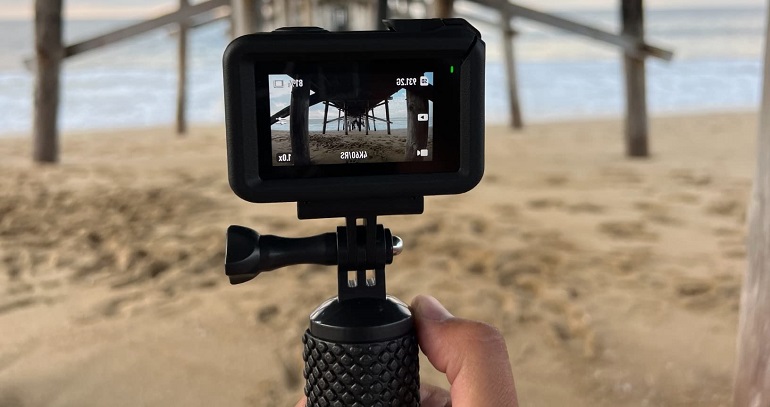 This Action 3 camera brings forth videos in 4K quality, and you can choose if you want them at 30 or 60 fps. Not just that, but if slow motion videos are your goal, then you can even go for a 120 fps frame rate and still maintain 4K footage quality.
I specifically really liked the slow-motion option, it's pretty cool to watch your friends fall face first in the snow… but in slow-mo!
The wide-angle lens is yet another win, as it gives up to 155 degrees of field view and can be strapped onto your lightest ski helmet for the perfect view from up there. Speaking of the battery life, there are 150 constant minutes of footage you can capture on a full charge.
My Favourite Features
Double screen setup looks like two cameras are being used
HorizonSteady image stability system
Waterproof for up to 52 feet
Battery life lasts for a long time, even with long shooting hours
4K video detail is crisp and clear with brilliant color contrast
Downsides
Doesn't perform well with low-light scenes
With vertical shooting scenarios, an additional mount is required to hold and stable the camera
Still photography modes are fewer in variety than video shooting modes
The voice control feature isn't responsive and unreliable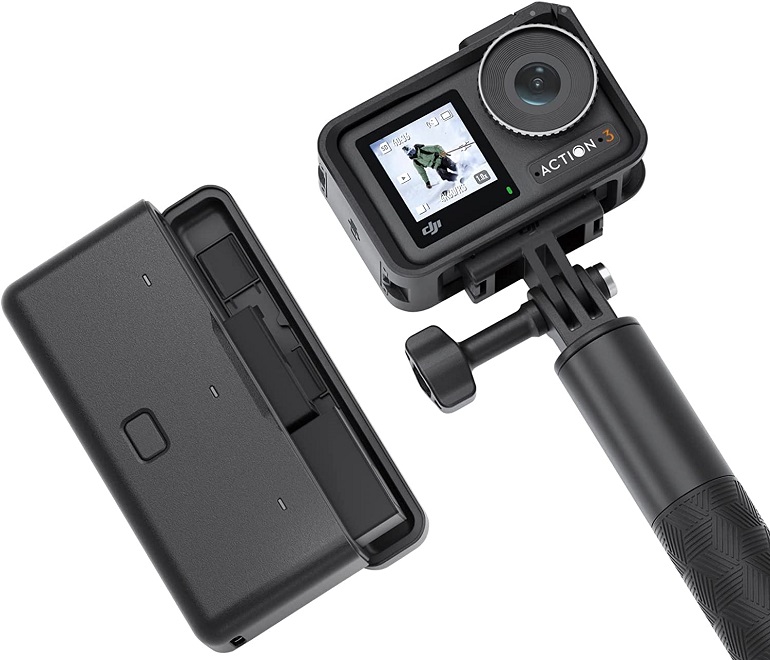 DJI Osmo Action 3
The price of "DJI Osmo Action 3" varies, so check the latest price at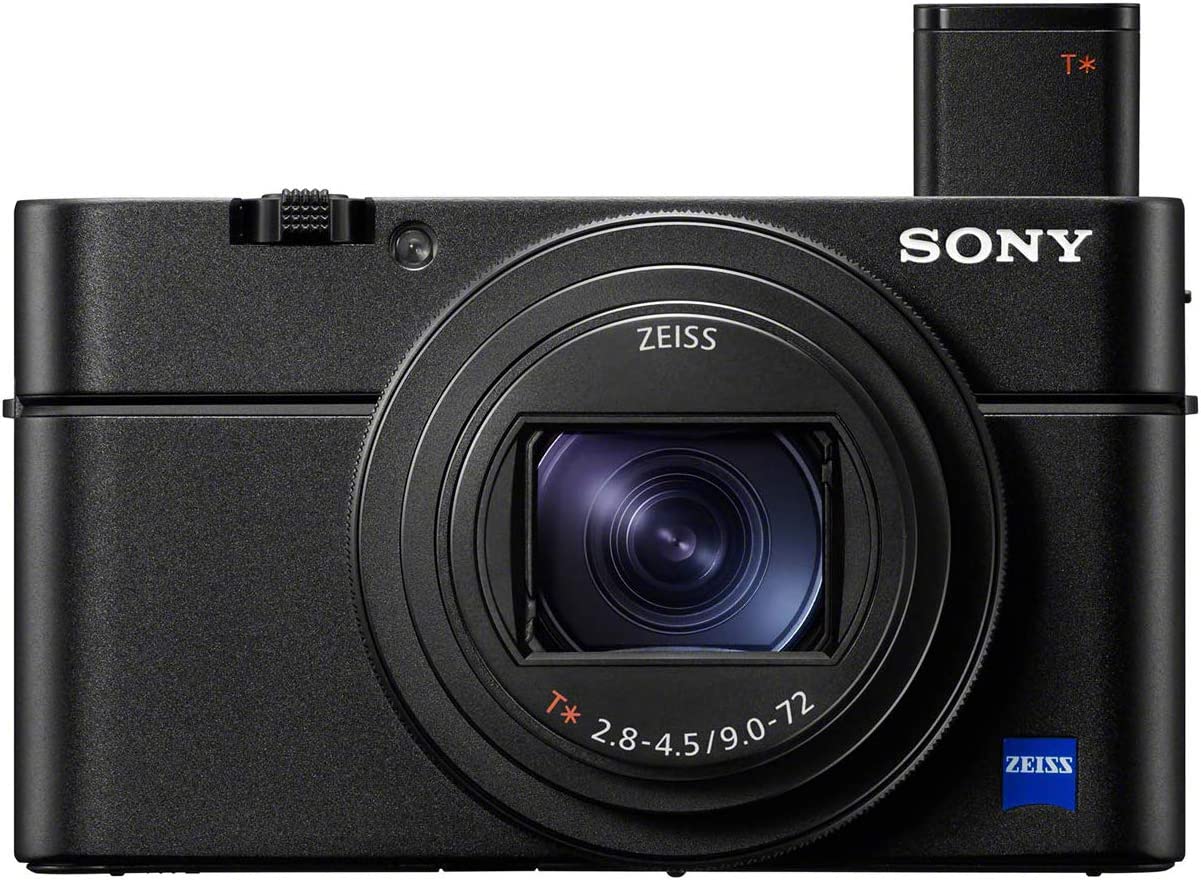 I'm all about pocket cameras when it comes to shooting outdoor sports. It's a perfectly handy feature that attracts me all the time to just hit purchase. Similar to the Canon Powershot, the SONY RX100 also features a 20.1 MP resolution with added CMOS sensor. So by that, you can know there's no complaint with the footage result.
But, there's more to it!
The Zeiss Vario Sonnar 24 – 200mm lens paired with the 425-point focus system generates the perfect pictures with crystal clear resolution and quality. It also has a nifty Eye AF system that automatically detects subjects' eyes and keeps a clear focus on them to improve sharpness in photos.
Moreover, if there are ever any hard-to-shoot angles that you simply can't contort your body to capture, the 180-degree rotating screen is for just that. Simply flip the screen at the desired angle and click capture and watch in real-time how the footage is recorded and adjust the lenses and camera placement accordingly.
Not being the Debbie-downer over here, but this isn't the first camera that enters the market with these specs. But it is definitely the first with this lightweight body and affordable price tag.
My Favourite Features
Strong body with compactness for pocket handling
Moderate ISO level for maximum reduced noise
Tilting screen gives flexible shooting angles
4K video recording quality
External microphone jack for improved sound quality
20fps capture rate with focused subject detection
Downsides
Absence of built-in RAW file processing
Battery life is not too good
No ND filter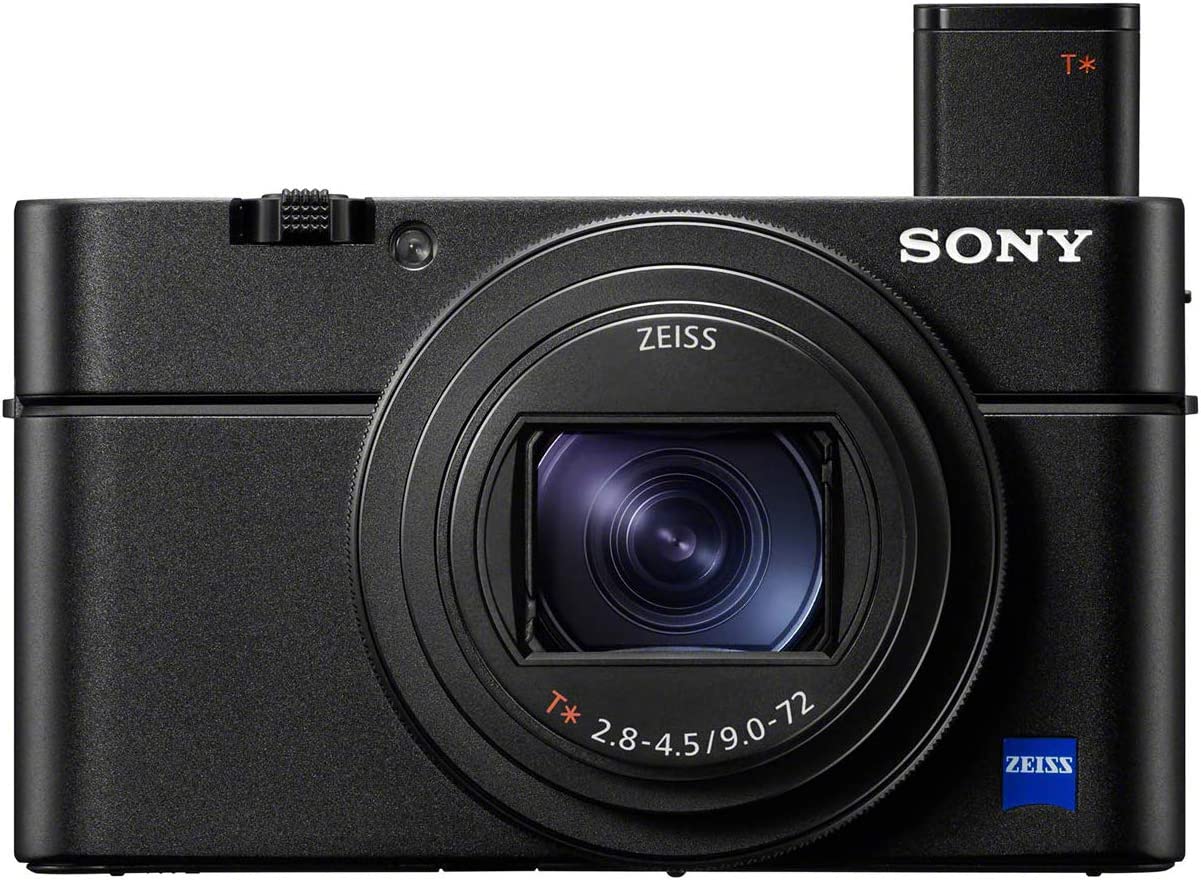 SONY RX100 VII
The price of "SONY RX100 VII" varies, so check the latest price at
How To Choose a Camera for Skiing
Now let's dig deeper to understand all the essential features that make up the best sports camera for you.
Video and Stills Quality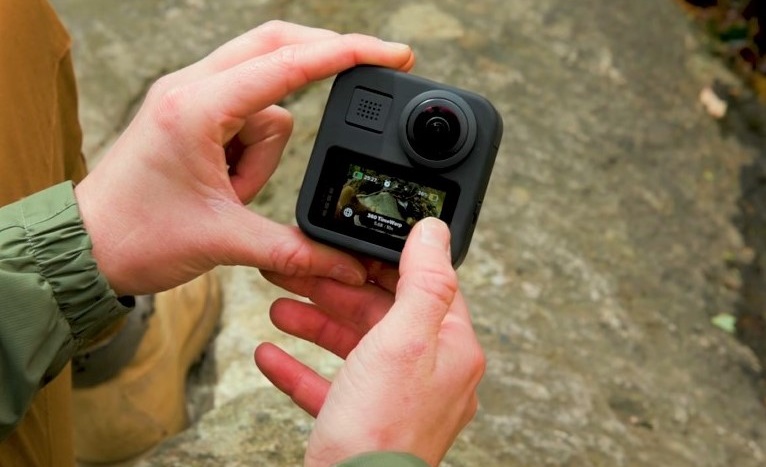 Just like some apples taste good in an apple pie and others just don't… the same is the case with cameras. No, we're not making apple pie with your camera!
I'm talking about photos and video quality. Some cameras outperform themselves when it comes to shooting very high-quality images but don't give off the same energy when it comes to video quality. On the other hand, some cameras for skiing shoot perfect-grade videos and are just a-okay when it comes to pictures.
So, when hitting the final purchase button on your camera, ask yourself if you're looking for better pictures or videos. Majorly, most action cameras for skiing that produce 4K videos are bound to give you some pretty good stills.
However, it all boils down to how many megapixels the camera is, as that, at the end of the day, is what determines your image quality.
Bottom line is, if you want a video camera, go for the 4K video shooting cameras, and if you're looking for a photo camera, then choose one which has the most megapixels you can find.
Battery Life
A very essential feature to pay attention to, especially when it comes to shooting videos on your action camera for skiing. Action cameras that are primarily for you to capture videos will need more battery life to sustain and survive your ski trips. We all know it can be quite daunting when talking about how to plan a ski trip.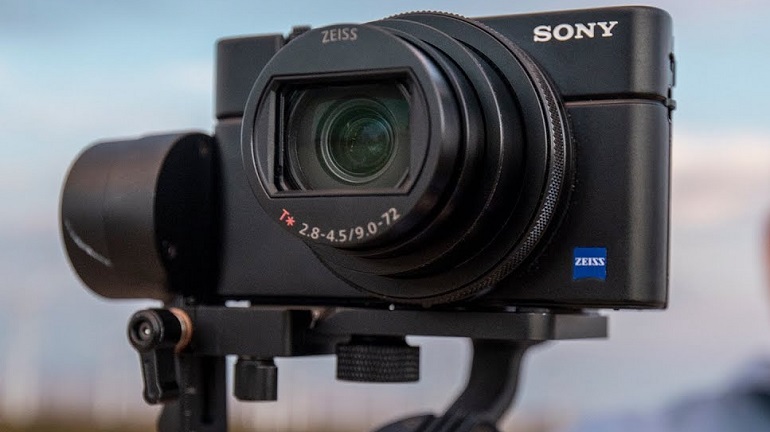 This is an important aspect for you to consider at the time of purchase as you will either need to invest in a long battery life lasting model. However, if that's out of the question, then you will need backup batteries or a portable charger that you can hook up to the nearest outlet and get your camera juiced up.
In the case of action cameras that don't have removable batteries, then investing in a power bank would be your next best shot.
Image Stabilization
The most important part of shooting all your HD videos and getting all those epic shots in is ensuring that the image stabilization system of your camera is on point. You can't do much if your image stabilization is off, and all your shots turn out shaky, blurry, and out of focus.
With advanced features and technology hitting the markets these days, action cameras have been coming out with the coolest features.
Go Pro action cameras, for instance, are known to be the best cameras for skiing, and although their stronghold isn't high-quality photos, they have the best stabilization systems for high-resolution videos.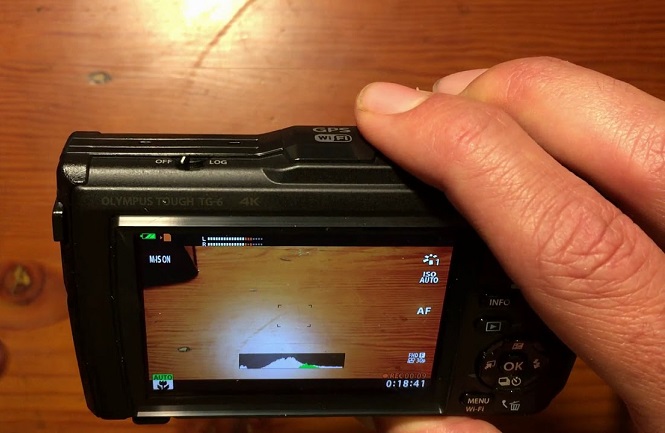 So whether you're zooming down a hill at full speed on the ski slopes or making a twisty in the air, the best action camera will capture video in the clearest and most defined manner.
Therefore it is important to do your research regarding the best cameras for skiing that you're considering buying and round up the ski cameras that give you the best stabilization.
Pay close attention to determining factors, though, as sometimes an action camera may provide excellent stabilization but will perform poorly in low light conditions.
Helmet Mounts and Accessories
In order to get the most out of your action camera, you need to know how to utilize it well. For example, how do you enjoy a video game if you don't know how to use the controls? In the same way, you can only truly enjoy the process of capturing amazing photos and videos if you utilize the proper equipment and other accessories.
So, let me paint you a picture. You are shooting a 4k video on your action cam and are looking for the highest quality, perfect shot but somehow aren't capable of achieving that by manually holding the camera for skiing.
For this, you will require adhesive mounts that can be hooked to your ski helmet for the perfect hands-off experience. This will generate super smooth videos giving an invisible selfie stick effect.
On the other hand, if you're looking to shoot from a wide-angle lens while taking in the whole scenery and skiing activity, then go for tripods which you can set up at a distance and put the camera on a timer.
FAQs
What Cameras Do Skiers Use?
Generally, because skiing is a very fast sport, action cameras are the best cameras for skiing as they adapt pretty well to the environment. Not just that, but they are also durable, sturdy, compact, and can withstand very low temperatures in cold weather.
They are easily mounted to a chest or helmet camera mount, which helps free up the skier's hands, giving them more opportunity to focus on the sport rather than the footage.
In addition to that, an action camera can capture both flat videos and great photos. So, all in all, every action camera is a small camera that has fantastic features and adapts to every other environment pretty well.
Are GoPro Cameras Good for Skiing?
The first and final choice of many avid skiers, a GoPro action camera may take away a sizable part of your bank balance, but they are well worth the investment due to their reputation as the best cameras in the market.
Whether it is the GoPro Hero or the GoPro Max that you are making your final ski camera choice, these two cameras are bound to generate the highest quality footage you'll ever need for your ski trips.
Moreover, GoPro cameras bring more features to the table (in comparison to other models), such as a fully waterproof camera body, incredible stability for action shots, Wi-Fi connectivity, slow motion effects, and even voice control features.
Final Thought
It doesn't matter whether you are a novice or an advanced skier, you need to document your progress for reasons aplenty. Picking out the best camera for skiing has never been easier.
All you've got to do is buckle down, do your research, and go over your requirements. You can also invest in the best ski bags for all your camera equipment.