Looking to escape the city for a spell? These day trips from Nice are the antidote.
Swapping the city streets for mountains, beaches, rivers, and valleys is mercifully easy to do when you're based in a city as well-connected and fortuitously located as Nice.

There are dozens of interesting day trips from Nice that you can do (we had a seriously difficult time narrowing this list down to 10 — we might have to expand it later with all of our other ideas!).

Ask us? We say the real beauty of day tripping from Nice is that you can reach so many places in so little time; places with world class hiking trails, craft breweries hidden up in the mountains, turquoise rivers that split vast gorges, sandy beaches in the summer and snowboarding & backcountry skiing spots in the winter.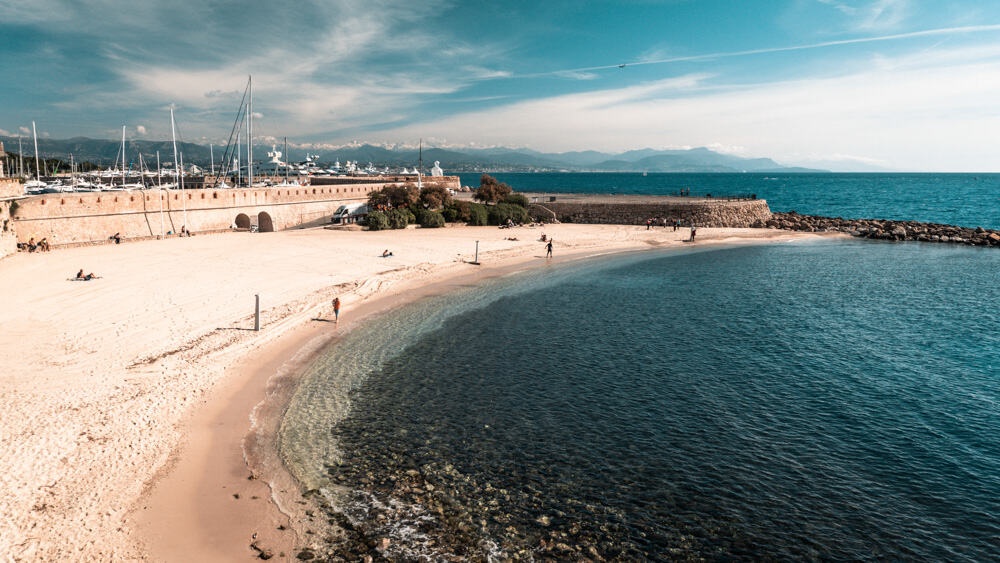 And rest assured, even if you (or someone in your travel crew) isn't exactly into the idea of Indiana Jonesing through the wilderness, we've included TONS of ideas for things you can do in Nice's nearby towns and cities as well — all with an outdoorsy, adventurous spin.

Here's our pick of the best day trips from Nice for those of you who want to explore more outdoors:
The best day trips from Nice for outdoor lovers & adventurers
Cannes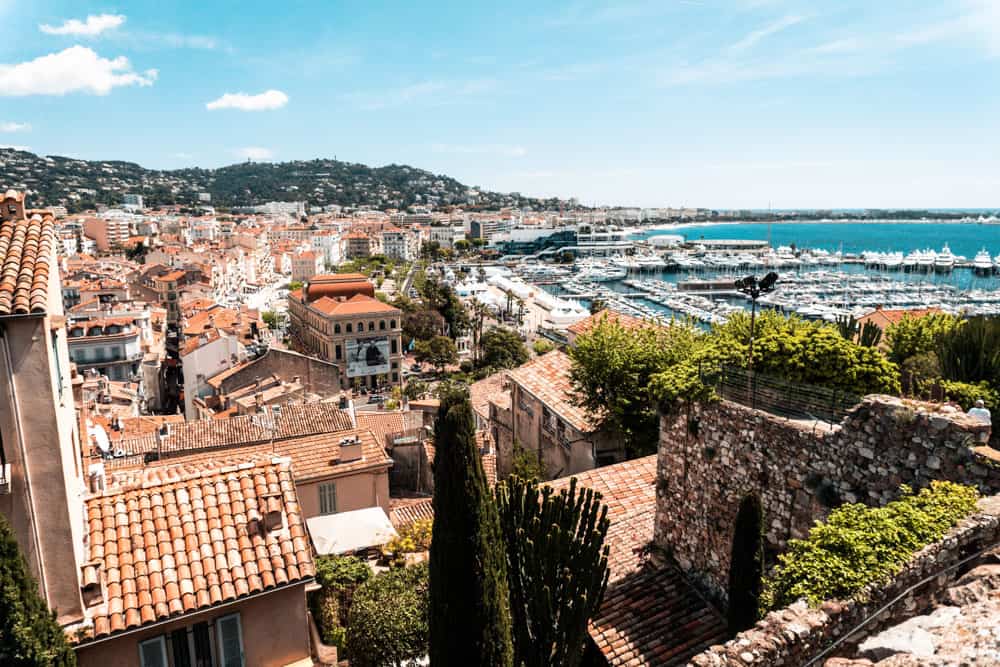 Situated just 35 km down the coast from Nice, Cannes is a city made famous for its star-studded film festival and port rammed with mega yachts. But this little seaside city offers so much more to the adventurous day tripper looking to make the most of the Cote d'Azur coast.

Psst: we're going to give you a rundown of Cannes' highlights here, but if you can read our personal favourite things to do in Cannes for more!

Let's start with what there is to do on the water:

You can take a boat trip and try snorkelling in Cannes' clear blue bay, or rent a SUP at the Point Croisette and paddle out towards the islands (more on them coming up!). Spend a day cruising around the bay on a catamaran — where you can make it as adventurous (think diving, snorkelling, and swimming) or luxurious (think sipping wine and sunbathing) as you want.

Back on land:

You can and should explore the palm-lined boulevard of Le Croisette on foot (or on wheels — did you know segways are a big thing in Cannes?! You can actually do a segway tour of the area, where you'll see the famous Palais des Festival and some of the city's best beaches and parks).
Rent a bicycle and go street art spotting in the suburbs (our favourite!), or discover the alleys and traditional architecture of Le Suquet — Cannes' Old Town.

BUT if you're the kind of traveller who seeks out the bucket list experiences, nothing — nothing — beats this final one:

You can book your own hour-long discovery flying course which sees just you and a professional pilot flying over the Bay of Cannes, the Lerins Islands, and the beautiful mountains of Esterel Massif as you learn the basics of piloting a plane. Easily one of the most adventurous day trips from Nice that you can do.

Île Sainte-Marguerite
Remember the islands off the shore of Cannes we mentioned above? Île Sainte-Marguerite is one of them — the largest one, in fact.

It's home to the ancient prison, Fort Royal, where I'm pretty sure Leonardo DiCaprio hangs out (at least, that's what I got out of The Man with the Iron Mask.. but it's possible I missed part of the plot).

Most of the island is rugged, wild, and covered with eucalyptus. There are walkways everywhere — some under the shade of the trees and others leading out onto the beaches. There's a tiny village (though that might be the wrong word for it, since there's no permanent residents on the island) with a couple of restaurants and one or two food stalls, where you can grab snacks for a picnic.

The island sits just over a kilometer offshore, so the ferry trip from Cannes is quick work. You can buy your ferry tickets at the terminal or online in advance to ensure you get a spot at your preferred time.

Secure your ferry ticket to Île Sainte-Marguerite now!
Antibes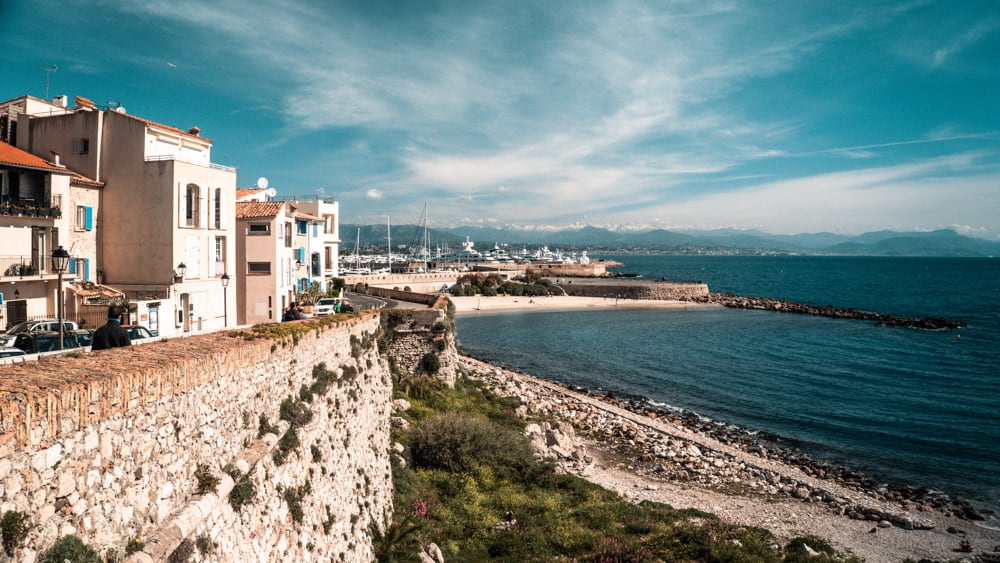 Antibes is one of the nearest and best day trips from Nice, if you ask us. They're only 20 km away from each other and they're well connected by public transport — so one to keep in mind if you haven't rented your own car.

Antibes is both modern and really, really ancient at the same time. Walk through the Port Vauban with its super yachts to see the former, and make your way through the city walls to the Old Town for the latter.

The Old Town is awesome; it's filled with traditional architecture, art galleries, cheap Provencal restaurants, and outdoor cafes to stop at for a glass (ummm or bottle) of wine. Trek up the stairs and steep hills of the Promenade Amiral de Grasse to reach the best views of the city. While you're up there, make sure you visit the Picasso Museum, where the largest EVER collection of his work is held.
Route Napoleon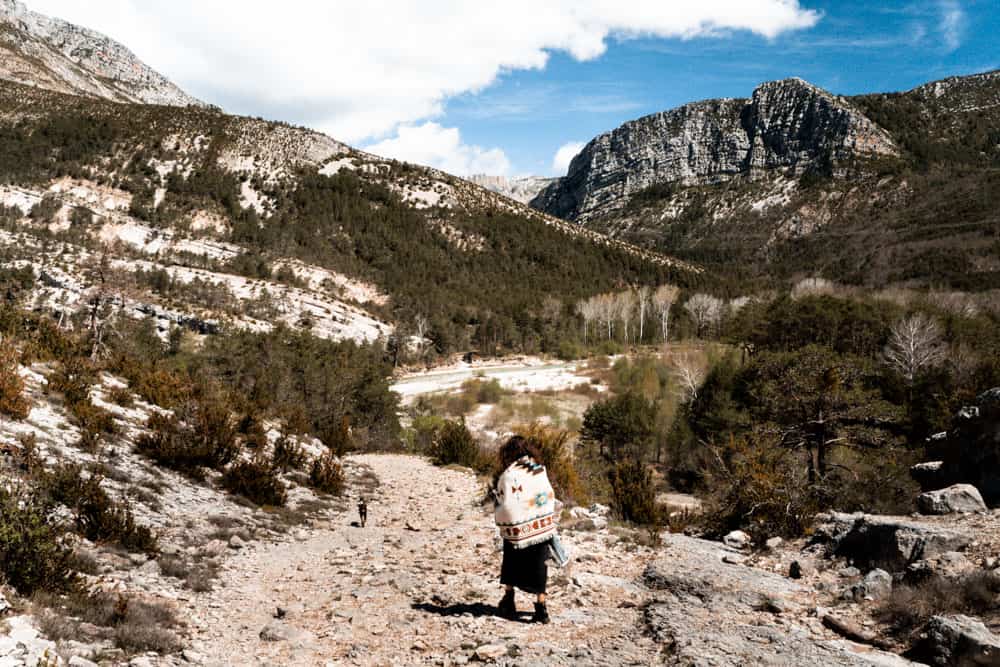 Mmmkay, so this entry is a little different to the others on the list, in that it's not actually a destination, per se, but a series of destinations… i.e. a road trip! And not just any old road trip; but our favourite south of France road trip. YAAAAS!

We've gone into full detail about why it's so high on our list every time we visit the south of France in our complete Route Napoleon road trip itinerary, but we'll summarise:

Basically, it's a 300-something kilometre long route which runs from Golfe Juan (just 27 km outside of Nice) all the way to Grenoble — to the foothills of the Alps. The route takes you past mountain vistas and tiny villages; Côte d'Azur coastline to rivers and valleys.

Along the way, you might find yourself stopping into places like Castellane, the rafting capital of France; Gap, the highest town above sea level in the country; or Sisteron, with an incredible citadel carved into the mountainside (we'll come to a few of these places further down in this post, FYI).

If you're looking for a day trip from Nice that encompasses sightseeing, adventure, nature, and awesome scenery, you'll definitely want to give the Route Napoleon a try.
Verdon Gorge
You only need to depart ever so slightly from the Route Napoleon to reach the INSANE landscape of the Verdon Gorge — easily one of the most incredible day trips to make from Nice in terms of scenery.

The Verdon Gorge, or Gorges du Verdon en français, is all gigantic mountain peaks and plunging valleys, with the Verdon River running down the middle. The turquoise waters of the Verdon have to be seen to be believed, to be honest. Better yet, swim in them; dive into them, or raft down them on your own whitewater adventure.

The area is also full of hiking trails that snake through the limestone cliffs. With proper preparation, you can seek them out and scale them on your own; but it's also possible to sign up for a guided private hiking tour which takes you to the best lookout points around (and get you back afterwards without accidentally falling off the side of a cliff. Which is always a plus).

Goes without saying we sought out the most off-the-wall activity you can do at the Verdon Gorge… which, when we found out what it was, we quickly declined to take part in because we're actually giant vertigo-suffering babies. Ahem. You can bungee jump off a bridge — the highest bridge in Europe, at that — and fling yourself between the crevices of the Verdon Gorge, like a tiny human-shaped catapult.

So yeah. There's that!

Getting to the Verdon Gorge from Nice is easiest done by either renting your own car and driving, or by joining a tour which takes you there directly. There are several interesting tours which you can make from Nice, including one that takes you through the lavender fields, the Verdon Gorge, Castellane, and Mousiters-Sainte-Marie (all of which we've included as fabulous options for separate day trips from Nice — so this tour is pretty bang on as it combines them all!).
St Paul de Vence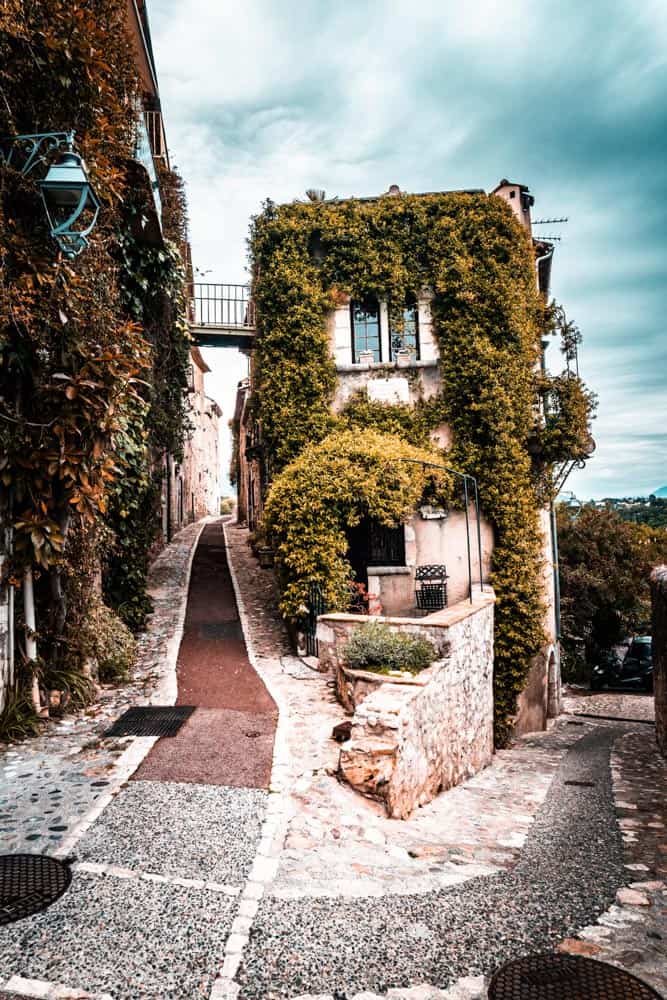 Departing a bit from the usual Extreme Nomads' way, there's nothing too extreme about Saint Paul de Vence except for the fact that it's an extremely lovely little town and makes for an awesome day trip from Nice. Fact.

The town sits on top of a hillside overlooking the valley below — on a good day you'll score a stellar view — and inside the labyrinth of traditional stone buildings, you'll find all kinds of craft shops, art galleries, cafés, restaurants, and specialty wares (ummm, handcrafted knives, anyone?).

Ducking in and out of the shops is fun, but it's the strolling around outside that really lets you capture St. Paul de Vence's special vibes. Wander through the hard-to-find corners of the town, walk along the top of the ancient battlements, and don't leave town without stopping for a pinard (red wine) in Chez Andréas.

You could easily spend a whole day in Saint Paul de Vence if you wanted to explore at a really leisurely pace, have lunch, drink copious coffees, and duck into every art gallery that catches your eye. Then again, you could max out the time you have away from Nice by combining your day trip to Saint Paul de Vence with Cannes and Antibes .

Gourdon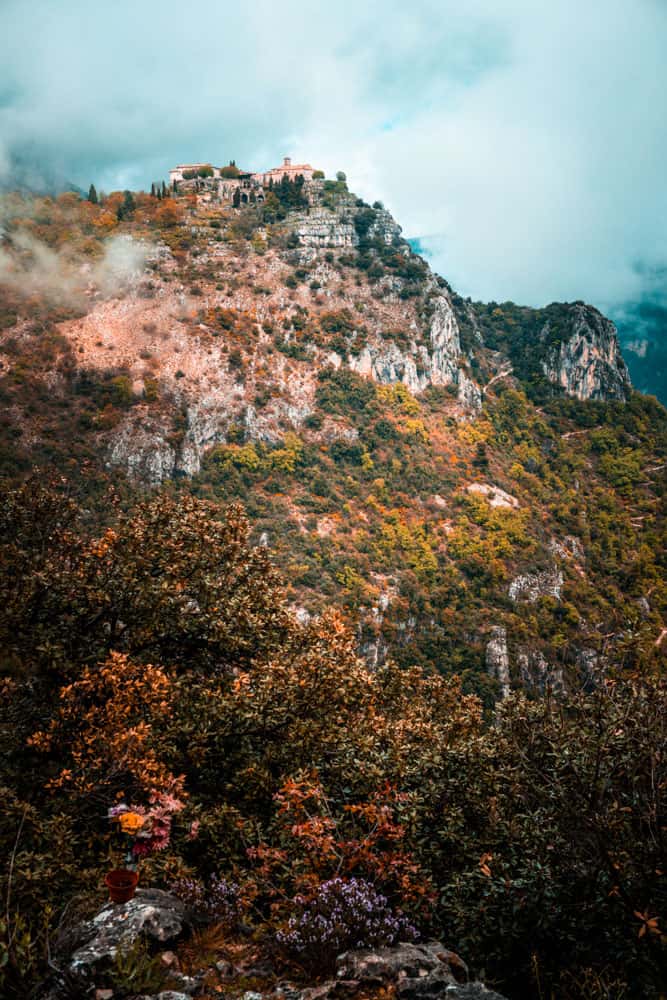 For those of you looking for a day trip from Nice that doesn't involve visiting another busy, buzzing destination, a visit to Gourdon should be right up your street. It's a tiny Medieval village set up on top of a mountain with panoramic views of the Alpes Maritimes region.

Precariously perched on the very edge of the cliffs, you won't find a better vantage point to take in the scenery than you will in Gourdon. Beyond it lies the Gorge du Loup; its river, waterfalls, misty mountains, and sheer drops all within a stone's throw.

The village of Gourdon is home to just a few hundred residents; as such, it's pretty tiny and you can cover it end-to-end in no time at all. Prioritise a visit to the Château de Gourdon and its immaculate gardens; and if you find yourself still with time to kill, combine your Gourdon visit with other nearby towns or villages — such as Grasse.

Grasse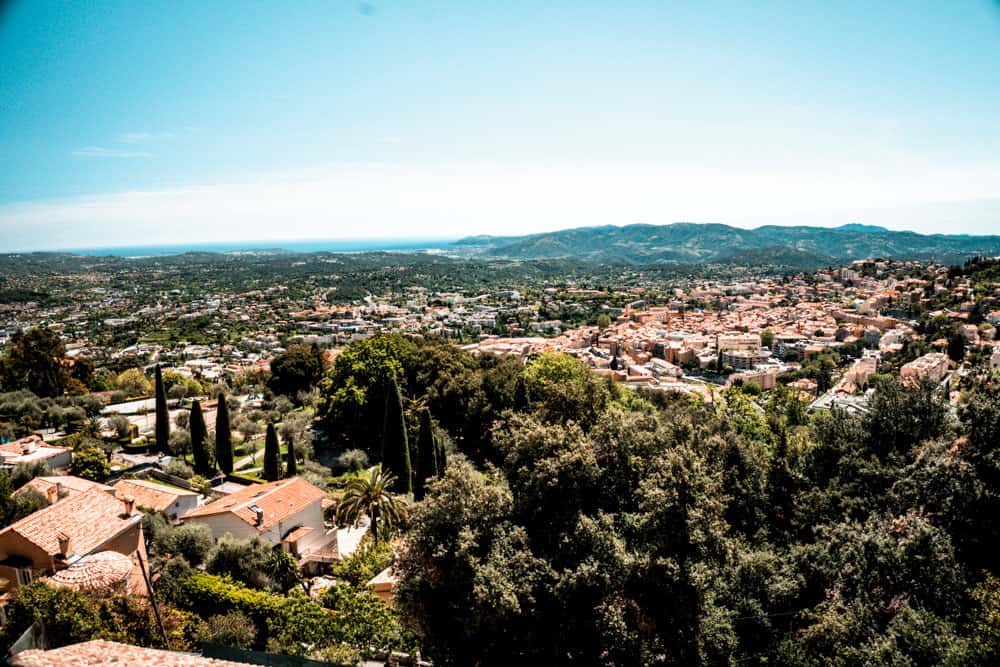 The unofficial world capital of perfume, Grasse is a town made famous for its invention of the smelly stuff. Today, there are three major perfumeries in Grasse which draw scores of tourists who fancy learning how to make perfume themselves, the history, and of course, nabbing themselves a bottle of the finest fragrances of the French Riviera. Ahhh….

Beyond the iconic perfumeries, Grasse's Old Town and cathedral — Notre Dame du Puy — are worth visiting, particularly for those of you with an eye for architecture and art (the latter holds a couple of paintings by the renowned Belgian artist, Rubens).

A visit to Grasse deviates somewhat from the rest of the outdoor-oriented day trips we've listed in this post — but what with it being such a popular one, it'd be remiss of us not to include it. If you're like us and you prefer to fill your travels with more adventurous activities, you might find that stopping off briefly in Grasse as part of an action-packed road trip is more than enough!

Castellane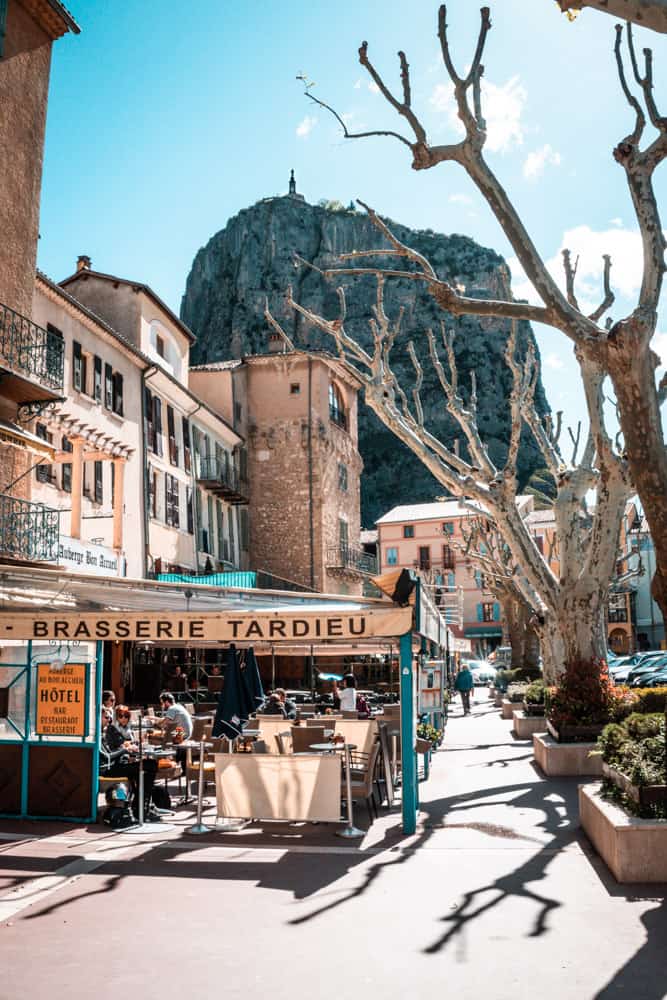 Of all the adventurous day trips from Nice we came across, a visit to Castellane comes in high on the list every time. Why?

Castellane is the French capital of river rafting.

There are several exciting tours operating in the area which offer rafting experiences down the Verdon River, which runs right through the little town of Castellane. You can go full-on adventure mode with a white water rafting excursion in the rapids, or opt for a tour that visits the calmer waters where you can soak in the (incredible) scenery at a leisurely pace and have a swim in the phenomenally blue/green water.

We didn't get the chance to try rafting in Castellane when we visited last, but just a quick stop in town — with its chalky buildings, cliffside chapel, and buttery smells wafting out the door of its boulangerie — plus a quick dip in the Verdon River nearby was enough to make us sure that this is something we'll do next time we go.
Moustiers-Sainte-Marie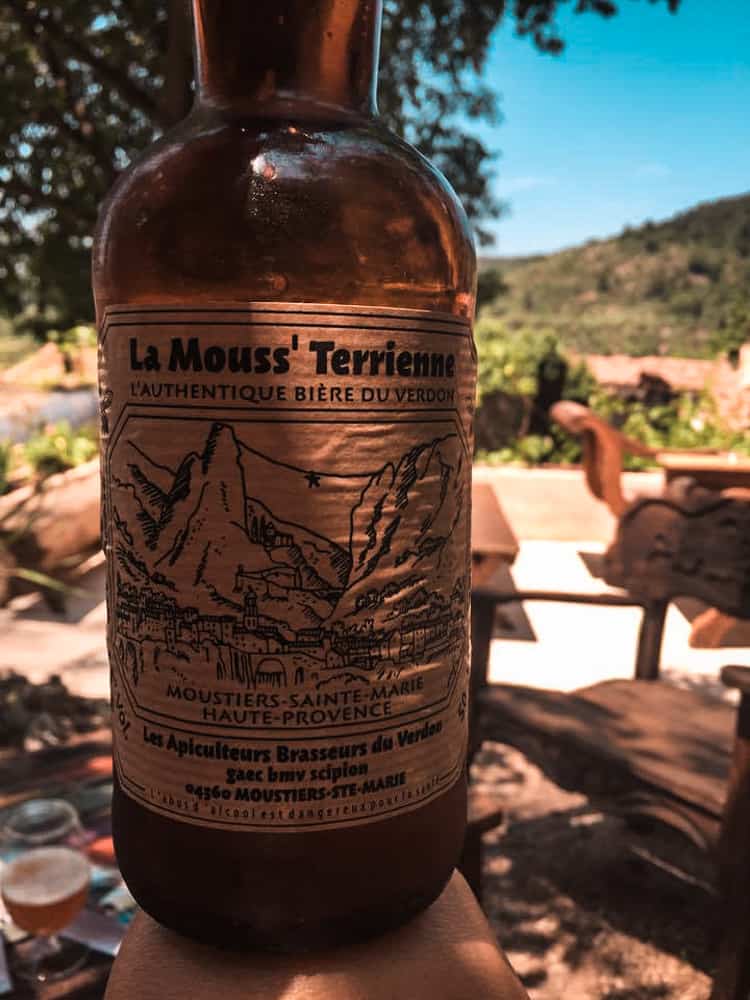 If sipping a frosty cold craft beer amidst ancient architecture, castles, and sheer limestone cliffs — with a view of a sprawling national park below — sounds like your kinda thing, Moustiers-Sainte-Marie is the best day trip from Nice you can possibly make.

Home to just a few hundred residents, Moustiers is officially listed as one of the "most beautiful villages in France", no small feat considering the wealth of gorgeous little towns one can find in the country of baguettes and bloody good wine.

It also happens to be home to some small-scale local breweries who create batches of artisan craft beers, like La Mouss' Terrienne — of which we polished off quite a few during our stop-off in town.

But beer aside, Moustiers is also a primo spot for craft lovers; the town is full of specialty earthenware pottery shops, some of which offer the chance for visitors to join workshops and learn the craft for themselves.
Whether you choose to get stuck into some clay, wandering through the steep little streets of Moustiers and up into the mountain trails behind the town makes for an awesome, adventurous change of scene from the city streets of Nice.
Nab yourself a day trip to Moustiers-Sainte-Marie, Castellane, the Verdon Gorge, and the famous Provence lavender fields now!)

Final thoughts on choosing day trips from Nice
Escaping the throng and hum of the city is easy to do when you're in a place like Nice. Of all the day trips we've listed in this post, our favourites are usually the ones that take us to the mountains — the Route Napoleon drive and the Verdon Gorge, for example.

But the beauty of having a selection of destinations within reach is that you can make your choice based on whatever is calling your fancy on any particular day; be it a sun-drenched beach, a hike in the hills, or an impromptu snowboarding trip.

Have a question about day trips from Nice? Hit us up in a comment below, or in our FREE adventure travel Facebook group (where we answer all questions!).