On the lookout for untouristy things to do in Cannes? A local lets us in on the city's best kept secrets.
Cannes, a city made famous for its glitz & glam, heaving port, and star studded film festival, is a well-trodden tourist destination in every right. But while most head for the Palais de Festivals or the fancy seafront promenade, we're proponents of doing it a little differently:
For those of you that don't know us, Jim (our token Frenchie) is a Cannes local — yes, I promise you he's French even though he's got a name like an Irishman.
Ever since I blackmailed Jim the Frenchman into becoming my boyfriend (kidding, you guys. Mostly.) we've been making regular-ish trips to Cannes to visit his family and friends.
Lucky for me, this has meant I've been getting to experience Cannes like a real-deal local. Read: amazing (affordable) wine, simple and delicious food, quiet 'locals-only' beaches and back streets, outdoor adventures, and sweet little discoveries I never would have found if I'd been visiting as a tourist.
Follow in these footsteps and you'll soon discover Cannes has:
local culture to burn
fabulous traditional architecture
seriously good, fresh local food
a city-wide creative spirit
awesome potential as a day trip from Nice
and a whole load of outdoor adventure potential (it also happens to be super close to the starting point of our fave outdoor-inspired south of France road trip: the Route Napoleon!)

So for those of you who are ready to experience the city like the locals do, here's our pick of the best (and not-so-obvious) things to do in Cannes.
Psst: wondering where to stay during your time in the city? Check out curated listings and real reviews for Cannes' hotels on TripAdvisor.
You might also like:
Authentic things to do in Cannes, France
Watch a petanque match in the plaza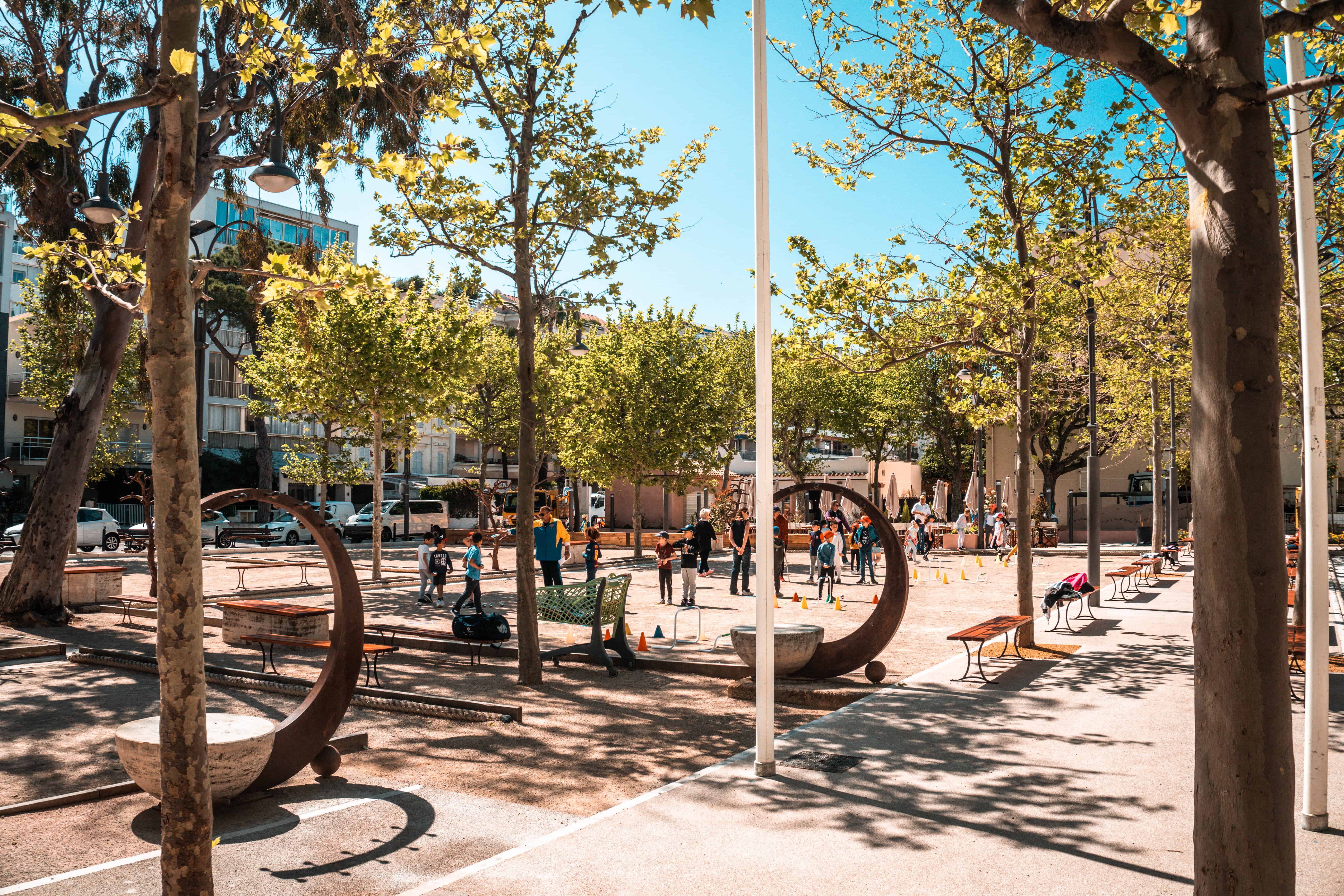 Adapted over 1,000's of years of being played by the Ancient Greeks and Romans, today's Petanque is a game that originates in the South of France. Plazas fill up after work and on weekends with groups of friends, young and old alike, and often with glasses of pastis in hand.
The game uses a set of steel balls the size of a baseball and small wooden cochonnet (meaning 'piglet'). Played in pairs or teams, the aim of the game is to throw your balls as close to the cochonnet as possible without touching the end of the court.
But any French person will tell you petanque is more than just a game; it's a cornerstone of the community. In fact, petanque is so deeply ingrained in society that the phrase "tu tires ou tu pointes?" (which we can translate to "are you aiming or are you striking?") is commonly used in colloquial French.
There are close to a dozen petanque plazas scattered throughout Cannes, amongst them the Boulodrome de l'Etang, where we stopped to soak in the atmosphere.
Sip wine and sunbathe at Pointe Croisette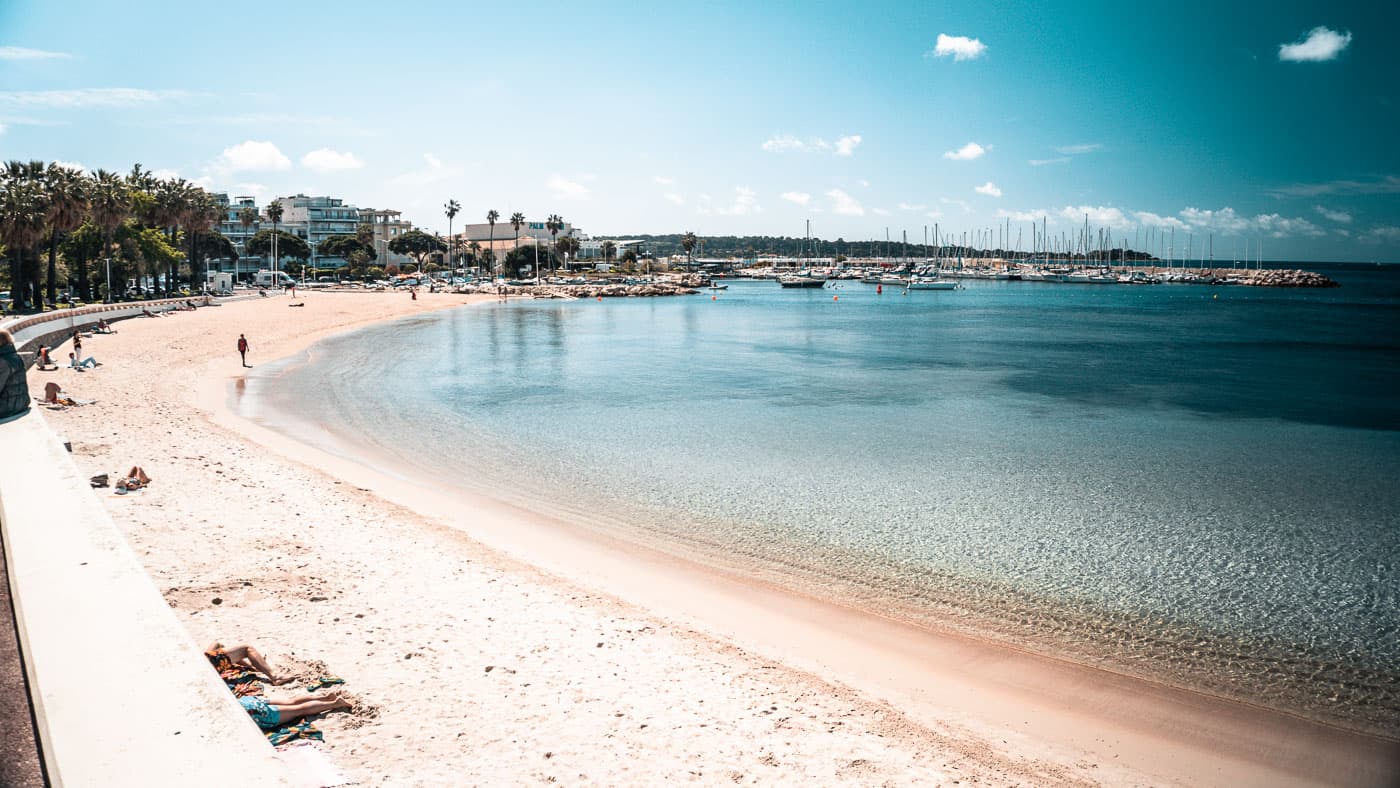 The beaches that line the shores of the Bay of Cannes may be beautiful — but they're also usually packed to the 9's. For a more authentic, local experience, nip around the eastern side of Pointe Croisette and you'll find a much quieter beach, the Mouré Rouge.
The majority of tourists don't venture this far, since it's a bit less accessible than the main city beaches. But do so and you'll be rewarded with a laid-back, spacious beach area and a perfect view of Cannes' kiteboarders and windsurfers further out on the water.
The beach itself meets with a fairly wide promenade which is made for easy seaside strolls. Along the pavement, you'll find a handful of pop-up restaurants and cafes dishing out steaming bowls of local mussels with chips and ice cold glasses of rosé.
Stand up paddle board to the Lérins Islands
Take to the water and get a glimpse of Cannes from a different point of view — atop a SUP (stand-up paddle) board, which can be rented from Cannes Stand-up Paddle during the summer months.
With flat water and minimal wind, the Bay of Cannes is ideal for a paddle-powered adventure.
Traffic conditions permitting (make sure you get the green light from the staff, the water can get really busy with boats in peak season), we recommend setting off towards Île Sainte-Marguerite, the biggest of the Lérins Islands lying just off the coast of Cannes.
As you paddle near the coastline, keep an eye out for the impressive Fort Royal perched on the edge; the fortress is steeped in history, most famously for holding the 'Man in the Iron Mask' captive back in the 17th Century.
Psst: if you fancy visiting Île Sainte-Marguerite more extensively — and without the paddle board — grab a cheap as chips ferry ticket online in advance ferry ticket online in advance and explore the place fully!
You might also like:
Take the ferry to Île Saint-Honorat
Île Saint-Honorat is the second largest of the Lérins Islands, known best for its ancient monastery. The monastery, named the Abbey of Lérins, is home to a community of monks whose history on the island dates back to the fifth century.
But it's not all history…. There's also booze, people!!
The monks have been cultivating their own vineyards for more than 150 years now, and visitors can sample their wines and spirits while there.
Insider tip: if you just love a good boozy activity, you've GOT to make the trip over to Antibes (just 15 minutes away from Cannes). The ancient town is gorgeous — but one of our absolute favourites in town is the old school absinthe bar. Read about it in our post on unusual things to do in Antibes.
Visit le Marché Forville
Of all the things to do in Cannes, there's fewer more suited to a morning of getting to know the locals and practicing your French than visiting the Marché Forville, Cannes' farmer's market.
You'll find it tucked away on the fringes of Le Suquet, but with its soaring ceilings and invariably lively atmosphere, you can't miss it.
The market sells all kinds of fresh seasonal produce, spices, catches of the day, cheeses, charcuterie, flowers, and ready-to-eat dishes. Whether or not you go to buy isn't important; just the experience of walking around, mingling with the impressive sounds, sights, and smells is something in itself.
The market is closed on Mondays, so head there Tuesday through Sunday (mornings are best).
Spot street art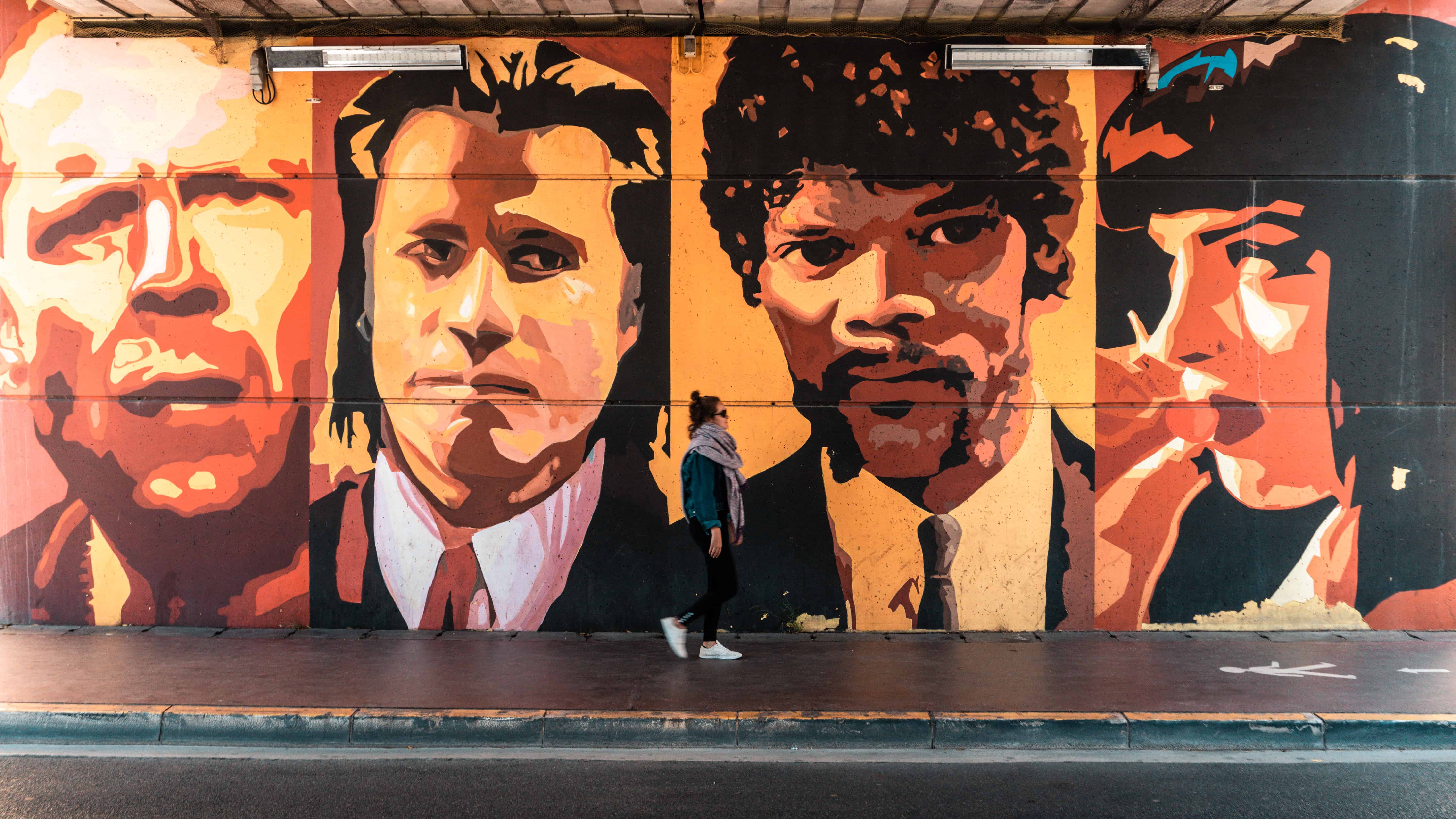 Cannes' famous film community breaches the boundaries of the cinema in more ways than one — but perhaps the most striking of all is the eye-catching street art painted in homage to some of the greats.
Take a walk (or better yet, rent a bicycle so you can cover more ground) around the suburbs and crane your neck to see the entirety of Marilyn Monroe painted across 8-storeys of the Cannes Riviera Hotel.
Follow the trail of breadcrumbs further and you'll find the likes of Charlie Chaplin, James Dean, and the cast of Pulp Fiction adorning walls throughout the city.
Many of the pieces were originally commissioned by the Municipality of Cannes, and with more than a dozen total scattered throughout the city, there's plenty to see — so go grab a take away coffee and hit the streets.
Devour some insanely good pizza (from a truck!)
Michelin stars are all well and good (and you can bet Cannes has got plenty of 'em) but if you ask us, the city's best grub comes covered in cheese and is served out the back of a truck. Because we're classy, classy birds.
You'll find Pizza Jean Jean parked up at 38 Avenue de Lérins and serving up the best slices in town from 6-10pm daily. Phenomenal thin crusts and fresh AF local toppings, there's a sizeable menu to choose from — but ask for the pizza de la semaine and get Jean Jean's special chicken BBQ masterpiece.
Jean Jean's got a couple of bar stools so you can eat right there and then, otherwise we recommend grabbing a seat in the outdoor plaza behind and getting down to some pizza eating and people watching in one.
Stroll past stunning terraces in Le Suquet
Le Suquet — the Old Town of Cannes — is a highlight on many visitors lists, and rightly so. Its cobbled streets, winding pathways, and myriad trinket shops are mesmerising to get lost amongst.
To get the local's scope on things, bypass the beeline for the nearest souvenir shop and instead take a walk through some of the quieter side streets. You'll get to see local life as it really is and get a lil' dreamy gazing past the beautiful terraces and thoughtfully decorated gardens, windowsills, and doorsteps of the little townhouses.
If you're not one for walking around lots, you can always rent a Vespa for a couple hours and tour Le Suquet on two wheels!
Hey, want to make sure you don't miss any of our future articles? just sign up to our monthly Extreme Nomads newsletter when exiting this page (also located in the footer / sidebar), or follow us on Facebook, Instagram, or Youtube for more original content from us!
Read next: