Looking for the best things to do in Antibes? Settle in for our pick of the bunch.
Ahhhh, Antibes. Your cobbled streets, interesting artwork, and fancy AF port got us all kinds'a crazy about you.
That said, this little seaside town in the Côte d'Azur (or French Riviera, for all you non-Frenchies) is so much more than its posh yachts and reputation as a popular day trip from Nice.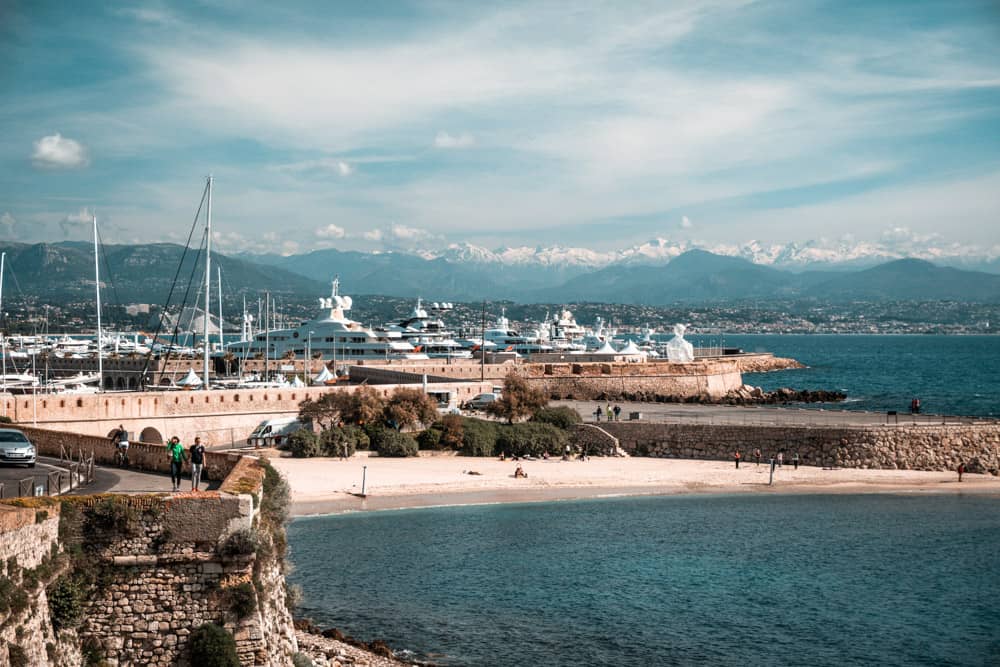 YES, Antibes' Old Town is fabulous–and in this post, we'll share our favourite little hideaways within it — but if you're looking for the town's underrated gems, you'll have to hop off the well-trodden tourist trail with us for a while.
Welcome to the dark side, mwahaha.
Street art. Local's-only markets. Booze so strong it'd make Hemingway roll in his grave.
But it's not all anchovies and absinthe:
Antibes still beautifully wears remnants of its Greek and Roman history, and its historically significant position smack dab in the centre of the old pilgrimage routes is still visible at almost every turn. A visit to Antibes is as much a walk through history as it is an immersion into the modern Provençal way of life.
To top it all off, Antibes is also near the starting point of our favourite France road trip: the Route Napoleon!
Our own trip to Antibes was a mishmash of the must-see tourist spots and a few secret ones that only the true locals know (as luck would have it, our main man Jim is a Riviera local and was ready to take us to all his favourite haunts).
With the aim of offering a little something for everyone, here's our pick of the most unusual, interesting, and dare we say DELICIOUS things to do in Antibes for first-time visitors:
Pssst: this guide is designed for self-led exploration, but if you fancy the idea of a tour that promises to take you to all the best spots, check out this awesome day trip to Antibes, Cannes, and St Paul de Vence!
You might also like:
Top things to do in Antibes, France: Our Selection
Have a drink at the Absinthe Bar
Let's start this list as we mean to continue it: drunkenly and possibly on fire.
JUUUUST KIDDING. But that is how we like our Absinthe.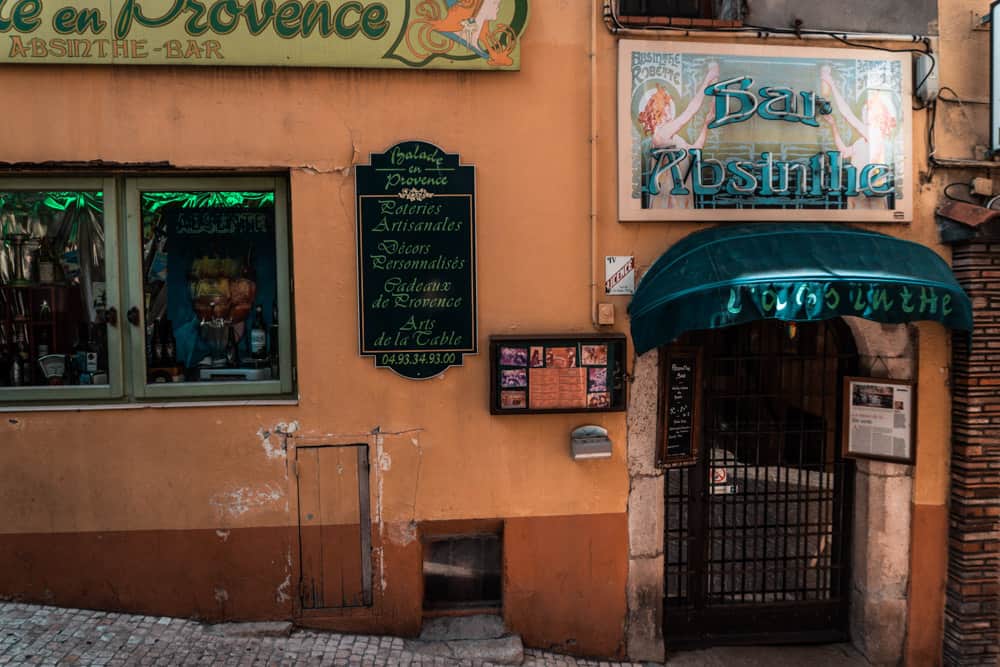 For any lovers of booze and quirky culture, the iconic Absinthe Bar is an absolute must-do when visiting Antibes.
Of course, absinthe has enjoyed a long history in the French Riviera, serving as the creative juice for oodles of artists and poets of years gone by. Yet even hundreds of years later, Antibes' absinthe bar still stands proudly and authentically in the heart of the Old Town.
Sidle down the little street next to the Provençal Market and there you'll find it; its veneer revealing layers of flaky paint in shades of ochre and emerald. Pull up a stool at the original zinc bar from the 1860's and grab a glass of the green stuff–and keep your eyes out for fairies, pesky buggers will nick your wallet if you don't watch 'em.

Visit the Provençal Market
Right outside the doors of the Absinthe Bar is the local farmer's market, otherwise known as Le Marché Provençal. Provençal markets are super typical of Southeast France, particularly the Provence-Alpes-Côte d'Azur region; and when it comes to Antibes, there's no better place to pick up some tasty treats, mingle with the locals, and pratique t'on Français.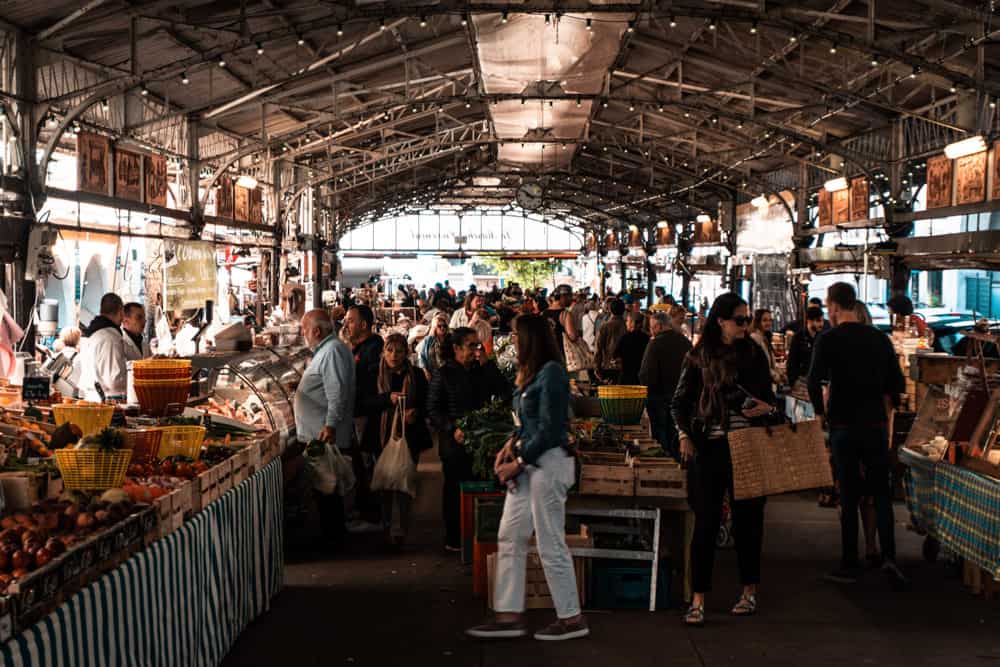 The covered outdoor market is bursting with colours and local flavours; rows upon rows of fresh blooms, stinky stacks of cheese wheels, charcuterie, buckets overflowing with freshly ground herbs, and enough locally farmed fruit and veg to feed a battalion. Even if you're not there to buy, it's worth visiting just to experience the sights, sounds, and smells.
While there, we picked up 2 beautiful cantaloupes for just €1.50. Such a treat to be able to score cheap, delicious fruit as it comes into season!

Eat a Sandwich at La Ferme au Foie Gras
Guys, I don't mean to alarm you, but this might be the best sandwich shop in the world. OH JAYSUS!!!
Their wares are so good, in fact, that we may or may not have decided to visit Antibes in the first place just so that Jim could satisfy his craving for one of their foie gras filled baguettes.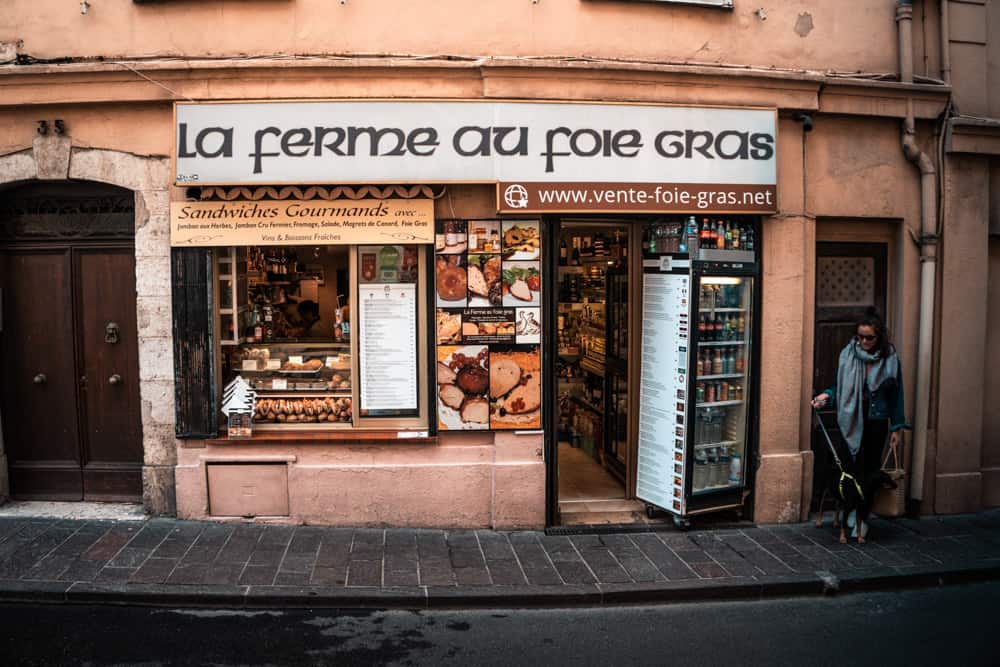 La Ferme au Foie Gras is the definition of a hole-in-the-wall spot; you'd probably walk right past it if you didn't know the deliciousness that lay before you. Have a look at the human-sized menu lining the wall outside and take your pick between farm fresh cheese, tuna, egg, or their namesake foie gras. Every sandwich comes in a light, flaky baguette and is stuffed with crunchy local greens. YUMSTERS!
We grabbed ours to go and drove back over to Jim's home spot in Cannes, where we gobbled down our sarnies in the sun sitting out on the promenade. Bliss.
You might also like:
Wander through the Old Town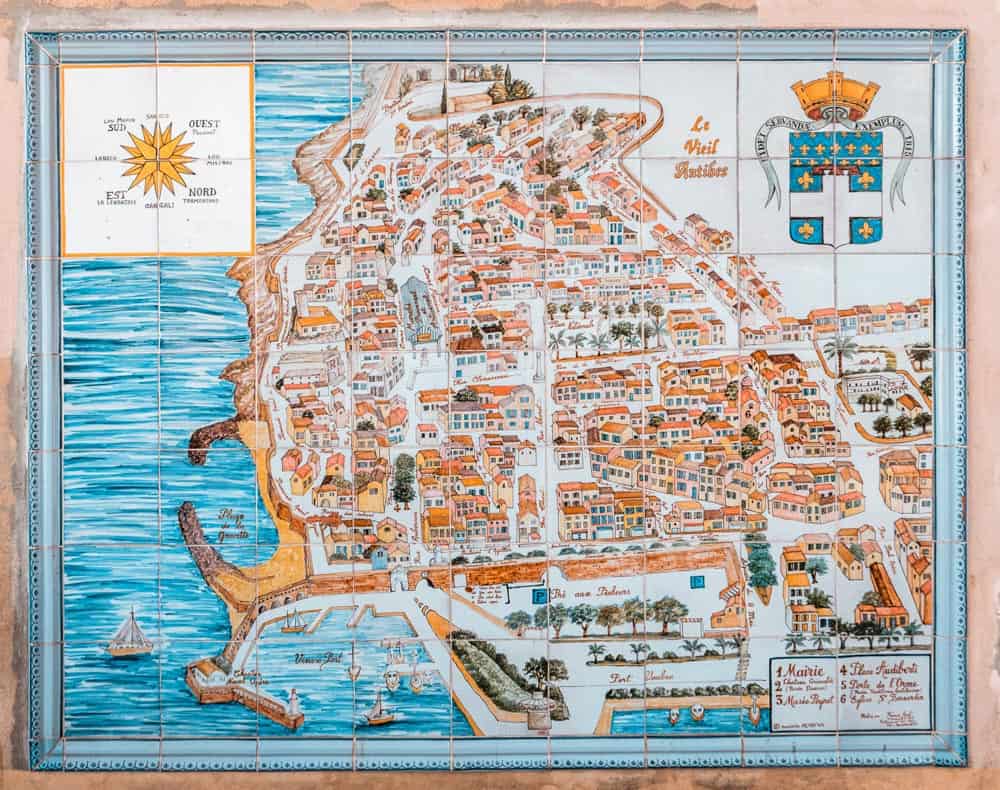 Whether or not you realised it, all the spots we've taken you to so far are actually located right inside Antibes' Old Town. Check you out, two birds-ing with one stone-ing!
While you're still all fuelled up, take to the streets and explore the rest of the little cobbled paths, terracotta buildings, and charming corners that characterise the Old Town of Antibes. It's worth it; after all, it's one of the most renowned Antibes sights.
The Old Town spans the entire length of the south of Port Vauban (more on that in a minute!) and stretches down along the coast. Inside its (very very thickly) gated walls you'll find all kinds of interesting craft shops, restaurants, and houses cordoned off by terraced gardens and window boxes stuffed with cacti and succulents. Gahd dayymn, sometimes Antibes is too cute for words.
We spent an entire morning wandering through the streets, photographing our favourite doorways (does anyone else do that when they travel?!), and stopping for a wee bite to eat every now and then (read: sandwiches. Big, yummy, cheese-filled ones).
Make sure you take a walk up the Promenade Amiral de Grasse for the best views of the harbour, beach, and iconic 'Le Nomade' sculpture–one of the top Antibes attractions.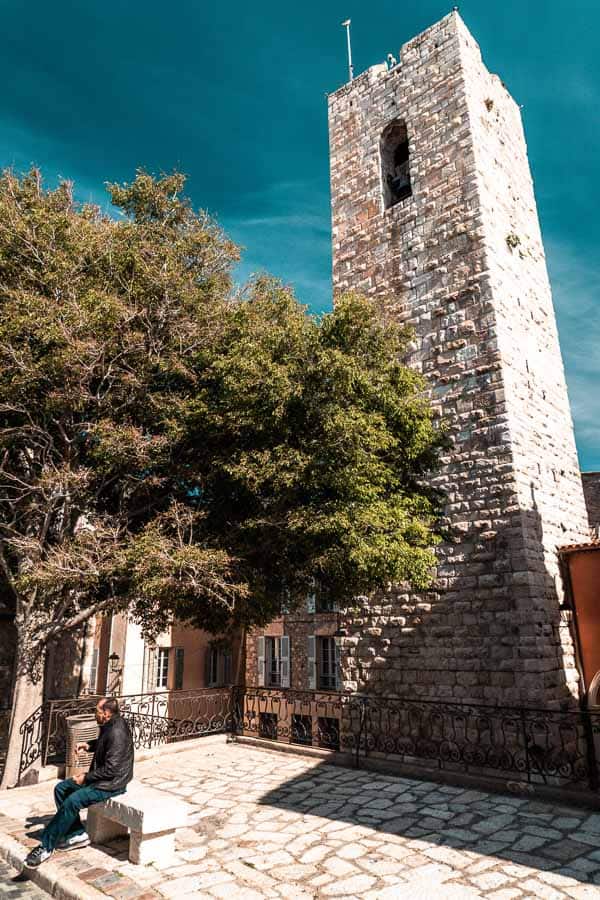 The seaside street will lead you right up to the top of town, where art lovers will have a real treat in store–which brings me to my next point…

Get lost in the art galleries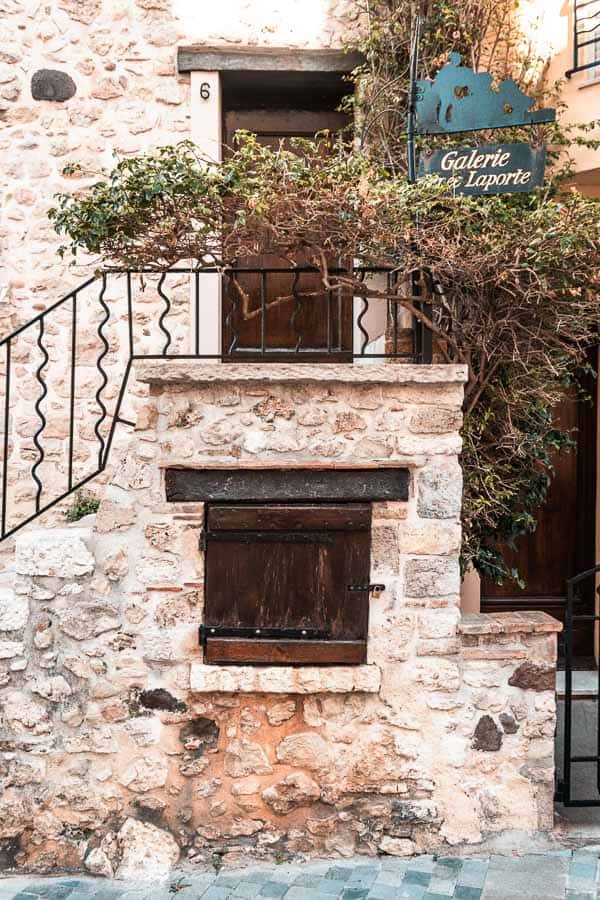 If there's one thing to see in Antibes, it's the art galleries; the place is TEEMING with them! Getting lost inside them is one of the best things to do in Antibes, hands down.
The Picasso Museum, located at the tippity top of town, is the most famous of all. The museum's surroundings are just as impressive as the gems inside, as it sits right at the summit of the Ancient Greek town, Antipolis.
Oh, it's also in a castle. So yenno, no biggie.
This gallery is actually hugely significant on a global scale; not only is it home to a whopping 245 original works by Picasso, but it was also the first gallery in the world to dedicate itself entirely to him, and it even briefly served as his studio once upon a time.
I only found this after our trip, but you can actually go on a tour of the Picasso Museum led by a local artist?!
Beyond the Musée Picasso, there are tons of other interesting galleries filled with the works of French and international artists that are well worth a visit. Block off an hour to channel your inner art appreciator and explore them all.

Peruse craft shops
Just spending 20 minutes walking through the streets of the Old Town is enough to make you realise that Antibes has a creative soul. Duck into some of the craft shops and get to know what the region's own artists are creating; from silver and glass jewellery to quirky hats, aromatic soaps to hand printed stationery.
Show your appreciation for the local artists and craft makers by picking up a little souvenir for yourself. Guaranteed it'll be unlike anything other travellers would nab in the standard tourist shops–and you get brownie points for supporting local creators.
Ogle at fancy yachts in Port Vauban
If your an Antibes local, super yachts and fancy motorboats are pretty much the standard. Now that's not to say that everyone in Antibes actually owns one of the damn things; but Port Vauban has become the place of choice for those owning motor yachts to park 'em up and use as a base.
The massive harbour is shoulder to shoulder with mega yachts. Like, you couldn't even begin to fathom the wealth that's bobbing around in that harbour. There's a walkway that goes around much of the harbour, and where that finishes the car park usually takes over, so it's a pretty cool place to go for a stroll and ogle at the other half's weekend toys.
Fun fact: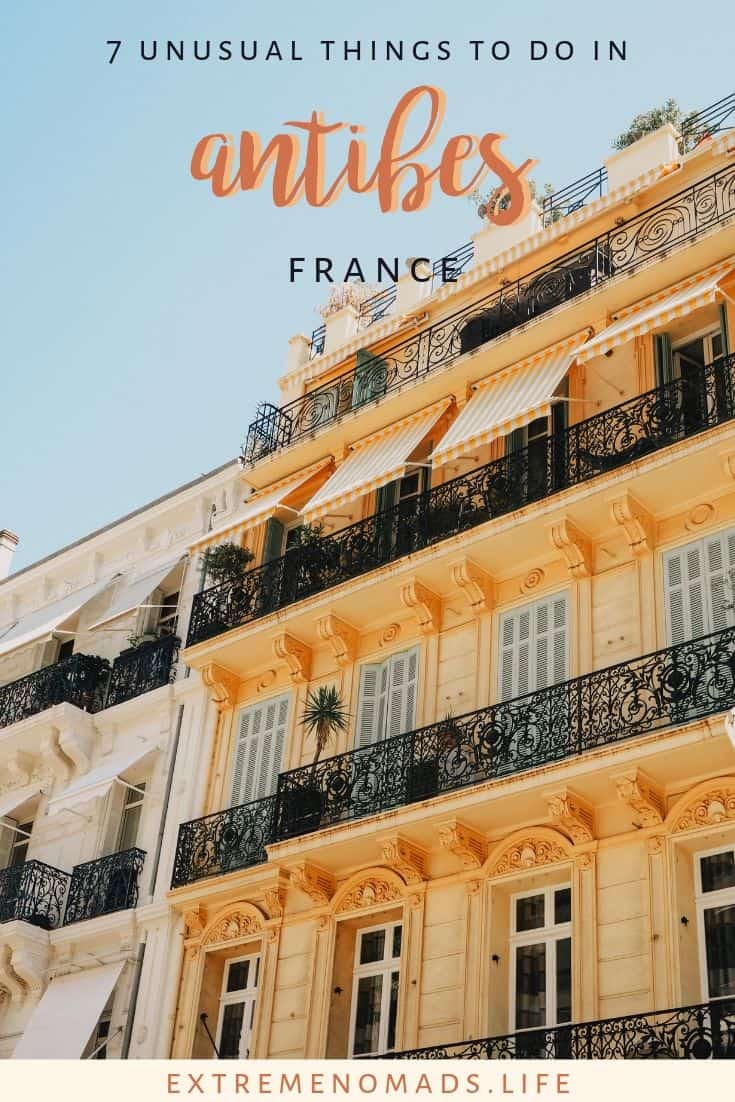 Jim used to work as a deckhand on the motor yachts in the Côte d'Azur before the days of Extreme Nomads. And while working for the rich and famous eventually did his head in, he's still got a couple of pictures of himself lookin' all sexy-pants in his uniform. And at the end of the day, that's all that matters.
---
Got a question knocking around your noggin about what to do in Antibes? Drop us a comment down below and we'll share our two cents!
Hey, want to make sure you don't miss any of our future articles? just sign up to our monthly Extreme Nomads newsletter when exiting this page (also located in the footer / sidebar), or follow us on Facebook, Instagram, or Youtube for more original content from us!

Read next: