Kayaking is more fun with a buddy, specifically a man's best friend. In this article, we're going over the best kayaks for you and your pup. Can't find a friend to go with you on your tandem kayak, bring your dog instead!
Did you know that there are races dedicated to kayaking with your dog? These dogs have been specially trained to travel rocky waters and navigate difficult obstacles.
Some dog breeds, like retrievers, labradors, poodles, shepherds, and setters, are all dogs that enjoy a splash in the water.
Dogs enjoy the open water just as much as we do. If you enjoy water activities then it's a great idea to learn how to kayak with a dog to double your fun!
We have compiled a list of dog-friendly kayaks that will be perfect for two to go get out on the water.
Affordable and Accessible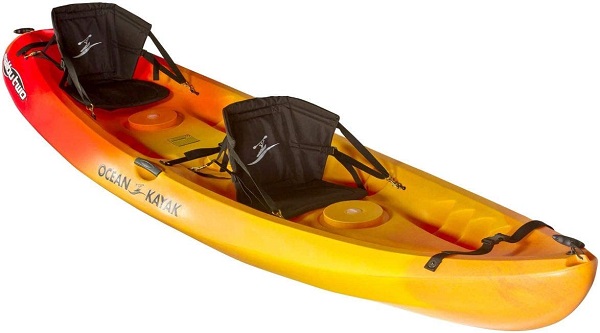 Ocean Kayak Malibu
Weight: 57 pounds

material: Single Layer Polyethylene

Most Convenient Kayak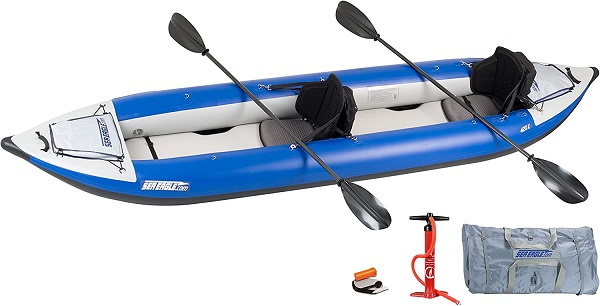 Sea Eagle Inflatable 420X
Weight: 44 pounds
material: Decitex

Most Affordable Fishing Kayak

Perception Pescador
Weight: 64 pounds

material: Polyethylene

Best Beginner Kayak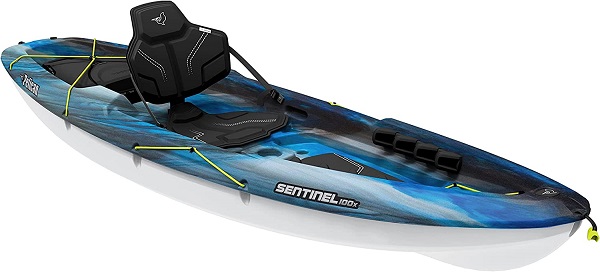 Pelican Sentinel 100X
Weight: 42 pounds

material: polyethylene
High Tech Fishing Kayak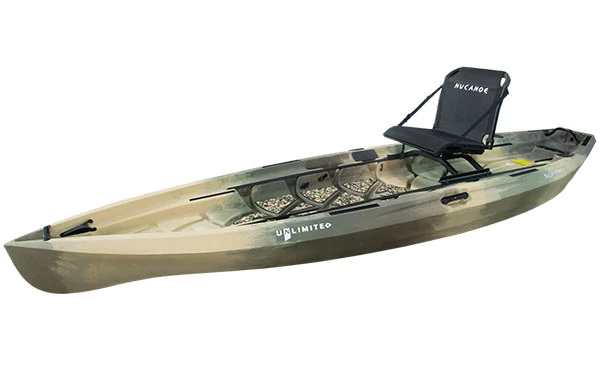 NuCanoe Unlimited
Weight: 80 pounds
material: Rotomolded Plastic
Most Rugged and Reliable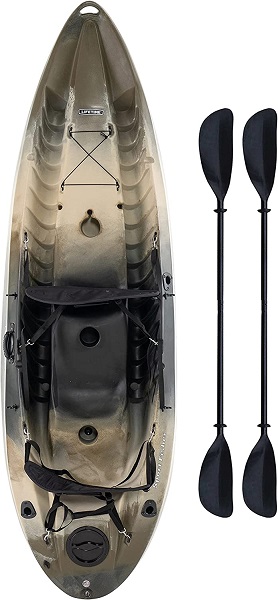 Lifetime 10 Foot
Weight: 60 pounds
material: polyethylene

Best Inflatable Kayak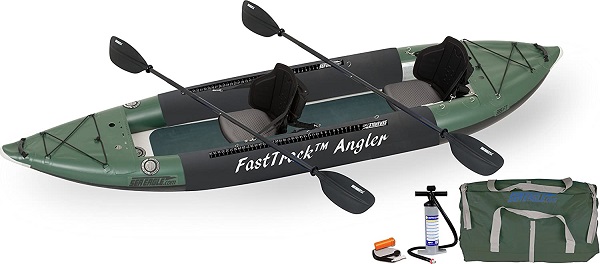 Sea Eagle 385 fta
Weight: 45 pounds

material: 1000 Denier Reinforced
Most Affordable Inflatable Kayak

Sevylor Coleman Colorado
Weight: 32 pounds

material: Polyvinyl Chloride
Our Top Picks of the Best Dog Kayaks
You want to find a kayak that can stabilize you and your dog and a watercraft that is well-equipped with the space needed for two. Keep in mind your own experience level, and how adding an animal might affect your trip on the open water.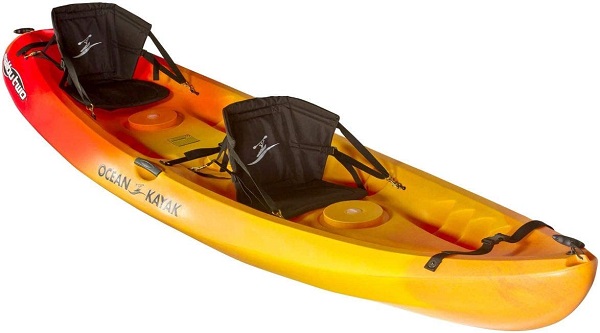 The Ocean Kayak Malibu is a lightweight, affordable, and amazing dog-friendly kayak. These top sitting kayaks are puncture-proof with their single-layer polyethylene material.
Rest assured, your dog's claws won't poke a hole in the hull out in the middle of the ocean. Enjoying the open water as a dog owner is a fun experience for the two of you to enjoy.
The seats are adjustable, and there is plenty of room for your dog to sit comfortably. Mesh seats allow for maximum comfort with their breathable technology.
Stats
Weight: 57 lbs
Weight capacity: 375 lbs
Material: Single-layer polyethylene
Length: 12 ft
Pros
The Ocean Kayak Malibu comes with a drain plug, so any water your pup brings on the boat from a swim in the lake will be drained out quickly.
Cons
Can be difficult to transport if you don't have the proper vehicle. Some of these kayaks for dogs can fit inside, depending on your truck bed size. Otherwise, you'll want to strap your kayak to the top of your car with tie-downs.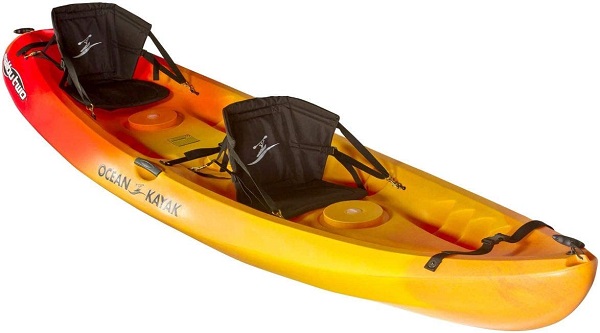 Ocean Kayak Malibu
The price of "Ocean Kayak Malibu" varies, so check the latest price at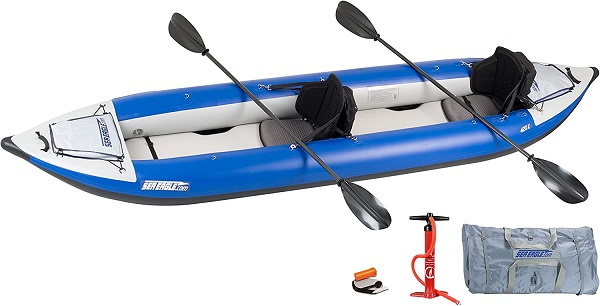 The Sea Eagle Inflatable has to be the most convenient and easily transportable on this list. Coming in at only 44 lbs, this inflatable kayak makes life so much easier.
Despite how little the kayak weighs, its capacity is a whopping 855 lbs! This inflatable kayak takes just a few minutes to inflate, and then you and your pup are ready to go.
The Sea Eagle is the perfect kayak for someone who is an avid traveler looking to explore fast-moving waters. Such an easy and efficient way to bring your kayak on a road trip.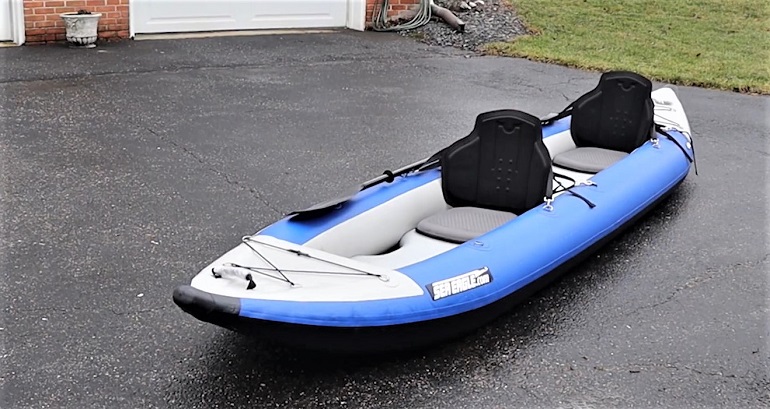 Stats
Weight capacity: 855 lbs
Weight: 44 lbs
Material: Fiberglass
Pros
There is enough room to fit two people and a pup on board! Durable enough to take on serious whitewater kayaking adventures. Make sure your pup is up for a wild ride!
Cons
The seats are clipped in, but they can be adjusted. You're looking to pay a pretty penny for this inflatable kayak, but it is one of the best on the market.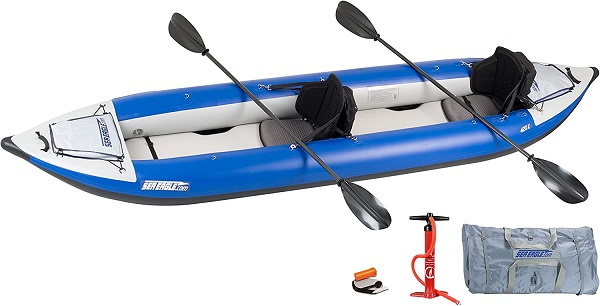 Sea Eagle Inflatable 420X
The price of "Sea Eagle Inflatable 420X" varies, so check the latest price at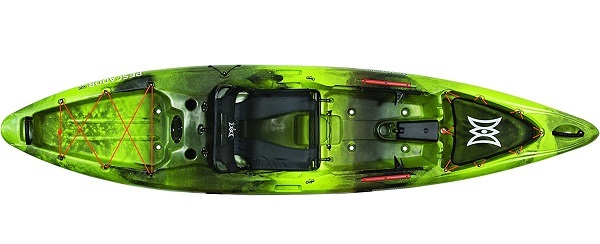 The Perception Pescador Pros are the perfect affordable sit-on-top kayaks for any fisher. There is ample room in the front of the hull to keep your furry friend comfortable.
It comes with a number of storage compartments for all your fishing accessories, as well as rod holders on the side. Stealthy earth-toned colorways to stay hidden while hunting or fishing on the water.
Hopefully, your dog is well-trained for the water, you don't want any barking to scare away the fish.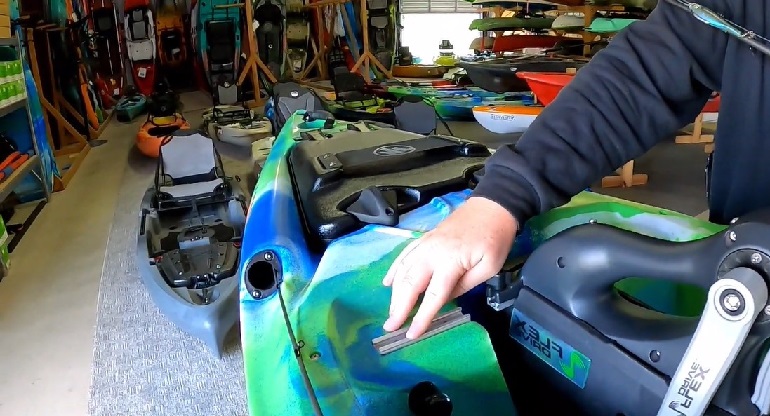 Stats
Weight: 64 lbs
Weight capacity: 375 lbs
Length: 12′
Pros
Cons
Not the watercraft for fast-moving water, but perfect for paddling through streams and lakes.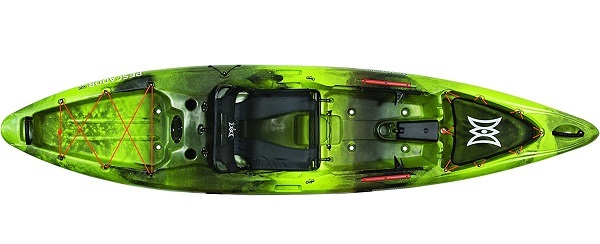 Perception Pescador
The price of "Perception Pescador" varies, so check the latest price at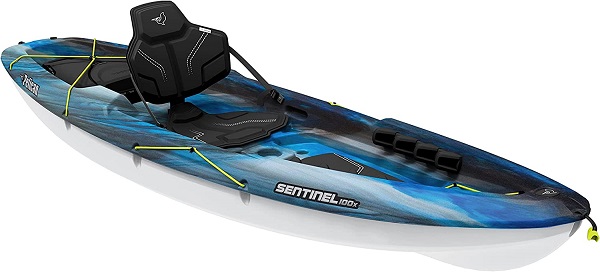 This is the perfect single-person sit-on-top kayak. It is so affordable and makes the kayaking experience seamless. Because of its length, it is easily transportable and lightweight.
I would highly recommend this watercraft if your dog is small to medium in size because the front of the hull is not as large as these other models depicted. Comes at a very low price, so this is the perfect gift.
Storage space at the front and the back with strong bungee cords. Removable storage compartment so you can stow away all your accessories and treats for your canine companion.
Keep a leash, dog bowl, and treats on board for your pup. The perfect kayak for small dog owners looking to take their pup out on calm waters.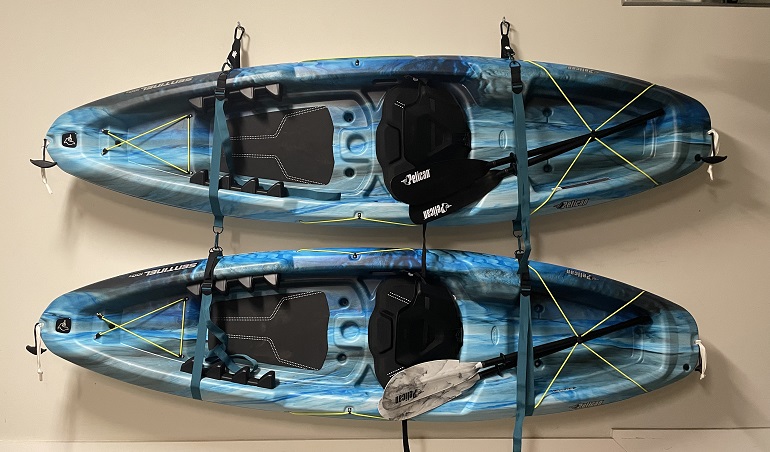 Stats
Weight: 42 lbs
Weight capacity: 275 lbs
Length: 9'6″
Material: Polyethylene
Pros
Extremely affordable and one of the best user-friendly sit-on-top kayaks on the market.
Cons
Not suitable for big dogs or open waters. Try this kayak out on a lake or a pond!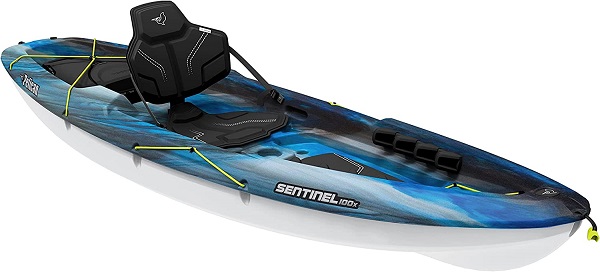 Pelican Sentinel 100X
The price of "Pelican Sentinel 100X" varies, so check the latest price at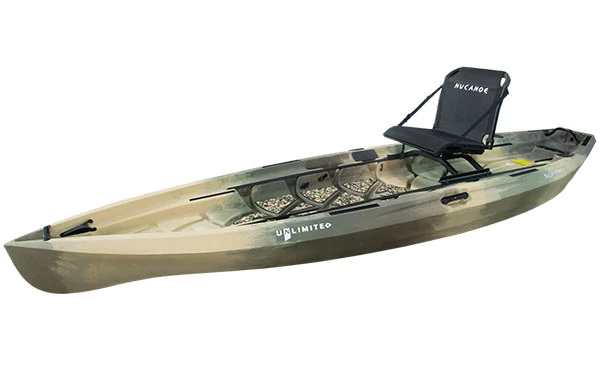 The NuCanoe Unlimited is fast and prepared to propel you through any water. This high-performance fishing kayak is stable, durable, and spacious. The earth-toned color is perfect for fishing and hunting on open waters.
The open deck offers substantial room for even a larger-sized dog. This is the perfect sit-on-top kayak for someone with a large dog. I personally think this is one of the best dog-friendly kayaks because it offers enough leg room for the owner and canine friend.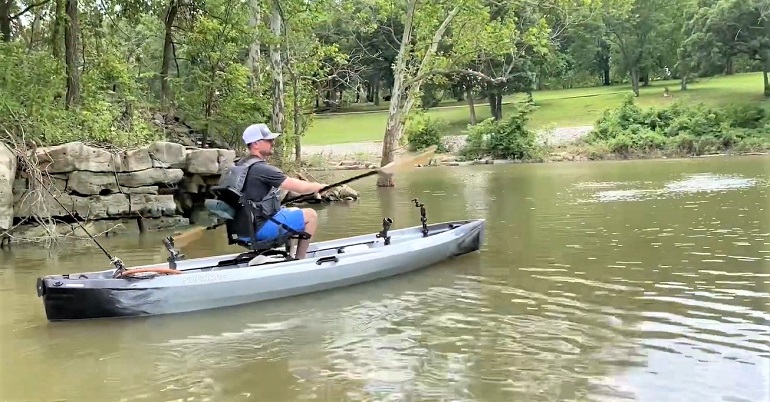 Did you know that there are specific dog breeds that are meant to be taken hunting and fishing? For example, the Brittany spaniel is a great dog to take out on the water.
Retrievers and labradors are easily trained breeds that do wonderfully in the water. With training and learning commands, they can help retrieve fallen game and track scents.
Stats
Weight: 80 lbs
Weight capacity: 600 lbs
Length: 12'6″
Width: 41′
Pros
Can seamlessly integrate systems and accessories. It's called the Unlimited kayak for a reason! The possibilities are endless.
Cons
On the pricier side, but it's worth it! Check out some of our other options if you're looking for a more budget-friendly kayak for dogs.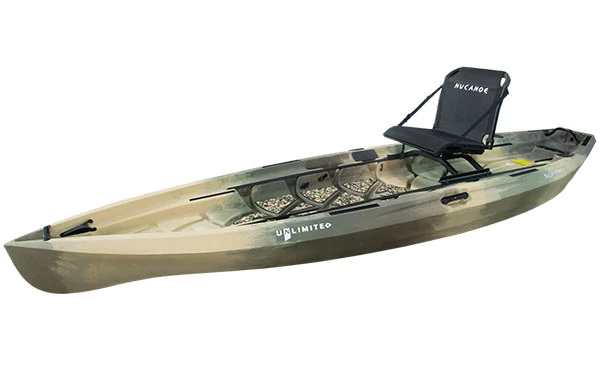 NuCanoe Unlimited
The price of "NuCanoe Unlimited" varies, so check the latest price at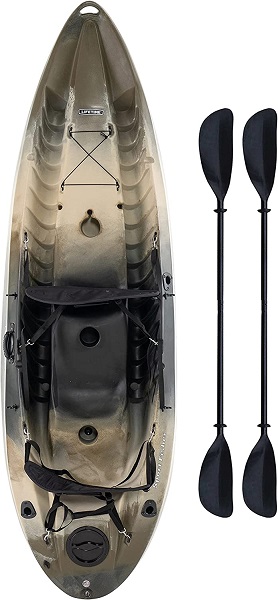 This next sit-on-top kayak is a game changer for rapids and choppy water. The 10-foot Sport Fisher can fit two adults, or just you and your furry best friend. Generally speaking, it is two feet shorter than the other kayaks listed, so you'll have an easier time transporting this one.
It is an extremely stable kayak and comes with rod holders and multiple locations to mount kayak fishing accessories, such as a fish finder or a motor. This kayak is perfect for those who might be taller in stature, the legroom is incredible!
If you're taking your dog out on fast-moving water, ensure that they have their life vest and that they are well acquainted with the water. The wider deck on this kayak is perfect for a bigger dog, and they will fit comfortably between your legs or in front of you.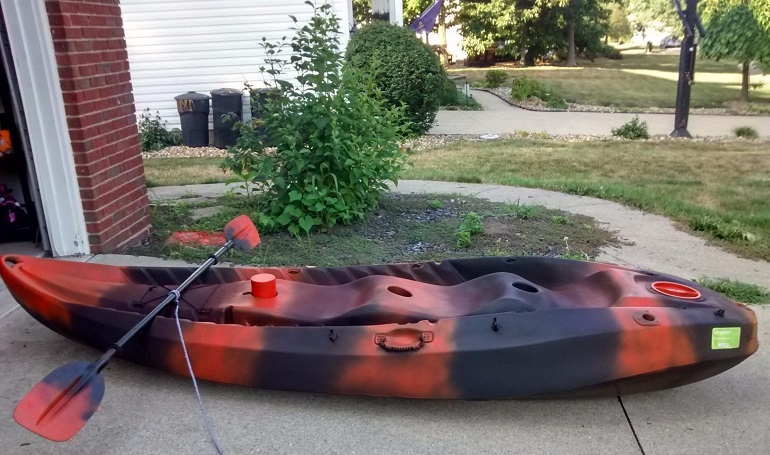 Stats
Weight: 60 lbs
Weight Capacity: 500 lbs
Length: 10′
Material: Hardshell
Pros
These fishing kayaks will weather any storm with their durable design. This tandem kayak has a thick, hard shell that will traverse through any water debris.
Cons
Not best suited for larger dogs because of the limited hull space. Try another model on this list if your furry friend is on the bigger side!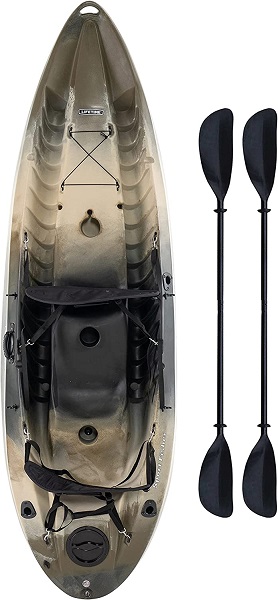 Lifetime 10 Foot
The price of " Lifetime 10 Foot " varies, so check the latest price at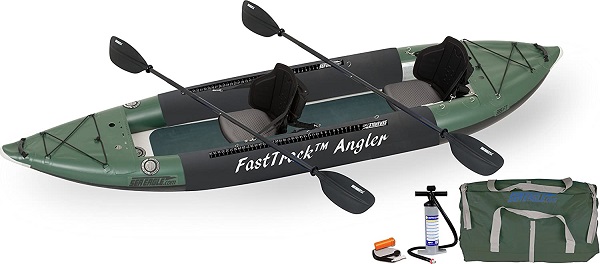 The Sea Eagle might just take the cake. This inflatable kayak is perfect for dogs of all sizes, and it can be inflated in minutes. There are inflatable seats that can be arranged in various positions.
The Sea Eagle can fit up to three people, or one person and smaller dogs. There is ample storage space in the front and the back of the kayak with a protective shield, keeping your accessories safe and dry.
It comes with a nonslip footpad, so you and your canine buddy won't slip getting in and out of the watercraft. You can also put a towel at the front of the watercraft so your dog can rest comfortably.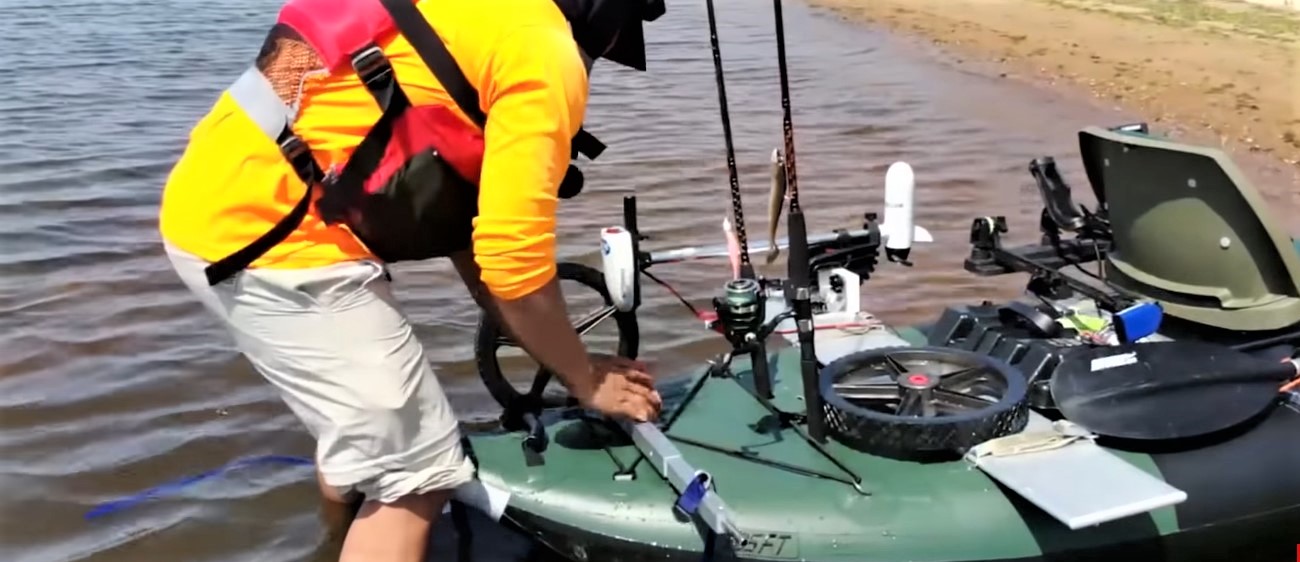 This kayak is easy to carry and inflates in minutes. Spend less time lugging around a giant kayak with this stress-free watercraft. I would highly recommend this product to someone looking for an easily transportable kayak. See for yourself, the positive reviews and photos are endless online.
Stats
Weight: 45 lbs
Whitewater rating: Class II
Length: 12'6″
Material: 1000 Denier Reinforced
Weight Capacity: 635 lbs
Pros
Extremely lightweight and easily accessible inflatable kayaks.
Cons
This dog-friendly kayak is on the pricier side for an inflatable kayak. If you're looking for something a little less expensive, check out the Sea Eagle 420X inflatable kayak.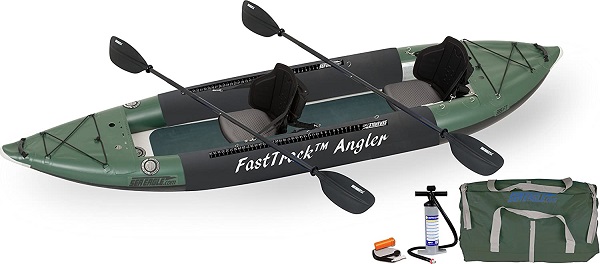 Sea Eagle 385 fta
The price of "Sea Eagle 385 fta" varies, so check the latest price at

This kayak was built to cruise. I would absolutely take this watercraft out on the water with my dog to enjoy a beautiful day. This watercraft is user-friendly and the most affordable option on this list.
While it is affordable, it isn't built to traverse through rapids and wild rivers. This is the dog-friendly kayak you take on a relaxing cruise around a pond or lake. In case of an emergency and the lining breaks, it comes with inflatable air chambers to help return you safely to shore.
If you think you'll occasionally use a kayak and want to have one handy for spontaneous adventures, this is the best kayak for you. Because it is so affordable, it would make as an excellent gift for an outdoorsy loved one.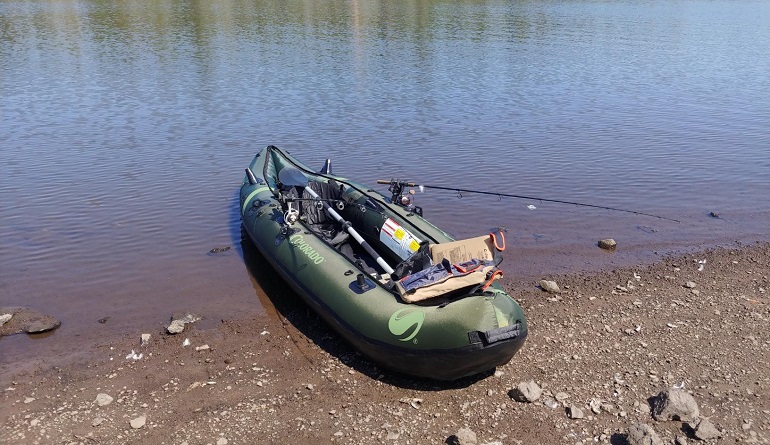 Stats
Weight: 32 lbs
Length: 10'6″
Material: Polyvinyl Chloride
Pros
This is one of the most affordable inflatable kayaks that can be deployed in under ten minutes.
Cons
Limited covered storage space, but ample leg room. The sides are lined with mesh pockets for your belongings, but they are not waterproof.

Sevylor Coleman Colorado
The price of "Sevylor Coleman Colorado" varies, so check the latest price at
Best Kayak Buying Guide for You and Your Canine
When looking for the best kayak for you and your dog, you want to consider a couple of things to maximize the fun of your trip and make it as seamless as possible. Consider how often you might want to take a kayak out and if your dog will enjoy the experience with you.
Some dogs are, unfortunately, not best suited for water. If you have a pug, bulldog, corgi, or boxer, you might want to consider having them splash around on the shore before taking them out into open water.
Breeds with short legs and flat faces have a very difficult time breathing as it is, and you wouldn't want them to suffer trying to tread water.
Weight Capacity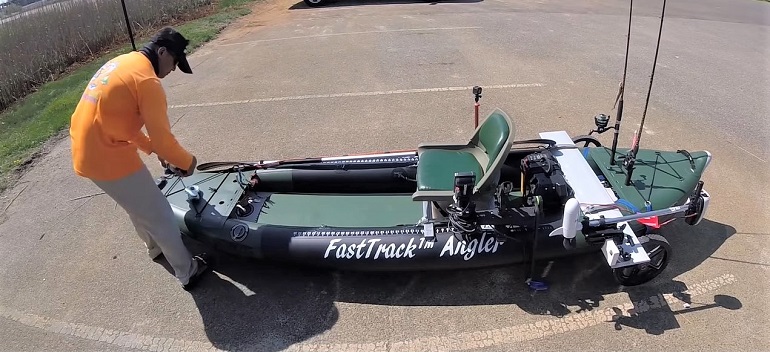 Another thing you want to consider when purchasing your tandem kayaks for dogs is the weight capacity. Consider your weight, your dogs, and even the weight of an extra person if you choose to purchase a kayak that is suitable for up to three people.
Deck Space
Think about the size of your dog and the deck space the kayak offers. If you plan on standing on your kayak or fishing, think about how much space your pup will have.
Sit-on-top or Sit-in Kayaks
Sit-in kayaks are better for dogs and owners alike that might want to feel more secure and enclosed. However, sit-in kayaks offer less space for larger dogs. Because your legs are covered in a sit-inside kayak, your range of mobility is quite limited.
Unless you have a very small lap dog, I would suggest a sit-on-top kayak to maximize comfort for both you and your canine friend.
Inflatables Vs. Hard Shells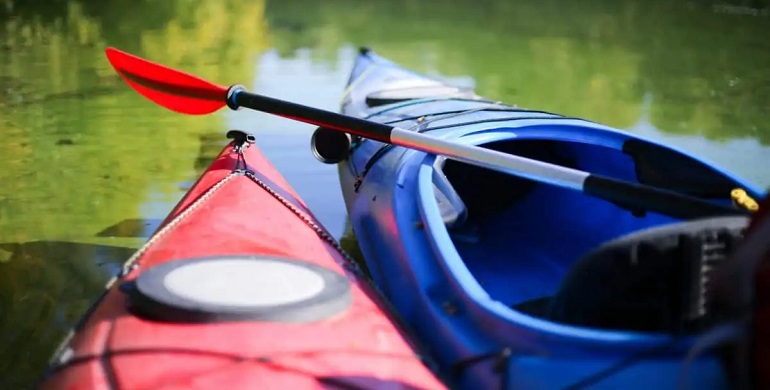 When looking for the best kayaks for dogs, consider your trip and the time you have allotted for a day out on the water. Inflatable kayaks are much easier to transport and make the experience seamless, but they are not as durable for rougher waters.
There is, of course, that voice in your head that wonders if your dog's claws will puncture through the canvas. It can seem intimidating, but it is very unlikely that your dog's claws will poke through the material. If this is something that you are worried about, I would consider looking into purchasing a hard shell kayak.
Hard shell kayaks are very stable, and they will make transferring your pup in and out of the watercraft much easier. They come with water draining systems, so any excess water is eliminated. For whatever reason, if you fall out of the kayak, hard shell kayaks are much easier to get back into because they are a great deal heavier.
Safety Is Important
Most importantly, you want to ensure the safety of all people and pups aboard the watercraft. Be cautious of your surroundings and be mindful of the weather. They call it a rain check for a reason.
The details of your kayak will tell you whether or not it is suitable for rough waters, and I wouldn't suggest testing this theory. If your kayak says it is best suited for tandem paddling around a calm lake, don't take it to a level three rapid.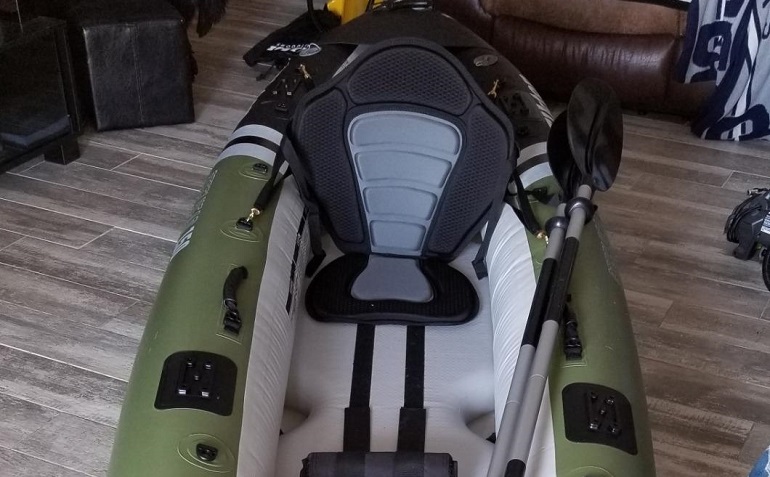 Even as an avid kayaker, I always stay on the side of caution. When I plan on going out on the water, I always let a friend or family member know where I'm headed. It is important to keep your safety in mind when adventuring on open waters.
Safety equipment can make or break your experience. Life jackets are an inexpensive way to ensure your and your pup's safety. Plus, life jackets make it so much easier to transport your dog in and out of the water and safely back to the kayak.
Know your surroundings and ask around before taking off into uncharted waters. If a park ranger lets you know that a specific stream or river is not to be charted, take their word for it.
Frequently Asked Questions
If you and your dog are new to kayaking, this is the perfect introductory guide to get you started.
How Do I Make My Kayak Dog-Friendly?
Kayaking with your dog is such a fun activity, but you want to get them well acquainted with the idea first.
Introduce your dog to the kayak by sitting in it and having them sit with you, on the land of course. You want to teach your dog to hop in and out of the watercraft with confidence, but they need to feel comfortable around it at first.
Reward them when they complete your request, teaching them that they can trust you even when you're approaching a wobbly watercraft. If your dog is still skittish around the kayak on land, they are not ready to be taken out on the water.
If they aren't used to slippery surfaces, get them adjusted to the kind of material that they will sit on in the kayak. Moving objects like a big kayak might scare a dog, so reward them with cuddles and treats when they approach the kayak or jump inside of it.
This can be tricky at first, but with practice, your dog will be a kayaking pro in no time.
The goal is to show your dog that the kayak can be a fun experience and that they don't need to be afraid of it. Your dog will also need to get used to the idea of you paddling behind them. At first, the sudden movements of the paddle might make them skittish.
Where Can You Take a Dog Kayaking?
I suggest taking your dog to a dog park or to a dog beach to get them comfortable around the idea of other dogs and animals that they might see out on the water.
A dog's first instinct is to chase and bark at a bird when they see one, but they will need to learn how to sit and stay inside the kayak.
Your pup will need a life vest, and this is another thing you will want to introduce them to. Get your dog comfortable in the water by swimming with them in a pool or shallow pond.
You absolutely have to introduce them to mellow water before expecting them to swim in fast-paced moving water. Practice tossing a ball into the water when they are wearing their life vest so they can become used to it. Reward them with treats and praise, so they know they're doing a good job.
How Do I Lift My Dog Back into My Kayak?
To ensure your safety and the safety of your canine friend, teach them commands that will make the kayaking experience easier. Teach them commands when to exit and enter the water, and how to behave on the watercraft. This way, you can have a safe and seamless journey out on the open water.
Training can take some patience and effort, but it is well worth it to kayak with your dog. Once you have them trained, they can join you out on the open water for an adventure wherever you go.
Make sure they are listening and understand your commands, this could make the difference between an easy or difficult trip out on the water.
As much as we don't want to think about it, accidents happen. When they do happen, you want to be prepared for an accident. If your kayak tips over, grab your dog and swim with them. You don't want your pup to panic. Hey, it happens to everyone.
When and if this happens, push your kayak right side up, hold on with one hand, and push your dog back up with the other hand. Once your dog is back in the watercraft, they will feel safe and secure.
Most life vests come with a handle for this specific reason, so getting your pup back into the watercraft shouldn't be a big deal. How you handle this situation will affect how they feel about kayaking, so be understanding that accidents do happen.
Top Tips for Getting Your Dog Used to Kayaking
If your pup gets bored easily, keep a chew toy and snacks for them on board. Just as you want to stay hydrated on the open water under the heat of the hot sun, you want your dog to have enough water as well. Keep a foldable or rubber water bowl that you can easily stow away.
Don't forget dog-friendly sunscreen for their nose! Stow a towel at the front where they will be sitting, this way, they will be comfortable, and it prevents any positivity of their claws puncturing an inflatable kayak.
The Essentials to take along:
Sunscreen
Water
Lifevests
Snacks/treats
Dog bags
It's easy to get dehydrated out on the water, baking under the hot sun. You're having so much fun you forget about drinking water, next thing you know, you've got a raging headache.
When kayaking, I pack a protein bar or bag of nuts to snack on. I would pack a zip lock bag with kibble and dog treats for your pup for them to snack on as well.
It is imperative that you wear sunscreen out on the water because even if you're wearing a hat, the rays reflecting off the water can burn your skin. Don't forget your pup's nose, they need sunscreen too!
Don't be that person that doesn't pick up their dog doo. Store a few bags in the many compartments kayaks provide just in case your canine needs to take a potty break on land. Leave the land just as you found it so the next person can enjoy the beauty of nature as well.
Final Thoughts
It is one thing to enjoy all the beauty nature has to offer, but a completely different experience when you get to bring along your best friend.
This article has compiled a list of the best kayaks on the market that are dog-friendly and fit varying budgets and skill levels. The kayaks previously listed are high quality, durable, and dog friendly.
I highly recommend kayaking with your dog because it is an amazing way to get some sunshine and spend quality time with your pup in the great outdoors.
With some time and energy, you can get your dog quickly assimilated into the kayaking lifestyle, and it can be a lifelong hobby the two of you enjoy together.