The Untamed Sea
An endless blue sky, not a cloud in sight. Surround by the deep blue sea on all sides. The waves rocked the fishing kayak. The lone fisherman quietly waiting for a bite. He stared off into the distance. Alone but one hundred percent at peace.
That image has been burned into my mind since the first day I saw it. It was a documentary about a far-off country. Ever since that day, fishing kayaks became a symbol of escape in my mind.
However, the ocean is a beast, and if you want to find tranquility between its jaws, you are going to need the best saltwater fishing kayak on the market. Lucky for you that we've found the cream of the crop.
Anyone can benefit from the hands-free propulsion of the Coosa FD or the stability of the BKC RA220. It's all here, take a look and find your ticket to escape.
Best Overall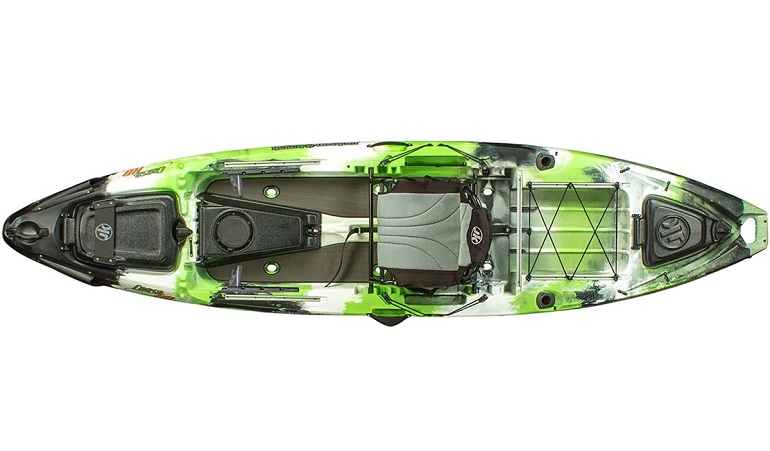 Coosa FD Kayak
WEIGHT: 107 POUNDS
material: polyethylene
Best Storage Space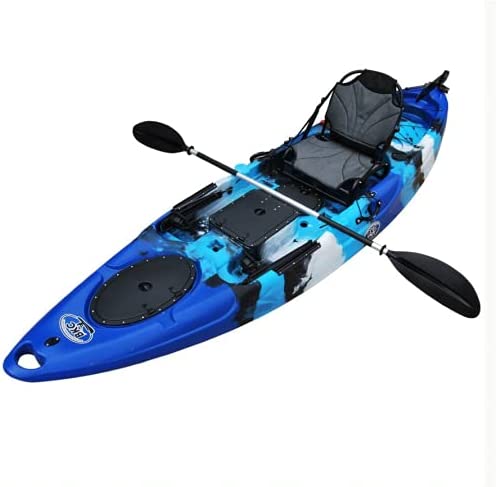 BKC RA220
WEIGHT: 68 POUNDS
material: polypropylene
Best Performance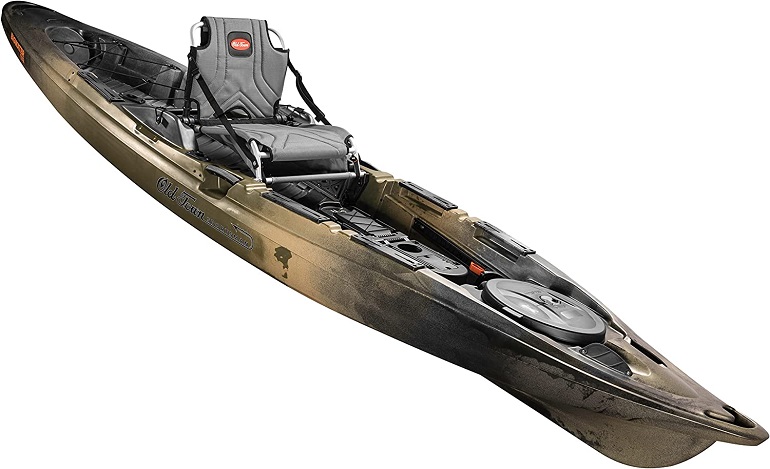 Old Town Sportsman BigWater
WEIGHT: 86 POUNDS
material: single layer polyethylene
Best Durability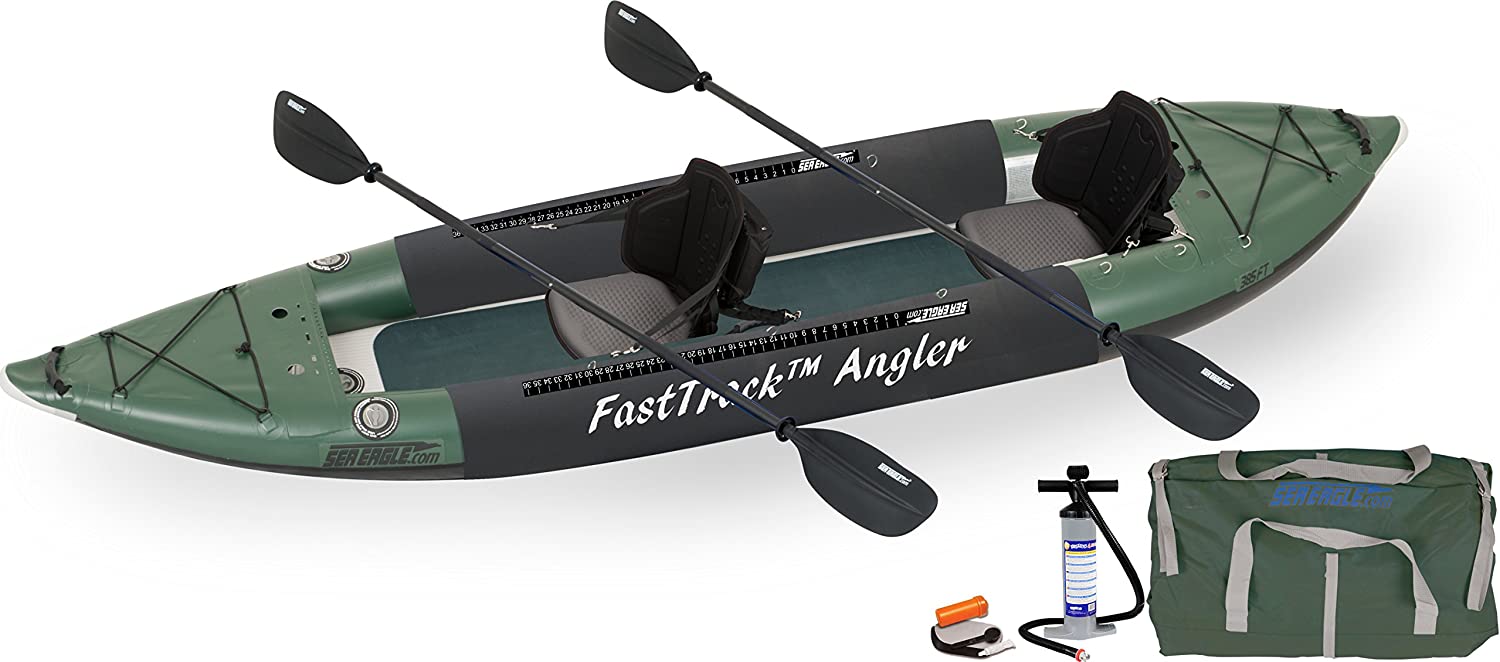 Sea Eagle 385 FTA Fast
WEIGHT: 45 POUNDS
material: polyethylene
Best Motorized Kayak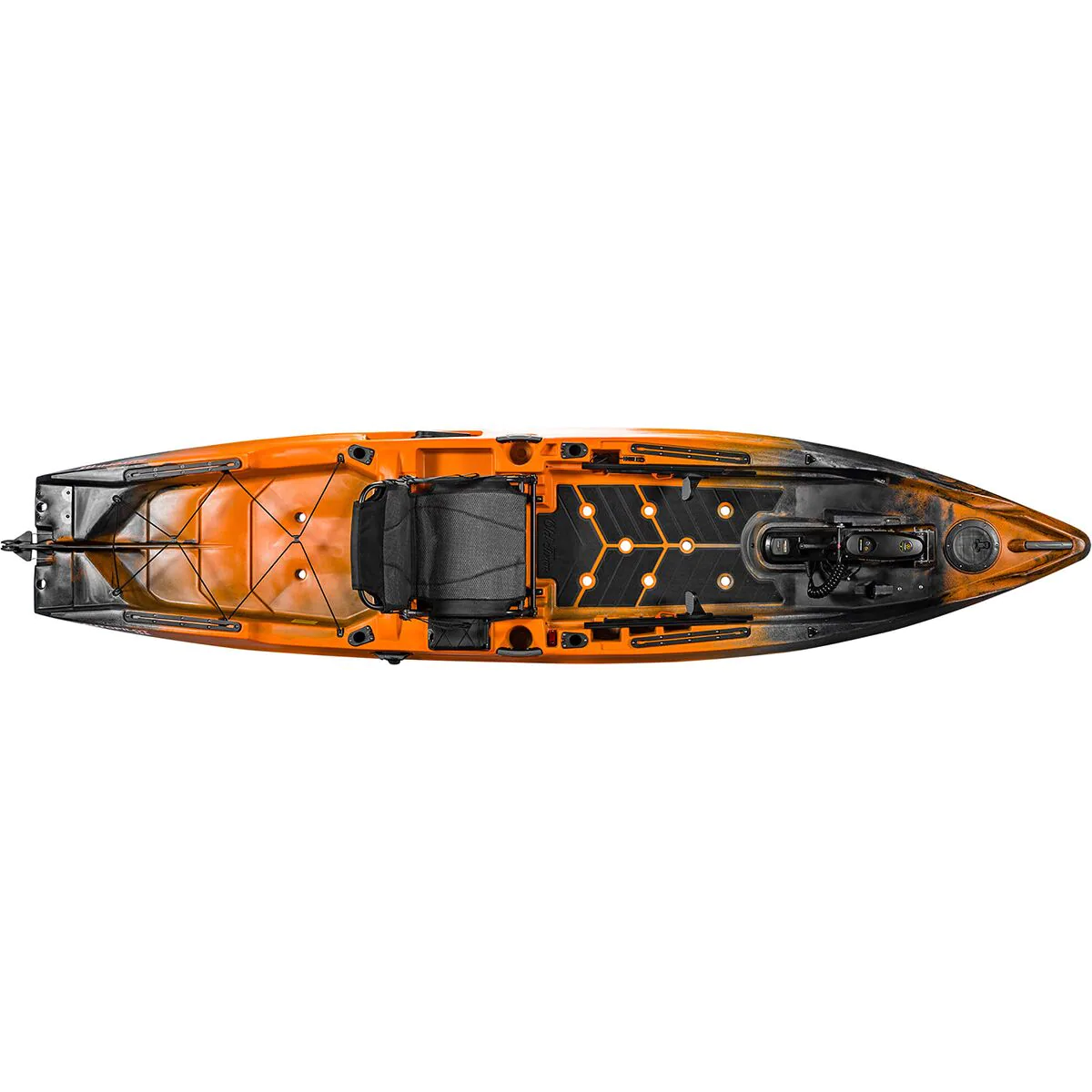 Ocean Kayak Malibu II XL
WEIGHT:  56 POUNDS
material: polyethylene
Best Tandem Fishing Kayak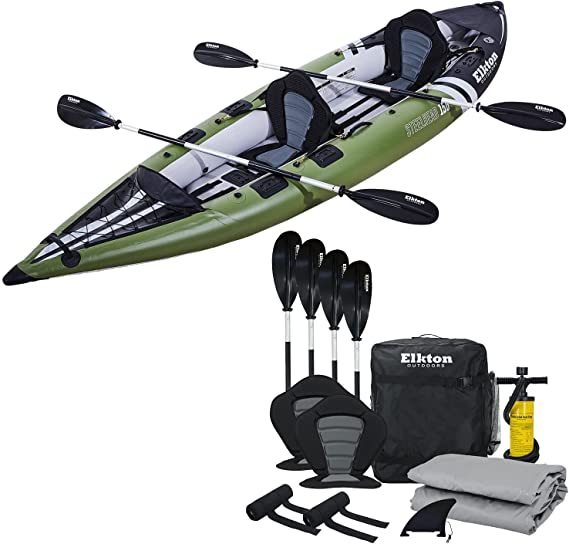 Elkton Outdoors Steelhead
WEIGHT: 44 POUNDS
material: pvc
Best Tracking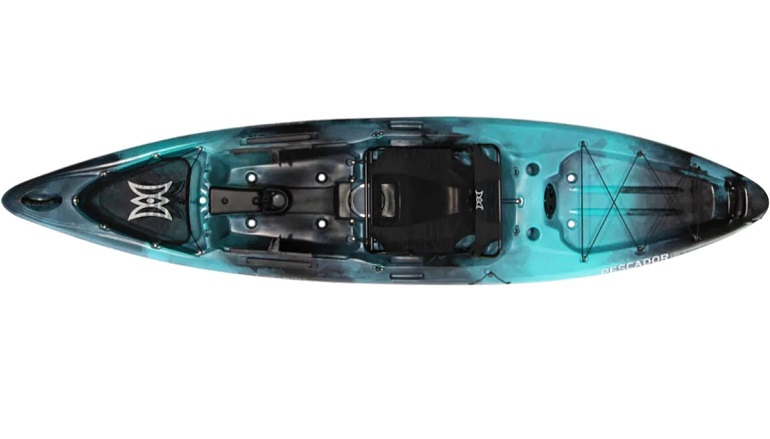 Perception Pescador
WEIGHT: 64 POUNDS
material: polyethylene
Best Stability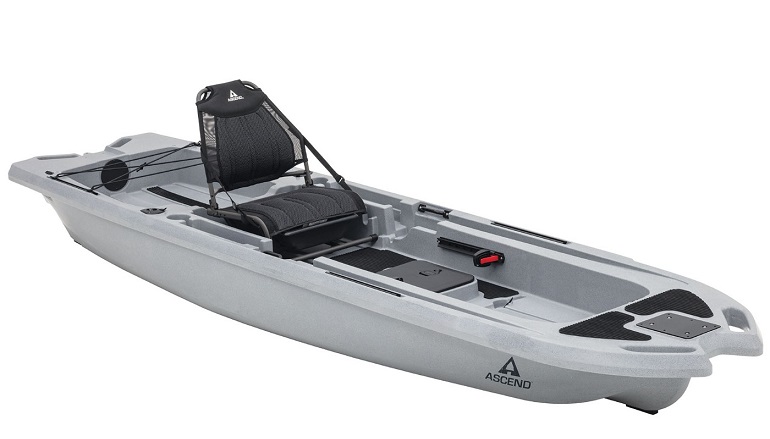 Ascend 133X Tournament
WEIGHT: 125 POUNDS
material: HARD PLASTIC
Best Premium Build

Radar 135
WEIGHT: 90 POUNDS
material: polyethylene
Best of the Rest
350FX Fishing Explorer
WEIGHT: 45 POUNDS
material: DENIER BUILD
10 Best Ocean Fishing Kayaks
Ocean fishing is about freedom, but that doesn't mean that you should let your guard down. This isn't your favorite lake or slow-moving river. The best ocean fishing kayak has the build and design to handle rough waves and choppy waters.
Pedal kayaks offer you a way to navigate without forcing you to set down your fishing gear. A stable fishing kayak will also have rod holders, enough for all your fishing rods. In short, there are many things that have to be accounted for.
Only the best ocean fishing kayaks are capable of handling it all. Some even allow you to hook up a fish finder, although I prefer the old-fashioned way of hunting a catch.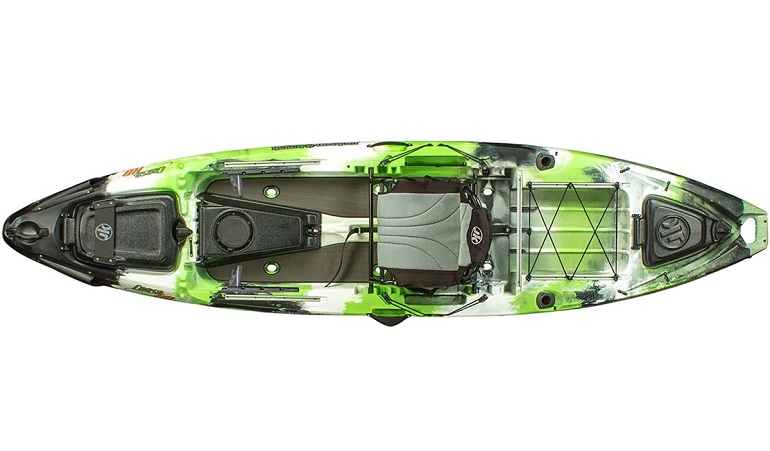 The head of the table is the Coosa FD Kayak. This beast comes charging in with a weight of one hundred and seven pounds. Measuring in at twelve feet and seven inches. It's got the herculean build to stand up to Poseidon himself.
However, this doesn't mean that it forgoes any comfort features. The FD has multiple rod holders, each one with multiple modes. For your body, a highback ergonomic seat is fully installed and ready to go.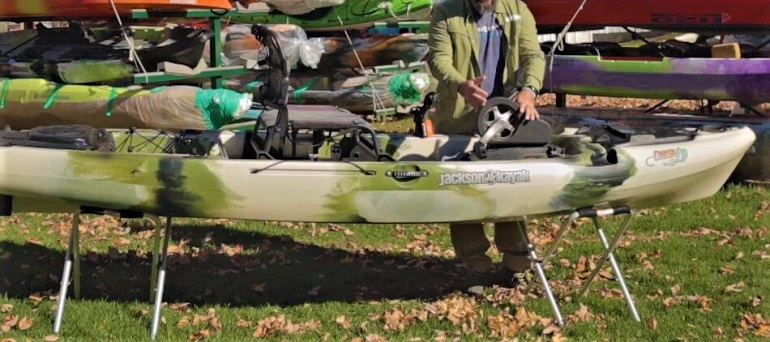 To keep your hands free and focused on reeling in the big one, the Coosa FD has a pedal drive system. A system that even lets you go in reverse. If you are ever caught out by the rain, make full use of the bow hatch seal. It'll help maintain your fishing kayak dry.
Features
Weight: One hundred and seven pounds
Length: Twelve feet and seven inches long
Best Feature: Multiple modes for rod holders
Build Material: High-density polyethylene
Comfort: High ergo seat
Pros
The pedal drive system of this ocean fishing kayak lets you go in forward and reverse.
Comes with a bow hatch seal that helps maintain the kayak dry when raining.
Fitted and ready for easy installation of a fish finder.
Cons:
Has a lower weight capacity than I would have liked.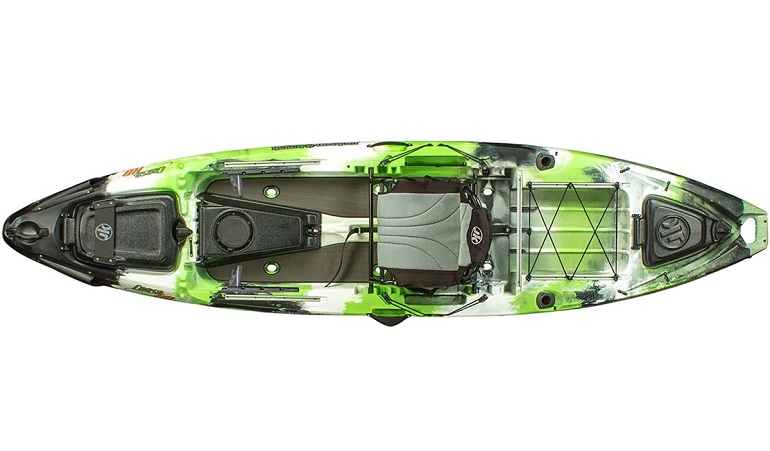 Coosa FD Kayak
The Price of "Coosa FD Kayak" varies, so check the latest price at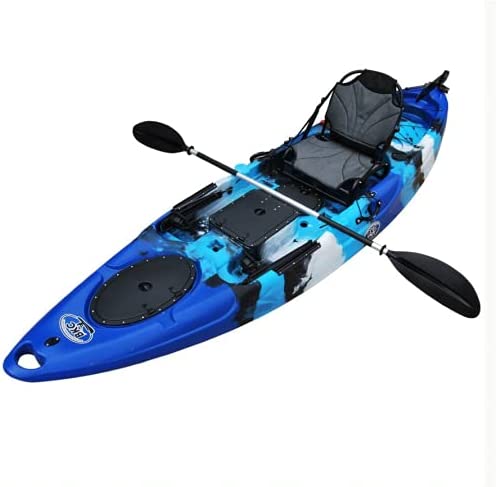 A good sit on top kayak is for enjoying the day and a little bit of a splash. I'd say that the BKC RA220 is built all around this principle. Any kayak angler will love the number of storage spaces spread throughout this vessel.
You get one for any category of item that you can think of. There are three main watertight storage areas that are secured with a hatch. On top of this, you get a large cargo area for easy access to any larger belongings.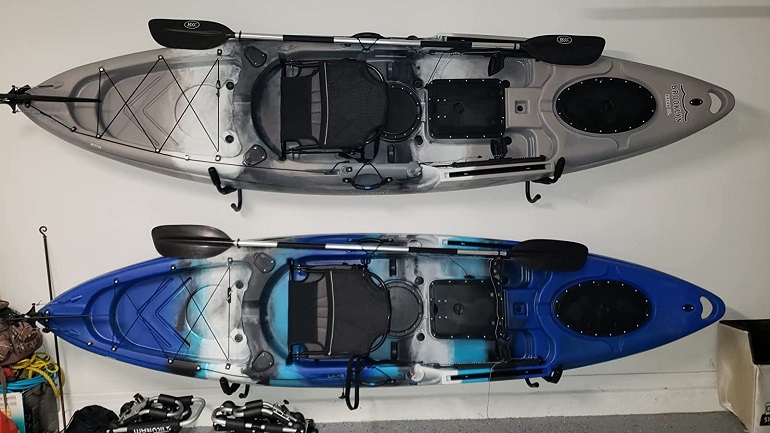 For your back pains, an aluminum frame seat should be more than enough to hold you up. This is another pedal-operated vessel. However, it comes with a rudder. Steering this ocean fishing kayak should be easier than most others.
Features
Weight: Sixty-eight pounds
Length: Eleven feet and six inches
Best Feature: Watertight storage space
Build Material: Polypropylene
Comfort: Aluminum frame seats
Pros
Comes with three watertight storage hatches and a large cargo area.
Has a foot pedal-operated rudder that helps steer clear of danger and rough conditions.
Molded from a single piece of polyethylene material, which gives it superior balance to inflatable fishing kayaks.
Cons
I wasn't fond of its narrow design.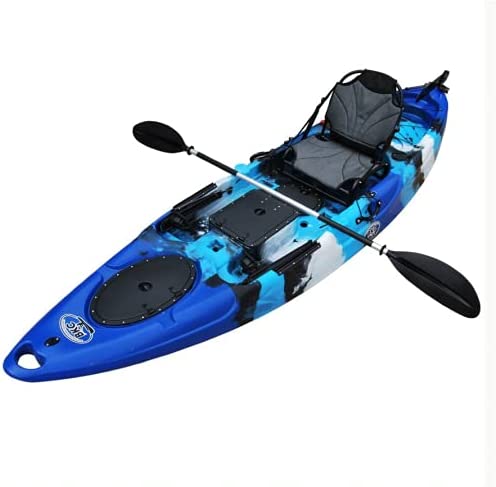 BKC RA220
The Price of "BKC RA220" varies, so check the latest price at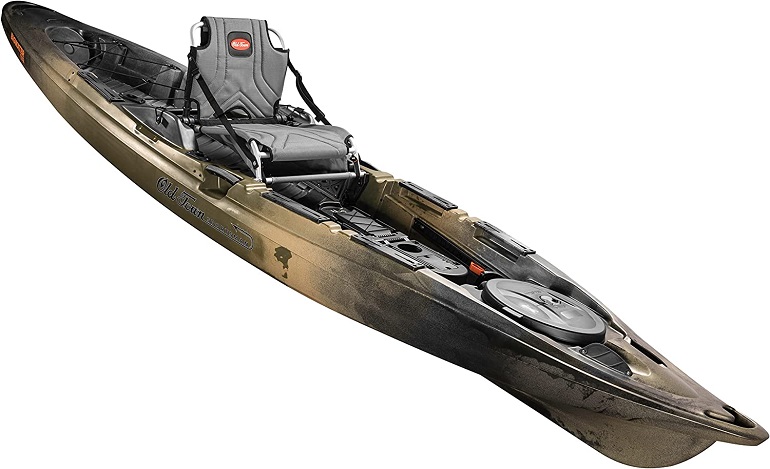 The Sportsman BigWater is your performance option. Made from a single layer of polyethylene, this ocean fishing kayak is neither weighed down nor over-encumbered. What I loved most about this vessel was its quick-drying seat.
This is such a small feature that other ocean fishing kayaks forget all about it. What is the point of having a highly padded seat, if it all goes to waste once it gets wet? Not the BigWater, its seats dry quickly upon exposure to liquids of any kind.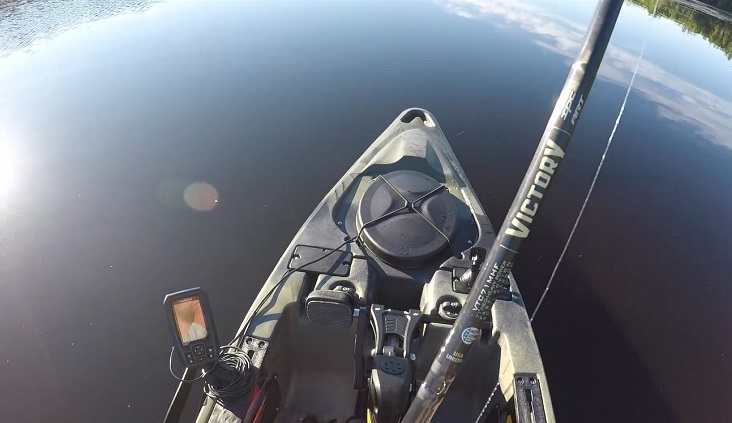 What makes this kayak stand out is its tri-hull design. This design is what helps propel it forward with ease and efficiency. It's optimized to the letter and won't falter even in intense conditions.
The BigWater isn't all serious, it also has a built-in cup holder.
Features
Weight: Eighty-six pounds
Length: Thirteen feet and two inches
Best Feature: Tri-hull design
Build Material: Single-layer polyethylene
Comfort: Quick-drying seat
Pros
Optimized tri-hull design that helps this ocean fishing kayak efficiently move through any conditions.
I loved the quick-drying seat that is fully adjustable and comes with foot braces.
Has plenty of removable containers and even a built-in cup holder.
Cons
For its size, I was let down by its weight capacity. But it has more than enough to carry what you need.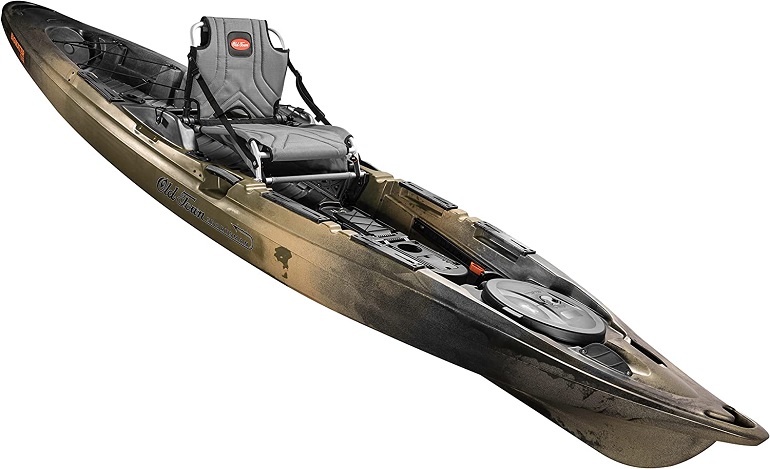 Old Town Sportsman BigWater
The Price of "Old Town Sportsman BigWater" varies, so check the latest price at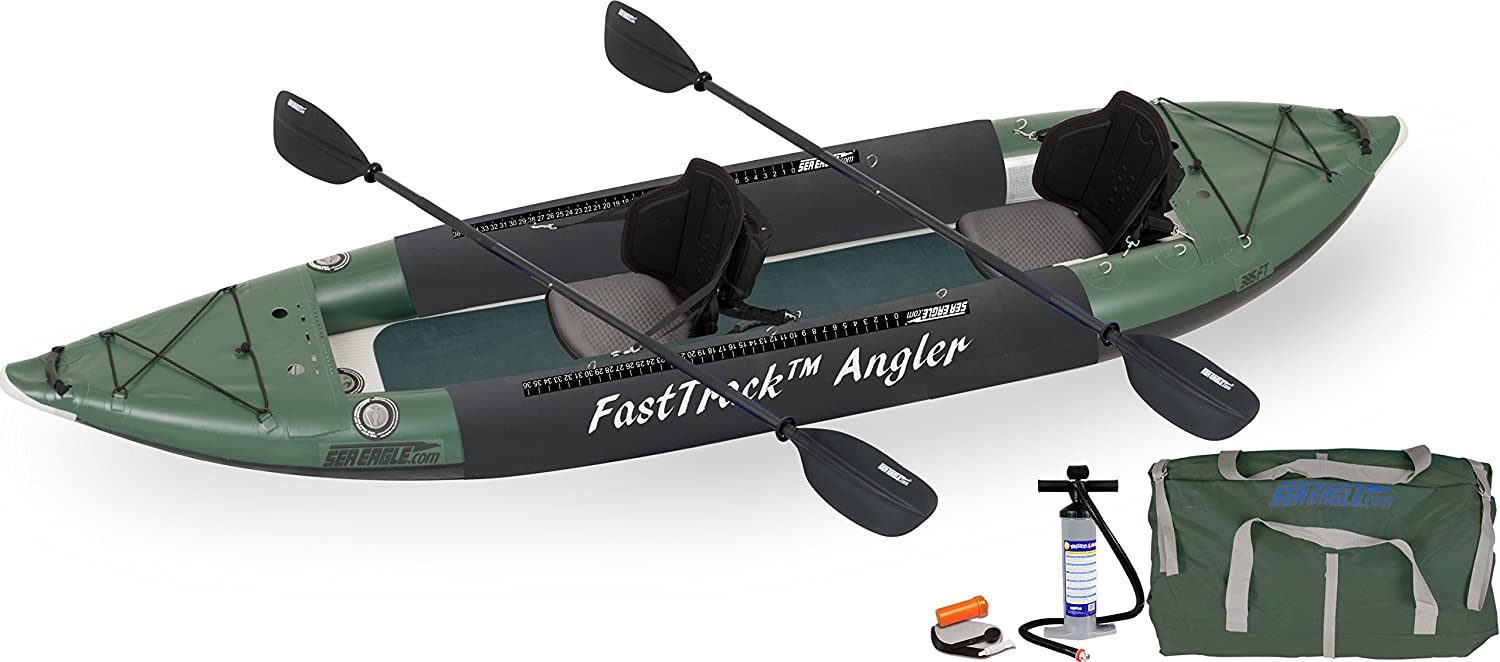 A fishing kayak that'll last as long as you plan on living hasn't been invented yet. However, the Sea Eagle 385 is as close as you can get for now. This lightweight giant has a full one-thousand-denier build. That is insanely thick and sturdy.
But it gets better. Certain high-risk areas have been reinforced with two thousand denier sections. As far as inflatable ocean kayaks go, this one right here can compete with even solid designs.
To keep you from getting battered down with sea salt, spray skirts have been installed at both ends. It should only take you a few minutes to fully inflate this fishing kayak. A small but lovely inclusion with this durable powerhouse is a fish ruler.
Perfect for bragging about your latest catch.
Sea Eagle also comes up with dog kayak models so that your canine companion can tag along on your aquatic adventures. Ensure you take all the safety measures required for kayaking with a dog.
Features
Weight: Forty-five pounds
Length: Twelve feet and six inches
Best Feature: Seven-minute inflation time
Build Material: 2000 Denier reinforced sections
Comfort: Spray skirts
Pros
Non-slip foam padding was used for the flooring. Creating a secure standing platform.
Built-on fish ruler for measuring your big catches and little ones too I guess.
Made from 1000 denier thick crocodile hide hull material. The most durable blow-up fishing kayak on the market.
Cons
I couldn't find any issues that I had with the design.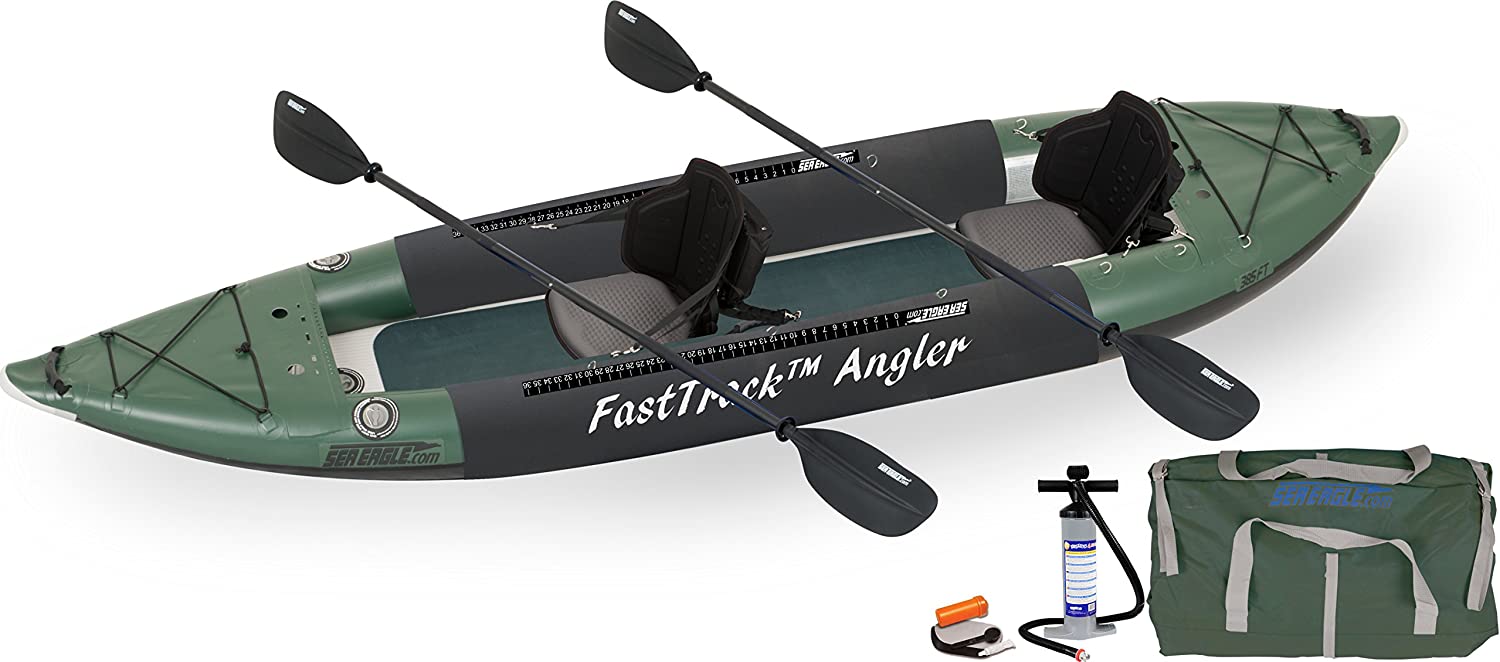 Sea Eagle 385 FTA
The Price of "Sea Eagle 385 FTA " varies, so check the latest price at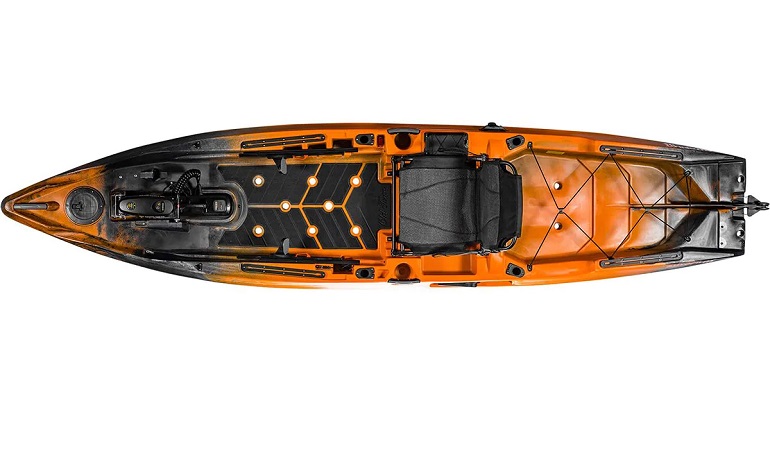 A motorized fishing kayak saves you the trouble of having to do all the hard work on your own. The ocean isn't your neighborhood lake or stream. It's rough and powerful. An inexperienced paddler will be quickly overwhelmed.
However, the Malibu 2 comes with a heavy-duty motor and a wide-blade rudder. These two should be enough to get you out of trouble. Surprisingly for a motor-powered vessel. This kayak is one of the lighter options on the list.
As if being lightweight and having a motor wasn't enough, the Malibu offers you a lot more. Namely, in the way of an autopilot navigation system. This system can handle the speed and direction of your vessel.
All you have to do is sit back and relax.
Features
Weight: Fifty-six pounds
Length: Thirteen feet and six inches
Best Feature: Wide blade rudder
Build Material: Single-layer polyethylene
Comfort: Premium seating
Pros
Comes with autopilot navigation that controls the speed and direction of this kayak.
Ocean kayak fishing has never been easier thanks to the 12V Minn Kota motor attached to this vessel.
You can remove the motor as well for when you want to paddle your vessel.
Cons
I would have liked more covered storage spaces.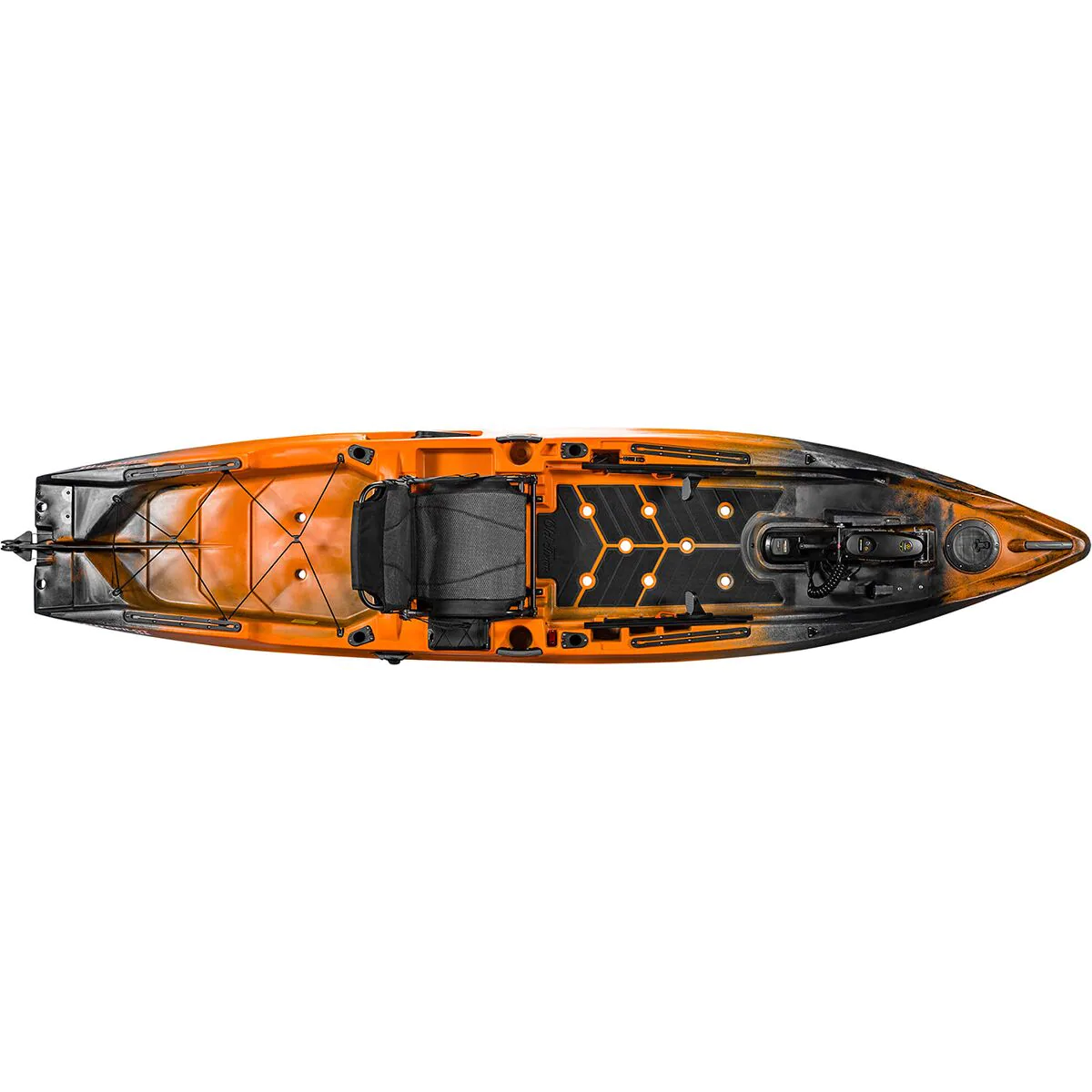 Ocean Kayak Malibu II XL
The Price of "Ocean Kayak Malibu II XL " varies, so check the latest price at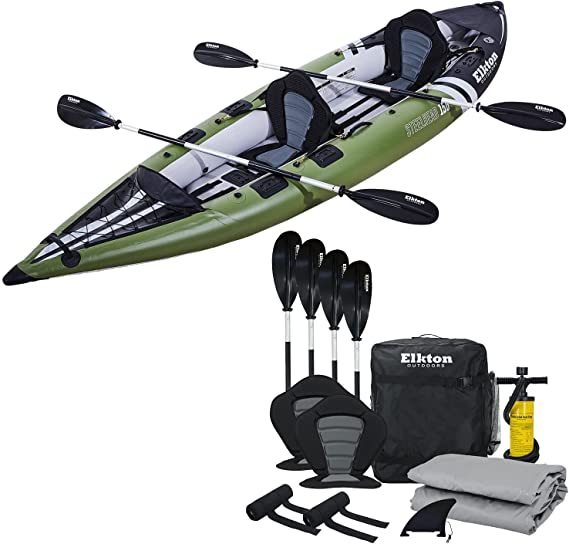 The Elkton Outdoors Steelhead is the perfect ocean fishing kayak for those with a plus one. The seating accommodations are comfortable and offer plenty of upper back support. For someone that tenses up and feels the strain after a few hours, these seats are a miracle.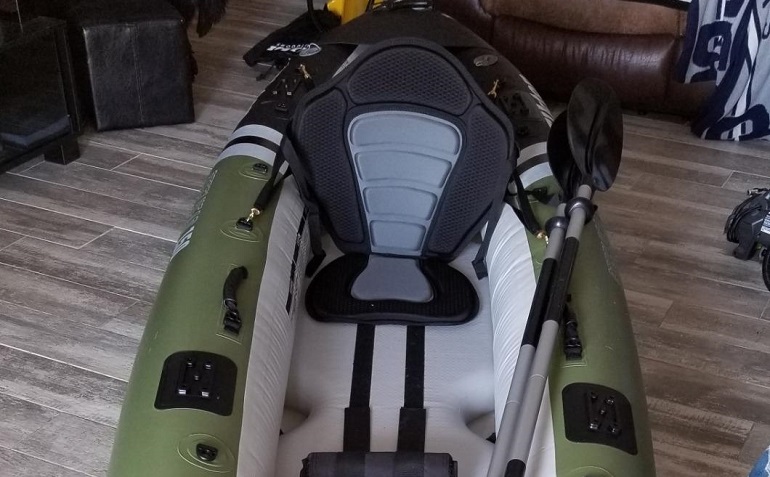 Besides the heavily padded seats, you have adjustable footrests. But that's not all, the comfort options keep on rolling. The front of the kayak comes with a built-in spray shield. Catching the gusts of salt water before they meet your face.
This is all underlined by drop-stitch flooring. It's abrasion resistant and even impact-resistant. As for the entirety of the kayak, it comes with a PVC exterior. A tandem kayak with all the features an inflatable fishing kayak should have.
Features
Weight: Forty-four pounds
Length: Twelve feet and six inches
Best Feature: Massive weight capacity
Build Material: PVC
Comfort: Adjustable footrest
Pros
Sturdy drop stitch flooring that is abrasion-resistant and impact resistant.
Comes with a built-in front bow spray shield and several hard mounting points.
Has two highly padded highback seats that offer great back support.
Cons
Comes with a hand pump but not an electric pump.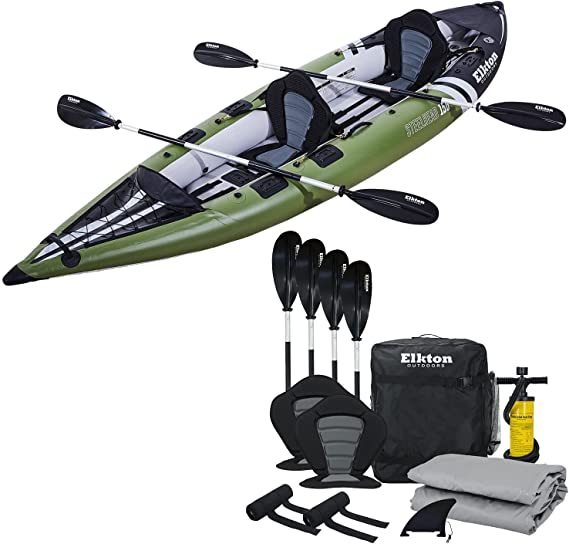 Elkton Outdoors Steelhead Inflatable
The Price of "Elkton Outdoors Steelhead Inflatable" varies, so check the latest price at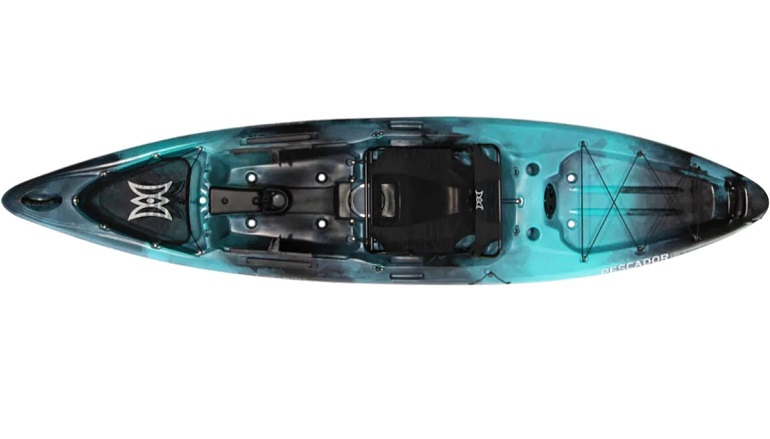 Tracking is your kayak's ability to navigate and move in a straight line. The better tracking your kayak has, the less you'll have to fight with it to maintain your course. It goes without saying, out at sea, this is vital.
Which is why the Pescador Pro 12 has found its way here. Thanks to its flat hull design and stable overall shape. This kayak has the best tracking on the market. It only weighs sixty-four pounds and is twelve feet long. Not the most difficult ocean kayak to transport.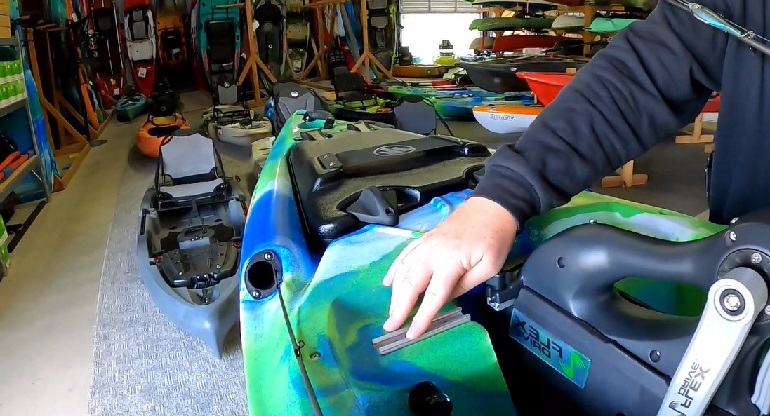 It comes with a chair that is fully adjustable. If you sit for the majority of the time when kayak fishing, you'll love this seat. And if you want to take a break, make use of the built-in rod holders.
Features
Weight: Sixty-four pounds
Length: Twelve feet
Best Feature: Dry front storage space
Build Material: Polyethylene
Comfort: Fully adjustable chair
Pros
This kayak tracks well thanks to its flat hull design and stable shape.
Comes with a dry front storage compartment that is guaranteed to keep your gear free of water.
Built-in rod holders and paddle holders give you time to relax, should you need it.
Cons
Not the most aesthetically pleasing kayak.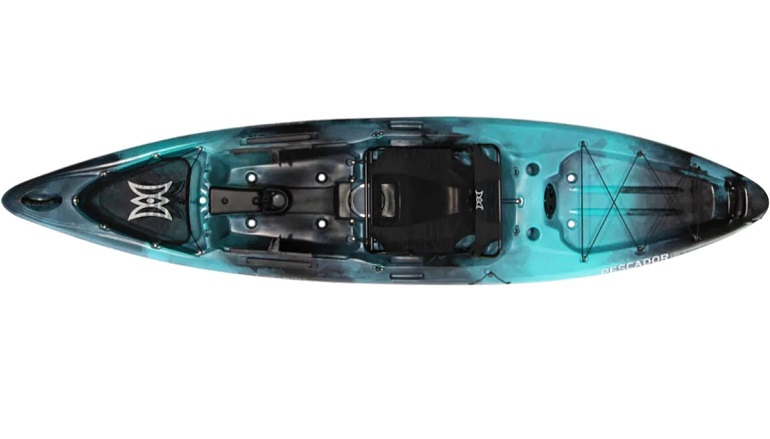 Perception Pescador
The Price of "Perception Pescador" varies, so check the latest price at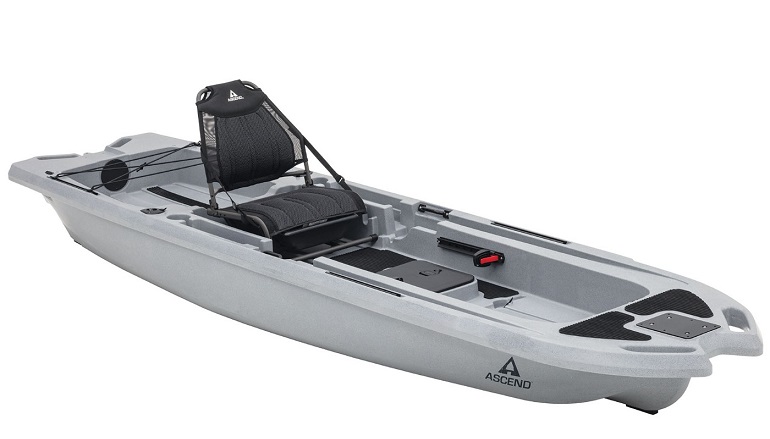 You don't become the most stable kayak by simply adding some foam blocks to the bow. No, you need a truly heavy-duty build that is packed with quality features. The Ascend 133X and its run-on sentence of a name has just that.
The entire hull of this kayak has been designed for enhanced edge-to-edge stability. The Catamaran hull design handles any waves and bumps sent its way. Beneath your feet, you can rely on the non-slip flooring that has been installed.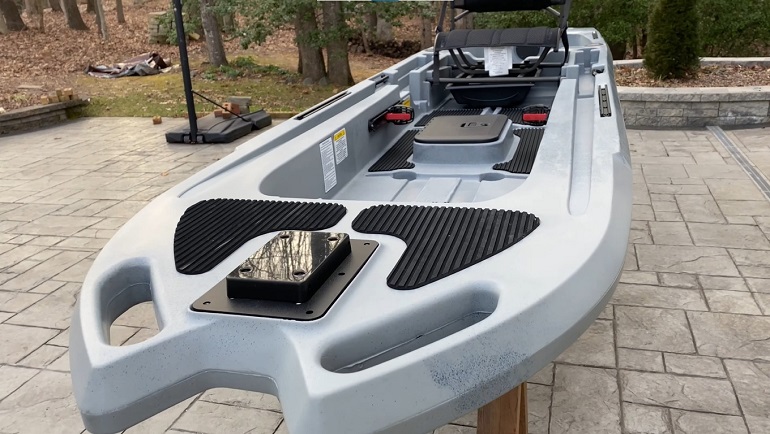 But this flooring is more than non-slip, it's also cushioned. Comfort and security are all wrapped up in one. The Ascend 133X is stable for the water and your body. There are also recessed storage options in both the bow and stern.
These areas keep your gear dry and readily accessible.
Features
Weight: One hundred and twenty-five pounds
Length: Thirteen feet
Best Feature: Catamaran hull design
Build Material: Hard plastics
Comfort: Nonskid cushioned flooring
Pros
This kayak has fantastic edge-to-edge stability thanks to its hull design.
Not only does this kayak have a non-slip deck but it's also cushioned.
Storage areas at the bow and stern are recessed, keeping them safe from the water.
Cons
A heavy-duty kayak that weighs the part.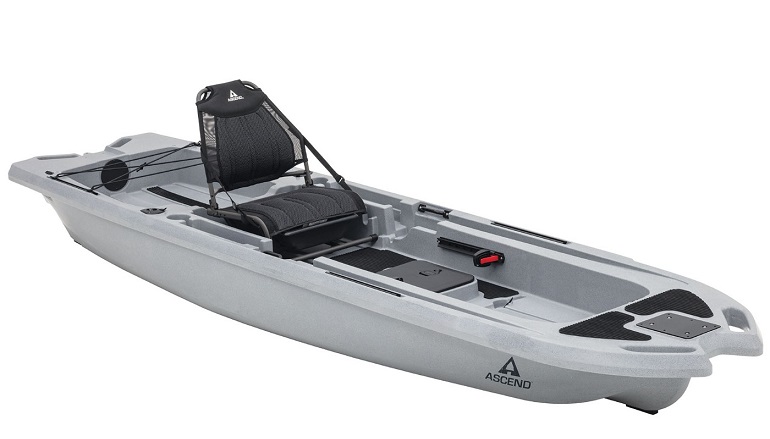 Ascend 133X Tournament
The Price of "Ascend 133X Tournament" varies, so check the latest price at

The Radar 135 is the premium option. Everything about its build and unfortunately, price, confirms this. It comes with a full five-year warranty which speaks volumes about the confidence of the manufacturer.
The AirPro Max seat that it houses is among the most comfortable seating that I've experienced. Of course, having three fully adjustable positions certainly helped it achieve this. Padded footrests at the bow of the kayak should also keep you relaxed.
Aside from comfort and for your convenience, the Radar has a removable storage pod that is used for housing all manner of sensitive equipment. From a fish finder to batteries, and even cables.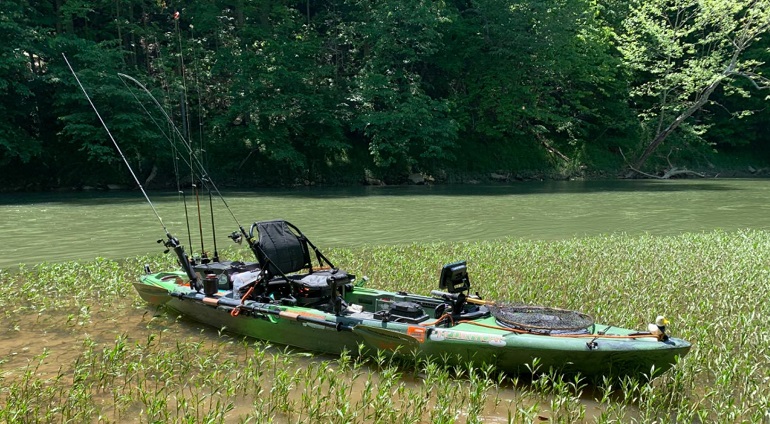 For any larger fishing gear, a massive tankwell storage space is readily available for you to use.
Features
Weight: Ninety pounds
Length: Thirteen feet and six inches
Best Feature: Five-year warranty
Build Material: Polyethylene
Comfort: AirPro Max Seat
Pros
The AirPro seat has three adjustable seating positions for you to choose from.
This kayak has a fully removable pod that can be used to store your kayak sonar fish finder, batteries, and anything of the sort.
Massive tankwell storage space and padded footrests for your comfort.
Cons
Stable and responsive but it'll cost you top dollar to bring home.

Radar 135
The Price of "Radar 135" varies, so check the latest price at
The Sea Eagle 350FX is one of those kayaking options that doesn't steal the spotlight. Rather, it found its way onto this list by delivering across all metrics without pomp.
Measuring in at eleven and a half feet, it is a standard size. One that weighs far less than other ocean fishing kayaks on this list. That was the first thing I liked about it. Even our top ocean fishing kayak weighs over one hundred pounds. The 350FX weighs less than half of that.
Despite this, it has a comparable weight capacity and a solid three-air chamber build. Should one air chamber get punctured, you won't sink. The two extra air chambers act as a fail-safe.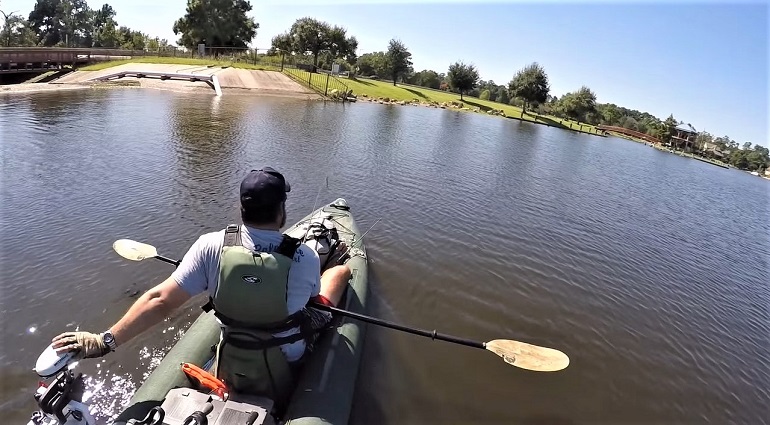 It's secure and lightweight, not much more you could ask for.
Features
Weight: Forty-five pounds
Length: Eleven feet and six inches
Best Feature: Three air chamber build
Build Material: 1000 denier build
Comfort: Inflatable seat
Pros
Has a durable 1,000 denier build with sections reinforced with 2,000 denier materials.
The three-air chamber build safeguards you from going under after suffering a puncture or tear.
Reinforced side tubes are perfectly abrasion resistant and long-lasting.
Cons
I would have liked a secure storage space.
350FX Fishing Explorer
The Price of "350FX Fishing Explorer" varies, so check the latest price at
What To Consider To Get The Best Ocean Fishing Kayak
To find the ocean fishing kayak that is the right fit for you, you'll need to know the following information. I've gone over the key features that a kayak will need to excel at if it aims to be capable of ocean fishing.
Fishing Kayaks and Stability
You need your fishing kayak to be stable. How else are you going to maintain any perfect fishing spot that you come across? Better yet, how else are you going to reel in the big catch?
A stable kayak like the Ascend 133X is one that has an optimized hull design. Having a properly shaped hull is everything because a kayak's hull is what comes into contact with the water.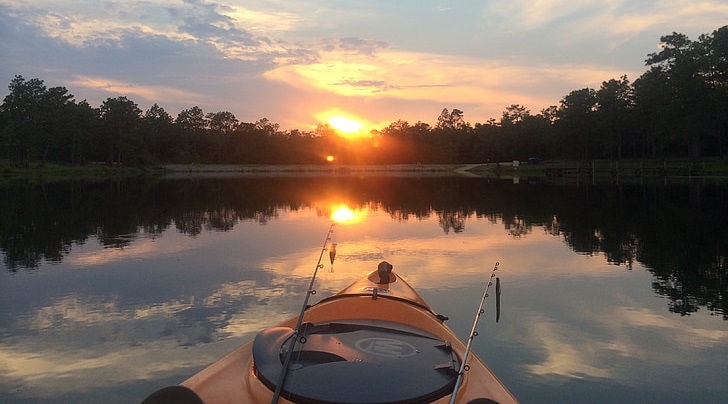 The hull needs to be able to transition water from one side to the next without letting it affect its position. Anything that breaks up the waves should be good enough.
Ocean Kayak Comfort
The comfort of a kayak is all about its seating arrangement. Some ocean fishing kayaks have seats that can be adjusted and set into various positions. The Radar 135 is one such kayak. Its AirPro Max seat is heavily padded and able to snap into three different positions.
However, I am more interested in the quick-drying seats of the Sportsman BigWater. Nothing is more annoying when offshore fishing than having to sit on a wet seat. Most ocean fishing kayaks don't have a solution.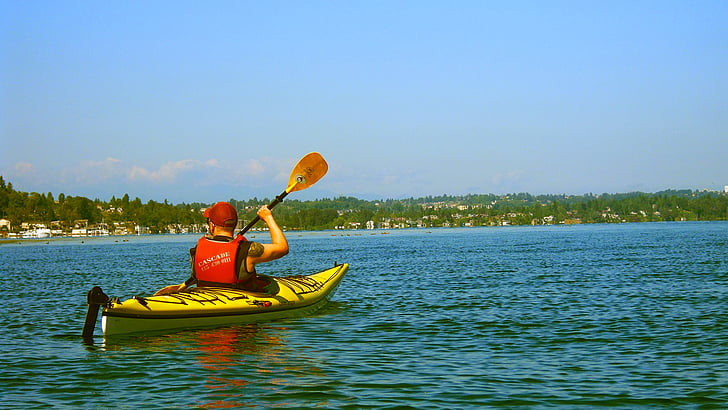 The Sportsman BigWater's quick-drying seat is the perfect answer.
Ocean Kayak Storage
Kayak fishing requires a lot of gear and add-ons. Even a place to sit your mug or safely store any food you may have is necessary. Fortunately, most fishing kayaks listed above have several storage options for you to take advantage of.
For example, the Pescador Pro 12 has a great dry storage compartment located near its bow. Other ocean fishing kayaks have removable storage containers and pods that serve their purpose as well.
For me, the three dry hatch-sealed storage spaces of the BKC RA220 are without a peer. You'll want something similar if you want to be sure of your gear's safety.
Ocean Kayak Customization
Customization is another word for adjustability. The more you can adjust on your kayak, the better. Having several parts and features that are adjustable allows you to find the unique configuration that works best for you.
Adjustable seats are not a rarity but foot braces and footrests that can be adjusted are. There are also built-in rod holders that can have several modes for you to set them in and even removable spray skirts.
Once you get to know your kayak better, tweaking it and making it all your own is a gratifying experience.
Maneuverability
Of course, how well you can control your fishing kayak is important. Even more so when in the sea, far and away from the coastline. The main feature that determines how well you can maneuver a kayak is its length.
The longer a kayak is and the more it weighs, the less control you'll have over it. Better put, the more energy, and force that you will have to exert to get it to move in the way that you want it to move.
Some large kayaks have a rudder and a pedal drive system. These features certainly help steer your vessel. Something to keep in mind.
My Final Thoughts
A high-quality kayak is necessary if you want to make it far into the ocean and into the homeland of the exotic. While these ocean fishing kayaks may come with a steep price, they are well worth it. Not just for their quality or performance but for what they can bring you.
If you are a shopaholic, you can also splurge on kayaking shoes for extra comfort.
A day out at sea. Far away from the hectic world that we live in. A safe space where you can fish and let your worries sink into the depths.
Happy kayak fishing!