Novices Can Have Fun Too
You've seen the videos. Yoga enthusiasts on social media, getting majestic shots of themselves in the middle of a lake, their limbs twisted into a pretzel.
You see their tangled limbs and possibly dislocated shoulder and think to yourself, "Oh, I want that."
Well, you can have it, but you are going to need more than just the best paddle board on the market. You will need a beginner paddle board (maybe an inflatable or non-inflatable paddle board). One with all the bells and whistles that novices and the dexterously challenged require to have a great first outing.
The right beginner board, like the ones listed below, can provide fun for the whole family. Even small paddlers can work with the Bluefin cruise or the Atoll 11.
There's more to see, let's check it out.
Best Paddle Board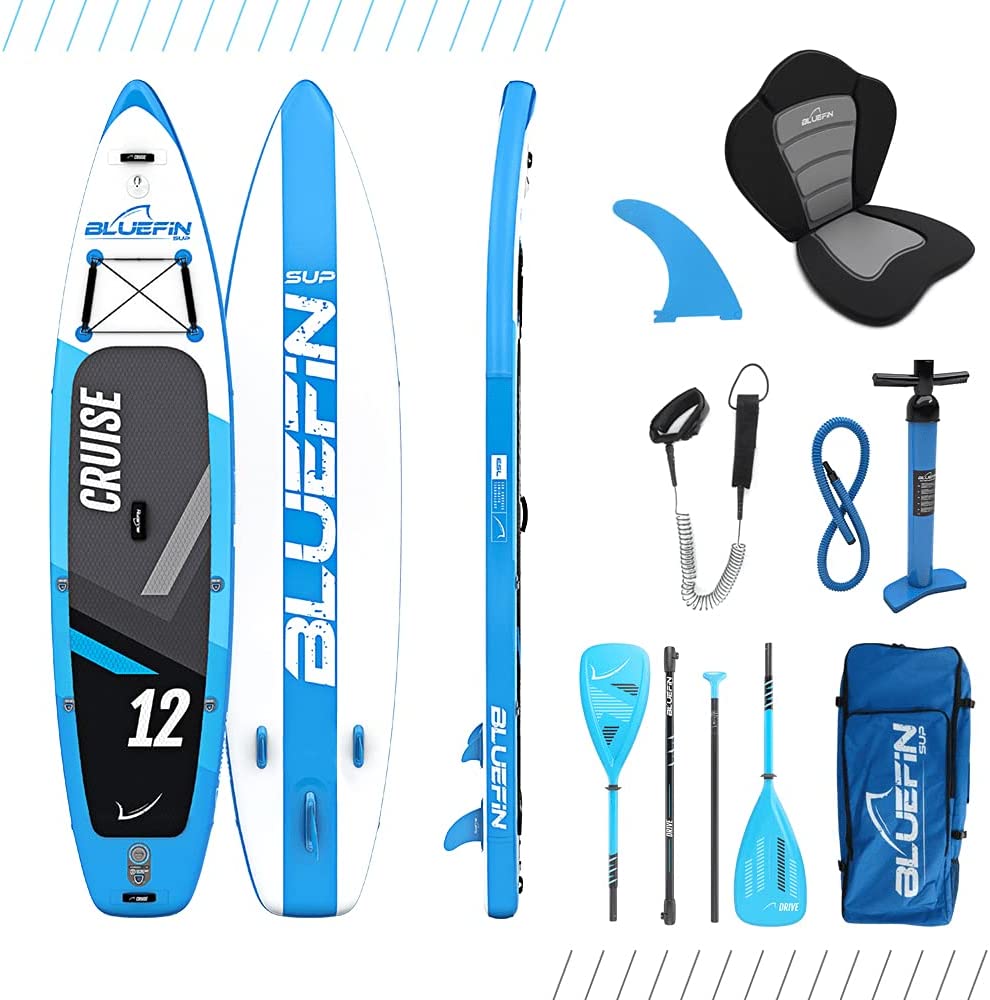 Bluefin Cruise 10'8"
Color: Blue
Material: Nylon
Best Versatility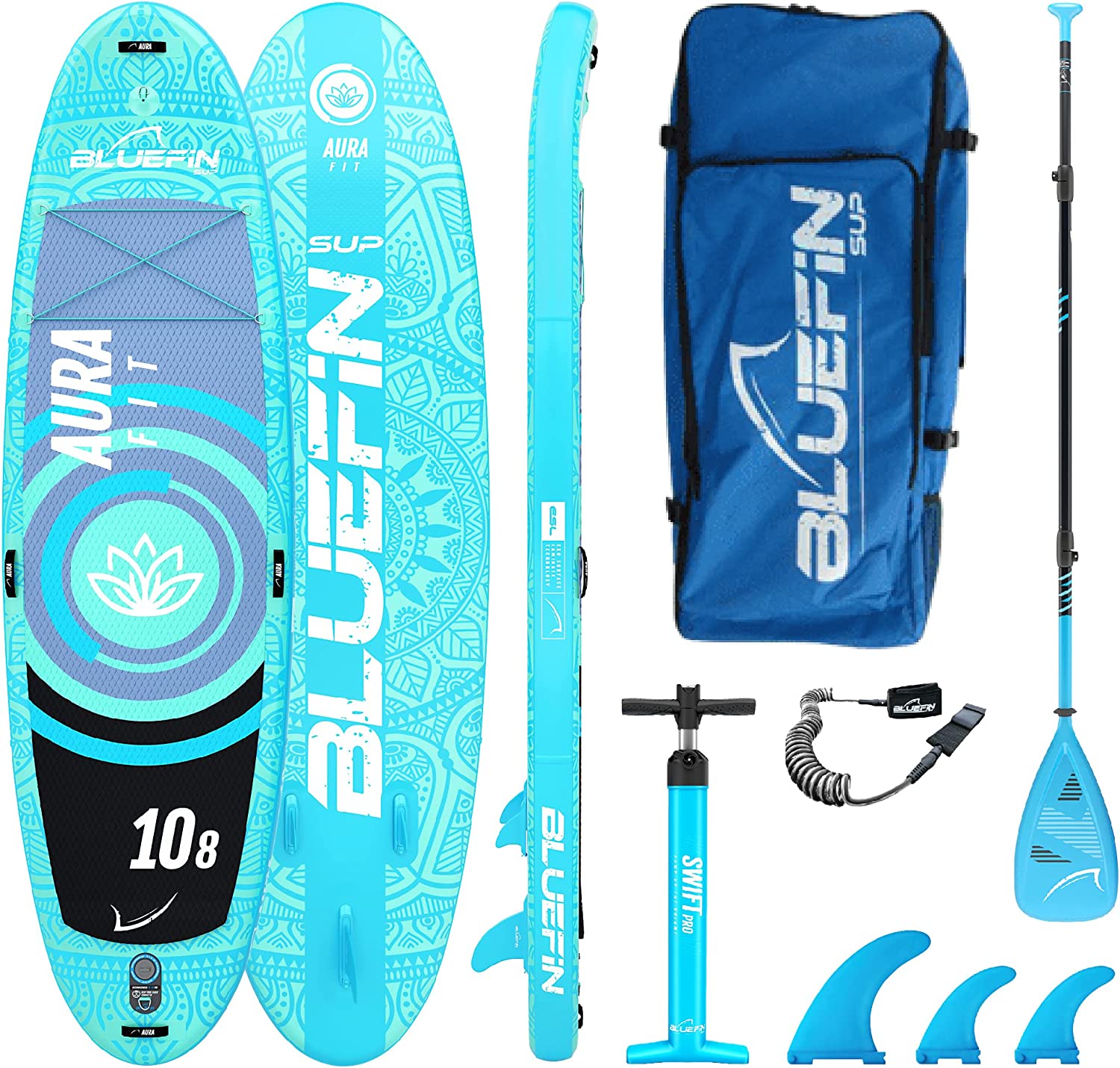 Bluefin Aura fit 10'8
Color:

Blue

Material:

Nylon
Best Stable Board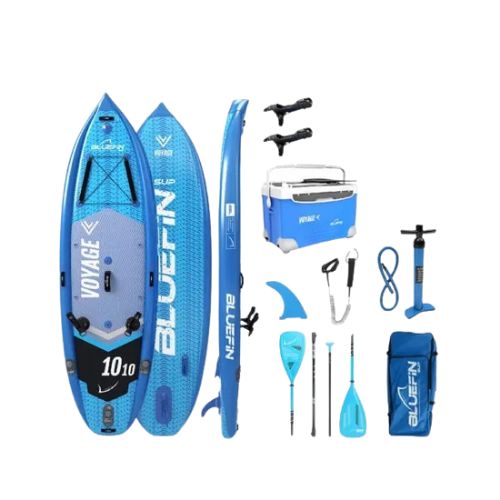 Bluefin Sup Voyage 10'10
Color:

Blue

Material: PVC
Best Efficiency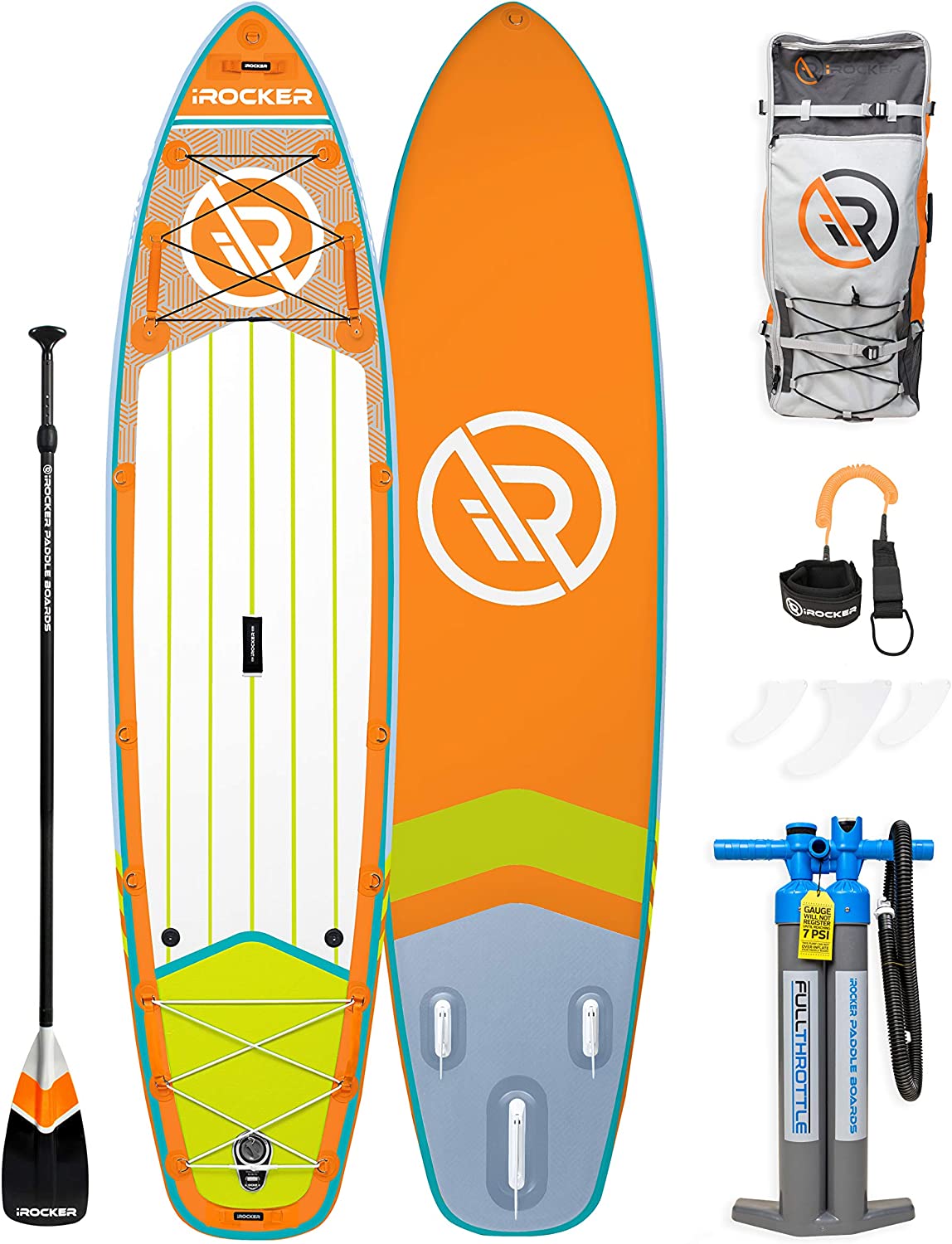 iRocker All-Around 11'
Color: Orange
Material: Polyvinyl Chloride
Best Budget Board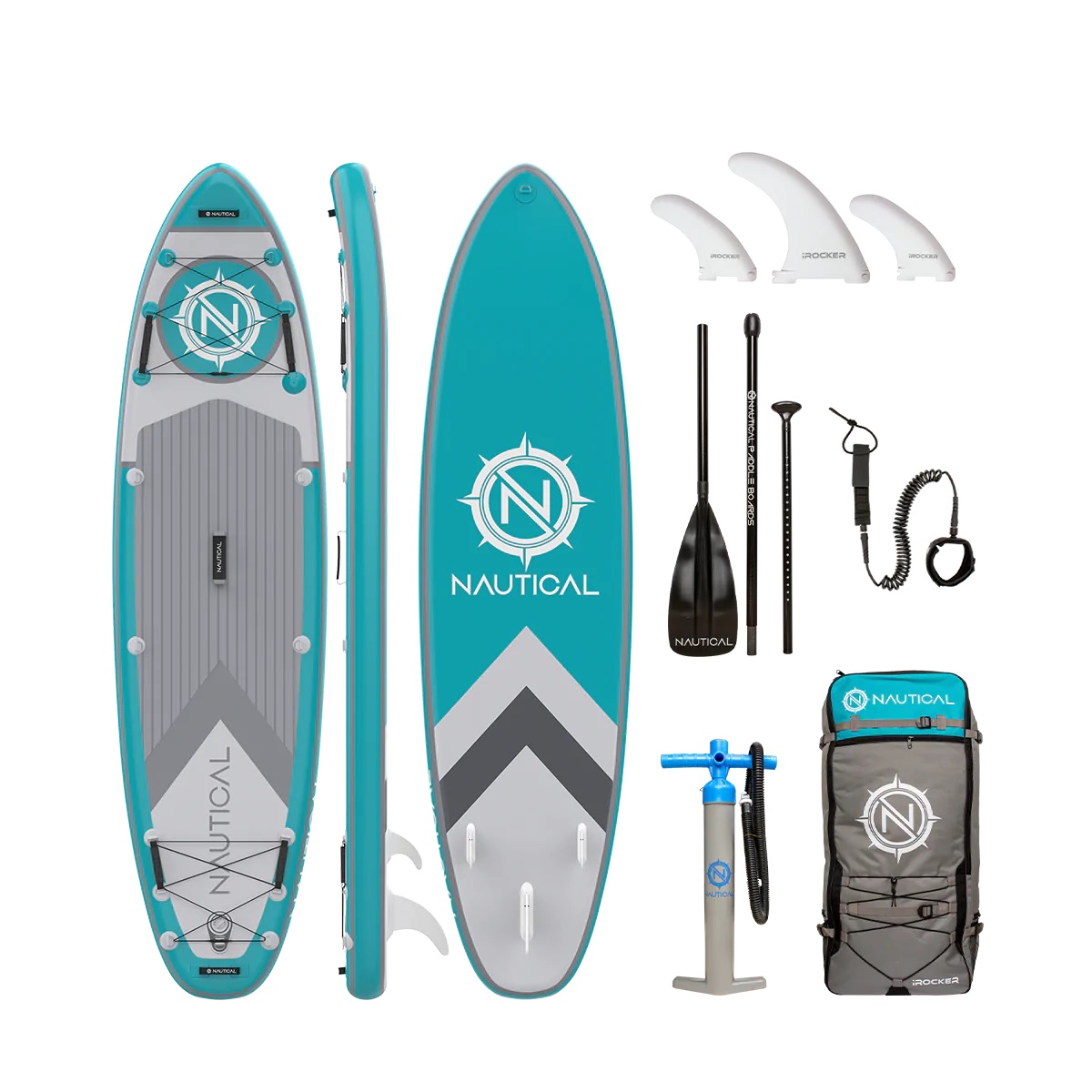 iRocker Nautical
Color: Teal
Material: PVC
Convenient Handling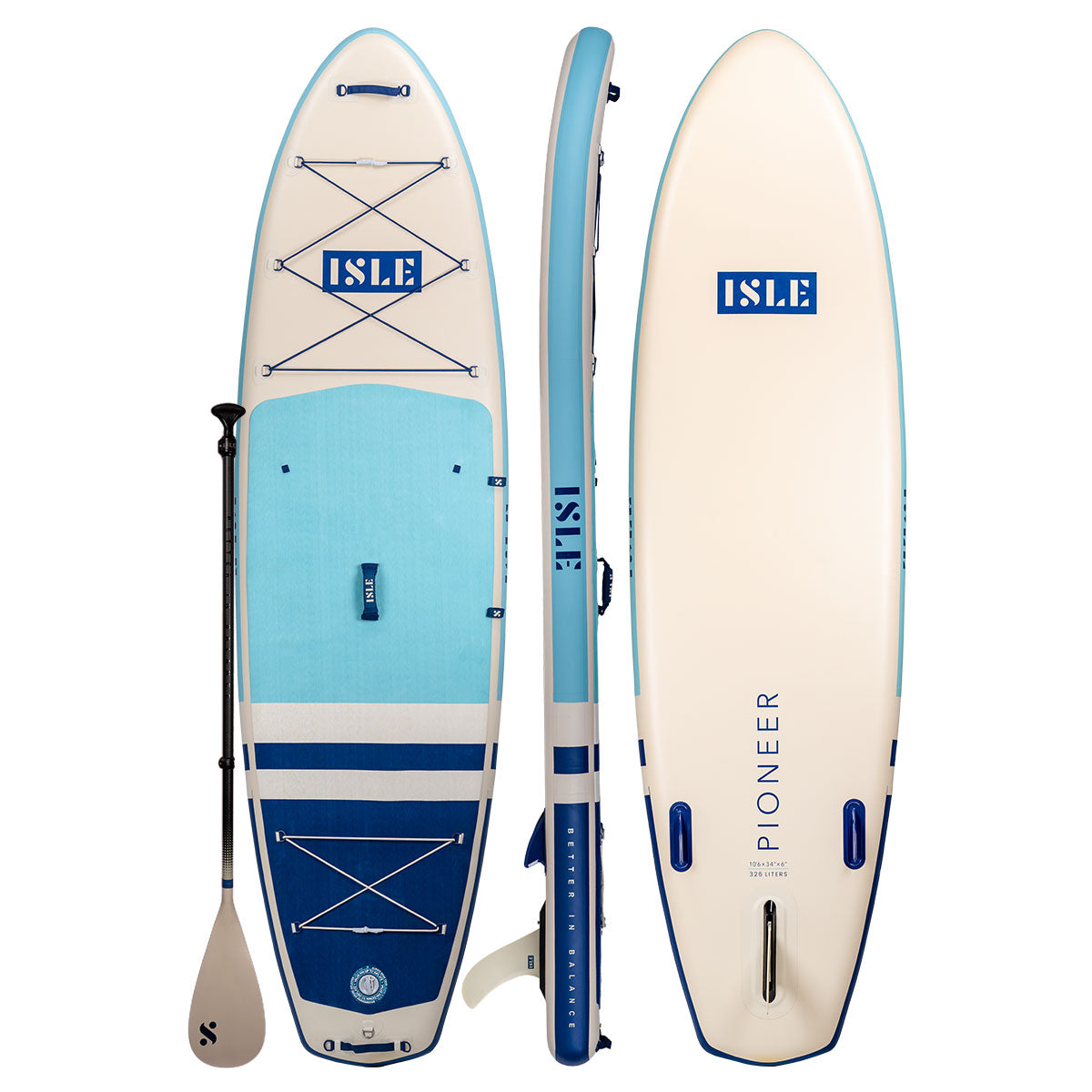 Isle Pioneer 2.0
Color: Aqua/Navy
Material:

Nylon/ PVC
Super Responsive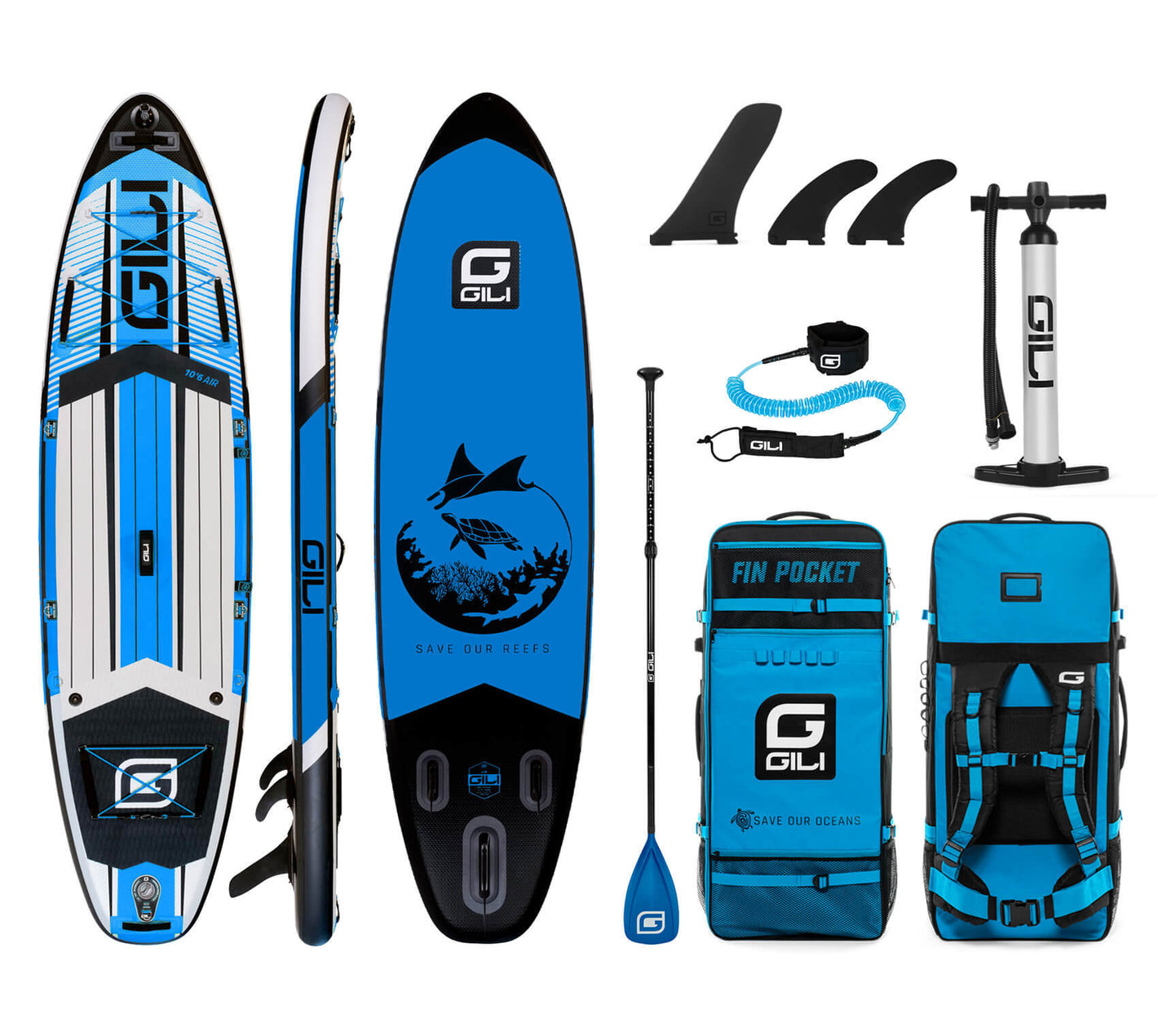 Gili Air 10'6/11'6
Color: Green/Blue
Material:

PVC
Best Deal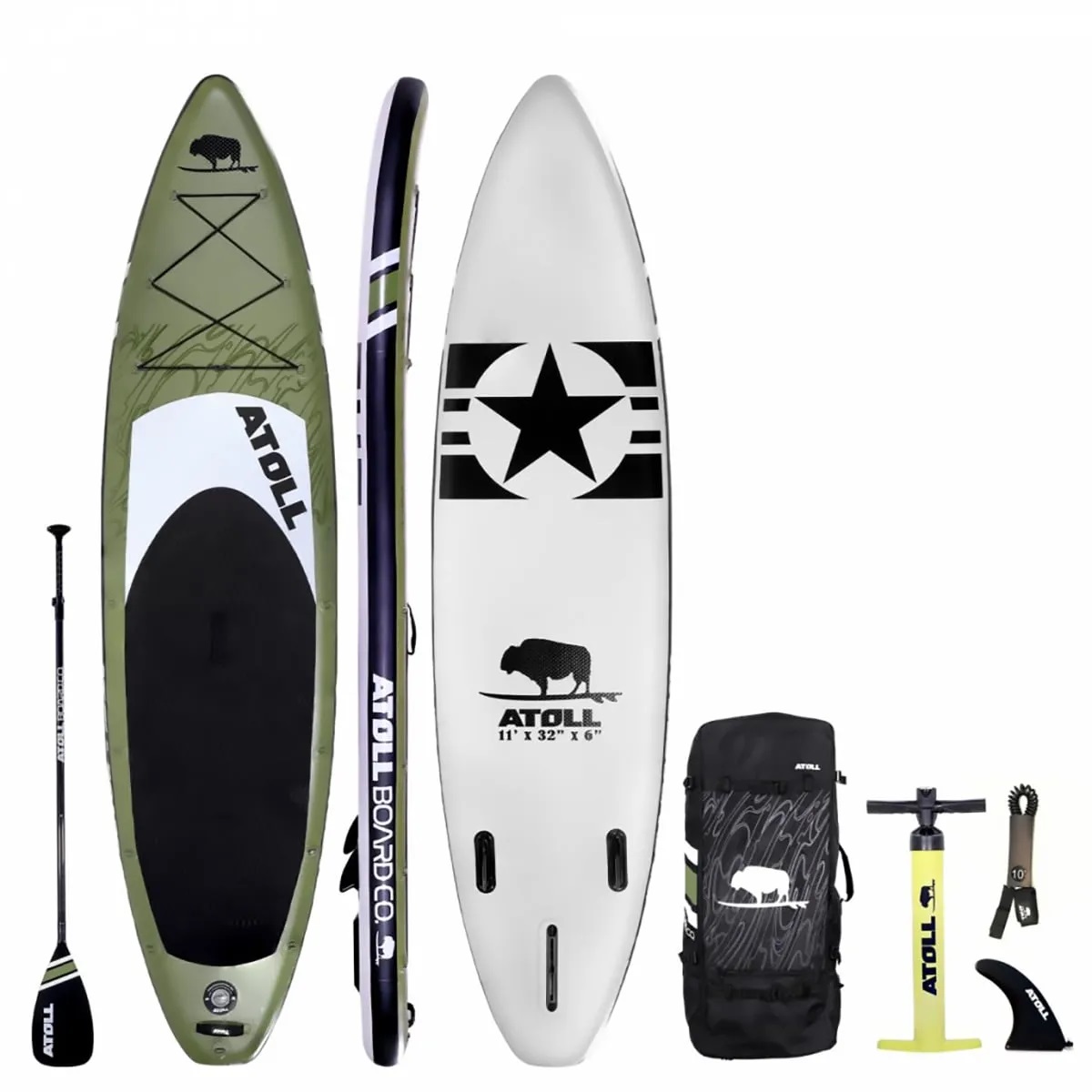 Atoll 11' Inflatable
COLOR:

 

ARMY-GREEN
MATERIAL:

PVC
Best Light Weight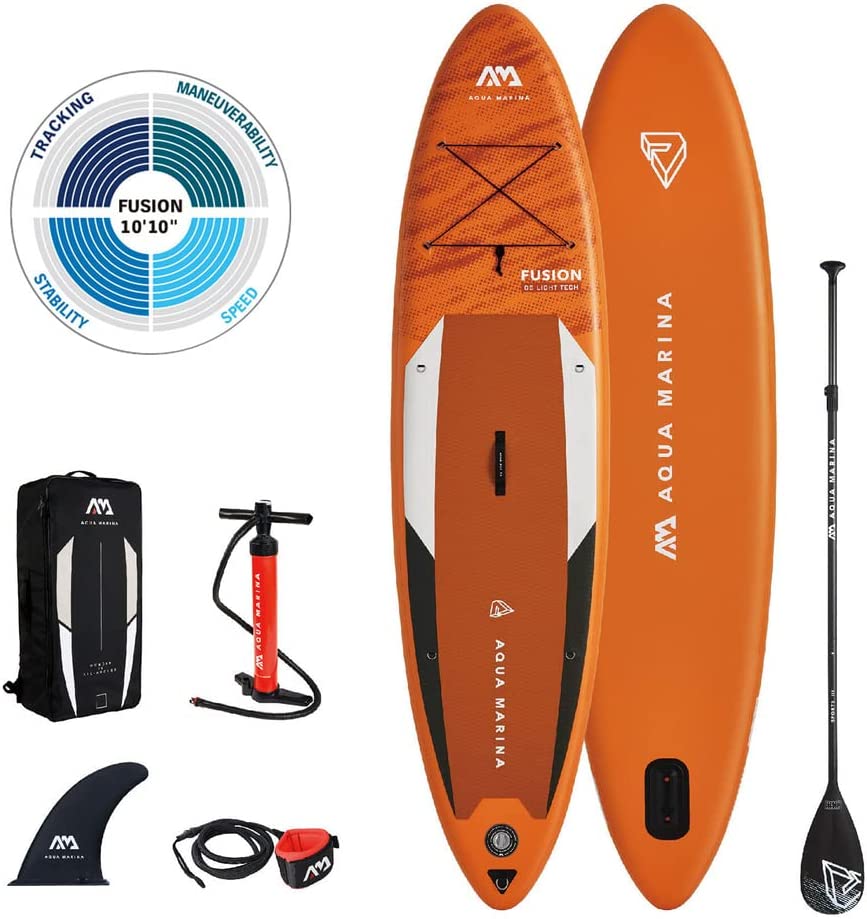 Aqua Marina SUP
COLOR:

 

ORANGE
MATERIAL:

 

PVC
The Lucky 9 Best Paddle Boards for Beginners
We aren't biased, at least, we aren't trying to be. Sure, three entries on our list are all from Bluefin, but that's only because they know quality. Bluefin is to the paddle boarding world as Burton is to the snowboarding world. Ubiquitous with excellence.
There are other offerings, even an amazingly low-priced iRocker at the bottom, that won't be in stock for much longer. From a coiled leash, comfortable carry handle, and single-layer PVC construction to a powerful hand pump and extended storage space.
Even if what you settle on isn't a Bluefin, you can rest assured that it is one of the best beginner paddle boards that you can buy.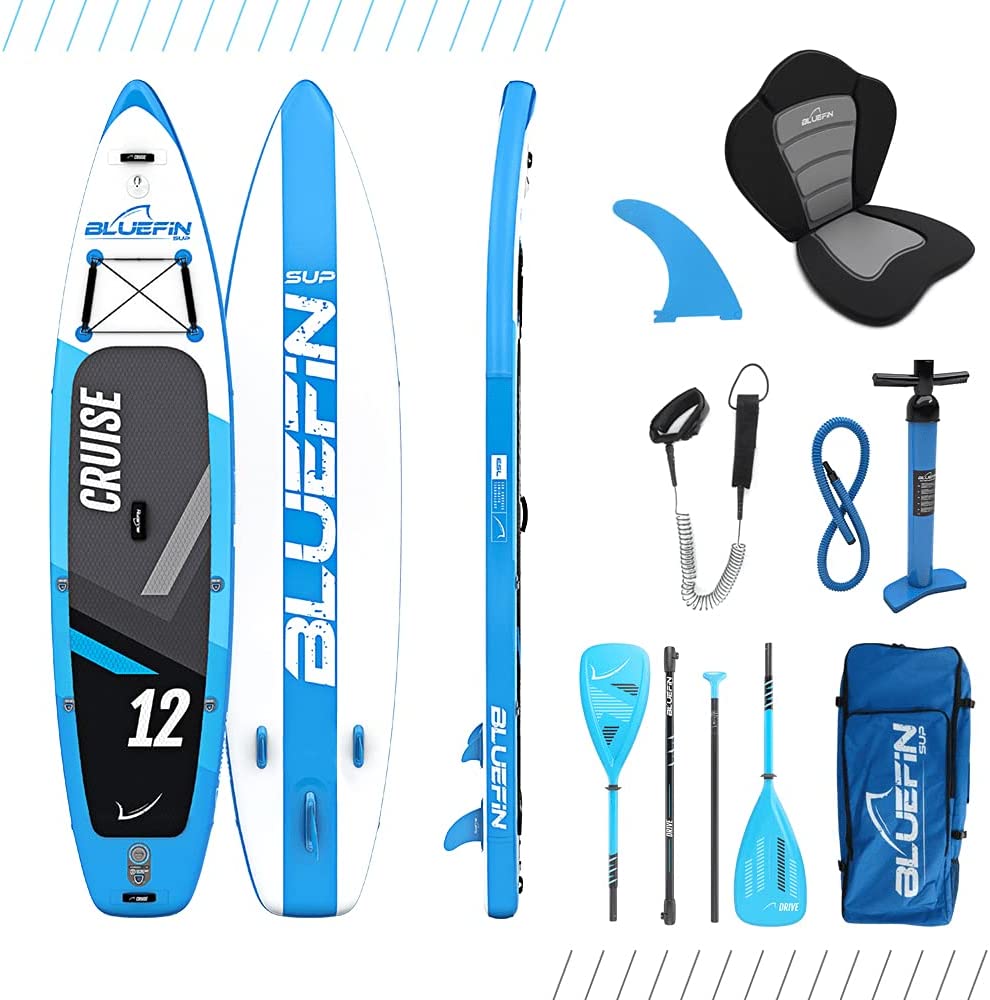 Sometimes sacrifices have to be made in order to achieve greatness. Bluefin knows this; it's why the Cruise weighs thirty-seven pounds.
Yes, this is significantly more than other paddle boards on the list. However, the 1000 denier Exo surface and laminate PVC, woven together by a pro weave drop stitch, increase the longevity of this great board to a gargantuan level.
Even if that didn't have you convinced, a five-year warranty slapped on top of it all should be more than enough to assuage any doubts. Allow me to explain.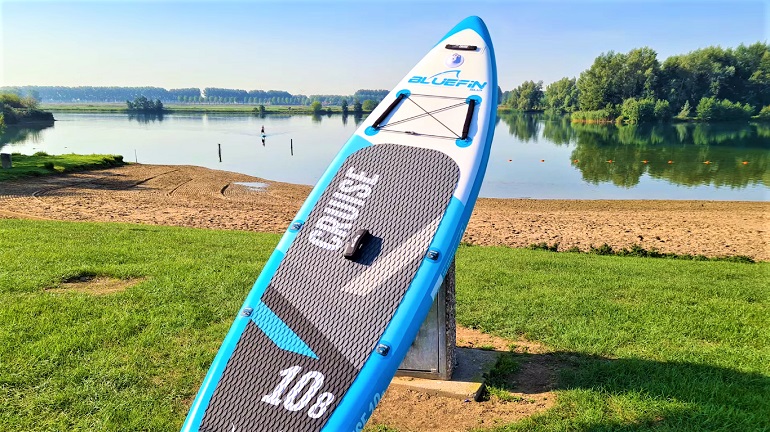 A 1,000 denier surface is incredibly thick, difficult to puncture, and more so with a PVC laminate applied to it. When it comes to performance, an optimized nose rocker gets you up and over the ripples.
This board feels like a breeze to ride on.
Features
Material: Nylon and PVC construction
Best Feature: Optimized nose rocker
Warranty: Five years
Fin: Eight-inch center fin
Weight: 37 pounds
Pros
Has excellent build quality with a 1000 denier Exo surface, a laminate PVC, and a pro weave drop stitch.
Comes with a lightweight fiberglass paddle and a quality carry-on bag.
You won't have to wait long for this thicker board to inflate, thanks to the double-action air pump that is used to inflate it.
Cons
This inflatable paddle board will be difficult for smaller paddlers to handle.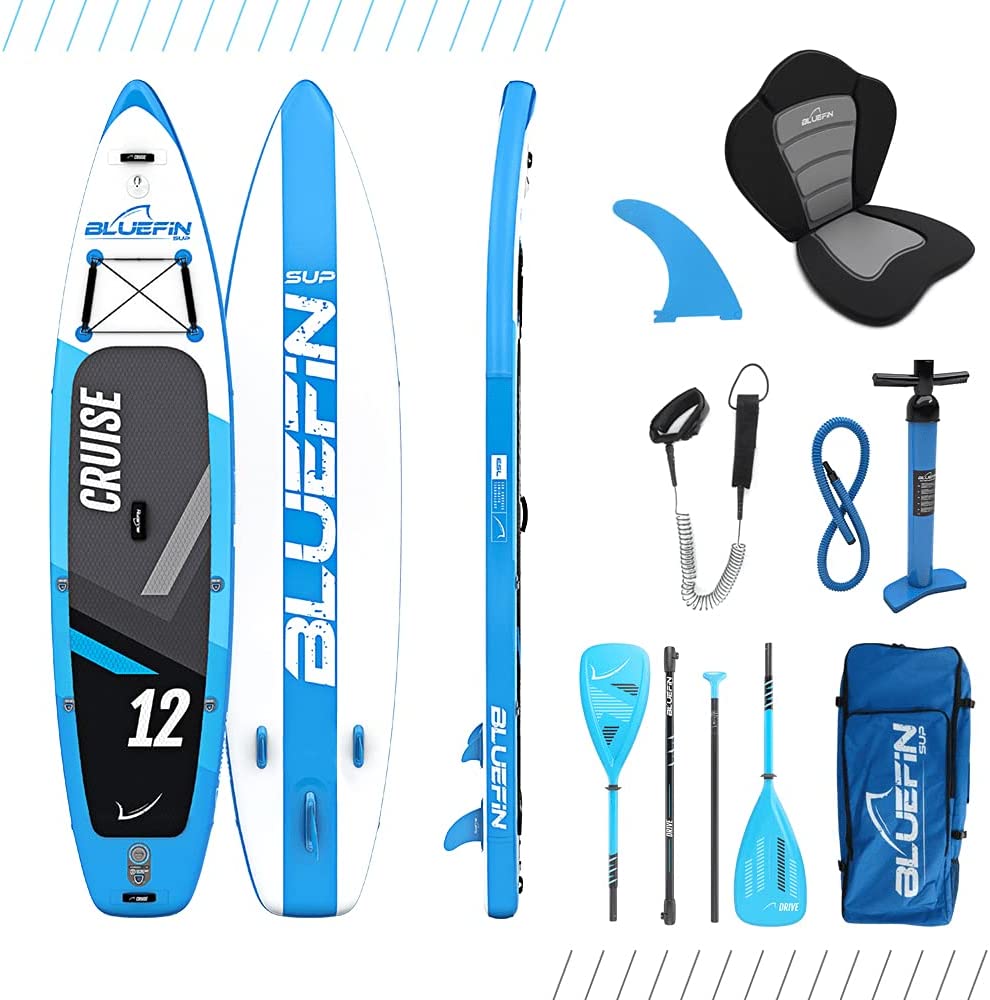 Bluefin Cruise 10'8"
The price of "Bluefin Cruise 10'8" " varies, so check the latest price at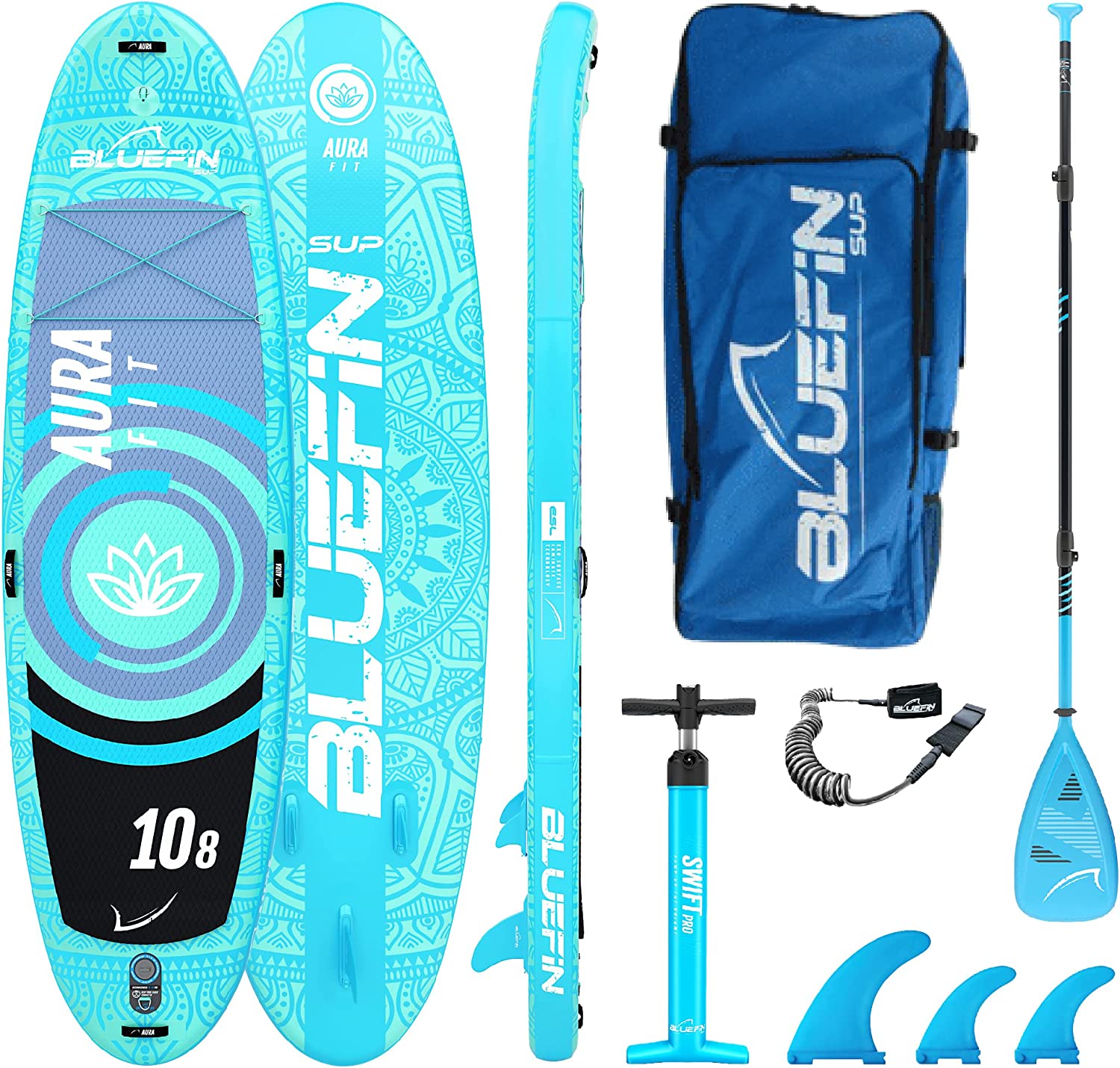 The versatility of this board is showcased by all the different ways in which it can be used. Thanks to the eight-inch central fin and dual side fins, you can power through any kind of turbulence. Surprising since entry-level gear usually isn't known for its ferocity.
The Aura benefits from the same extra-strength PVC as its predecessor with an added layer of Nylon. While this nylon does work wonders, there is an issue of weight to be addressed.
If the Cruise was heavy, then the Aura is obscene. Weighing in at forty-five pounds and with a length to match, this isn't one for the children.

Fortunately, it comes with a pretty decent paddle that easily cuts through the current.
Of course, you could too, if you had no-flutter polyurethane composite blades for arms.
Features
Material: Nylon
Best Feature: Extra strength PVC
Warranty: Five years
Fin: Eight-inch versatile center fin and small side fins
Weight: 45 pounds
Pros
Everything that comes with the purchase has a beautiful turquoise color scheme. Really stands out.
Incredibly durable build quality as you have come to expect from any beginner paddle board from Bluefin.
Comes with a two-piece paddle that has a no-flutter polyurethane composite blade. Brilliantly efficient.
Cons
Only one color option to choose from.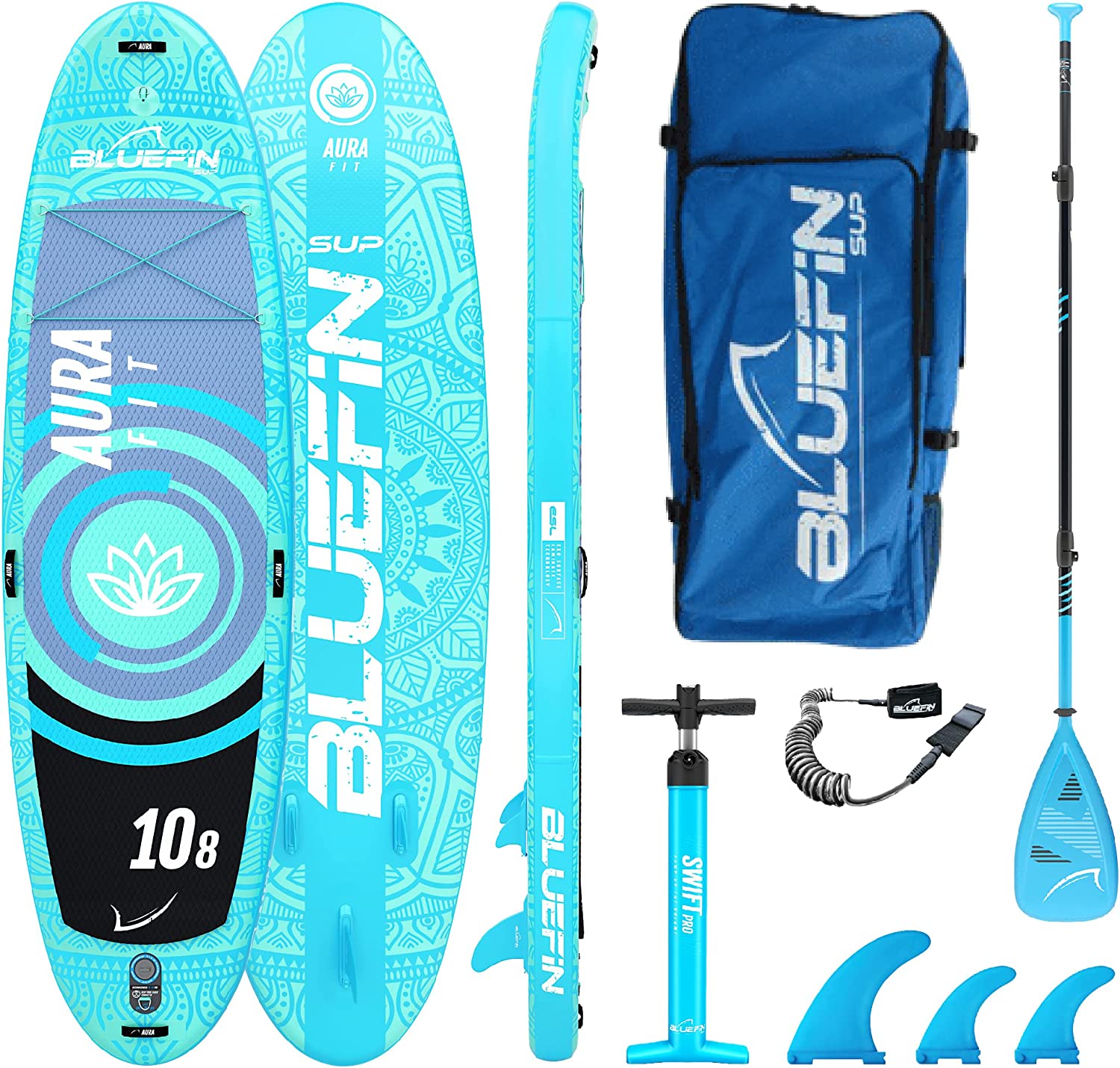 Bluefin Aura fit 10'8 Package
The price of "Bluefin Aura fit 10'8 Package " varies, so check the latest price at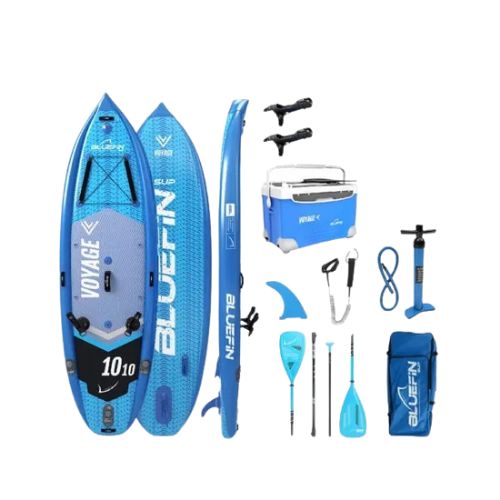 The Voyage, what a perfectly fitting name for a paddle board that is so stable, you could take a nap on it at any time of day.
What astounds me the most about this paddle board is that despite the thickness of its build, it actually weighs a whole lot less than its Bluefin compatriots.
This is a matter of engineering excellence. The thick sides make wading through the water easy and effortless, but it by no means weighs this board down. Quite the opposite, most of this paddle board's "fat" comes from being inflated.

Thanks to its high-density drop stitch technology, you get added stability but also a secure seal to keep the air trapped.
The best part was that the three bottom fins can be removed and attached without the need for a tool.
Features
Material: PVC construction
Best Feature: High-density drop stitch technology
Warranty: Five years
Fin: Smart lock fin system
Weight: 29 pounds
Pros
This is the best beginner paddle board for those who want a stable ride. Twenty percent wider than competing boards.
Comes with a kayak seat and two fishing pole mounts; comfort is everything.
Three fins with toolless attachment on the bottom for powering through any body of water.
Cons
Speed was reduced significantly in favor of more stability.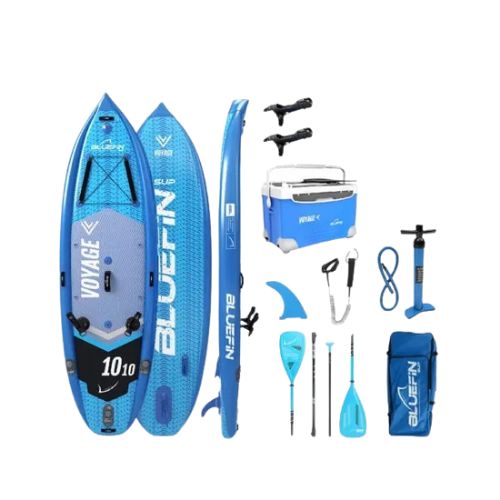 Bluefin Sup Voyage 10'10
The price of "Bluefin Sup Voyage 10'10 " varies, so check the latest price at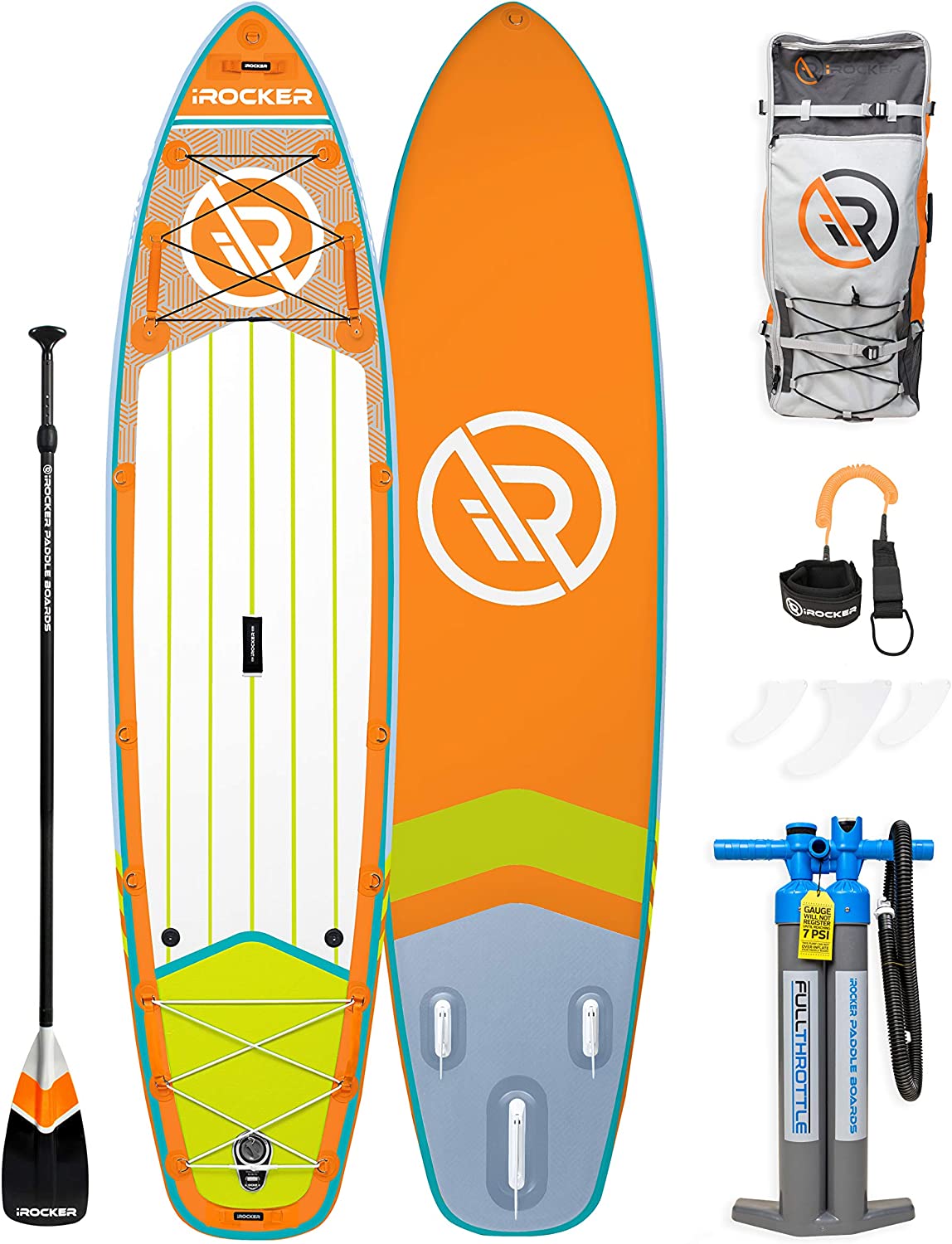 The All-around 11 has a little something for everyone. For the efficiency priests that want solid performance wherever they go, three fins with an extended central fin. How about those that love to create their own unique build?
The paddle of this board can be broken down into five separate parts. Furthermore, you can even attach an extra blade to the other end for some double-sided action.
Scattered around its lightweight frame are four action mounts that can be used for securing whatever it is you have on your person. Everything from d-rings to fishing gear can be safely tied down.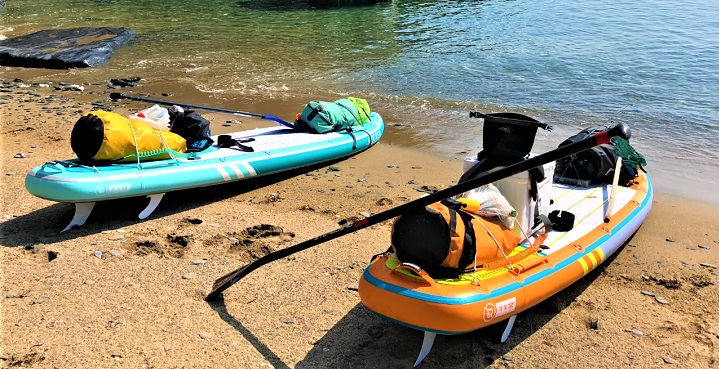 The only downside to this board is that it doesn't stand out in either speed or stability. But then again, what more could you expect from something named the All-around 11?
Features
Material: Aluminum and Polyvinyl Chloride
Best Feature: Adjustable paddle
Warranty: Two years
Fin: Three fins, extended center fin
Weight: 24 pounds
Pros
A lightweight board for beginners that can be easily transported when not in water.
Has a highly customizable paddle that lets you attach a blade to either end.
This paddle board has four action mounts for securing either d-rings or any other accessories you may have.
Cons
Doesn't specialize in either speed or stability, a jack of all trades.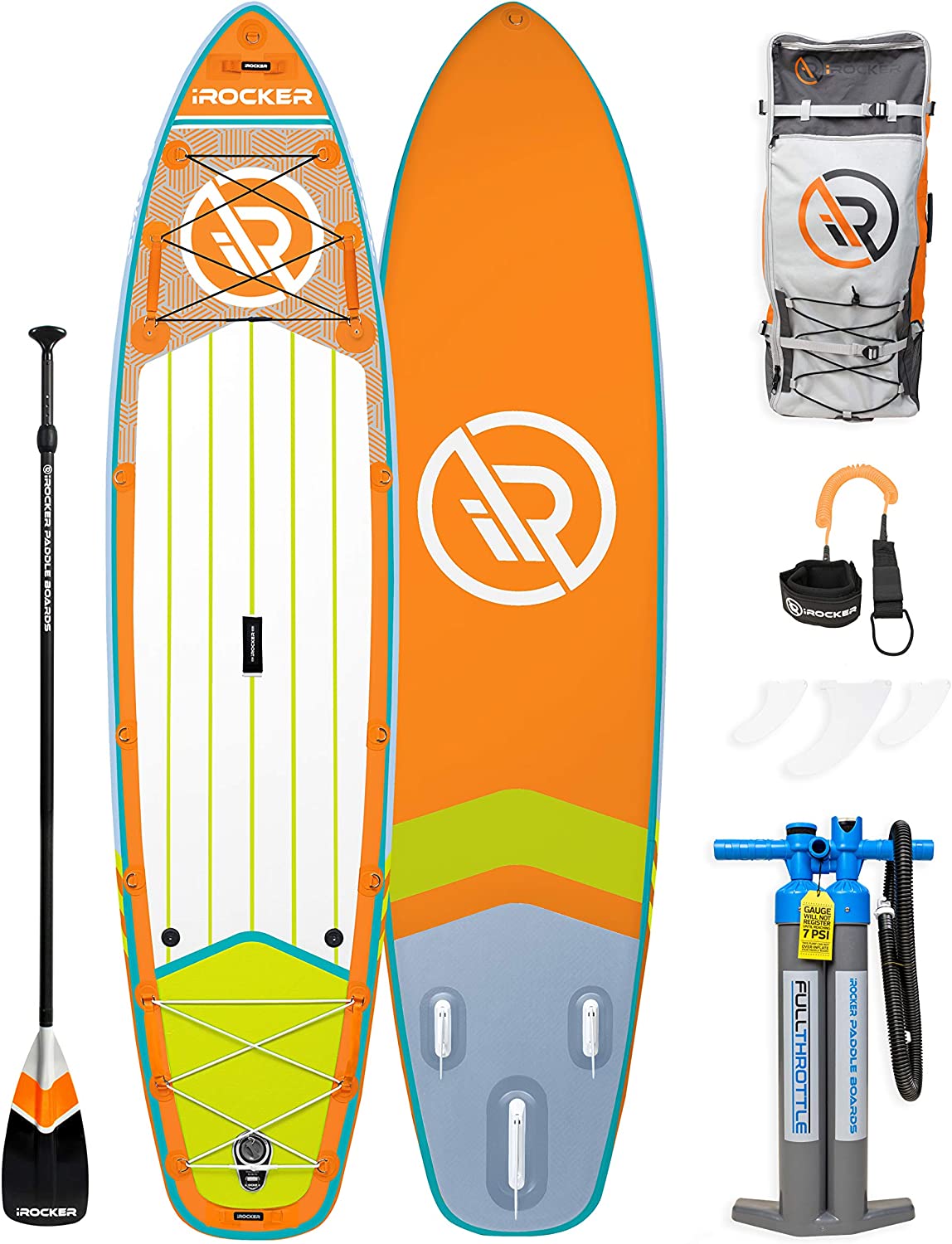 iRocker All-Around 11'
The price of "iRocker All-Around 11'" varies, so check the latest price at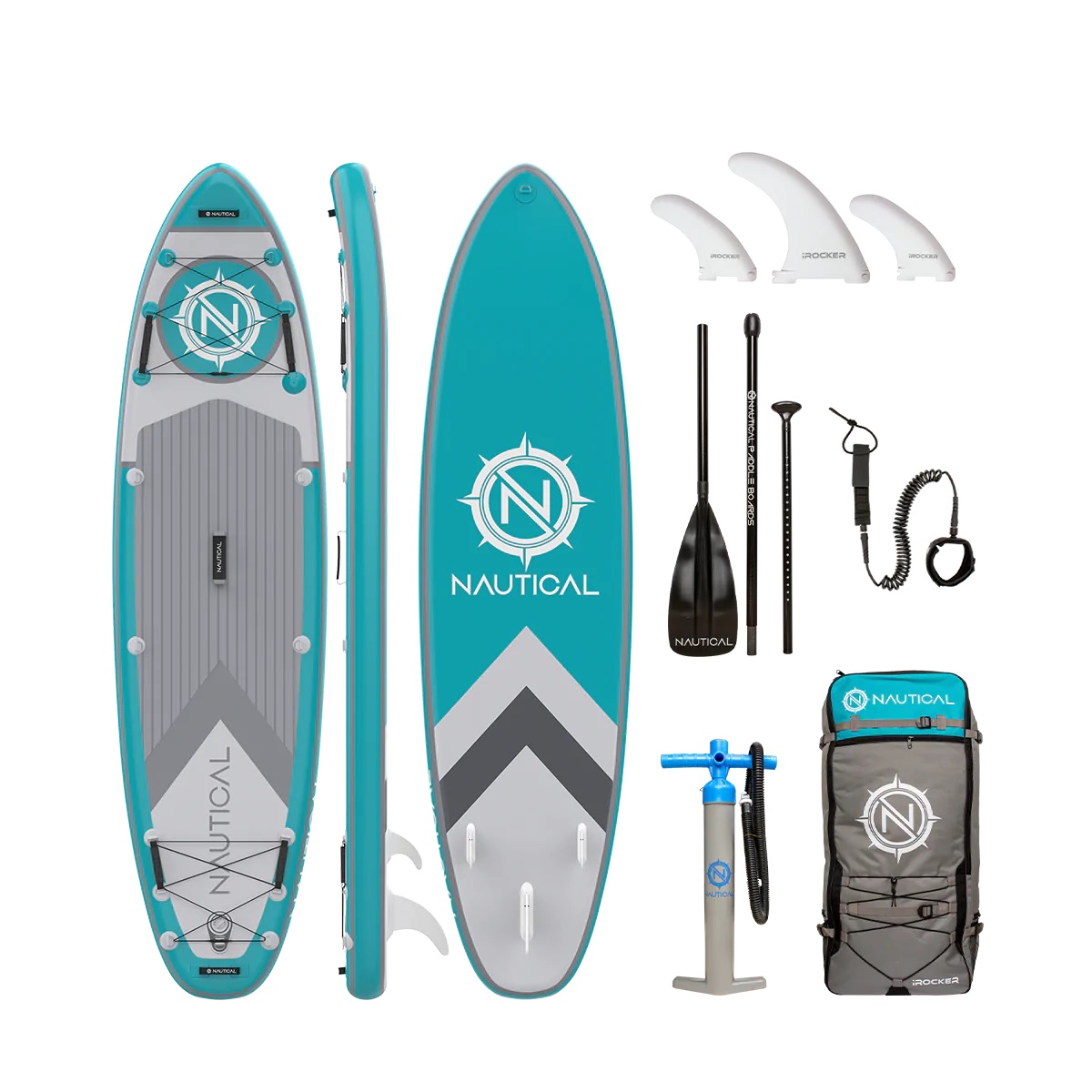 The iRocker Nautical is small and almost as low weighing as the Fusion. Easy to transport and handle, with three years of warranty backing it.
This is the paddle board for those that know they need some alone time. It's only big enough to accommodate you.
Don't let its small size and smaller fins fool you; durability is not one of its weak points.
Anything with two layers of military-grade PVC is going to last for a while. The best part is that this board was designed to give its rider a stable trip.
Perfect conditions for a beginner to practice their craft.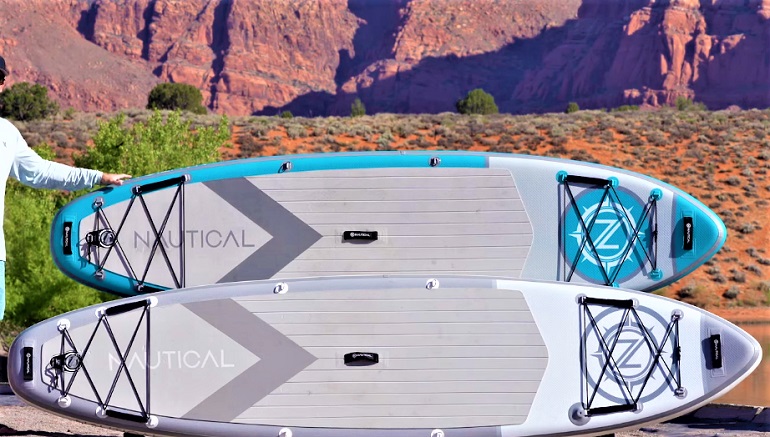 Features
Material: Dual-Layer Military-Grade PVC
Best Feature: Small size equals easy transport
Warranty: Three years
Fin: Three removable fins
Weight: Twenty pounds
Pros
Multiple color options to choose from at an insanely low price, with an extra repair kit thrown in for good measure.
This is a great stability-focused board for beginners.
All three of the fins are removable and customizable.
Cons
A small size paddle board with a low weight capacity.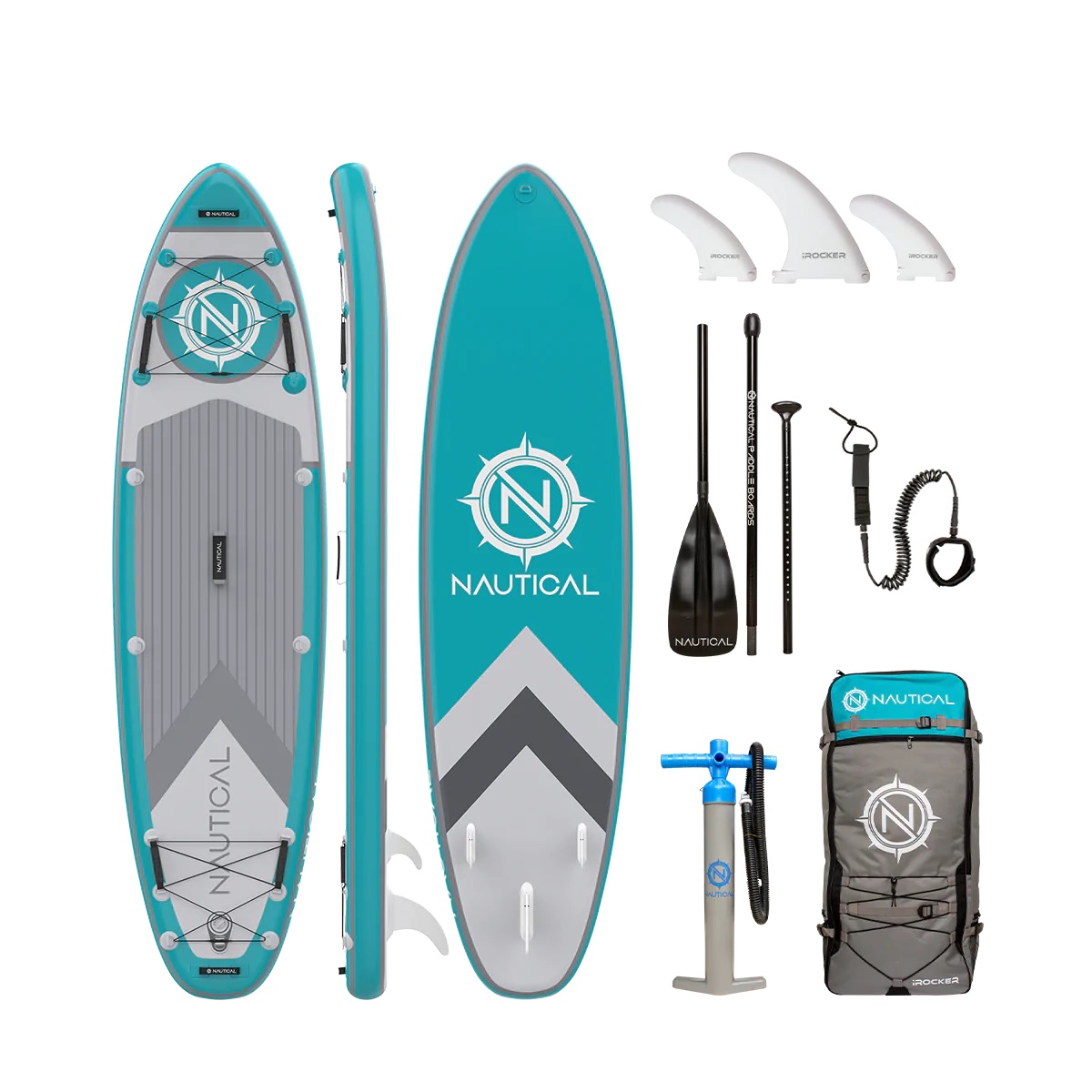 iRocker Nautical
The price of "iRocker Nautical " varies, so check the latest price at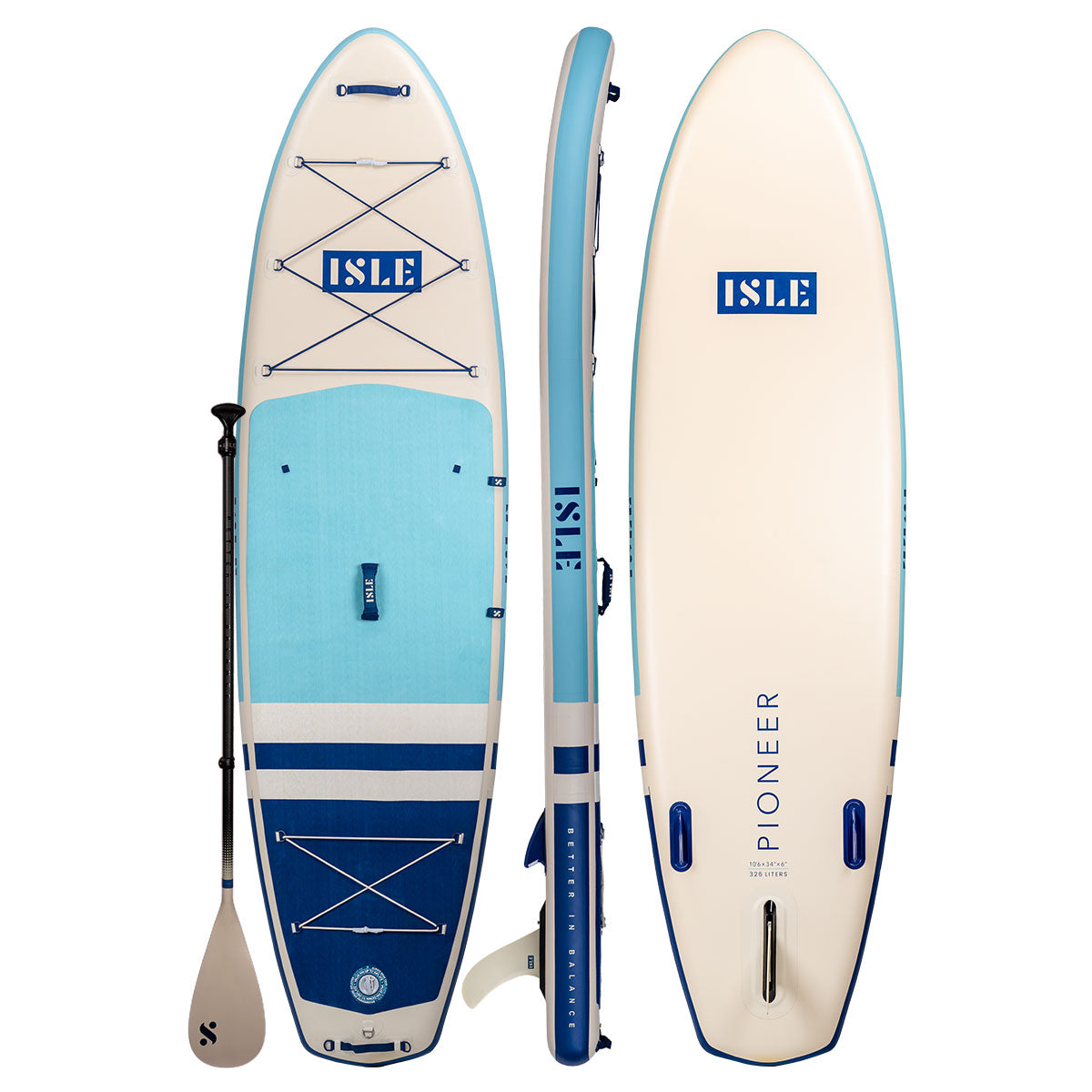 This little gem is made from durable and lightweight materials that make it easy to transport and inflate, so you can hit the water in no time!
As someone who has taken a few tumbles while stand-up paddle boarding, I really liked the non-slip deck, which is a great safety feature that makes it perfect for beginners and pros alike. You'll feel stable and secure as you glide along the water, taking in all the breathtaking views around you.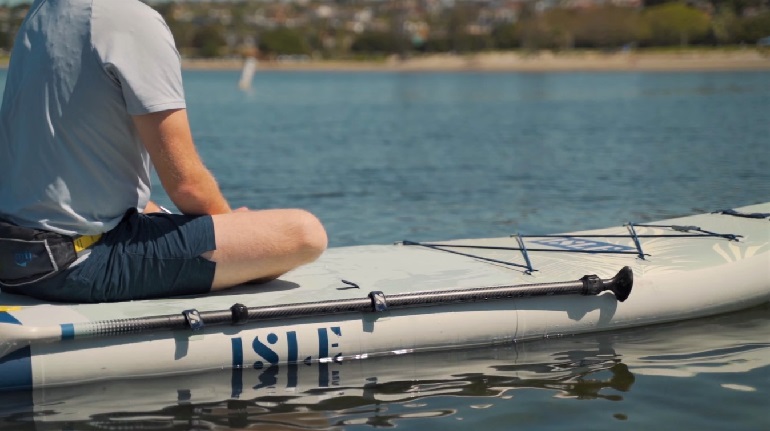 But wait, there's more! The Isle Pioneer 2.0 comes equipped with a detachable fin that helps to improve your tracking and maneuverability, allowing you to really show off your skills on the water.
And with its sleek and stylish design, this board is sure to turn heads and make a splash wherever you take it.
And the fact that it's suitable for all skill levels is just the icing on the cake.
Features
Material: Military-grade PVC
Best Feature: Easy to handle, yet sturdy and stable in the water
Warranty: One year
Fin: Detachable center fin
Weight: 21 pounds when inflated
Pros
It's as easy to transport as a beach ball and inflates quickly, so you'll be on your way to your aquatic adventure in no time.
It's incredibly durable and resistant to damage from rocks, debris, and other hazards you might encounter on the water.
It comes with a range of helpful features like bungee tie-downs, a comfortable deck pad, a built-in paddle holder, and a convenient carry handle.
Cons
May not be as fast as a hard board and may not be suitable for very choppy water conditions.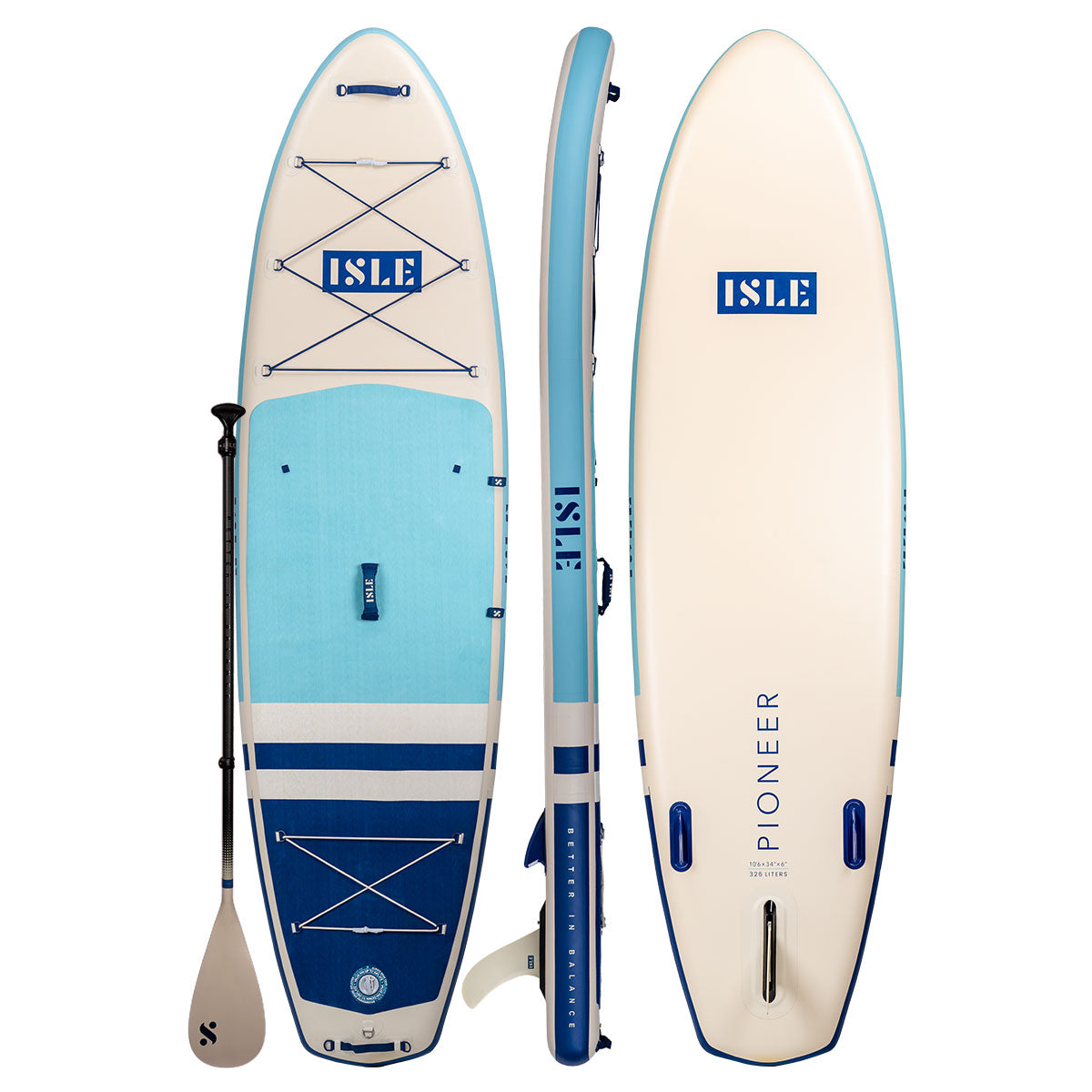 Isle Pioneer 2.0
The price of "Isle Pioneer 2.0 " varies, so check the latest price at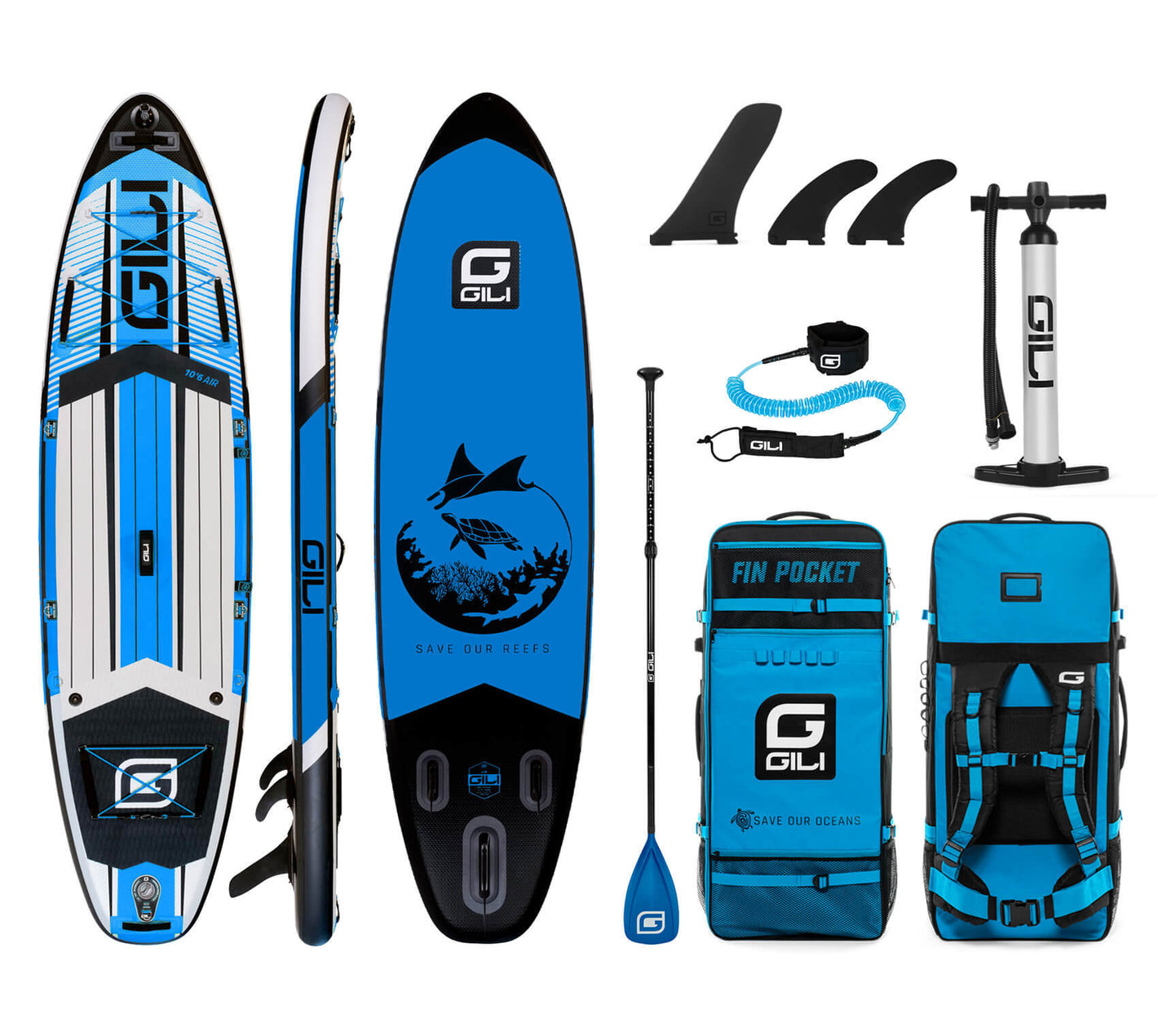 As someone who loves to spend time out on the water, I was ecstatic to get my hands on the Gili Air 10'6/11'6 inflatable paddle board. I was looking for a versatile board that would allow me to explore different bodies of water with ease, and this board did not disappoint.
The Gili Air 10'6/11'6 is perfect for anyone looking for a reliable, high-quality paddle board that can be used for various water activities.
One of the standout features of the Gili Air 10'6/11'6 is its durability. The board is made from military-grade PVC material, which means it can withstand even the most rugged terrain.
I was blown away by how easy it was to inflate and set up, and once I got out on the water, I was amazed by how sturdy and responsive the board felt.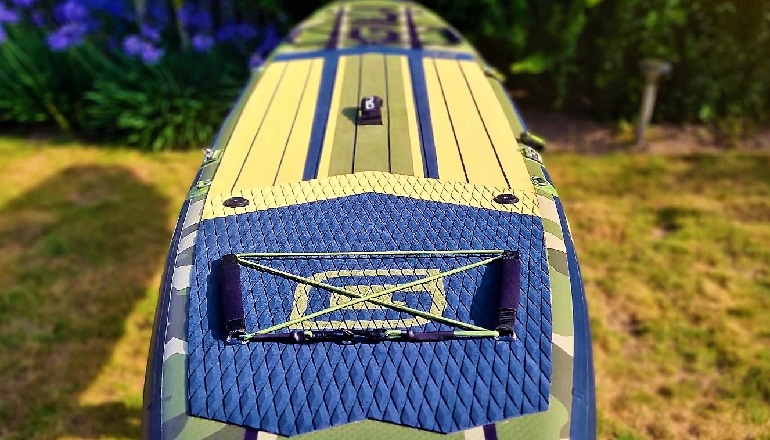 Another great feature of the Gili Air 10'6/11'6 is its stability. The board is designed with a triple-layer side rail that provides added stability and makes it easier to balance on the water.
This makes it a great option for beginner paddlers, but it's also suitable for pros who want to experience an adrenaline rush on adventurous terrain. It also makes a good surf paddle board.
Features
Material: High-quality military-grade PVC
Best Feature: Provides exceptional rigidity and stability on the water
Warranty: Two-year warranty
Fin: A 9-inch removable center fin and two 4.5-inch side fins
Weight: 20-22 pounds
Pros
Whether you're looking to surf some waves, explore calm lakes, or even practice yoga on the water, this board can handle it all.
Stable and easy to balance on the water and suitable for all skill levels.
Comes with a complete paddleboard package, and the company offers great customer service.
Cons
Some users may prefer a narrower board for speed and agility.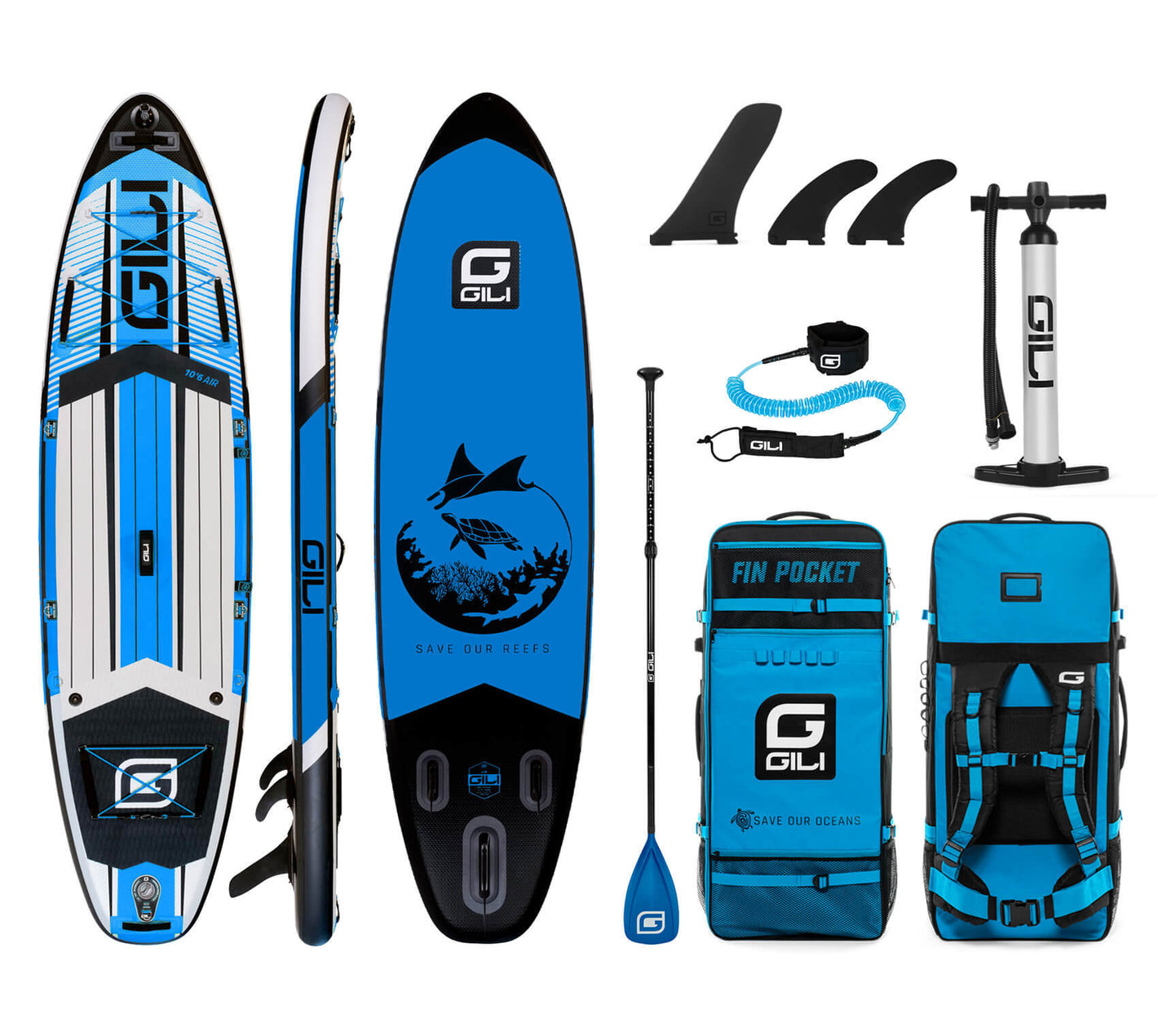 Gili Air 10'6/11'6
The price of "Gili Air 10'6/11'6" varies, so check the latest price at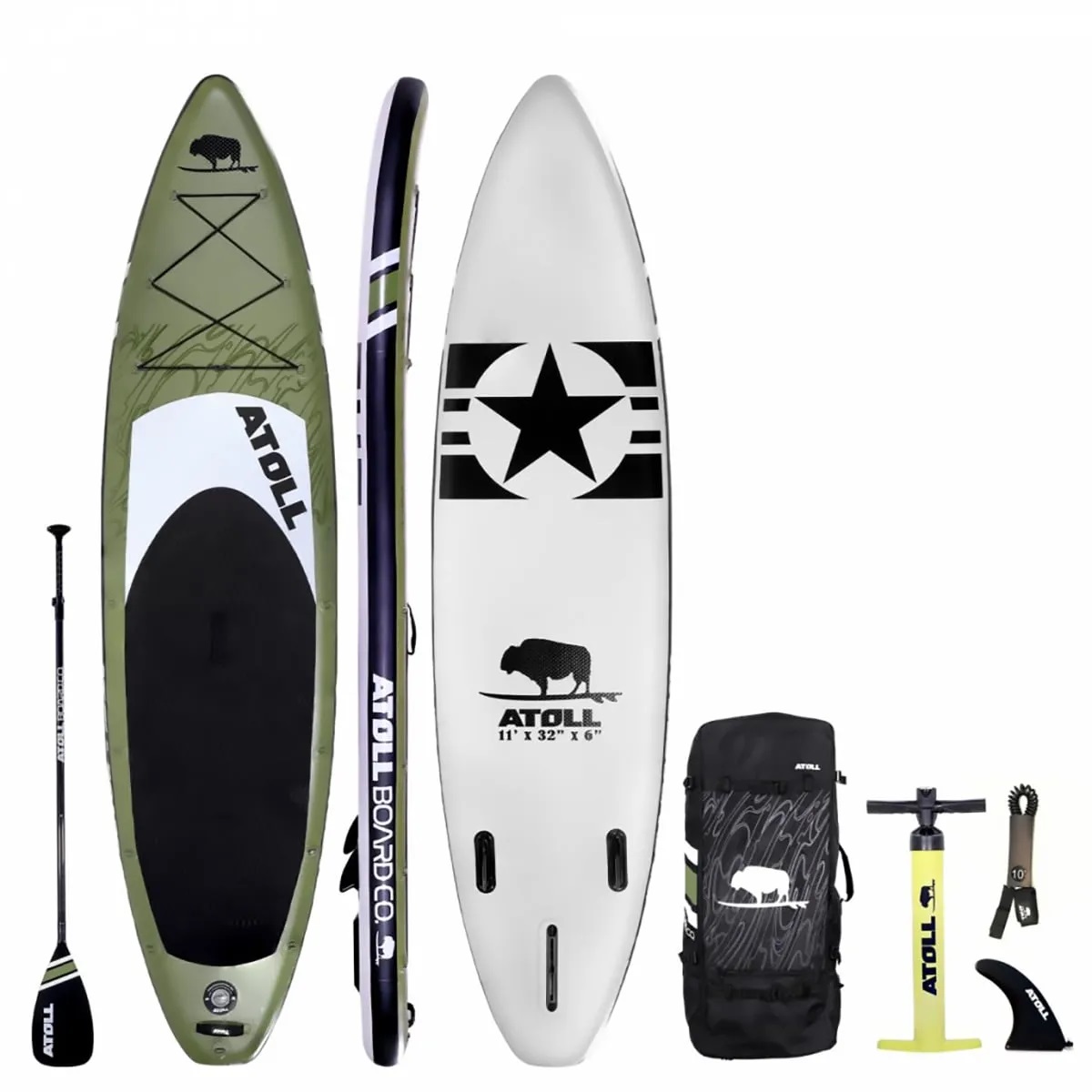 What's the difference between the best budget option and the best deal on the list? You'd think that they were close enough to become one category. Well, you'd be wrong.
The Atoll 11 is the best deal on the list because it offers the most bang for your buck.
With a fin box that is compatible with most aftermarket fins, you get to experiment with a key component of your paddle board without having to worry about compatibility issues.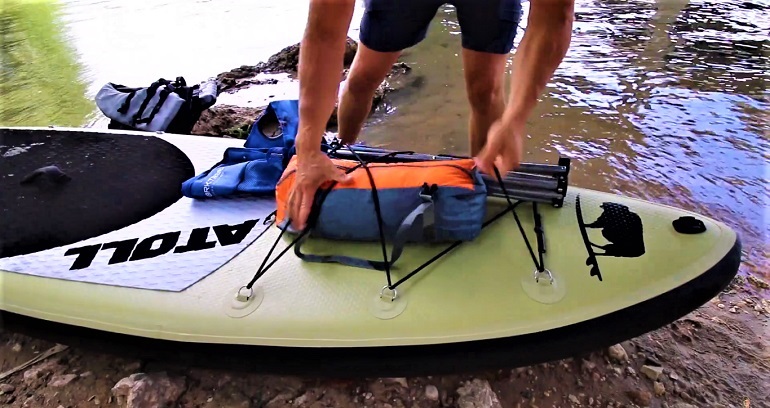 Something else that is great about it would be the weight capacity that it offers. Capable of carrying five hundred pounds without breaking a sweat. This is the real workhorse option.
And with a sleek design to finish it off.
Features
Material: Machine-laminated dual-layer PVC
Best Feature: Sleek design
Warranty: Two years
Fin: Eight-inch composite fin
Weight: 21 pounds
Pros
Comes with a ten-foot coil leash and loads of other accessories.
This paddle board has the largest weight capacity that I've seen to date. Capable of carrying up to five hundred pounds.
The fin box of this paddle board is compatible with most aftermarket fins.
Cons
Unfortunately, you'll have to pay extra for the kayak conversion kit.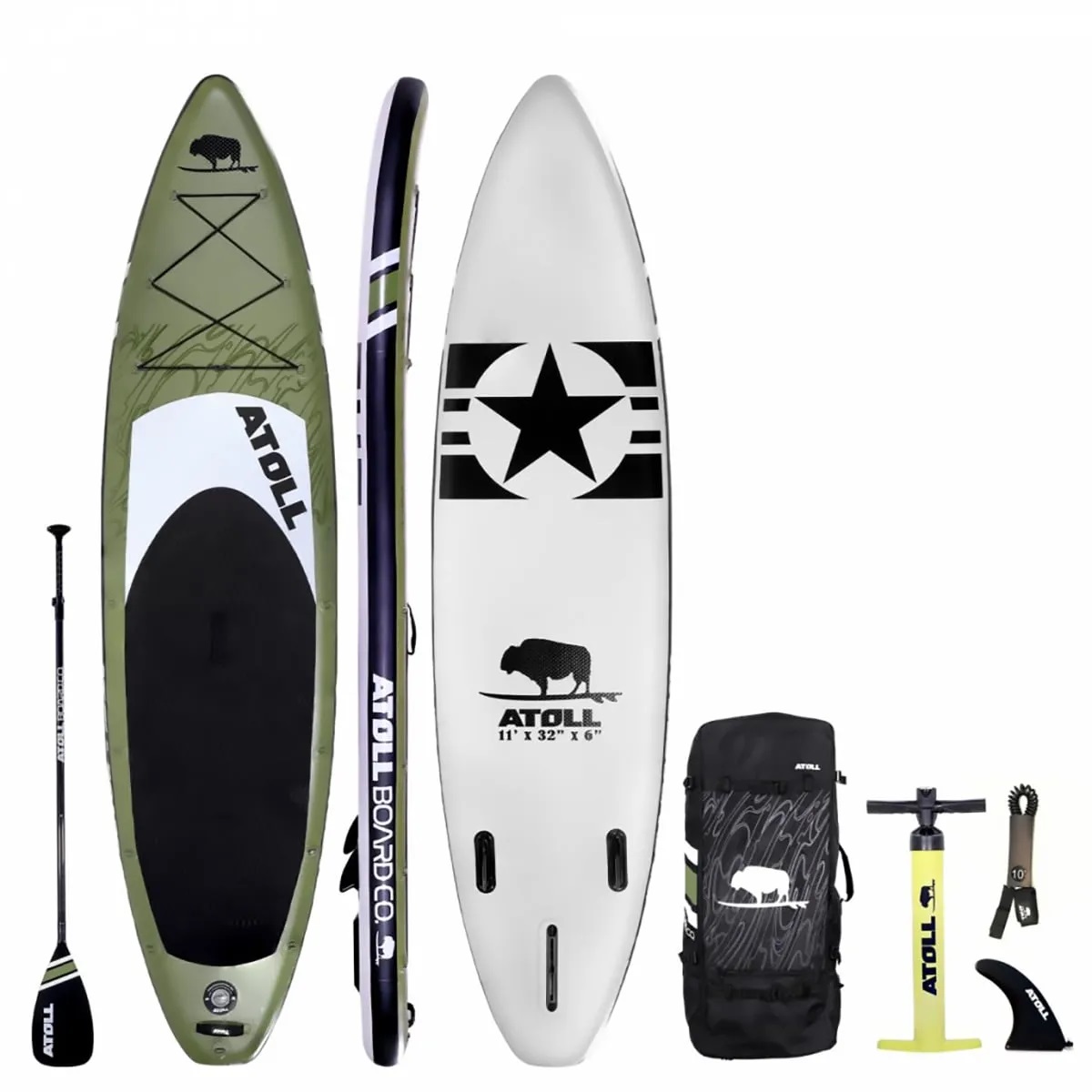 Atoll 11' Inflatable
The price of "Atoll 11' Inflatable" varies, so check the latest price at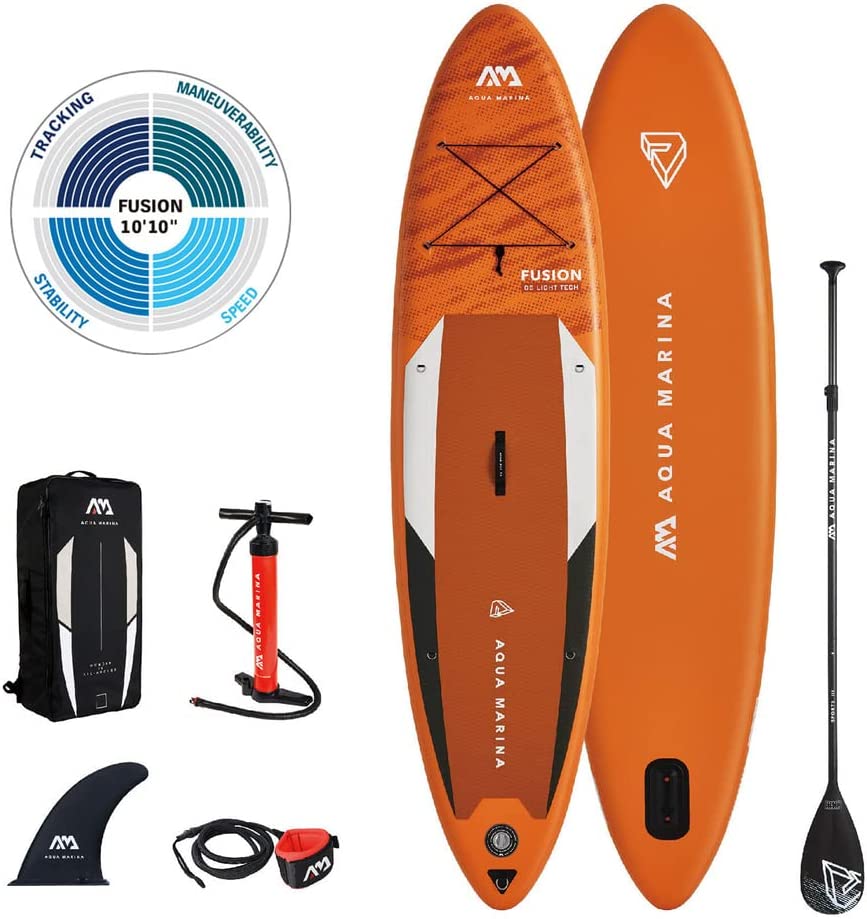 The Aqua Marina Fusion impressed me almost as much as the Bluefin Voyage. This board is another one of those anomalies.
The kind of beginner paddle boards that have such a paradoxical structure that you are left with more questions than answers.
For example, how is it possible that the Fusion has such a robust grip pad, with a surface area that extends further out than most and without being weighed down? The same questions can be asked about its stability.
One of the most stable beginner paddle boards on the list, and yet it is also the lowest weighing.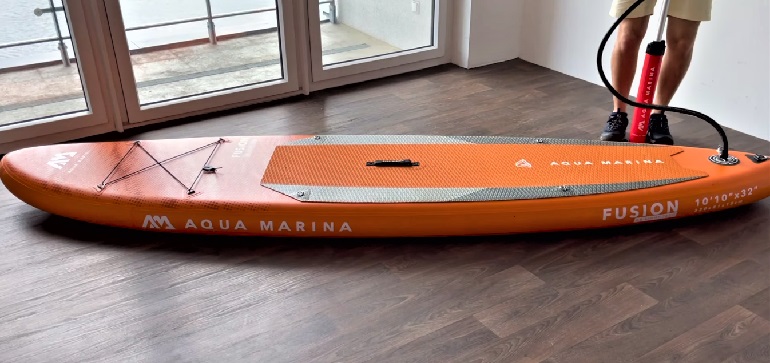 This paddle board is even a stand-out when it comes to durability. The much-lauded PVC from before is also employed here, expertly, might I add. The central fin can be easily replaced thanks to the slide-in and slide-out nature of its attachment system.
An attachment system like this, with its simplicity, is sure to please anyone. The same can be said for the rest of the board.
Features
Material: Solid PVC structure
Best Feature: Low weighing, high stability
Warranty: One year
Fin: Removable slide-in center fin
Weight: 18.6 pounds
Pros
Comes with a full-length deck pad that has diamond grooving. Great grip and comfort.
Tighten your luggage with no problems at all through the use of the adjustable bungee cord stopper.
A great-looking board thanks to tiny details such as the rubber-patched air valve.
Cons
The color design appears bland when compared to other boards.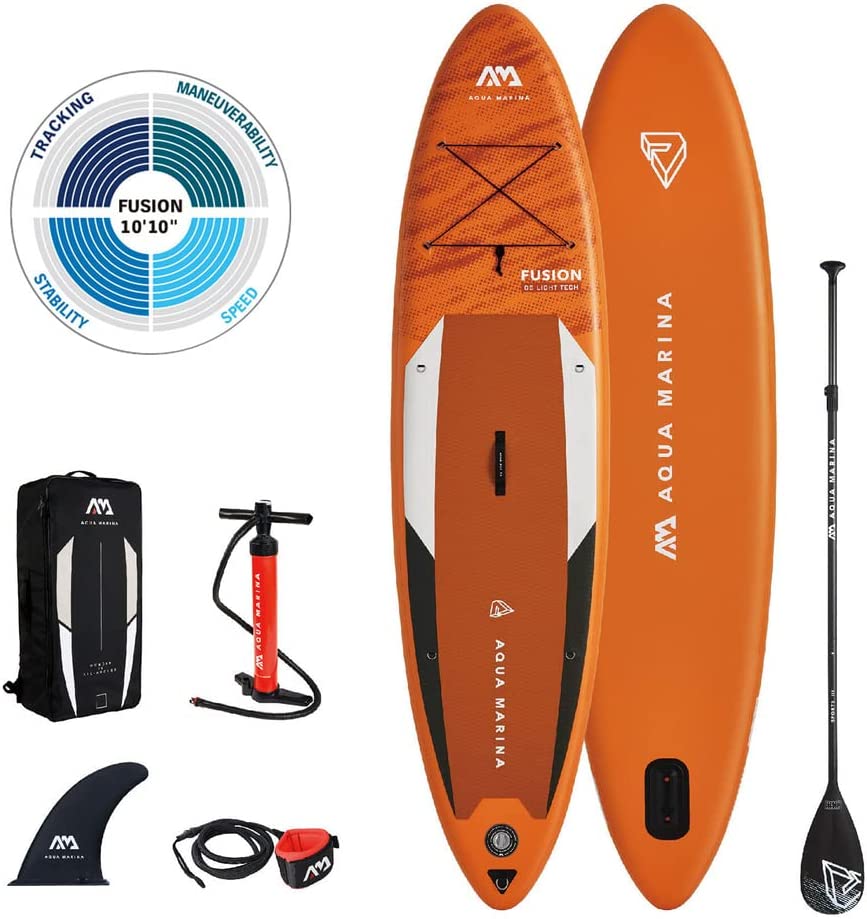 Aqua Marina SUP Fusion Board
The price of "Aqua Marina SUP Fusion Board " varies, so check the latest price at
Choosing the Best Paddle Board for You
Could you get any of the beginner paddle boards listed above and begin your journey in good hands? Yes, but that doesn't mean that you should randomly pick one out of the bunch and get going.
Think of the paddle boards above as the best beginnings for different kinds of paddlers.
The iRocker Nautical is for those that are afraid to commit too much money to an activity they are just getting into. The Atoll 11 is for those that want to try out different kinds of fins, the tinkerers of the paddle board world.
Use the guidelines below to determine which of the seven boards would be the best beginning for you.
What's Your Paddle Board Made Of?
Whether you are using a recreational paddle board or the best touring paddle board, the build quality of the board matters more than most other sporting gear. With inflatable paddle boards, the last thing you want is to head to the beach and then have a flimsy shell sink your ride.
To avoid random tears and holes, you are going to want a full PVC construction, like what can be found with the Bluefin Sup Voyage. This is because PVC is a material that is both extremely durable and lightweight.
Of course, other corrosion and abrasion-resistant materials, such as nylon and aluminum, are great for your paddle board's longevity.
There's a reason why nylon is universally loved in the manufacturing world. Cost-effective and with a strong structure, the perfect material to make gear out of.
Your paddle's structure is also important. Some beginner paddle boards come with a paddle that has a carbon fiber shaft. This carbon fiber shaft reduces the paddle's weight without compromising its durability and effectiveness. Not a bad combination if you ask me.
There's more that can be discussed, but the main things you'll want are a PVC construction and either a fiberglass or carbon fiber paddle. Any materials with similar properties would also make worthy substitutes. For example, the All-Around 11.
Sup Board Volume and Capacity
Do you know what would really destroy your self-confidence? If on that glorious day that you go paddle boarding, with the sun out in full force, you climb onto your board and immediately sink into the water.
It wouldn't be your body's fault but rather your lack of research. Knowing how much your paddle board weighs and also how much it can handle is important because it determines how much you can bring along with you.
Most boards have the width and length, more on this later, to allow you to bring a friend along. The issue is that the combined weight of you and your friend may prove to be too much for the little paddle board.
Not to mention that any extra bags you bring would also weigh down your craft. Strong paddle boards like the Atoll 11 Inflatable can carry you, your friend, and your grandmother should you want it to.
With its five-hundred-pound weight capacity, gone would be the days of you mentally adding up the weight of you and your gear.
If you are going to be paddling alone, no shame in that, then just make sure that your board can sustain yourself and your travel bag.
The Length of Your Paddle Board
Paddleboard lengths tend not to fall outside of the ten to twelve feet range. Although within this range, there are still certain sizes that beginners should not be using.
Any paddle board that is ten feet long and within the ten-foot range will be easier to control and maneuver.
Changing direction on a paddle board is already a slow process, to begin with. Using a paddle board that is eleven and even twelve feet long can prove to be a nightmare when attempting a simple turn.
Remember that paddle boards are not like skis or snowboards, you can shift your entire body as much as you like, but ultimately, there's a lot more to it than just that. In fact, it could even cause you to tilt to one side to the point of sending you overboard.
I get that paddle boarding is a water-based activity, but sometimes we don't want to get wet. As you can tell, using a paddle board that is not the right size for your skill level can quickly turn into a disaster.
Stick to small paddle boards that you won't have to wrestle with for a common turn.
The Width of Your Paddle Board
A paddle board's width directly affects what it is best used for. There are arguments to be made that its main purpose is to determine the stability of a board, but I'd say that board thickness is far more impactful.
Most paddle boards will have a width of thirty-one inches to thirty-six inches. Every couple of inches affects the type of riding that the beginner paddle board is best suited for.
A paddle board for beginners that has a width of thirty-three to thirty-five inches is better suited to handle shifts in the water. Stability is its key trait.
All of the best inflatable paddle boards that are designed for speed will have a width of thirty-one to thirty-two inches. The smaller the waist of an inflatable stand-up paddle board, the more narrow its overall design. This also has an effect on the board length.
Most beginner boards eschew this type of design in favor of width. After all, what beginner paddle boarders need most is a wider board. The slower it goes, the easier of a time that they'll have remaining upright.
With all of that clear, now is the time to talk about the one feature that all stand-up paddle boards should have, stability.
Stability When Paddle Boarding
You can't do much paddle boarding if your ride is shaking and dancing with every small wave that it crosses paths with.
In the world of winter sports, a damp ride is found with wider gear. The longer it is across, the more stable it'll be when going over choppy terrain.
Casual users may not know this, but in paddle boarding, the thicker a board is, the more stable it'll be. This is why the Bluefin SUP Voyage is the most stable board on the list.
Sure, the premium materials used to make it and the extra buoyancy aid played a role, but ultimately, it was this board's thickness that ranked it so high.
While a little extra width wouldn't hurt, it's all about how thick your paddle board is from the top that you stand on to the bottom that makes contact with the water. All that meat in between is where the magic happens. You should also need to know how to choose a paddleboard for perfect paddleboarding.
Paddleboarders of all skill levels know how important it is to have a stable ride. It increases your dexterity, and with great maneuverability comes the opportunity to cover longer distances with ease.
FAQs
How Hard Is It to Paddleboard?
Getting started paddle boarding is all about getting over your fear of falling into the water and increasing your balance.
I wouldn't say that it's hard, especially when you've got an ultra-stable paddle board like the Bluefin Cruise.
But it does require you to be able to balance yourself within a small and contained space. When it comes to how physically demanding it is, that depends entirely on where you decide to paddle board.
What Size Sup Should a Beginner Use?
A hard number that I can throw at you would be anywhere between thirty-two and thirty-four inches wide. Smaller paddlers should definitely stick to the lower end of this spectrum.
The smaller a paddler board, the easier it is to control and get moving. However, larger paddle boards displace your weight evenly, giving you a more stable ride. Stability is the one thing beginners need to learn in this sport.
Where to Launch Your Stand-up Paddle Board If You're a Beginner?
Still water is and will always be your best friend. I get that most beginners dream of being able to charge down the rapids with nothing but a paddle in hand, but this should not be the start of your journey.
Lakes are the best starting location because you can wade into the water with no issues. There is also no current and, therefore, nothing that can complicate your learning process. Get your bearings here and then head off to deeper challenges.
What Are the Best Beginner Paddle Boards?
The best beginner paddle boards would be the Bluefin Cruise and the Aqua Marina Fusion. Both of these boards are stable enough for a novice to worry about getting used to a paddle in hand and not on the shaking below.
The Fusion is also lightweight, making it easy to control and maneuver. As a beginner, you shouldn't have to worry about how you are going to get your paddle board from your car to the water. The Fusion is light enough to solve this issue.
My Final Thoughts
Paddle boarding is not a challenging sport to get into; that is what I love about it. All you really need is fair weather conditions and a calm body of water. The rest comes to you all on its own.
This doesn't mean that you should opt for a paddle board that is geared toward experts. That would be ridiculous! As a beginner, we recommend you go for the best cheap inflatable paddle board at first and then move on to the advanced options. You might also want to look into the comparison between paddle board and kayak to decide which option is better for you.
The paddle boards that we have listed above have so much variety between them that you should have no trouble finding that perfect start that you are looking for. You can also check out the Body Glove Performer 11 review or the Lidl paddleboard review for other all-inclusive, beginner-friendly paddleboard options. However, remember to store your paddle board properly so that it lasts you a long time.
Whether you want a challenge with the All-Around 11 or a leisure cruise with the Bluefin cruise, there is an option for everyone. After you've chosen your board, don't forget to check out the best SUP paddles to make your journey even smoother.
And if you want to take your pup or partner along, there are also the best paddle boards for dogs and paddle boards for 2-person use available on the market. So get your paddleboarding shoes and hit the waves in style!