The Lidl Paddle Board started off as an F2 series paddle board before Lidl decided to switch it to their Mistral series. It's a fantastic beginner paddle board, with only one glaring problem—it's difficult to get your hands on one.
When you tear open the package, the Lidl Paddle Board comes with everything you need to hit the water—a paddle, included backpack, coiled leash, and pump. Not every SUP board comes with all of the above, so that's a nice experience right off the bat.
The Lidl Paddle Board is well suited to calm or decently choppy water. I really like the lightweight factor. It's an inflatable but has decent speed and stability on the water. With that being said, let's dig right into what makes this Lidl SUP tick.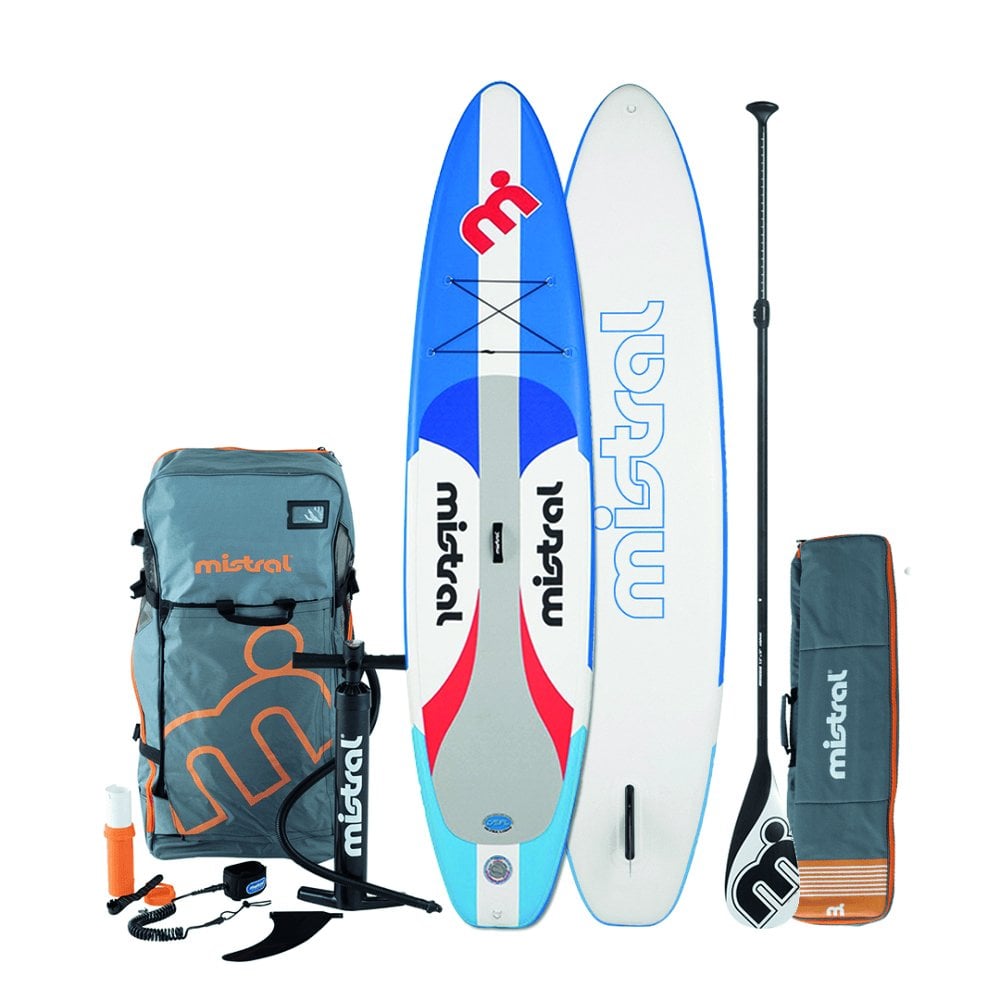 Mistral Lidl Paddle Board
The Price of "Mistral Lidl Paddle Board" varies, so check the latest price at
What is Mistral Paddle Board Most Suitable For?
This is definitely not an advanced SUP board, however, paddle boards are often difficult to classify when they ride the line between beginner and mid-level. That line is right where this Mistral SUP belongs.
As a beginner, can you pick it up and hit the water? Sure, but it's quicker than what you would expect from "beginner" paddle boards. It's short, wide, and the three fins give it some added stability while allowing you to slice through the water easily.
Despite its moderate speed, it's still a perfect all-round board, and you can use it for yoga or just a casual, relaxing day on the water. It's also a lightweight paddle board that's easy to transport yet maintains a weight capacity of 330 lbs.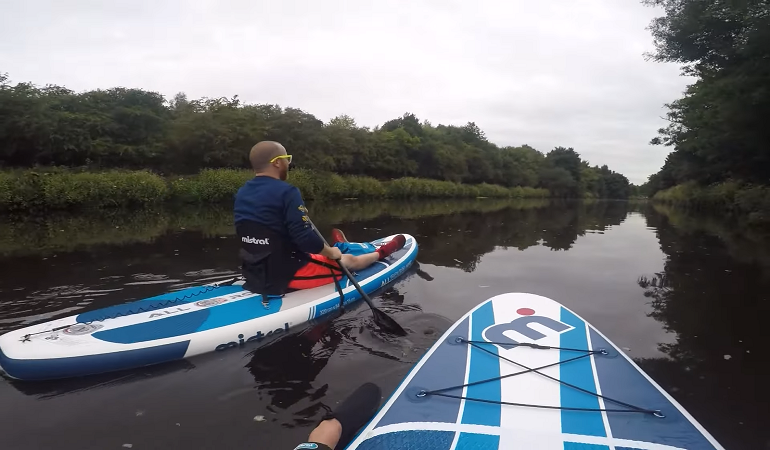 Though I'm lightweight myself, Mistral SUP is clearly designed to accommodate larger and heavier paddlers. Though this paddle board isn't up there with some of the Mistral pro-level boards, it still provides some of the feel and vibe I get from the next level.
If you prefer plenty of grip, you'll like the embossed pattern across the deck pad. The specs are about what you would expect from a beginner to mid-level Mistral Board.
Specifications
Weight: 10.8kg weight
Capacity: Holds up to 330 lbs
Construction: Single Skin
Inflation: Two air chambers (15 psi each)
Length/ Width/ Thickness: 10′ 6″ x 2′ 9″ x 6″
Warranty: 2 year
Skill: Beginner
Type: Inflatable
While its width slows it down some, it also makes a perfect new board for learning the ins and outs of a double chamber SUP.
Mistral Paddle Board From Lidl Review in Detail
When I tried out paddle boarding for the first time, I hit the water in a Hala Rado. Needless to say, it was a disaster since that board was way too much for my level.
Though I've progressed beyond the need for a beginner paddle board these days, I can see what makes this Lidl Mistral a solid SUP board for beginners.
It's designed for heavier weight, so there's enough space and carrying capacity for two, or you could bring your dog along for the ride. I love that all the necessary gear comes with it, a highly attractive selling point, along with a good value proposition for beginners.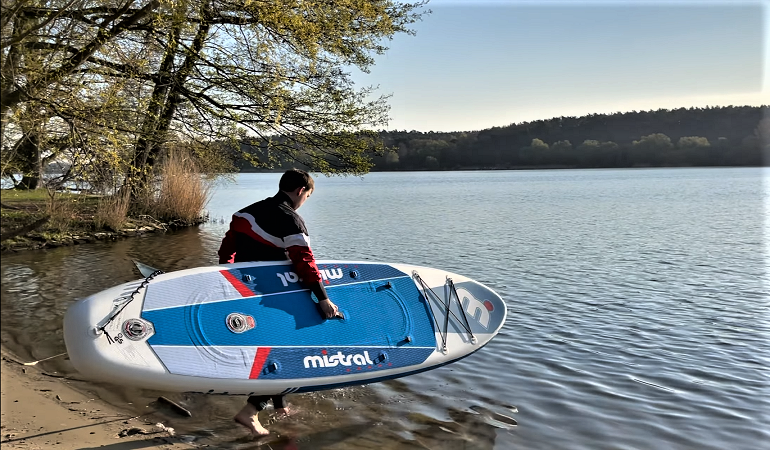 Construction
Though it's a fairly wide SUP board, it feels pretty sturdy and is constructed of a single layer of drop-stitch material over dual chambers. It includes two, molded side fins and a US fin box, which is something you only expect to see on advanced paddle boards, certainly not on a budget paddle board.
Double chamber SUPs are relatively new, and they're supposed to give the paddle board a "non-inflatable" feel. The Lidl Mistral achieved just that. The board feels great, and though I can tell it's inflatable, it has the same feel as solid paddle boards.
As I mentioned above, the deck is an embossed M, designed for extra grip, and each air chamber requires 15 psi, taking up about 8 to 10 minutes of your time to fully inflate. The paddles are standard aluminum, exactly what you would expect with the best kayak paddle.
The SUP leash is padded on the inside, so blisters shouldn't be a concern. Nothing creates blisters quite like water and friction.
The backpack is a nice, durable design—more than enough to handle your Mistral Board. It even includes a waterproof paddleboard dry bag for your smartphone and other essentials.
The supplied pump is a standard, manual pump, but there's nothing wrong with a little exercise before you hit the water.
While the construction material certainly won't blow your socks off, you can easily spend more money on other boards and get a great deal less out of the bargain.
Load Capacity
Combining the width of the board and the two chambers, the maximum load capacity is 330 lbs, enough for two small people or a calm pet as a ride-along.
If you're experienced enough to hold your balance well, you can pack a bag full of gear and head off to the closest island for a night camp.
It's worth pointing out that if you approach the 330 lbs limit, the board starts to bow in the center. You can distribute the weight out on the water, but it's easier if you don't approach the limit.
If you get bored with paddle boarding, you can install a paddle board chair. This Lidl SUP is more than adequate for use like a kayak, whether you just want to relax and paddle or you want to try your hand at fishing from a SUP.
Installing a kayak seat is very simple. Most kayak seat kits come with all the equipment necessary, including the clips. There are several D-rings on the board, with a few in the center, one in the front, and one in the back.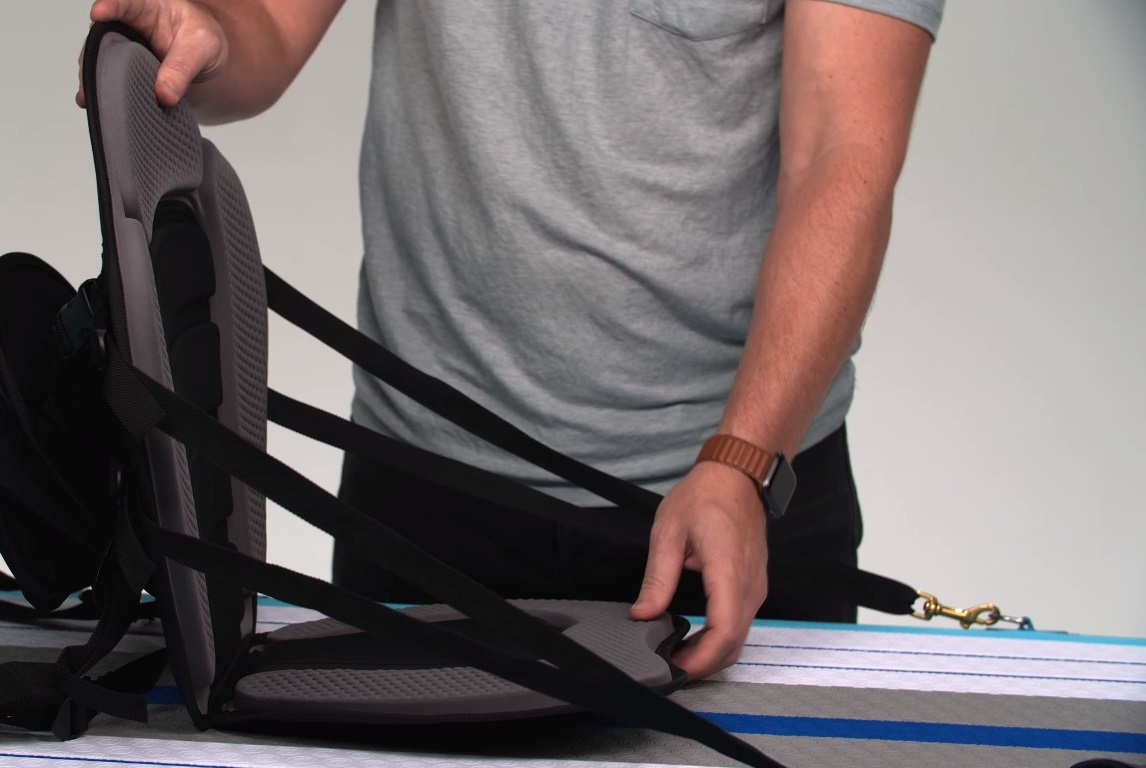 Mistral designed these boards with beginners in mind, but the level of versatility is both surprising and welcome.
Stability
This is where the Lidl SUP truly shines. Once I got it out onto the water, I was surprised at how well-balanced and stable it is, even when mounting and dismounting.
The fin box helps keep it steady on the move as well. After face-slapping the water more times than I can count with the Hala Rado, I appreciate a little stability.
There are some great boards out there that fail to match the stability level I found in this Lidl SUP. The grip on the deck may not have much to do with overall stability, but it's more than adequate to keep you stable on the board.
Lidl clearly spent some design focus on stability, and the Lidl Paddle Board is one of the more stable in its class. The rounded bow, extra width, and fin placement work well together to keep the board underneath you, even if you encounter an unexpected wave or two.
It's definitely more useful for yoga exercises than it is for windsurfing.
Speed on the Water
While you can go windsurfing with this Lidl SUP, it won't provide the best experience in the world. It's adequate in terms of speed, especially for beginners.
However, it's not a rocket ship on the sea either. This is an all-rounder, and even with the inclusion of the US fin box, it's never going to be a speedster.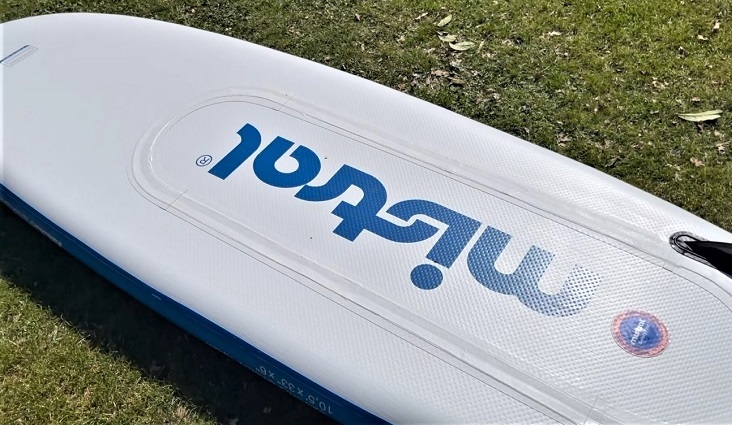 The closest board I can compare it to is the Aqua Marina Fusion. That's actually a good thing since the Lidl Mistral is literally half the price. They both share the same problem in terms of speed, but neither standup paddle board is designed for high speed.
There are two valves—one on the tail of the board and another towards the center. While it helps improve the stability of the board and its stiffness, it doesn't improve the overall speed.
Transport
Another pleasant aspect of this board is its portability. It's very lightweight at 10.8 kg and easy enough to carry in the backpack that comes with it.
When it's inflated, however, it only comes with a single handle, which makes carrying it around awkward at times. As far as a paddle board goes, there are worse things in the world than a single handle.
It took me about 6 or 7 minutes to inflate both chambers on my first try, and it was easy enough to carry to the water from there. I'm more of a lazy paddle-boarding personality. I installed the kayak conversion kit, and my greatest sporting ambitions on my boards are hitting some striped bass and redfish spots on the bay.
I still use my boards for the occasional windsurfing outing, and I've never had a huge problem transporting the Lidl.
Areas of Application and Driving Characteristics
This is far from a touring SUP, but that doesn't mean you can't head out to sea and have some fun with it. As I mentioned above, this Lidl Paddle Board comes with a US fin box, which is typically a feature on more advanced boards.
This SUP is designed for beginners, so "drive" is a characteristic that's limited to that framework. When most SUP board enthusiasts talk about "drive," they're referring to the way the fins function in terms of turn and stability on a wave.
However, the driving characteristics of a paddle board extend beyond that as well. The three fins include a 10″ center fin (the US fin), and two, flanking fins that are 6″ long.
They function well when it comes to stability, and turning quickly, while paddling is easy enough.
Unfortunately, that's as far as it goes with this board. A good touring board is best for heavy chop and surf. The Lidl SUP is at its best in the bay, on lakes, rivers with a calm downstream, ponds, channels, and the sound side away from the surf.
When I refer to bays, canals, and channels, I mean on a calm day with no waves. All three of those can get pretty choppy when the wind is high. The idea is to stay safe and have fun, not hit up some major waves in a board not designed for it.
You don't necessarily need a touring paddle board for everything, but if you enjoy paddling in rougher currents, a more advanced and streamlined SUP is the better bet.
My Own Experience
Unpacking the box was a cinch, and I was pleasantly surprised at the value I received for my money. I couldn't be disappointed with the paddles, considering the overall price. They are pretty standard, adjustable, and have held up fairly well so far.
These paddleboards are primarily sold in the UK, so it costs a little extra to ship from the UK to the US if you're interested in something from the Mistral line. The number of accessories that comes with it and the quality of the board far exceeds the asking price.
On the water, it didn't take long to get the hang of the board, despite it being a slight regression from what I'm used to. Some boaters weren't cognizant of the wake zone, so a few errant waves killed my stability a bit, but I never went over.
I also like that it didn't take long to go from my bag to the water, even using a manual pump. The deck is plenty grippy, whether I was barefooted or had my water shoes on.
Overall, it felt like a board that cost more than the list price, but it's not the kind of board I would take out of the bay.
Final Thoughts
If you're looking for a good starter board and are afraid to spend a lot of money on something you may not like, you should consider the Lidl Paddle Board. It comes with all the accessories you need to hit the water on day one.
Similar boards are twice the price and lack the accessories to boot. It has some undesirable quirks, like one handle and a single-layer skin.
However, it has great stability and decent speed, making it the perfect transition board going from beginner to more advanced levels.