If you're going to get a pair of ski boots, they might as well fit. 
This might seem like a pretty simple lesson, but it's something that people with wide feet tend to struggle with. 
There's nothing worse than ordering a pair of ski boots on the web – only to find that they're way too skinny. 
Admittedly, I actually have the opposite problem – as my feet are actually pretty skinny. 
On the other hand, I still know how important it is to make sure your boots fit perfectly – to the point where you need to be pretty careful about how thick your socks are. 
Fortunately, there are plenty of ski boots out there that are specifically designed for wide feet – and I'm about to go through our top picks. 
Most Versatile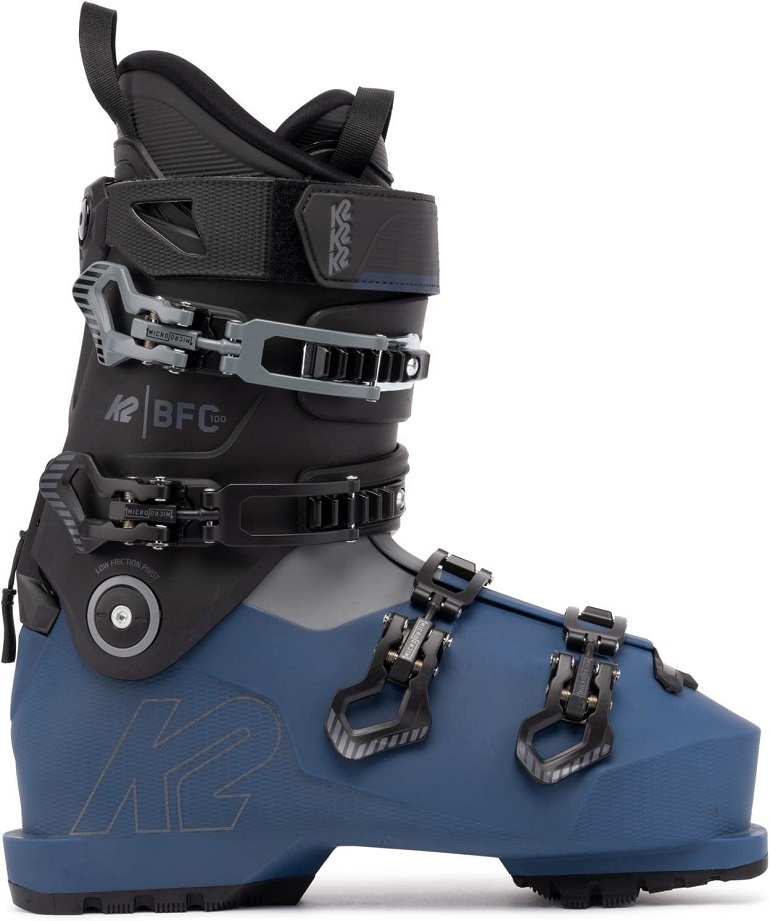 K2 BFC 100 Ski Boots
Ability Level:

Intermediate-Advanced

Ski Boot Flex:

Medium
Best Value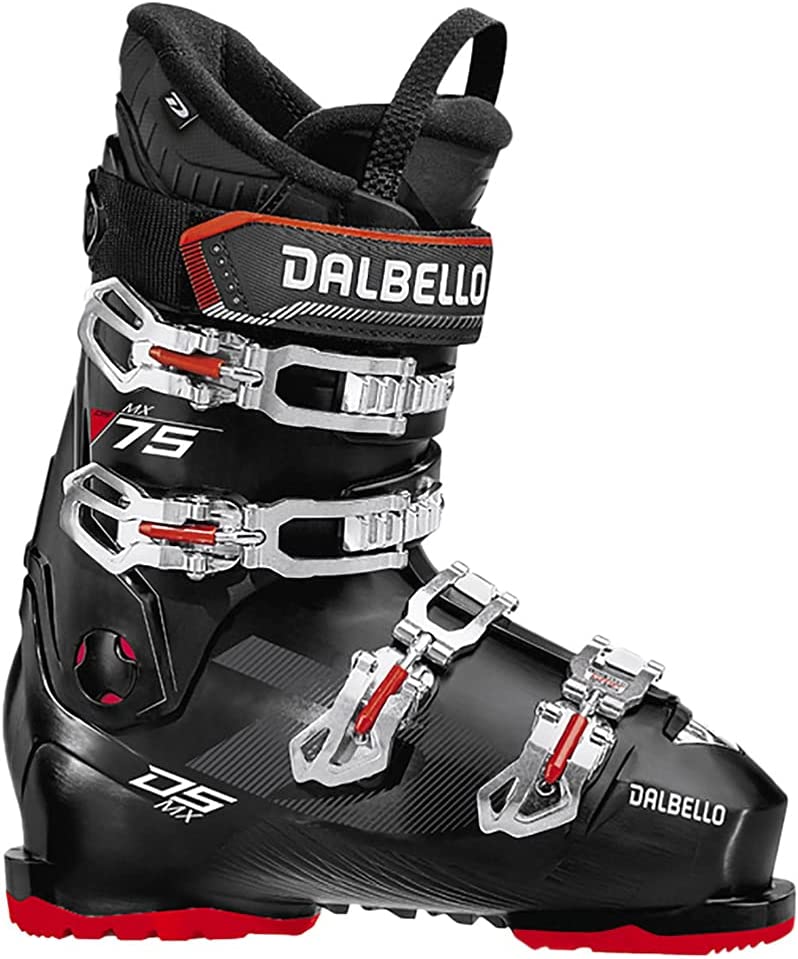 Dalbello DS MX 75 Ski Boots
Ability Level:

Beginner-Intermediate

Ski Boot Flex:

Soft
Most Customizable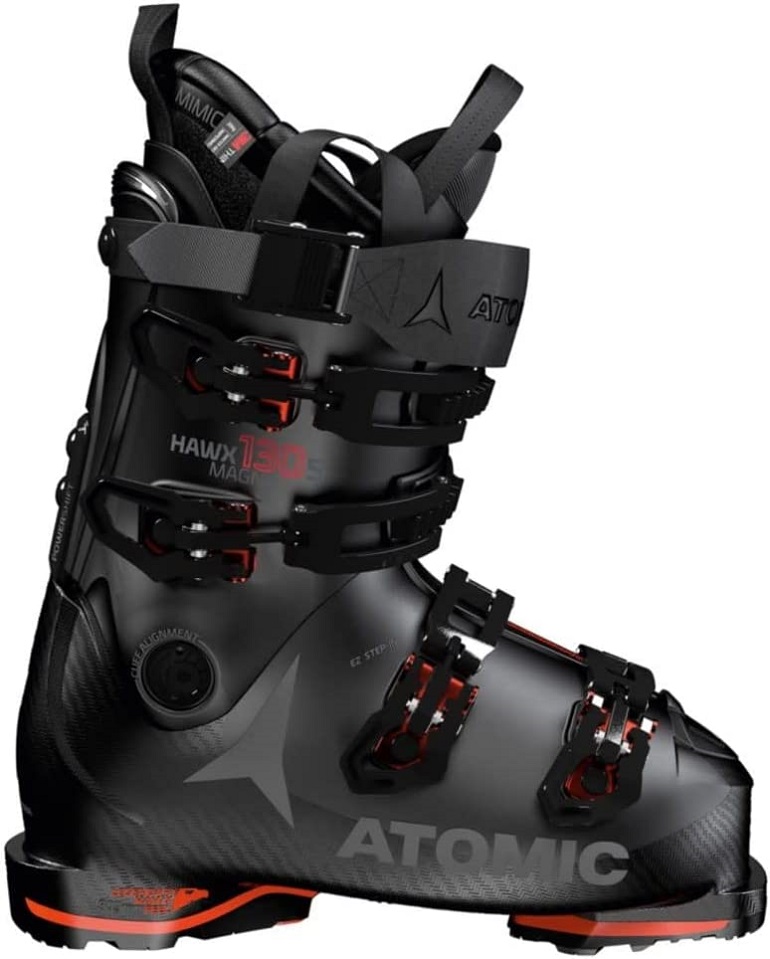 Atomic Hawx Magna 130 S GW Ski Boots
Ability Level:

Advanced-Expert

Ski Boot Flex:

Very Stiff
Best for Intermediate Skiers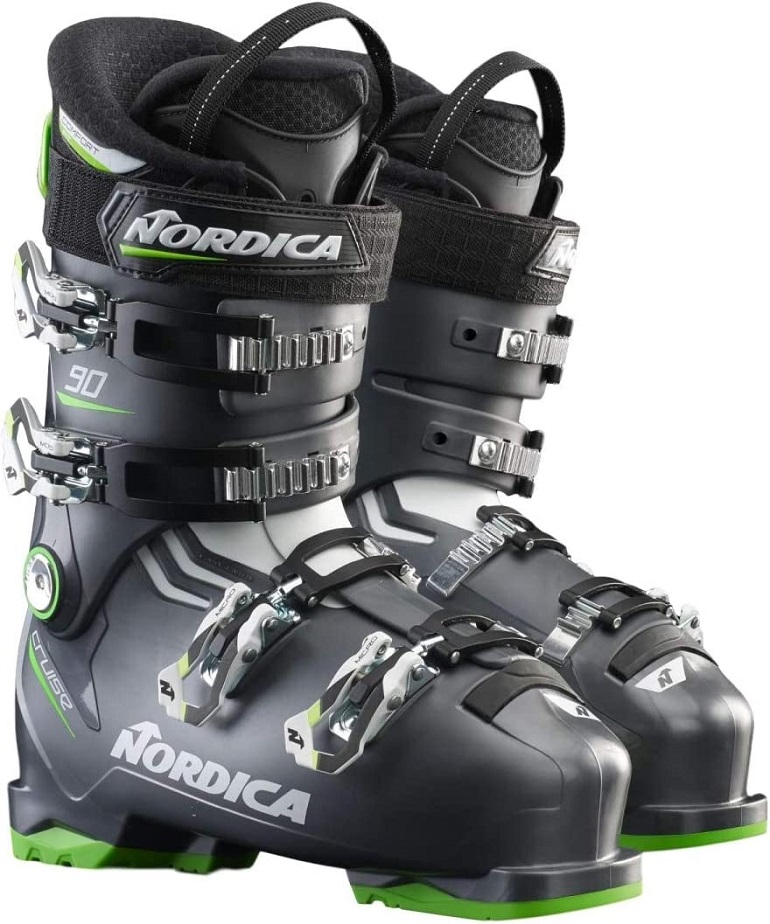 Nordica Cruise 90 Ski Boots
Ability Level:

Intermediate-Advanced

Ski Boot Flex:

Medium
Most Comfortable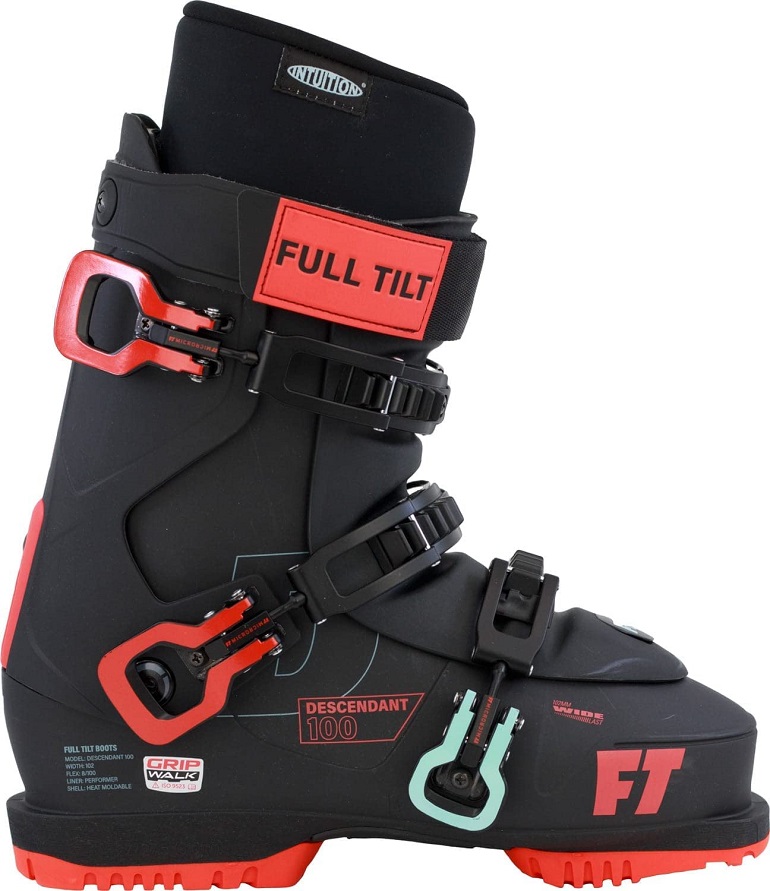 Full Tilt Descendant 100 Ski Boots
Ability Level:

Intermediate-Advanced

Ski Boot Flex:

Medium
Most Advanced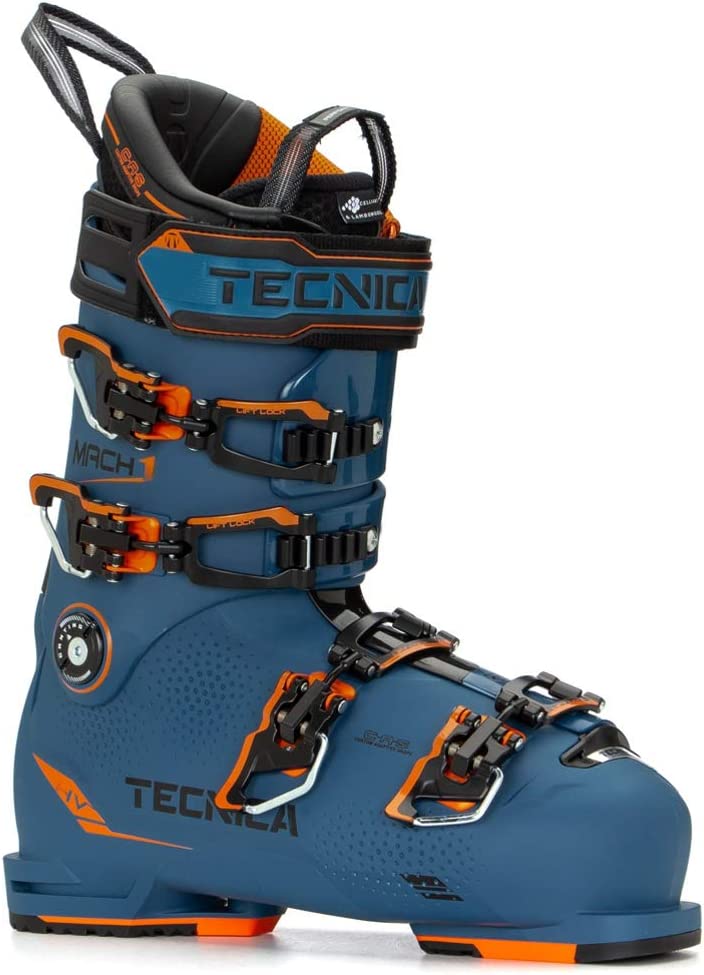 Tecnica Mach1 HV 120 Ski Boots
Ability Level:

Advanced-Expert

Ski Boot Flex:

Stiff
Our Top Picks of the Best Ski Boots for Wide Feet
Just know that fit is really important with ski boots. It's the same with soccer cleats or any other type of athletic footwear. If you're going to use your footwear for serious physical activity, you want as much comfort as possible. 
This is even more important if you have wider feet than most. Let me help you in finding durable ski boots for an unforgettable experience on the slopes.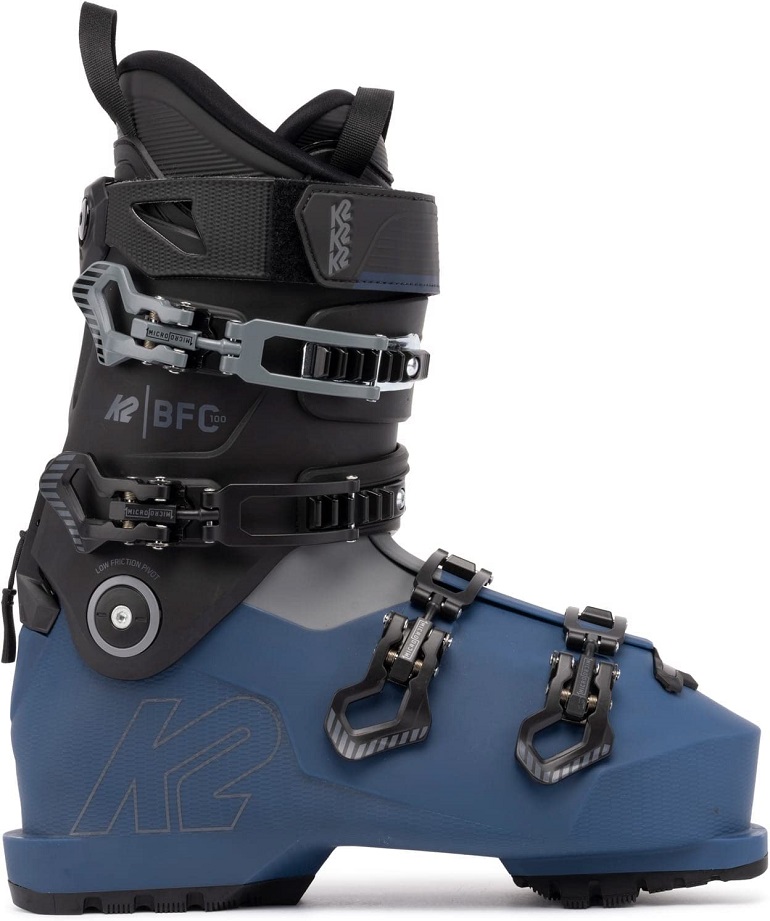 The K2 BFC 100 is a medium-flex, all-mountain ski boot that can tackle moguls, piste, and big mountain terrain with ease. 
One of the things you'll notice as soon as you slip this boot on is the sheer snugness of the Cushfit Plus. 


To call these comfortable boots would be an understatement – and they'll feel especially accommodating if you have wide feet. 
One of the things I really appreciated about these boots was the ease with which I could slip in and out. Just a few adjustments is all it takes. 

That being said, you'll need to look elsewhere if you want a stiffer boot.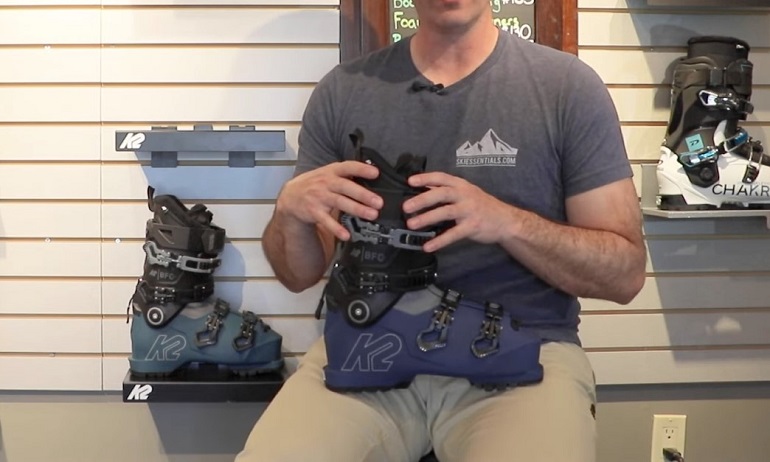 Top Features
Heat-moldable shell
Cushfit Plus liner
GripWalk Outsole
Pros
Ideal for wide feet
Exceptional comfort
Easy to get in and out
Versatile enough for the whole mountain
Cons
Not as stiff as other boots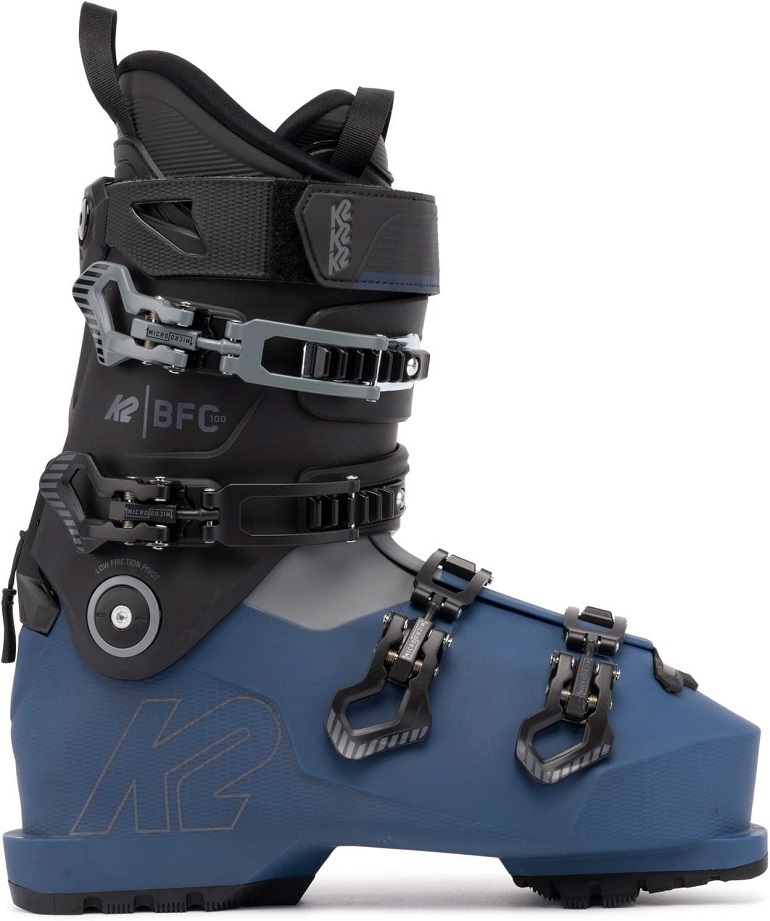 K2 BFC 100 Ski Boots
The price of " K2 BFC 100 Ski Boots " varies, so check the latest price at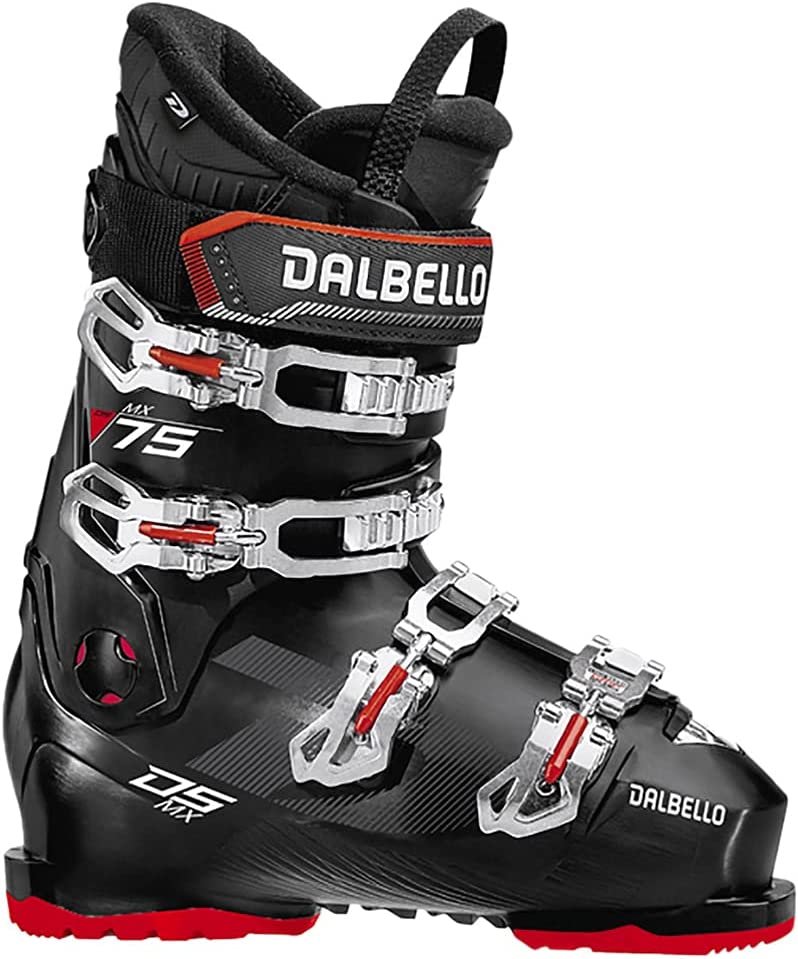 The Dalbello DS MX ski boot is tailor-made for the best intermediate skiers – and one of the best ski boots for wide feet.  
The forgiving, medium flex helps you reach for that next level without the buttery sloppiness that you'll find with soft flex. 
They're also seriously convenient, with a simple step-in system and a nice rolling gait for the chalet. 
To top it all off, these boots are pretty affordable – which is perfect if you're a newbie who doesn't want to invest too much into the sport just yet. 
Just be aware that these aren't really designed for experts.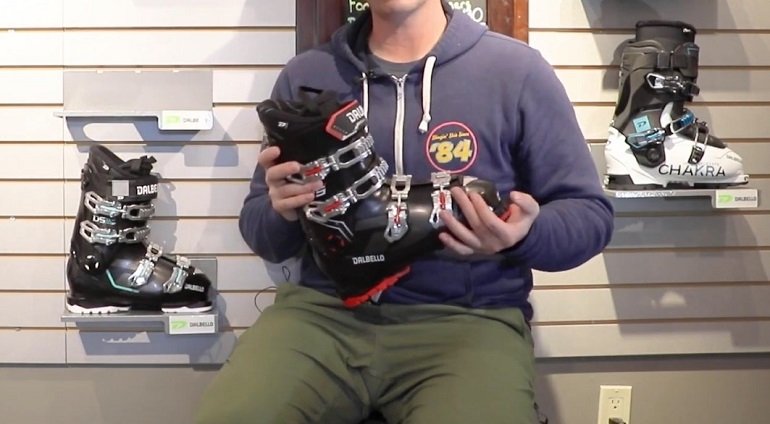 Top Features
Lightweight 
Simple step-in system
Medium-flex
Pros
Medium flex is ideal for intermediate skiers
Affordable
Comfortable rolling gait
Cons
Not the most advanced pair of boots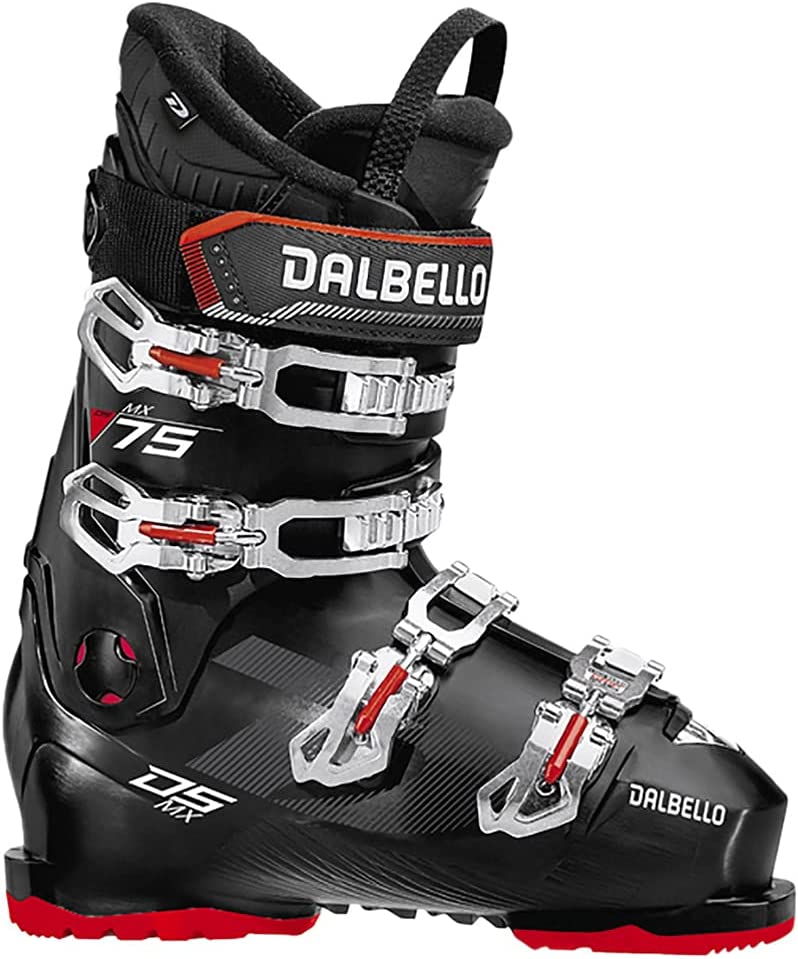 Dalbello DS MX 75 Ski Boots
The price of "Dalbello DS MX 75 Ski Boots " varies, so check the latest price at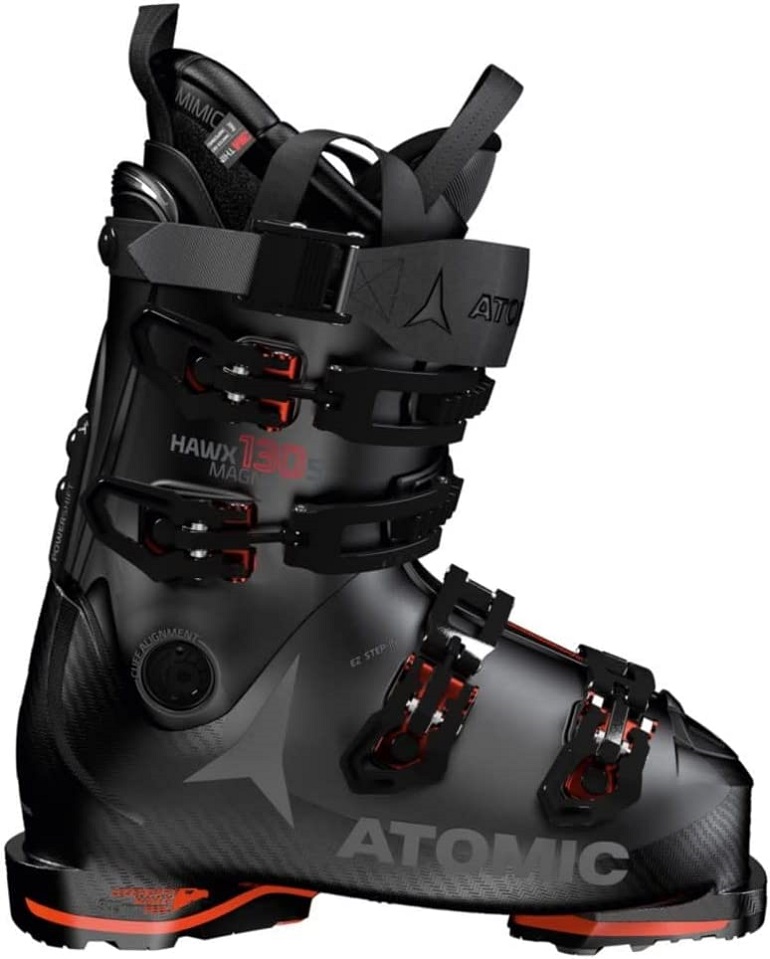 If you're okay with breaking the bank and going all out with some boots that don't mess around, reach for a pair of Atomic Hawx Magna 130 S GWs. 
These are stiff, aggressive boots designed for one thing:
Sending it. 
Even better, they're specifically designed for wide feet – locking your heel in place with an advanced Mimic Platinum Liner. 
I personally enjoyed the Adaptive Cuff System, and the rear spoiler gave me tons of customization options for a perfect feel. 
Add the 3D Stretch Toe Box to the mix, and you have a shoe that rivals the very best – even if you have big feet. 
The only downside is the price…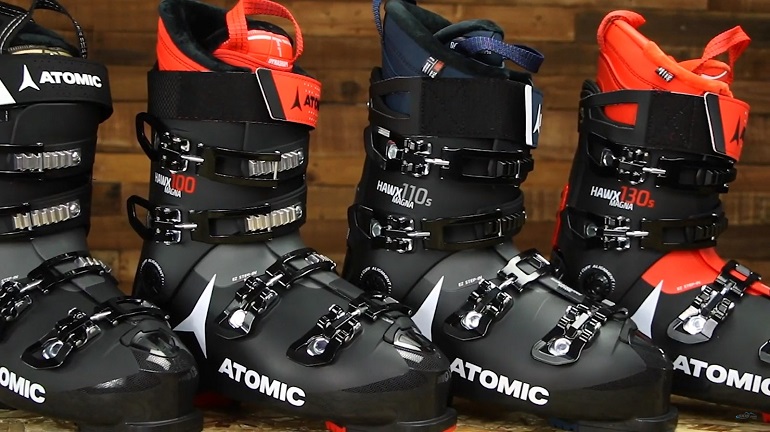 Top Features
Specically designed for wide feet
Mimic Platinum Liner
Memory Fit shell
Very stiff flex
Pros
Aggressive flex is perfect for experienced skiers
Super comfortable – even for wide feet
Plenty of adjustable features
Cons
Pretty darn expensive ski boots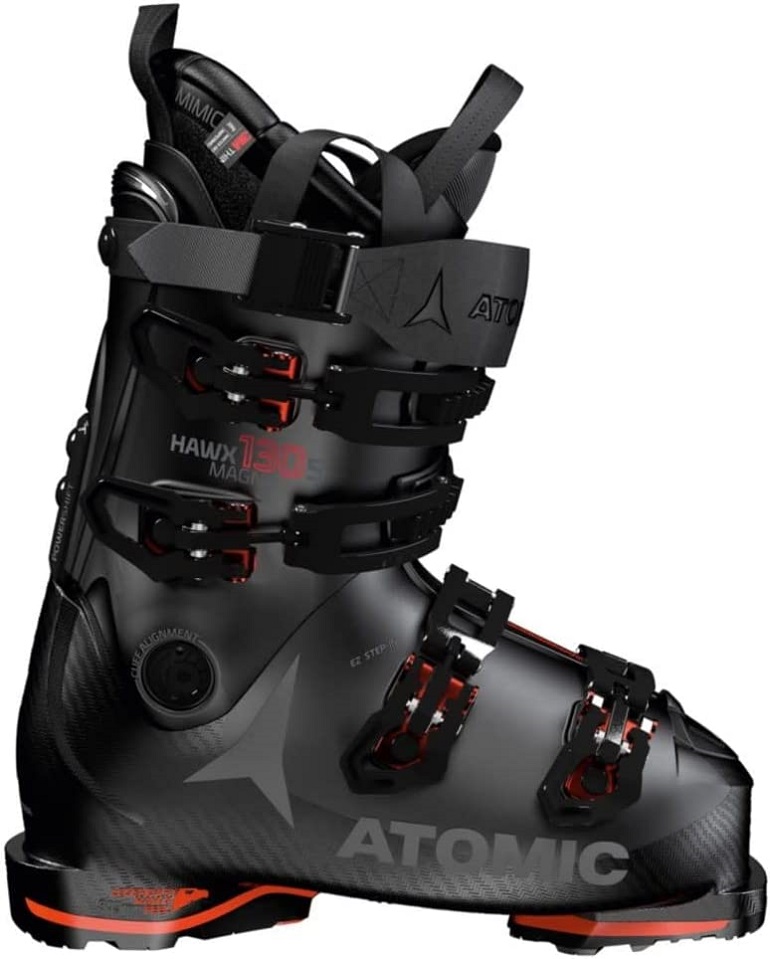 Atomic Hawx Magna 130 S GW Ski Boots
The price of "Atomic Hawx Magna 130 S GW Ski Boots " varies, so check the latest price at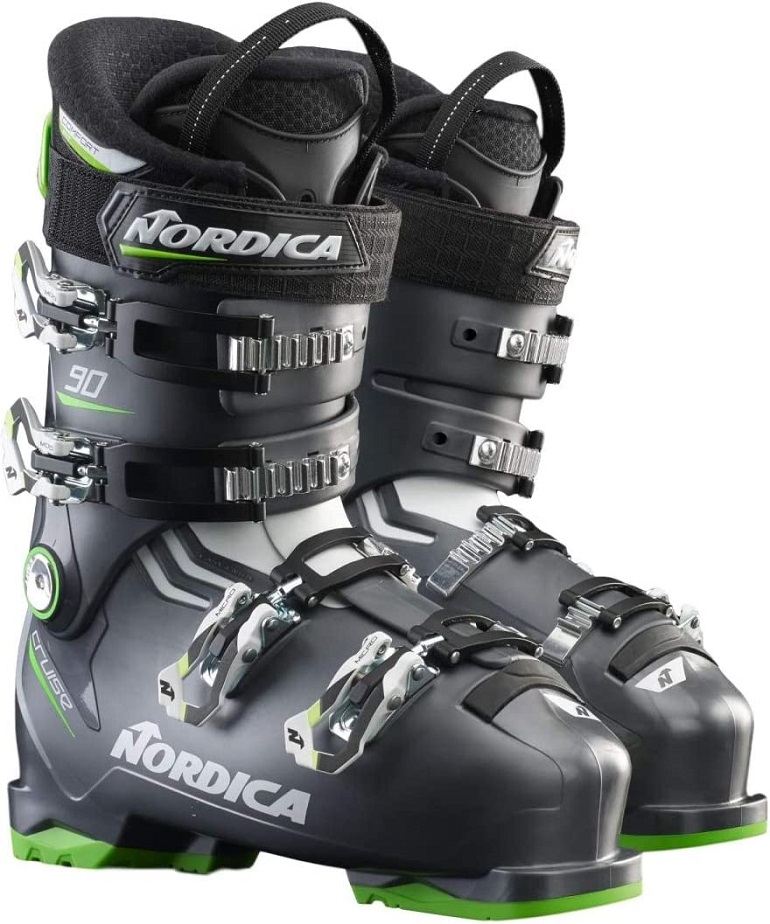 If you're looking for that ski boot that will help you make the jump from newbie to intermediate skiing, the Nordica gives you everything you need. 
To be honest, you could probably buy these as your first boots without any issues. While they might feel a little stiff at first, they'll let your progress to a higher level much quicker than a dedicated beginner boot. 
One thing I loved about this boot was just how easy it was to step in and out. The tongue opens up to an almost impossible wide degree, allowing you to slip your feet in and out with ease. 
This is definitely something you'll appreciate when it comes to time to grab a hot chocolate in the lodge. 

Solid features like a velcro power strap and micro-adjustment buckles represent the icing on the cake – and the price is pretty sweet too.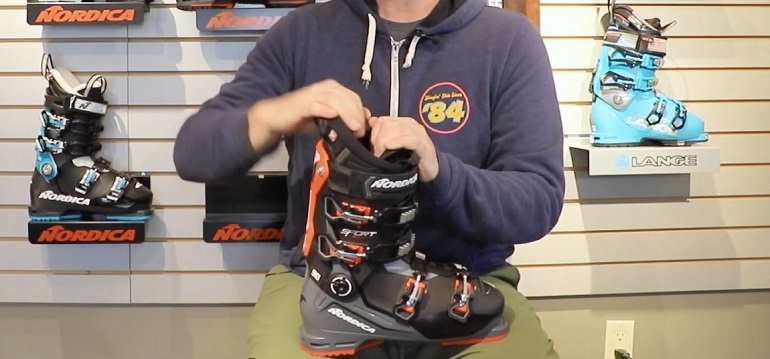 Top Features
Wide fit and soft shell
Dual Soft Flap Instep
Customizable liner and shell
Pros
Solid boot for novice and intermediate skiers
Easy to put on and off
Super affordable
Medium flex rating lets you progress
Wide fit
Cons
You might need to upgrade later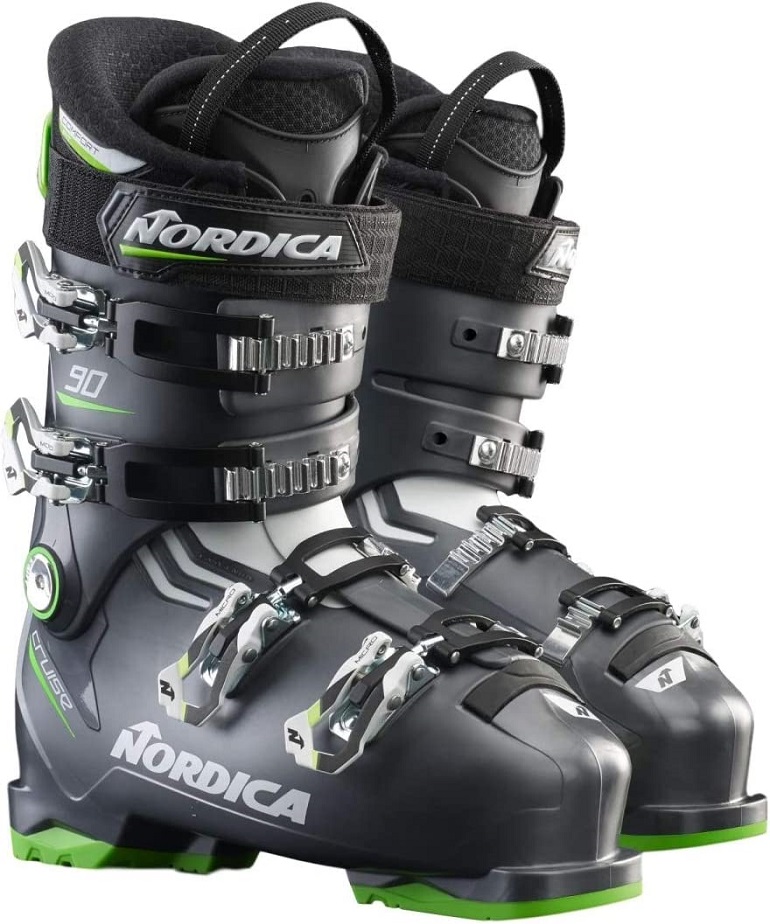 Nordica Cruise 90 Ski Boots
The price of "Nordica Cruise 90 Ski Boots" varies, so check the latest price at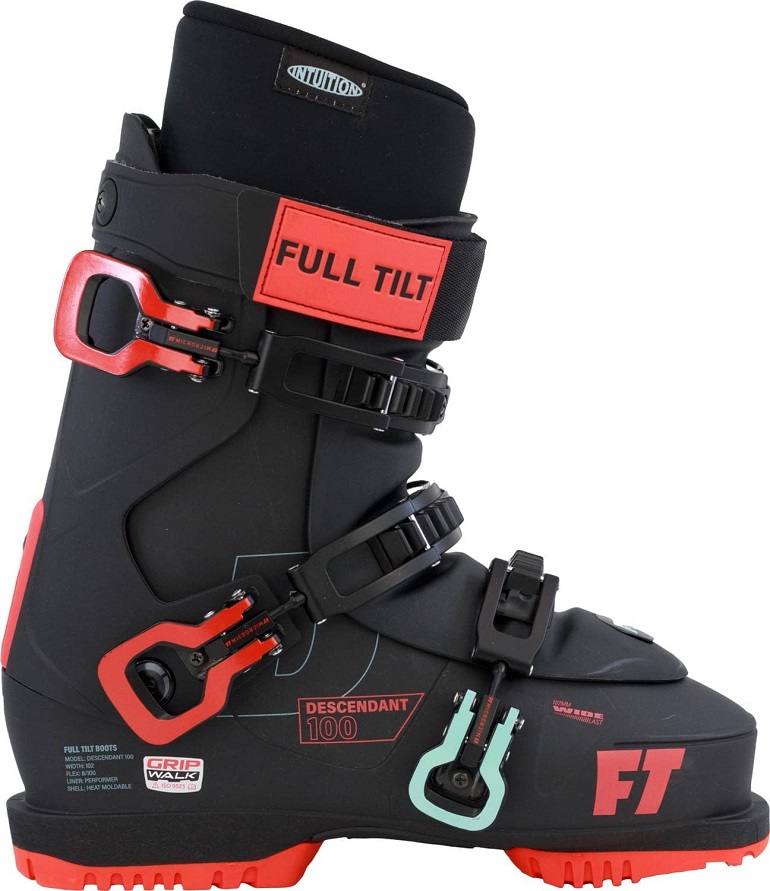 The Full Tilt Descendant 100 specifically ski boot for men and built for the advanced skiers who don't want to sacrifice comfort for performance.
If you have wide feet, you'll love the Evolution Shell. I have to admit, it felt just like slipping on a pair of sneakers – and I almost didn't want to take them off at the end of the day. 
Buckle ladders and a power strap add tons of customization options to this ski boot, helping you achieve that perfect fit. 
A medium flex rating gives advanced skiers plenty of satisfaction, but you could also totally rip it up as a more mediumskier. 

Top Features
Medium flex rating
Built for wide feet
All-terrain versatility
Evolution Shell
Pros
Evolution Shell feels like a pair of soft sneakers
Medium-flex for all-mountain versatility
Plenty of customization for that perfect fit
Cons
Might not be enough for super-advanced skiers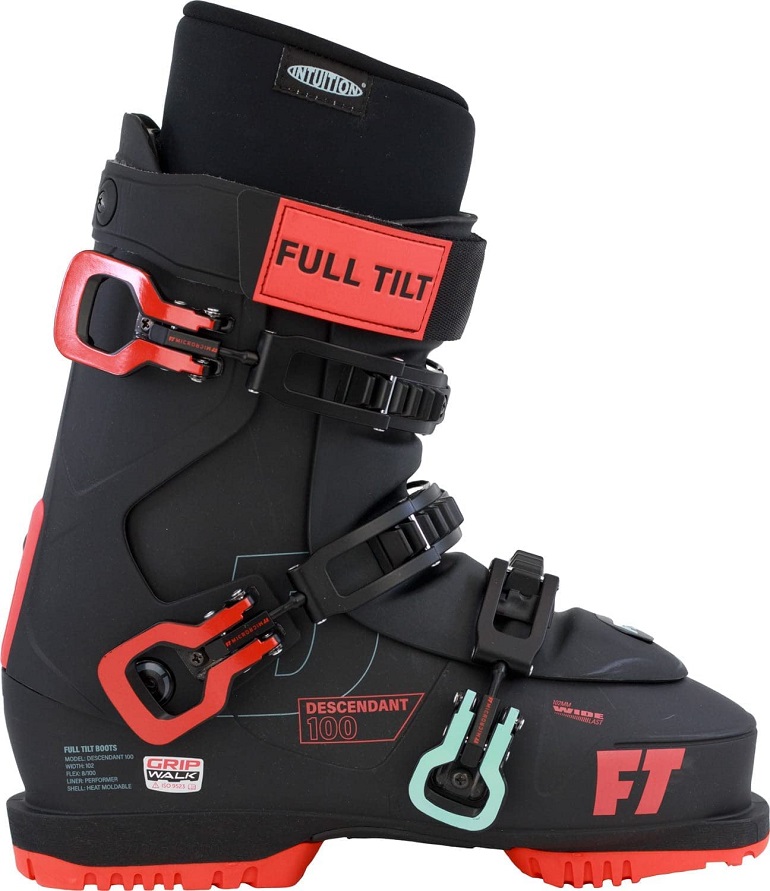 Full Tilt Descendant 100 Ski Boots
The price of "Full Tilt Descendant 100 Ski Boots " varies, so check the latest price at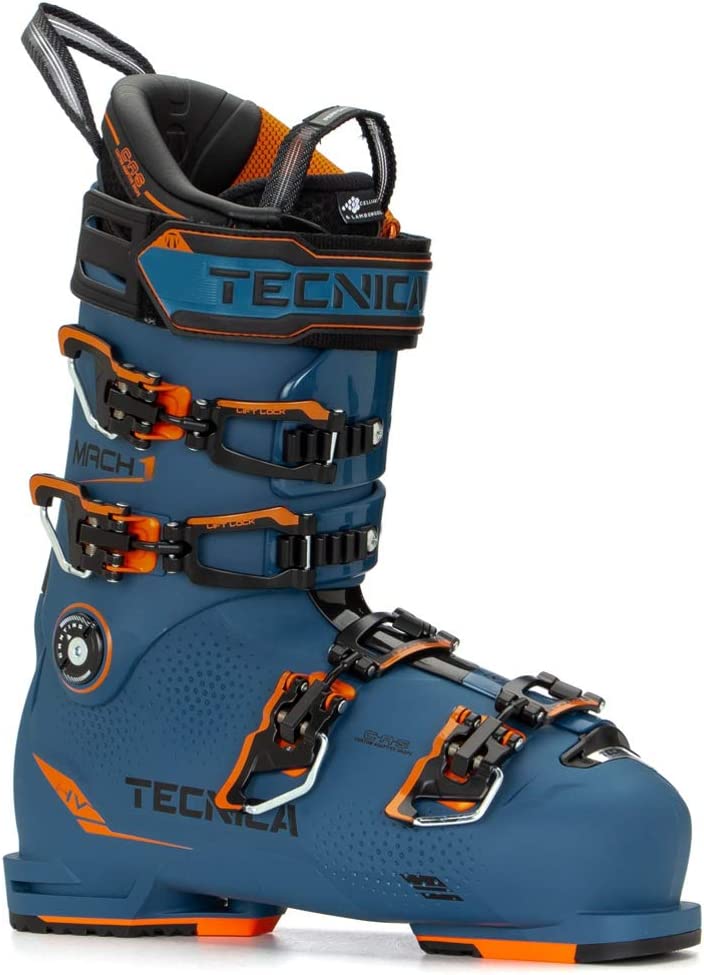 Last but certainly not least, we have the Tecnica Mach1 HV 120. 
The name says it all:
This boot was built for speed.
Take one look at this baby, and it'll quickly become clear that you're looking at a piece of cutting-edge technology. 
Sure, they're stiff as hell.
But you won't be complaining much when you feel just how comfortable these boots are. Personally, I never felt an ounce of pressure or pain. 
Just speed. Pure, unadulterated speed!

There are almost too many components to list here, as the Mach1 is seriously feature-rich. 
The Assymetric Power Transmission and the aggressive, 12-degree lean make for a very tight, responsive ride – and one of the best ski boots I've ever tried. 
But one of the best features (in my humble opinion) is the Celliant Insulation. Not only is this material insanely comfortable, but it's probably one of the toastiest experiences I've had on the slope. 

"Warm" doesn't do it justice!
It's an investment for sure – but one that just might be worth it for truly progressive skiers.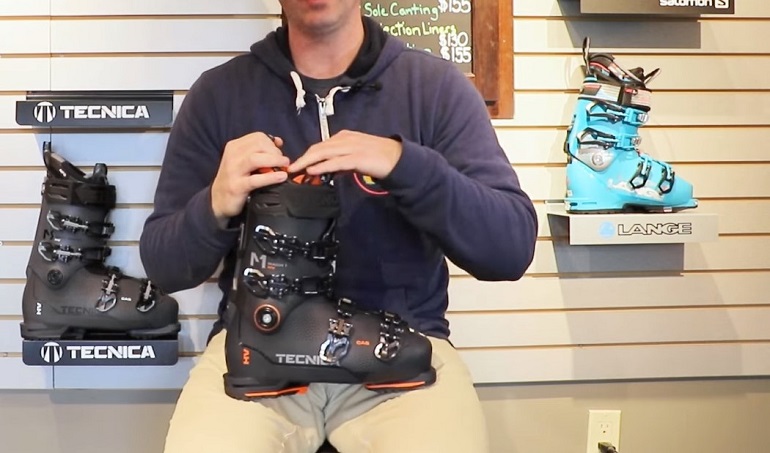 Top Features
C.A.S Shell and Tongue

Stiff flex rating of 120
Celliant insulation
Asymmetric Power Transmission
12-degree forward lean
Micro-adjustable buckles
Pros
Celliant Insulation makes for comfortable ski boots to keep your feet warm
Super stiff for those double-black diamonds
Tons of adjustable features
Cons
You might go too fast and take flight (seriously)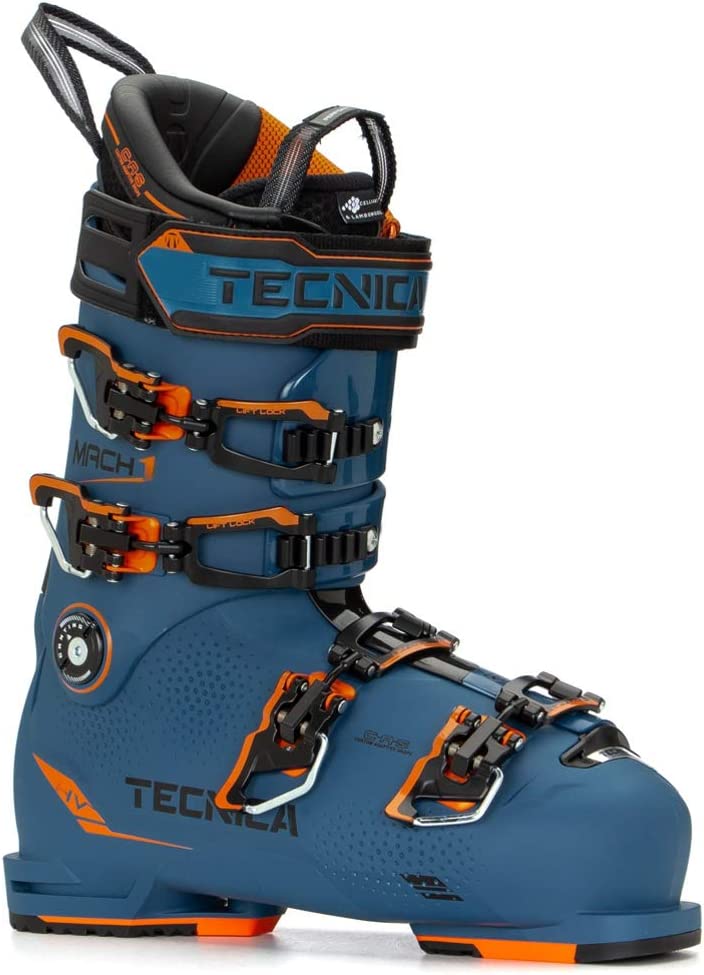 Tecnica Mach1 HV 120 Ski Boots
The price of "Tecnica Mach1 HV 120 Ski Boots " varies, so check the latest price at
Buying Guide
While I've given you six solid options to choose from, you might need a little help narrowing it down to a ski boot that serves your unique needs. 
Some boots on the list are unisex but generally women's ski boots have a softer flex and wide cuff. There are same models available in women's boots in a few options.
Check out this quick buying guide to understand the various factors that go into the best ski boots for wide feet:

Skill Level
You need to choose a boot that matches your unique skill level. For starters, a nowbie can get away with wearing a boot that is slightly too big – maybe a half-size above normal. This results in a more forgiving, comfortable feel.

On the other hand, professional skiers need a boot that is a half-size or even a full size too small for an aggressive feel and high-speed performance. 
Flex Rating
Novice skiers should also aim for a softer, more flexible boot. On the other hand, truly expert skiers should reach for a stiff boot that gives them plenty of precision and performance. 
Design
Different boots are better for different purposes. For example, an all-mountain or "alpine boot" is designed for durability and versatility, and it takes pretty much anything you throw at it.

A backcountry boot gives you two options: touring and downhill. You can switch it up based on the current conditions. 
Power Strap
The power strap is a relatively new innovation, and it gives you even more energy transmission and control when activated. A power strap gives you more adaptability and customization options. 
Buckles
Different boots may have a different number of buckles, and the buckles themselves can offer all kinds of unique features.
Standard boots have four buckles, but two-buckle and three-buckle variants are not uncommon. Buckles can also be micro-adjustable, and buckle ladders can be moveable.
Rear Spoilers
Many wide-fit ski boots feature rear spoilers that sit between the liner and the shell. These wedges are removable, and they can reduce the gap between your leg and the boot shell. If you like to lean forward while skiing, you'll love rear spoilers. 
Walk Mode
Walk mode won't affect your performance on the snow, but it can make like a whole lot easier when you're walking through the chalet on your way to grab lunch.
Basically, walk mode gives you more range of motion so don't feel like a robot with stiff, metal feet when you're off your skis. 
If you are interested to buy snowboard boots for wide feet then checkout our article with a detailed guide.
Why Fit Matters When Shopping for Ski Boots
If you're new to skiing, you might think that fit doesn't really matter a whole lot. 
You may under the impression that a boot half a size too big or too small isn't a big deal. 

Big mistake!
Fit is much more important for ski boots than it is for a pair of sneakers. While a little bit of wriggle room isn't the end of the world when you're walking down the street, it can absolutely ruin your day on the mountain. 
Personally, I really think you should try your ski boots on before you buy them. 
Ordering online is great – just make sure you can return them if they're too big… or too small… or too narrow. 

The cool thing about visiting a local ski shop in person is that you can try on a wide range of boots – and you can even have your boots heat-molded to the specific shape of your foot after consulting a boot fitter.

How to Make Sure Your Boots Fit
So here's the most important question:
How do you make sure your boots fit properly?
First off, you should know that your boots might take a while to "break in." Don't expect your first run to be completely comfortable. But by the end of the day, you should start to feel pretty good about the overall fit. 
If you're dealing with pretty wide feet, the most important thing is to avoid getting narrow boots. But how do you know when your boots are too narrow?
Check this out:
If you're feeling an uncomfortable level of pressure on your ankle, your boots are probably too narrow. You might also feel a pinching feeling on the back of your calf or your heel. 

If your boots fit well, you're going to feel like this:
Your toes just barely touch the end of the boot
Your heel feels "locked in"
No pressure on the outside of the foot. 
FAQ
Which Ski Boots Are Wider?
In the ski world, width is referred to by a weird word:
"Last."
If ski boots have a "wide last," it means they're meant for humans with wide feet. 
Wide last boots typically feature a forefoot width of between 100 and 105 mm. 
How Should Ski Boots Fit?
If you're looking for a pair of solid boots, you want a snug fit that is as tight as possible without cutting off circulation. You also want a tiny bit of wiggle room around the toes – especially near the roof of the wide boot. 
Are Wide Boots More Comfortable?
Maybe for starters – but generally speaking, wider ski boots that are too roomy will make your feet hurt in the long run. 

You want a pair of boots that actually fit. Extra space might sound nice, but it's going to lead to more pain than you think. 
Grab a Pair of Wide Ski Boots and Rip It Up This Winter
Don't let your wide feet stop you from enjoying an unforgettable winter. Even if you have big calves and want ski boots that fit, there are plenty of options available.
Grab yourself a solid pair of boots that actually fit your feet, and you'll have plenty of fun – without the aches and pains. 
If you are interested to buy cross country ski boots checkout our article.
Remember:

Your boots are the most important part of your ski gear. Yes – they're more important than your skis!
This is why it's so important to invest in boots that make your feet feel great. They also require great care. You should always dry your boots after every ski session. The best ski boot dryer will make this task a breeze for you.
Grab a pair today, and make sure you have everything you need for the winter ahead.