Dashing through the cold, your skin begins to peel. As you make your way through the pines and piste, you notice that your mouth and nose have a painful frosted glaze over them. Even as you start sweating, the cold winter has done its damage.
Cold weather protection, it's a given that you'll want this in your face covering when skiing and snowboarding. Many skiers understand that top performance requires ski gear made from the best materials.
That is what the best ski masks listed below have. Made from merino wool and moisture-wicking fabrics. They've got the total weather protection you need to make the most out of your favorite outdoor activity.
From the stretchable Shellaclava Chelonia to the BlackStrap hood balaclava, there is an option for everyone.
Unless you want permanent damage to your skin at the hands of the winter chill, you're going to want a face mask.
Best Overall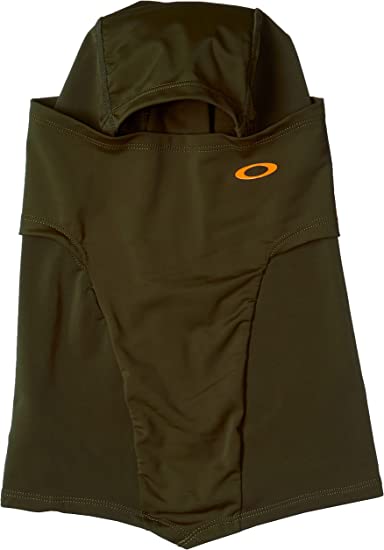 Oakley Men's Backwoods Balaclava
Manufacturer:Oakley
Fabric:

Polyamide,Polyeste
Best Stretch Fit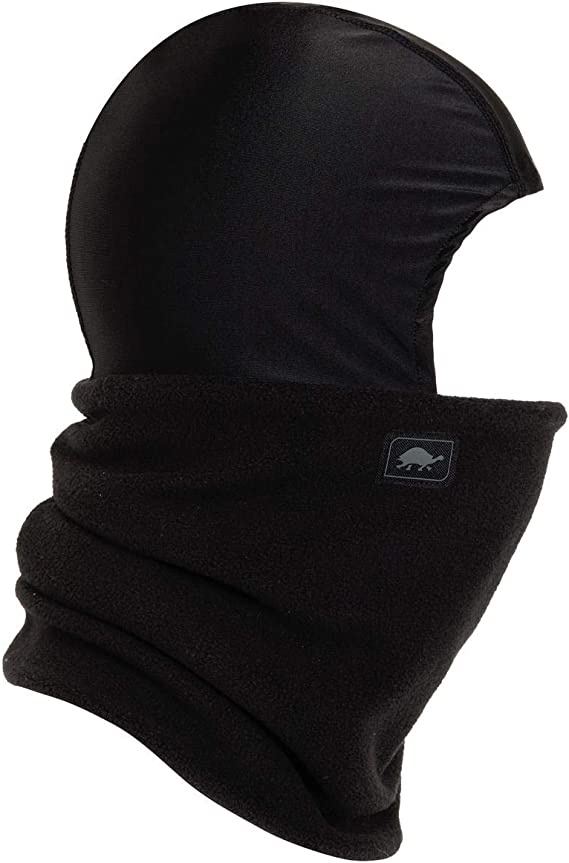 Turtle Fur Shellaclava Chelonia 150 Fleece 
Manufacturer:

Turtle Fur

Fabric:

Chelonia 150
Best Neck Gaiter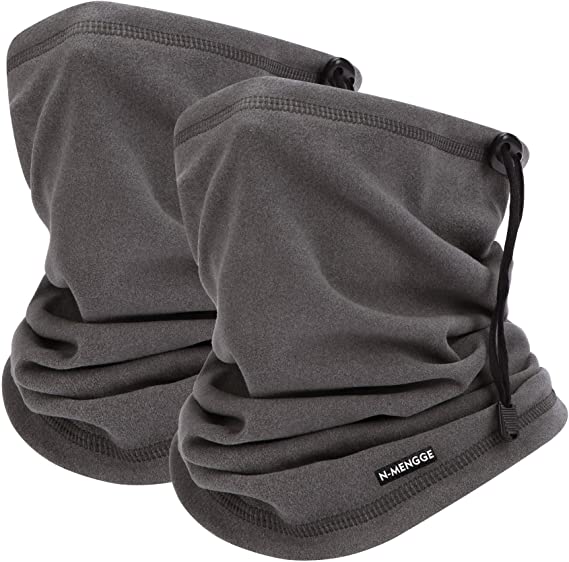 N-MENGGE Neck Gaiter Face Mask
Manufacturer:

N-MENGGE

Fabric:

Soft & Thermal Material
Best Build Quality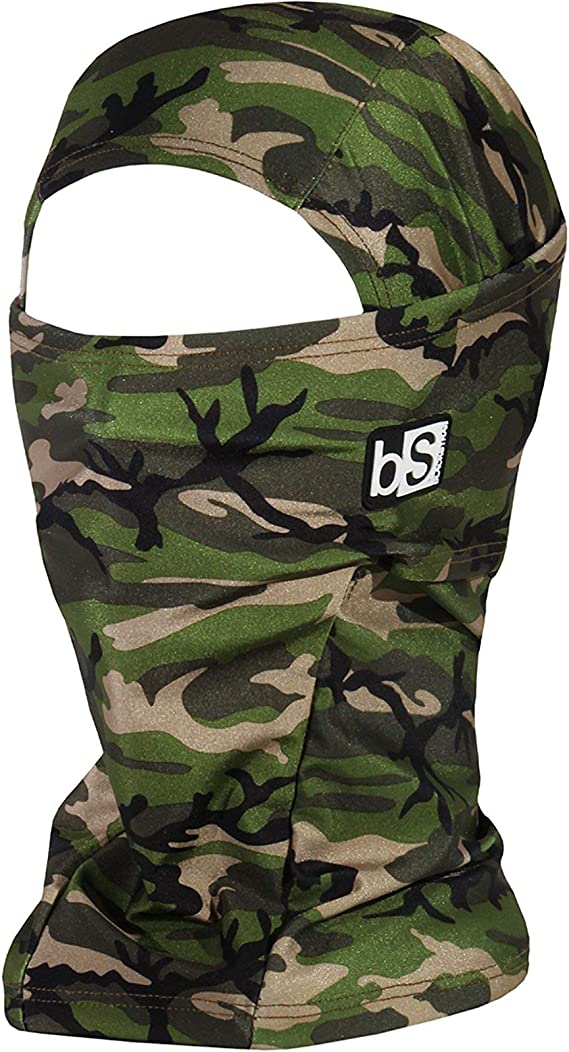 BlackStrap The Hood Balaclava
Manufacturer:

BLACKSTRAP

Fabric:

4-way stretch 

fabric
Best Budget Option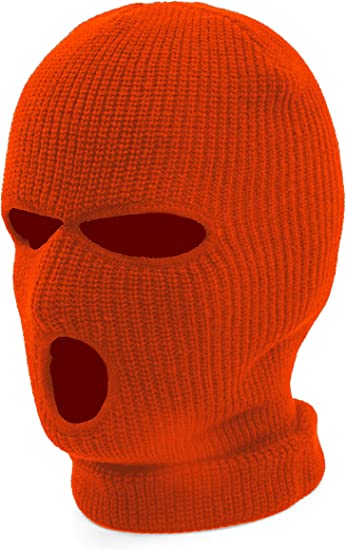 AcademyFits Quality Full Face Knit
SIZE:18 in
Fabric:

100% Acrylic
Best Comfort Designed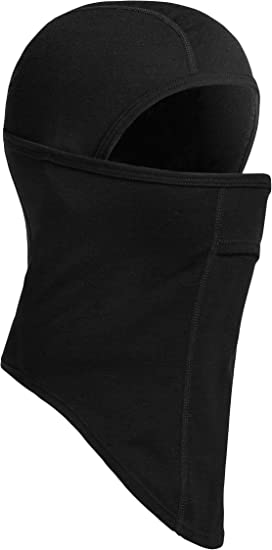 Icebreaker Oasis Wool Ski Mask
Manufacturer:

Icebreaker Merino

Fabric:

100% Merino Wool
Best of the Rest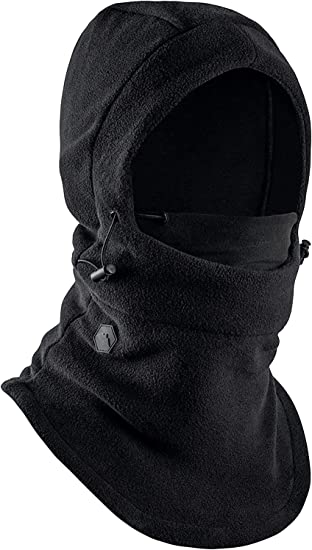 Tough Headwear Heavyweight Fleece
Manufacturer:Balaclava
Fabric:

Fleece
Best Women's Ski Mask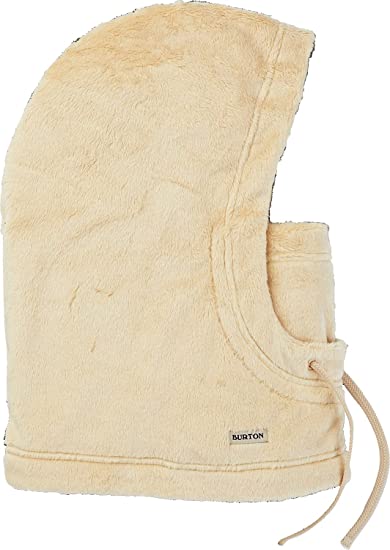 Burton Cora Hood – Women's
Manufacturer:

Burton Snowboards

Fabric:

Fleece
Best Ski Masks – Top 8 Picks
Looking for a neck warmer that you can take on the road? How about ski masks that you can wear under ski goggles? Everything from neck warmers to synthetic fabric builds can be found down below.
Remember, when out skiing, the cold chill of winter isn't the only force you need to worry about. You may not be able to see the Sun, but its harmful UV rays are still piercing through the gray sky.
This is why I made sure to include the BlackStrap hood balaclava. It specializes in giving you great UV protection. There's a lot more to come.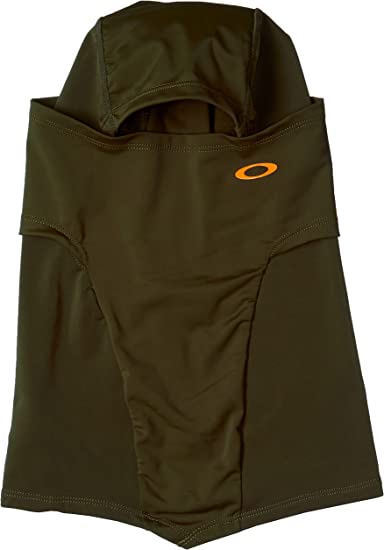 The Oakley Men's Backwoods Balaclava looks like something out of Star Wars. It completely covers your face, more so than any other ski mask on this list. However, great coverage alone doesn't make it the best ski mask.
The Backwoods Balaclava is made up of a trio of winning materials. Polyamide for its durability and cost-effectiveness, helping keep the price of the Backwoods down. Polyester for its quick dry capabilities and comfort and finally, Elastane.
Elastane is a fantastic material that is highly stretchable. You aren't just draping a cloth over your face. The Backwoods is a menagerie of all the fabrics and materials that you would want in any piece of ski gear.
Beyond the face portion of this Balaclava is a long ski neck gaiter. This gaiter, depending on the size that you choose, completely entrenches your neck with its quality build.
You would think, that due to its size and the materials used, this ski mask would weigh you down, but you'd be wrong. This covering surprisingly manages to stay near a pound of total weight.
Once more, this is yet another testament to the attention to detail applied to this ski mask. Sure, you'll have to fiddle with it before you can properly fit your snow ski helmets over it. But once you get it right, you'll be getting total protection.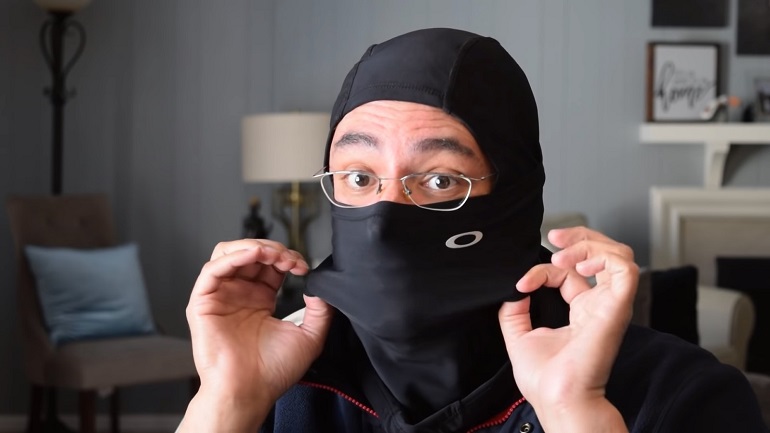 Features
Coverage Provided: Complete coverage
Build Materials: Polyamide, Polyester, and Elastane
Key Feature: Total coverage of most sensitive areas
Warranty: Not available
Pros
Has a long neck gaiter that provides total coverage of the face and neck.
Quick to dry thanks to polyester build.
A great choice for a stretchable face mask thanks to the Elastane material.
Cons
Takes some tweaking before it can comfortably fit under a ski helmet.
Oakley Men's Backwoods Balaclava
The price of "Oakley Men's Backwoods Balaclava" varies, so check the latest price at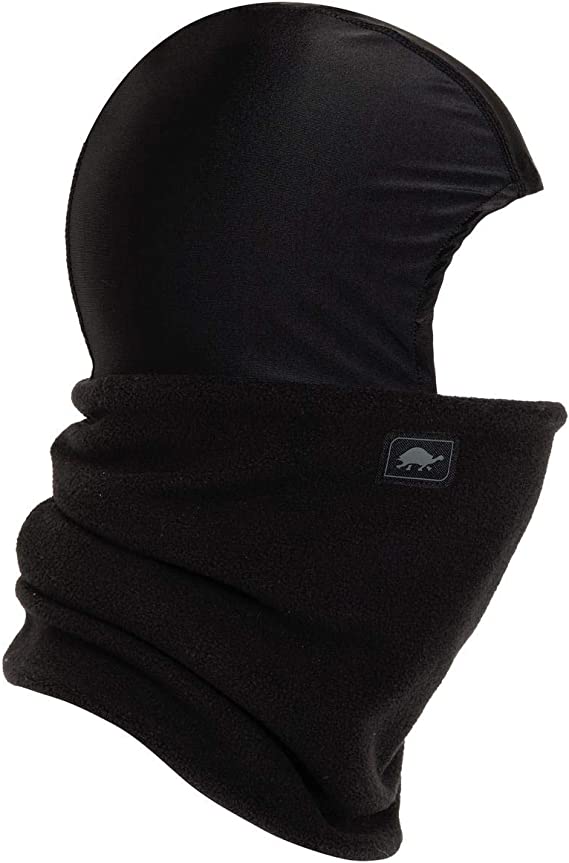 Clothing that's too tight can get seriously uncomfortable, especially as you sweat. Skiing is an intense activity, and it suffices to say that wearing the wrong clothing is a death sentence for any good time you could have had.
This is why the Shellclava Chelonia made it so far up the list. Turtle Fur took into account everything that could go wrong with your ski clothing and made sure to include a solution within the Shellclava Chelonia.
Is your clothing too tight? The Shellclava Chelonia has a stretch spandex hood and a double-layered thick neck warmer. You won't have to worry about the stranglehold of poor-fitting clothing any longer.
What about sweat? How does the Shellclava Chelonia manage to fix this issue? The Shellclava Chelonia's hood has moisture-wicking capabilities. Any sweat or perspiration is quickly disposed of, thanks to the hood's breathable fabric.
Even if you were to get wet, I doubt that any of the water would make its way to your skin. The entire structure of this Shellclava Chelonia ski mask is made from two layers of polyester.
It doesn't take polyester long for it to dry, and the fleece lining of this hood will have you feeling snug while you wait.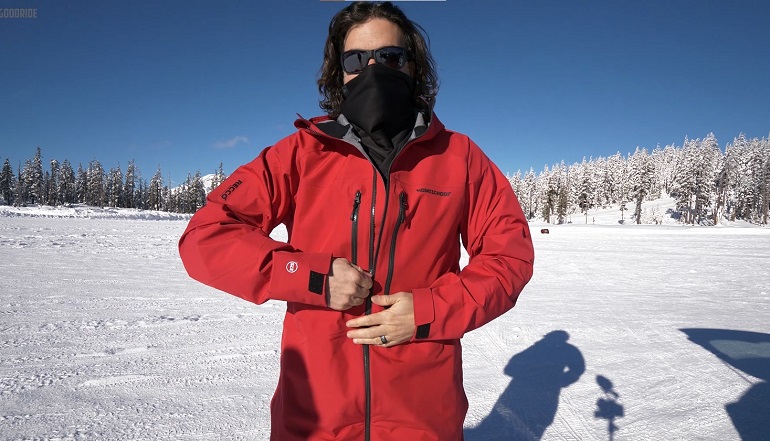 Features
Coverage Provided: Full face, wide around eyes
Build Materials: Chelonia 150 fleece
Key Feature: Double layers of one hundred percent polyester
Warranty: Not available
Pros
One size fits all and can be worn under your helmet comfortably.
Multi-purpose use thanks to the stretch fit.
Two-in-one construction that has an expandable hood and a neck gaiter.
Cons
Adults only, no children's sizes.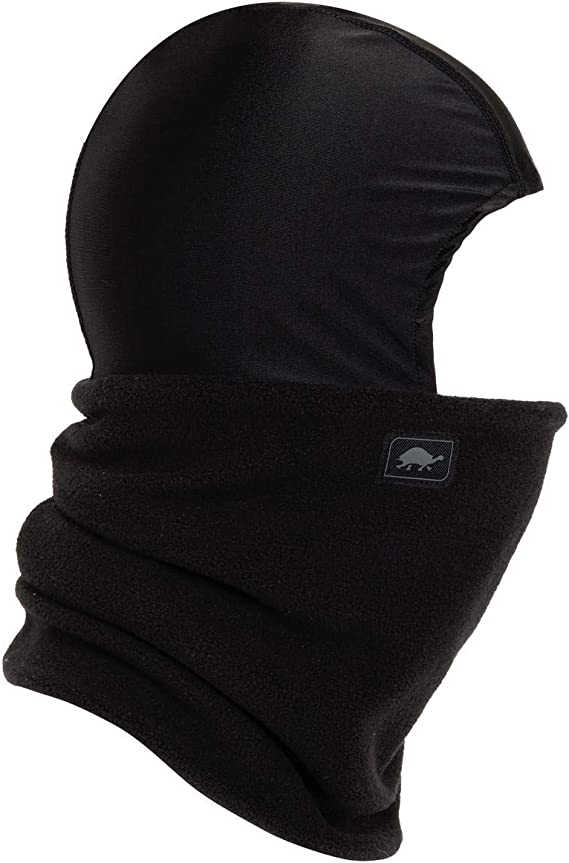 Turtle Fur Shellaclava Chelonia 150 Fleece 
The price of "Turtle Fur Shellaclava Chelonia 150 Fleece " varies, so check the latest price at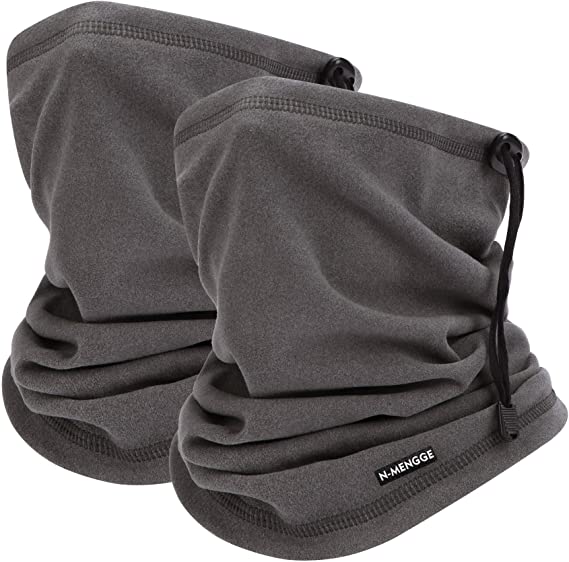 Some of us don't like over-the-head offerings. I get it, your hair gets messy, and it can be annoying feeling like you constantly have to check your appearance or shift your hair around. That's why the N-Mengge neck gaiter is here.
This is a true micro-fleece neck warmer that is compatible with any ski headgear that you own or are thinking of purchasing. As the name would suggest, the entirety of your mouth and neck are covered by soft fleece and thermal fabric.
Tightening the N-Mengge ski mask onto your face is a cinch, thanks to the adjustable drawstring on one side of the mask. The best part about this gaiter is that you can fully pull the drawstring and turn this gaiter into a hat.
A multi-purpose tool if I ever saw one. Adjust it in a different kind of way, and this gaiter turns into a hood as well. The fabric is elastic and breathable. You get the same comfort and performance no matter how you wear it.
Due to its strong build quality, it can withstand temperatures as low as negative ten degrees Celsius. Couple this resistance with its multiple forms and you've got a piece of ski gear that can truly be used for everything.
Features
Coverage Provided: Neck and lower half of face
Build Materials: Micro-fleece
Key Feature: Fits perfectly under any ski gear
Warranty: Not available
Pros
Doesn't obstruct your eyes but is a great choice for cold weather conditions.
Adjustable drawstring lets you adjust your fit.
Breathable coverage that won't constrict your head as you look around.
Cons
This half-face mask might not be enough protection in extreme cold.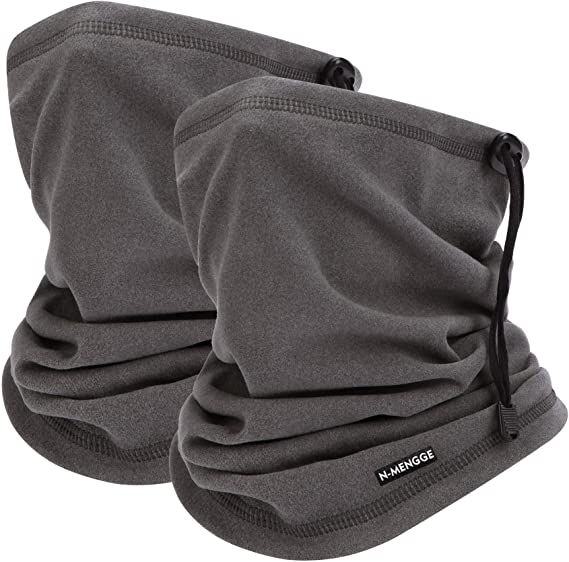 N-MENGGE Neck Gaiter Face Mask
The price of "N-MENGGE Neck Gaiter Face Mask" varies, so check the latest price at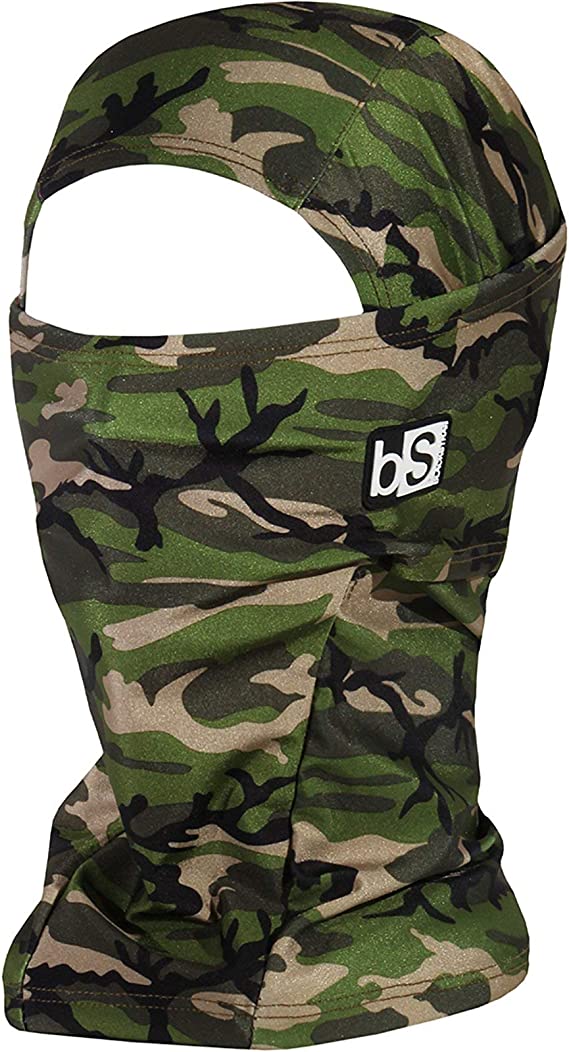 Total protection from the Sun and Moon, that's what the BlackStrap Balaclava brings you. All the great qualities from previous ski masks are also present here. The moisture-wicking and elastic fit, but this hood ski mask is an overachiever.
BlackStrap went above and beyond by creating a ski mask that also has UV protection. The hood has sun protection and has been anti-microbial treated.
When a piece of clothing has been anti-microbial treated, it stops the spread of bacteria. But this very denial of bacterial growth also prevents any bad odors from sprouting up. Essentially what you have is a very tidy and comfortable hood.
Unlike most of the other ski masks on our list. This hood actually comes with a one-year warranty. Consumer-friendly practices like this one should always be applauded. Perhaps, my favorite feature of this balaclava is the fog-stopping fabric around the mouth area.
Not only does this make the ski mask more breathable, but it also prevents any goggles you may be wearing from fogging up. Merino wool is great, and all but this is the kind of tech that all the best ski masks should have.
With a sleek look and dozens of color and pattern options to choose from, there is a BlackStrap balaclava for everyone.
Features
Coverage Provided: Full-face mask
Build Materials: Tri-blend fabric
Key Feature: Anti-microbial treated fabric
Warranty: One year
Pros
This hood balaclava has UPF 55+ sun protection.
The entire hood balaclava is made from a stretchy and moisture-wicking fabric.
Durable build quality that is meant to last in all weather conditions.
Cons
The neck portion may be too large for some skiers.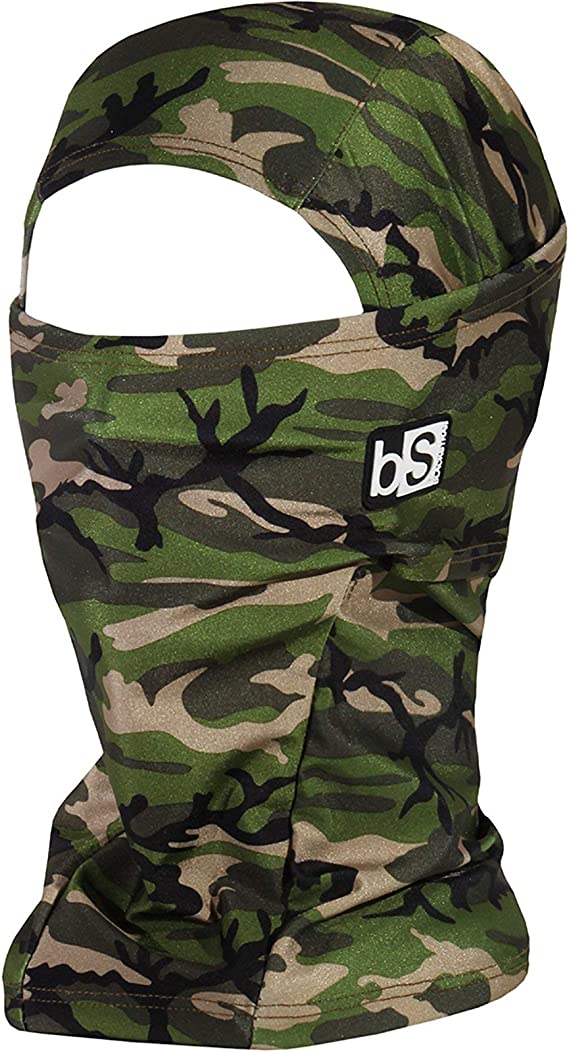 BlackStrap The Hood Balaclava
The price of "BlackStrap The Hood Balaclava" varies, so check the latest price at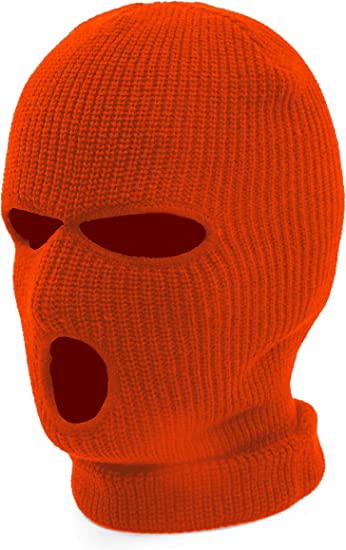 This AcademyFits offering actually comes in two styles. The first is the very unappealing traditional ski mask design. Three holes front and center, two for your eyes and one for your mouth.
The second design you can choose from is a more modern look. One that provides a singular opening for your eyes and nose. It's great to have a choice but for me, there is really only one style here that I find interesting.
Regardless of what look you end up going for, this ski mask has a really great neckline design. The neckline is flexible, this was done in order to increase the number of skiers that could get a secure fit from it.
The result was a resounding success, and while you will get a tight fit from the neck, it never strayed into uncomfortable territory. No choking going on here. As for the materials used to make this ski mask, Acrylic was the fabric of choice.
Acrylic fabric meshes well with the neckline because this type of fabric does not shrink. Even after several washes. It's also great for getting rid of moisture and drying quickly. On top of all of that, Acrylic is very durable.
Now, this is a one size fits all solution.
Features
Coverage Provided: Full balaclava
Build Materials: One hundred percent Acrylic
Key Feature: Expandable neckline
Warranty: Not available
Pros
Really affordable balaclava ski mask that doesn't skimp on quality.
A flexible neckline that can accommodate all kinds of skiers.
Tight and secure fit.
Cons
Some may not like the design of this balaclava ski mask.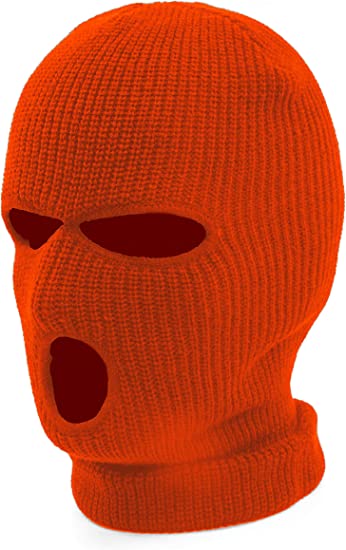 AcademyFits Quality Full Face Knit
The price of "AcademyFits Quality Full Face Knit" varies, so check the latest price at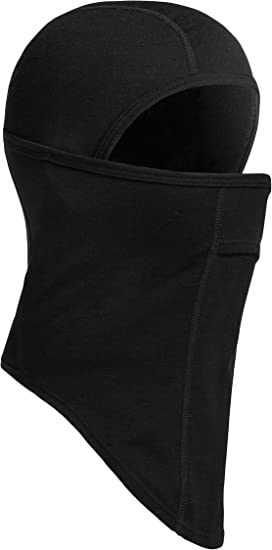 The IceBreaker Oasis has got the same complete face and neck coverage as some of our other options, but its main advantage lies in what this total coverage is made of. Merino wool is incredibly warm and perfect for the biting snow.
Obviously, as all wool types do, it provides great insulation, but when it comes to user comfort, it is also a stand-out. For one, moisture is transported from your skin to the surface of this ski mask. Merino wool also doesn't irritate your skin even after prolonged exposure.
The seams of this ski mask have been specially made to prevent chafing. At the front of the Oasis, a ventilation flap has been included. This flap obviously improves breathability and therefore, user comfort.
It truly feels like a breath of fresh air to have a piece of ski gear that is this geared toward providing its wearer with a great user experience. Icebreaker even made sure to have this ski mask compatible with most goggles on the market.
Well then, are there any flaws or shortcomings to speak of? The only issue that I could find with the Oasis was that there wasn't a very tight fit in the neck area. It's loose for smaller skiers, but the face is still a tight fit.
Features
Coverage Provided: Neck and face
Build Materials: Merino wool
Key Feature: This is the warmest ski mask on the list
Warranty: Not available
Pros
Has a ventilation flap that improves breathability.
The seam pattern prevents chafing.
Compatible with most goggles.
Cons
The bottom half will slip off easily if you don't have the exact size for you.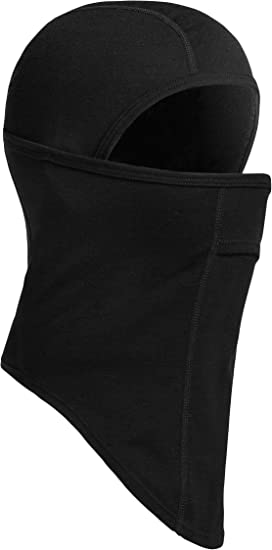 Icebreaker Oasis Wool Ski Mask
The price of "Icebreaker Oasis Wool Ski Mask" varies, so check the latest price at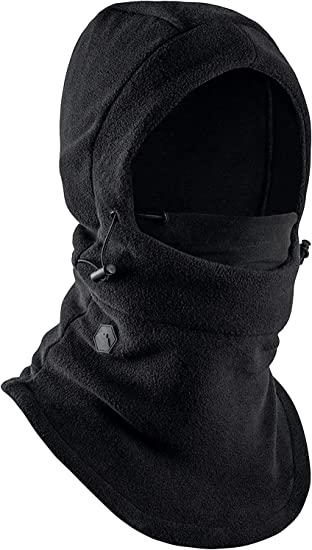 The Tough Headwear fleece provides great competition to all of the other ski masks on this list. When it comes to aesthetic design, it can go toe-to-toe with the N-Mengge. Capable of being worn at the ski resort and on the streets.
As for the amount of face coverage available. Your entire head, neck, mouth, and nose are firmly secured by the warm and comfortable furnace fleece. In that regard, the merino wool Oasis from before has met its match.
But what if you want a tight fit, free and secure from the cold weather? Don't worry, the Tough Headwear fleece comes with a drawstring that you are free to tighten as you wish. Pull on it hard enough, and your whole face will disappear behind a wall of warm fleece.
This fleece is also wind resistant, and despite the snug fit that you get from this hood, some spandex was included in key areas in order to ensure a flexible fit. Capable of going against the best of them, worthy of being worn by all skiers.
Features
Coverage Provided: Full neck and face covering
Build Materials: Furnace fleece
Key Feature: Amount of coverage and adjustable drawstrings
Warranty: Not available
Pros
Has a polar fleece and spandex structure that is both warm and stretchable.
Windproof, even in the harshest conditions.
Has a snug fit made from soft materials to avoid any uncomfortable loose ends.
Cons
I really couldn't find much to complain about with this one.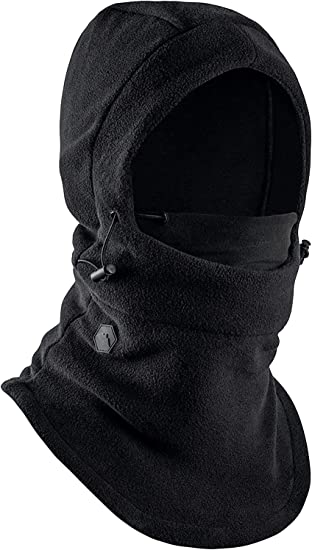 Tough Headwear Heavyweight Fleece
The price of "Tough Headwear Heavyweight Fleece" varies, so check the latest price at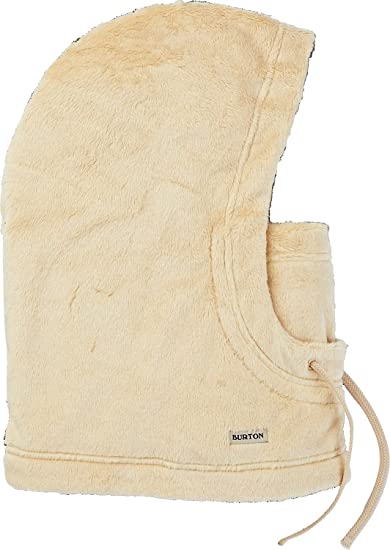 I sang the praises of the BlackStrap for the one-year warranty that is included with its hood balaclava but this Burton Cora Hood blew away the entire competition. Not a single ski mask comes even close to providing the warranty policy on offer here.
With a limited lifetime warranty, the ladies clearly got the best deal in the house, but what else is on offer? For one, this hood is made with Thermex fleece and polyester.
I've written enough about polyester. By now you should have an understanding of why it's such a great material. However, the same can not be said about the Thermex fleece.
This fleece is warm yet breathable, always keeping you toasty without letting the heat climb to "hot" levels. There are two kinds of size options to choose from. The regular fit and an over-helmet sizing option. Yet again, another feature that other skiing masks do not offer.
Many skiers like adjusting the fit of their gear on the fly. That is possible with the Cora hood, it comes with a drawstring. The only issue I had with this hood is that there isn't much protection for your neck to speak off.
Features
Coverage Provided: Full-face mask only
Build Materials: Thermex fleece and polyester
Key Feature: Women's only ski mask
Warranty: Limited lifetime
Pros
Has a great lifetime warranty. Miles ahead of the competition.
The Thermex fleece is a moisture-wicking fabric hell-bent on keeping you warm.
Drawstring closure for when extra warmth is needed.
Cons
Provides great face coverage but only face coverage, no neck warmer.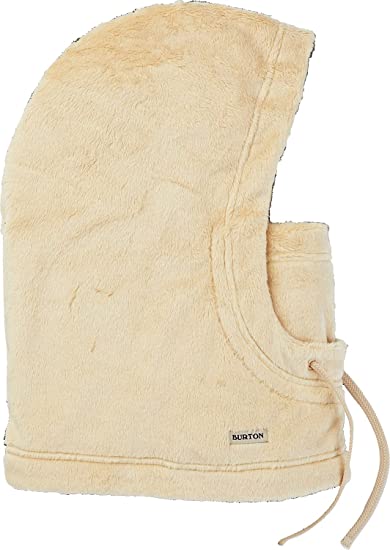 Burton Cora Hood – Women's
The price of "Burton Cora Hood – Women's" varies, so check the latest price at
Choosing the Best Ski Mask For You
So many ski masks and so little time. Which ones are quality, and which ones just aren't worth our time? That question is easy, the best ski masks and face masks can be found above. But you can't buy them all! Well, you can but you can't wear them all at the same time.
So then, our question becomes, which of the best ski masks above is the best ski mask for you? That's what this section is for, to break down what makes a ski mask a quality offering. From the exterior fabric to helping you stay warm.
We will be going over it all.
Face Mask Versatility
Ski mask versatility is important. As much as you would like to ski forever, that won't be the case. The day will come when you'll have to drive away from the resort, crying… probably.
This is why the best ski mask is one that you can wear in any kind of winter outdoor sport or activity. This is where the Tough Headwear ski mask shines. It's got a design that won't have you sticking out, even if you wear it on the street.
The Tough Headwear ski mask is also made from soft, yet thick fleece. Comfortable for everyday wear.
Ski Mask Comfort Level
Speaking of comfort, the comfort level of your ski mask will determine how you feel as you move around.
You do not want too tight of a fit, or else you'll have a hard time breathing and turning your head. Now I don't know about you, but I quite like being able to breathe and look around. Having an adjustable drawstring is also great because it allows you to get the right fit.
For those that don't feel comfortable with the tops of their head being covered, the N-MENGGE neck warmer is a great option.
Overall Ski Mask Design
The best ski balaclavas have got a design or style that makes them appropriate for everyday use. Earlier I mentioned the Tough Headwear ski mask as a ski mask that can be worn even when not skiing, but it's not the only one.
The Shellaclava Chelonia also has a similar design, and its double layers made from polyester are quick to dry. Even simple neck warmers wouldn't feel out of place when heading to work or the store.
Goggle Compatibility
Good ski goggles are required if you want to avoid getting misty-eyed as you ski. Four-way stretch-capable face masks are essential because they make it far easier to fit your goggles over them.
In short, if you want to wear your goggles over your ski mask, make sure the hood of your ski mask is able to fit the goggles themselves.
Areas To Cover
Do you have a long neck? A sensitive mouth and nose? Does your entire head freeze up at the slightest touch of wind? How much your ski mask covers is entirely dependent on your own personal preferences.
Figure out the areas of your face that are most sensitive to the cold, and pick out headwear that properly covers them. Of course, these areas will differ from skier to skier. This is why we made sure to include ski masks of all kinds in our list.
FAQ
Can I Use a Ski Mask for Other Activities?
Absolutely! Ski masks can be worn when participating in all winter sports or any outdoor activities in the winter. Such as cycling.
However, something important to keep in mind is that in most states within the United States of America, it is illegal to wear a ski mask in public. Keep it reserved for the ski resort.
How Tight Should a Ski Mask Be?
A good question. You'll want a tight fit otherwise, it'll be difficult to put on the rest of your ski gear (ski goggles and ski helmet) on top of your ski mask. But you do not want too tight of a fit.
The area covering your face should have some leeway to it. Not just for breathability but also, so that you can easily pull it off when needed.
What's the Difference Between a Ski Mask and a Balaclava?
A ski mask will usually feature individual holes cut out for your eyes and mouth. A balaclava has a singular opening for the entirety of your face. Despite the name of this list, you'll find face masks of all kinds listed above.
When it comes to alpine skiing, protection of any kind is better than no protection at all.
What Are the Best Fabrics for a Ski Mask?
Four-way stretch material is essential for a comfortable fit. Face masks made from soft fleece give you the warmth required to brave the winter. For sun protection, you'll want ski masks similar in build to the BlackStrap hood balaclava.
Breathable materials, like the ones in the Icebreaker Oasis ski masks, are also important not just for handling moisture but, obviously, for their breathability.
My Final Thoughts
Many ski resorts have a ski shop located on or near them. While these shops may offer face masks, they don't offer the quality face masks on offer above.
Be sure to pick out a face mask with four-way stretch fabric. A full balaclava should have this, or else you'll feel restricted as you look around. Of course, for your comfort's sake, you'll also want maximum warmth.
This is what the best ski balaclavas offer you. Protection from all angles without compromising on your comfort. For full coverage, consider getting a ski jacket and ski pants to go with it.