The winter season is synonymous with adventure, fun, and a full-blown escapade. If you are a fanboy (or a fan girl, of course) of the fresh white powder spread across the mountain terrains, it's high time you start planning a ski trip to the resort in California.
First, as some of the best airports are pretty close to California, these resorts are highly accessible. Second, the thick snow in California during peak winter is something you shouldn't miss
Best Ski Resorts in California
Lemme walk you through some of the top ski resorts in California in terms of the terrain reserved exclusively for people with specific skill sets, extreme skiing, snowboarding experiences, and the best cross-country skiing ever!
So, what are you waiting for? Hop in!
1. Heavenly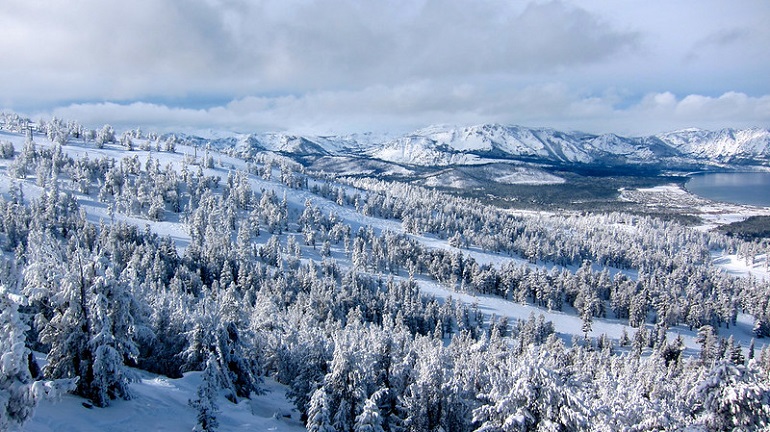 If you are a beginner who is super scared of hitting tricky trails, the Heavenly Ski Resort is where you need to head towards. As much as 20% of its terrain parks are reserved exclusively for newbies!
But, Don't Be Fooled By This Fact!
Even though this 20% space is groomed for newbies and intermediate adventurers, the rest of the place can get pretty tricky and tough to ride, for this ski area has some of the most outrageous twists and turns to offer!
Known for
Perched on the South Lake Tahoe, this spot is known for its mesmerizing beauty!
For the expert riders, the fact that it has the longest vertical drop would be enough for them to rush towards it and show off their ski skills! As much as 30% of the terrain is reserved for the experts!
With 4800 acres of terrain, this is surely the largest ski resort that is super close to Lake Tahoe.
Highlights
Extremely easily accessible, the Heavenly ski resort is merely 55 miles from the Reno-Tahoe International Airport. At the same time, the Sacramento Airport requires you to travel for only two hours till you reach the resort!
What makes this heavenly ski resort a desirable ski destination is a reason that most of the lodging options sit next to Lake Tahoe. What's better than waking up to the view of magnificent sapphire blue water?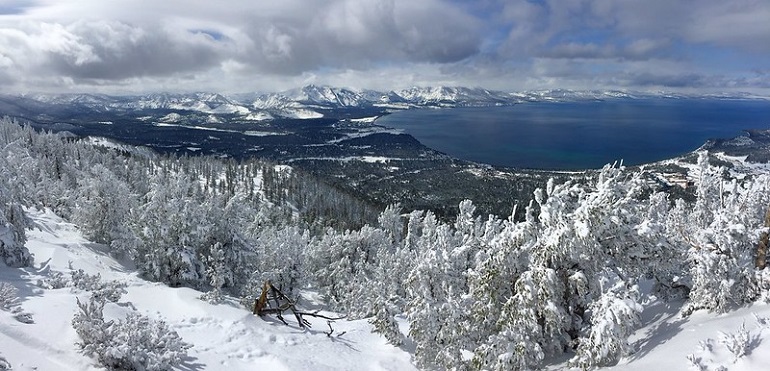 The ski lessons at the school of this resort are categorized separately for kids and adults. You could also enroll in private lessons if you want the instructors to work on you exclusively!
Are you the kid who always forgets one thing or the other from your ski gear?
Not a problem!
The ski rentals option lets you get the equipment at a low cost.
What's even better?
If you sign-up at their website, you'll get a discount of 10% on the rentals!
22/23 Ski Season
The on-mountain ski season for 22/23 kicks off on Nov 18, 2022, and is expected to continue its winter services until Apr 17, 2023.
A Quick Advice: The lift tickets at California ski resorts get sold out pretty quickly! If you really wanna view the entire space from up the lifts, you should book the tickets online now!
2. Palisades Tahoe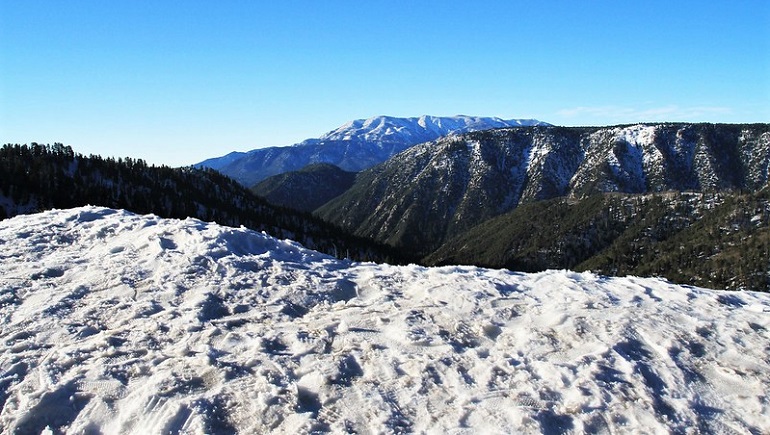 Ski resorts in California are magnificent, and the Palisades Tahoe resort is no exception! The snow-capped mountains surrounding it make it one of the best Lake Tahoe ski resorts there are. While you are here, you will be able to check out plenty of tourist spots that are close by!
Known for
Settled in the Olympic Valley, the Palisades Tahoe resort is in close proximity to the alpine meadows.
What I loved the most about the Palisades Tahoe are two things: Great lodging options and even better dining experiences. The yummy taste of the brownies I would devour at the Wild flour Bakery each morning still tickles my heart!
Love the city life, nevertheless?
You can easily stay at Tahoe City, as it's merely 10 miles from the resort! Here you will see never-ending options for dining and shopping, while the nightlife experience will be worth remembering!
Highlights
The Reno, NV airport is merely a fifty-minute drive, making the Palisades Tahoe ski resort easily accessible!
Want to check out how the locals live?
You are in for a treat as the village is just two miles far from it! A super short shuttle ride will let you mingle with the locals after a long day of skiing!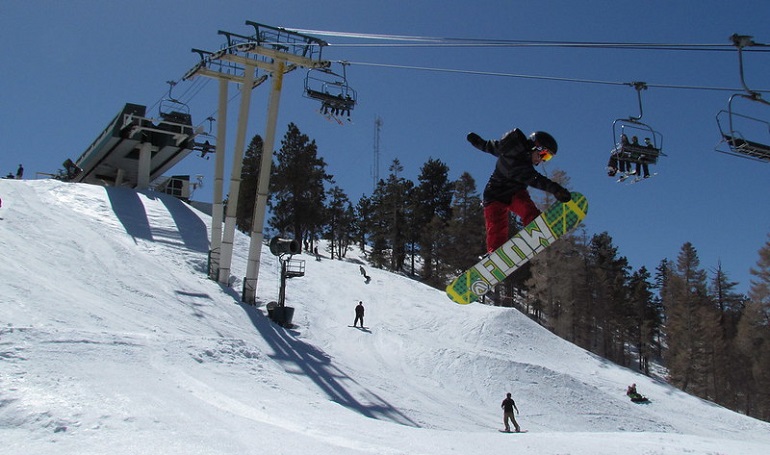 Out of the 6,000 acres of terrain, around 50% is made for experienced skiers who know how they want to spend their day out on the mountain, while the intermediates can skid through the remaining portion easily.
22/23 Ski Season
Though it was supposed to open much earlier, the extensive snowfall shifted the start of the season to Nov 18, 2022. The resort plans to extend its services as long as the weather permits!
The village hosts exciting year-round events, which makes it inevitable to visit!
3. Sugar Bowl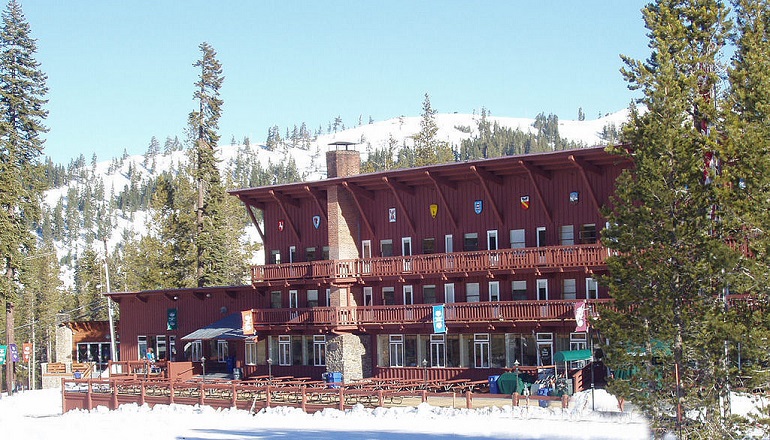 With as much as 31% of the terrain parks reserved for intermediate riders, this spot connecting four mountain peaks and fourteen lifts is a great north resort to ski in!
Known for
This resort in Northern California has the highest vertical drop of 1,500 feet. Situated in the Sierra Nevada mountains, it's pretty close to Lake Tahoe.
The backcountry and side-country areas here are incredible, and you can offer the best cross-country ski services! If you want an exclusive trip, get in touch with the Backcountry Adventure Center
Highlights
Viewing the Sierra Nevada mountain range from the top while sitting at the lifts is an experience you'll never forget.
But, A Word Of Caution: The lifts can get pretty expensive during peak season!
If you are planning a trip with family and will stay here for some time, the Sugar Bowl season passes are a great option to check out! They give you discounted prices on most of the services the resort offers!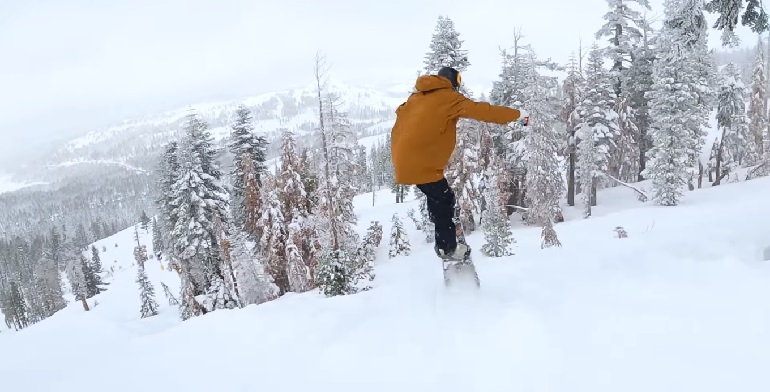 With a skiable terrain of 1,650 acres, this resort in the Lake Tahoe region is pretty massive! This also means your options for vacation rentals are also quite extensive.
East Village Home is merely within walking distance from the village, while the Chalet Town Home offers great views through a private great balcony. The best of all: Summit Crossing Home has a rustic charm to it with modern amenities!
22/23 Ski Season
Like every year, even this time, the adventures at the Sugar Bowl Ski Resort would expand from late November till mid-April.
Get yourself some super warm vacation clothes, as this place in the San Francisco bay area can get incredibly cold and require some seriously demanding skill set in extreme mountain conditions that you may encounter.
4. Big Bear Mountain Resort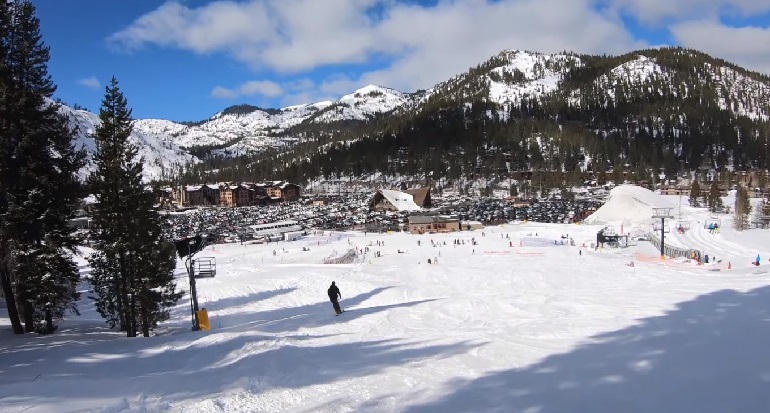 While planning a trip to California, you must give a try to the Big Bear Mountain Resort, situated in the San Bernardino mountains of Southern California. You will be pleasantly surprised by its snowmaking capabilities.
Known for
The good news is that the Big Bear Mountain Resort has a sister resort too, which is named the Snow Summit resort. Furthermore, there is a lot to explore here, from the Bear Mountain Golf Club to the All Fun Recreation Park.
Reaching here is super easy! The Victoria Intl. airport is merely a distance of forty-minute drive, making this ski area in Southern California easily accessible for tourists.
The place gets an annual snowfall of 359″ annually, February being its snowiest month! At this resort on the south shore of Lake Tahoe, you would be amazed to see the unbelievable Safety Practices the management has adopted, despite the thick snowfall!
Highlights
Freestyle snowboarding and skiing make this Southern California ski resort a MUST-VISIT vacation spot.
Also, compared to other Tahoe resorts, this one is an exception, with 26 lifts working for the tourists! We're talking High-Speed Quads, Quad chairs, Surface Lifts, and a chairlift.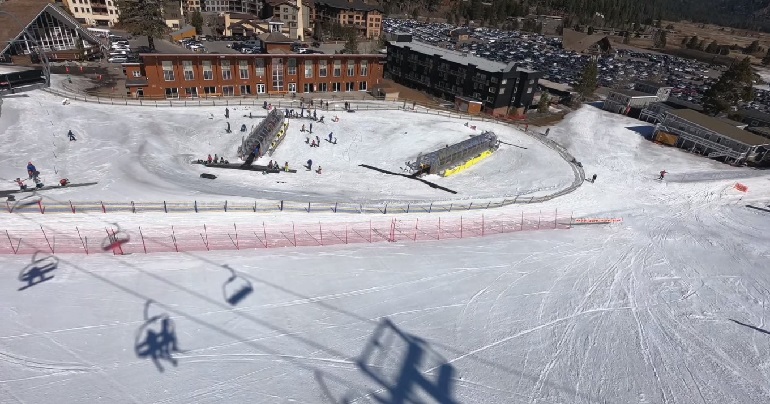 You would be enthralled to know that the modern cabin rentals at this ski resort in California are breathtakingly beautiful, super family-friendly, and offer great amenities. If you are planning a winter escapade with your family, get the lodging near Grizzly Ridge Tube Park, and your kids will love it!
22/23 Ski Season
This resort, with top-notch restaurants nearby, is likely to start its winter services on Dec 09, 2022, and would extend its services all the way till Apr 16, 2023.
Currently, the Winter Escapes: Lift & Lodging Packages offers great family-friendly discounts, and you can save tons of money by availing yourself of this option!
5. Mammoth Mountain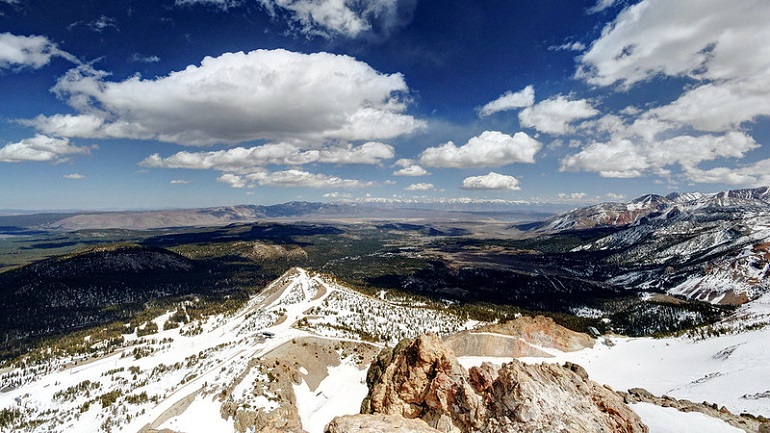 From fishing to skiing and from tracking to mountain biking, this resort offers it all! It's also the state's highest ski peak, offering extensive terrain to advanced skiers.
Known for
With the 3,369 m of vertical drop at the eastern sierra, this is an ideal ski spot for adventurers. Obviously, its snow quality is also top-notch! The 3,500 acres of ski area with perfect powdery conditions make it an ideal spot for skiers and snowboarders.
Have incredible skiing skills that you are dying to show off?
For expert skiers, this Mammoth Mountain resort is an excellent choice for expert skiers. Its highest base elevation of 7,953 ft with the longest ski runs of 3 mi makes it a prominent item on the bucket list of most skiers.
Highlights
You would be amazed to see that comfort and ease are synonymous with the work ethics of the Mammoth Mountain Resort management. The staff at this east resort is super family-friendly and is always ready to help you no matter what, which is why it is quite a popular resort amongst ski enthusiasts!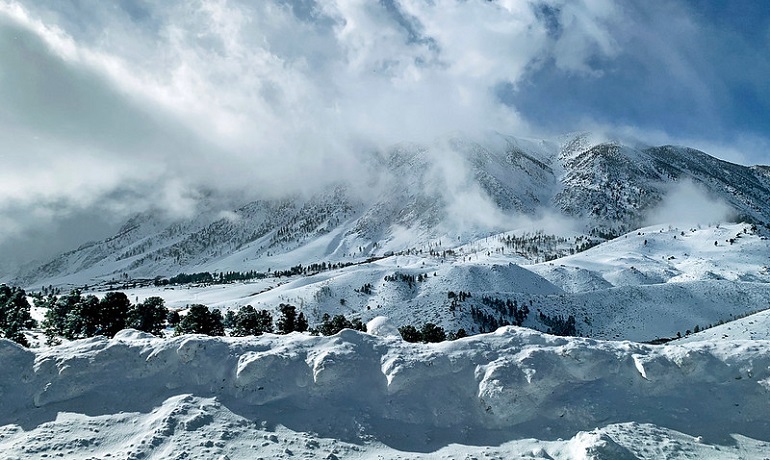 The food options at the Mammoth Mountain Resort are extensive! If I let you know the ones that I particularly loved, it would be a long list having the Chip Shot Cafe and the Grizzly Square Food Court at the top!
22/23 Ski Season
The resort kicks start its excursions this year on Friday, Nov 11, 2022, and will be open for adventurers till May 29, 2023. As Mammoth Mountain could get super crowded during peak winters, it would be great to make advance bookings online.
6. Kirkwood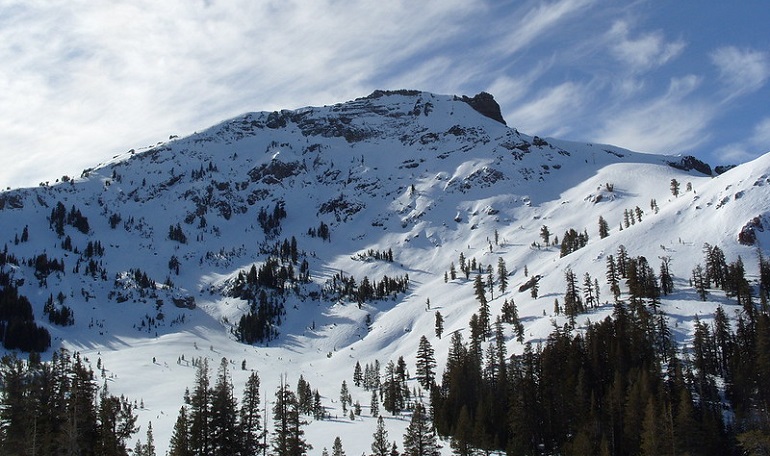 Ideal for the experts, the Kirkwood Resort is a year-round mountain destination located in Southern California along with Lake Tahoe. The magical Sierra Nevada mountains surround this ski resort.
Known for
This resort gives you everything you'd want for a day on the mountain, from the longest run of 2.5 mi to 2300 acres of skiable terrain. This one has the most incredible Vertical Drop of 2000″ among the Eastern California ski resorts.
With 86 trails in total and as many as 15 lifts operating across the area, this resort proves to be a great ski vacation spot! Though it's quite a diverse terrain, around 38% of the area of its terrain parks is designated for advanced skiing!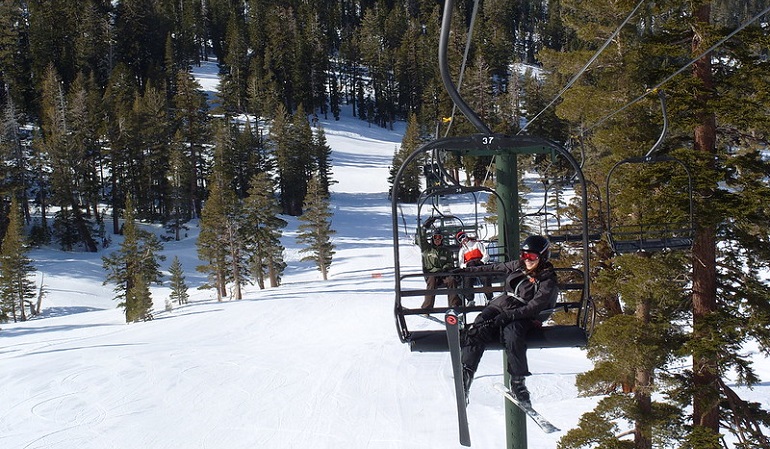 Highlights
One thing I really liked about this resort was that it offered endless entertainment and a wide variety of adventures, from snow cat tours to snow tubing and from dog sledding to snowboarding. The Disc Wood golf, climbing wall activity, and the horseback riding course are some of the most exciting services it offers!
Honestly, you will have a super-packed schedule while you are here, as your 'things-to-do' list will be endless!
It's super easy to reach the Kirkwood Resort. Reno International Airport and Sacramento International Airport are close to it, and from there, you can rent a car all the way to the Lake Tahoe resorts, especially this one.
Also, the parking facility is there, so you can have your vehicle parked here for as long as you stay! You'll have to pay the rent to use the parking slot!
Want things even easier? Use the shuttle that this family-friendly resort offers!
Your kid loves to ski, and you want to enroll them in a great ski school? The lessons offered at the Kirkwood Ski & Snowboard School give great value for money as it has some of the best instructors to help the pupils.
Also, if you are looking for some private lessons, this ski school will be more than happy to offer you that as well!
Epic Day pass lets you save huge bucks on the lift and entry ticket.
22/23 Ski Season
Inaugurating its winter adventures on Nov 12, 2022, the resort will extend the winter adventures all the way till May 01, 2023. Operating from 9 am to 4 pm, it gives plenty of time for powder hounds to enthrall themselves with some solid adventures!
7. North Star California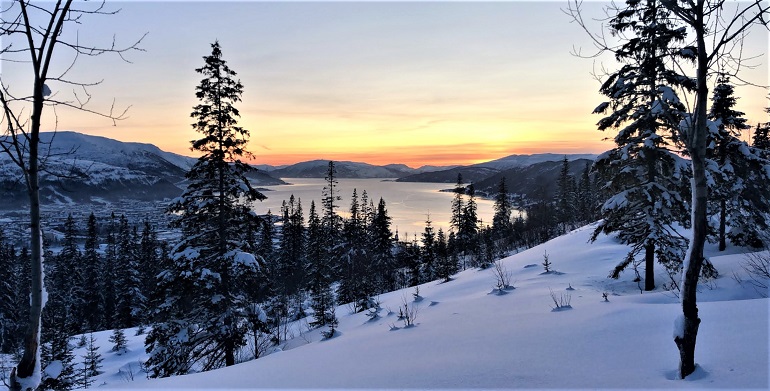 Located on the northwest coast of Lake Tahoe, this is one of the best ski resorts in California. For beginners, there is a special area that has less steep slopes!
Known for
Compared to other Californian ski resorts offering advanced-level black diamond, the ski area at North star California offers somewhat mellower terrain. This makes it a great ski resort for newbies and intermediate skiers.
Highlights
The on-site recreation center offers top-notch entertainment features, including a spa, tennis court, outdoor pools, and a fitness center. The ski lessons curated and managed by expert instructors are definitely worth mentioning here!
Being the closest ski resort to Lake Tahoe, you can spend a day at the lakeside, simply making some good memories with your friends and family!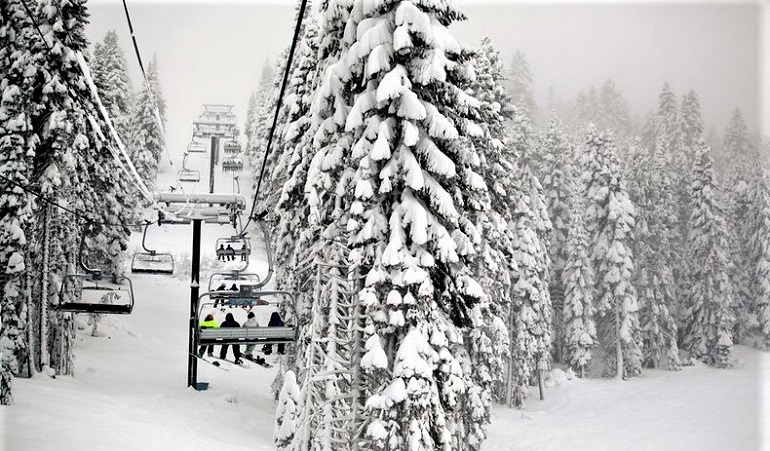 This mountain getaway lets you save huge bucks of money simply by making the right moves. Avail yourself of the early bird special discount, and you will get an off of around 35%.
You will find this resort located in the North star Village, which means it lets you have a good look at the lifestyle of the locals. Your shopping and dining options here are ENDLESS!
22/23 Ski Season
The ski activities at this resort start on Nov 12, 2022, and will extend for as long as the weather permits, probably till mid-April!
My Verdict
I get it!
There are so many Lake Tahoe-surrounded resorts that offer incredible features, so you feel utterly confused atm! HAPPENS. Just make a cost analysis of all the resorts, and you will be able to pick just the right one for yourself.
Also, to save money, make your bookings on time. After all, why would you spend some extra dollars on tickets and rentals when you can easily save money through your smart moves?
Related Guide: