Hitting an annual average of 80-100 inches of snow, and 25 feet of the white fluffy magic piled up every winter, the eastern state of Vermont is home to the Green Mountains.
As such, one can easily imagine the state turning into an absolute Winter Paradise, even more so during the winter season.
Whether you like cross-country skiing, backcountry skiing, ice skating, or terrain parks, Vermont ski areas are well-equipped to handle skiers of all abilities during the ski season.
If you're looking for ski resorts for the upcoming winter vacation, and especially if you're looking for some safe, comfortable, and exciting family-friendly ski resorts, look no further than this list.
We have compiled a list of some of the best Vermont ski resorts that you can visit for the best experience.
12 Best Ski Resorts In Vermont, 2023
Things to look for in ideal ski resorts include a nearby skiable terrain, terrain parks, perhaps a water park of some sort, scenic views, night skiing opportunities, and a diverse range of lodging and dining options, to name a few.
The resort must be able to cater to beginners as well as experienced skiers. It should also offer uncrowded slopes and other fun extra amenities. Read on to find out what the best-curated ones have in our list below!
1. Killington Resort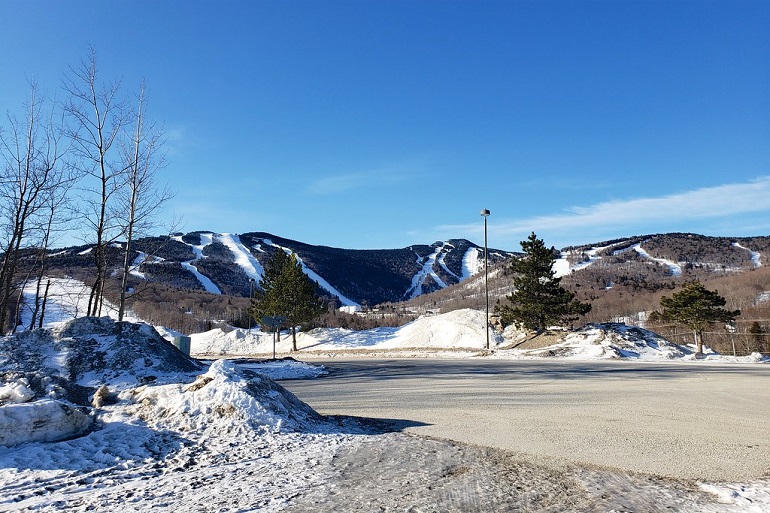 At an elevation of more than 4,000 feet, and located in South Central Vermont, the Killington Resort is the largest ski resort in the Green Mountain State and East Coast. With an estimated vertical drop of more than 3,000 feet, it is no wonder that this ski resort garnered the name "Beast of the East".
With a whopping 155 trails and 22 lifts leading to 6 different mountains, the Killington resort offers expert trails for more experienced skiers, which are around 60. But for intermediate and beginner skiers, there are around 50 to 60 trails to choose from as well for ease.
There are also a large variety of terrain parks to choose from, 6 of which are commonly known, including the grand Superpipe one, that is almost 500 feet long and has extremely high walls, of up to 18 feet.
The Killington ski resort also is connected to the Pico Mountain. Traditionalists might love the calmer and more relaxed vibe of the Pico Mountain, as opposed to where the younger crowd gather near the resort's proximity.
Overall, the Killington ski resort is a great option to go to as it has a lot of facilities, like the Killington Mountain lodge, which even has an indoor pool.
There are even fun activities offered aside from the main event, skiing, in the form of snowmobile tours and a tubing hill. Something for everyone, from Killington to Pico Mountain and everything in between!
2. Stowe Mountain Resort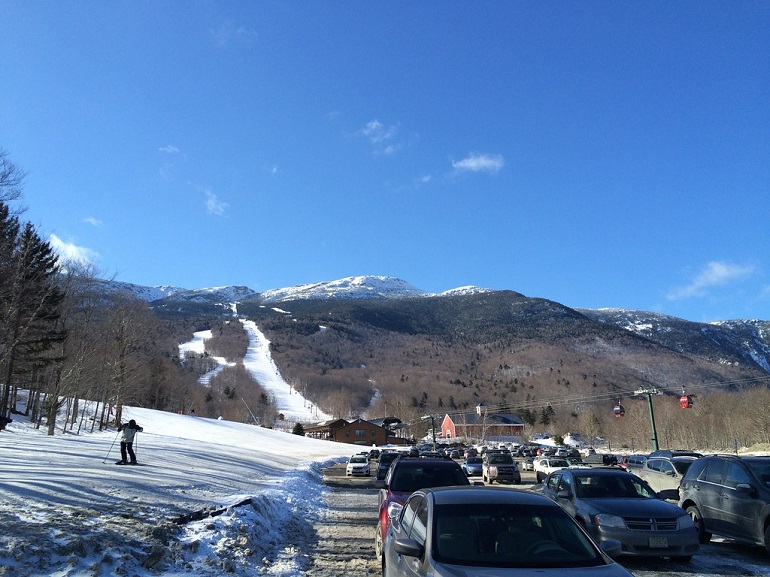 The Stowe Mountain Resort is a fabulous option that is located on Mount Mansfield, the tallest mountain peak in Vermont. This magic mountain is home to over 110 Nordic and backcountry trails, with a majority reserved for intermediate skiers, and 29 for experienced skiers, and around 19 for beginners.
Stowe Mountain Resort also has three terrain parks. One of these three terrain parks includes the ones at the Standard and Gulch, best for freestyle riders looking to test our new terrains.
This North Vermont Ski Resort is one of the only options in the state to avail a ski-in ski-out option, in the lodge at Spruce Peak. Spruce Peak itself is a great place to go as it is very family-friendly and offers consistently warm and welcoming hospitality.
Known as the "Ski Capital of the East", Stowe is loved for many things, including its prized vertical drop at Mansfield peak of more than 4,000 feet.
One of the oldest of Vermont's Ski Resorts, the Stowe ski resort is spread across two mountains, with downtown Stowe having a huge variety of dining and lodging options to accommodate guests.
However, it must be noted that due to tradition and being a classic Vermont ski resort with great skiable terrain, Stowe can get quite crowded and is especially expensive during the ski season.
3. Okemo Mountain Resort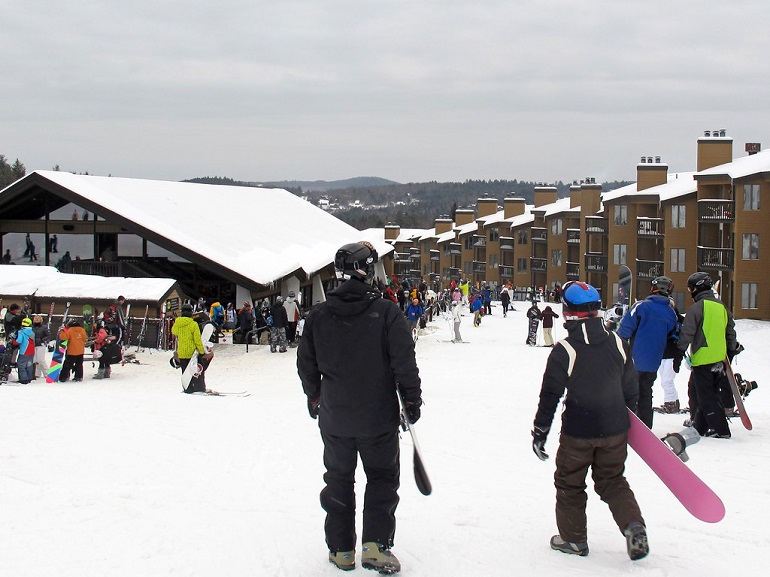 Another one of the best ski resorts located in Southern Vermont, the Okemo Mountain Resort, is known widely as the trendy resort. At Okemo, they not only offer multiple exciting facilities both on and off the slopes of the Green Mountains but also update them regularly.
Skiing in Vermont, especially Southern Vermont, is characterized by picturesque views, amenities like ice skating on lakes, and even tree skiing. Even the quality of snow is known for being high, which keeps customers coming back for more.
At an elevation of more than 2,000 feet, Okemo is not as high up as Killington or Stowe, but holds up well by having over 120 trails fit for all types of skiing. Known as the "Northeast's prime ski "area, Okemo is handled by Vail Resorts, a ski resort management company.
With affordable lift tickets, Okemo is very much a versatile ski resort, with a ski school attached near the resort's periphery, night skiing options, and others.
Some of the off-slope amenities that Okemo Mountain Resort offers include two mountains that are connected using lifts and trails, where the main resort itself has a luxurious facility with high-class dining. There is also an indoor water park, an indoor and outdoor heated pool, a spa facility, and a tubing park.
There is also the Timber Ripper Mountain Coaster, which is a 4,700 feet rollercoaster containing 360-degree loops and many more fun and exciting riding experiences.
Overall, the snowmaking operations in Okemo are top-tier, and it's a very family-friendly place to stay for your next vacation. But, keep in mind all the facilities and amenities combined can add up and be very expensive.
4. Jay Peak Resort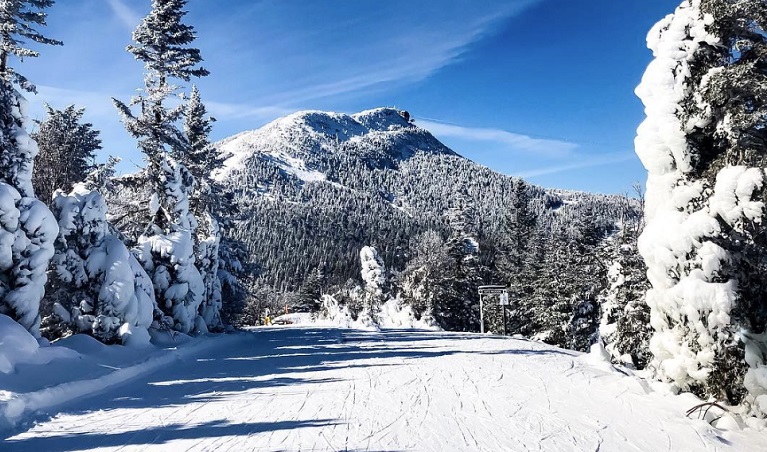 Boasting a long and fruitful winter vacation ski season continuing from November to May, the Jay Peak resort is located right near the Canadian border. Being the Northernmost one of Vermont ski resorts, Jay Peak is a tremendously popular location.
The resort holds a snowmaking capacity of up to 80% and includes over 350 skiable terrain areas. For more experienced skiers, the Jay Peak is a thrill because of the range of backcountry trails available, along with varied cross-country skiing options.
Travelers will be delighted to know the lifts available to carry you up toward the 3,500+ feet peak can allow up to 12,000 tourists and skiers per hour, which means that Jay Peak can get quite lively.
The lodging options at Jay Peak include the homely and cozy mountain resort at the foot of the hill, where dining is available, along with a spa, ice skating, and even a ski school.
Proximity to the Canadian border ensures a multi-level cultural experience with French, Canadian, and American Cultures blending together. So you'll be able to learn more about the US's neighboring country while vacationing in Jay Peak!
The only downside we can think of about Jay Peak is that night skiing is not a thing there, so you'll be pretty bored at night.
5. Sugarbush Resort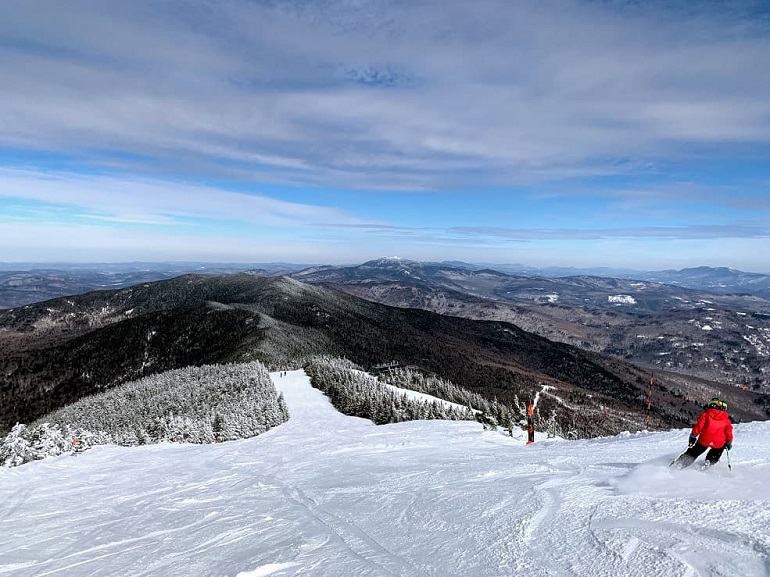 The Sugarbush Resort is also known for having two mountains that are connected using trails, lifts, and upwards of 2,000 acres of ski areas specifically kept for more experienced skiers.
However, that doesn't mean beginner and intermediate skiers cannot enjoy themselves there – they certainly can! This is because the vibe of Sugarbush is unmatched!
Located just north of Killington and south of Stowe, Sugarbush Resort is an ever-popular place to go skiing in Vermont.
Sugarbush boasts the premium facility of having the highest lift in the Green Mountains Range, at around 11,000 feet and 2 miles long. This is an extremely fun and exciting venture that draws people to this particular ski resort.
Lodging and dining at Sugarbush is easy and accessible, as there are diverse options for each, such as at the top or base of Lincoln Peak, which is one of the two mountains connected to Sugarbush.
On Lincoln Peak especially, it is worth noting that all amenities are fully built, like equipment rentals, shops, spas, outdoor heated diners, and so much more.
We would compare Sugarbush to Stowe, with the liveliness and the brightness of the ski area, variety in facilities, and even being slightly cheaper and more family-friendly than Stowe. Both are great options!
6. MOUNT SNOW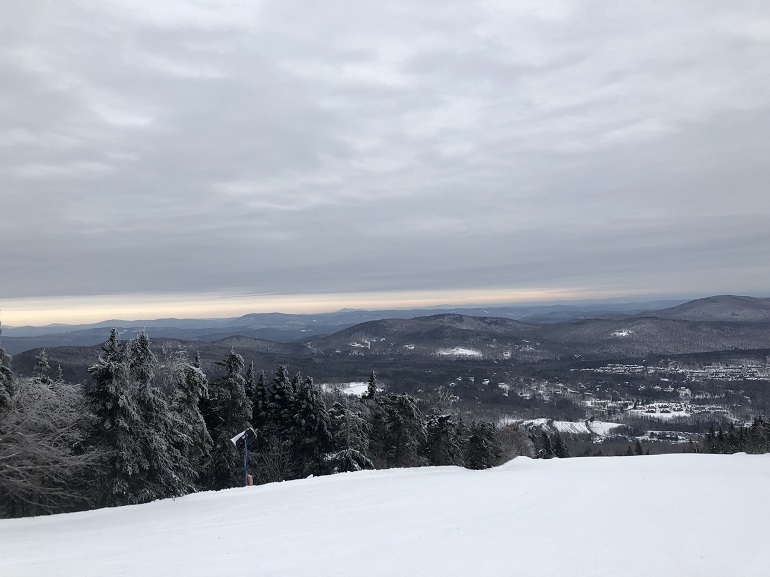 Located in Southern Vermont, the Mount Snow Resort is known far and wide as one of the most popular and visited ski resort in Vermont. Mount Snow boasts glamorously high-class trails and many a terrain park fit for all ability skiers.
With cross-country skiing and backcountry skiing options available, Mount Snow has both expensive and moderately priced resort options equipped with all facilities needed for a successful ski trip.
As the proximity of Mount Snow is quite close to the metropolitan cities of New York and Boston on the East Coast, people find it cost-effective and fun to ski first at Snow and then enjoy a relaxed trip to the big towns.
What we especially like about Mount Snow is its 10 whole terrain parks, all perfect for beginner and intermediate skiers. This Southern Vermont resort enjoys uncrowded slopes but a lively and fun atmosphere. The town of West Dover also lies very close by, so there are no worries about being cut off in case of snowstorms, etc.
As Mount Snow resorts are managed by Vail Resorts, discounted tickets and packages can be availed for your upcoming vacation!
7. Stratton Mountain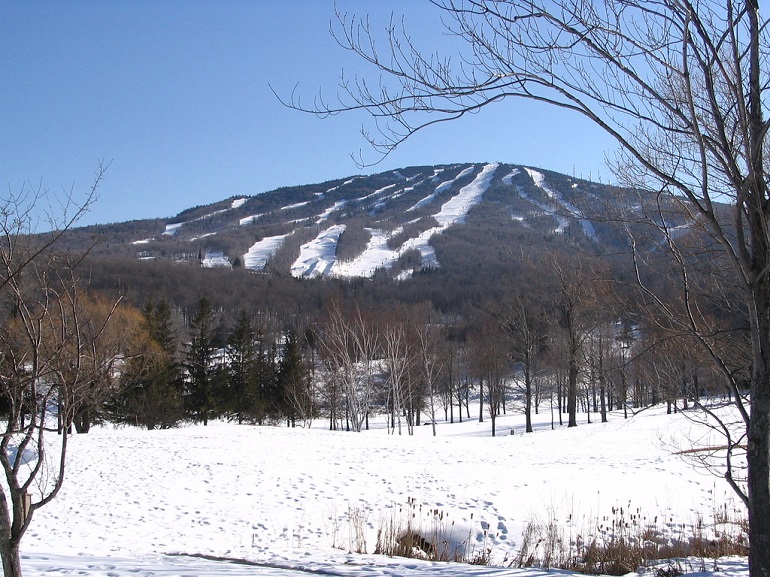 A beloved spot for Eastern skiing, Stratton Mountain is the highest peak of Vermont, at over 3,500+ feet. This explains its exceptional snowmaking record, plus widely acclaimed snowmobile tours, tubing hill activities and much more.
Spread across over 600 acres of ski area, including around 100 trails of the intermediate variety, Stratton Mountain has incredible ski in ski out facilities, and ski-and-stay packages. This means that the resorts here are well equipped to sustain your vacation for multiple day stays.
There are around 11 lifts on Stratton Mountain, all upwards of 2,000 feet, and are gondolas as well as six-passenger rides. This will help in ensuring an entire family gets to travel together to similar spots all at the same time. The town of West Dover is quite close for extra safety and reassurance.
Stratton is a great family-friendly ski resort, with affordable lodging and comfortable dining experiences all around.
8. SMUGGLERS' NOTCH RESORT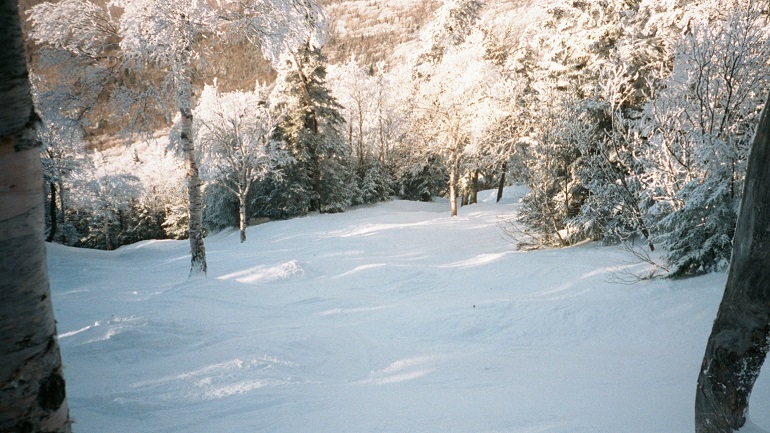 Out of all Vermont Ski Resorts, Smugglers' Notch Resort is known for its beautiful mountain resort views, even though it sits with a relatively smaller area of around 1,000 acres of skiable terrain. This terrain in question is quite diverse though, having tree skiing and a good amount of ski-in and ski-out lodging facilities.
Smugglers' Notch also holds, what we argue is the best value for money out of all Vermont ski resorts. This Northern Vermont resort has a ski area and arguably the finest ski school attached for beginners right near the premises of all resorts.
It is also relatively more relaxed, with a lesser amount of crowding, thus ensuring more activities can be done by you.
Smugglers' Notch offers black and blue trails, which are essentially easy and expert ski trails. These trails are located on mountains known as Sterling Mountain and the Madonna, which both offer a great time.
The only downside of Smugglers' Notch Resort is how far away it is from busy metropolitans in the East Coast, like New York.
9. Mad river glen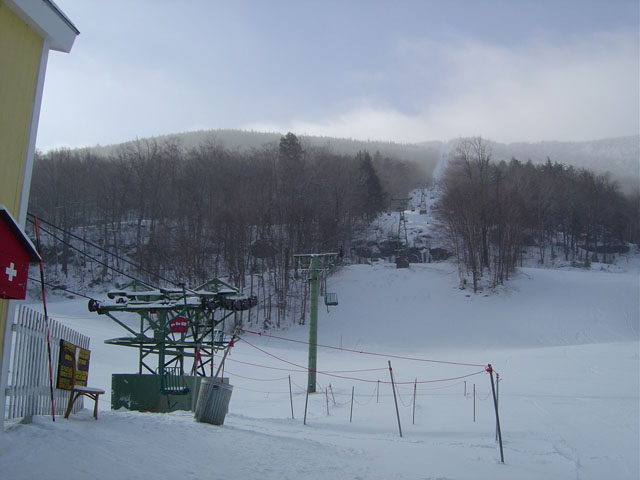 Located at the gorgeous Mad River Valley, the Mad River Glen resort is known for being strictly skiing only. This means no snowboarding is allowed there, which is interesting as ski enthusiasts can go wild with people who share similar vibes in skiing.
Mad River Glen also has a great snowmaking record yearly, producing up to 300 inches of snow. This means snow angels for days!
The West Hill House lodging area is located around 5 miles from Mad River Glen, and this mountain resort is a bed and breakfast at a quiet, completely uncrowded side of the hill.
However, Mad River Glen can be a bit challenging for beginners, as it is quite a steep hilly ski area that is suited for more experienced skiers who like red and black trails.
Their motto, "Ski It If You Can" invites a challenge though, and we think everyone should try it at least once!
10. Bolton valley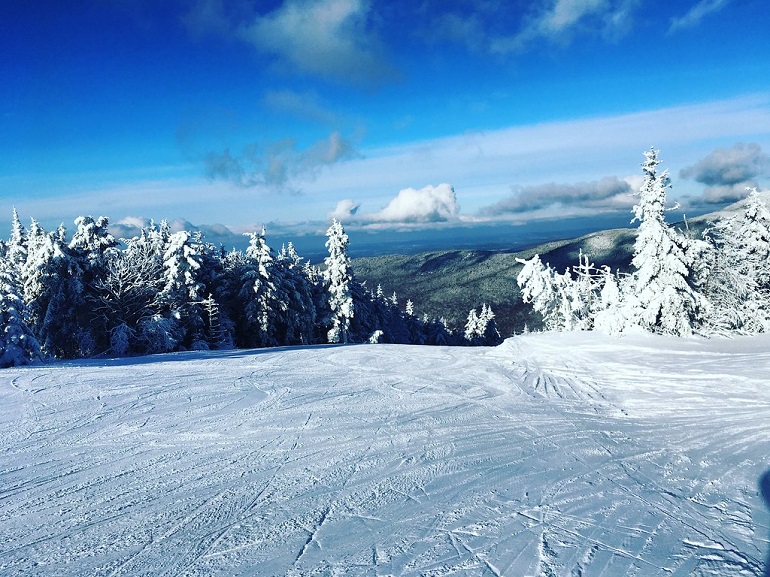 The Bolton Resort at the picturesque and family-friendly Bolton Valley boasts a reputation amongst Vermont ski resorts as being one of the safest ski resorts.
At an elevation of upwards of 2,000 feet, Bolton Valley attracts people all across the US who want to try night skiing. This amenity is offered five days a week every week in this resort!
The child-friendly and welcoming vibe of Bolton Valley assures customers that they will have a great time, and will be safe at all times with their family members on their precious winter trips.
The Lake Champlain is a beautiful and large lake that the Bolton Valley Resorts go around, and it can be viewed while skiing on the Nordic trails of the mountains.
This is a huge attraction for people to visit Bolton. However, as with some of the other resorts on our list, Bolton Valley is one of the pricier options.
11. Burke Mountain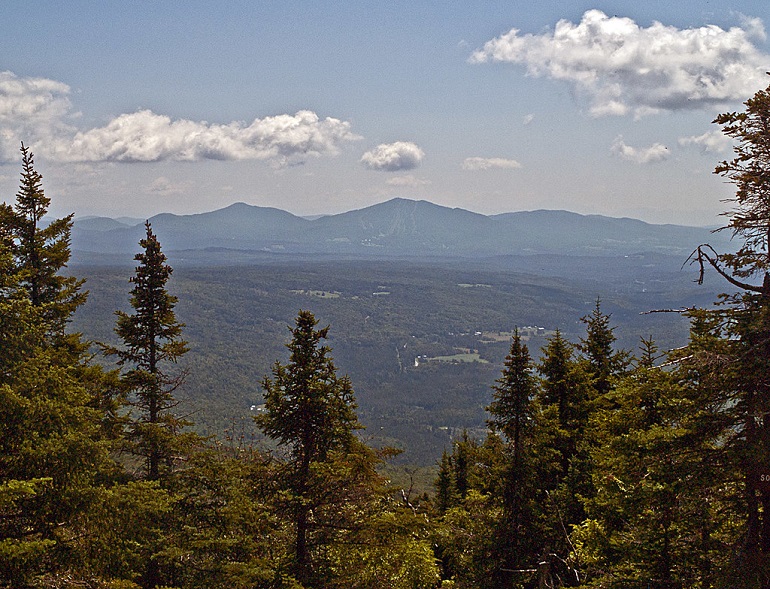 Among Vermont resorts, Burke Mountain is one of the easier options, as the trails here are very beginner friendly. With a developing ski school and opportunities to learn skiing at a climbing gym, Burke features a widely accessible and attractive potential.
Burke Mountain Resorts have a very interesting feature not previously seen in the other options on our list yet – ski racing!
The wide, fast, and varied trails of this Northeast resort hold a long-withstanding tradition of ski racing, both individually, and in family setups!
The Bunny Slope at Burke allows easy learning for first-time skiers. Further, the sheer number of undeveloped forests in Burke allows for tree skiing, and are a nature lover and ski lover's dream combined.
The local restaurants, ski school, and warm people here will make your experience worth it.
12. Bromley Mountain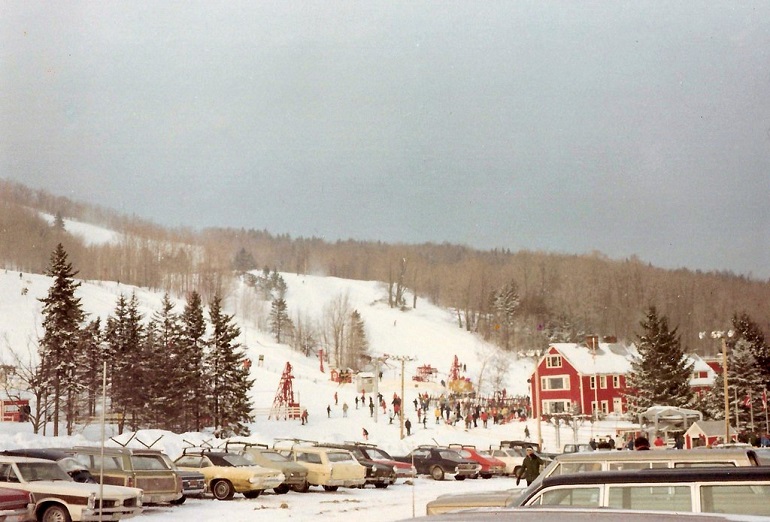 Bromley Mountain is a great option to go skiing if you feel too cold. That's right, as the hills of Bromley are in the South of Vermont, they get a lot more sunshine, so kids can enjoy without feeling like their toes will freeze off. Parents will be more relaxed that way too.
Resorts at Bromley sit at a reasonable height of around 1,300 feet and more. As opposed to Bolton Valley for the night-loving skiers, Bromley's main attraction is day skiing with helpful ski clinics and engaging terrain parks and climbing gyms to help you learn.
There are lots of B&Bs at Bromley, and we recommend it for a budget-friendly option with clean, groomed hills and a fun experience.
Why Go to Vermont Ski Resorts, Anyway?
Vermont is known for its extremely cold temperatures, yes, which is why you'll have to pack up lots of warm clothes and your trusty ski gear for the best skiing experience.
Being on the East coast means that the height and drops of the Green Mountains fall short of the West Coast Rockies, but this Green Mountain State still packs a punch.
Imagine enjoying freshly squeezed out maple syrup from Maple trees, hot tubs and a variety of lodging and dining options, and other year-round facilities and amenities that keep visitors coming back year on year.
The best thing about Vermont resorts is that they are built near gorgeous ski areas like a terrain park and ski schools, just in case you want to refresh your learning and practice of the sport.
Eastern skiing is particularly exciting to winter sports enthusiasts as they can ski in a variety of terrains, from backcountry trails to engaging in a fun vertical drop.
Not to mention, kid-friendly resorts are always fun to enjoy, as an opportunity to enjoy the sport is offered for all skill levels.
Conclusion
The renowned publication "Ski Magazine" named Killington, Mad River Glen and Jay Peak in their best ski resorts in the US list. This just goes to show the amount of praise ski resorts in Vermont have as voted by 5,000 US citizens.
A good balance of diverse terrains, basic town facilities like dining and lodging options, a family-friendly atmosphere, and reasonable prices come together to ensure a great ski trip experience. Consider the options noted in our list for the next ski season.
Who knows – inspiration might strike, and skiing might be on your agenda as a done, dusted. and well-enjoyed activity! Just pack the right gear, make some time to avail the best services, and you'll be good to go!
Related Guide