Michigan is the only state other than New York that pays extra heed to skiing as the main tourist attraction. It has the only ski-flying hill in the country to offer ski jumping on a larger scale.
The ski activities in Michigan are available at much more affordable prices than other leading skiing states. Currently, the state is working on expanding the skiing horizon towards the advanced levels with new ski areas, high peaks, and deep slopes.
No wonder why the gold medalist and skiing champions are from Michigan. Because it is all about skiing and has a variety of ski hills, slopes, and runs to offer enough room for practice.
Most of the resorts offer accommodation as well, so you get to enjoy learning with picnic perks.
Our Top Picks of the Best Ski Resorts in Michigan
There are 40 ski resorts in Michigan, with about 50 terrain parks and more than 1000 ski trails.
We have short-listed and reviewed some of the best Michigan ski resort from those high-end options. You can read and find the suitable option for your next ski trip.
1. Big Snow Resort
Travel time: 5-7 hours
Cost: $20-$65
Operational hours: 8:00 am – 8:00 pm
Big Snow resort offers double the fun at one lift ticket's price. Yes, you can ski down the hills of Indianhead mountain and Blackjack mountain on one pass in Michigan's upper peninsula. There are around 200 inches of natural snow annually.
This ski resort has 400 skiable acres with multiple ski terrains, lifts, conveyors, and magic carpets. They also offer night skiing with lightened-up ski areas on special occasions like New Year'sYear's.
Although the ski slopes are suitable for all skill levels, they have special terrain-based beginner ski and snowboard lessons. So that they can learn and perform the best according to the density of the ski terrains.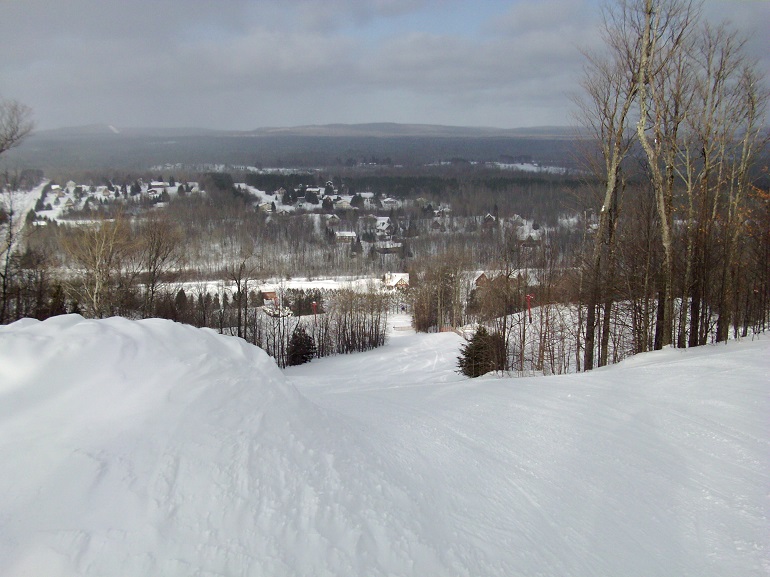 For the non-skiers, there is an indoor pool, snowshoeing, snowmobiling, yoga retreats, hiking, sightseeing, and waterfalls for amusement.
Different chalets, condos, and guest rooms are available for rental at reasonable prices. The Big Snow resort is affordable, with multiple fun and quality services.
2. Crystal Mountain
Travel time: 30 minutes
Cost: $35-$100
Operational hours: 9 am – 4 pm
Crystal Mountain has been on Parent's Magazine's ten best winter resorts for families list, which is a great achievement. There are 58 ski terrains, and half of them are lighted for night skiing. Also, there are 39 holes for golfing, so the non-ski family members can go for a golf trip.
Crystal Mountain is best for new learners or the ones who want to polish their ski skills. Because there are well-guided and professional ski lessons available at Crystal mountain, you can bring your growing kids to enhance their sports skills while on a family trip.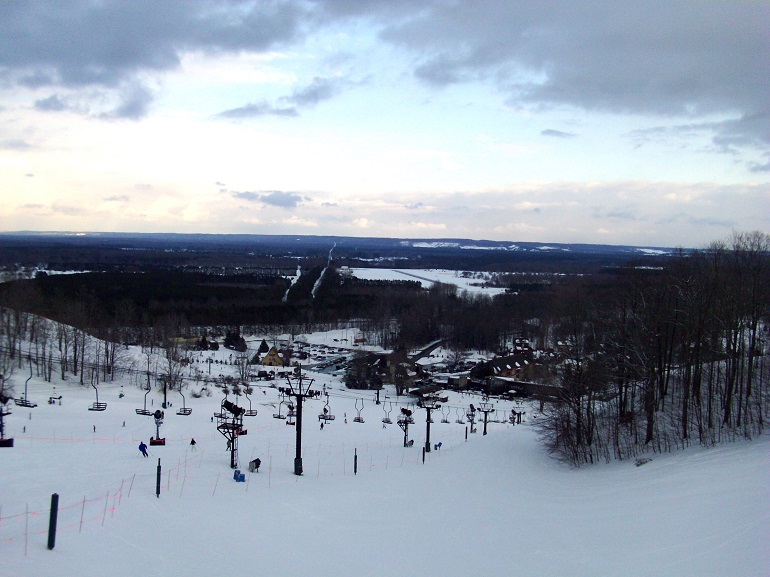 You can enjoy the annual Beer and Brat festival in May for a blasting start to summer. Moreover, the Crystal mountain market has plenty of snacks and drinks options. Also, the Michigan Legacy park at the base level is another tourist attraction with around 50 sculptures.
You can also enjoy snowshoeing, snowmobiling, and snowcat biking at Crystal mountain if you are not much interested in skiing.
Plus, it is one of the nearest ski resorts to Michigan, so you would not need to travel a long way to reach the destination.
3. Ski Brule
Travel time: 6 hours 35 mins
Cost: $15-$70
Operational hours: 9 am – 4 pm
Ski Brule is known for the longest ski season (November-mid April) in Midwest due to its location and extensive snowfall. It is a family-friendly resort that caters to all age and ability groups.
There are 150 acres of skiable terrain with 17 ski trails and 11 chair lifts at Ski brule. Three terrain parks are designated for snowboarding for beginner and intermediate skiers. At the same time, there are wooded trails at Ski Brule for freestyle boarders and advanced skiers.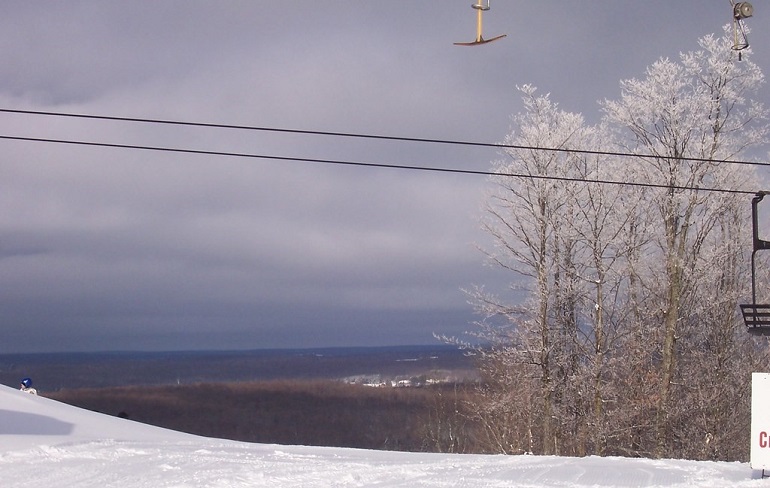 The Homestead snow tubing park at the Ski Brule resort has numerous non-ski activities. Ski Brule village will entertain you with on-site chalets featuring fireplaces, private hot tubs, saunas, and much more.
The best part is that you can visit Ski Brule even in the summer, as it offers fishing, golf, kayaking, and many more fun activities.
4. Otsego Resort
Travel time: 1 hour 40 mins
Cost: $30-$85
Operational hours: 9:00 am – 8:30 pm
Ostego resort has a lot to offer with vintage, aesthetic vibes and a touch of modernity. It has family-friendly ski hills with groomed golf championship holes. It makes it suitable for both winter and summer seasons.
Ostego resort is around Sturgeon River Valley with tribute courses and classic courses offering variety to visitors.
This resort offers skiing, snowboarding, snowtubing, snowshoeing, and much more. The scenic beauty of the place and the aesthetic interior will make you click more selfies than doing the activities.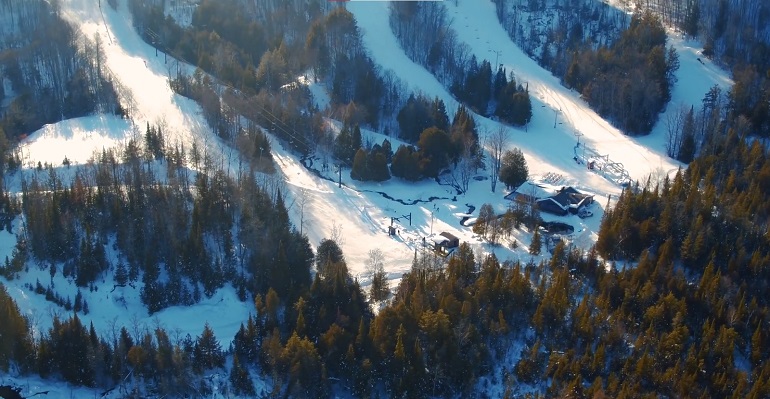 Apart from ski area, there are lodging options, from rooms and condos to suites. Also, you can book spacious rooms and halls for meetings or even family events like weddings or parties amidst the mountains.
5. Mount Bohemia
Travel time: 7 hours 48 mins
Cost: $85-$125
Operational hours: 12 am -11 pm
Mount Bohemia is all set for the expert and advanced skier at Lac La Bella'sBella's shore. It is in the perfect raw form with no structuring. There is no grooming or greens; all you can see is natural snow. It gets nearly 273 inches of annual snow due to the lake effect.
The resort has 585 skiable areas with several black diamond ski slope levels for the pro skiers. Cat skiing is another specialty of Mount Bohemia. Also, it has a moderate to expensive price range depending on your budget.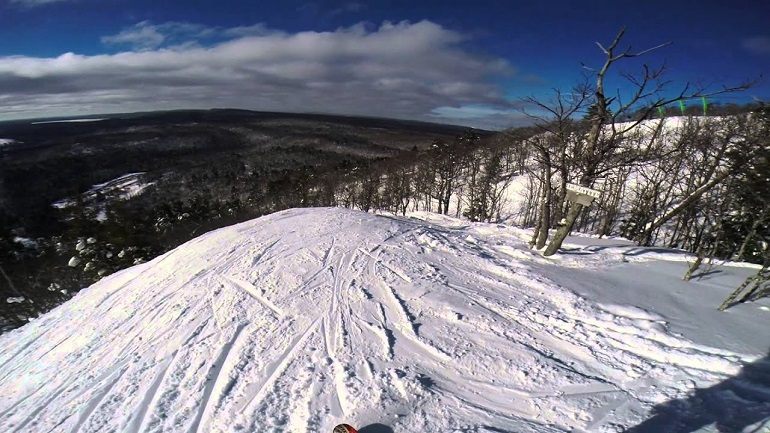 This resort is not all about skiing and snowboarding. You can find various other activities in the off-season. For instance, in warmer months, there are wellness and yoga retreats organized by Mount Bohemia.
The hot and cold thermal pools are another plus for the non-skiers. Mount Bohemia is an underrated ski place for the expert and advanced skiers who think of only Utah or Colorado when they want to challenge their skills.
6. Shanty Creek Resort
Travel time: 1 hour 14 mins
Cost: $385-$430 (super pass)
Operational hours: 9 am – 4 pm
Schuss Mountain and Summit mountain together form the exotic Shanty creek resort. They offer 53 ski trials for beginners and intermediate skiers with some serious and deep advanced trails.
There are three terrain parks, fat tire biking, snow tubing, and groomed trails for cross-country skiing. Season passes, ski and stay packages and some discounted tickets are available at the start of the ski season.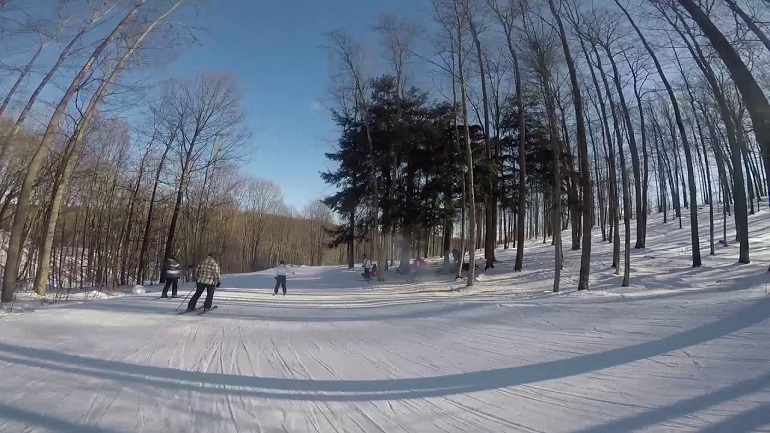 There is enough to explore around Shanty Creek. Caribbean clear waters are good for a summer trip. While the top golf swing suites are ideal for winter private rent outs. The resort and lodges are pet-friendly, so you need not leave your puppy or dog alone at home.
Shanty Creek resort also has enough fun activities like dog sledding and snowshoeing. Different ski races are also organized yearly, so if you feel competitive enough, you must ski in the race.
This resort is a great deal for passionate skiers around Michigan. They can enjoy a variety of snow sports at reasonable prices and lesser distances.
7. Caberfae Peaks
Travel time: 12 mins
Cost: $29-$39
Operational hours: 10 am – 9 pm
Caberfae is blessed with the lake effect snow in the neighborhood of Cadillac city. It averages 140 inches of snow along with fluffy dry powder for an exciting ski ride. Also, it has the least travel time, so you would not be tired after an instant ski session.
There is an area of 200 acres with 34 ski trails and conveying lifts. Few of the ski slopes are for night skiing.
Most of the runs are for beginner and intermediate skiers. However, a few black diamonds at Caberfae are equally suitable for intermediate skiers.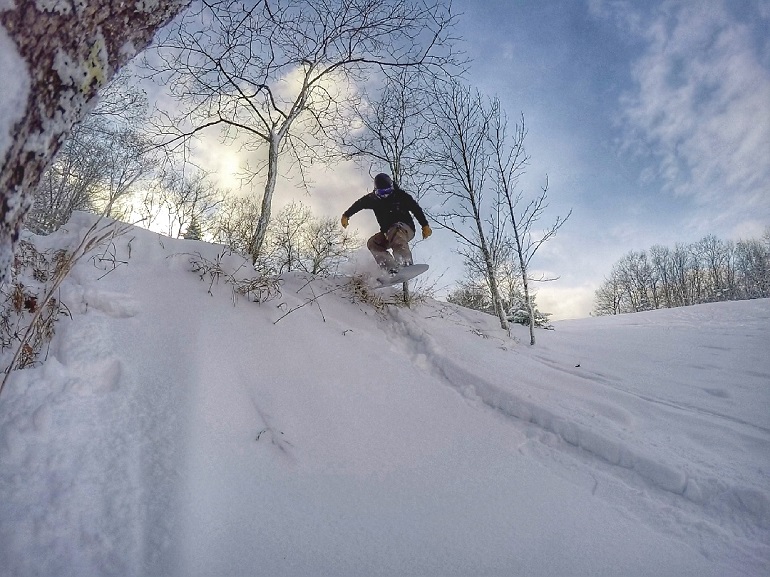 There is a snowsports school that offers group and individual ski lessons. Also, there is an affordable dining option, i.e., The Blackmer lodge, where you can enjoy tempting neals near a fireplace.
The summer visitors can have fun at the nine-hole golf course. Moreover, the slopeside 39-room lodge is the best deal if you want a staycation. It has comfy rooms with heated outdoor pools, hot tubs, and fire pits.
8. Big Powderhorn Mountain Resort
Travel time: 7 hours 40 mins
Cost: $72-$89
Operational hours: 9 am – 4 pm
The Big Powderhorn mountain resort is popular among all ability-level skiers. It has something to offer to every skier. There are 250 skiable acres with 45 ski runs and nine double chairlifts.
There are bunny hills for beginner and intermediate skiers. At the same time, black diamonds, like cannonballs, are for advanced and expert skiers.
Caribou Lodge is the baby project of Big Powderhorn mountain resort along the slope side. Booking a night stay will get complimentary services like a sauna and a private pool.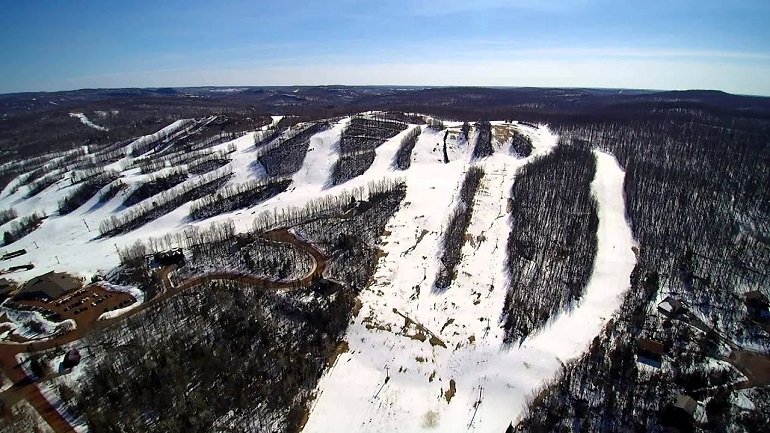 Moreover, you can devour some delicious meals like hot sandwiches, oven-fresh loaves of bread, all kinds of pasta, and much more at the same place after an exciting ski session.
Accommodation and food are relatively inexpensive at this resort. Also, the ticket prices are budget-friendly. So you can have a good trip in Michigan's ski resort without being harsh on your wallet.
9. Marquette Mountain
Travel time: 5 hours 15 mins
Cost: $72-$183
Operational hours: 10 am – 5 pm
If you are looking for an ever-young resort, Marquette is the right place. It is a four-season resort with enchanting lake views.
One of the unique attractions of this resort is the artistic illustrations, i.e., giant sculptures of the Guardian of the hill. These are constructed with old railroad parts.
The total area of Marquette Mountain resort is 170 acres, with 25 ski runs and four lifts. Most of the ski runs are lit for night skiing throughout the week.

Whereas if you plan a summer trip, the bike park will serve you the best. While in winter activities you can go kayak riding or hiking. You can find numerous hotels and motels for refreshments and snacks. The T-Bar is the most famous of all.
You can have your meal and relax with scenic beauty. Unfortunately, you can find no lodging options at the resort. So you will have to look in the nearby towns or villages.
10. PINE MOUNTAIN RESORT
Travel time: 5 hours 54 mins
Cost: $136-$200
Operational hours: 10 am – 8 pm
Pine mountain offers the most competitive 18 holes championship golf area and the tallest manufactured ski jump in northern Michigan.
Apart from skiing, you can experience snowmobiling around Iron mountain on 120 miles long trail. There are 30 ski trails and a terrain park, and night skiing is entertaining with lit-up ski runs.
While in the summer, you can visit the resort for fishing, climbing, rafting, and paintball activities.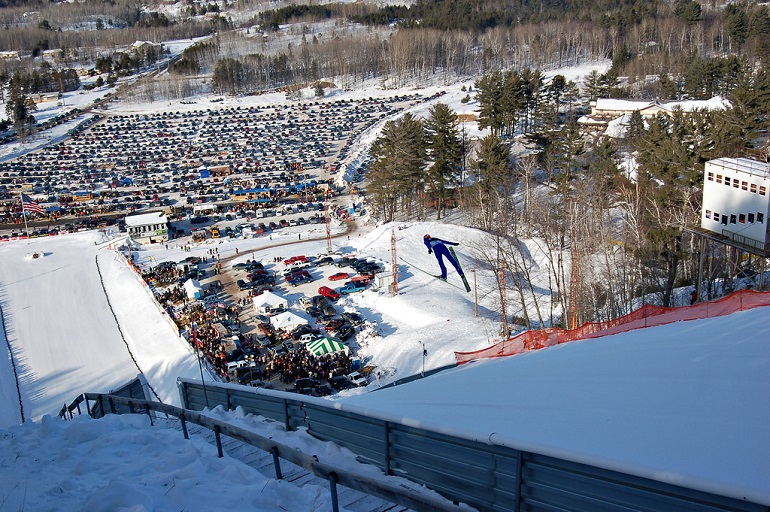 Moreover, there is a special adaptive program at Pine Mountain that offers ski lessons and guided instruction to differently-abled people. For accommodation, you can go for trailside condos at Cedar Haus or book a room at the "Lodge at Pine Mountain" for a cozy and comfortable overnight stay.
If you want a longer stay, you can rent private amenities or go to nearby towns or villages to expand your visiting area and experience.
11. Treetops Resort
Travel time: 1 hour 45 mins
Cost: $79-$129
Operational hours: 7.30 am – 6 pm
Treetops resort has some hidden talent of being convertible. Yes, this resort is a golf court and turns into a ski resort with a drop in temperature. Treetops is a ski and golf resort. You can experience powder tubing, sleigh rides, dog-sledding, and whatnot.
It is always a great idea to plan a family trip where the kids ski for free. Also, the slopes and ski runs are designed for all skill levels, and the newbies can learn well.

The signature event at treetops is the Skiable feast, where cross-country skiing is combined with refreshments, beverages, and food stations. You can ski down the hill at your pace and make stops for food or rest whenever you want.
The resort offers season passes or feast packages with tickets and overnight stays. Condos, cottages, and the treetops lodge have comfy services like indoor/outdoor pools and spas for deep relaxation after a tiring ski session.
12. Nub'sNub's Nob Ski Resort
Travel time: 2 hours
Cost: $72-$105
Operational hours: 8 am – 5 pm
Nub'sNub's nob holds numerous national awards for snowmaking, atmosphere, maintenance, and terrain park. In the area of 248 acres, there are 53 skiable terrains along with eight chairlifts. Most of the ski area is suitable for beginners.
However, there are nine special ski trails for advanced skiers with challenging bumps and humps. These serious curves and runs have been featured and praised in NM3, Transworld snowboarding, and numerous outside magazines.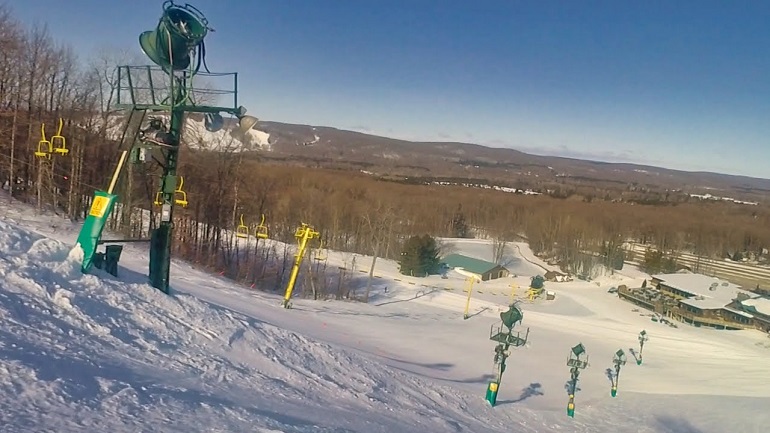 Children under eight can ski for free. While there is a ski academy that offers weekly lessons to children aged 5-15. So you can take your kids to learn a new skill from the professionals.
For accommodation, you will have to look for nearby resorts or lodges as there is no in-house accommodation available at Nub'sNub's Nob. Boyne mountain resort is just 15 miles distance, and you can find good condos and lodging amenities there.
13. Boyne Mountain Resort
Travel time: 1 hour 40 minutes
Cost: $95-$150
Operational hours: 9 am – 4.30 pm
There are 415 acres of skiable terrain at Boyne mountain. Sixty ski runs, 12 chairlifts, and numerous terrain parks occupy the total area of the resort. The ski slopes at Boyne mountain are designed for all beginners, intermediates, and expert skiers so everyone can enjoy themselves with a smile.
There are 35km of cross-country or Nordic skiing and snowshoeing for the skiers to pave their way. Another earning source of Boyne mountain resort is the Snowsports academy, where numerous skiers take lessons.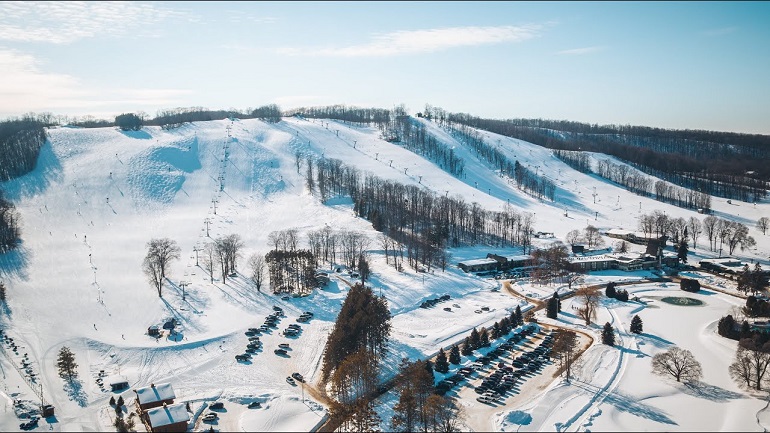 Avalanche Bay indoor waterpark is a great attraction at Boyne mountain for families especially. There are four pools and seven slides to entertain kids and adults who are not into skiing and snow sports.
Other than this, you can go on ski bikes as well. With renovations and upgradation, you will experience zip lining, ice skating, and much more.
However, the accommodation and shops at Boyne mountain may seem overpriced, but overall it is a worthwhile experience at Boyne mountain.
14. The Homestead
Travel time: 1 hour
Cost: $134-$235
Operational hours: 5 am – 11 pm
The Homestead has a beach-facing front with multiple lodging options. Its location is graded as No.1 among all the best beaches by Money magazine.
Apart from the ski area during winter, you can enjoy a golf course, tennis courts, hot tubs, skating, and snowshoeing. Also, the beach spa and salon services are a big attraction, especially for the ladies.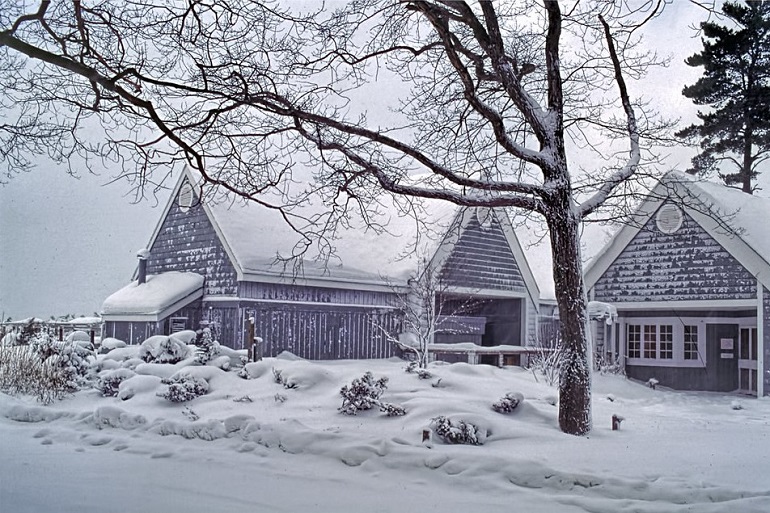 Regarding accommodation and lodging, Homestead has the best and most diversified options. You can book hotel rooms, villas, suites, or even homes with seasonal packages. Hence you can plan a relaxing getaway on a moderate budget with multiple offered services.
The plus point is you can visit this resort even in summer to sunbathe along the beach. Enjoy surfing, swimming, boating, and other fun beach activities.
Conclusion
Michigan is not less than any other tourist destination. It has numerous amusement locations and resorts. The ski resorts in Michigan stand out due to their unique features, slopes, and, most importantly, quality services.
Hence, if you are residing or visiting Michigan, you need to plan your visit to the famous and top Michigan ski resorts for a fun-filled trip in the mountains during the ski season.
Related Guide: