New York is famous for its urban madness, but it is not the only thing it has to offer. You might not believe it, but New York state has the most amazing snow sports areas with popular ski resorts in its surrounding mountains.
According to recent numbers, there are 50 ski and snowboarding areas around New York, like Catskill mountains, Finger lakes region, Adirondacks, Malone, Cortland, Clymer, etc.
You can plan a friends' trip, a family get-together, or even a solo trip in the snowy mountains where you can enjoy snow tubing, snowshoeing, bobsledding, and cross-country skiing.
Best Ski Resorts in New York
Skiing can be a great getaway from the busy life of New York city. The best part is that you can find numerous ski destinations for day and night skiing around New York within a few hours' drive.
Following are the top picks for ski resorts in New York.
1. Gore Mountain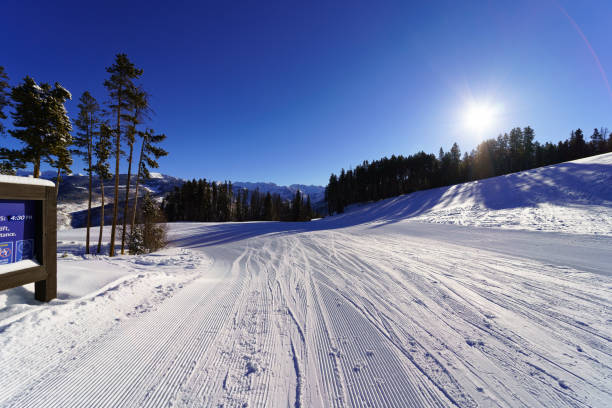 Location: Adirondack mountains travel time: 3 hr. 53 min
Timings: 8.30 am – 3.30 pm
Season: November 25, 2022 – April 9, 2023
Cost: $50- $110
Gore mountain is among the old monks of New York's ski resort. It has been operational for the last 80 years. It has a ski area of 446 acres with 119 skiable terrain and 14 lifts, a gondola, and high speed quad chairs.
Gore mountain has 40 percent black diamond runs for the experts while only 10 percent for beginners. Thus, making it the biggest ski resort best suited for thrill seekers.
The technical upgrading in the Gore mountain is making it better with time. The fixed grip quad has taken the place of double chairs while a conveyor replaces the Sunway chair.
Moreover, a snowmaking pumping system is implanted to have a long ski season with a continuous snow supply throughout the season.
To make downhill skiing more fun and easy, they have widened the beginners' ski trails, creating more room for turns and twists. After ski sessions, one cannot control the hunger pangs till going back to town. Therefore, Gore mountain has six different on-mountain dining options with amazing views and some takeaway options.
Accommodation is also not very expensive. For instance, 'The Alpine Lodge' provides a cozy room with all the winter necessities like fire pits, hot water, etc., so your vacation at Gore mountain will not be much heavy on your pocket.
2. Whiteface Mountain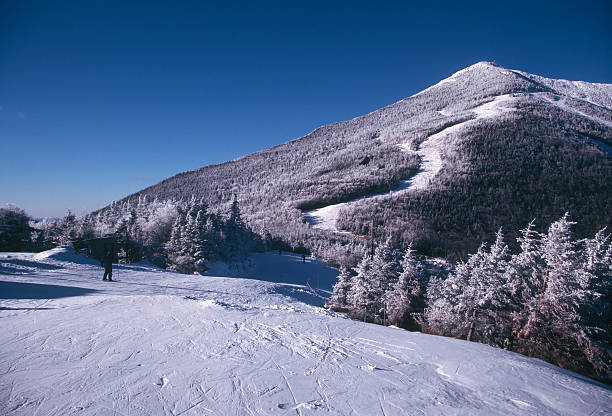 Location: Adirondack Mountains
Travel time: 4 hr. 40 min
Timings: 8.30 am – 5.30 pm
Season: November 25, 2022 – April 9, 2023
Cost: $50- $240 per day
Whiteface Mountain is your go-to place if you are fond of winters and snow. This ski area has 98% snow coverage throughout the season. There are 87 runs with 11 chairlifts to quickly get you on the top.
The ski trails' layout is perfectly designed for advanced skiers. However, 20 percent of the trails are for beginners, while intermediate skiers were not considered in the layout.
The Wilmington trail is yet another eye-catching feature of this resort. It is a 2.1-mile-long running trail which is the longest in the Northeast. This would be perfect for soul athletics and gym freaks who want to complete their daily steps by all means.
The freestylers will love this great destination as there are three terrain parks to showcase their skills. The resort's infrastructure is also being modified to accommodate the moving trends.
Significantly, the vast windows of the building give you an uninterrupted scenic view of the white mountains and skiers gushing and flying in the snow. The interior of the building includes restaurants and gear shops as well.
Unfortunately, whiteface mountain does not have a base area, so they do not have any accommodation options yet.
However, you can still plan your stay at Lake Placid, just a 20-minute ride from the Whiteface mountain ski resort. This town has fantastic dining, shopping, and lodging options to enjoy on a cozy evening.
3. Holiday Valley Ski Resort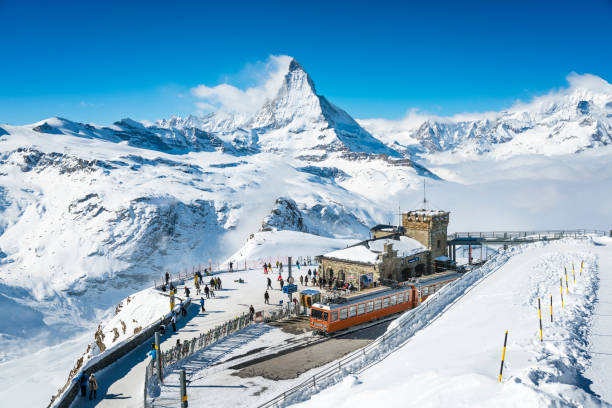 Location: Ellicottville
Travel time: 5 hr. 45 min
Timings: 8.30 am – 10 pm
Season: November 25, 2022 – April 9, 2023
Cost: $55- $90 per day
The small ski area of 290 acres will not disappoint you, as Holiday valley has a lot to offer. It has modern lifts, lodging, and much more. The geographical position of this resort benefits its soil, getting more natural snow and a lakeside effect. So, get ready to have a powder day which is knee-deep, at Holiday valley.
The Holiday Valley ski areas have varied terrain. Instead, the varieties fold into to create charm. You will get straight and less risky ski slopes for beginners while the steep slopes and twists await the experts.
The high-speed quad chairlift is a pain reliever for most skiers, especially those with huge backpacks and heavy ski gear. Wearing the best ski jacket is definitely essential while up on the snow spreads.
One major attraction at this family-friendly ski resort is a free lift ticket for children under 6, making it perfect for a family trip. The ski school and the professional instructors have gained praise through word of mouth.
Also, off the slope activities like tubing, snowshoeing, mountain coaster, etc., provide you with plenty of fun activity options during your trip to Holiday Valley.
Ski-in and ski-out accommodation is best available at 'Inn' at Holiday mountain. Apart from this, you can find other lodging options in Ellicottville town nearby Holiday valley at reasonable prices.
There are neighboring markets, cafes, rental equipment, and ski gear shops where you can also buy the best ski gloves or helmets, etc., in case you missed bringing them.
4. Windham Mountain
Location: Windham, Catskills
Travel time: 2 hr. 30 min
Timings: 8 am- 4 pm
Season: November 19, 2022 – April 3, 2023
Cost: $35-$75 per day
Windham Mountain has a ski area of 754 acres, where you get 54 ski runs with a vertical drop of 1900 feet. Catskills mountain is said to be the nearest location for New York ski resorts, perfect for a mountain escape, a day trip, or even a weekend staycation and night skiing sessions.
It is the most popular snowboarding spot among all skiers. Here you can find six terrain parks with all the crazy jumps, humps, twists, and slopes to experience the dare.
The owners of Windham mountain are rapidly investing in the renovation and modification of the resort. Recently they have replaced the old chair lifts with new, improvised and swift ones.
Also, advanced snowmaking machines have been installed to ensure you have enough snow supply throughout the ski season. The base area is addressed; instead, they have updated the lodging and dining areas.
Regarding trails, there are designated areas for all ability levels, so everyone will leave the resort smiling. Apart from a terrain park, there are adventure park, tubing, ice skating, snowmobiling, nordic skiing, and whatnot. It can be a perfect package for a family trip.
Also, it comes at a budget-friendly price which you can always modify or increase with the number of facilities or services.
There are numerous lodging and rental options available at affordable prices. For instance, you can book your room at Winwood Inn, Condos at Windham mountain, and many more new rental places.
5. Hunter Mountain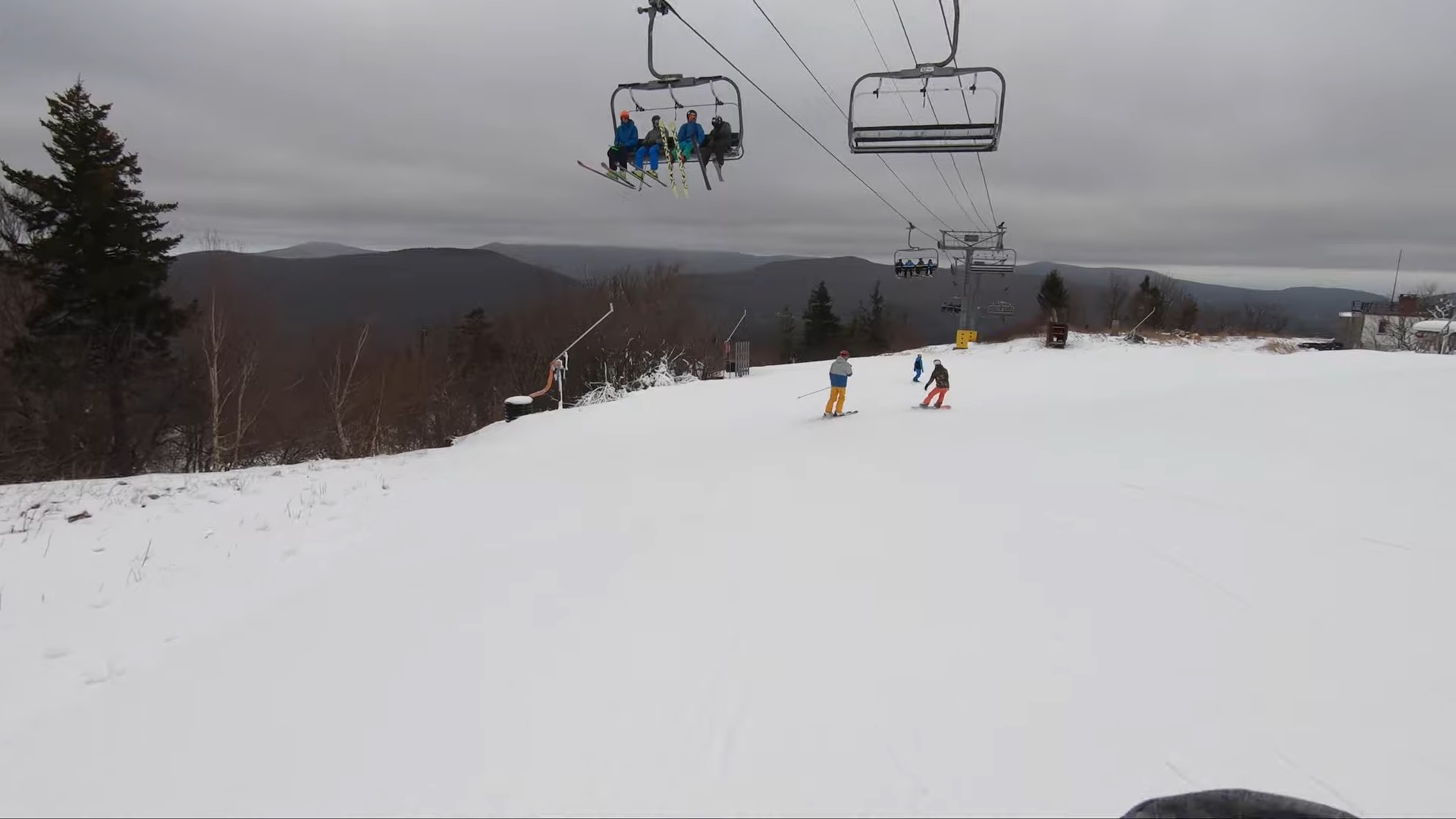 Location: Northern Catskills
Travel time: 2 hr. 20 min
Timings: 9 am – 4 pm
Season: November 18, 2022 – April 10, 2023
Cost: $75 – $99 per day
Hunter Mountain is the hub for the party crowd and the weekend skiers. This is a go-to place for the friend's group to have a fun and exciting weekend amidst the scenic beauty of nature.
This resort is spread over four mountains, with 15 percent of the ski trails for expert and experienced skiers. The rest of the skiable terrains are for all first-time skiers and intermediates.
There are four terrain parks and 13 lifts to get you on the top of Hunter Mountain for snow sports. Moreover, there are activities like snow tubing park and guided ice climbing.
Ironically, the most exciting activity at Hunter mountain is the Mountain Club spa. After a tiring ski session or hill climbing, you can relax in the mountains, surrounded by white snow.
The best part about the staycation at Hunter mountain will be the dual perk as you will have to stay at a nearby town connecting two ski resorts, i.e., Hunter Mountain and Windham Mountain. So you can plan a ski trip to both resorts on alternate days.
Although the price range o this resort is still moderate, you can save some more bucks by using an EPIC pass supported by Hunter mountain.
6. Belleayre Mountain Ski Center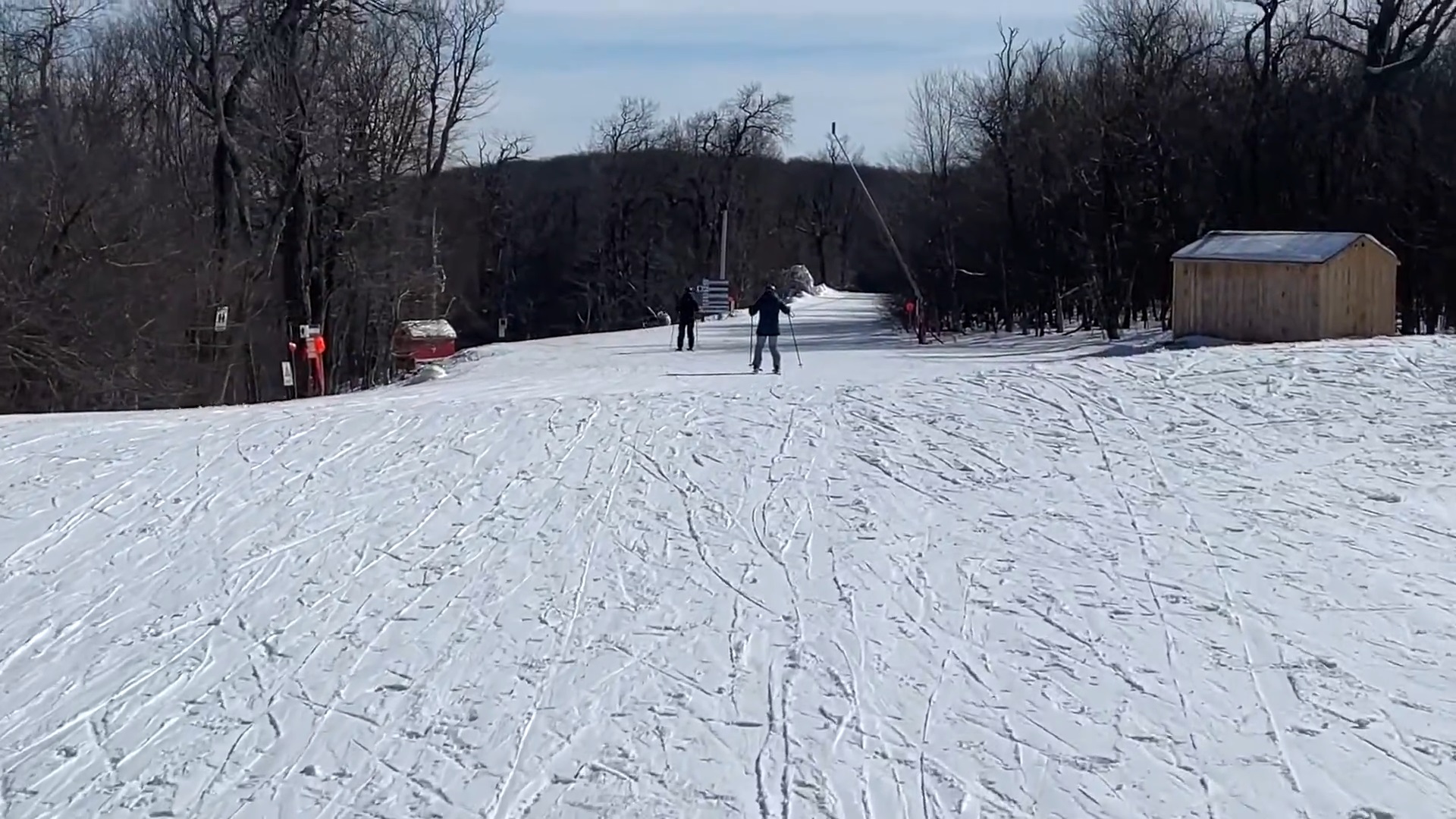 Location: Catskill Mountains
Travel time: 2hr. 22 min
Timings: 8 am – 4 pm
Season: November 26, 2022 – April 10, 2023
Cost: $60- $100 per day
In the heart of Catskill mountain lies the beautiful Belleayre mountain ski center. It has an area of 175 acres with 64 trails. The skiable terrains are designed to incorporate all types of skiers, but primarily the newbies are focused. The snow coverage is more than decent at this ski center.
The best part of Belleayre mountain is the first-class ski instructors at the built-in snow sports school. So you can bring in your kids, and even if you are naïve to skiing, you can learn very efficiently. The slopes and runs are designed while keeping the learning element in mind.
You will find the gondola ride the most interesting if your kids accompany you on the ski trip. It will not only take you off the top but keep you warm from the cold breezes outside. Besides this, 6 miles long terrain for those who prefer cross-country ski riding is also available and accessible.
Overall, the resort is not expensive but can be a reasonable, budget-friendly option.
Accommodation is not a problem at Belleayre ski center because there is plenty of lodging option around and at the resort. You can enjoy the exquisite nature and aura of the villages while moving up to the resort from your hotel. Private rental places, hotels, and well-known international chains like bed-and-breakfast inns exist.
7. Bristol Mountain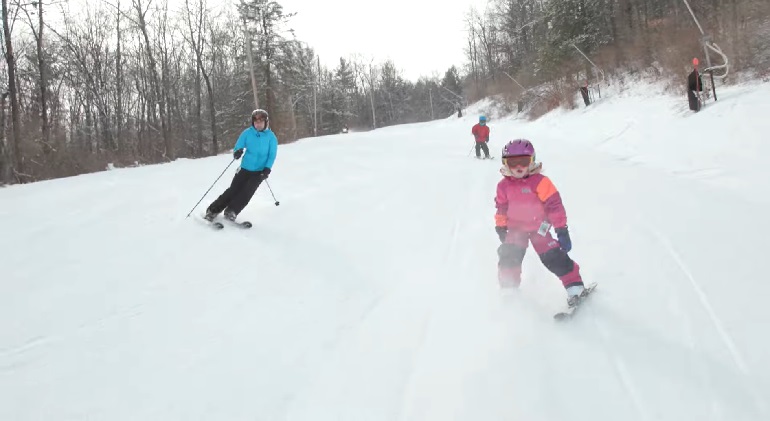 Location: Finger Lakes
Travel time: 3hr. 20 min
Timings: 9 am – 9 pm
Season: December 10, 2022 – April 9, 2023
Cost: $60- $89 per day
1200 ft of vertical drop is the biggest among the mountains in the region. Also, Bristol mountain has the most extensive run of two miles. For cross-country skiing, there are two miles with long and wide cruisers.
Bristol resort has 138 acres with installed snowmaking systems. There are 39 skiable trails, with two quad chairlifts being the focal attraction for Bristol tourists. The terrains are suitable for all beginners and intermediates. At the same time, an advanced skier can also explore Morning Star race park for the X-factor.
The base area of Bristol mountain resort is one of the attractive features. It has a ski school where you can take group or individual lessons to polish your skill. Also, there are multiple tempting dining options to satisfy your cravings.
Based on the activities and facilities at Bristol mountain resort, the cost is not much expensive.
Regarding staycation, we recommend you can stay in the local area with authentic, aesthetic, and traditional vibes. You can opt for lodges, townhouses, or other rental places in the base area. In this way, you can enjoy ski-in and ski-out.
8. Titus Mountain Family Ski Center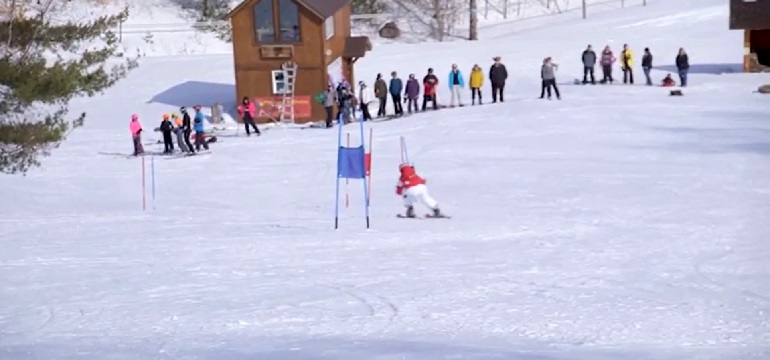 Location: Malone
Travel time: 5 hr. 47 min
Timings: 10 am – 4.30 pm
Season: December 2022 – March 2023
Cost: $35-$50 per day
As the name of the resort indicates, it is the best place for families vacation, and that too at affordable prices. You will not find any other resort with lower quotes than Titus mountain family ski center.
It is not much crowded, and you will not have to face long lift lines for great skiing. There are 54 trails for all types of skilled people.
The Forever Wild region is for expert skiers who like to have a rough and tough skiing experience. There is no grooming in this area; the piles of snow are dumped naturally, and you can mold your way with your skills.
Snowtubing is most popular among kids and is the main fun activity at Titus mountain. Also, the Moon valley terrain parks are there to serve the freestyle snowboarders. Moreover, you can use the Indy pass if you have one, as Titus mountain is part of the Indy pass program.
For a staycation, you can avail the 'ski and stay' package at the suite Malone or Holiday Inn express. Thus, every feature made Titus Mountain the most affordable family ski center without compromising on the quality of services.
9. Greek Peak Mountain Resort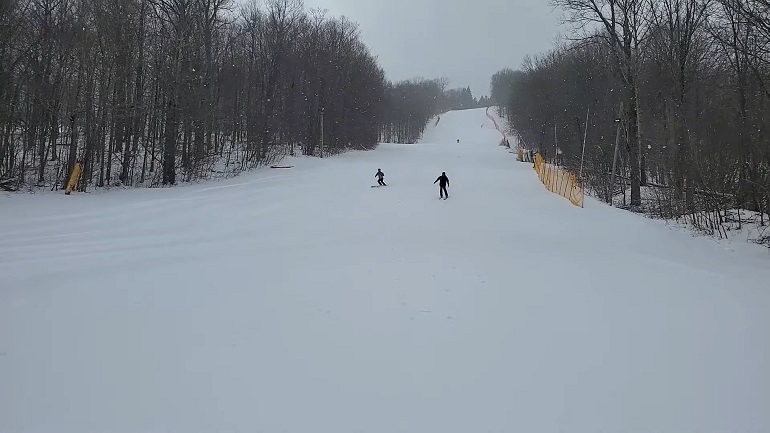 Location: Cortland
Travel time: 3 hr. 30 min
Timings: 9.30 am – 9 pm
Season: November 25, 2022 – April 9, 2023
Cost: $75-$100 per day
Greek peak mountain has an area of 220 acres with 56 skiable trails that focus on beginners. However, for the ones who like to play hard, there are four terrain parks with all crazy jumps, humps, splits and slopes, slides, and spins.
The presence of a rental shop at the Greek peak mountain resort is a great relief and an essential factor in creating ease for the skiers. You will not have to bring the heavy baggage of ski gear from home; instead, you can rent out the ski gloves, jackets, goggles, etc.
If you are a first-time skier, you can read our gear guides, best ski helmets, best ski goggles, and more to get a clear idea of what to rent or buy for the first ski trip.
Greek peak mountain is attached to the Hope lake lodge, where you can find different amusement activities. The main attraction of the resort is the indoor water park. Yes, you read it right, you can have water sports even in the winter season.
You get a waterfall, wave pools, a hot tub, an arcade, and swimming pools with 84 degrees temperatures.
The Indy pass program is supported at Greek peak mountain. The ticket costs and services offered are justified, and it can be an excellent family-oriented resort for a monthly or even an annual vacation.
10. Peek's Peak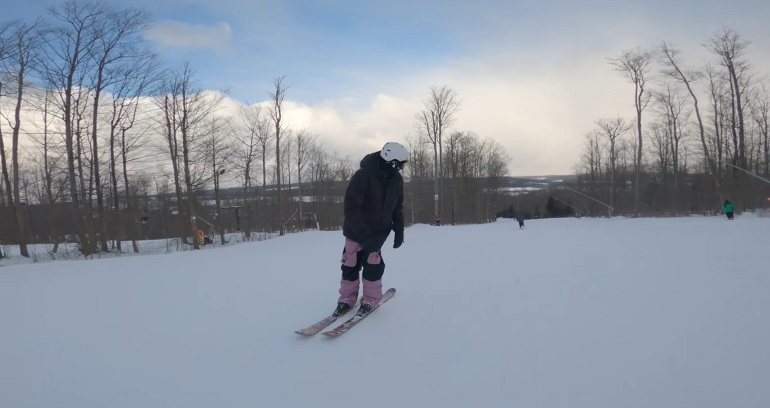 Location: Chautauqua, Clymer
Travel time: 6 hr. 42 min
Timings: 8.30 am – 10 pm
Season: December 2022 – March 2023
Cost: $49-$71 per day
Peek'n Peak ski resort has the region's lowest vertical drop of 400. It has an area of 160 acres and has a significant lake effect alongside Lake Erie. There are 26 skiable runs and five terrain parks. Apart from these, the tubing parks are there for those not into skiing. Plus, the blaring music adds to the charm of snow tubing.
At the base of the Peek'n Peak resort, there are plenty of lodging options along with some dining or grab-and-go facilities. The rental places, hotels, and condos are at the base lodges and nearby town or village, where you can experience the mountain town atmosphere, vibe, and originality.
This resort's most attractive and enchanting feature is the indoor pool and play zone. Your family, especially kids, would want to take advantage of the indoor pool. Sports courts and even some outdoor hot tubs.
Thus, you can enjoy many fun activities at Peek'n Peak at a reasonable price. So why not plan a Christmas trip this year?
Conclusion
There is indeed more to New York identity than the busy and urban life it manifests. There is a hidden treasure of New York ski resorts.
You can choose the resort according to the requirements and facilities you want. You will truly a family trip to any of these top-rated resorts in New York.
Related Guide:
.