Montana: The big sky state represents what it is named. You get to witness the beauty and serenity from the top of the high-peak mountains. The quantity of natural snow is tremendous, and the ski terrains are wide open to provide ample space for everyone.
However, the ski resorts in Montana are quite underrated and do not get much limelight. But, the plus point is that there is less crowding, and the prices are cheaper as compared to other leading ski states.
Western Montana has the most number of ski resorts, while you can still find some nice places to go skiing in Montana in the southern state.
You can find big names like Whitefish mountain resort, Lost Trail powder mountain, Great Divide, Blacktail Mountain ski area, Lookout Pass ski area, and Big Sky resort to the family-owned Bridger Bowl.
Our Top Picks of the Best Ski Resorts in Montana
You must be wondering how many ski resorts are there in Montana. Well, there are 14 ski areas in Montana in total around Wyoming border, Flathead lake, Whitefish lake, northern Rockies, western, southern and central Montana.
All of them are modernized, upgraded, and commercialized for the amusement and comfort of skiers and snowboarders.
It gets hard to select a single winner as the best ski resort in Montana because every other resort is competent enough to beat the first place for skiing in Montana.
For this reason, we are here with the best ski resorts in Montana, with detailed reviews to help you plan your ski trip in a better way.
1. Big Sky Resort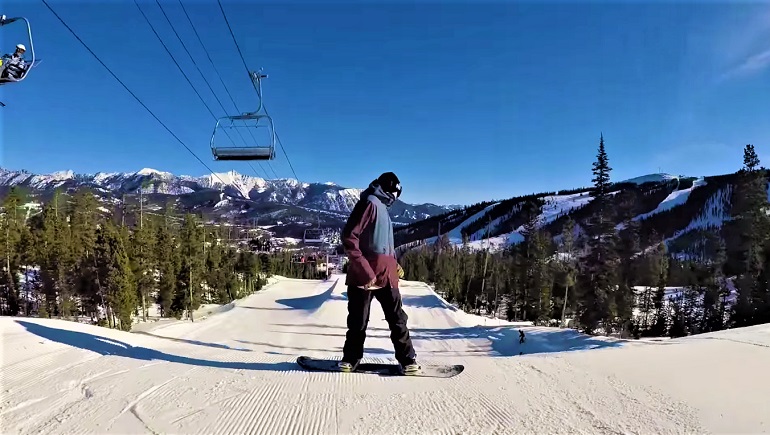 Location: Rocky mountain slopes
Operating hours: 9 am – 4 pm
Cost: $65-$222 per day
Travel time: 4 hours 16 mins
Ski season: November 2022- April 2023
Big sky resort offers the biggest skiing in America, with 5800 skiable acres with seemingly endless terrain located near Bozeman and Yellowstone National park. There are 39 surface lifts to facilitate the skiers and snowboarders.
The number of lifts and high speed of the conveyors result in little to no lift lines or crowds, so it will take less time to reach the ski areas. These lifts are among the most technologically advanced chair lifts with 1200 feet elevation.
The huge area at Big Sky resort requires you to visit it during multiple seasons to cover and explore. Big sky has a big heart, and it has something for all.
The beginners have separate tracks and slopes, while the intermediate and expert skiers can board to test their skills on challenging terrain at this resort.
Lone mountain peak tram is one of the attractions of the Big Sky resort. You can take the Lone peak tram for sightseeing and enjoy the 300 acres of skiable terrain. It covers a few of the Black Diamond routes as well. Also, the down rides take you to the tram, so you need not ski to reach the tram area.
Live music events, adventure zipline, dogsledding, sleigh rides and many more nonskiing activities are there at the base area.
You can find numerous amenities for lodging accommodation, food, restaurants, and for shopping sprees. The University City has some more affordable accommodation and hotel options.
2. Whitefish Mountain Resort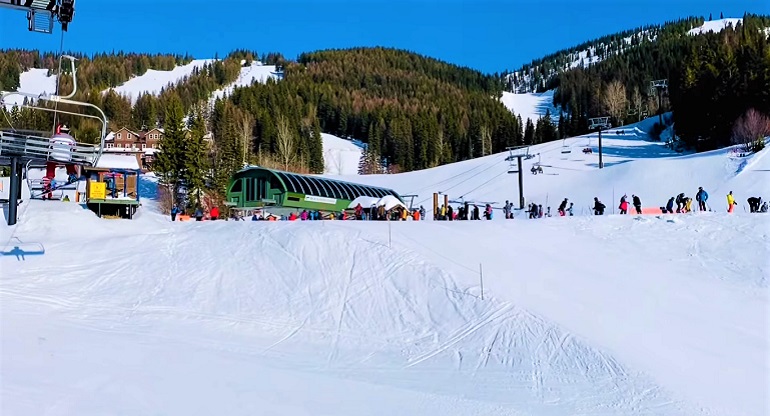 Location: Big Mountain
Operating hours: 9 am – 4:30 pm
Cost: $32-$94 per day
Travel time: 5 hours 46 mins
Ski season: December 2022- March 2023
Whitefish Mountain resort borders Glacier National park and is also known as the big mountain with a 2000 vertical elevation.
This locally owned mountain has 3000 acres of skiable terrains with 111 ski runs and numerous lifts. The ski hills include powder stashes and groomers, and glades.
Four terrain parks facilitate rail sliders, while Minnow park is great for beginners. In contrast, the Flower Point area is best suited for the ones who avoid crowds. It is located towards the back of the mountain for backcountry skiing.
After a tiring ski session, you can head towards the resort town of Whitefish for multiple eatery options. Plus, the winter carnival with fun activities and events like live music add to the charm of Whitefish mountain resort alongside Glacier national park.
For accommodation, there are several nice places at Whitefish mountain resort, like Lodge at Whitefish Lake. You can also avail of the ski package here for the Amtrak ride to add more fun to your ski vacation.
3. Discovery Ski Area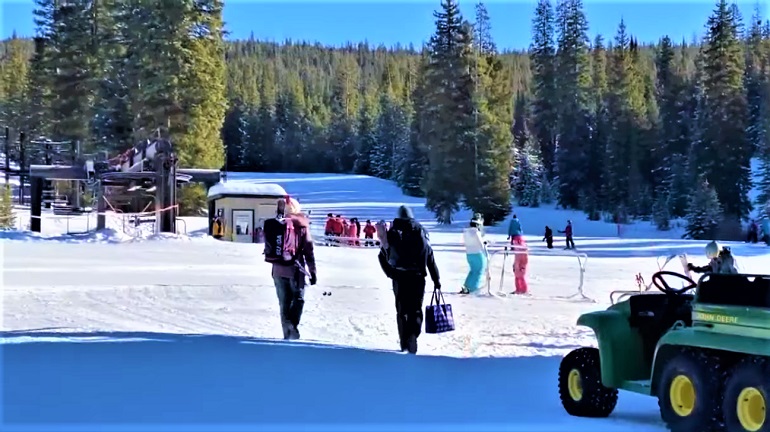 Location: Rumsey and Jubilee Mountains
Operating hours: 9:30 am – 4 pm
Cost: $35-$65 per day
Travel time: 5 hours 8 mins
Ski season: November 2022 – April 2023
Ski Disco is another name for the Discovery ski area. It faces the Rocky mountain from three sides, providing enough terrain for all beginner, intermediate and advanced skiers. There are 2220 acres of skiable terrain with 2 in-bound terrain parks.
At the front, beginners can find their groomed beginner runs and tree-lined routes. While the single and double black diamonds are at the backside of the mountain resort.
The longest run is 1.5 miles with a mellow grade, known as Winning Ridge, to test the expert skiers.
Ski Disco Lodge has a ski club where you can warm up, and satisfy your hunger with onsite eateries or a pre-packed lunch. We bet you cannot resist the freshly baked chocolate chip cookies. You can also enjoy outside at the back deck while enjoying the exciting skiers' motions.
The cross-country ski trails are a big part of the Discovery ski area i.e., 20 miles. It takes you through the winter forest and towards the Echo shores and Georgetown lakes. For accommodation, you can find rental places in the base area and around the nearby town and resort.
4. Montana Snow Bowl, Missoula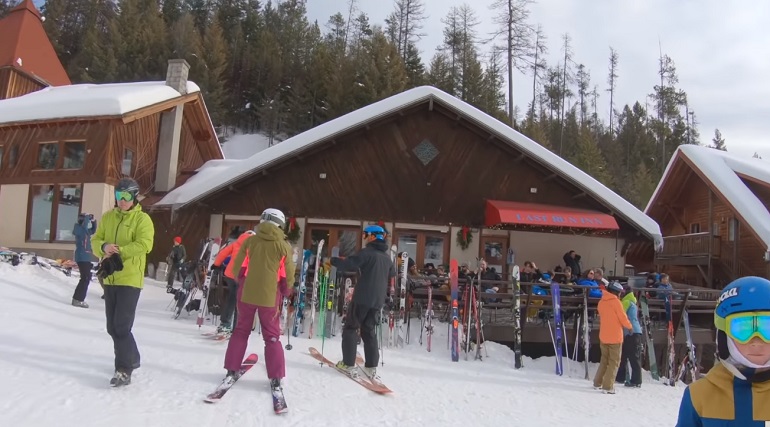 Location: Lolo National forest land
Operating hours: 9:30 am – 4 pm
Cost: $30-$68 per day
Travel time: 4 hours 59 minutes
Ski season: December 2022 – March 2023
The local ski place with a laid-back atmosphere and huge mountain terrains is what describes the Montana Snowbowl resort.
It is said to be the best for intermediate and advanced skiers. It is because at Montana Snowbowl, there are challenging routes and ski areas with longer and steep runs that give a hard time to the skiers' legs.
Due to these technically advanced trails, the place has uncrowded slopes. Also, laymen and new skiers are unable to ski on challenging terrain. Therefore, the advanced skier gets more room to test the nerves and skills.
The tree routes serve some ski areas for beginner trails. Alongside these trails, you can find some tempting eatery menus to devour your cravings at Montana Snowbowl. While the Last Run Inn is the go-to place for a relaxing evening toward the end of the ski session.
Apart from this, you can enjoy some non-skiing activities at the base area of Montana Snowbowl while exploring the neighboring places for the authentic and vintage touch. While you may find some local and rural lodging amenities as well.
5. Red Lodge Mountain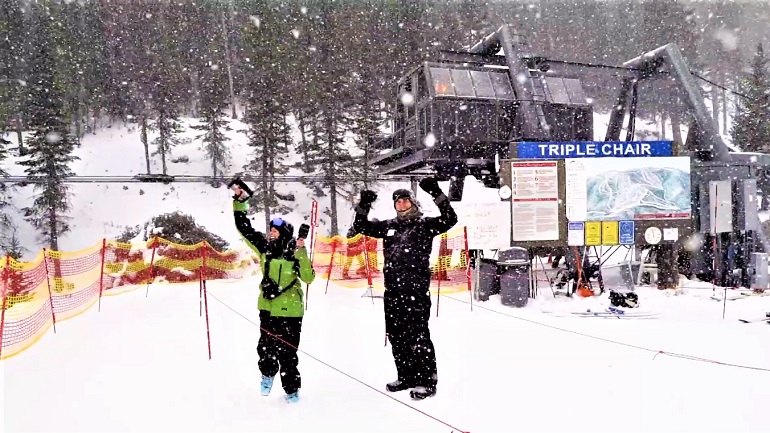 Location: Beartooth mountains
Operating hours: 9 am – 4 pm
Cost: $21-$63 per day
Travel time: 3 hours 48 mins
Ski season: November 2022- April 2023
1600 acres of skiable terrain and the laid-back atmosphere is the favorite of most of the skiers who are consistent visitors at Red Lodge mountain.
Red Lodge Mountain offers big mountain terrain like most of the ski resorts in Montana. Plus, it is a great place for beginner and intermediate skiers to learn and excel in skiing.
This place has a classy style, and surprisingly it is one of the quiet ski resorts in Montana with very less crowds. There are 71 ski runs with constant snowfall throughout the peak winter season.
The steep routes at Red Lodge are designated for expert skiers as it has the most authentic ski settings.
The lodging options are very limited at Red Lodge. There are no base lodges to cater to night stays at Red Lodge. While the distant area and traveling time of Red lodge from Montana refrains overcrowding, so they might not have felt the need of having rental places at the base area.
Plus, if you are a non-skier, then you would be a bit disappointed as there are not many recreational activities at Red lodge. So, you would not have much to explore and enjoy other than skiing.
6. Lost Trail Powder Mountain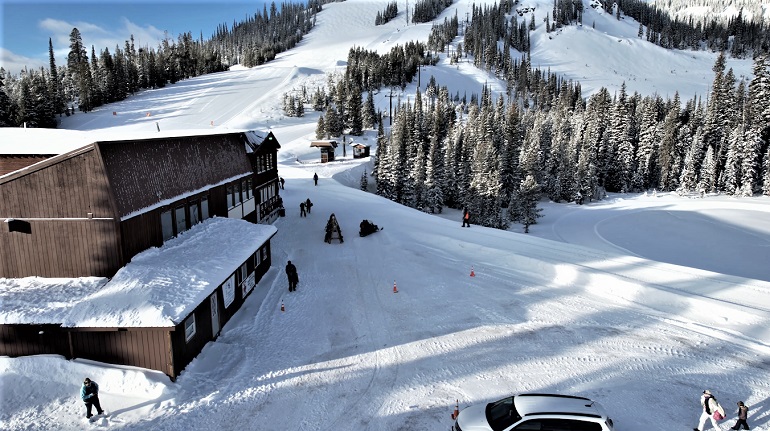 Location: Montana – Idaho border
Operating hours: 9:30 am – 4 pm
Cost: $30-$60 per day
Travel time: 5 hours 53 mins
Ski season: December 2022- April 2023
Lost Trail powder mountain is not a commercial place rather it is family-owned and managed since 1988. It offers affordable lift tickets and an abundance of fun activities. Most of the families in Montana have this tradition of spending a ski weekend at Lost trail.
Usually, this resort is open four days a week only from Thursday to Sunday. However, the snowfall is generous in this ski area.
So, the unexpected heavy snowfall during the three non-operational days can result in a powder Thursday at the Lost Trail. If you are someone who likes the powder-dry snow conditions, then you better not miss out on a Thursday ski trip.
The ski lodge at Lost Trail mountain is there for you to warm up after a cold and aggressive ski session. They have freshly cooked food options as well, or you can have your packed lunch for a healthy and budget-friendly option.
A large fire pit and the lava rocks at the back patio create an enchanting aroma and ambiance at night for a chit-chat session with friends and family. Or you can use this place at the resort, even during the day, to soak in some vitamin D from the sun.
7. Maverick Mountain Ski Area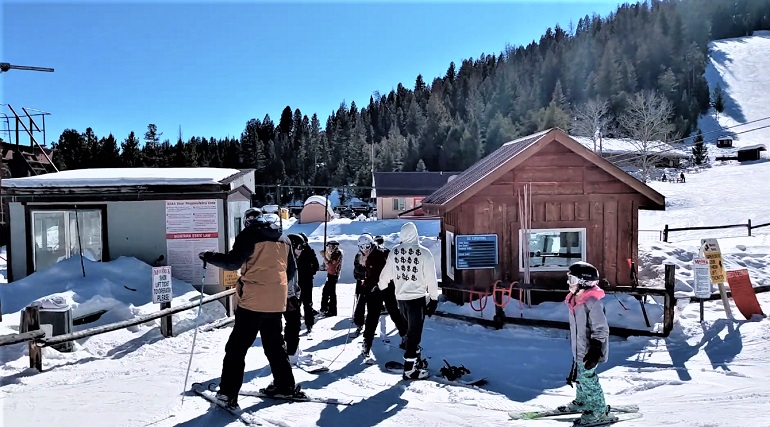 Location: Beaverhead national forest
Operating hours: 9:30 am – 4 pm
Cost: $30-$50 per day
Travel time: 5 hours 22 mins
Ski season: December 2022- March 2023
Southwestern Montana has this mom-and-pop ski area called Maverick mountain. The couple has tried their best to run this ski place in the best way with all possible facilities. It has 450 acres with the boundaries of Beaverhead- Deerlodge national forest.
There are 24 ski routes, along with multiple chairlifts and one tow rope. There are seemingly no lift lines and overcrowding at Maverick mountain. So, you can have a great time in solitude, serenity, and quietness on your solo trip in mountains.
For food, we would suggest visiting the Antler Saloon while skiing in Montana's ski areas at Maverick mountain. It serves delicious pizzas. So, all pizza lovers, head on for a great treat.
Whereas, for lodging options, Polaris is a good choice when it comes to comfort and beauty at the same time.
You can rent a cabin or book a room at a hotel. You will surely get a view of Maverick mountain from your window with the modernized remodeling of the place.
8. Lookout Pass Ski & Recreation Area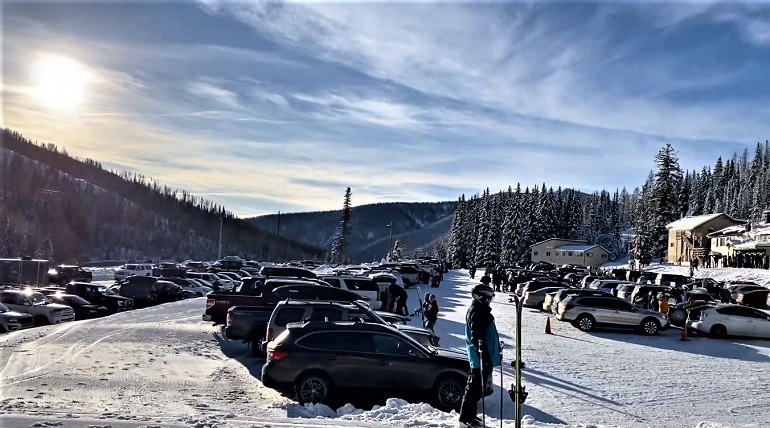 Location: Runt Mountain
Operating hours: 8:30 am – 4 pm
Cost: $45-$75 per day
Travel time: 6 hours 16 mins
Ski season: December 2022 – April 2023
If you are looking for the most amount of snowfall and powder dry snow for a stiff and exciting ski ride; then you must visit Lookout Pass ski resort in Montana. It is located at the border of Montana and Idaho, so you get to explore two different slopes with affordable lift tickets.
The terrain routes have variable difficulty levels according to the abilities of the skiers and snowboarders. The beginners get the open groomed trails, and designated ski runs to get their hands on the skill.
Moreover, there is a facility for beginners and kids, especially i.e., the 'famous free ski and snowboard school'. This ski school not only caters to the needs of beginners but pays extra heed to the new learning kids.
So parents find it a good chance to make their kids learn a new skill for free in a scenic environment.
The ski lodge at the Lookout pass base area is a family-friendly place with a comfortable environment and atmosphere. They serve hot food, beverages, and snacks. While you can experience two time zones with two clocks on every wall that are an hour apart.
9. Bridger Bowl Ski Area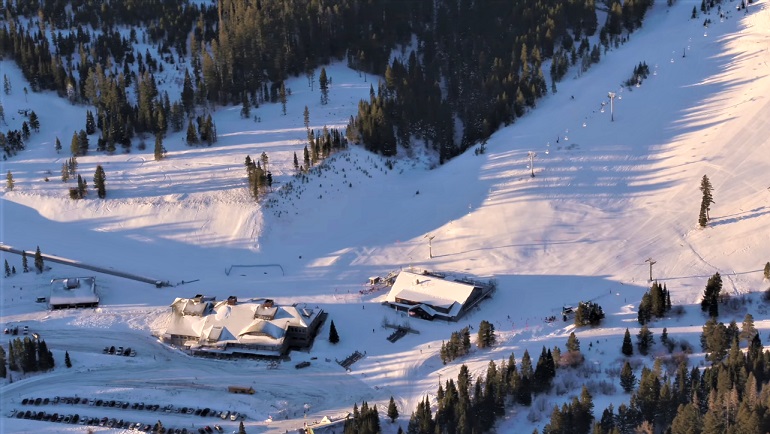 Location: Bozeman Montana
Operating hours: 8 am – 4 pm
Cost: $25-$65 per day
Travel time: 3 hours 7 mins
Ski season: December 2022 – April 2023
Bridger Bowl ski area has 2000 acres of skiable terrain parks. It is famous among skiers and snowboarders from around the globe.
However, the college students of Montana State University and the members of the Bozeman community contribute the most to the crowd at Bridger Bowl ski resort.
There are glades, gullies, chutes, and open ski trails for every ability level. Plus for the advanced skiers, there are some special, technically advanced steep landscapes for them to have a challenging experience. Also at Bridger Bowl, there are eight chairlifts for the traveling ease of the skiers.
The tourists regard this place best suitable for expert skiers, while they also cater to the beginner trails. The daycare option eases the life of parents with toddlers. So they can enjoy the ski session without worries.
At the base area of the Bridger Bowl, there are two lodges. There you can find some really good options for rental amenities, hotels, and cafes. Most importantly, the famous Johnny B restaurant is also there to serve you delicious and tempting food with scenic views.
10. Great Divide Ski Area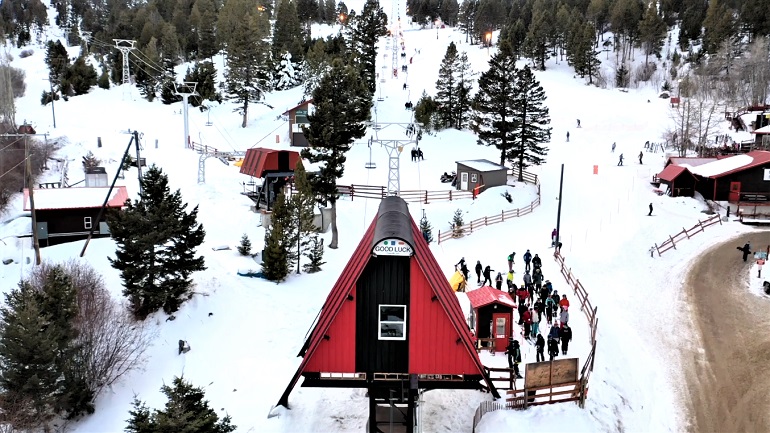 Location: Hellena, Montana
Operating hours: 4 pm – 9 pm
Cost: $26-$50 per day
Travel time: 3 hours 45 mins
Ski season: December 2022 – May 2023
The Great Divide ski area has a variety of terrain for all levels of skiers. It offers 1600 acres of skiable terrains with multiple lifts to explore the place. The ski terrain parks and beginner runs at Great Divide have unbeatable value and are well-reputed among families.
Therefore, it is said to be the most family-friendly ski resort in Montana.
The famous ski and snowboard school for beginners attract more newbies who want to learn and explore at the same time. The mount Belmont chairlift is a popular attraction of the Great Divide ski area. You can take this ride and have an overview of the entire place and ski runs.
Whereas, the Wild West chairlift gives you access to the black and blue diamond routes where you cannot ski and snowboard. The base area of Great Divide has a family-friendly lodge with comforting food, fireplaces, and warming-up services like hot tubs and centrally heated rooms.
To find more options, you can always take a 15-20 minute drive towards the neighboring towns of the Great Divide ski area. In this way, you can explore more during your single trip.
11. Showdown Montana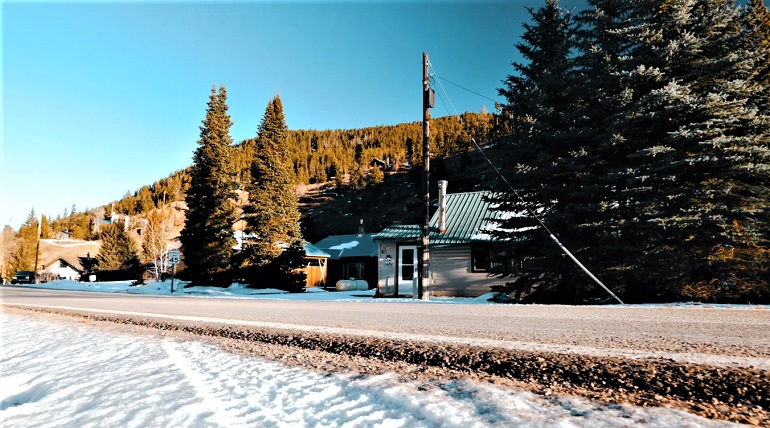 Location: Little belt mountains
Operating hours: 9:30 am – 4 pm
Cost: $40-$60
Travel time: 1 hour 39 minutes
Ski season: December 2022- April 2023
Showdown Montana is the old-school place for skiers and snowboarders. But it still maintains its dignity, integrity, and quality of services. Eventually, it stands its popularity till date.
This ski area of this mountain is open from Wednesday to Sunday, weekends are the busiest days and have more crowds. So if you are someone who avoids crowded places and still wants to enjoy skiing, then Wednesday is your day my friend.
There are 35 ski runs with multiple difficulty levels and a 6800-foot base. Alongside the trails, there are three chairlifts and a conveyer-style magic carpet. The visitors claim this resort to be the best and safest spot for beginners to learn and practice the skill.
The lodging options are a few, but you can find some locally inclined places for night stays. Or else, you can look for the neighboring resorts or towns to find a variety of lodging amenities.
However, Showdown Montana is the closest ski resort to Montana, with the least traveling time.
Conclusion
Skiing is a pleasure sport and should not be compromised due to overcrowding and expensive prices at the ski resort.
For this reason, Montana resorts are there to serve you with plenty of locally owned and authentic ski-setting places.
You can never go wrong on the Rocky mountains with vast ski terrain parks, top ski resorts, and exciting slopes.
Hence if you want to have a family ski vacation or a casual getaway in solitude then head towards Montana ski resorts.
Related Guide