WINTER IS HERE! And, if you are a snow baby, we are glad to announce that your time has finally arrived! It is finally time to glide through the twists and turns of powder mountain!
Utah is popular for its insanely high skiable terrain, with state-of-the-art ski resorts hardly an hour away from its capital, Salt Lake City.
The snow-packed ski resorts that let you relish your adventurous side are surely heaven on this Earth. There are numerous ski resorts in Utah, and honestly, each one offers you an opportunity to have the time of your life.
They further lure you with the luxuriant snowfall during peak season, wanting you to pack your bags right away and head towards Utah. If you want to unleash the adventurous beast in you, let this article take you through the best ski resorts in Utah.
Our Top Picks of the Best Ski Resorts in Utah
Utah is famous for its "Mighty Five" national parks, stunning natural landscapes, pastrami burgers, as well as for hosting the Sundance Film Festival.
Utah is a renowned snowboarding and skiing destination. Plan your trip with this guide to dining, lodging, and recreation in Utah ski resorts.
1. Park City Mountain Resort (Best Overall)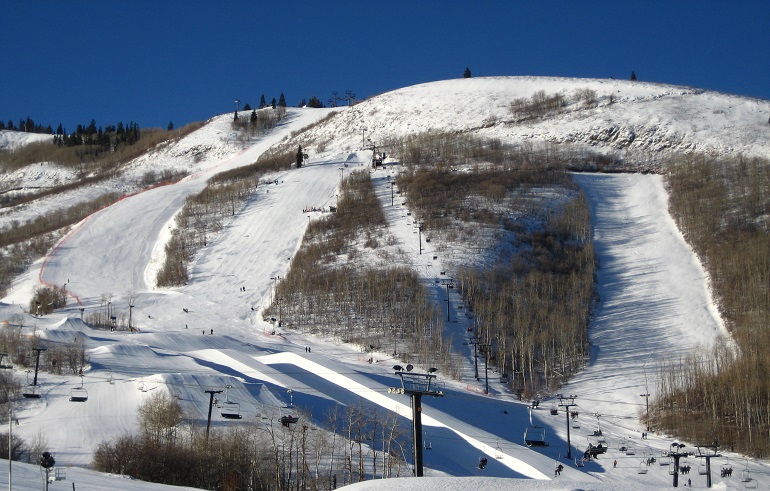 Utah never stops surprising us! Did you know that it has one of the largest ski resorts in the United States of America?
Well, if you didn't, get ready to be astonished!
Park City is HUGE! With a terrain spanning across 7300 acres, it is a treat for the alpine skiers who are always on the lookout for blue runs.
But, that's not the only good thing about it. Despite being immensely popular and always in demand, the management has made its reservation system quite easy and convenient. You can book it online and have the on-mountain reservation.
As the coolest family resort in Utah, I make sure to visit it with my family at least once every year.
If you are an expert powderhound, you would love to ski on the untouched bedspread on a bluebird day. Also, if you are not tired after skiing during the day, you can surely enjoy the extravagant nightlife of Park City mountain resort during the night.
The Deer Valley Music Festival and the Annual Park City Kimball Arts Festival are the two most sought-after festivals in Park City. These are pretty colorful galas, and being a part of them gives you a diverse experience of things.
For newbies, the resort comes with a special ski school where specific lessons for kids and adults are managed. If you are too shy to learn with others, you can also opt for private lessons from specialists!
Though it's a great family resort, it is easily accessible for EVERYONE! Hence, you may find it overcrowded during the peak season time. Even so, it would offer you enough ski area to showcase your skiing skills freely!
2. Deer Valley (The Most Luxurious)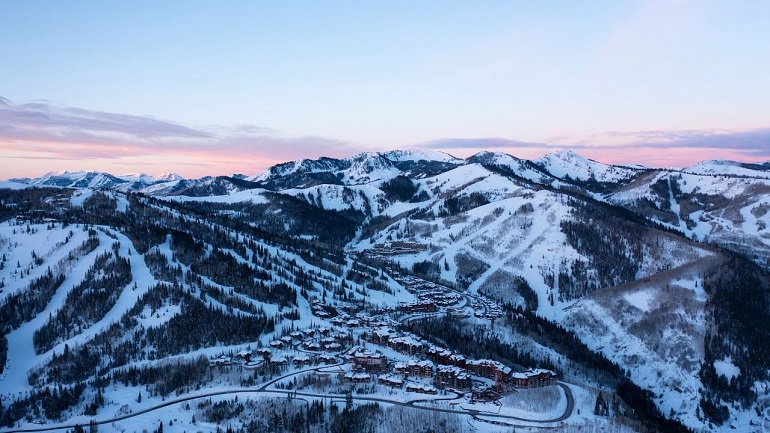 Let's be honest; to enjoy luxury, you have to pay some extra bucks and if you are willing to do so, there is no better place for a magnificent downhill skiing experience than the Deer valley resort.
This resort comes with a ski school! Hence, for intermediate skiers, it offers a great opportunity to hone their skills. However, if you are an expert, this resort has well-designed access to the slopes. You can surely show off your skills while gliding through them.
Wait, there's more!
The ski-groomed trails are quite small in terms of length, and snowboarders are not allowed to roam on them so there are no deep ruts. Hence, the skiing experience turns out to be safe and convenient even for kids and beginners.
Deer Valley ski resort offers ski valets with an on-site child care facility, a super-luxuriant gourmet dining area along with well-groomed sloped. There is no reason why you wouldn't want to go there again and again, once you have had an impressive trip there!
You should plan a trip to this Utah ski resort only if you have a big budget. If not, the whole experience may take a toll on your pocket. Nonetheless, if you can afford it easily, there is nothing better than a night skiing adventure at the Deer Valley resort.
3. ALTA (Ideal For The Bravehearts)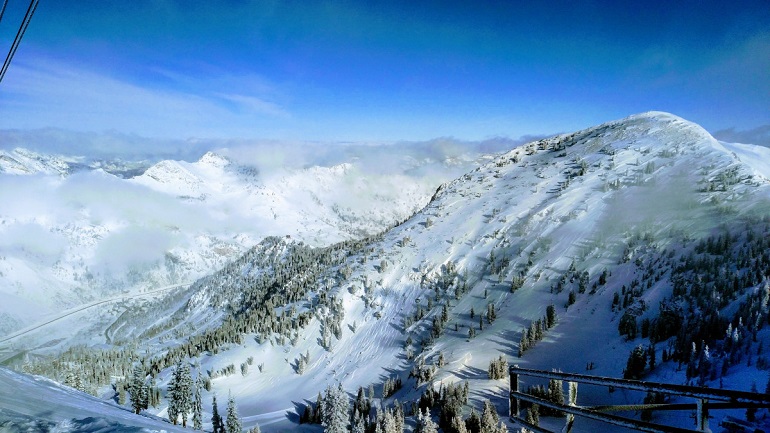 The Alta ski resort is historical as it is one of the first ski resorts in the United States of America. Over the years, it has transformed quite a lot and now, it's considered to be one of the most sought-after Utah ski resorts among the powderhounds.
The Alta ski area mountain is pretty steep! For adventure lovers, it's heaven on Earth with its surreal 116 trails.
Did you know there is more to the terrain? Well, wait for it!
As the snowfall over this space is always luxuriant, the powder is mostly fresh and crisp. Hence, the skiing experience you get here is authentic in the truest sense.
The runs and the lodge both are equally amazing. Once you are done satisfying your thirst for a healthy adventure by skiing your heart out at the terrain, you can enjoy the luxury of a comfortable lodge.
Though the Alta ski resort is a great choice, one thing that I'd like to mention is the outdated infrastructure of the lifts. The rope tow used on them is a bit antique.
However, if you are more interested in the twists and turns of the mountain slopes than the lift, you would surely love visiting this resort.
4. SNOWBIRD (For The Snow-lovers)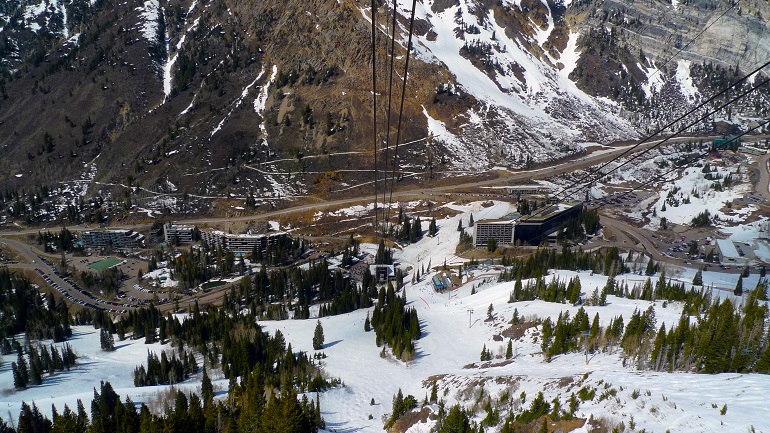 True ski lovers are always looking for a powder mountain to make the best out of the skiing adventure. If you are one of them, gear up because the Snowbird resort is what you need to select for your next excursion trip.
This resort is mesmerizing and gets a huge volume of snowfall during the peak season, which makes it an ideal spot for a ski vacation.
Also, did you know what is the best part of visiting the snowbird resort?
Well, generally speaking, the peak season is pretty long starting in November, and extending all the way to May! Hence, you have quite a lot of time to plan your adventure.
For advanced skiers, it offers inbound steeps in various ski areas, which is great to satisfy their adventurous nature. The off-piste terrain with a vertical drop further gives them a way to whet their appetite for riding fresh powder!
The powder mountain makes it more feasible for the experts and less suited for beginner and intermediate skiers. However, if they visit it during the less-crowded days, it may help them polish their skills.
5. Solitude Mountain Resort (Most Suited For Family Vacations)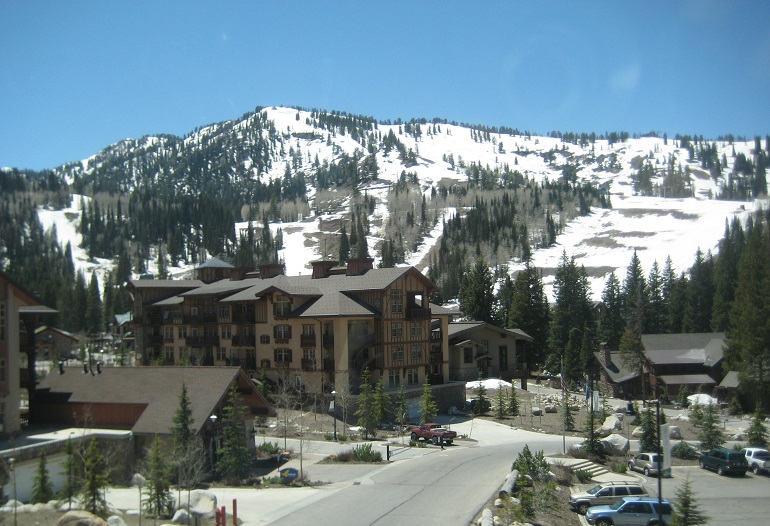 Do you want to have the best of both Worlds by skiing at one of the coolest (quite literally) Utah ski resorts during the day and experiencing some fine dining during the night? Obviously, your answer will be a big YES.
Well, for that, your next adventure destination should be the Solitude Resort in Utah! What makes it so illustrious? More on that in a minute!
The terrain park has both groomed and ungroomed sections where you can go skiing. The spaces with more width have trees planted on them, which further make the adventure full of excitement. Add the fact that there are some Nordic trails available too, which have a steep descent!
Some of the most sought-after runs at this resort are Challenger, Diamond Lane, Dynamite, and Serenity. As they are the least crowded, you can easily have a good time with your family. Quite literally, you can relish the solitude as you would see very few people around you!
Feeling drained after a long day of skiing and want to pamper yourself? You are in for a treat!
The Solitude Mountain resort spa gives you an opportunity to unwind! No matter whether you want to have a foot massage, a deep tissue pedicure, or simply hop in the dry sauna, you can do it all! All this luxury, right in the middle of a snow-clad mountain, is simply phenomenal; isn't it?
The only thing you might not like about this resort is its paid parking! You may have to pay $20 for parking each day. However, if you are looking forward to spending some cheerful days filled with fun and adventure with your family at a decent skiing resort, every penny you pay is surely worth it!
6. POWDER MOUNTAIN (For Those With Kids)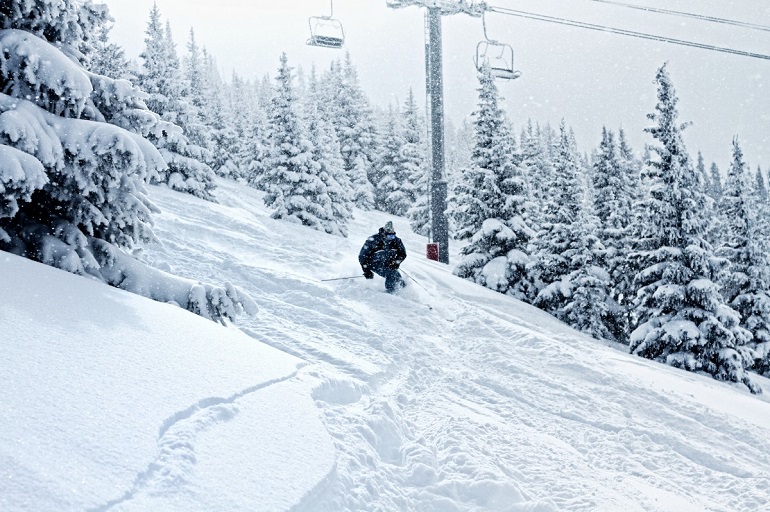 Spanning over an area of around 8,000 acres, the powder mountain resort has breathtakingly beautiful terrain that lets you glide through fresh snow without a hitch!
If you are a finicky parent who is always worried about your kids' safety on an adventurous trip, the management of this resort would be kind enough to answer all your queries. It's a gateway to a fun family adventure and turns out to be a great resort for an exciting skiing experience.
We wholeheartedly believe that the groomed runs make it the most skiable terrain in Utah. What really makes us feel it's a piece of paradise on Earth is that it's not overcrowded! Your dream of spending a secluded weekend in the snow is surely going to come true!
Love experiencing chair lifts? You are in for a treat! The resort and slopes are quite well-connected, thanks to its marvelous lift system. Also, if you are tight on the budget, don't worry as the lift tickets are not costly! Rather, you would be amazed at how cheap they are considering the amazing lift structure.
If you are not an expert skier and don't have 'control', be careful as the expansive terrain may be a little too flat to your expectations. The amount of powder there is what you'll really need to manage, or else you may move straight down on the run!
However, this resort offers great food and fine dining options, making it a great skiing experience overall!
7. SNOWBASIN (The Friendliest Ski Resort)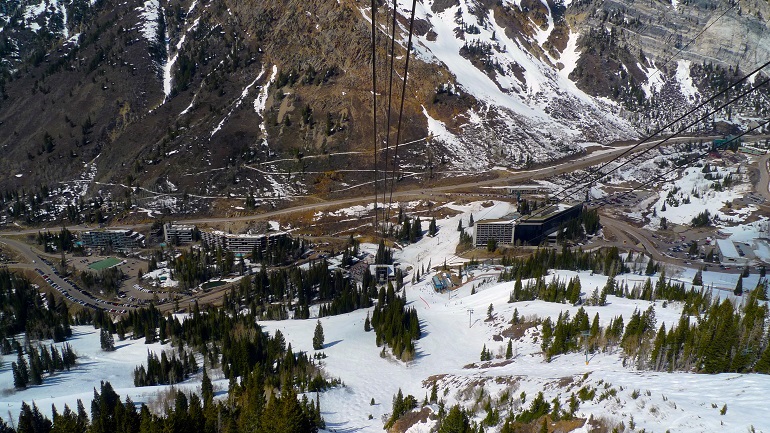 To start off; the splendid scenery of this resort makes it worth visiting! It's so pretty that its vibe is simply .. DISTINCT! Also, there are a plethora of activities, facilities, and exciting things to do for all ages, which makes it the perfect resort for families!
If you ask me, no matter how amazing the lift infrastructure of a ski resort is or how expansive the terrain parks are, if the staff is rude, the entire experience goes in vain! The rude staff is extremely off-putting. So, if you prefer a super-hospitable staff, just book a weekend getaway at the Snowbasin resort and you would love the experience!
This Snowbasin resort offers mountain-top dining and exclusive concerts, which makes it an award-winning holiday space. The spectacular view, along with well-groomed runs, is the cherry on top.
The only negative we found in this resort is that it's a bit crowded during the peak season. This is the only bitter pill you'll have to swallow, but that's not too bitter if you want to enjoy inexpensive lift tickets, beautiful sunsets, and friendly staff.
Conclusion
As a skiing enthusiast, hitting the slopes that are well-powdered and not replete with a lot of crowds is what you would want during the peak winter seasons. Before skiing, you should also need to know how much it costs to go skiing.
Choosing the right time while planning this adventure is a MUST!
You have to ensure that the mountains are powdered enough to let you glide through them swiftly. Also, the higher the elevation, the better would be your experience with the twists and turns.
Related Article: