If the memory of last year's thrilling winter excursion is still fresh in your mind and you are yearning to hit the mountains again, you should choose a ski resort in Oregon this time around.
This insanely gorgeous winter paradise with a breathtaking view of the cascade mountains offers a wide landscape for skiing and cool crisp air for winter lovers. In my opinion, it doesn't make sense to settle for anything ordinary when choosing a spot for skiing.
In this article, I will walk you through some of the best ski resorts in Oregon, from which you can choose your next vacation destination.
Best Ski Resort In Oregon (Our Top Picks)
Skiing in Oregon is undoubtedly fabulous, but it still requires a little research. Read our Oregon ski resorts' reviews to know the best time to go, great nearby eateries, local attractions, and the best budget options for that perfect winter getaway!
1. Mount Bachelor: The Best Over-all
While talking about Mount Bachelor, it is worth mentioning that it is North America's sixth largest resort; hence it's obvious that it has a wide skiing terrain and snowboard area.
I recommend planning your next excursion at this resort, as it caters to all adventurers, regardless of their level of expertise.
More on that later!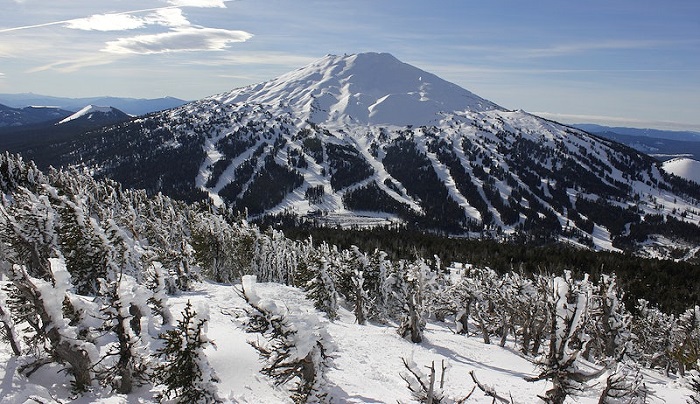 Features Worth-Mentioning
The resort has incredibly groomed terrain, which means that as you skate across this flat surface terrain, you wouldn't worry about hurting yourself.
Spanning over an area of 4,300 acres of terrific terrain, it is covered by a robust team of professional patrollers who keep a watch to ensure the adventurers are safe from all kinds of dangers. This is surely the largest ski resort in North America, which offers night skiing at the vertical drop.
Its winter adventure season started on November 25, 2022, and the resort will extend it all the way to April 23, 2023. So if you book your tickets and get the passes immediately, you can save money.
Your options in this regard are the Alpine full season pass, Nordic full season pass, and the Outplay 365 year-round pass. Each one offers different perks, including that of the palmer lift, and you get unlimited terrain access throughout the season.
As mentioned earlier, the terrain at the Cascade mountain range is great for all experience levels, as it offers a helping hand through an amazing five-program ski school. It's open for people of all ages and expertise and lets them hone their skills effectively.
For those who don't know, this resort doesn't really come with any on-mountain lodging. You can consider it a day trippers' area.
However, a multi-resort road trip at the Bachelor ski resort would be a nice idea if you are ready to shell out some extra bucks. You could book the great Visit Bend and Visit Central Oregon, which offers a variety of lodging options.
2. Timberline Lodge and Ski Area:(Glimpse Of History)
The vast area of 4,540 vertical feet offers extensive ski areas with varied terrain and huge acres of skiable terrain reliable for all kinds of skiers. This also makes it one of Oregon's largest ski resorts.
It has a long history associated with it, as it was built back in 1973. This high-alpine resort terrain park is easily reachable with the two closest airports; Kalispell FCA, which is 166 miles away from it, and Calgary YYC, 303 miles from your destination.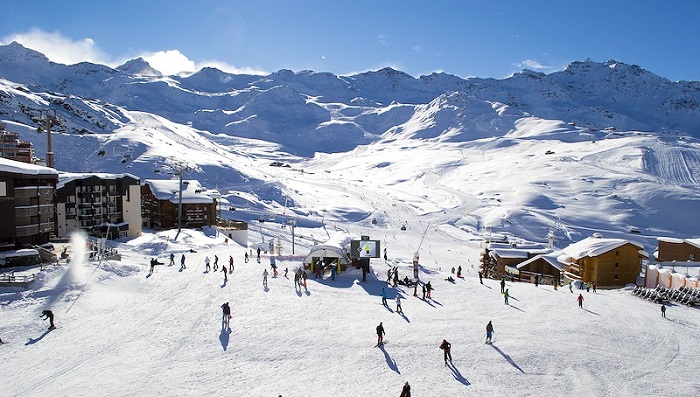 Features Worth-mentioning
Staying at the historic Timberline lodge is a great option. It has warm and cozy rooms which welcome you after a crazy adventure and let you unwind freely. The bar at the summit ski area works around the corner, and you can have some drinks whenever you feel like it.
Also, there are various activities for the kids, and they would love their stay at this lodge. What's the best part about the Timberline lodge? The view of the national historic landmark mountain from it is incredible!
It's worth mentioning here that Timberline lodge offers the longest ski season in the region, and you can plan your adventure as per your own schedule. The skiable terrain is always ready for the day as well as night skiing.
The lift facility is also incredible, with 6 High-Speed Quads, offering Passenger Snowcats for those who want a romantic ride on the snow-clad mountain.
The list showing the reasons why you should plan your next trip to this big mountain destination skiing wouldn't be complete without mentioning the FOOD. If you love to devour food made in the local flavor, this place offers you some amazing options.
These include RAM'S head bar & restaurant, Y'BAR, WY'EAST Café, and my personal favorite, MT. HOOD BREWING CO. – GOVY.
You can surely enjoy the beautiful winter landscapes of North America each morning at Timberline lodge.
The only bad news is that the lift tickets are a bit pricey! Compared to other resorts that the mountain of Timberline offers, this one requires you to pay some extra bucks to enjoy this experience.
3. Mount Hood Ski Bowl Meadows: (Most Magnificent Views)
Want to glide through the fresh powder snow on the vertical groomed tracks and enjoy some really magnificent views? You need to plan your next trip to Mount Hood Meadows.
But, I will be clear right from the start; you can expect the lift tickets at Hood Meadows to be a bit pricy, and rightfully so. This place has the best lift infrastructure, and you would have a blast checking out the entire Mount Hood from atop.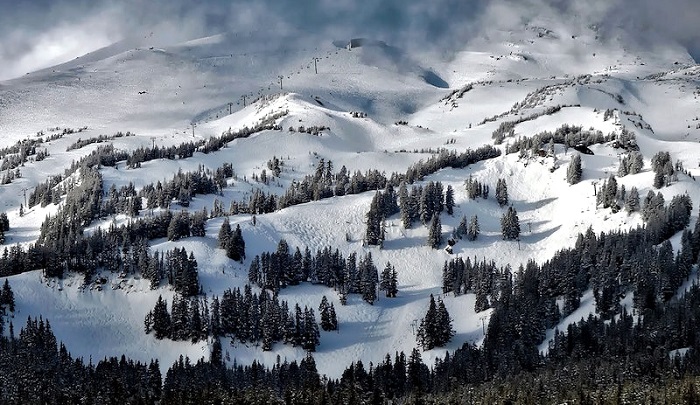 Features We Must Discuss
The resort has six terrain parks, which means this is one of the biggest Oregon ski areas and the largest night skiing area too.
Also, a word of caution, as Hood Ski Bowl Meadows is more of a destination resort than a lodging one, the weekends are mostly jam-packed. Skiers try to visit the Cooper spur over the weekend; the vertical drop can get a bit daunting for the newbies owing to the traffic.
Hence, it would be better to choose weekdays to enjoy the snowboarding area.
The 2,150 acres of skiable terrain of the Hood Ski Bowl offers amazing night skiing and snowboarding at the tallest mountain in Oregon.
Also, the mountain ranges look magnificent when you glide through them at night. You can also enjoy the sights of the nearby towns and head over there with your entire family.
The season at Hood Meadows began on December 2, 2022, and will extend all the way to May 7, 2023. You can book your slots online and delight yourself with its vertical slides on time.
One thing you need to know before planning your trip to Mount Hood Meadows ski hill is that you won't get any lodging on the slope. Rather, you would have to opt for the Government Camp that is 11 miles away from the resort.
This would probably be your only concern while planning a trip to the ski areas located at the Hood Ski Bowl Meadows.
4. Hoodoo Ski Area: For The Best Nordic Trails Of All Ski Resorts
This skiing area features seventeen kilometers of an amazing slope, making it one of the most desirable Oregon ski resorts. What makes it a great vacation destination is the fact that it is extremely family-friendly, and you would love the multiple terrain parks there.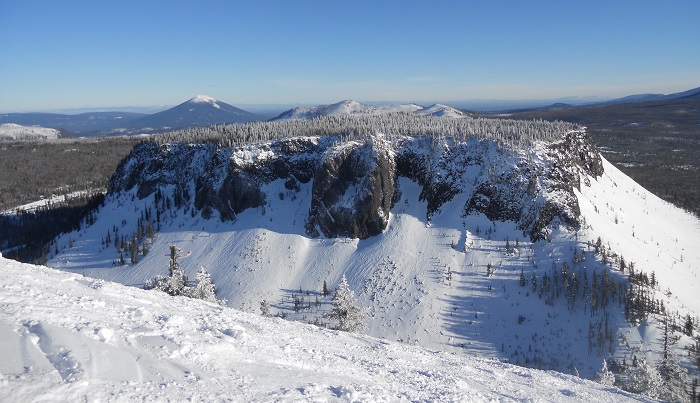 Features That Make It So Desirable
If well-groomed nordic trails impress you, you will love being in this resort. But, there is a glitch as the cross-country skiing trails of Hoodoo resorts are not groomed trails, and your choice of trail needs to consider your level of expertise.
On the lower nordic skiing trails, you would see the Hayrick Glade, Sheep Springs Loop, and The Hogg Meadow Trail and Loop.
On the other hand, the upper nordic skiing trails include the glorious Skyline Trail. To skid through the latter, you have to be an expert skier who knows how to handle the dangling slope well.
If you are one of the intermediate skiers, this resort is surely the right place to head towards for skiing. But, as a beginner, you can hone your skills by enrolling yourself at the Ski And Ride school. This school offers lessons for all those who have taken skiing up as a hobby and want to get better at it.
To save some bucks and avail discounts during the glorious annual snowfall, take advantage of the adventure passes on this expert terrain by booking at the right time.
The winter season passes are available at different rates for people of different age groups, with each one offering extensive perks and advantages. The peak season starts in December and extends till late March, so you should make your bookings right away!
Night skiing is a special feature of the Hoodoo Ski Area. The management makes sure to offer 23-night runs, making this experience quite safe and exciting. As far as lodging is concerned, you get various options, including the Five Pine lodge, Riverhouse, Lake Creek Lodge, and the Best Western Ponderosa Lodge.
It's true that this is one of the best ski resorts you can visit with your family. However, I couldn't find amazing food options! If food is not a problem for you, this can surely be the next venue for your ski and snowboard adventure.
5. Willamette Pass Ski Area(Best Cross-country)
If cross-country skiing is what you are vying for, there is no place better than the Willamette Pass Ski Area. It spans an area of 555 acres, which you can have a glance at thanks to the amazing infrastructure.
Also, there are five lifts working across the Willamette pass, which cover 20 km of the Nordic trails.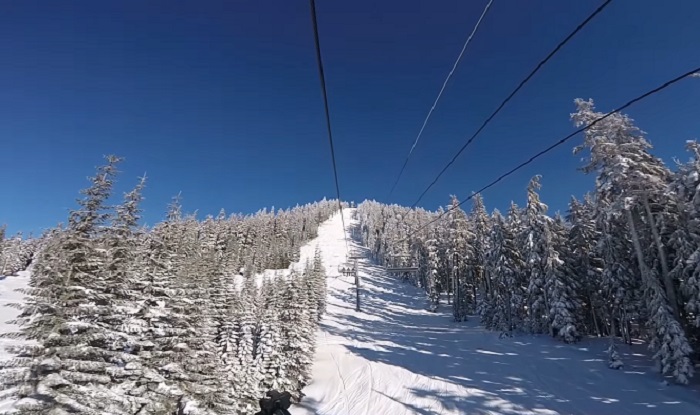 Features We Must Discuss
What I love the most about the Willamette pass is that it is incredibly inexpensive. Compared to the other ski resorts in Oregon, this one helps you save a TON!
From the lodgings to the food and from the wine to the lift tickets of the four chairlifts, everything is highly affordable. This is why it makes the best excursion destination if you want to plan a family holiday.
If you don't want to spend on buying ski equipment, that's not a problem at all. You can definitely rent it from here. However, to avoid rotting in the long queues at the Willamette pass, make online bookings and be the first one to hit the trails with your amazing rental gear.
The winter season started on December 18 and will serve you till April 10, so you better make your bookings FAST!
Everything is great until you know that the Willamette pass requires you to pay a hefty parking fee. You spend a little extra for the nights to keep your vehicle safe, which would be a MUST as there is no public transport available to take you to this place!
6. Mount Ashland Ski Area: For Its Scenic Views
I won't lie, but the Mount Ashland Ski Area is one of the most peaceful ski resorts I have ever visited in my life. It's kinda laidback and exudes calmness. Yet it's so much fun and exciting to return back to and skate across its flat surface.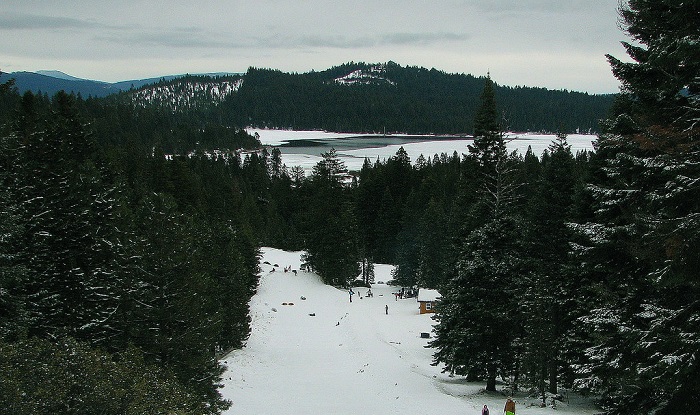 The Amazing Features Of Mount Ashland Aki Area
The exceptional services of the management make this resort a must-visit this winter season. You will reach here within forty-five minutes of boarding.
Students can avail themselves of some really amazing discounts that this place offers in the name of the College Student season pass. It helps save a lot of money! Even for those who are not students, there are season passes as well that offer discounts.
The snow gets harsh during winter, and as a beginner, you should try to avoid the fresh north powder. However, you can visit the nearby towns and interact with the extremely hospitable locals.
7. Anthony Lakes Mountain Resort (True Winter Wonderland)
Anthony Lakes Mountain Resort offers downhill skiing as well as cross-country skiing, and you can choose whatever suits you the best. If you want to head to the nordic trails, you will love the groomed paths of this eastern Oregon site.
This place offers year-round skiing and is packed with amazing features that we will discuss.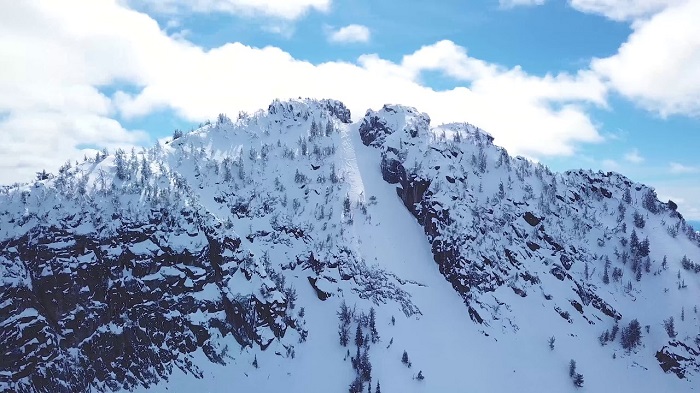 Features To Look For
Can't touch the small community mountains without refreshing your skiing concepts? You should get yourself enrolled at The Learning Center, which offers extensive skiing lessons to people of all expertise levels (beginner to expert skiers).
It offers a Beginner Lesson Package and a Private Non-Beginner Lesson, both of which require you to pay differently depending on their specifications.
The day tickets are pretty inexpensive. However, you will have to buy them online.
One major reason why I always get pulled back to this resort is that it offers homely vibes. There is nothing overly fancy in here! There are loads of other activities that snowboarders can enjoy in the nearby towns apart from skiing, which lets them have good connectivity with the locals.
Lodging options available for you are also quite feasible. For instance, the North Powder Motel has the cleanest rooms you would ever enter, while the Wagontracks Campground Rv & Storage is very cost-effective.
The closest airport through which you can reach here is the Tri-Cities Airport, which is around 103 miles far from it.
Be ready to trek a bit toward your lodge because there is no other way to reach it. Once you reach there, the warmth of the living space will make you forget how tired you are!
Conclusion
The best Oregon ski resorts offer cross-country skiing as well as high elevation nordic skiing. Where Cross-country skiing is endurance-focused, downhill riding doesn't really require much force.
Hence, you can choose a resort considering your skill level and strength. Oregon is filled with amazing options, from Southern Oregon to the pacific northwest.
You merely have to make a choice keeping in mind your budget, schedule, and availability of the passes!
Related Guide: