If you're just getting into snowmobiling for the first time, you might be totally unaware that you need special boots for this sport.
Let's be honest:
Footwear is important for pretty much every sport under the sun. But a good pair of boots is especially important for snow sports.
Think about it:
Snow is wet and cold – with a tendency to creep into kinds of nooks and crannies.
If you're snowmobiling, you're going to be smashing through snowbanks, sending deep snow and ice chunks flying through the air.
If you wear inadequate footwear, your feet are going to get cold and wet pretty darn quick. Fortunately, there's no shortage of solid, reliable boots.
Some of these boots are specifically designed for snowmobiling, while other boots are just decent, all-purpose snow boots that can handle pretty much everything.
Most Waterproof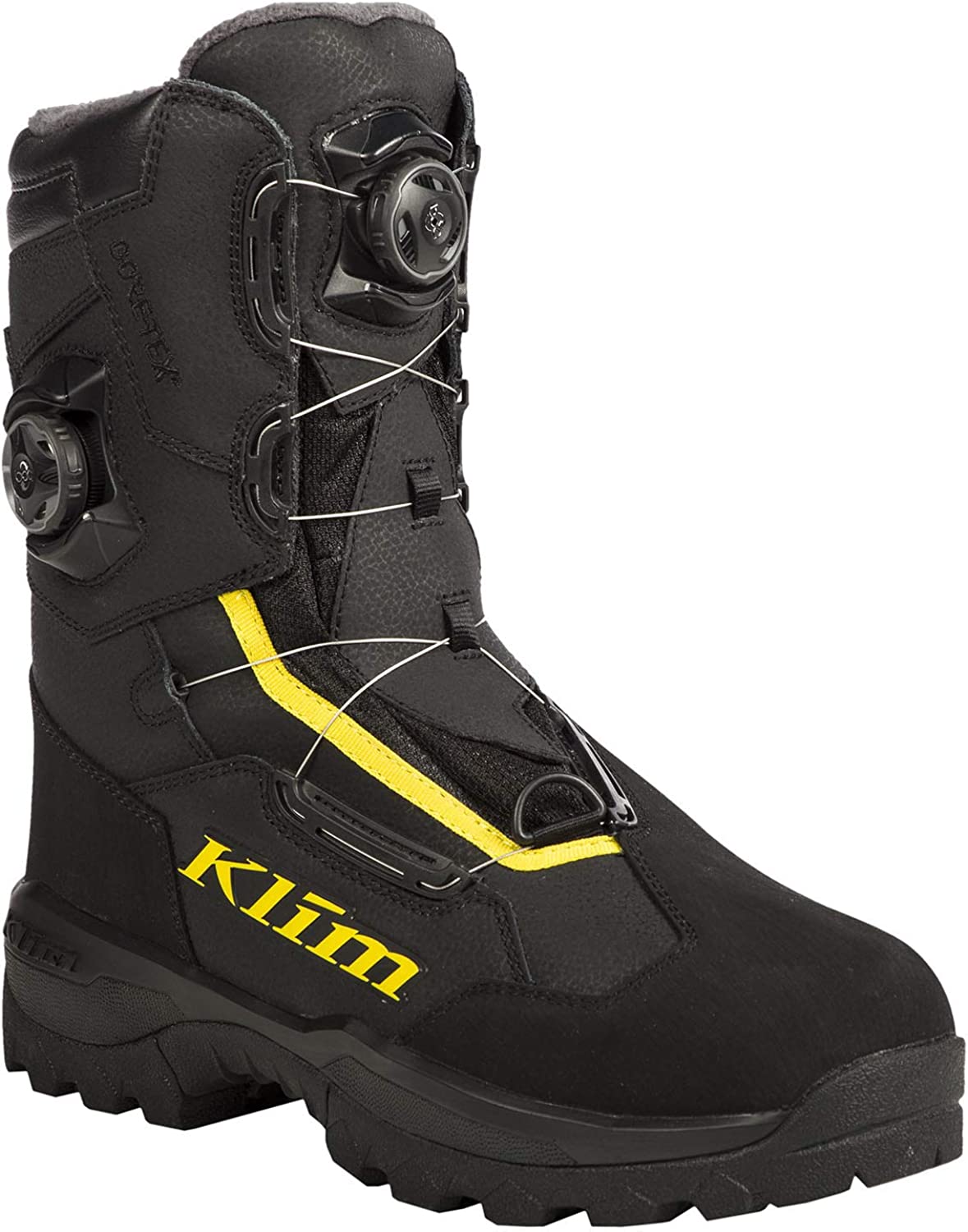 Klim Adrenaline Pro
Color: Black
Material: Gore-Tex Membrane
Best Women's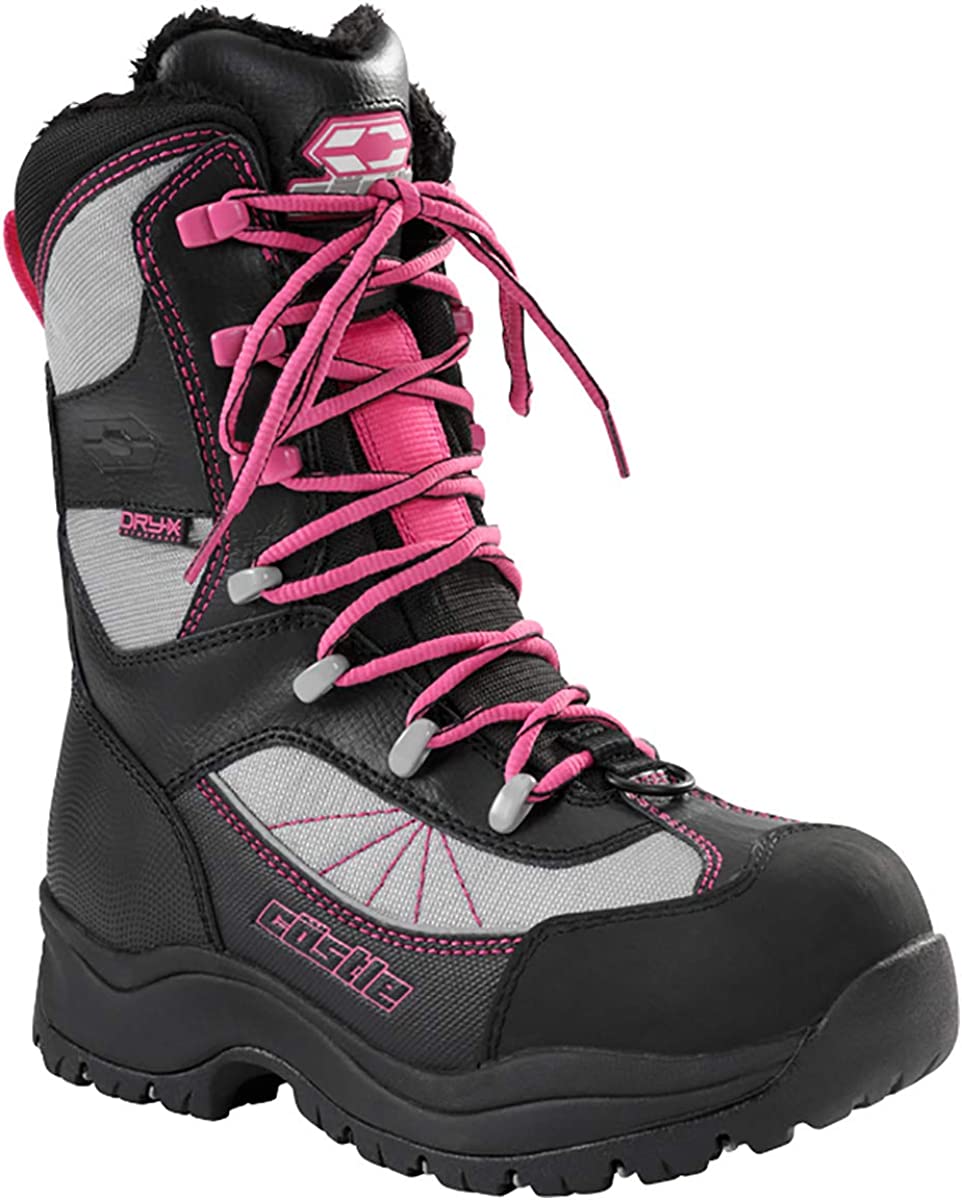 Castle X Force 2
Color: Grey
Material: Polyester
Most Stylish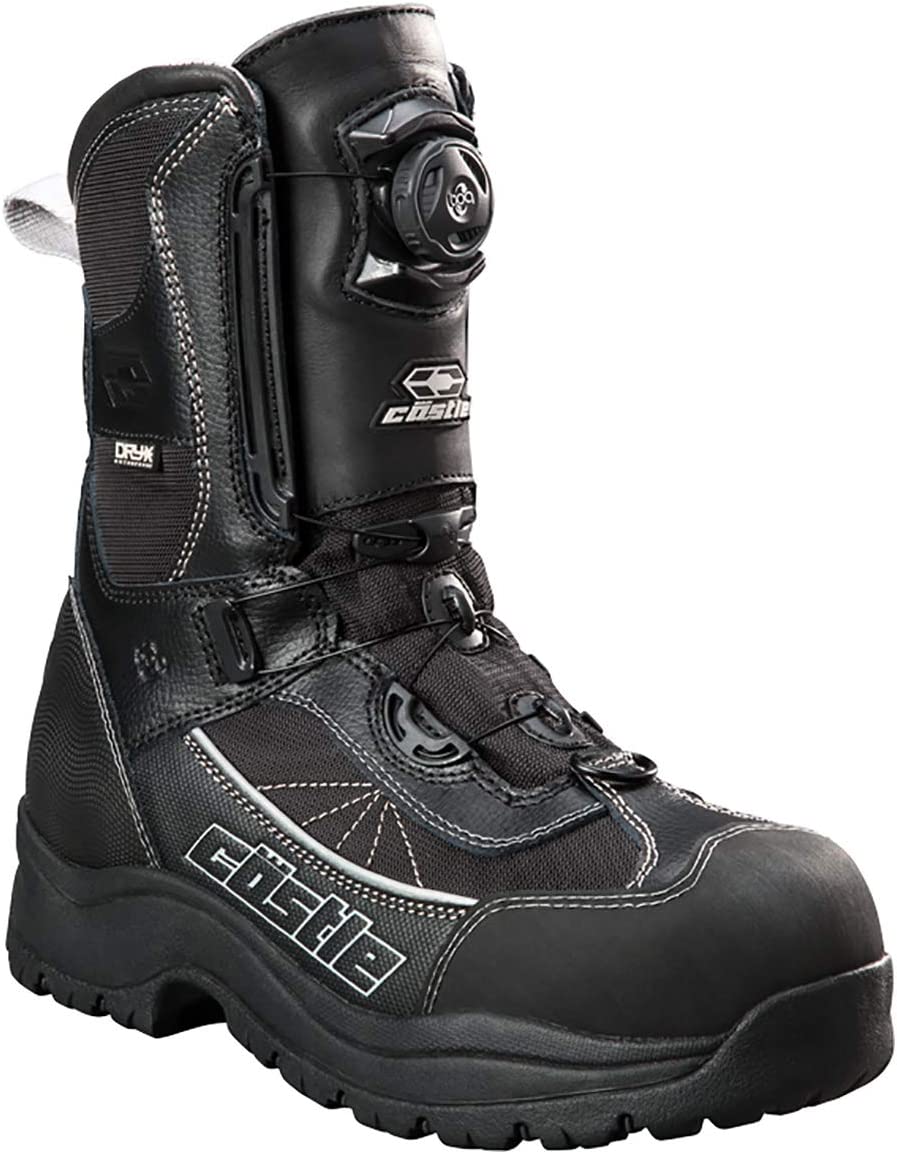 Castle X Charge Boa
Color: Black
Material: nylon
Best for Racing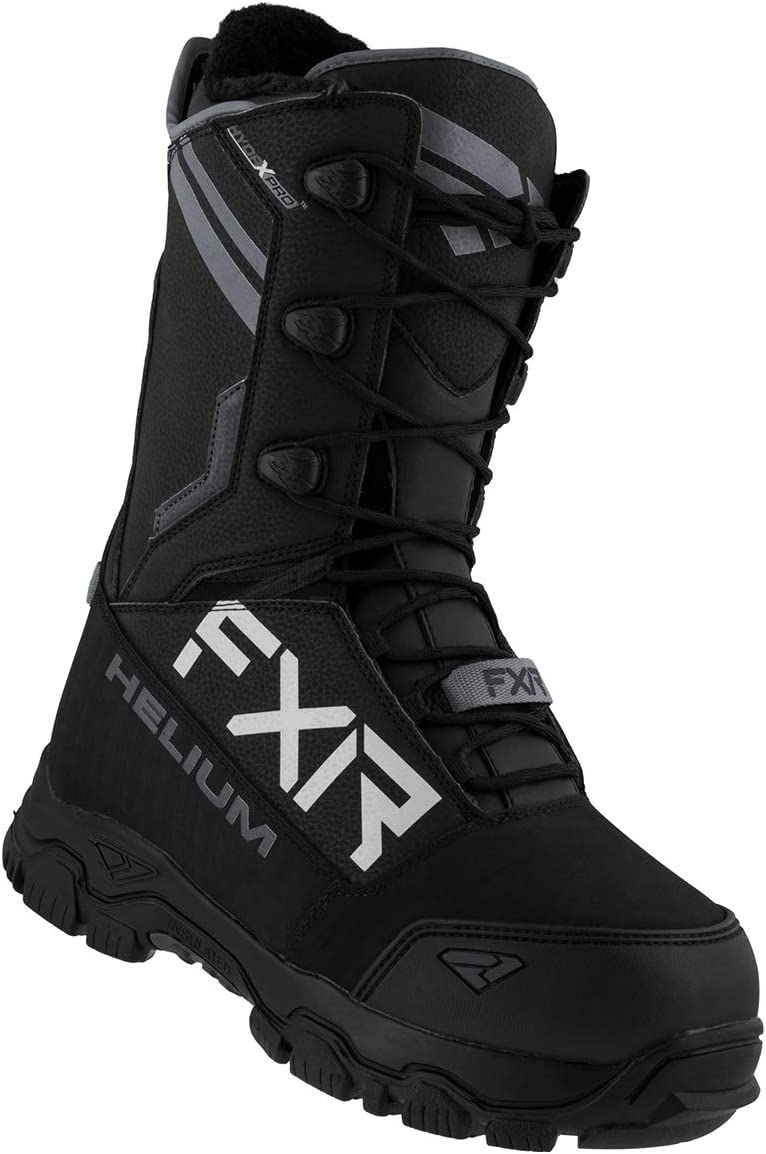 FXR Helium Speed
Color: Black
Material: POLYESTER
Cheapest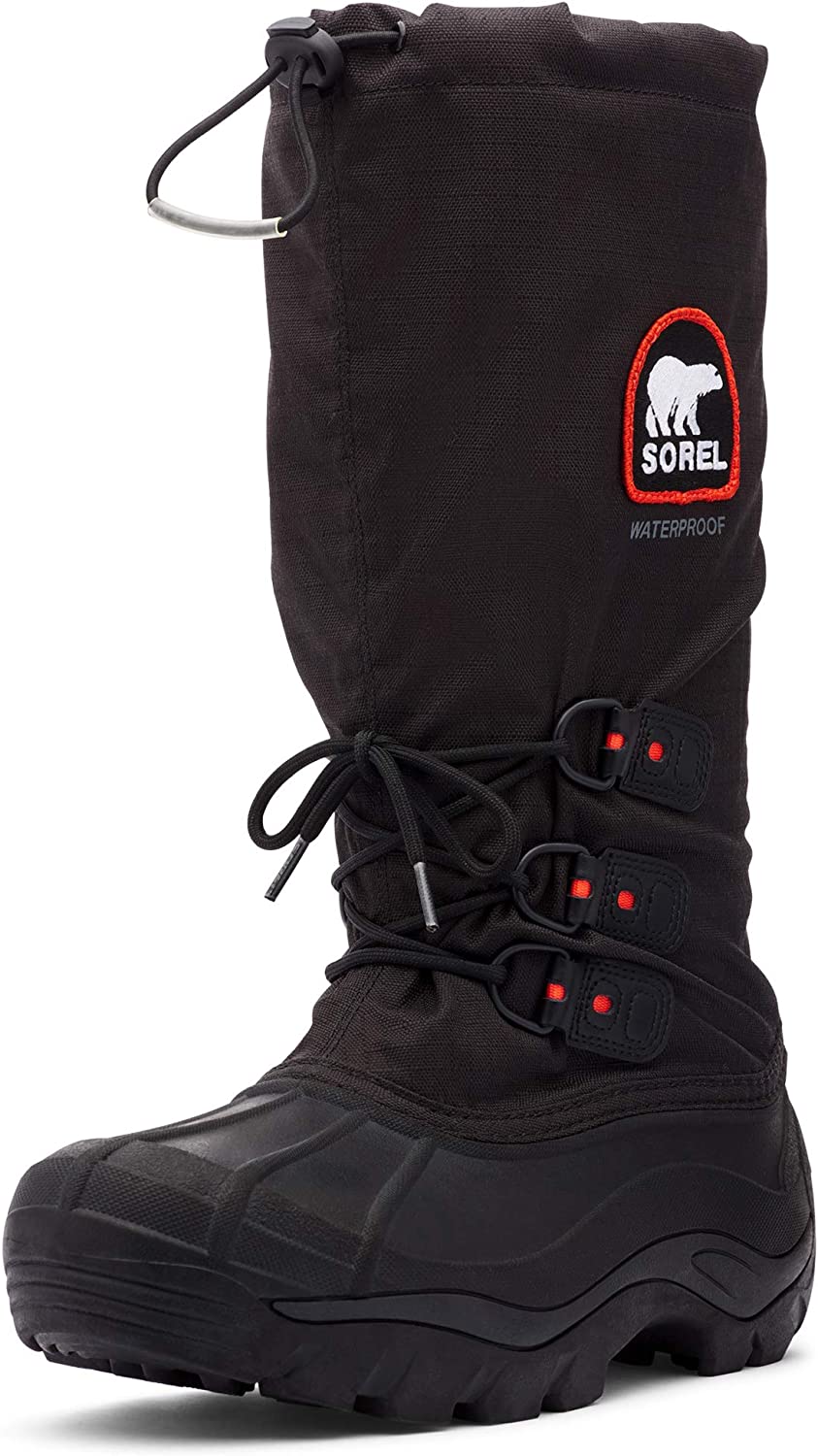 Sorel Bear Extreme
Color: Black
Material: 

Synthetic & Rubber
Best Value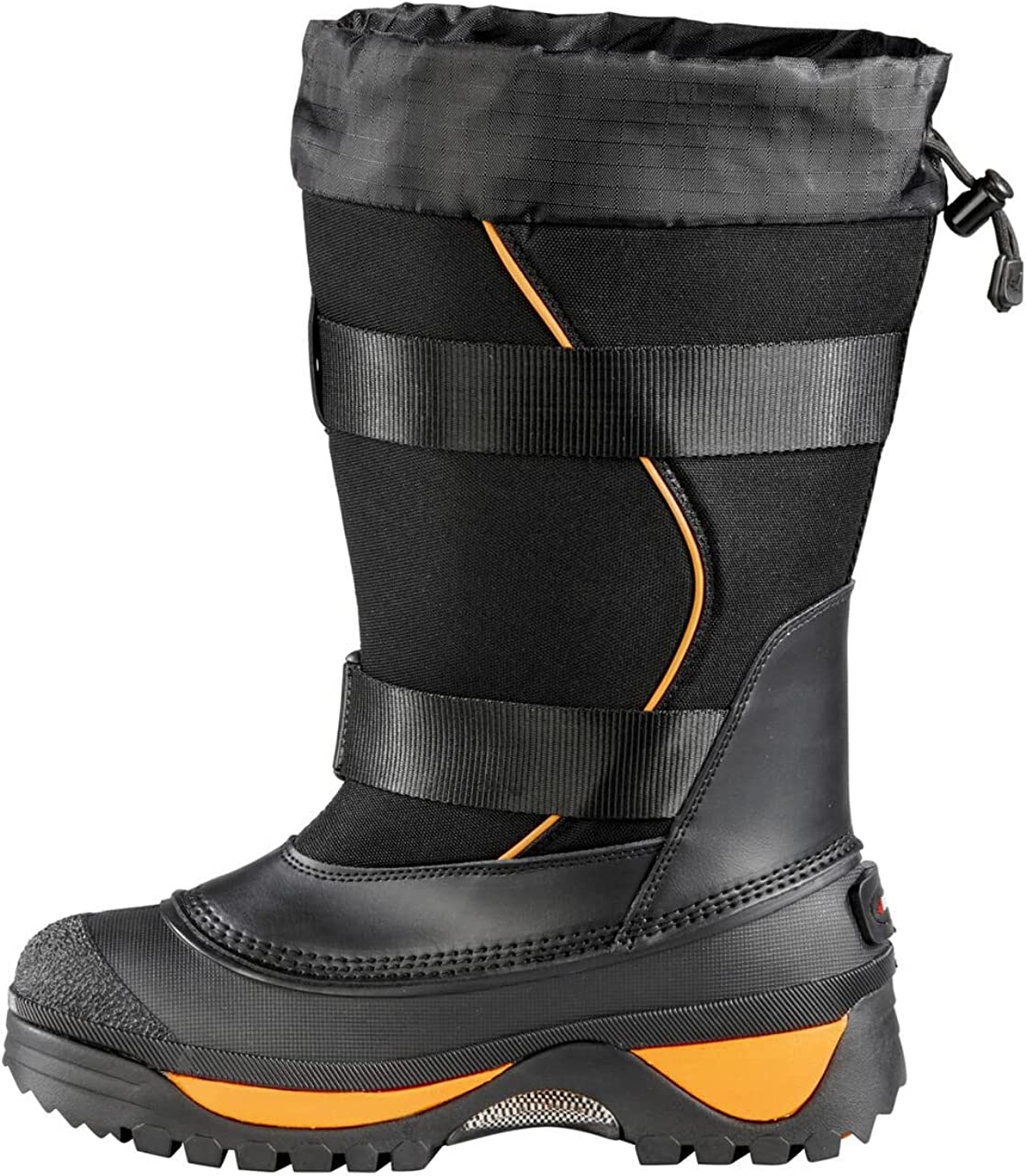 Baffin Wolf Snowmobile
Color: Black
Material: 

Nylon and leather
Best Polar Boot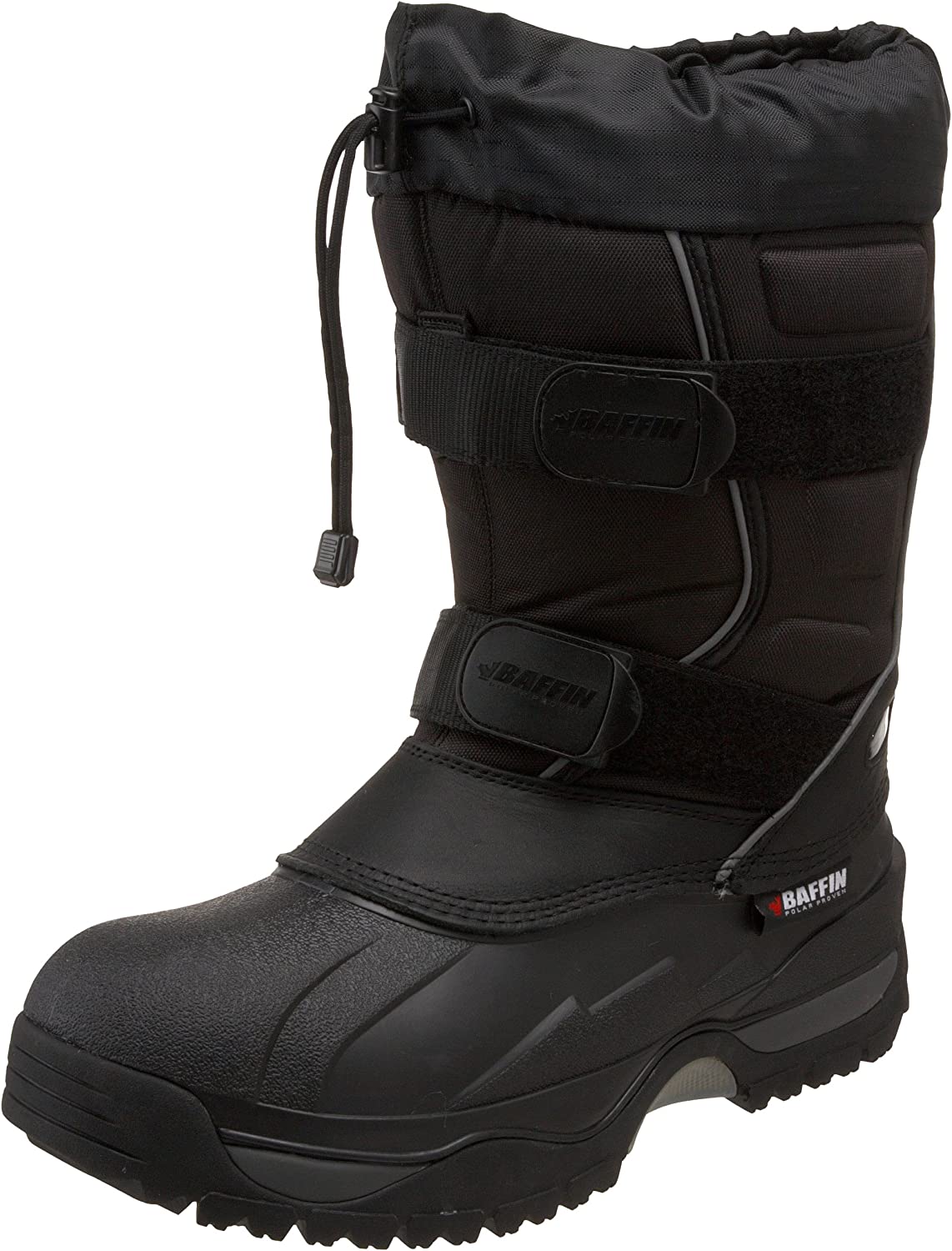 Baffin Men's Eiger
Color: Black
Material: 

Nylon
The Best Snowmobile Boots Available Right Now
Whether you're a newbie or a pro – a casual snowmobiler or someone who truly pushes the limits – this article reveals some of the best snowmobile boots on the market today.
Choose from this list, and you can't go wrong.
Here are seven of the best snowmobile boots available right now: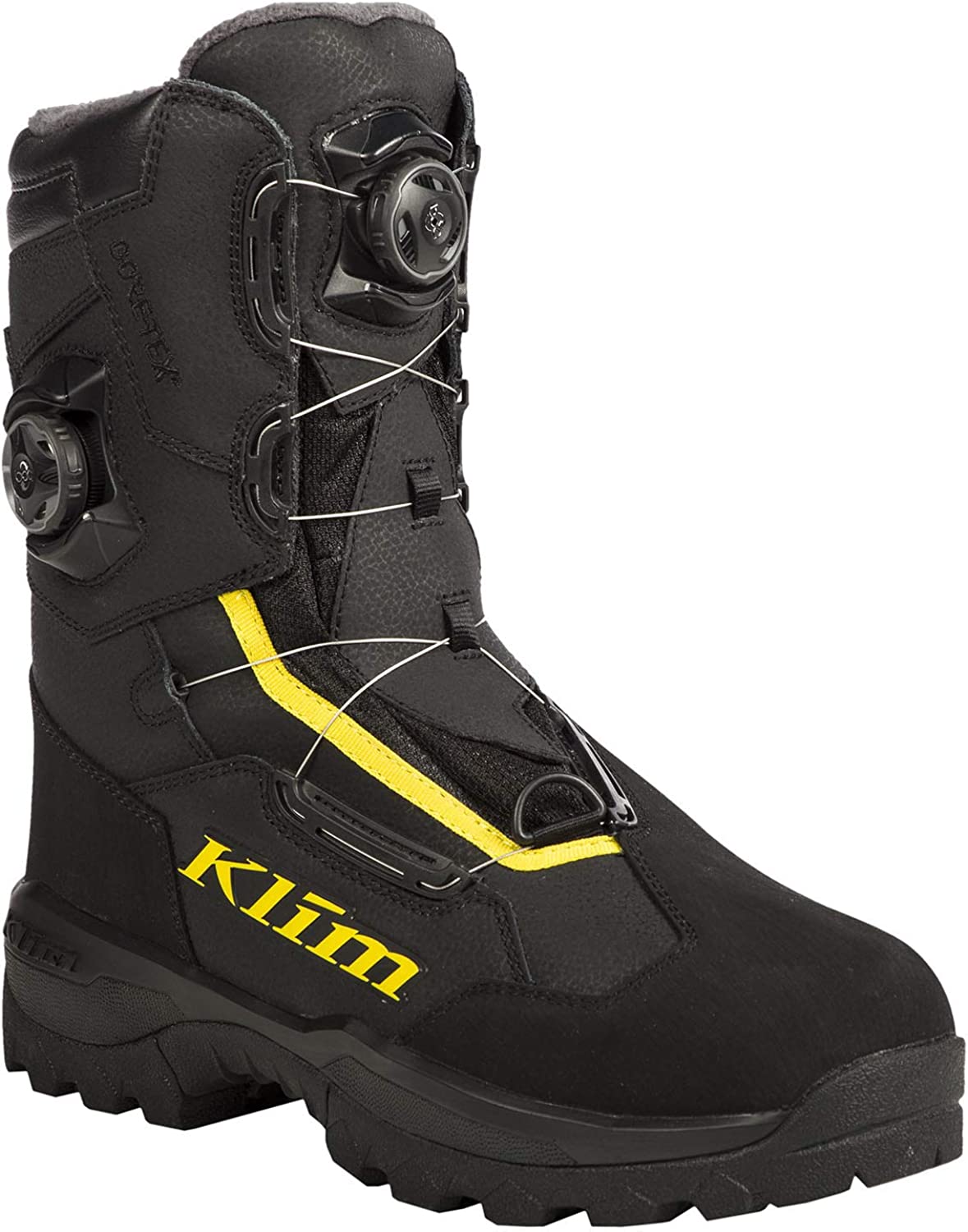 Klim boots have a solid reputation among snowmobilers, and the Adventure Pro GTX BOA shows us why.
"GTX" stands for Gore-Tex, and this reliable, waterproof material is this boot's standout feature.
The Gore-Tex outer layer keeps your feet dry while providing 100% wind resistance. If that wasn't enough, this material is also surprisingly breathable.
I definitely felt the breathability when I took these out for a test run, and I know for a fact that this is going to be a solid feature in the spring when the weather starts to warm up a little.
But do these boots keep your feet warm in the coldest temperatures imaginable?
Personally, I live on the West Coast of BC – a location that never really gets that cold. With that said, I never felt any chills through my feet.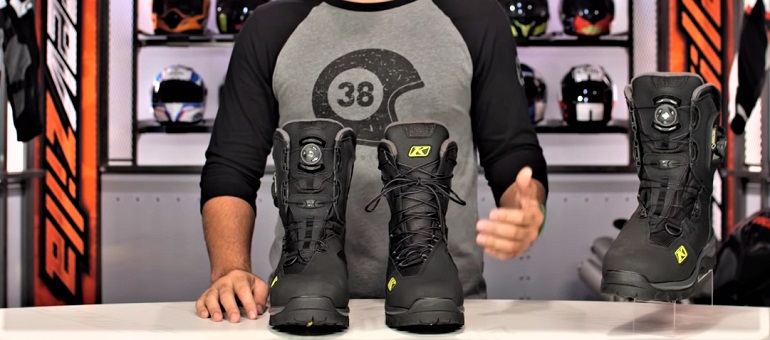 Another major plus is the dual-boa lace system. It's the exact same system you'll find on some of the best snowboarding boots, and it definitely makes things easier when you have extremely cold hands.
I'm one of those people who prefer to wear mitts, so I loved not having to take them off in order to loosen and tighten the speed laces on these Klim Adrenaline GTX Boots.
All in all, I have to give the Adventure Pro GTX BOA the thumbs up – but just keep in mind that I didn't have a chance to test them in truly cold weather (we're talking East Coast temperatures of around negative 40).
Top Features
Gore-Tex
Boa Dual-Zone Lacing System
3M Thinsulate Insulation
Moisture-Wicking
Pros
Breathable, windproof Gore-Tex keeps your feet dry and comfortable.
Dual-Boa Lace System lets you tighten your boots with cold hands – even when wearing mitts.
3M Thinsulate protects against most cold climates.
Cons
Somewhat expensive.
Not clear whether they're rated to truly low temperatures.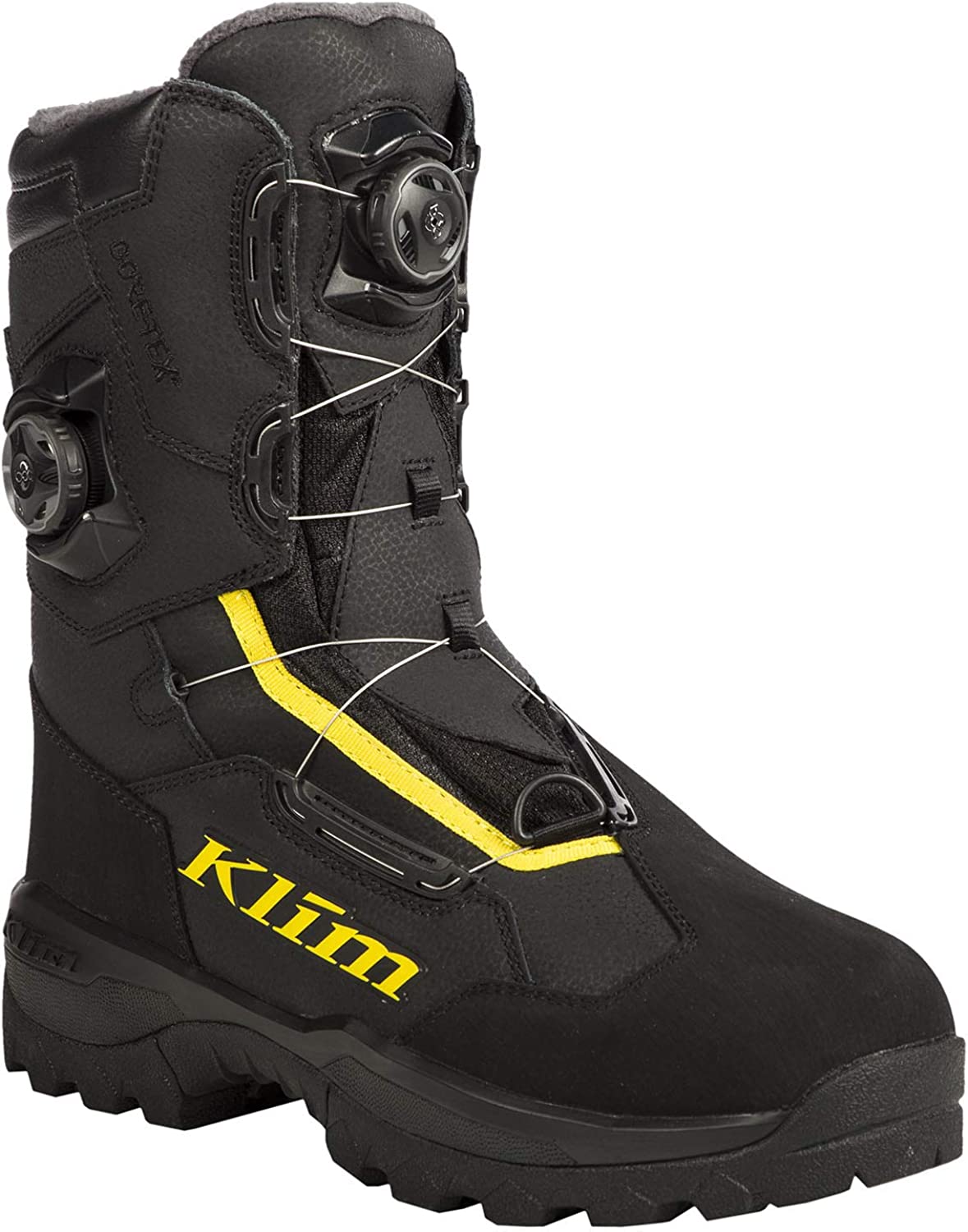 Klim Adrenaline Pro GTX BOA Boots
The price of "Klim Adrenaline Pro GTX BOA Boots " varies, so check the latest price at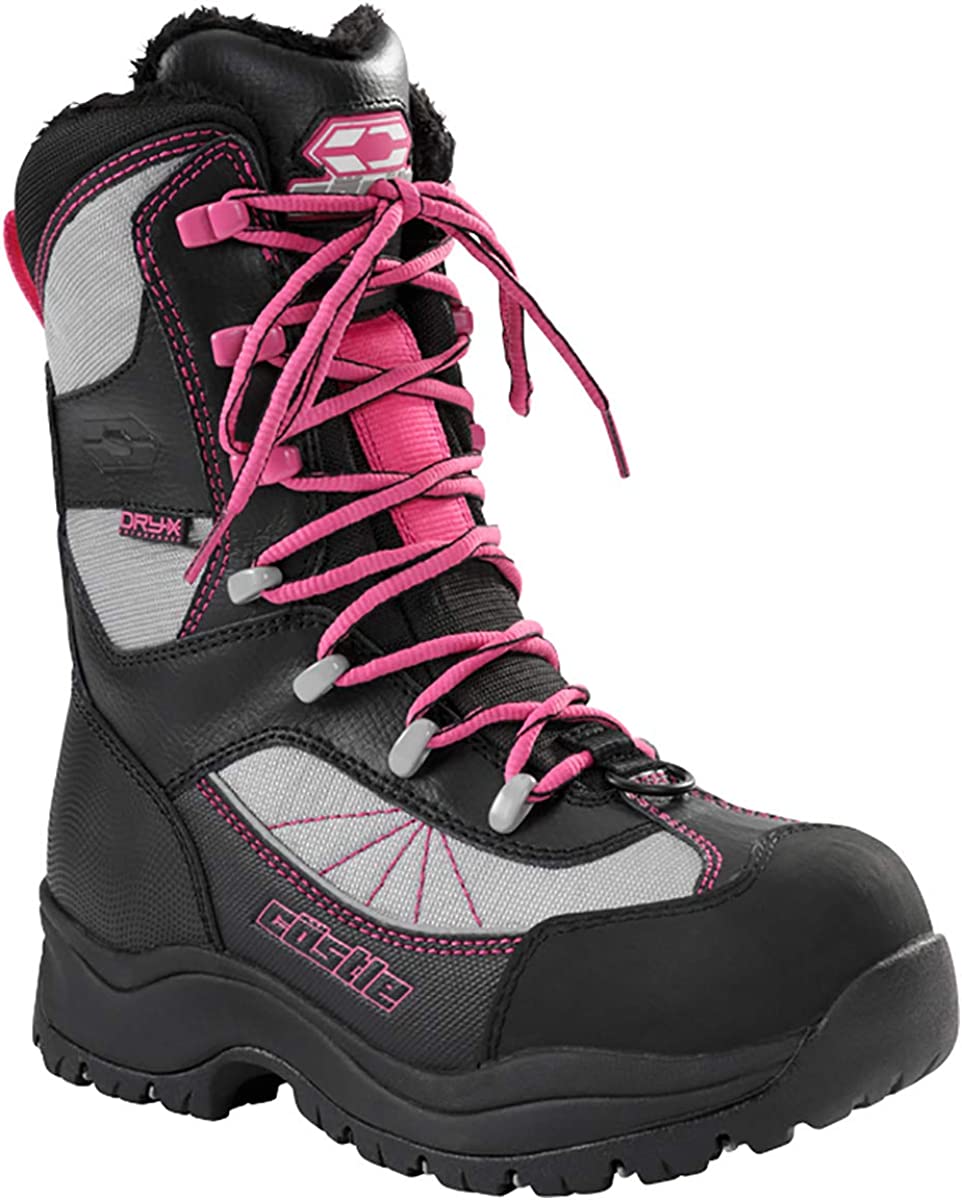 Obviously, I wasn't able to try on these women's snowmobile boots, but they definitely caught my eye – and I've been hearing great things about them from my female friends.
The Triple Merino Wool Blend layer provides solid insulation with the added benefit of moisture-wicking capabilities, keeping your feet warm without anything getting smelly.
Although these boots feature a traditional lace system, they also boast a Castle Speed Lace system with an articulated collar – which means that lacing these women's snowmobile boots is pretty quick.
These women's snowmobile boots also offer solid waterproof technology with a combination of nylon and leather uppers. The leather components are Armstrong PU coated, while the Castle Dry-X gives the 1000D nylon components plenty of weather-proofed power.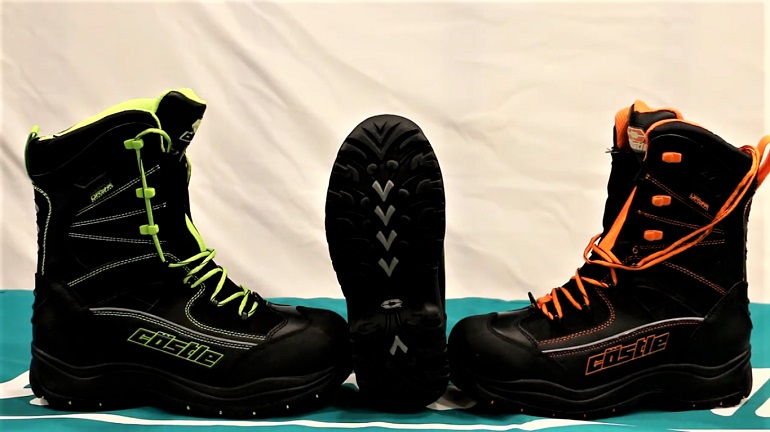 Either way, your feet are going to be snug, dry, and warm on your next snowmobiling excursion.
My friend said she also liked the fact that these ladies' snowmobile boots come with an extra pair of grey laces. After all, bright pink isn't for everyone.
And if that's not enough to convince you, these bad boys are rated up to negative 51 degrees celsius.
Top Features
1-Year Warranty
3-Layer Merino Wool Blend Insulation
DRY-X Waterproof Membrane
1000D Nylon Upper
Armstrong PU Coated Leather
Pros
High-quality merino wool gives you moisture-wicking air mesh warmth without bad smells.
Waterproof leather and nylon uppers give you durable moisture-repellent action.
Castle Speed Lace System makes tightening these babies up a total breeze.
Cons
Only for female snowmobilers!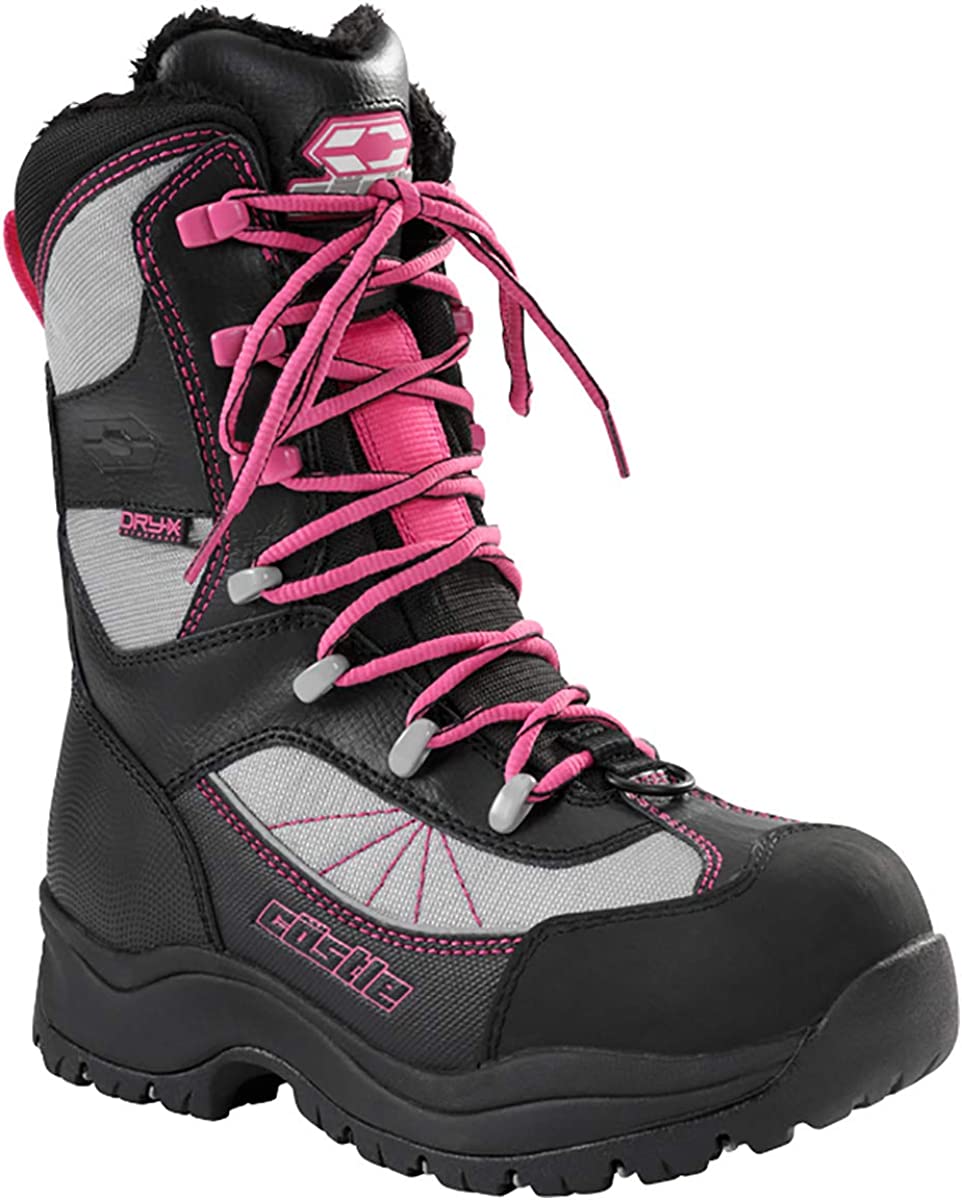 Castle X Force 2 Women's
The price of "Castle X Force 2 Women's " varies, so check the latest price at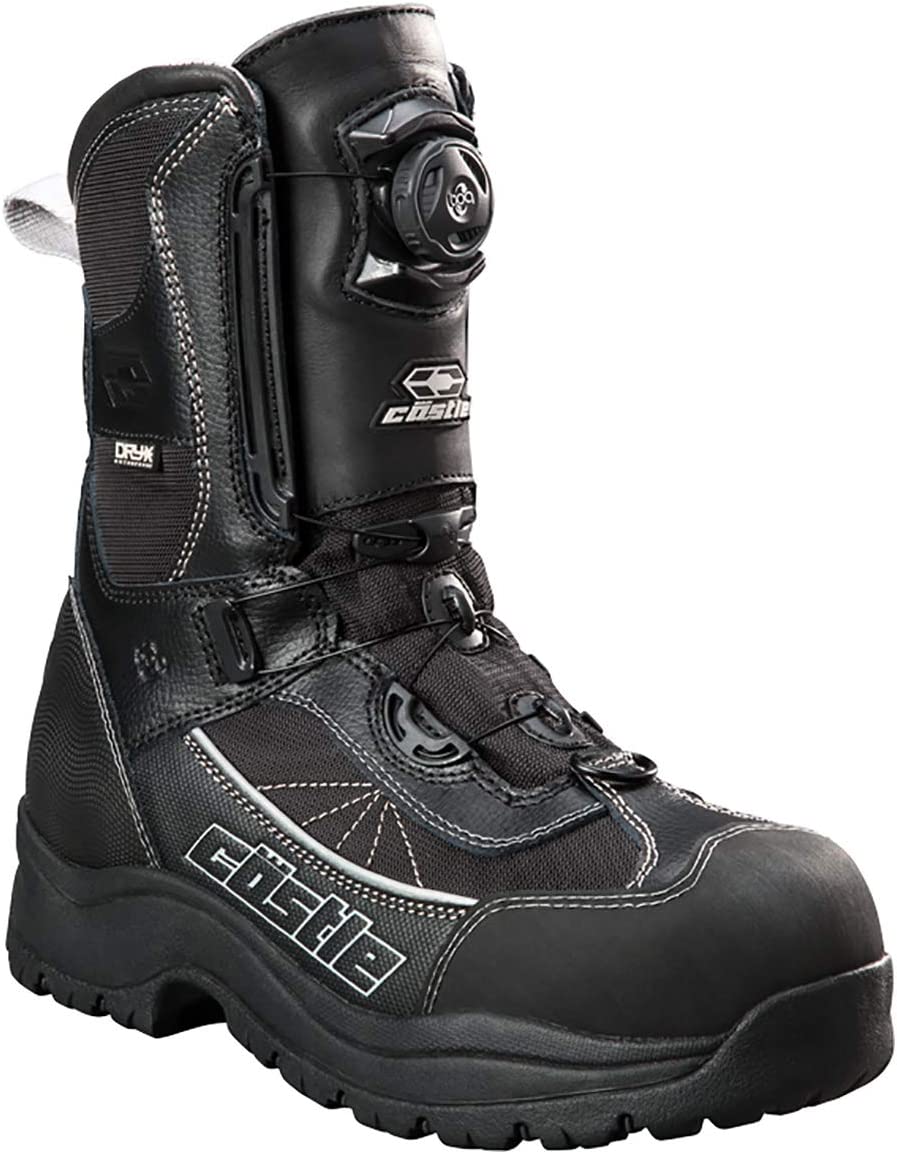 Did you like the look of the last pair of boots? Are you wishing they made a men's version?
Well, your prayers have been answered with the Castle X Charge Boa snowmobile boots.
Here, you'll find the same 3-layer merino wool blend in the inner boot – which provides insane levels of insulation and natural moisture-wicking power. The end result is a comfortable, warm, and great-smelling pair of boots.
Castle is a relatively small brand, but they have a reputation for durability and solid weather-proofing. I personally like supporting smaller businesses like Castle over larger corporations – but hey, that's just me.
One thing I really like about these men's snowmobile boots is that they look extremely cool. They have that all-black, no-nonsense leather look that belongs on any snowmobile.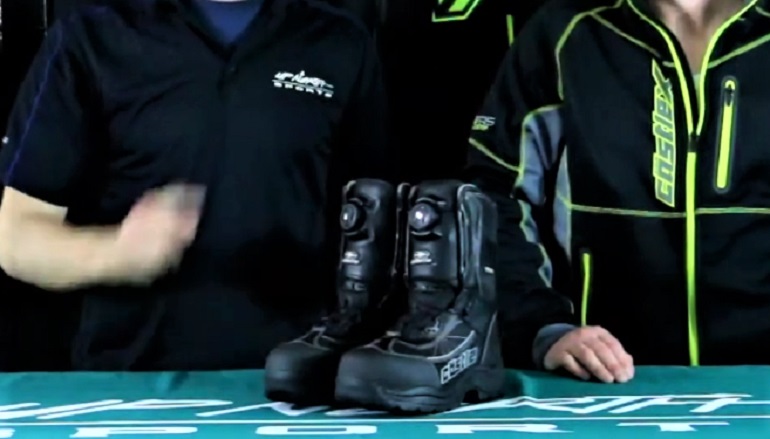 One unique feature that you won't find on the aforementioned women's boots is Castle's ColdShield Technology, which gives you a removable insole with a metallic heat-reflecting layer.
This keeps your feet super toasty while also wicking away all that sweat for an insanely comfortable feel – even after hours on the snow.
You might also argue that the lacing system is an improvement when compared to the women's X Force 2 Model. While I'm a big fan of traditional laces, I can't deny that this particular Boa System is pretty sweet.
You can really dial in your ideal tightness level – depending on whether you want a more relaxed feel or something snappy and responsive for serious snowmobiling.
The EVA footbed is another major plus – it really feels like these best boa snowmobile boots were customized just for me.
I only wish Castle shipped directly to Canada!
Top Features
3-Layer Merino Wool
ColdShield Technology
Advanced Boa Lace System
EVA footbed
Pros
3-Layer Merino Wool for fresh smells and some of the warmest snowmobile boots.
ColdShield Technology reflects your own body heat back to keep you toasty.
Advanced Boa Lace System lets you dial in your ideal tightness level.
EVA footbed feels like a custom fit.
Cons
Castle doesn't ship to Canada!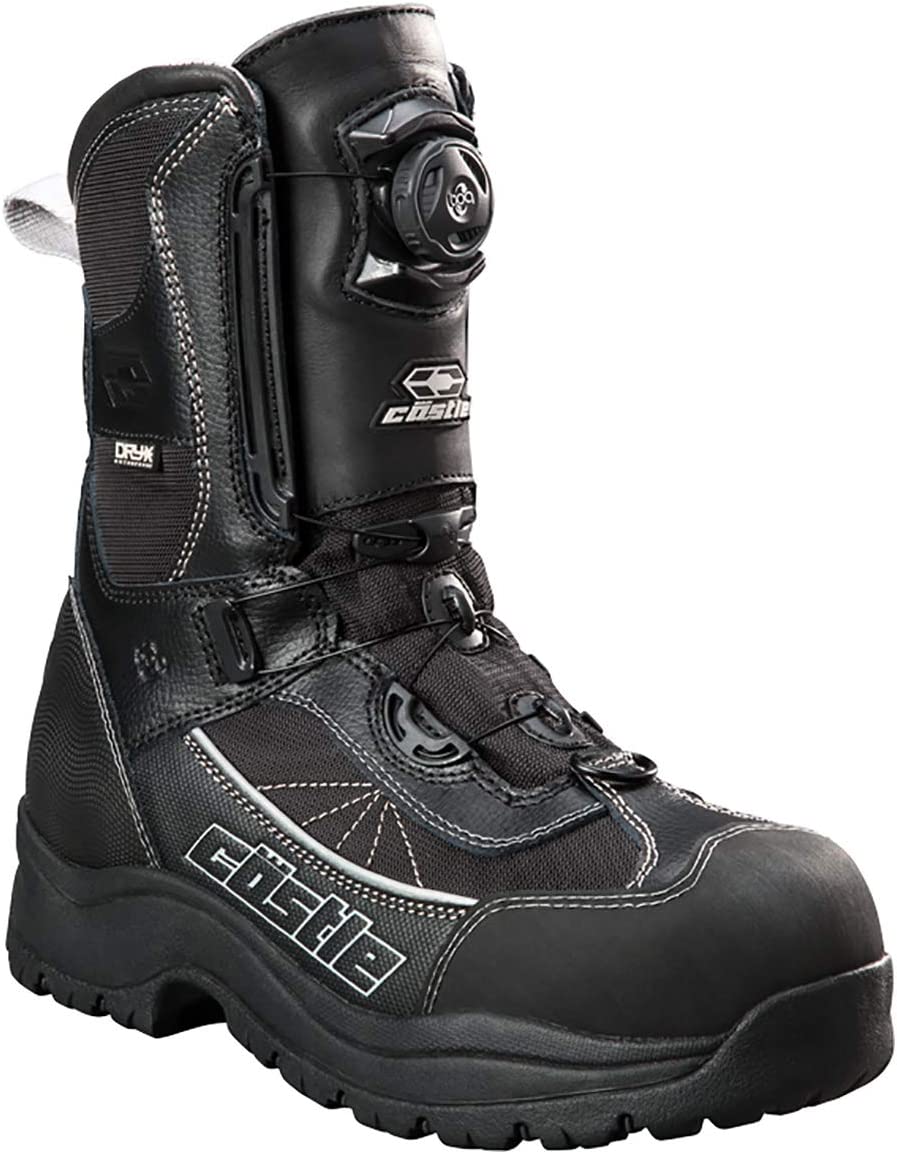 Castle X Charge Boa Boots
The price of "Castle X Charge Boa Boots " varies, so check the latest price at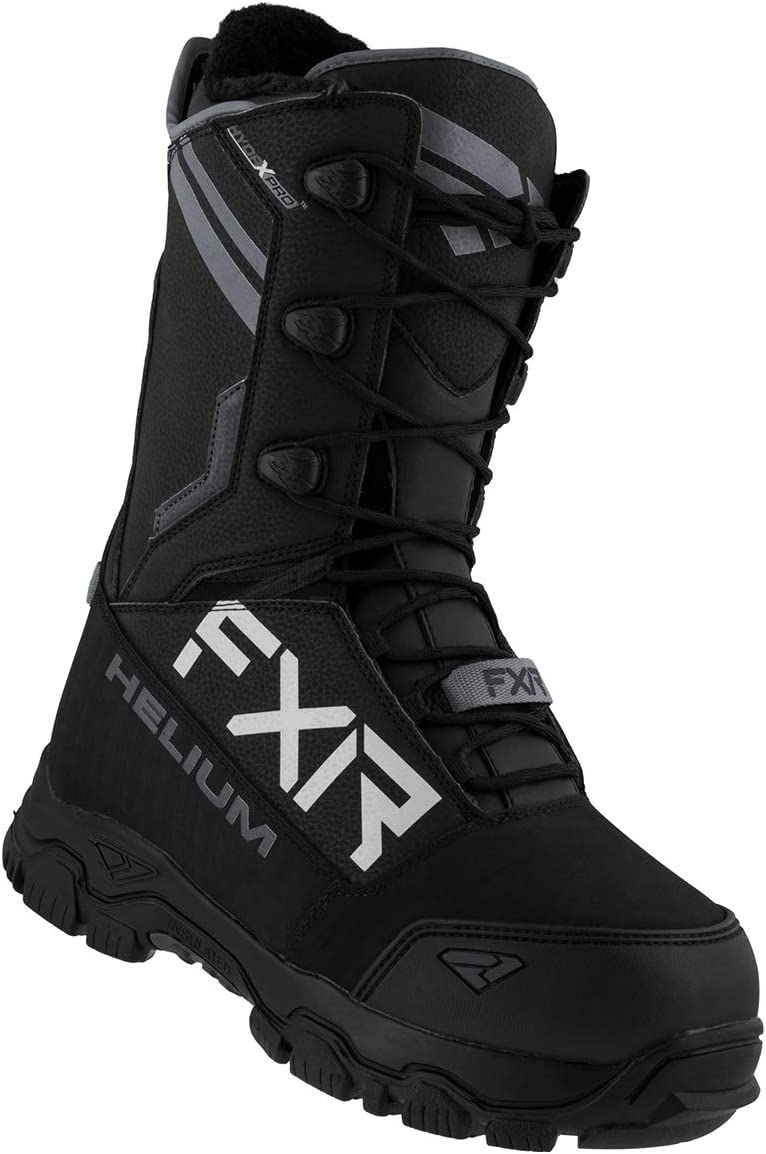 If there was ever a snowmobile boot that summed up the utterly extreme nature of this sport, it would be the FXR Helium Speed Boot.
As the name suggests, this snow boot is designed first and foremost for speed.
It shouldn't come as a surprise, especially since these snowmobile boots were created by a company called FXR RACING.
Yes – just like FXR Cross snowmobile boots, these are the ones professional snowmobile racers rely on for top events, and they pack tons of insane features under the hood.
First, you have an anti-slip lace system with molded hooks for reliable, secure tightness even when you're pushing the envelope to the absolute limit.
Racing in the Arctic?
No problem.
These snowmobile boots are rated for an insanely low temperature of negative 60 degrees celsius.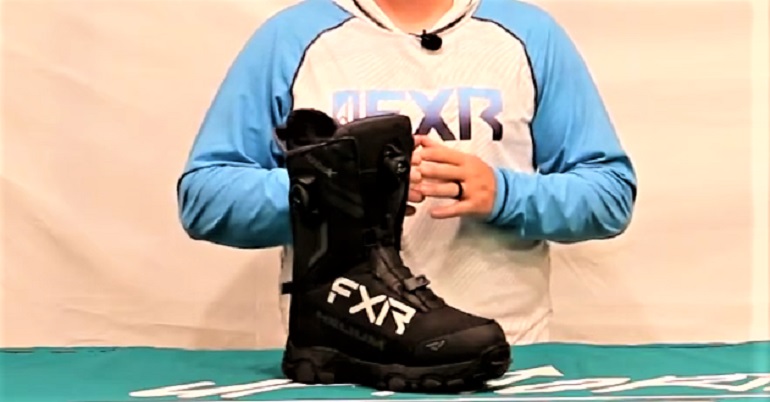 One thing I really love about these boots is how streamlined they are. They seem somehow aerodynamic – and this is an area where a lot of other "chunky" boots fail.
I was especially blown away by the toe box, which features a low-profile design that gives you total control.
But despite the sleek design, I really got the sense that these boots could take some serious punishment. The trademark FXR high-traction outsole gives you insane levels of grip, and the heavy-duty thick rubber pads seem like they're capable of standing the test of time.
Achilles and calf cushion support represent the cherry on the cake, making these boots durable, warm, and comfortable.
If you're into snowmobile racing, these are the boots you need.
Top Features
Rated to -60C with 800g insulation
BTO Thermostatic Midsole Insert
FXR high traction outsole
Front & rear pant cuff attachment system
Pros
Sleek style and streamlined design with minimal seams for ultimate control at high velocities.
Rated to negative 60 degrees for a snowmobile boot you can literally take to the Arctic.
Low-profile toe box isn't like those other "chunky" snowmobile boots.
Anti-slip lace system keeps your snowmobile boots secure even when racing at high speeds.
Achilles and calf cushion makes each snowmobile boot exceedingly comfortable.
Cons
A little on the expensive side (but you can find solid deals).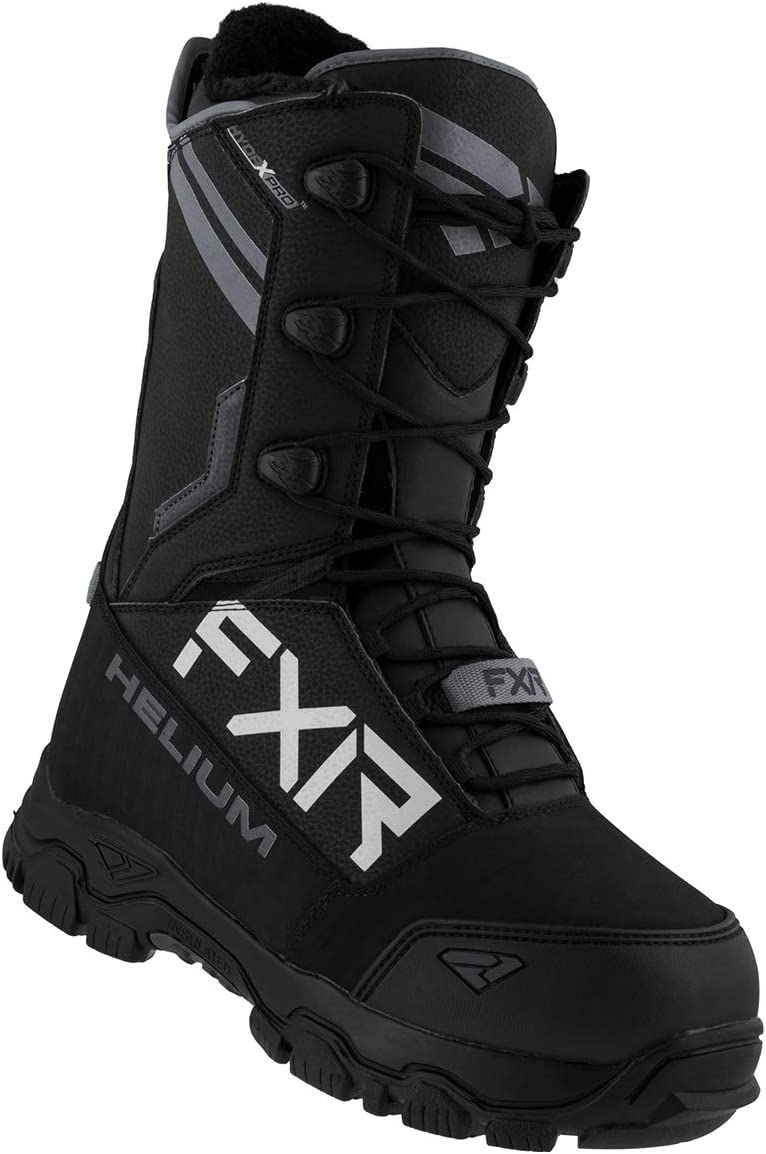 FXR Helium Speed Boot
The price of "FXR Helium Speed Boot " varies, so check the latest price at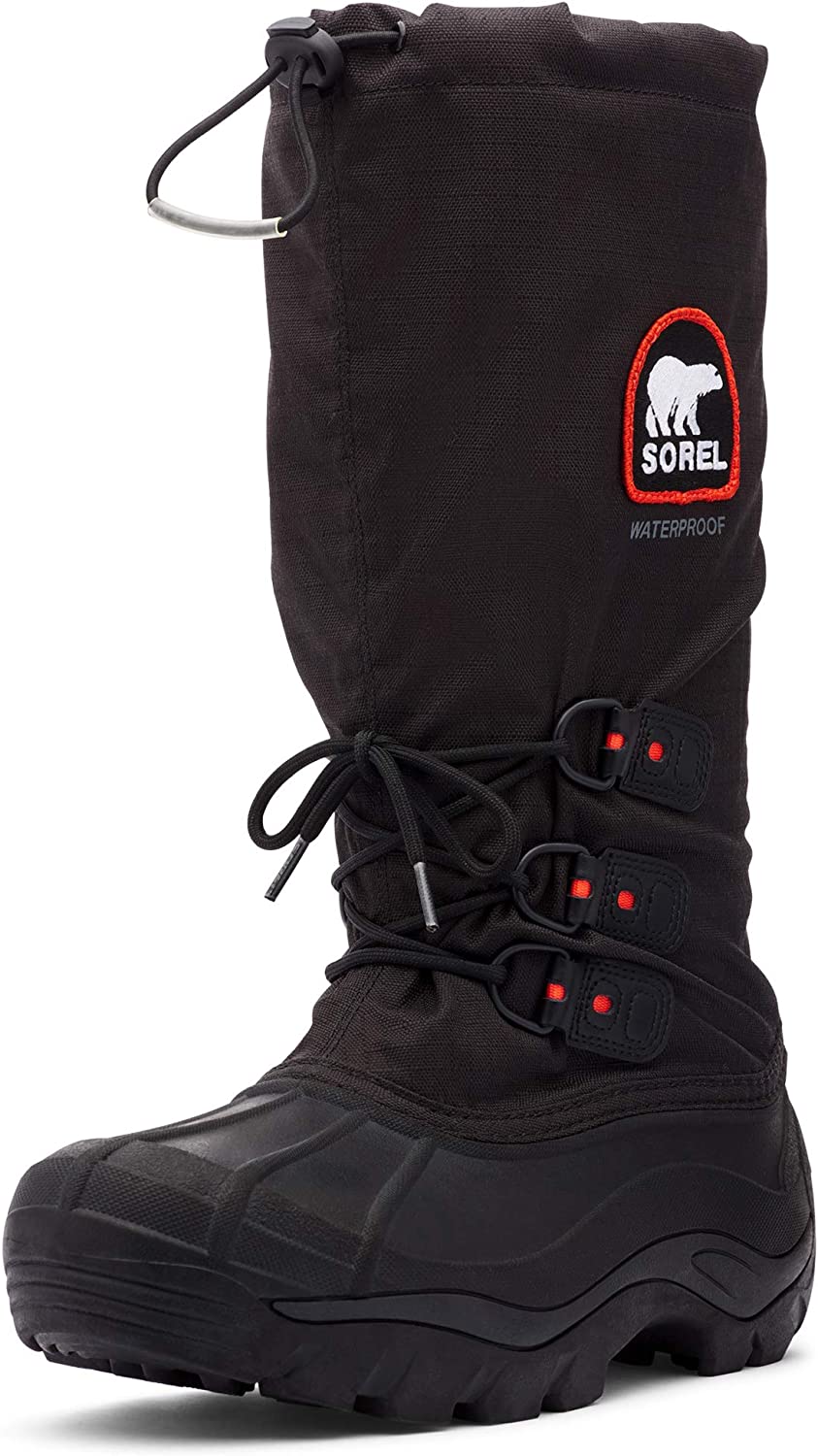 If you're in the market for snowmobile boots that are a little more affordable, the Sorel Bear Extreme is an excellent choice.
You can pick these boots up for about $100, and they'll perform just fine on the back of a snowmobile.
Sure, they might not be the best snowmobile boots out there – but they'll get the job done.
One thing I like about these Sorel snowmobile boots is the fact that they're extremely versatile. You can use them for just about anything – including hiking, farmwork, hunting… You name it.
If you find yourself getting on and off your snowmobile frequently, these might just offer the adaptability you're looking for.
For example, you might use your snowmobile to cross your land. Maybe you use it to hunt. In any case, it's nice to have a boot that feels like it was built for walking and crossing difficult terrain.
In contrast, a lot of the other snowmobile boots on this list seem like they were built specifically for snowmobiling.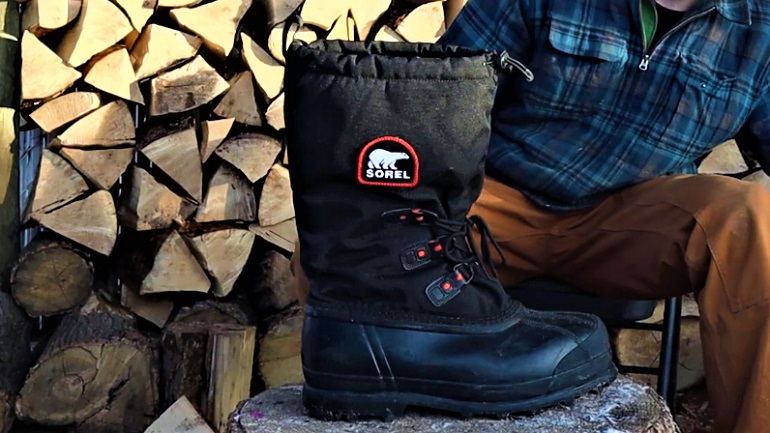 And these Sorels are no slouches when it comes to features, either.
One feature that really stood out to me was the Omni-Heat reflective lining, which reflects your body heat back upwards to keep your toes and feet nice and toasty.
This is a feature I'd expect to see on a much more expensive pair of snowmobile boots, to be perfectly honest.
And with solid waterproof capabilities matched with a negative 40 degrees rating, these boots can take pretty much anything mother nature throws at them.
All in all, you're looking at a solid option – especially if you're on a budget.
Top Features
Solid versatility
Affordable snowmobile boot
Rated to negative 40 degrees celsius
Waterproof synthetic upper
Omni-Heat reflective lining
Vulcanized shell
Pros
No need to break the bank with these snowmobile boots.
Omni-Heat technology for some of the warmest snowmobile boots.
Solid waterproof features.
Great versatility for snowmobiling and any other winter activities you can think of.
Cons
Not the most stylish.
Not built specifically for snowmobiling.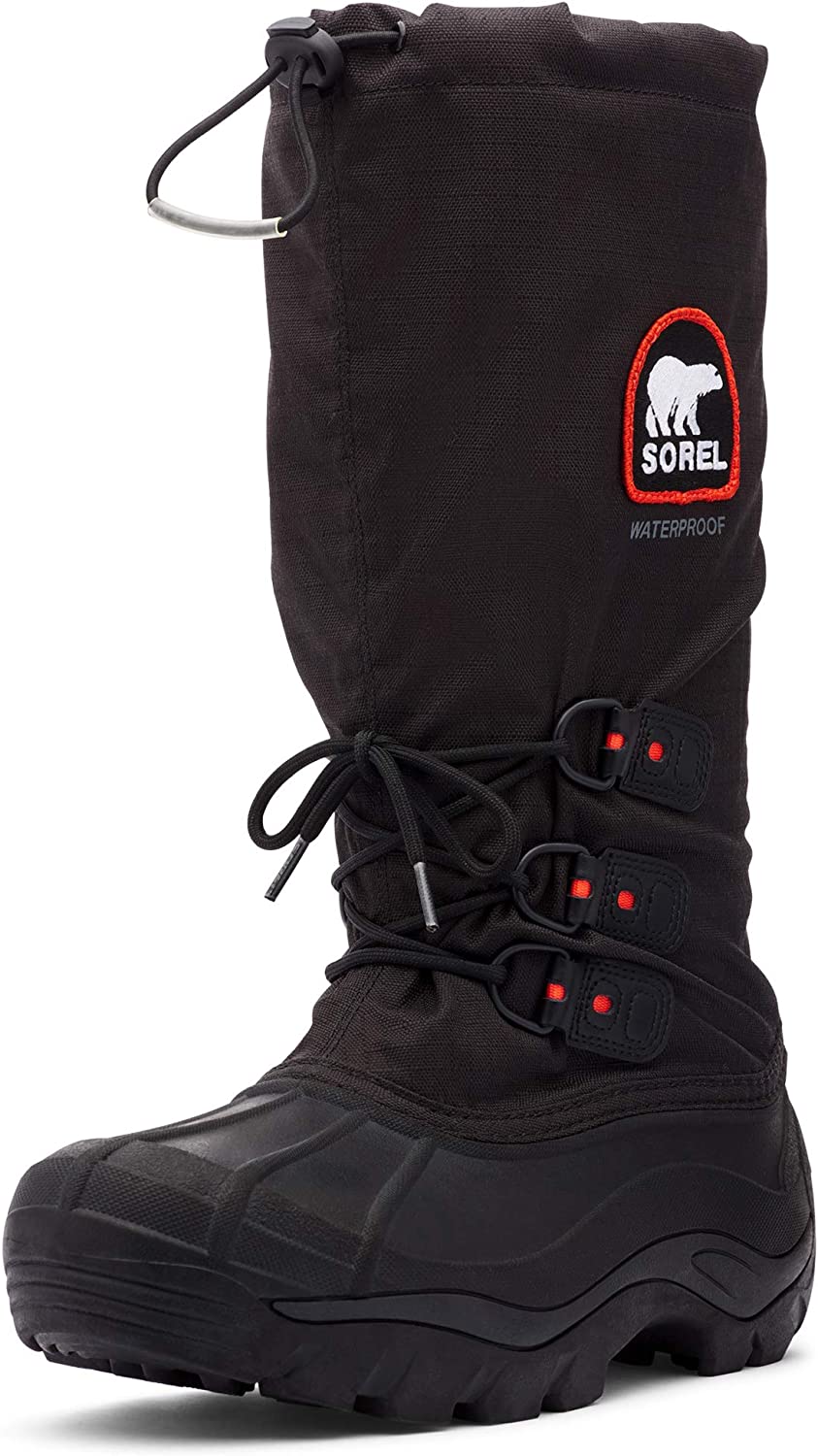 Sorel Bear Extreme
The price of "Sorel Bear Extreme " varies, so check the latest price at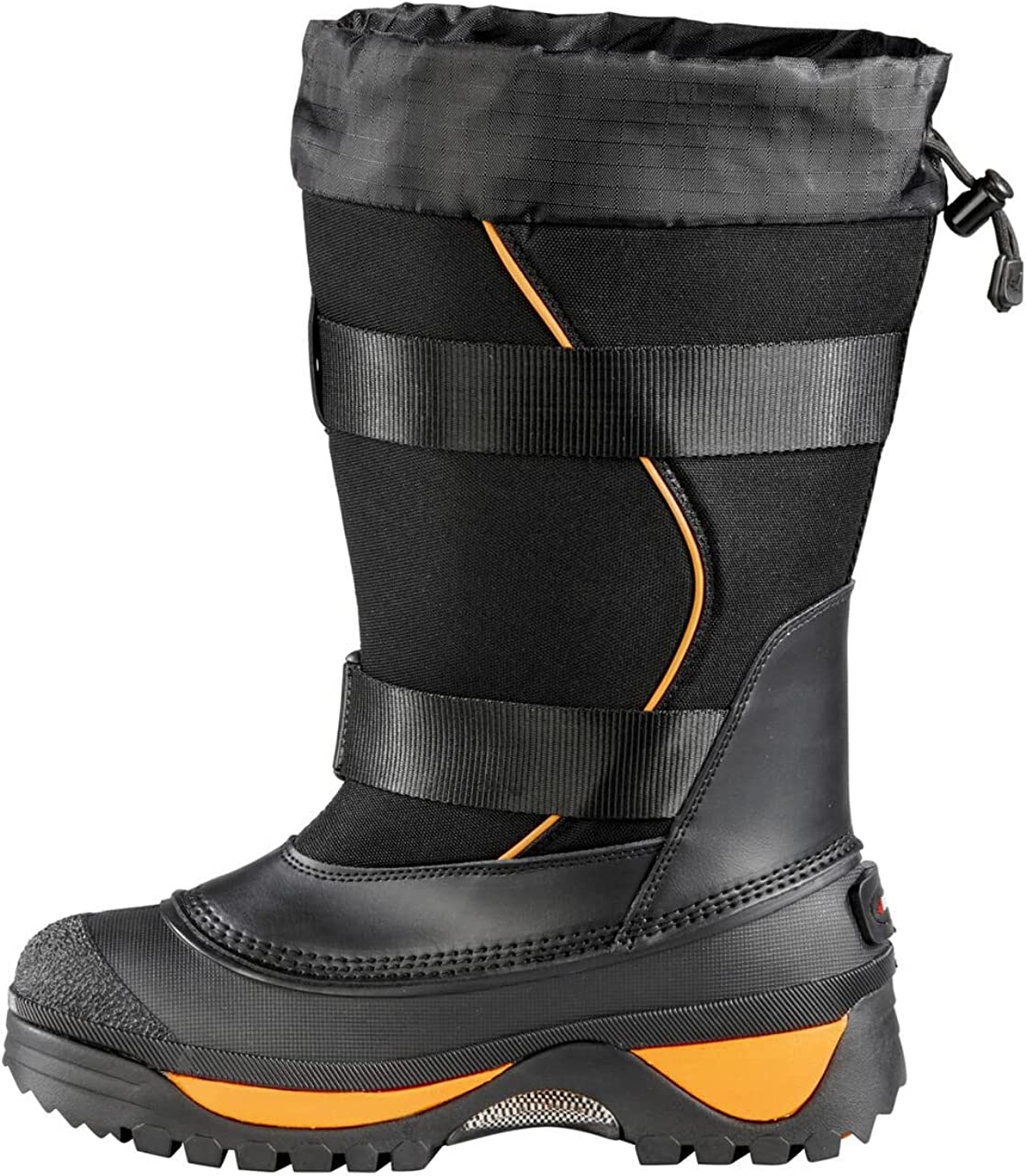 Baffin is a company that is near and dear to my heart, as it is one of Canada's most famous footwear companies.
And in True North, we know how to make snow boots. These Wolf Boots represent a solid choice for any snowmobiler, and they were tested right on the Canadian Tundra.
A 900D nylon upper reliably rejects moisture, and a Diamon Net Insulation system repels wind – perfect for high speeds on a snowmobile.
I was especially drawn to the double-buckle system, as I felt that this really made these boots look like they belonged on the back of a snowmobile.
But hey, maybe that's just me.
These Baffin snowmobile boots get extra style points for their camouflage Mossy Oak colorway, making them stand out even more.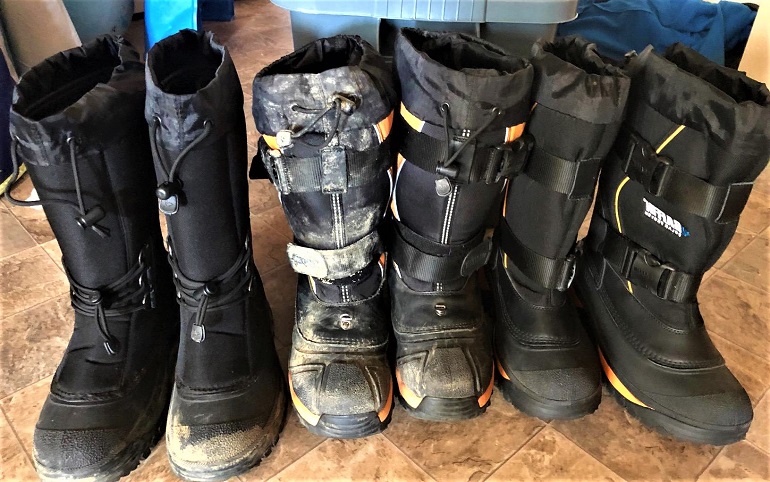 But most importantly, these boots are going to keep you extremely warm with their heat-reflecting Vaporized Aluminum Membrane and their Thermaplush internal lining.
Another feature I loved was the fact that it's a removable liner, which is a great option on those warmer spring days.
While these aren't as cheap as the Sorels, they represent a solid "middle ground" for those who want the best value.
Top Features
B-Tek Dry Waterproof Base
900D Nylon Upper
Double Buckle
EVA Midsole
Thermaplush
Vaporized Aluminum Membrane
Diamond Net Insulation
Pros
Interesting styling with double buckles and camouflage colorways.
900D Nylon and B-Tek base give you durable waterproof boots.
Advanced features like Vaporized Aluminum Membrane.
Tested in some of the most inhospitable Canadian regions.
Cons
Some have had issues with the glue coming apart.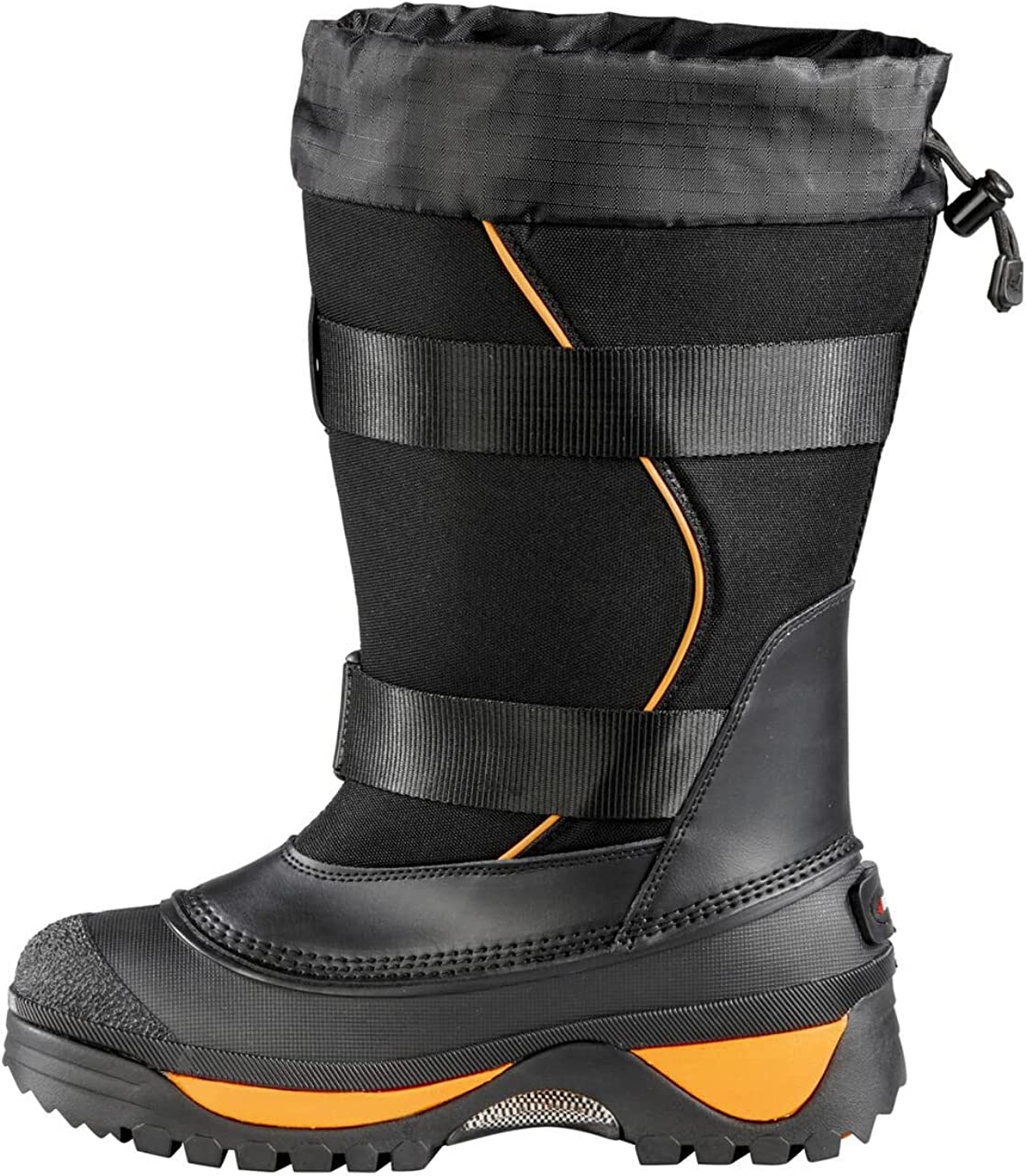 Baffin Wolf Snowmobile Boot
The price of "Great boots for winter weather " varies, so check the latest price at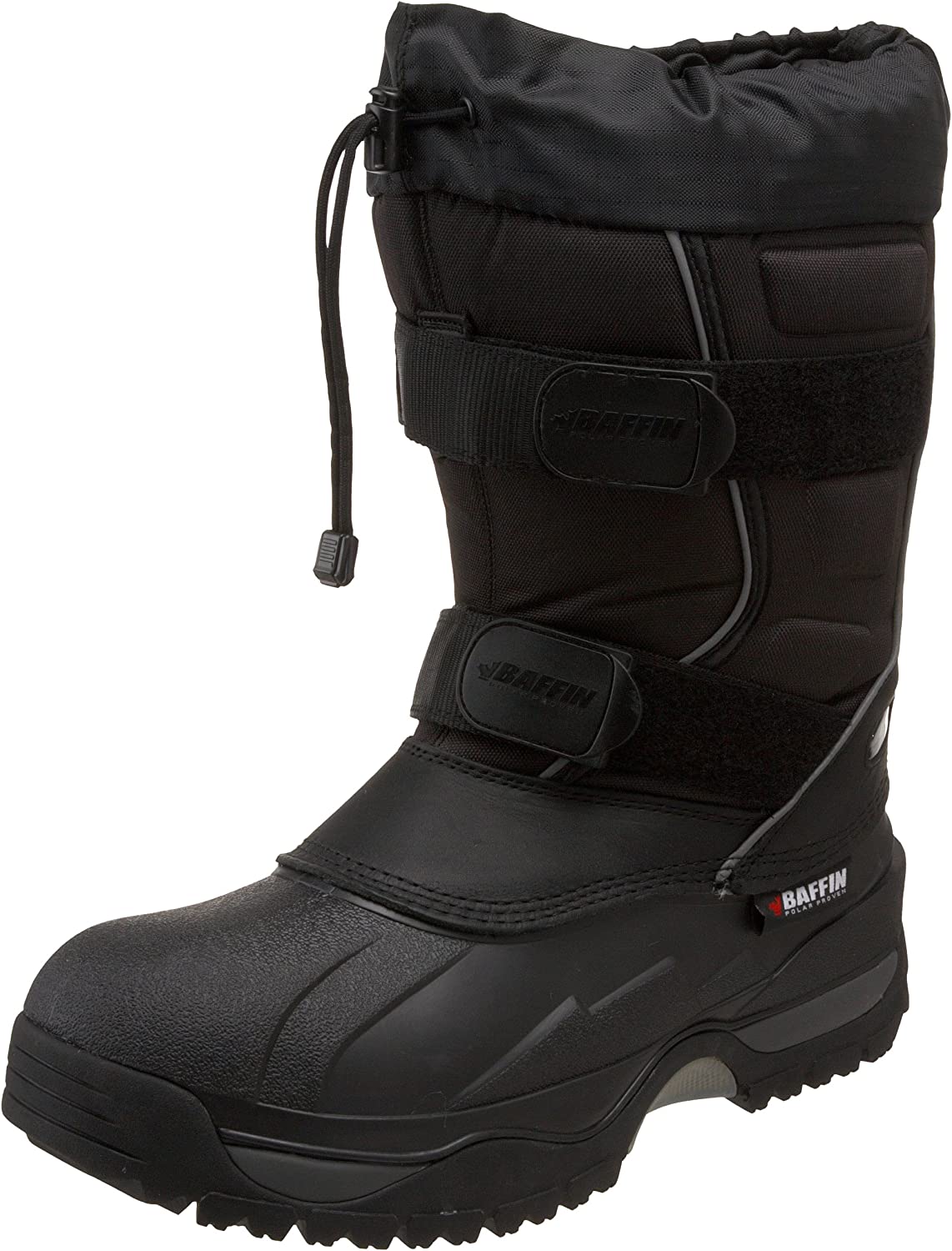 If the Baffin's Wolf snowmobile boots aren't quite doing the trick, you can always upgrade to a pair of Eigers.
These boots represent the very pinnacle of Baffin snowmobile boots' technology. While the Wolf snowmobile boots are designed for the Tundra, these bad boys are built for the Polar regions.
In other words, they can handle the coldest temperatures on the planet.
They also look a little sleeker and more streamlined – making them a stylish choice for any snowmobiler. I especially liked the two nylon straps that help you lock in your fit.
You also get an upgraded full-grain leather upper, durable Polar Rubber specifically designed for extreme cold, and all the features that come with the Wolfs.
The Eiger really starts to stand out with its Hydromax layering, which gives you improved moisture management.
Another standout feature is the Waffle-comb footbed, which seriously cuts down on foot odor.
Finally, I absolutely love the fact that these snowmobile boots are snowshoe-compatible. Snowshoeing is one of my favorite winter pastimes, and I really like the idea of packing a pair of snowshoes on my snowmobile for walks through the forest.
Just a heads up:
You will pay a little extra for these upgrades, as the Baffin Eiger is almost $300 Canadian.
Top Features
Tested in the Polar regions
Snowshoe compatible
Full-grain leather upper
Polar Rubber
Hydromax layering
Waffle-comb footbed
Pros
Snowshoe compatibility lets you hop off your snowmobile and enter deep snow.
Durable, cold-resistant materials like full-grain leather and Polar Rubber.
Stylish, streamlined design with nylon straps.
Hydromax layering and Waffle-comb footbed eliminate moisture and odor.
Cons
Might be a little too expensive for what it is.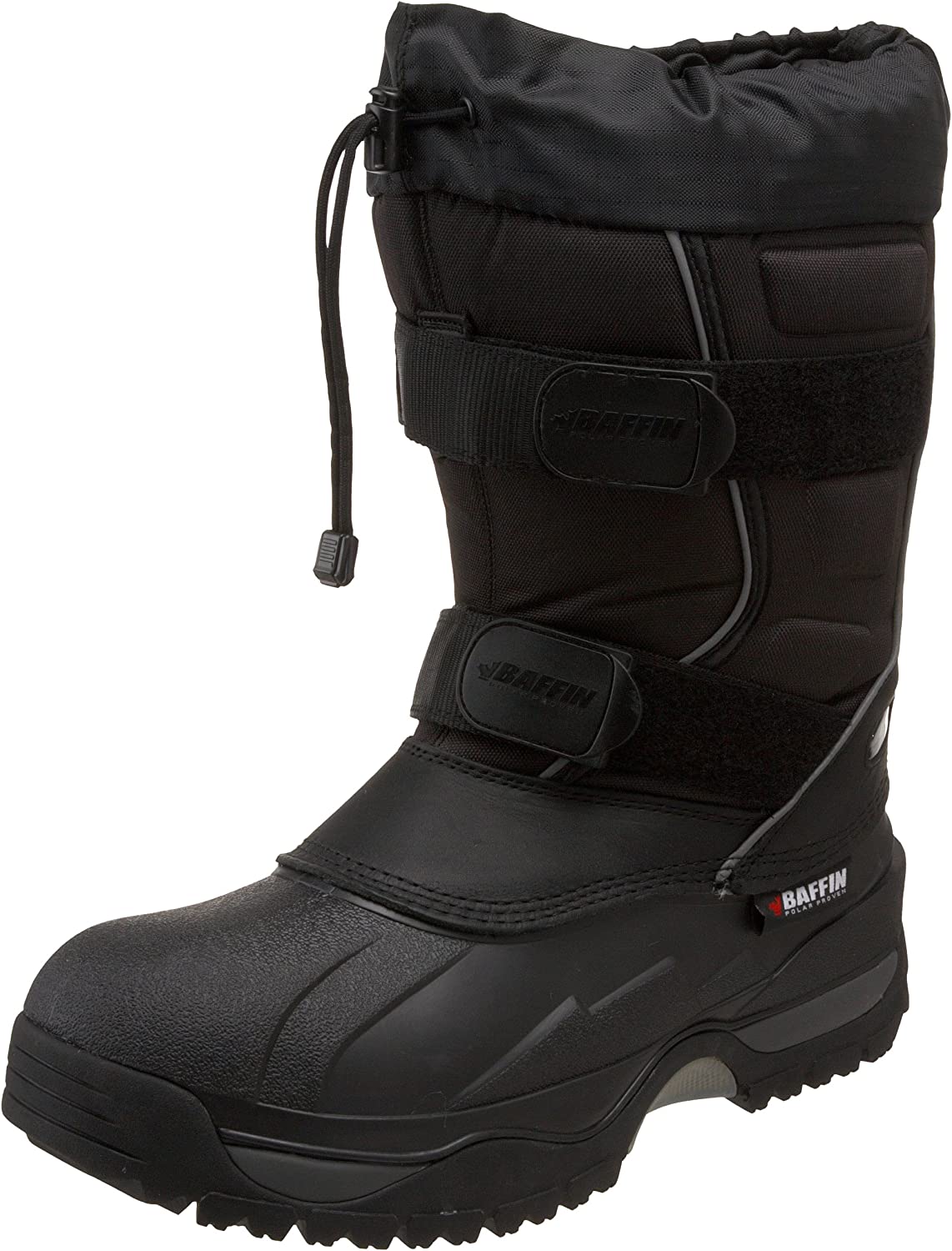 Baffin Men's Eiger Insulated Boot
The price of "JBaffin Men's Eiger Insulated Boot " varies, so check the latest price at
Best Snowmobiling Boots: What Riders Need to Look out For
Remember, you need the best snowmobile boot that is going to stand up to extremely cold weather, moisture, and more than a few impacts.
Don't forget about style. Your snowmobiling boots need to be functional – but there's no reason you can't look good.
Here are the key features that you should look out for if you want the best snowmobile boots:
Lacing
Speed lacing is probably the best option for your snowmobile boots. You might need to reach down and adjust your laces, and you really don't want to have to fiddle around with traditional laces – especially if you're wearing mitts.
Warmth and Weather Protection
Ideally, you should choose snowmobile boots that are rated to at least negative 40 degrees celsius. You should also need to keep your snowmobile jackets and warmest snowmobile gloves as well.
Traction
Good traction is also very important for snowmobile boots, so choose options with rubber, grippy soles – perhaps vulcanized.
Insulation
Merino wool is a solid choice for snowmobile boots. Go with moisture-wicking insulation to make your life easier. A heavily -insulated boot liner is a good option too, there can be a fixed liner or freedom of removable liners.
Waterproofness
Waterproof snowmobile boots will keep your feet completely dry – especially when the snow starts to melt from being so close to the engine.
Sole & Tread
Cold temperatures demand aggressive tread pattern for a sturdy grip on the sole.
Snow Boots FAQ
Can I Wear Snowboarding Boots for Snowmobiling?
Yes! In fact, a lot of snowmobilers out there prefer snowboarding boots over "dedicated" snowmobile boots.
What Does the Temperature Rating Mean?
The temperature rating on your snowmobile boots show you the temperature at which your feet will still be warm and comfortable.
How Do I Keep My Feet Warm While Snowmobiling?
There's only one real solution: Get a pair of warm, dry snowmobile boots!
My Verdict: Grab Your Snowmobile Boot Today
The good news is that the best boots for snowmobile are extremely versatile, and you can use them for a wide range of other winter activities.
Whether that's hiking, hunting, or just walking home from work in the winter, you can get a lot of value out of the best snowmobile boots.
That being said, a pair of average winter boots isn't necessarily going to get the job done when you ride your snowmobile.
Don't make the mistake of assuming that those winter boots in your cupboards are good enough. You need something seriously heavy duty for snowmobiling – and that old pair of work boots probably won't cut it.
Trust me:
You need good snowmobile boots to go snowmobiling. After all, who wants wet or cold feet when engaging in this thrilling winter sport?
Whether you're racing or just exploring, reliable snowmobile boots are a must.
Choose an option from this list, and you'll be just fine.