Ever wondered how fast you can go on a snowmobile? As fast as your state, environmental conditions, and your sled allow. Yes, Jack! Safety should be your top priority!
Let's go along with me to dig deeper into this topic. I know you want to buy a new sled and fly like a G6, but there are some things you need to know before you decide on a particular ski-doo.
Let's Find Out How Fast Do Snowmobiles Go?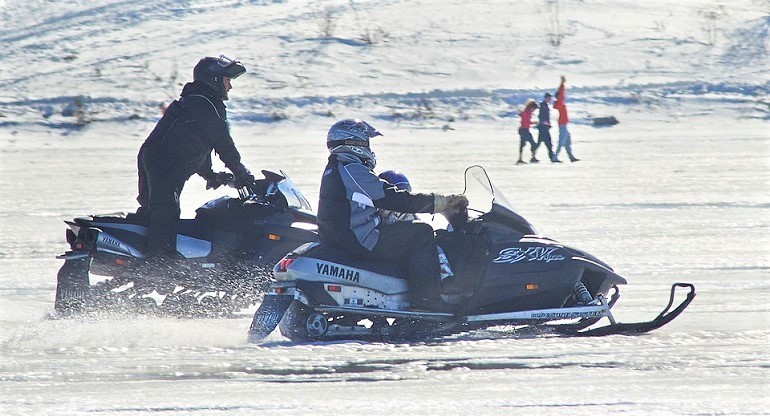 While the average speed is about 100 mph, a fast and furious higher speed snowmobile can go up to 150 mph. However, there are a number of factors that you need to take into consideration before labeling your motor sled a slowcoach or a speedy Gonzalez.
From the design of a snowmobile to the type of terrain, there are a lot of aspects you need to cover in order to figure out the average speed of your vehicle. To mention some: the weight, motive force, size, aerodynamics, temperature, terrain, etc.
Now let's shed some light on the milestones of snowmobiles. Well, the top speed recorded is 320 mph by G-Force-One. Not to mention, this speed is highly dangerous for you to try. You should remain anywhere between 70 mph to 120 miles per hour.
Now let's talk about any 150 mph. My friend, if you desire this much speed, I suggest you educate yourself on every nitty-gritty detail of this sport as well as buy a racing motor vehicle, as only a racing sled can make you reach a hundred and a fifty speed or two hundred even.
So, unless you are a snow carver and racing king, don't you dare think of driving racing snowmobiles, especially for general touring.
Let's talk about some snowmobile brands, shall we? The top companies swanking the most epic motor sleds on the market are BRP, Yamaha, Polaris, and Arctic Cat. Good snowmobile engines vary from 120 to 850 cc.
You know, the bigger the engine, the more power and higher top speed it catches. Just so you know, sleds with 800 cc displacement are giving a tough time to the ones with 600 cc displacements.
Refer to the table given below only if you want to find out some exceptional snowmobiles:
| Model | Top Speed(mph) |
| --- | --- |
| Yamaha SRX 120 | 8 |
| Arcitic Cat Sno Pro120 | 8 |
| Arcitic Cat ZR 6000RR | 83 |
| Arcitic Cat ZR 6000EL Tiger | 83 |
| 1997 Arcitic Cat ZR 580 EF | 100 |
| Polaris XC 600 Triples | 102 |
| Polaris Switchback Pro-S 800 | 105 |
| Polaris XC 600 | 105 |
| Ski-Doo MXZ 600 HO | 105 |
| Polaris Assault 800 | 112 |
| Arcitic Cat XF 1100 Turbo | 118 |
| Ski-Doo MXZ 850 E-TEC | 128 |
Factors That Affect Snowmobile Speed
Below are some important factors that snowmobiles depend on for top speeds.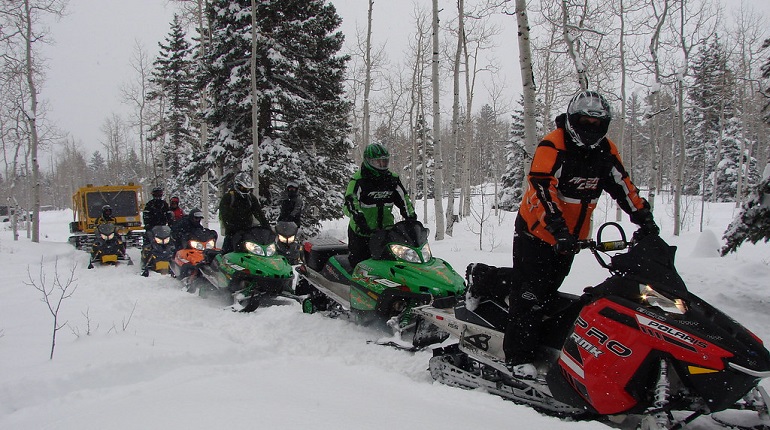 Terrain and Temperature
It might sound dangerous, but speed loves ice, and that is exactly what makes ice an ideal medium for higher speeds. On the flip side, deep snow is definitely going to reduce your speed, courtesy of its limitations and resistance.
So, if you are one modest driver, the deep powder will serve you right. Your vehicle will show a far lower pace on a deep snow terrain than on a sleek icy route, so modest drivers are always suggested to travel through pow.
One more thing, if you happen to ride over a patch of green, it will also dramatically lower your speed. If the idea haunts you, ignore the grass patch. Besides terrain type, the riding manner also influences speed a lot.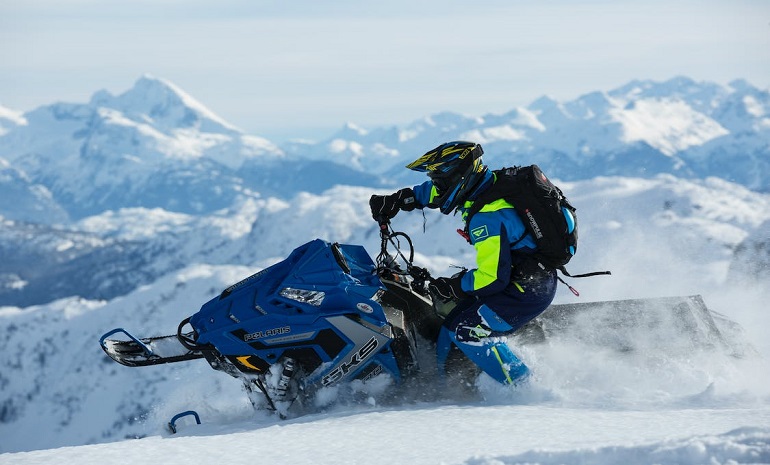 If you are riding downhill, your sled will shoot like a star, but when it comes to riding uphill, slower speed will welcome you.
Also, keep in mind that cooler air proves denser when entering the engine in comparison to hot air or warm weather air. Interestingly, cool temperatures increase and accelerate high speeds. Going for cool temperatures will prove a boon to your efforts if you fancy that extra power and speed.
Weight of the Machine and Rider
How much your sled weighs matters a lot. A lightweight snowmobile will let you crank up speed more easily than a heavyweight motor. However, it comes at the price of losing balance if you are not so mature at handling a snowmobile.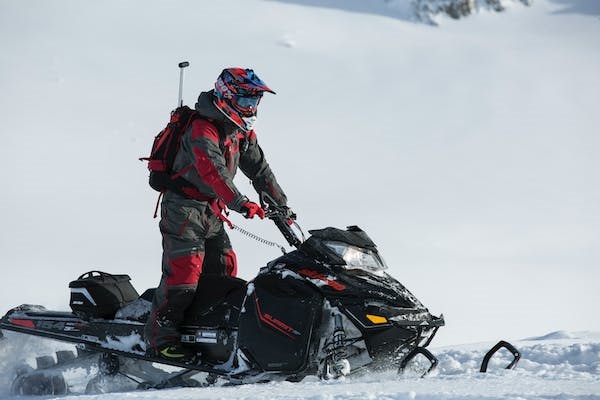 If you are a beginner, always go for beginner sleds, as it is better to avoid high-performance snowmobiles.
On the other hand, a heavier machine might feel hard to travel with, but it sure does promise balance and control. As you would be moving slower with a heavy sled, you would be breeding more balance and control.
Besides the weight of the motor, the weight of the rider also matters. A light rider on a light snowmobile will be mostly witnessed as flying on a magic carpet.
Wind and Aerodynamics
The design speaks volumes, so better pay good attention to it. Mark my words, the design plays an important role in accelerating top speeds, especially if you are driving in windy weather.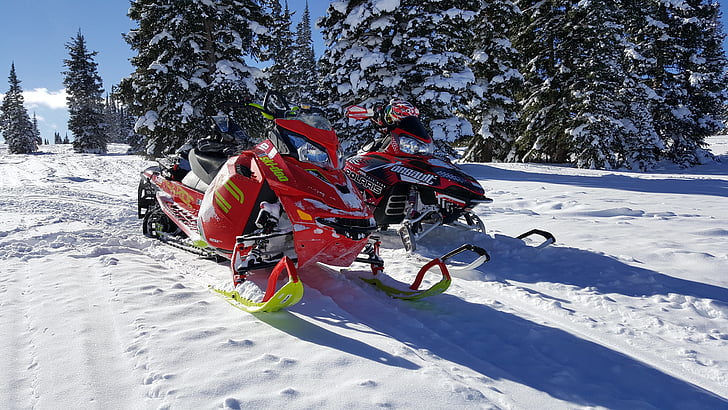 For instance, if your snow ripper has a body that can handle air drag and friction, you will be going places. The terrific aerodynamic design will display superior speed when subjected to strong winds, especially if you drive in the wind direction instead of the opposite direction.
On the contrary, if your snowmobile features a very bland upright windshield along with a boring body, you will notice an exceptionally slower pace, even if you set out on a journey in the ideal windy weather.
Engine
The engine size and type are crucial to consider as it makes a huge difference. Mind it, the practicality of top speed comes down to how powerful the engine is. Shall we discuss some common engines and their max speeds? Sure, we do.
Have you ever wondered how fast a 120cc sled can move? A tiny vehicle like this is usually powered by a four-stroke engine which is why it can rip wind with a speed of 6 to 8 mph. However, it largely depends on the model type too. With some minor modifications, you can make it reach up to twenty miles per hour also.
What about a 200cc machine? It can reach up to 30 miles per hour, courtesy of its air-cooled 192cc, four-stroke engine.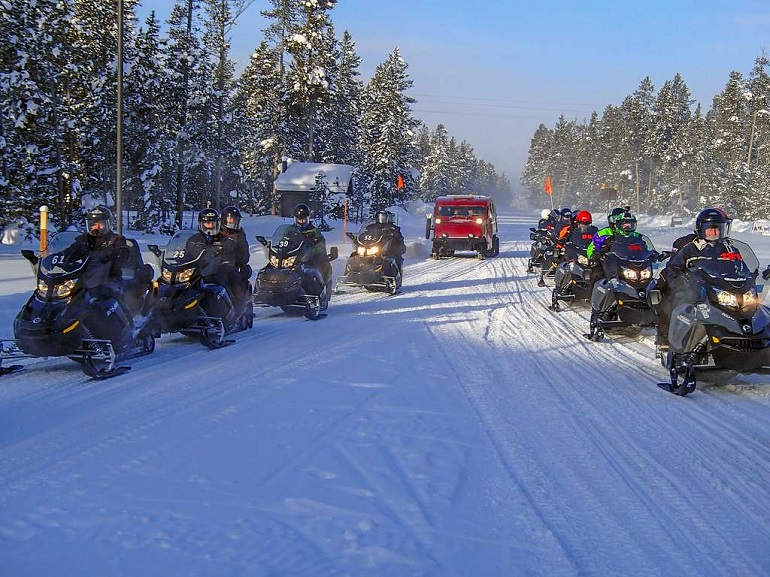 Now let's look into a 300cc snowmobile. This moto sled has to offer 50 to 60 mph, which you have been dying for. While a 340cc Ski-Doo can go as fast as 65 mph. It highly depends on the type of engine, the model, and many other components of it. To take an example:
Arctic Cat 340 Puma
Ski-Doo RV 340
Yamaha Enticer 340
All the above-mentioned snowmobiles swank fan-cooled 340cc two-stroke engines.
Let's move further to 400cc and above. A 400cc sled can catch speed up to 85 miles per hour which is quite terrific. While a 440cc can reach up to 70 to 90 mph. On the other hand, a 500 cc ski-doo crosses the line of 80 mph and reaches a top speed of up to 100mph.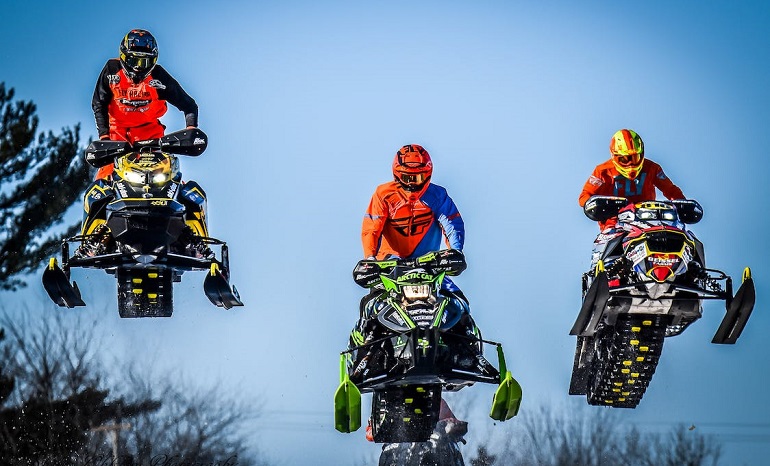 Further, 600cc snowmobiles give death to the milestone of 100mph by swanking one hundred and a half miles per hour or more. While a 700cc snowmobile can cross the 105 figure and reach up to 110 mph.
Let's explore what rest beyond that 110 mph and what type of engine can ace it. Are we talking about 800cc to 1100cc high-powered snowmobiles? Of course!
800cc sled: 110-120 miles per hour
900cc Snowmobiles: 110-120 mph
1000cc Snowmobiles: 120 mph
1100cc Sleds: 105 to 120 mph
Just to let you know, there are also some drag racing snowmobiles available on the market that can reach up to 200 miles per hour or more.
Snowmobile Cost
The average price of a Ski-Doo is around $12000, while the price points range from $3000 to $19000. However, if you are into buying a second-hand/pre-loved sled, it can cost you as low as $2500.
To further simplify the equation of cost for you, below I have mentioned some major topics that add to the cost of a snowmobile:
Size of the engine
Type of engine
The development of design
Model and Model year
Type of skis and snowmobile tracks
You can also learn more about how much a snowmobile costs to understand the dynamics of snowmobile specifications and pricing.
A Word on Safety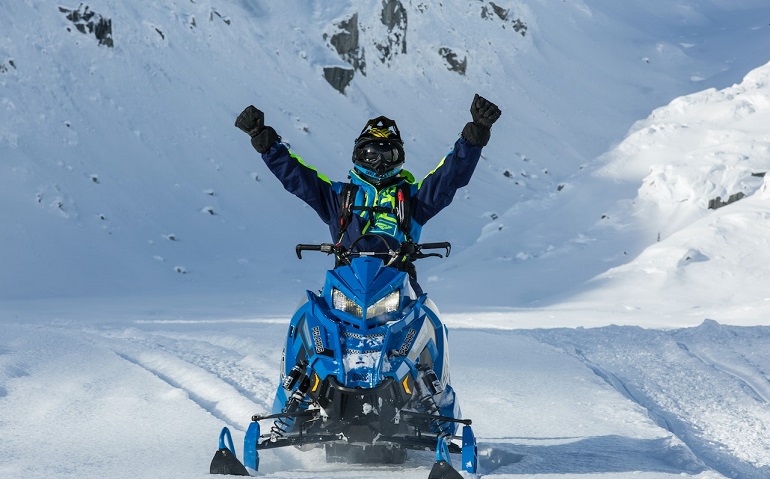 Safety first! Before you go out to buy a wind and snow ripper like Ski-Doo Renegade Adrenaline, I suggest you finalize the type of terrain you will be driving on the location of it, as most states have different standards for speeds. Now you know, you are bound to follow the state rules and the trail itself.
You know, even if you manage to buy a 900cc engine, you cannot reach speeds more than it is allowed by the state. So, instead of making a fool out of yourself, do your homework properly and save your hard-earned money for a good cause.
One more thing, before you hit the terrain, always double-check the state and condition of your snowmobile. Is it worth riding? Does it need any fixing? There is nothing more precious than life so always make time and effort to be safe on the trail.
Whether they are in the snow or not, snowmobiles encounter the same problem. It can be difficult to transport a large sled through a garage or driveway. For the best snowmobile dollies, we are appreciative. Anyone traversing a snowy area has to carry a little dolly.
Conclusion
Now you know, the top speed of your motor highly depends on three potential factors: the environment, the weight and ability and weight of the rider, and the specs of your snowmobile.
No doubt, different models have different top speeds. You need to figure out what you desire and if some limitations restrict you.
When you are done buying the one for you, I recommend you never cross the mentioned speed limit and equip yourself with proper safety gear like the best snowmobile helmet and warmest snowmobile jacket.
On mountains, a snowmobile GPS is essential for navigation and can help ensure the safety of riders by providing accurate location information and enabling them to find their way back to a known location if they get lost. Additionally, GPS can be useful in emergency situations, allowing rescue teams to locate individuals in need of assistance.
I am sure you don't fancy ugly collisions or jail time either