Exploring the trails on a snowmobile is a lot of fun. Blasting through snowy woods and frozen lakes, feeling the cold air in a cloud of pow, adrenaline pumping while discovering new hidden trails – it's an amazing adventure!
But nothing can ruin an exciting snowmobile tour faster than the fact that you feel freezing cold and wet because you are not wearing the right snowmobile gear.
Snow getting into your clothes and the wind piercing your chest cause you discomfort and even pain. To avoid that, you need to be properly prepared and equipped to face the elements. That's how you can own the cold and keep the action going.
Let's help you get the right gear to make the most of your trail escapes.
Best Overall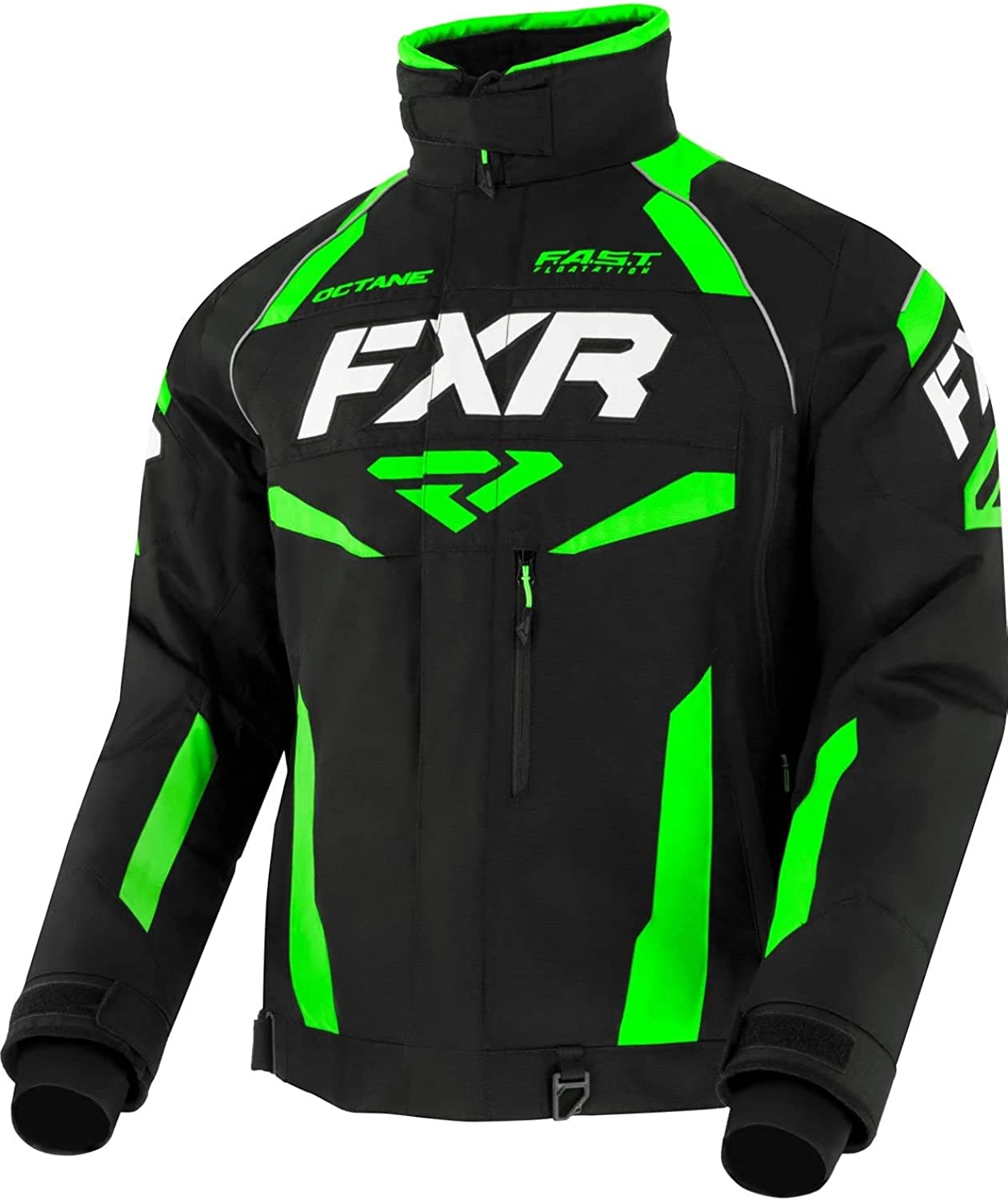 Runner Up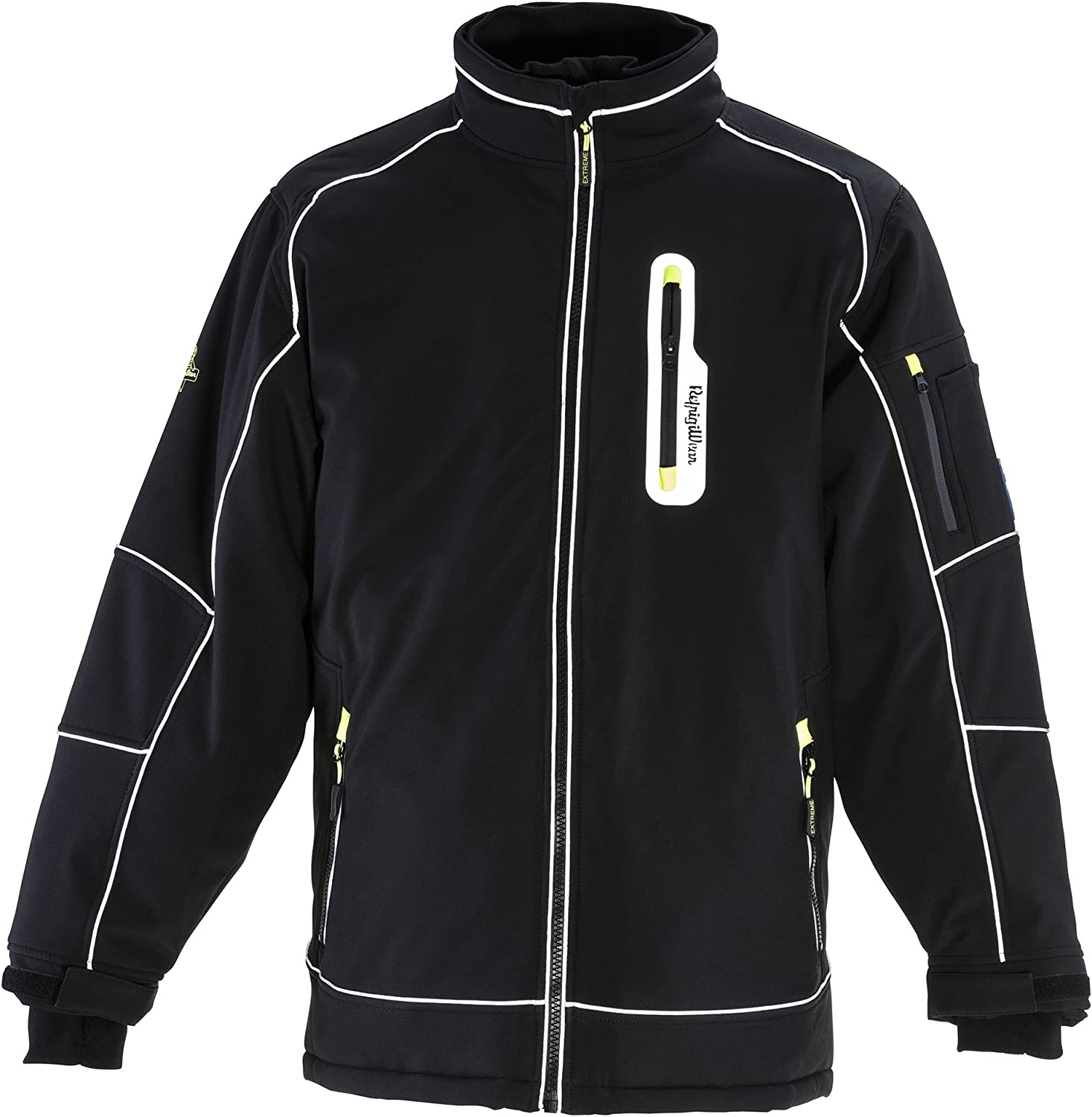 RefrigiWear Extreme
Color: Black
Size: Small to Large
Great Value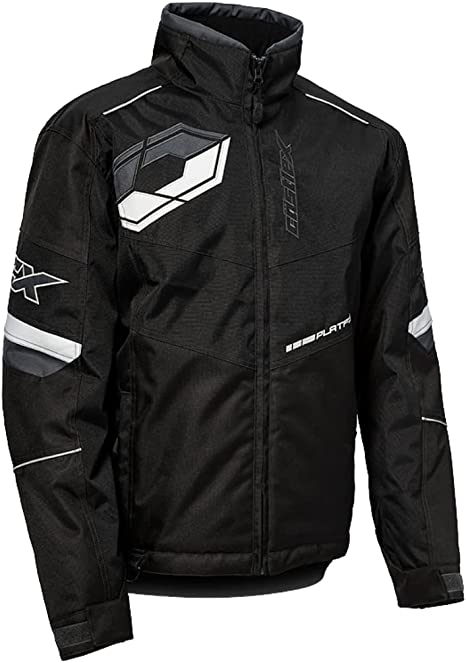 Amazing Attention to Details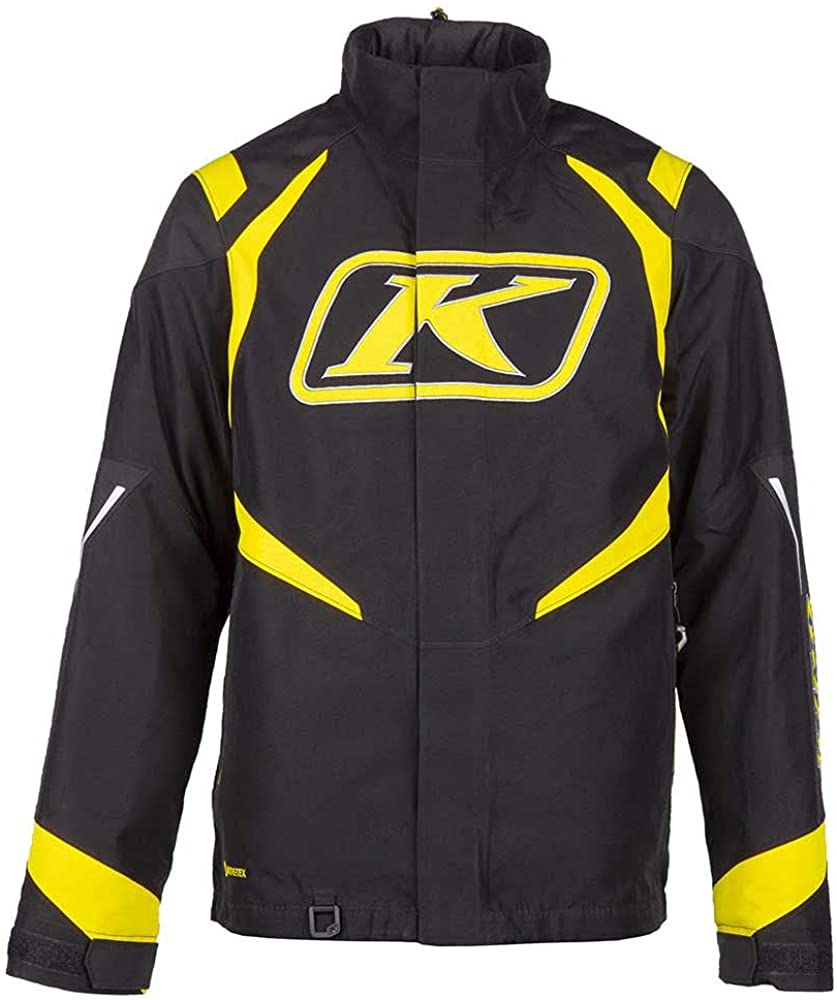 Klim Klimate Winter
Color: Klim Yellow
Size: Large,X-Large
Super Versatile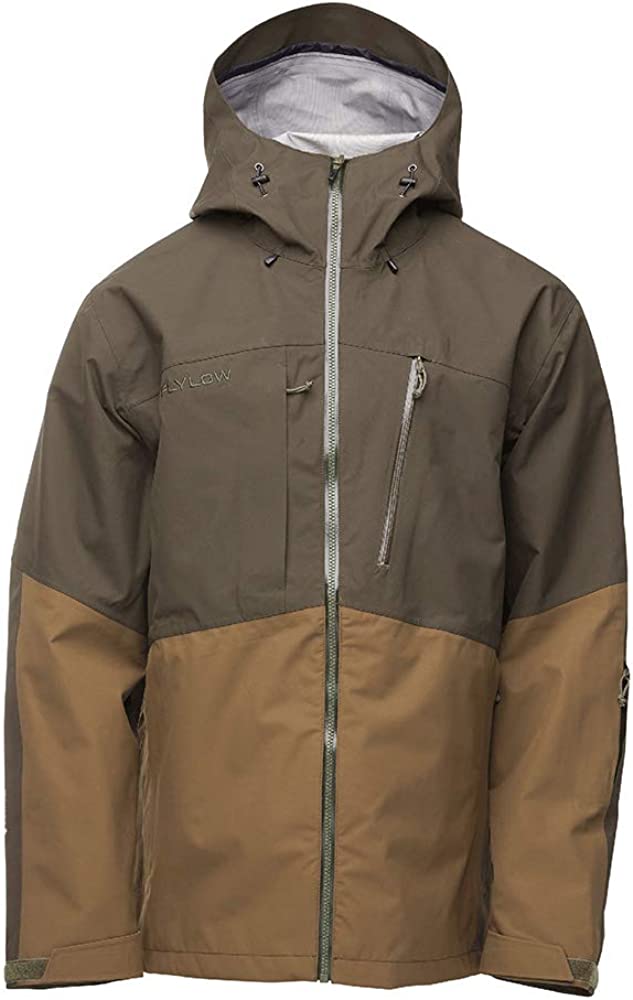 Flylow Quantum Pro
Color: Arame/Sage
Size: X_Small,Medium
Reasonable Price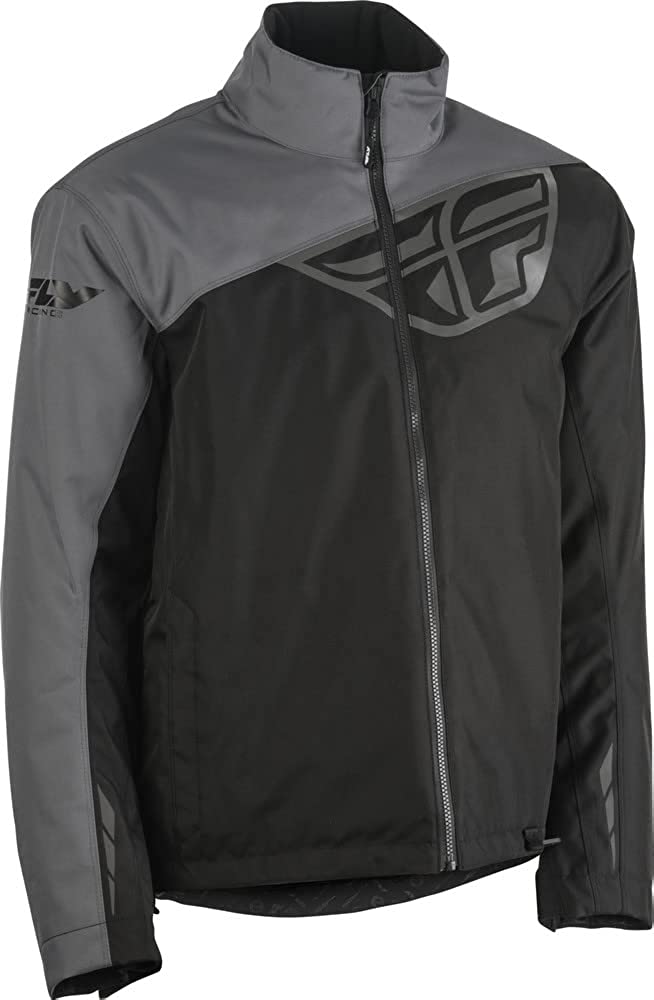 Fly Racing Aurora
Color: Black/Grey
Size: Small to Large
Excellent Style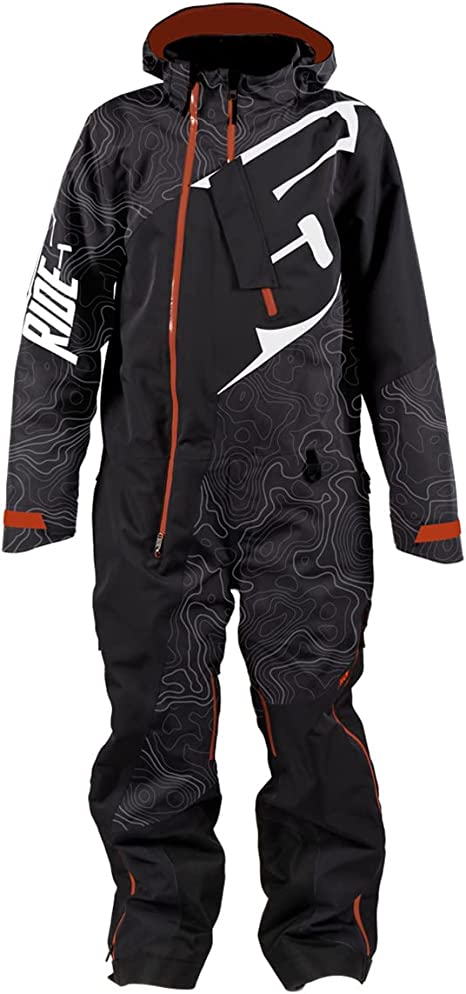 Allied Mono Suit
Color: Cyan Ops
Size: Large,X-Large
Our Top Picks of the Best Snowmobile Jackets
We reviewed in this article the best snowmobile jackets for men, there are 7 options (6 winter jackets and 1 one piece) for every budget, style, and tech standard so that any snowmobile enthusiast could enjoy the ride in comfort.
Check them out!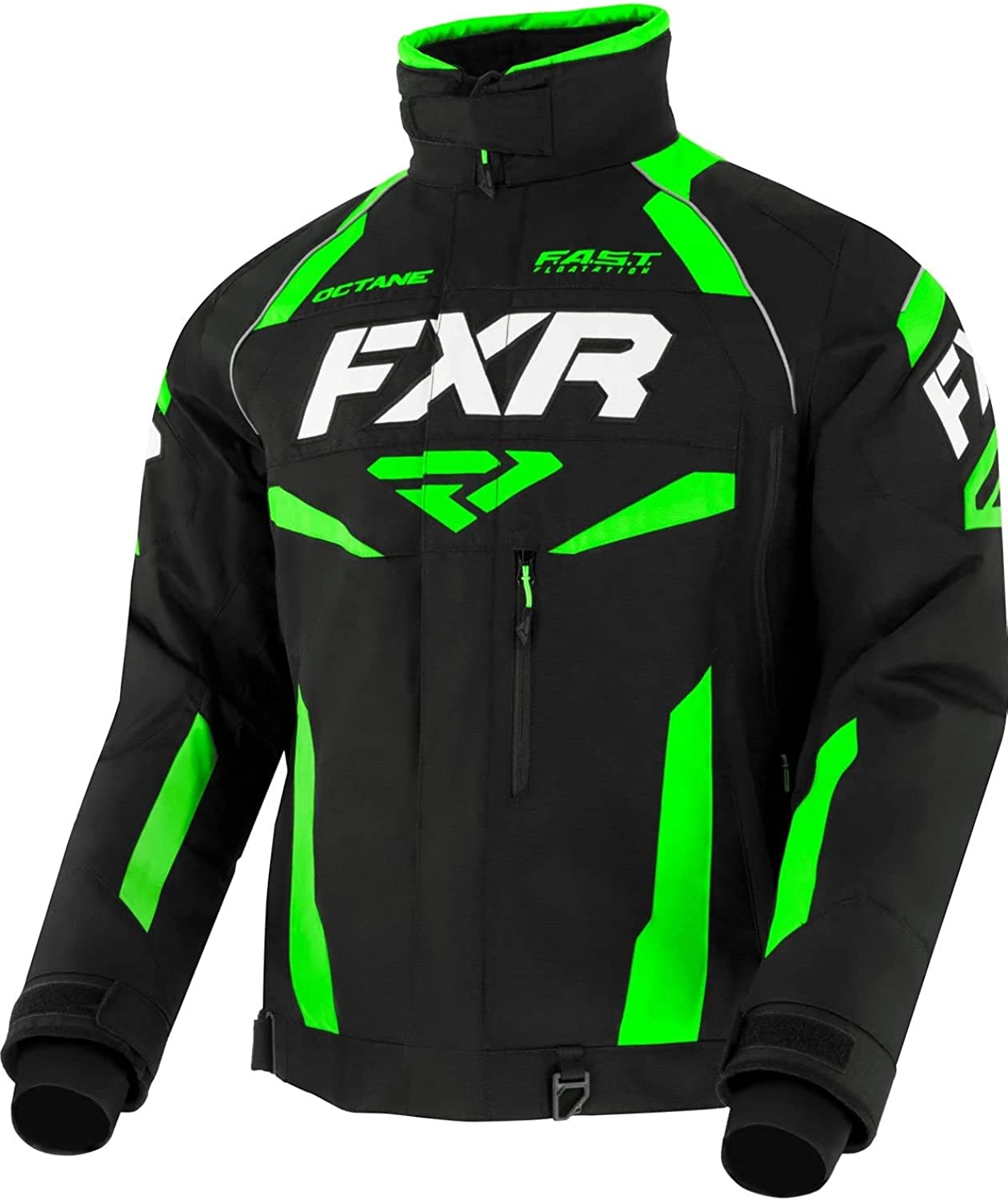 FXR is one of the top brands for snowmobile gear, offering an extensive collection of snowmobile-specific products, so you can't go wrong choosing their Octane jacket. You'll enjoy maximum comfort and warmth wearing it on your snowmobiling adventures.
What makes the FXR Octane jacket fantastic is the fact that it delivers a perfect mix of cold-weather warmth features and innovative venting technology.
With its durable nylon shell with exclusive HydrX™ coating, you'll get bulletproof protection against moisture and never have to worry about keeping yourself dry while riding snowmobiles.
FXR's own Dry Vent™ system adds additional snowproof features to the chest and side body areas, while with 260 g insulation value, you can be sure you'll be staying warm and toasty no matter how tough the weather conditions on the trails are.
The removable liner, adjustable hem, wind skirt, and collar make it even easier to seal in all the body heat and keep you dry away from the snow.
The FXR Octane jacket ensures one of the most important safety features while snowmobiling – visibility – by using a 360˚ reflective 3M™ Scotchlite™ material. So you can confidently ride during the night, knowing that you'll be highly visible.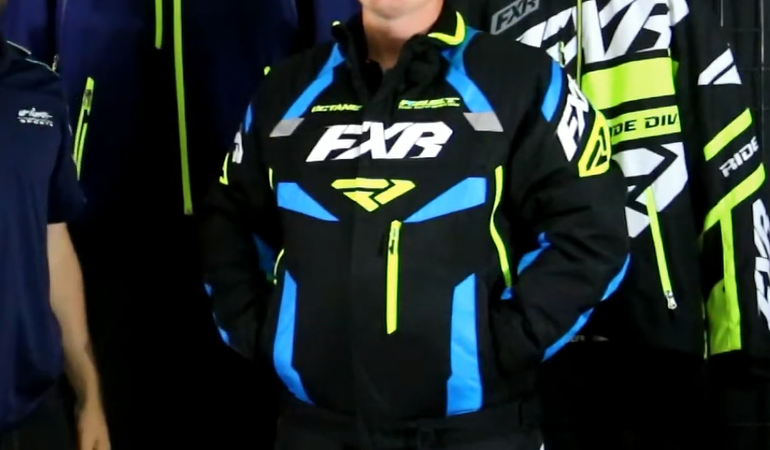 If you are a hardcore snowmobile rider looking for a high-quality and durable product, designed with the latest technologies and innovative materials, the FXR Octane jacket is the best option for you.
Features
Coating: HydrX™ coating – 2,000mm/2,000g/m²
Shell: durable nylon shell with HydrX™ coating
Lining: mesh/fleece lining
Insulation: 260g combined F.A.S.T.™/FXR Thermal Flex™ insulation value
Ventilation System: FXR Dry Vent™ system – snowproof and moisture-resistant chest, side body vent system
Additional features: YKK® zippers, 360˚ 3M™ Scotchlite™ Reflective, adjustable wind skirt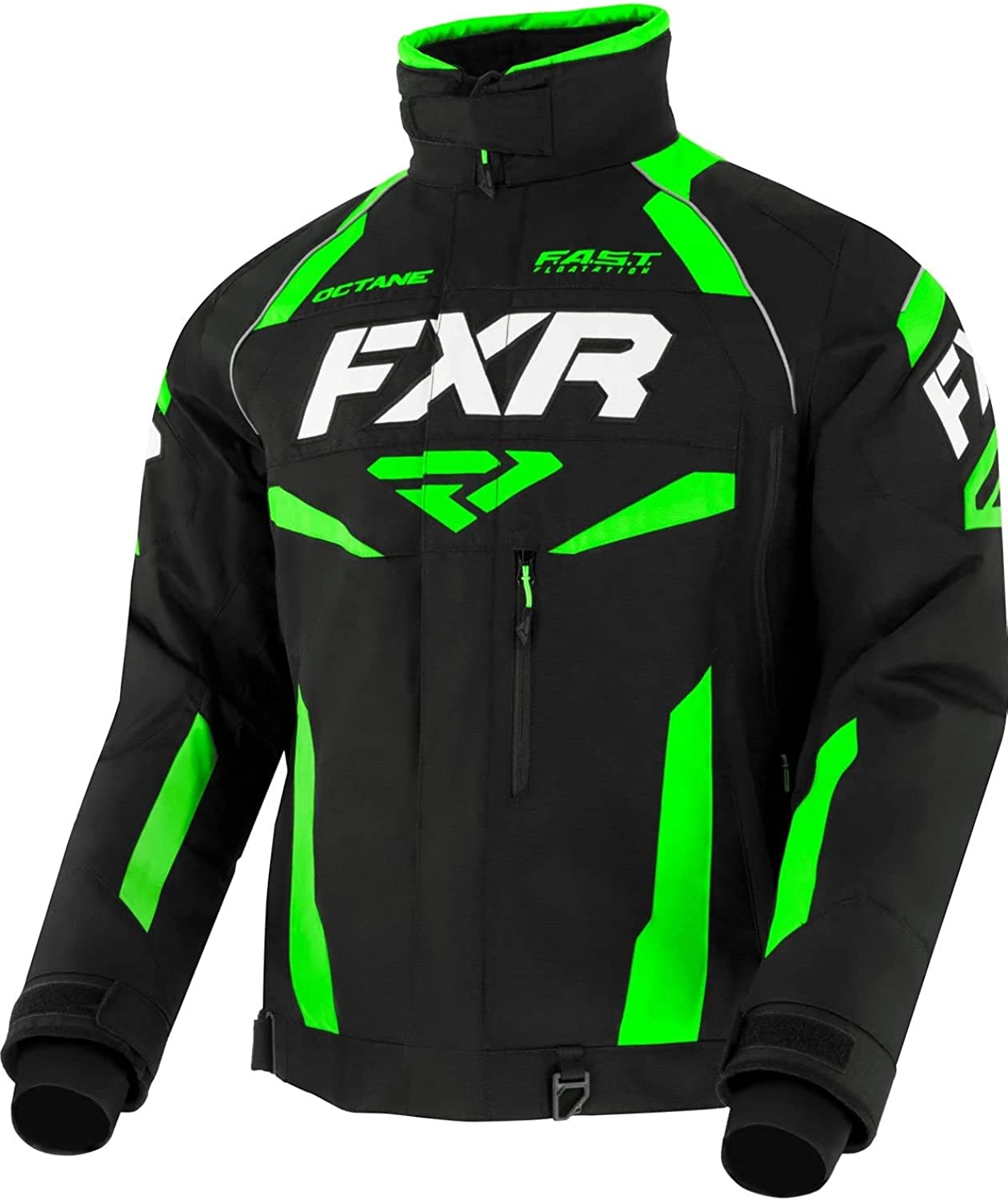 FXR Octane Jacket
The Price of "FXR Octane Jacket" varies, so check the latest price at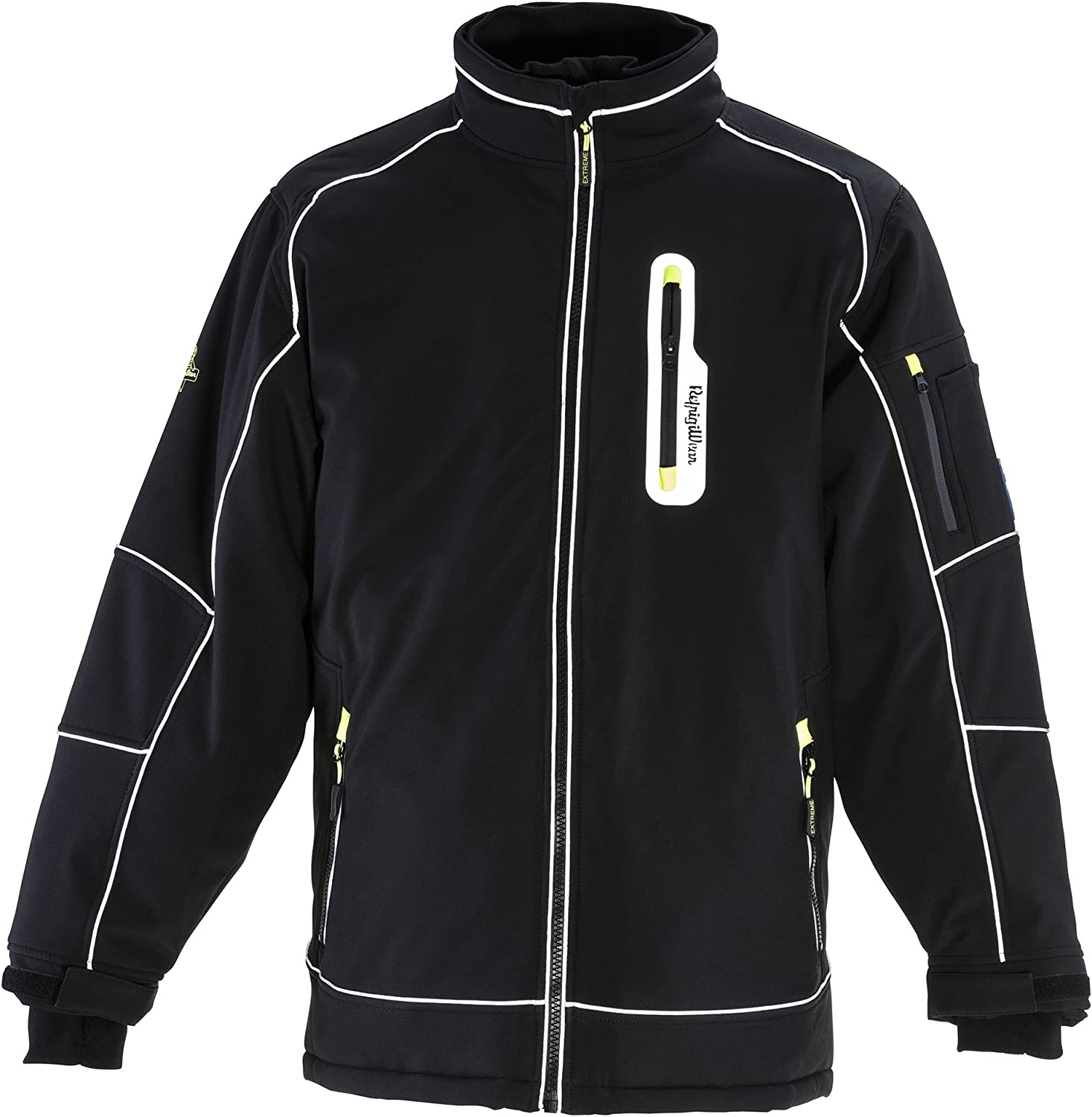 If you plan to take your snowmobiling tours in extremely cold conditions, you definitely need the RefrigiWear Extreme softshell and best-insulated jacket.
This is a heavy-duty, very well-made jacket that will keep you incredibly warm and comfortable down to -60°F (-51°C).
RefrigiWear, a company creating cutting-edge waterproof outdoor riding gear for over 60 years, stays true to its promise to help you own the cold.
With an astonishing 600 grams of insulating power, these snowmobile jackets will offer you serious protection from freezing weather, even if you get caught in a blizzard.
The wind and snow won't stand a chance when you're wearing the Extreme jacket: the wind-tight outer shell seals out the cold air while the water-repellent feature locks in warmth and keeps you dry.
The silver twill liner, which is reflective and slick so dirt won't stick, also helps to keep the heat in. You'll need nothing but a short-sleeved tech shirt under the jacket to keep you warm as a toast.
The jacket's clever design features a double zipper system: an inner zipper can be zipped while leaving the outer zipper open, and the jacket will stay closed, which is an excellent feature for when it's cold, but not freezing.
This makes it extremely versatile as you can zip/unzip as needed to stay cool or zip up fully to stay warm. It also features several waterproof pockets that are easy to get to.
The jacket is indeed a bit heavy & bulky, it has to be like that to work in extreme cold temperatures. But it doesn't impede movement too much, you'll have good mobility for arms and shoulders.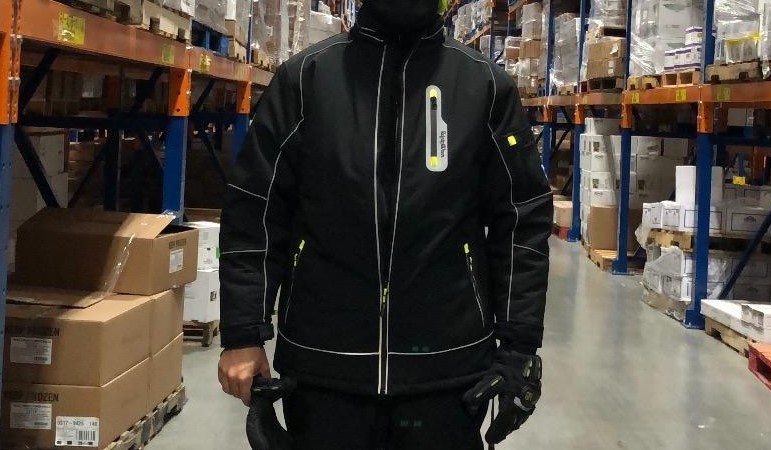 It is extremely comfortable, and it works absolutely amazing at keeping the cold out. If you are looking for more movement, you should order a size or even two sizes up. If you want a tighter feeling, get your size because the sizes run a little snug.
On top of the jackets' qualities – superior performance in extreme cold, durability, toughness, and stylish – it is amazing how affordable RefrigiWear has made their product.
It really does an excellent job so that's why the RefrigiWear Extreme jacket is an obvious choice for snowmobile riders who play outside in very cold temperatures all winter long.
Features
Waterproof: water-repellent outer shell
Shell: softshell material
Lining: silver twill lining
Insulation: 600 grams of insulating power
Additional features: dual front-zipper system, adjustable cuffs, and inner waist, 2 zippered hand-warmer pockets, snowmobile gloves clips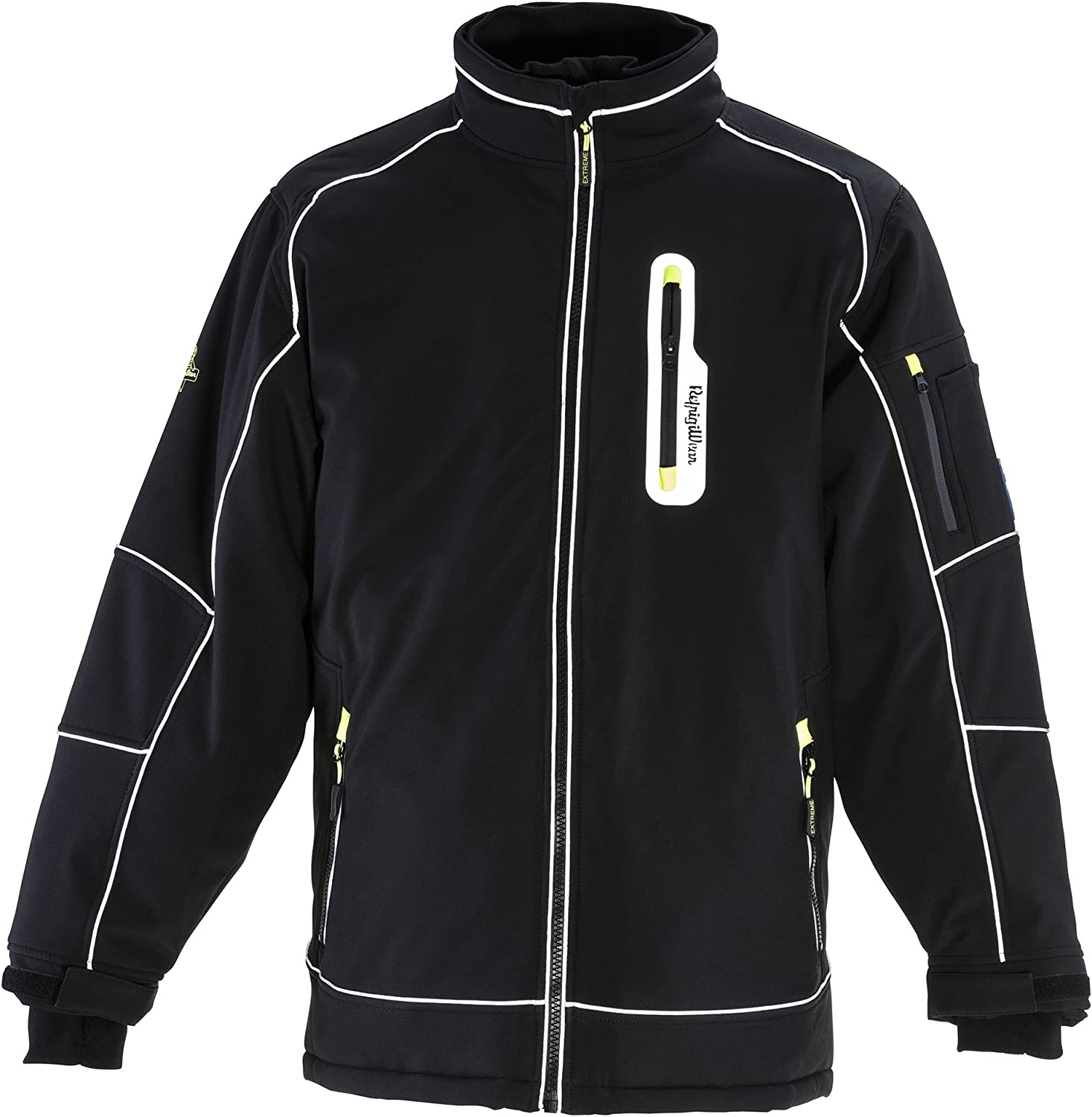 RefrigiWear Extreme Softshell Insulated Jacket
The Price of "RefrigiWear Extreme Softshell Insulated Jacket " varies, so check the latest price at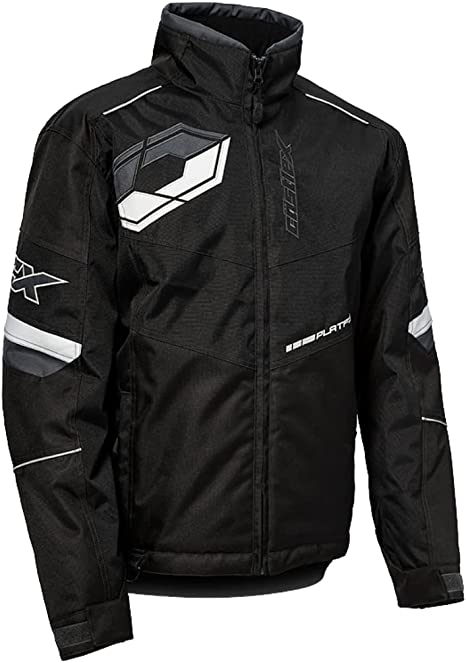 The Castle X Platform jacket is an excellent coat, very warm and comfortable, constructed with high-quality materials.
The Platform jacket is packed with all the features you need to protect yourself while snowmobiling: it offers a tough, water-resistant polyester shell with DWR (Durable Water Repellent) coating. So you'll be able to enjoy the ride without worrying about the snow or moisture getting in.
Also, the jacket does a great job of blocking the wind. You'll never get cold wearing it, thanks to its quilted insulation (200g for the body and 150g for the sleeves).
You'll just need a thermal shirt underneath to stay pretty warm wearing it, while the insulated fleece-lined collar will offer a comfy and cozy feel. On the other hand, the waistband could have been elastic to hug the body more.
The 3M™ Scotchlite™ Reflective materials make you highly visible while riding by night, so it will keep you safe and sound.
It would be great if the jacket had a few more pockets, but that's not a huge problem.
This jacket design is not too bulky, and it has a great fit. However, keep in mind when ordering it that the size large allows a significant amount of room.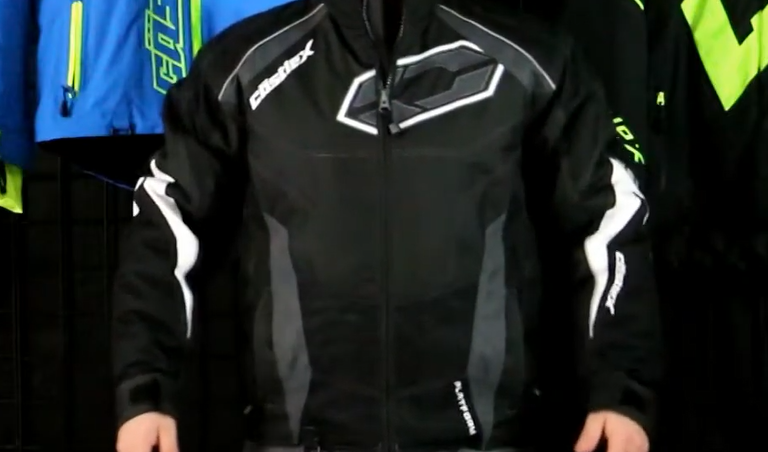 Castle X Platform is an awesome jacket, durable, slick looking, offering good value for the price, a perfect choice for any trail riding enthusiast.
Features
Waterproof: water resistant PU coated shell materials and DWR coating
Shell: polyester/nylon shell
Lining: Insulated fleece-lined collar
Insulation: Castle ColdShield quilted insulation (200g body and 150g sleeve)
Additional features: Velcro® adjustable hip and fleece lined cuffs, 3M™ Scotchlite™ Reflective materials, Underarm vents, Zippered internal chest pocket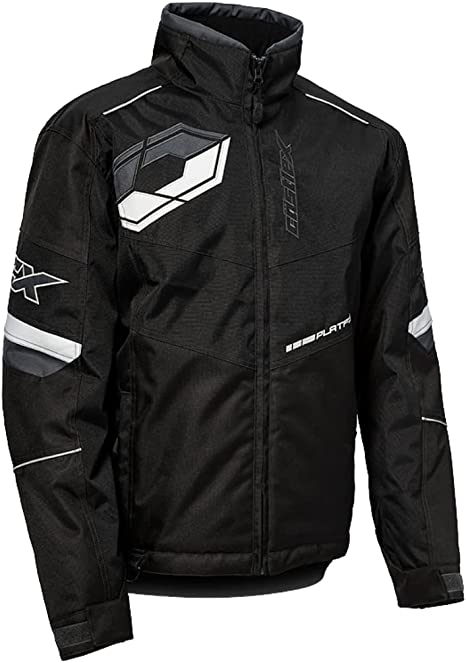 Castle X Platform Jacket
The Price of "Castle X Platform Jacket " varies, so check the latest price at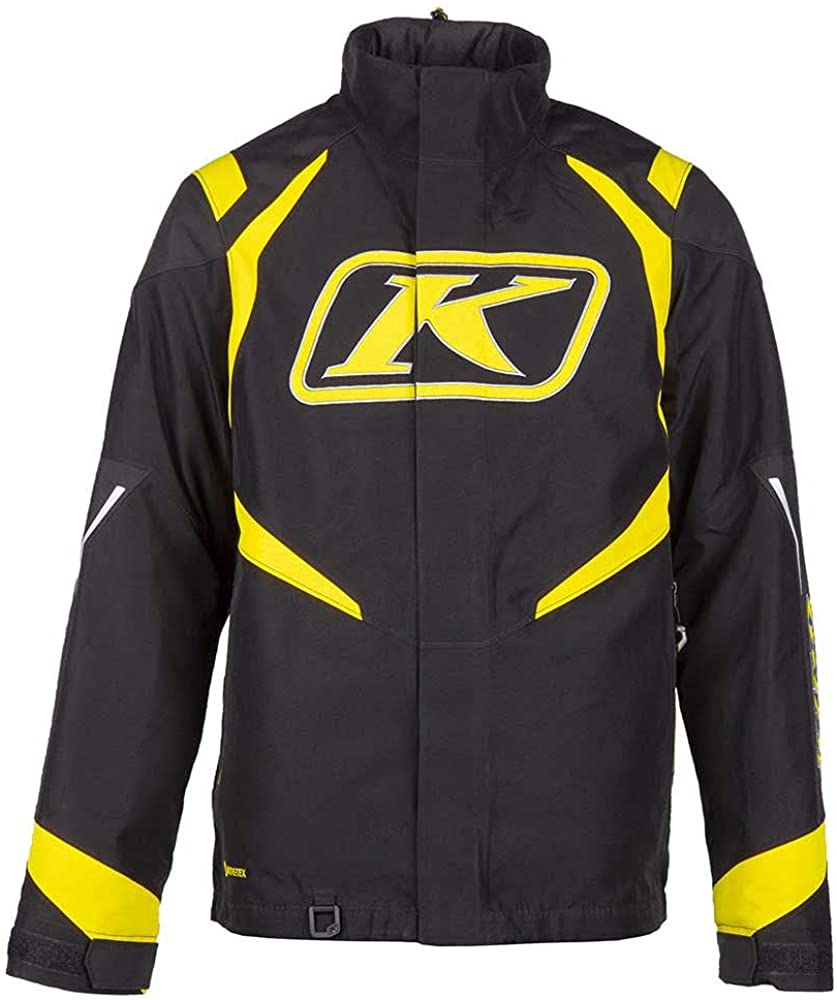 Klim is one of the top snowmobile apparel manufacturers, offering gear for the most demanding men and women riders out there. They use the most advanced technologies to design waterproof, breathable, durable, and comfortable products made especially for the trail.

So you can trust that choosing their Klimate Winter Snowmobile jacket will greatly enhance your trail riding. This jacket, fully redesigned, offers now improved insulation and integrated safety features to get you going on long days of snowmobile adventures.
Featuring 3M Thinsulate Insulation (Body 260G, Sleeves 220G, Collar 100G), Klimate is a great jacket that keeps you warm and dry while breaking trails after a fresh snowfall.
You'll be highly visible wearing the Klimate jacket, benefiting from the innovative biomotion recognition feature, which takes safety to the next level.

This means that the jacket's reflective material is placed on the motion points of your body for greatly increased visibility so that you can focus on enjoying the ride.
The jacket looks, feels, and fits awesome. It is very light, featuring a Gore-Tex performance shell, but at the same time, it's tough enough to take some abuse on the hidden trails in the woods, thanks to the durable overlays in the shoulders and elbows areas.
The Klimate jacket is made to last for many seasons of trail riding. You can tell this by minor details that really matter: for example, it features YKK zippers, which represent the industry standard for its irreplaceable quality for more than 80 years.

As a fun fact, YKK zippers were used in the spacesuits worn during the first human exploration of the moon in 1969.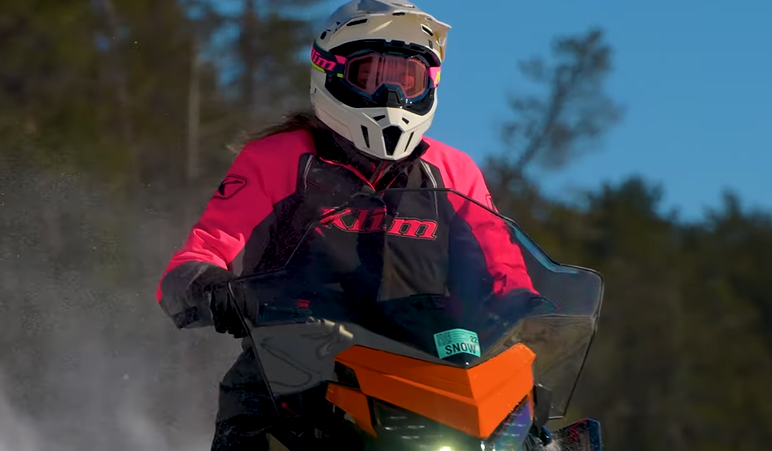 With comfy lining, made of partial brushed tricot liner and many ventilation options, you can count on the Klimate jacket to keep you warm and comfy while blasting through the frozen lakes.
All in all, Klim's Klimate is a sharp, high-quality jacket that is well worth the money. Highly recommended for riders looking for durable and reliable snowmobile gear.
Features
Shell: gore tex
Lining: Partial Brushed Tricot Liner
Insulation: 3M Thinsulate Insulation – Body 260G, Sleeves 220G, Collar 100G
Additional features: 3M Scotchlite Reflective Material, Biomotion Recognition, Snow Skirt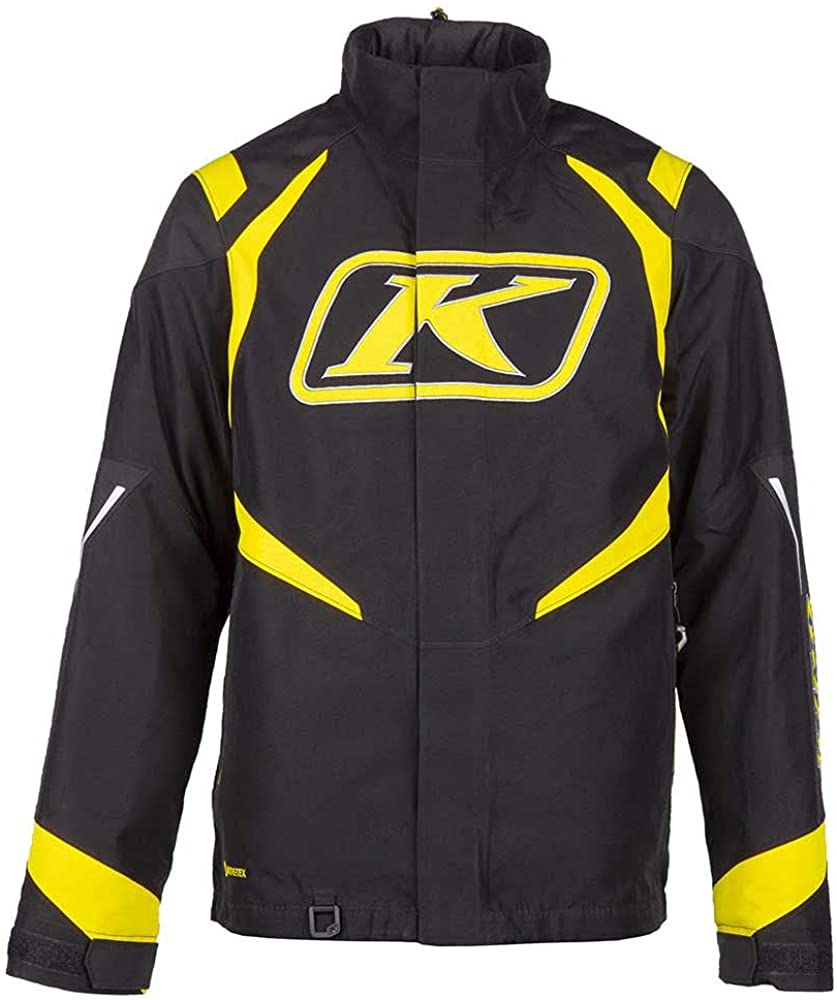 Klim Klimate Winter Snowmobile Jacket
The Price of "Klim Klimate Winter Snowmobile Jacket " varies, so check the latest price at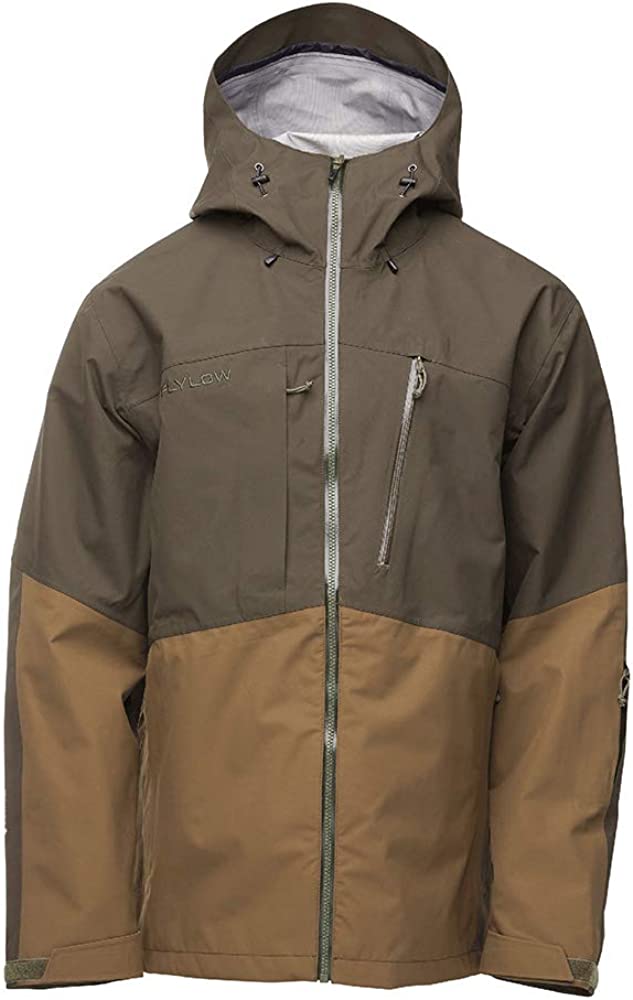 The Flylow Quantum Pro jacket is primarily designed for snowboard and ski riders. We included it on our list of best snowmobile jackets because it is super versatile: tough enough for blasting the trails on a snowmobile or for exploring the mountain while snowboarding/skiing, and still looks good around town.

It's great for every occasion and comfortable enough to wear all day.
The Quantum Pro jacket can be super warm if you want it to be but also can open almost completely up in the armpit vents to dump heat, also. Flylow makes its pit vents long and out of the way for effective use and comfort.

You'll never have to worry about getting wet, this coat is super waterproof, featuring a 20K waterproofing and breathability membrane treated with a DWR (Durable Water Repellent) coating.

Also, the jacket it's fully seam taped, which really seals out the snow, keeping you 100% dry even on those deep days.
The jacket performs amazingly in very cold, snowy conditions and, even if it's just a shell jacket, holds in the heat incredibly well, and it doesn't let any wind through so you won't get cold.
You'll be able to move easily wearing this highly functional jacket: it has lots of well-thought-out pockets, it is easy to use the YKK zippers when wearing snow gloves, and it has an adjustable hood that is snowmobile helmets compatible.
Quantum Pro features a robust material, an extra-durable three layer Intuitive™ fabric, so you can ride through trees and put your jacket through the wringer, it won't show any signs of wear.
It looks great too, with dope color options, and a mix of technical outerwear with a little style. This jacket is of incredible quality, it is lightweight and easy to layer up on colder days.
Also, Flylow gets bonus points for using recycled materials that align with their goal to make the least impact possible on the planet.
Flylow Quantum Pro is a well-built, durable jacket, the perfect choice for any winter outdoor enthusiast who is looking for a jack-of-all-trades kind of product.
Features
Waterproof: 20K waterproofing and breathability
Shell: 100% Polyester 3-Layer Intuitive™ Oxford Fabric with High-Performance DWR (Durable Water Repellent) coating,
Insulation: No Insulation
Additional features: Eight Pockets, Fully Seam Taped, Snowmobile Helmet Compatible Hood, Removable Powder Skirt, YKK® Waterproof Zippers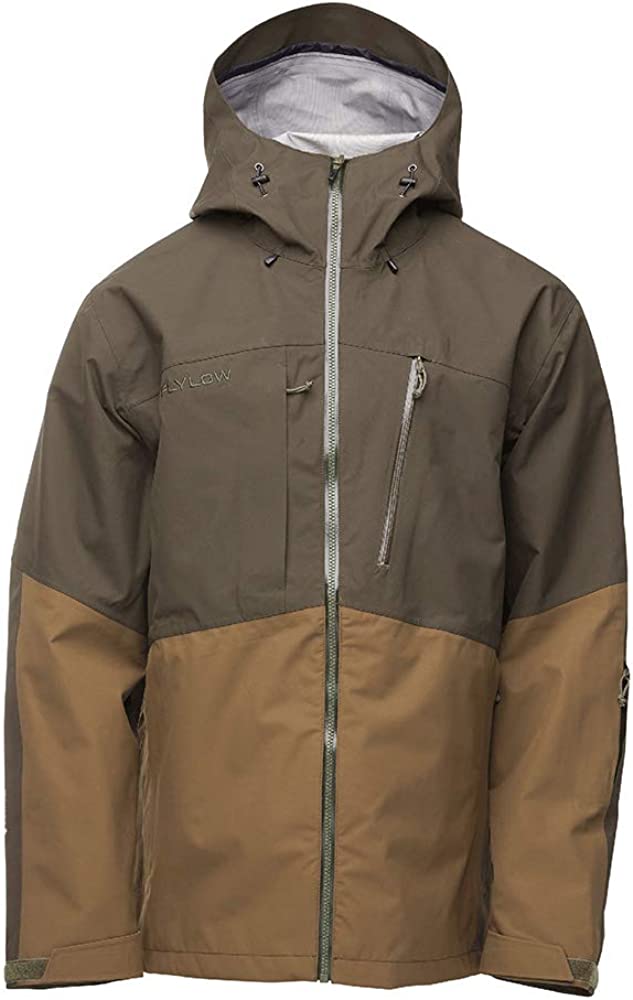 Flylow Quantum Pro
The Price of "Flylow Quantum Pro " varies, so check the latest price at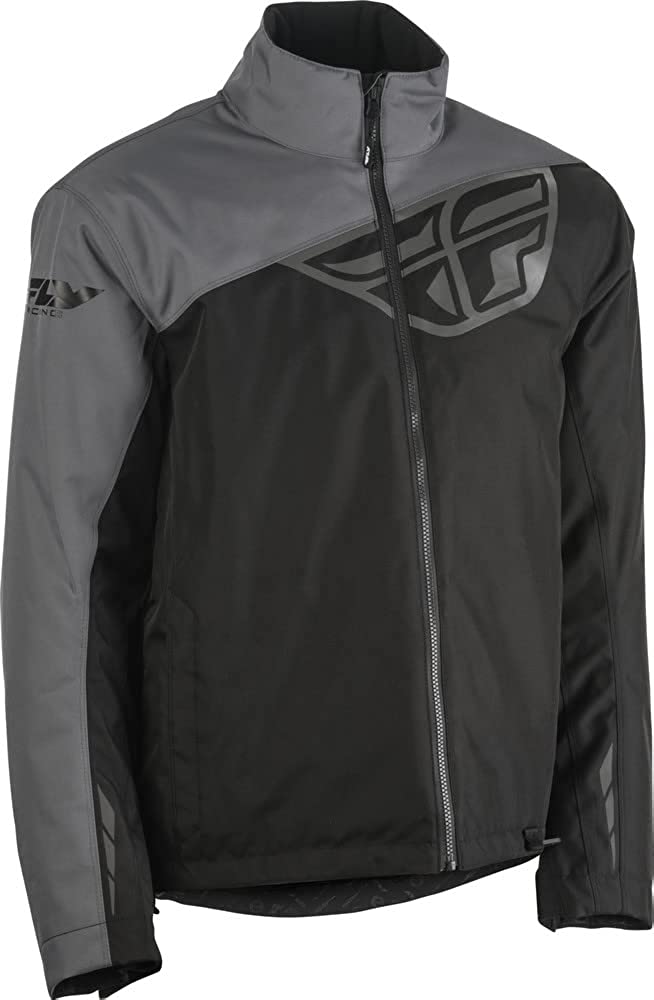 Fly Racing Aurora is an awesome jacket, well built, and very warm in cold weather. It offers all the key features you'll need to keep yourself warm, comfortable, and dry while exploring the trails on your snowmobile tours.

You'll be protected from the elements, thanks to its Hydraguard technology, which is a weatherproof, windproof, and waterproof membrane. Also, the thermal insulation (120 gr) adds additional warmth to your rides.
The Fly Racing Aurora features a 450D abrasion-resistant polyester shell, meaning it's a durable gear specifically designed for the moto and snowmobile riding conditions.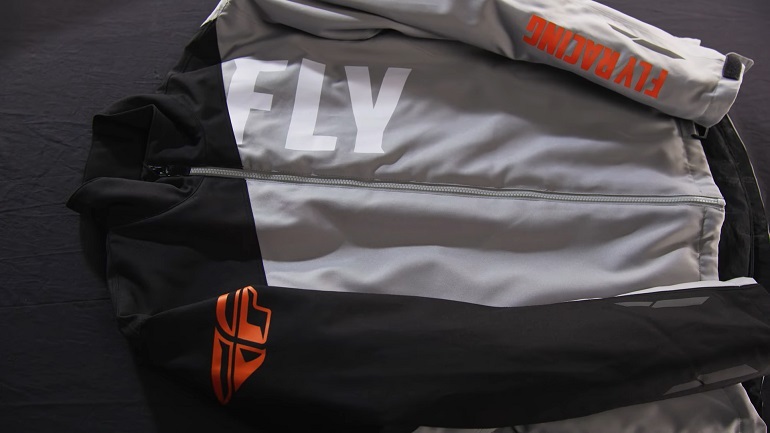 The jacket is lightweight, easy to move around in, and reflective for visibility and safety.
If you are looking for a high-quality, durable option made for the trails, at a reasonable price, Fly Racing Aurora is your best bet.
Features
Waterproof: Hydraguard – Weatherproof technology. Windproof, waterproof membrane
Shell: 450D abrasion-resistant polyester shell
Lining: Micro-fleece lined collar with beard flap
Insulation: 120g of insulation
Additional features: Dual main zipper storm flaps for extra weather protection. YKK main zipper, Reflective for visibility and safety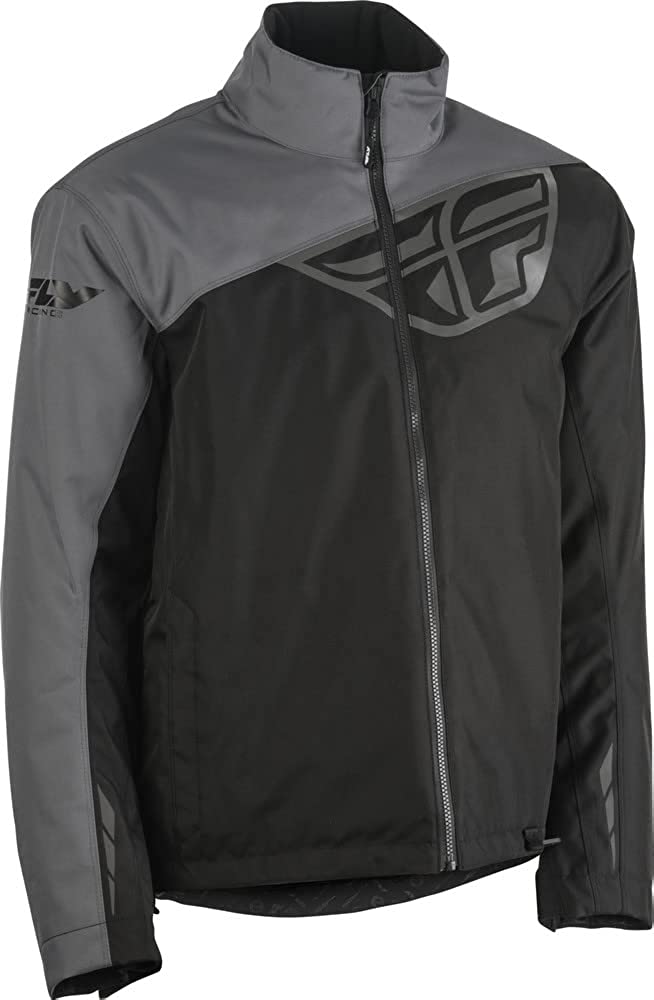 Fly Racing Aurora
The Price of " Fly Racing Aurora " varies, so check the latest price at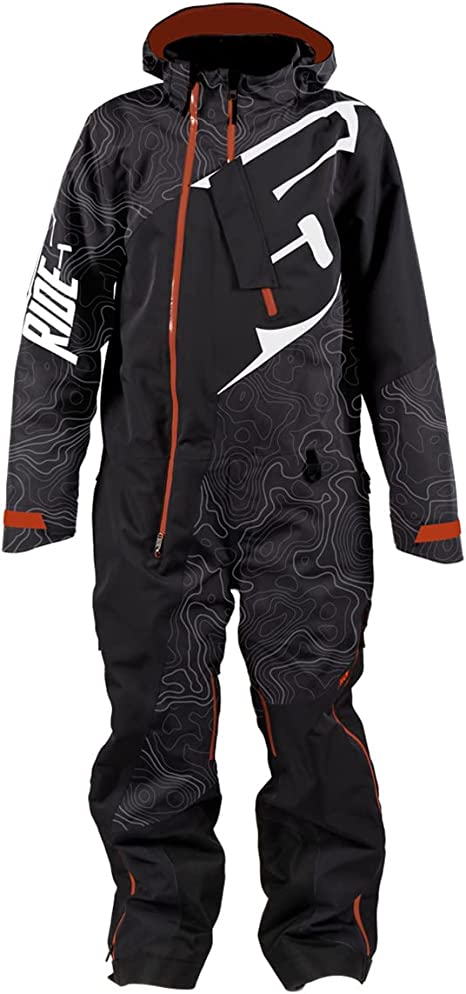 Last but not least on our list, we have a fashionable one-piece design: the 509 Allied Mono Suit, constructed to offer you ultimate protection and mobility for your deepest snowmobile adventures.
Wearing this one-piece snowsuit, you'll be able to send it without being distracted by snow getting in, no matter how tough the weather conditions are.
Allied is serious about keeping you engaged in the action by using in their design the latest technologies and innovative materials.
The suit is built with 5TECH material, which provides 10k waterproofness and 10k breathability performance. The taped seams and DWR (Durable Water Repellent) coating take waterproofing to the next level.
Your rides will be very comfortable, the snowmobile suit is lightweight and flexible, thanks to the Cordura polyester 300 D material.
It will be easy for you to get in and out of this one piece, Allied revised the main zipper to offer improved functionality. The tons of pockets score extra points on the functionality chapter, while three sets of ventilation – inseam, outseam, and underarm – will allow you to cool off and feel the breeze whenever you need it.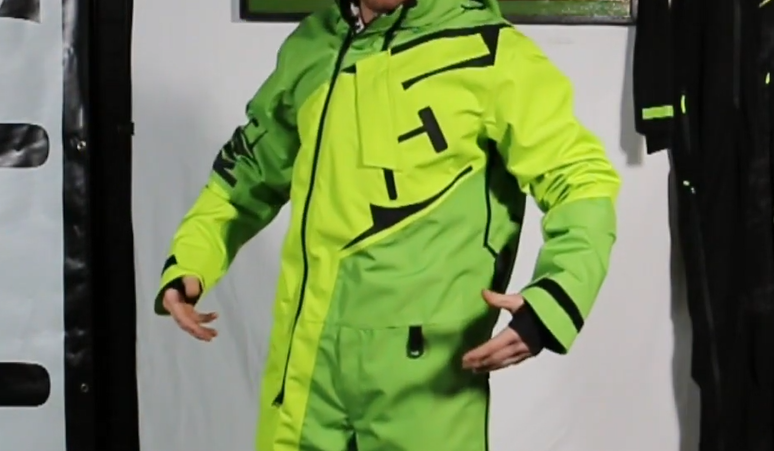 The one-piece snowsuit keeps you protected head to toe, you'll be able to adjust the hood even with the modular helmet on, while the Cordura instep and lower-leg reinforcements ensure extra toughness and durability.
The quality of this 509 Allied one-piece is impressive, it will last in excellent condition for many seasons of aggressive riding, making it the perfect choice for hardcore trail riders.
Features
Waterproof: 10k/10k membrane, DWR coating
Shell: Cordura polyester 300 D material
Insulation: Non-insulated shell
Additional features: Hand, chest, internal, and thigh pockets, removable hood, fully taped seams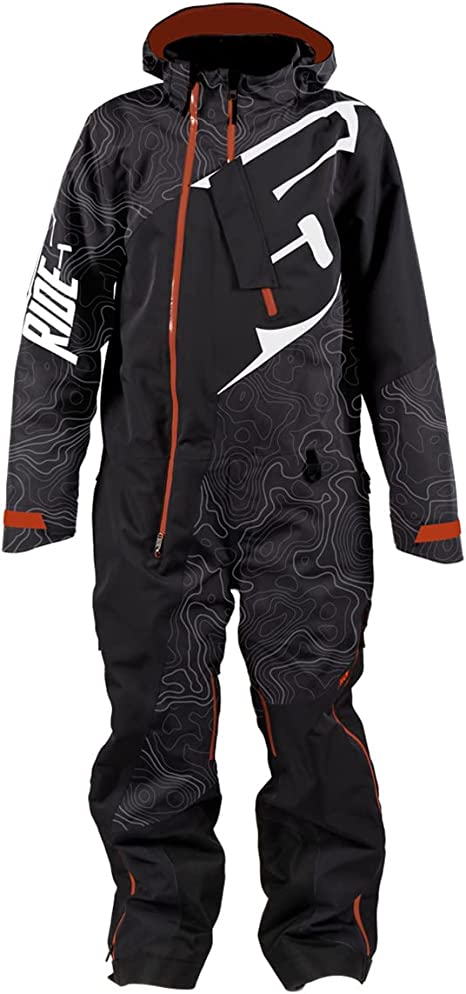 509 Allied Mono Suit Shell
The Price of " 509 Allied Mono Suit Shell " varies, so check the latest price at
Best Snowmobile Jackets: What to Look For
Ask yourself what type of snowmobile rider you are and which are usually weather conditions you will be experiencing: are you a hardcore rider who goes out no matter the weather, or do you prefer to cruise on sunny days mostly?
Check the waterproofing/windproofing/weatherproofing and the polyester/nylon shell insulation features and choose the options that match your needs and riding style.
Waterproofing/Windproofing
A snowmobile jacket that provides waterproofing and windproof features is key to your comfort on your snowmobile adventures. This is the most important feature of a snowmobile coat.
But what exactly is waterproofing? Let's get into more detail:
Waterproof materials are resistant to water penetration. The outer shell material is designed using a thin membrane (like gore-tex) or a coating (DWR – Durable Water Repellent) as a barrier to prevent water from getting in, keeping you dry and comfortable.
Also, waterproofing usually has windproof properties that block out the wind, as well as keep water out. So a jacket featuring this material provides double protection.
Manufacturers use a waterproof and windproof rating, which we also included in the Features section for the snowmobile jackets reviewed in this article to make it easier for you to choose the right one for you.
Waterproof Ratings
5,000mm
The minimum rating for a jacket to be called rainproof, but you'll be needing more than that for a snowmobile jacket.
10,000mm – 15,000mm
A jacket in this range will withstand heavy snow.
20,000mm and Up
This is the highest water resistance rating, so you should choose snowmobile jackets with this rating if you plan to be out snowmobiling in all conditions carrying a heavy load.
To summarise, a minimum of 5,000mm is good for casual snowmobile riders who go out in cold but dry conditions. 5-10,000mm is good for those who spend long days out on the trails, in all weather conditions; while 10-20,000mm is best for those riding in wetter climates
Insulation
Insulation works by the principle of trapping air in the small spaces between the strands of polyester, keeping you warm in cold weather.
The thickness of polyester insulation is measured in grams per square meter. Before choosing your snowmobile jacket, it's important to understand that this is not a measure of the total weight of the insulation in a jacket.
The higher insulation number means the jacket will be thicker and warmer than a comparable jacket with a lower insulation number.
You can find in the features section the insulation info for every jacket reviewed in this article.
Extra Features to Look For

Besides the waterproofing and insulation, here are other features that make a good snowmobile jacket:
Ventilation System:
You need lots of ventilation options in a good snowmobile jacket; this allows you to regulate the body temperature inside the jacket, making it more versatile.
Lots of Pockets:
These are super practical, and help you organize better your snowmobile tours.
Reflective features:
They are essential for visibility and safety.
Helmet Compatible Hood:
Important for safety
High Quality Zippers:
We all know a good jacket with a broken zipper becomes useless, so check the quality of the zippers (YKK zippers are the highest standard in this field)
Powder Skirt:
It helps you seal out the snow
FAQs
How Should a Snowmobile Jacket Fit?
Your snowmobile jacket should be large enough to allow you to wear at least a base layer (a tech sweatshirt) underneath.
You should be able to move plenty while wearing base layers since snowmobiling requires a lot of mobility.
For a perfect fit, it would be great if you can try out the jacket in person, but when this is not possible check manufacturers' size charts and take your measurements following their instructions
What Is the Best Snowmobile Jacket?
The best snowmobile jacket is the one that fits you right and is matching your specific needs.
The best snowmobile jacket brands are FXR, RefrigiWear, Castle, Klim, Fly, and Allied. We included in our review products from each of the top snowmobile clothing brands.
How Often Should You Wash Your Snowmobile Jacket?
If you don't ride the snowmobile often, one wash per season should be enough. If you wear it regularly, you should wash it twice per riding season.
Keep in mind that water-resistant jackets should not be washed using ordinary detergent or softeners because it will ruin the waterproof coating.
Conclusion
When it comes to choosing the right snowmobile jacket for your rides, the main criterion to take into consideration should be your comfort in winter use!
Manufacturers use advanced technologies and innovative materials to design bulletproof snowmobile jackets that make you enjoy even more your outdoorsy winter escapes.
You should be looking for snowmobile jackets specially designed to protect you from cold weather, wind, and snow.