A First Introduction to the CAPiTA Mercury
All-mountain snowboards generally have a reputation for being beginner-friendly boards. There is a bit of truth to this sentiment. After all, any tool or product that aims to be a "do it all" piece of equipment has the general user in mind when being designed.
Other all-mountain boards certainly fall into this trend but not the Capita Mercury snowboard. Here we have a hybrid camber board that is for the high-intermediate level rider. Is it still an all-rounder? Yes. But it's one for riders with a high ability level.
With an introduction of new sizes for all types of snowboarders, the Capita's appeal is bound to skyrocket. Check out the sizes to figure out your perfect match!
Heavy detail has been placed on how the snowboard's overall flex fits into the rest of its versatile board design. The board's shape features progressive sidecuts, which require you to go all in to get a good turn going.
You can get a great ride out of this all-mountain snowboard, but you are going to need the skills to do so. Check out the table for the Capita Mercury's specs.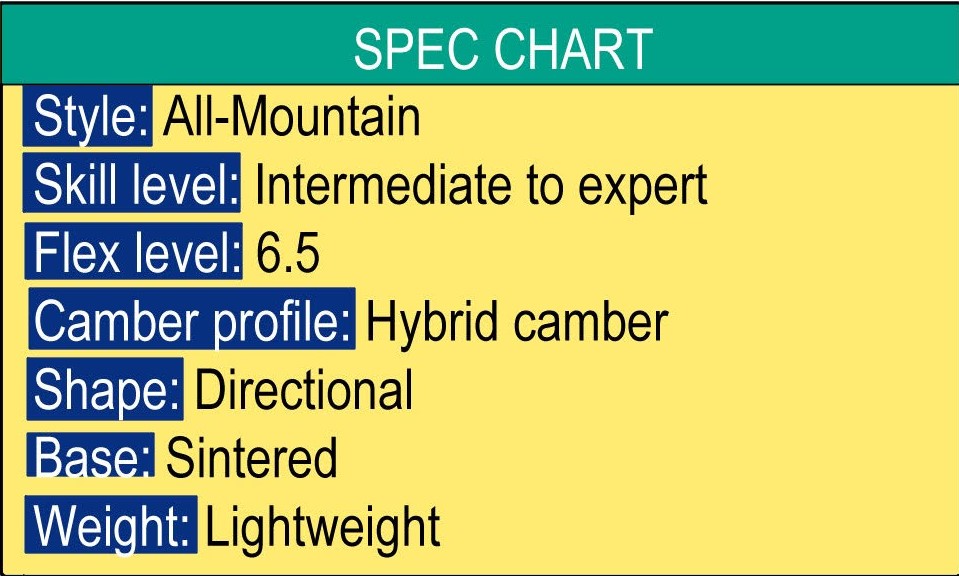 Is The CAPiTA Mercury For You?
Upon reading the introduction, you may already have an answer to this question. Are you someone who likes an aggressive ride, one filled with plenty of carving and lift? What about your skill level, are you confident in your abilities, or do you still see yourself firmly in novice territory?
This board isn't for beginners. It's not the most forgiving, although it has improved when riding at slow speeds.
It used to be worse. Before, catching an edge was commonplace, especially for our lovely beginning riders. Capita has improved many of the natural features of this great board.
A catch-free ride can be expected, but still, only the advanced rider (and one with an aggressive riding style) should seek out this all-mountain board. If you are looking for a forgiving ride, then there are other durable all-mountain snowboards that are tailor-made for you.
But if you think aggressive riding at high speeds (with no chatter when carving) sounds super fun, then this is the right board for you.
If you are wondering what size to get on this same board, then look down below.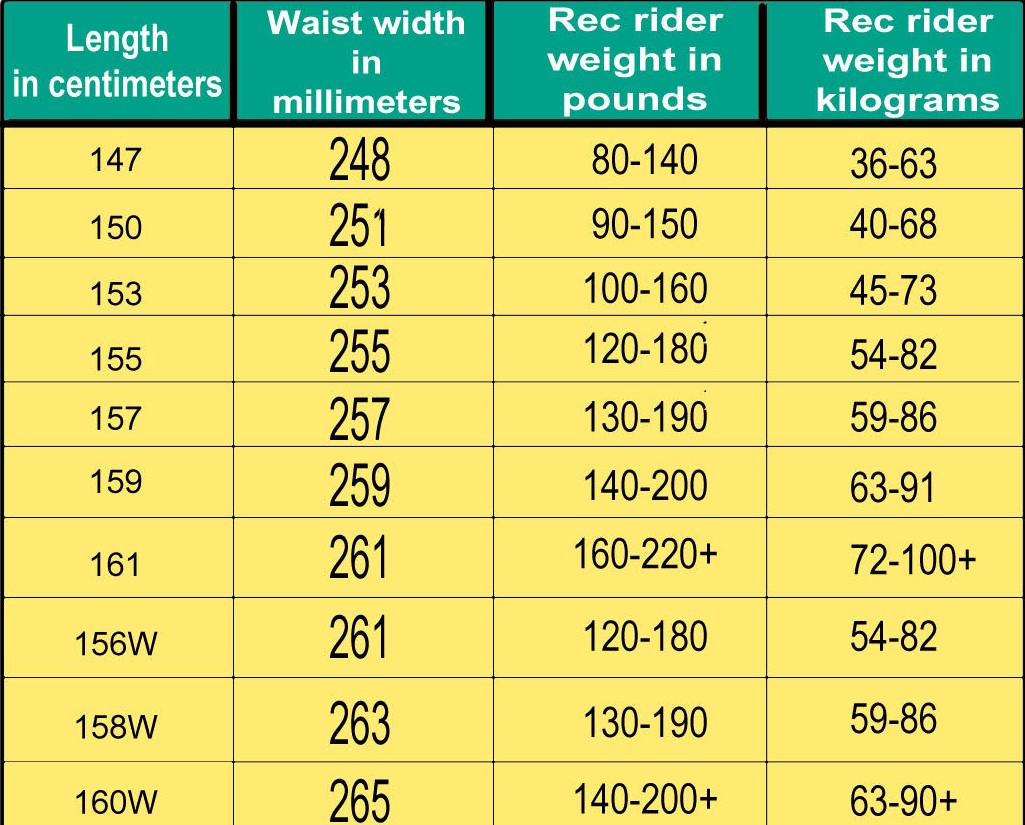 Capita Mercury Review: A Systematic Breakdown
Now it's time to get into the nitty-gritty details of what makes the Capita Mercury a great board. We will be going over the board's overall build quality and then how that affects its performance.
Keep in mind that this is a board that was made for the more aggressive riding style. It is an all-mountain board but made for riders with a higher ability level than your average novice. The reason why you should keep this in mind is that this is what the breakdown will be pertaining to.
Let's get into it.
Board Shape and Profile
This all-mountain board has a directional shape (directional profile). A board with a directional figure works best when going in one direction. That's what it's designed for. Riding switch on a directional all-mountain board is possible, but it'll take some getting used to.
The Capita Mercury is surprisingly adept at riding switch, more so than other directional boards. While it's not a true directional twin, it sure does near the performance of one.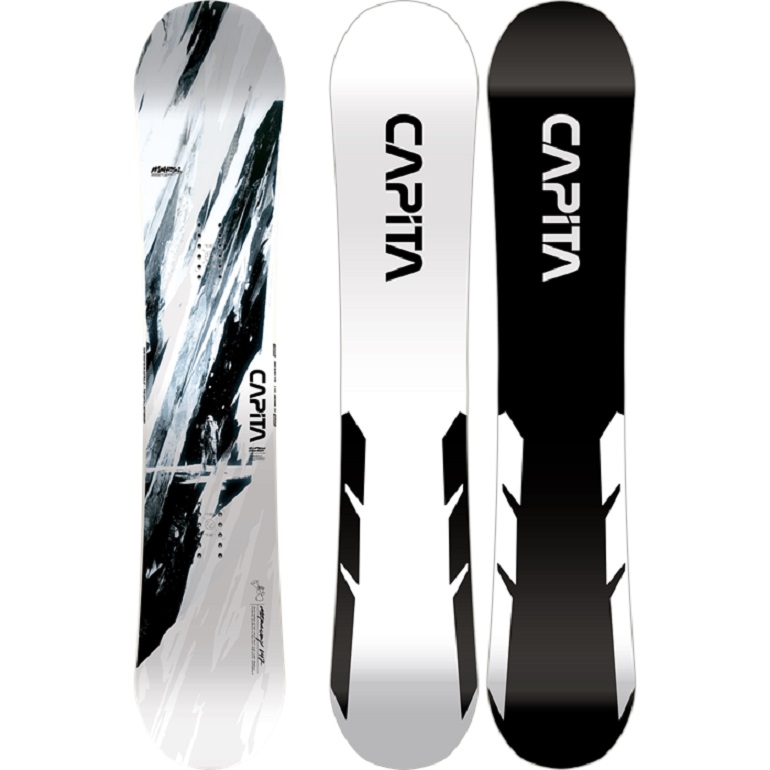 CAPiTA Mercury Mens Snowboard
The price of "CAPiTA Mercury" varies, so check the latest price at
As for the camber profile of this board, it's a hybrid camber. That means that this board has a rocker section on its tip and tail. This raised camber section lifts both ends up, leading to improved turn initiation and float for riding through powder.
A Solid Powder Board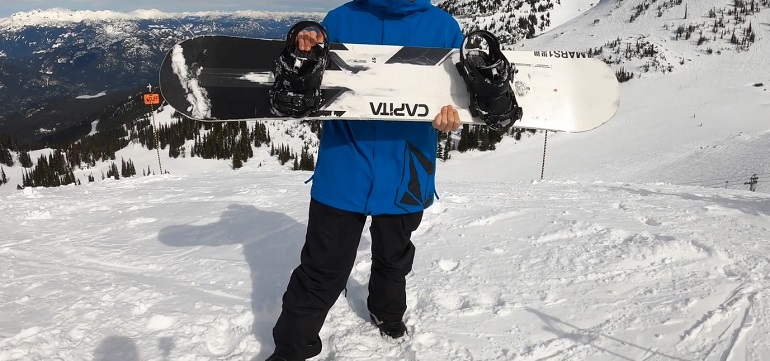 It's this shape and profile that improve the ride as a whole. Catching an edge is much more difficult to do now, which is great. Getting an edge caught is beyond frustrating and often painful.
One thing to note is that this board does have a 12.5-millimeter setback stance. Again, while you can ride switch well enough, the board's shape and setback stance mean that it's not the perfect board for doing so.
Although, I must praise its ability to provide a decent switch experience.
Build and Materials Used
When it comes to build quality and the materials used, the Mercury is top-of-the-line. The core of the board is made from a mix of Paulownia and Poplar. Paulownia wood is a third lighter than any other American wood.
It's got one of the lightest to strongest wood ratios in the entire world. This makes the board's core lightweight but surprisingly durable. The durability of the board is only further increased thanks to the HOLYSHEET fiberglass configuration.
It's made from fibers that have been weaved together for increased tensile strength. The board's durability is increased but not its weight. Taking into account the qualities of its core and now its fiberglass, it's all strength with none of the downsides.
Precision Engineering
The base of the board is a Hyperdrive base that is formulated and sintered. This lets the board travel at high speeds, skimming off the top layer of snow without having the water drag into the board's pores, slowing it down.
This is what should be expected of boards in this price range. You'd be surprised how many don't make the mark. Whether on fresh snow or fresh powder, the hover core of this board was able to deliver a fun ride each time.
Carving & Turning Performance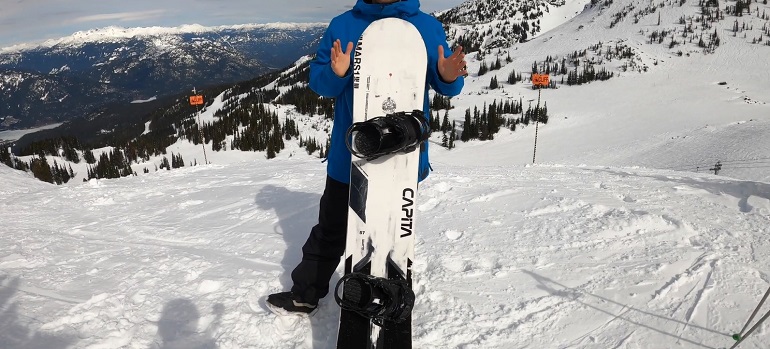 The progressive side cuts and a reverse side cut arc located in the middle section of the board give you a death grip edge hold. I love the good spring that you get as you pop out of a hard turn.
I'd say that this is the best use that you'll get out of the Mercury. Carve your way down the whole mountain if you wish. You should because it feels damn good. When it comes to skidded turns, it has improved significantly. What was once a solid downside has been turned into a passable performance.
Thanks to the effective edge, you can expect the same level of quality with both small turns and wide turns, even when on firm snow. So if you are constantly craving those side hits, then do yourself a favor and pick this board up.
Do keep in mind that while the turning is fun, it isn't easy to perform. It's not exceedingly difficult, but this isn't the board to use for a beginner looking to practice their turns.
Despite all of this, catching a turn is nowhere near as easy as it used to be. Ride with confidence and turn with excitement.
Jumping Capability
I believe that I mentioned this earlier, but the nose pops off really well. It doesn't take much to keep it in the air, the same can't be said when riding at a slow speed. This is no doubt, thanks to the hybrid camber. Both the nose and tail are curved upward.
The stability of the board as you ready up a jump should also be praised. It's not overly wobbly, just the right amount of fluidity.
What I mentioned before about the turning can also be said about this board's pop. You get what you put in. It takes a good amount of effort to get the full pop, but that's why this board is geared toward experienced riders.
If you do get that great lift-off, then don't worry about the landing. Smack right into it, the Mercury does well in handling it in style. In fact, it should be said that this board is best used for those great leaps.
The edge-to-edge transfer was made for transitioning from hard carving into any level of a jump. Even when riding on uneven terrain, one that changes rapidly from a fresh top layer to a bumpy and rugged plow, you can still count on the excellent transitioning.
Speed Ranking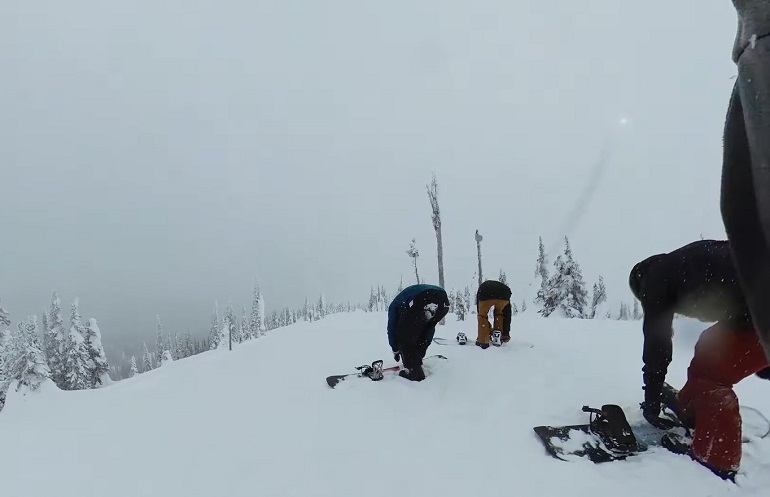 This is a fast ride, and if you want that rush of adrenaline that so many seek, then you are going to get it here. Just get that sintered base down on a firm layer of snow and feel yourself glide. Skating, almost hovering, off the top layer is exhilarating and my favorite thing about the Mercury.
As stated before, the edge hold is great. This is important when traveling at high speeds because you are going to want the level of response when turning.
You know, I'd say that there are times that the board speeds up way too much for even an intermediate rider to handle. Honestly, it only takes a few yards before you are jet-setting down the whole mountain. Perhaps this board should be marketed toward advanced intermediates and above.
One last thing, when traveling at slower speeds, while it may not be incredibly sluggish, it ain't the best experience either. This board was made to go fast, and if you need fantastic handling when going slow, you might not have the best time.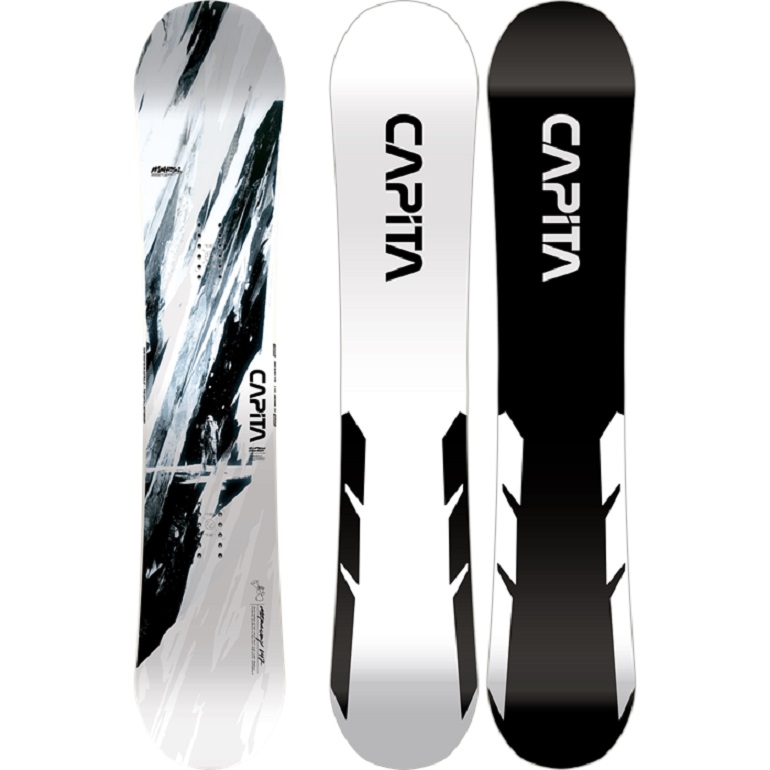 CAPiTA Mercury Mens Snowboard
The price of "CAPiTA Mercury" varies, so check the latest price at
Roundup
For those that want higher speeds and larger jumps off the top sheet of snow with a medium stiff board, the Capita Mercury is for you. There aren't too many snowboards that can make riding at high speeds this effortless.
This board blew the competition out of the water when it comes to turning and carving. The only reason why you shouldn't pick up the Capita Mercury is if you aren't at the recommended skill level yet.
And I can't stress the above enough. If you are a lower-level intermediate rider or a beginner, then don't pick this board up. It accelerates and reaches dangerously high speeds really fast. You will get caught off guard.
But if you are an advanced intermediate rider and above, then there is no reason why you shouldn't pick up this all-in-one speed demon.
Score Break Down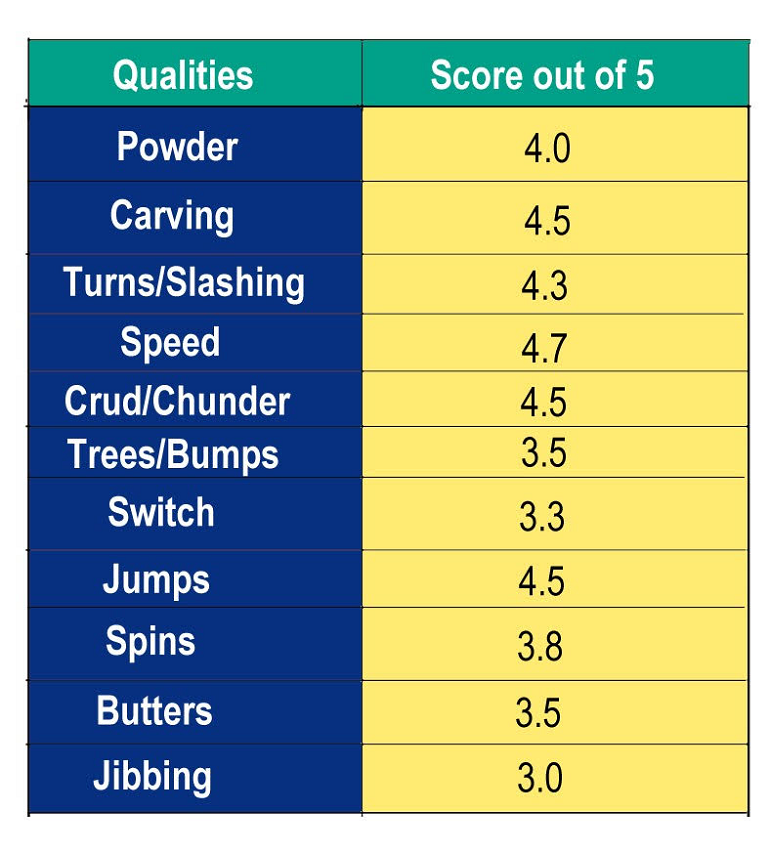 My Final Thoughts
Where does Capita Mercury excel? Aggressive riding. Any kind of turn or carve that you whip out while on this board will take some work out of you, but boy is it fun! That's when this board is at its best when you are trying to carve your name into the mountain.
The improved edge hold and the lift in both the nose and tail make for a floaty ride that is easy to get off the snow. Due to the setback stance, your back foot is positioned further back, and you'll find that your board's nose can take flight with no effort at all.
Sure, for the turns, you are going to need a decent amount of push, but once you find the sweet spot, you won't want to stop.
If you are an intermediate rider looking for your all-in-one solution, then get this board.
And if you are still trying to figure out how to snowboard, this Capita Mercury review must have confirmed that it's may not be suitable for you. But there are plenty of snowboards for beginners that you should try!