Meet Lib Tech Dynamo – an aggressive and versatile piece of all-mountain snowboard, as advertised by its maker.
We are dealing with a medium-stiff freeride board, with a wood core.
While its flex and features recommend it for the resort, snowboarders tend to love riding it in the backcountry, too.
Performing tricks and jumps at the park is also fun!
In theory, it may not be as suited for powder. In reality, however, it rises to all challenges.
A board with a Camber profile, we can also look at it as a mild Rocker for a surfier riding style and a more playful feeling.
Some like its graphics, others don't; they all agree, though, that it's one of the best boards out there! And I do, too!
Lib Tech Dynamo is super easy to ride, as it guarantees a fun day on the slopes, and you can be sure of laying a carve!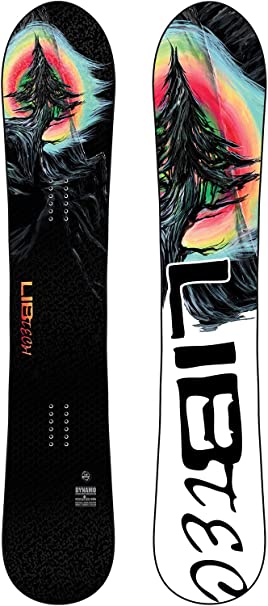 Lib Tech Dynamo
The price of "Lib Tech Dynamo" varies, so check the latest price at
A Good Company for Lib Tech Dynamo
That might be an intermediate to advanced rider looking for a softer option (a softer nose, maybe?).
Why 'softer'? Because this board is incredibly forgiving.
It works on hard snow, powder, and even ice! So, whether you're a resort fan or a backcountry enthusiast, this good board has you covered.
Stable at high speed, solid at landing, easy turner, and good carver. So many adjectives to define this mountain board, yet they fail to describe the fun that you could experience, let's say, at the park.
A Hybrid Rocker but Camber dominant, Lib Tech Dynamo snowboard could be the one.
It does have a bit of taper, but it is one of that classical all-mountain freeride boards that you can rely on.
There's maybe a bit more of a directional shape than you would expect.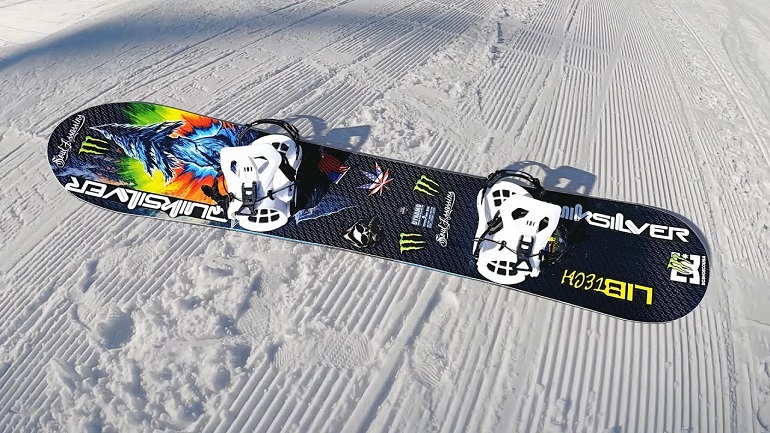 These freeride snowboards are not suited for beginners, not even low-intermediate riders, but come highly recommended, as a Mike Parillo and Phil Hansen favorite.
Read this Lib Tech Dynamo review to find out more and connect the dots.
In the end, those behind the Lib Tech story want their riders smiling while they're using their products. For more than 30 years, they have been trying to innovate the surfing and snowboarding industries.
As I see things, they set out to act differently. More bluntly put, they tried to come up with new technologies every year. After all, change is something that we can always count on, and those who support it should be encouraged to do so. Being a pioneer is not always an easy job.
Demo Details: Lib Tech Dynamo
How did Lib Tech Dynamo snowboard do?
Continue reading for the facts* about the demo and, of course, the finds**!
*All the elements were based on my height, weight, usual ride stance, and ability level.
**The following review is designed to compare the features of Lib Tech Dynamo and recommend the gear (or not) for performance under certain conditions.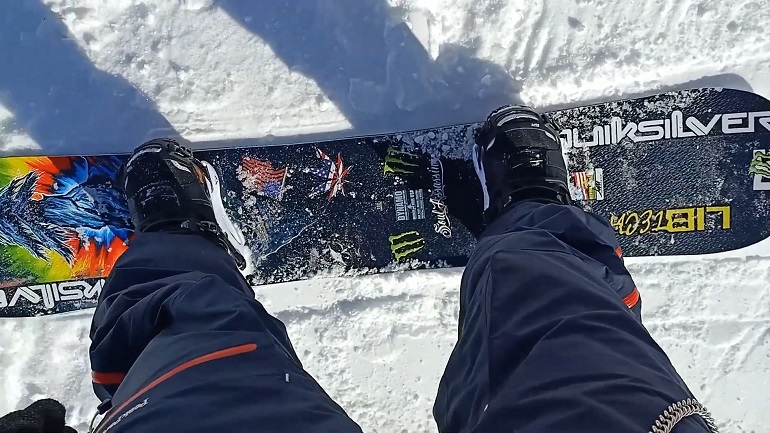 Snowboard:
Lib Tech Dynamo 2021
Size: 150 (243mm waist width)
Date: 02.03.2022
Conditions:
Overcast but not too cold; light snow; low visibility
Deep powder; backcountry
Rider boot size: 8.5
Stance (bindings angles): +15/-15, goofy
Rider weight & height: 154 lbs, 5'5
Performance
It provides good performance on any terrain.
Magne-Traction® guarantees precise hard-pack carving and pop and stomp on big take-offs and landings.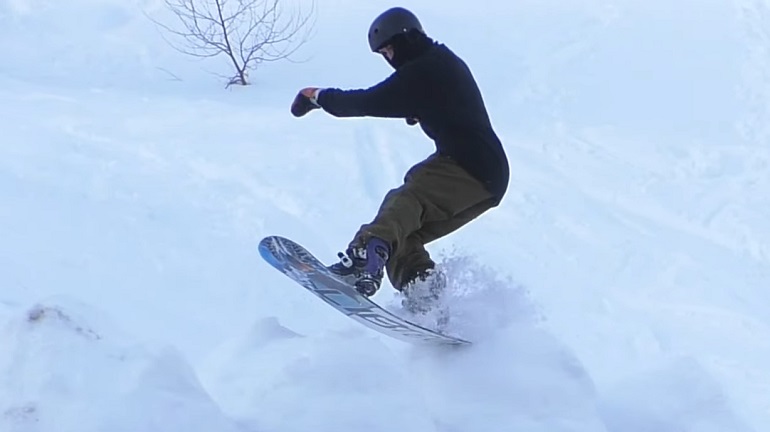 Banana Technology is another important feature – think 'rocker/camber hybrid contour redefined modern snowboard design'.
Durability
All in all, it is a very durable all-mountain snowboard, one that will join you on your snowboarding adventure season after season.
The 'original power construction' has a very lightweight and environmentally-friendly design.
With a poppy aspen/ paulownia core and an eco-sublimated TNT base, we've got a solid handcrafted board here, with low maintenance.
It is one of the heaviest boards that I've ridden; still, it felt light on the snow.
Speed
This board can carve! It is incredibly stable at high speeds. Undoubtfully, you can easily negotiate your way through any terrain.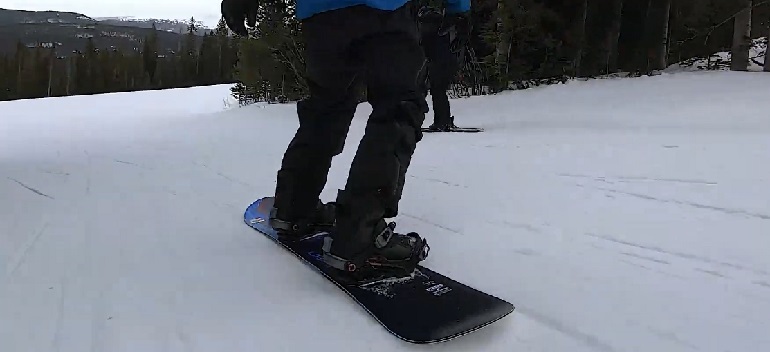 Agile when you ride it slowly.
Sizing & Adjustability
I know, I know, I am a woman and I usually ride a 149 board. However, I didn't feel much of a difference and the snowboard felt comfortable to ride.
Flex & Butterability
Even with a medium to stiff flex, Lib Tech Dynamo is still easier to maneuver than other freeride snowboards designed for an intermediate to advanced rider.
There is also a bit of torsional flex.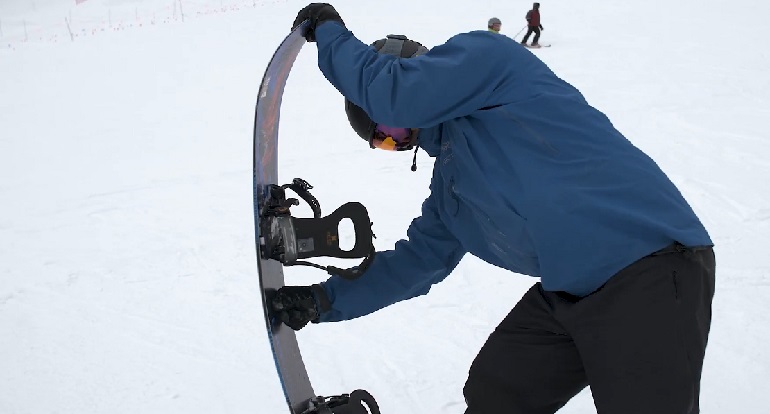 The butterability is average, though. Well, maybe a bit above average. This is one of the weak points of the board. It is not easy to butter, but it isn't hard either.
In the end, butter ability is all about how well the lightweight snowboard bindings flex when doing tricks and how much forgiveness there is on landing these tricks.
Powder & SWITCH
I love riding best snowboard for powder! It's my favorite thing while snowboarding down the mountain!
On pow days, it's either great to be the first down the slope or ride as the flakes keep falling. That was the case for the late-afternoon descent off-piste, at the beginning of March.
To be honest, I had my doubts. However, it does so well in powder! Even deep powder and soft snow!
It floats, which is a bit unusual for a Hybrid Rocker, Camber profile dominant board – Lib Tech's C3 Camber.
There's the subtle Rocker in the middle of the board, which brings magic to your ride!
It is also quite well setback (-25mm on effective edge). It has a longer nose than the tail for controlled turns in any terrain.
In this specific case, the differences between the nose and tail are not at all subtle.
How does it feel to ride switch on it? Surprisingly good. Better than in the case of other freeride snowboards.
Carving & Turning
A good carver.
This board is snappy (rather snappy than smooth!) and an easy turner at high speed. You may find turn initiation hard when riding slowly.
In general, however, it is medium-fast as far as turn initiation is concerned.
It is a very forgiving board when you don't do your part on the slope. This is why the Lib Tech Dynamo is so loved by freeriders!
With superior edge hold, camber boards are best for aggressive riding and better carving at high speed. Snowboarders also love the 'poppy' feeling while linking turns.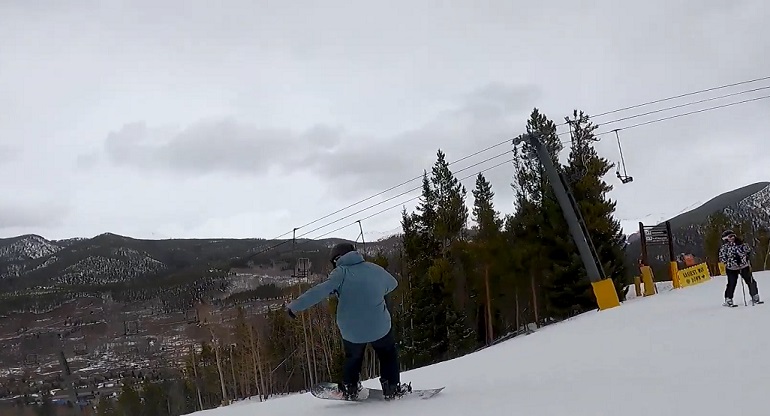 As far as pop is concerned, it's not such a great pop, but rather average. Camber puts pop into boards, giving boarders good edge control while carving turns.
Jumps
The Lib Tech Dynamo snowboard is not only great for small and high jumps (medium jumps are the sweet spot) but for spins, too.
As it provides a solid landing, you can trust it at the park or off-piste.
It is also reliable on uneven terrain and very comfortable, handling bumps like no other.
Indeed, it does well when the ride is neither smooth nor straight.
Verdict: Lib Tech Dynamo
Here's my final verdict in a nutshell:
Feature My Rating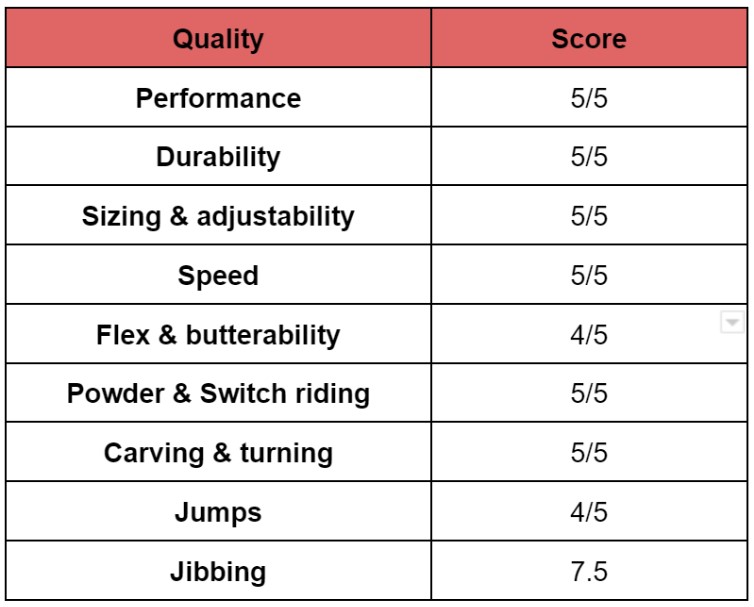 Final review score Lib Tech Dynamo 4.75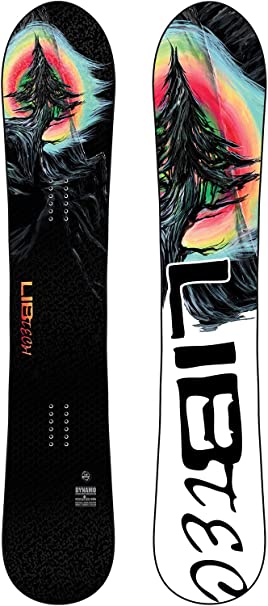 Lib Tech Dynamo
The price of "Lib Tech Dynamo" varies, so check the latest price at
Conclusion
We've reached the end of this Lib Tech Dynamo review dealing with the Lib Tech Dynamo snowboard.
One big wish? I'd love to have this in a Women's version, too, and I'd buy it in a heartbeat.
For its quality and durability, stability at high speeds, and large range of sizing. Most of all, however, I'd love to try it day after day in powder and switch conditions.
Carving, turning, and jumping would always be a pleasure on this aggressive board, down the mountain or at the park.
Irrespective of their riding style, snowboarders can make purchases and a choice based on their ability level.
The Dynamo is suited for all those advanced and intermediate riders who love freeriding and still ride down the mountain for the fun of it.
All of the above for a decent price.
N.B. Snowboards are usually delivered ready-to-ride, with a waxed base and sharpened edges. This factory tuning is, however, not very durable, and you should properly wax all your new snowboards after a few days and maintain them on a regular basis.