If you're looking for a new snowboard for the upcoming season, your gaze might have settled on the psychedelic curves of the Lib Tech T Rice Pro.
No, this board isn't made of rice – and it doesn't rely on groundbreaking rice-powered technology.
This Lib Tech board gets its name from Travis Rice, the legendary pro snowboarder who personally helped design a stick he could personally rely on for high-performance freestyle riding.
But does the T Rice Pro live up to the brand's high standards and storied reputation?
Is this board really the right choice for you?
By the end of this Lib Tech T Rice Pro review, you will know the answer.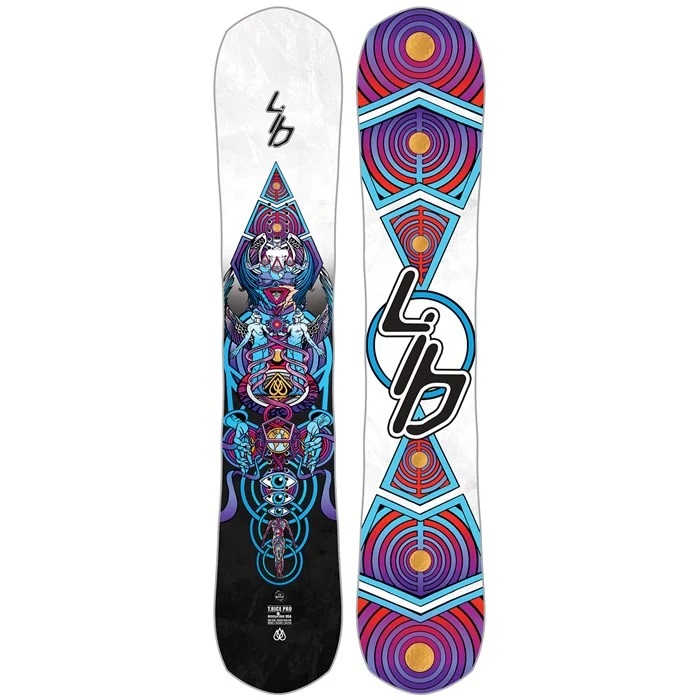 Lib Tech T Rice Pro
The price of "Lib Tech T Rice Pro" varies, so check the latest price at
Overview of The T Rice Pro's Tech Specs
Let's start with the basics:
The board offers a moderately stiff rating of about 6 or 7, making it a perfect choice for experienced riders. It's snappy and responsive – but it doesn't lose its sense of playfulness, either.
It's also a super versatile board that can rip just about anything, whether you're hitting ice, powder, backcountry, or even ice. It's also perfectly capable of a few runs through the park – although it wasn't specifically designed for tricks, rails, and big jumps.
This means you get an all-mountain, freestyle everyday driver that can handle everything you throw at it. It's a perfect choice if you find your riding style changing from one day to the next.
Boards like these are my personal favorite because you don't need to worry about checking weather conditions before you choose your board for the day. Just chuck it in your car and head up the mountain without a second thought.
Its rocker slash camber profile is a "GNU C2 Chamber" Hybrid Rocker, giving you the best of both worlds for floating, carving, and popping over powder, ice, and whatever comes your way. With elements of both camber and rocker systems, I felt a serious level of precision for a stable yet aggressive board.
Magne-Traction also makes a welcome return with Travis Rice's new board, and the "steak-knife" serrations on your edge give you insane edge hold in all conditions – even ice.
And trust me, there's nothing worse than when your edge won't hold on steep ice, as you'll quickly find yourself slipping straight down the mountain on either your butt or your chest with no edge control.
Lib Tech even claims that this steak-knife system turns ice into powder, but I haven't had the chance to witness that magical moment just yet.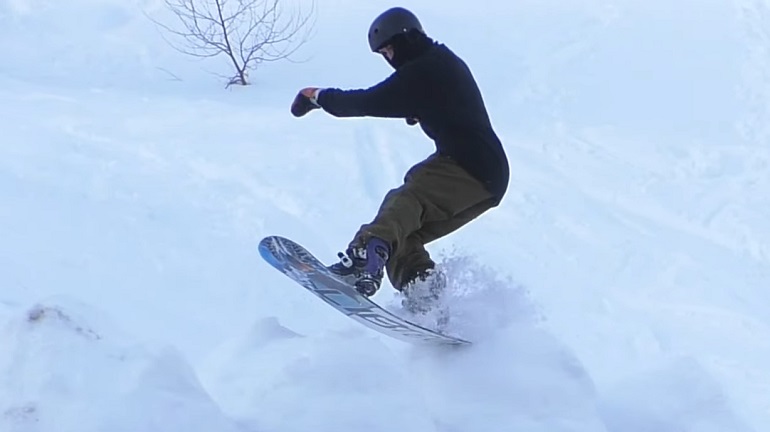 You also get a lightweight base with HP construction, providing a featherweight feel but with plenty of long-lasting durability. Even though this board is seriously light, you won't have to replace it for a while – which is important for most freestyle riders (including me) who find themselves dealing with a limited budget.
The Eco-sublimination and sintered Birch internal sidewalls provide additional durability, which is important if you're crashing your way through the trees and hitting plenty of rails.
One thing you need to keep in mind is that this board was basically designed specifically for Jackson Hole in Wyoming – one of the holy grails of the snowsport world.
Why is it so popular?
Because it gets a lot of snow… Like way more than most mountains in the world. Travis Rice designed and tested the Travis Rice Pro in these freestyle conditions, which means it'll absolutely slay anywhere you see deep snow – whether that's Jackson Hole, Wolf Creek, or Whistler/Blackcomb in my home province of British Columbia.
That being said, it is versatile enough to handle virtually any freestyle condition you can imagine, including ice and man-made groomed runs.

I personally had loads of fun with this Lib Tech board in slushy conditions for some weird reason, which makes it a solid choice for spring/summer riding.
Solid pop rounds off this board, making it super fun on smaller features especially. The camber profile allowed me to really "load up" my ollies with plenty of spring as I rocked onto my back foot.
Let's be clear, the Lib Tech Travis Rice Pro tries to give you a little bit of everything. This versatility means that more specialized freestyle boards might provide better performance in certain areas, such as powder or jibbing.
But the Lib Tech T.Rice Pro isn't trying to be the best at anything – it's trying to give you enough versatility to do everything pretty well.
Keep this in mind, and you won't be disappointed.
Who is the T Rice Pro Most Suited To?
The T Rice Pro is best suited to intermediate-to-advanced riders who want to hit every feature on the mountain.
This might be a great choice if you're looking for that next freestyle board after mastering basic snowboarding skills, as it gives you the performance, playfulness, and snappiness you need to improve your riding and have plenty of fun in the process.
The T Rice Pro is not suited to someone who wants a dedicated board for powder or a dedicated board for park riding. If you're looking for a specialized, detailed board, you're not going to find it here, as the main goal is to "check off as many boxes as possible."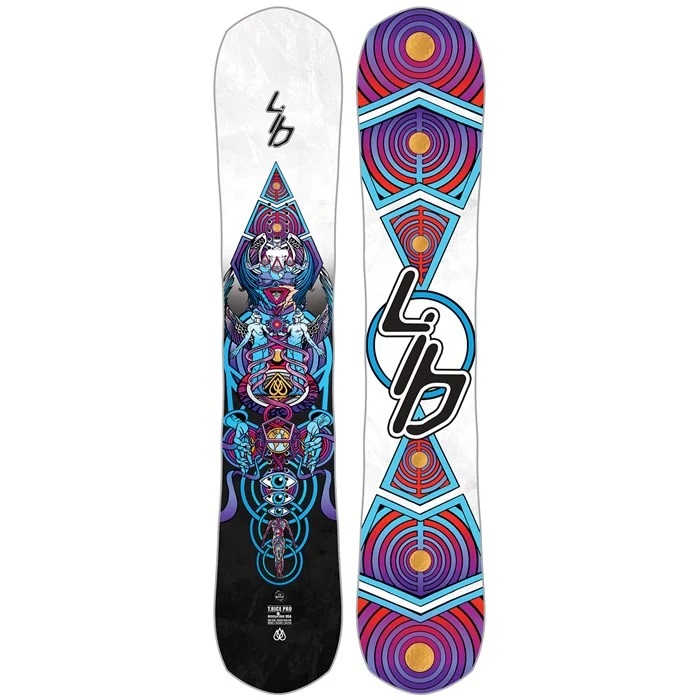 Lib Tech T Rice Pro
The price of "Lib Tech T Rice Pro" varies, so check the latest price at
The T Rice Pro in More Detail
Rider Boot Size:
Your boot size doesn't really matter with this board because you can choose wide options if your feet are too big for the standard board waist width.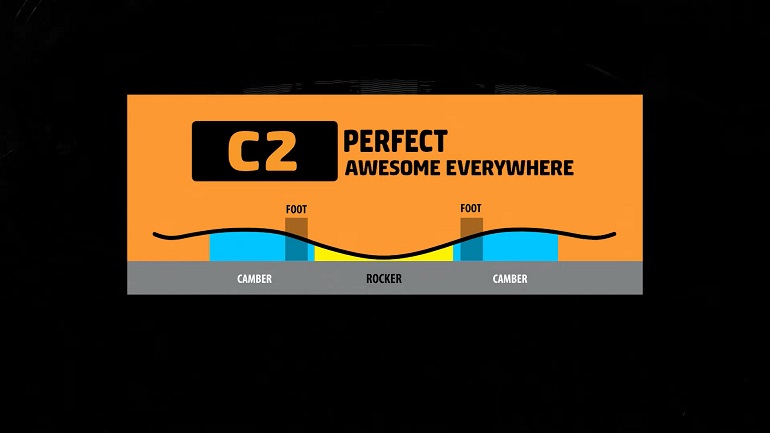 Rider Weight:
This board is a bit stiffer than average, so you might want to grab a slightly shorter length than normal if you're a bit of a lightweight. A board that is too stiff and too long is going to be very difficult to control if you don't have enough weight on your bindings.
Downsize for better maneuverability. If you're someone with considerable height and a lightweight frame, you might find yourself in a somewhat strange situation.
Bindings:
This board doesn't come with bindings, but it's compatible with basically any binding you can think of.
Speed:
Travis Rice's snowboard is built for speeds that can get pretty intense – especially on groomed runs. Slow down to a cruising speed, and you're going to lose a bit of control and performance – especially for beginners.
At high speeds, you'll feel a moderate amount of vibration – but nothing that affects the overall stability of the ride.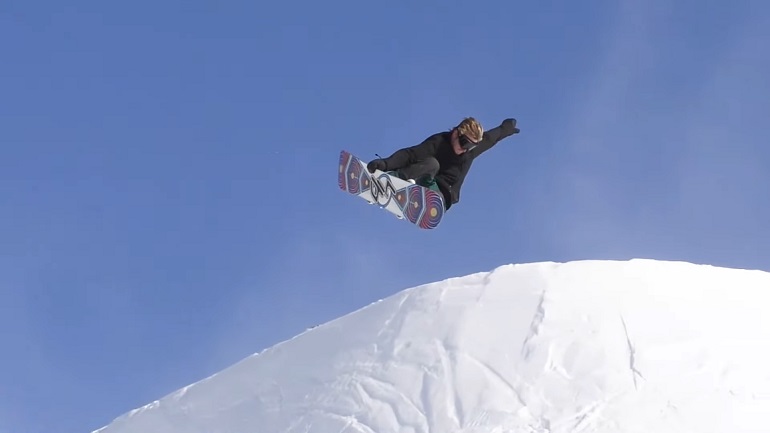 Carving & Turning:
This is where the board really shines. The serrated effective edge quickly bites into hard pack and ice, giving you insane levels of grip for those long, drawn-out carving turns. If you ride straight on your edge, you're going to have a lot of fun.
On the other hand, you're going to see a slight drop in performance for those tighter curves, but not much.
Another major plus for me personally is the twin design, as I love to ride switch. Challenging myself with switch riding was super easy with the true twin shape – and it's a major plus if you prefer riding switch in powder too.
Uneven Terrain:
With the T Rice Pro clearly being an all-mountain board, it should come as no surprise that this best carving snowboard handles uneven terrain fairly well. Whether I was hitting patches of ice, moguls, side hits, or that off-trail powder alley, I never felt too off-balance.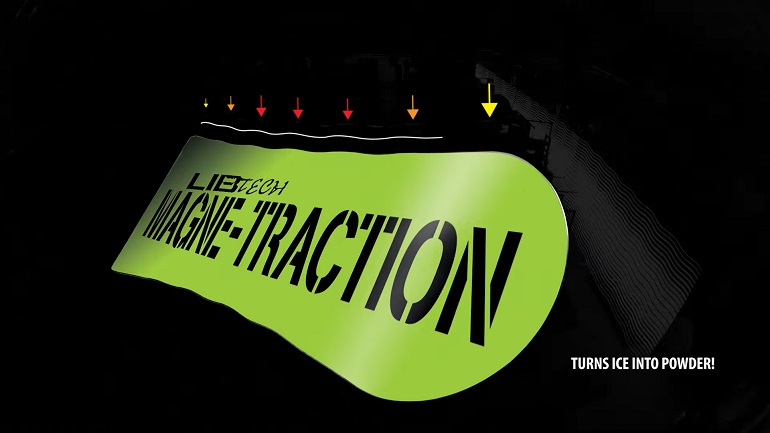 Butters:
With the rocker and camber, you're going to find buttering very easy. This board is super fun to play with, and it takes almost zero effort to pop up onto your nose or tail.
If you're struggling to butter effectively with your current board and you need something a little more playful, the T Rice Pro could be a solid option.
Landing:
I found that the T Rice Pro gave me plenty of cushioned softness in landings after jumps.
The serrated edges also help you grip the snow after a 360 or a 180, which helps you ride out your landing if you land in a super unbalanced fashion. However, it's not something you'd want to take on super big jumps.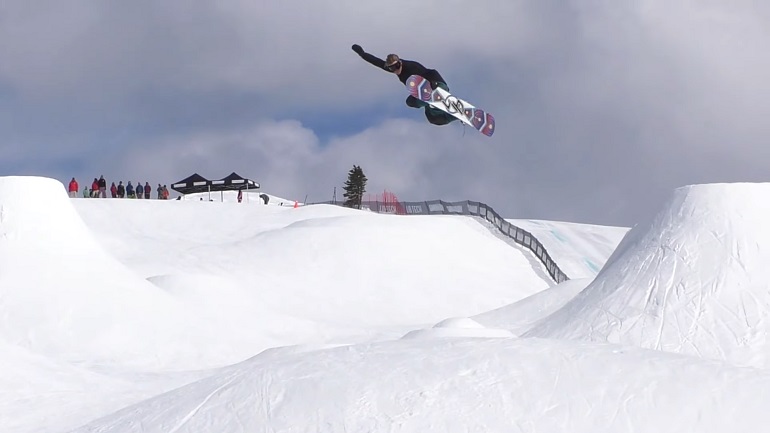 Jibbing:
This is another area in which the T Rice Pro shines. With its centered stance and twin shape, I had all I needed to hit a number of jibs in pretty much any way I wanted.
One thing to keep in mind is that the reverse contour in the middle of the board can be an issue if you don't keep the feature directly under your feet.
Flex:
The medium stiff flex strikes a nice balance between performance and playfulness. 6.5/10 gives you solid, higher speeds and a little more responsiveness, but you never lose access to that buttery playfulness.
Still, you'll definitely have to work harder to butter than with a more flexible board.
Artwork:
The artwork is pretty cool, featuring a design that apparently represents transhumanism (or something?) Anyway, that's not the reason you're buying the board… right?
A Brief Overview of Lib Tech Boards
One thing I really love about Lib-Tech is that all of their boards are manufactured in Washington State – just a short drive down from where I live.
This brand is known for edges that don't quite wrap around the entire board – leaving your nose and tail somewhat exposed.
This new 2023 board from Travis Rice is fresh off the factory floor, so it's too early to tell whether it'll be durable enough to last several seasons.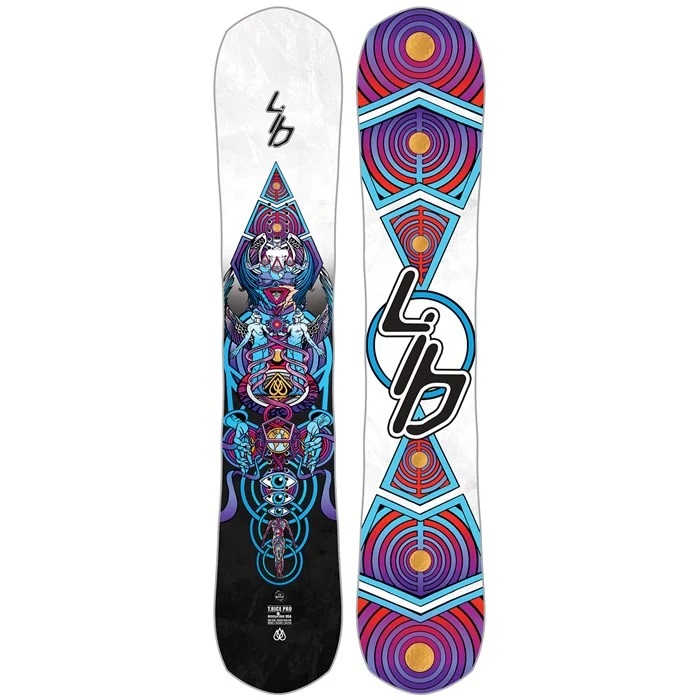 Lib Tech T Rice Pro
The price of "Lib Tech T Rice Pro" varies, so check the latest price at
Final Thoughts: Did Travis Rice Design a Killer Board?
So did Travis Rice come through with his latest board?
What's the final verdict for this T Rice pro snowboard review?
Honestly, this seems like a solid choice for the "average snowboarder." By this, I mean a rider who hits the mountain as much as they can each snowboard season – someone who's pretty advanced but not exactly professional.