An Overview!
Paddleboarding is an exhilarating, adrenaline-rushing water sport, but it does not come cheap. Paddle board, paddles, and all that equipment can be budget wrecking. But once you are out on those waters, I promise you it will all be worth it.
I do not want to go wrong in choosing my paddle board. I am sure no one does. That board is the only thing that can take me through the splashing water. Oh, I mean with other supporting equipment as well.
You need to be a little more involved when it comes to something with such a huge responsibility. Paddle-boarding has become a known sport all over the world. To bring justice to its fame, choose quality above anything.
But the actual question here is, what could be the best price range for paddle boards? Well, paddle boards come in different types. So anything that fits perfectly well, quality and performance-wise, is a green signal.
How Much Do Paddle Boards Cost Actually?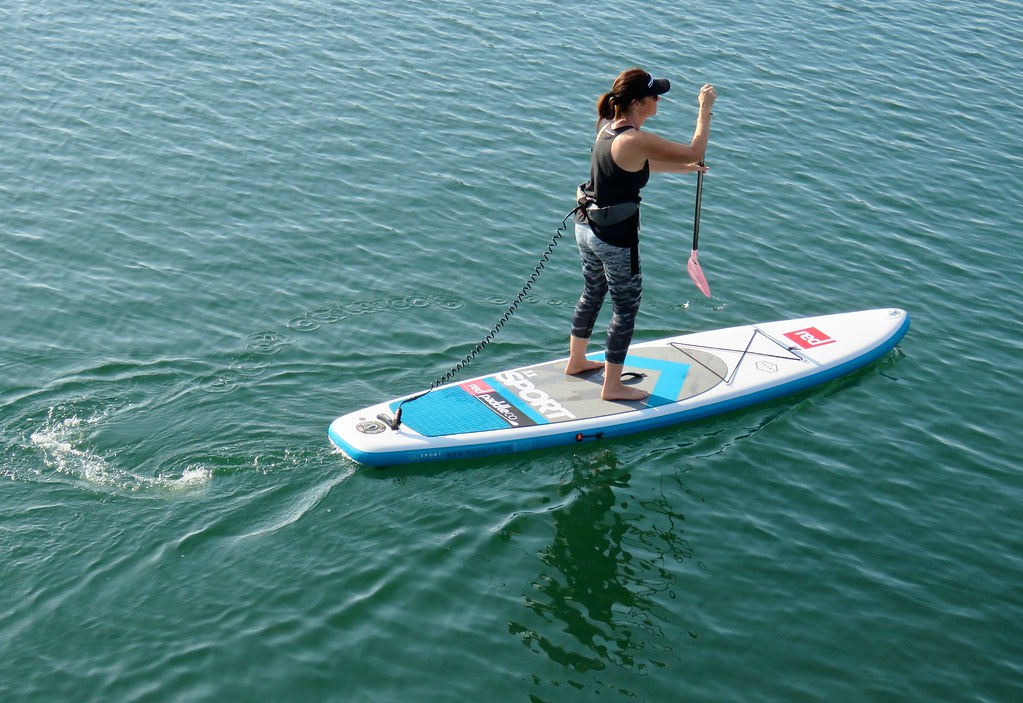 Something as sporty as a paddle board, and you are still worried about the price? I know; I was too! But let me tell you how much do paddle boards cost and the reason why paddle boards are expensive.
Paddle boards are available for as low as $300, and expensive ones go up to $2000 with all the included accessories.
The price points vary according to their performance, expensive materials that are used in the making, and specialized sups (fishing sups, racing sups).
Paddle-boards' range has no limit as they can cost you a hefty amount or can be really easy on the pocket. A cheap paddle-board is good for recreational paddlers as they tend to only go surfing or paddling once in a while.
Why Do Paddle Boards Cost High? Let Us Explore the Reasons
Well, paddleboards do cost a lot, duh, but aren't they worth it? We can talk about this for hours, but I don't think anyone can convince me otherwise.
A stand-up paddle board is fancy enough to just buy and not use, just like an LV bag, maybe? Ha! Let's be fair! All of us, at some point in time, have the urge to own something this classy.
Do not underestimate the fun and hassle-free experience that it brings along. Invest in a paddle board after thorough research. Trust me; I know you don't want to waste that hard-earned money.
Carry a paddle board that is as amazing in performance as it is in looks. Remember, you get what you pay for. Let us move further and explore the reasons for the paddle boards being high in cost.
The Growth of the Sport
Paddle-boarding is a sport that has become very popular all around the world. Not only does it make you enjoy the vibes, but it keeps you physically well. Sup surfing has a strong way of keeping your feet flexible and your balance just accurate.
Many people also enjoy paddle boarding because of the reason that it is a good way of meditation. In fact, yoga on a paddleboard is not a bad idea at all!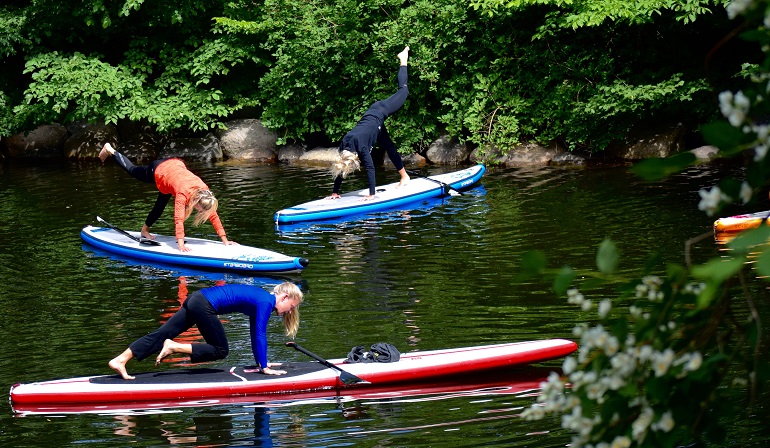 Surrounding yourself with such an environment is bliss while meditating. In addition, it boosts your cardiovascular health.
It is an easy sport with easy access. People tend to enjoy more on paddle boards rather than boats. And sometimes it is less expensive than other water sports.
When something becomes popular, it is bound to be pricey. With these characteristics of a paddle board, the demand for them has increased.
Size of the Paddle Board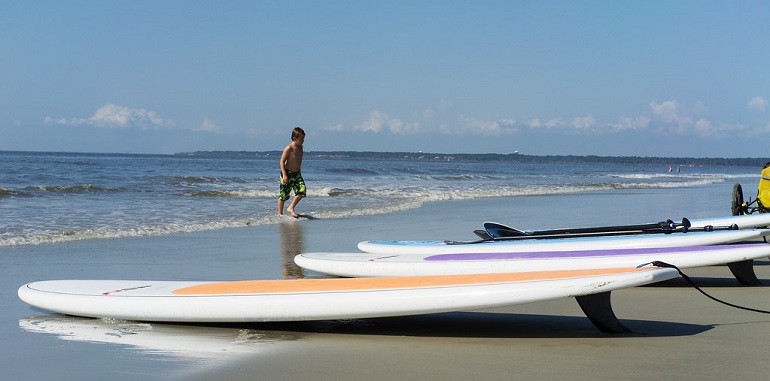 When you see the stand-up paddle board, you see a smart 10-11 feet-long board with a width of 33-34 inches. Although weight has little to do with the price of SUP boards, there are different sizes that can affect their price.
Size plays an important role in increasing paddle-board prices. Cheaper boards are usually 9-11 feet long, whereas expensive boards are usually longer in size and are almost 14 feet long.
Longer paddle boards are better in speed and overall performance. If you are tall, you would want to get a bigger stand-up paddle board. Not a heightened person? Never mind, you can still get the long one in size. For a great experience, size matters.
It is obvious that if you get a smaller size board, you will pay lesser than what you will pay for a large-sized paddle board. The bigger the size, the more the material has been used.
Premium Boards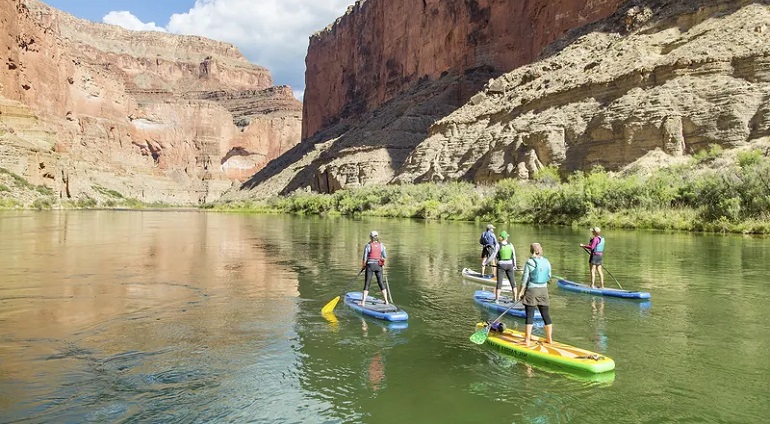 Not having a good-looking paddleboard can be a problem for some boarders out there. Excellent performance is, sometimes, not the only thing one would require.
Lower-end boards sometimes have an ordinary-looking exterior and are also smaller in size. Their design is simple and not so catchy. Boarders who have a craze for fancy things would probably end up buying premium paddle boards.
Quality Material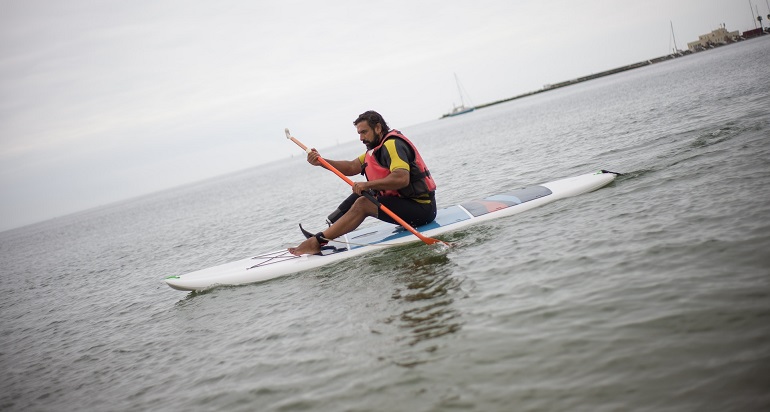 Rather than expanding into a ball when inflated, these paddle boards have unique materials that allow them to keep their body in form. This is done by a technique called drop-stitch.
This technique is designed with two sheets of material. The material is connected to each other with thousands of microscopic fibers, which helps maintain the distance between the sheets when inflated.
Accessories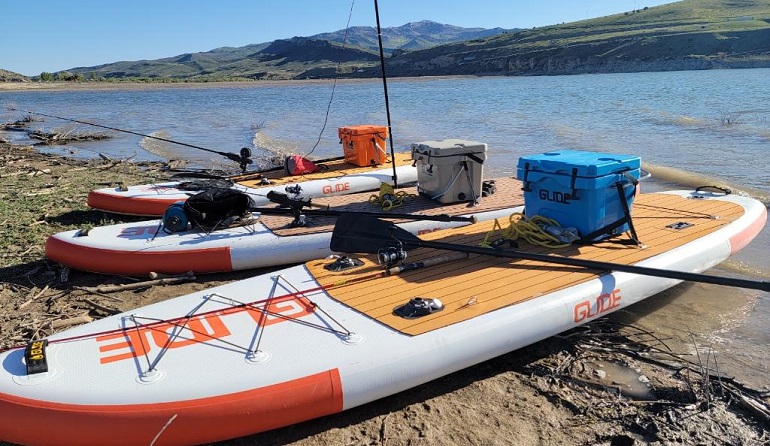 Paddle boards mostly come with attachments. The majority of paddle boards include a paddle, leash, SUP bag, and manual pump. All of these inclusions add up to the overall price.
The price of the paddle board will increase if you buy a board with good paddle board accessories. They do not come without attachments. So, if you want to invest in a good inflatable paddle board, make sure not to compromise on the quality of the accessories as well.
Price Range Difference Between SUPs – Epoxy and Inflatable Paddle Boards.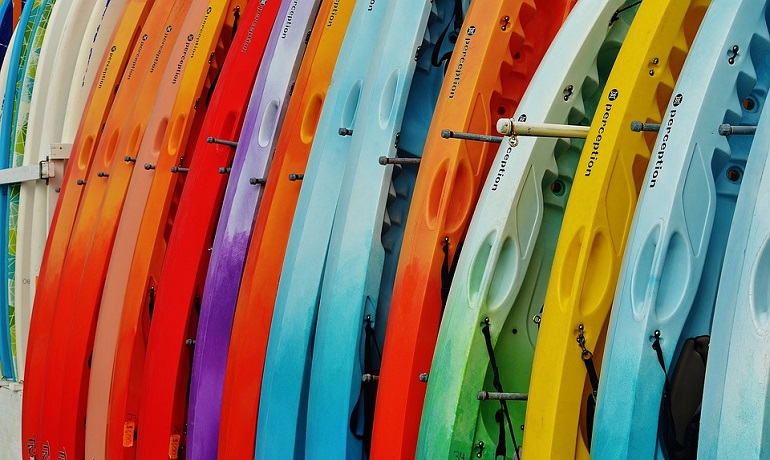 Paddleboards cost according to their performance, quality, and design. They are designed specifically to give you a safe ride through the waters. But this is not the only thing you need to know.
Dig in a little deeper and know the prices of different types of sup boards (epoxy and inflatable paddle boards)
If you're looking for a beginner paddle board that's versatile and affordable, you may want to check out our article on the best beginner paddle boards. we've compiled a list of options that are perfect for those just starting out in the sport, and our recommendations include boards that can be used for fishing, yoga, and more.
Epoxy (Hard) Sups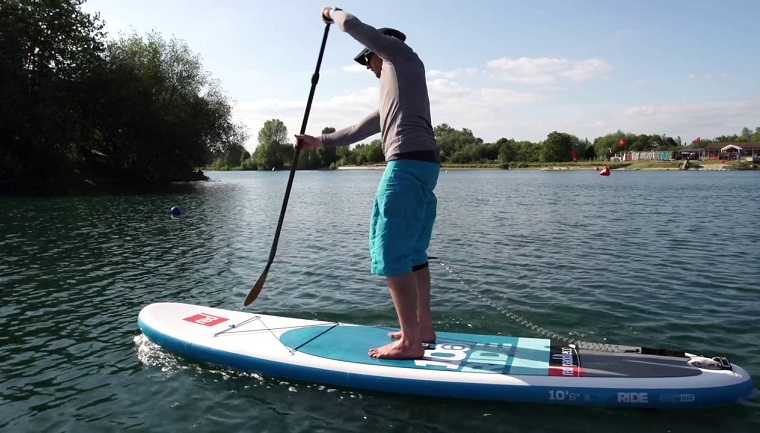 This is your standard hard paddle board. To prevent dents, these boards are made of EPS foam core on the inside, which is done by the machines.
The outer layer is designed with numerous layers of fiberglass saturated with epoxy resin. The outer part requires a considerable amount of labor to finish the work.
EPS helps in building a lightweight but more solid paddle board. As a result, this creates more flexibility and mobility for the rider. Epoxy paddle boards are ideal for a brief trip because they are good at pace, and their form provides more glide.
Generally, hard boards can cost more than other boards because of their overall construction and design. Let me break down the price range for you.
High-end Epoxy Paddle Board (Price Range: $1300-$2000)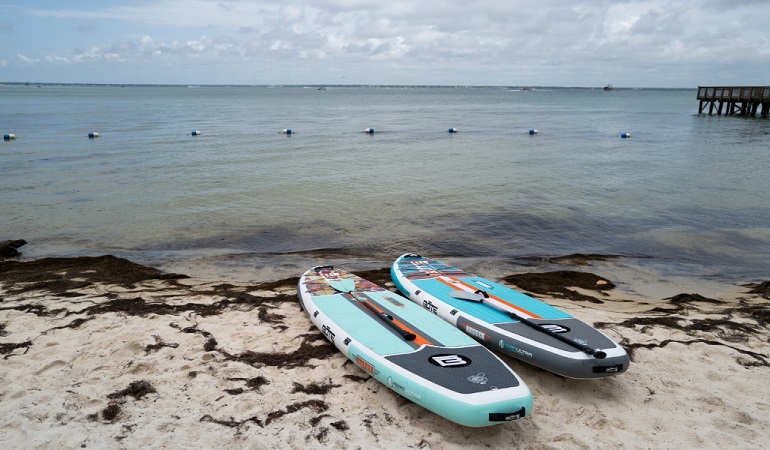 High-end epoxy boards are designed with a high level of mechanism as they are for more serious paddlers. Carbon fiber is one of the materials used in making them.
Stand-up paddle boards that cost a lot more money are highly designed with the help of labor. They even have surfaces that have undergone hours of work with extensive shaping. The price of these goods reflects the hard work and material being used in the process.
However, they tend to lose their charm because of the specialized manufacturing. I am afraid it does not come under the 'one size fits all' category. A high-end epoxy paddle board does not necessarily mean one board will cater to all your needs.
Cheaper Epoxy Paddle Boards (Price Range: $700-$1295)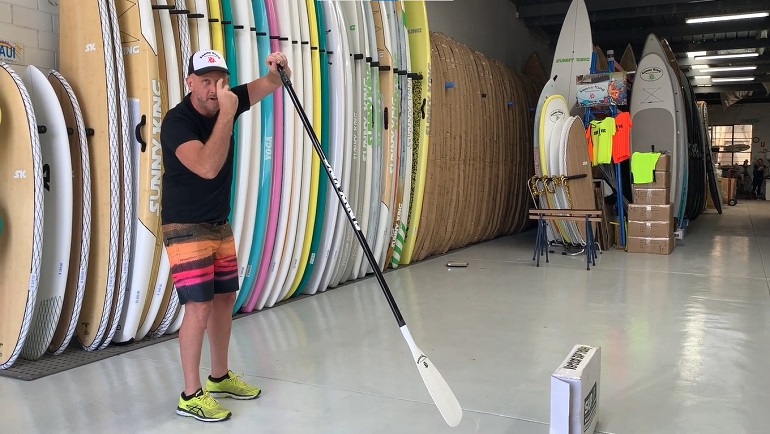 You might be surprised to have a paddle board this reasonable and perform on a great level. These stand-up paddle boards are fairly priced and will amaze you with how they deal with the leisure of your ride. An all-around paddler would love to have something like this.
Unfortunately, they have no human touch involved in their making. Hence, the low price. But low prices do not necessarily mean lower quality.
Inflatable Paddle Boards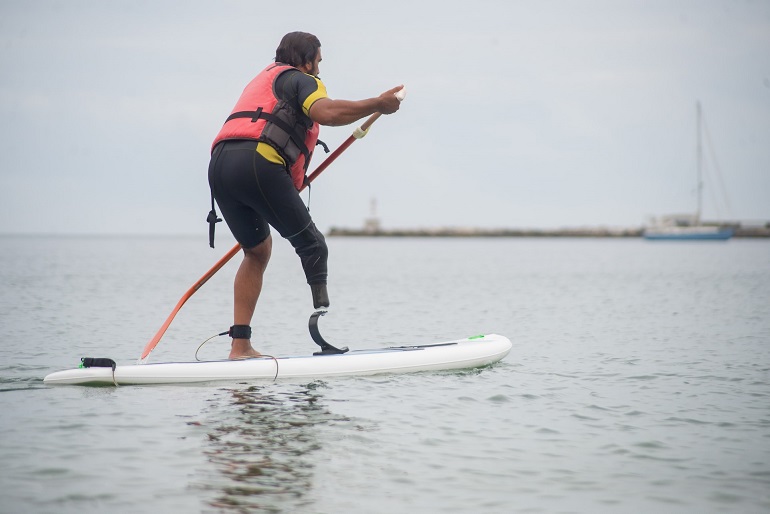 The inflatable stand-up paddle board has been a go-to board for most boarders due to its easy storage and transportation. In addition, they are structurally sound as they are designed with a drop-stitch technique and high-density military-grade PVC layers.
The advanced modern inflatable paddle board is ideal for beginners as they are incredibly solid in structure. Also, inflatable paddle boards cost less than epoxy paddle boards making them a good choice for freshers.
The inflatable sup boards have a plus point because of their size. You can fold them like a ball and put them in your bag pack. Storage space is a plus point for the inflatable sups. They can easily travel with you anywhere, literally ANYWHERE!
But first, let us get to the business and break down the ranges for you.
High-end Inflatable Paddle Boards (Price Range: $800-$1700)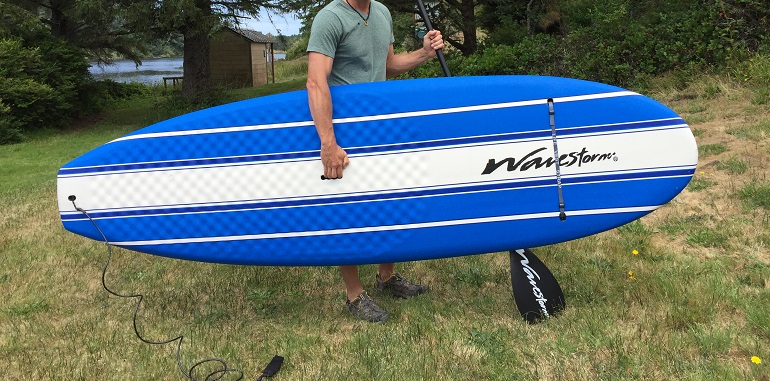 Due to their high-quality materials, pricey inflatable boards typically last longer. This price range covers all the solid points needed for an inflatable SUP board to perform well.
Their lifespan, specialized features, and consistency are the key factors that attract the boarders toward them.
If you are searching for an excellent performance-oriented inflatable paddle board, then this is the right price tag to look into. They are here to stay for many seasons. $1700? Not much if you are someone who literally likes to sleep on the beach.
These high-end paddleboards come with a complete package of the premium accessory kit. This kit includes accessories like a carbon fiber travel paddle, a five-piece fin kit, a 3-stage high-flow pump, a leash, and a rolling travel backpack.
Mid-range Inflatable Paddle Boards (Price Range: $450-$800)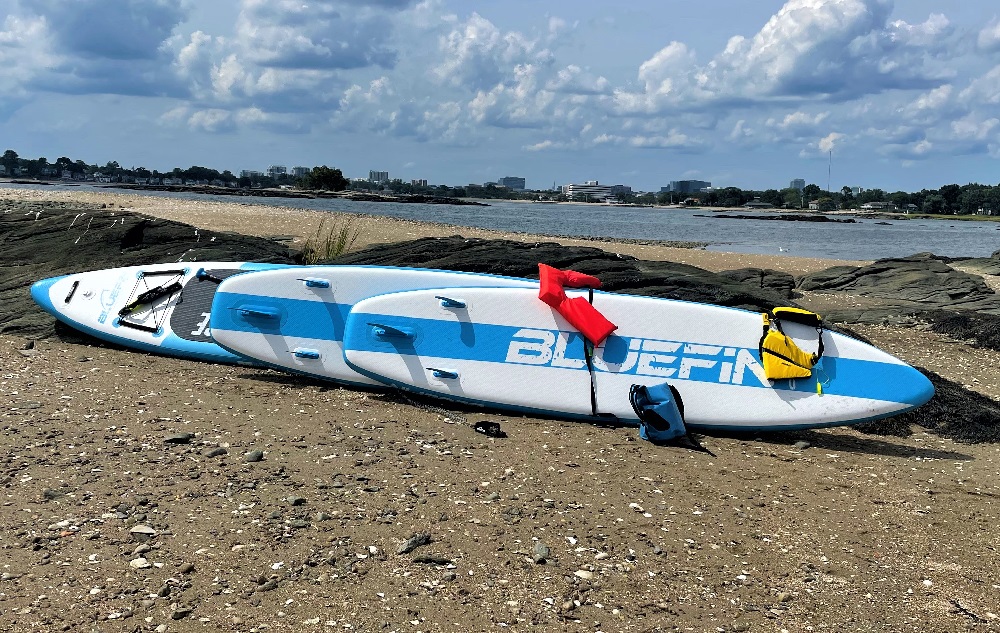 Getting closer to this range will bring you to boards that are 50/50 in every aspect. They will be adequate enough to bring you out on the water but not in an ideal position. Yet, you can experience the sport with the charm it brings.
However, they are not the boards you should expect high performance from. They are the sweet spot for any rider. A decent ride with a decent experience at a decent price is what a mid-range inflatable paddle board will provide you.
Cheaper Inflatable Paddle Boards (Price Range: $300-$400)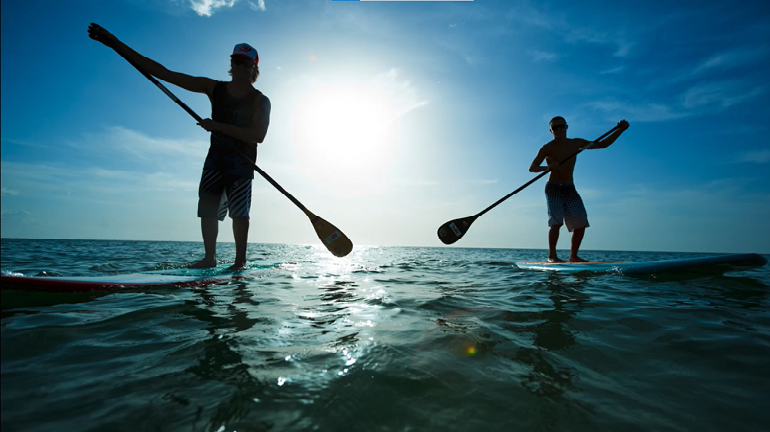 Nothing can still beat quality. A beginner should not opt for a cheap board because it lacks the needed mechanism for a smooth ride. You can initially fall into this range by looking at the price, but first, try to understand what you require from your first paddle board.
Low-budget inflatable paddle boards have lower stiffness and lifespan since they are made from thin, single-layer material. As a result, it can quickly die and allow water to enter its outer shell.
They are usually six inches in thickness and much more prone to blown seams, especially at a high weight capacity range.
If you have a passion for paddling, I would suggest you not buy a paddle board from this range. It can irritate you because you might have to buy another one in the same season.
Let's Wrap It!
Start paddle boarding if you haven't started yet. Most people and kids are now getting into paddle boarding. Adventures like these can be good for your mood as well as your health. You may create unforgettable experiences on the water as I do with my family if you get the correct kid's sup paddleboard.
But you surely don't want to ruin them both by picking low-quality sups, even if you are a recreational paddler.
Cheap inflatable sups can never give you a great paddling tour. Not because it is low in price but because the quality used in expensive paddle boards is far more advanced.
Purchasing a low-price SUP can generally be a hassle. As a beginner, you would want to get something that is easy to learn and use (whether a whitewater, recreational, or touring paddleboard). You do not want to lag behind in the process of learning how to paddle.
Durable construction equals better performance. Trust the manufacturing process. Opt for specifically designed paddles for extra stability and touring. Paddling can be a lot more fun if you choose the right equipment. Do your research well before purchasing the sups.
Before making the purchase, you might want to take a look at the comparison between paddleboards and kayaks to ensure what's the right fit for you.
Enjoy the vibes and make the most out of the paddle boarding fun. There is nothing like a free-spirited human just trying to make the best out of his day!