Breakthrough and Intimidate
What does it mean to be a lodestar? A lodestar is a guide for all those that come after it. When you do something differently, and it pays off in a big way. That is enough to make you a lodestar.
With this in mind, the Nordica enforcer 100 would have to be that shining beacon on the hill. Not just for Nordica itself, but also for any all-mountain ski that has come after it. The Enforcer 100 is the benchmark all-mountain ski, and it reached this position due to its consistency.
This all-mountain ski was put to the test by the most aggressive skiers on this side of the Mississippi. It delivered! When put up to the test on firm snow and off-piste, it delivered!
This consistency grows your confidence, your performance improves, and even after countless powerful carves, these skis always left a great impression.
What makes them so special? Let's find out.
What Kind Of Skier Does The Enforcer 100 Suit Best?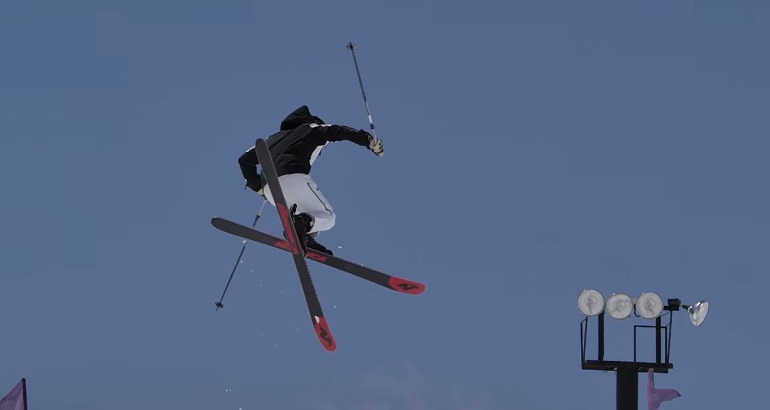 Before we dive deep into what makes this stiff and burly ski tick, we've got to first answer the question, who are these for? Disregard what any previous version or new Enforcer model excelled at.
The Nordica Enforcer 100 is for advanced and expert skiers that like to swing weight and make crud out of the hard snow beneath them. With two sheets of titanal metal on either edge, you'll have no problem defining what aggressive skiing really is.
Due to its performance on mixed terrain, I'd go as far as to say that this is a true do-everything ski. Simply put, the ski performs well, and it does so in any conditions or with any style of skiing.
Such is my confidence in this benchmark ski and its maneuverability, that I'd say a strong intermediate skier could also get a great ride out of the Enforcer 100. For solid to fantastic performance and speed across variable snow, there is no better option.
The Nordica Enforcer 100 in Charts
We get it, time is in short supply, and none of us, no matter how rich, could ever buy more of it. In a hurry? Need the soundbites before you get into the meat and bones of these skis? No problem, because below we've got two charts that'll give you a basic overview of the Enforcer 100.
First up is a specifications chart that documents some baseline info, such as the terrain, ability level, and the turning radius of these skis.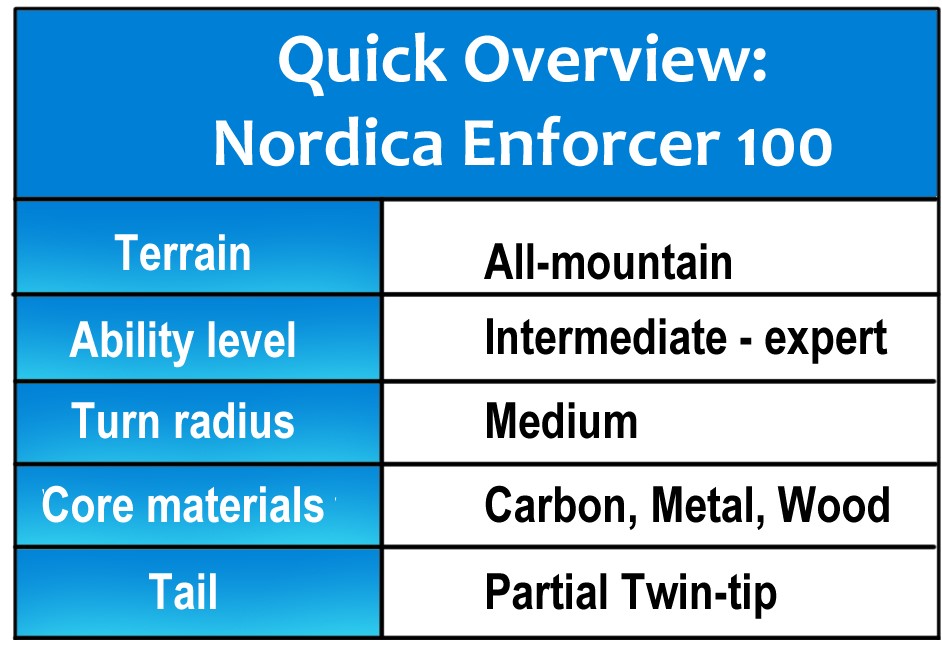 Next up, we have a size chart that'll give you the width of the tip, tail, and waist of the Enforcer 100. For the purposes of this chart, we used the one-hundred and seventy-nine centimeters version as our sizing model.

The Nordica Enforcer 100 Under The Microscope
The time has finally arrived. We've told you who these skis are for. We clearly displayed the specifications of these skis and gave you a general overview of what their performance is like on different terrain types.
With an all-mountain performance this good, it'd have been easier to tell you what terrain it didn't perform on.
Now the time has come to gain a full and clear picture of the Enforcer 100 skis. We left no stone unturned.

Nordica Enforcer 100
The price of "Product Name" varies, so check the latest price at
The Feel Of The Nordica Enforcer 100
The best way that I could describe the feel of the Nordica Enforcer 100 is powerful. However, as you spend more time with them, oddly enough, you begin to get a sense of security.
That is what consistency gives you. A stable foundation for you to spring off of and reach new heights. I will admit, that on moguls, the quality of the ride dropped down. There were times when I felt as if I was going to catch an edge and springboard face-first into the snow.
Thankfully, that did not occur.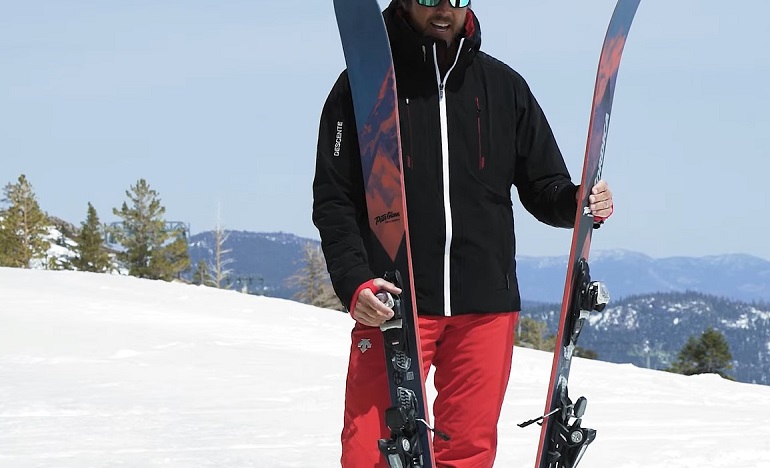 Ski Flex
The flex of a ski determines how it performs on any terrain. Skis that are very flexible feel surfy. They bounce at the slightest change in depth, and while this lets you achieve a fun and bouncy feel, it is difficult to reach high speeds.
Skis that are stiff are skis that were made for charging runs. This is the flex score that you want when you are seeking a responsive and fast ride.
Where does the Nordica Enforcer 100 fit in? These skis are stiff, or, at the very least, they feel stiff. This stiffness is what gives you a consistently stable ride, no matter the terrain.
The Enforcer's Weight
Stable and hard-charging skis tend to weigh more. That's the price that you have to pay if you want a buttery smooth ride. However, the Enforcer 100 did drop excess weight wherever it could.
First, in its core. With a lightweight wood core that even tapered in shape as it ran along your ski, enough ounces are lost to make up for the titanal sheets plastered over the edges.
The laminate of this ski also contributes to weight reduction, and so I'd say that despite its nature, even smaller or lighter skiers shouldn't have any problems taking this puppy out for a spin.
Powder Performance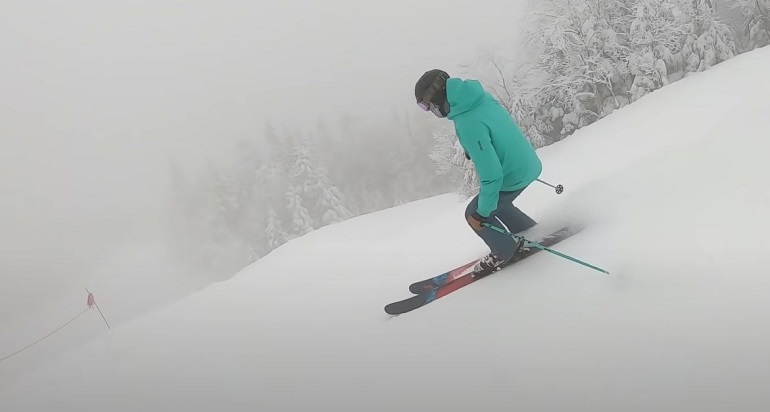 I may have cast a shadow of doubt over the Enforcer 100's ability to perform on moguls, but it's a whole other story when it comes to powder. Beginner and expert skiers alike know that nothing is better than fresh pow, especially when you've got the right gear to make the most out of it.
The Nordica Enforcer 100 performs incredibly well on powder. I'd say that it's one of its best terrain types, if not the best. There's enough lift in the tips and tails of these skis to keep you afloat and cruising along.
Top marks for its powder performance.
Good For A Carve?
Without wasting any of your time, yes. Yes, the Enforcer 100 is good for a carve. In fact, I'd say that it is excellent for a carve, and you should be shredding as much as possible with them.
Earlier, I made mention of the titanal sheets that were applied to each edge. Working in tandem with it is the Enforcer 100's medium turn radius. If you wanted to retain more speed as you carve and therefore, were looking for a long turn radius, don't be discouraged.
This medium turn radius, thanks to the tapered shape of the ski's core, retains more than enough speed on even the shortest turns.
Speed As A Metric
One thing I want to make abundantly clear before you click away from this Nordica enforcer 100 review and disappear into the ever-expanding internet is that if speed is the one thing you desire, then this is the one ski for you.
Thanks to the Sintered Graphite base on each ski, it wouldn't be enough to say that you'll be floating on top of the crud. No, there's enough metal within the Enforcer 100 to make you fly across the snow.
I can't say much more. These skis can reach high levels of speed and retain this speed through varied terrain.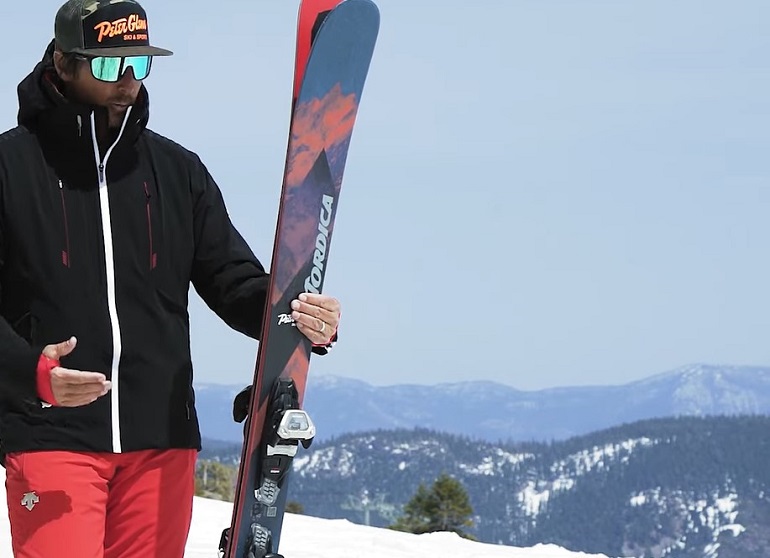 Jumps and Pop
Remember how I talked about all the areas in which Nordica had slimmed down the Enforcer 100s? The carbon chassis laminate and the tapered wood core? Well, it's because of this attention to detail that the Enforcer 100s have a good spring in their step.
Now, they aren't the best jumpers around. But just like its mogul performance, it's enough to get the job done.

Nordica Enforcer 100
The price of "Product Name" varies, so check the latest price at
Performance on Moguls
Do you know what moguls are? Moguls are those delicious little mounds that either sprout up naturally or are manually formed. Tiny little powder mountains that are tantalizing to look at and rough to ride through, if you don't come equipped with the proper skis.
Fortunately for us, the Nordic Enforcer 100, while not a mogul specialist, performs admirably on this terrain type. These skis have got enough mountain prowess to handle the bumpy road as it comes.
This stability doesn't come at the cost of the Nordica Enforcer 100's maneuverability. Yet another design quirk that impressed me.
To enhance your performance you should need to learn how to ski moguls better.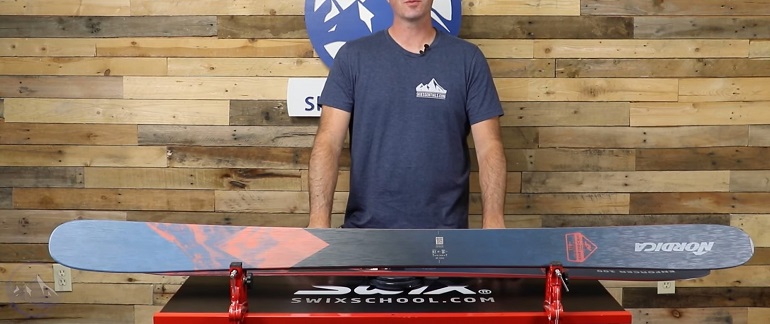 Final Score Breakdown
By now, you've no doubt realized the power and brilliance of the Enforcer 100s. They aren't perfect skis, and I've even come across other skis that handle varied terrain even smoother.
However, what sets the Enforcer 100s apart is that they are a blend of different attributes that isn't common.
Take a look at the final score breakdown below, and then quickly go over the specifications chart near the top of this post. Ask yourself, based on the specs chart, how many skis have a similar build? The answer is "too many to count".
But then look at the score breakdown and ask yourself, how many skis can match this performance? The answer is "only a handful". The Enforcer 100s make the most out of what they get. As a result, they come out looking better than the rest.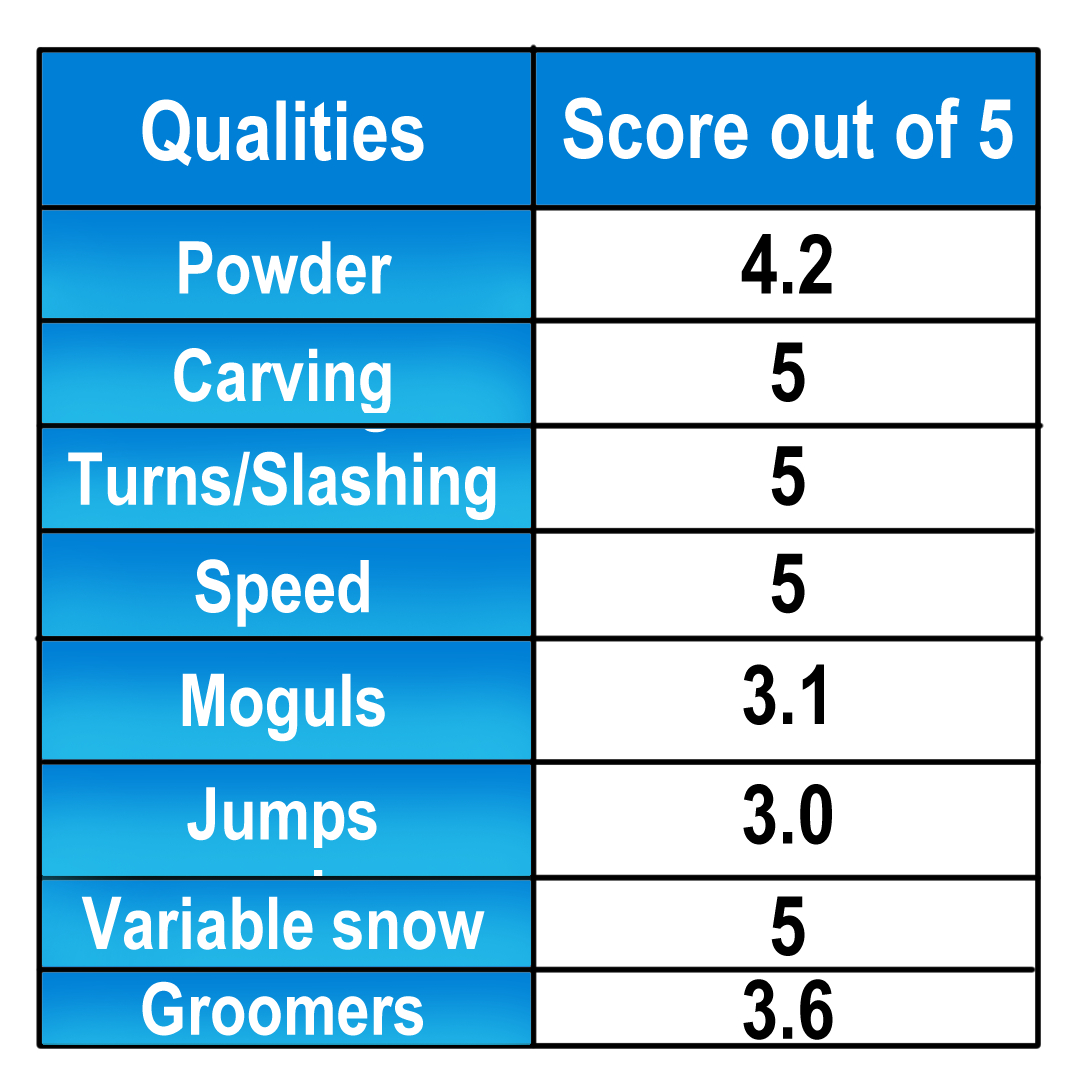 My Final Thoughts
The Sintered Graphite base of these skis tells me that Nordica spared no expense in designing these all-mountain category toppers. It pays off well, especially off-piste, steep pitches never felt so good.
However, the all-mountain rocker showed me that Nordica didn't want to innovate for the sake of change. The areas that did see an improvement or that were optimized, such as the carbon chassis laminate, were melded seamlessly with tried and tested features.
No matter the sport or discipline, I know quality when I see it, and this is the one ski that did everything right that it had to. This is the best choice when it comes to a mountain ski that maintains strength and a high speed throughout the whole mountain.