I was born a traveler, spending my childhood jet setting unaccompanied all over the United States.
I recall the smiling faces of many flight attendants who were my temporary guardians of the sky. Their hair perfectly trimmed or tucked in buns, uniforms pressed neatly as they carried on their shifts from one airport to the next, safely delivering me to whichever aunt or uncle or grandparent was waiting at the arrival gate.
I remember thinking to myself, one day, I'll have a job that allows me to travel the world, pulling my suitcase through airports and exploring new lands.
Eventually, I did; however, my path led me to the service industry afloat, getting paid to work on sailboats and motor yachts, and eventually starting a business called Ocean Passages aboard my own vessel, Ultima. 
Read related: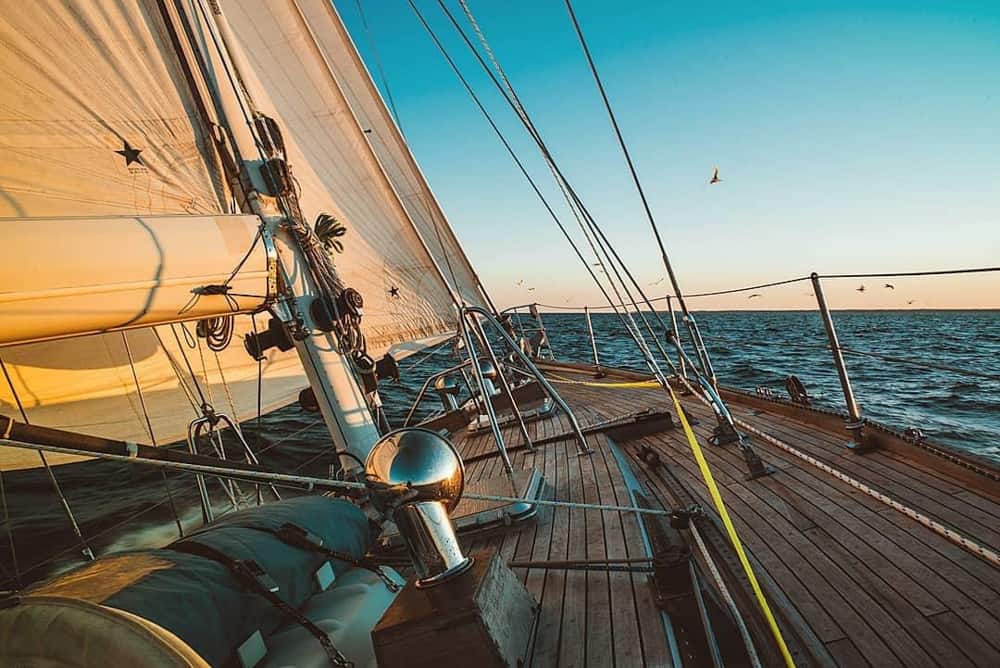 It all started after selling my first boat, Hobo Chic, a sloop built in the 70s that I co-owned with my husband Nathan and another couple. For 2.5 years we lived aboard, sharing 37 feet of length that had two cabins and two heads (bathrooms).
The original plan was to go cruising in the Bahamas, but I couldn't figure out how I would make money remotely in foreign places.
Nathan and I didn't want to hold our friend's back from their plans, so we proposed to sell our share of the boat. Luckily, a man at the marina we lived in had been interested in Hobo Chic for her cozy interior and upgrades. He offered to buy the boat for $5,000 more than we bought her. We all decided to take that offer and go our separate ways.
Nathan and I quit our land-based jobs to work for a captain who needed crew for an offshore passage. Christian, a tried and true sailor, handled boats with grace and a quiet demeanour. He was delivering a Hylas 54 from BVI to Newport with a stop in Bermuda.
We met him and the rest of the crew in Nanny Cay, BVIs and spent a day learning the boat by sailing to Beef Island and snorkelling. From there, we set our course about 850 nm north to Bermuda.
We stood solo around-the-clock watches, took turns cooking underway, and in our free time, spliced lines and read books. Once in Bermuda, we re-provisioned and spent two days recharging by exploring the island, riding bikes, and sleeping through the night. We set off to Newport, where we tidied the boat and left it on a mooring ball for the owner to step aboard, as if it were there all along.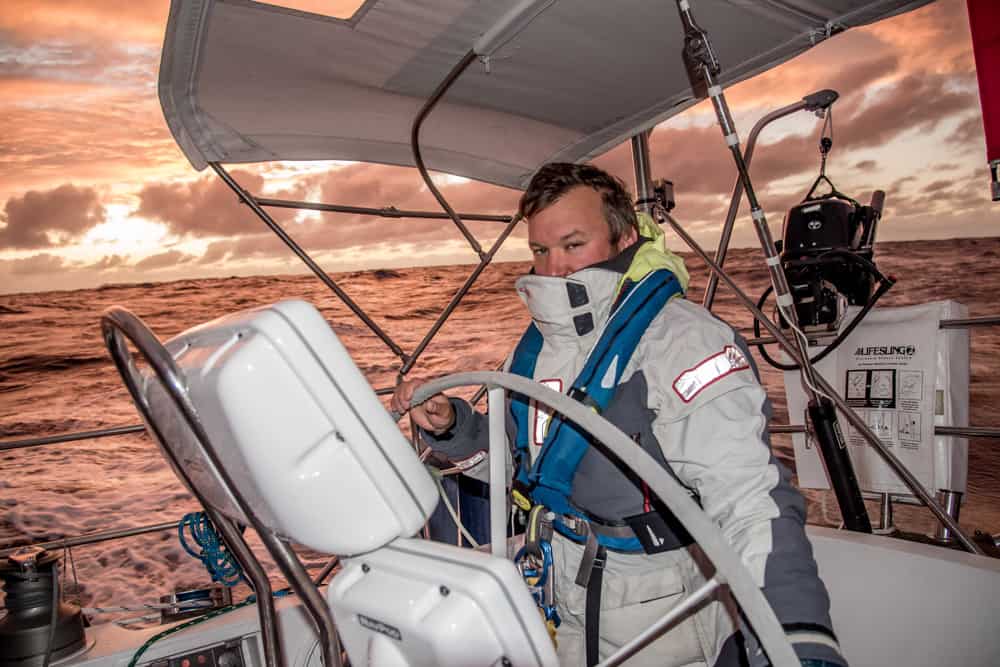 We loved the idea of delivering boats for a living.
Our flights and food expenses were covered, and we got to explore foreign ports, even if it was only for a few days. It felt like a grand vacation with a mission and we enjoyed the freedom and adventure it offered.
After that trip, we decided to move to South Florida, the marine industry hub, where we could potentially gain experience, learn from others, and network. Fort Lauderdale was the place to get certifications through a handful of maritime schools in the yachting industry. We enrolled in taking the STCW, a basic qualification that most people on commercial vessels, cruise ships, and superyachts are required to take.
It took me about a month to land my first job as a stewardess for a private yacht.
Since both Nathan and I had virtually no real experience, we were considered as greenies, a term that describes the fresh meat of the industry. Usually, they are young adults straight out of high school or university with an appetite to sail the world, but end up seeing the most beautiful, remote places through a portlight while dressed in uncomfortable navy blue and khaki uniforms.
Nathan set his goal to build enough miles sailing on as many boats as he could to gain confidence and work toward a captain's license. So, I decided to apply for a full-time job on a boat. I had some experience handling lines from Hobo Chic and the previous delivery gave me sea time to put on my simple CV. What set me aside from other candidates though, was that I had land experience working for a catering company, serving 4 course meals in private homes.
Along with the knowledge that I gained from being a boat owner, the captain took a chance hiring me knowing I had never professionally worked on a superyacht. My skills as a sailor translated to helping on deck while my interior duties were pretty basic. My role was both deckhand and stewardess, cleaning the interior, making sure the boat looked showroom ready, buying provisions, and while we were underway, handling dock lines and fenders.
The job wasn't too hard, but it started to get unsettling after a few months when the owner would make snide remarks about my body, at times making the workplace – which was also my home – completely miserable. I asked for a raise, thinking if I were to put up with it, I should be compensated more. When it was denied, I quit and started joining Nathan on a few sailboat deliveries, some of which were unpaid but were mile building experience with flights & food covered.
The difference between sailing on small boats and larger boats, is often the amount of money and fuel it takes to get from point A to point B.
The philosophy of sailing is to use the wind, be out in the elements, and to be at one with nature.
It's not a fast way to travel and it isn't always comfortable, usually getting salty and windblown, but it's typically hands-on, often exhilarating and how else can you travel the world while sleeping in your own bed every night?
Whereas on superyachts, the goal is to typically get to your destinations as quickly and comfortably as possible, despite the weather, while looking perfect. If it rains, someone better be out there the moment it stops with a chamois, drying and squeegeeing all the drops of rain from the top down.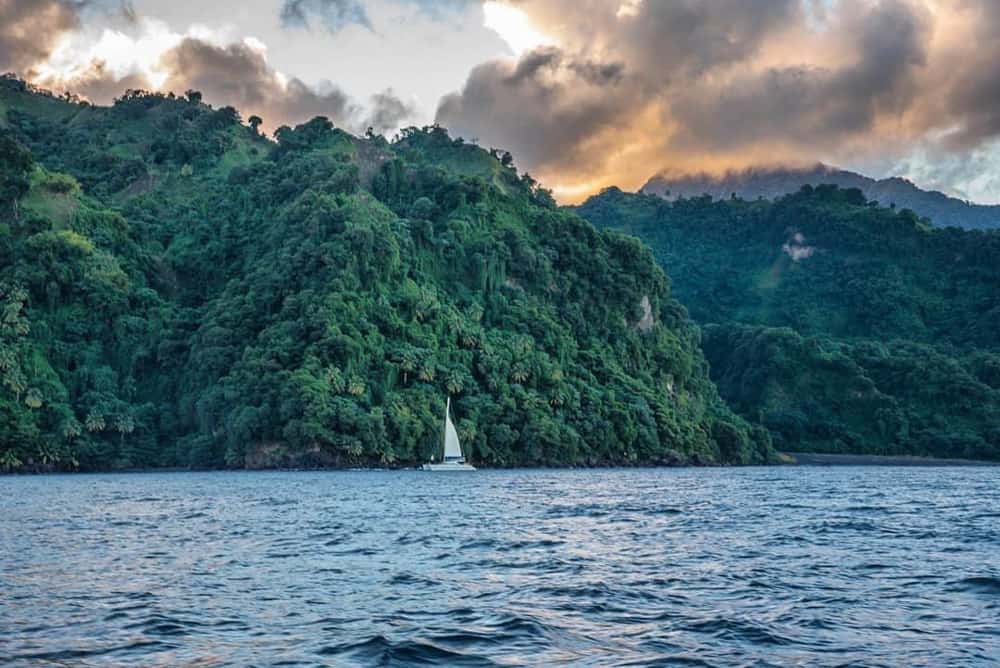 Another difference is that as crew, you'll likely not make as much money working on small boats since there are more boats to clean and the service expectations are higher. There are, however, larger luxury sailing yachts that pay well if you sign on with the right owners. What you find out is that every boat is different, especially with each unique owner, captain, and crew.
For my next big boat job, I was hired on as a mate for a motor yacht. For the first time in my adult life, I had a decent salary, health insurance, didn't have to pay for food or expenses, and no rent. It was a great way to save money.
My duties were to keep both the 108-foot floating condo and the 32 foot tender spotless. My work would vary depending on whether or not the owner was there. When the owners were on board, my duties were to clean the windows, polish stainless, drive the tender, help with scuba & fishing gear, jet skis, take the trash out, and make sure all the exterior areas were neat and clean. I laboriously worked day and night but, had the most beautiful views of secluded anchorages and islands in the Bahamas, while having a yacht chef cook my meals. I was even lucky enough to have my own crew quarters.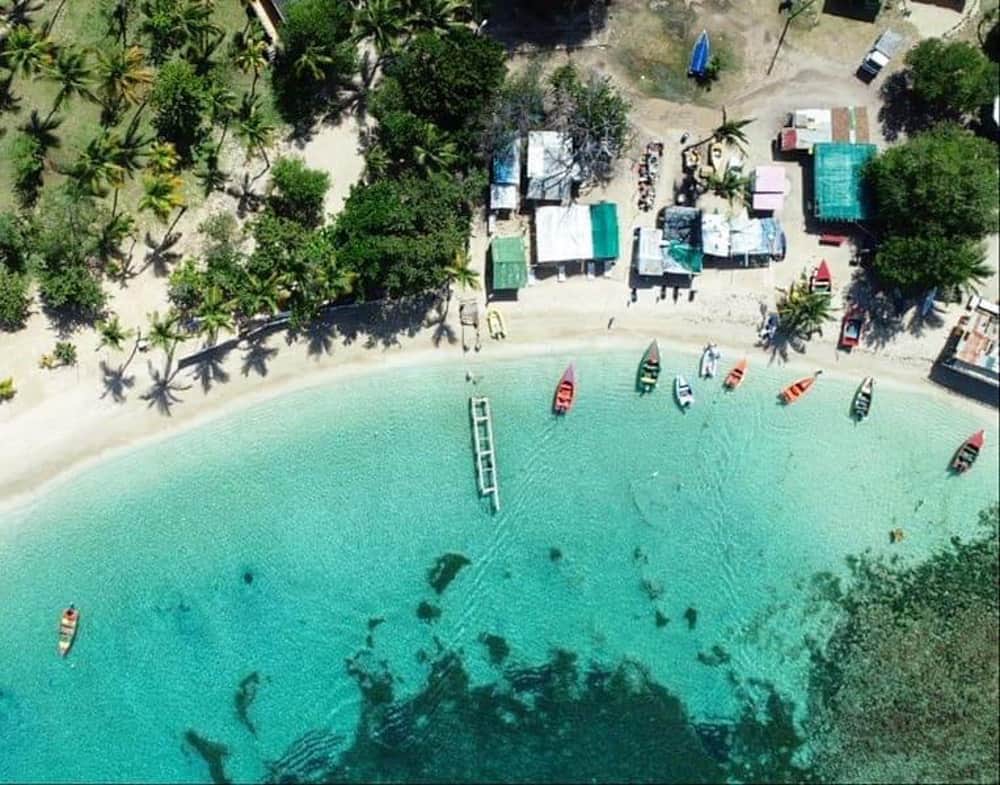 The owner and his family were lovely, gifting me jewelry and an engineering course for Christmas while keeping me on the payroll to take time off to go to class and study.
The way to go with luxury motor yachts is to put in the time learning skills to get on board and get hired on as freelance crew. That way, you're not committed full time, your day rate is higher, and you don't drive yourself crazy. Once you find a good program with owners and crew that you get along with, then get that job!
For me, I always knew my career wouldn't be on large yachts.
But, I'm at the point now that I'm experienced enough to pick and choose which boats and captains I want to work with. So, when someone I've worked with before needs an extra crewmember for a couple of weeks, I'll gladly sign on knowing what to expect and even if I'm a little unhappy, I know it's just temporary. There's nothing like extra income in your pocket, especially when you own your own boat.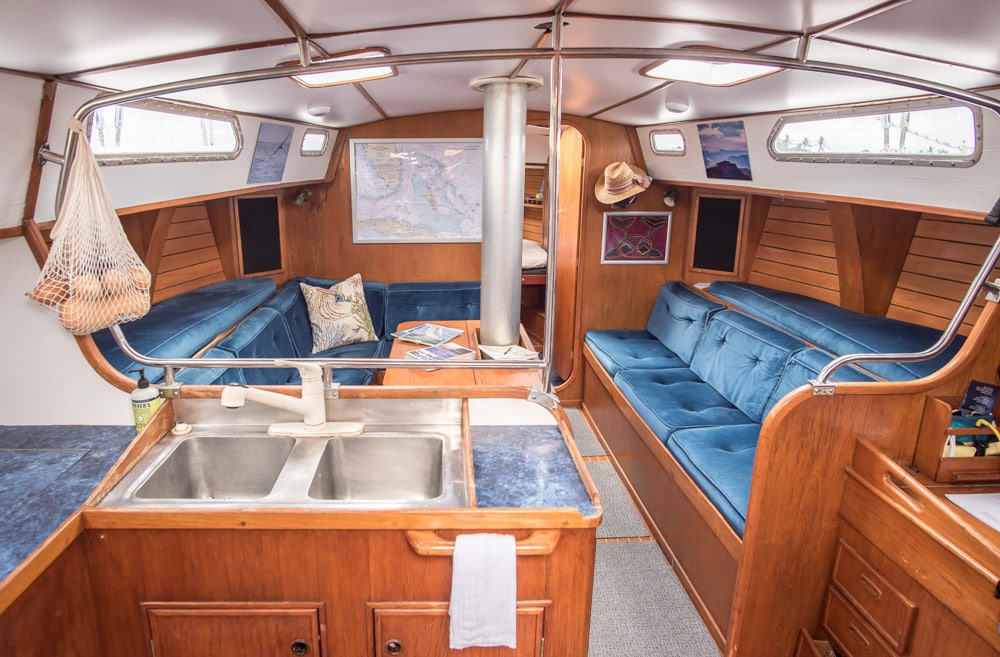 As time passed by, we kept gaining more certifications to expand our skills. I flew to Palma de Mallorca to complete a yacht cookery course because from all the jobs I had, everyone always loved the chef.
Nathan got his USCG 50 ton license, did more deliveries, and then went on to get his Yachtmaster offshore ticket, a license recognized in many countries around the world. We both spent weeks and at times, months working toward our personal goals, and we were finally ready to apply for jobs together.
We worked on a motor yacht in San Diego for a season, then managed a charter company in the Grenadines for another season. By this point, we were ready to finally find a place to call home. It had been nearly 5 years living out of our suitcases, taking jobs that offered a place to live and staying in small studios and apartments with short-term leases. Not to mention, we often also crashed at friends & family's houses in between jobs and apartments.
At that point, it was time to find our home.
By 2019, Nathan and I decided to buy a boat.
We didn't know what type of work we'd do right away, but we often discussed that our next goal would be to take people aboard for long distance passage making.
It all started when John Kretschmer, a renowned author and captain, along with his wife Tadji, sought us out to take over some of their sail training passages in the Atlantic Ocean and beyond as they embarked on a circumnavigation.
We knew that an opportunity like this only comes once in a lifetime.
John, who has a thriving sailing business almost spanning 20 years, told us that he was also given chances early in his career and that he genuinely wanted to be able to do the same thing for someone starting out as well. So, we looked for a boat that could take us, and crew, on long passages in all types of weather.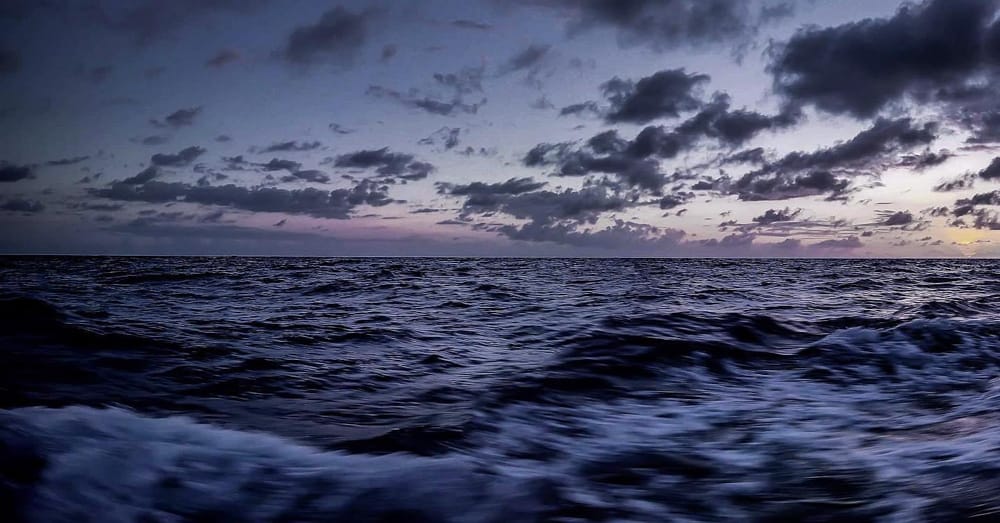 We found the perfect vessel and named her Ultima and worked tirelessly to make her a safe and well fitted blue water vessel.
Our business is called Ocean Passages and our programs are less luxury charter and more adventure sailing. Crew participate in all aspects of sailing, learning navigation, plotting, reading charts, and standing watch.
We conduct safety drills aboard, making sure everyone has a grasp of what to do calmly and effectively in hair-raising situations. Our boat was built in South Africa, where the tossed up South Atlantic Ocean unforgivingly pounds into the coast, and no doubt our boat is built to take on less than ideal conditions.
So, with our upcoming schedule, we are setting our course in all directions, helping people achieve their sailing goals, whether it's going through a squall or crossing the Gulf Stream, our mission is to bring passengers along to share the adventure.
When we're not on our boat, we're flying around the world, rolling our suitcases through airports and visiting foreign ports. Each time we step aboard a boat, either to deliver her to her destination or to embark on an expedition, sharing with our guests the power and beauty of the deep blue sea, I know I'm exactly where I'm meant to be.
Check out the rest of our sailing category for more!