Complete Guide to Chiang Mai Outdoor Activities
Nestled in the foothills of the Himalayas in Northern Thailand, Chiang Mai already enjoys a solid reputation as one of Asia's most established digital nomad hubs.
Many are drawn to Chiang Mai for the cheap cost of living, laidback lifestyle, and the ability to have access to quality digital nomad facilities- whilst still living somewhere close to nature.
On top of that, Chiang Mai is brimming with cultural diversity. Sharing a border with both Myanmar and Laos, the northern mountains around Chiang Mai have come to be filled with culture and colour unlike anywhere else in the world.
With more than half a dozen national parks, countless stunning temples, world-renowned animal sanctuaries, hidden waterfalls, lush jungle, wild forests, and beautiful weather, you can be sure there's already an active nomad community in Chiang Mai who are making the most of what this little corner of the world has to offer.
Wakeboarding in Chiang Mai
Up until 2017, wakeboarding in Chiang Mai was unheard of.
Luckily, that's all gone and changed.
Where to go wakeboarding in Chiang Mai
Since the 1st of January 2018, Chiang Mai is home to the first (and only) cable park in all of Northern Thailand.
Only 25 minutes from the city, and located in the heart of a gorgeous canyon, it's sure to attract a hefty load of the local digital nomads looking to get some refreshing fun and action after long laptop hours.
The cable is a 2.0 system from the Russian company Spin, and runs along a 200 meter stretch of fresh water. Although there are no obstacles yet, the first kicker is expected to be added in early 2018.
Prices are really attractive at the moment, starting at 200 baht for a 10 minutes set, and 750 baht for an all-day pass, gear included (they've got wakeskates too).
The canyon also features a massive waterpark with inflatables madness as well as an airy bar restaurant with decent wifi.
Is wakeboarding your primary addiction? If so, don't forget to check out the best destination for wakeboarding nomads in our books: Bangkok.
Hiking in Chiang Mai
Chiang Mai is arguably the most beautiful mountainous region in all of Thailand, so there's no shortage of hiking and trekking opportunities.
Where to go hiking in Chiang Mai
While there are many, many trails and treks to choose from, these are the ones you definitely shouldn't miss:
Hiking the Monk's Trail at Doi Suthep
The Doi Suthep-Pui National Park is all hidden waterfalls, bamboo forest, colourful wildflowers, and sweeping views of Chiang Mai below. It's also where you'll find one of Thailand's most sacred temples, Wat Phrathat.
The path is marked out with strips of golden monks' robes tied to the trees.
This hike is pretty beginner friendly- to a certain point- and from there on becomes quite a bit more challenging with steep inclines and a muddy makeshift stairway.
If you're in for a real adventure: follow the monk's path, discover the ins and outs of the sacred temple complex, and tuck into a delicious Thai meal way up in the mountains by taking part in a full day trekking tour of Doi Suthep.
Hiking Doi Inthanon
Recognised as part of the Himalayan Mountain Range and boasting the highest peak in all of Thailand (2,565m above sea level), the Doi Inthanon National Park has a couple of awesome trails for you to test our your trekking skills.
The main trail is broken into two sections; the first is set in the dense jungle, and though the trees are high and the ferns are thick, the trail is well-maintained and will lead you to a beautiful waterfall hidden away in the forest. The second leg of the trail takes you further past the forest to an open meadow-like area where you'll have fantastic views of the scenery below.
There's also a pair of shrines tucked away in an honorary garden near the summit (built to honour the sixtieth birthdays of King Bhumibol Adulyadej and Queen Sirikit).
One of the best ways to experience Doi Inthanon National Park is to take part in a guided trek. This way, you'll be guaranteed to find the best waterfalls, temples, and trails.
You can do a challenging full day tour which takes you exploring the traditional Hmong and Karen villages, or a private soft hike to some beautiful waterfalls and fascinating hill tribes.
Hiking Doi Luang Chiang Dao
Located an hour and a half north of Chiang Mai, Doi Luang Chiang Dao is the third highest peak in Thailand measuring in at 2,225 meters. For the extra adventurous, this is an awesome place to camp out for a night and make your hike a 2-day affair.
What with the stunning limestone cliffs, caves, hot springs, and even a jungle temple, you'll wish you could stay for a whole week.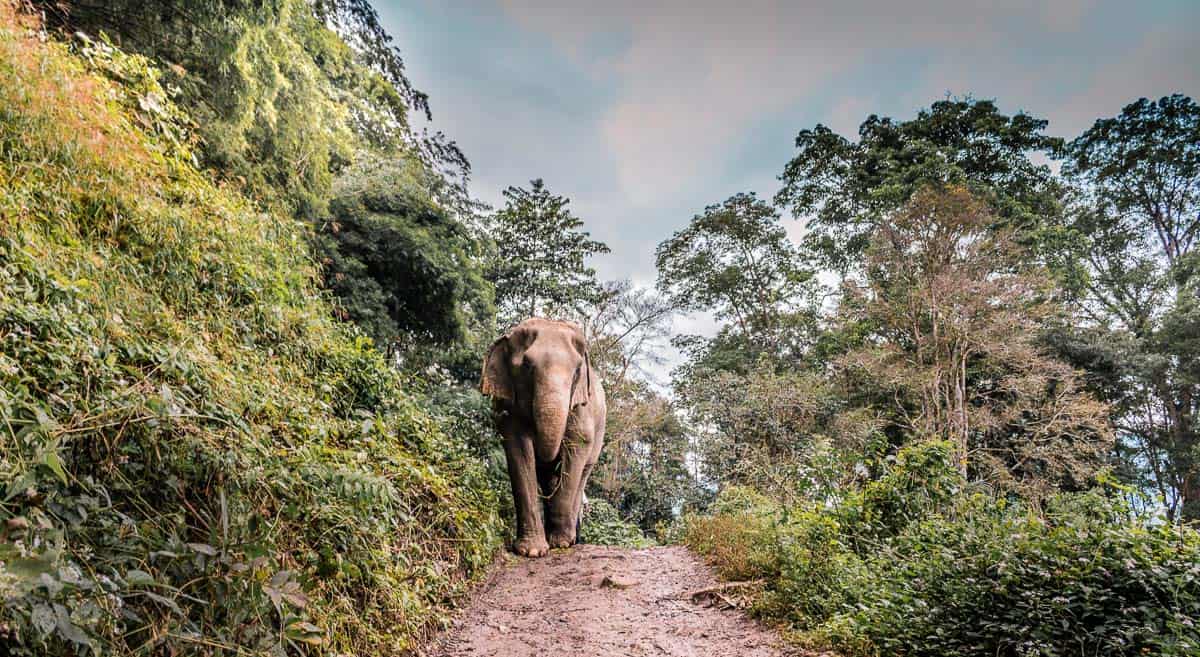 Cycling and mountain biking in Chiang Mai
Chiang Mai is quickly becoming one of Southeast Asia's top spots for mountain biking, thanks to its fantastic conditions, challenging trails, and beautiful scenery.
There's plenty to choose from no matter what kind of riding you're into, and there's plenty to see on every trail- from colourful hill tribes and ethnic villages, to hidden temples and waterfalls.
Cross-country mountain biking in Chiang Mai
Cross-country riders should head for the trails behind the 700 Year Chiang Mai Stadium up to Huay Tung Tao Lake, where you can cruise around 5 km of mixed terrain on your way to the lake, where you can stop off at the lakeside huts for some cheap and delicious local grub.
Enduro mountain biking in Chiang Mai
Enduro riders will likely be drawn to Chiang Mai's neighbouring national parks, covered in rideable trails that take you through the lush jungle and wild forests, past hidden temples set into the mountainside on your way up to the panoramic viewpoints at the peak.
For a real outdoor adventure, we recommend combining your cycling trip with some river kayaking in the stunning Mae Taeng Forest Reserve. You'll be in for some bird watching, wildlife spotting, temple running, and you'll even get to visit some of the pristine, hard-to-reach farmlands.
Downhill mountain biking in Chiang Mai
Downhill riders will be spoiled for choice in Chiang Mai thanks to the countless trails that promise fast-paced, steep, technical, heart-in-your-mouth rides. Doi Suthep Pui National Park has nearly a dozen such trails to choose from, so it shouldn't be hard to find one that suits your style.
Clubs and schools for mountain biking in Chiang Mai
Mad Monkey Chiang Mai: The kings of downhill mountain biking in Chiang Mai, the Mad Monkey team provide rentals and organise tours on the mountains for both beginners and pros alike.
Trailhead Thailand: Winners of the TripAdvisor Certificate of Excellence in 2017, Trailhead do bike rentals and tours on the mountain trails and through the city (their cultural tour through downtown Chiang Mai is one of a kind).
Bike Park Chiang Mai: Known by the die-hard mountain biking tribe as the biggest and best bike park in Asia, Bike Park Chiang Mai has a jump park, MTB training center, cross-country and pump track.
It's worth remembering that Thailand is a seasonal country, so visiting during the summer months might result in a number of unrideable days due to monsoon rains and too much mud. October to March is the best time of year to hit the trails.
Rock Climbing in Chiang Mai
Chiang Mai is full of active nomads who come to take advantage of the local climbs, some of which have been recognised within the industry as world class. With both indoor and outdoor climbs around to suit every level, there's plenty of faces to sink your fingers into.
Where to go rock climbing in Chiang Mai
Rock climbing Crazy Horse Buttress
First developed as a climbing spot in 1998, the face at Crazy Horse Buttress is where the foothills of the Himalayas meet with the lush jungle below. There are more than 200 routes at Crazy Horse Buttress, with a mix of technical slabs and cracks, and even some hair-raising climbs through the intricate caves systems- stalactites and all.
This indoor climbing gym has over 370 square meters of climbs suitable for all levels- from total novice to seasoned climber. Open daily, you can try it out for a day for a couple of bucks fixed price, or if you're planning on doing regular climbs you can also grab yourself a 1 month, 6 month, or 1 year membership.
Clubs for rock climbing in Chiang Mai
Chiang Mai Rock Climbing Adventures: If you're new to the climbing scene in Chiang Mai (or to the climbing scene anywhere for that matter), these guys should be on your radar. Offering advice, outings, and instruction on all things rock climbing, they also cover a range of bouldering and caving adventures.
Zip Lining in Chiang Mai
Zip lining is a pretty unique activity- and definitely one of the adventurous among us:
You can now take in the sights and sounds of Chiang Mai's wild jungles from above (and at speed) while flying through the air on a zip line. In fact, it just so happens to be the largest canopy zip line tour in the world.
Impressive, impressive… but the real highlight of zip lining in Chiang Mai?
GIBBON SPOTTING!
If you keep your eyes peeled, you might get lucky and come face to face with some wild gibbons in their natural habitat.
We recommend joining a full day zip line jungle adventure, where you'll be guided through the dense jungle, taken for a ride up above the treetops, and brought on an epic waterfall hike at the Mae Kampong Falls.
April 2019 update: Due to a recent accident on this zip line, the operating company is currently closed until the end of investigations. We will update again once new information comes out.
Though for the foodies and gourmets among you, you'll definitely want to snag the chance to combine your zip lining experience with an authentic Thai cooking class back in Chiang Mai's Old Town.
Where to stay in Chiang Mai
For nomads looking to set down their bags in Chiang Mai for the medium to long-term, there are tons of options to suit just about every style, need, and budget.
Chiang Mai is a growing city, which means there are lots of different areas where you can rent a place.
A big part of the digital nomad community tend to settle downtown in Nimman or Santitham, where you'll find the more upmarket, trendy (and pricey) apartments. But spread your search to the outlying suburbs and there's a huge range of options, from unfurnished Thai-style studios (from $100-300/month) to fully-furnished, multi-room condos ($600-1,000/month). Western-style kitchens can be hard to come by, but if you're willing to part with a bit more dosh (upwards of $650/month) you're more likely to find places with such facilities.
For short term stays, you're better off booking a spot on HotelsCombined.com for a couple of nights (somewhere centrally located, in or around the Old City), then going to look around for a longer term solution when you arrive.
Check out these super cool rooms in a renovated Rice Barn.
Or the very charming Warehouse Art Studio.
Belooga.co is a useful platform to find rentals endorsed by other digital nomads (wifi speeds listed for each place).
Working & Coworking Spaces in Chiang Mai
Being the established digital nomad hub that it is, Chiang Mai is absolutely bursting at the seams with dedicated coworking spaces and work-friendly cafes.
The most popular coworking spaces in Chiang Mai are Punspace (which has three branches; Nimman, Tha Phae Gate, and Wiang Kaew) and CAMP (located on the 5th floor of Maya Shopping Center. The latter has more of a cafe vibe, but is often said to have the best internet and it's open 24/7).
Apart from the big names, there are countless smaller-scale coworking spaces scattered throughout the city. We recommend checking out: GMT Chiang Mai, MANA Coworking Space, Hub53 Coworking and Coliving Space, and Outer Space Chiang Mai.
For further information on co-working spaces in Chiang Mai, check out Chiang Mai on workfrom.co or Chiang Mai on coworker.com
If co-working spaces just aren't your bag, there's a vast amount of cool, quirky cafes (where you won't need to pay a daily or monthly desk fee) that offer great wifi, a relaxed atmosphere, and- naturally- an endless supply of freshly brewed coffee.
While little beats walking around and discovering your own place, we can recommend a couple of good spots to start. Try Clay Studio – Coffee in the Garden and Cafe de Oasis, both of which have beautiful, open-air gardens to work from.
Where to shop and eat in Chiang Mai
Like most Thai communities, local life revolves around the vibrant daily markets scattered throughout the city and suburbs. Each area has its own market(s) selling all manner of fresh fruits and veggies, meat, fish, eggs, spices, and freshly cooked local delicacies. They won't be hard to find; just open your eyes and go for a walk (and do it while you're hungry!).
Some local markets we recommend: San Pa Koi, Worrawat, the Royal Project outlet, JJ market, Sompet Market, Thanin Market (sometimes called Siri Wattana Market), Kaad Luang (Royal Market), and Sabai Sabai Organic Market.
For other household products and essentials, there's a 7/11 on virtually every street corner. If you're in need of a bigger haul with a wider selection (and some imported products) head for a Tesco or Rimping supermarket (you can find organic produce at the Rimping in Meechok Plaza).
Internet in Chiang Mai
As one of Asia's main digital nomad cities, the local community has jumped on the high-speed internet bandwagon in a major way. 15-25 Mbps download is the standard internet speed in Chiang Mai- at least in most cafes and workspaces.
There are also a number of places that have speeds in excess of 25 Mbps, and some of the coworking spaces in Chiang Mai even have up to 100 Mbps. However, a lot of the serviced apartments and other housing rentals are significantly slower (10 down 5 up on a good day). If you want faster speeds at home you'll need to organise your own internet scheme ($25/month will get you a long way).
When it comes to mobile internet in Chiang Mai, you can get 4G virtually everywhere you go (expect to pay around $15/month for a decent 4G bundle).
4G in Thailand averages 9 Mb/s as measured by a recent (November 2017) state of mobile networks in Thailand (see report). It is in line with the Asia-Pacific region average of 9.69 Mb/s. The top 3 mobile providers in Thailand are Truemove, AIS and Dtac.
See a full guide on Thailand's SIM card options here.
How to get to Chiang Mai
How to get to Chiang Mai by plane
Chiang Mai has its own international airport (CMX) located just 20 minutes away from the downtown area. Expect a taxi from the airport to the Old City to cost no more than $6.
If your departure airport doesn't fly to CMX, catch a plane to Bangkok and hop on one of the quick domestic flights to Chiang Mai. There are dozens of flights doing this route every day, and you can snag a ticket for as little as $25.
Having an international airport in Chiang Mai is a huge advantage. It's easy to stay connected with the rest of the world, whether that means making regular visits to friends and family, meeting with business associates abroad, or discovering the rest of Southeast Asia- it's right at your doorstep, after all.
How to get to Chiang Mai by train
Alternatively, you can take the overnight train from the station in Bangkok which will get you to Chiang Mai in 15 hours. This is the go-to choice for adventurous travelers looking to get a real-deal local experience and savour the stunning views of the Thai scenery.
How to get around Chiang Mai
Most nomads feel the best way to get around Chiang Mai is by scooter. Buy it, rent it; use it to dash around and discover the city at your own speed. Expect to pay around $75/month for a rental (paying a little more for a good quality bike will be worth it fuel/safety wise).
If you don't fancy driving your own set of wheels, you can easily get around using the city's songthaew network. This is a popular mode of transport throughout Thailand, and is a cross between a pick-up truck, a taxi, and a bus. Otherwise, seize the opportunity to move your feet and choose to walk- there are pedestrian paths virtually everywhere.
Uber and Grab are two apps worth downloading before you hit Chiang Mai; it's the quickest (and often the cheapest) way to hail a taxi and ensure you and your driver don't lose anything in translation.
To find the best public transport option to or from Chiang Mai, check out our partner 12go.asia – an efficient public transportation search engine and booking platform for southeast Asia. We use them ourselves!