Head to Pranburi Forest Park for mangroves, wildlife, and an empty beach.
If you asked somebody about Pranburi 40 odd years ago, the bright, breezy canopy of a mangrove reserve would have been far from the reality of this little seaside town. But a lot has changed since then, especially when you take into consideration the awesome environmental conservation projects which have kicked off in recent years.
Pranburi Forest Park is a perfect example of this, with its humongous mangrove reserve that was ordered into development by the royal family back in the 1980's.
Today, visitors can walk around the shady boardwalk lined by snaking mangrove roots; enjoy some quiet time in the pine covered woods nearby; and take a ramble — on foot or by bike — down the beach nature trail.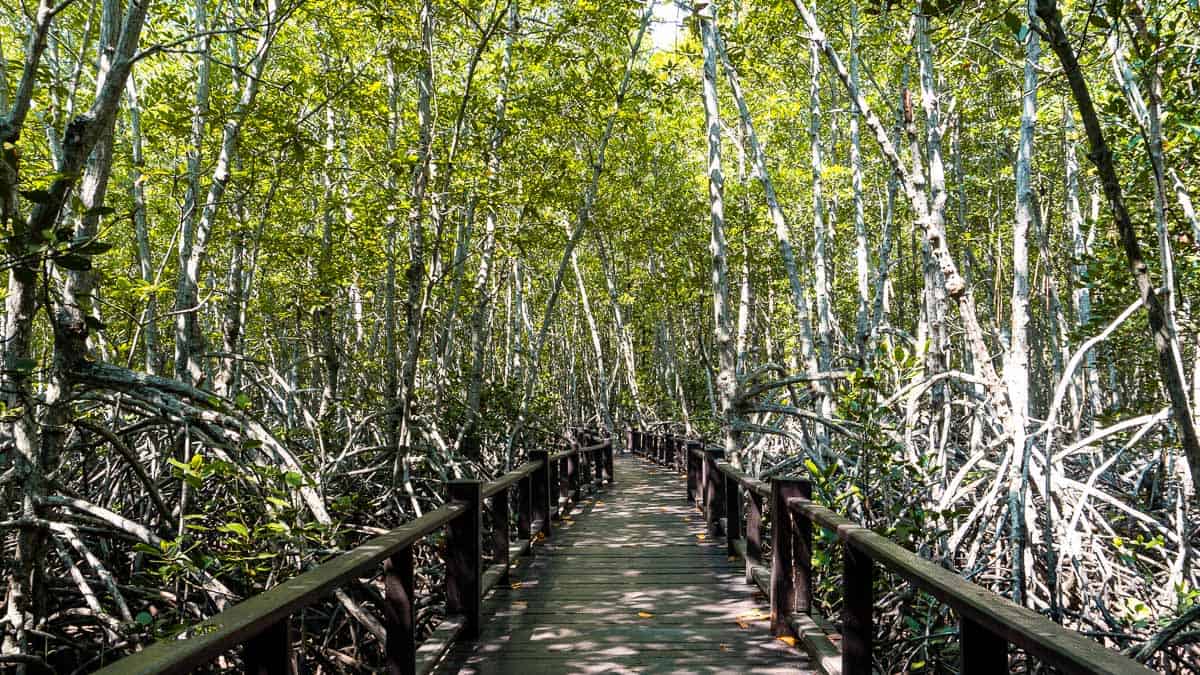 In short, Pranburi Forest Park is:
Quiet
Relaxing
Filled with wildlife
Family friendly
Free to visit
And plays an important role in the area's unique ecosystem
In this guide, we'll go through everything you need to know about visiting Pranburi Forest Park, including the best time to visit, what you'll see there, facilities, what to bring with you, tips for other cool places to visit nearby, and why you should thoroughly consider including the park in your own Thailand adventure.
Let's get into it:
Highlights of Pranburi Forest Park: What to expect when visiting
Pranburi mangrove forest
Pranburi Forest Park is made up of a few distinct areas, all within easy walking distance of each other. The main feature is the expansive mangrove reserve, which covers 800+ acres (you're totally not expected to walk around the whole thing. Juuuust sayin'!).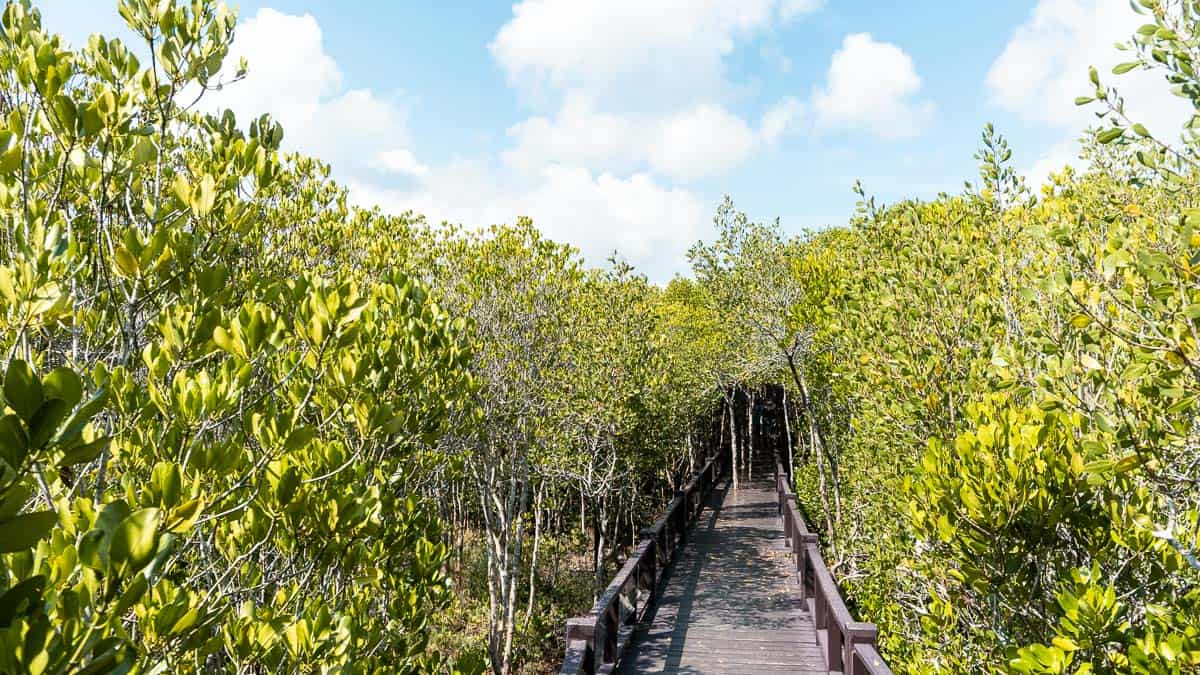 The reserve is split into a few different areas (each with their own slightly different characteristics) including the swampy mangroves, mature mangroves, and a salt marsh- to name a few. Walking the entire boardwalk within the mangrove reserve takes about 30-45 minutes, and offers a fairly cool, shady stroll under the swaying canopy.
The mangrove reserve is connected to Pranburi River, and because it's located quite near the river mouth it's heavily affected by the tides. Visit at low tide and you'll see more of the muddy ground where crabs and mud lobsters scuttle around under the roots; visit at high tide and you might hear the subtle splashes of a monitor lizard slinking around below the surface.
You might also see any number of tropical birds there, including the gorgeous electric blue kingfishers- which are quite common around Pranburi. Climb up the observation tower inside and take a look around!
One of the loveliest things you can do when visiting the mangroves for the first time is to hop on one of the long tail boats that are usually moored at the embankment inside the reserve. There's always someone there offering cheap and cheerful boat rides (400 baht) that take you down Pranburi River, around the mature mangroves (some of which are 100+ years old!), and visiting the Chao Mae Tub Tim Tong shrine.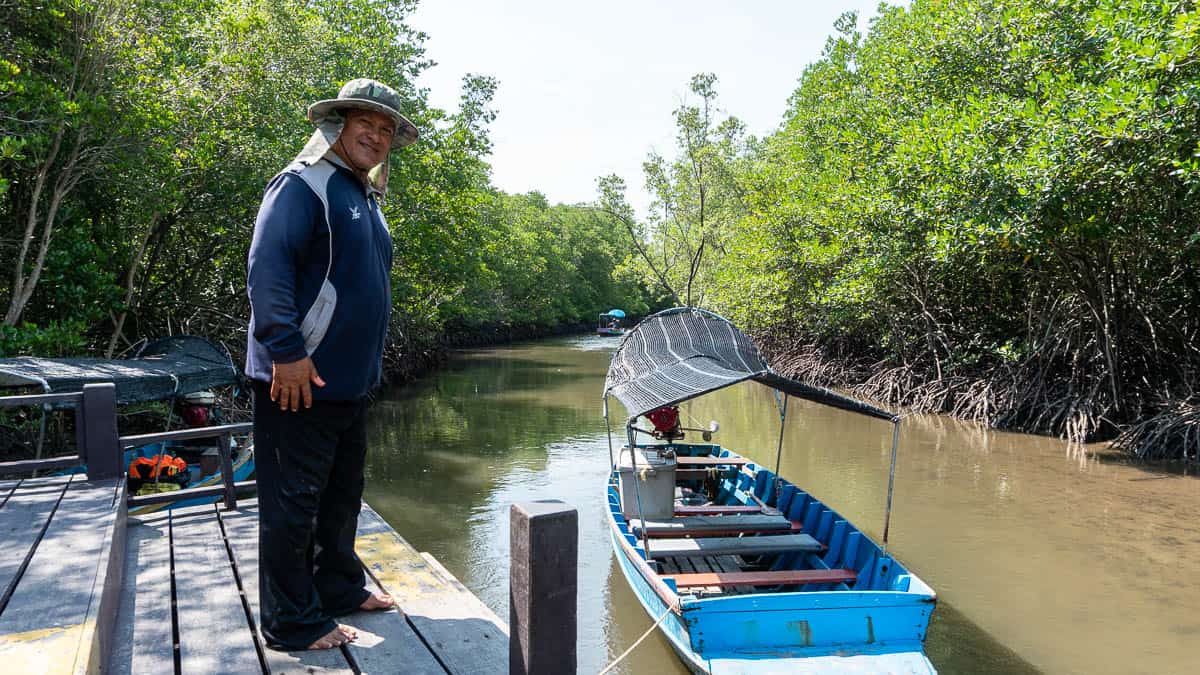 Beach nature trail
Opposite the entrance to the mangroves, there's a sparse pine forest which serves as shade for a picnic area, as well as a grassy lawn leading up to the beachfront (if you came by motorbike, you'll have to park it up in the designated area and walk down to the beach, since bikes aren't allowed that far down).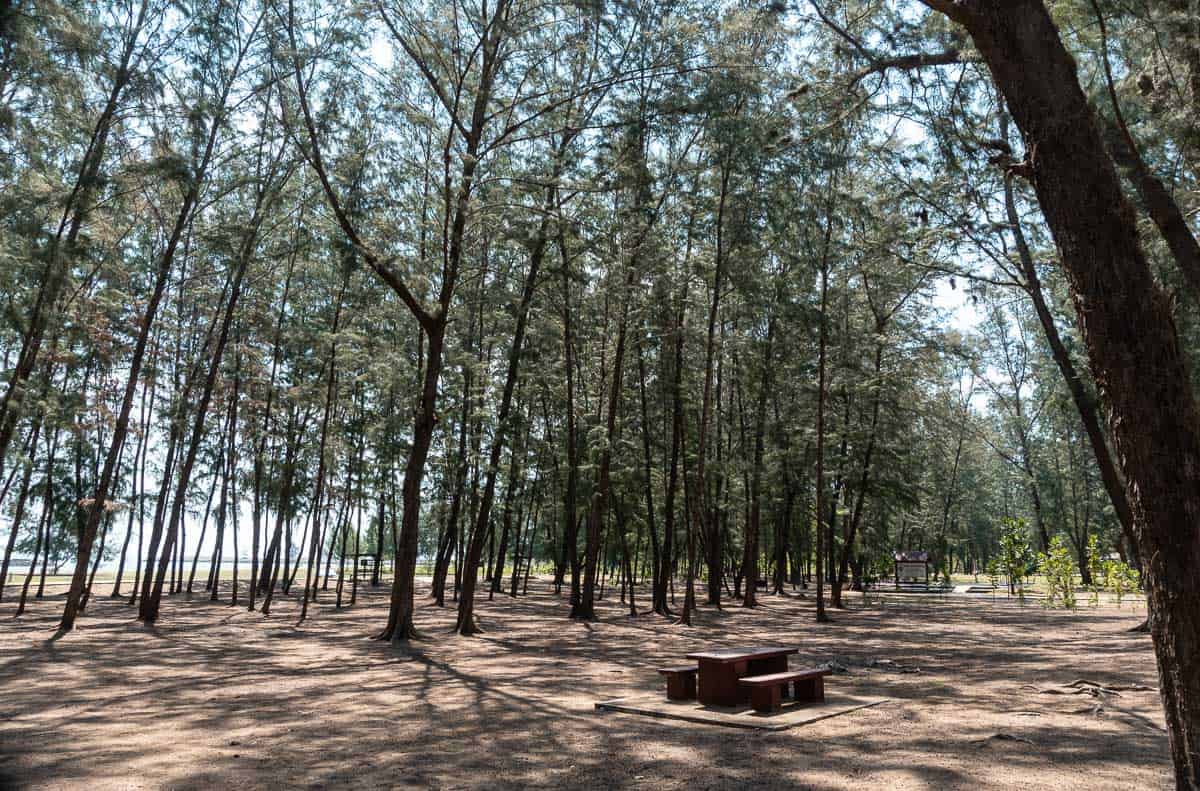 There's also a dedicated cycling lane which runs along the length of the beachfront and carries on down the coast towards the next cape. Quite a lot of it is in the shade; and if you add that to the fresh sea air blowing across the shore, it's actually a pretty mellow workout.
There are picnic benches scattered throughout the forested area as well as in a few select patches of shade on the beachfront. It's a super nice place to come with a picnic or a good book; just nature, peace, and a bit of breeze.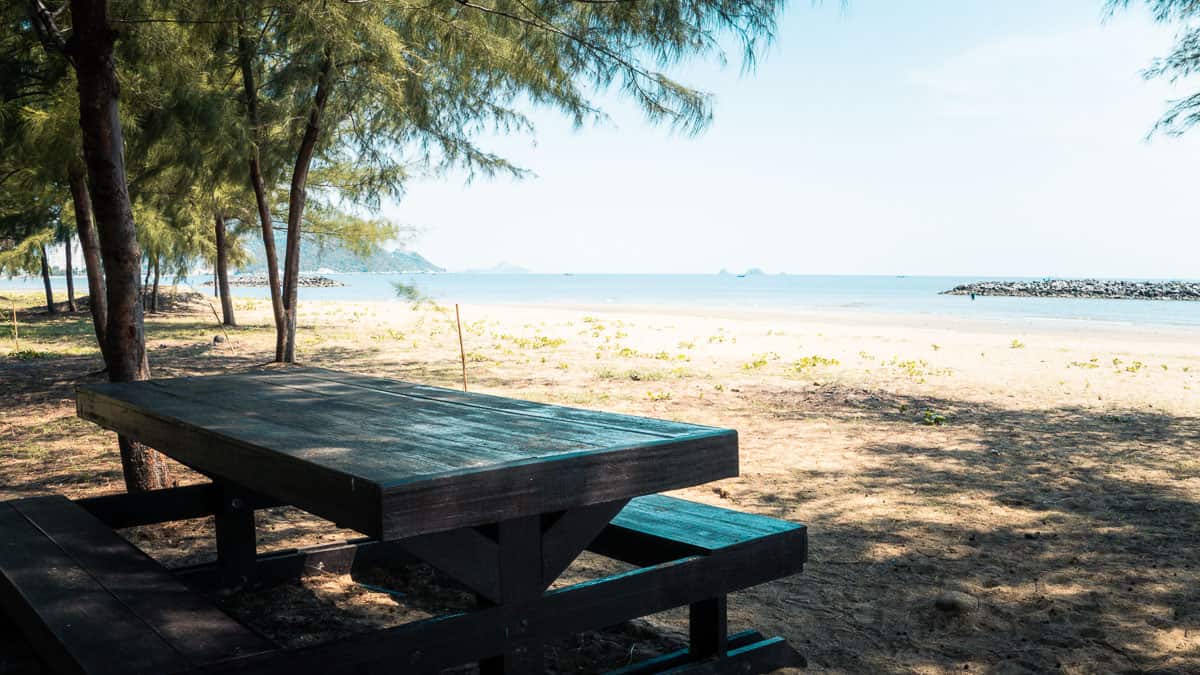 Best time to visit Pranburi Forest Park
Visit the park early in the morning or late in the afternoon to avoid the scorching sun. March-May are typically the hottest months, and when we visited early on an April morning it was still pretty freakin' hot- even in the shade.
November to February is generally a good time of year to visit, since there'll be a nice breeze blowing in off the sea, you'll avoid the hottest months, and rainfall will be at a minimum.
Practical tips for visiting Pranburi Forest Park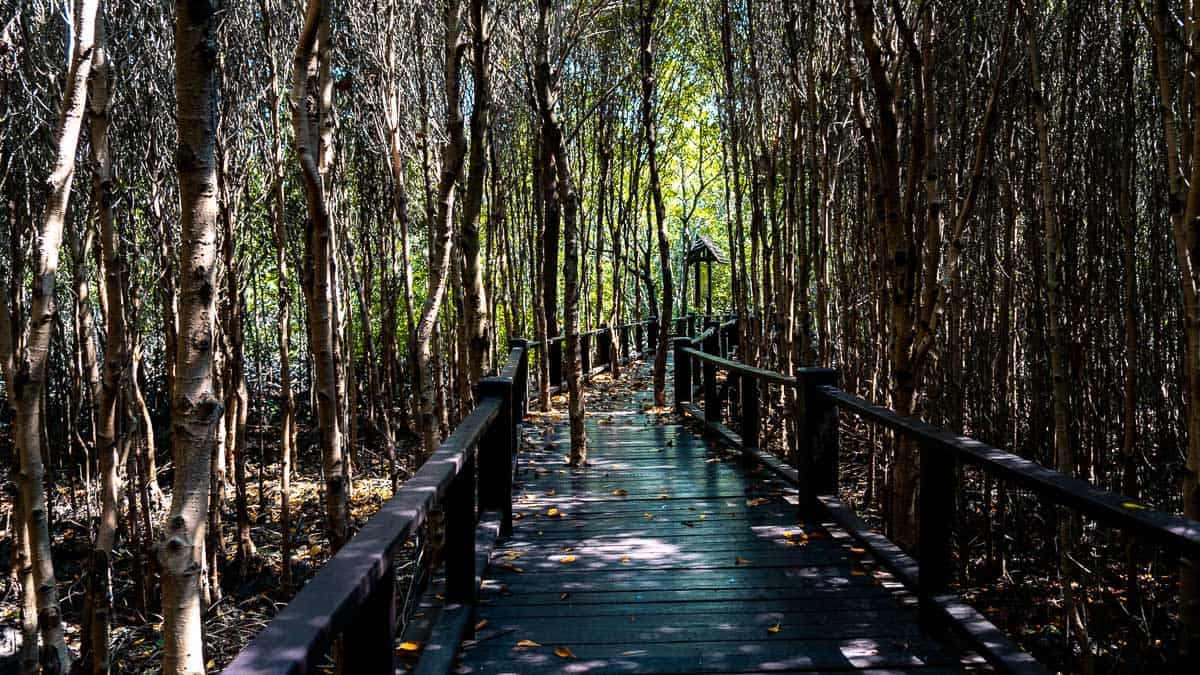 +free entry
+free access to public toilets
+small restaurant and snack vendors on site
+shaded picnic area
-occasional small steps throughout the mangrove boardwalk make it difficult for wheelchair users
-can be pretty mosquito-y in the mangrove area; make sure to wear good insect repellent or long, light clothing.
-most of the informational signs inside the mangrove reserve are only in Thai (but keep reading to find out where you can go nearby if you want a more tourist friendly experience!).
Places to visit nearby
Sirinart Rajini Ecosystem Learning Center
This is a neighbouring extension of the mangrove reserve, differing from the one at Pranburi Forest Park in a couple of key ways. Firstly, this reserve was designed with education in ind, and so all of the informational signs inside (detailing the flora and fauna) are all available in Thai and English.
There's also some cool added extras in here for kids (and hey, big adult kids too) like a giant crab trap replica- which you can actually climb inside! There's also a super high observation tower (taller than the one mentioned above, and for that reason a lot more impressive).
Khao Kalok
Khao Kalok is located just a 15 minute drive from Pranburi Forest Park, and features a shoe shaped mountain covered in jungle and a sandy beach below.
Swim in the cool water or take off up the mountain on a hike- and catch a view of Pranburi from a different perspective. Khao Kalok beach is also one of the main spots for kitesurfing in Pranburi, which happens the most between November and April when the wind is at its peak.
Traditional fishing village
Right around the corner from Khao Kalok, you'll find Pak Nam Pran's fishing village where dozens of colourful boats are usually moored at the shoreline.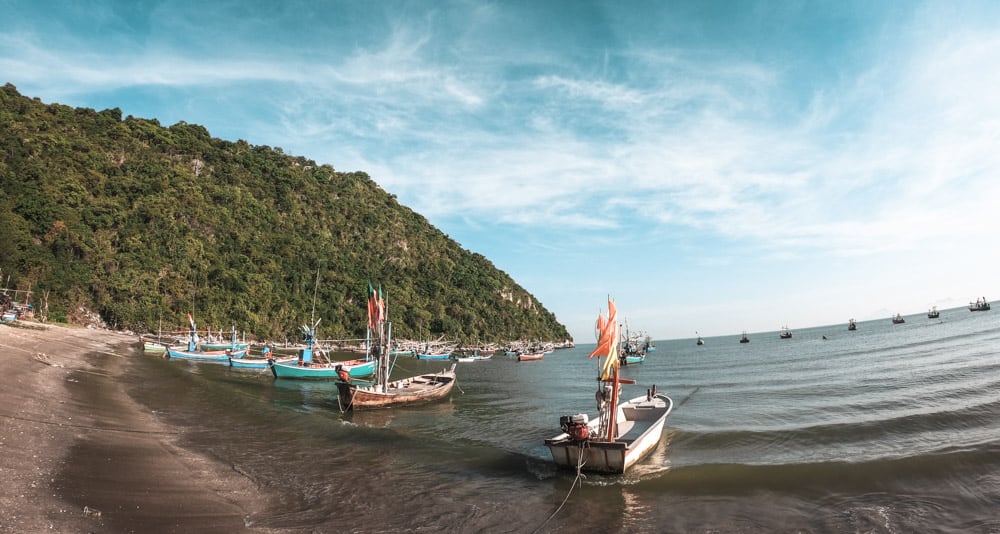 It's quiet, untouristy, and picturesque. There's also a couple of nice restaurants nearby which serve delicious Thai food; grab a meal and soak up the scenery.
Khao Sam Roi Yot National Park
If you haven't quite got your fill of nature and outdoor adventure, head 30 minutes south to Sam Roi Yot. The national park boasts much more than just mangroves (though there are plenty of them, too); you'll also find insanely big mountains, totally secluded beaches, authentic local villages, the famous Phraya Nakhon Cave, and much more.
Sam Roi Yot is easily one of our favourite places in Thailand, and considering you can paddle board, paraglide, mountain bike, and hike there, it's no surprise that other adventure travellers feel the same (even though, to be fair, the place is vastly undervisited). Check out our full adventure guide to Khao Sam Roi Yot National Park for the full low-down.
Liked this blog post? Then you'll probably like some of our other adventure travel guides to Thailand.