Looking for an authentic, offbeat destination in Thailand? Find out why Pranburi should be on your radar.
Nestled between a winding river estuary and a protected mangrove forest, Pranburi is quickly becoming the destination of choice for a rising number of nomads seeking a mix of peace, authentic culture, and outdoor adventure in Thailand.
Pranburi has acted as our home away from home for the past year (though Jim has been staying here seasonally for 10 years now… yup, ten. He's practically Thai himself at this stage!).
And while we love the super relaxed way of life and endless pineapple fields for which it's famous, our favourite thing about Pranburi is the fact that it promises the chance to discover what life in rural Thailand is really like. Of course, the same can't really be said for the swanky seaside resorts that line the beachfront — but take a little step back and you'll find Pranburi is filled with unexpected local loveliness.
Pranburi is also a gateway to the imperial Khao Sam Roi Yot National Park which — apart from being an epic location for hiking, cycling, paragliding, and paddle boarding — is home to the insanely cool cavern and sacred shrine at Phraya Nakhon Cave.
Meanwhile, it's in Pranburi's quiet seaside hideaway, Pak Nam Pran, where you're most likely to find the local adventure crew hanging around at the beach or cable park and are always happy to spill out advice and make friends with passersby.
Being located just 3 hours south of Bangkok makes travelling to Pranburi fairly accessible; not to mention the fact that it's also a much more laid-back alternative to the bigger and busier resort city of Hua Hin, 30 km north.
Read more: A digital nomad's guide to Bangkok: Coworking spaces, internet & more!
Best time to visit Pranburi, Thailand
We reckon that the best time of year to visit Pranburi is between November and April, when the latitude's heat gets cooled down by monsoon and thermal winds. The summer rains will have cleared away and the landscape will be dry- but still boasting those beautiful green hues early in the season.
Not only is the weather all-round awesome during this time of year, it's also the ideal time to enjoy Pranburi's most epic outdoor offerings like hiking, cycling, and kitesurfing.
Sounding pretty groovy already, huh?
Let's dive into our shortlist of the best adventurous things to do in Pranburi:
Pranburi: Things to do & outdoor adventure activities
---
Kitesurfing in Pak Nam Pran
For the last 10 years, Pranburi has been moving up the ranks in the Asian kitesurfing scene, and is now one of the region's top up-and-coming kite destinations.
Not only does the area enjoy a 7 month long wind season, it's also an annual tour stop for the Kiteboard Tour Asia, the official kitesurfing championship for the Asia Pacific region.
In fact, Pranburi is also the home spot of 7X Asian champion, "Yo" Narapichit Pudla, who now spends much of his time on the beach in Pak Nam Pran, teaching the next generation of local kitesurf kids with Olympic dreams in mind.
We love kitesurfing in Pranburi (just read our complete guide to see why). The moderate wind and spacious, sandy beach is perfect for kiteboarding, and never gets too crowded — even during the high season.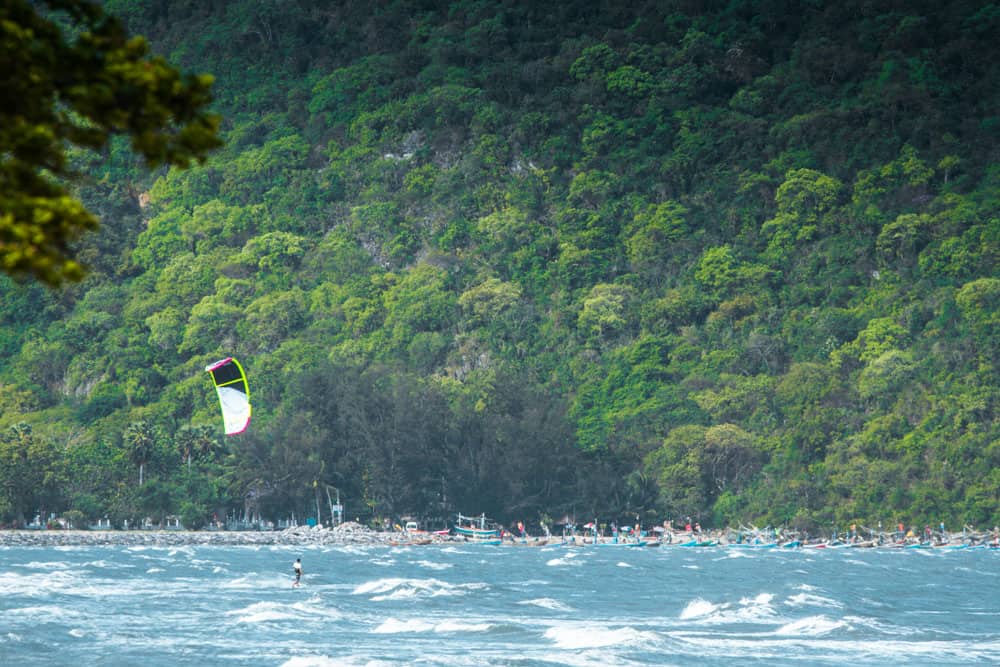 Now, you might be thinking "kitesurfing? Sounds cool, but I can't do that sh*t, so that's me out."
Hold up there; even if the only board you've ever touched is for ironing- fear not.
Kitesurfing is something anyone can pick up, as long as you're willing to put in some hours and elbow grease. Sign yourself up for a beginner's course with a qualified instructor and you'll be ripping around on the Pranburi waters in no time!
Stand-up paddle boarding down Pranburi River
Between the sinuous, mangrove-lined river and a beautiful- though underrated- coastline dotted with deserted islands, creeks, and caves, SUPing in Pranburi is pretty mind blowing.
Plus, with its giant peaks overlooking the Gulf of Thailand and its deserted beaches only accessible by sea, there's more than enough for months of exploration.
The Pranburi River, which runs right through Pak Nam Pran village, is by far and above one of the best places to explore with your board. You can access the river via a few different points, one of them being Kite Cable Thailand's lake- which is quite high upstream. From there, you can easily paddle to the estuary and choose to explore either the river or sea.
Coastal paddle board trips are also a favourite activity of ours; we regularly take our own Starboard Touring SUP out at Khao Kalok, the shoe-shaped mountain that sits between Pak Nam Pran's southern beach and the breathtaking Sam Roi Yot National Park (more on that spot later).
You can also try paddle boarding at Sai Noi Beach, 10 minutes north of Pak Nam Pran- a tiny, picturesque cove that's home to just one resort and a few yummy Thai restaurants.
For SUP rentals in Pranburi, we recommend Bike Point Pak Nam Pran, which is located at the Palm Beach Resort (you can find it along the beach road that runs close to the village- use Google Maps!). Bikepoint has 2 decent cruising boards for rent, and they also have a sidecar (or saleng, in local lingo) up for hire if you need transport.
Cycling through the farmlands
Pranburi is the sort of place that begs to be explored on two-wheels, what with its endless coastal roads, super mellow traffic (uhh…what traffic?), and tiny dirt tracks winding through the countryside. You can rent road bikes or mountain bikes for 400 baht/day with Bike Point Pak Nam Pran, and from there, the entire countryside is yours to discover.

Blasting down Sloppy Seconds, cycling: Willy Kerr.
For off-road adventures, get lost on the dirt trails that run between the pineapple fields and breathe in the sweet, fruity air. If you fancy soaking in the seaside landscape, cycle along the beach road from Pak Nam Pran village to Khao Kalok (or further to Sam Roi Yot National Park), and make a stop along the way for a fresh coconut or a light Thai meal.
If you're hoping for something a little more adrenaline fuelled, Pranburi is also home to a handful of downhill MTB trails on the bamboo covered hillsides, which have been lovingly carved out by clubs like the Loose Riders crew. You'll have to ask the locals directly if you want to hit up the best secret tracks- so if you're curious, join our exclusive Facebook group and pitch your question to those who know.
Hiking Pranburi's local peaks
Pak Nam Pran is a great center point for hikers and nature lovers. The wildlife around here is exceptionally rich and diverse (especially in the national parks) with colourful kingfisher birds, dusky leaf monkeys, Asian elephants, and gaurs (wild bulls) all common sights.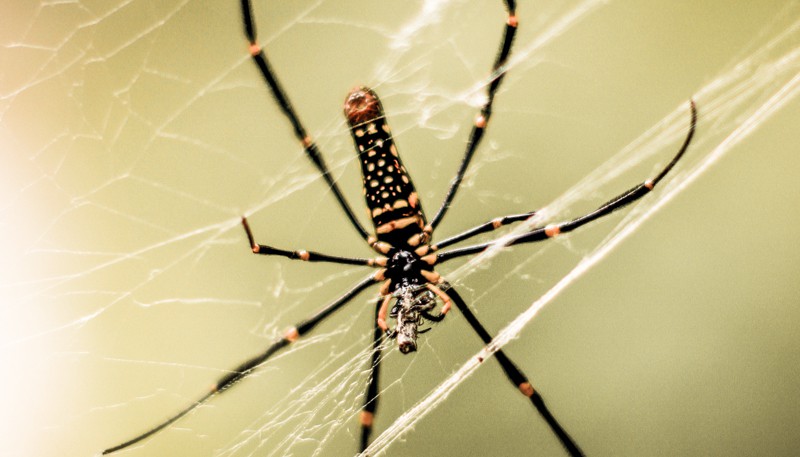 Local peaks like Khao Kalok are ideal for a wee bit of afternoon exercise; the 2-part trail takes you up the mountain side for a short-but-steep climb which can typically be done in half an hour (a little more if you continue all the way to the end of the second leg). At the top, you'll be rewarded with sweeping views of Pak Nam Pran beach and the surrounding countryside.
When you're ready for a more challenging hike, Sam Roi Yot National Park is just a stone's throw away (keep reading to find out our favourite places to hike there).
Exploring Sam Roi Yot National Park
From wandering down empty beaches to scaling the side of those epic limestone mountains, Sam Roi Yot National Park is an absolute must-visit spot during your stay in Pranburi. It only takes about 25 minutes to get there by scooter and once you're there, you won't want to leave.
Seriously, you won't. It's that friggin' beautiful.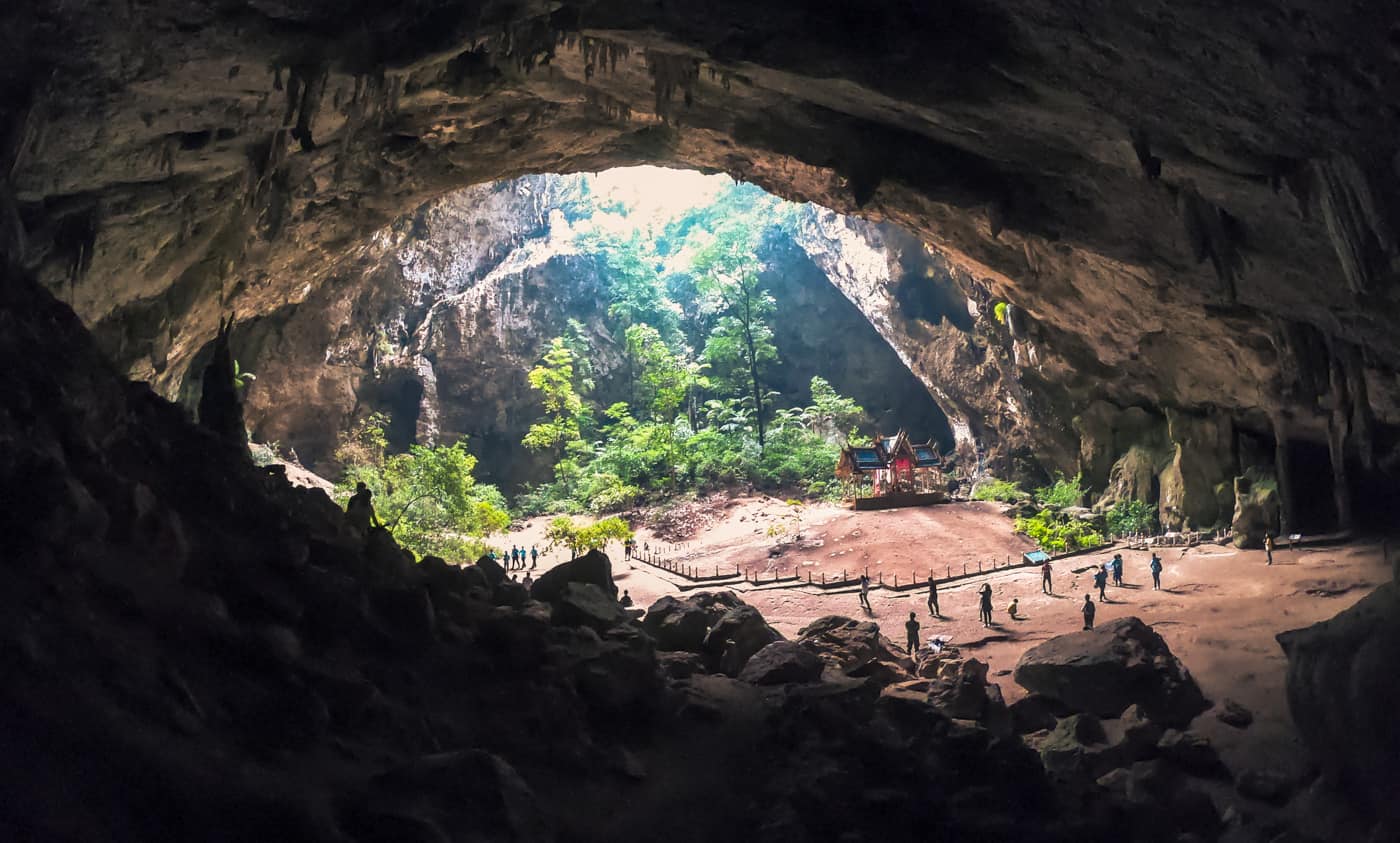 The land within the park's parameters falls under the protection of the Thai state, meaning Mama Nature has pretty much been left to do her thing. We're talking crazy exotic birds, wildlife, jungle, mangroves, marshes, and mountain peaks for daaaaaysssss and days.
The park is a paradise for outdoor adventure, our favourites of which are hiking Khao Daeng and Phraya Nakhon, paddle boarding around the tiny offshore islands, and cycling through the teeny weeny back roads. Oh, and if you're feeling extra ballsy, you can book yourself in for a paragliding experience that takes you on a cloud-skimming soar over the mountains, beaches, and farmlands.
"SUPER", you say, but what good is all that if you don't know where to rent your bikes, boards, and, well…. Basically how to go about doing any of the above?
Got you covered, chaps:
Head over to our complete outdoor adventure guide to Khao Sam Roi Yot National Park and we'll reveal all.
Wakeboarding at the cable park
In the last 10 years, Thailand has seen a steady flow of new parks popping up everywhere from Bangkok to Koh Phangan. And Pranburi's Pak Nam Pran, as little as it is, is proudly home to its own 2.0 wakeboarding park right in town.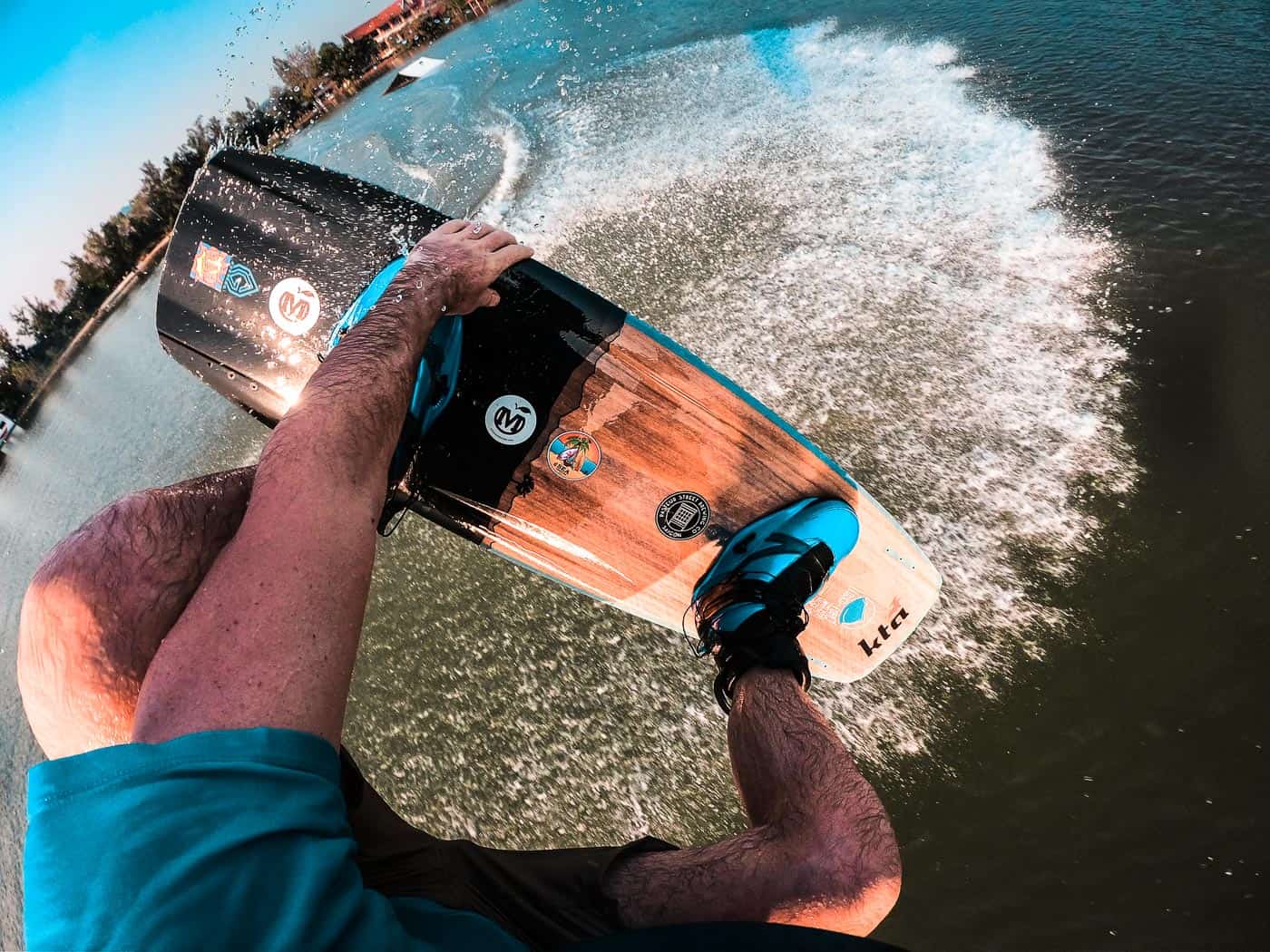 Read more: Learn how to wakeboard the easy way — at your nearest cable park!
Set up in 2013, this park features two different 2.0 systems on an artificial lake and is connected to Pranburi River for level adjustment. The 70 meter long cable is obstacle-free and ideal for beginners or kitesurfing aspirants, while the longer cable features both a small sized simple kicker and a medium sized spine kicker that you can hit in both directions. As this cable was designed with kitesurfers in mind, it comes with a customizable rope length to allow for the perfect tweaks tailored to your preferences.
Both cables have their starting docks on a single island, complete with a cool bar and a terrace hovering over the water- perfect for chilling out on during a hot day.
Visiting the mangrove reserve
On the southern side of Pranburi River and just 2 minutes from Pak Nam Pran's center, you'll find quite a special kind of mangrove forest called the Sirinart Rajini Ecosystem Learning Center.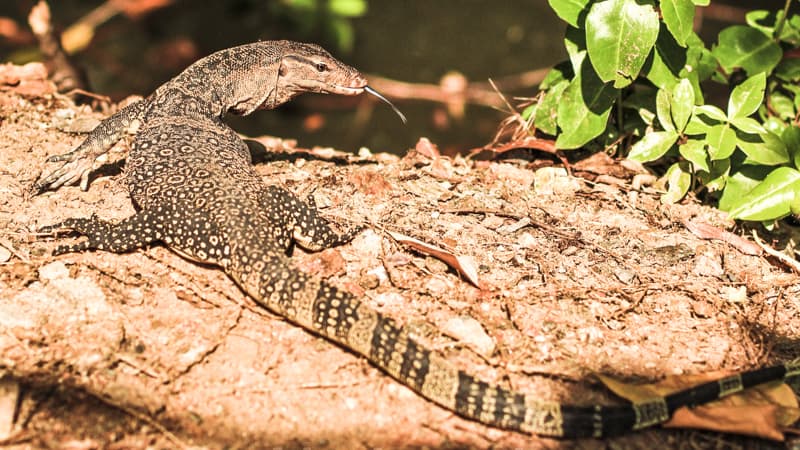 Here's a nugget from the history books for you:
Pranburi used to have tons of mangroves growing across the district, but almost the whole population was wiped out a while ago because of some super dodgy, unsustainable shrimp farming practices.
Just 20 years ago, the late King Rama IX (literally one of the most loved human beings in the history of Thailand) visited Pranburi and was basically distraught when he saw the damage that intense shrimp farming had brought right on the doorstep of the beautiful estuary town.
He sent out orders to resurrect the mangroves, and had this reserve built as result.
It's now an educational center, and offers an easy 1-hour stroll in the breeze and shade below the mangrove canopy. Informational signs line the wooden walkway, educating visitors about the crabs, birds, and other wildlife living within the mangrove ecosystem.
If you're lucky, you might even spot a glimpse of a giant monitor lizard (which is, essentially, a living breathing modern day dinosaur. No Joke.) camouflaged in the marshy roots.
In addition, you can also see the mangroves by visiting Pranburi Forest Park, which is one of the more popular places that tourists like to go around here.
Travel tips for Pranburi, Thailand
Now you've got your lay of the land, we're ready to dish out our top tips for travelling to Pranburi, Thailand. We'll give you a rundown of the best places to stay, our favourite restaurants, transport advice, and our insider guide to finding the best cafes and work spaces to do some digital nomad-ing.
Here we go:
Where to stay – Top Pranburi hotels and accommodation options
Finding cool accommodation in Pranburi isn't tough — and can actually end up being quite a lovely experience in terms of connecting with the locals and getting acquainted with the lesser-known parts of town.
The beachfront is lined with all kinds of hotels and guesthouses, starting with mid-range rooms (comfortable but simple) and moving all the way up to the swishy high end of the spectrum (think bougie eco-villas and luxury 5-star resorts).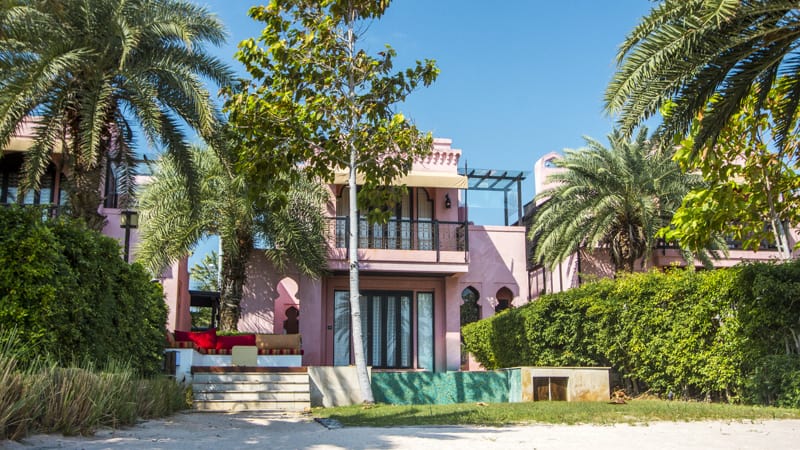 Family-owned guest houses are plentiful and usually offer great value and flexibility for short/medium term stays (between $100 to $200/month) but if you're looking for a real house for anywhere longer than that, you're probably going to have to do a bit of old-school exploration to find the best deals.
Airbnb can also be a good way of scoring your perfect digs in Pranburi. There are tons of hosts in the area offering rentals on Airbnb, from simple rooms and studios to luxury pool villas.
For specific property and hotel recommendations, head to our detailed write-up on the best Pranburi hotels and guest houses.
Best Pranburi restaurants
It won't take you many jaunts around town on your scooter to learn that pineapple, squid, and octopus are the local specialties (you literally see the buggers everywhere).
As such, the local restaurants typically serve fresh seafood alongside a smorgasbord of traditional options, spanning spicy tom yum soups, classic green/red curries, sweet and sour dishes, and more.
While many of our favourite 'restaurants' are actually hole-in-the-wall kitchens and street vendors, sometimes what you need is a big slap up meal at the kind of place where, you know, you're encouraged to wear shoes.
We reckon these are some of the best restaurants in town (shoes are not actually required at any of the following, to the best of my knowledge):
Sea Bar So Good
This bar-cum-restaurant just opened in 2019 and in all honestly, we've probably visited around 2,019 times since. We freakin' LOVE their daily 3-hour-long 'happy hour' with 2-for-1 cocktails (very well mixed) and selection of Thai classics, burgers, and authentic thin crust pizzas. Plus: sea view!
Tonto
Sitting right on the edge of Pak Nam Pran beach, Tonto is a local Thai restaurant serving up generous portions of freshly cooked meals. This is the place to go to if you fancy trying some of the local faves, like spicy tamarind soup or fresh green mango salad. Top it all off with outdoor seating and sounds of the waves washing against the sandy beach, and it's no wonder this spot ended up being one of our favourites in town.
Beach House Bistro
With consistently delicious (not to mention generous) grub, this little bar serves European, Thai, and Indian food. The Beach House is run by Karl and Michelle, an English kitesurfing couple who settled in town more than 10 years ago. They are both super friendly people who also run a cool guest house, which is always full of kiters from around the world.
Chicken & Bee
Just recently opened, you'll find this organic farm and restaurant on the way south to Sam Roi Yot. Though it's always been pretty quiet whenever we've come, it is a growing hotspot for local vegetarians and lovers of home grown food. In an wooden, green, and airy setup, you'll find your dose of healthy smoothies, salads, and pasta- but also Thai traditional food cooked to absolute perfection. And the best part: you can buy organic veggies straight from their garden, depending on the season and availability.
Grandmother's House
The go-to place for breakfast in town. The family run kitchen serves up a range of Western style breakfasts (like egg cheese toasties and fruit & muesli bowls) as well as your classic line up of Asian soups and rice-with-meat/veg. Quirky decorations, super-friendly staff, and a perfect location to watch life go by in the center of Pak Nam Pran.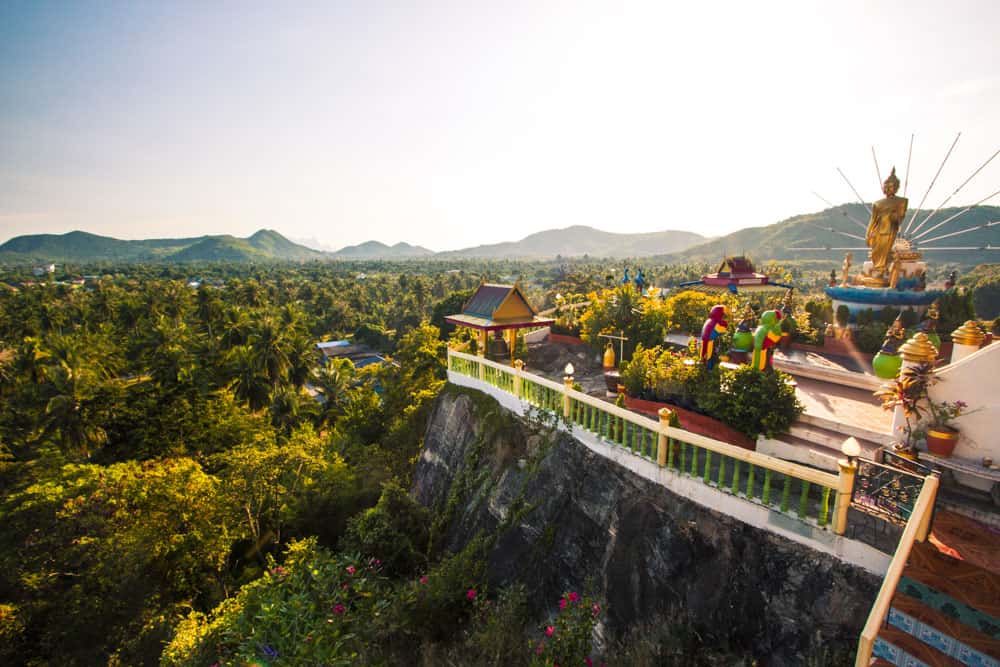 Coworking & work-friendly cafes
Although there's no real coworking space in Pranburi yet, there are still a few cafes and restaurants that have decided to offer a dedicated space for digital nomads. It usually isn't much more than fast/free wifi and some well-placed plugs, but it is definitely encouraging as it shows digital nomads are- in a way- being considered by some forward-thinking business owners.
As these are not real coworking spaces, it works the good old way; as long as you buy something here and there, you'll be welcome to stay as long as you want. Sure, sometimes the wifi goes off or IP addresses get filled up, but don't hesitate to ask for a reboot of the router and you'll be good to go.
Here are our favourite places to work remotely in the Pak Nam Pran/Pranburi area:
Brown Brew and Bistro
Setup very recently by a talented Thai photographer, this bright and well-decorated cafe has decent wifi, AC and a really cool counter made especially for laptop and mobile warriors, it looks out massive windows onto the main town's street and has 6 bar stools, each equipped with a plug.
It's quiet on most days, but the best time to work here is definitely the morning so as to avoid the lunchtime rush (yup, even Pranburi has one). The place opens from 8am until 8pm and is closed on Wednesdays.
Grandmother's House
As above, Grandmother's is far more than just our favourite breakfast place- it's also a decent spot to put in some laptop hours when the time calls for it. Added plus: they also serve one of the only organic coffees in town.
This open air, retro cafe doesn't have a special space for laptop workers, but a few strategic tables will get you a plug and a fan in addition to free wifi.
The best thing about this place (apart from the great food and lovely staff) is that it opens at 6 am- perfect for early risers.
Racer Marina
Pak Nam Pran's brand new marina, home to a few small yachts and marine workshops, is actually a great place to work as well.
Located on the shores of Pranburi River, it's got fast wifi, big outdoor tables, and a banging coffee machine that gives you a true Italian espresso for $1.50. They even serve vegetarian paninis! It's also the only place in town that has a massive office/meeting room for rent, complete with aircon, a giant round desk for up to 10 people, and a professional printer.
If you like working by the water and the idea of boats slowly coming and going as the breeze of the ocean flows in sounds good to you, try giving this one a go.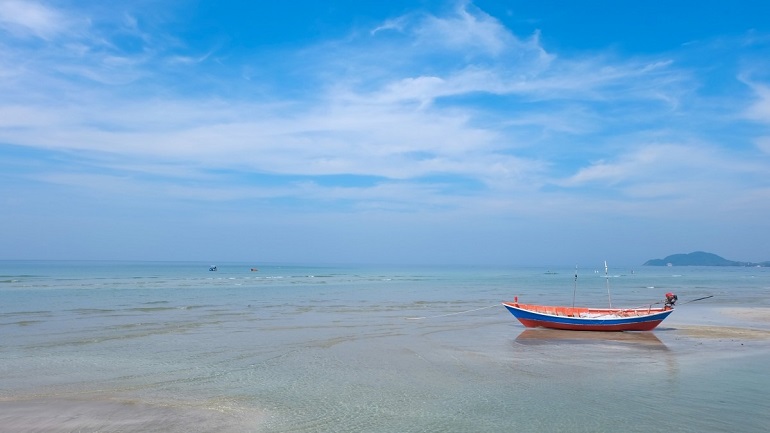 Internet & SIM cards
Internet in Pak Nam Pran is fast and stable around town, as most businesses and modern homes are equipped with ADSL or fiber optic setups. Wifi speeds range from 10 to 35 Mb/s. Power cuts are virtually non-existent.
4G in Thailand averages 9 Mb/s as measured by a recent (November 2017) state of mobile networks in Thailand (see report), which is in line with the Asia-Pacific region average of 9.69 Mb/s.
The top 3 mobile providers in Thailand are Truemove, AIS and Dtac. If you didn't already pick up a SIM card at the airport, you can buy one locally at any of the telecom vendors in Pranburi. See a full guide on Thailand's SIM card options here.
How to get to Pranburi
To get to Pranburi from Bangkok's Suvarnabhumi Airport, the best option is to take a bus straight from the ground floor to Hua Hin and then do the last 30 km drive to Pranburi by taxi.
If you're already in the capital's streets, you also have the train option, with several departures going south daily from Hua Lamphong station. That will bring you slightly closer to your destination, Pranburi's Old Town. Once at the train station you should be able to find a taxi easily to reach your final destination.
Bus
Only one company has a terminal at the Suvarnabhumi airport, and that's Roong Reuang Coach. They'll take you to Hua Hin city in about 3 to 4 hours for a charge of 269 baht ($8.50) per seat. Once in Hua Hin, you can pick up a taxi ride to Pranburi for about 400 baht.
Even though there is an additional fee (50 baht) for online booking, we do recommend booking that way in advance as most of the time spots get full very quickly- and it really sucks to have to wait around for hours and hours for the next empty bus seat.
Big board bag owners beware: the bus company also charges for extra luggage (you can check prices and book on their website).
Train
There are daily trains from Bangkok to Pranburi, leaving from Bangkok's main train station, Hua Lamphong.
3 classes are available, and even though the first class is comfy, quiet and cold (ummm…maybe too cold?!), if you want to make it a truly authentic experience, go for the cheap as chips 3rd class option and enjoy the ride alongside the locals.
Once at Pranburi station, you should easily find a taxi or motorbike taxi to get you to Pak Nam town, if that's where you're headed for.
Private van
A van with chauffeur will cost you around 2500 baht ($80) for an easy transfer from the airport of your choice straight to your door in Pranburi- perfect for a worry-free journey or travelers with loads of luggage.
In case you're already in Bangkok city, you can check different options with our partner 12go.asia
---
Disclosure: This is an affiliate partner, meaning that at no additional cost to you, we may earn a commission of final bookings. Goes without saying, we only suggest products and services that we trust and know you'll enjoy.
How to get around Pranburi
Once in Pranburi, you'll notice that every man, woman and child can ride a motorbike; it's simply the most convenient mode of transportation.
You can rent a 50-110cc scooter for $10 a day, or $90 a month. To buy a motorbike in Pak Nam Pran, you can expect prices to start at around $350. You can also find pickup trucks to rent for a day at about $30. A good rental business here is Mr. Moo, who has everything you need- from bicycles to scooters to quads, with payment plans ranging from daily to monthly.
Like this post? Then you might like our other stoke-filled travel guides to Thailand.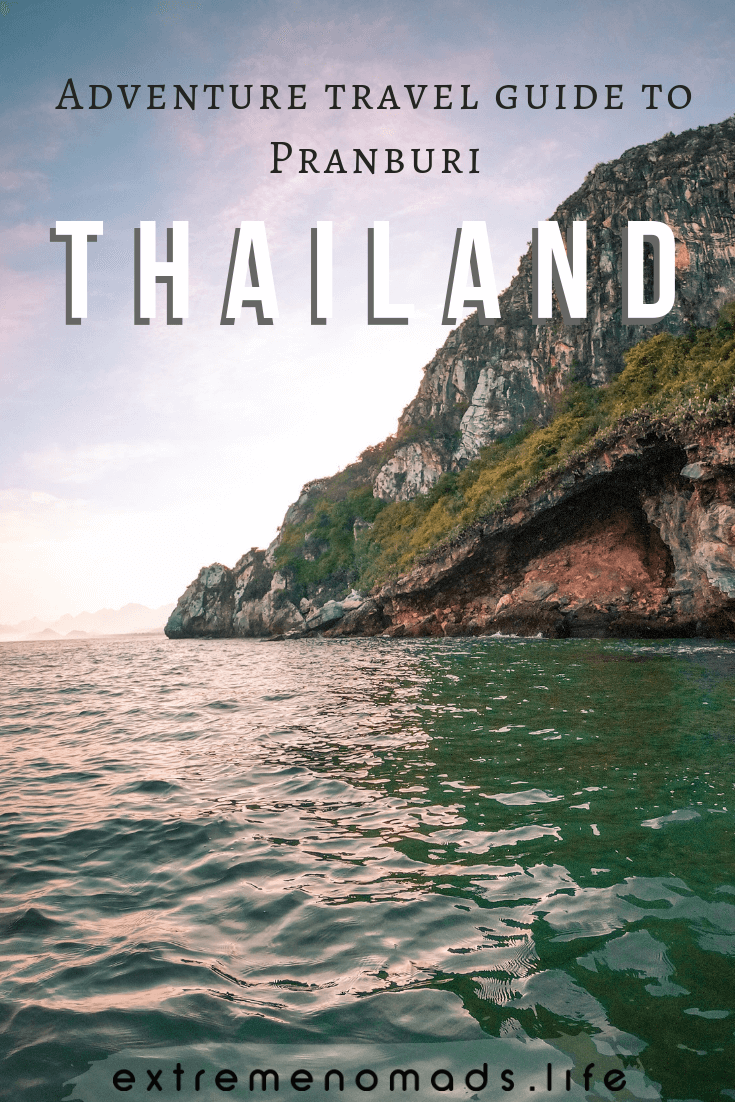 Still need more info about Pranburi? Leave your question in the comments section below. Want to connect with other Extreme Nomads? Join our exclusive facebook group!