300 mountain peaks. A million-ish steps. A few dozen monkeys. And one hidden pavilion. Welcome to the wonders of Phraya Nakhon Cave.
Cave? Temple? Thailand? There's only one place you could rightly be thinking of.
Deep in the heart of Khao Sam Roi Yot National Park is a seriously special cave- and I'm gonna go ahead and say it's probably unlike anything you've ever seen before.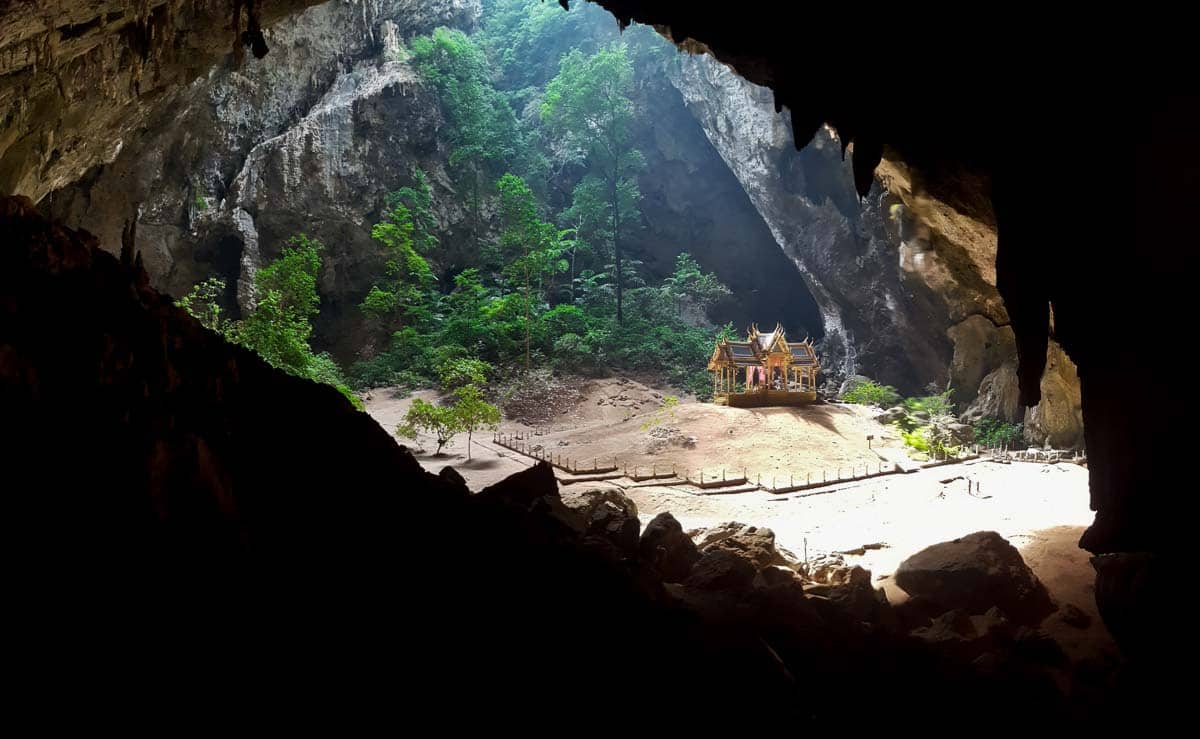 Phraya Nakhon Cave (which is sometimes also written as Phrayanakhorn Cave or Prayanakorn Cave) is arguably the highlight of the national park thanks to its unusual formations, beautiful scenery, and one-of-a-kind hidden pavilion inside its cavern.
But it's not just those things that make it special in our books; we're also dead keen on the outdoor adventure potential that a visit to Phraya Nakhon promises (which is why we included it on our list of unmissable adventures to have in Thailand — check it out if you're so inclined).
We're talkin' hiking, exploring a hidden beach, walking through a forest, camping, and of course some good old fashioned wildlife spotting (moonnnnkkkeeeeeeeeys!).
Having lived in Pranburi (just 30 minutes away from Phraya Nakhon Cave) for a year and a half now, we've had the chance to visit a whole bunch of times- and in doing so, we've learned heeella must-know stuff about it.
In this guide, we'll walk you through all you need to know in order to have an awesome time at Phraya Nakhon including when to go, how to get there, costs, what to expect, and where to stay nearby.
Let's get into it:
This page contains affiliate links, which means that we'll receive a small commission for any purchases made through those links. It doesn't cost you anything, but it does mean we can afford to buy coffee- and coffee means we can keep on writing cool stuff for you.
Background on Phraya Nakhon Cave, Thailand
Although the cave itself is backed by a history of thousands (if not millions?!) of years, it was only in the 19th century that it started to gain real public recognition when the iconic pavilion inside the cavern was built in honour of King Chulalongkorn the Great (Rama V).
Since then, his successors have made a point of visiting the cave and paying their respect, including both King Prajadhipok (Rama VII) and the much-loved late King Bhumibol Adulyadej (Rama IX).
To this day, you can still see the special signature and markings that the previous kings left on the walls of the cavern. But before you can kick back and admire the view, there's a bit of leg work you gotta do (as in, literal leg work).
Which brings me to my next point…
Hiking to Phraya Nakhon Cave: What to expect
The hike to Phraya Nakhon Cave totals 2 kilometers, which doesn't sound all that far…
…until you consider the fact that you're basically hiking up a freakin' vertical staircase. *Sigh*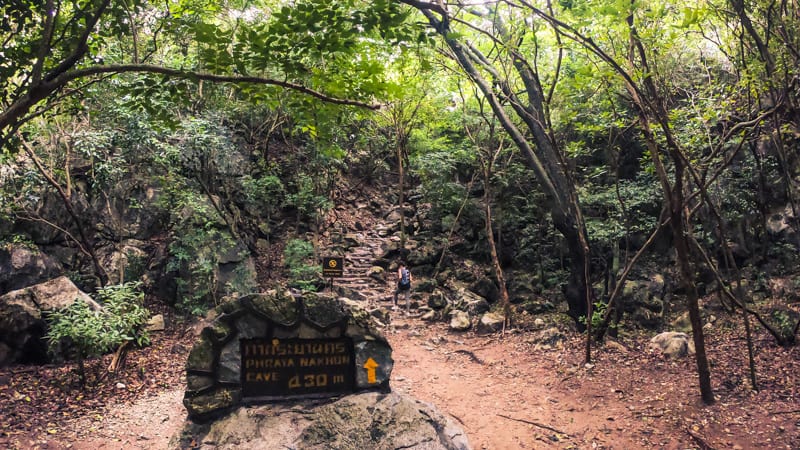 Expect the hike to take about an hour each way; but bear in mind that your timing will also depend on how busy it is, how fit you are, and whether or not the stairs are slippy from recent rainfall (we hiked in the rain once. Don't be like us).
The hike is split into two sections, both of which feature their own sets of natural stone and cement steps. The steps are quite steep in places and pretty uneven throughout, which makes certain parts of the hike a wee bit tricky. There's a handrail in some places, but not everywhere.
We definitely recommend having a basic level of fitness if you're going to attempt this hike, and be aware that it's not super suitable for young children, the elderly, or people with reduced mobility. And please for the love of holy monkey-balls, WEAR PROPER SHOES!
The first section of the hike, which takes about 20 minutes to complete, brings you from the entry gate at the car park to the flat forested area around Laem Sala Beach. If you need to use the bathroom or fill up on water (or snacks), that's all doable at the little rest station at Laem Sala.
You can also opt to skip the first section of the hike in favour of a short boat ride, which costs 200 baht each way and departs from the nearby Bang Pu fishing village.
The second leg of the hike, which takes about 40 minutes to complete, brings you around the back of the forested area and up, up, up (and sometimes briefly down) a humongous series of stairs winding through the jungle brush. There's a rest point about halfway up with a seriously gorgeous view of the Gulf of Thailand and the little offshore islands nearby.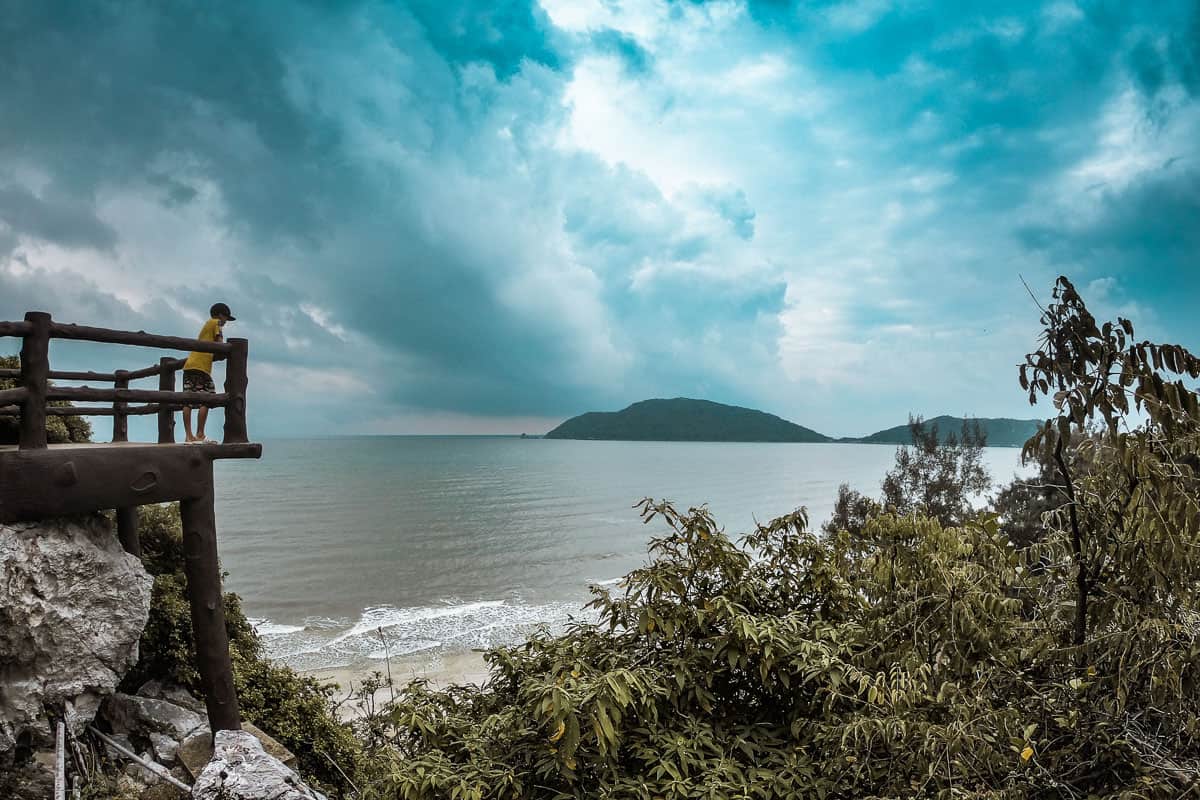 Reaching the cavern & pavilion
Psst: Just a few minutes before you make the final descent into the first cavern (there are two) you'll see a signpost indicating a somewhat overgrown trail to Sai Cave, Phraya Nakhon's smaller sister cave. You can always combine your trip and tick two caves off your to-do list!
Once your legs are good and jelly-fied (it's a thing, you guys) from marching uphill, you'll finally reach a downhill series of stairs which leads to the first cavern. On your left hand side, you'll see the pretty unusual remains of a dried-up waterfall, as well as some impressive stalactites, stalagmites, and pillars (there's also informational signs- in English and Thai- along the way which tell you the history and folklore of each formation).
Down the steps you go into the first cavern, and you'll immediately see why everybody raves about how special this cave is. Where you'd normally expect to enter into a dark, damp cavern with next to no signs of life, you'll instead be met with lush jungle greens and rays of sunlight.
Ummm… what?!
As crazy as it sounds, it's totally true. The collapsed roof of Phraya Nakhon Cave allows sunlight to stream down to the floor of the cavern, which in turn has caused some hardy trees and shrubs to take root and send their branches shooting skywards.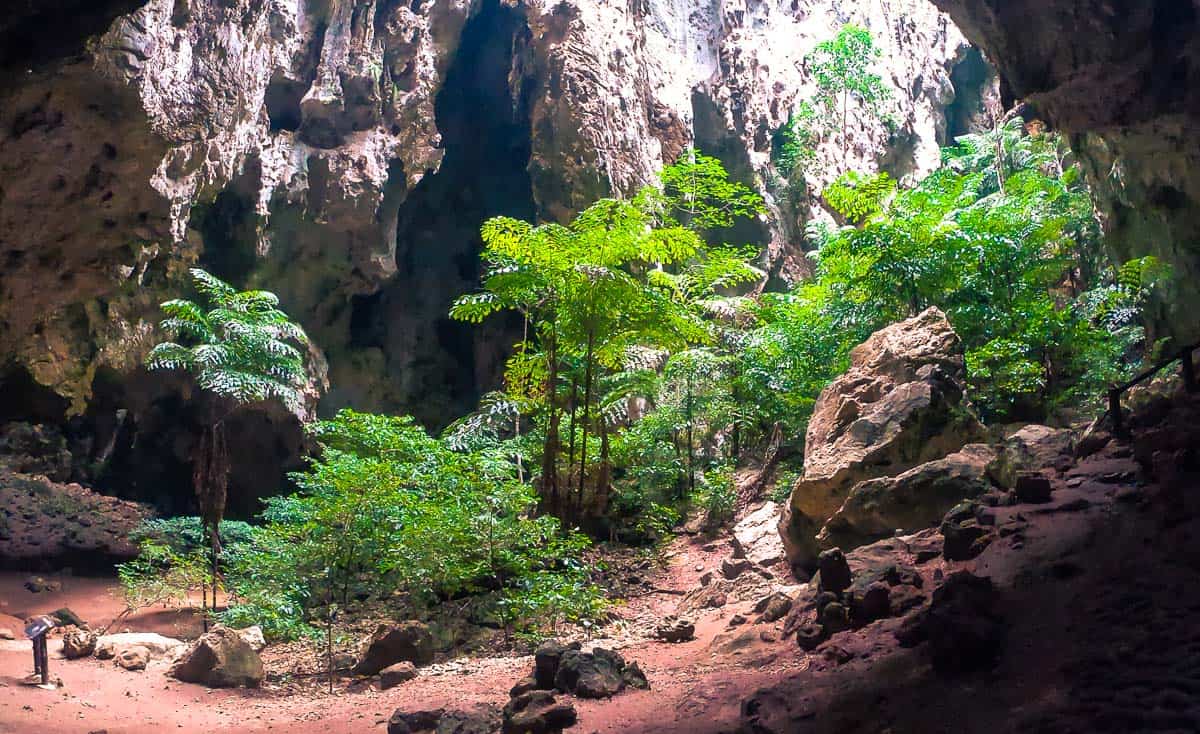 Beyond, you'll find a very dimly lit wooden bridge that leads over the roughest patches of rocks into the next cavern; the place where the famous pavilion is held.
Once again, the collapsed roof of the second cave allows sunlight to seep into the second cavern and illuminate the pavilion- almost as if it were a stage with a spotlight.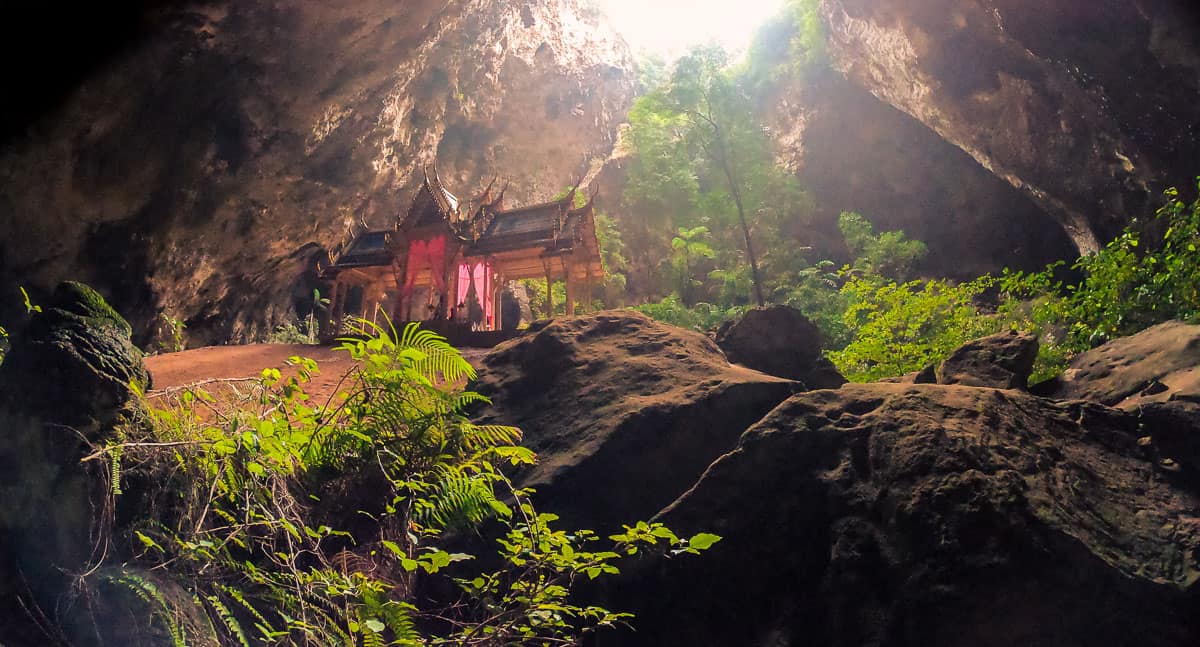 Catch it when there's a few drops of rain falling from the sky and it honestly looks like sparkly little diamonds floating through the air.
Heads up: keep reading to find out the best time of day to visit if you want to catch the sunlight hitting the roof of the pavilion!
Should you join a tour to Phraya Nakhon Cave?
Visiting Phraya Nakhon Cave solo is relatively easy to do if you have your own mode of transport (most probably a scooter or motorbike). That said, if you're just visiting the area short term and you haven't scored a bike rental (or if you don't fancy driving yourself for whatever reason) booking a tour is an affordable, convenient alternative.
Personally, I've always visited the cave on my own since I have my own bike and live locally- but if I was to book a tour I'd definitely look at going on this one with Klook, which combines a tour of Phraya Nakhon Cave with a visit to a traditional fishing village and an authentic Thai lunch.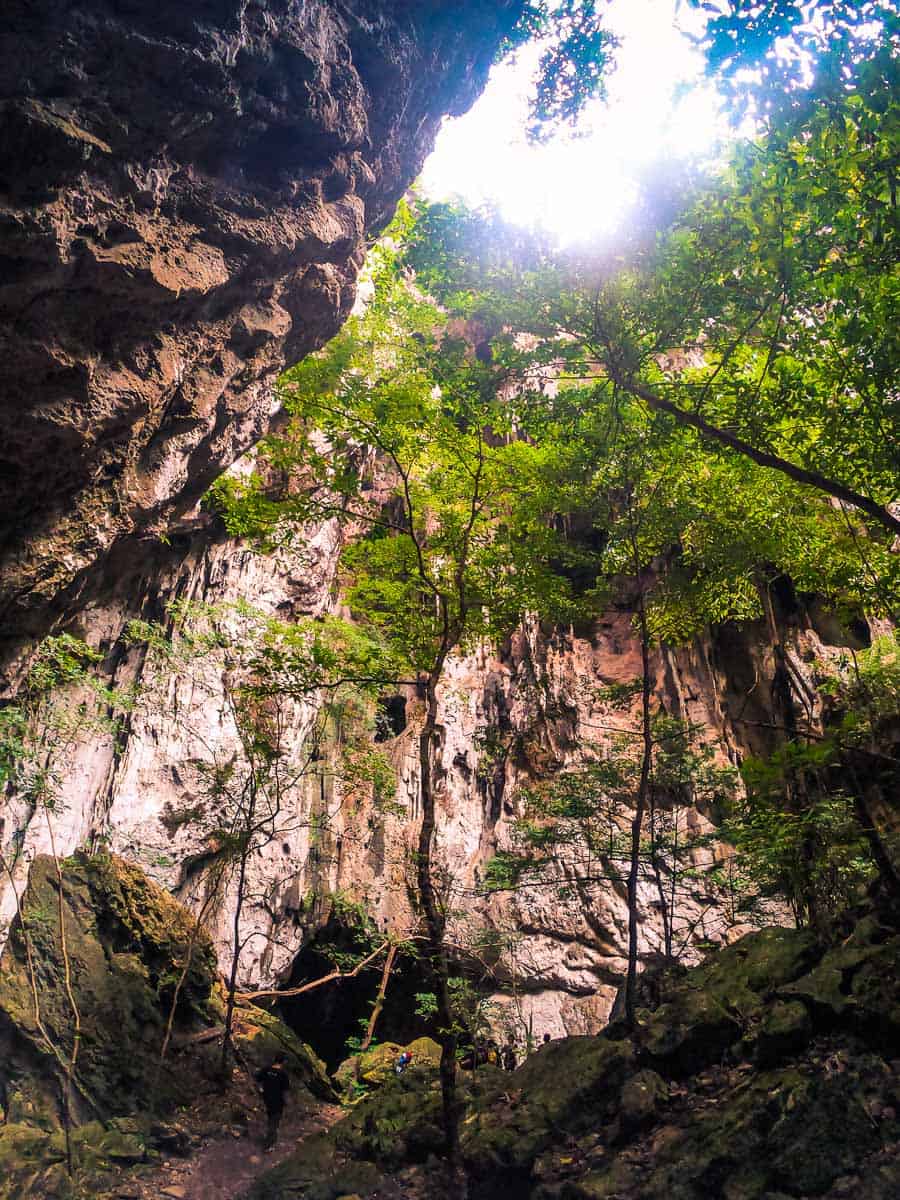 Best time to visit Phraya Nakhon Cave
If you want to catch that dreamy sunlight hitting the roof of the pavilion, you'll want to begin your hike at about 8.30-9.00 AM, which will see you arriving at the cavern by 10.00 AM. This is also a good time to go because crowds will be at a minimum and the heat of the day won't have set in yet.
Also be aware that hiking during rainy season can be extra tricky. It's not impossible (I've done it once myself) but rainfall will make the stone steps extremely slippy, so you'll have to go really slowly in some parts to avoid falling.
Personally, I'd recommend doing the hike to Phraya Nakhon Cave between November and February when the northeast monsoon will be blowing a refreshing breeze over Laem Sala Beach and rainfall will be at a minimum.
Cost of visiting
You'll need to pay for an entry ticket to the national park which can be purchased from the admissions desk at the beginning of the hike. Ticket sales run from 8.00 am until 3.00 pm and costs 200 baht for foreign visitors and 40 baht for Thai citizens.
Where to stay nearby
If you fancy making your trip to Phraya Nakhon extra adventurous, you can choose to camp at Laem Sala Beach where there are tents for rent and a designated camping area overlooking the sea. There's also a handful of wooden bungalows which are apparently available to rent as well, but the last few times we've visited they all looked in good need of some maintenance- and we couldn't see any signs of people staying there.
Nearby, there's quite a good selection of simple guest houses and comfortable hotels which offer a short travel time to Phraya Nakhon. Our absolute favourite one in the area is a little boutique hotel called Brasserie Beach, which is hidden away on a super quiet, super lovely beach on the outskirts of the park.
Alternatively, you can check out the full selection of hotels and guest houses in Sam Roi Yot National Park with HotelsCombined.com which is the booking platform we always prefer to use on our travels since it aggregates the prices and offerings of all the top booking platforms.
You can also stay in the nearby areas of Pak Nam Pran and Pranburi, which offer easy access to the beach and a chilled out vibe. See our full guide on the best hotels in Pranburi for more.
---
Have a question about visiting Phraya Nakhon Cave? Drop us a comment below and we'll do our best to give you a helpful and/or hilarious answer.