Considering including Thailand in your kitesurfing travels? Here's why Pranburi should be top of your list.
So, you're thinking of doing some kitesurfing in this neck of the woods?
Kudos! We reckon it's a pretty dang good place to do just that (just read our full Thailand kiteboarding guide to find out why).
But Pranburi? Well now, Pranburi holds an extra special soft spot in our hearts, since we've been living here on-and-off for a combined 11 years (whaaaat?!).
Not only is it a super chill alternative to the busier city hub of Hua Hin and just a 3.5 hour ride from Bangkok, but the local watersports scene has seriously been taking off in its own right- and kiteboarding sits right at the top of our list of adventurous things to do in Pranburi.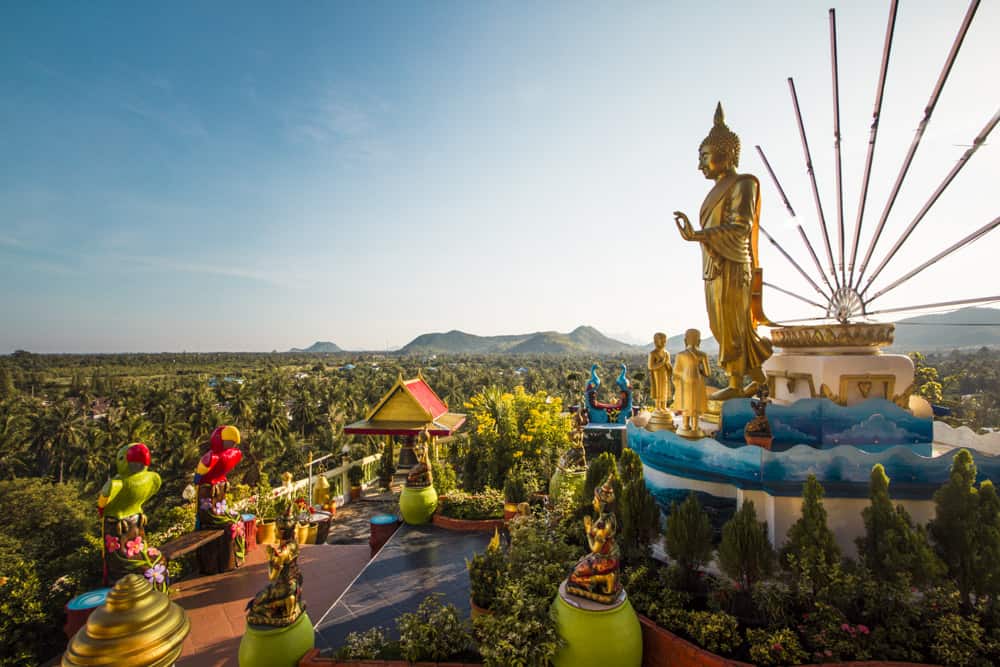 You're probably wondering what all the fuss is about, right?
Well, it's pretty simple:
Pranburi is quiet. Peaceful. Authentic. Cheap. The surroundings are all big pineapple fields, Buddhist temples, the verdant Pranburi mangrove forest, and breezy seaside. And the only thing better than the local food is the genuine warmth and awesomeness of the community.
For those of you who value an authentic, peaceful place to call home (for a while), there's little about this place that's not to love.
As for the Pranburi kitesurfing scene, specifically:
It's small but steadily growing in popularity thanks to media coverage from international events like the 2018 Youth Olympic kiteboarding qualifiers and annual racing/freestyle competitions from the Kiteboard Tour Asia.
But there's change on the horizon:
The Thai government are busy doubling the train lines from here to Bangkok and building a speed ferry terminal that connects to Pattaya; so life in Pranburi is set to get a whole lot busier over the coming years.
This is the time to go, peeps! While it's still little and lovely.
So knuckle down:
This blog is going to give you a rundown of exactly what you need to know about kitesurfing in Pranburi, including the best kite spots, when the season is, what to expect from the local conditions, and why you should think about making it a part of your own adventure in Thailand.
We'll also give you our personal recommendations for local schools and where to take lessons, if you're a beginner.
Need to gear up before your trip? Check out some of our product reviews:
Let's get down to it:
When is the Pranburi kitesurfing season?
Pranburi experiences two windy seasons, which occur almost back to back.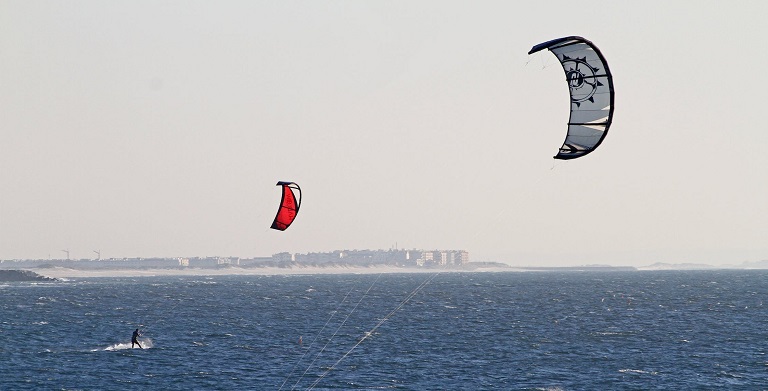 The first season, which is the northeast monsoon, begins in November and runs until the middle of January. During these months, the conditions are influenced by storms happening around the Philippines; wind gets funnelled down into the Gulf of Thailand, arriving for a number of days at a time and then disappearing again when the weather front clears. You can usually expect to kite 50-60% of days during these months.
Then there's the thermal season, which starts sometime around the beginning of February and runs until the end of May. During these months, wind is much more consistent, with kiteable conditions on about 70% of days.
It's occasionally possible to kitesurf during the summer months, but summer wind is sporadic at best- so not really to be relied upon. If you're keen to try to catch it, though, Pranburi Dam is the place to be (more on that in the next section).
Pssst: the season in Pranburi is the same as Hua Hin — in case you didn't catch it earlier, they're only 30 minutes apart! Check out our full guide to kitesurfing in Hua Hin to find out about Pranburi's neighbouring spot.
Complete list of the Pranburi kitesurfing spots
Khao Kalok
The name Khao Kalok (khao being the Thai word for mountain) actually refers to the small-but-steep peak that sits on the very end of the main strip of beach in Pak Nam Pran, a seaside village nestled away in the heart of Pranburi district.
The jungle-topped mountain forms a mini-cape which separates the main beach from the fishing village around the corner. It's a pretty picturesque spot, with the cacti and palm covered mountain on the south side and 7 km of shoreline fading off to the north.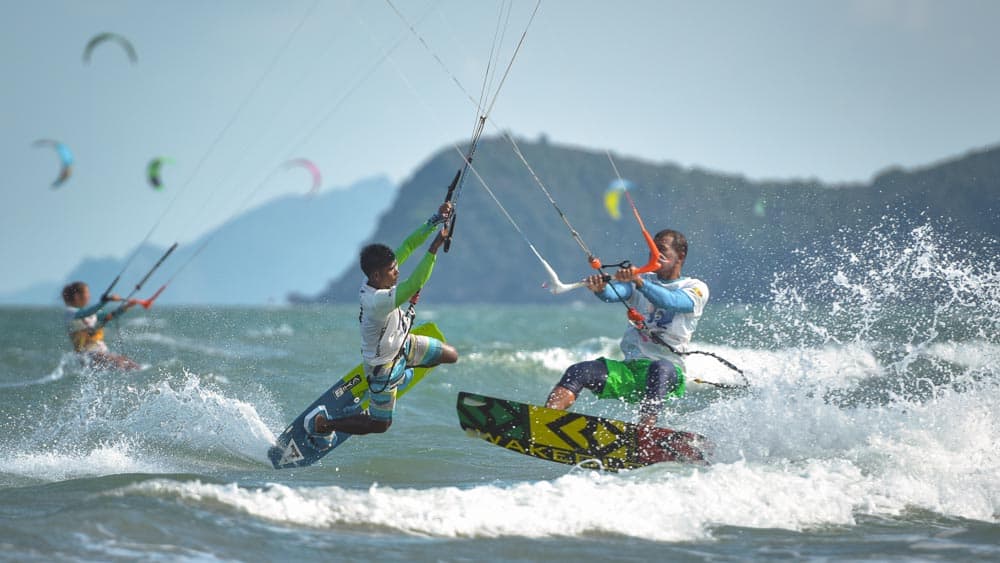 You can kitesurf here during both the northeast monsoon and thermal seasons, since wind blows sideshore/side-on in each season respectively. Typically, the beach is quite spacious, but the size of the sandy area changes significantly depending on the tides and time of year (more on that in a minute).
There are currently 5 kitesurfing schools set up along the beachfront here in Pak Nam Pran, though for the most part they're tucked away on the far side of the road (instructors will simply walk across the road with their students and conducted classes from the beach).
The actual beachfront is lined almost entirely with boutique hotels- so not much in the way of surfer-friendly hangouts.
The best place to head for a frosty beer and post-session chat with other kiters is the Beach House Bar (which is located along the main road). The owner, Karl, also rents custom sidecars (or saleng, in local lingo) if you need some transportation for all of your kit, too.
Dolphin Bay
Just around the corner from Khao Kalok, you'll find the tiny local fishing village which marks the beginning of Dolphin Bay. With dozens of colourful fishing boats bobbing in the water, it's just as picturesque- if not more- than Khao Kalok Beach, and can be a great place to catch some wind during the thermal season.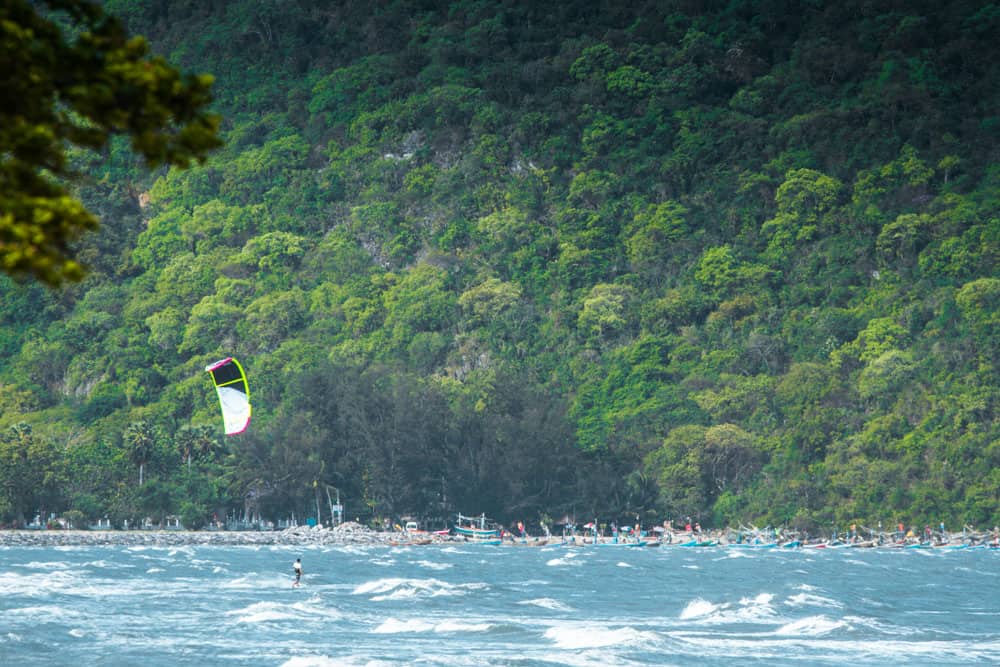 As of now, almost nobody kites here (UPDATE June 2019: this season, there were a handful of regular kiters on this side of the beach! Still only as many as you'd count on one hand, but it is definitely starting to show up on more people's radar).
There aren't any facilities on this side, either. And since it's a working fishing beach, there can sometimes be sharp shells and bones hiding out in the sand (watch out for your feet and kite bladder!).
But:
When the southern thermals kick in, the shallow water near the fishing village can turn into a perfect little playground filled with clean kickers and flat sheets of water in between; loads of fun if you're feeling like freestyling and exploring an offbeat spot.
Squid Beach
Drive right through the village in Pak Nam Pran towards the northern end of town and you'll find yourself at Squid Beach, the most popular place to kite during the monsoon season.
While personally I prefer to kite at Khao Kalok (can't get enough of that mountain view, man), many others prefer to ride at Squid Beach since the orientation of the coast here allows the wind to blow slightly more cross-on/onshore than Khao Kalok.
There's always plenty of space to set up and launch your kite at Squid Beach, even during peak season and at high tide- which can be something of a challenge at Khao Kalok Beach.
Sadly, there are currently no kite schools operating at Squid Beach (there used to be one but operations have shut down since last season, and so far there aren't any plans we've heard of to reopen).
Pranburi Dam
Just 30-odd minutes away from Pak Nam Pran, Pranburi Dam is the place to head for if you're keen to scope out some offseason summer breeze.
The lake serves as the perfect place to harness the winds that occasionally travel up the Thai coast from June-September. These windy periods aren't common, but they do happen- and when they do, they can end up bringing surprisingly strong (and fun!) conditions.
The scenery at Pranburi Dam is nothing short of stunning; the lake is surrounded by big rolling hills and verdant forest.
Now, as pretty as that sounds, the hills do have an effect on the wind, making it quite gusty by the time it reaches the water.
Forewarned, forearmed!
To reach the launch spot, you'll need to scoot down a small dirt track on the eastern side of the lake- not the easiest thing to do with a load of kite gear to weigh you down. There aren't any club facilities up at the Dam either, so you'll need to come fully prepared for your session.
Conditions for kitesurfing in Pranburi
Wind & water
From November-January, the monsoon wind comes from the northeast, resulting in 15-28 knots side-on orientation and choppy waters (sometimes with some pretty decent swell further out). The tide is typically high throughout the season due to wind strength and orientation.
At this time of year, the Pranburi kitesurfing conditions are ideally suited to old-school and surfboard kiters.
From February-June the thermal afternoon wind blows from the south, resulting in 10-20 knots of perfect side-shore orientation that will progressively shape flat water lagoons all along the beach, thanks to 2 high and low tides a day.
The rest of the year sees a few sporadic periods of wind due to the Asian rainy season, but by virtue of its coastal position far from the mountains, rain is not as prevalent in Pranburi as it is in the rest of the country.
Depending on the season and direction of the wind, you can set off on some sweet 'n' easy downwinders along the coast towards Hua Hin (north) or Sam Roi Yot (south).
Although wind in Thailand is not as omnipresent as it is in Sri Lanka or Brazil, in season you can still expect about 60% of days with more than 12 knots, which is usually enough to enjoy a bunch of good quality sessions if you stay longer than a month.
Check out the Pranburi forecast on windguru.
Beach
Khao Kalok Beach, and the adjoining Squid Beach, is 7 km long and sandy.
It's spacious enough during the thermal season (with more space becoming available the further south you go).
During the monsoon season, the tide is higher than normal for weeks on end, so the size of the sandy area is significantly reduced. During these periods, many people prefer to kitesurf at Squid Beach, where there tends to be a bigger sandy area when the tide is high.
The Pranburi beaches are typically quite clean, but high winds and shifting directions will often wash up rubbish on to the beach. We highly encourage any of you visiting kitesurfers to give Mama Nature a helping hand; bring a bag with you when you have a session, fill it up, and plop it in one of the blue bins on the main road.
Temperature
Thailand's tropical climate means that the water temperature sticks close to 28 degrees Celsius throughout the whole year. During the 'winter' season, temperatures almost never drop below 20 degrees and typically stay nearer to 25 on average. During the hot, humid summer, you can expect highs of 30-34 degrees. You won't need a wetsuit when kitesurfing in Pranburi.
Hazards
There aren't really any serious hazards to be aware of when kitesurfing in Pranburi, apart from the jellyfish. Sometimes they're there, sometimes they aren't. It depends on a number of factors, including the weather patterns, time of year, and strength of the current on any given day.
Some of the jellyfish are quite harmless, but others will give you a nasty sting if you come into contact with them. If you reckon you're going to spend more time in the water than on it, we recommend wearing a long sleeve rash vest and leggings/thin pants to keep yourself protected.
Tips for beginners & local schools we recommend
Though it's possible to learn how to kitesurf in Pranburi at any point during the windy season, it's the thermal season that brings the most suitable conditions for beginners.
During the thermal season, winds are moderate and predictable, and the water conditions are much easier to manage (i.e. the chop is substantially smaller). Not to mention the fact that the sky and water will be that luuuurvely baby blue colour- which, in my eyes, makes the process of learning how to ride that little bit more enjoyable!
Make sure to book a beginner's course with a qualified IKO instructor; it's the only way for you to guarantee the quality and safety of your first steps in the kitesurfing world. Take a look at the beginner's courses offered by the our friends at Yoda Kite School (they'd be my pick if I was a beginner all over again!).
Yoda also offers club facilities, like gear rental and storage, for independent kitesurfers. You can check out their pricing and book yourself a spot in advance here.
If you're looking for accommodation ideas, check out our article about the top 10 hotels in Pranburi.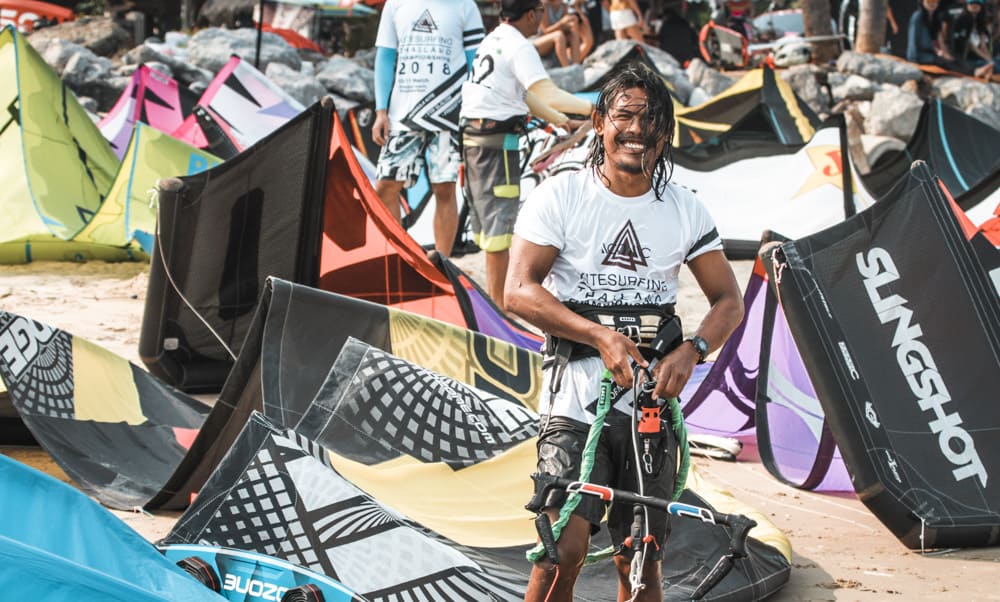 ---
Still need more info about the Pranburi kitesurfing scene? Leave your question in the comments section below, or join our exclusive Facebook group and pitch your question to the Extreme Nomads community!