I sunk deeper and deeper. Water was angry, and I knew that even being Mark Spitz or his first-class rip-off wouldn't save me. But now that I am alive (thanks to the rescue team) let me state some facts clearly.
A life jacket is not a 'save your arse' product, but more of a 'keep you afloat' product and your survival is in selecting the right jacket and wearing it correctly. Look out for adequate fasteners, a perfect fit, and superior functionality.
I mean, I don't mind you wrapping your jacket around your belly or thighs or legs weirdly, as far as you are okay with people watching you drowning yourself and drifting out to sea 'legs up, because you did not put the jacket on properly.
Best Overall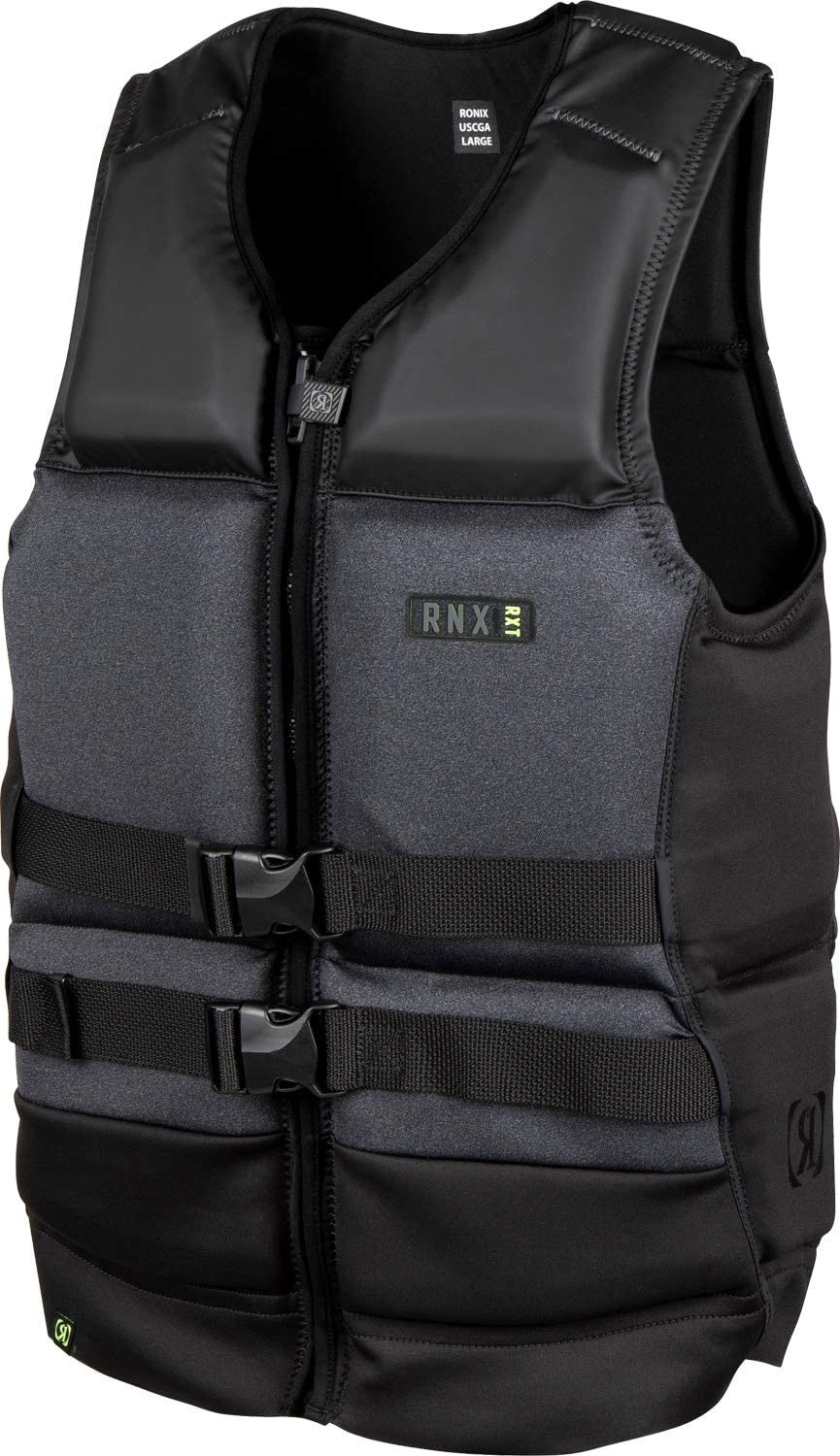 Ronix RXT Capella
SIZE:

 

3X-LARGE
MATERIAL:

 

NEOPRENE
Most Durable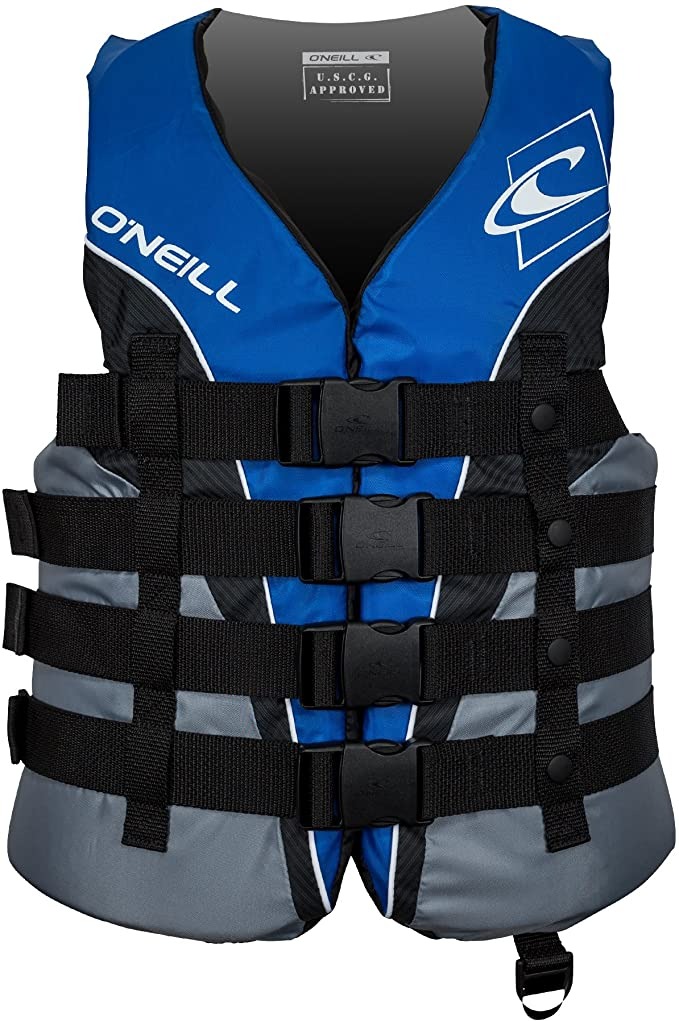 O'Neill Men's Superlite USCG
SIZE:

 

3X-LARGE
MATERIAL:

 

NYLON
Ideal for Kids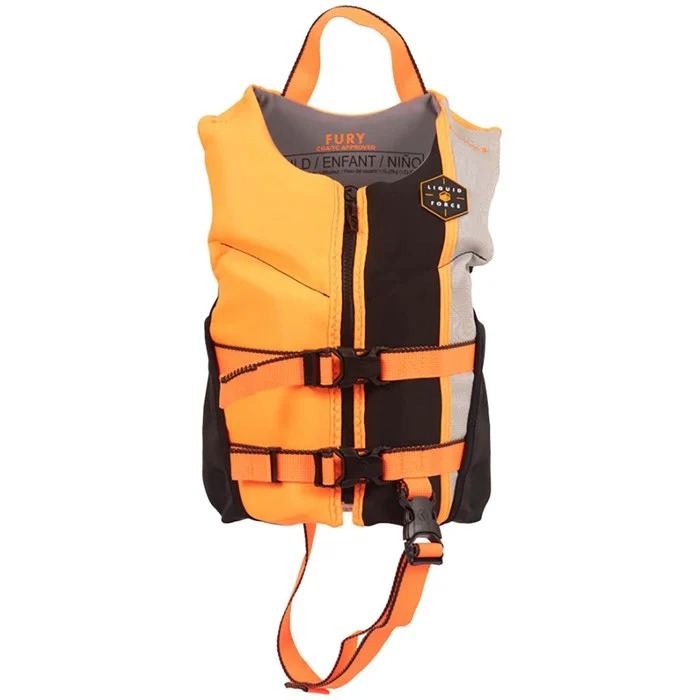 Liquid Force Fury Child CGA Wake Vest
SIZE:

 

XS-SMALL
MATERIAL:

 

SPAN FABRIC
Budget-friendly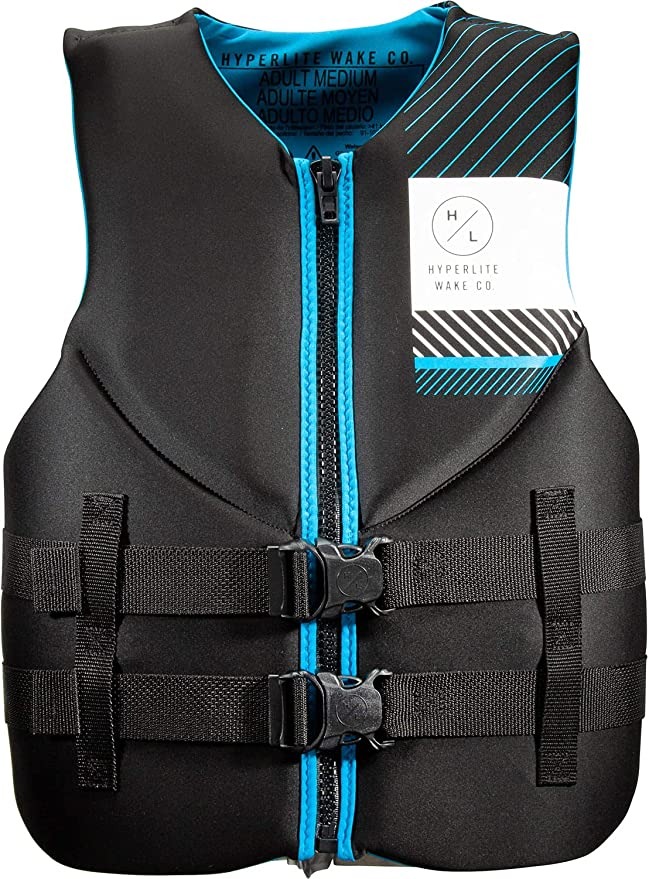 Hyperlite Indy CGA
SIZE:

 

LARGE
MATERIAL:

 

NEOPRENE
Best for Professionals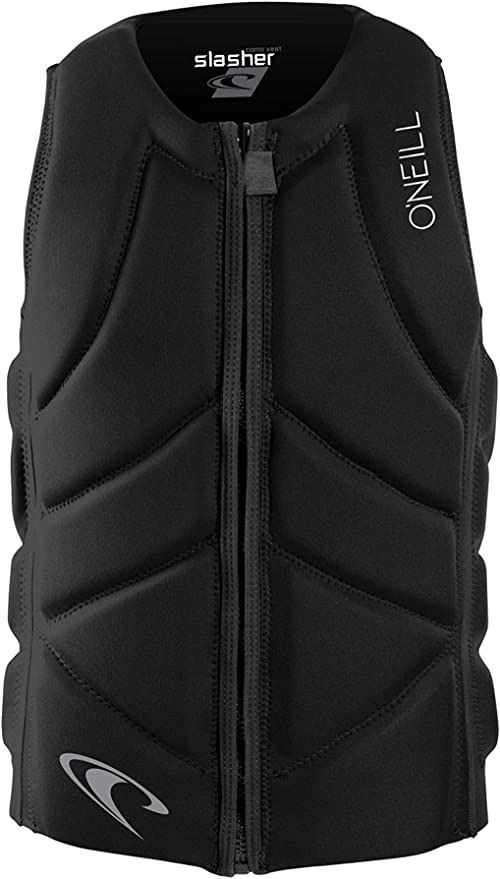 O'Neill Men's Slasher Comp Life Vest
SIZE:

 

X-SMALL
MATERIAL:

 

NYLON
Best Performance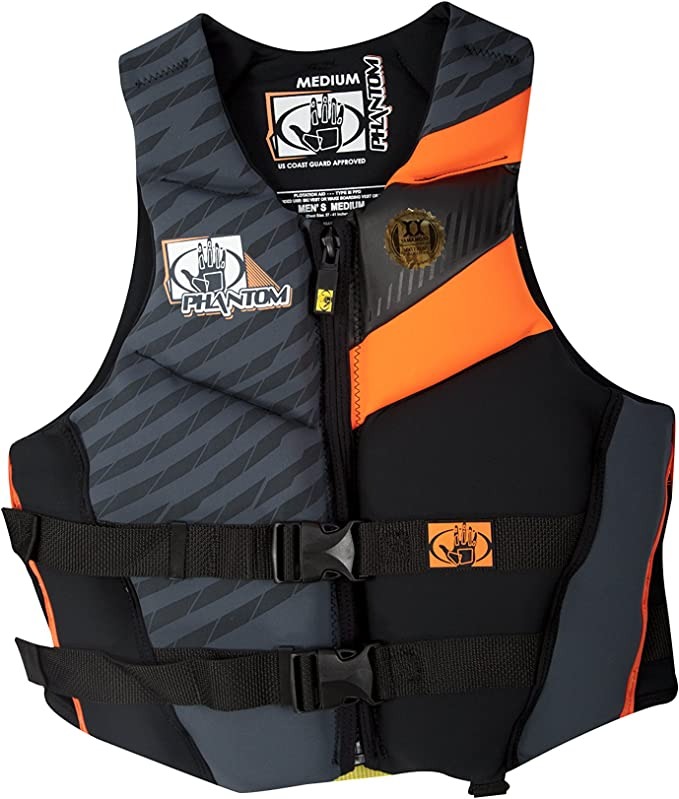 Body Glove Men's Phantom
SIZE:

 

MEDIUM
MATERIAL:

 

NEOPRENE
Most Comfortable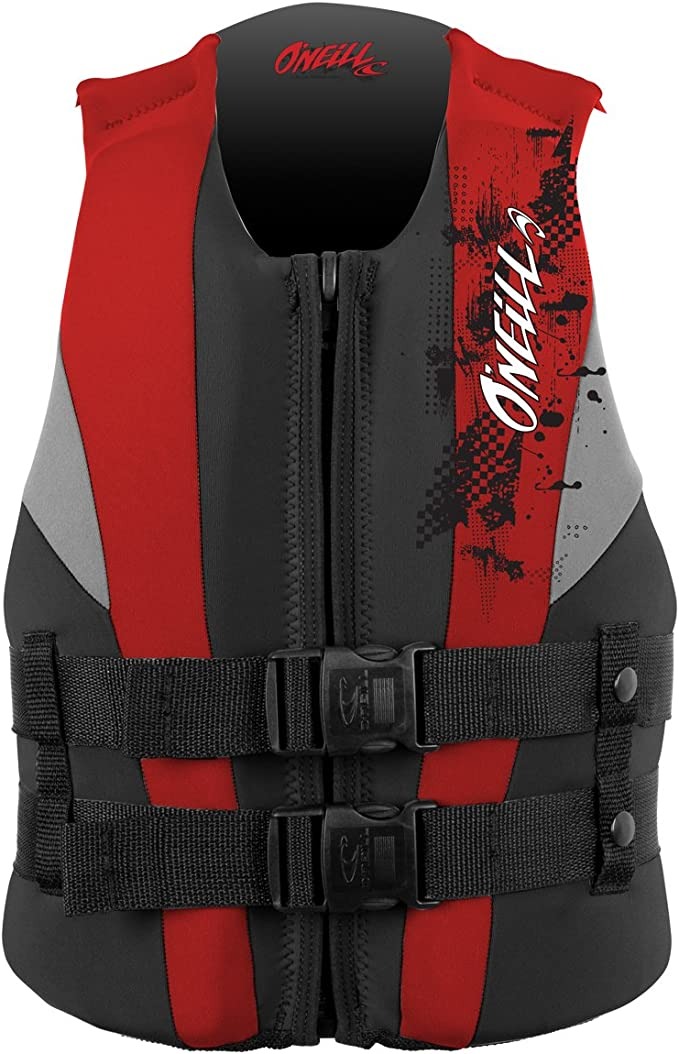 O'Neill Youth Reactor
SIZE:

 

LARGE
MATERIAL:

 

NYLON
A sanctified life jacket will offer you plenty of float, less bulkiness, ease of movement with minimal restriction, and easy openings and closures (when I say easy, it doesn't imply being loose at all). Ahead, read about some of the top breakthrough products to keep yourself from drowning, even if you are Michael Phelps, and decide which one suits you best.
7 Best Wakeboard Life Jackets
We recommend a USCG-approved life jacket that offers self-reliance during water-related activities. All the life jackets in this list are US coast guard approved. Now let's talk about the best life saviors I have broken down for you to let you choose your Heather Cameron.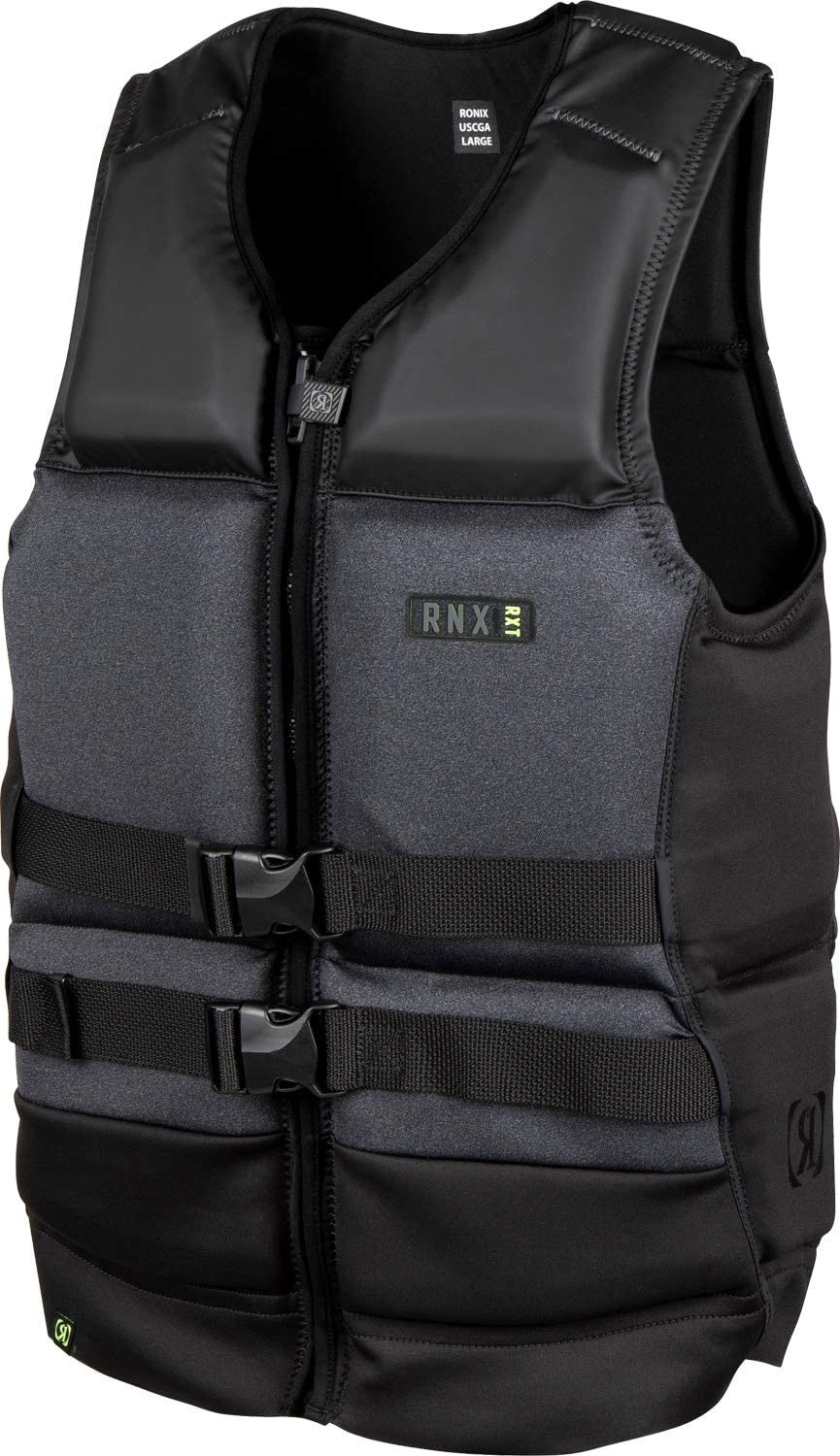 Let's talk about this Gucci piece of water sports that has got the coast guard approval and features a particularly long torso design with an air foam interior, permitting superior floatation. Not just that, it also prevents an injury from an impact you may encounter. Isn't it a life savior?
While refusing to stop there, this highly coveted wakeboard life jacket offers an inner lining manufactured highly water resistant to keep you as dry as possible and repel any water that may try to make its way through the jacket.
Best for jet skiing, wakeboarding, and water skiing, this life jacket offers increased flexibility with its oversized armholes, allowing you to perform stunts and tricks all you want while staying safe.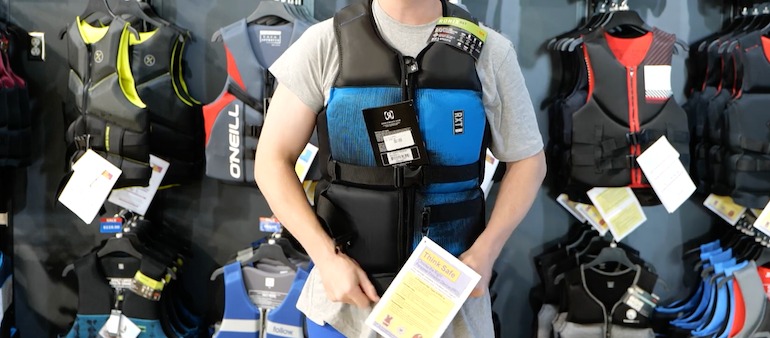 This life vest excels in its performance, being made out of 2-way stretch neoprene material. This jacket holds a Manhattan-tailored fit which in return favors you with a snugly fit, isn't that all we want?
Features
Material: 2-way stretch neoprene
Closure system: zipper closure, two safety buckles
Color: Black, Blue Noise
Size: S, M, XL, 1XL, 2XL
Pros
The groves made in the vest body contour your physique perfectly, and besides a perfect fit, it permits maximum safety.
Cons
The long torso of Ronix RXT Capella might irritate you while sitting, like when you sit down for paddling while kayaking.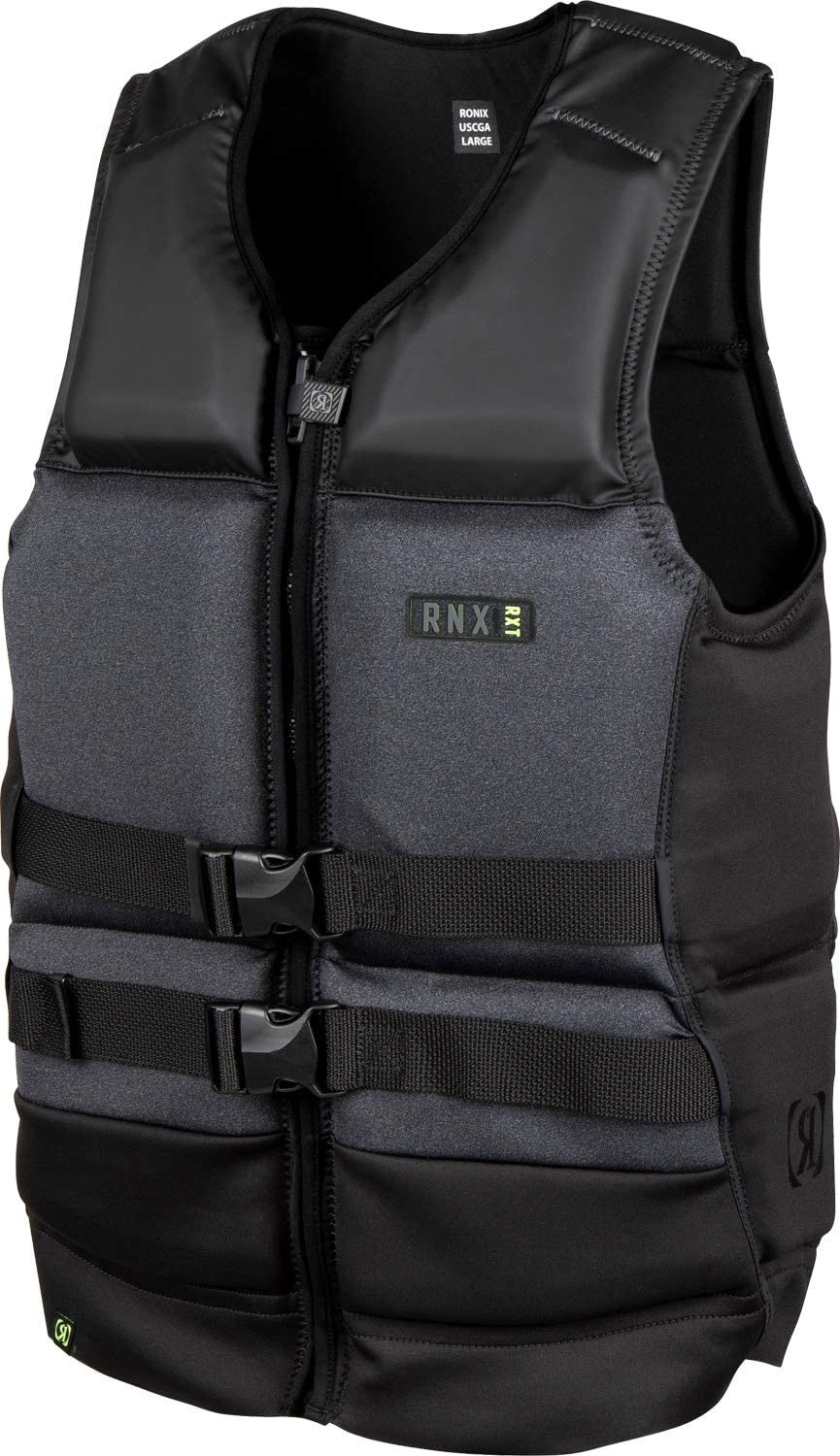 Ronix RXT Capella
The price of "Ronix RXT Capella " varies, so check the latest price at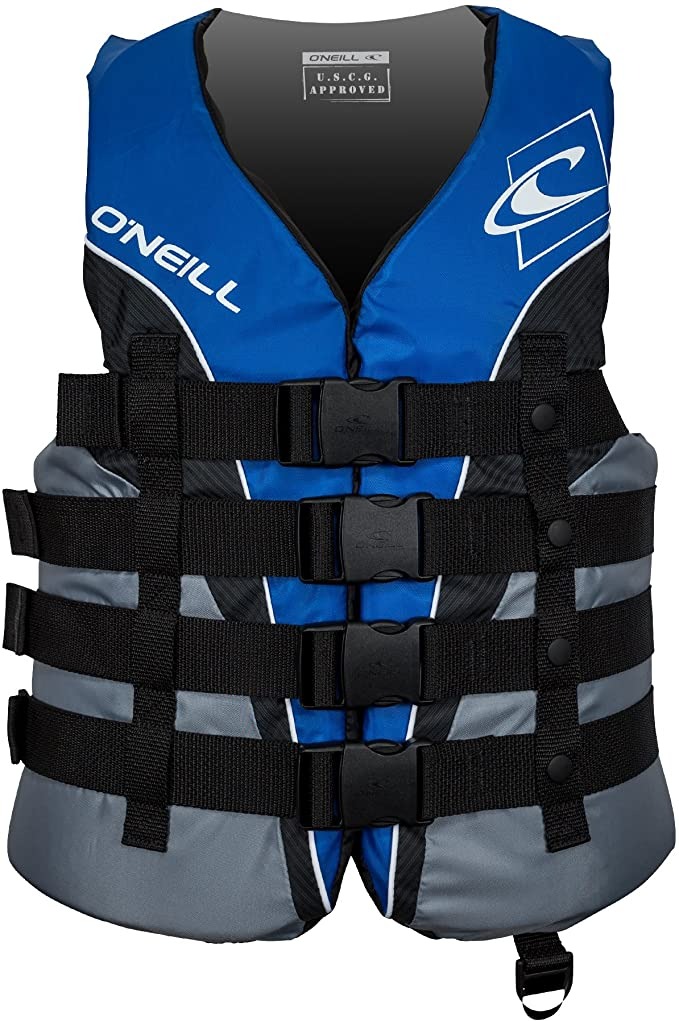 The armor-like O'Neill Superlite vest is one of the most durable, reliable, and functional life jackets out there. It is a coast guard-approved type III PFD recommended for audacious riders who plan to rule the waters.
With its outer shell made of nylon, the vest has been made out of a polyethylene foam core to offer terrific lifting capacity. Still, the jacket stays lightweight and doesn't hinder your way to great surfing, waterskiing, or wakeboarding experiences. Also, the oversized armholes provide much ease to add to your non-restrictive experience.
Its closure system involves four heavy-duty webbing belts to permit a fearless ride. And the good news is, it comes in a variety of different sizes, from small to extra-large, so you better not worry about a fitting size you were planning to go on a hunt for.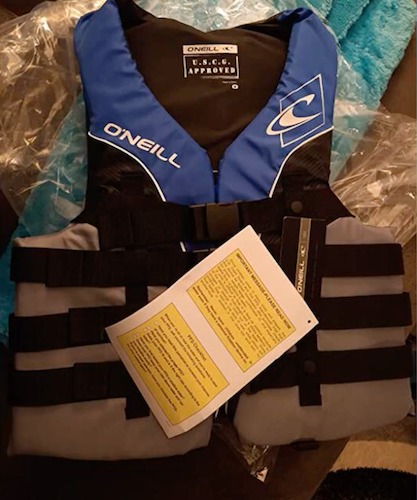 Okay, I know hunting is about the journey and not the outcome, but here it is the other way around, and common sense is also a superpower. Ever wondered?
Features
Material: Nylon
Closure System: 4 1.5 wide webbing belts with Delrin buckles
Color: Black/Black, Black/Red, Black/Lime, Black/Smoke, Black/Blue
Size: S, M, L, XL, XXL, 3XL, 4XL
Pros
O'Neill vests dry quickly and save you the effort of drying it every time you plan to take over waters.
Cons
Some customers seem to complain about how it runs a bit small, so always consult the sizing chart and size up before buying it.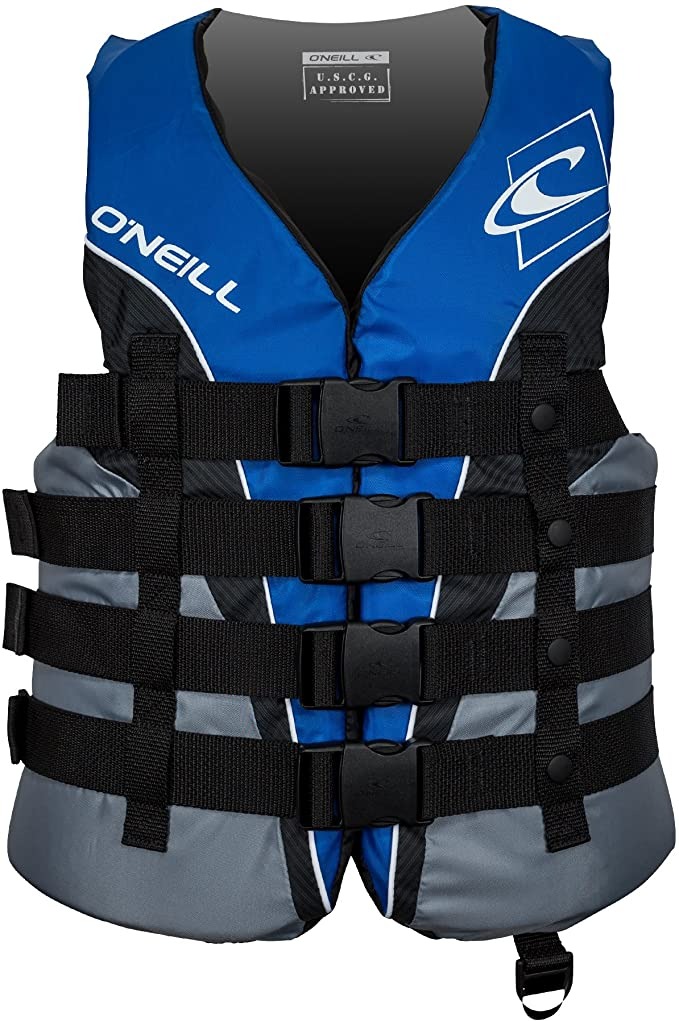 O'Neill Men's Superlite USCG
The price of "O'Neill Men's Superlite USCG" varies, so check the latest price at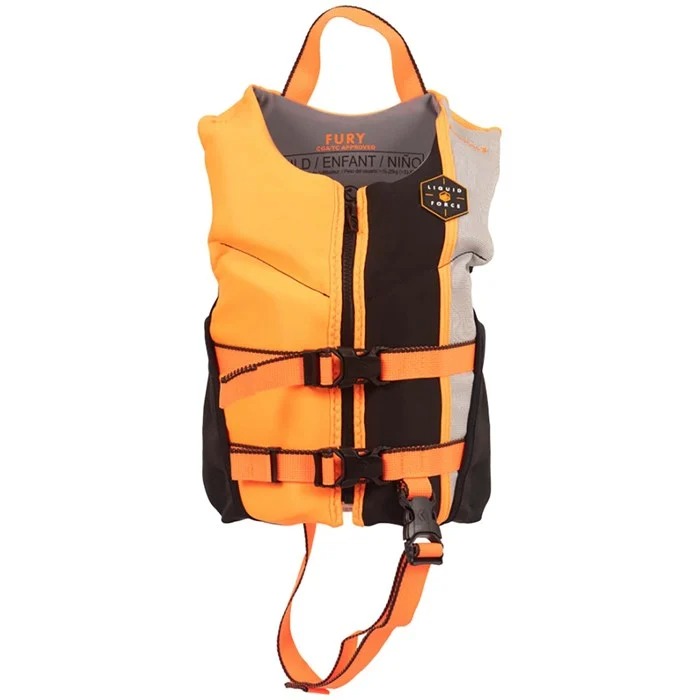 Being ranked among the highly performant and best wakeboarding life jackets for children, the Liquid Force furry wake vest is perfect for kids who won't settle down for less. It encompasses a 3rd buckle and a grab handle that will help you keep your child in the vest by giving you something to hang onto.
Now I know you need to keep a check on kids, and it is very exhausting but putting a kid for sale is also very difficult. So, let's facilitate the mini humans the best we can because a person is a person, no matter how small.
Well, for extra security and smooth fitting, these wakeboard vests feature a 9-panel flex design and a crotch buckle, allowing your kid to stay comfortable yet active. Talking about comfort, you need to know this wakeboard vest has a flex tech stretchable back panel.
Perfectly designed to keep your child afloat, this lightweight life jacket also allows quick drying of the jacket, thus, saving you the trouble.
Features
Material: Lightweight flex-span fabric
Closure System: 3rd buckle and grab handle
Color: Black/Green, Black/Orange, Black/Blue
Size: Toddler: up to 30 lbs, Child: 30-50 lbs, Youth: 50-90, Teen: 90-120 lbs
Pros
The crotch buckle extending from the front to the vest's rear is all you need for additional safety.
Cons
We couldn't find any issue with these very user-friendly life vests.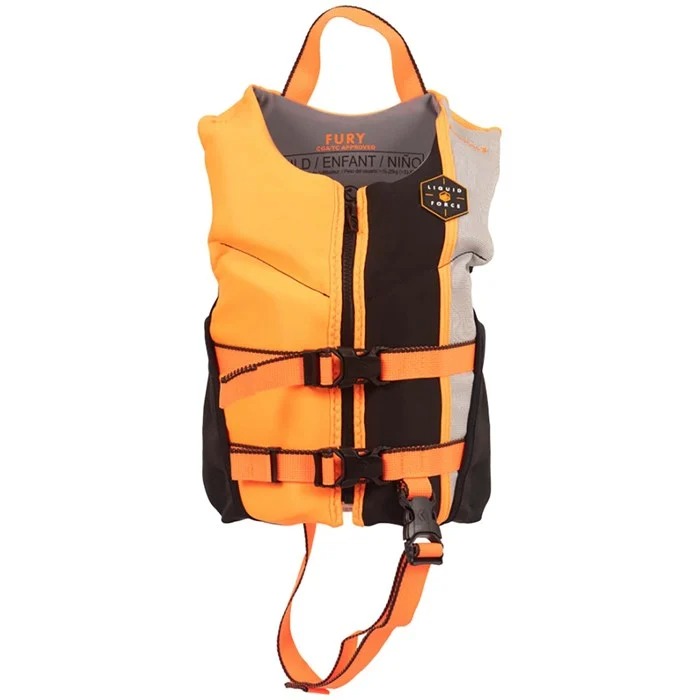 Liquid Force Fury Child CGA Wake Vest
The price of "Liquid Force Fury Child CGA Wake Vest" varies, so check the latest price at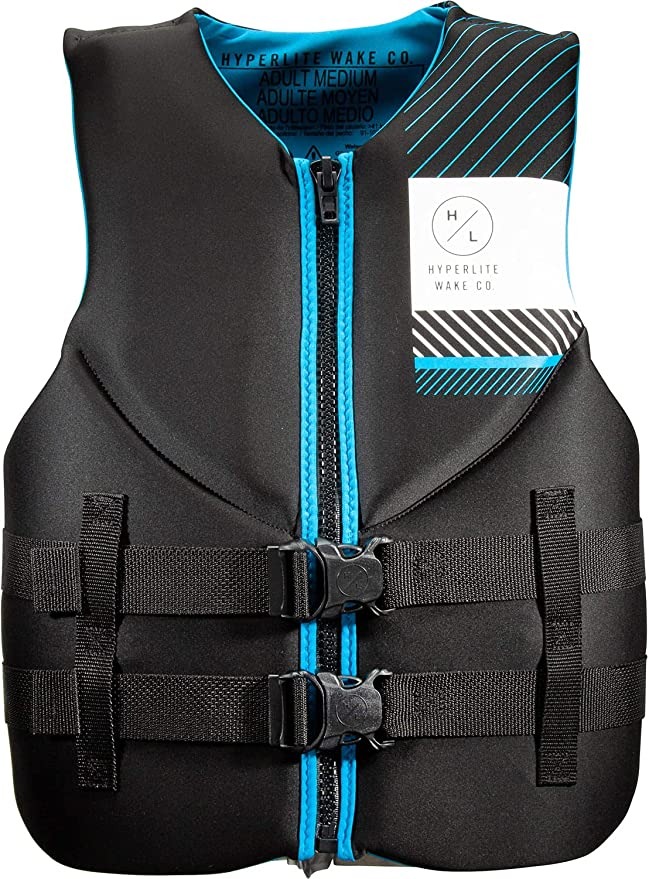 Hyperlite USCG-approved wakeboard life jacket can be worn doing any kind of waterborne activity as it stands as an all-rounder. Made in a comfortable neoprene material, this life jacket fits well when dry and expands when wet.
The best part is that it never gets heavy as it tends to shake off excess weight from water absorption, thanks to its admirable drain ability. So, worry not tough guys, now you can impress people around you as this vest has got your back, if you know what I mean!
The vest is engineered with segmented foam panels and large armholes that allow full-body engagement as it also moves when you do. After all, an intrepid water sports enthusiast can't stand immobility, and so Hyperlite couldn't ignore the paramountcy of better mobility.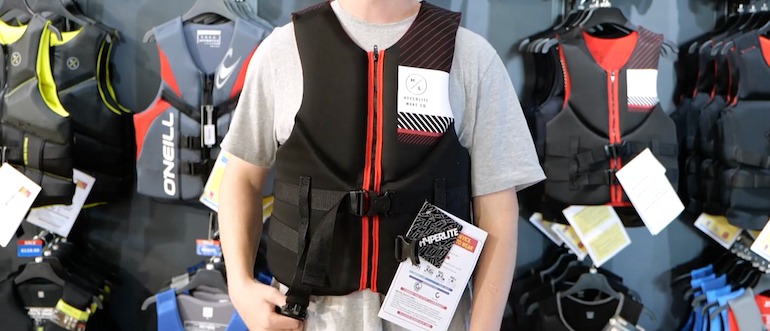 Besides its superior water drain and absorption system plus its provision of adequate motility, this life vest also offers a front zip closure to let it fit you snugly and provide the security you need. It also features the usual belt and buckle system for fastening with two concealed straps in the rear to prevent tangling.
Features
Material: Neoprene
Closure system: 2 belt loops and PVC buckles, front zip closure
Color: Black/Red, Black/Blue, Black/Smoke
Size: S, M, L, XL, 3XL, XX-L
Pros
We love this wakeboarding life jacket for its decent price, considering the superior neoprene quality and functionality.
Cons
Hyperlite Indy CGA comes in black color, and dark shades are not as visible as the brighter ones.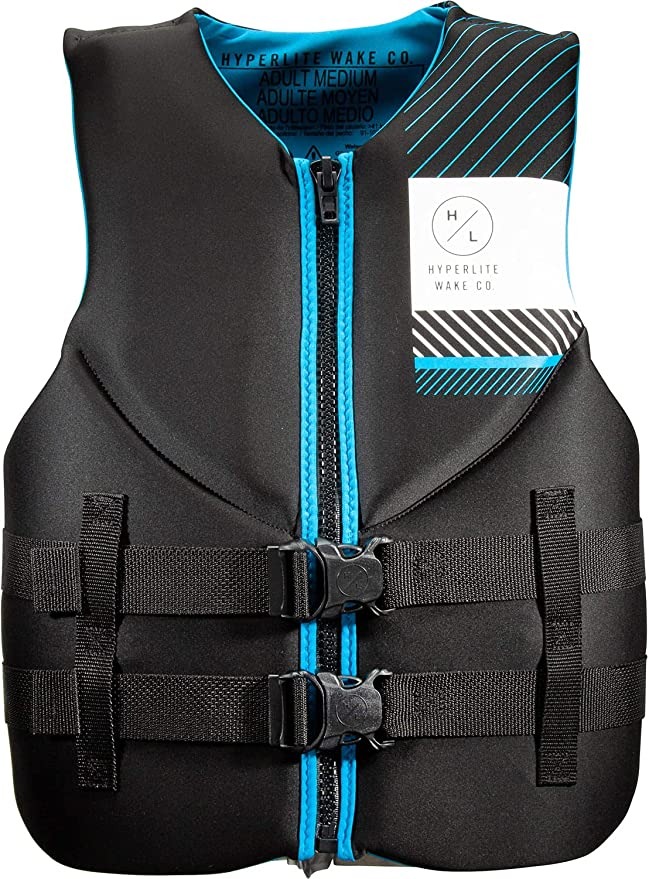 Hyperlite Indy CGA
The price of "Hyperlite Indy CGA " varies, so check the latest price at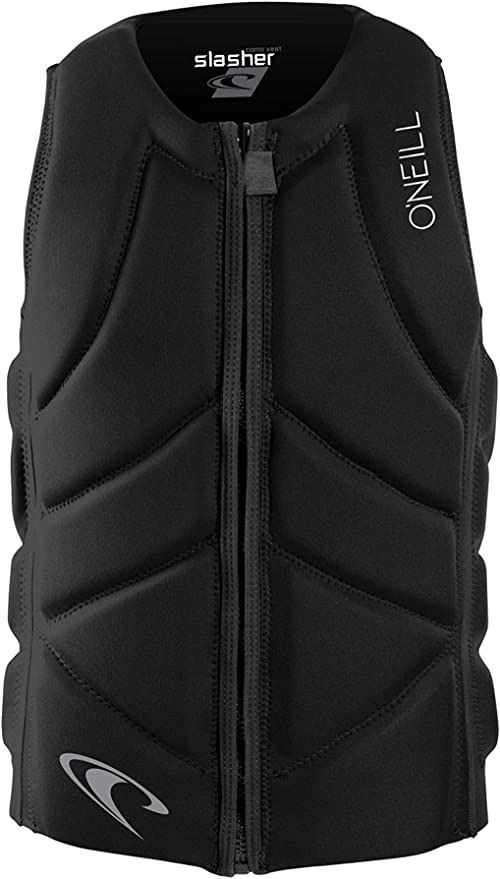 O'Neill men's slasher comp life vest is a perfect pick for a sparkling wakeboarding life as it keeps you from getting gagged by the angry water. These neoprene-made comp vests feature a nytrolite foam that is 10% more buoyant than PVC. This particular quality allows using less foam in the vest while still making it float, as well as, lightweight as any other competitive alternative out in the market.
This reversible jacket has a segmented foam core and strategic armhole fit to allow easy movement. It also features an anatomical flex system to let it snug fit you like a glove. Adorable! And that's the very reason why we consider it a good wakeboard life jacket.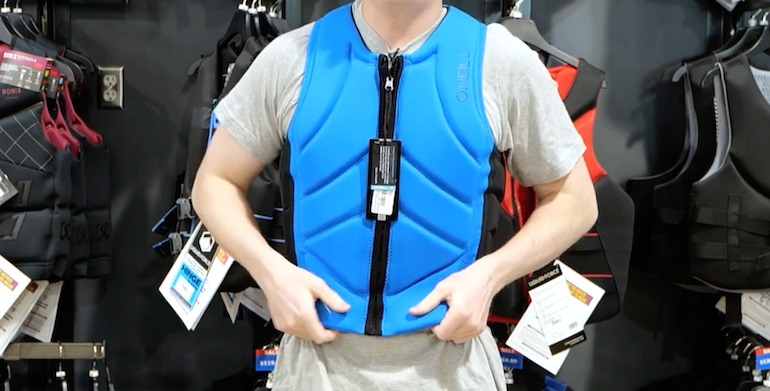 This performance-oriented comp vest features a front zip closure for easy access along with a safety tab. Hence, allowing you to get its services in high-pressure water sports, therefore, proclaiming to be the best women's wakeboard and wake surf life jackets.
Features
Material: Neoprene
Closure system: Zip closure
Color: Black, Blue
Size: S, M, L, XL, 3XL, XX-L
Pros
The availability of an anatomical flex system facilitates the rider to have a worry-free ride.
Cons
Its dark color doesn't make it visible enough.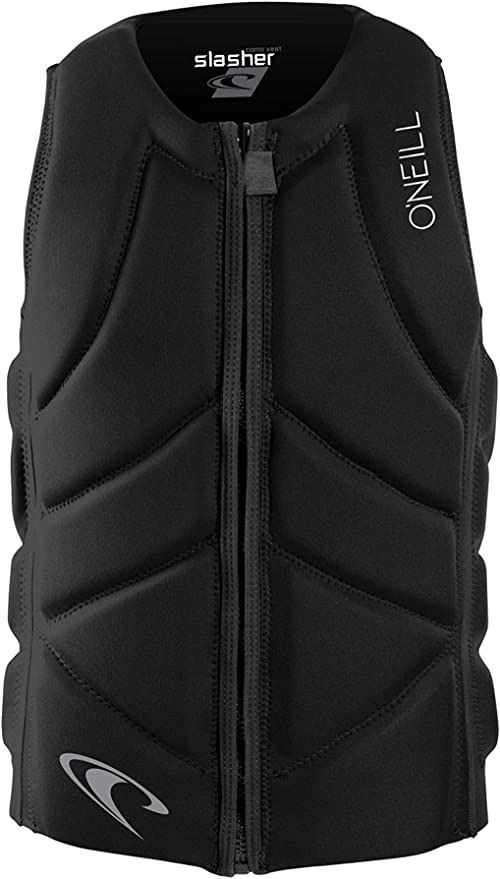 O'Neill Men's Slasher Comp Life Vest
The price of "O'Neill Men's Slasher Comp Life Vest " varies, so check the latest price at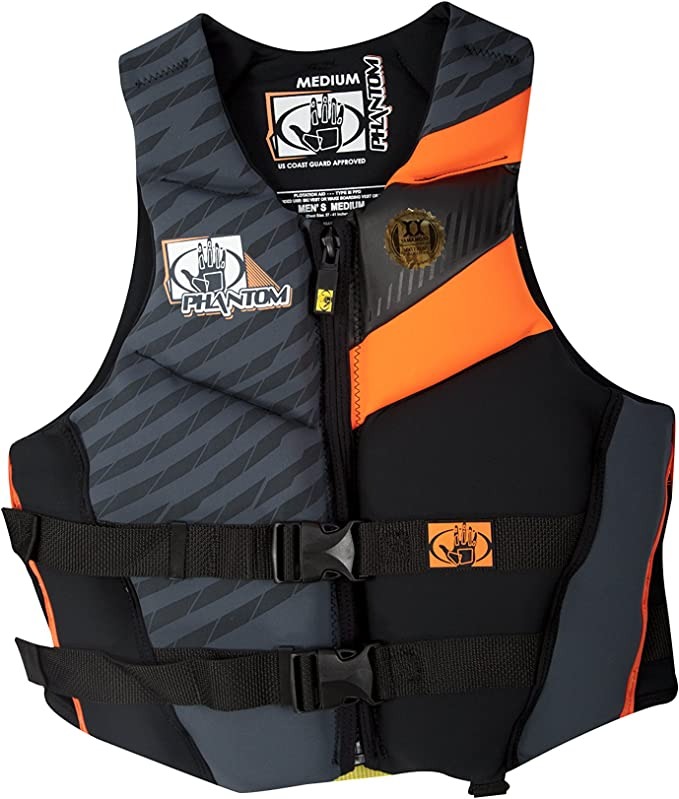 Let me take you straight to its most prominent features – the Lumbar protection pad, ultra-lightweight interior lining, and durable outer shell. The vest has got nothing to prove as its mighty features speak for themselves.
The vest features a very durable neoprene outer shell with super lightweight inner lining and a soft PVC core, all working in your favor. It features drain holes strategically designed to shed off excess water that was absorbed by it while keeping you afloat.
The excess amount of absorbed water could add to its weight and quality, which could put a damper on your activity by slowing you down, well, the vest won't allow it because it offers competitive protection, security, floatation, and functionality.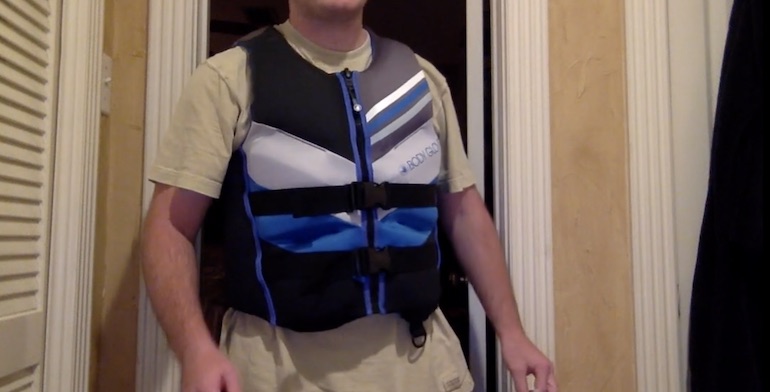 This beast really beats the competition by sharing the same qualities as its alternatives while still standing as one of the cheapest options. So, spend wisely! As nobody wants an out-of-money experience. And spending too much will leave so much month at the end of the money. Am I right? Yes, always.
Features
Material: Neoprene
Closure System: 2 belts and buckles, front zipper opening
Color: Orange/Black, Lime/Black
Size: S, M, L
Pros
The lumbar protection pad infused into this jacket works as a bulwark against the common damages that you may encounter. It provides much-needed ease and more comfort with its lightweight construction.
Cons
We couldn't find a size chart for this particular vest, although, small, medium and large categories are available.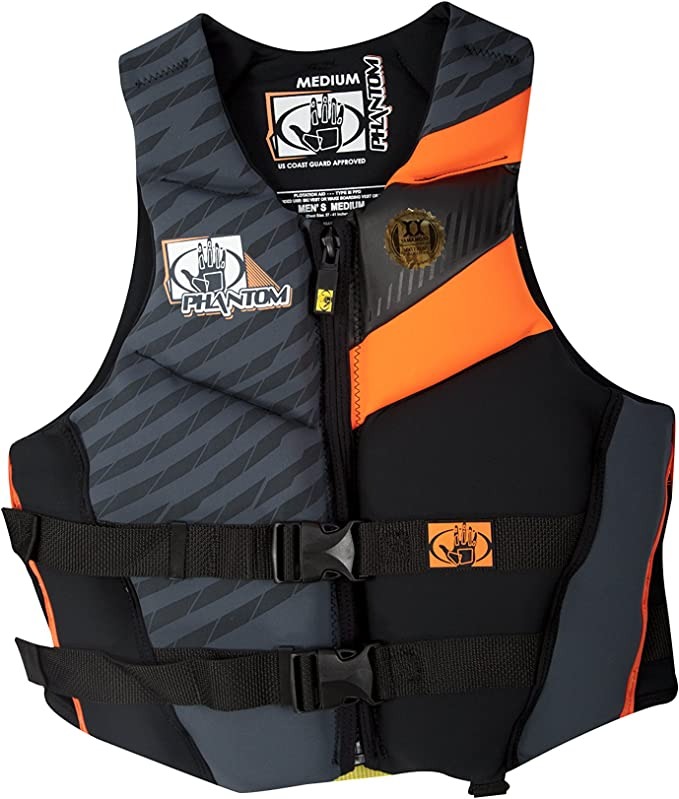 Body Glove Men's Phantom
The price of "Body Glove Men's Phantom" varies, so check the latest price at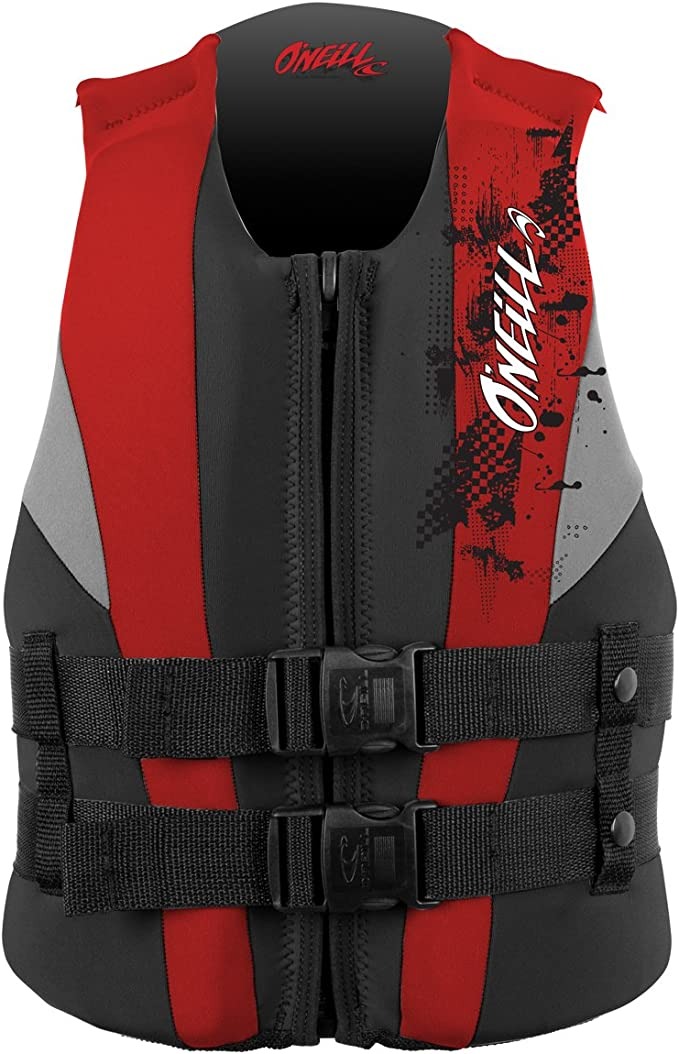 Designed specifically for children weighing about 50 to 90 pounds, the O'Neill Youth Reactor vest boasts flex points made according to a kid's body. It boasts strategic seam placement for a relaxed fit and to assist the wearer in a tension-free ride.
Its minimal bulk design is suitable for all kinds of water sports like waterskiing, tubing, and swimming, as it permits more room for unrestricted movement and promotes superior mobility. The large armholes and those very functional flex points assist your child in movement without facing any trouble.
The life jacket is made of a nylon shell with PVC foam at its core, making it a durable life vest for the kids. This USCG-approved personal flotation device life jacket features a heavy-duty front with a zipper, and quick-release safety buckles that do not let your kid slide out. Hence, making it a one-impact vest for your naughty kid. Buy it for your kid and wait for your 'mom/dad of the year' award.
Features
Material: Nylon
Closure system: zipper closure, two quick-release buckles
Color: Black/Pacific/Dayglo, Black/Pet/Turquoise, Black/Red/Flint
Size: 50-90 lbs, One size
Pros
Its nylon and polyester shell renders it durable against your children's carelessness.
Cons
The PVC foam can get bulky and heavy when subjected to water, making it a bit heavier for kids to carry.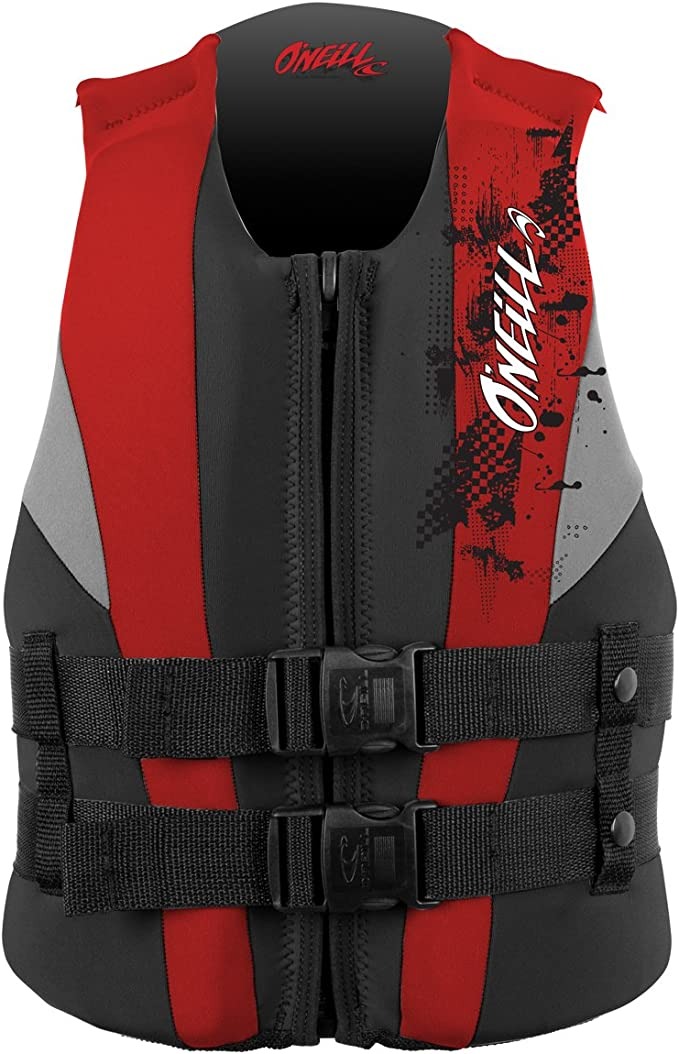 O'Neill Youth Reactor
The price of "O'Neill Youth Reactor" varies, so check the latest price at
Things to Consider When Choosing Best Wakeboard Life Jacket
Size
The appropriate-sized life vest to a rider is like soufflés to the tea party. The life jackets are form-fitting, so there's no such case here as one-size-fits-all. Before buying the right vest for you, you need to inquire if the jacket's tailored for kids, gents, or ladies. After that, refer to the sizing chart to identify it with your size. If you are listed between the mentioned sizes, remember, it's always best to size up instead of sizing down.
Also, remember that every brand has its own size chart. For instance, you may find that medium size is perfect for you at one specific brand, but to your surprise, a medium-sized jacket may not fit you well at another brand. So always consult the size guide.
Style
You must feel at home with your selected life jacket. With safety as your goal in mind, decide for yourself if you prefer zippers or two buckles or more buckles. Although it does not affect the vest's performance, the rider still deserves a worry-free ride as it's a matter of personal choice.
Also, decide if you want an open-sided jacket or a closed-side seam jacket. Open vests tend to allow more room for movement, but they are less effective in terms of support. On the contrary, the latter is more supportive, and it also allows adequate movement.
Material
The material of the vest matters a great deal. It must be durable and feature great sheer strength to stand forces from wipeouts. It should also show great endurance as it stays in the salty water for hours and hours. Moreover, the jacket should provide proper insulation to the wearer, as the wearer has to stay in the cold water for a long. Meanwhile, it should be able to resist or repel the water off the vest to keep the rider from getting wet and cold.
Mostly, vests are made using nylon or neoprene material. Neoprene is warmer and softer than its alternatives. Also, it hugs the wearer's body when dry and expands when it gets wet. Enjoying different types of wakeboard activities like cable parks, and water sports life jackets is very helpful to you.
Nylon, on the other hand, comes a bit cheaper than neoprene. When subjected to water, it becomes heavier than its original weight, hence, reducing motility but stands durable.
Comfort
Being comfortable will motivate you to ride again while being uncomfortable will keep you from doing so. Before buying a life jacket, please look if the vest is padded or not and, if yes if it is bulky or optimally padded. Because its bulkiness can hinder your performance and optimal fluffiness will provide a comfy fit.
Besides padding, find out if the vest is water-repellent, as well as, what's the material of its outer shell, how its inner lining works, and what kind of foam is used in it. To summarize, the outer shell should be water-resistant, it should feature a water-resistant liner that should be insulating, and the foam used should be lightweight with an engineered drain system in it.
Color & Design
The color of the jacket also matters. Brighter colors will make you visible while the dark colors will not come out muchly visible on the water comparatively. So, it is safer to use such vests that are made in brighter colors or feature multiple colors.
The design also has an impact on your comfort level. If the vest is easy to don and doff, it will add to your great experience.
FAQs
What Is A Wakeboarding Life Jacket And Are They Mandatory?
A vest will act as a lifeguard if you accidentally fall from the board or let go of your handle. These are different from other jackets because they are form-fitting and fit snugly to stay on the rider's body at high speeds.
If I Fall, Will The Life Vest Keep Me Afloat?
Life jackets work on the principle of buoyancy and help to keep you afloat if you accidentally fall into the water. These life jackets that keep you afloat are usually approved by the United States Coast Guard. Always make sure before riding that your wakeboard bindings are properly set up or not.
If you are a beginner and not a competitive rider, always go for USCG-approved jackets. But if you are a pro rider involved in any competition, then you can have it the other way around as the competition vests do not have buoyancy, and it will not help you in floatation matters.
Conclusion
As a rider, you have to first recognize your needs and expectations from the life jacket and then decide which one you are going to wear. Do your homework properly on the lifting capacity of all the available best vests in the market and try some on to check comfortability. While doing so, always remember that safety and comfort come first. You should also protect your head by wearing a wakeboard helmet.
I know you wanted to scream money first, safety second because safety is in numbers, but you need not get emotional. You may have come into this world by accident, but do not compromise your safety and do not let any accident take you out of it.
My last advice – Let the jacket be your safe haven, not your damnation, and let it not drag you to the depths of the deep dark ocean.
As they say, better safe than sorry, right?