Last season, my moderately expensive goggles finally kicked the bucket. The foam was barely hanging on, the lenses were completely scratched, and they were perpetually covered in droplets and fog.
Reluctantly, I headed back to the lodge and browsed the various goggles for sale. And almost inevitably, I veered towards the least expensive options.
Sure – I needed new goggles. But did I really need to spend hundreds of dollars? Probably not! After all, I just wanted to get back out on the snow as soon as possible. It didn't really matter whether my new goggles had the latest innovations – they just needed to keep the snow out of my eyes.
And you know what?
I felt pretty good about my purchase – even months afterward. I never really felt like I should have purchased a more expensive pair of goggles, and I haven't had any issues with my budget goggles so far.
If you find yourself in the same boat and you're wondering whether it's really worth it to spend hundreds of dollars on a fancy new pair of goggles, take a second to consider this article.
Best Overall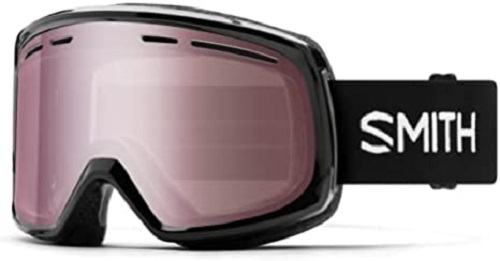 Smith Range
Lens Color: Ignitor Mirror

FRAME MATERIAL: Silicone


Stylish & Functional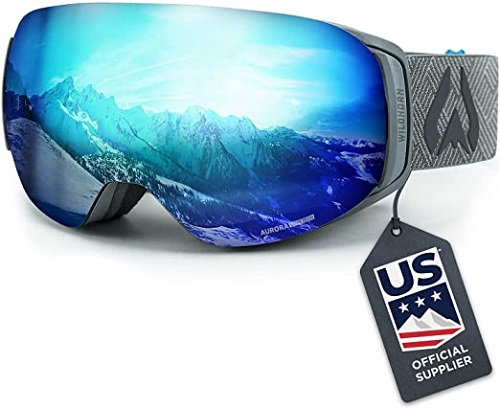 Wildhorn Roca
Lens Color: Ice Blue

FRAME MATERIAL: Thermoplastic Polyurethane
Best OTG Option

Giro Roam
Lens Color: Amber ​+ Yellow

FRAME MATERIAL: plush microfleece facing

Plenty of Features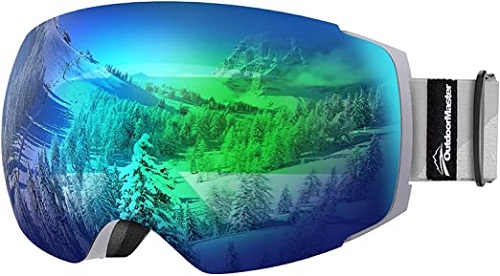 OutdoorMaster Ski Goggles Pro
Lens Color: Greyframe Revogreenlens

FRAME MATERIAL: TPU


Premium Choice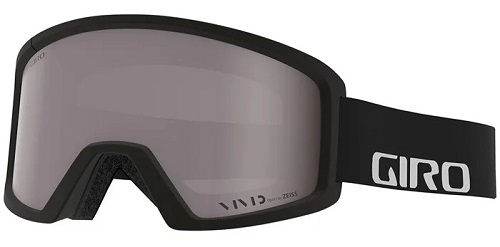 Giro Blok
Lens Color: Vivid Onyx

FRAME MATERIAL: non-absorbent 

All- rounder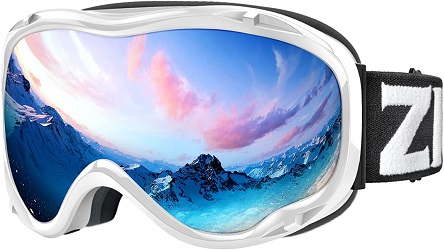 ZIONOR Lagopus
Lens Color: White Frame Silver Lens

FRAME MATERIAL: Bendable Thermoplastic

Great Value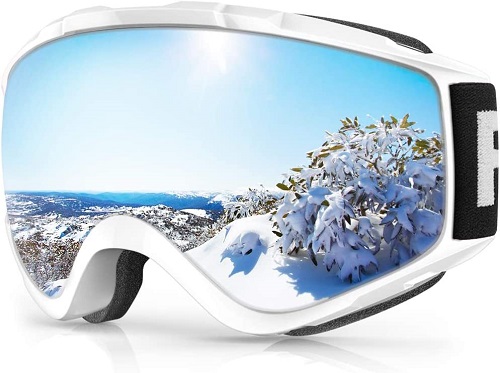 Findway Ski Goggles
Lens Color: A5 Ski Goggles

FRAME MATERIAL: Thermoplastic Polyurethane


Real Steal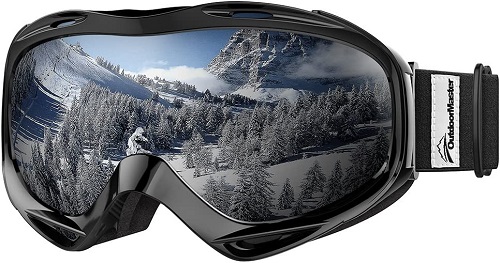 OutdoorMaster OTG
Lens Color: Black Frame VLT 10%

FRAME MATERIAL: Bendable TPU

Best Budget Ski Goggles: Top Picks
With so many options for the best budget ski goggles, you don't need to spend an arm and a leg. Sure, they might not look as cool as some of the more expensive options – but you're above that nonsense.
You're about minimalism, functionality, and above all else, affordability.
Here are my personal top picks for the best budget ski goggles: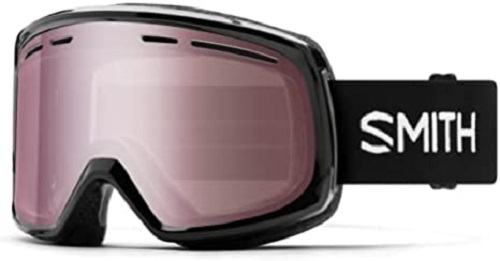 Smith's budget offering is the Range model, a surprisingly cool-looking pair of ski goggles with some solid features to boot.
If I saw someone wearing these, I probably wouldn't guess they were budget ski goggles. They have that ultra-wide, high-quality look that I typically associate with expensive ski goggles.
Okay, so while these lenses aren't the most advanced in the world, they do come in an ultra-wide shape. Although I saw a tiny bit of glare from time to time, I didn't feel much restriction in my peripheral sight.
Let's be honest:
The main function of a pair of goggles is to keep the sun and snow out of your eyes. And you know what? The Smith Range performs this role just fine.
But what about lens fog?
The good news is that these low-priced ski goggles come with Smith Goggles' legendary "Fog-X" features on the inner lens. This hydrophilic chemical treatment coats the inner goggle lens with a micro-etched surface. This means that moisture dissipates before it can even form.
The end result?
You'll rarely have to worry about your lenses fogging up – especially when you consider that these cheap ski goggles come with active ventilation. With plenty of airflow, lens fog becomes a distant memory in virtually any condition imaginable.
But the real star of the show here is the price. These are some of the best budget ski goggles, after all.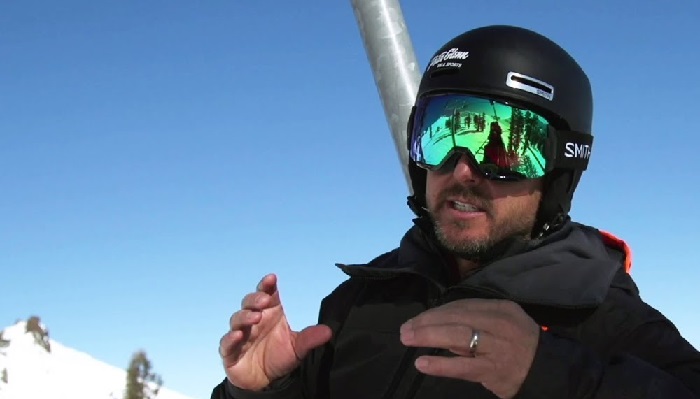 They might not be as flashy as the Smith I O Mag, but they do the job just fine. I managed to get my Smith Range goggles for just under 50 bucks on Cyber Weekend.
That's a real steal, especially when you consider that Smith is one of the most well-respected goggle brands in the world.
Top Features
Great style
Cylindrical carbonic-x lens
Fog-X anti-fog inner lens
Response Fit goggle frame
Ultra-wide
Pros
Eye-catching aesthetics will win you plenty of style points.
Ultra-wide fit boosts your peripheral sight.
Fog-X coating and active ventilation eliminate fog and give you excellent clarity.
Insanely low price for such a well-respected brand, giving you more money to spend on other gear.
Cons
Cylindrical lenses aren't the best (but you get what you pay for).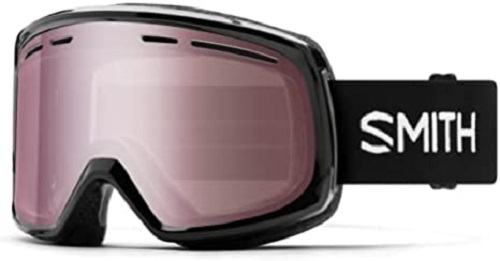 Smith Range
The Price of "Smith Range" varies, so check the latest price at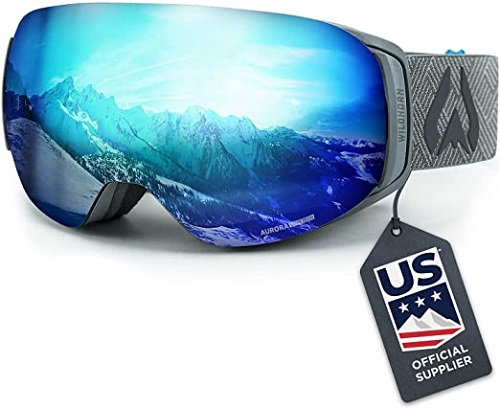 If you're willing to spend just a tiny bit extra, the Wildhorn Roca offers plenty of extra features.
Firstly, you get a pair of goggles that look super advanced with their frameless design and advanced lenses. At first glance, I thought these goggles would cost a few hundred.
But as far as I can see, you can pick them up for about $70.
One thing I really loved about these goggles was the staggering number of color options available. You can choose your favorite combination of both frames and lenses to perfectly match your style.
The "Arctic White/Sapphire" combination really caught my eye, and it exudes that clean, polished look.
But the "Stealth Black Jet" colorway also wins plenty of style points with its dark, menacing vibes.
But enough about style!
What about functionality?
The high-quality lenses are 100% optically correct – which is an upgrade compared to normal lenses.
These lenses are also coated in anti-fog technology and anti-scratch treatments, giving you both durability and functionality.
I was truly blown away by the fact that this inexpensive ski goggle also features a magnetic lens. This is the type of feature you'd associate with a much, much more expensive product.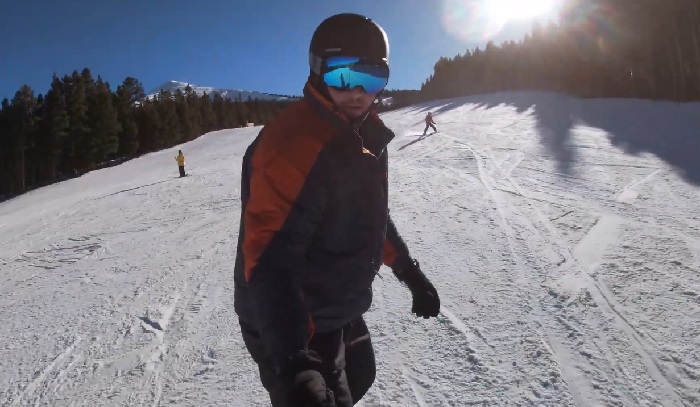 Magnetic technology means you can swap out your lenses in just seconds – perfect for when that blizzard hits or when the sun goes down.
Even if you scuff or break your lenses, you can buy new ones for about 30 bucks. This really helps keep things affordable, and it definitely extends the lifespan of your goggles.
Add a one-year warranty into the mix, and you have a perfect recipe for some of the best cheap ski goggles I've ever seen.
With all that said, some of my friends say that the range of vision can feel a bit limiting at times – which is weird considering how wide the lenses look from the outside.
Just something to keep in mind!
Top Features
Frameless design
Spherical lenses
Anti-scratch
Swap lenses quickly
Pros
So stylish that people will think you're wearing an expensive pair of goggles.
Spherical lenses for a major upgrade compared to normal lenses.
Anti-scratch coating gives you long-lasting durability.
Magnetic lenses allow you to swap lenses in seconds when conditions change.
Cons
Range of vision could be better.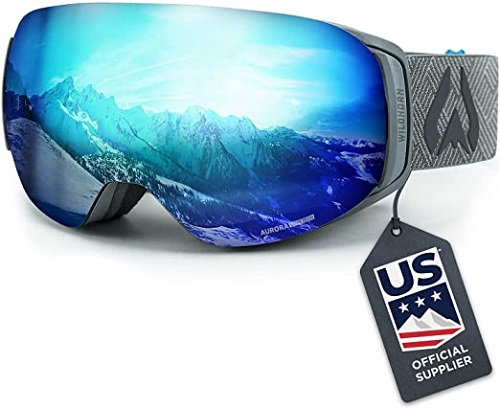 Wildhorn Roca
The Price of "Wildhorn Roca" varies, so check the latest price at

I recently got glasses for the first time after realizing that my long-distance vision had completely deteriorated without me even realizing it.
This means that I'm now in the market for OTG (over-the-glasses) goggles. If you find yourself in the same boat and you're searching for a budget-friendly pair of OTG ski goggles, the Giro Roam is a solid pick.
Although the cylindrical lenses are pretty standard technology, they do come with anti-fog coating plus a bonus low-light lens.
I have to be honest:
These are really starting to look like a winner for me. Not only do I need OTG goggles, but I also love using the cool goggles. This means that the bonus low-light lens is going to get a lot of use.
Remember, a lot of goggles out there (even the expensive ones) don't ship with an extra lens. Some don't even come with a microfiber sleeve to protect your lenses!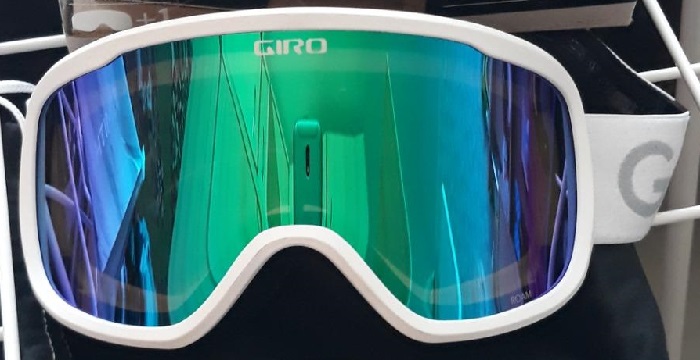 Another feature I really like is the expansion view technology – also known simply as (EXV).
This is a special lens design that expands your peripheral vision by minimizing the frame rim and adding frameless zones.
If that wasn't enough, you also get a pretty varied selection when it comes to colorways.
The "Gray Green Mica" really caught my attention, and the "Red Midnight Podium" option exudes glorious retro styling. That being said, I'd probably veer towards the minimal, understated "Grey Wordmark" colorway myself.
All in all, these are decent goggles with a very affordable price – especially if you're looking for OTG goggles.
Top Features
OTG goggles
Injection-molded cylindrical lenses
Expansion view technology
Double-layer face foam
Anti-fog coating
Pros
OTG design lets you wear your glasses underneath your goggles to improve vision.
Comes with an extra lens low-light snowboarding and cloudy days.
Plenty of stylish color options.
EXV technology vies you excellent peripheral vision.
Cons
They look pretty basic at first glance.

Giro Roam
The Price of "Giro Roam" varies, so check the latest price at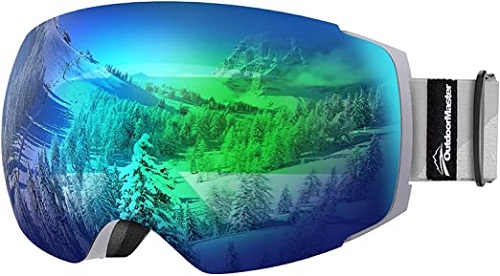 These Outdoor Master Ski Goggles are gorgeous and packed with plenty of exciting features.
The complete pack includes frames, one pair of lenses, a durable box, and a fabric pouch.
These goggles offer magnetic lenses, OTG technology, polarization, UV protection, anti-fog, color optimization, and much more.
But the thing that really stood out to me was the visual appeal of this ski goggle. With their frameless design and sleek "fighter pilot" lenses, these economical ski goggles look pretty darn futuristic.
Like all magnetic lenses, they give you the ability to easily swap lenses out if you're making the transition from a sunny day to a fun-filled dusk on the mountain.
The only caveat here is that you'll need to buy a second pair of lenses separately, as the package only comes with one pair.
That said, the durable goggle box is a major plus – and it's a bonus you almost never see with even the best budget ski goggles.
Another unique feature that I really enjoyed was the color-optimization features on these lenses. This technology boosts contrast and details, helping you see even the most subtle contours and dips in the snow.
This really made a difference with my riding, as I could plan out exactly where to carve. It also helped me spot smaller lips that I would have otherwise missed – allowing me to hit even more jumps as I made my way down the mountain.
And for those super sunny days, UV protection is definitely a plus – helping you see exactly where you're going without being blinded by the sun.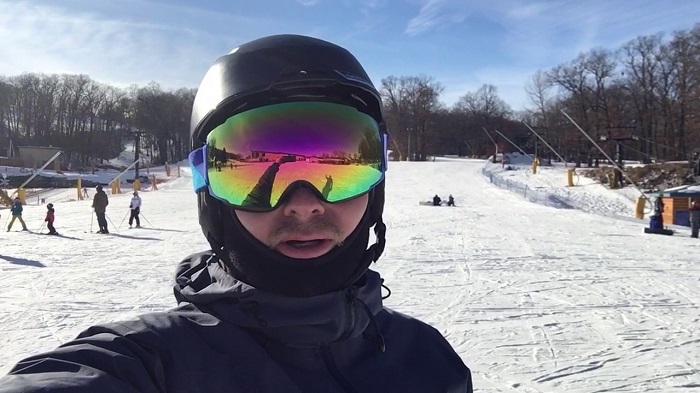 Finally, these cheap ski goggles come in a wide range of different color options, including combinations with both mirrored lenses and clear lenses.
I personally veered towards the option with black frames and clear, amber lenses – partly because they're ideal for dusk skiing, and partly because they just look cool.
All in all, you're looking at a solid pair of good-looking snow goggles with plenty of features under the hood.
Plus, the price is definitely on the affordable side.
Top Features
Worn by pros like Lukas Mullauer and Noah Viktor
Magnetic lens technology
Anti-glare
Polarized
Color-optimized
Anti fog coating
UV400 protection
Supplier of the US ski team
Pros
Futuristic look will turn plenty of heads.
Packed with features that improve visibility.
Comes with a bonus goggle box for long-lasting durability.
Plenty of amazing color combinations.
Cons
I'm not all that confident the magnetic lenses will stay on after a bad fall.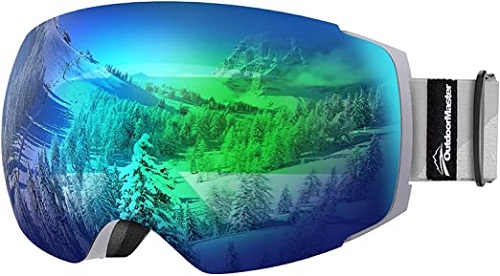 OutdoorMaster Ski Goggles Pro
The Price of "OutdoorMaster Ski Goggles Pro" varies, so check the latest price at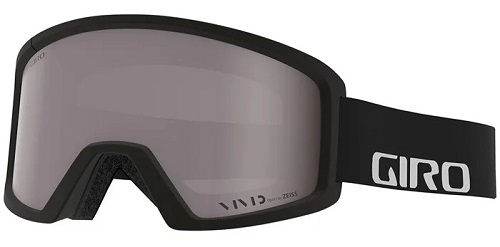 I'm not sure whether I can truly classify this as an "affordable" pair of snow goggles since it'll cost you over $100.
But if you are willing to spend a little extra, you can expect plenty of additional features for great value.
After all, the difference between $60 and $120 isn't really that much when you think about it.
As soon as I put these bad boys on, I immediately noticed the comfort provided by the triple-layer foam padding. The microfleece facing feels really snug and warm, and I didn't experience any discomfort throughout an entire day of riding.
While these lenses are cylindrical and fairly standard, they do feature a slightly upgraded version compared to the Roam model. These quality lenses are made by Zeiss with patented "VIVID" lens technology.
These lenses are specifically designed to enhance contrast and definition, allowing you to see all those little details you were missing as white snow blurs past at full speed.
As an added bonus, these VIVID lenses filter out UV light, protecting your eyes.
Along with the standard anti-fog coated lenses you get with the Roam model, the Blok adds an EVAK vent feature. This basically keeps moisture out while releasing any moisture that manages to get in.
I personally never had any fogging issues with these lenses.
In the style department, these goggles actually embrace that blocky, retro look instead of trying to look futuristic.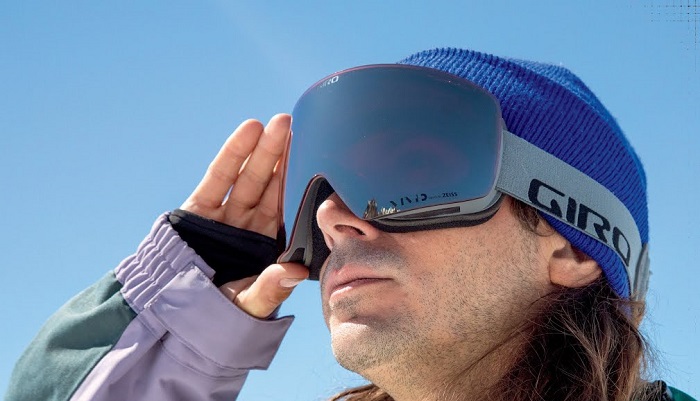 The result is an "80s retro," synth-wave look that is definitely trending right now.
I also loved how many color options you get with these snow goggles – not just with the lens color but also with the frame and even the strap.
Finally, all Giro snow goggles are pretty stylish
For example, the "Fountain Mountain" colorway features a super psychedelic strap, while "Liquid Light" and "Cloud Dust" options give you a super unique tie-dye look.
Top Features
Zeiss lenses
Triple-layer foam with microfleece facing
Evak vent
OTG friendly
Pros
Exciting, unique colorways.
EVAK lens technology releases moisture without letting it in – reducing fog.
VIVID lens technology boosts contrast and definition – helping you see more details with quality lenses.
Microfleece foam facing is warm and comfortable.
Cons
Not the cheapest ski goggle by a long shot.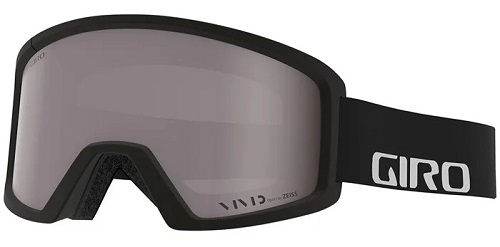 Giro Blok
The Price of "Giro Blok" varies, so check the latest price at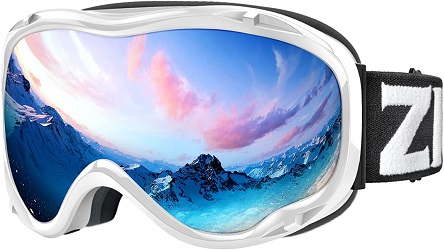 The ZIONOR Lagopus gives you everything you could want, making this one of the best budget ski goggles if you're looking to save money.
Stylish enough to turn heads, the Lagopus is also packed with pretty much every feature you can think of – except maybe magnetic lenses.
Smart ventilation and anti-fog coating combine to reduce and eliminate fogging, while UV protection keeps your vision free from glare. The end result is a ski goggle with solid peripheral vision and great contrast.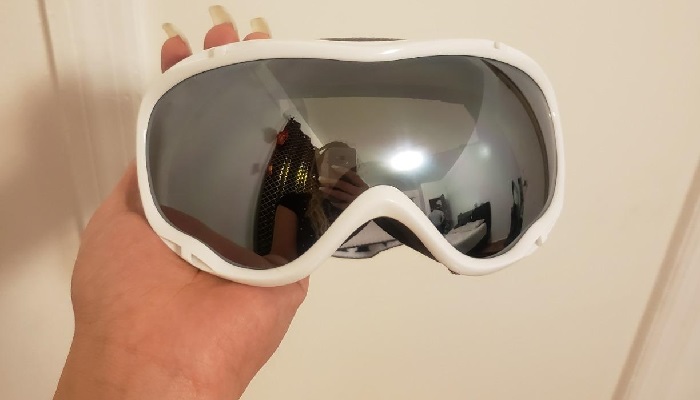 With just a fraction of the price of expensive goggles, the Lagopus keeps you riding through even the most challenging weather conditions.
OTG design is a major plus, and its helmet-compatibility lets you hit the park without problem.
Honestly, I can't see much wrong with these goggles – except for the fact that the style maybe isn't on par with some of the other options on this list.
Then again, style is completely subjective.
Top Features
Anti-scratch
Ventilated
Anti-fog
UV protection
Helmet compatible
Triple-layer padding
OTG
Pros
Plenty of style options.
Smart ventilation and anti-fog treatment reliably eliminate fog.
OTG design lets you wear glasses underneath your goggles.
Compatible with most ski helmets, letting you hit the park.
Cons
Not my favorite option style-wise.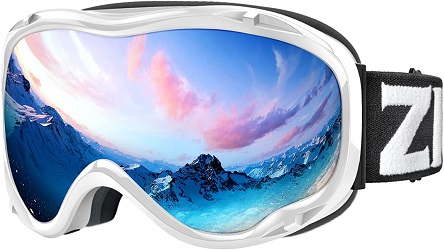 ZIONOR Lagopus
The Price of "ZIONOR Lagopus" varies, so check the latest price at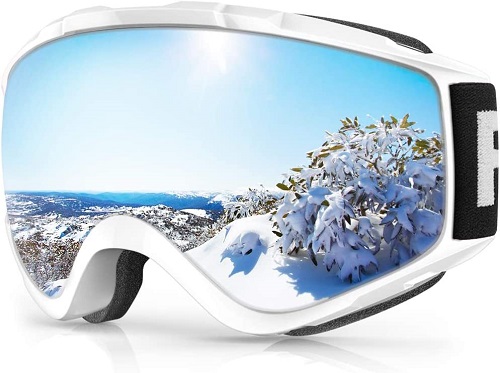 If you're on a mission to save some serious dough, you really can't go wrong with the Findway Ski Goggles.
Right now, I'm seeing prices on Amazon for about 16 bucks a pair.
That's insane!
Especially when you consider the solid features this ski goggle brings to the table – including anti-fog, anti-scratch lenses, and a solid ventilation system that keeps moisture at bay.
Obviously, you're not going to get crazy features like magnetic lenses or triple-layer foam with these goggles. There's just no way that would be viable with such a low price tag.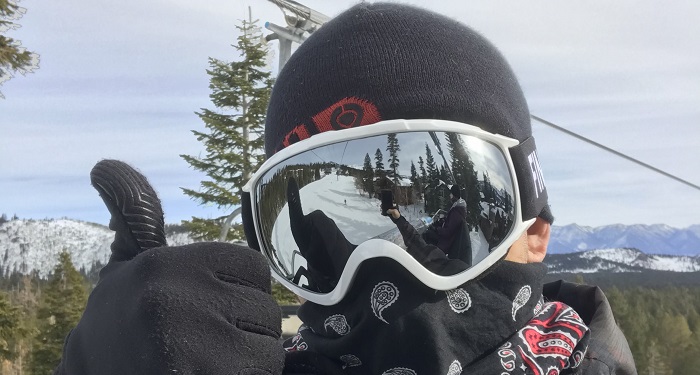 But if you're looking for a pair of goggles that get the job done in the most affordable way possible, why not give these a try?
The one-year guarantee makes these babies even more appealing, as they'll last you a whole season at the very least. Even if you buy a pair of expensive goggles that last 4 or 5 seasons, the Findway budget ski goggles still offer great value when you do the math.
Plus, they're no slouch when it comes to style. I found the Black Frame/Smokey Lens colorway especially eye-catching.
Top Features
Super cheap
Airflow reduces fogging
Anti-scratch coating
Super-wide design
OTG and helmet-compatible
1-year guarantee
Pros
Decent style.
Airflow and anti-fog coating reduces fogging.
1-year guarantee for extra purchasing confidence.
Insanely cheap – allowing you to spend more on the rest of your gear.
Cons
Not as feature-rich as some of the other options (but what did you expect for 15 bucks?!).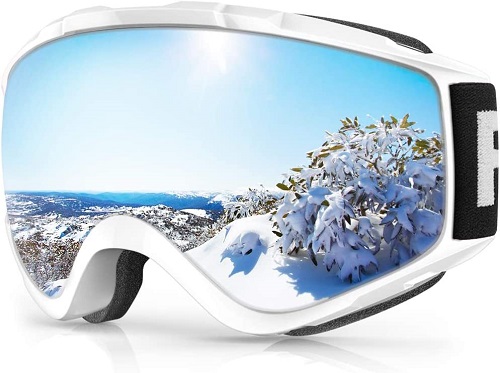 Findway Ski Goggles
The Price of "Findway Ski Goggles" varies, so check the latest price at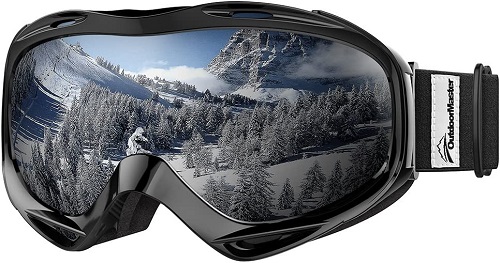 For our last pair of budget-friendly goggles, let's return to OutdoorMaster ski goggles for an even cheaper option than their "PRO" model.
The OutDoorMaster OTG Ski Goggles come in at just 30 bucks (I looked on Cyber Monday), making this goggle a real steal in so many ways.
For that paltry fee, you get a pair of solid, durable snowboard goggles with enough features to give skiers at least a couple of seasons.
I was especially impressed by the addition of double-layer lenses, as this seemed like something that I'd see on much more expensive models.
The wall-to-wall design also gives you plenty of peripheral vision – even if you're wearing prescription glasses underneath your goggles.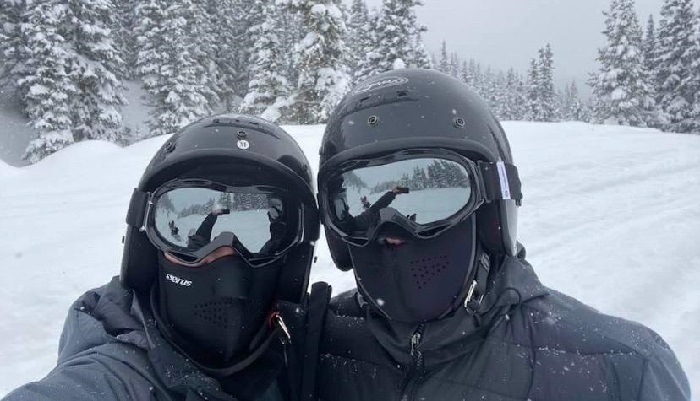 Let's be honest:
These are the kind of goggles you wear if you know you're about to hit the park. When you're wearing these 30-dollar goggles, you won't need to worry about losing a massive investment when you bail. It also gives you the confidence to really throw yourself into those lips without much stress.
And hey, they'll probably survive most impacts from skiers anyway due to their durable, bendable TPU frame.
Top Features
OTG compatible
UV400 protection
Double-layer lens
Wall-to-wall vision
Used by pro athletes
Pros
Double-layered lenses for anti-fog performance.
Durable, bendable TPU frame can handle plenty of impacts.
Wall-to-wall design gives you plenty of peripheral vision.
Solid price.
Cons
For a little extra, you can get the "PRO" model with advanced toric lenses instead.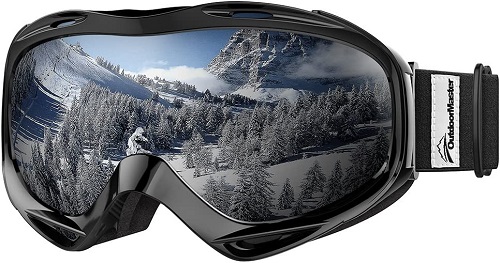 OutdoorMaster OTG
The Price of "OutdoorMaster OTG" varies, so check the latest price at
How to Choose the Best Budget Ski Goggles
But why would you want to grab a pair of budget goggles in the first place? Why not spend a little extra on some super expensive, super high-tech goggles with crazy features like a spherical lens, triple-layer foam, and UV protection?
Perhaps most obviously, you might be on a budget. And there's nothing wrong with that. Lift tickets are more expensive than ever, and it makes sense to save money whenever possible. Goggles might be important, but you don't really need to spend a fortune on them to have fun.
Feeling unsure about which goggles to grab? Here's what to look for:
Good Ventilation
Ventilation helps eliminate fog, and it's a feature you should definitely look for in the best budget ski goggles. The anti-fog coating is great, but the best goggles combine that with good ventilation.
Good Fit and Comfort
Fit is super important for skiers, whether you're shopping for new ski boots, a snowboard jacket, or a pair of economical ski goggles.
Ideally, you should try on your goggles with your best snow ski helmet, your toque, and any other headwear you're planning to take to the mountain. The ideal ski goggles have multiple layers of foam padding to boost comfort. 
Suitable VLT
The best Visible Light Transmission really depends on your weather conditions. Low VLT is best for sunny conditions.
Anti-Fog Features
Anti-fog coating is definitely a must if you're planning on spending more than a few hours on the mountain.
Spherical Lens
If you can, I would really recommend a spherical lens over a cylindrical lens. This lens shape provides better overall vision.
Interchangeable Lenses
It's a bit of a luxury – but it's definitely convenient for skiers to change lenses on the go. This allows you to transition from day to twilight skiing seamlessly. Some of the best budget ski goggles on this list even use magnetic lenses to swap as fast as possible. 
Anti-Scratch Lenses
I was surprised to learn that a lot of the best women ski goggles and kids ski goggles have this feature — even when affordable. After a few seasons, the sheer number of scrapes and scuffs can really start to add up – to the point where it's almost impossible to see clearly. An anti-scratch coating really helps address this problem for skiers.
Ski Goggle FAQ's
Are Goggles Necessary For Skiing?
Yes! Goggles are necessary for skiing to protect your eyes from the elements and injury. Skiing exposes your eyes to prolonged periods of cold wind and bright light. Unlike sunglasses, ski goggles seal your eyes from the harsh air, and they come with lenses that block UV light.
You might also want a pair of budget goggles if you hit the park or the halfpipe on a regular basis. If you bail and hit the snow (which you will at some point), your goggles might take a beating.
Do Beginners Need Ski Goggles?
Of course! As stated above, your eyes are subjected to harsh weather conditions during winter sports, and one needs to wear ski goggle both for better protection and good visibility.
What Lens Colors Are Best For Ski Goggles?
Depends on your style – and the light conditions. Lighter colors like amber and yellow are ideal for foggy or low-light conditions, whereas darker lens tint works best in bright light.
Photochromic lenses are ideal for shifting light conditions. A photochromic lens darkens and lightens automatically depending on the light conditions.
If you're planning on spending time riding both day and low light, you probably need an interchangeable lens system. Personally, I like to buy low-light skiing tickets because they're a little cheaper than day passes.
On a Budget? You Can Still Get Some of the Best Ski Goggles Around!
If you're on a budget, you can grab a pair of some of the finest ski goggles for extremely low prices these days.
If you break a pair of budget goggles after bailing in the park, it's not that big of a deal. But if you break a pair of super-expensive goggles that cost hundreds of dollars, you'll probably be extremely disappointed.
Make the smart choice. Grab a pair of budget goggles today.