There's nothing more exhilarating than becoming one with your board and hitting the snow full steam ahead. Now is the time to get an exquisite board to practice your new tricks.
Maybe you've been using a friend's board this whole time, renting one at the ski resort, or perhaps it's just time to upgrade from a beginner board to an intermediate snowboard. Regardless, it's time to get some seriously awesome new gear.
Snowboards have evolved significantly over the years and offer a variety of features. There are so many quality board options available; the only problem you'll have is making the right choice.
Finding the right snowboard is essential, especially if you like to play things a little riskier. There are many things to consider when choosing to buy a new snowboard. Things you want to look for with board features are the type of profile, the shape, the flexibility, the sidecut radius, the length, and the width, just to name a few.
We have some great reviews for the best intermediate snowboards that are appropriate for your level of expertise. Getting a snowboard that fits your current level is the best way to get a better technique.
All the boards in this guide are perfect for intermediate riders. This means that you have some experience on the mountain, but you might not be ready yet to board the most challenging runs.
Best User-Friendly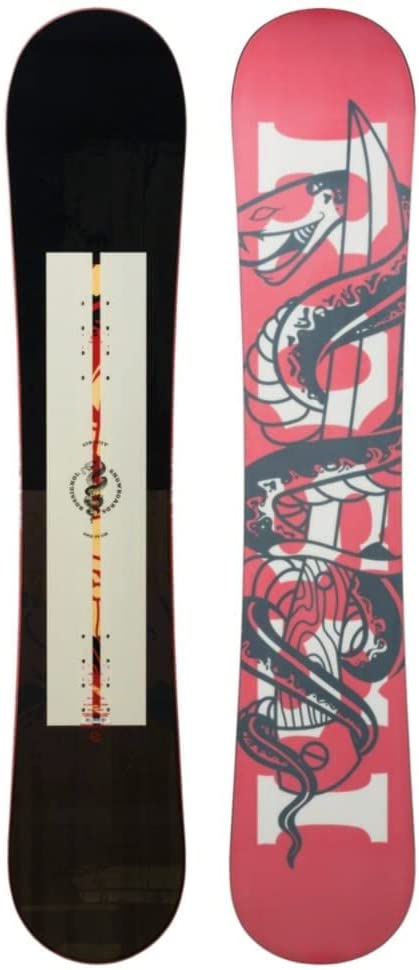 Rossignol Circuit
size:155cm
brand:Rossignol
Best Versatile

Never Summer 2020 Snowtrooper
size:157CM
brand:Never Summer
Best Street Slayer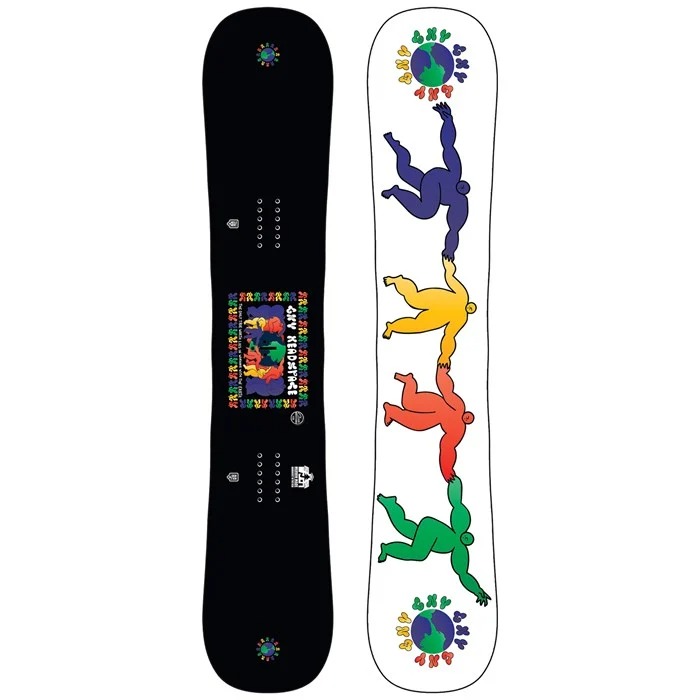 Gnu Forest Bailey Mens Snowboard
Best Aggressive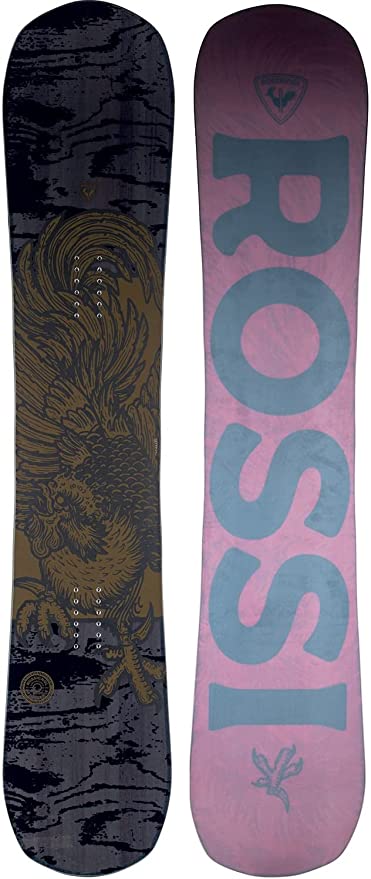 Rossignol Resurgence
size:153CM
brand:Rossignol
Best Playful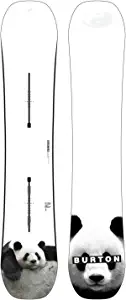 Best Affordable Lux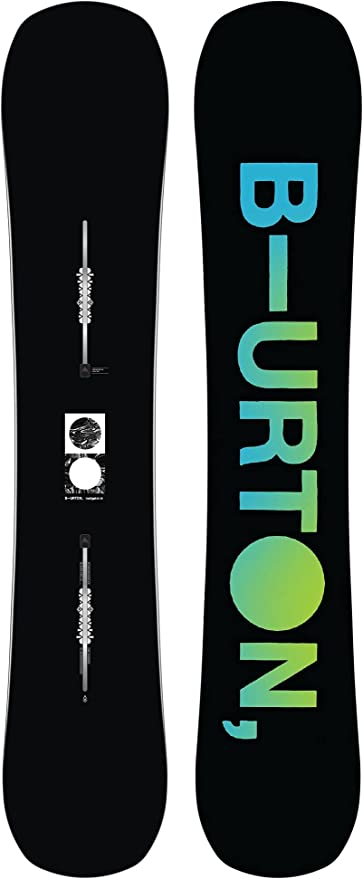 Best Sleek & Simple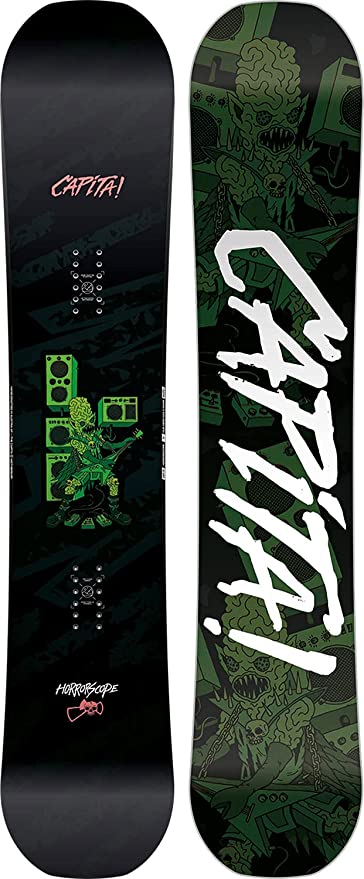 Best Intermediate Snowboards – Top 7 Picks
Intermediate snowboards aren't just for more advanced riders; they work great as stepping stones for beginners who are a little more advanced.
Check out these options for the best intermediate snowboard.
One of the best intermediate boards available is designed for the progressing rider. The new CIRCUIT is comfortable and forgiving for an all-mountain ride. It's the type of snowboard that allows you to focus on learning the motions rather than falling flat on your face.
This directional rocker profile offers the rider a user-friendly ride for any snow conditions, even deep snow. You will experience an effortless float ad no-catch edge control for easy progression so you can get even better on the course.
Key Features
Effortless Float and Mobility – AmpTek Auto-Turn Rocker provides epic maneuverability and an instant, carefree float.
Sustainability – The wood used for the snowboard is 100% from sustainably harvested forests.
Stability and Control – It has a directional all-mountain flex that provides exceptional control on the back foot and high stability for initiating smooth turns.
All-Mountain Forgiveness – You will get an easy ride with the softer flex option, which offers a gentle grip and superior shock absorption for jump and speed.
Pros
One of the greatest pros to this board is that it's beginner friendly. It's not on the expensive side, so you know that you're not breaking the bank with this board, especially if you're still a beginner to intermediate rider.
Cons
Our team members have suggested that, overall, it's not a bad board. It rides like a full-rocker board and is soft and easy to maneuver. It's considered a great board for someone progressing into the lower level of intermediate snowboarding.
A downside to the boards is that they won't do deep, hard, aggressive Euro-carves, and there's nothing in the tail that allows you to push into. Short quick carve or medium mellow carves are adequate.
Overall the verdict for this best all-mountain snowboard seems to be that it's great for beginner and intermediate riding, has good performance, easy turning, and is considered a good budget snowboard.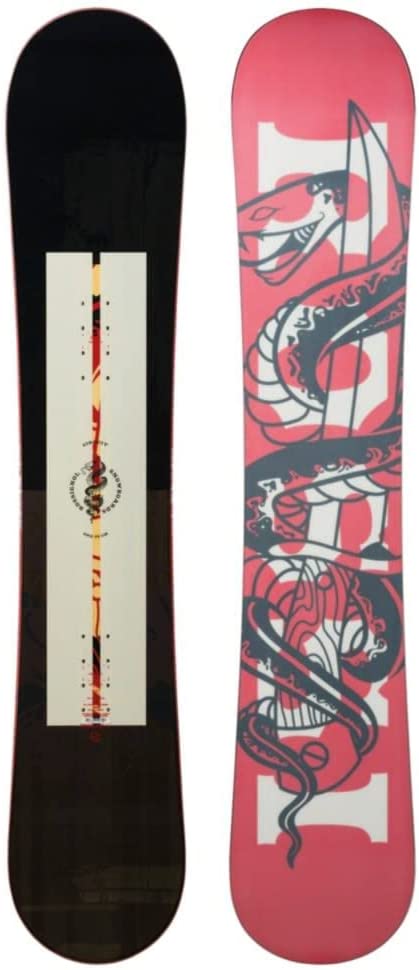 Rossignol Circuit
The price of "Rossignol Circuit " varies, so check the latest price at
The name says it all! The Never Summer board will have you dreaming about winter the moment it comes in the mail. Imagine how useful you find the Swiss Army Knife when camping or hunting. The Men's Snowtrooper is the Swiss Army Knife of the mountain snow slopes.
It features the Original Rocker Camber and will do everything that you need it to do. It's built for everyone, whether beginner to intermediate. It's a versatile board that you must try.
Key Features
Rocker Type – You'll be surfing on the snow slopes with this profile shape. It has a playful feel with superior performance and versatility.
Flex – It holds a Mid flex rating and a Mid dampness rating.
Shape – The Vario Power Grip Sidecut has multiple radiuses with extra contact points to enhance edge hold. The rocker area has a flat section that offers a broad contact point when flexed. It allows the board to track straight and not catch when it's unbent.
Core – It has a super light wood core with a custom blend of wood species created in the lightest weight. It's sanded in the custom woodworking facility to a fraction of a millimeter.
Pros
It has an OG Rocker Camber and is considered a board that "does everything." It has a slight setback stance and has an all-mountain terrain ability. It is fun to ride because it's playful yet capable. It's a great versatile intermediate board if you want an upgrade.
Cons
The board might be too much for you if you are still in the beginner zone. It has a fast nature that makes it fun wherever you go, but it can overwhelm anyone that doesn't have the basic skills down pat.
It's on the expensive side, being almost twice as expensive as other boards. It's still more affordable than high-end boards in the same category.
Overall the verdict seems expensive, but it's also worth every penny if you want an outstanding intermediate mountain riding board.

Never Summer 2020 Snowtrooper
The price of "Never Summer Snowtrooper" varies, so check the latest price at
It's considered the proven street slayer because it rips any freestyle situation you might encounter, whether at the resort or with your crew. Intermediate riders couldn't ask for bigger praise than that.
What makes this board so amazing is the FSC-certified eco core, Magne-Traction edge control, and sintered eco-sublimated base. This is the type of intermediate board that gives you the feeling that anything and everything is possible and might even change your riding style.
Key Features
This mountain snowboard has a cambered creative freestyle that will make you feel like you're streetwise. It's considered a toy that you can rip through the resort. The Asym technology unites your mind, body, and board to really change your riding style.
Here are a few of our favorite points:
Unreal turning asymmetry
Unreal edge hold
Hand-built in the United States
Pros
It has a nice flex and gives intermediate and advanced riders a comfortable ride. The sidewalls are tough and strong. Butters and presses with ease but stable enough for jump landings and steeper terrain and choppy conditions.
Does very well as all-mountain boards. ASYM really helps with switch riding for me.
Cons
The board might not be affordable for everyone, especially if you're not using it all the time. The Magne-traction feature of the board is something that you'll have to learn as many people have found that they have to strictly carve the board as the sides can catch.
Overall this seems to be a pretty epic board as long as you are comfortable with the price.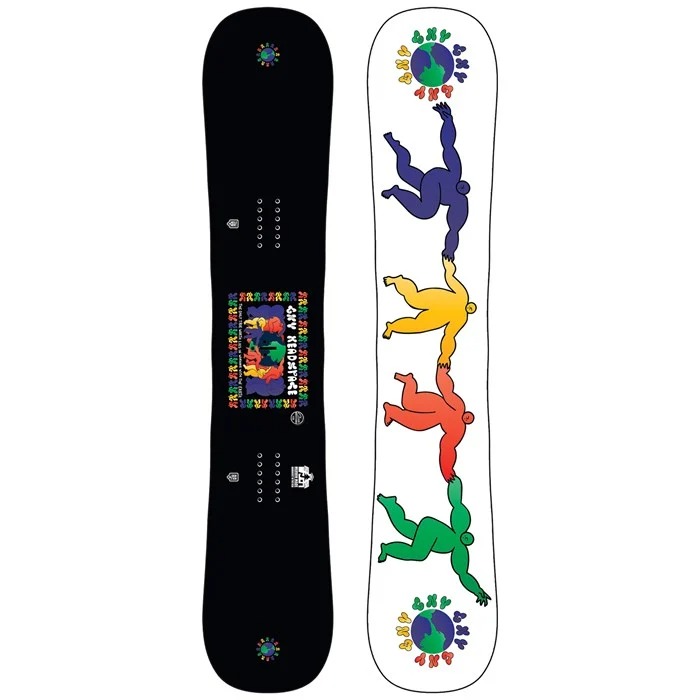 Gnu Forest Bailey Snowboard
The price of "Gnu Forest Bailey" varies, so check the latest price at
A great perk about the Resurgence Snowboard is its carvability and stability. It's an all-mountain board that you can blast in the powder. It has a snow-friendly design with a directional shape that pushes its tip out of deep snow, so there isn't sinking in a fresh snowfall.
The Hybrid camber profile has rockered ends to give intermediate riders the best precision and control while ensuring that your buffers aren't any harder. The balanced flex and reinforcement stringers make it maneuverable when lacing tight turns through glades.
Key Features
When you're on the iciest terrain, the serrated edges enhance edge control.
The sintered base doesn't need work to stay slick.
Medium flex is easy to bend.
A great snowboard to build confidence for all-mountain terrain.
The hybrid camber is catch-free at the tips and grips in the mid.
Wood CFB1 core reduces weight but not overall strength.
Basalt and Kevlar reinforcements increase carving stability.
Pros
It's reasonably priced, so you can move to a new board comfortably. It's a highly recommended board for ice coast all-mountain intermediate riding. The edge holds no matter what the surface you're riding on
Cons
You must know how to get your weight over the nose for presses. Otherwise, it will hold the press and give to snap out of the end of the feature with relative ease. The serrations on the edge tech were changed, which changed how it grips.
Overall the board seems to be great for the cost, and despite some changes made on the board, it's still a recommended option for an aggressive board.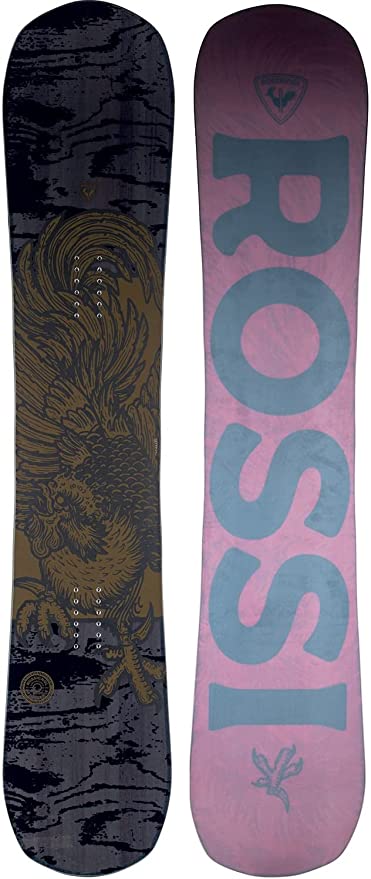 Rossignol Resurgence
The price of "Rossignol Resurgence" varies, so check the latest price at
If you're someone that wants to ride everything, then you might want to try this lightweight board. The goal of this board evolved into a broad that dropped ounces and amplified POP!
It's meant to be playful; even the design itself with the panda is all about being laidback but also fierce. That's what the designer wanted for this board. It's a board with all-terrain prowess that will have you growling down the mountain.
The Super Fly II cores create a light, lift-off-ready deck, while the Squeezebox core transfers energy towards the tip and tail, so you're snapping ollies and maintaining effortless stability. The Flying V is floaty and is suited for the freestyle rider but is still capable of ripping the entire mountain, as even pros will take on this board.
Key Features
For great men's boards, these are some key features to help you decide on a great mountain board:
You get the best of both worlds with a combination of camber and rocker.
Frostbite Edges extend the edge right to your bindings, helping the board hug those icy slopes.
True Twin design gives you symmetrical flex and shape.
Pros
With this snowboard, you get a unique and original design. It's an all-mountain board that allows you to hit any terrain and allows you to have fun in different snow conditions.
It's a soft and playful board that will give you flexibility as a beginner transitioning to an intermediate rider. The Channel Mounting System is the bindings that you're looking for. They are faster, stronger, easier, and more adjustable, giving you all the control of your stance.
Cons
It's on the expensive side, which is a difference between a beginner and intermediate board. It's still not the price of a high-end board, but getting the latest option of epic boards will cost more.
Overall this is a special board with an original design. It is the best all-mountain board that offers a freestyle option that most boards don't allow for. Stiff boards can be less forgiving, and this one is soft and flexible, giving you a more stable board.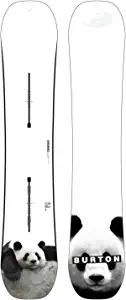 Burton Process Flying V
The price of "Burton Process Flying V " varies, so check the latest price at
The Burton Instigator snowboard is an intense board that's all about fun. If you want to accelerate the learning curve, this is the board for you. From the moment you get on the mountain, you will not only have a good time but will uplevel your game.
The Cruise Control convex base keeps things friendly underfoot combined with the Flat Top bend that offers you all the control. It has a Channel Mounting System that has an adjustable setup with bindings.
If you need to know how to adjust snowboard bindings check out our detailed guide.
Key Features
Flex – Twin flex, symmetrical from nose to tail for a balanced ride that's versatile
Shape – Directional shape designed to be ridden with a slightly longer nose than tail
Core – Wood grain is positioned along the heel and toe edges.
Pros
This board is great for men's boards or women' snowboards and allows you to go at higher speeds. It's great as a beginner to the intermediate board as it allows for easy turning. A major selling point is that it's a very affordable board compared to others on the list.
Cons
If you're an expert, you'll probably not enjoy the board as it's a little soft and too mellow if you want high performance. For newer riders, however, if you want to expand your skills in the powder, then this is a board that won't break the bank.
Overall, the board is considered basic and not for experienced riders, but intermediate boarders will be able to increase their skills to all-mountain versatility.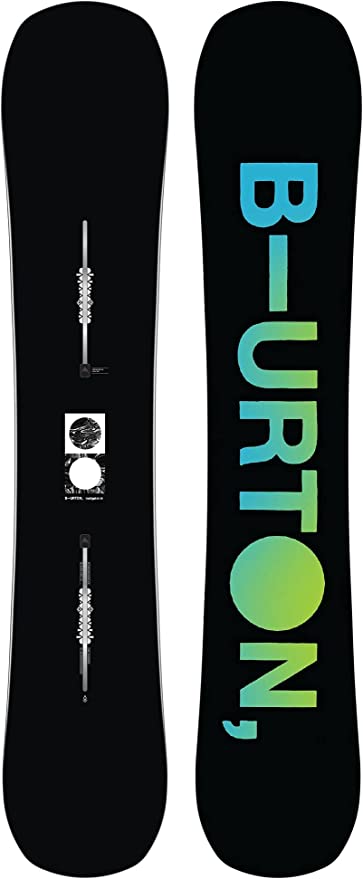 BURTON INSTIGATOR
The price of "BURTON INSTIGATOR " varies, so check the latest price at
If you're into simple pleasures, then you're sure to enjoy the CAPITA Horrorscope Snowboard. Sometimes a basic all-around snowboard is the best way to go, especially if you're just leaving the beginning stage.
It has a flat camber twin shape with a mid-soft flex, bomber base, and blunted tips that are fun to rip around the mountain. A skate-style deck with signature attention to detail will make you feel like a kid in a candy store.
Key Features
Rocker – A dual reverse camber Flat Kick freestyle shape. A zero camber section provides a stable skate-style feel.
Flex – Twin flex with a flex rating of 4.5. Not soft and not stiff!
Shape – Twin shape with a radial sidecut that allows your board to finish a turn on the same arc.
Core – The FSC Certified Dual Core gives you a dependable feel that allows riders to take skills to the next level
Pros
Some pros about the boards are that they are lightweight and great for beginner to intermediate riders. It's also rated as a poppy, stable and versatile ride by reviewers.
Cons
The board has been reviewed by riders as not being very durable, which could be bad for experienced riders.
Overall, a basic board is great for those that don't want to spend a lot of money. Experienced riders should look for boards that can hold up to all-mountain snowboarding.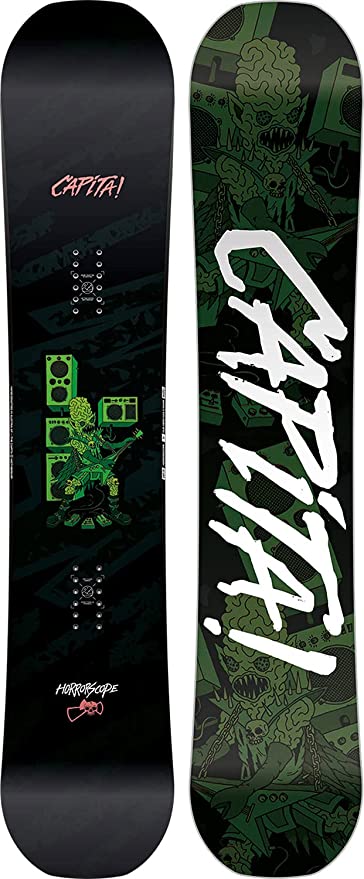 CAPITA HORRORSCOPE
The price of "CAPITA HORRORSCOPE" varies, so check the latest price at
Things To Consider When Choosing the Best Intermediate Snowboards
There are certain things to take into account when you are shopping for the best intermediate snowboard.
Width and Length of the Board
Width and length are important because if your board is not the right size, it can cause you to wipe out. It's important to get as close to the board width as possible. 1-2 cm of boot overhand is ideal.
The length of the board depends on your weight, height, ability, and riding style. To measure it properly, you should stand it up, and ideally, it should come up to your chin.
Snowboard Shape
There are different shapes of boards, and you choose one depending on what you're looking for:
True Twin Shape – most suited to freestyle and all-mountain-freestyle riders.
A Directional Twin – generally suited to anyone riding all-mountain-freestyle or all-mountain.
Directional Shape – mostly used for free-riders and all-mountain riders.
Tapered Directional Shape – Free riders who want the best powder snowboard.
If you need to know the proper technique that how to sharpen snowboard edges check out our article.
Sidecut Radius
The type of terrain you are riding should determine your sidecut radius. If you like open mountain runs, a longer, shallower sidecut will allow the distance to take wider turns. It allows more control and stability at a higher speed.
A smaller, deeper sidecut is best for riders in trees and parks. It will also allow you to achieve quick spins and abrupt turns.
FAQs
How to care for your snowboard?
Things to consider when maintaining your board:
Prevention – try to avoid rocks and jagged surfaces
Waxing – a good hot wax is very important
Keep Things Dry – after a day out, makes sure you wipe your board down, including crevices.
What makes this board the best for Intermediate?
A great intermediate board allows you:
To control your speed
Allows you to make carving turns along the edges
Allows you to progress your style of riding
You can ride blue and green runs with ease
Conclusion
Finding an intermediate board is an exciting journey because it means you are ready for more challenging terrain. This article aims to help you choose the suitable model for you and show you what you should focus on when looking for a board.
We hope your adventure will lead you back to the mountains, where carving through the powder will bring you to new heights.