Buying your next ripstick is the most exciting part of any new gear set-up and buying a Burton board is never a bad choice.
They're a well-known and well-loved snowboard brand on any slope and can cater to everyone and anyone in the sport, from experienced riders all the way to the beginner snowboarder in a ski school.
Burton snowboards are known not just as a recognizable brand but also for quality. They are clearly a company that is proud to put its name on any gear it put on the market. When you buy Burton, you know you're buying into a good snowboard brand.
Burton has a number of patented technologies that set them apart from the rest of the market. A number of these are minor tweaks to things like flex and camber profile but one, in particular, is polarizing for riders. The tech in question is the revolutionary channel mounting system.
This system, which you will see mentioned throughout the reviews, allows for a binding to be mounted along a rail running down the Burton snowboard. This requires a certain binding mount to connect but is becoming more common on the market.
The channel system allows for almost limitless combinations of width and angle for the foot. It's an interesting tech, and you either love it or hate it.
Best Overall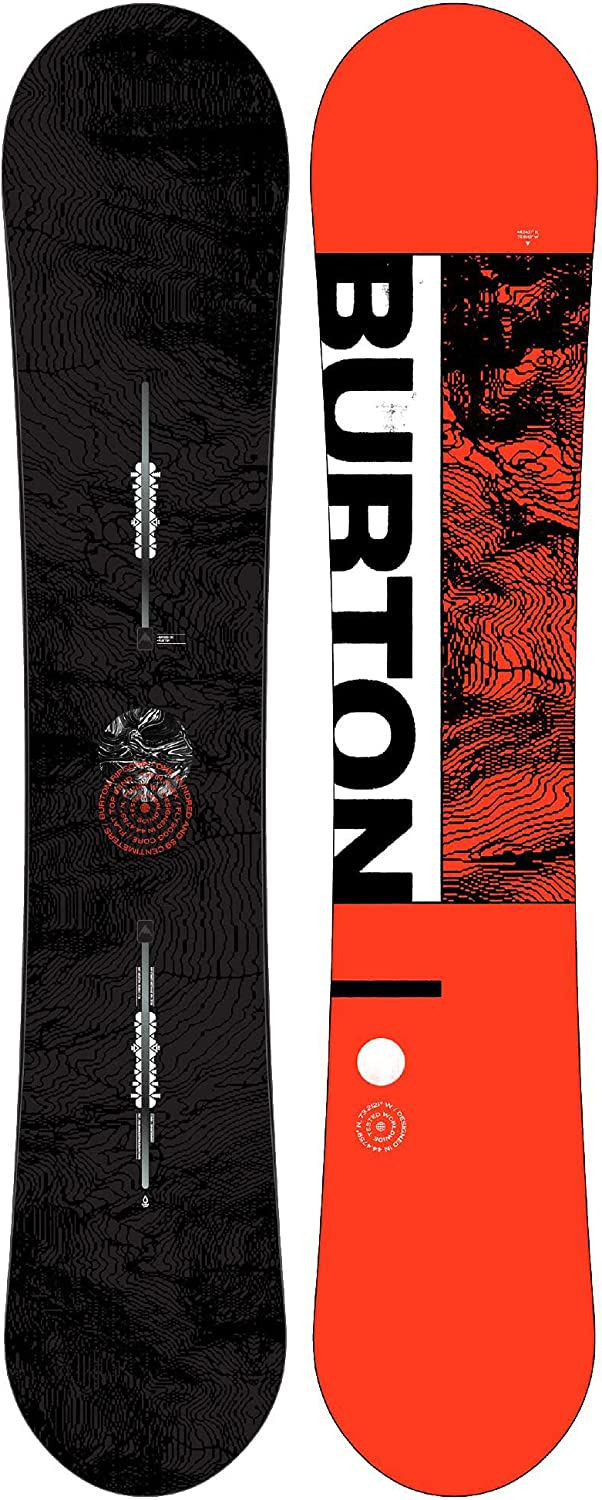 Burton Ripcord Snowboard 2023
Ability Level:

Beginner-Intermediate

Rocker Type:

Flat
Aggressive Ride
Custom X 2023
Ability Level:

Advanced-Expert

Rocker Type:

Camber
Freestyle Fun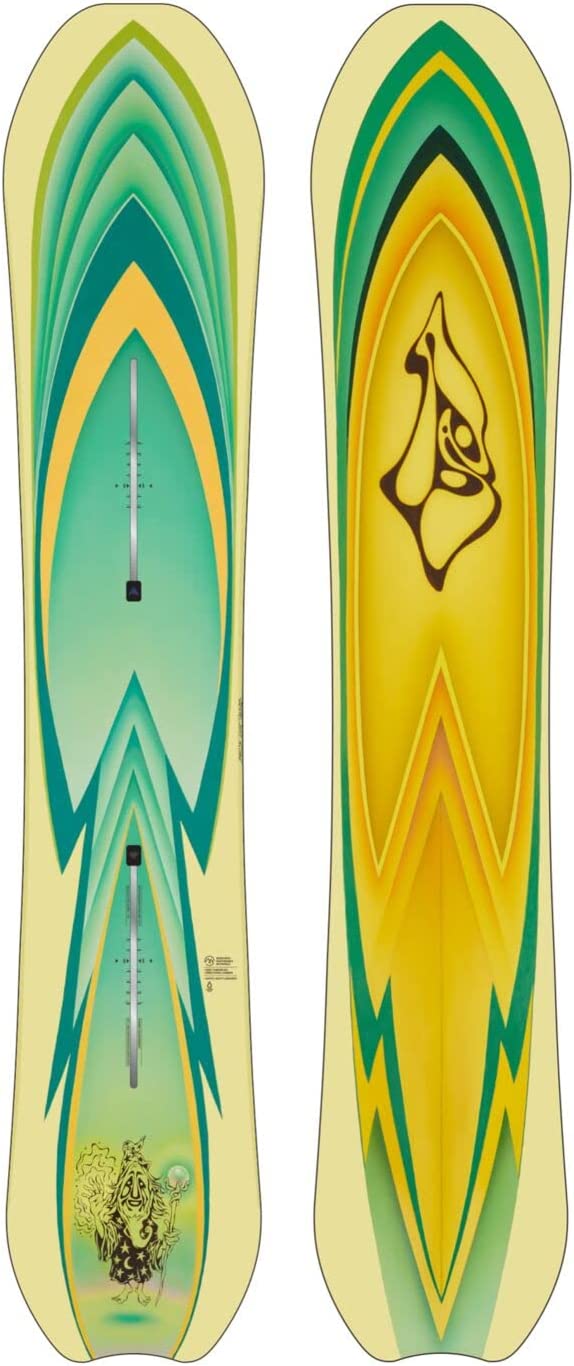 Deep Thinker 2023
Ability Level:

Advanced-Expert

Rocker Type:

Rocker/Camber/Rocker
Super Versatile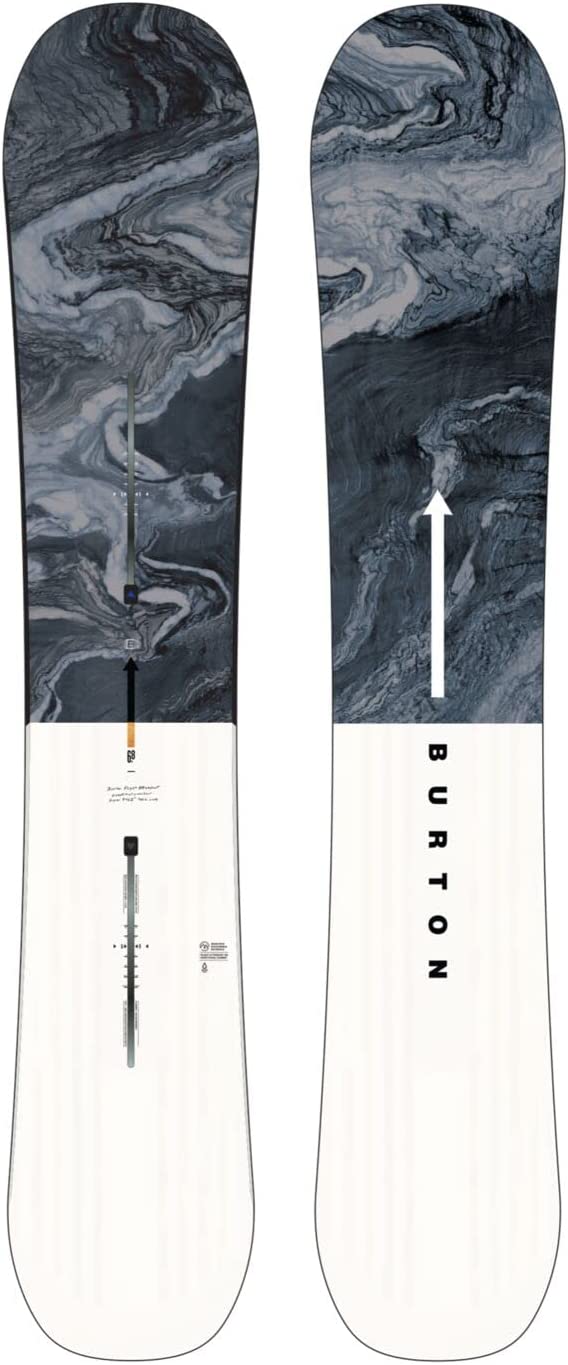 BURTON FLIGHT ATTENDANT
Ability Level:

Advanced-Expert

Rocker Type:

Rocker/Camber/Rocker
Smooth Control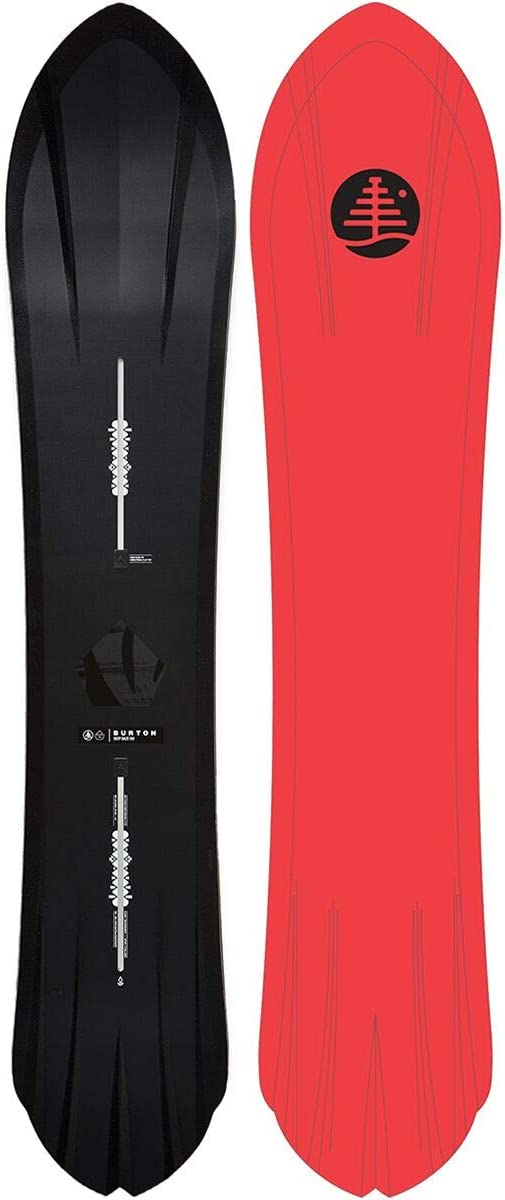 Burton Family Tree 3D
Ability Level:

Intermediate-Advanced

Rocker Type:

Camber
True Icon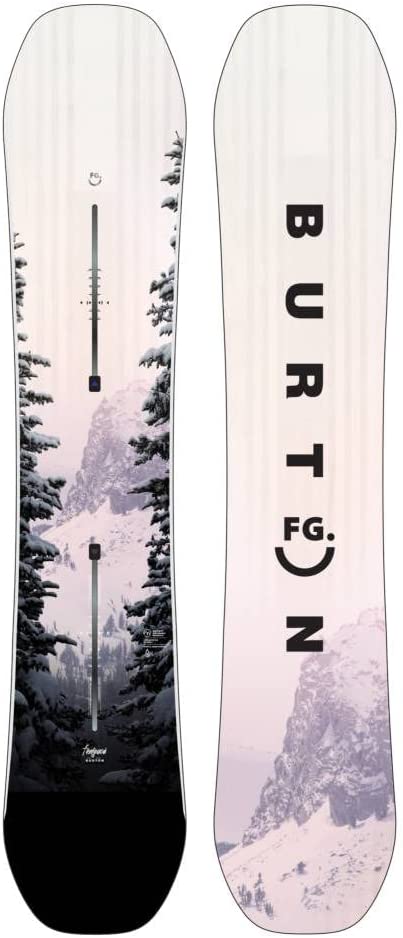 Feelgood Flying V
Ability Level:

Intermediate-Advanced

Rocker Type:

Roc/Cam/Roc/Cam/Roc
Picking The Best Burton Snowboard For You
I have spent a fair amount of time browsing this year's selection of Burton snowboards, mostly out of consumerist desire, but also to see what new tech they're bringing to the table.
Choosing the right snowboard can be tricky, so I have compiled a list of some of my Burton favorites of the season and broken them down for your reading pleasure.
If you're buying a new toy for this winter, you want to make sure it's the best snowboard for you and your riding style.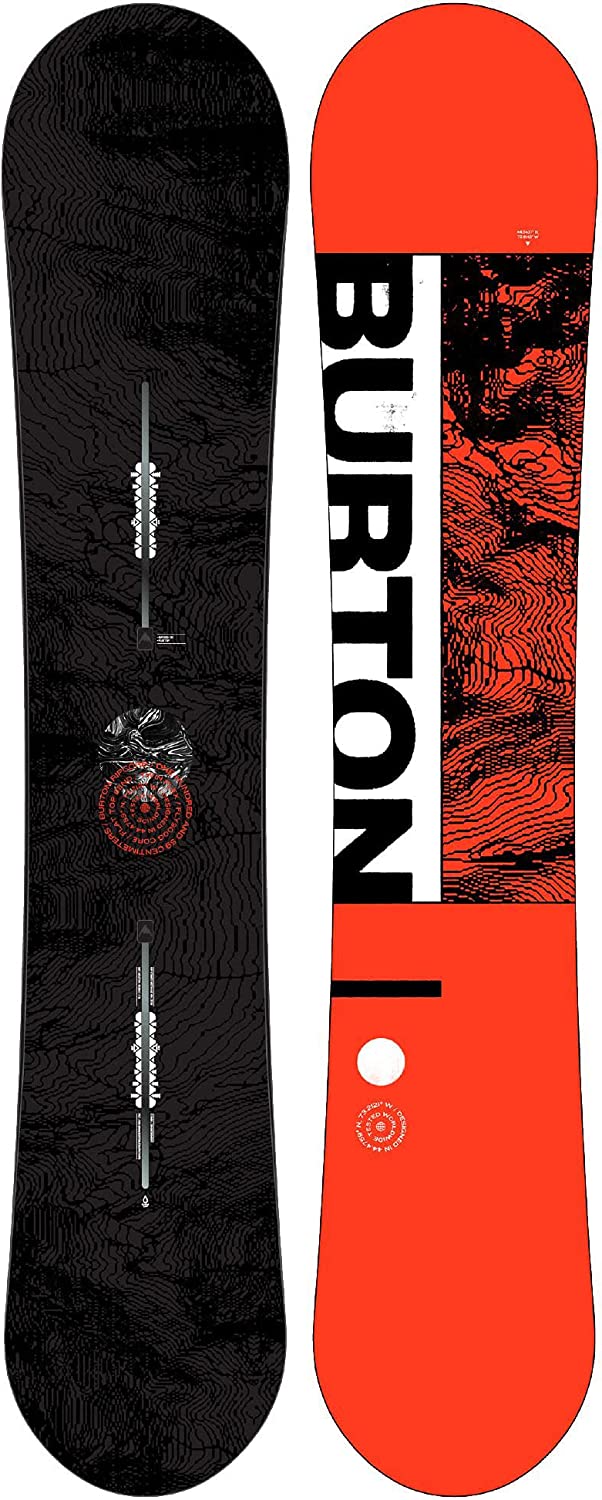 For starters, we can take a look at the Burton Ripcord. This is a nice place to start, as this is a snowboard made for the beginner.
Not to say that advanced riders wouldn't have a great time on it too. It keeps things simple with a forgiving flex and versatile riding style.
The Burton Ripcord caters to the new rider with a super soft flex throughout the board, allowing for a lot of wiggle room when it comes to newbie mistakes.
A softer flex won't pick up on all the little twists and turns of someone fresh into snowboarding. It gives less responsive control, but sometimes that's just what you want.
The camber underfoot is a flat-top profile that is specifically designed for stability and control. The flat-top camber puts all the edges down on the snow allowing for maximum edge control at all times.
The edges themselves are easy-bevel, a great option for learners as they're hard to catch and sit nicely just above the snow.

Summary
The Burton Ripcord is a snowboard built with stability in mind. Its super soft flex rating and flat camber make it a thoughtful board to catch an edge on.
It would be perfectly suitable for an up-and-coming or first-time rider.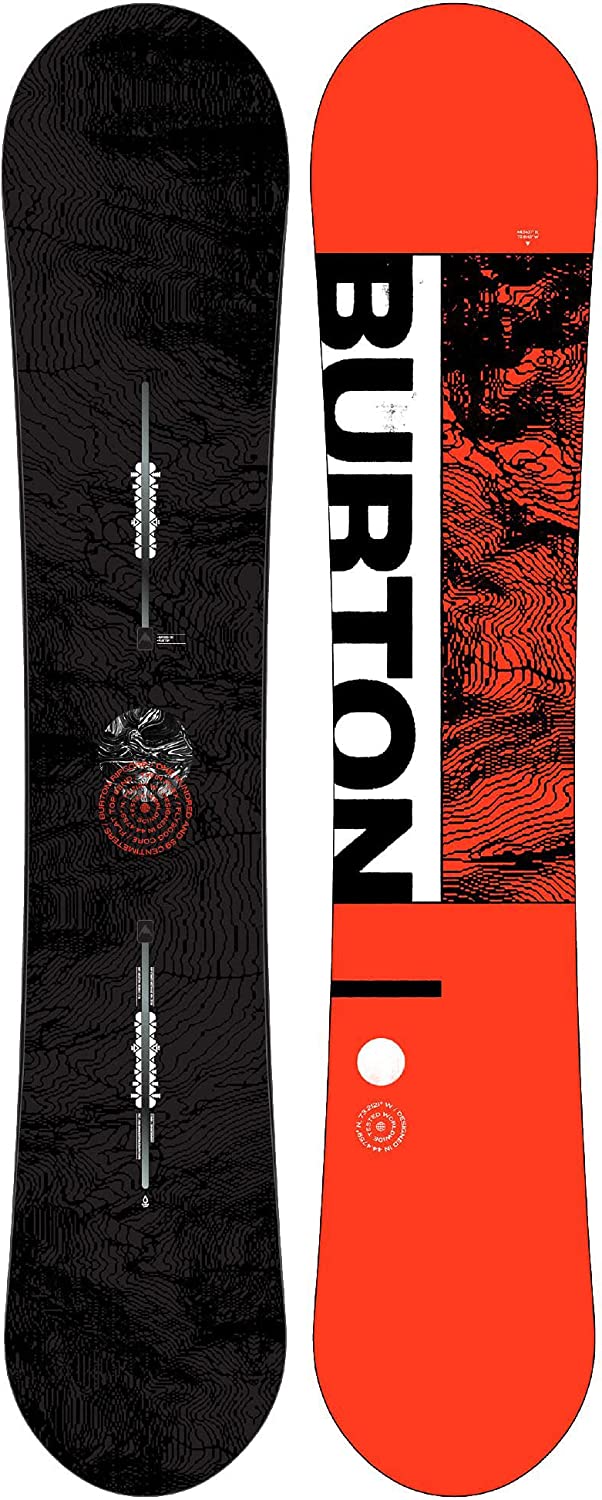 Burton Ripcord Snowboard 2023
The price of "Burton Ripcord Snowboard 2023" varies, so check the latest price at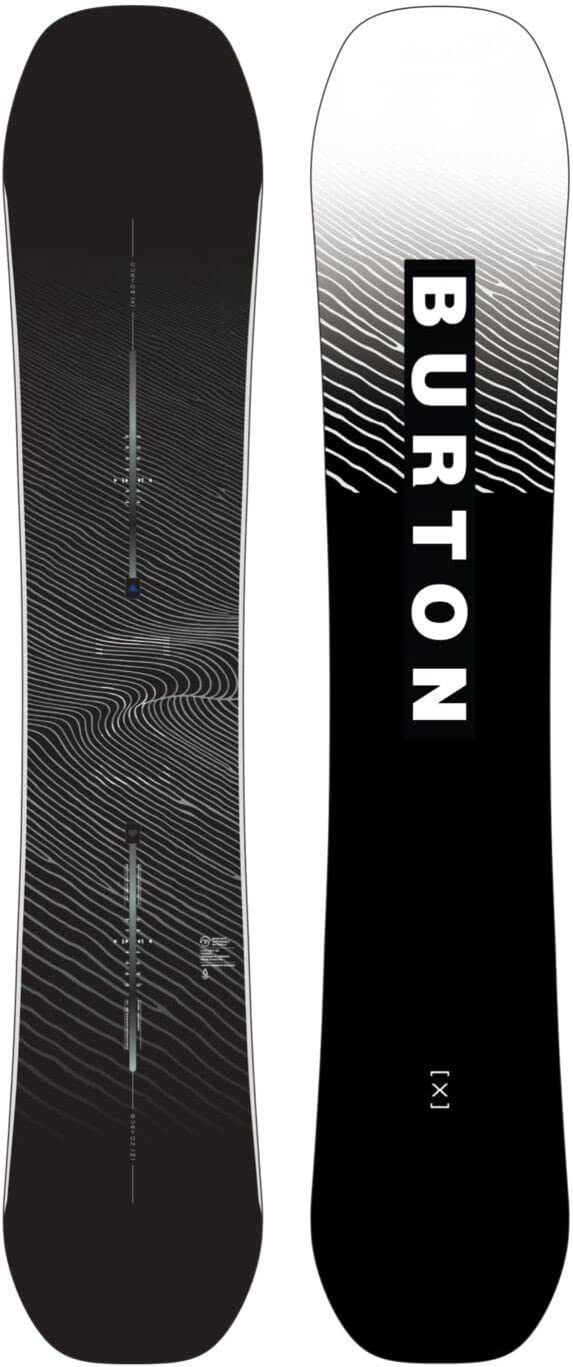 Compared to the previously reviewed model, this snowboard is made of marble. This is a much stiffer ride made for the shredder who is comfortable on a board and looking to tear it up on an all-mountain snowboard.
The Burton Custom is a responsive tool with a stiff and aggressive personality made for big lines.
They have equipped their own Dragonfly 600g core in the Burton Custom X, which is advertised as their strongest and most lightweight material. This provides a floaty yet incredibly stable ride across the entire mountain.
This high-quality construction is perfect for aggressive riders looking to make hard and precise turns.
The camber profile and edges opt for two choices that are right down the middle but are tried and tested nonetheless.
The rocker profile sits with a basic matching camber and directional twin shape, so you can throw the board around in regular or switch with no issues. The frostbite edges are a standard on more advanced Burton snowboards and bite into the snow perfectly.

Summary
This can be considered a playful board if you know how to handle it. It is stiffer than other boards and is a great board for someone who is confident in their control.
It is lightweight, aggressive, and will be perfect for advanced all-mountain riders. The twin directional shape lends itself to be ridden switch and ridden fast.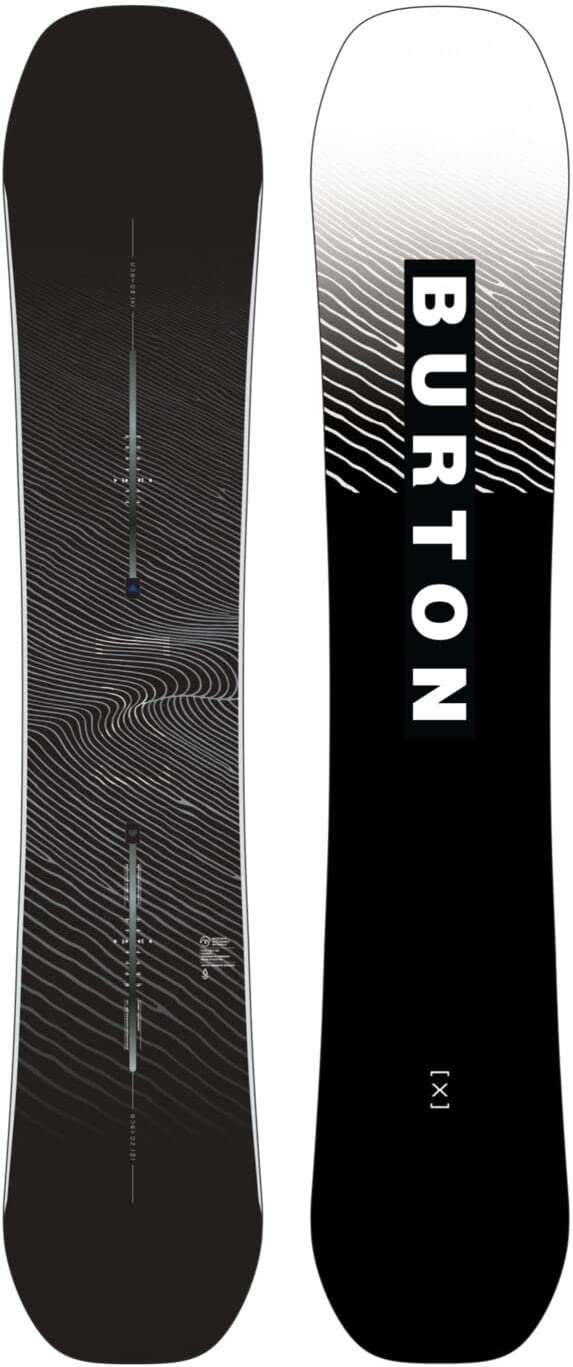 Custom X 2023
The price of "Custom X 2023 " varies, so check the latest price at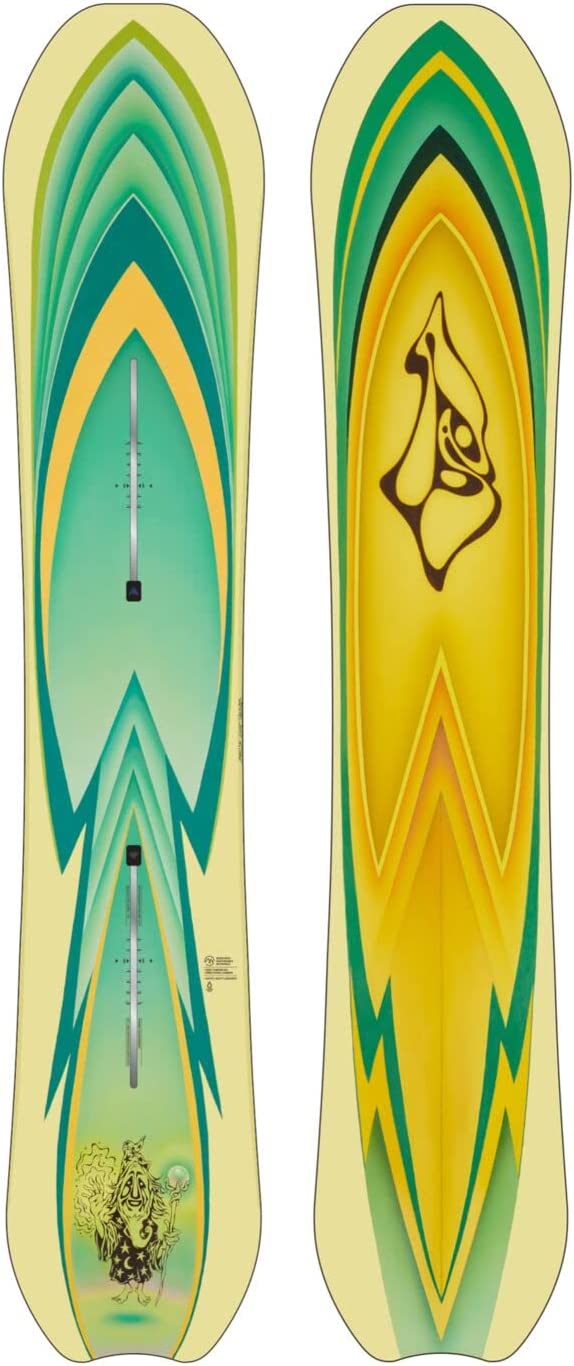 This is a snowboard that captures exactly what it is that Burton is loved so much for. The Burton Deep Thinker is a dreamy-looking board with a gentle but effective directional shape, fantastic decals, and a build that is guaranteed to lend itself to some fantastic freestyle riding.
This is one board built for deep snow and groomed slopes for the all-day all-mountain riding session.
Directional boards are built for riding through deeper snow, where you may need some deep driving turns to throw the board around. Fresh snow is much easier to ride on a directional board as both the camber underfoot and shape sit your weight and control to the back of the snowboard.
This isn't a board for the beginner snowboarder, the directional shape and stiffer flex lend themselves much more to the all-mountain and freestyle of a pro.
The Burton Deep Thinker will be huge amounts of fun on lovely deep days when you want to make a statement and throw your tail around.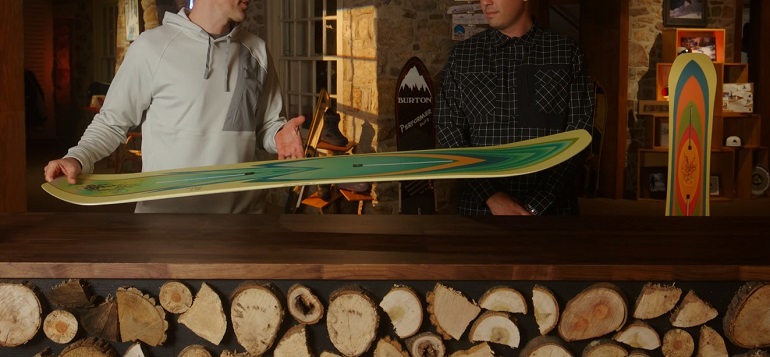 Summary
Burton Boards have brought this model to the table for riders who know how they like to ride. It is a pricey board for people who want to throw their weight around across the whole mountain.
These directional rocker boards with directional flex aren't built to ride switch, but they are designed to be ridden well. A huge amount of fun can be found in this flashy piece of snowboard gear.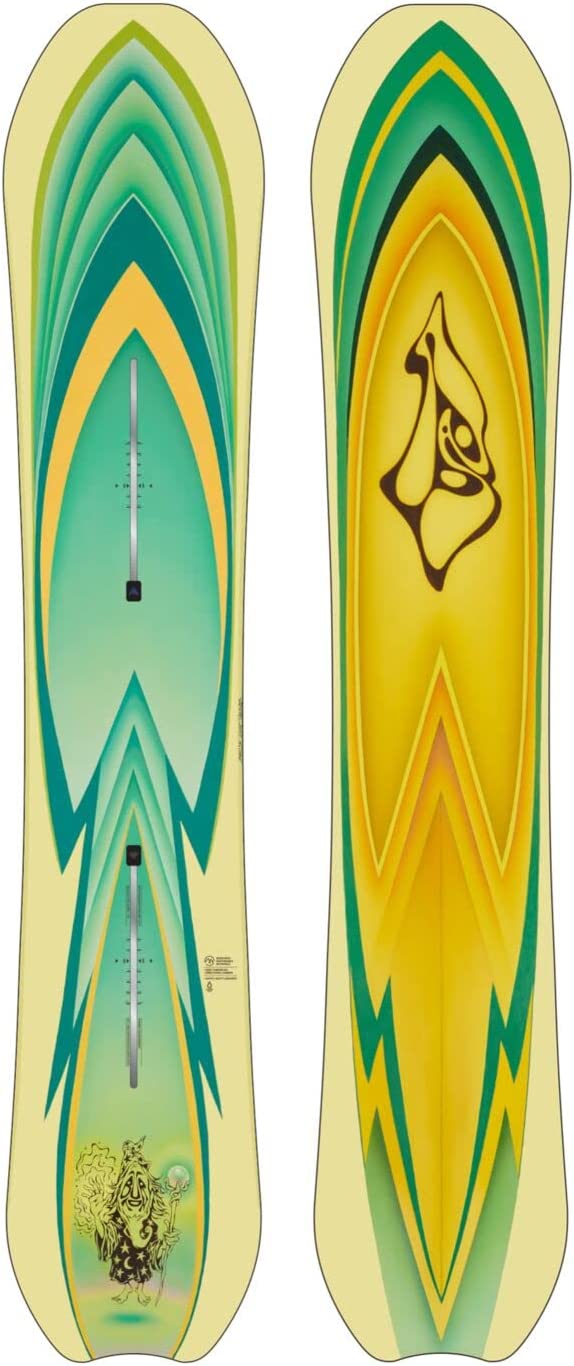 Deep Thinker 2023
The price of "Deep Thinker 2023 " varies, so check the latest price at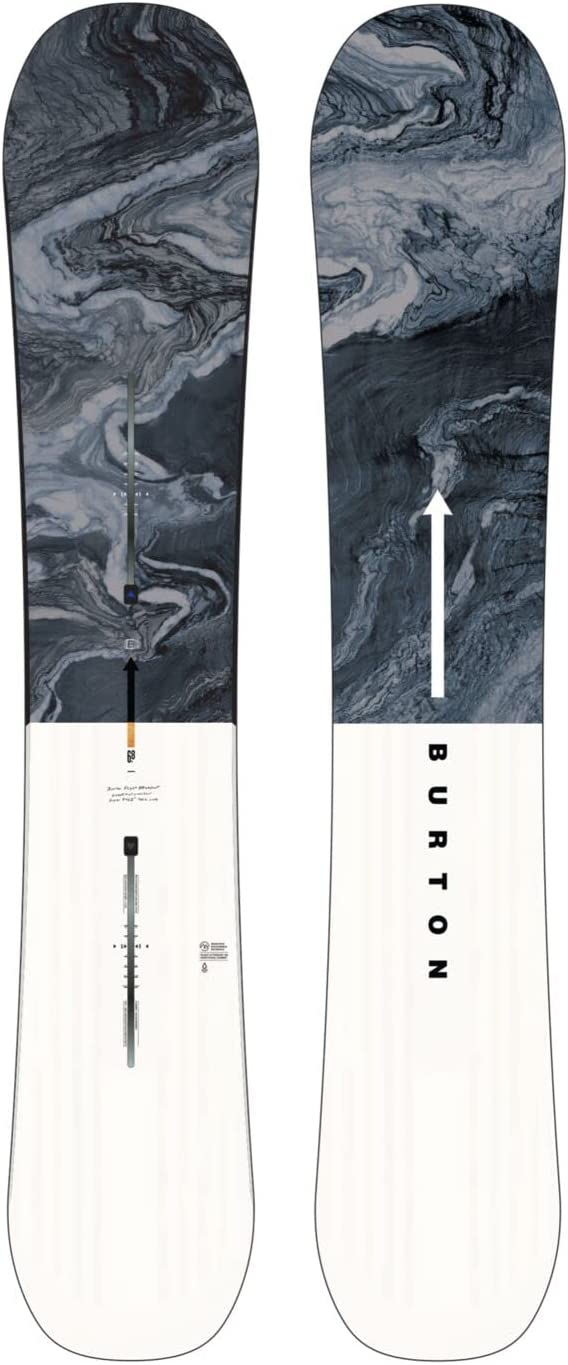 Burton has built a board for the regular intermediate riders and above. It does everything you would want from a versatile board designed for powder and all-mountain days.
The Burton Flight Attendant keeps its specs down the middle making it the best board for the rider who just wants to shred without too much specialization and still get that lovely freestyle feel.
The Flight Attendant has earned its name through its ability to fly off big jumps and pop off everything.
The slightly set-back camber gives you a ride with a longer nose and short tail, lending itself to hard sharp turns with the control of a directional cut. This is combined with a directional rocker profile
This board is built for versatility across the mountain. The Flight Attendant will be just at home on the piste as it will in the powder with its poppy and medium stiff feel. Stability and control are provided by its frostbite edges.

Summary
The Burton Flight Attendant has made its name as a snowboard that can get you off the slopes and into the air. If your riding style favors poppy airborne riding, then this snowboard is perfect for you.
Due to its slightly directional camber, it is well suited to deep powder and high-speed riding down the groomed piste.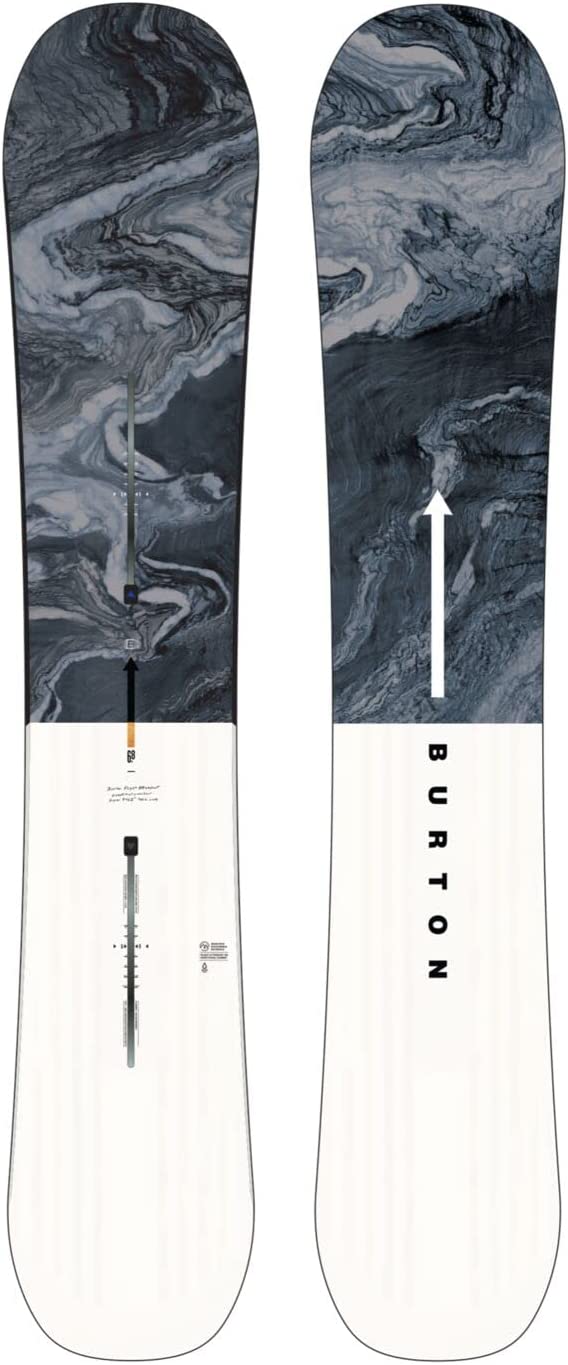 BURTON FLIGHT ATTENDANT
The price of "BURTON FLIGHT ATTENDANT" varies, so check the latest price at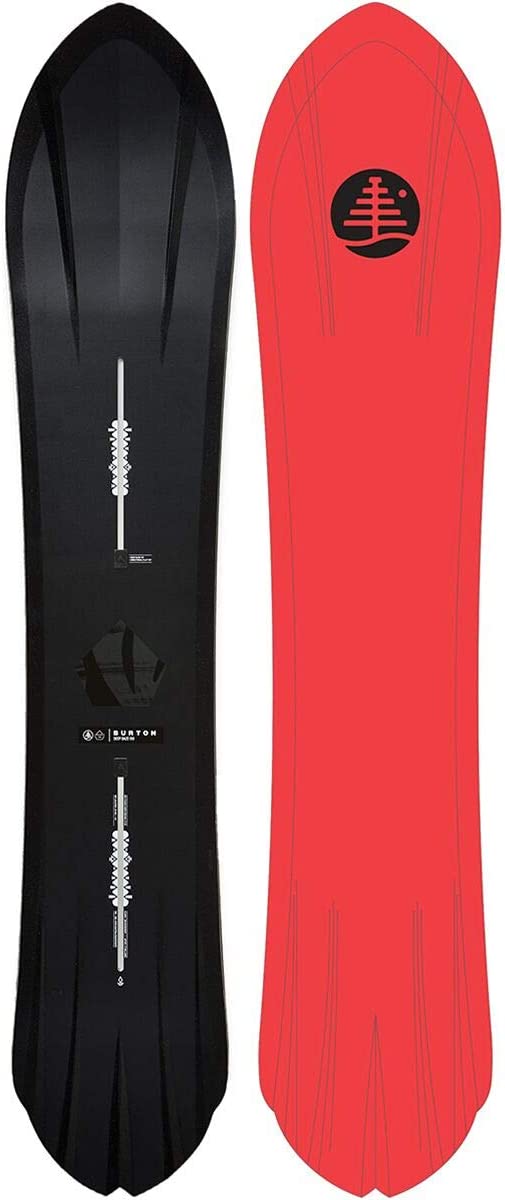 Burton has come up with an exciting design for the Burton Family Tree. It has introduced some interesting shaping to the tip and tail of the freestyle board. It is made for a supremely buttery and catch-free ride across the whole hill.
The Burton Family Tree has taken inspiration from surfboards to design a snowboard that can float around without catching an edge.
The convex shape at the tip and tail curves up towards the top of the board. This will allow for a really floaty snowboard, even at high speeds.
Riding switch is no problem on the Family Tree despite its freeride directional shape. The directional flex does lend itself to being ridden in the regular direction, but due to the matching curved design, it won't catch edges in either direction.
This is a proper all-mountain board that will be comfortable no matter where you decide to ride. Powder and terrain park will all be easily conquered with this versatile daily driver. It can adapt to wherever you decide to throw it.
Summary
Snowboarding will never feel as smooth as on the Family Tree. Its convex shaping to the front and rear edge allows it to be thrown around with smooth control and lightweight movements.
Stability is provided with a longer nose and directional rocker underfoot, setting your weight slightly further back on the board. Some pretty flashy tech makes this snowboard really stand out in the resort.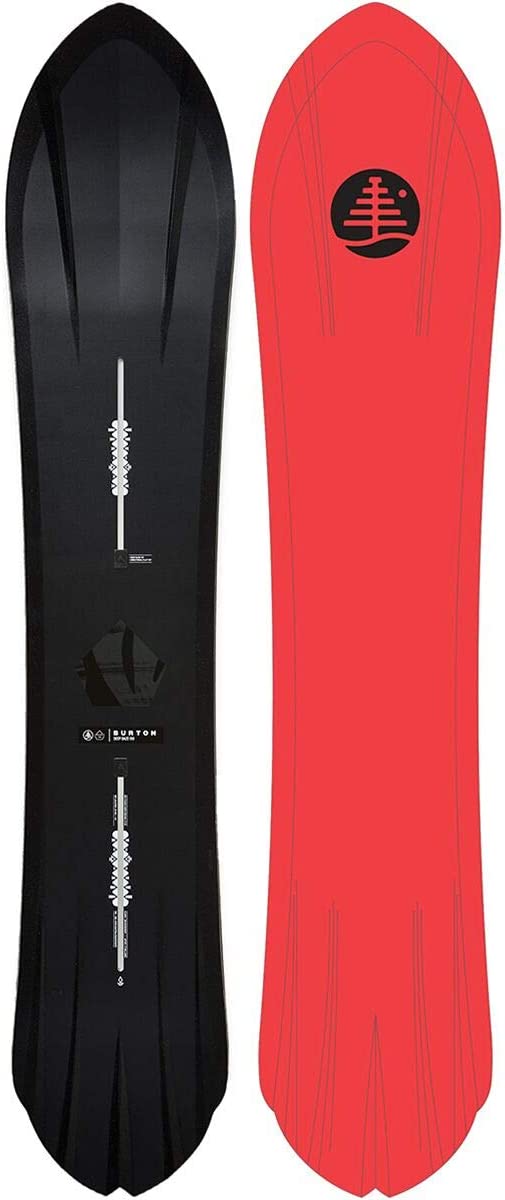 Burton Family Tree 3D
The price of "Burton Family Tree 3D" varies, so check the latest price at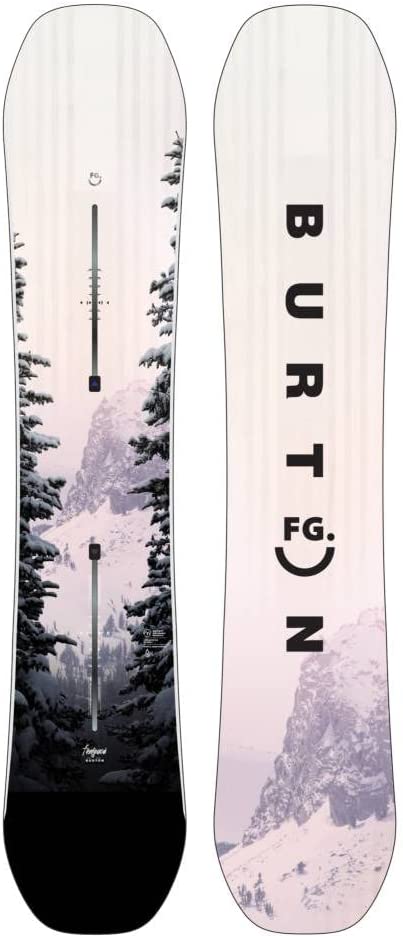 The Feelgood is a burton snowboard that is recognized as an icon across the slopes. It has a softer flex than a lot of the other boards we've seen and has a focus on being an all-mountain and freestyle ride. It is a snowboard made for park features and riding switch.
This snowboard comes with a twin flex pattern allowing it to be ridden regular and switch without any difference.
This is great for the park, where you will most likely end up facing the other way, riding out of spins and tricks. If you set your snowboard bindings dead center of the channel system, it will be truly bi-directional.
This board has more flex than a lot of other Burton boards, opting for a softer flex throughout the construction.
This causes a little less control at high speeds but creates a much more forgiving ride. It is not as soft as the Ripcord and sits right at the medium flex scale.
The tapered tip on the Feelgood Flying V reduces the swing weight of the board. The reduced weight on the tip and tail allows you to throw the board around with ease for greater overall performance and saves you expending more energy in your turns.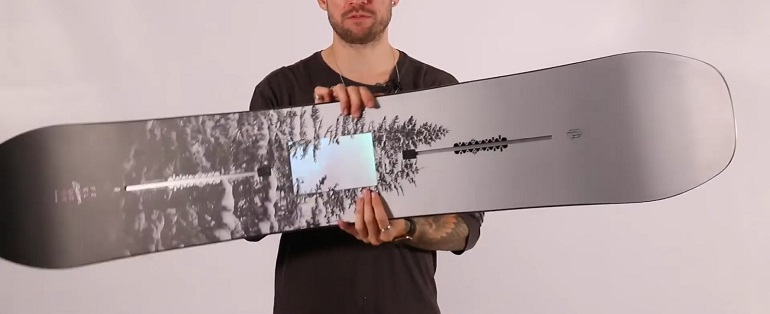 Summary
This Burton snowboard is made for the regular rider who just needs a nice forgiving snowboard to have loads of fun on and can be taken across the whole range of the mountain.
This is one of the top Burton snowboards for just ripping it up and not having to worry which way you're facing or what terrain you're taking it on. This won't be an aggressive ride and will forgive little mistakes.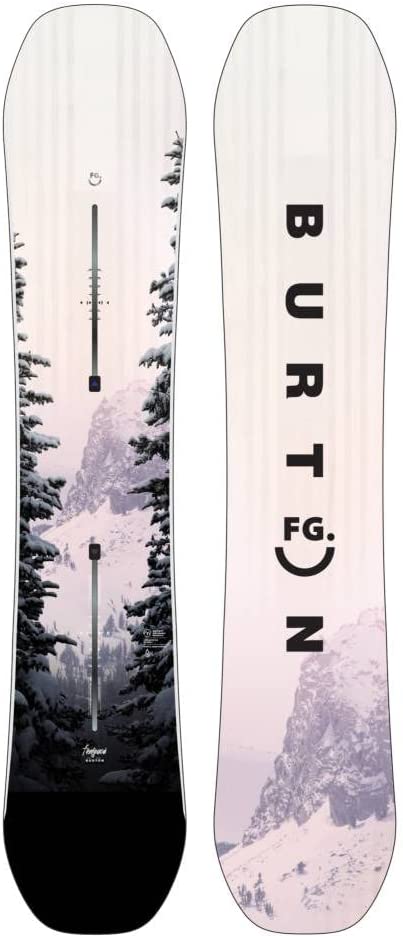 Feelgood Flying V
The price of "Feelgood Flying V" varies, so check the latest price at
Finding The Burton Board That Fits You Best
Finding your next Burton snowboard is always a big deal. You want one that is going to ride the way you want it to, works with your size and weight, suits your riding style, and looks great.
After looking at the best Burton snowboards, it can be a little overwhelming, especially if you don't really know what it is you should be riding, or where you will be riding it.
Here are a few pointers to look out for when finding the best board for you.
Brand Recognition
Buying a Burton snowboard is buying into a highly recognized brand. They are known for some of the best snowboarding gear around and proudly put their name on innovative and reliable products.
Whether it's your first ever snowboard, or your hundredth, buying into Burton snowboards is never a bad decision.
They build to cater to every style and skill level, understanding what each person needs. Burton understands snowboarding, and they know how to make them work for you.
Stiff Flex or Softer Flex
Depending on your skill level and how you want to ride determine how stiff you want to buy your snowboard.
For a beginner, a much softer flex is what you should be looking for. Forgiving flex allows for mistakes to be made, lowering the chance of catching an edge.
The soft flex in a snowboard is great for slow-speed tricks and buttery turns. Soft boards are also great for the lighter-weight rider.
A stiff board is made for edge control at high-speed steeper terrain. Whereas soft boards have excellent stability, boards with stiffer profiles are twitchy and highly responsive. They are built to take in bug jumps without buckling and absolutely shred powder and fresh slopes.
Shape
Snowboards come in all shapes and sizes, from the camber to the directional shape. Different shapes cater to different riding styles. Burton snowboards have come up with some crazy designs over their range.
True Twin
If you're looking for a good all-mountain board built for every ride, then a true twin shape with a rocker camber will suit your style.
They allow for riding switch across all sorts of terrain, and the rocker camber will keep your edge locked down to the slope while still giving the freedom to pop around.
Directional Shape
If you're looking for a serious powder board, then a directional shape lends itself to going in one direction. They have a longer nose and often have different-shaped noses and tails.
The long nose makes it possible to really get a good lean in deep powder, keeping yourself floating on top of the snow whilst still getting great edge control.
Directional Twin shape
Directional twins can easily be mistaken for a true twin, but on closer inspection, you will notice that the nose is slightly longer than the tail setting your stance slightly further back on the board. They are able to be ridden switch without too much of a problem.
Tapered Directional Shape
The tapered directional shape is longer and wider in the nose than the tail and often has a setback style. These boards are for freestyle riders looking to get the maximum float and control in deep powder. They're not designed for riding switch but are great for freestyle.
A Few Frequently Asked Questions
Knowing your stuff will help you buy the best Burton snowboard for you and save you money in the long run.
Every board is different and is built for a different purpose. There are a few commonly asked questions that will help you make the right decisions.
How Much do Burton Snowboards Cost?
Burton snowboards can cost from just a few hundred dollars all the way to close to a thousand depending on what you want from your board.
A simple beginner board without many features and some simple tech will be at the bottom of the price scale. This would be perfect for a new rider. Even a cheap snowboard from Burton will be a great purchase and won't let you down.
For something a bit more specialized, you may have to hand over a little more. The more technical boards with some really special materials and designs are made for the rider who knows exactly what they want and rides regularly. Spend high and get a fantastic snowboard.
Why Are Burton Snowboards So Expensive?
The best Burton snowboard will set you back an awful lot of money, and in general, the brand is on the more premium end of the market. You can find much cheaper snowboards out there, but there is a good reason for their price.
When you buy a brand like Burton, you are guaranteed to be riding the best you can be. They are built with the highest quality in mind ensuring their materials are durable, hard-working, and technically fantastic.
The tech behind each board will make them a pleasure to ride, and you can rest assured you won't be let down.
You can try out riding a cheaper board in comparison to a more expensive Burton board, and you will feel the difference.
A Few Final Thoughts From Me
I have ridden a number of Burton snowboards in my time across the whole mountain, from park riding to the deep stuff found off-piste.
I like them personally, there is absolutely no doubt they're a premium brand. I'm at an advanced to intermediate riding level, depending on the terrain, but I remember my days as a beginner.
Owing to my extensive snowboarding experience spanned over many years on the slopes, I can swear by their quality and technical prowess. When you strap into a Burton, you can feel the difference in everything from the pop to the edge hold.
Of course, there are cheaper snowboards out there, and a lot of them are also fantastic, but with a Burton, you can always know you're in good hands.
Every snowboard is different and spending a big wedge on a premium board is always a large decision. If you are thinking of grabbing yourself one, it may be an idea to pop down to your local ski shop and see if they have a demo version you can take out for a ride.
Take a Burton for a ride, try out some of their zany technologies and see if any of them really work for you. You may just find your next true love!