Who doesn't love a calm morning or evening on the water reeling in a big catch with the sounds of nature all around you?
Kayak fishing is a fun activity that lets you breathe in the tranquility and peace that mother nature has to offer.
For me, kayak fishing is the best way to explore new waterways and get into small coves or narrow tributaries.
You don't have to spend a lot of money on a boat to take kayak fishing. Some of the fishing kayaks are under $500 and can still meet your needs. Here are a few that I love.
Great For Limited Space

Pelican – Argo 100X
Weight: 36 Pounds
Material: Plastic
For Tandem Fishing Trips

Sevylor Coleman Colorado
Weight: 39 POUNDS
Material: Polyvinyl Chloride
Best For SUP Fishing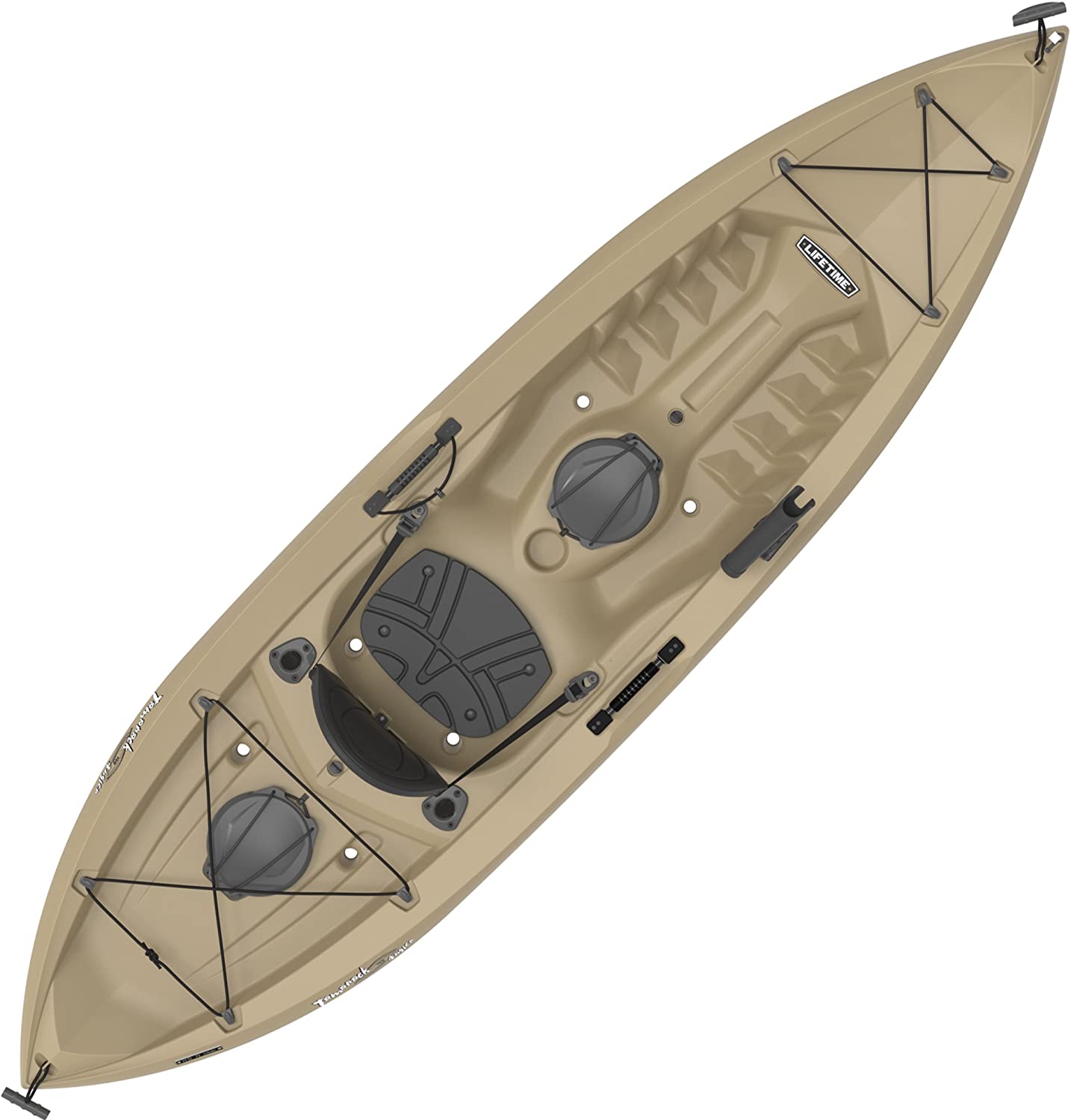 Lifetime Tamarack Angler
Weight: 54 Pounds

Material: Plastic
For Narrow Waterways

Sun Dolphin Journey
Weight: 48 Pounds

Material: Polyethylene
For Fishing With Children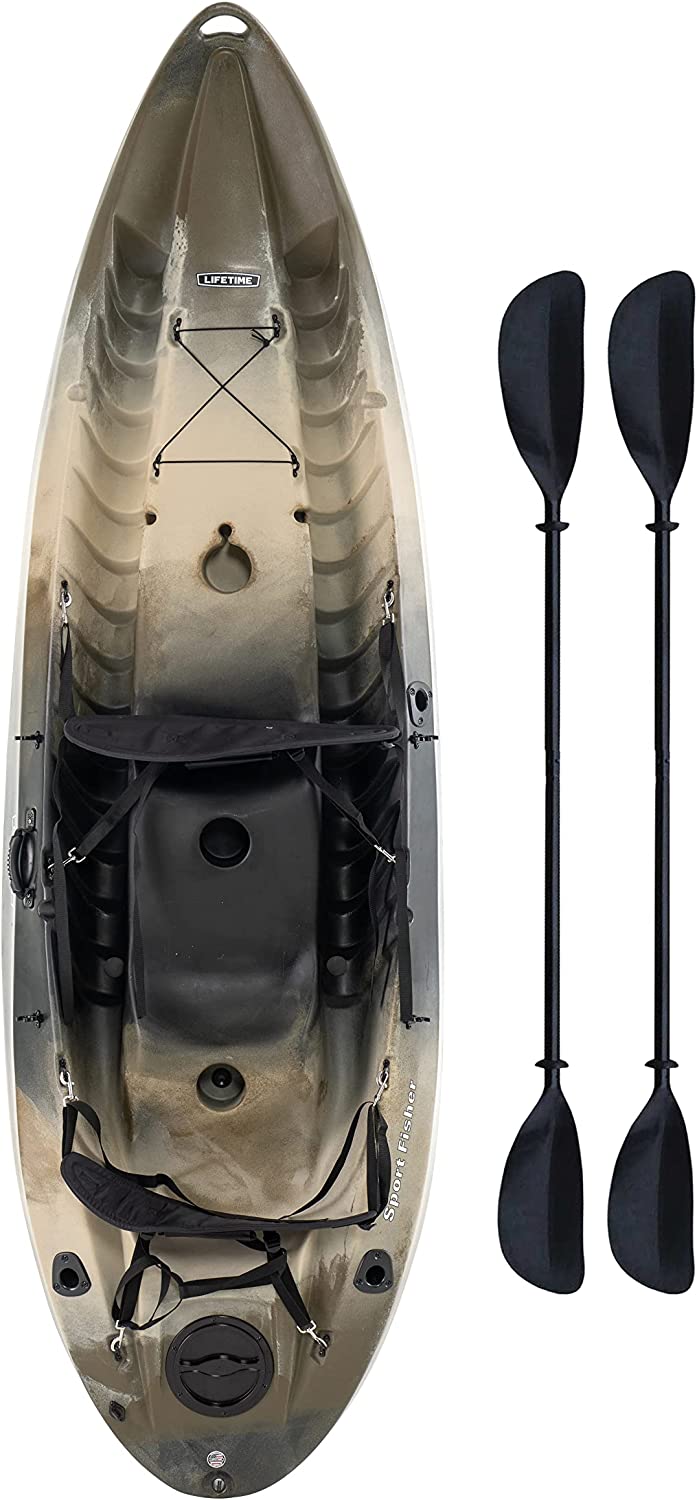 Lifetime 10 Foot
Weight: 60 Pounds

Material: Hard Shell
Best Lightweight Option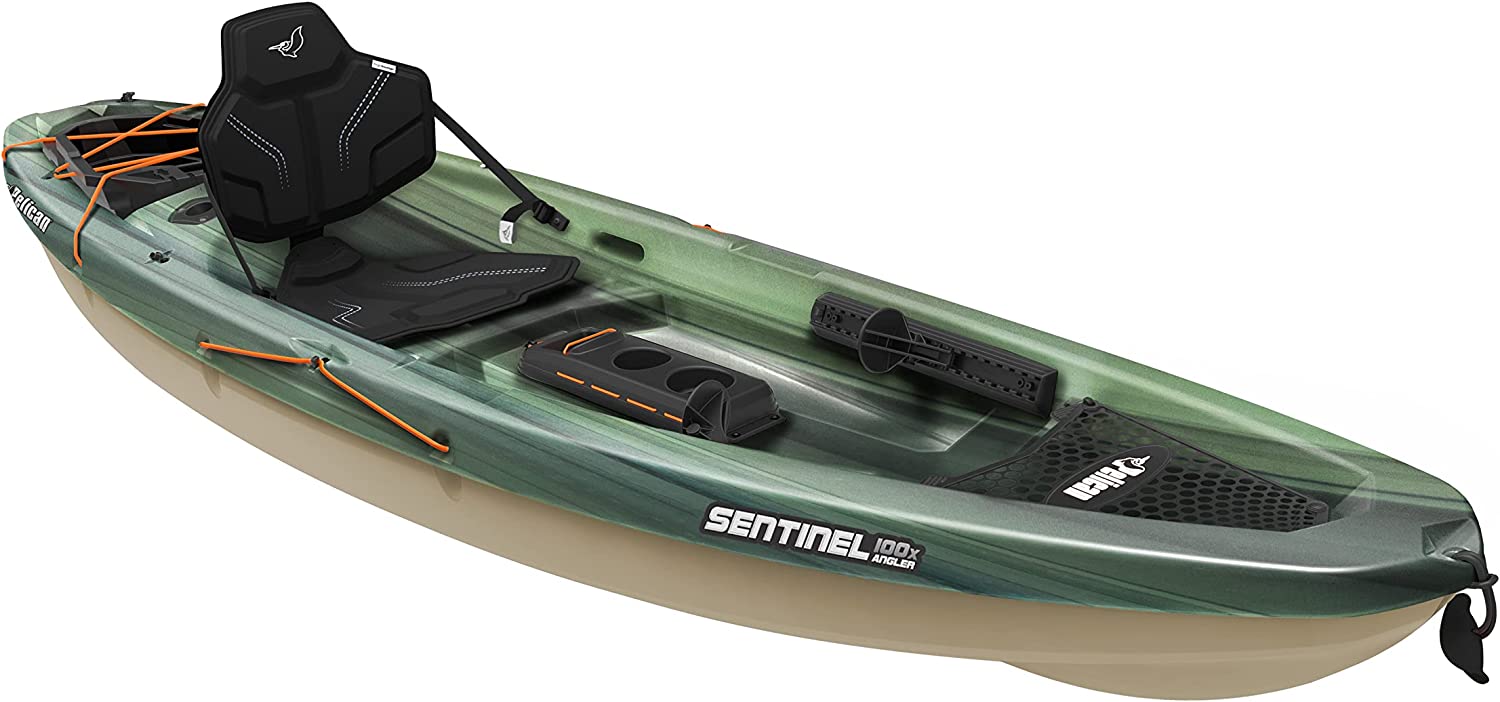 Pelican Sit-On-Top Kayak
Weight: 44 Pounds

Material: Plastic
Ideal For Calm Waters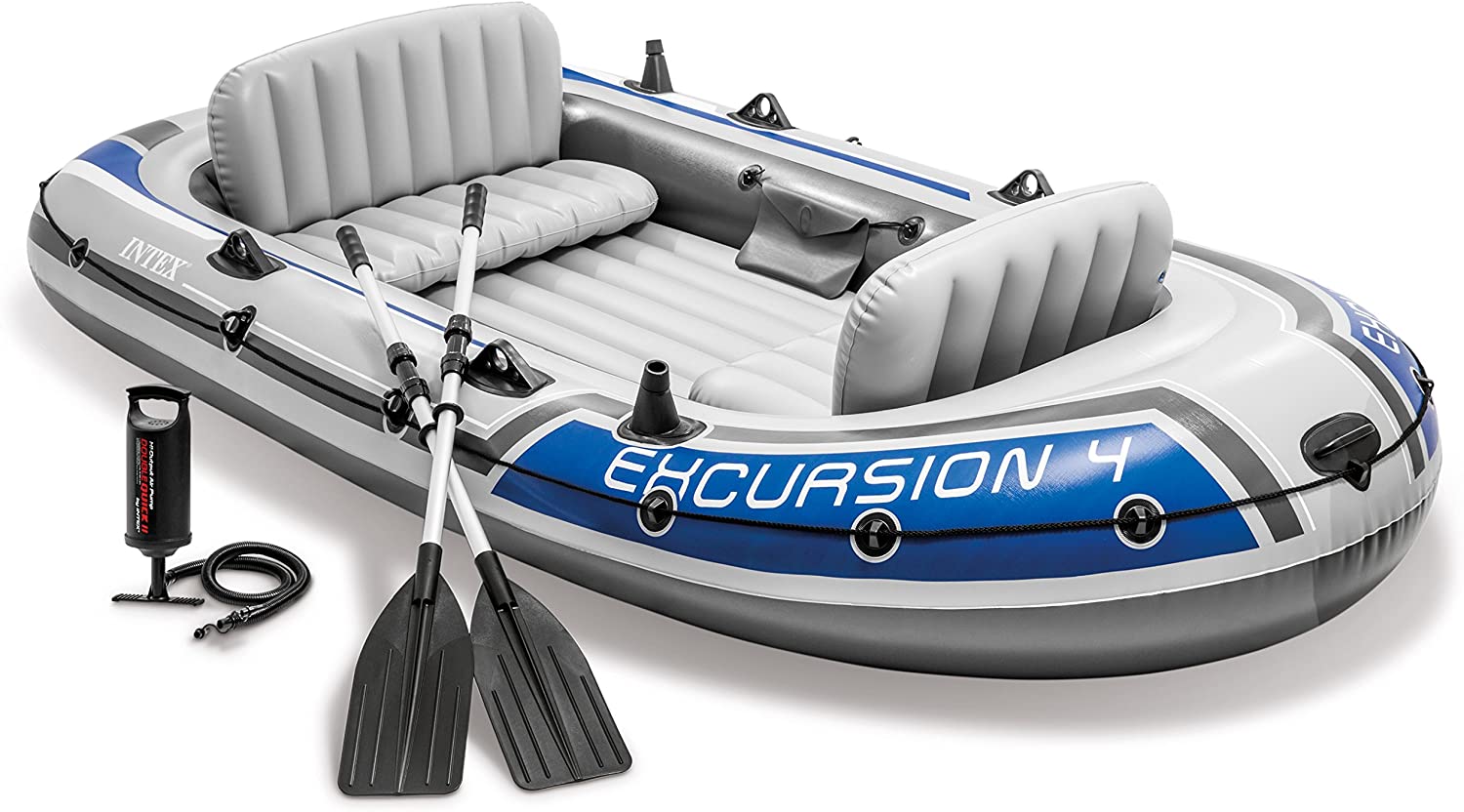 Intex Excursion
Weight: 0.21 Pounds
Material: PVC
Best Budget-Friendly Option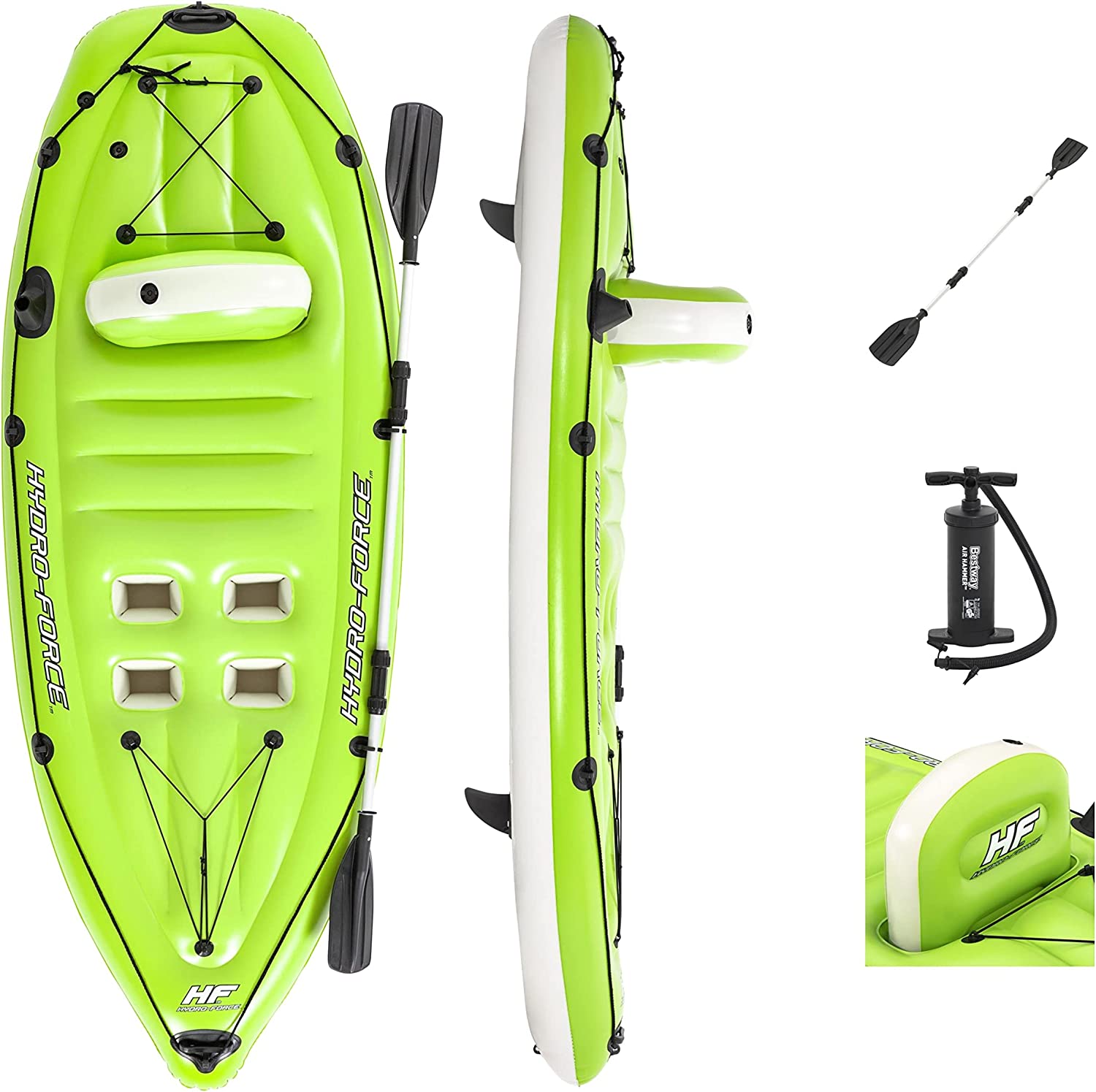 Bestway Hydro-Force
Weight: 19.18
Material: PVC
Perfect For Serious Angler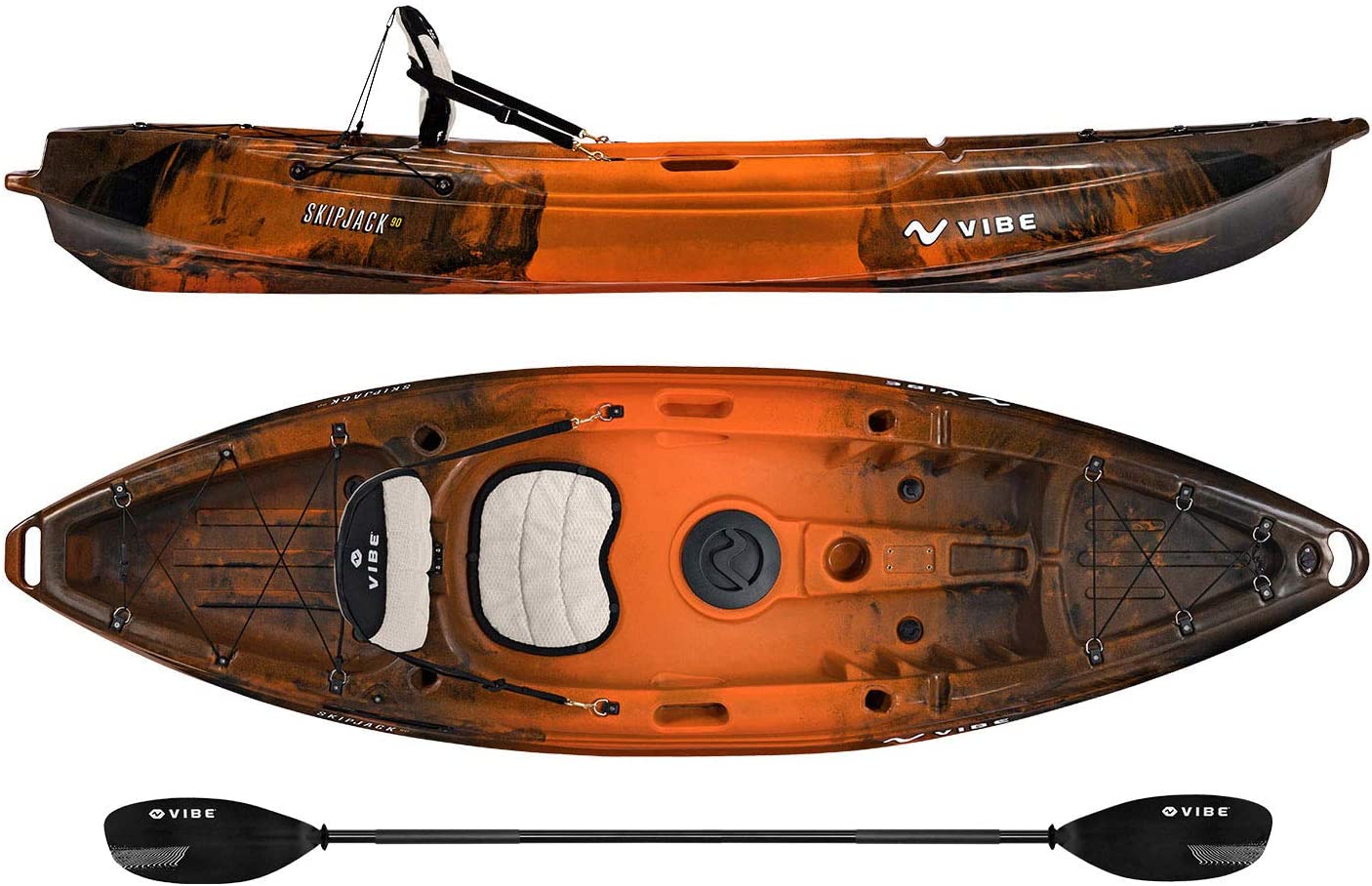 Vibe Kayaks Skipjack 90
Weight: 42 Pounds

Material: Polyethylene
Best Fishing Kayak under $500
In this blog post, I'll tell you everything you need to know about fishing kayaks and provide a list of my top picks.
To save you the headache, here's a list of the fishing kayaks on a budget out there that paddle well in both shallow and deep waters.
Stay safe and happy paddling!

The Pelican Argo 100X is on the smaller side, but that's one of the best things about it. It's lightweight, easy to transport, and fits on top of cars and in the backs of trucks with ease.
I have a Chevy Avalanche with a smaller bed, and I love that I can just toss this in the back without having to strap it down. It is only 10 feet long kayak and right at 14 inches wide, so it's easy for me to lift and maneuver in and out of the water. It also only weighs just a little over 40 pounds.
It's made of durable high-density polyethylene, and the hull design seems sturdy and durable. The design provides great tracking and makes it easy to get up to your desired speed. It does come to a stop quickly when you stop paddling, which I actually appreciate when fishing.
It comes in handy when you see a fish jump or are paddling by the perfect honey hole and don't want to readjust. Being a sit-in kayak, there's plenty of storage space for fishing rods that are broken down as well as other fishing gear.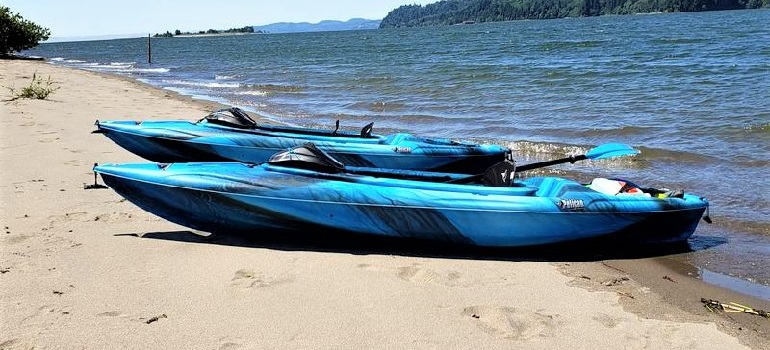 There are also bungee cords to help hold coolers and life jackets and a small storage hatch for smaller fishing accessories. There's also a cup holder and a second storage space with a mesh cover. It felt sturdy when I was casting and leaning to the side to net a fish.
The molded footrests are comfortable, and the adjustable padded backrest cushion is just as nice. At just under $350, it's a great value and ideal for anyone that needs a cheap fishing kayak that doesn't take up a lot of space.

Pelican – Argo 100X
The price of "Pelican – Argo 100X " varies, so check the latest price at


This isn't only a tandem kayak, it's an best inflatable fishing kayak too. It inflates and deflates quickly, and it only weighs around 40 lbs when dry and folded.
This is perfect if you like to hike to your favorite fishing spots or if you just need something compact and easy to transport. Best kayak seats are comfortable in this tandem fishing kayak, and there's actually a good bit of room.
I'm short, but my teenage son is 5′ 11" and we both fit comfortably in it and were able to bring all the necessary fishing gear.
The Berkley fishing rod holders are great because they are already present, and you don't need to buy them and install them yourself or even worry about hauling them with the kayak.
There are also attached paddle holders so you can secure your paddle quickly when you need to cast or reel in. Inflatable kayaks always make me a little nervous because I usually fish lakes and creeks that have rocky bottoms or lots of branches and underwater trees.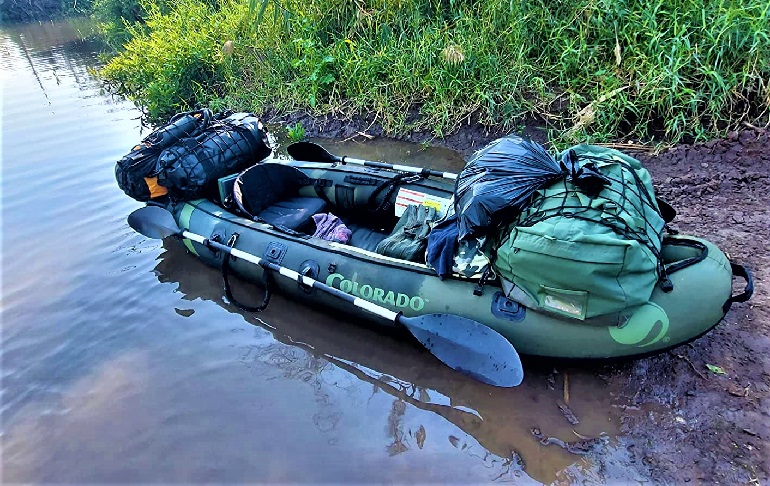 My son and I definitely ran the bottom of this one over some rocks, but there was no damage, and I couldn't even find a scuff mark. It also feels sturdy, and even with both of us moving around, I didn't feel like it would tip easily.
You could easily add a small kayak trolling motor to this inflatable kayak and use it like you would traditional fishing kayaks. But I personally like the simplicity of it and being able to pack it in and out.

Sevylor Coleman Colorado
The price of "Sevylor Coleman Colorado " varies, so check the latest price at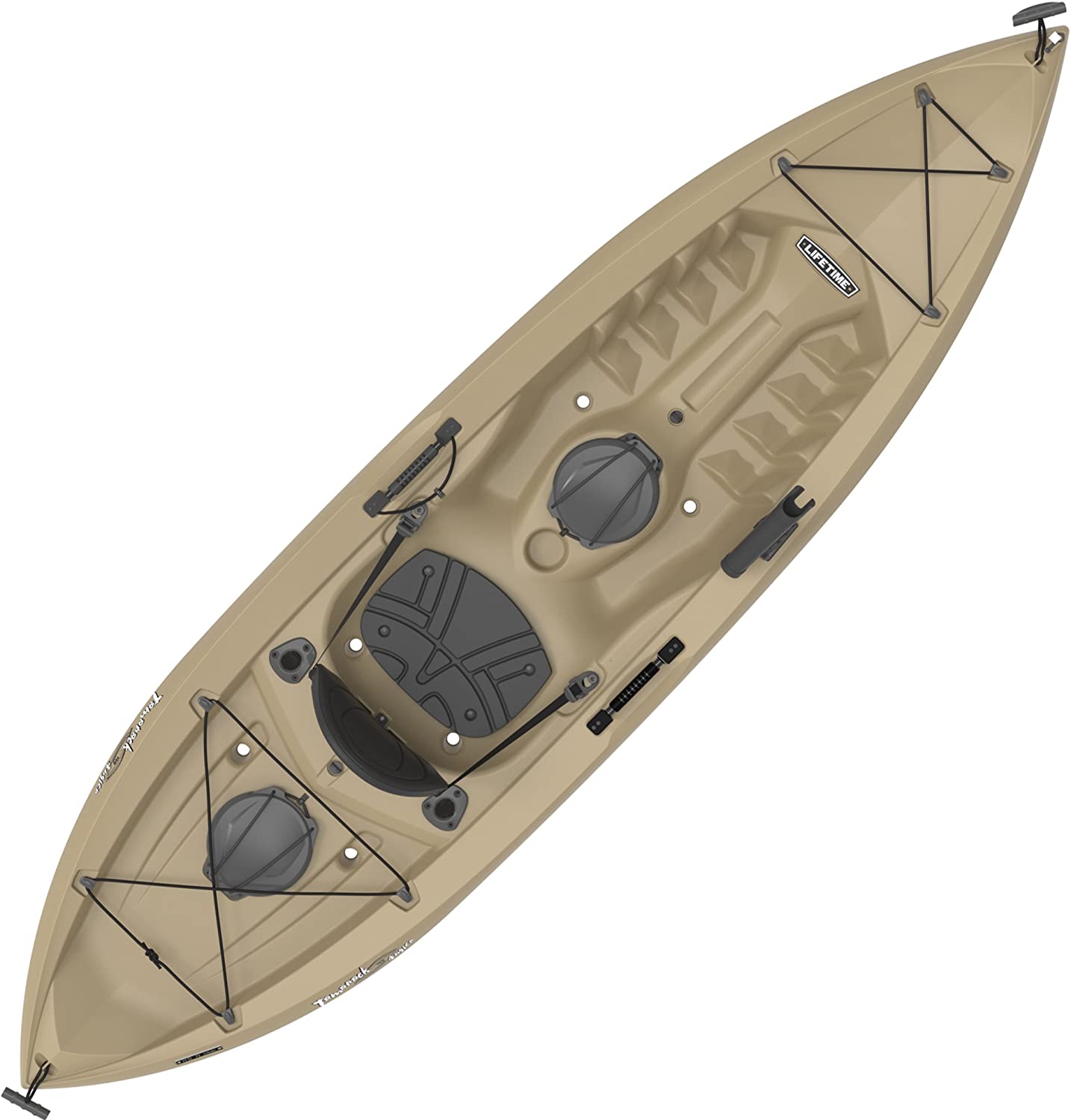 I prefer a sit-on-top kayak, especially when I'm fishing. I really like that the Lifetime Tamarack Angler is a stable kayak that can handle a lot of moving. I also like to stand up, and fish and this kayak make that possible.
My family has a few kayaks under 500 dollars, and this is one that we used the most often. It was my son's first fishing kayak and his first top fishing kayak, and he loved it from the start. He was able to install vertical rod holders, and it's long enough that he can use it as he grows.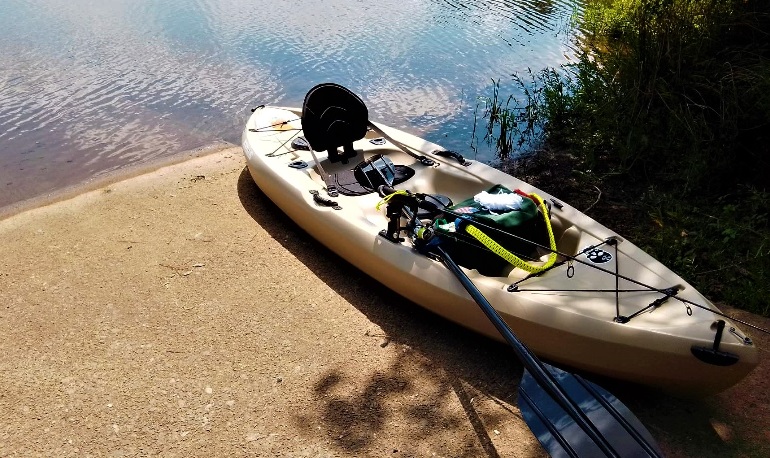 It has a padded seat so he can fish for hours without complaining and two different storage compartments with plastic lids that flip up and latch. There is a bungee cord on the bow and another on the stern to hold his gear in place and a paddle holder which is always convenient.
As far as budget fishing kayaks go, you can't beat the value you get with this best recreational kayak. He has taken it all over the place and he's also pretty rough on it. Aside from a few scuffs, he has no complaints and neither do I.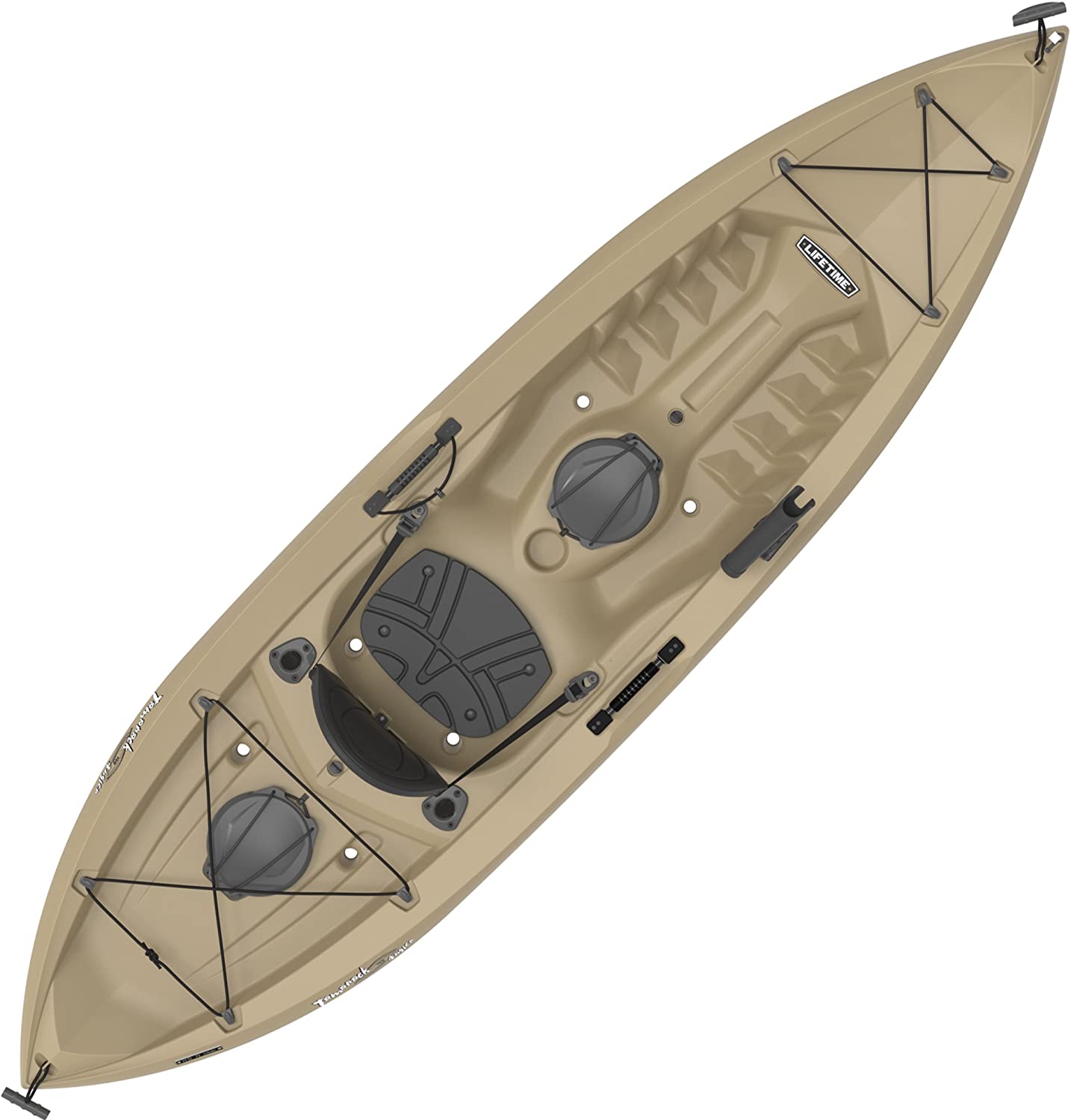 Lifetime Tamarack Angler
The price of "Lifetime Tamarack Angler " varies, so check the latest price at

If you like a long and slender fishing kayak, this is a great option. It has adjustable foot braces and an adjustable quick-release seat. The Sun Dolphin brand always makes quality and affordable kayaks and the Journey model is no exception.
There are different storage options ranging from a large compartment with a secure lid to bungee cords on the front and back. It has both flush mount rod holders and a swivel rod holder. It's made of durable polyethylene and weighs just under 50 lbs.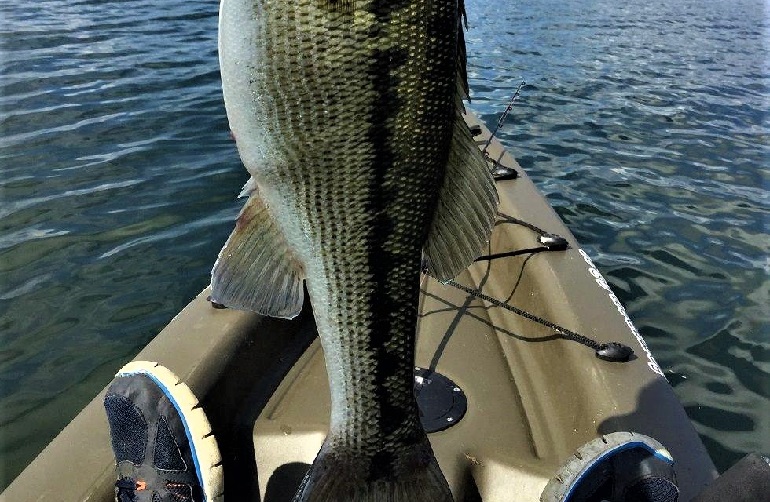 While it is lightweight, I personally find the length harder for me to manage. This is purely my personal preference and my husband and oldest son actually prefer a longer design for kayak fishing.

Sun Dolphin Journey
The price of "Sun Dolphin Journey" varies, so check the latest price at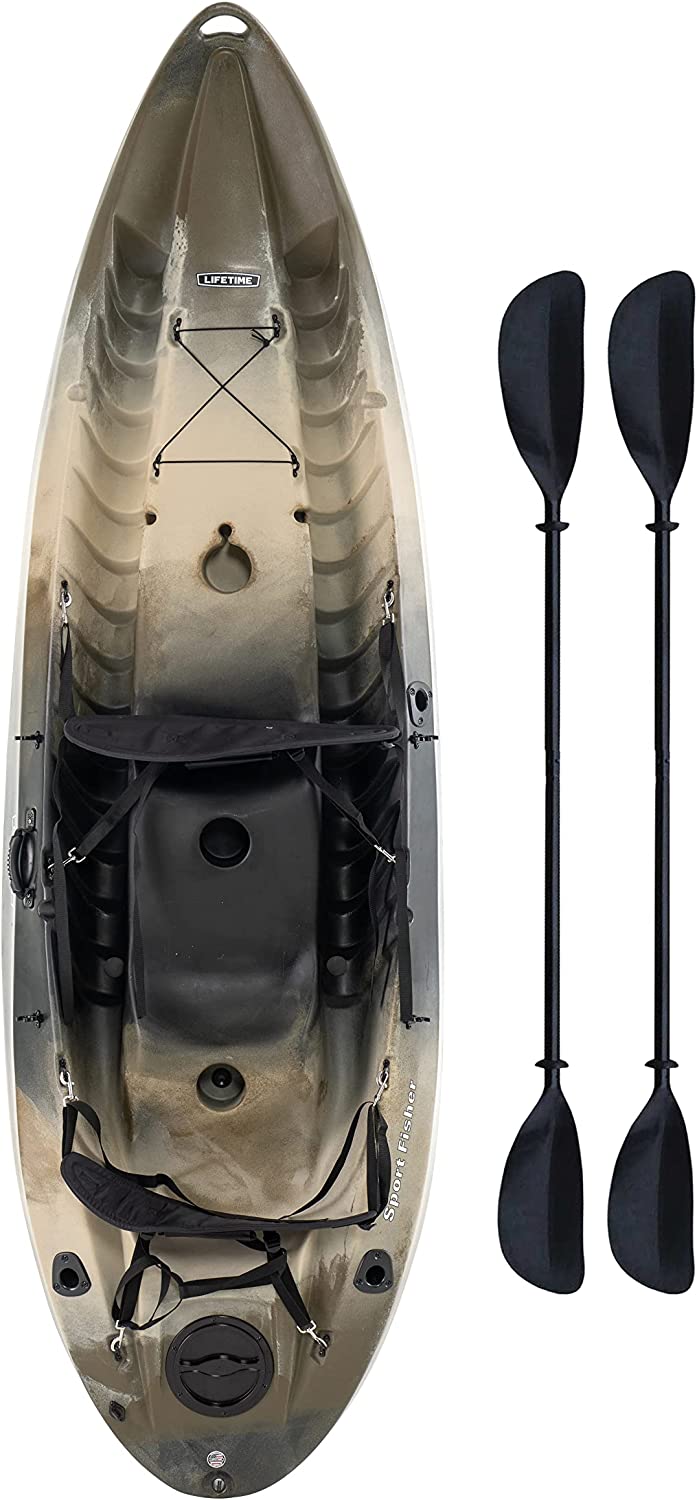 I'll admit that fishing in a tandem kayak is not something I do often or prefer, but my experience in this one was pretty good. It's stable and sturdy even with an impatient little boy moving all around.
It has adjustable backrests, but no cushioned seats. I did find sitting on the hard plastic uncomfortable and would probably add inflatable seats if I used it often. It's also a little short for two people. Still, it did wonderful on the water.
It was easy to paddle and control and it has two molded rod holders. There's a small storage space in the back and the flat bottom hull made it easy to paddle, even when my son wasn't doing his part.
You can easily remove the front seat and use this as a single-person fishing kayak too. In fact, that's usually what we do. It's also the best dog kayak thanks to that extra optional seat.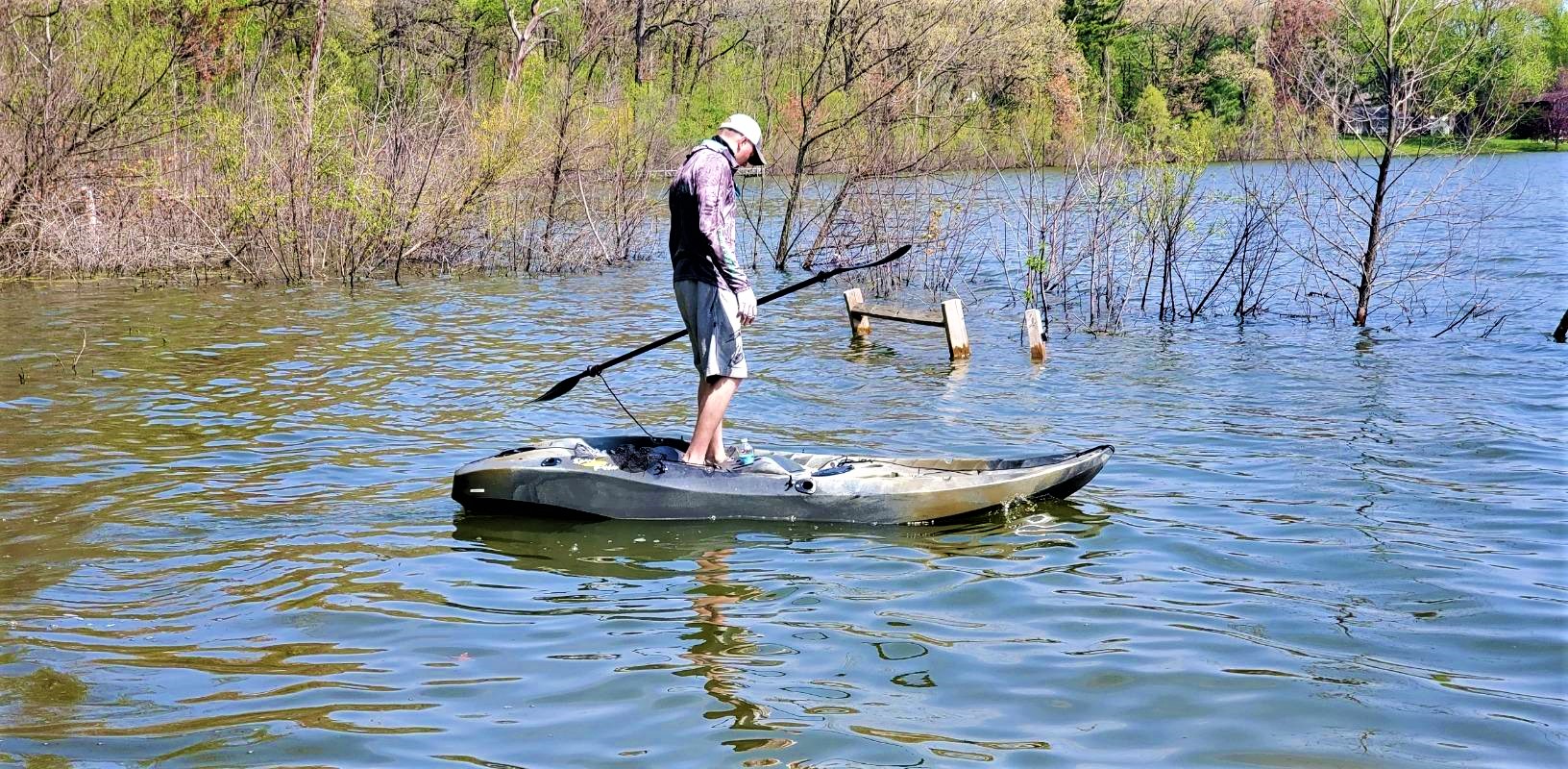 It's nice to have the tandem option if you have a kid who doesn't want to paddle his own or if you just want to take a casual fishing trip with a friend.
At 60 pounds, it's not heavy and easy to carry and load. It's also made for a motor mount so you can attach a trolling motor if you choose.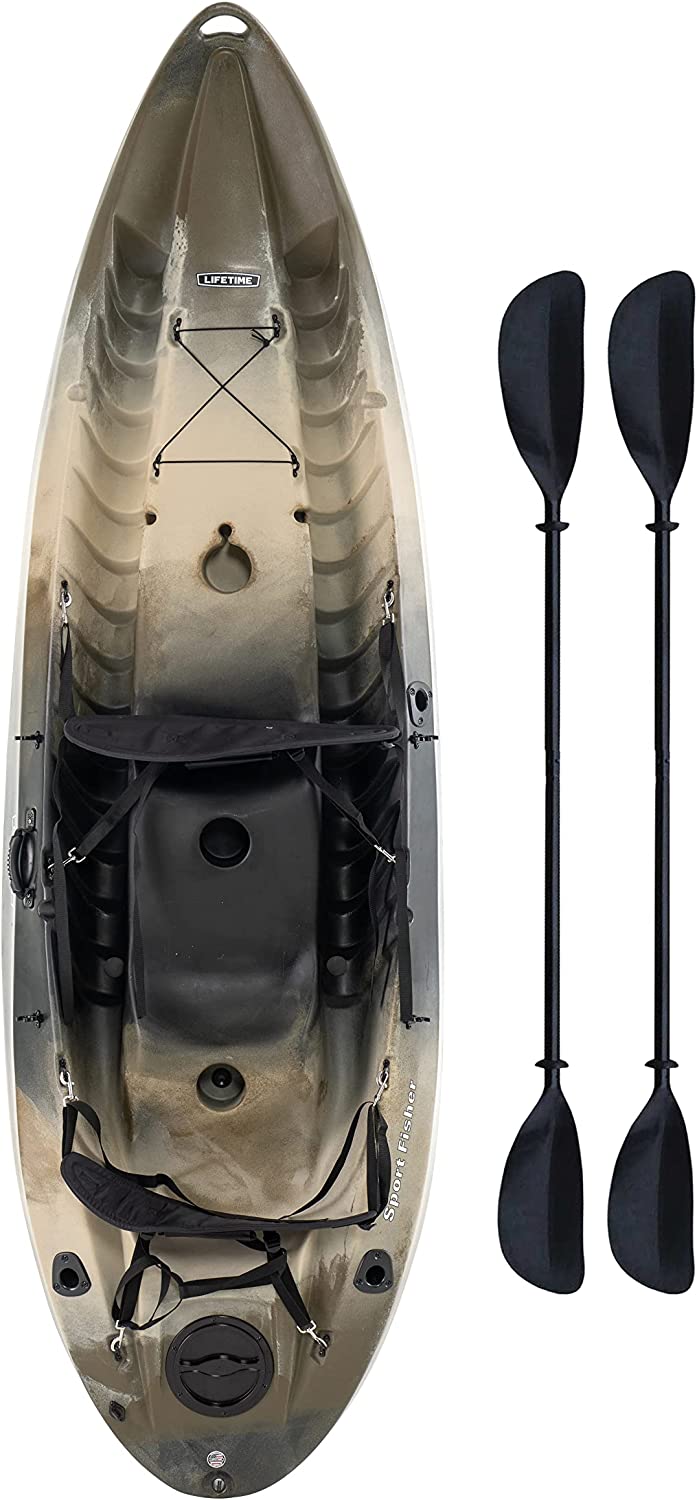 Lifetime 10 Foot
The price of "Lifetime 10 Foot " varies, so check the latest price at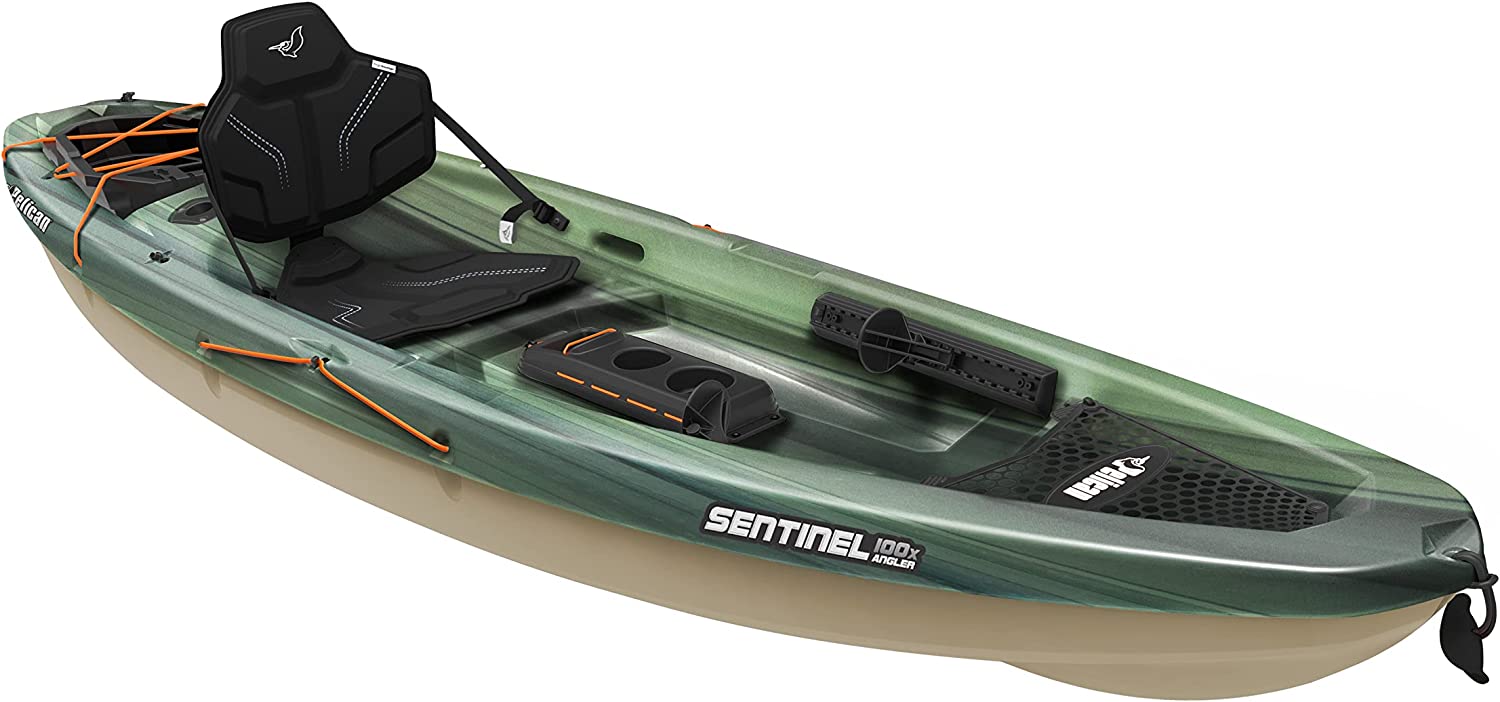 This is the first sit-on-top kayak I purchased and still one of the finest fishing kayaks I have used. It's just the right length and very lightweight kayak and easy to carry at just under 45 lbs. In fact, it's not much heavier than an inflatable kayak.
It has a flat bottom hull, so it's a very stable kayak and you don't have to worry about falling out if you get a little carried away reeling in a monster fish. I am able to stand up on it and move around a pretty good amount without it tipping too much.
There are two places for mounted fishing rod holders right behind the seat, which keeps them within reach and easy to grab.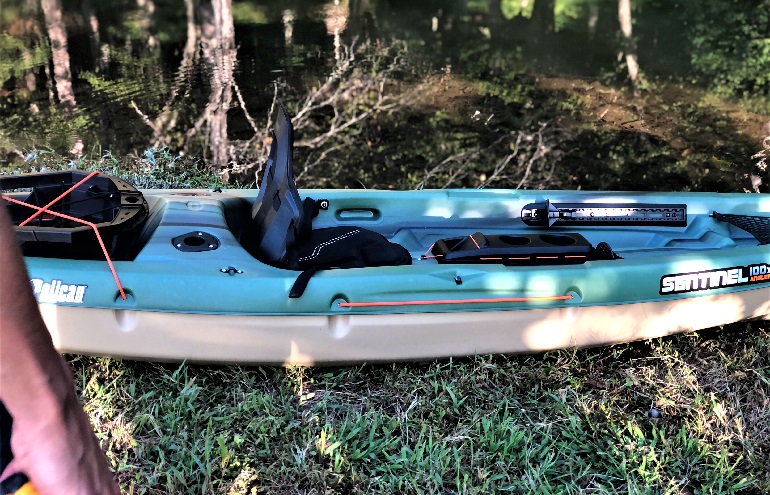 There's a lot of storage and room for any accessories you might want (I tend to have a lot). There's a center console with cupholders and storage space for personal items. There's also a mesh cover to hold gear in place near the sharp bow and the adjustable seat has a padded seat cushion.
The comfy and adjustable footrests mean it can be shared and able to make everyone fit just right. The kayak offers everything a regular fishing boat would have but in a compact size and it's one of the best budget fishing kayaks under 500 dollars.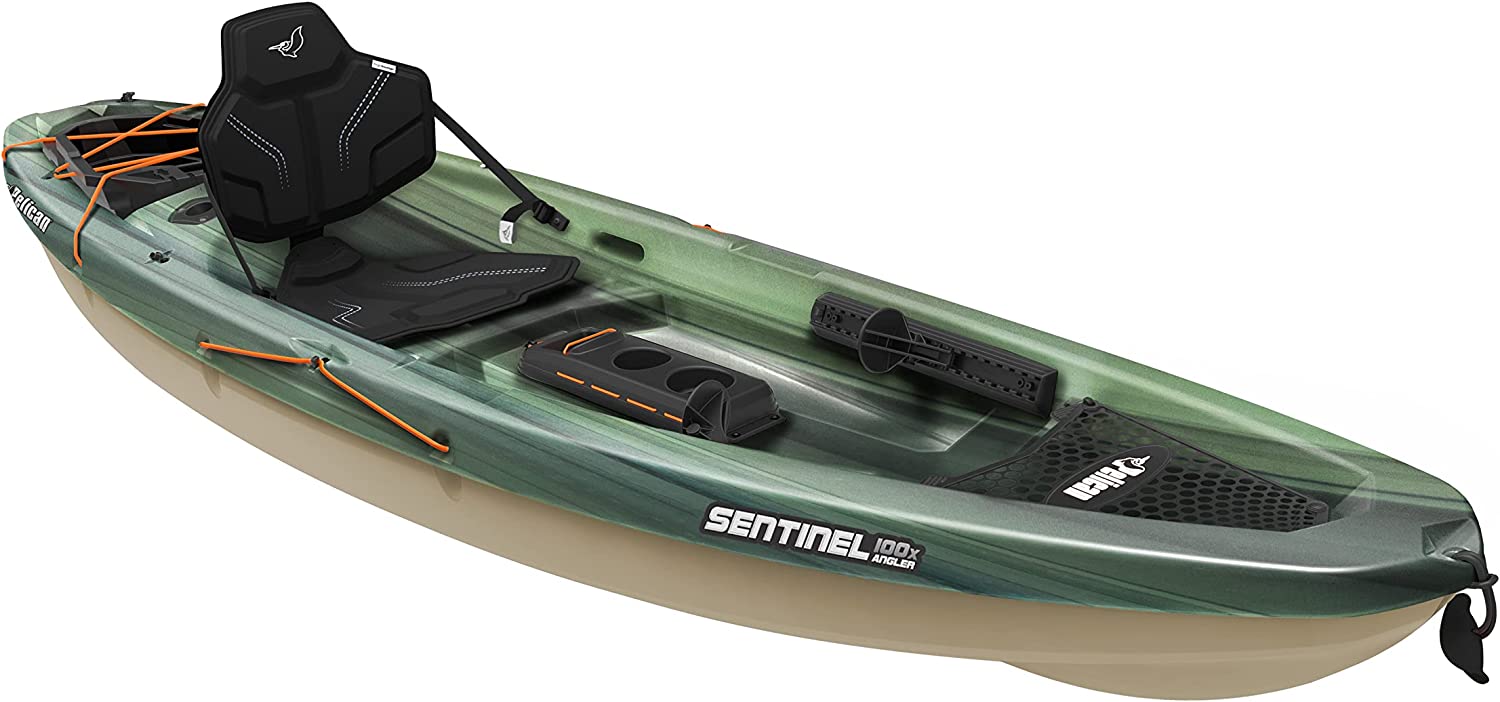 Pelican Sit-On-Top Kayak
The price of "Pelican Sit-On-Top Kayak" varies, so check the latest price at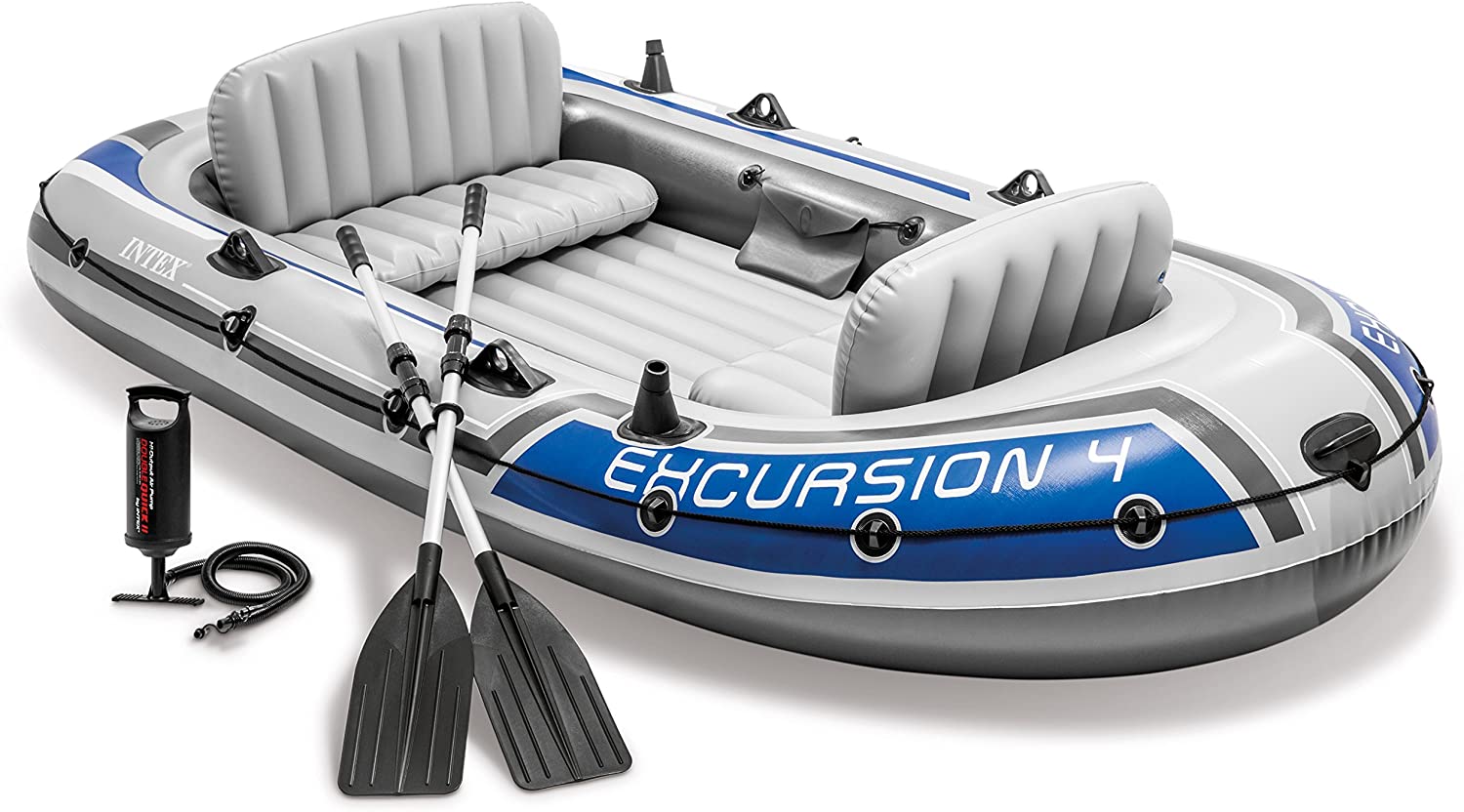 The Intex Excursion 4 is more of a fishing boat than just a cheap fishing kayak. But still, it has great performance when compared to a lot of other inflatable kayaks. It inflates pretty fast in my opinion and can hold up to four people. It also has two fishing rod holders and a gear pouch for all your favorite tackle or accessories.
I was happy to see that the seats are inflatable and soft and there's really a lot of space to stretch your legs and move around. This is wider than a fishing kayak with a seat on each end that can hold two people. It has fittings to hold a motor and oar holders as well.
It's not as thick as a regular inflatable kayak or any other fishing kayak for that matter, but it does have three different air chambers in case you are out on the water and happen to paddle overtop a shark stick or get too close to the rocky cliffs and bank.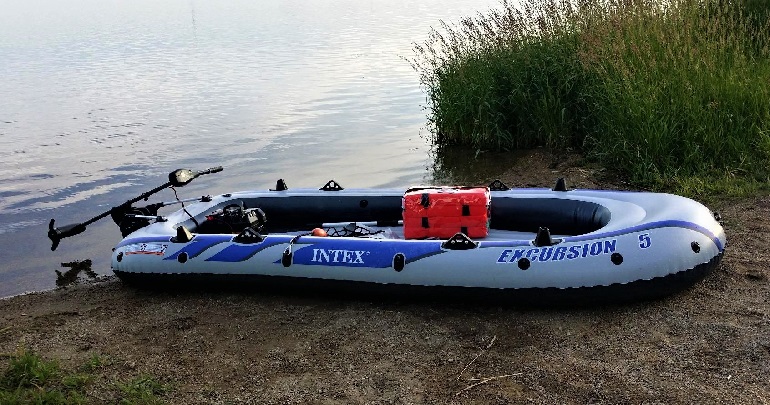 The last thing any of us wants is to be paddling down the river just to realize our laps are full of water and the boat is sinking.
If you aren't an all-star paddler (no judgment here) this feature can give you some peace of mind in knowing you won't end up at the bottom of the lake or river with those scaly fish you're trying to catch.
It's also made of heavy-duty nylon, which Intex says is puncture resistant. It's great for calm waters and small ponds and lakes and it's a fun kayak alternative that serves the same function.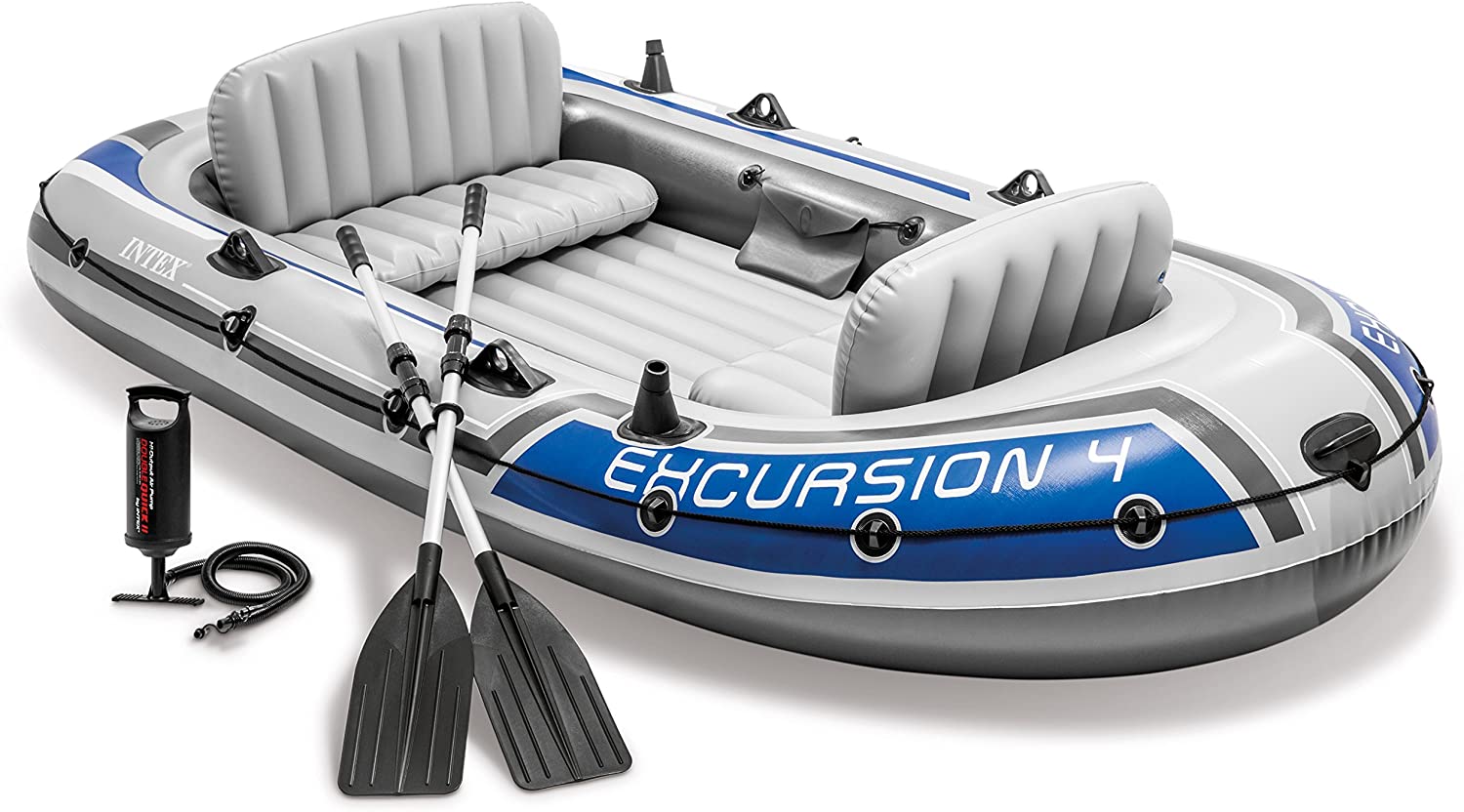 Intex Excursion
The price of "Intex Excursion " varies, so check the latest price at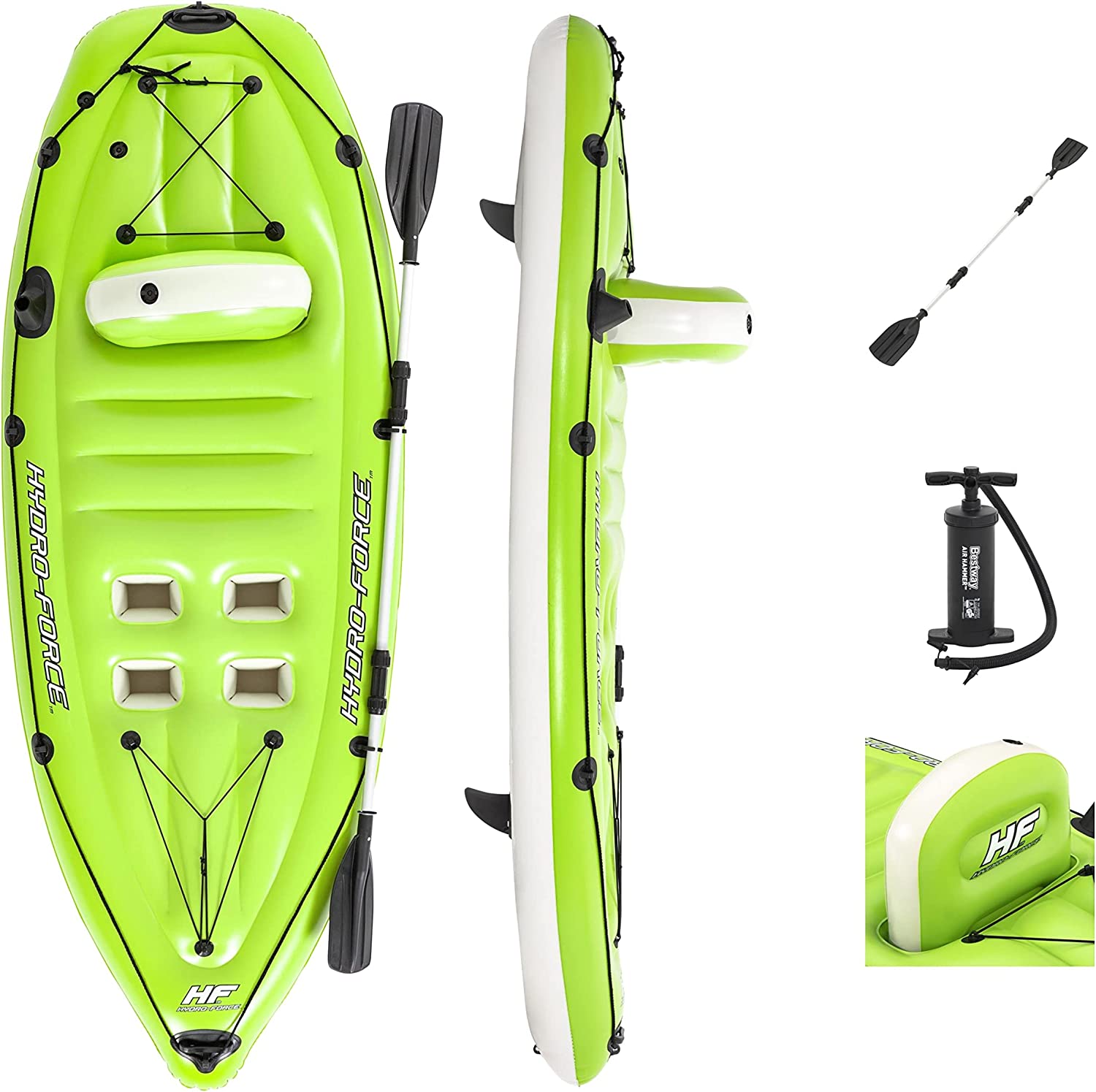 We all love a deal, right? Nobody wants to overpay for a good fishing kayak to get you on the water and make sure you have a blast. It's super lightweight and comes with a little hand pump that you can keep in the storage bag so you always have it on hand to air up the boat.
It's one of the cheapest inflatable boats you can buy. I purchased one for my two sons this past summer to use at the beach to play in the waves. We didn't bring our kayaks for our Memorial Day trip since it was just a weekend trip and they missed them. They complained and begged for this, and I finally gave in and picked it up.
We were able to grab this up at a sporting goods store for around $99 and it came with an included paddle (You can't beat that!). They played in it for hours to my surprise. It did fine in the surf and the inlet and they were pretty rough on it. I'm sure it would do well on calm lakes and ponds too.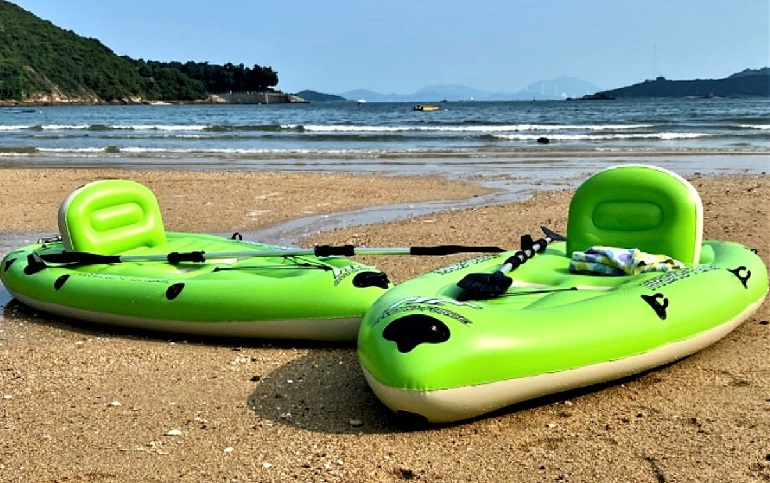 My oldest son tried some fishing from it and said the rod holders worked well and it was pretty sturdy. It has straps and a grab line for easy carrying and my kids were able to inflate and deflate it on their own with no problems at all.
They drug it through the sand and I honestly didn't think it would survive the trip, but we ended up bringing it home and they play with it in the pool.
It's perfect for a quick trip or if you are on a tight budget (and have spoiled kids like mine) but want to fish without renting or hauling kayaks to the water. The only problem is that it doesn't have a lot of storage capacity.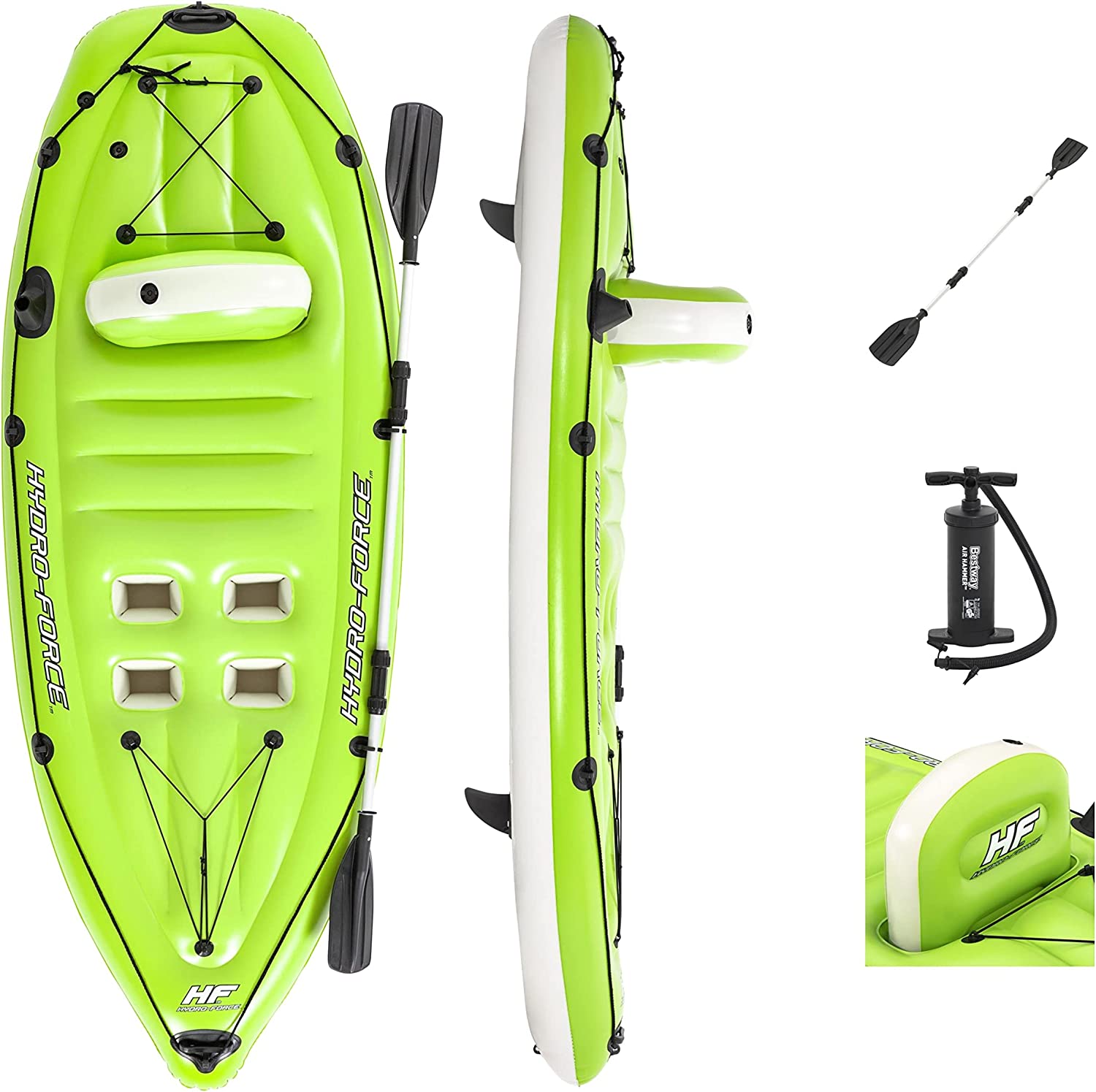 Bestway Hydro-Force
The price of "Bestway Hydro-Force" varies, so check the latest price at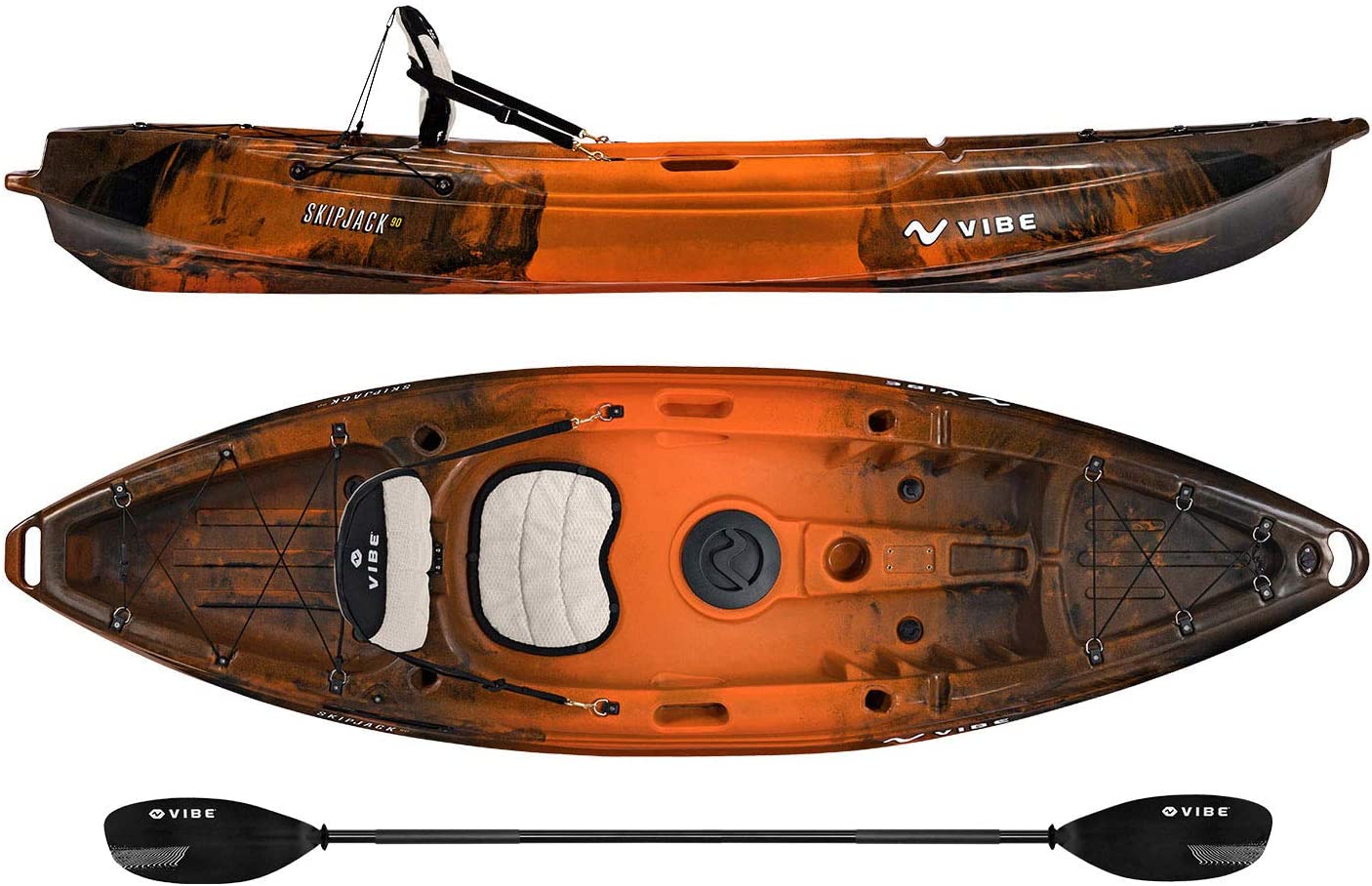 This sit-on-top kayak is for any serious anglers who are looking for fishing kayaks under 500 dollars that can also perform well when on the water. This one is designed to be fast in the water and hold all your fishing supplies.
There are front and bag storage spaces, a waterproof cargo bag to keep things safe, a tackler toss tray that will make it easy for you to lay out all your tackle and swap it out fast, and bungee cords and tie-downs to hold all your items securely in place.
There is also plenty of additional space for your different fishing poles with four different rod holders situated all over the kayak.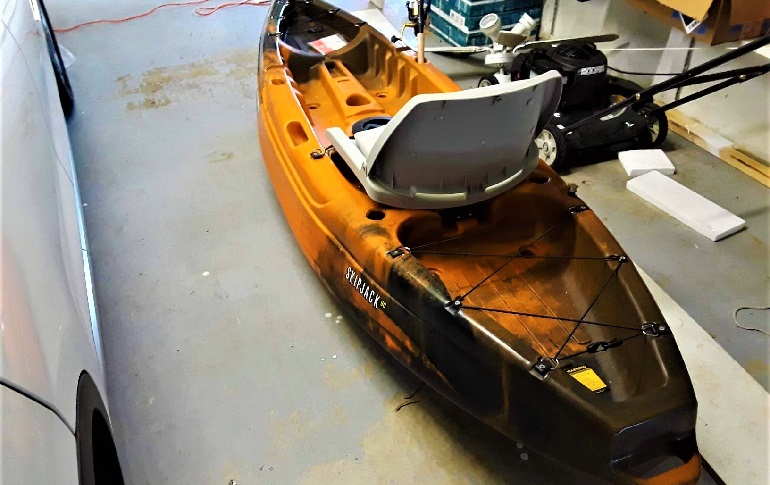 It has a slip-resistant deck so you can stand up to fish if you choose and is one of the most comfortable padded seats I have ever sat on.
If you kayak often, you probably know all about scupper plugs. Scupper plugs are included so you don't get wet while you are out on the water and they also pop out easily to help you drain your boat if you would happen to paddle through some rough waters.
You can better enjoy fishing knowing you have everything you need on your kayak.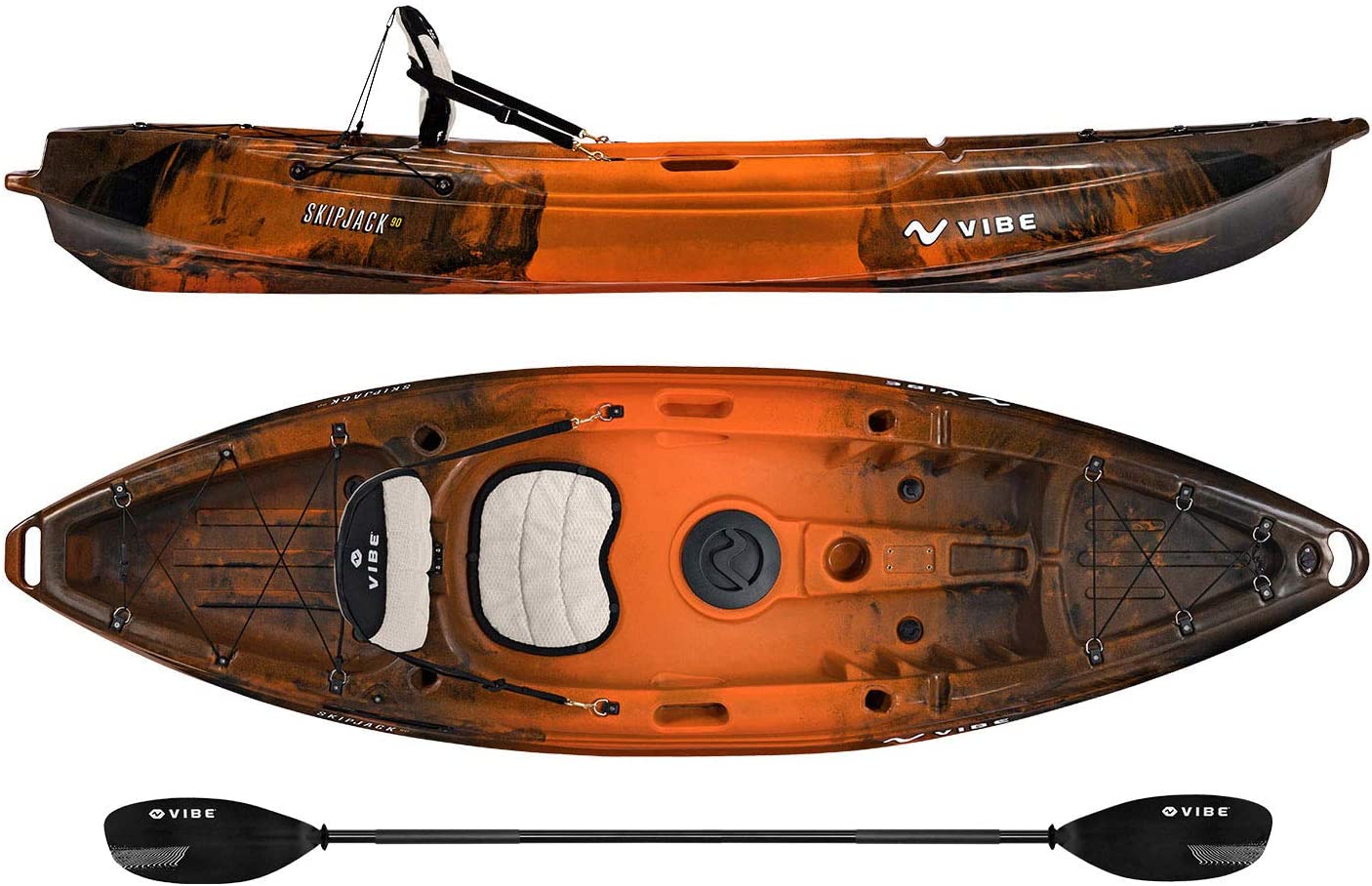 Vibe Kayaks Skipjack 90
The price of "Vibe Kayaks Skipjack 90" varies, so check the latest price at
Buying Guide for Best Fishing Kayak under $500
If you're looking for the best fishing kayaks under 500, there are a few things you'll want to keep in mind. Despite being budget picks, these options should not compromise on the quality that you expect from your water vessels.
Now let's look at all the factors that account for the best fishing kayaks under 500 for your convenience.
Maneuverability and Tracking
Whether you plan to attach an actual trolling motor to your fishing kayaks or will be paddling from place to place, you want something that will get you to your favorite fishing spot quickly and easily.
Depending on where you fish, you may need to navigate obstacles and different water conditions. One of the basic features to look for when choosing a fishing kayak is its maneuverability and how well the haul is built for tracking.
You may also want to look for fishing kayaks that come with a nice tracking skeg so you catch fish in all types of water without losing maneuverability.
Stability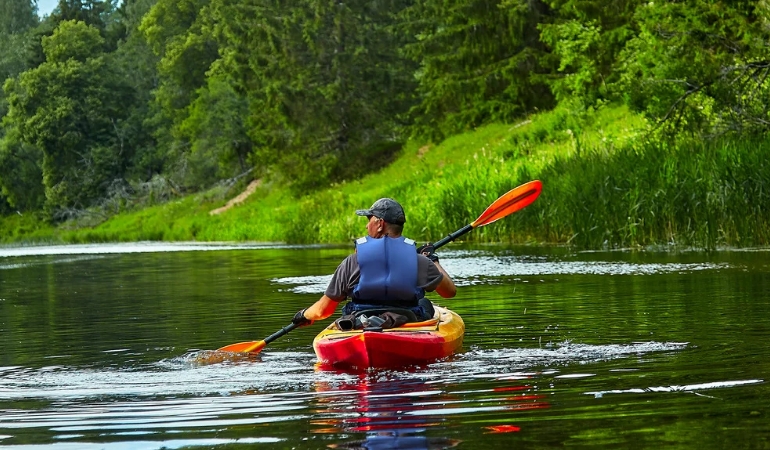 If you're like me you move around a lot when fishing on your kayak. You may also like standing up to get a better cast or to fight your fish into the boat. That means you need a kayak with more stability and less wobble.
Most kayaks of the sit-on-top design are made for standing and tend to make better fishing kayaks because they are a little more stable and can handle some more movement and body weight.
That doesn't mean you can't fish from sit-in kayaks, but keep in mind that different kayaks are designed for different purposes and if you are looking for the best fishing kayak, you want to make sure it is stable enough to handle the activity.
Weight
When you are shopping for fishing kayaks it's important to think about how much they might weigh. Most of the time, inflatable kayaks are much lighter than traditional hard ones.
If you are going to be packing your kayak into a more rugged area, you may want something that is lightweight and comes in a nice carry bag. If you choose a traditional kayak for fishing, you should still consider the weight and storage space.
Keep in mind you will also have to pack your own fishing poles and gear, so make sure the kayak you choose has the most comfortable handles for easy carrying.
Final Thoughts
When it comes to choosing fishing kayaks under $500, you don't have to give up features and performance just to save money.
There is a fishing kayak for every budget, you just have to compare different types to see which one can best meet your needs and performance expectations. Be sure to consider some of these options while shopping around. If you're more into hunting than fishing, you can also take a look at the best duck-hunting kayaks available on the market.