What can stop your kid from grumping? Not a toy board but a real snowboard. I mean, they want miniature versions of adult boards.
Kids are human beings to whom respect is due. They are superior to us for all the right reasons, so better stay safe or be prepared for spilled secrets.
The irony, here, is snitches don't get stitches. The ultimate authority is in those little hands. So, let's take good care of those buds and tend to their essential needs. You know, kids don't come with filters, so being a yeasayer and showing utmost respect is only going to save your arse.
To make it easy-peasy for you, I have put together a list of some of the most functional kids snowboard options on the market.
These snowboards tend to perform like adult snowboards, ultimately providing your kid with much-needed practical knowledge. So, let's get into this best kids snowboards list!
Best Overall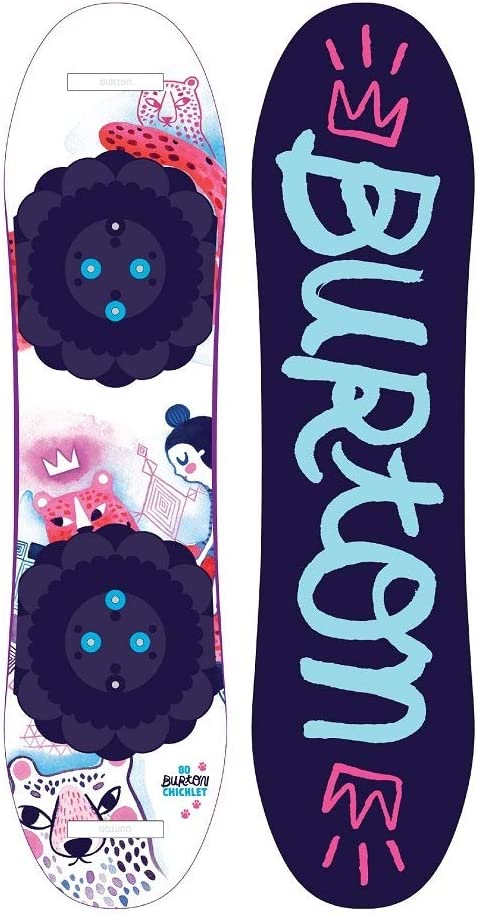 Burton Chicklet Snowboard
Most Exquisite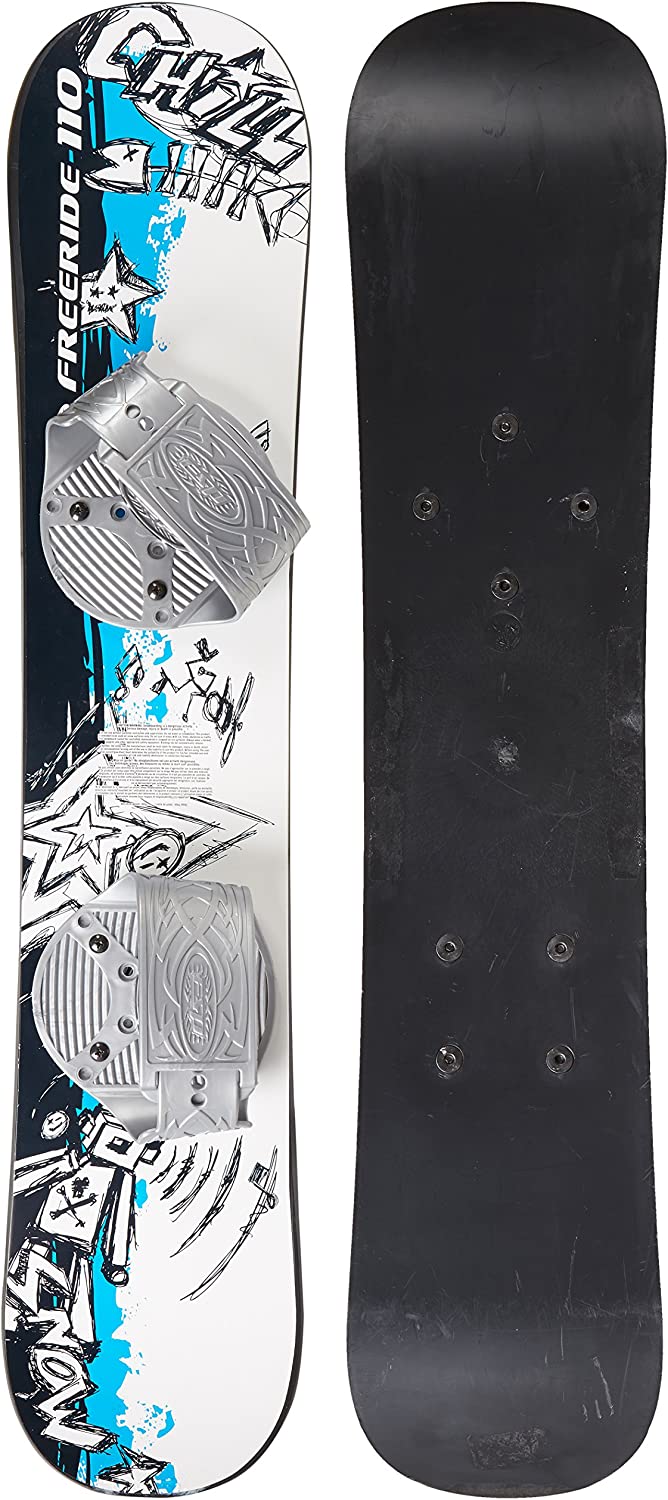 Emsco Group Graffiti snowboard
Size:110cm
Brand:Emsco Group
Ideal for Beginners

Lucky Bum Plastic Snowboard
Size:95 cm
Brand:Lucky Bums
All-Rounder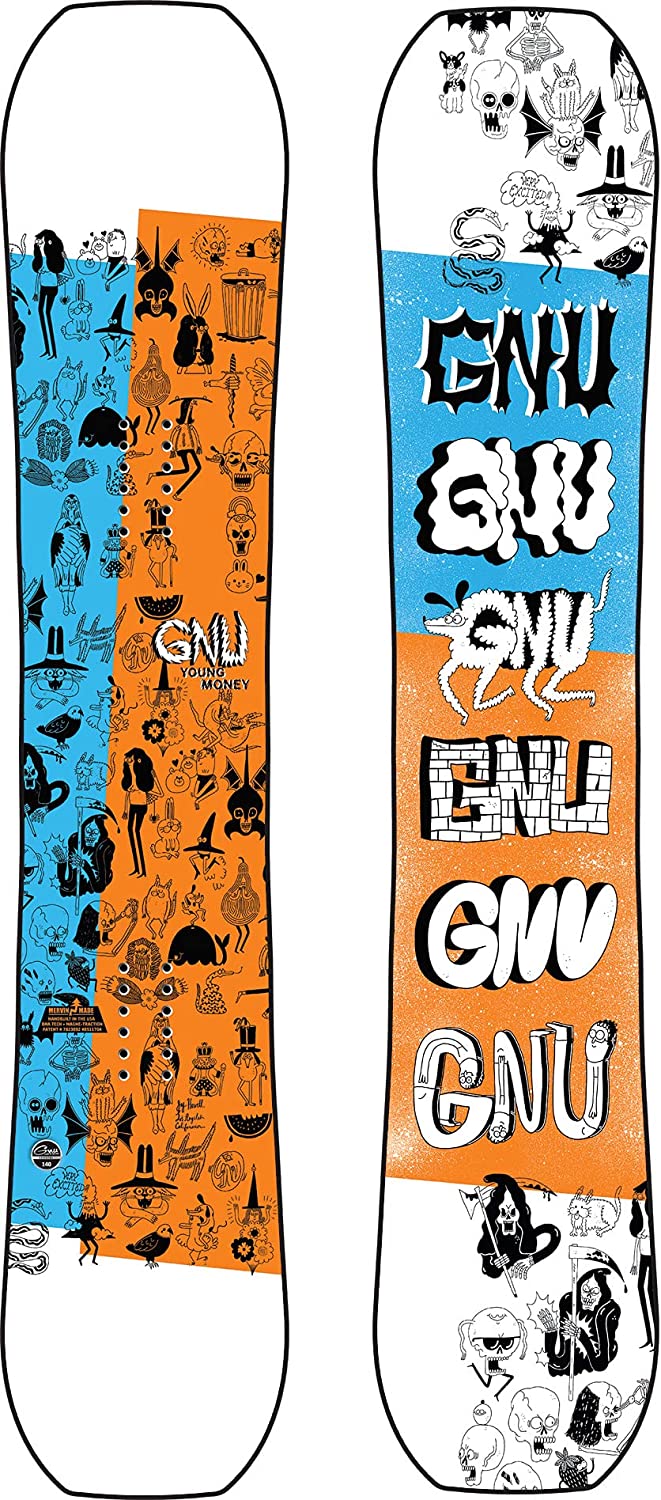 Gnu Young Money Kids Snowboard
Most Durable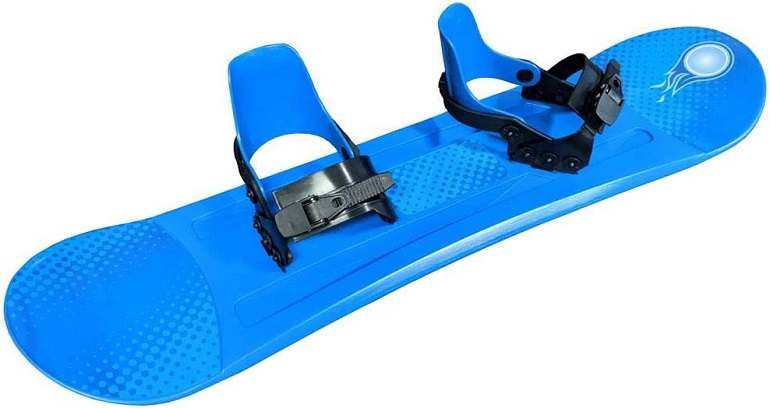 Grizzly Snow Deluxe Snowboard
Budget-Friendly

Emsco Group ESP Snowboard
Size:

110cm

Brand:

Emsco Group
Our Top Picks of the Best Kids Snowboard
Parents of picky kids know the real headache and struggle behind making their kids decide on something.
But what if I solve your problem by making a list of very attractive yet super-functional kids snowboards?
Read on to find out about some of the best kids snowboards out there, decide on one, and make your kid ride along with you.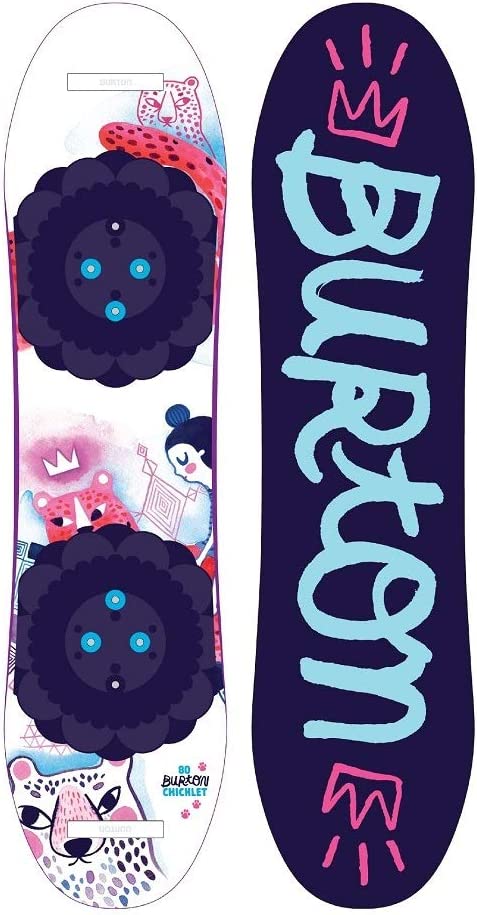 Just made for intrepid little humans! The Burton Chicklet Snowboard is the ticket to an exhilarating fancy ride and a best friend to all snow lovers and daring girls.
If your little girl is just getting started, Chicklet will prove a good companion, and it will easily make her learn the basics real quick.
But what makes it so perfect? Well, it is a user-friendly, as well as a beginner-friendly snowboard that features a combination of the softest flex ever and a catch-free convex base. This thing makes it possible for lightweight young riders to master stopping, slowing down, and turning.
Well, what I love most about it is its extruded base that doesn't require much waxing. Saves time!
This twin-flex snowboard doesn't feature a camber but rests flat between the bindings. Such a quality enhances its ability to remain stable while allowing good control and better balance.
Now that we are speaking of balance, let me enlighten you on its very forgiving, very compliant, and very playful twin shape that makes it an impeccable all-mountain twin snow craft.
This symmetry advocates a balanced ride, allowing the young riders to spin and stomp however they like even if they are riding switch instead of riding regularly.
Wait, did we mention a catch-free ride? For sure, we did. The flat top bend supports balance and continuous edge control helping the nose and tail kick up for a catch-free ride.
It is further supported by a fly 900G classic durable hardwood core that puts together two of the best wood species to lighten the load without compromising pop, strength, or flex.

Features
Terrain: All mountain
Riding Level: beginner
Rocker Type: Rocker/Flat/Rocker
Shape: True Twin
Pros
Burton is famous for providing boards in the smallest possible sizes for kids. Tell your little human not to worry anymore!
Cons
The only deficiency pointed out by most of the customers seems to be a missing riglet.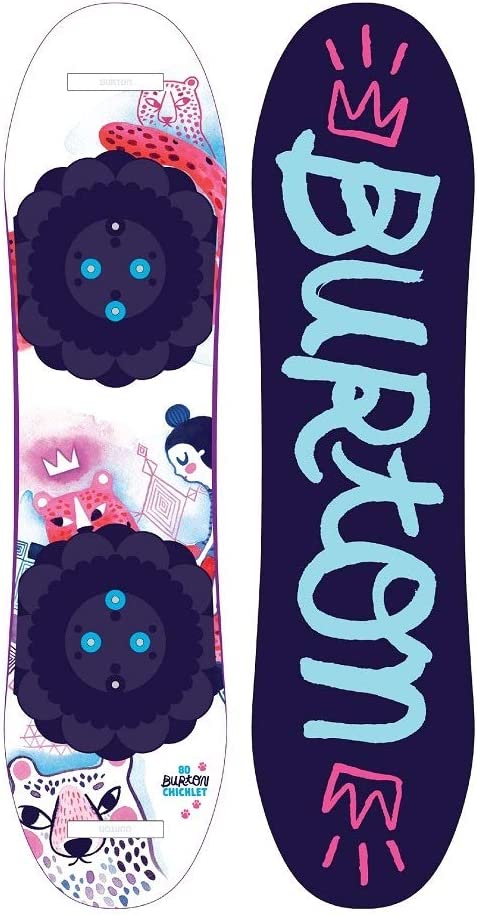 Burton Chicklet Snowboard
The price of "Burton Chicklet Snowboard" varies, so check the latest price at
We can say that the Emsco snowboard is an upgrade for your children if they have outgrown their beginner snowboards and looking for the next adventure.
Suitable for kids aged 5 through 15, the board boasts excellent workmanship with its polypropylene construction for the core and adjustable bindings.
Speaking of which, do you know what the best thing about it is? My favorite feature is its step-in bindings that easily lock into place after adjustment.
So, worry not! Now your growing kid can lock into place more firmly after minor adjustments. Doesn't it make snowboarding easy?
Moreover, tweens of different sizes can also fit in without any issues so, it can be shared among a bunch of siblings of the proposed ages.
Not to mention, the decent size and large profile of this unisex snowboard allow easy control on slopes and in the park for learning tricks without any pressure. So, what does it make it? A catalyst for change and progress.
Another best feature of this board is customizability which allows kids to design their graphics on their own. The board's surface can be used as a canvas for any permanent marker, so children can draw and edit the existing graphics however they like.
I mean, kids love drawing and painting and you love following trends, it makes a perfect equation. Doesn't it?
I can bet that enlightening your kid about this feature will make you witness the most priceless reaction ever. Not just that, provided markers and stickers will also puff up the excitement of your kid to another level.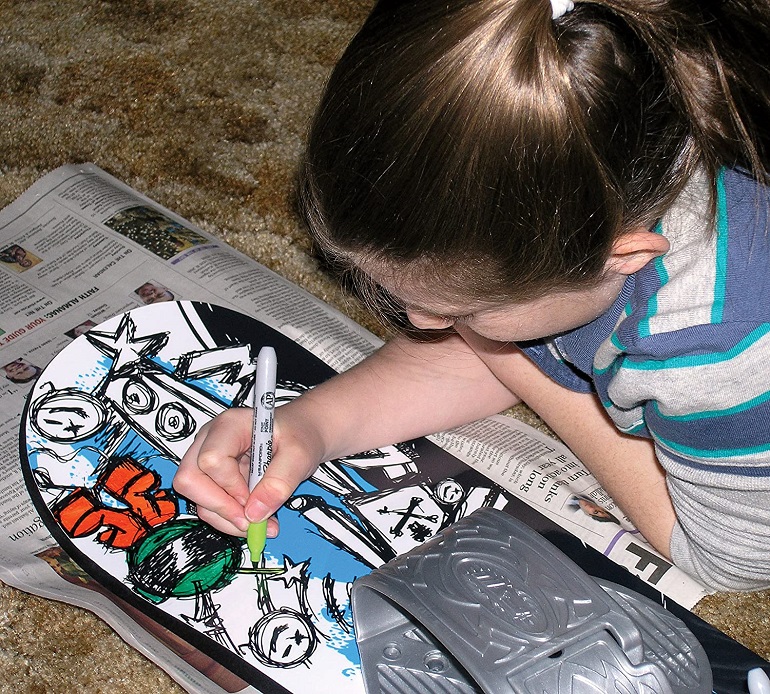 Features
Terrain: All mountain, Freestyle
Riding Level: beginner and intermediate
Rocker Type: Camber
Shape: Directional Twin
Pros
To many customers, the Emsco graffiti snowboard seems to be an affordable option in comparison to other alternatives. It comes super cheap and holds up well.
Cons
Some customers seem to complain about the quality of foot straps. To them, straps are unable to hold the snow boots in place.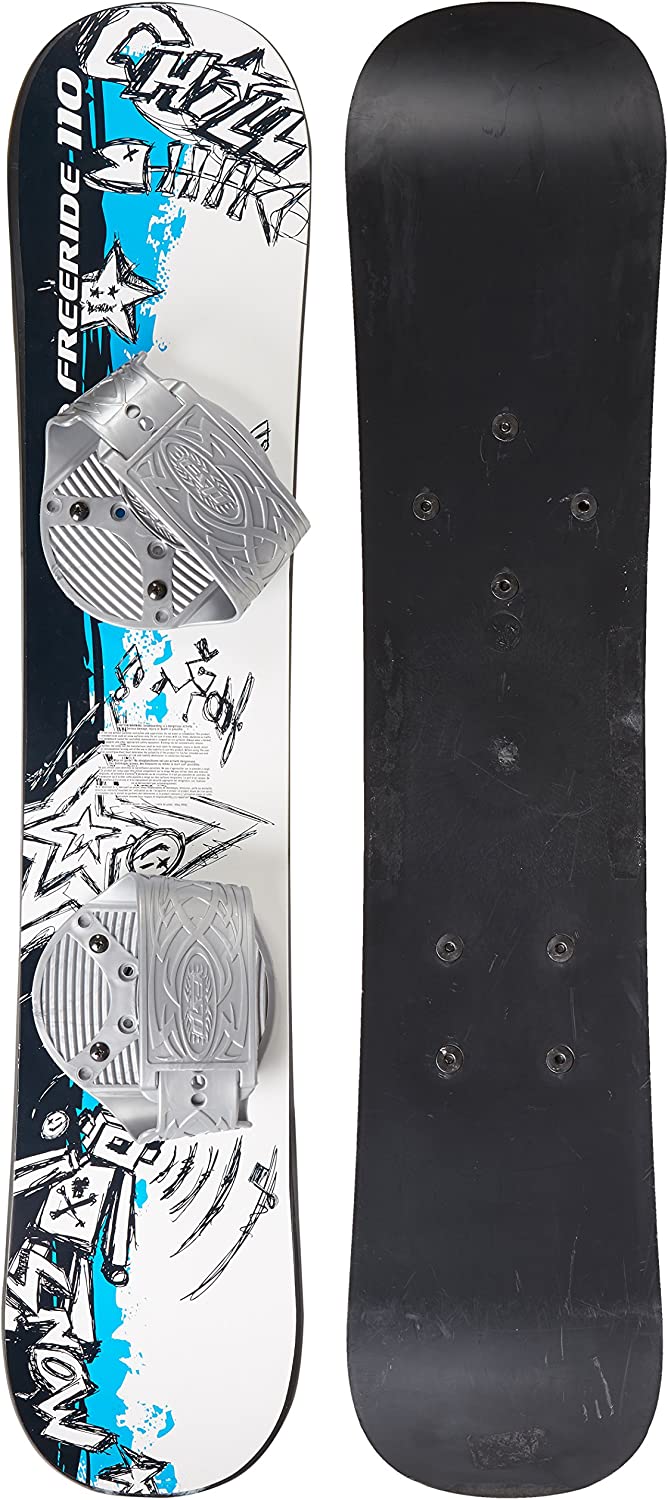 Emsco Group Graffiti snowboard
The price of "Emsco Group Graffiti snowboard " varies, so check the latest price at

Kids love colors, and so does Lucky Bum. I'm sure little humans will get excited while choosing from blue, pink, or red snowboard for their next adventure and that's exactly what makes it one of the best beginner snowboard.
This freestyle board features a lightweight plastic body measuring about 101 centimeters, rendering it perfect for children to carry and ride. I mean, who even doesn't want their kids to get independent Asap? I'm sure you are tired of making breakfast for everyone except yourself.
Well, let's talk about its construction. This kids snowboard features a smooth bottom for happy easy gliding and better float. Also, gentle edges, glossy bottom, and no metal make it glide faster.
One of the best things about it is its pre-mounted bindings on the top of the board surface.
Your kid just needs to wear new boots and get them firmly latched into the pre-mounted adjustable bindings.
The board features a traditional snowboard camber profile so you can expect it to behave like an adult snowboard. However, it is recommended for riders aged 9 and up.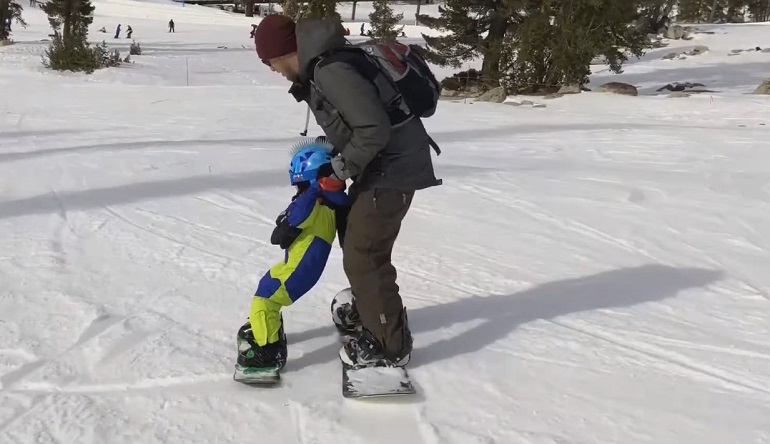 Features
Terrain: All mountain, Freestyle
Riding Level: beginner and intermediate
Rocker Type: Camber
Shape: Twin
Pros
Lucky Bum beginner plastic snowboard boasts a durable latch system and pre-mounted adjustable bindings for a custom fit.
Cons
The snowboard doesn't feature a metal edge, so it cannot be used at resorts.

Lucky Bums Kids Beginner Plastic Snowboard
The price of "Lucky Bums Kids Beginner Plastic Snowboard " varies, so check the latest price at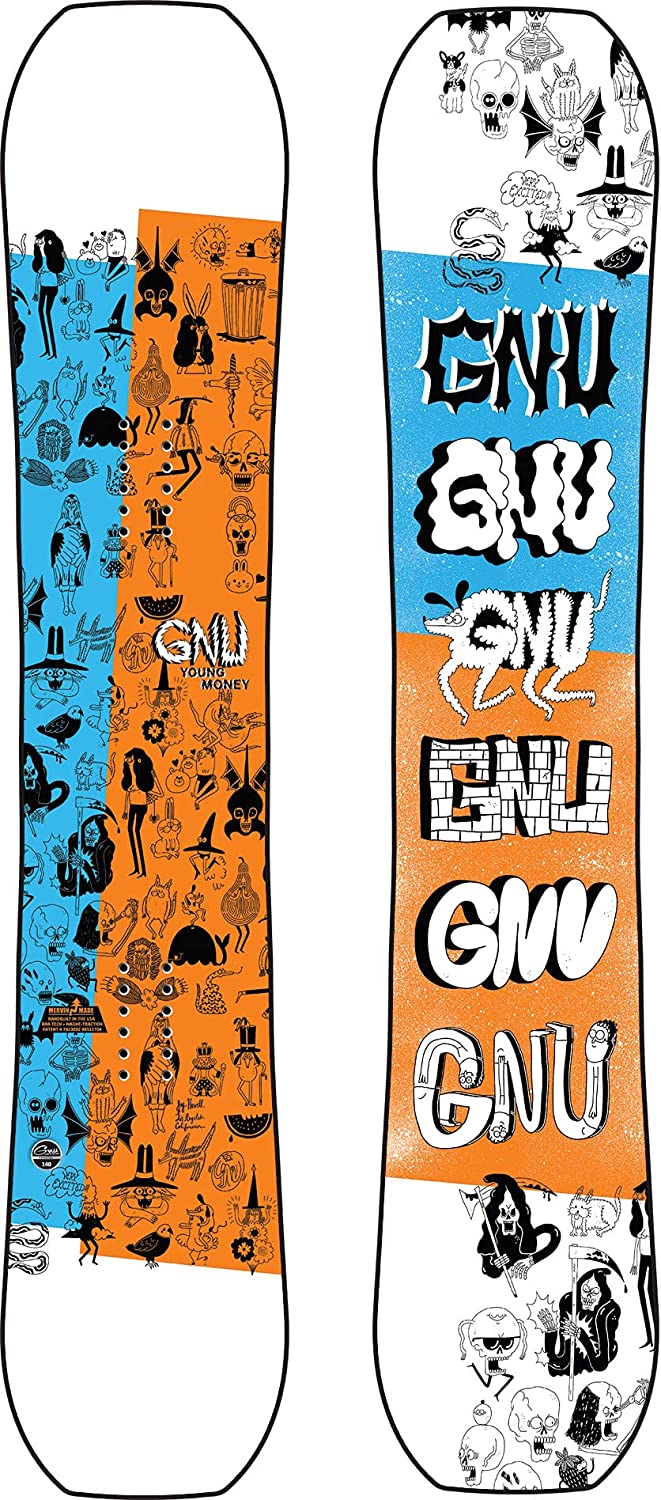 It's an absolute yes from me! The Gnu Young Money Kids snowboard is a top-quality high-end snowboard for little humans. Although it is geared toward terrain parks, it is versatile enough to be ridden on the entire mountain.
This all-mountain versatility allows your kid to explore different spots and new horizons, and learn their snowboarding style at this early young age. What else we are even after!
Its profile makes it a user-friendly board that boosts the confidence of kids to level up their games. It further improves their abilities and grows along with them. So, what exactly is its profile like?
This kids snowboard features a twin shape that makes it easier to ride switch – a good trick to learn this early. Furthermore, a combo of camber rockers allows easy turn initiations and offers lots of pop.
The board's Magna traction shape also enhances its surface area of pressure exertion on the snow, which gives better float and control.
Well, this is how your kids test the limits of their ability. It also offers super balance and control along with exceptional precision.
So, if you want your children to progress faster at the speed of light, and accessorize them with unwavering confidence, I think this board is an excellent option for such a purpose.
To summarize, this is a surprisingly effective and adaptive design which with its elliptical cambered contour and central rocker allows for intermediate tricks, big jumps, and adequate pop.
Lastly, its eco-friendly sublimation paint and wooden core make your ride more satisfactory.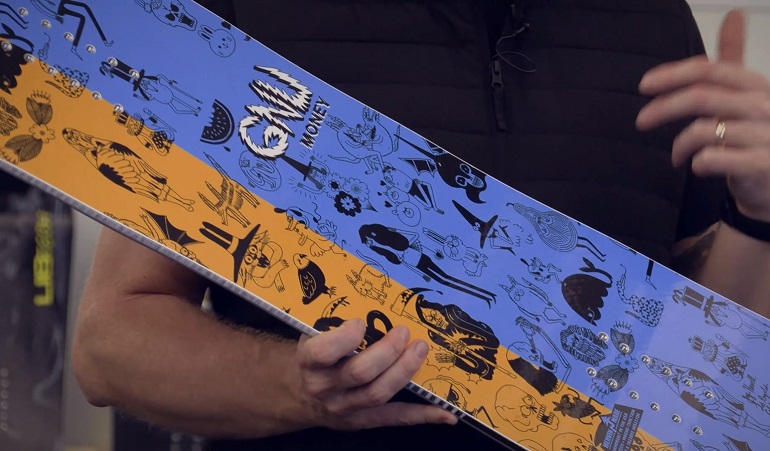 Features
Terrain: Best overall
Riding Level: Intermediate
Rocker Type: Hybrid, Rocker/Camber
Shape: Twin shape
Pros
The Gnu Young Money snowboard performs well even with heavy weight on it.
Cons
The board doesn't come with bindings, hence not a good option for kids with no prior experience in snowboarding.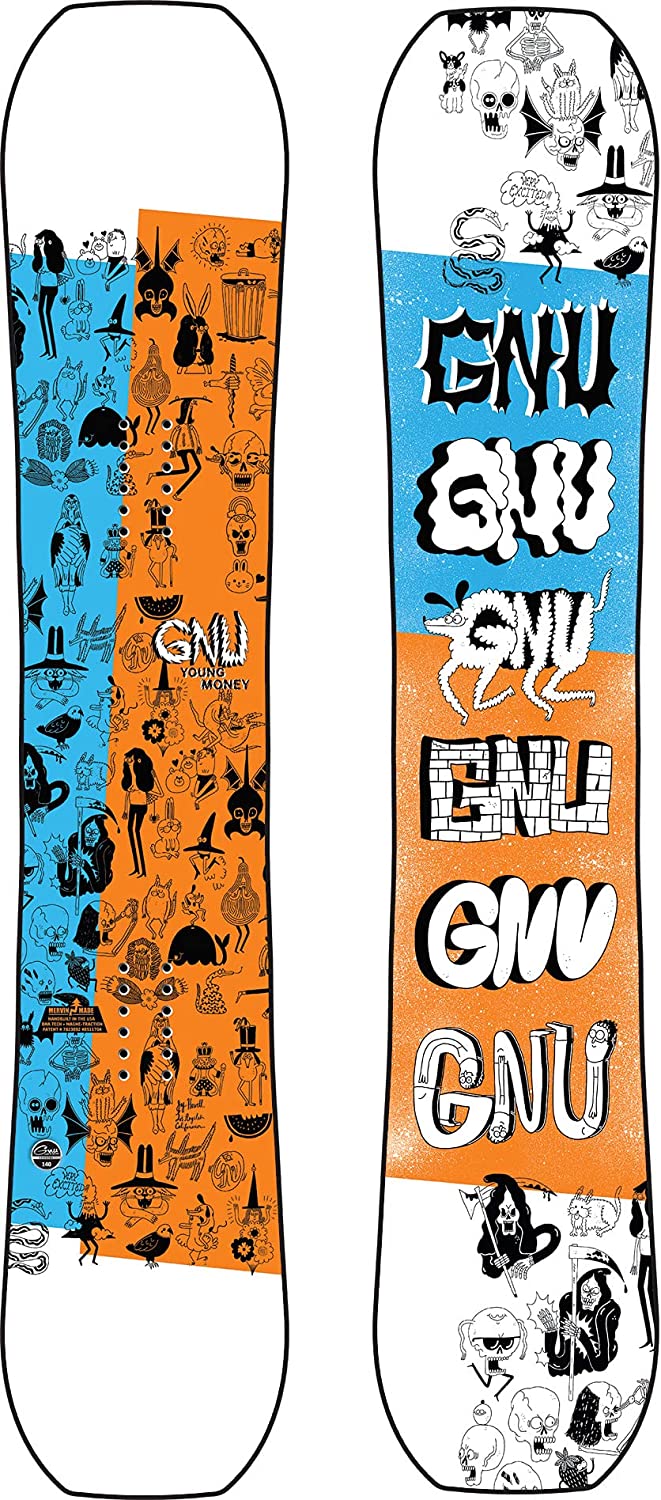 Gnu Young Money Kids Snowboard
The price of " Gnu Young Money Kids Snowboard " varies, so check the latest price at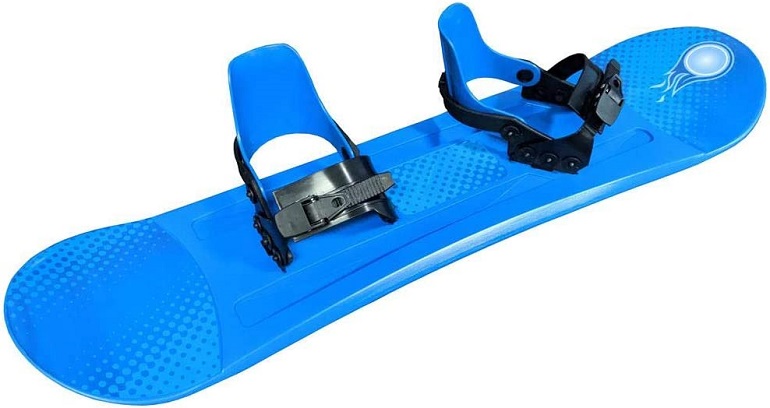 Grizzly Snow Deluxe snowboard swanks heavy-duty blow-molded design with rachet-style bindings and crack additive for durability. Yes, that's exactly what makes it a highly durable snowboard in comparison to its competitors.
This freeride board is offered in three colors and two sizes, 95 centimeters or 125 centimeters available in red, blue, and green. This profile length is suitable for riders that are aged four to seven and are up to 127 centimeters tall.
If your little one is a carefree tiny human and just getting started, this great board is a terrific option, as it can withstand damage well than many others.
The heavy-duty molded design does the job just right in making it a reliable and durable board. It is terrifically designed for sledding hills and nailing backyard use in packed snow.
The only thing that can bug you is the absence of metal edges, making it suitable only for learning hills. Also, your kid will not be able to switch front foot.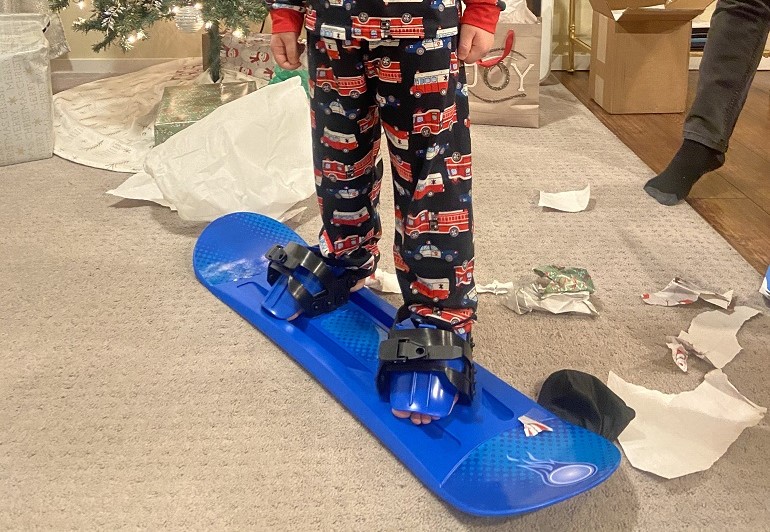 Features
Terrain: Freeride, all-mountain
Riding Level: Beginner
Rocker Type: camber
Shape: Twin
Pros
The adjustable ratchet-style bindings feature is a lifeline.
Cons
This freeride snowboard is being offered in limited sizes which might prove an issue.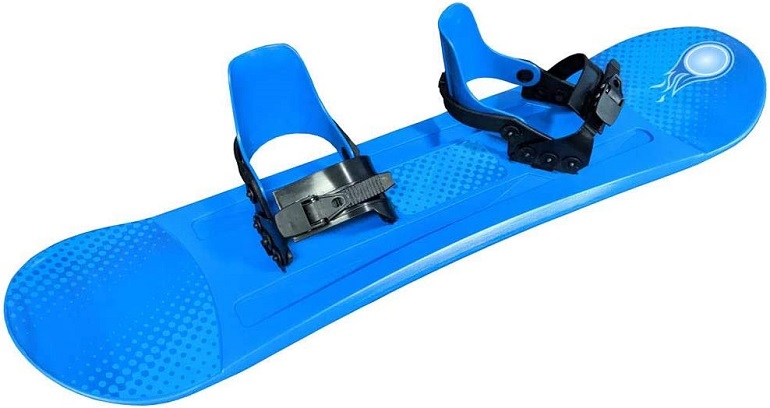 Grizzly Snow Deluxe Kid's Beginner Freeride Snowboard
The price of "Grizzly Snow Deluxe Kid's Beginner Freeride Snowboard" varies, so check the latest price at

It couldn't be made more convenient and untroublesome! The Emsco Group ESP Freeride Snowboard is a great option for novice kids who want to practice but desire an easy-to-use snowboard. Especially if your riding style is freeride.
Made so lightweight and cheap snowboard, this board saves you money. I mean, let's face it. Not everyone can afford to start their journey on snowy terrains by going to a terrain park, and buying a full setup, and tickets. That's a big investment, right?
It does feel heavy on the pocket, especially when your little one is not even sure about this sport and doesn't commit to riding. So, what do you do then? You spend wisely!
You let them try and test riding in a backyard or local hill using a backyard toy like this one. It will save you a lot of stress. Your little one can freely practice their athletic skills using such a board.
If your locale lacks any snowy areas, worry not as any desert sand dune can do the work. Yes! It makes a great place to start an adventure like this. Believe me when I say that ESP makes a terrific ride for downhill riding also.
So, what you need to do is strap your kid on this board, make adjustments to its bindings by swiveling the feet to different angles, and child rides smoothly.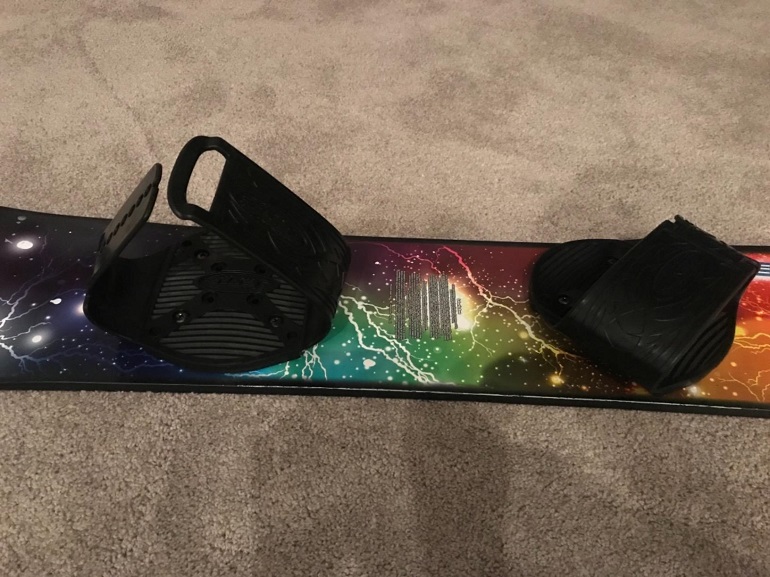 Features
Terrain: Freeride, all mountain
Riding Level: Beginner
Rocker Type: camber
Shape: Twin
Pros
The price point of ESP is very accessible for newbie riders.
Cons
Some customers seem to complain about the size of the bindings and straps. To them, the straps cannot be adjusted small enough so, the feet float in it.

Emsco Group ESP Freeride Snowboard
The price of "Emsco Group ESP Freeride Snowboard" varies, so check the latest price at
Kids Snowboard Buying Guide
Here are some important topics and key features that you need to cover before buying kids boards. Let's see what makes a board the best kid's snowboard!
Construction Material
Long story short, a snowboard for a kid should be forgiving. A flexible and soft flex board allows more room for experimentation while providing much-needed stability and balance.
The younger the child is, the softer the board should be. As a kid grows in size and age, so shall their experience. A stiffer snowboard can wait till the kid gets a hang of this snow sport.
So, considering the construction material of a snowboard is as important as buying one for your little one. Different kids snowboards are being offered in different materials like wood and plastic.
For younger kids, it is suggested to go for a polypropylene or a plastic board instead of a wooden one, as it will behave rigidly.
Mind it, rigidness is better for intermediates or more experienced riders. However, a plastic snowboard will be more flexible, rendering itself suitable for younger ones, although it won't be as durable as a wooden board.
Size
Snowboards vary in length to cater to the needs of different-sized riders. You need to find a suitable size snowboard for your kid, otherwise, be prepared to receive a 'No' from their side. I mean, getting too big of a board on which your child's feet are spaced far apart will only result in pessimism.
If you are buying a snowboard for a small-sized kid, then you should opt for a board that is about the child's chest height on them. Because a shorter board is easy to maneuver and handle.
The snowboard you buy should also have a generic design that could be referred to as an top all-mountain snowboard. Believe me, it will make a good start.
On the contrary, older kids can go for longer boards or whatever suits their riding style. Longer boards tend to float better on snow as the surface area of the board touching the snow increases.
So, the trick is to measure your child's height and check the manufacturer's notes to get a fitting size. That's exactly where all the difference is made!
Binding Style
As you know, most of the kids' snowboards are offered along with attached bindings. You need to check the quality, size, and material of the bindings for a successful ride. Going for a pair that accommodates a wide range of sizes will prove helpful.
Not to mention, the closure system should be checked also. Easy closure with proper security, like with adjustable straps or hook and loop bindings, is a must.
Overall, bindings need to be user-friendly, it would be great if they can be worn with the best ski gloves on. It will save your kid's hands from freezing out while they try to work them.
Style
You need to check out the riding style your kid is into and look for a suitable board with complementary bindings.
Most of the boards are offering locking bindings that are intended for park rats and others have step-in bindings that are geared toward casual rides in sand dunes. While some companies are not offering pre-mounted bindings at all.
The key is to know your kid's style, research the size of the board, get proper-fitting bindings, put on a helmet, and let your kid rolling.
FAQs
What Size Snowboard Should I Get for My Kid?
It depends on your child's age and height. Lengths of kids' snowboards can vary from as short as 95 centimeters to as long as 150. Always measure your kid's height, take into account weight also if necessary, and do not forget to refer to the company's measurement chart.
At What Age Can My Child Learn to Ride?
Snowboarding involves full-body engagement. It requires balance, body development to a certain level, and stamina for physical work. With skiing, the average age to start can be four to six. Or you can say, as soon as the kid can fit snow boots and shows coordination, they can ride.
Are Shorter Snowboards Better for Beginners?
Yes, a shorter board proves more forgiving and flexible. It allows easy maneuvering, jumps, and tricks. Furthermore, they are lighter and easier to control.
Conclusion
A right board is what makes your kid develop a passion for the sport. A great choice would be something flexible and easy to use. Overall, the right gear, price, comfort, and usability have to be considered.
Most of all, the design and outlook are important when it comes to selecting a board for kids. That's right! What makes a board best for a kid? The design.
Also, the best snowboard for beginners is all-mountain but if your kid has developed their style already, opt for specialized boards instead.