Finding a good budget snowboard is an arduous task. I know you don't want to compromise on its performance or quality, yet also can't fancy living with a beggar's bowl in your hand either.
Also, right now, if you don't even know your style, stance, your front foot, and things like that. Very unnerving, indeed!
While buying a board, you might fall in love with the price tag but end up asking, 'what's the catch, bro?' And mostly, the catch is a snowboard that doesn't like to go to work. What's the point in buying it, then?
I understand the pain you feel when you go home, unbox it, take it to the terrain, try it, smash it, and mourn for two weeks straight. Now, from the stages I have explained, you can focus on the 'trial' part. See? I not only understand, but I have also got your back.
One cannot take the product without paying for it and just put it to the test, but one can gather information about it, how it works, and what are the key topics to cover. If it sounds like a 'no' to you, be my guest, spend money wherever you want, and parcel me a Versace bag too!
But a wise person won't take a risk. Be that wise person, and read on to find exactly what you need to learn before buying a budget-friendly snowboard.
Best Overall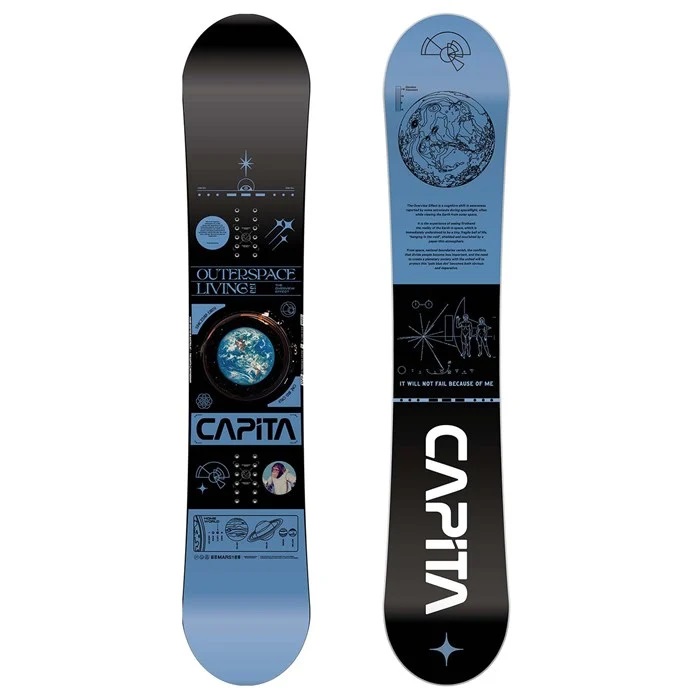 CAPiTA Outerspace Living
Ability Level: Intermediate-Advanced
Shape: Directional Twin
Ideal for Carving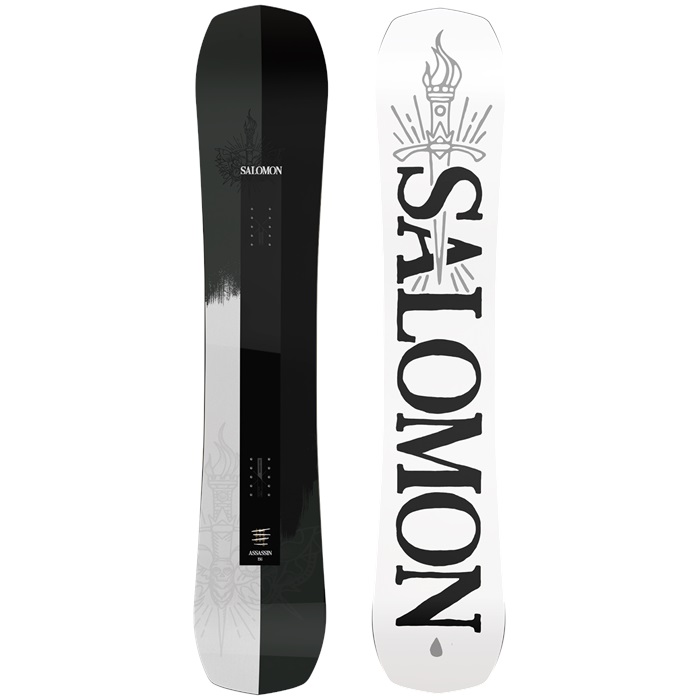 Salomon Assassin Pro
Ability Level:

Advanced-Expert

Shape:

Directional Twin
Best for Freestyle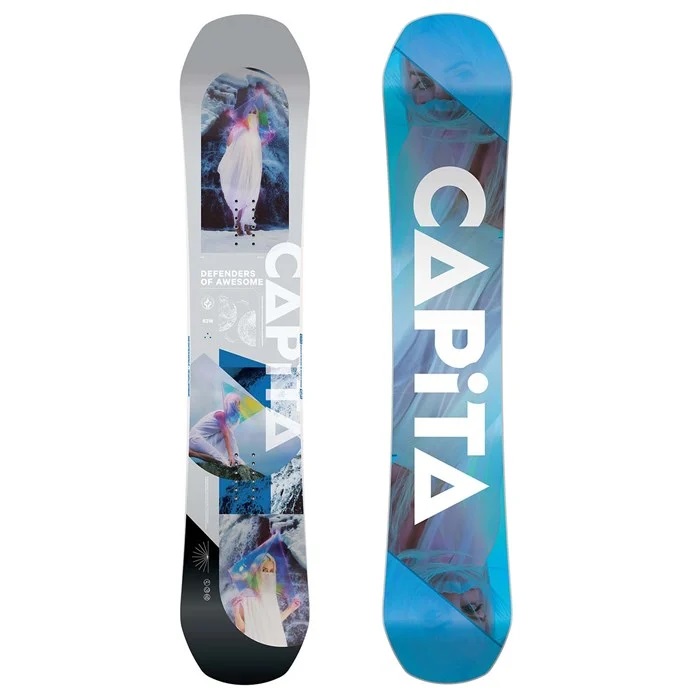 CAPiTA Defenders of Awesome
Ability Level: Intermediate-Advanced
Shape:

True Twin
Budget Friendly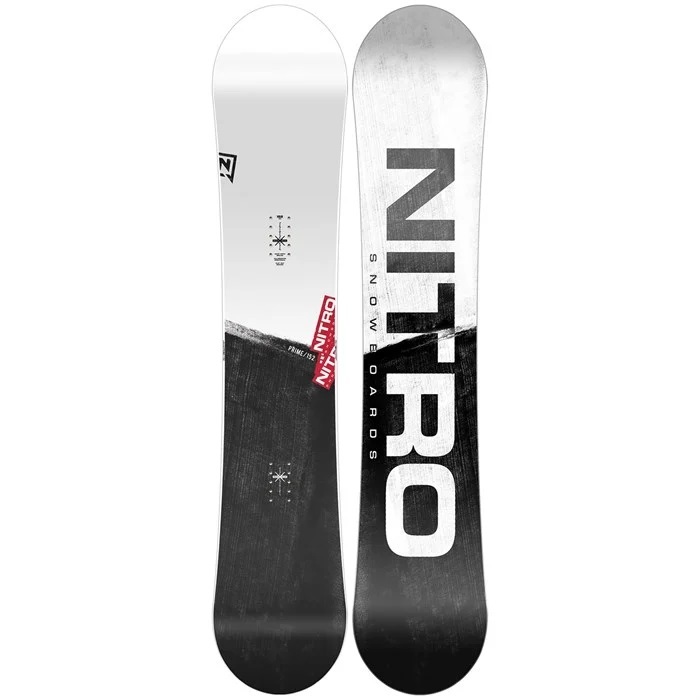 Nitro Prime Raw
Ability Level: Intermediate-Advanced
Shape: Directional Twin
Ideal for Powder Days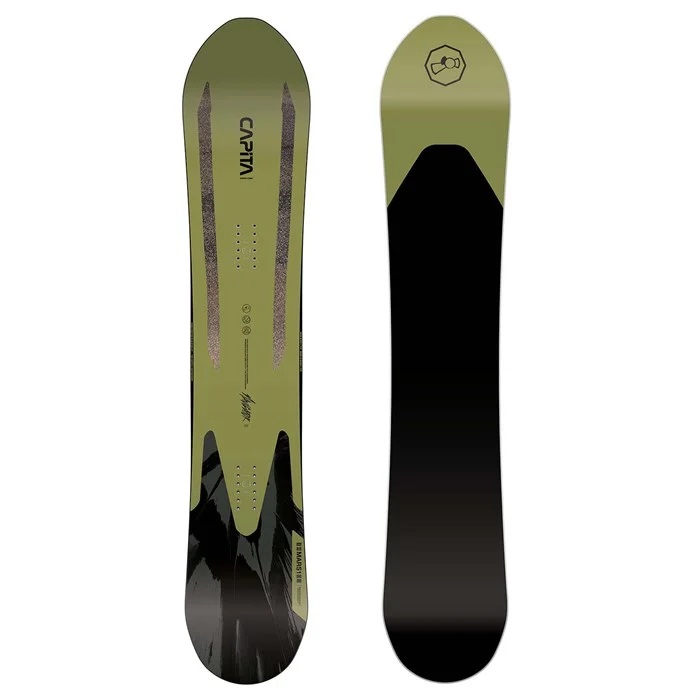 CAPiTA Navigator
Ability Level: Intermediate-Advanced
Shape: Directional
Ideal for Professionals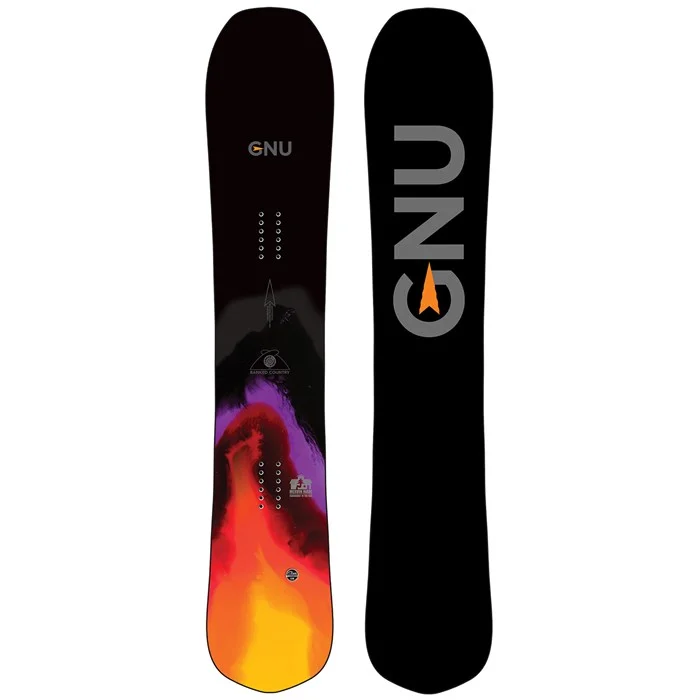 GNU Banked Country
Ability Level:

Advanced-Expert
Best Budget Snowboards – Top 6 Picks
Here I have put together some of the top rating best budget snowboards for you to pick one from.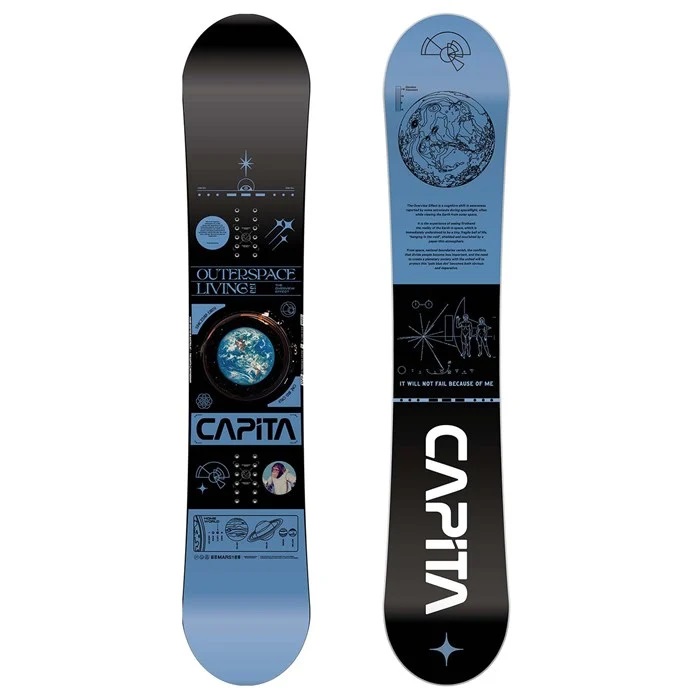 This one is our topic pick, no doubt, CAPiTA provides the best services in beginner boards. The Outerspace living is suited to anyone looking to nail the whole mountain, with their major focus on freestyle rides or even if just fancy riding the groomed runs casually.
However, the all-rounder board performs a little better on deep snow, which is a bit unlikely of a typical all-mountain snowboard. Doesn't it make it a fun board already?
The versatility and effective performance of the board makes it a perfect pick, especially for a beginner or an intermediate rider. A true twin shape of this deck, paired with a forgiving flex of 5 out of 10, boasts responsive turn initiation, excellent edge control, and playful nature, rendering it an impressive performant as a freeride board also.
With heavily rockered tips, it swanks a surfy ride with natural float and rips through the terrain park and snows of multiple natures. It might lack extreme stiffness and power, but it holds its own best options in that regard, such as a catch-free ride and lots of pop.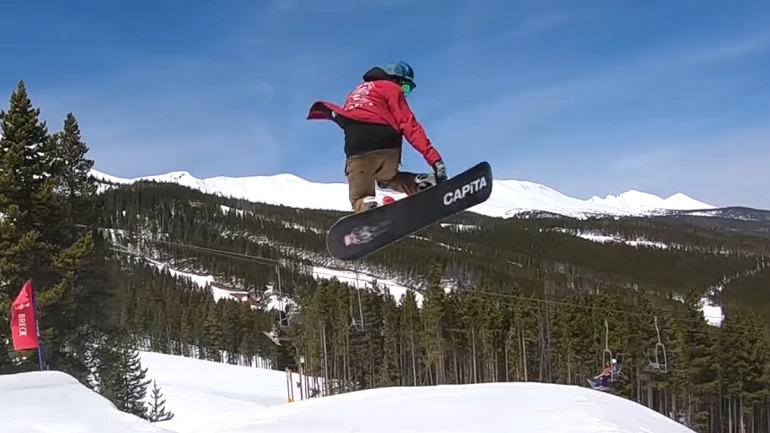 Now, let's talk about its twin shape and how it enters bearing gifts. A true twin profile gives the board a balanced feel with a riding switch made easy, now, ride switch all you want. It features a reverse camber that extends to the outer foot areas to allow a solid grip and increases maneuverability.
Outerspace living is a user-friendly cheap snowboard made to act as a catalyst. This makes it the best beginner board as it lives up to that distinction at an affordable price, better than the average snowboard on the market.
Features
Style: Freestyle, all-mountain
Skill level: Intermediate to advanced riders
Profile: rocker/camber/rocker
Price: under $450 (not bad!)
Pros
CAPiTA Outerspace Living Snowboard is extra poppy, perfect for side-hits, and lightweight by any means, plus, that pop is super easy to access. Well, isn't that what we freestyle snowboarders are looking for?
Cons
The board doesn't pose as a jibbing master, but still, it is decent there.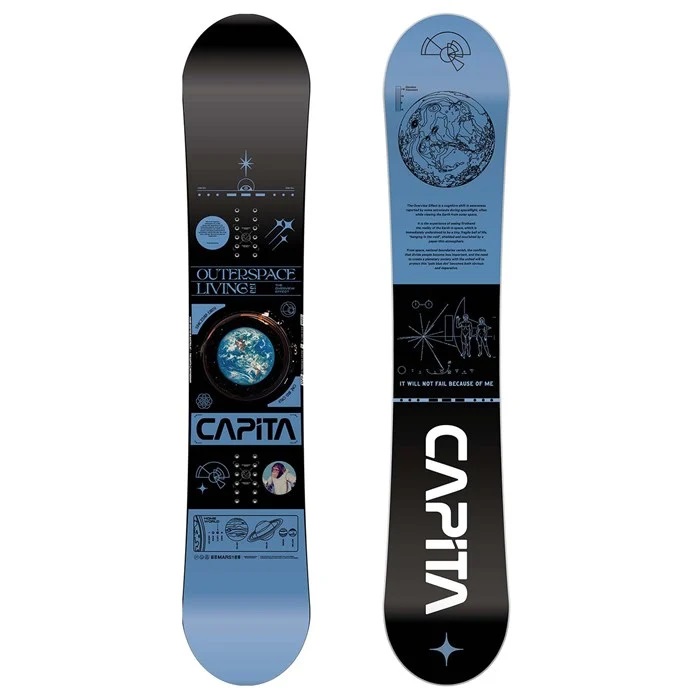 CAPiTA Outerspace Living Snowboard
The price of "CAPiTA Outerspace Living" varies, so check the latest price at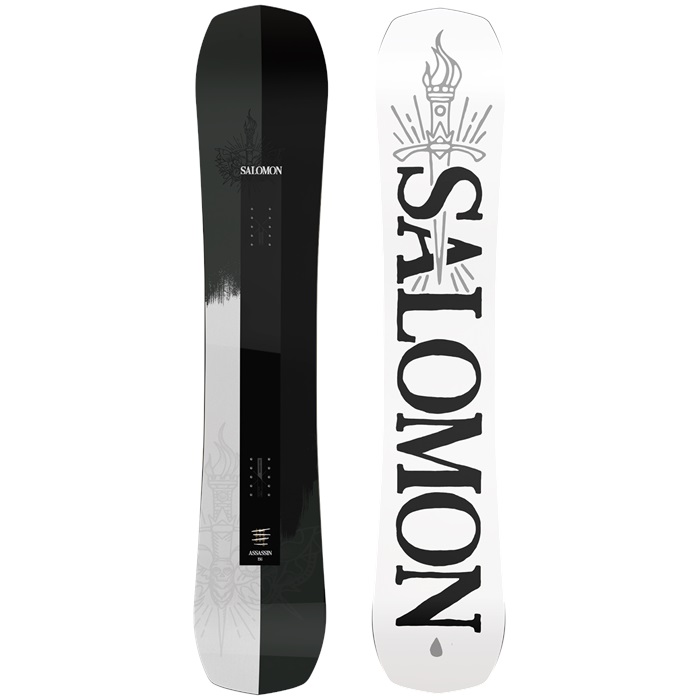 As the name suggests, the Salomon Assassin Pro snowboard fiercely assassinates the hard snow like a knife, rendering it an aggressive all-mountain board and a freestyle snowboard as well.
Boasting its predictable medium to stiff flex, the board makes a perfect pick for carving rails and groomers and loves slicing its way through the snow.
The flex runs stiffer in the midsection to provide moderate stability while becoming softer in the tips for that pop we love and offers a fair amount of torsional flex (not so much, though).
It also encompasses a quadralizer sidecut with a medium sidecut radius, catering to the needs of both freestyle and all-mountain riders. Salomon Assassin possesses a very light hybrid camber profile with a sintered base and directional twin shape, as well as boasting a soft to hard snow edge-hold.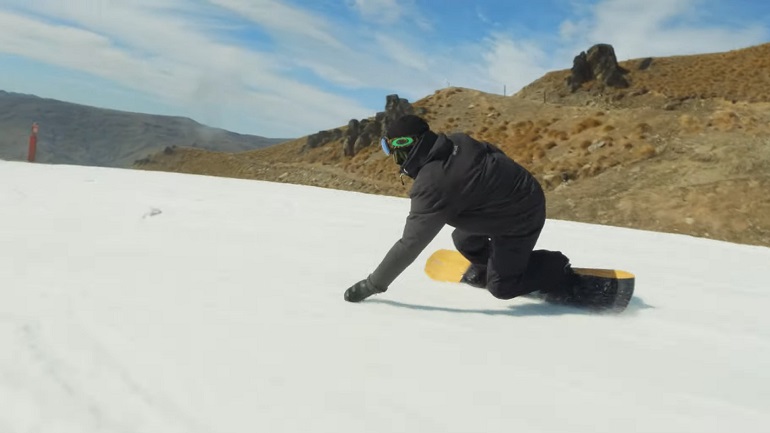 The board with its rock-out camber rests flat in the middle with a camber section that comes down outside the inserts and then rockers in the tips. This means you can easily get it to react to speed butters, ollies, jibbing, and carving.
The camber section in the middle gives you an ideal snap out of anything you do. Well, isn't it what freestyle fanatics are looking for? Another good freestyle board option is the Ride Twinpig which you can look into.
Features
Style: Freestyle, all-mountain
Skill level: Intermediate and advanced riders
Profile: Rock out camber
Price: under $600.
Pros
Salomon Assassin Pro Snowboard, with that affordable price and flex, proves to be exceptionally buttery. The fact that it has a bit softer tip and tail than it tends to be through the center helps to make it easier to butter.
Cons
The board doesn't possess a true twin shape but a directional twin. Still, you can ride the switch without really noticing it.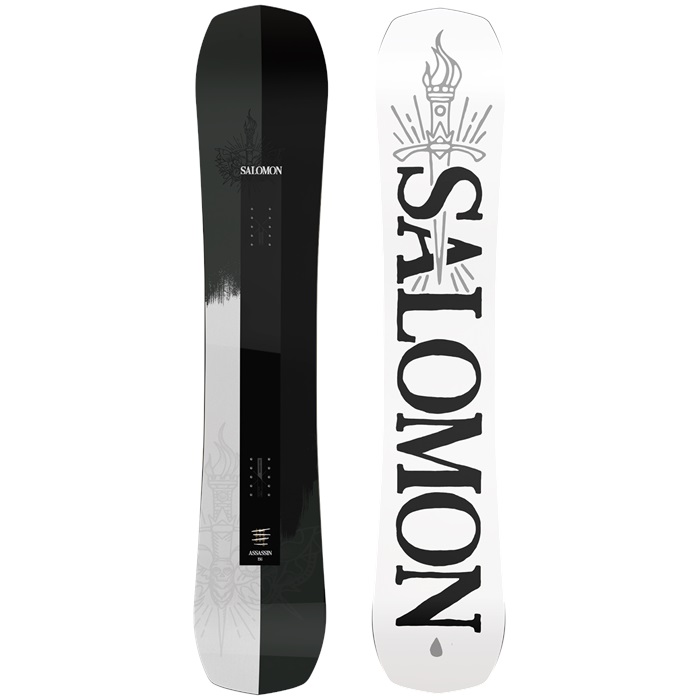 Salomon Assassin Pro Snowboard
The price of "Salomon Assassin Pro" varies, so check the latest price at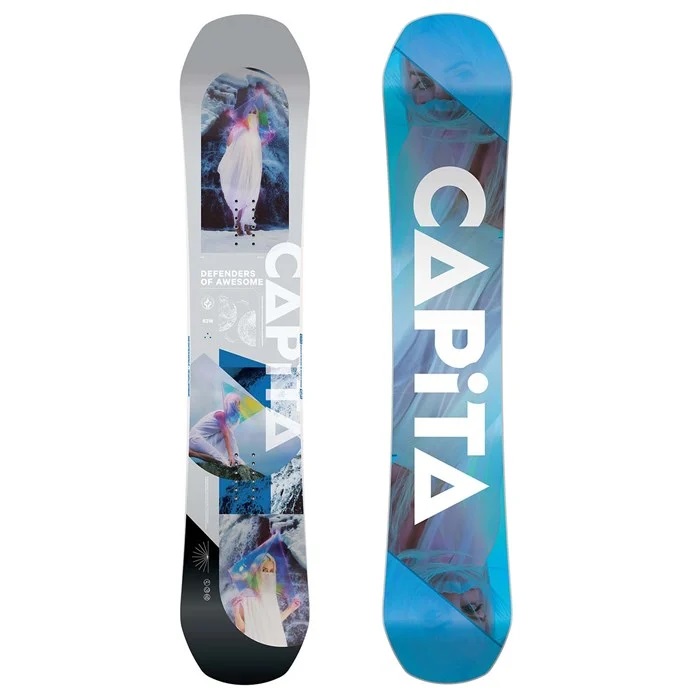 Perfect for anyone who likes to switch between freestyle and all-mountain from time to time. Yes! It's time to ride the park and natural hits!
The board is praised for handling speeds, carving rails, jumps, and spins. It has bags of pop for ollies and owns side hits and lips. If you are a beginner, don't get too excited as it is too aggressive to handle and not suitable for you.
Capita DOA falls on the borders of a locked-in feel, which means, it owns stability. Now you can enjoy a worry-free ride, aim for more speeds, and still kill it. The snowboard offers super fast gliding if well waxed. Moreover, it also slides smoothly on rough resort snow terrains or any uneven snow.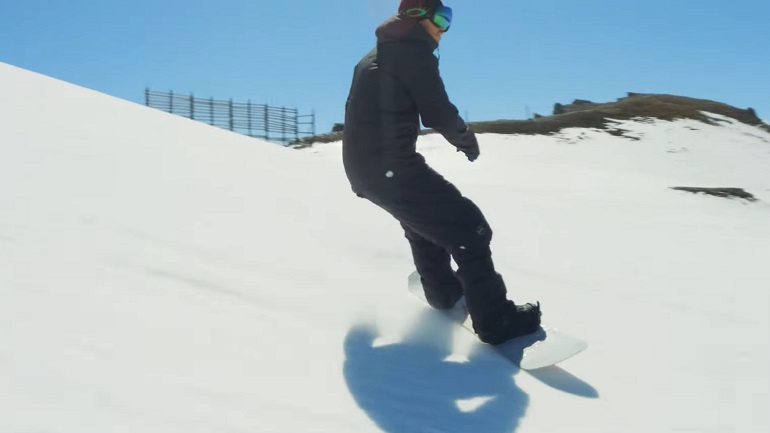 For the board's enhanced performance, twin flex along with a twin shape, and blended radial sidecut are incorporated into it. DOA's solid performance on snow is better than any traditional camber board but still a bit weak.
As far as landing and transitioning is concerned, it feels stable to land and nice to ride switch, courtesy of its super fast speed and aggressive nature. Well, the board is not made for jibbings, if you are looking for it.
Features
Style: Freestyle, all-mountain
Skill level: Intermediate to advanced riders
Profile: Rocker/camber/rocker
Price: around $500
Pros
CAPiTA Defenders of Awesome Snowboard performs well than many alternatives on the market in terms of gliding and speeds. It is quick in response, glides smoothly, yet stays stable at speeds.
Cons
The board may prove a bit weak on deep powder.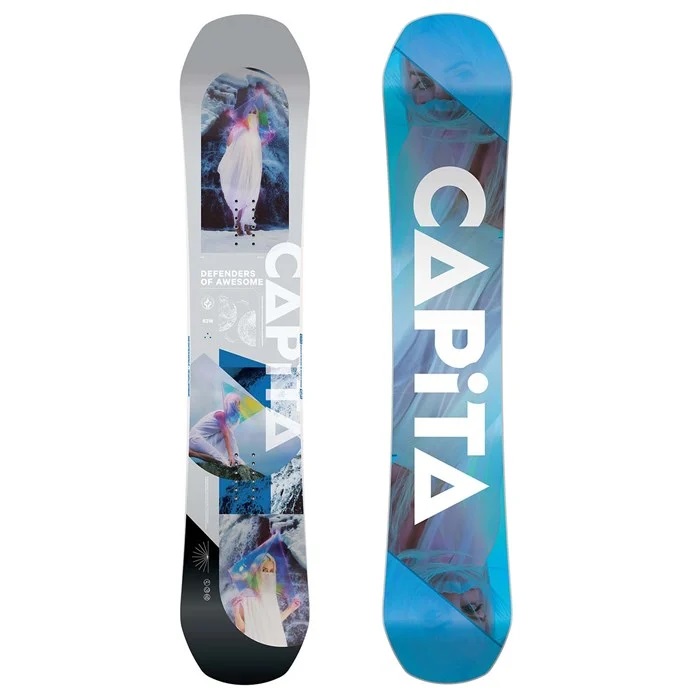 CAPiTA Defenders of Awesome
The price of "CAPiTA Defenders of Awesome" varies, so check the latest price at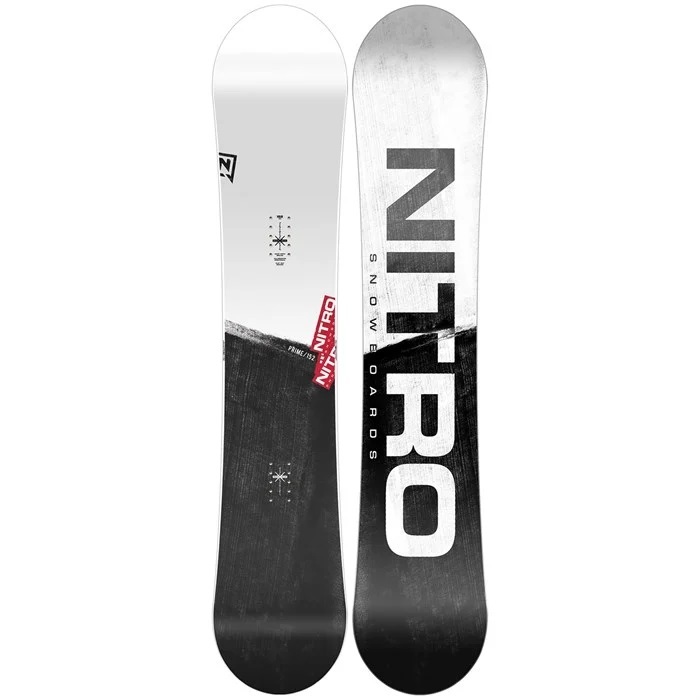 If you want an all-rounder to tear up the entire mountain, Nitro prime has got your back, as the Prime's stability was engineered to always have your back.
Also, if you want to make fast progress on the learning curve like a pro, consider the progression-friendly directional shape of the board. This stellar shape allows riders to drop into the unknown with much confidence.
The flat-out rocker hybrid profile has nose and tail lift before the conventional contact points making for impeccable turn initiations and maneuvering. Moreover, the lifted tips provide excellent floatation, pressability, and forgiveness.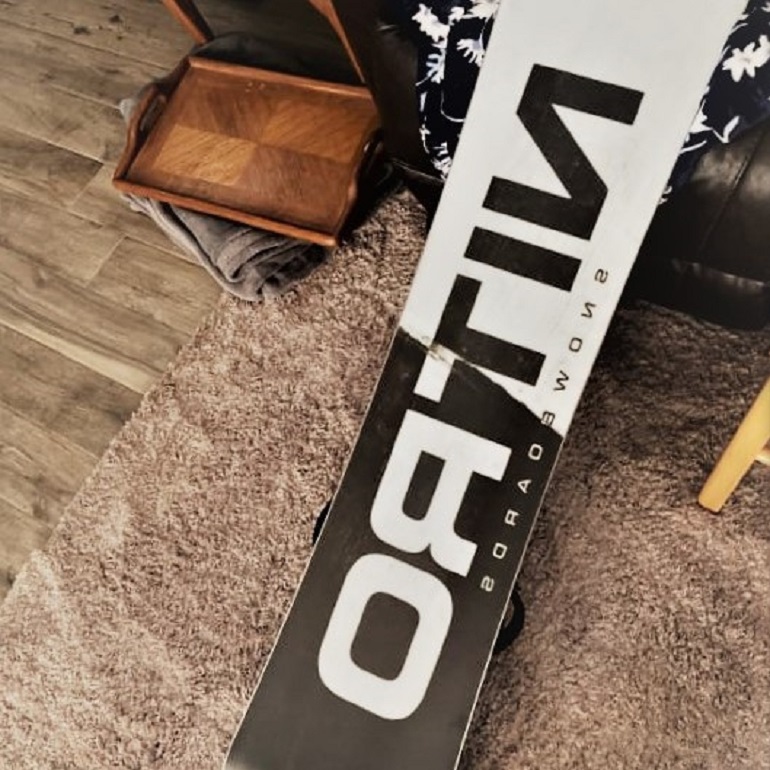 Prime boasts a medium flex of 5 which combines the Nitro's signature pop with a smooth response for cruising the whole mountain. Also, it flaunts a directional shape and radial sidecut, which is the simplest of all sidecuts, making it an affordable intermediate rider's snowboard option.
Features:
Style: Freeride, powder
Skill level: Intermediate to advanced riders
Profile: Rocker/flat/rocker
Price: $329.95
Pros:
This board proves approachable to jib with. The flat shape along with that micro rocker profile supports the rider in learning how to press.
Cons:
For super hard carves, the snowboard lacks the flex. No doubt, for medium to mellow carves it performs well.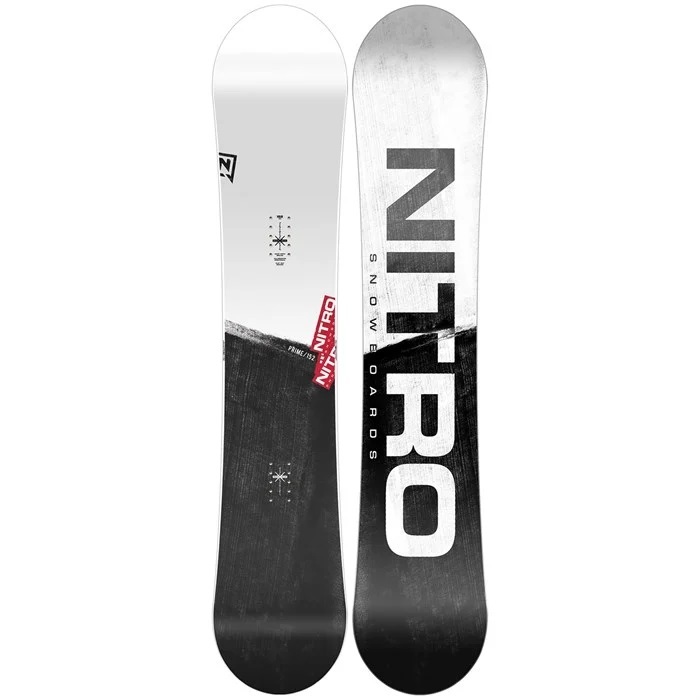 Nitro Prime Raw Snowboard
The price of "Nitro Prime Raw" varies, so check the latest price at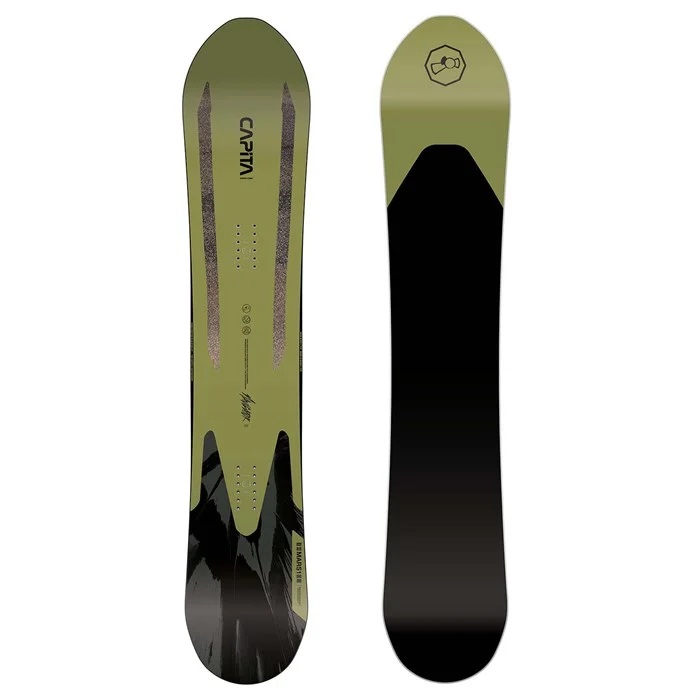 Indeed it bends time and space like an alien craft! Capita navigator with a tapered directional hybrid camber is the best freeride snowboard one can have.
As powder-hungry free riders are most looking forward to riding ungroomed snowy steep terrains, the snowboards built for such style are mostly made directional. Capita Navigator also flaunts an Alpine V1 profile with a directional flex, and a parabolic sidecut. Here's to scoring more lines!
The board feels super nice to ride in powder, courtesy of its super long pointy nose, short tail, an optimum amount of rocker in the nose, and a moderate width for extra buoyancy. It really makes carving and turning a piece of cake! Turns are made effortless by the Navigator, which you initiate at whatever speed you desire.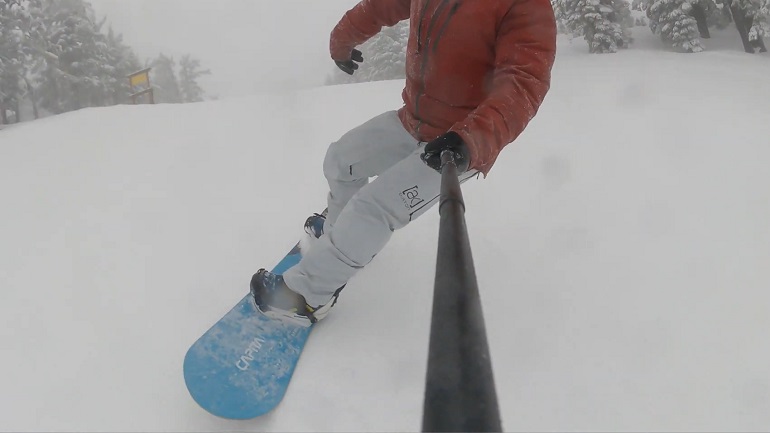 Even on uneven terrain, it performs well as it weaves through the bumpy terrain like a smooth craft. However, it chatters a little in crud because of its lightweight body.
Features
Style: Freeride, powder
Skill level: Intermediate to advanced riders
Profile: Combo
Price: around $450
Pros
The board is well suited for a freeride as it is easier on the pocket and softer in flex.
Cons
The board is not bad to butter, although it doesn't pose too buttery. Moreover, it is not a specialist jump board.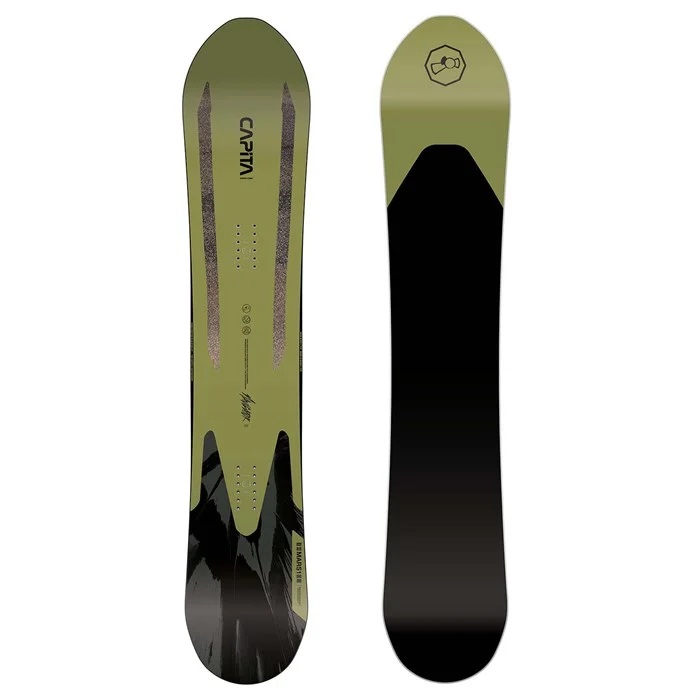 CAPiTA Navigator Snowboard
The price of "CAPiTA Navigator" varies, so check the latest price at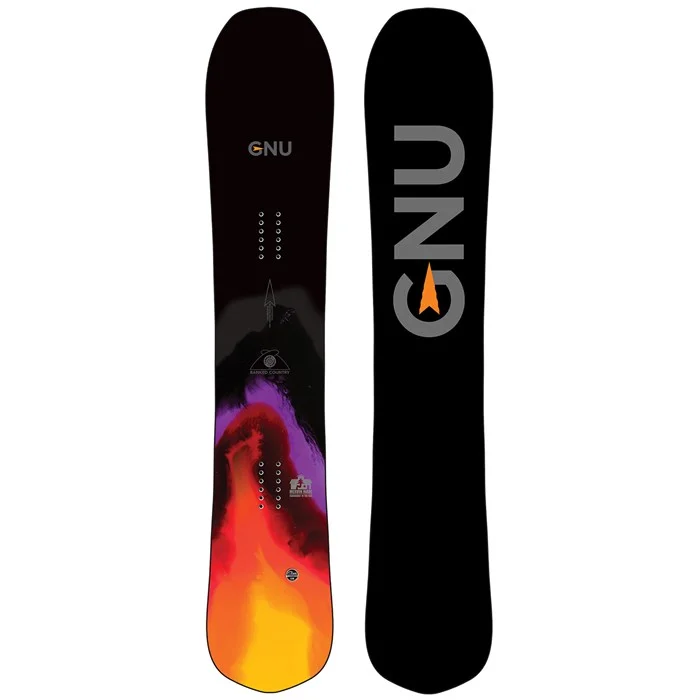 GNU Banked Country features a pretty much full camber from tip to tail with a passive bend in the middle, and a camber/rocker/camber profile. It has a medium to stiff flex, 7.5 out of 10, between the feet. The nose rests a little bit softer, and the tail is about the same as between the bindings.
In edge hold, GNU is a little behind boards with better magnatraction, but this is still very competent in hard-to-icy snow. Although, the board grabs less in the softer snow and offers fast and springy turn initiations. Overall, it offers good rides for all conditions, especially accommodating the park rats.
The board is made quite directional. Hence, you are not recommended to ride switch as it is not ideally suited to it. The GNU Banked Country feels a bit heavier than the alternatives, making it a bit hard to access pop and perform spins.
If we talk about jibs and butters, jibbing is not its forte, and it demands quite some strength to butter, although it's not un-butterable. The reason behind it is the absence of ample flex in the tip and tail.
For beginners, we advise not to go for it at the very beginning of your snowboarding venture, as it might prove discouraging. But it's a great value for intermediate riders if you opt for it, and the best budget snowboard for experienced riders.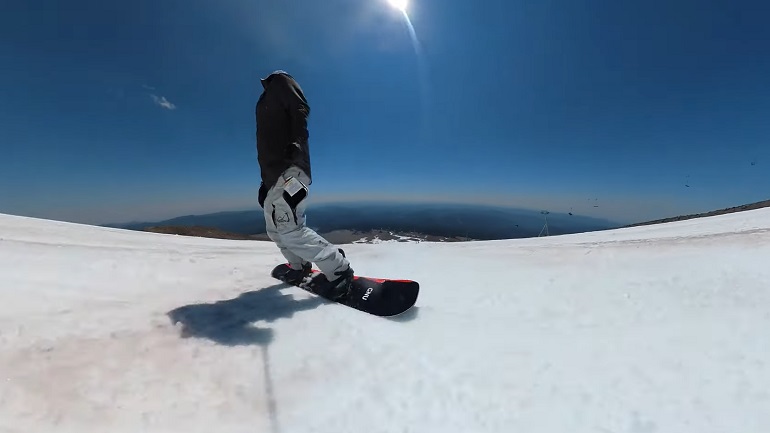 Features
Style: Freeride, powder, all-mountain
Skill level: Professionals
Profile: camber/rocker/camber
Price: around $400
Pros
I'm super impressed by its shooting speeds and stability, even in cruddy conditions.
Cons
You need to muscle it a bit and put some effort to get it to do regular turns. You don't get to have easy turn initiation with this one.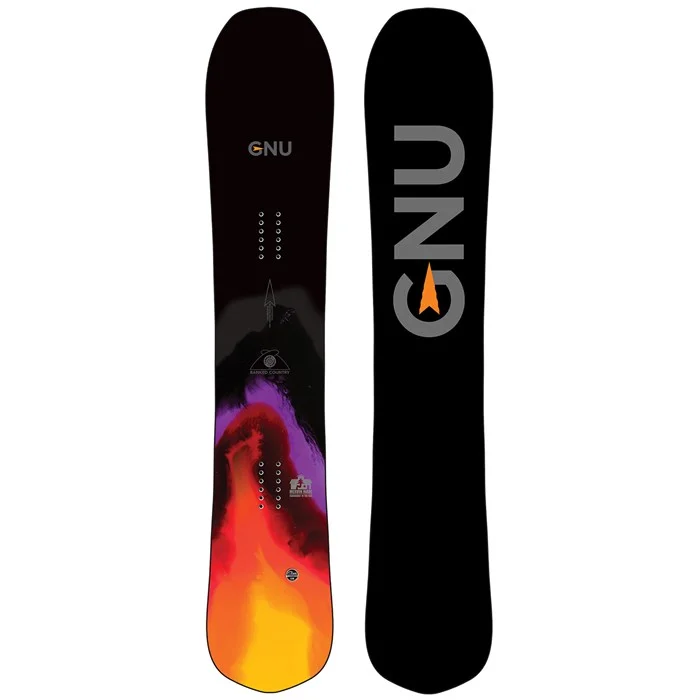 GNU Banked Country C3 Snowboard
The price of "GNU Banked Country" varies, so check the latest price at
What To Look For When Choosing the Best Budget Snowboard
Here's a list of all the factors that you need to consider before getting a budget snowboard.
Size of the Snowboard
Even the right flex and camber won't be able to help you when you would be gliding down the steep terrain. Yeah, I know gliding is fun, but what if the fun part leaves the room? I mean, you do glide down the terrain, just without a snowboard.
No, it's not funny. Who else is gonna show up in the office on time and bring coffee to the boss? You, my homie!
So pay attention when I say that the size of the snowboard is as important as doing chores for your boss. If you skip it, you might end up praying for another day to live a fancy life.
So, what to look for while buying a suitable size snowboard? The answer is that you need to know what your weight, style, and ability level are. The reason it is so is that different boards are designed for different skill levels, weights, and riding styles. Now note down everything, and go on a hunt!
Versatility
How would you define a teacher? What makes a great teacher in the true sense? A great teacher is a catalyst – a spark that ignites a desire in you to learn. A snowboard will also teach you a great deal if you comply with it. So, always select a board that stands compatible with what you are looking for.
Also, if the board has a lot to offer and it sure is versatile, my mate, you will ace this sport. It will not only comply with you, but it will also force you to level up your game.
There are bright chances that being a beginner, you would be looking for a cheap snowboard to do it all. Why? Because you don't know your style and you need to explore to find it. A versatile board will accelerate your learning curve, resulting in you becoming a master.
Performance
It is true that when the price goes down, the quality is also compromised a bit or a great deal. That's why many snowboards with lower price points sacrifice their performance to cut costs. But don't forget, you need to own a board that isn't just a piece of any material, as it should teach you things you need to learn.
A poor-performing snowboard will get you nowhere. Spend wisely!
In this article, I have put together some of the best-performing snowboards on the market to save you time. They are offering stable and tension-free rides with fun dialed-in. However, if you are an intermediate or an advanced rider looking for the highest performance out there, then be mentally prepared to spend extra dollars.
Flex
For beginners, it is recommended to always go for a softer flex or a mid flex board, i.e., 1,2,3, or 4 out of 10. Why? Because a soft flex board is easier to maneuver and manipulate.
But if the board feels hard under the feet, it will get hard for you to control and turn it. So, better decide what you are after. Do you want to snowboard? Or want to be ridden by it? The choice is yours!
No doubt, a stiff flex has heaps of stability to offer at higher speeds, but this is not what you would want to get into in the early stages of your snowboarding journey. Draining yourself out of energy is not a good start, though.
Shape
In my opinion, an ideal shape for a beginner is a directional twin. As the name suggests, a true twin profile makes a symmetrical snowboard that can assist beginners in learning tricks, taking risks, and stimulating the learning process.
Believe me, a centered stance on a twin shape snowboard will make it easier for you to keep your balance yet explore. Such a shape is made for riding switches and learning tricks from early on. If you are confused about a suitable stance, you can take help from our write-up about how to mount bindings on a snowboard to level up your skill.
Although, the shape is not an important factor to take into account while just starting out. In fact, a suitable flex rating, size, and camber profile are what pose critical to a successful ride on the snowy terrains.
FAQs
How Much Does a Decent Snowboard Cost?
The price of a decent solid performance board starts from $400, as the ones below this price point fail to function optimally. From any reliable snowboard brand, the price will most likely fall between $400 to $1000 or more.
How Long Does a Snowboard Last?
If you don't grind the base of your snowboard on every solid rock or any hurdle out there, you are expected to experience about 100 to 150 days of high-quality riding from a new snowboard.
Perhaps, in the last days of its life, it will not perform as well as it used to. But still, considering how long a snowboard last one can get an enjoyable ride during its peak time!
Conclusion
From this article, I'm sure you have learned enough to keep yourself from spending money on the wrong product. A budget-friendly snowboard doesn't mean a slacker or a good-for-nothing board always saying, I'm just a baby, please take me, but I'll be disobedient. Nobody wants that.
Since snowboarding costs a lot, everybody wants to get a good quality snowboard at a lower price. And I'm also on that list. So, thank me for saving you the time and effort of hunting down cheap snowboards that match your needs yet respect your limitations.
If you are on a budget, you can also look at the best cheap snowboard goggles and keep your eyes safe from those UV rays!
Happy snowboarding!