Best Pranburi Hotels, Resorts, and Guest Houses
Guys, I'm going to start this one on a soppy note:
I feel so goddamn lucky to have lived in Pranburi for the past year. Seriously! The chances of ending up in this beautiful, quiet, authentic town were so small — but man, I have to thank the universe for leading me on this incredible, year-long Thailand adventure.
Over the past year, I've been lucky enough to host a bunch of friends who have come to visit me in Pranburi (after much encouragement from me that went something like "YOU HAVE TO COME HERE NOW THIS PLACE IS FRIGGIN' AWESOME").
Ahem… my point being:
Because of these visitors, I've had the chance to get to know the ins and outs of a lot of the local hotels and guest houses. And with that insight, I've put together a shortlist of what I think are the best Pranburi hotels around.
I'll be walking you through my top 10 picks — separated into luxury, mid-range, and budget-friendly categories. In each section, I'll be giving you a brief rundown of the property itself, why it's a cool place to stay, and what kind of traveller it's most suitable for.
At the end, I'll also be including some guidance for long-term visitors who are hoping to score some house rentals in the locality (including insider tips that I discovered after 1 entire month of house hunting for myself!).
If you happen to be looking for activities in Pranburi, check out our list of top things to do!
Alright folks, here's my pick of the brunch — I mean…. bunch.
Luxurious Pranburi Hotels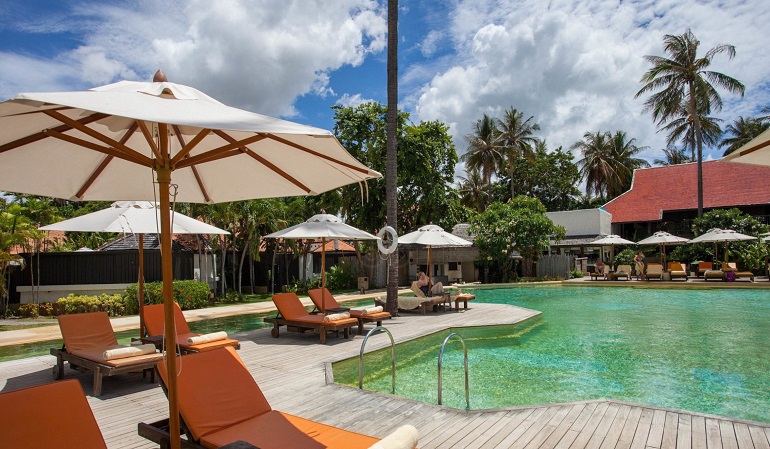 With eco-friendliness and bouginess in equal measure, the Evason is easily one of the most incredible hotels I've ever stayed in- no question. From the super-lush tropical gardens that cover the entire property to the absolutely stunning pool overlooking the sea, everything about the Evason makes you want to check out of normal life and into their hotel. Permanently.
And speaking of brunch (I was speaking of brunch, wasn't I?! Well, if I wasn't I was definitely thinking about it.) there's literally no better place in Pranburi to get your morning grub on than the Evason's buffet breakfast. Plus, they cater for every taste and dietary need (vegans rejoice! Their 100% vegan menu is insanely good).
They even have their own plant-based cooking school, which runs alongside a pretty impressive list of other on-site offerings, such as meditation, yoga, and mindfulness classes, massage workshops, children's activities, and- the spa, did I mention the spa? If you're looking for luxury at a reasonable price, the Evason is the way to go.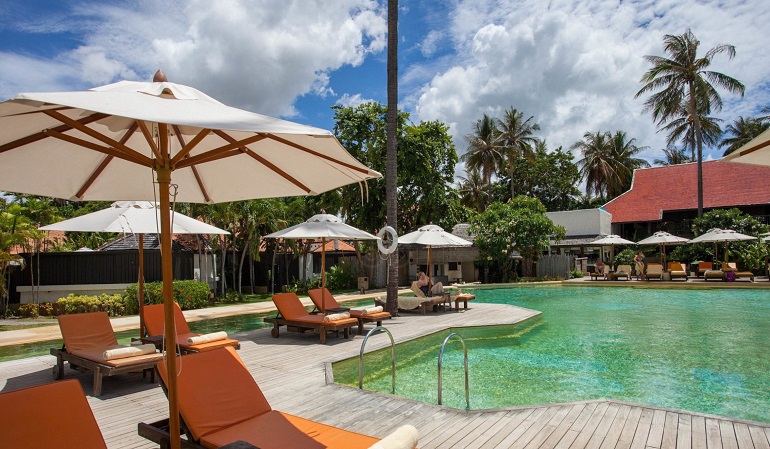 Evason – Six Senses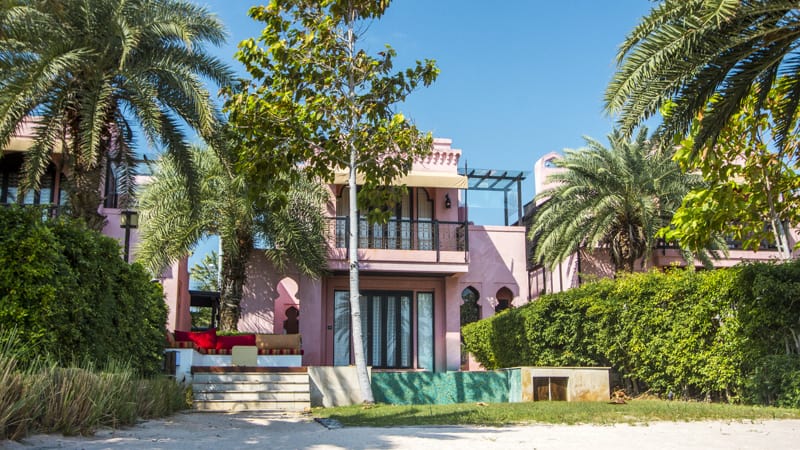 Inspired by the rich colors and exquisite architecture of Morocco itself, Villa Maroc is the hotel to book yourself into if you're looking to snag a primo slice of Pranburi's beautiful beachfront. The boutique hotel only has 12 rooms, some of which are actually entire 3-storey villas complete with their own private plunge pool and rooftop terrace overlooking the sand, surf, and palm trees. In a word: friggin' breathtaking (fine, fine, two words).
Everything in Villa Maroc is immaculately designed, from the flowing muslin drapes in the bedroom to the vibrant mosaic tiles that line the bathrooms. The villas even come with their very own massage room, so you can bliss out under the skilled hands of their in-house masseuse in the privacy of your own place.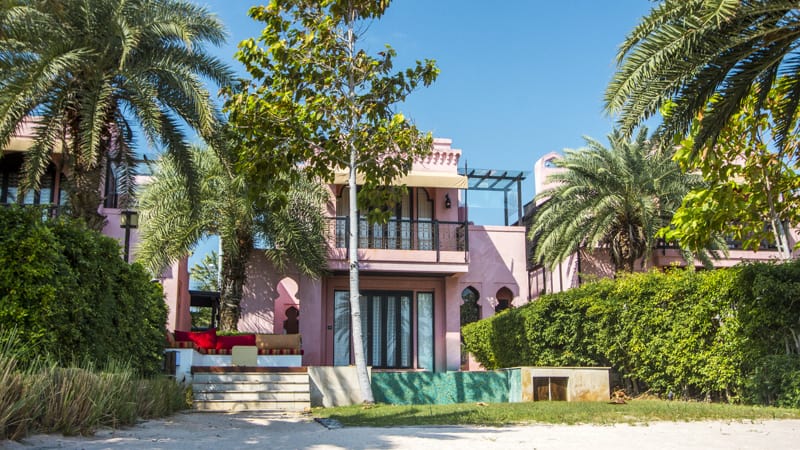 Villa Maroc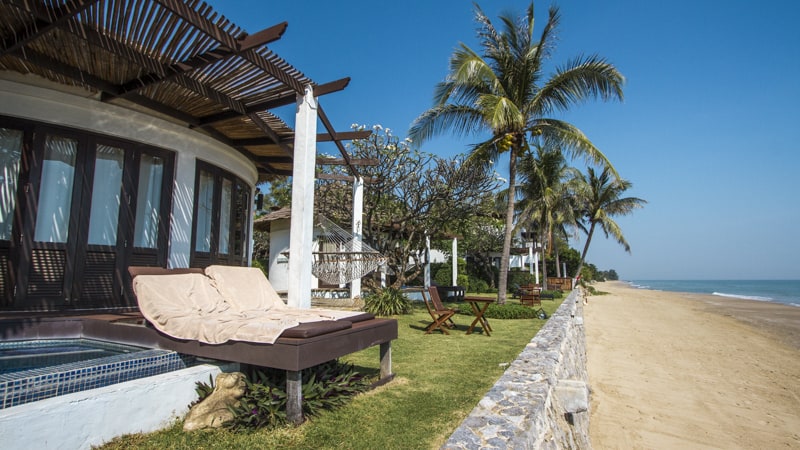 Aleenta is a spacious, airy, tasteful resort located right along the shoreline in Pak Nam Pran. As well as having a selection of beautiful seaview suites, Aleenta also offers their own deluxe private villas tucked away in an intimate corner of the resort.
The grassy gardens overlooking the beach are dotted with sun loungers- perfect for enjoying a few slow days with a cold cocktail in hand. They also have their own bakery which sells all kind of delicious handmade baked yummies- prepare to be tempted.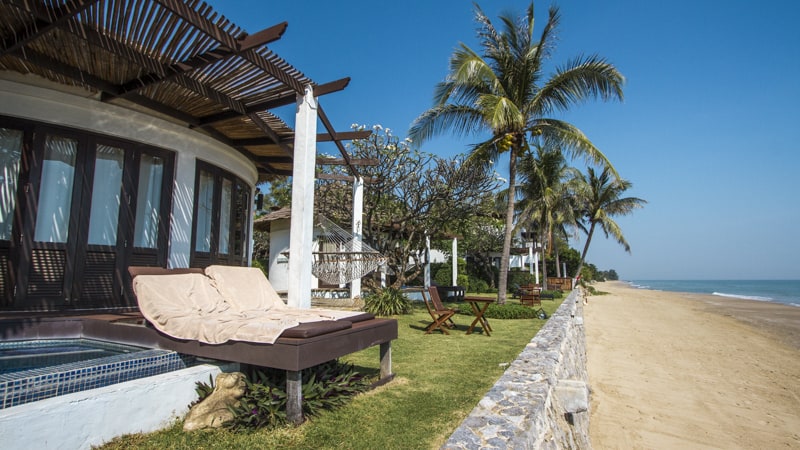 Aleenta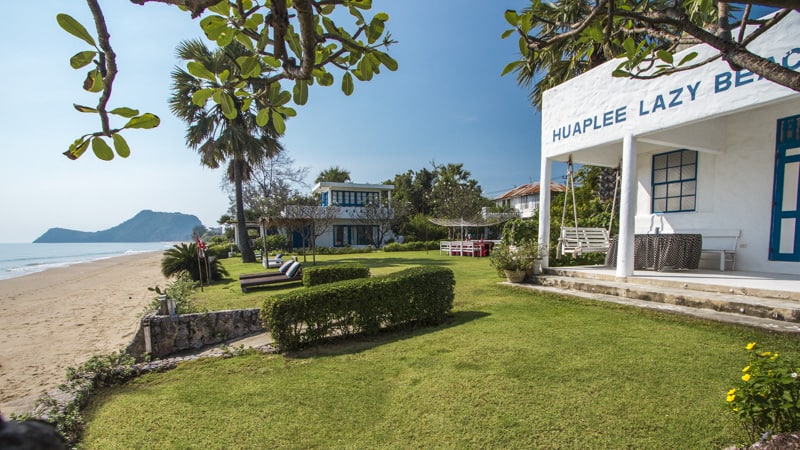 One of the quirkier resorts on the list, Huaplee Lazy Beach is all whitewashed walls and marine blue accents; a stroll through the garden could easily trick you into thinking you'd been transported out of rural Thailand and into Santorini (except less ouzo and more… fish sauce?!).
And about those gardens- I always have to ogle up at them whenever I'm running with our dog on the beach- they've got to be the nicest place in Pranburi to chill out in after a long day of sizzling under the tropical sun. A hammock here and a cosy wicker chair there; Lazy Beach would definitely be my top pick of the Pranburi hotels if I was visiting the area for the first time.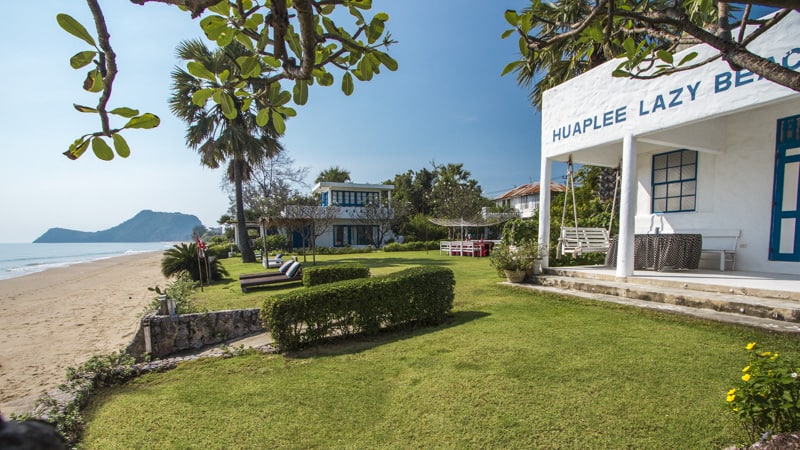 Huaplee Lazy Beach
Mid-range Pranburi Hotels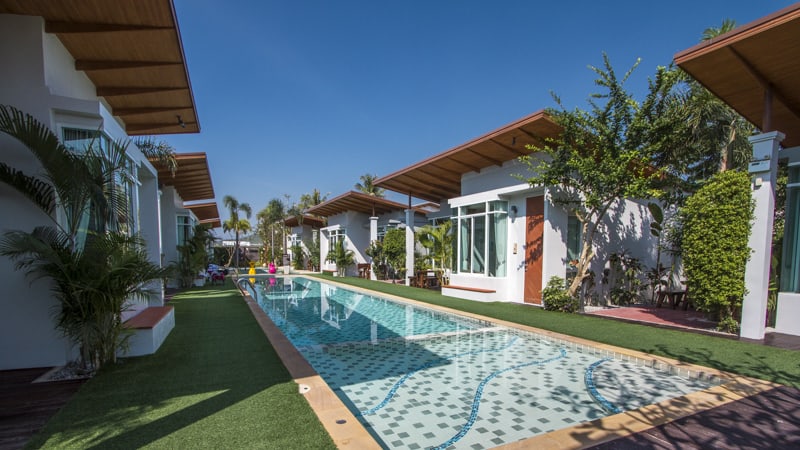 This boutique style resort is perfectly located along the beachfront in Pak Nam Pran; it's within walking distance of bars and restaurants and just a quick 10 minute drive to Pranburi proper. You're literally a stone's throw away from the sandy beach, too- just hop over the road and you'll be looking out over the Gulf of Thailand (and yo, it's seriously beautiful).
In my opinion, T-Raya is one of the best value-for-money options on this list. The place is gorgeous and the money you pay for it is very reasonable, if you ask me.
The resort grounds are pretty intimate; all the rooms are centered around the azure plunge pool in the middle of the garden. At night time it's especially pretty; everything is lit up with these very soft golden lamps- it makes the place look so romantic.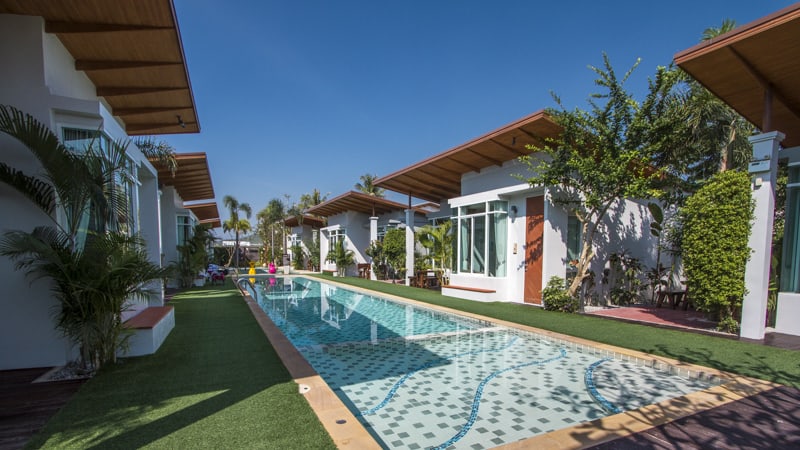 T-Raya Resort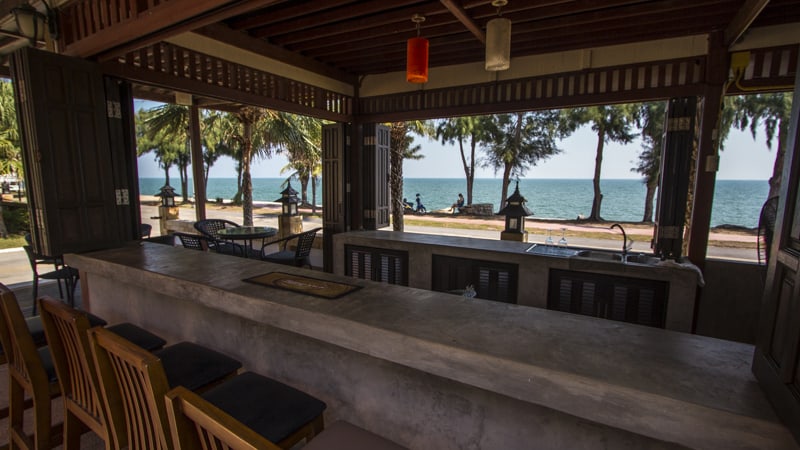 For all you travelers looking for a solid mix of activities and relaxation, you won't do much better than Palm Beach. The owner's friend, Andy, is the man in town for road/mountain bike rentals, stand up paddle boarding, and tours of the nearby Sam Roi Yot National Park.
Guys, seriously, paddle boarding and cycling are two of the best ways to explore Pranburi- so if you're anything like me, you're bound to head down to Palm Beach for these activities anyway, so you may as well just make things easy for yourself and stay here from the get-go.
Like the last spot on our list, Palm Beach is located right along the beachfront- though much closer to the village of Pak Nam Pran. It's the perfect spot for accessing the beach, the town, and setting off on adventures to the nearby attractions.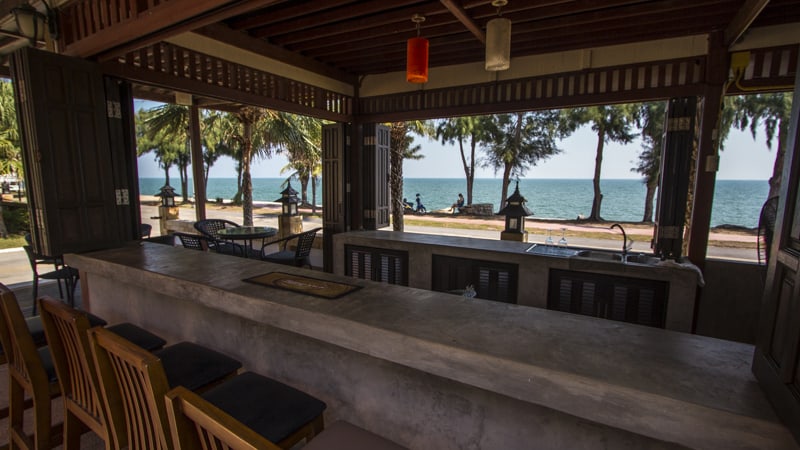 Palm Beach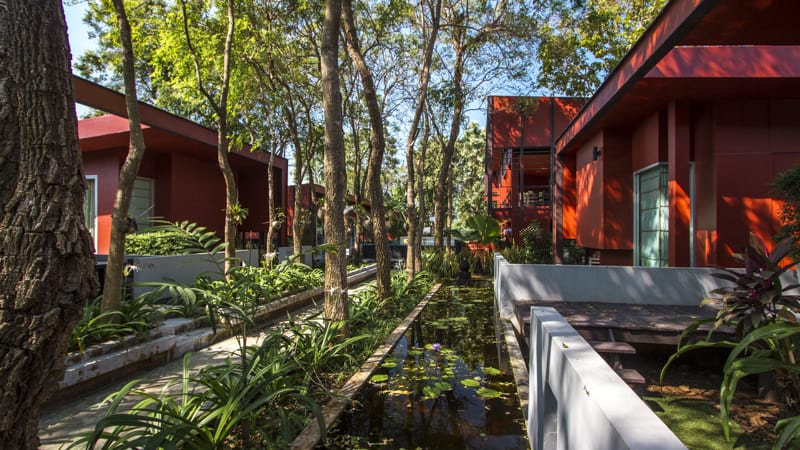 Foresta is a great place for family travelers, kitesurfers, and…well… people who like wine. Ahem… allow me to elaborate:
Foresta is located along the main beach road between Pak Nam Pran and the beautiful, wild mountain, Khao Kalok. It's an ideal place for families to stay since it's got a garden, a kid's play area, and a private swimming pool hidden away in a quiet part of the grounds. There's also a fantastic restaurant on-site called Ley Cafe, which is the single best place in Pranburi to get a pizza and a glass of wine- which we do. Often.
Those who plan on coming to Pranburi for kitesurfing will also do well to stay here, since the resort is located super close to the kite beach at Khao Kalok (within walking distance, actually). Oh and (this is an important 'and'), it's the only place in town where you can get a draft beer. If that doesn't convince ya, I don't know what will!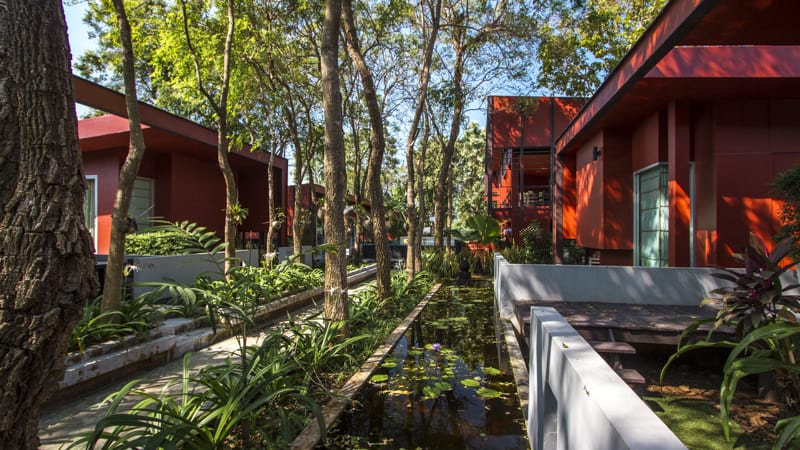 Foresta Boutique Resort
Budget-friendly Pranburi Hotels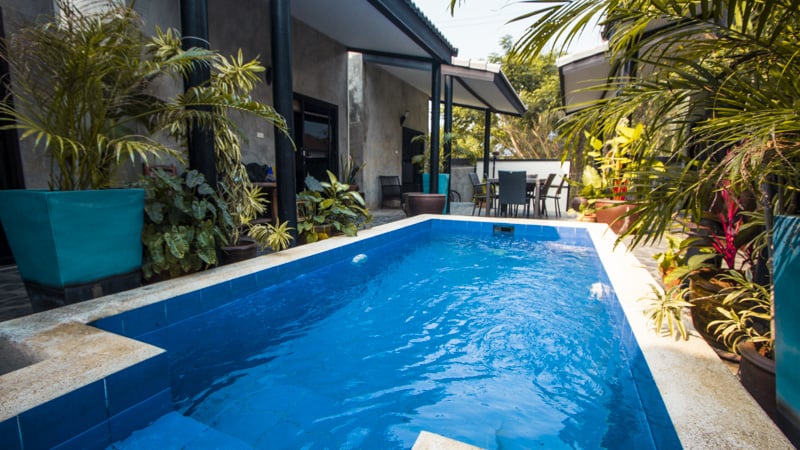 Run by an English pair, Karl and Michelle, the Beach House is one of the best picks for budget-conscious travellers coming to Pranburi for some salt-water sessions. Karl himself is a kitesurfer (and just recently started up his own kite center in Pak Nam Pran) so you can be sure that you'll be very welcome with all of your gear- even when you're a salty, sandy, post-session mess.
Each private room is clean, simple, comfortable, and comes with access to the on-site swimming pool. The bungalows are within 2 km of the beach, and are about 5-10 minutes to Pak Nam village by scooter (which you can easily rent from Karl, too).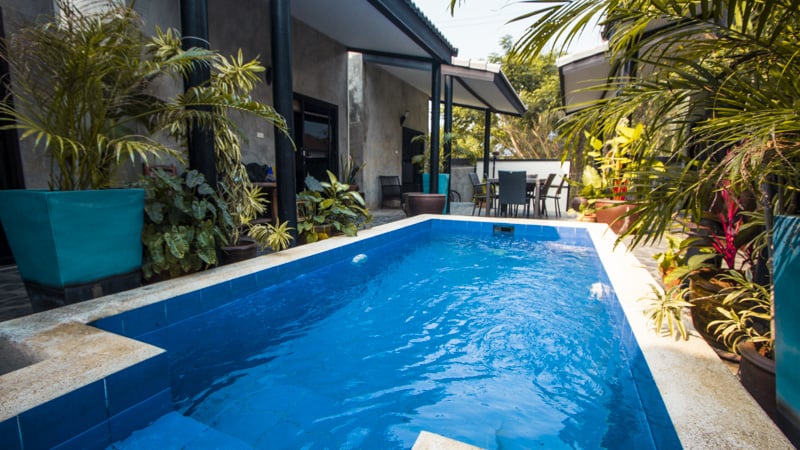 Beach House Bungalows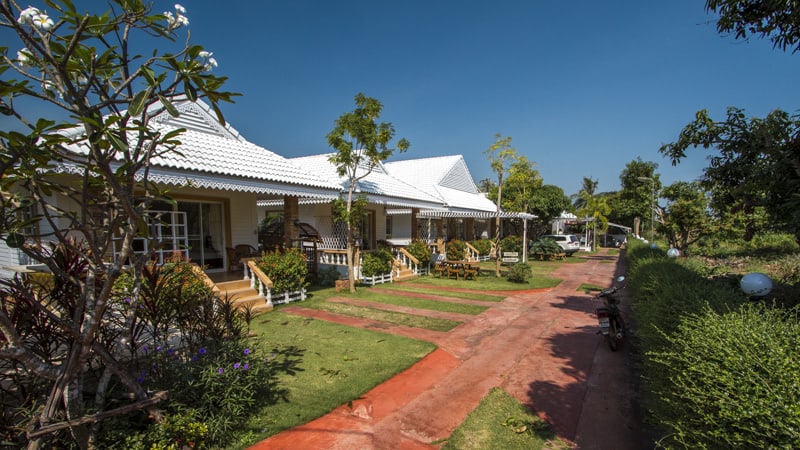 Another excellent choice for visitors on a budget, Mango Home is a small collection of candy coloured bungalows hidden away in the verdant countryside of Pak Nam Pran. If you're the sort of traveler who likes to be a wee bit "away from it all", this is the perfect place.
Not only is this one of the most budget-friendly hotel in Pranburi, but the fact that it's surrounded by lush palm trees and far away from the hustle and bustle of the 'real' world makes it that much better. Enjoy the calm of your private bungalow or climb up to the communal area- an open air platform overlooking the countryside- to soak in the views.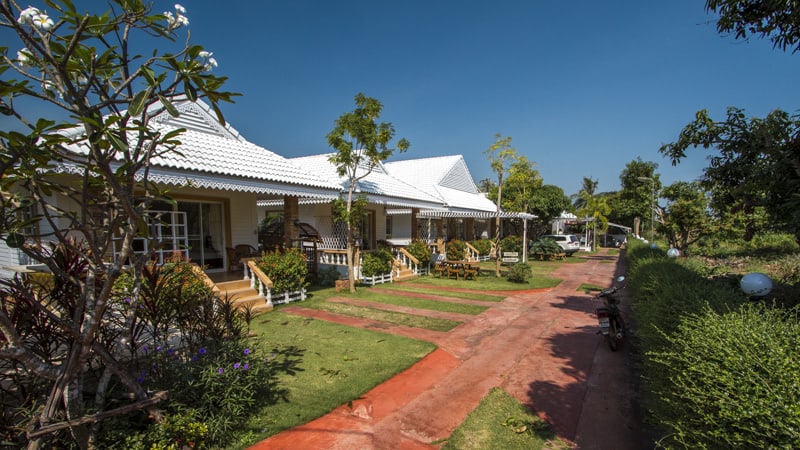 Mango Home
San-D was actually the very first guesthouse I ever stayed in when I first came to Pranburi- and in fact, it was such a good find that I ended up staying there for a whole month.
Yup- a whole month living in a guesthouse- and guess what? It was awesome.
San-D is located- you guessed it- right on the riverside. The rooms are spread throughout pretty spacious grounds, with simple gardens and an enormous communal kitchen/chill out area which overlooks Pranburi River. There's a small selection of kayaks which are available for guests to take out onto the water themselves and explore the surrounding area (go super early in the morning to catch the giant monitor lizards sunbathing on the mangrove roots!).
Take your pick between detached bungalows or standard private rooms. Both come with air-con, en suite bathrooms, and are designed in a simple but fairly stylish way.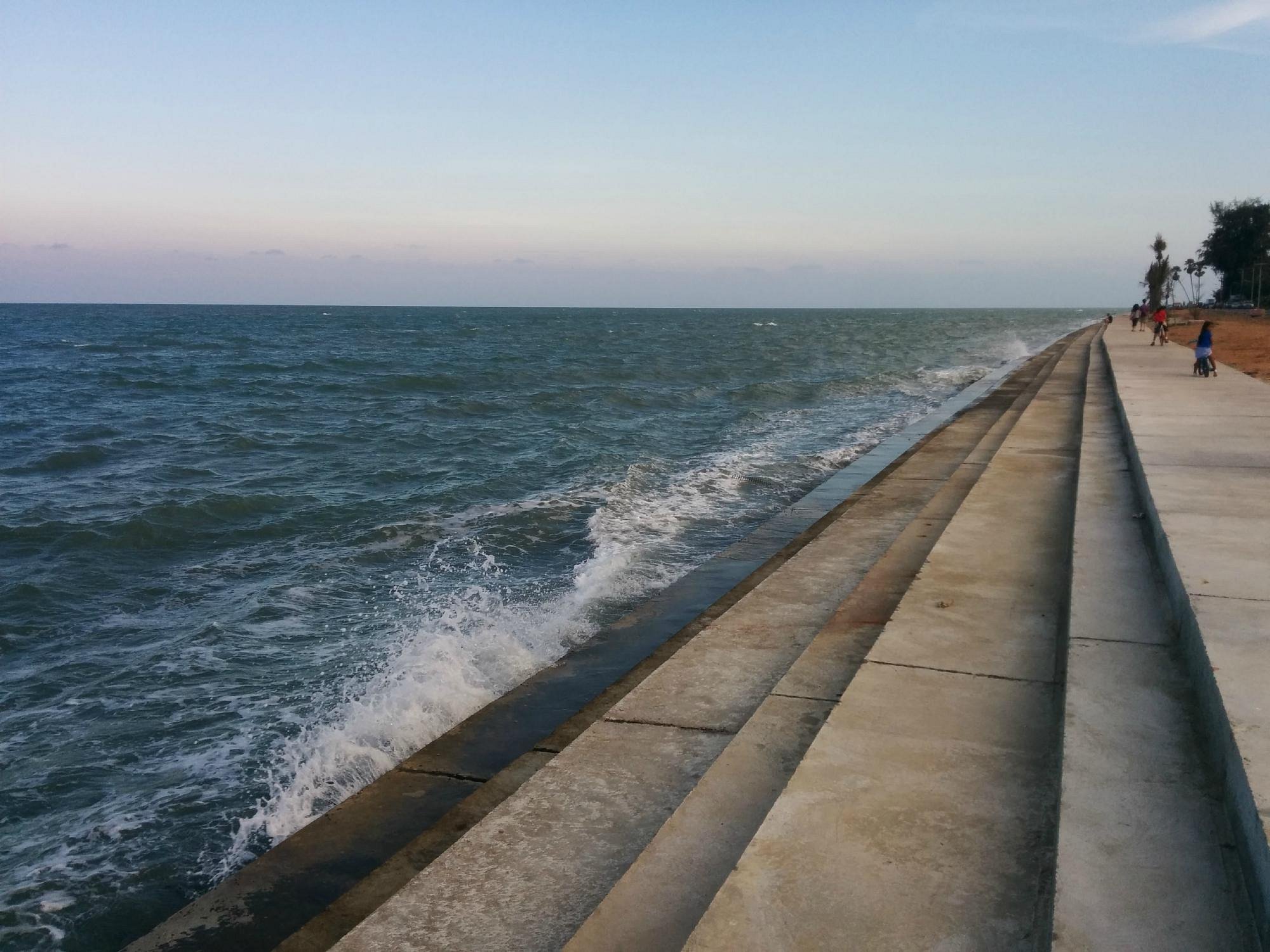 San-D Riverside
Finding medium/long term accommodation in Pranburi
When I first came to Pranburi with Jim, we booked ourselves into San-D Riverside for a month while we took some time to think about what we were going to do. Stay longer? Move permanently? Go back to our last spot in Vietnam? Neither of us had the foggiest.
Thankfully, the owner of the guesthouse was willing to negotiate a monthly rate for us- which many are down to do if you ask them nicely!
Anyway, it didn't take long for us to realise that we were already hooked on life in Pranburi (matters may or may not have also been swayed by the fact that we got adopted by a street dog who quickly burrowed herself waaaay deep in our hearts- and FYI remains with us today). So- long story short- we decided to stay.
Next mission: house hunting.
From someone who's spent a solid month researching all the ways it can be done, here's what you need to know about finding a house to rent in Pranburi:
Even though there are always a few houses listed online on sites like bahtsold or ddproperty, the choice is usually pretty limited- so I really recommend just grabbing a motorbike and hunting around for the perfect home.
The thing is:
Many Thai landlords will just put up a sign in front of the house that says "for rent/sale" with a phone number.
Some won't even bother with a sign at all; so if you see an empty house that you really have a crush on, just look around for a neighbour that speaks a bit of English (otherwise you can always test out your own linguistic skills- the word for "house" in Thai is "baan") and usually they'll know the owner and hook you up after a few hand gestures and laughs.
Locals here are usually very accommodating (and not that fond of paperwork) so if you're ready to pay upfront for the number of months you'd like to stay, you could easily strike a deal without a yearly contract.
Just always make sure to check the wifi and its quality before shaking hands, in addition to the usual things like: does it have hot water? Aircon? Does it come furnished? Is there a farm right next to your door whose insanely loud cockerels will wake you up every morning at dawn? Y'know. The usual stuff.
Prices for a furnished 1 bedroom house vary from $150 up to $300, while bigger beachfront villas usually start at around $600.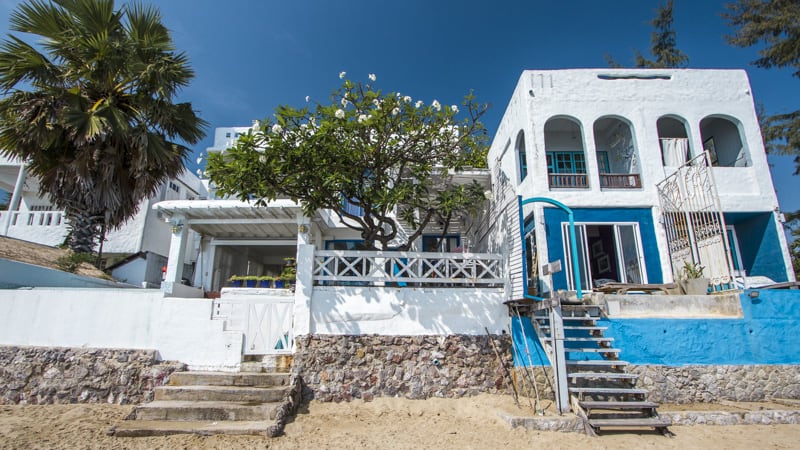 Places to visit during your stay in Pranburi
Khao Sam Roi Yot National Park
Located just 30 minutes away from Pranburi proper, Khao Sam Roi Yot National Park makes for a dreamy day trip. It's Thailand's first ever marine national park, and thanks to its diverse landscape and ecosystems, it's filled with all kinds of cool wildlife spotting opportunities (everything from monitor lizards to kingfishers!). Hiking, cycling, swimming, and kayaking are all on offer- and that's just the beginning of the outdoor activities you can do.
Phraya Nakhon Cave
The cave is hidden away in the mountains of Sam Roi Yot, and features a pretty phenomenal pavilion inside its hard-to-reach chambers. If you're a hiker, visiting Phraya Nakhon is an absolute must during your time in Pranburi.
Pranburi Forest Park
Pranburi Forest Park is located on the outskirts of Pak Nam Pran village and features an enormous mangrove reserve with a boardwalk running underneath the shady canopy. You can also choose to stroll around the pine forest nearby or bring a picnic and make use of the public tables scattered along the beachfront.
---
Got something on your mind about Pranburi hotels? Leave your question in the comments section below. Want to become part of the Extreme Nomads community? Join our free Facebook group!